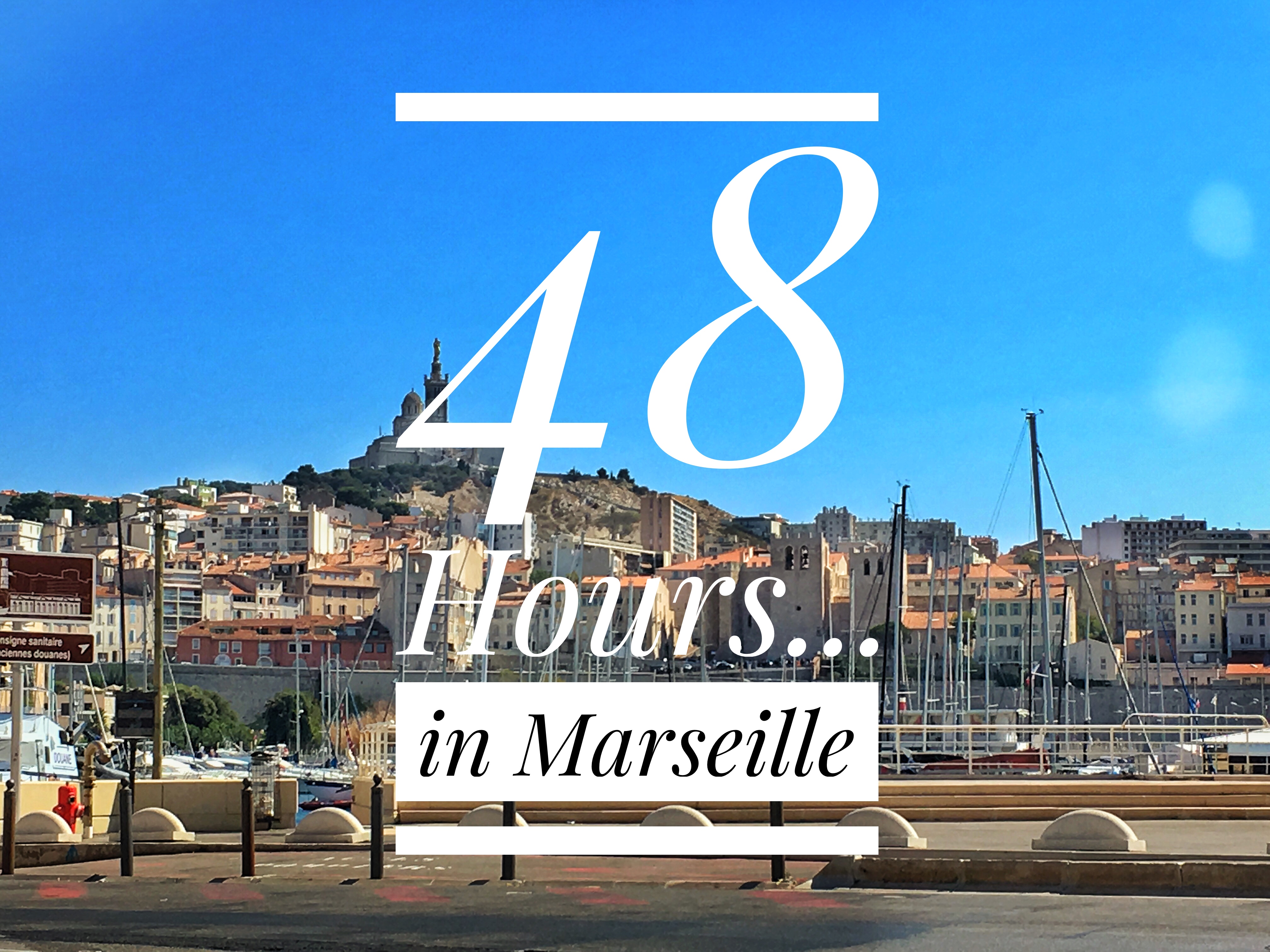 France's oldest city, Marseille boasts an average 300 days of sunshine every year, making it the ideal destination for a getaway to the Côte D'Azur. Sitting at the starting line of the French Riviera along the Mediterranean coast, Marseille is a seaside city that's easily explored in 48 hours. So here's our guide to the perfect weekend or mini-break in the sun-drenched second city of France, Marseille.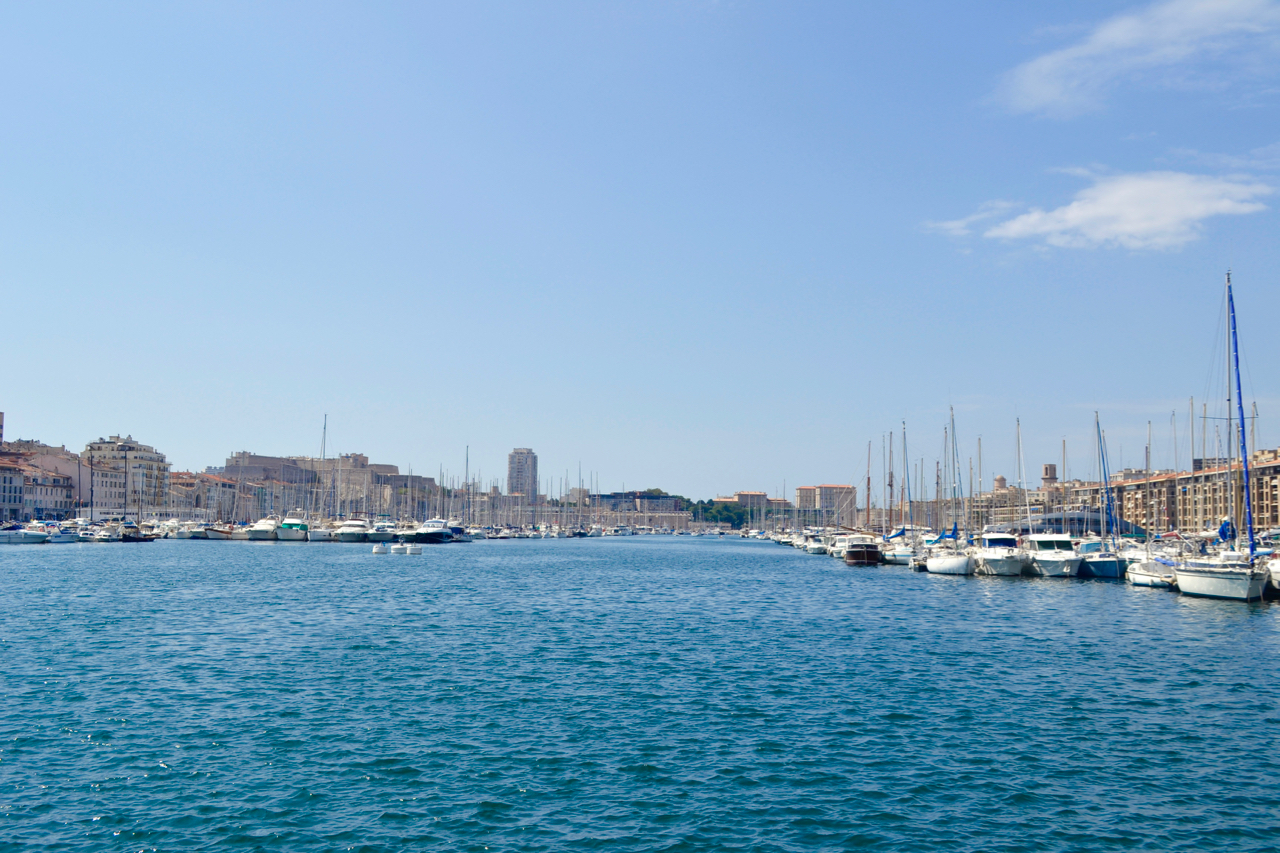 Born of a Greek settlement in the 7th century, Marseille rose to become France's first city and its largest port. At one time the domineering heart and trading centre of the French empire, to this day it's still the largest commercial port in the country.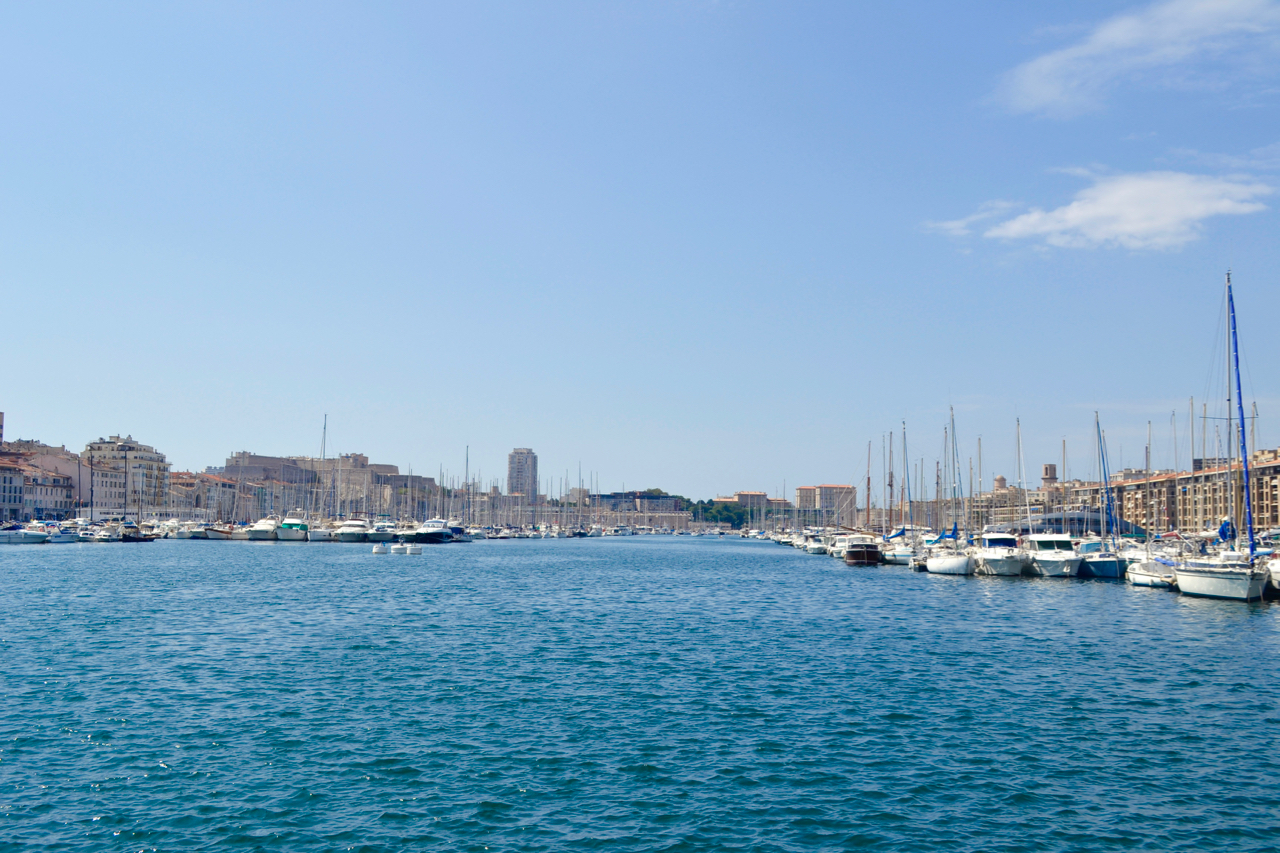 Though the full-scale commercial port has moved further downstream, the Vieux Port is the centre point of the city and the historical and beautiful port-of-call where your trip should begin – after checking-in and dropping your bags wherever you lay your head.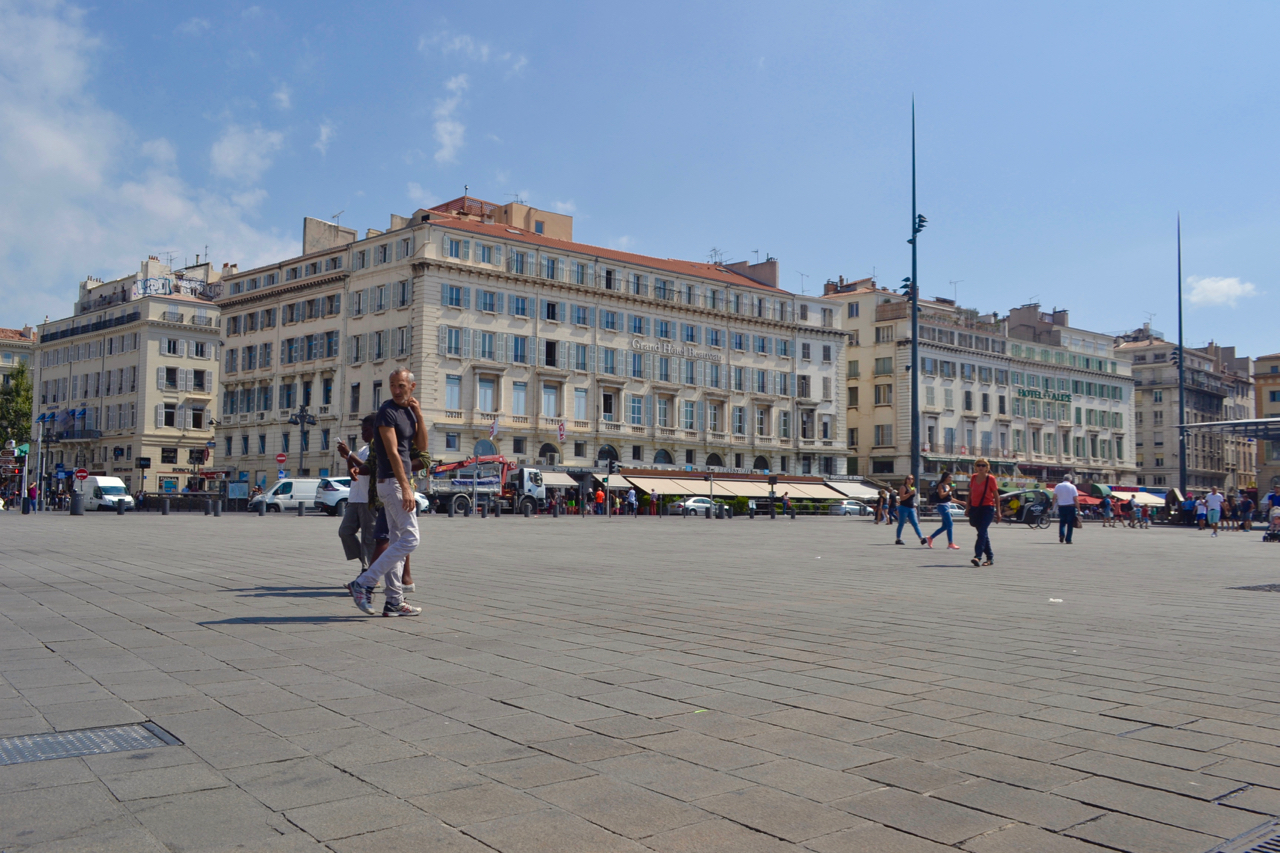 Vieux Port
Looking out to towards the sea amidst a dizzying melange of masts and sleek chrome-licked private yachts,  you get a full 360º of the main sights of the city along the two sides of the port.
Bookmarking each end is a pair of forts, Fort St. Jean to the west (which has now been repurposed as part of the newly-opened MuCEM museum following the city's tenure as Capital of Culture in 2013) and Fort St. Nicholas to the eastern side.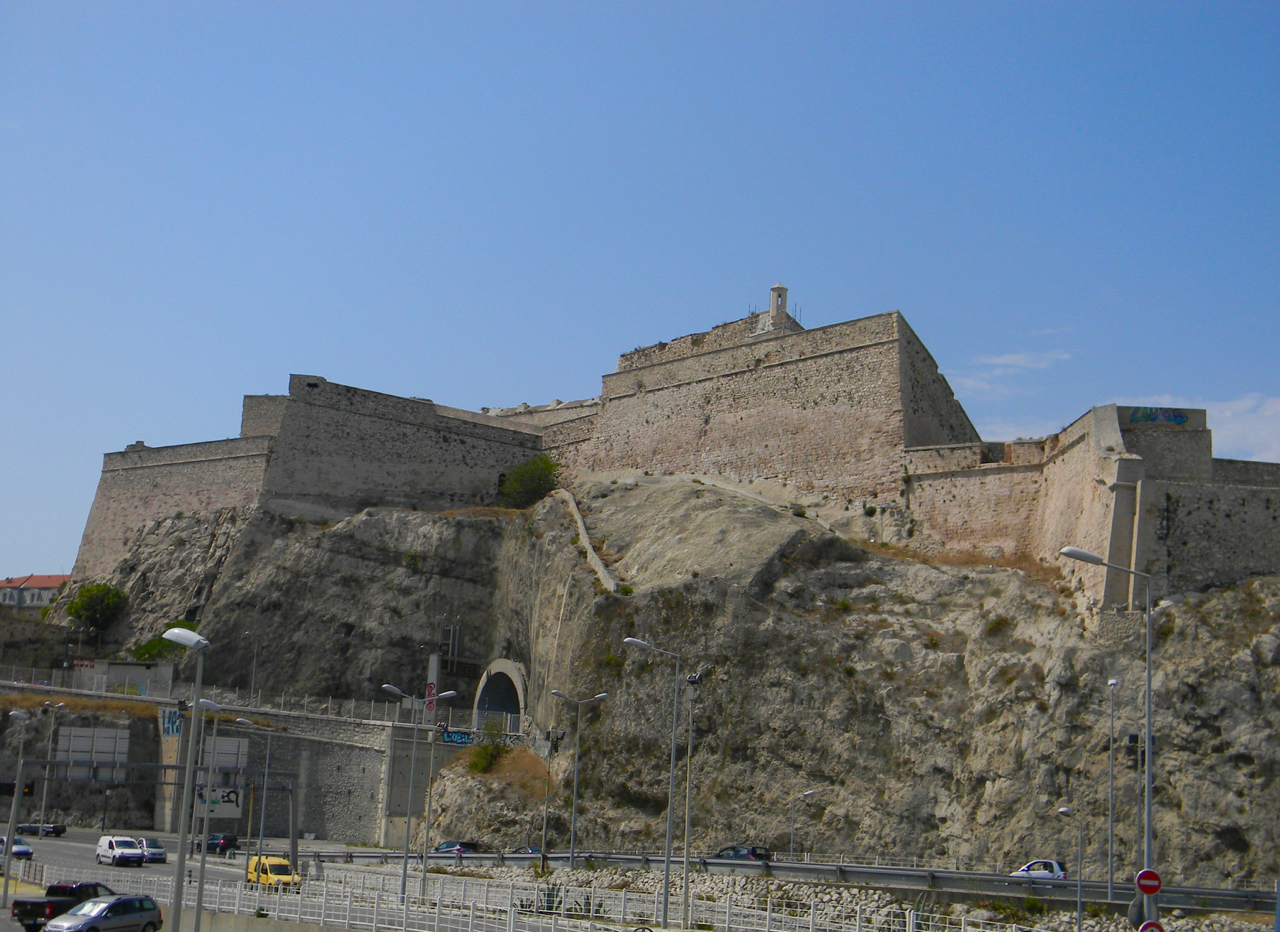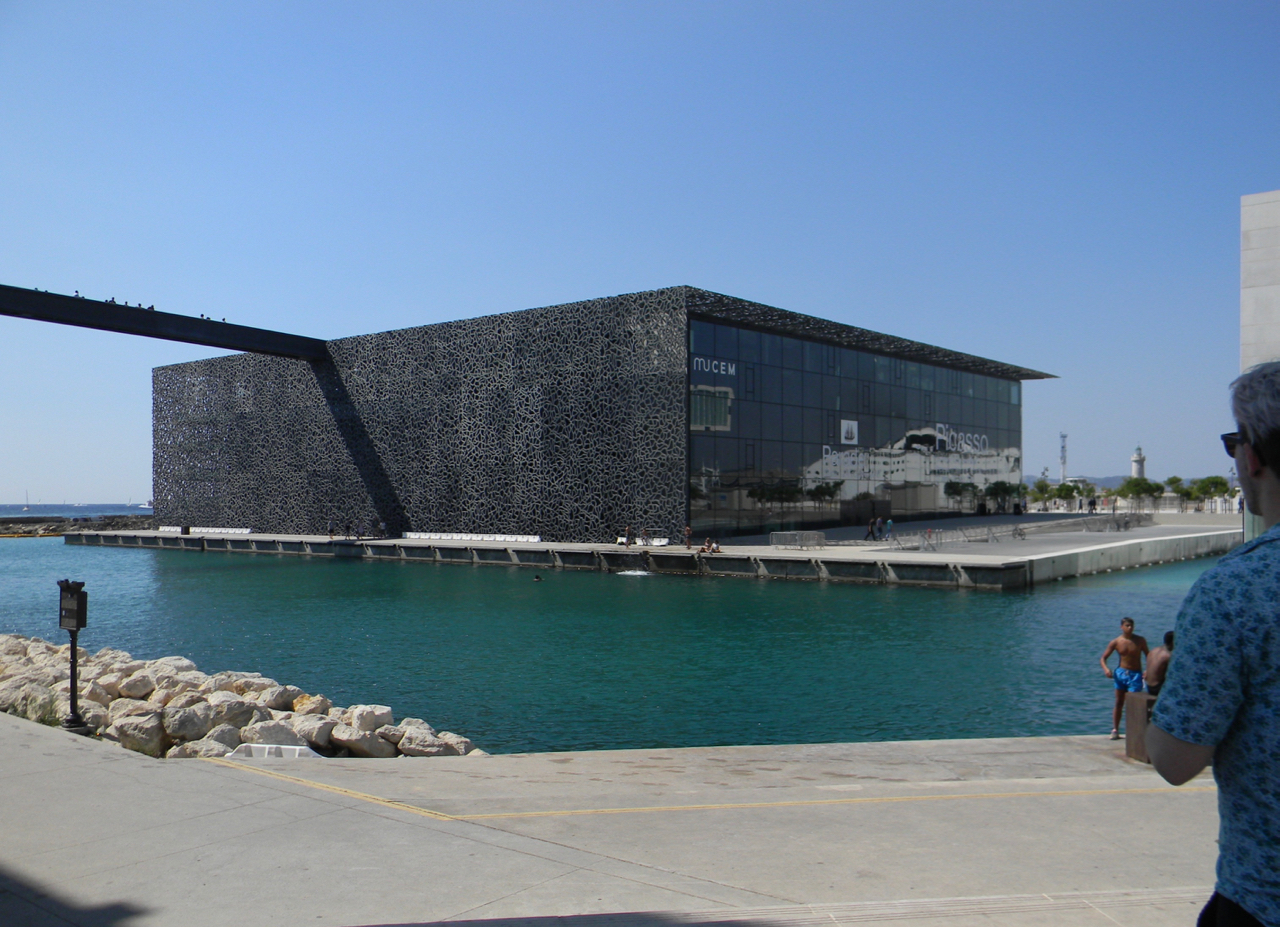 Both are closed to the public, but you can walk through the former on a trip to MuCEM.
Hôtel de Ville (Marseille town hall) is also worth seeing and if you're an early riser during your trip you might catch the famous fish market on Quai des Belges, at the mouth of Vieux Port.
Notre Dame de la Garde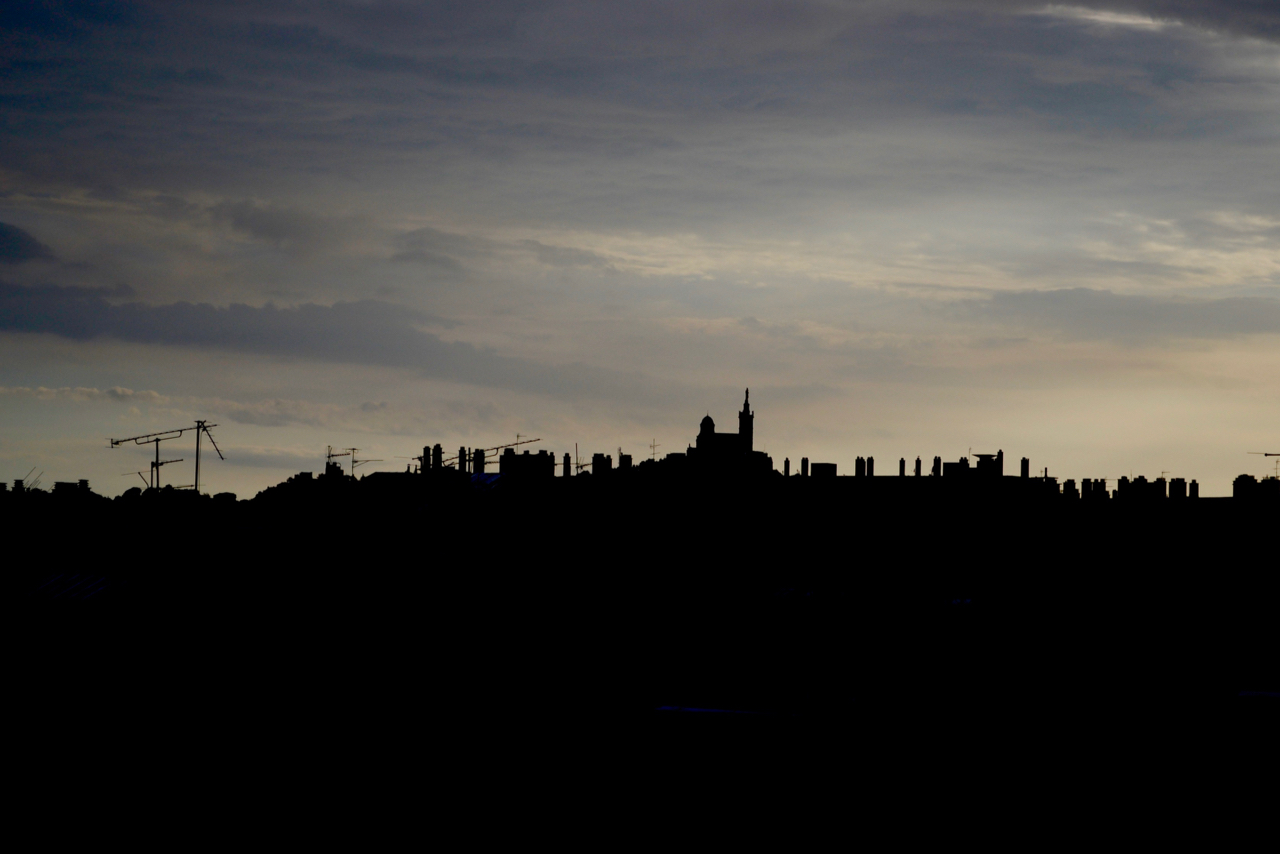 The focal point of the city is Notre Dame de la Garde, a unique Neo-Byzantine/Romanesque basilica which sits at the highest natural elevation of Marseille. Built in the late 1800s, it's crowned by a gold-gilded Madonna and Child, marking the highest peak of the city as the mother watches over and protects all those who inhabit Marseille.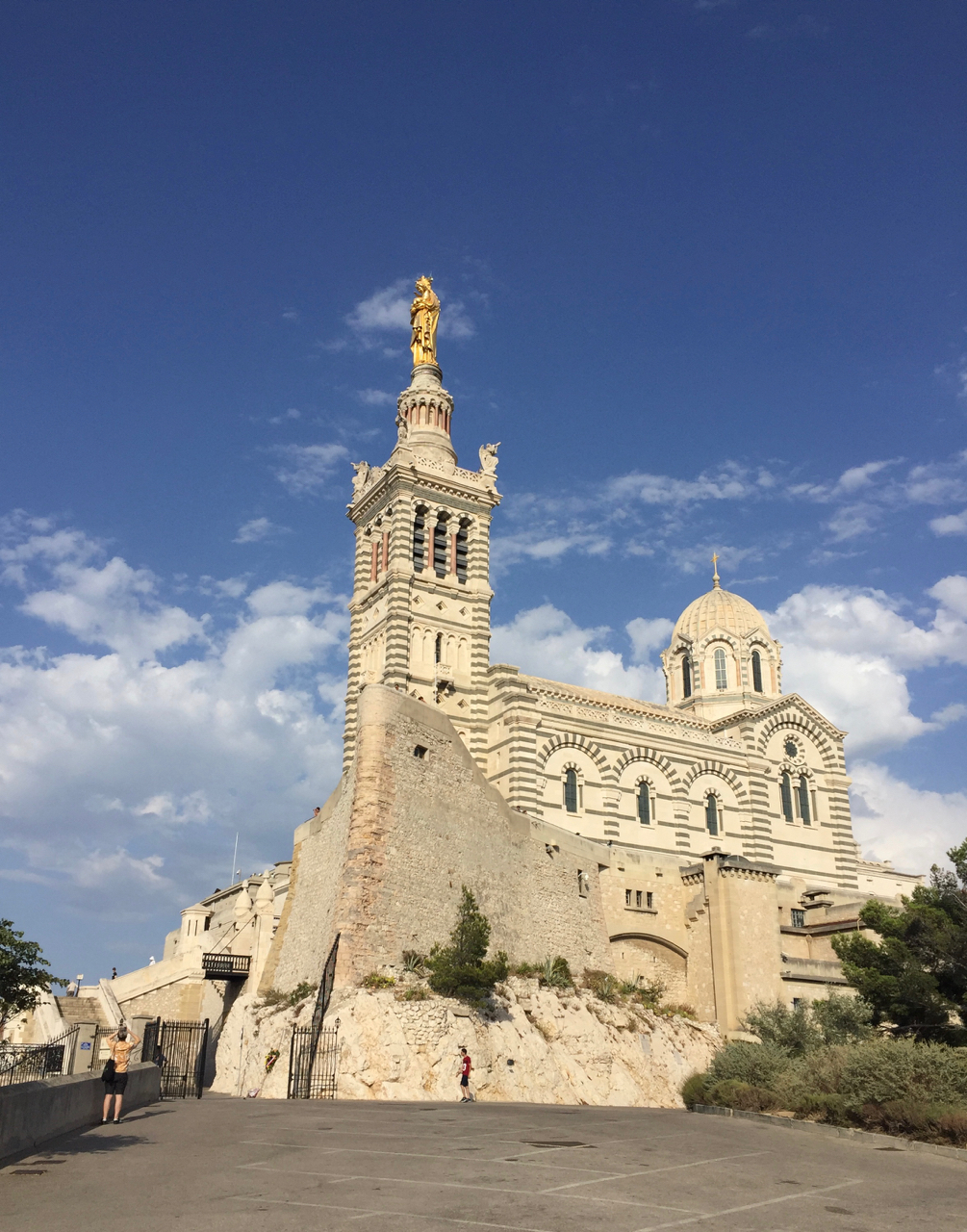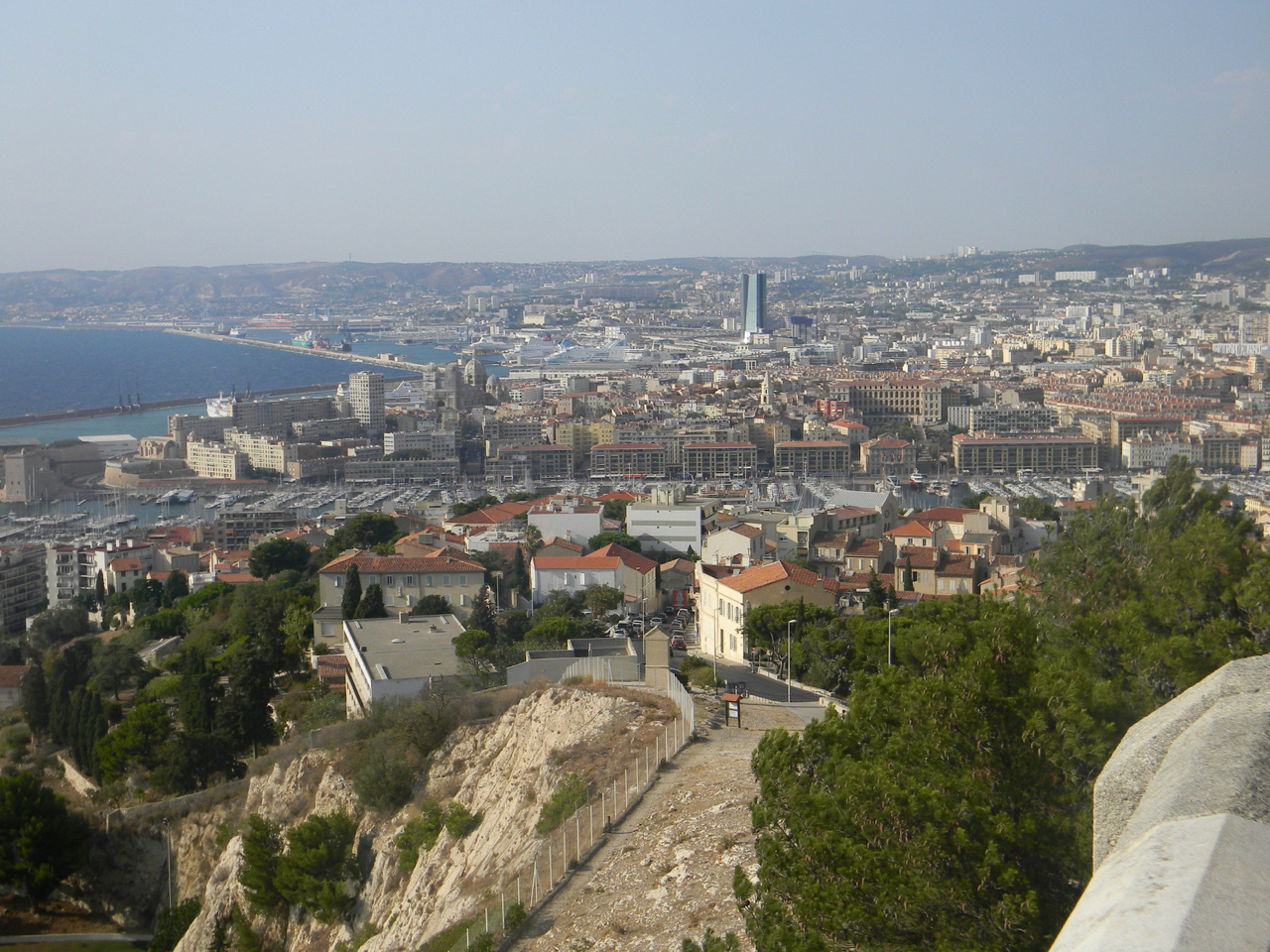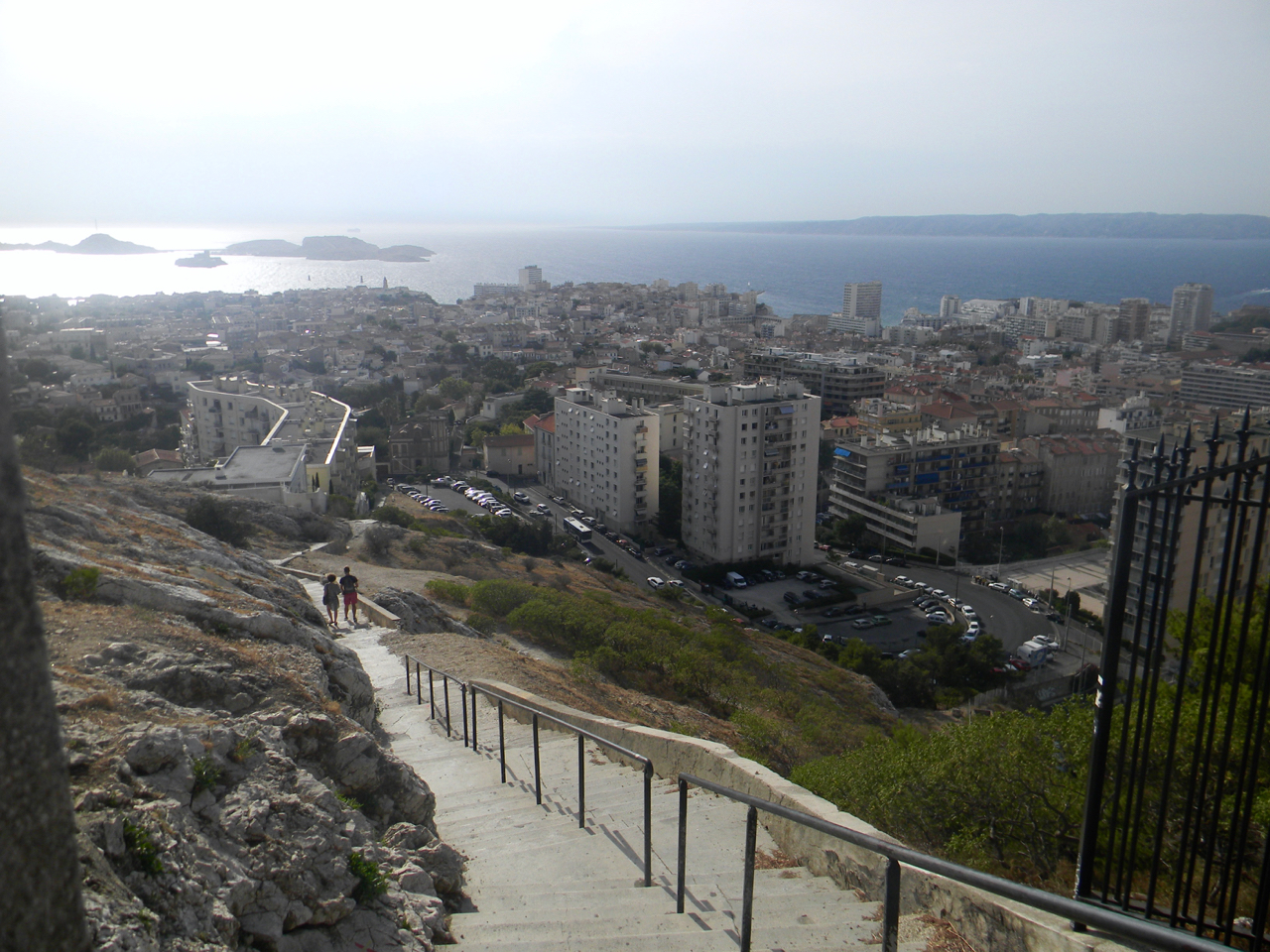 We're not huge church goers but we can absolutely appreciate gorgeous architecture and historical sites and this is well worth a trip. There's a cafe and museum here, so a trip will take about an hour.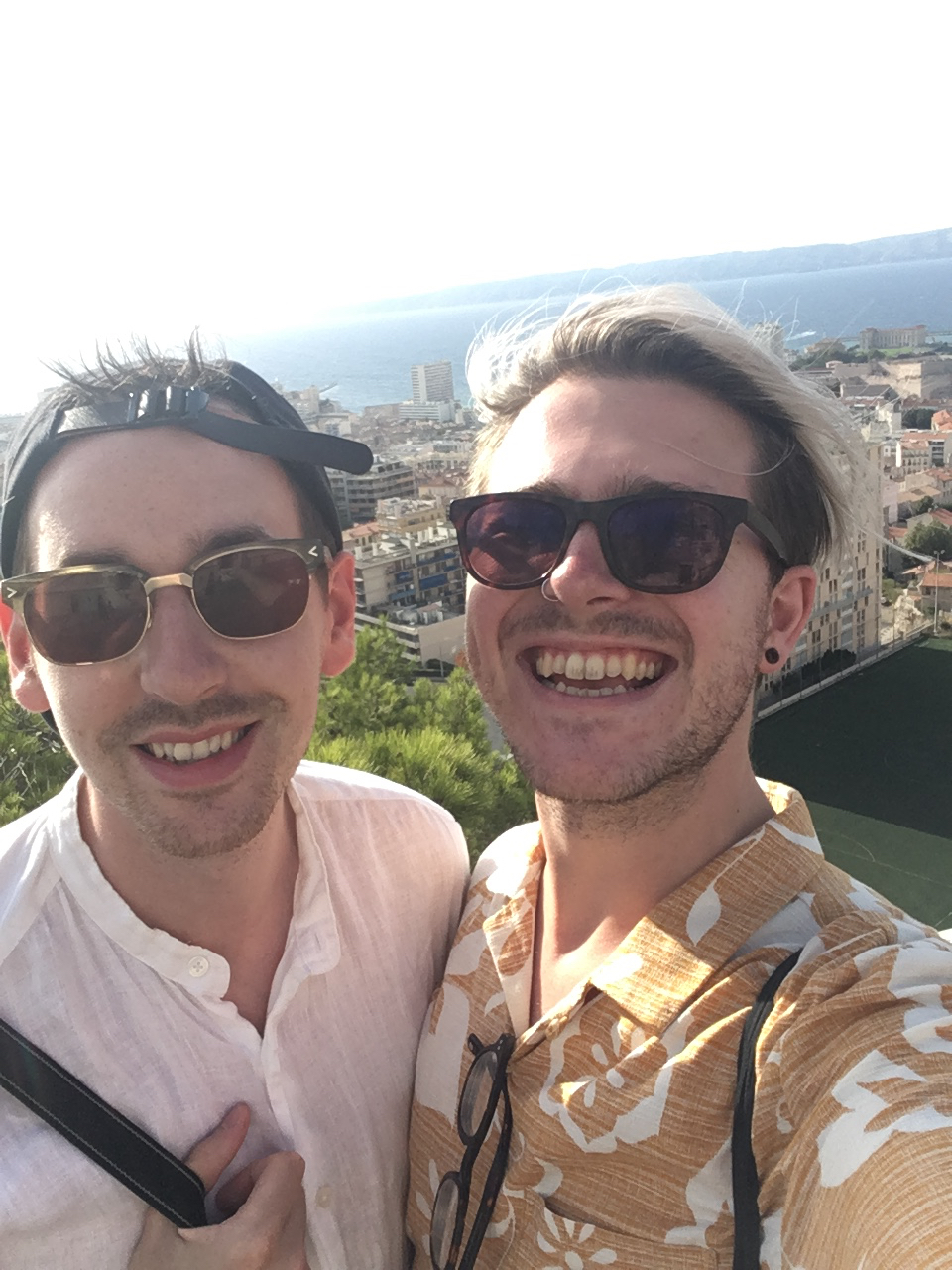 On the sea road to the church you'll pass by some of the beaches, including the locally-popular Plages des Catalans and also this beautiful memorial statue to the victims of World War I.
Marseille by Boat & Chateau d'If
With time being precious, head over to the Croisieres Marseille-Calanques hut to purchase your £10 tickets for a 1 hour boat trip around the harbour and to visit Chateau D'If, an island fortress located a mile offshore.
If you choose to disembark on If, it will add at least an extra 45 minutes onto your journey plus another €5 entry fee (free for under-25's from EU countries). It's nice to see, with some historical and fictional resonance, but on a time-tight trip just seeing it from the boat is probably enough.
What this speedy sea journey gives you is a great sense of the size of Marseille, as well spotting a few highlights dotting the coastline. You'll instantly understand how important the sea is – the true lifeblood of the city. The port never stops, with a constant stream of small passenger ferries, cruise liners, yachts, dinghies and speed boats sailing to and fro'.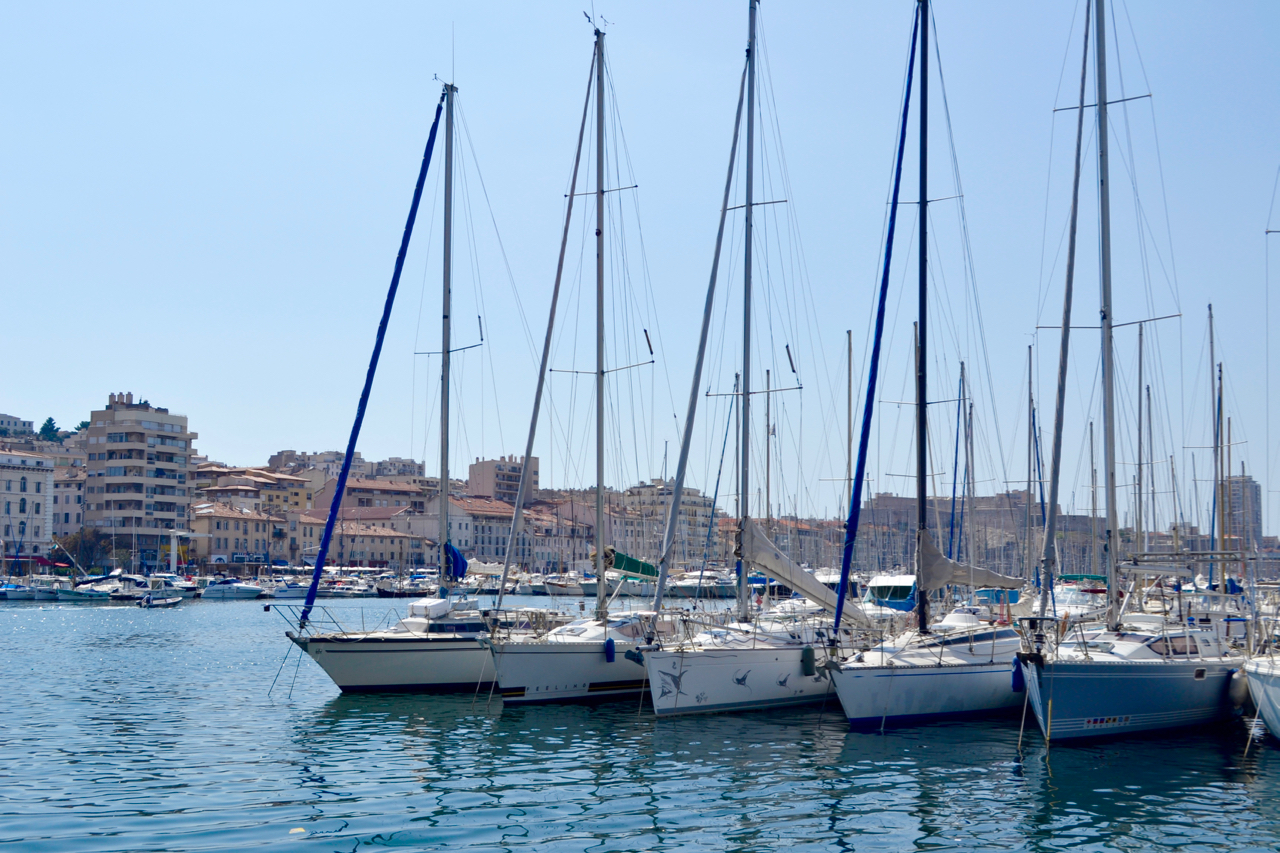 Dinner in Marseille
After arrival back at Vieux Port, time for dinner. Annoyingly, there's a dining culture in Marseille that's quite strict. Lunch takes places between 12-3pm and dinner from 8-11pm. Outside these times you may find it challenging to abide by a different schedule, so just go with it. For excellent value on the fine dining side, head to la Table du Fort, just off the Vieux Port on Rue Fort Notre Dame. Run by a celebrated husband-and-wife duo, the menu is French classics made modern in a simple, impeccably formed menu. Service is excellent and a three-course dinner begins around €36 per person.
On the other side of the Vieux Port, hidden down a maze of side streets in the Le Panier district is Chez Etienne (no website). Located on Rue Lorette, this is a small, family-run neighbourhood restaurant, specialising in steak, squid and the local classic pissladière – an anchovy and black olive-strewn pizza originating in Nice, further along the coast. You order by the person, rather than the slice as they will dish out several piping hot slices, straight from the wood-fired oven, to each person's plate when ready. We suggest ordering the pave de beouf- a gorgeous succulent steak, which comes served rare or medium-rare (tip: that's à pointe in French). A selection of sides are brought to the table, but don't except chargrilled white asparagus in a dijon dressing or triple cooked chips here.
You'll lap up a plate of piping hot aubergine parmigiana/ratatouille and a crunchy, sharply-dressed side salad in a simple plastic bowl – funny, when we tried to share between us, the waitress insisted both were specifically for the steak!
This is true, classic, essential Marseille, with locals outnumbering the tourists who find their way here. The service is luke-warm but welcoming, if a bit short,  and will not be in English, so brush up on your French phrases! Tamarind and Thyme also ate here before and blogged about it.
Generally, on the Marseille food front, while tourism continues to grow, restaurants and bistros are a bit behind here. You'll find countless of those tacky, tired seaside restaurants with staff coaxing you in holding menus bigger than your head all along the Vieux Port. Some are worth dining in, but avoid most of them. Finding genuine places worth dining in may be difficult, but we've uncovered lots of options on our Google Map below that you can use to guide you!
Marseille's Vineyards & Wines
We spent the bulk of the next day on a trip around some of the region's best vineyards, which we wrote about in a separate post here: Provence Wine Tours. This region is famed for its rosé and they produce a lot of it, so it's a great option to try some of the best vineyards in the area. We highly recommend this day trip as you get to explore three different local vineyards, guided in english, and a whistle-stop hour or two in nearby Aix-en-Provence.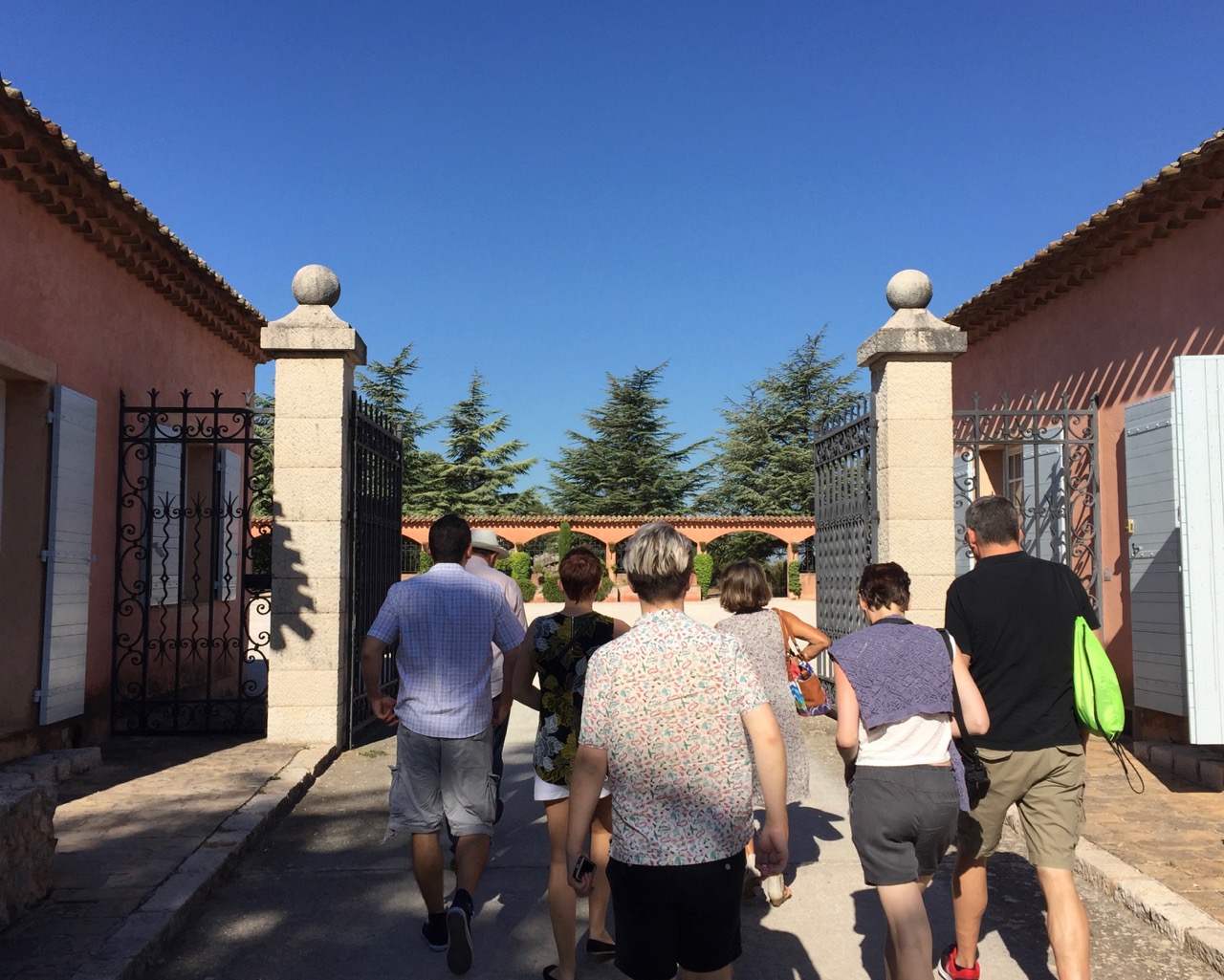 The Best Terrace in Marseille
If you get the chance, it might sound strange but we suggest stopping by Intercontinental Marseille – Hotel Dieu and whiling away an hour or two on their terrace with a drink in hand.
One of the best lounging spots in the entire city, with a direct, dead-centre view of Notre Dame de la Garde before you, this is also made even more famous by an appearance in the Netflix series Marseille (which we're obsessed with, having watched whilst planning this debut trip!) We sipped this little gin number below as we literally melted on the hottest day of the year Marseille had seen!
Cours St. Julien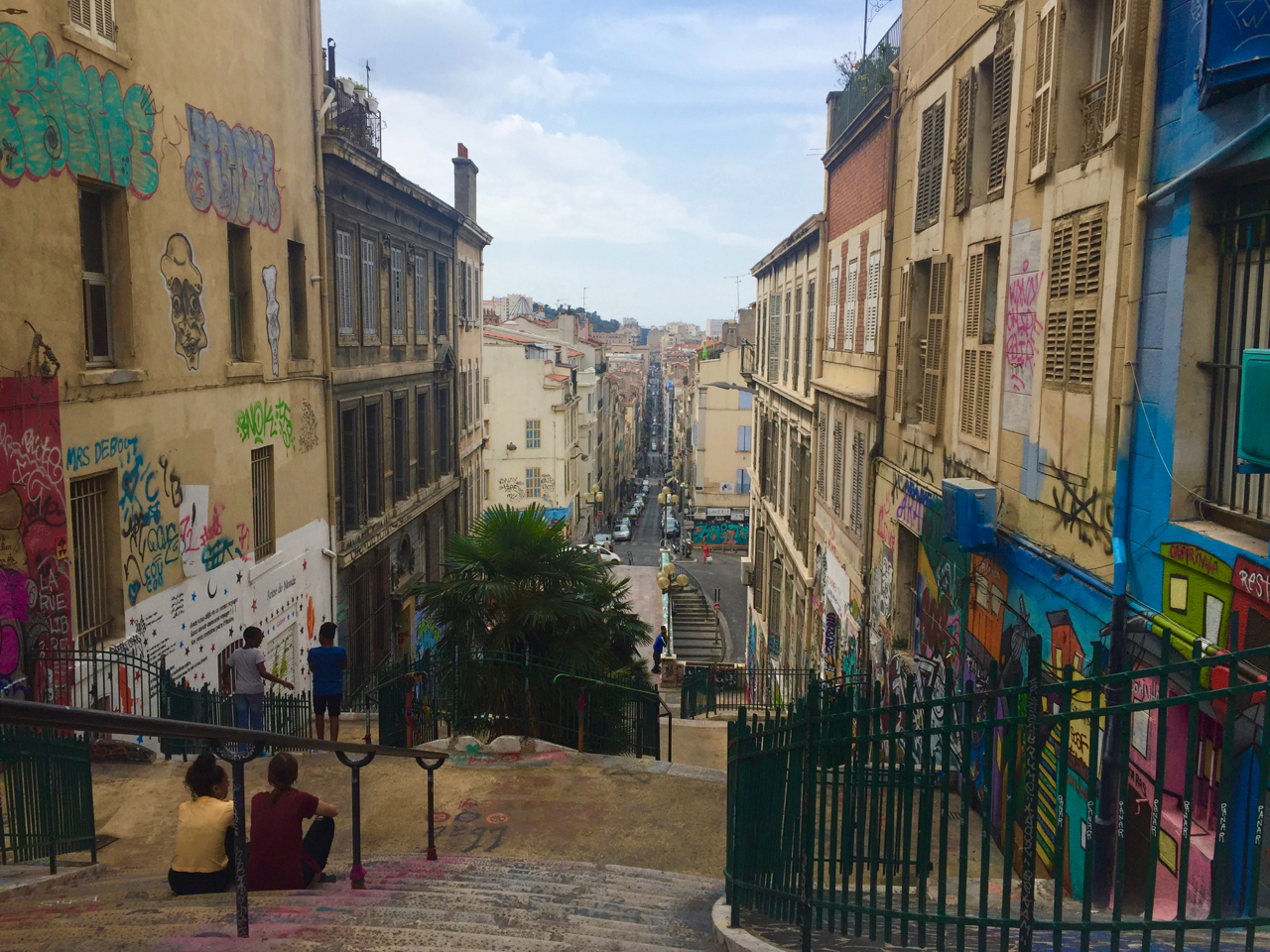 Spend the evening hanging around the trendy, incredibly cool Cours St. Julien area – which we only discovered on our last morning in Marseille so we need to live through you and explore it fully! Cafés, restaurants and bars sit side by side on this long, wide square that's the perfect for hopping from place to place, picking your favourites. We're basing ourselves here for about a week on our next trip to Marseille as there was so much we wanted to discover!
If it's Bouillabaisse (fish stew) you're after instead – the city's must-try dish – we have it on good authority that Le Miramar and Chez Fonfon are the best places to try this local delicacy.
Marseillaise Souvenirs
Spend the next morning doing some shopping. Browse around Galeries Lafayette (a sister of the ginormous, iconic Parisian department store) with its impressive food hall and floors upon floors of high end designer collections.
Try getting to Les Docks as well, a really unique shopping centre (where you can also dine on burgers at Big Fernand, like we did!) You can also pick up some of the iconic Marseillaise products before you depart, like:
Navettes (boat-shaped orange blossom biscuits to dunk into tea or coffee, best at Four des Navettes in Les Docks)
Calissons (fruit-flavoured ices sweets kind of like marzipane, best from Confiserie du Roy René just off Vieux Port on Rue du Republique)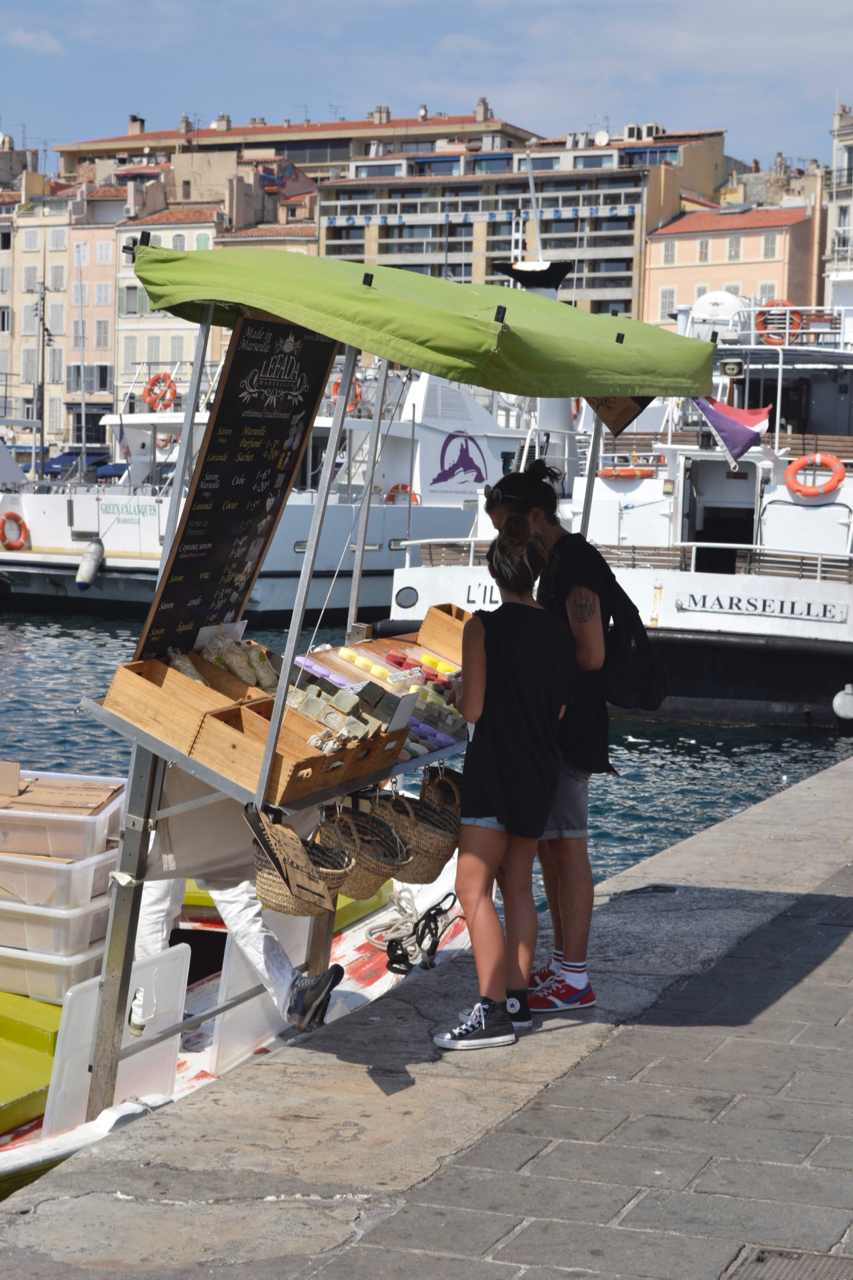 Soaps (Savon de Marseille, particularly lavender and lots available at the daily market along the Port outside Hôtel de Ville but you can also see a factory that produces them at La Licorne at Cours Julien)
A bottle of rosé…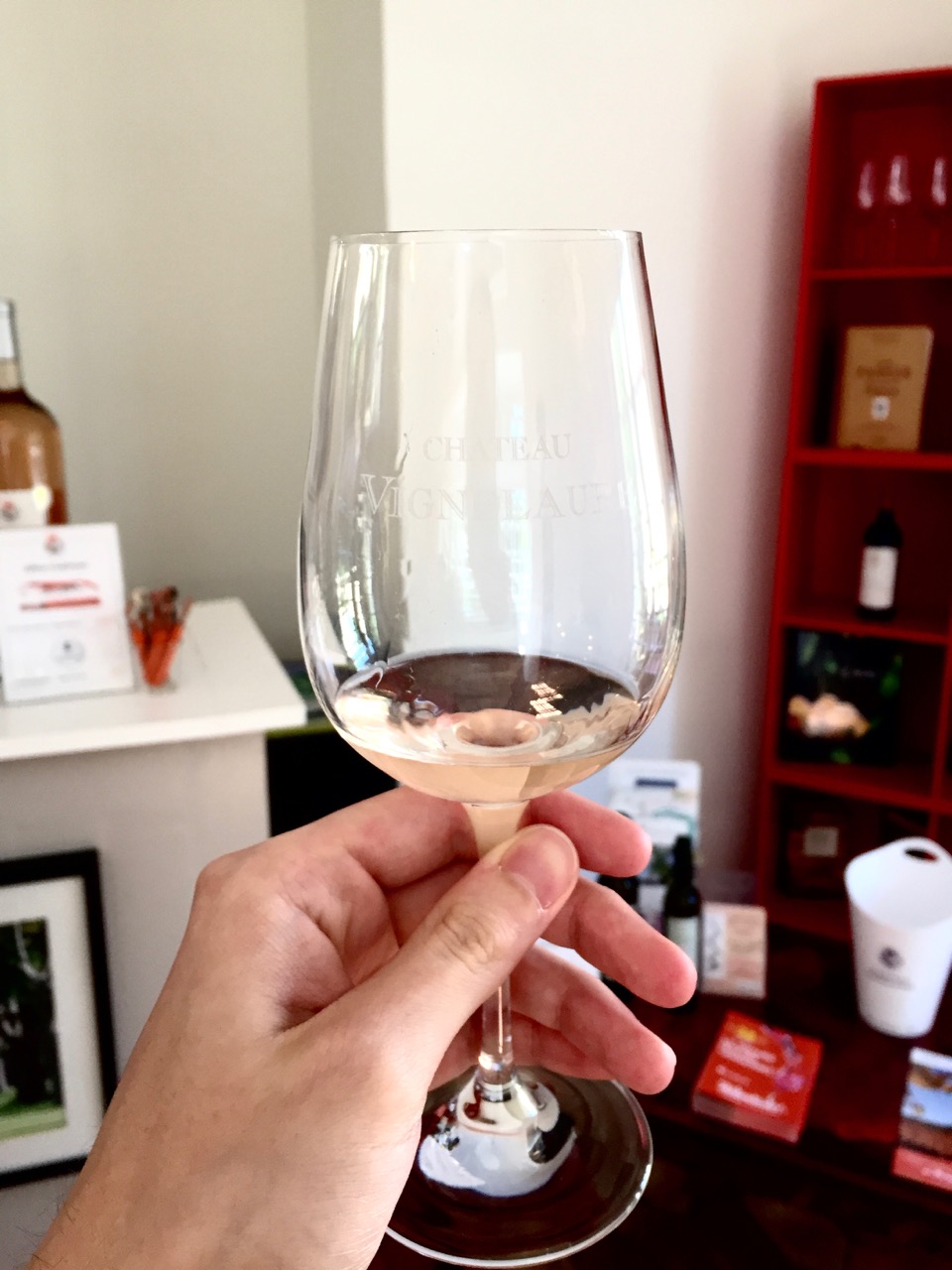 …or a bottle of the high proof local spirit Pastis and see if you like it! It's pungent with a deep anise flavour and turns cloudy when mixed with water. We bought a bottle and made a couple of Death in the Afternoon cocktails with it!
Travelling to Marseille
If you're travelling from the UK, we highly recommend taking the Eurostar service, now directly serving southern France from London. From St. Pancras International in north London to the sunny south-eastern coast of France – via Ashford International and the Channel Tunnel – the route swerves by Paris before following the A6/A7, nicknamed the autoroutes du soleil (sun highways), literally paving the path to the warmer climes of the Mediterranean coastline.
The 6.5 hour journey from St. Pancras to Marseille St. Charles may sound incredibly long, but having the ability to relax, stretch your legs, and (most importantly) take in the stunning, rolling French countryside as you fly by is worth every second. Another option is travel to Lille Europe station via Eurostar and changing to a TGV for the remainder of the journey – this is necessary during the return journey, either via Lille Europe or Paris.
Sure, it's cheaper to fly, but you can't mimic this travel experience up in the air. If you're travelling from elsewhere, or considerably outside London, there a number of airports in the region. Marseille-Provence is closest to the city, with shuttle busses taking you from the airport to the centre ville (city centre) every 10 to 15 minutes. Alternatively, Toulon-Hyères Airport is just an hour away by train, while Nice-Côte d'Azur Airport – further east down the coast – is about 2 hours away.
⚓️