Eurovision fans, this is the host city guide you need! Welcome to Eurovision Liverpool 2023!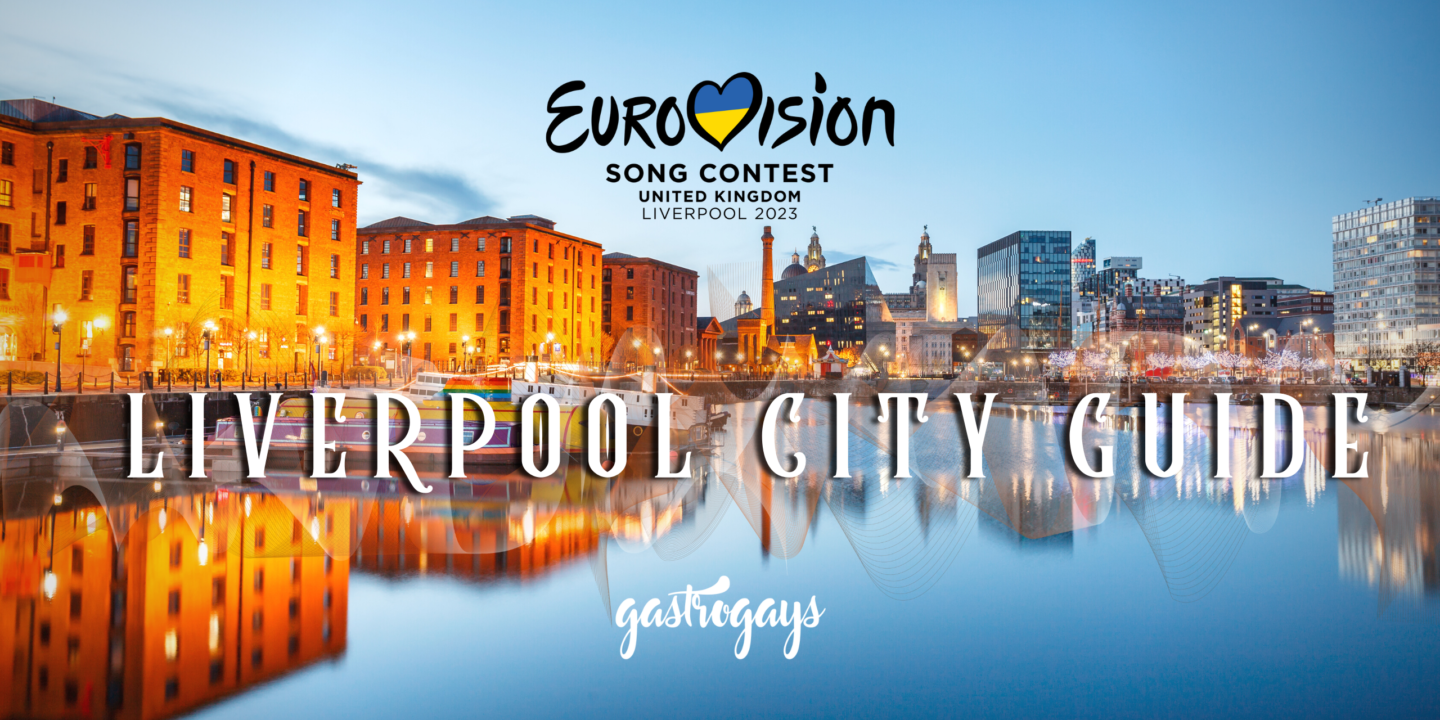 Exactly 25 years since the United Kingdom last hosted the Eurovision Song Contest, the World's biggest live music event arrives back in the UK, making its way to the Merseyside city of Liverpool in May 2023. Liverpool will be the host city of Eurovision 2023 on behalf of, and in co-operation with, the winner of last year's Contest, Ukraine. Taking place across three live shows (two-Semi Final shows on Tuesday 9th May and Thursday 11th May respectively, with the Grand Final on Saturday 13th May), Liverpool's M&S Bank Arena will be the venue arena for the ESC whilst the Eurovision Village and EuroClub will also take up residence in the city.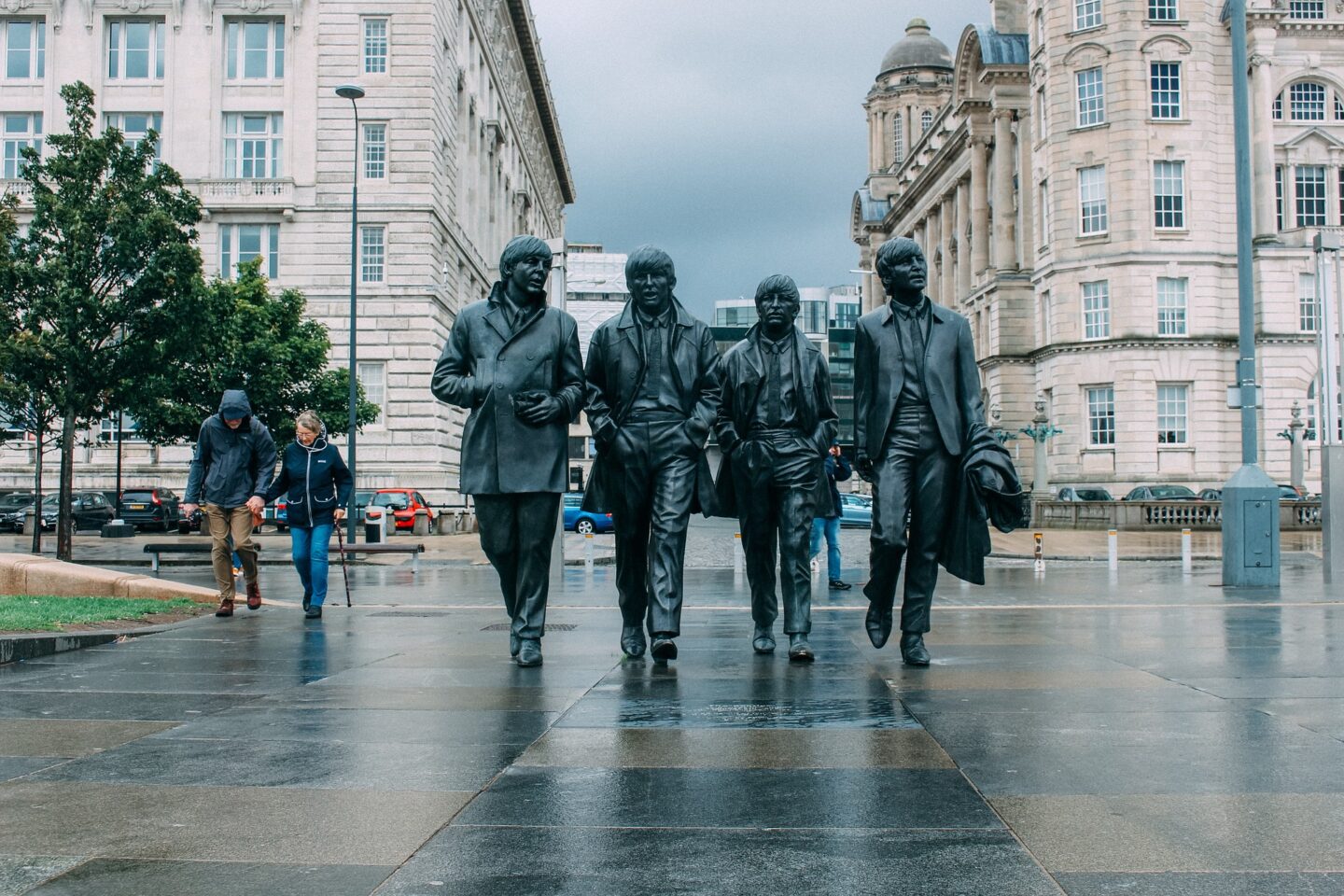 Use the handy anchor links below to JUMP between our different section of this ultimate guide to Eurovision 2023's Host City: Liverpool!
A UNESCO Music City with a rich music heritage (and a proud Irish one) which gave us The Beatles, Cilla Black, Dead or Alive, Frankie Goes to Hollywood, Melanie C, Atomic Kitten, Sugababes and 1993's runner-up Sonia, among countless other music legends. Liverpool lays claim to being the city with the most UK Singles Chart No. 1s –– almost 60 traced back to it.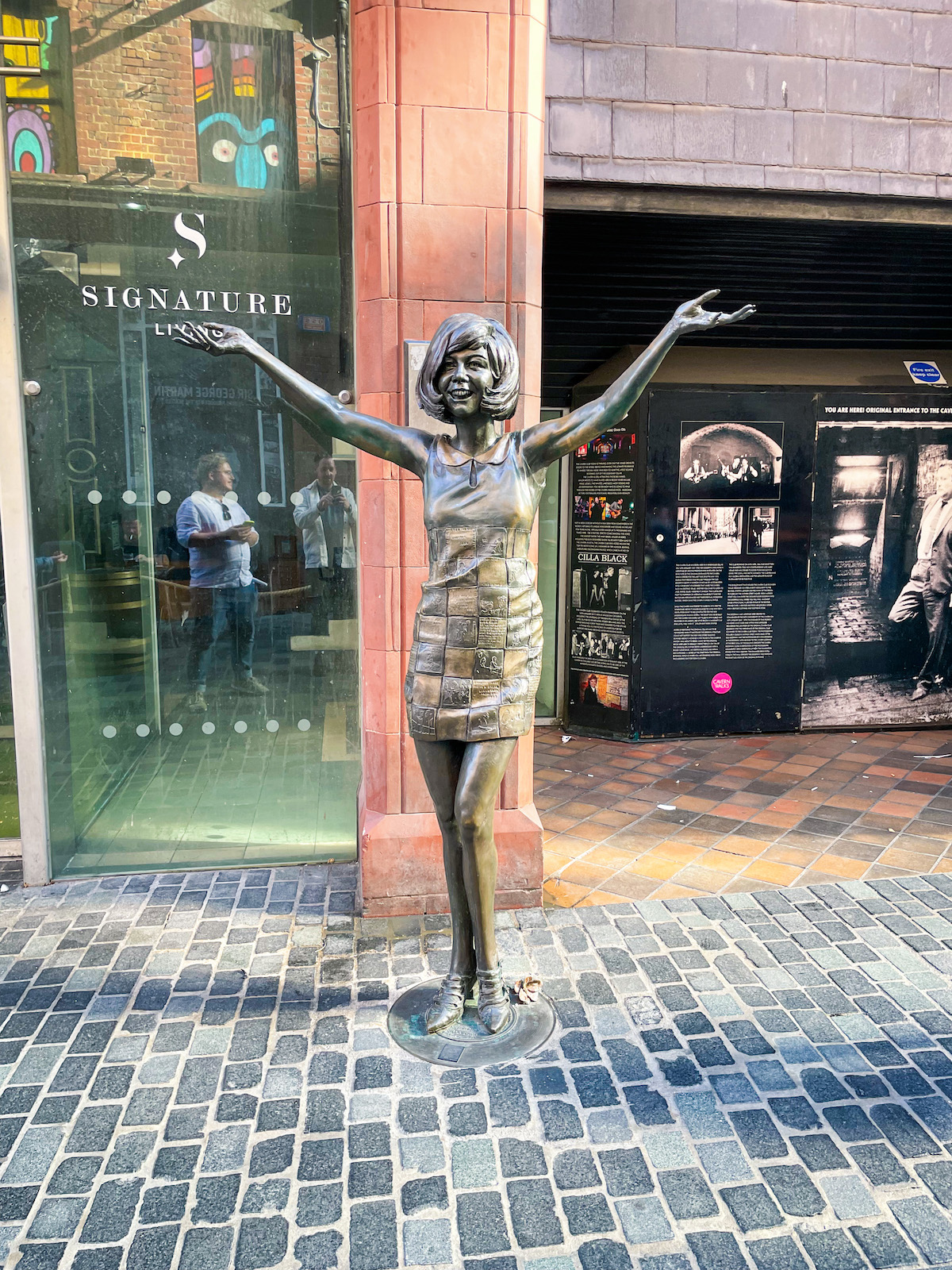 Liverpool is also home to one of the finest orchestras in Europe, the Royal Liverpool Philharmonic Orchestra, which takes residence in the resplendent art deco surrounds of 'The Phil' (Philharmonic Hall) on Hope Street.
Background: Why Liverpool?
Now, glaringly obvious is that the United Kingdom didn't win the Contest (though Sam Ryder came a very respectable second place and runner-up) so why is the UK now hosting? In the event of the winning country not being in a position to host (for various reasons) or declining the automatic hosting right, the EBU has within its rights to offer the opportunity to another broadcaster. The most likeliest candidate is one which finished in the prior year's top five placings, even stronger so if it's one of the 'Big Five', the biggest financial contributors to the EBU.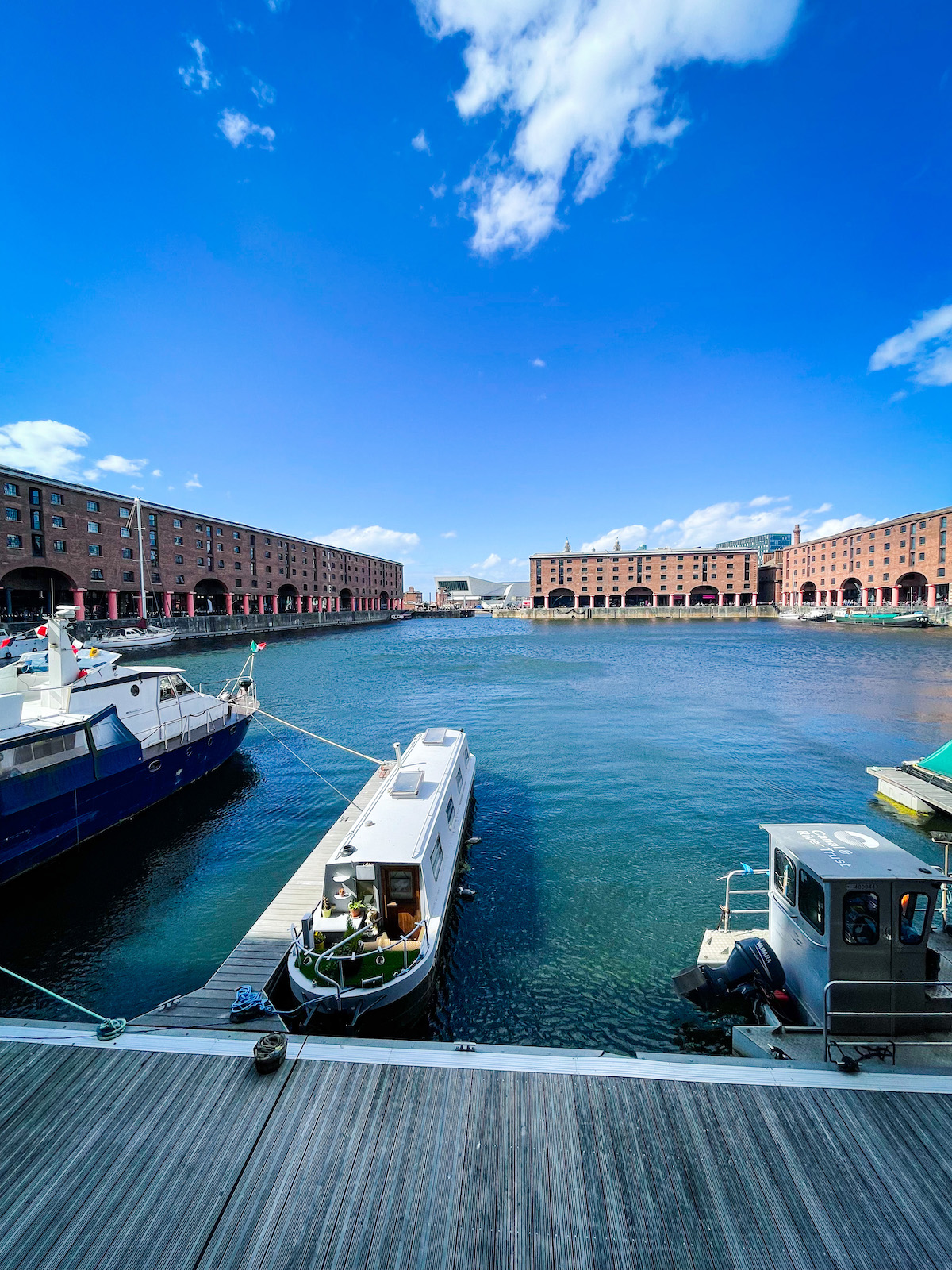 Ukraine expressed interest in hosting but due to the ongoing Russian invasion and subsequent war it was deemed not a viable option by EBU organisers. In July 2022 it was announced that due to ongoing security issues and safety concerns, Ukraine would not host Eurovision 2023 and so it was offered to the second-placed broadcaster, the United Kingdom's BBC, which accepted the offer.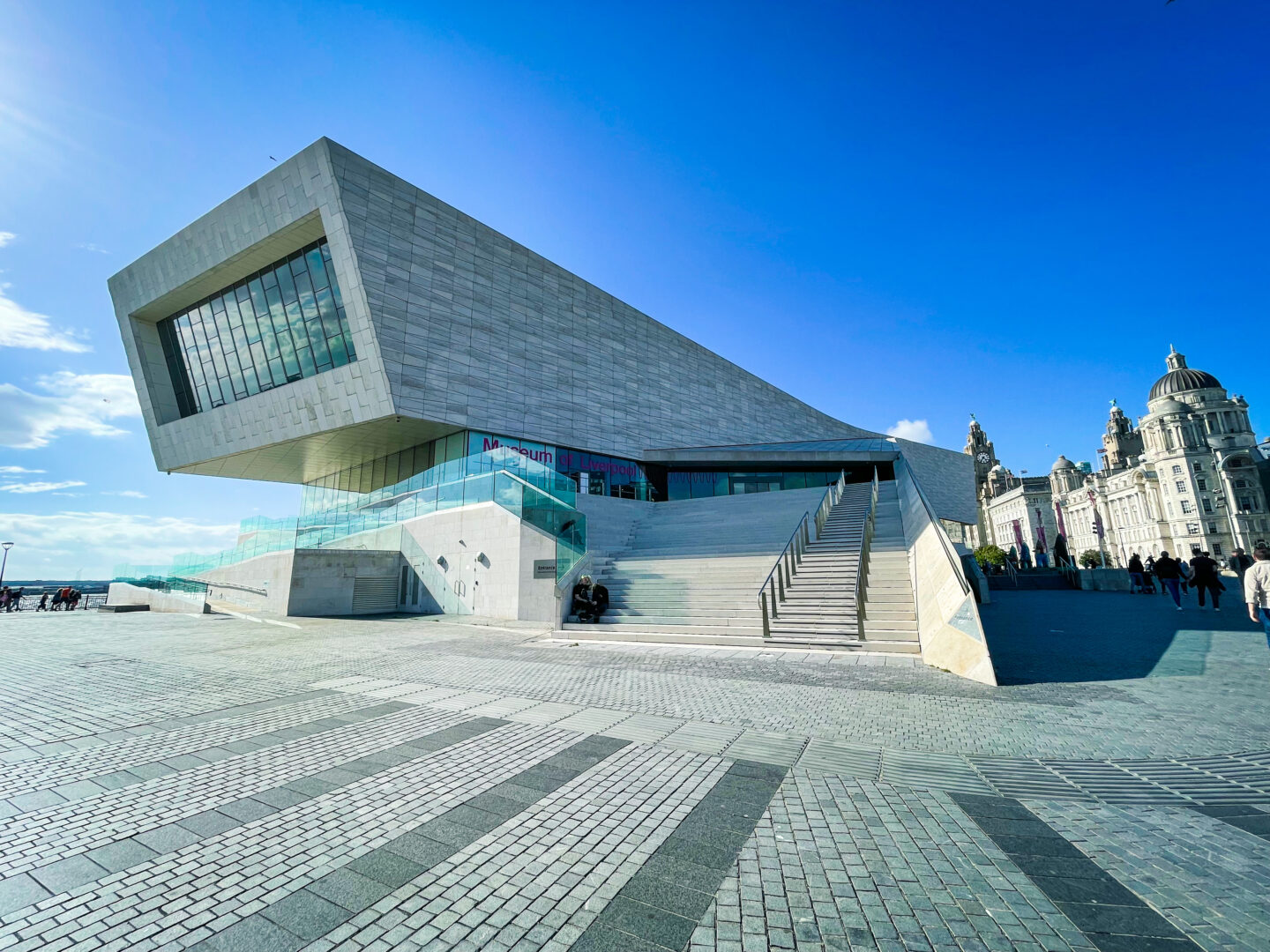 How did Liverpool end up winning the bid and securing the hosting rights on behalf of Ukraine? Originally a short-list of seven cities (Newcastle, Manchester, Leeds, Glasgow, Liverpool, Sheffield, and Birmingham) met the criteria. Then, a two-way run-off pit Glasgow (Scotland's largest city but not its capital) against Liverpool, where the latter was victorious. ESC Executive Supervisor Martin Österdahl said: "[Liverpool] is synonymous with music and Liverpool Arena exceeds all the requirements needed to stage a global event of this scale… We have been very impressed with the passion the city has shown in embracing the Contest and their inclusive ideas for placing last year's winners, Ukraine, front and centre when thousands of fans visit next May."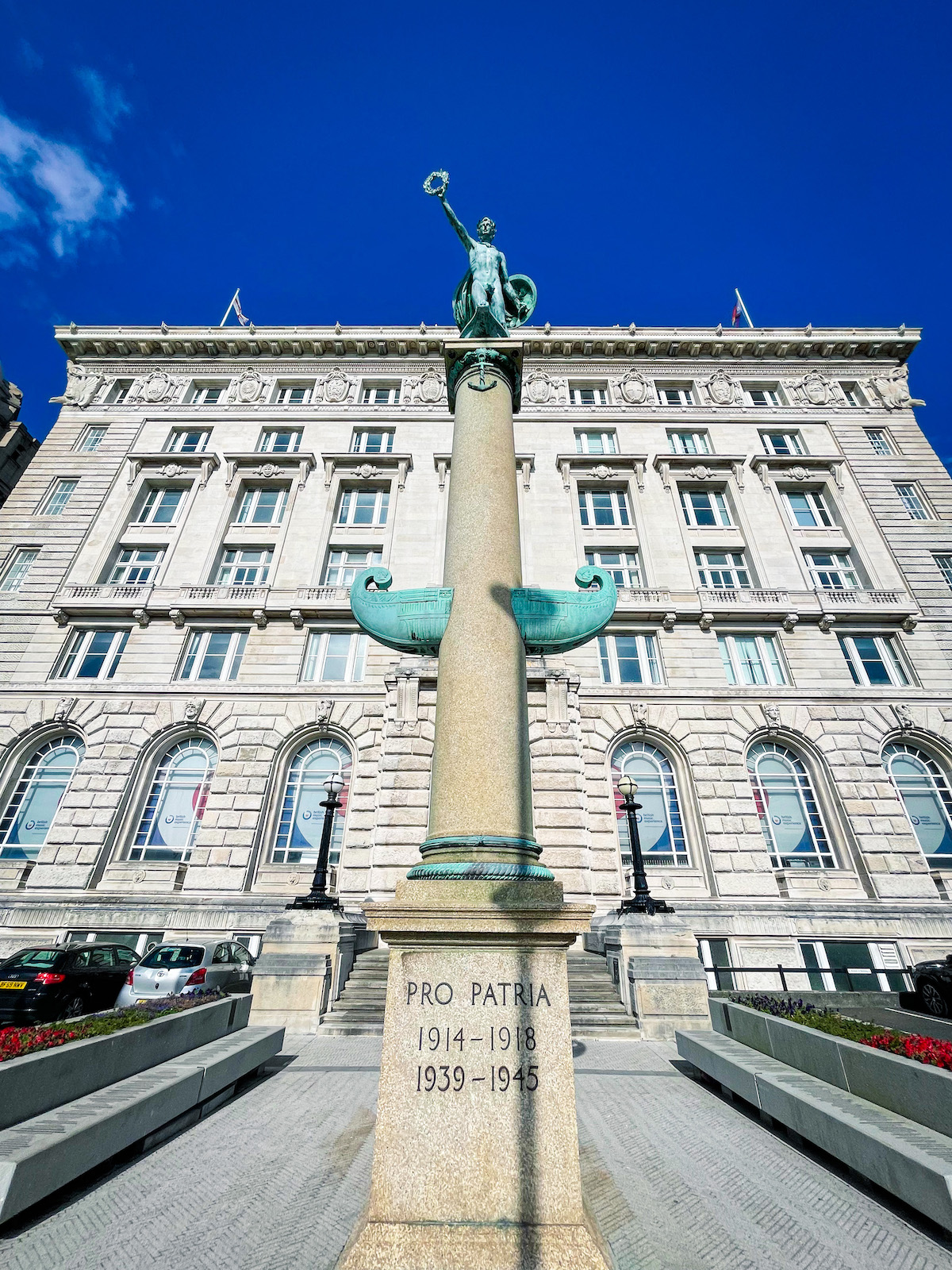 About Liverpool, Eurovision 2023's Host City
Liverpool is one of the UK's biggest cities and the sixth-largest metropolitan area in the UK, only smaller than London, Birmingham (West Midlands), Manchester, Leeds-Bradford (West Yorkshire) and Greater Glasgow (according to the 2011 Census date) however Liverpool has one of the biggest population densities per ㎢ of those cities. Liverpool made its name as an important port city, as well as being bolstered by the Industrial Revolution. It was a major area of emigration in the 19th Century, notably from Ireland, and was the home of White Star Line and Cunard, the registered port for liners like RMS Titanic and RMS Lusitania. Its music and sport heritage are amongst the biggest draws for the city.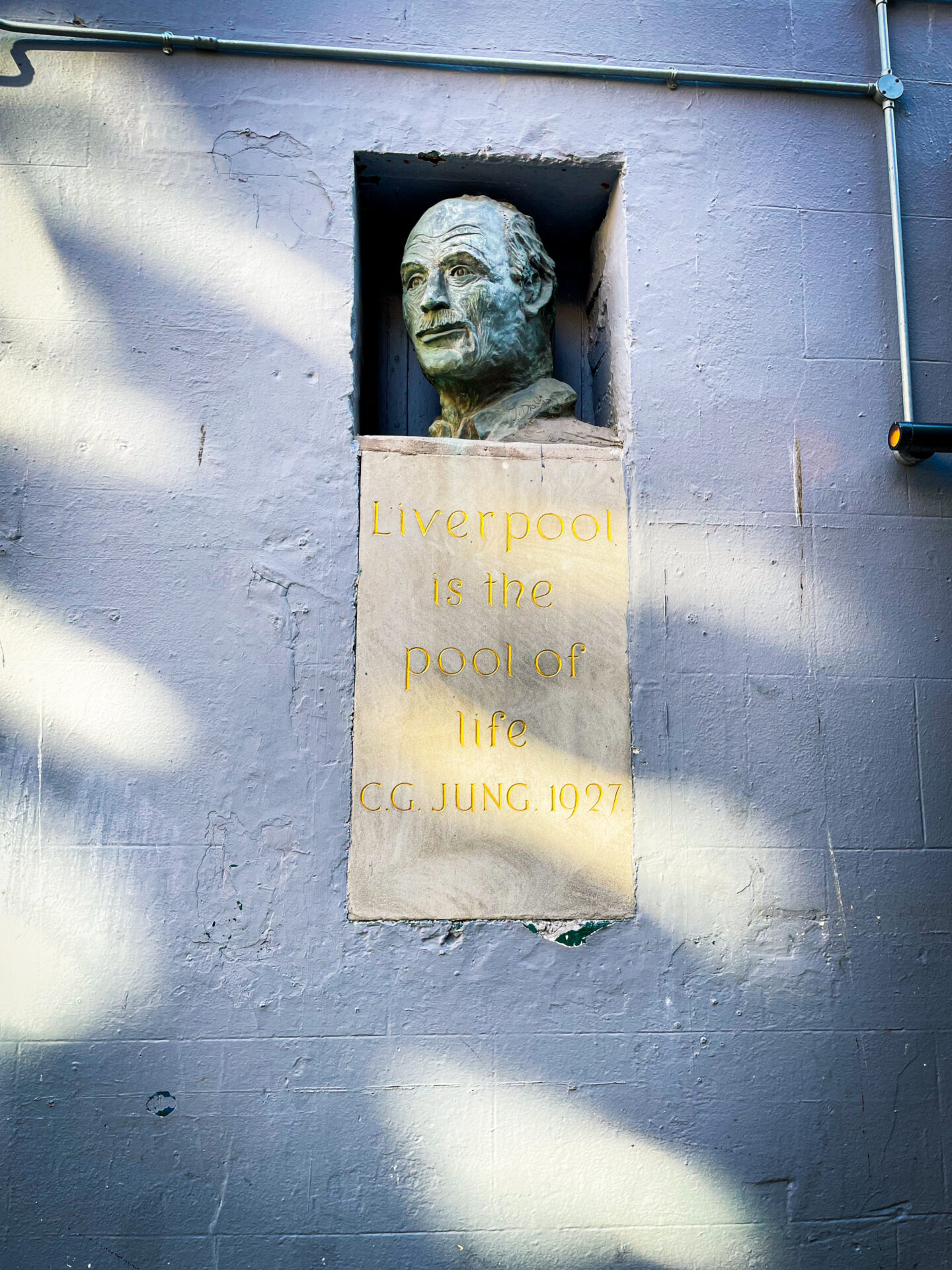 Transport: Getting to Liverpool
Liverpool benefits from being accessible by several routes: sea, air, rail and road, internationally and from other parts of the United Kingdom. It's possible to use several methods of transport to arrive, so for example Eurovision fans could consider flying to Birmingham or London airports and then connect via bus, rail or car to Liverpool, rather than focusing solely on the city's own airport or the nearby Manchester Airport.
Via Air: Liverpool John Lennnon Airport (LPL)
Getting to Liverpool via air is easiest via Liverpool John Lennon Airport, which deals exclusively in European destinations, so fans based in Europe may be able to fly direct. Liverpool John Lennon Airport's most popular routes are from Belfast International and Dublin, respectively. Mostly the low-cost airlines Ryanair and Easyjet operate routes at Liverpool John Lennon but Lufthansa, Loganair, PLAY and Wizz Air also operate.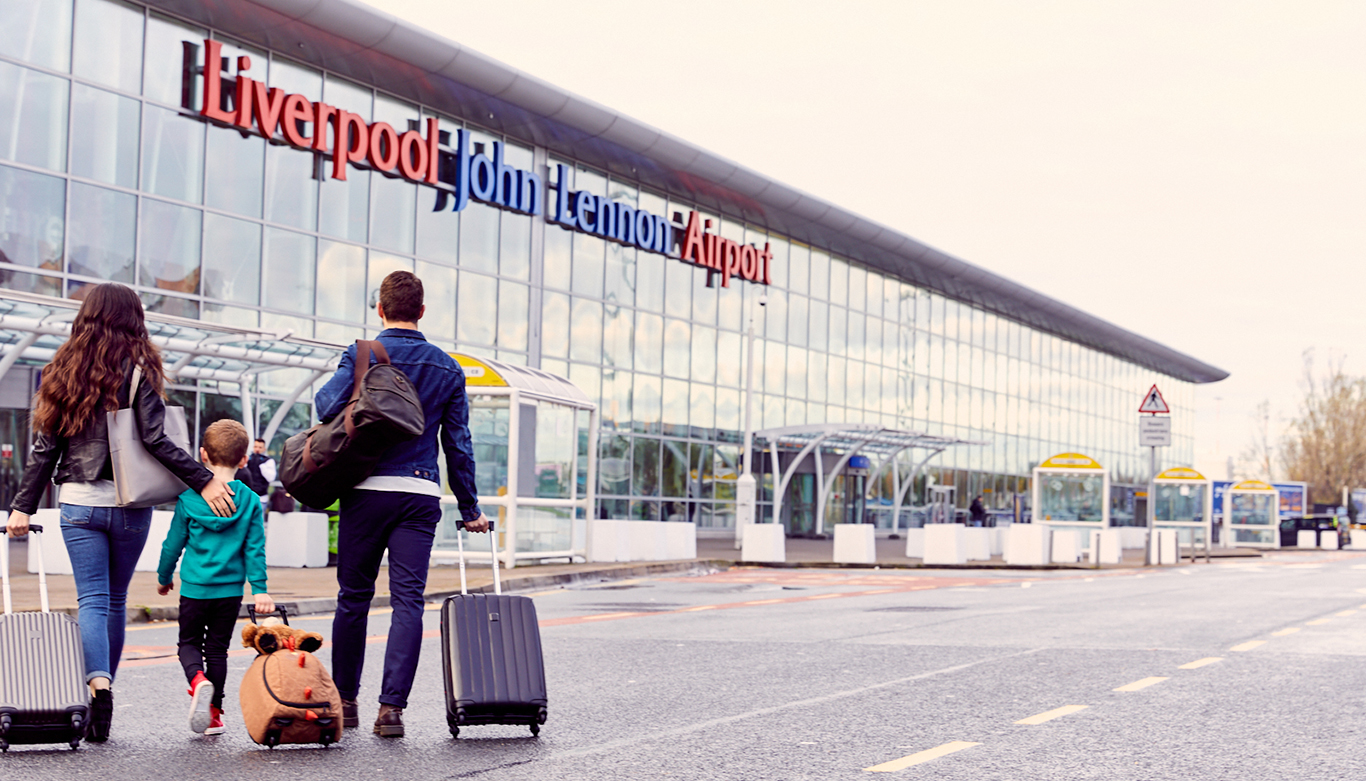 It's located about 12km from the city centre and it has no rail connection, the nearest rail station with services into the city centre is Hunts Cross, which is a 40 minute walk from the airport or around a 8-10 minute drive, so it's not worth going out of your way to catch a train indirectly.
The best option is to take the bus from outside departures, taking either route 80A or 86A –– both terminate at Liverpool One. Route 500 also operates a loop within the city centre and back out to the airport, taking in Liverpool One, Lime Street, Bold Place, Parliament Street, Hill Street and other stops. Download the Arriva UK Bus app (Apple, Google Play) for ease of tickets, but you can also purchase tickets on-board too. You'll also find a prominent taxi service and hire car facilities at the airport.
Via Air: Manchester Airport (MAN)
Liverpool sits just 50km from another major UK city, Manchester. The larger, busier Manchester Airport is a significant International Airport, and the UK's third busiest, after Heathrow and Gatwick in London. The airport is located around 25 minutes' drive south of the city, and has two runways serving three passenger terminals. It is mainly served by EasyJet, Jet2.com, Ryanair, Aer Lingus, TUI, Virgin Atlantic and Norwegian. It operates both European and longer-haul routes, with its busiest routes being Amsterdam, Dublin, Dubai, Paris and several destinations across Spain.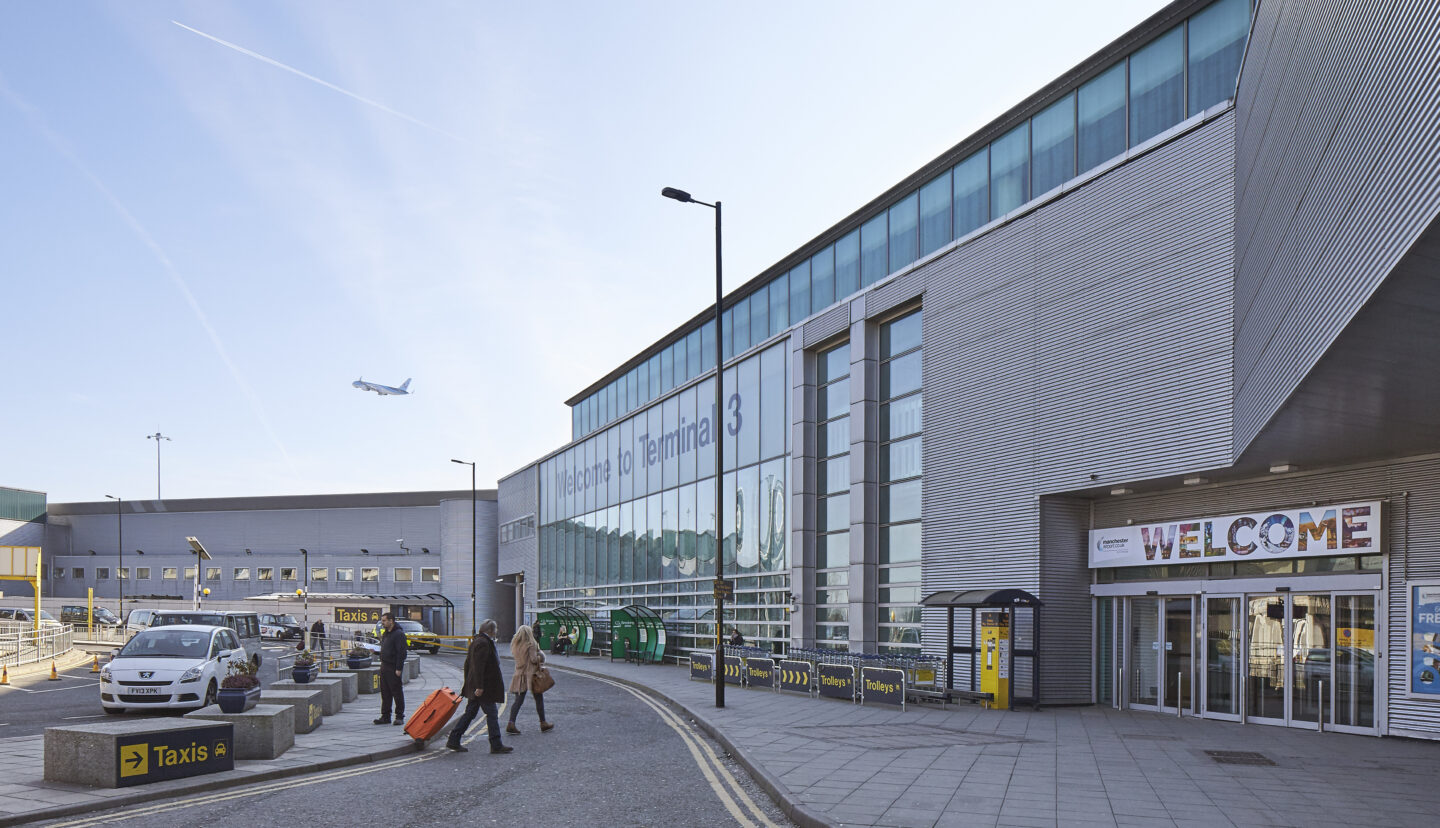 Northern operates an hourly train service throughout the day from Manchester Airport via Manchester Central and terminating at Liverpool Lime Street. It takes about 80-90 minutes across 20 or so stops. Download the Northern App (Apple; Google Play) for ease of booking tickets. The 170 route bus connects Liverpool One to Leeds, with a stop at Manchester Airport and takes around one hour. Again, download the Arriva app (linked several paragraphs before) for ease of tickets, timetables and departures.
Via Air; Three Further Options –– Birmingham; Leeds Bradford; London Airports
Two other airport options: Leeds Bradford Airport (LBA) and Birmingham Airport (BHX). Though Birmingham Airport handles more than double the passengers of Liverpool's airport, Manchester Airport handles double that of Birmingham –– but these two larger airports have many similar routes and many of the most popular destinations of one are the same of the other (Dublin, Dubai, Amsterdam etc.) so it's worth shopping around on flight prices. Avanti West Coast and London Midland operate rail services in this region and one could connect (across a change or two) from Birmingham International to Liverpool Lime Street. This journey could take 2.5-3.5 hours.
For Leeds Bradford, it connects to lots of European regional destinations via low-cost airlines, but the public transport routes to get to Liverpool are tricky to work out so our advice is using this airport would be best avoided for Eurovision. A final option would be flying into London and making your way to Liverpool, most likely via bus or rail. London has several airports (Heathrow, Gatwick, Luton, London City) and lots of choice, plus could be a nice way to tick off a short trip to the UK capital before or after visiting Liverpool.
Via Sea: Dublin, Belfast & Douglas (Isle of Man)
Liverpool Port connects the city to Ireland and the Isle of Man. Three routes operate:
The Dublin route departs/arrives at Gladstone Docks, the Isle of Man route departs/arrives at Pier Head Landing Stage Terminal and the Belfast route departs/arrives at Birkenhead on the other side of the River Mersey.
A fourth option exists, Dublin-Holyhead in North Wales, via Irish Ferries and the same route via Stena Line (which we're travelling on). These runs up to four times daily and the crossing takes just under 3.5 hours. Ideal for cars, but foot passengers can get onward rail to Chester and then change to a Liverpool-bound Merseyrail/Transport for Wales train to get to the city. Prices begin at around €150 for a car + single driver.
Getting Around Liverpool
Merseyrail operates the train network across Merseyside and Liverpool city centre has four main train stations: Liverpool Lime Street, Liverpool Central, Moorfields and James Street.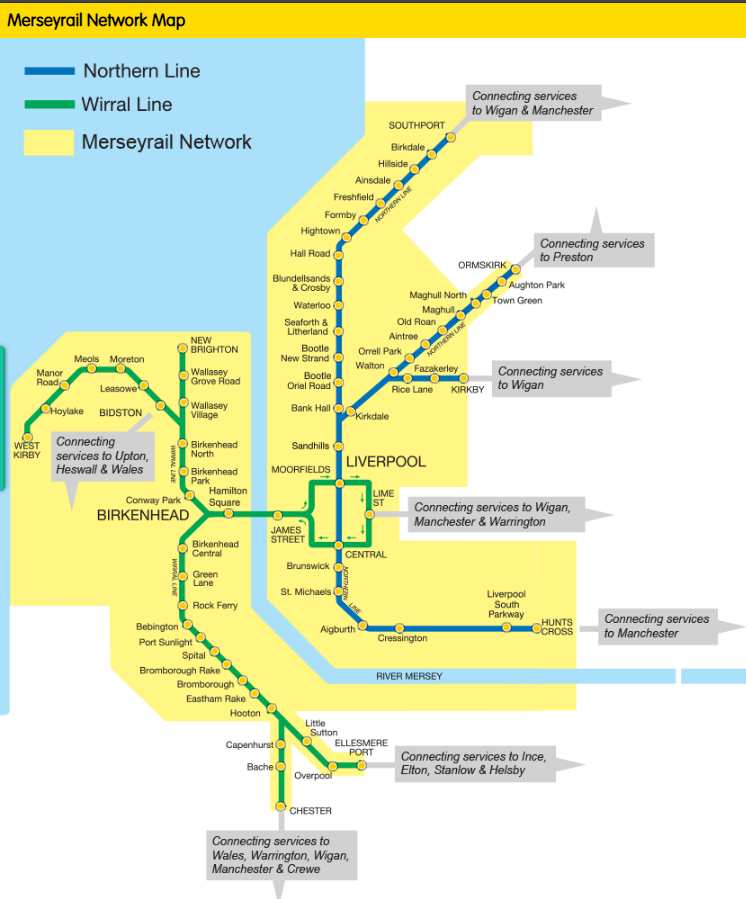 Arriva operates an expansive bus network across the wider Liverpool area, of which Liverpool One is the major hub in the city centre. There's a handy three day adult ticket costing £12.50, which works out at £4.17 per day if you plan to use the bus several times a day and slightly cheaper than the day pass (£4.60). A weekly ticket (£17.00) offers even better value, at £2.43 per day.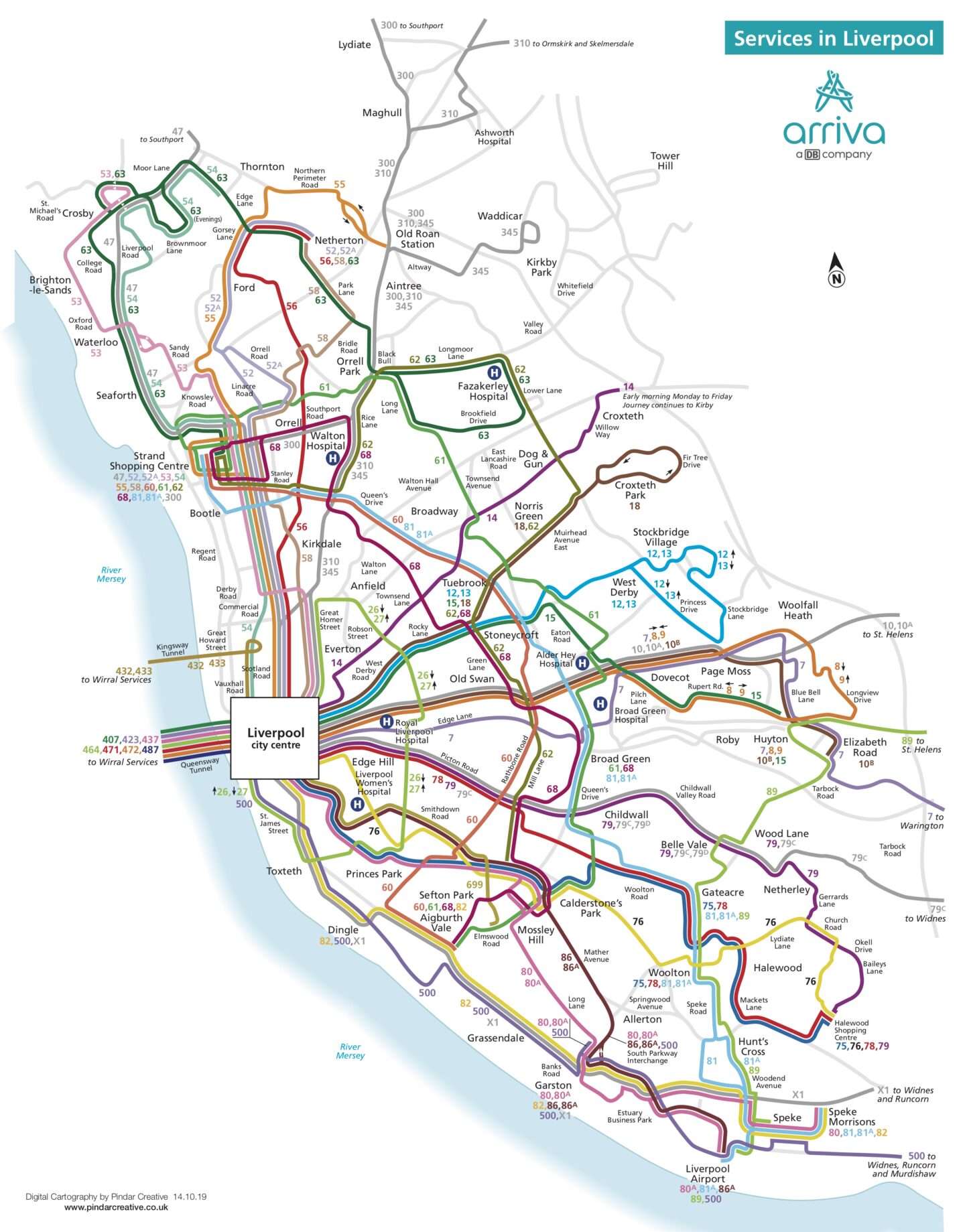 In terms of nipping around the city on two wheels, Swedish e-scooter service Voi is the main scooter hire service in the city. In a change to the regular riding and parking zones, during Eurovision (7th – 13th May) riders need to check the in-app map for permitted routes and to locate a parking spot near your destination, before setting off. First-time users can get 2 x 30 minute free journeys by entering the code 'EURO23' in the Voi app. To use the service, first-time users must upload a copy of their full or provisional driving licence, take a selfie and complete the online safety driving school. Scooters are unlocked via QR codes and the app.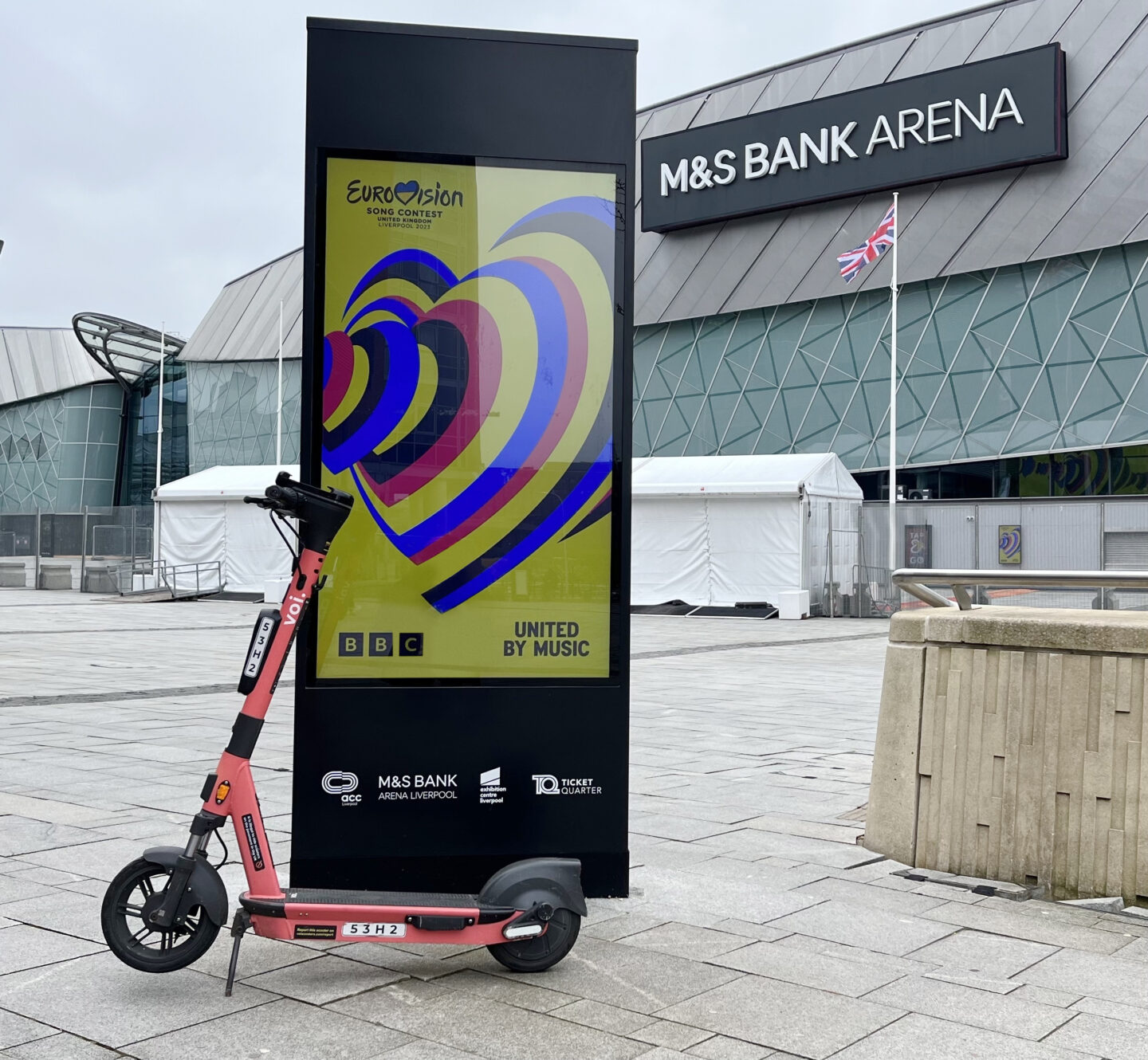 Eurovision 2023 Liverpool Arena: M&S Bank Arena
Previously known as the Echo Arena, now called the M&S Bank Arena in a sponsorship deal; for the purposes of Eurovision the arena will be known as the Liverpool Arena. The Arena was built and opened in 2008, to coincide with the city taking the mantle of European Capital of Culture that same year.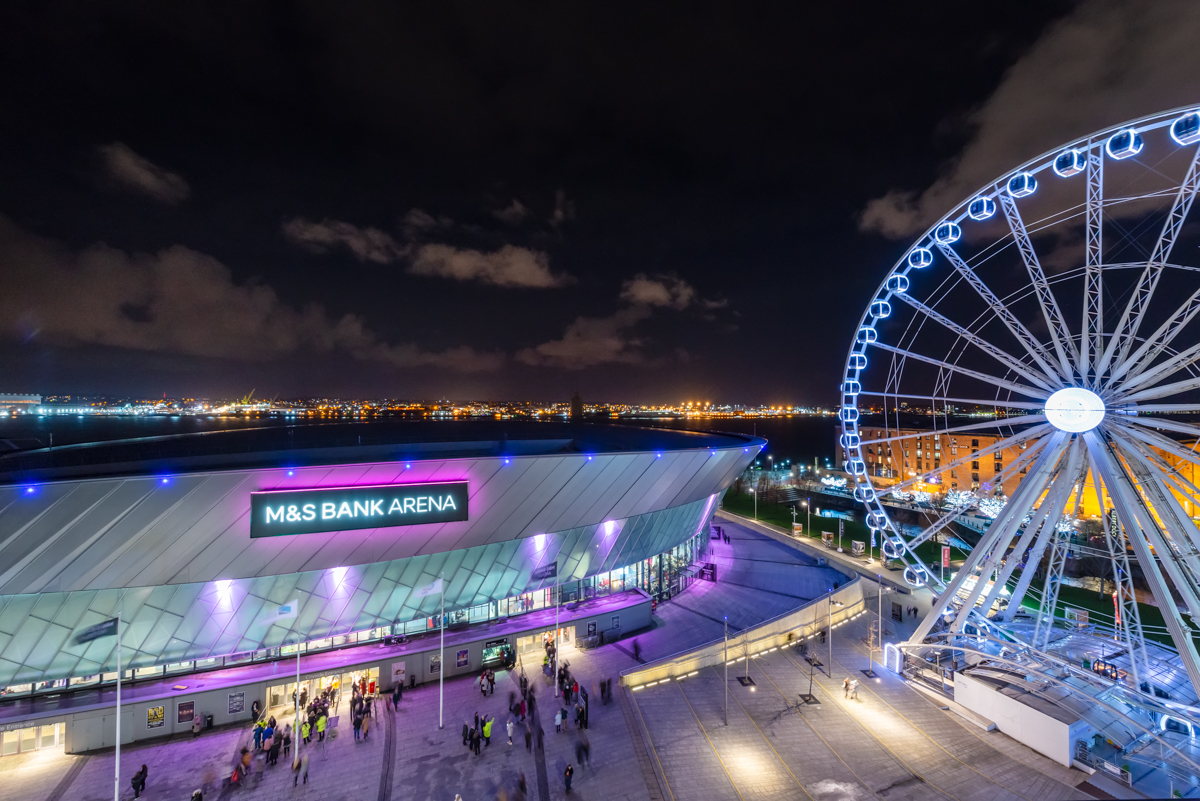 In November of that first year it hosted the MTV Europe Music Awards (EMAs) and since then has seen performances from the likes of Sir Elton John, Sir Paul McCartney, Beyonce and Bruno Mars, as well as multiple national sports events.
Liverpool Arena holds a capacity of 11,000, which is half the capacity of the likes of arenas in London (The O2) and Manchester (AO). In fact, of the seven shortlisted cities Liverpool's arena is the smallest option, capacity-wise. However it was reported that Liverpool's "walkability" was one of the details that clinched their successful bid, including how easy it is to walk to the arena from the city centre.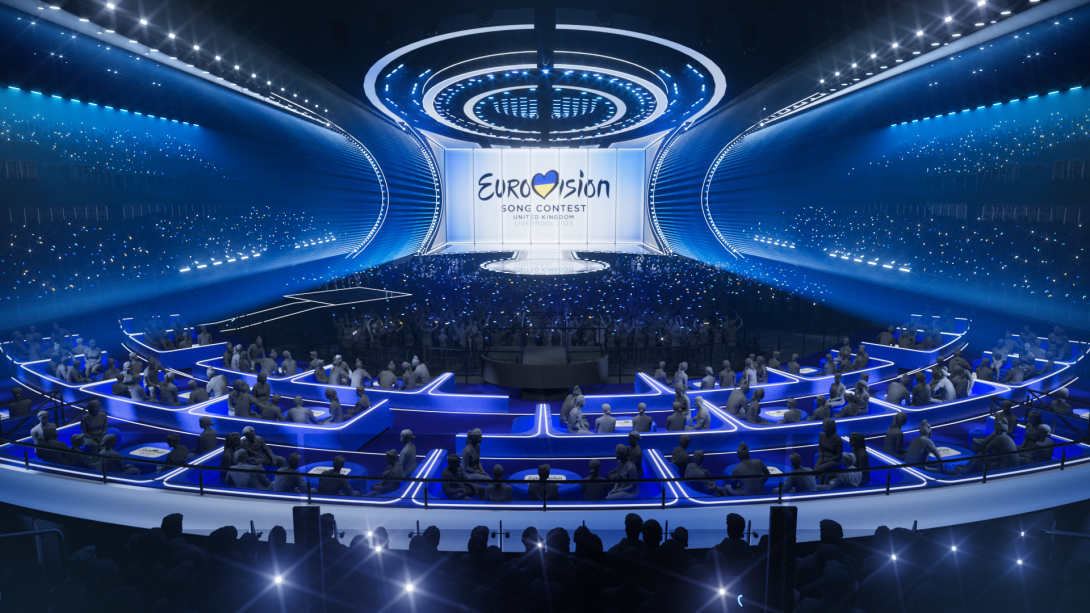 How to get to Liverpool (M&S Bank) Arena for Eurovision 2023 Live Shows?
Being situated on the city's Waterfront, the Arena is very accessible compared to more recent host cities. The Arena is walkable from effectively every part of the immediate city centre, taking about 20 minutes to walk from Liverpool Lime Street. Local buses will deliver you close-by; Liverpool One bus station is just five minutes' walk away. By rail, the closest station is James Street railway station – served by the Merseyrail 'Wirral Line' – but it's still a 10-15 minute walk from the arena. The M&S Bank Arena is situated 15 minutes' walk from the EuroClub venue, Camp and Furnace.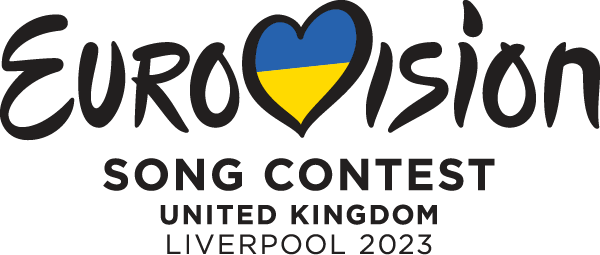 Liverpool 2023: How to Get Eurovision Tickets?
Tickets were released via Ticketmaster.co.uk on Tuesday 7th March at midday (12pm UK/Ireland time). Across the nine shows, tickets began at £30 and ran to £290 each for all the Semi-Final shows and the Grand Final shows began at £80 up to £380 each. All of the events are now sold out. More details on tickets available from the BBC here.
Eurovision 2023: Eurovision Village at Pier Head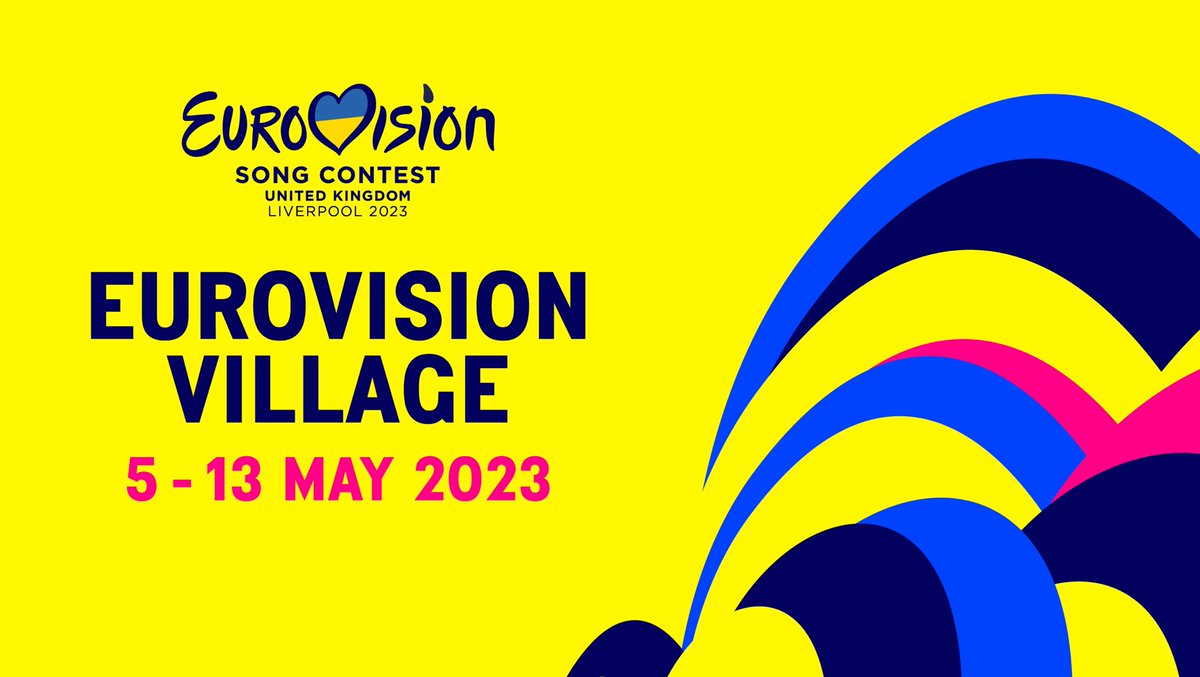 Eurovision Village is set to be located at the iconic Pier Head and will be open from Friday 5th – Saturday 13th May. A modern staple of each host city, the EBU's Eurovision organisers describe the Eurovision Village as "the official fan zone of the Eurovision Song Contest, access is free of charge and offers fans the opportunity to see their favourite acts perform live ahead of the Eurovision Song Contest".
The Village will play host to Ukrainian street artists and fashion designers creating a Liverpool/Ukraine community education programme and there's also a plan for a special culture trail featuring local Eurovision legend, Sonia. At the time of writing details were limited to including "activations, stages, live music, concessions and much more" but closer to the time details have begun to emerge.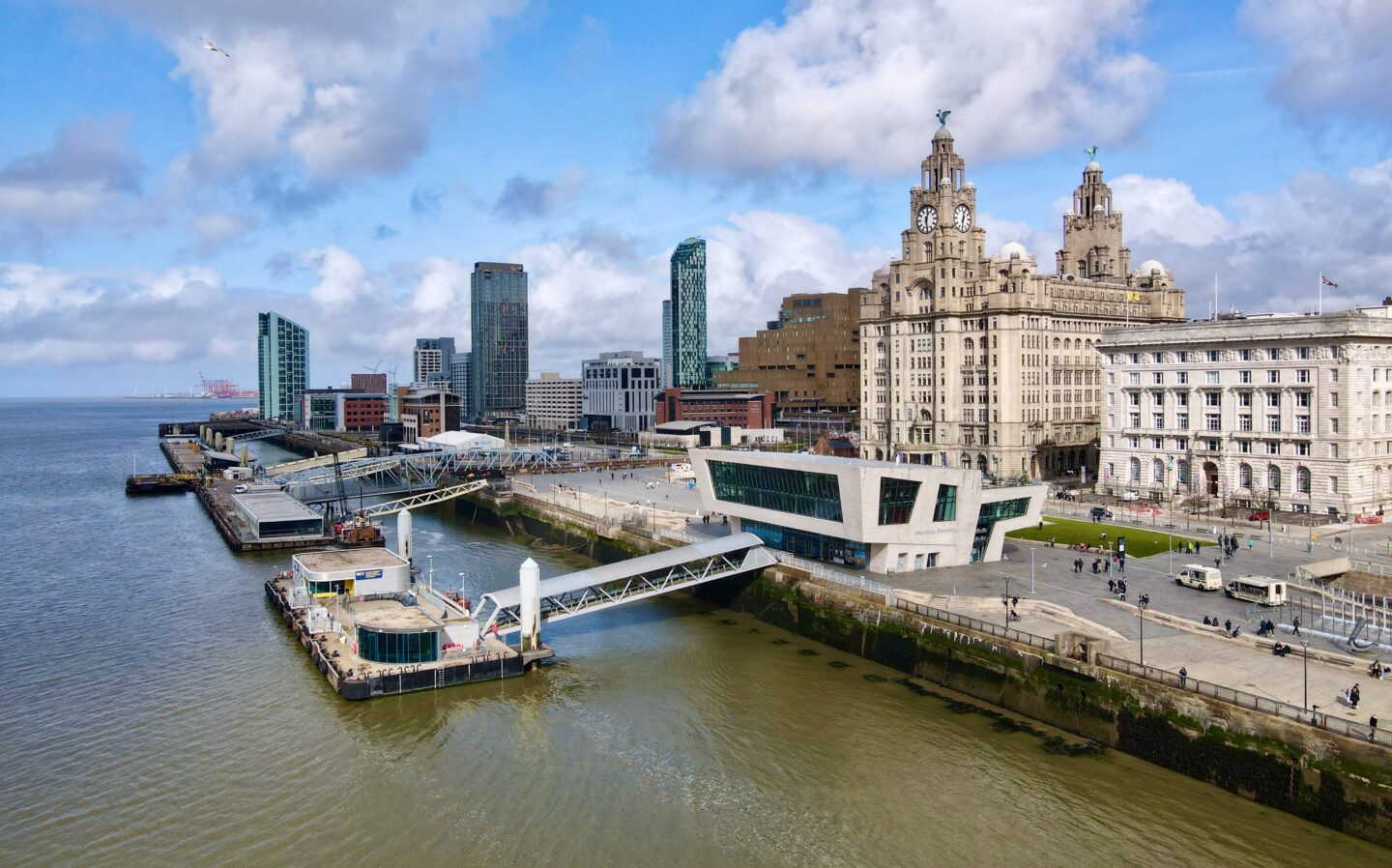 Among the performers will be winners like Jamala, Linda Martin, Ruslana and Katrina Leskanich as well as Sonia, Sophie Ellis Bextor, Charlotte Church, Go_A and The Vengaboys, among many many others. Of particular interest may be the Friday night, below!
Friday 12th May: An all-female party will get everyone in the mood for Saturday's Grand Final on EuroEve! Watch out for Tik Tok's Eurovision Legends before sets from Sophie Ellis Bextor and other pop powerhouses before the legendary Charlotte Church's 'Late Night Pop Dungeon'.
Eurovision 2023 EuroClub Venue: Camp & Furnace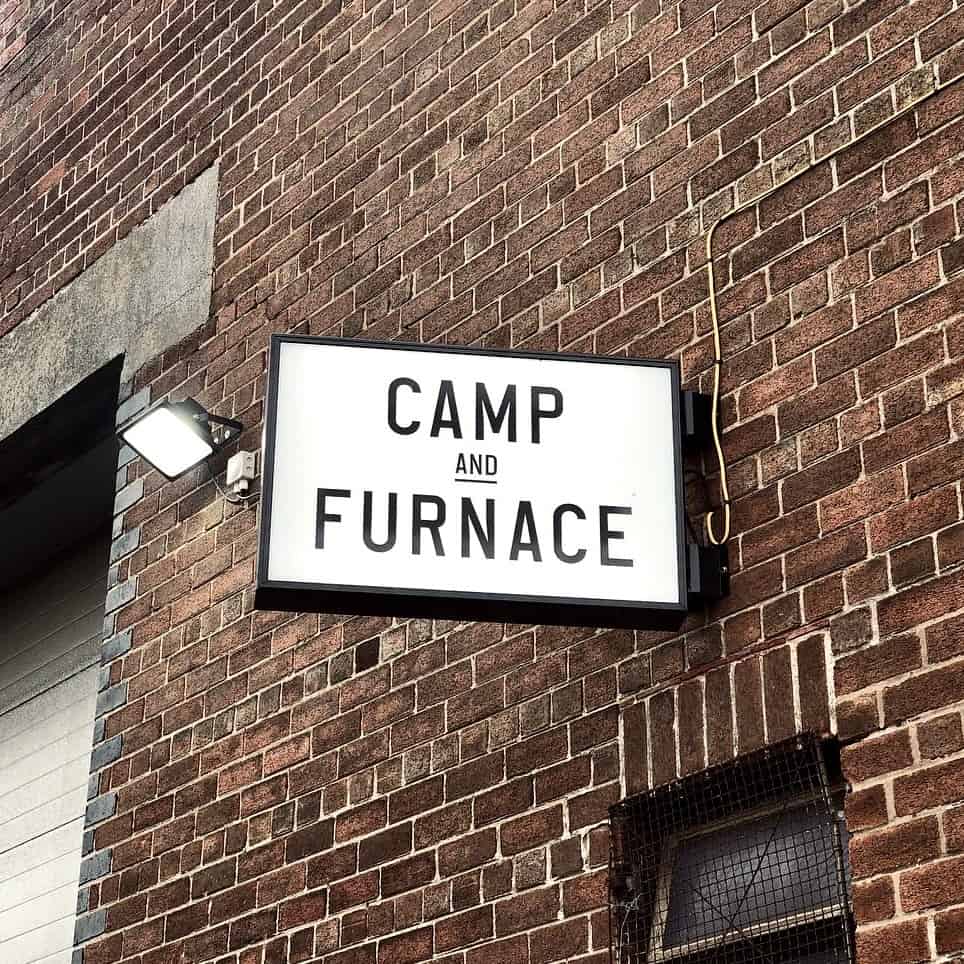 EuroClub will be located at Camp & Furnace in the heart of Liverpool's Baltic Triangle, running for nine nights from Friday 5th May until Saturday 13th May. Camp & Furnace, set on Greenland Street, will be the host city's official fan party venue, run by OGAE (Organisation Générale des Amateurs de l'Eurovision) made up of over 40 international fan clubs across the world. As well as acting as a nightly club pumping Eurovision floor-fillers and post-show after parties, it will also host gatherings and special events celebrating competing nations to complement the Eurovision Village.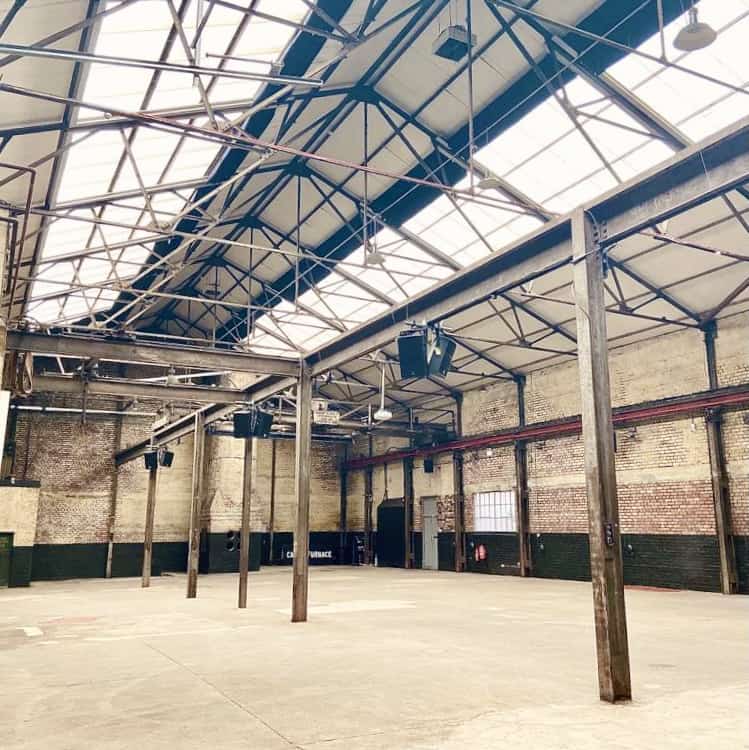 A fixture on Liverpool's live events scene for over a decade, Camp and Furnace is a collection of a range of versatile spaces and warehouses which regularly hosts club nights, music events, exhibitions, food festivals, installations and private corporate functions. The style is rustic and industrial.

Bingo Lingo is hosting two special events to welcome Eurovision to Liverpool the weekend before it kicks off which will include lip sync battles, dance-offs and massive prizes. Set around the traditional game of bingo, their successful formula and interpretation involves crowd participation and strong, character-led hosts and bingo callers. Taking place at Camp & Furnace on Friday 5th May and Saturday 6th May (doors for both 6pm and kick-off 8pm), tickets are available via Skiddle and tables are a maximum of eight people each.
Visit Liverpool: EuroFestival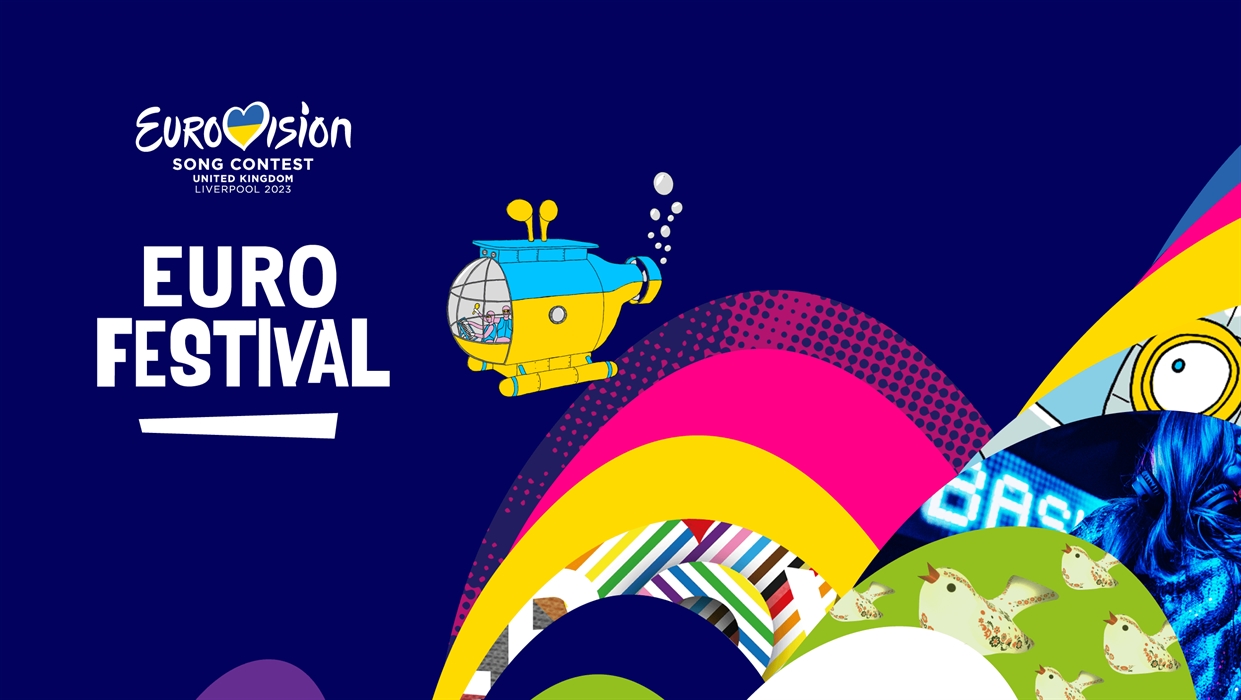 Visit Liverpool has announced a two-week EuroFestival arts celebration, supported by the UK's Department for Culture, Media and Sport. Running from Monday 1 to Sunday 14 May, the festival will present 24 brand new commissions – 19 of which are collaborations between UK and Ukrainian artists – which will transform Liverpool city as fans from across the world visit. The slogan of this year's contest 'United By Music' is notable throughout many of the collaborative projects. Further details will be announced in late March but major projects/events include: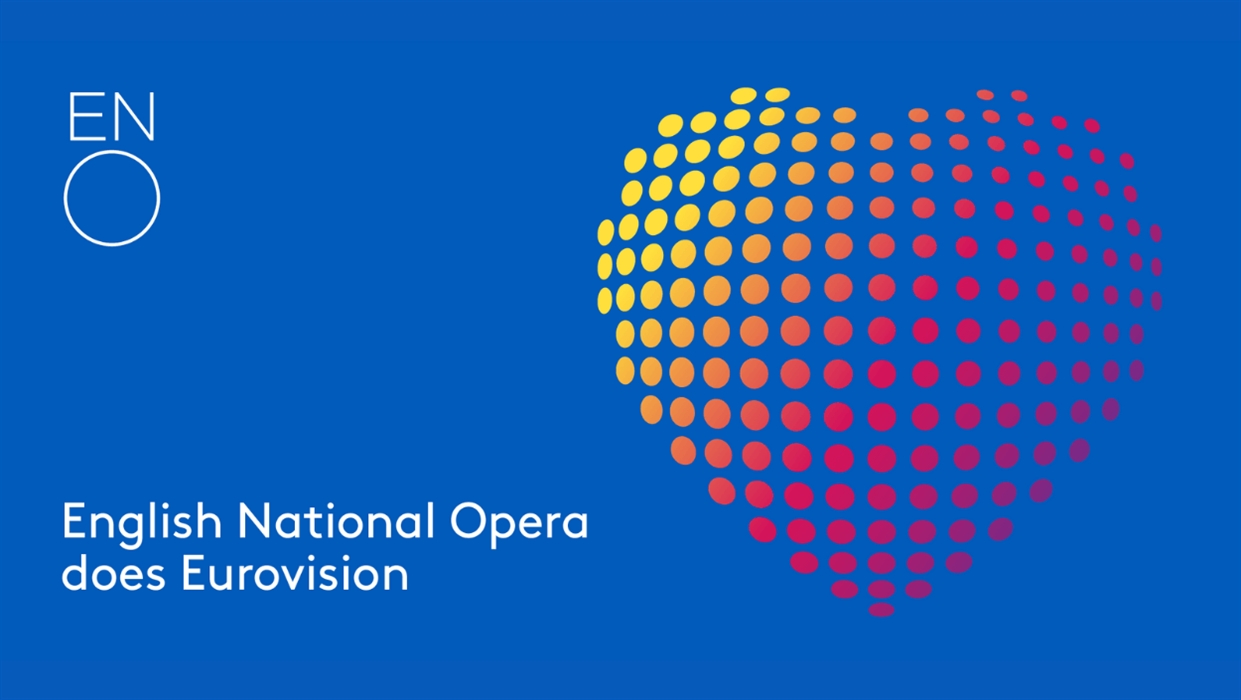 English National Opera does Eurovision –– A unique show fusing together two very different musical worlds into one epic outdoor performance with live orchestra by the English National Opera orchestra to perfectly capture the spirit of Eurovision. It's taking place on Tuesday 9th May (6-7pm) at Eurovision Village on Pier Head. Conducted by Stephen Bell, former Eurovision contestants Ruslana, Sonia and Linda Martin will appear as well well as international opera stars (Russell Watson, Ella Taylor, Ellie Neate, Zwakele Tshabalala, Themba Mvula and Collin Shay) performing classical arrangements of ESC greatest hits. You will also hear Riverdance and Eurovision's long-standing theme music – Charpentier's Te Deum! Suitable for all ages, free attendance, no ticket required.
Izyum to Liverpool –– Ukrainian artist Katya Buchatska will transform the iconic Liverpool Cathedral into a train carriage replicating the journey from Izyum to the border with Poland. Filmed in real time, this piece offers an extraordinary window into the landscape of Ukraine as it is today and also serves as a reminder of the spirit and resilience of the Ukrainian people.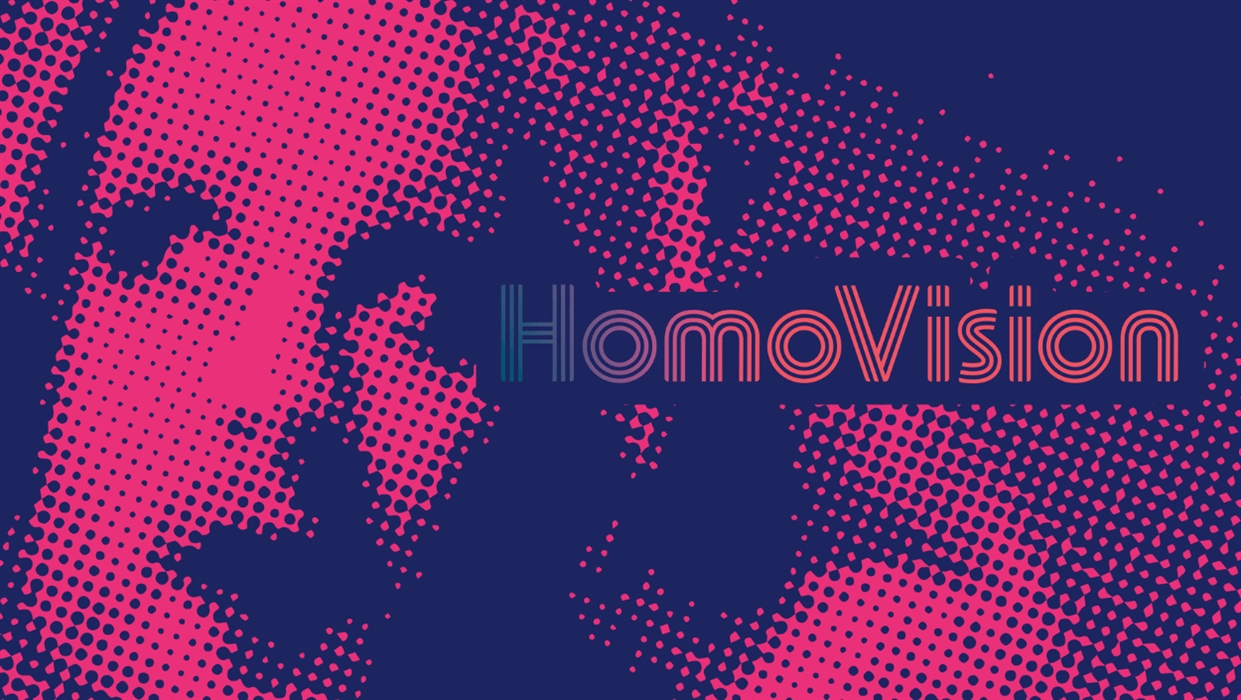 HomoVision –– A cabaret of all things Eurovision, queer and fabulous. From 1pm to 9pm on Wednesday 10th May in Chavasse Park, Liverpool-based LGBTQIA arts organisations Homotopia and DuoVision join forces to bring you HomoVision. Hosted by Jonny Woo with an array of guests and performers from Liverpool, nationally and international. Free to attend, inclusive and welcoming to all, it will include live music, choreography, circus performers, drag acts, karaoke, DJs, audience participation events and more.
Rave Ukraine –– a collaboration between producer Jez Collins, UAME I Music Saves UA and Open Culture to deliver a party taking place in two cities at once: a simultaneous rave in Liverpool and Kyiv which will be live-streamed. Taking place on Sunday 7th May at Hangar 34 from 4pm 'til 11pm, expect DJ sets from Hot Chip, Jodie Harsh, Sarah Story and several experimental Ukrainian DJs.
The Blue and Yellow Submarine Parade by The Kazimier –– a huge outdoor underwater sea disco which will make its way through the city to kickstart the Eurovision Party as a mass participation event.
Headlining the musical artists involved in EuroFest is Jamala, Eurovision 2016 winner, who will be premiering her QIRIM album – inspired by and in ode to her home place, Crimea – accompanied by the BBC Philharmonic Orchestra on The Eurovision Village stage at 6pm on Thursday 11th May.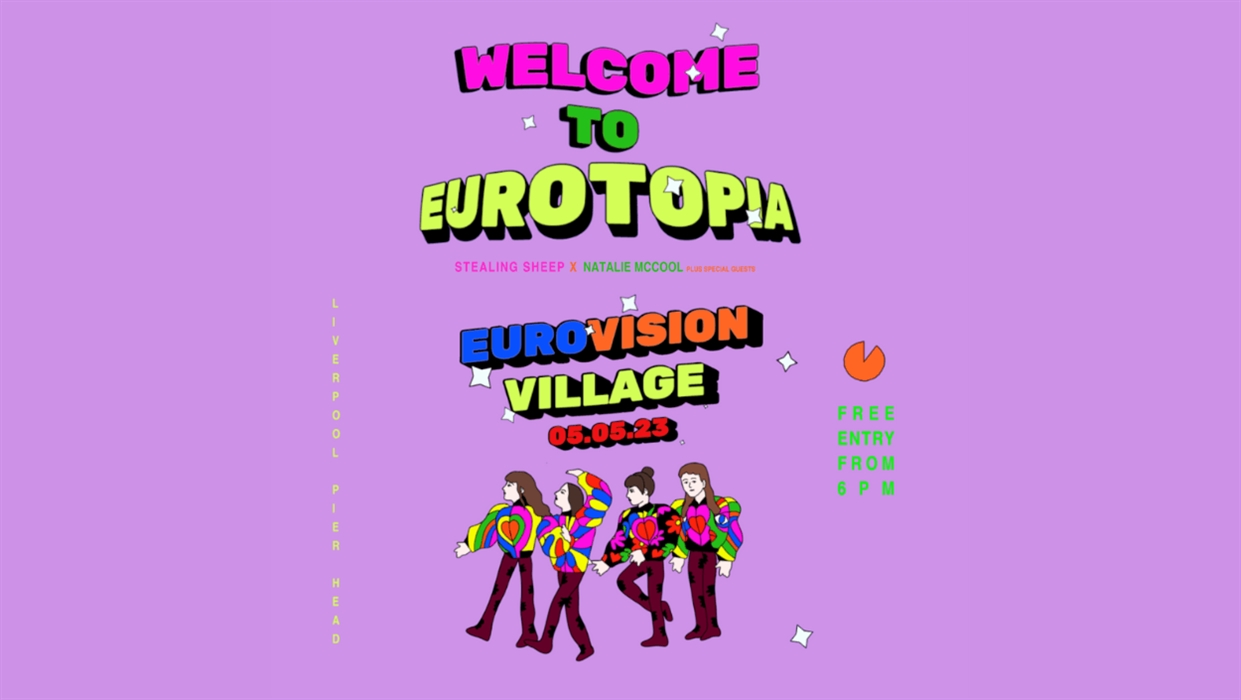 After 2022 winners Kalush Orchestra open the Eurovision Village on Friday 5th May at 6pm but following on from that will be Utopia from 9:30pm, a musical odyssey created in collaboration between a supergroup of Liverpool and Ukrainian artists: Natalie McCool, Stealing Sheep, Helleroid, Krapka;KOMA and Iryna Muha. Utopia is set to turn Pier Head into an avant-pop spectacle, incredibly reflective of the United by Music slogan of ESC 2023 and the coming together of UK and Ukrainian talents.
Concert Square Take-Over & EuroFANSclub at Fusion
At Concert Square in the middle of the city, there are plans for a line-up of events and performances including tribute acts, live performers, drag shows and large-scale screenings of both Semi-Finals. Run by Pub Invest Group, the company behind the majority of Concert Square's nightclubs and bars (Soho, La'go, Zanzibar, Cheers, Revolver, the festivities will kick off on Monday May 8th and will continue with live performances every night.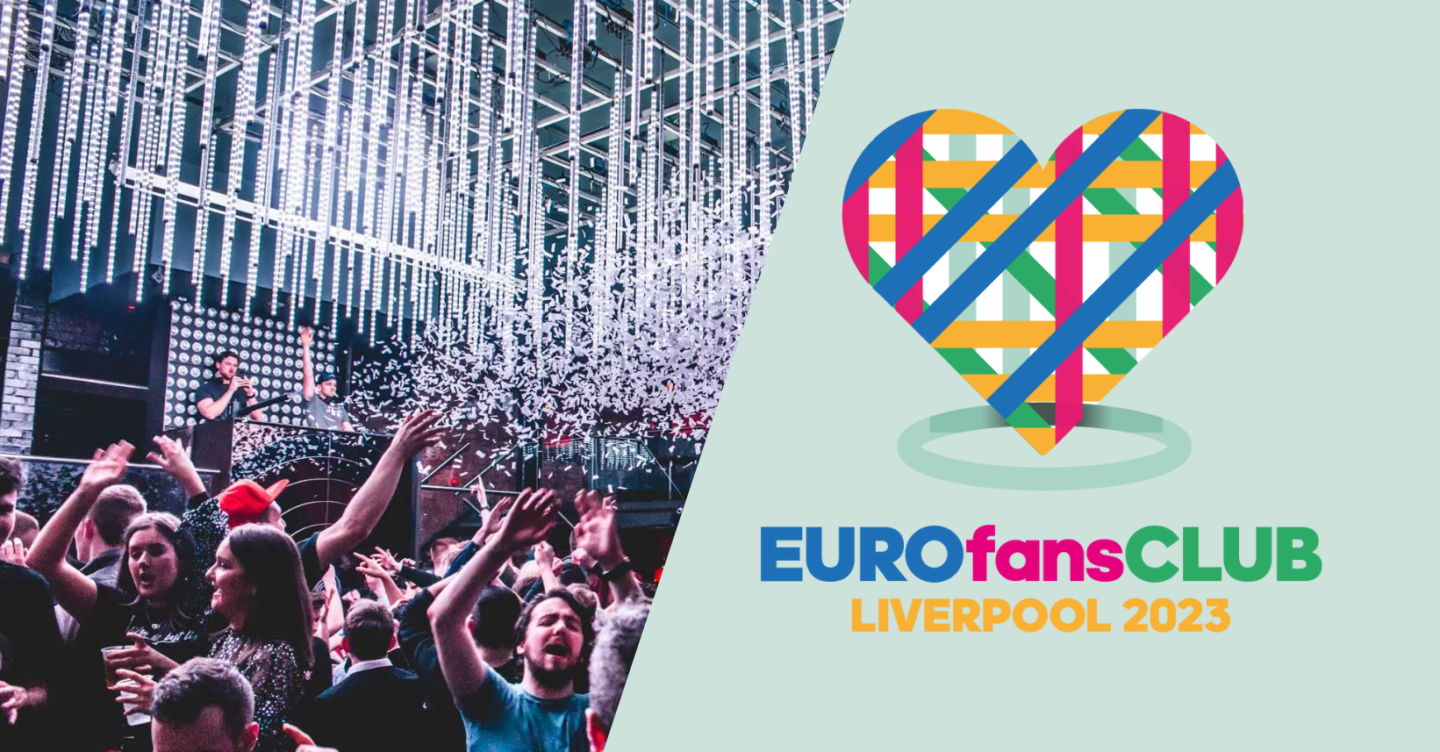 Six consecutive nights of "Eurovision madness" are taking place at Fusion Liverpool, close to Concert Square, which will be location of the fan-organised 'EUROfansClub' and will also host the annual WiwiJam, organised by fan site WiwiBloggs.
Monday 8th May is opening night with The Roop headlining, among other acts.
Tuesday 9th May is a 'white' party celebrating Nordic and Baltic ESC entrants and Denmark's Rasmussen performing
Wednesday 10th May is the WiwiJam which will feature an endless roster of current competitors and former competitors and winners, as ever
Thursday 11th May will see a night dedicated to Euro Queens (read: bangers) and will feature performances by Anxhela Peristeri and Kate Ryan
Friday 12th May will zone in on Eurovision's smallest-competing nations, like Luxembourg, Monaco and San Marino; Destiny from Malta will perform, among others
Saturday 13th May is the closer, a "celebration night" with a roster of former competitiors and winners on the Saturday, including Katrina and the Waves.
Mersey Ferries has also announced a host of on-board events throughout Eurovision week.
Where to Watch Eurovision in Liverpool? Screening Events!
We know, we know, we've been asked by tonnes of people who haven't gotten arena tickets where on earth they can go to watch the live shows. We've been keeping an eye and ear out and working on it. We'll continuously update this section as we get more insights, but for now here are some we've found: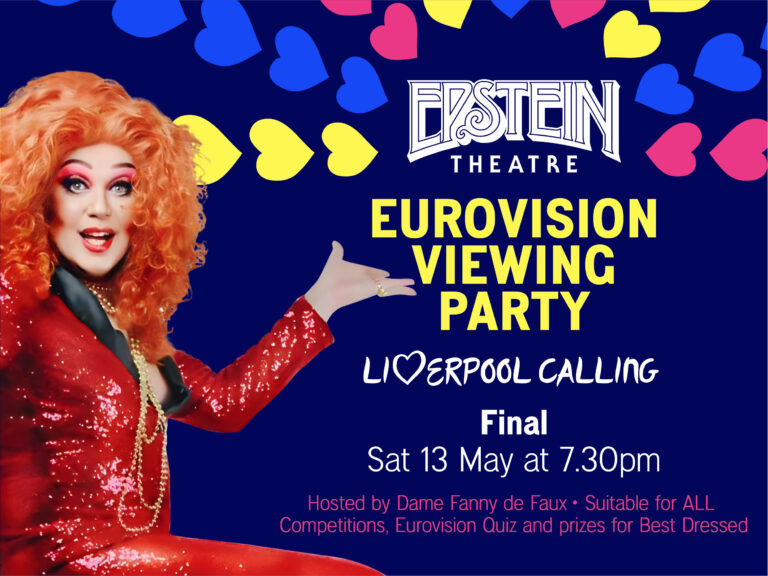 SF and Final broadcasts with spot-prizes, dress up and hosted by Dame Fanny De Faux, at the amazing Epstein Theatre on Hanover Street.
Weather In Liverpool For Eurovision 2023: ☀️🌦⛈
Watch this space –– we will be updating this guide as ESC 2023 gets closer with more real-time updates for the week itself. Below, from BBC Weather.

In general in May in Liverpool there's a daily high temperature of 14ºC and a daily low of 8ºC resulting in an average of 11ºC. It's looking like 14/15ºC will be the daily high during Eurovision week. It will be warmer at the beginning of the week and cooler at the weekend.

See above from The Weather Channel. May is the driest month in the calendar in Liverpool, an average of 37mm, compared to a month like October with double that rainfall. Below from Accuweather for Eurovision week.

GastroGays Guide: Where to eat & drink in Liverpool
Your ultimate guide to the places to eat and drink in the city throughout Eurovision 2023 season –– please tag us on social to let us (and the businesses featured) know where you tried and how you found it. We put a lot of work into these guides each year, so if you find this guide useful you can say thanks by tipping us over at Buy Me A Coffee or scanning the QR below.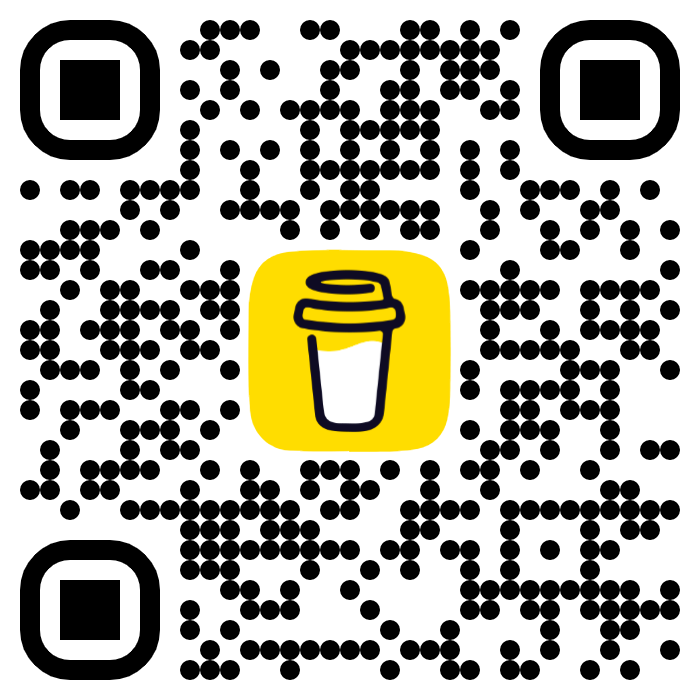 Named after the melting pot neighbourhood of Le Marais in Paris, Maray is one of Liverpool's most must-visit restaurants. Pan-Middle Eastern in cuisine, the vibe is cool, interiors slick, the food is banging, the wine list is interesting and cocktails are strong. You'll find two branches in the city –– the original on Bold Street, and a second location on Albert Dock. There's also a third site in Manchester.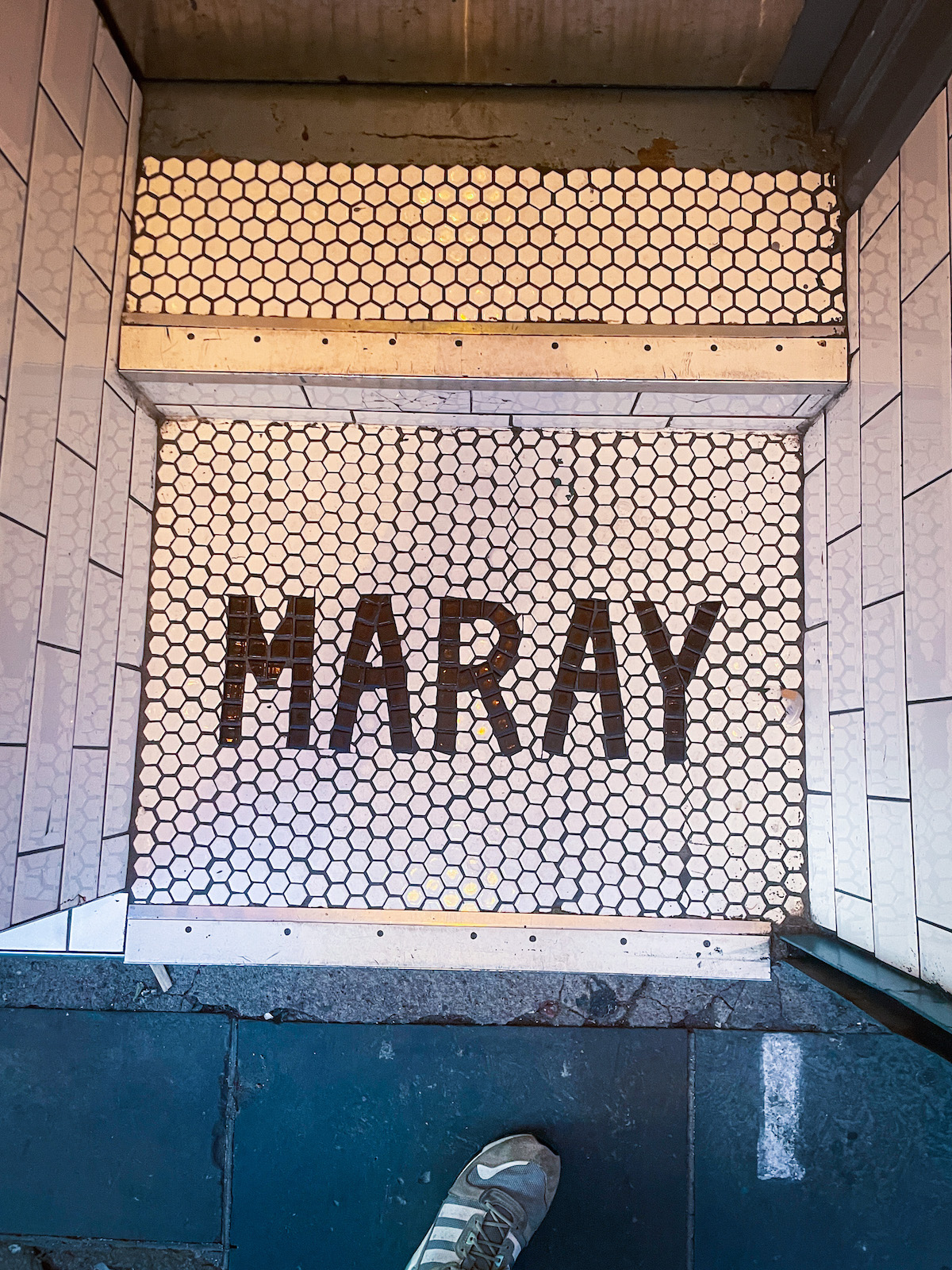 If you go to Maray you *must* order the disco cauliflower (which we riffed on ourselves in our own whole North African-spiced cauliflower recipe), the labneh, the 'hot stuff' plate, the crispy fried chicken and the date bread and butter pudding. All pictured below!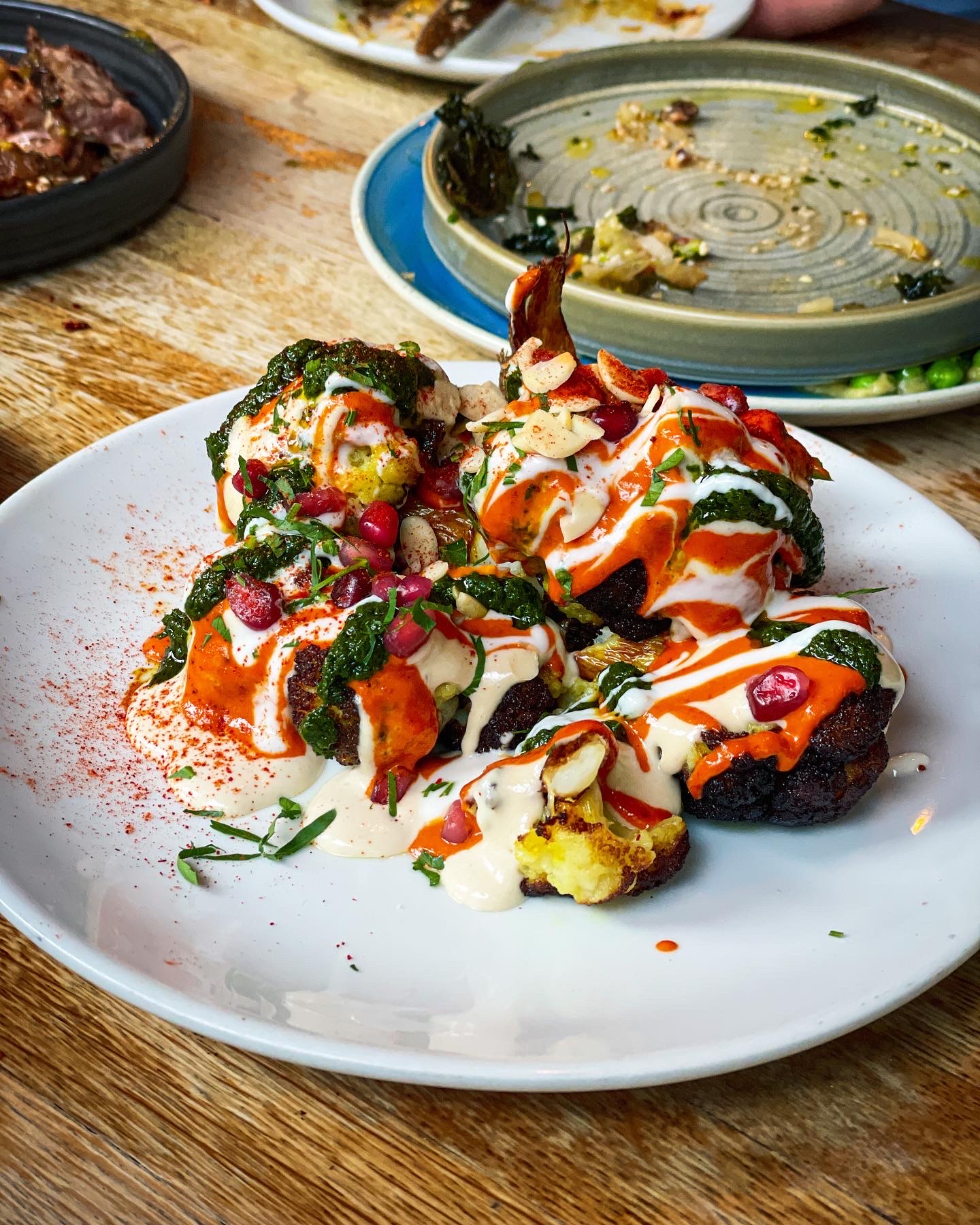 Maray also does a Middle Eastern take on Sunday Roast at its Bold Street branch, which could be perfect for a lazy, leisurely Sunday post-Grand Final to wind down and debrief over! Bookings, whatever the day or service, are very much recommended –– this is probably our favourite place to eat in Liverpool. maray.co.uk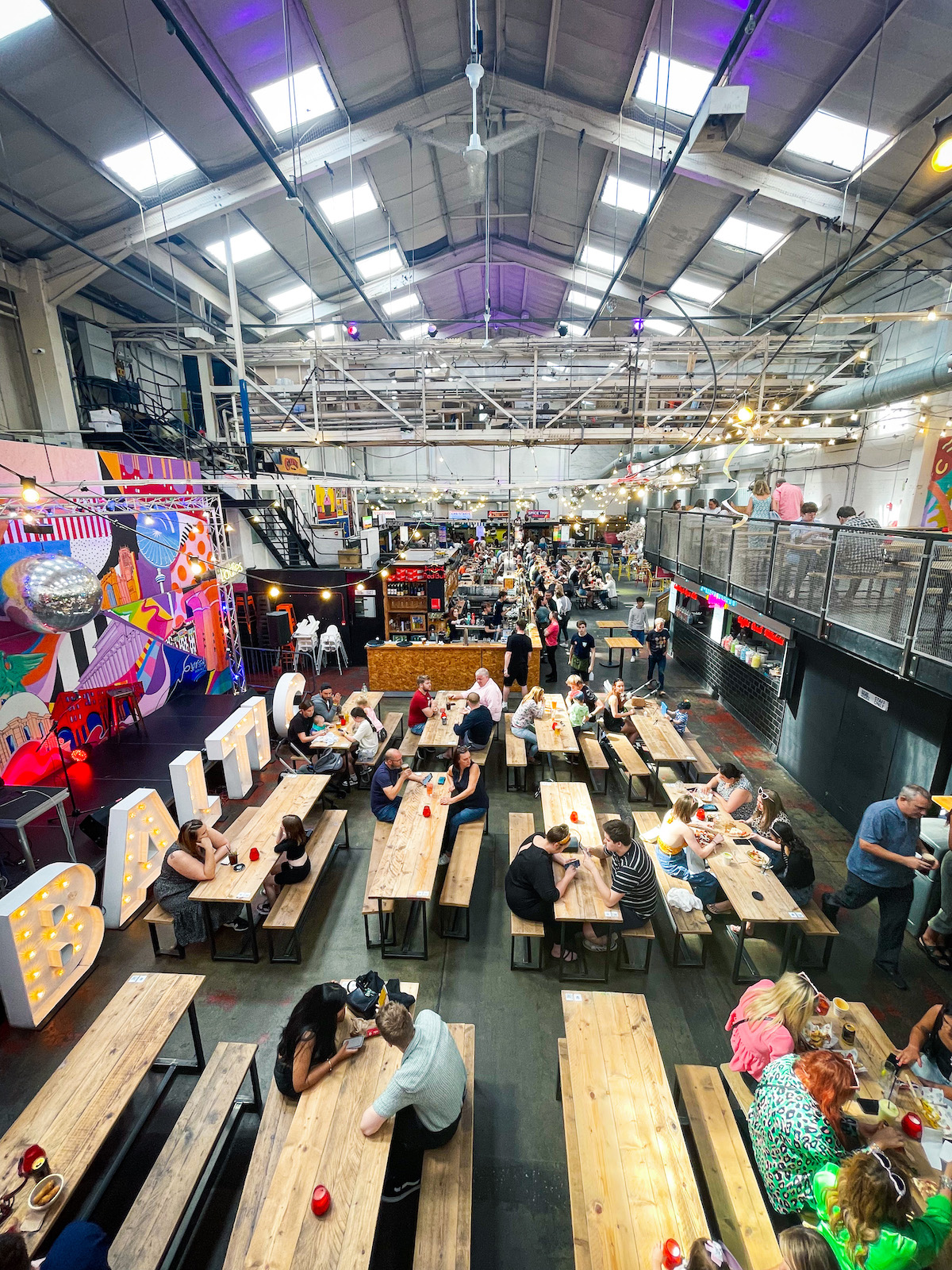 Liverpool's Baltic Triangle is the former industrial heartland of the city turned gentri-hipster-ified with cool hole-in-the-wall cafes and bakeries, craft breweries, creative offices, digital up-starts and events spaces, not to mention restaurants and bars. Anchoring the quarter is Cains Brewery Village and to the right hand side of that is Liverpool's premier street food market, Baltic Market.
Describing it in their own words, the owners call it "Liverpool's first street food market" and "home of halloumi fries, frozen gin slush and bubble waffles. Gyros and wood-fired pizzas. A place for everyone and everything." Filled with different street food traders and different bars and coffee spots, you can order direct from each one, or better yet grab a table and scan the QR code to order via the app direct to your table! We really like Hafla Hafla, Pattersons and Spice Thai. Roles & Holes was closed the time we visited but have heard amazing things.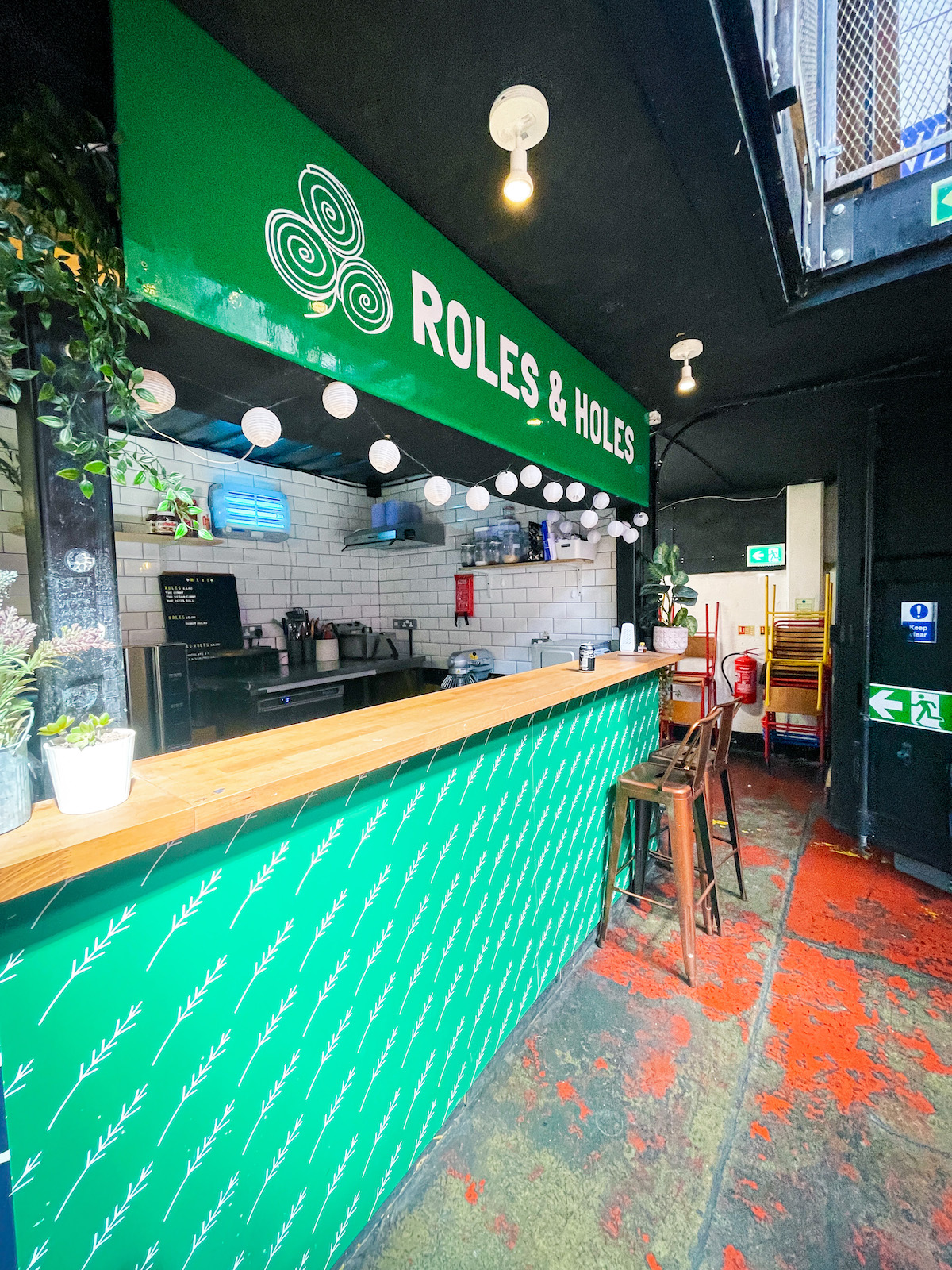 Running Wednesday to Sunday weekly, on Wednesday/Thursday it opens 5-10pm and weekends it runs from around 11am 'til 11pm (slightly earlier close time on Sundays at 9pm!). Last orders at the bar is around an hour before close, but food traders usually finish up an hour before the bar does –– so two hours before the whole place closes, so bear this in mind. balticmarket.co.uk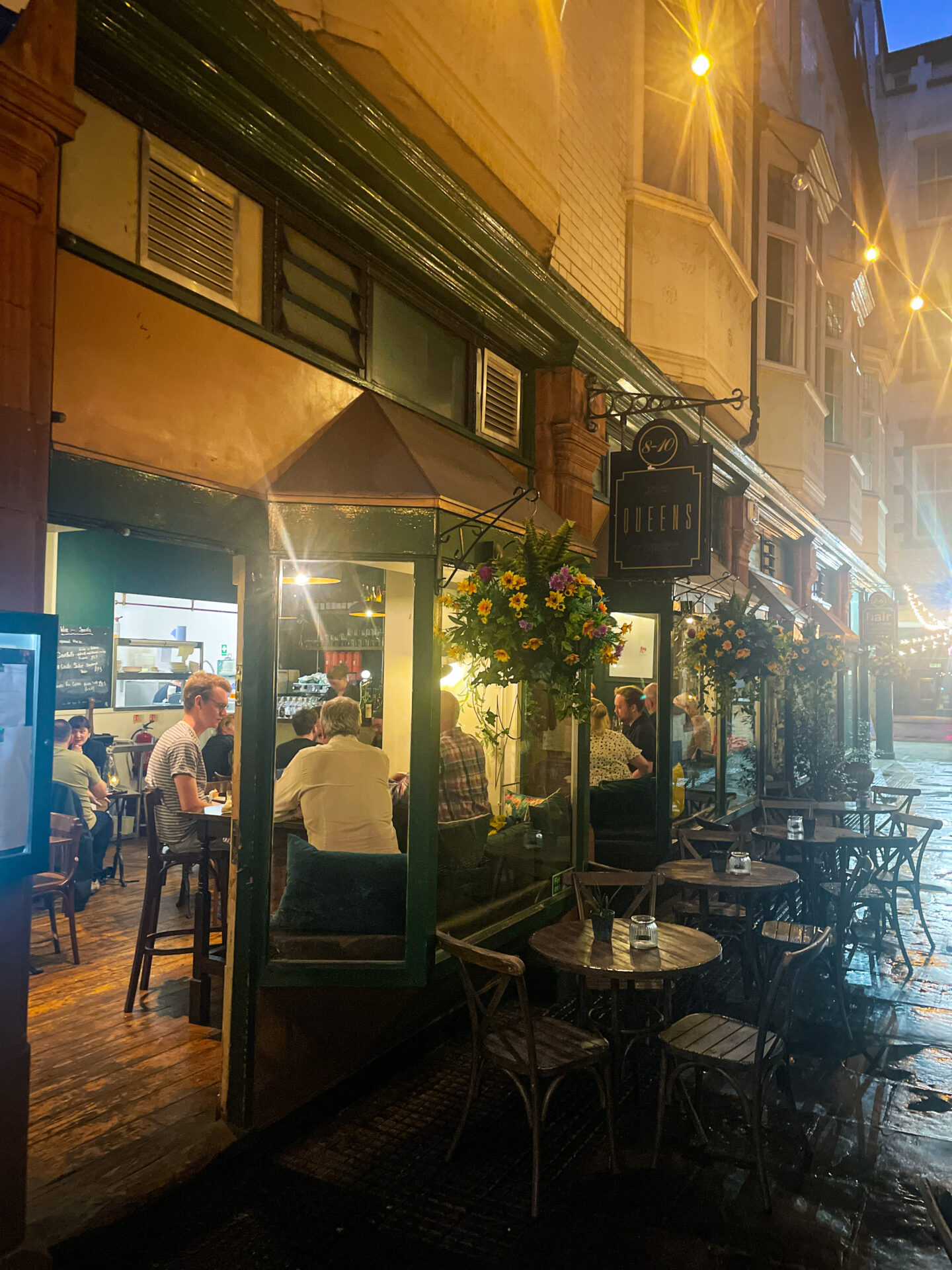 Set down a cute little arcade called Queen Avenue just off Castle Street, Queens is a casual bar and bistro with a really sturdy menu and a focus on interesting wines. Small and well-formed, the menu is simple, refined, modern European classics with seasonal produce. Jay Rayner in the Observer gave it a great review in early 2022 which is how we came across it, and booked in in late summer. Our experience wasn't quite perfect, but we'd definitely recommend for fans flocking to Liverpool and looking for somewhere nice, cosy and casua to book that won't break the bank. queensliverpool.co.uk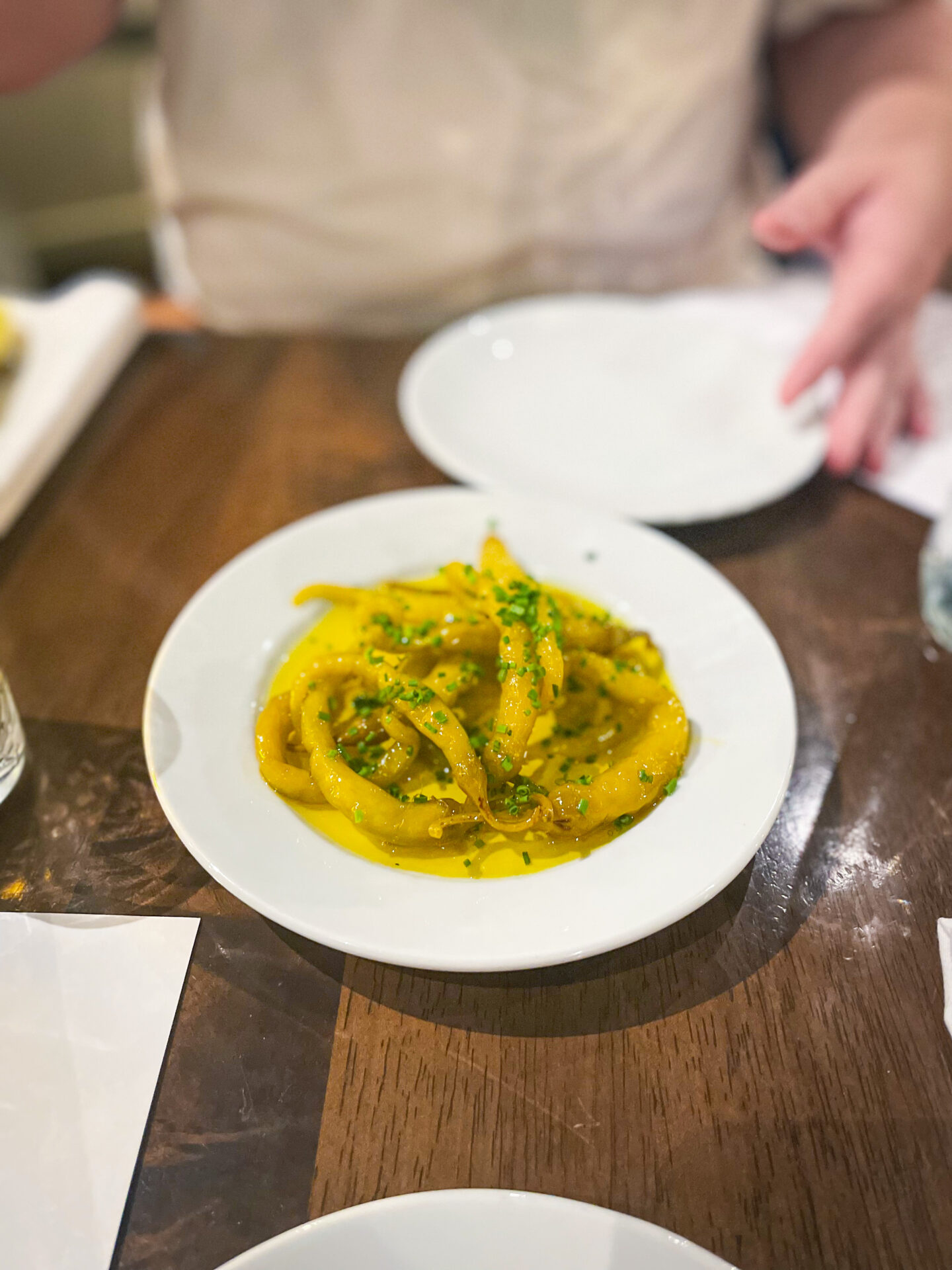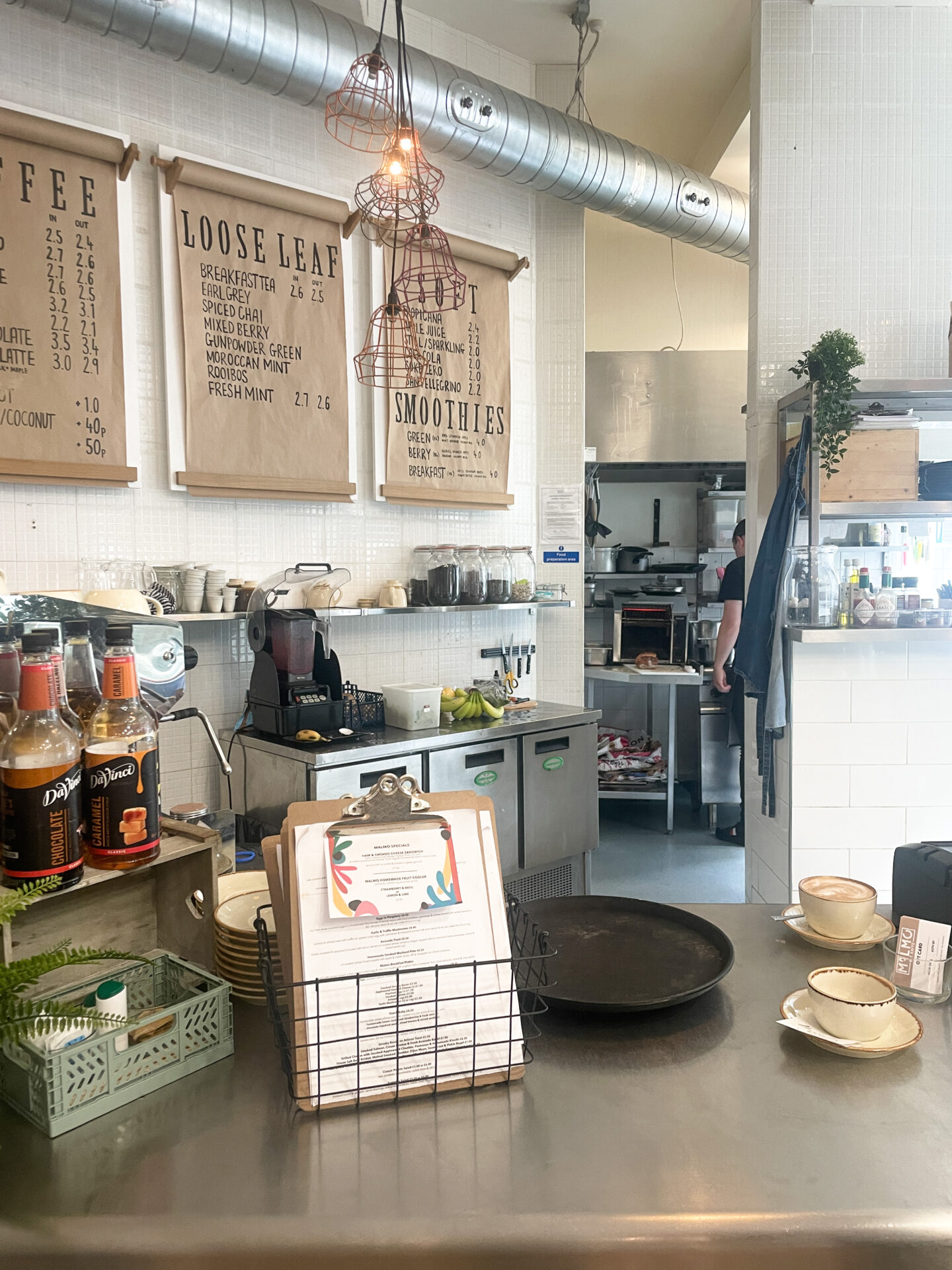 A pretty little gem serving from breakfast 'til late lunch five days a week (closed Sunday, Wednesday), Malmö on Hanover is located on Hanover street and is all about fair trade, local suppliers, homemade, handmade and being independent. Open 9-4pm, it's an ideal spot for breakfast, brunch, lunch or even just coffee and cake.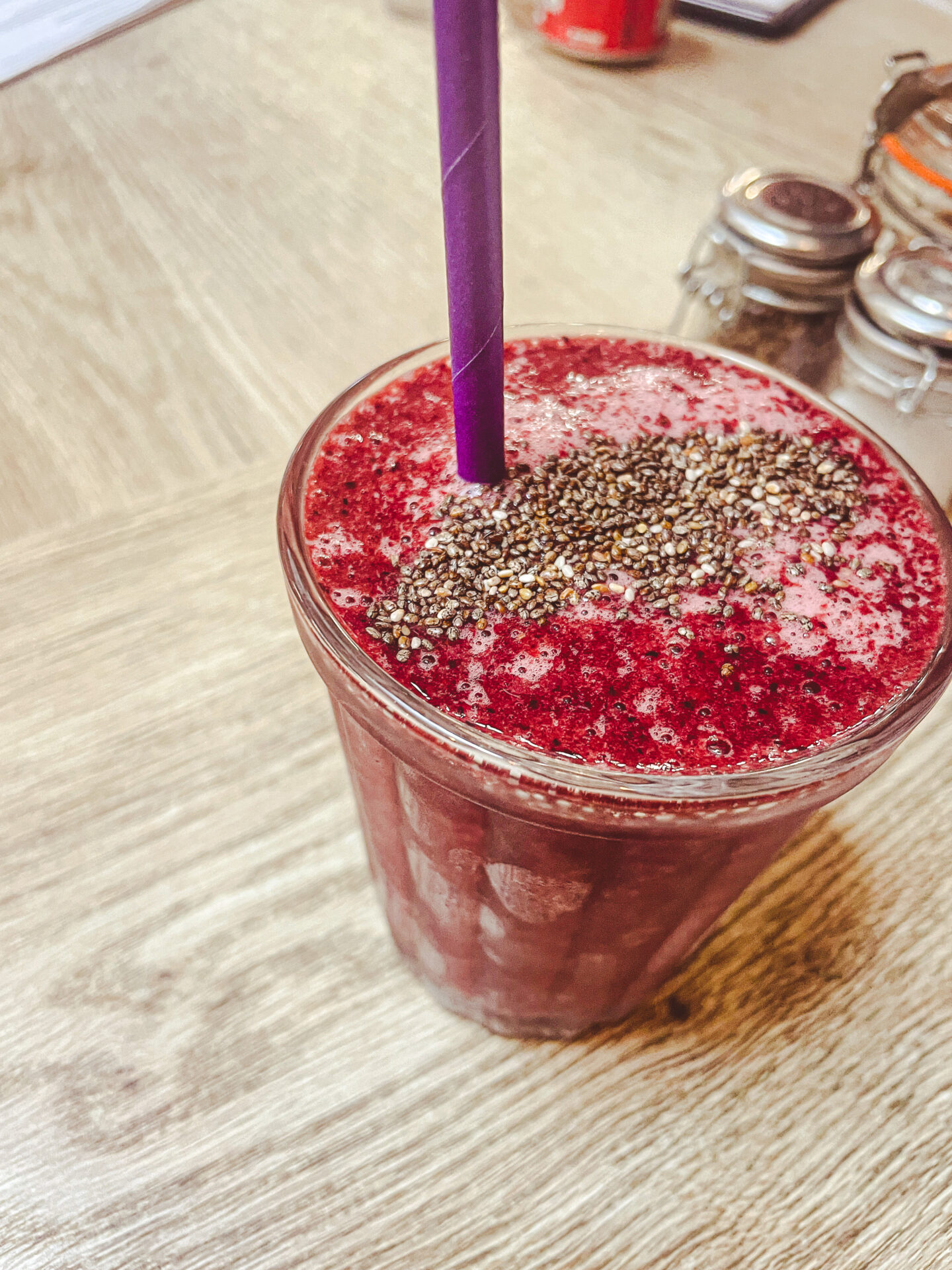 Began in 2017 by Jessie and Amy, the menu has everything from a slice of sourdough and butter and jam for £2 right up to a cold seafood platter and a Dutch baby. Nothing on the menu menu sits north of £10, which is incredible value. It's the kind of effortless, no frills cafe spot that we love to find, and is made with tonnes of heart. malmohanover.co.uk
Our favourite little speciality coffee spot and natural wine bar in the city, Rope & Twines on Bold Street is just a bloody beautiful space. Open five years this year, it's our go-to for considered coffee in a beautiful space and whiling away a couple of hours over a couple of glasses (or shared bottles) in the afternoon and evening.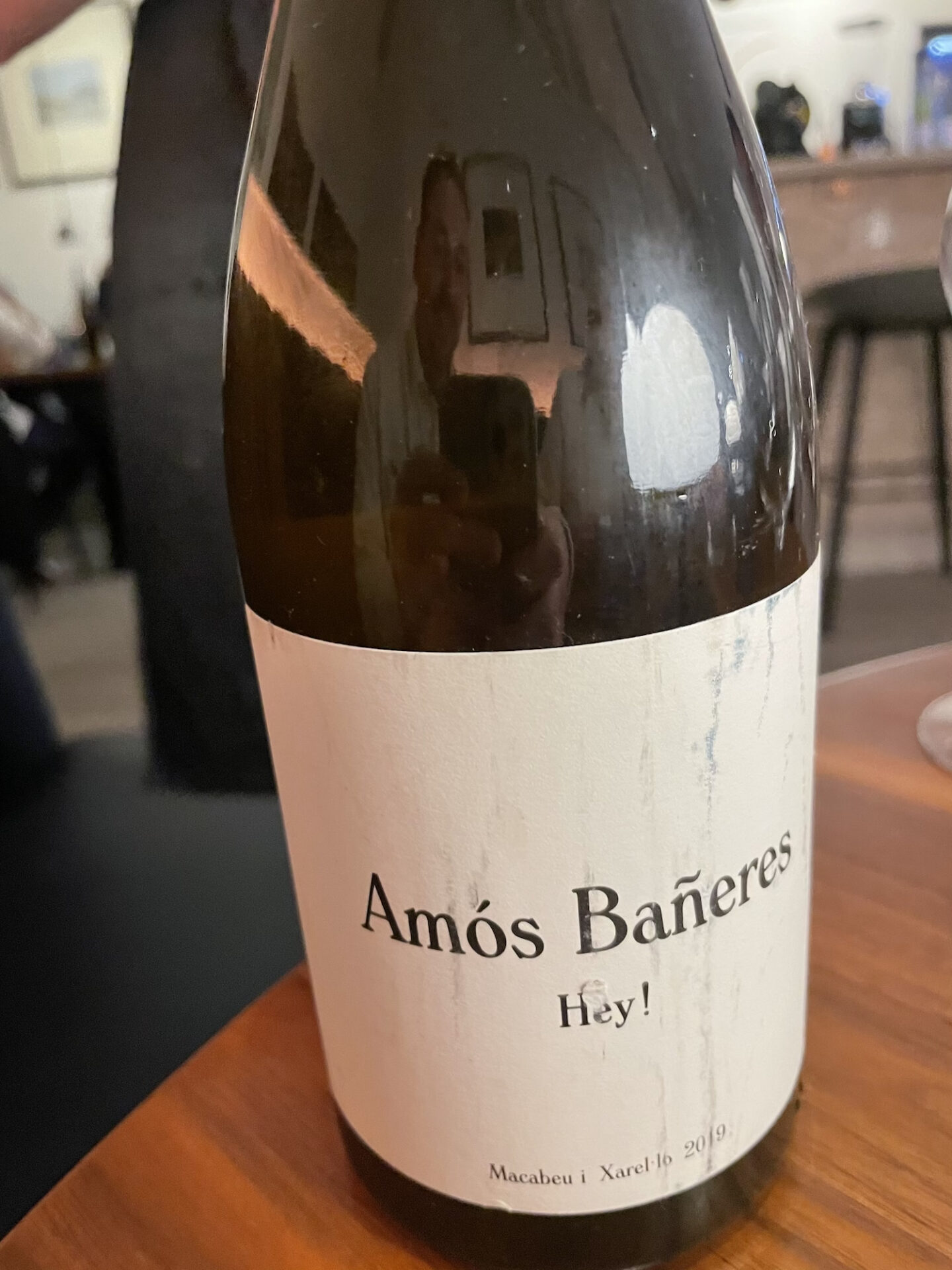 It's probably the blueprint for how a modern, all-day cafe should be. Staff are knowledgeable and friendly, the wine list is super cool and curated, and there's also a short menu of cakes, bakes, sandwiches and cheese and charcuterie platters.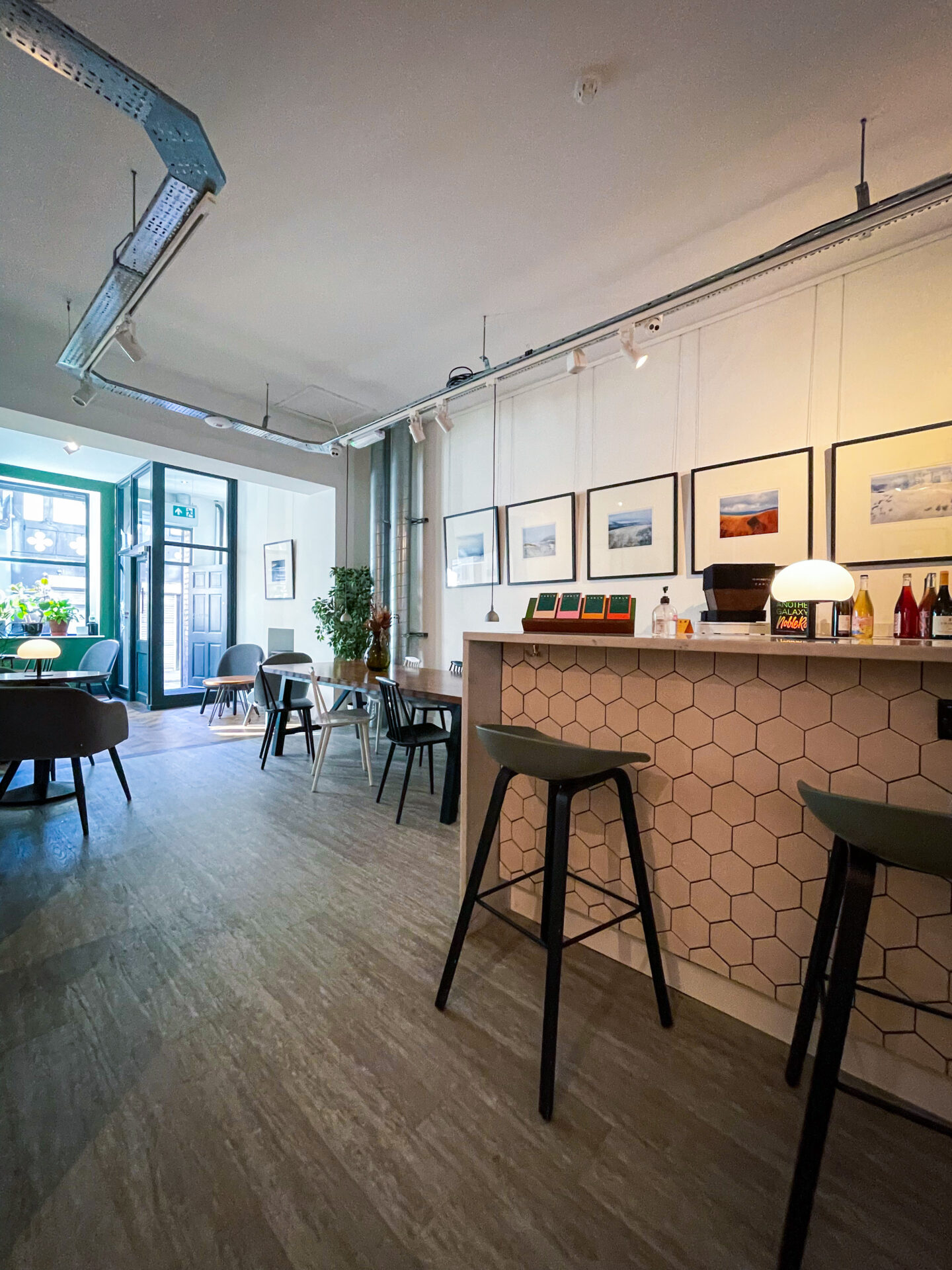 There's also a little subterranean cocktail den called Ettie's that was closed when we last visited but hosts pop-ups, supper clubs and special events. Open seven days a week from 10am, it runs 'til 9pm Thursdays and 11pm Friday and Saturday (6pm close every other day). ropes-and-twines.co.uk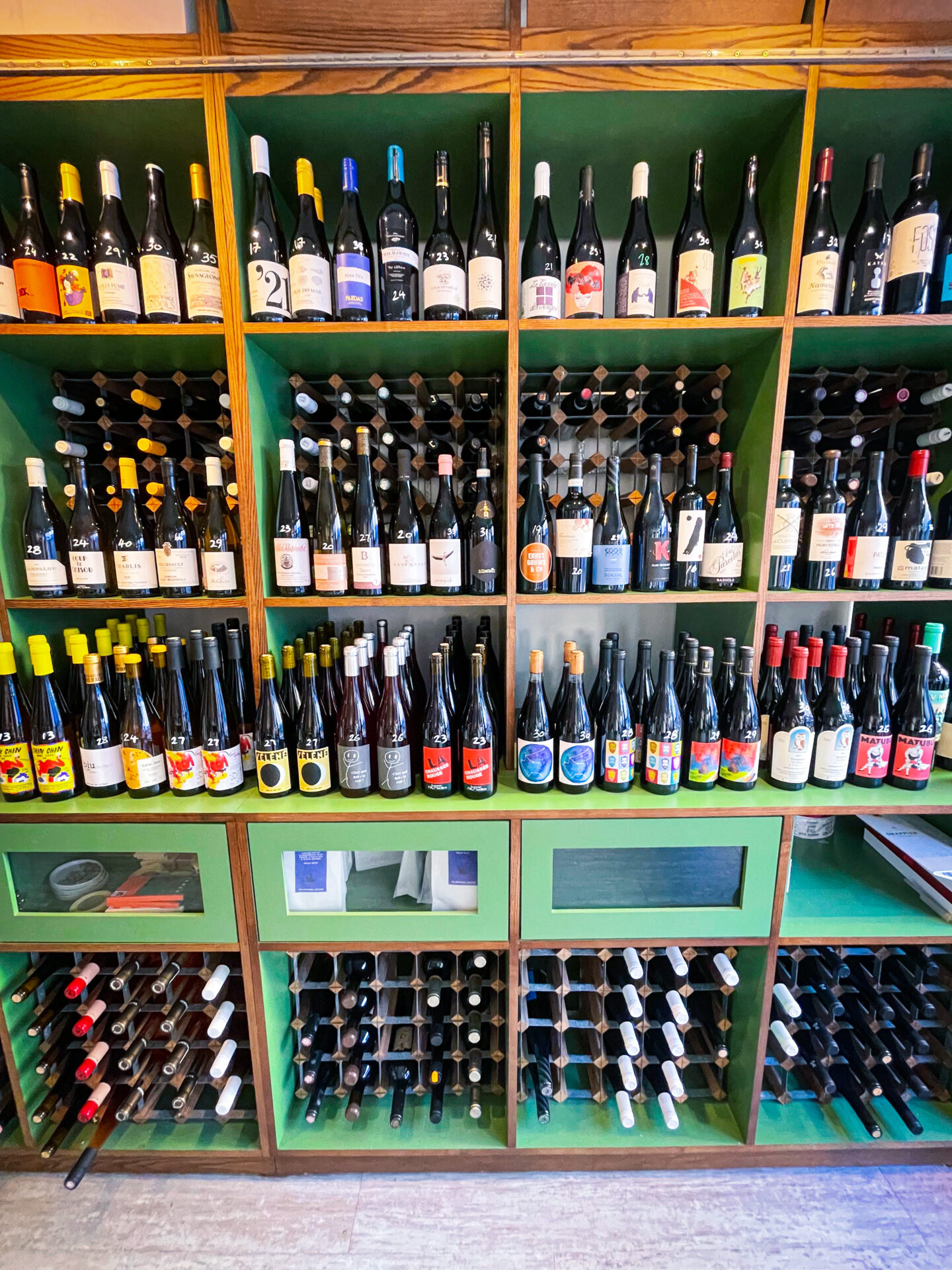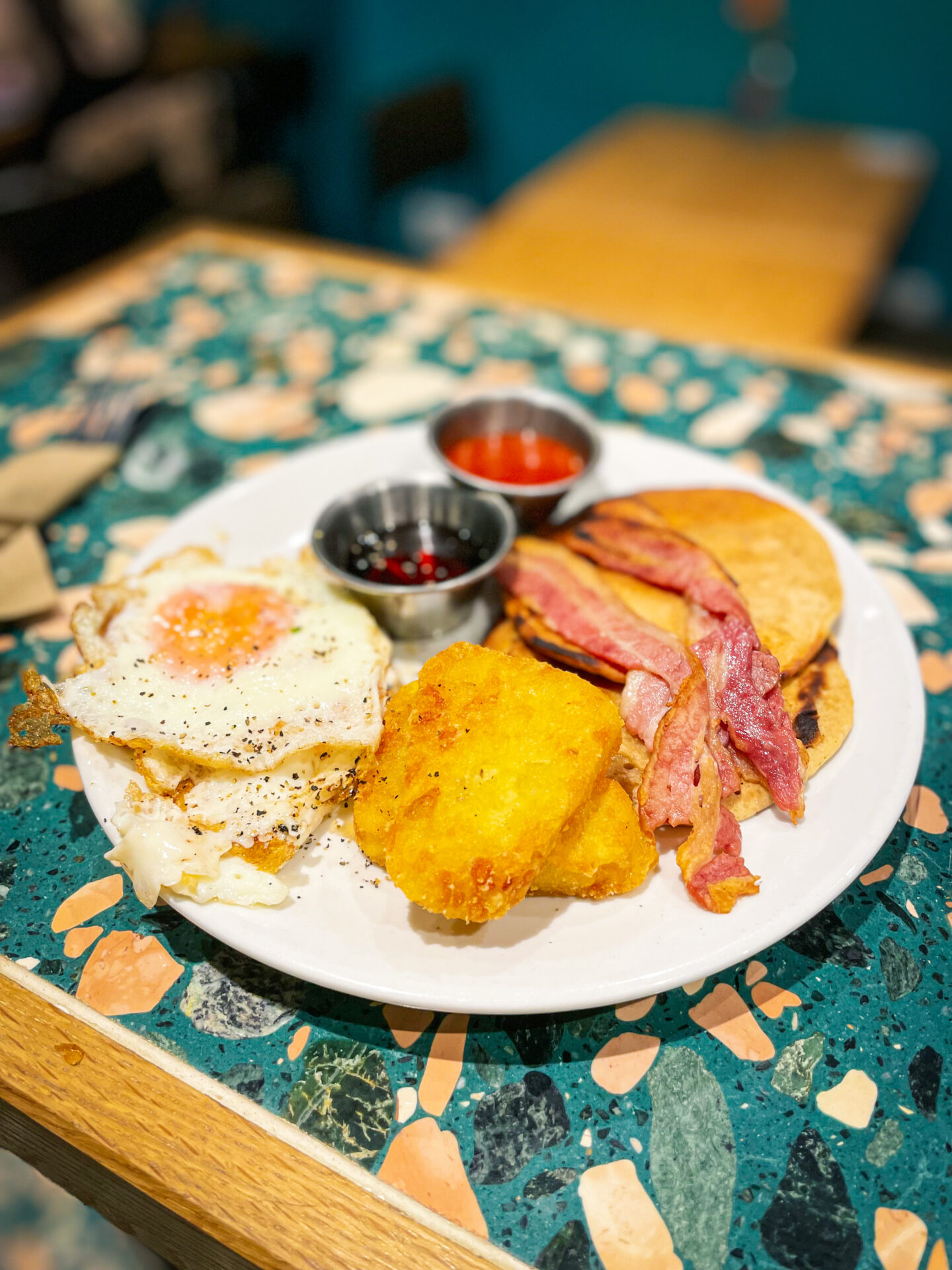 Bold Street Coffee is one of the best speciality coffee spots in the city, this place is always busy. The coffee is always great and the food menu is also expansive too, running from bowls and breakfast plates to butties and "buoys" on brioche buns. It's open 8am to 6pm every day except Sunday, 9am to 5pm. There's also a second branch at The Plaza on Old Hall Street. boldstreetcoffee.co.uk
We stumbled upon wine bar and cocktail spot BoBo almost by chance, but we loved the value for the style of wine on offer and the quirky Portuguese-influenced interior and menu. In their own words they describe it as "inspired by summer evenings eating Frango Piri-Piri in the Algarve and across the Iberian Peninsula".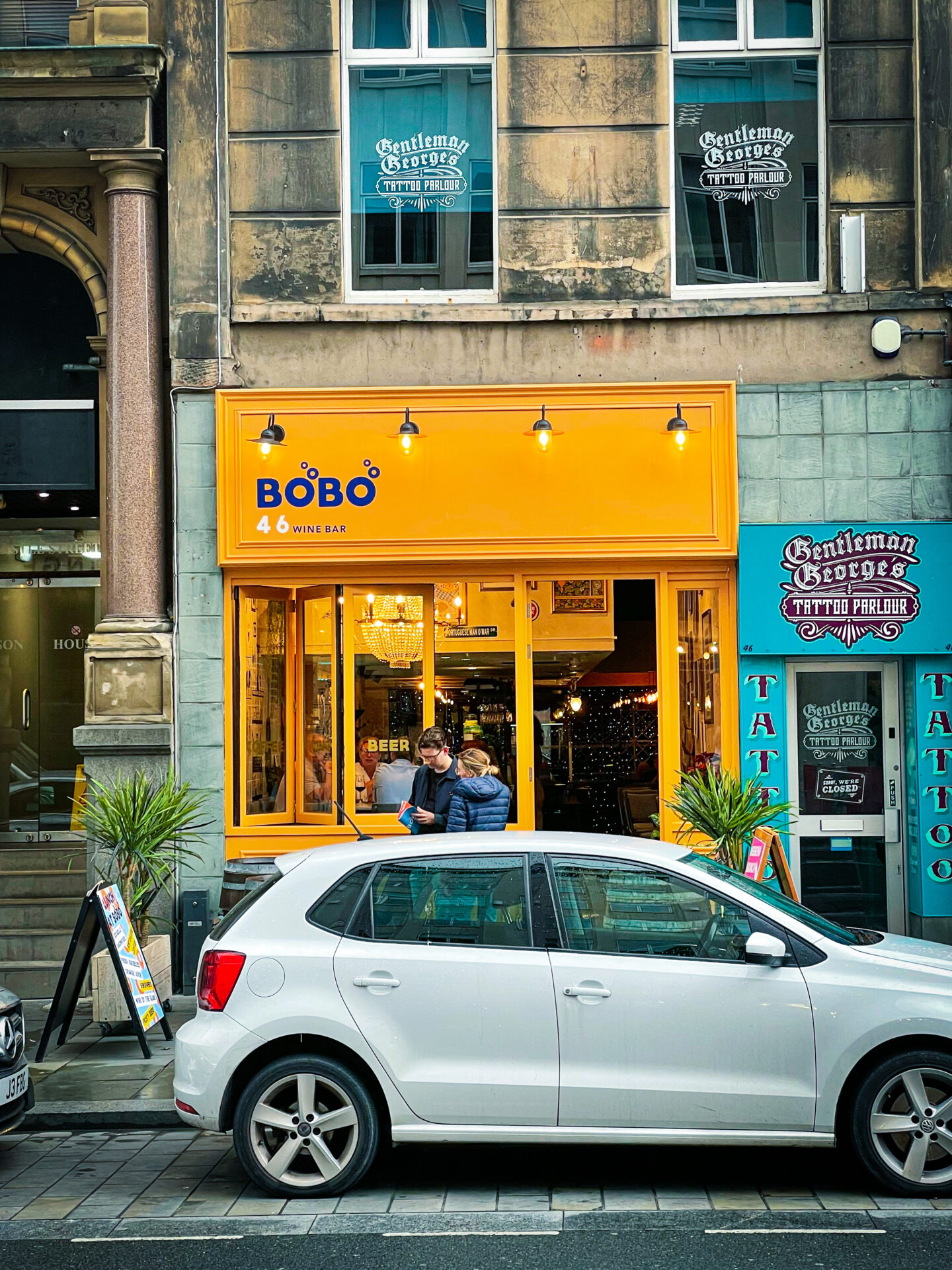 On weekends there's bottomless brunch between 12pm and 4pm (€35 per person) which has an Iberian twist with traditional sangria, Bocadillos, charcuterie and cheese boards, ham and aioli rolled bites, potato tortilla, Gordal olives and house pickles as well as pastries like pastéis de nata. A good one to consider for a booking for Eurovision weekend! bobogroup.co.uk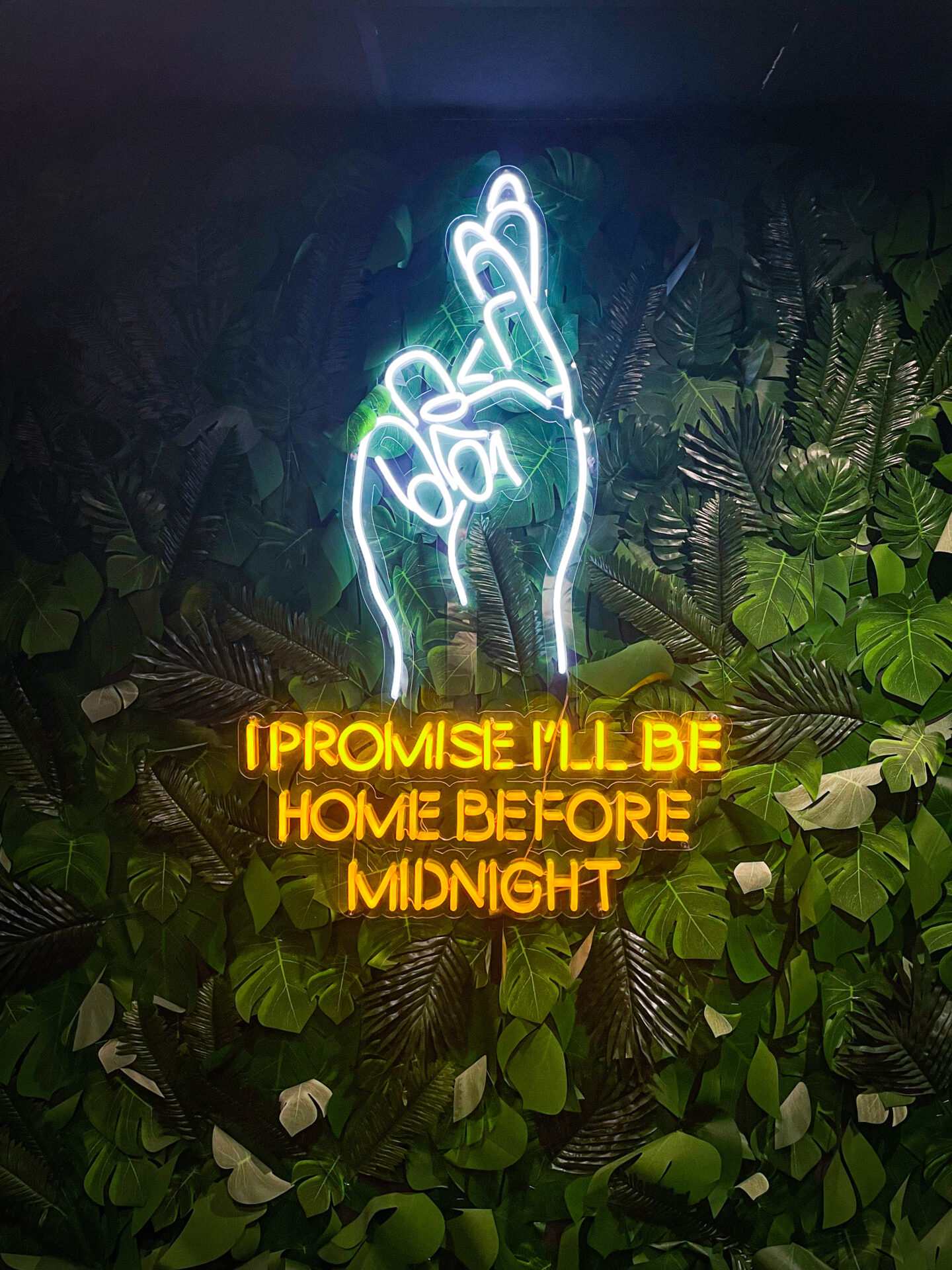 The first place we booked for our own trip to Liverpool for Eurovision in May 2023 was Manifest. We didn't get 'round to trying on our most recent trip, but Manifest is all about super high quality seasonal produce-packed small plates and Liverpool hospitality. An industrial-styled restaurant and wine bar in the Baltic Triangle, the kitchen also produces sourdough in-house as well as their own charcuterie and the regularly-changing menu is designed "with wine in mind", so to be enjoyed alongside the wonderful wine list. Their menu is exactly the style of produce-led, flavour-forward menu we personally really enjoy, so this is a top suggestion from us, if just a tiny bit on the pricier side. manifestrestaurant.com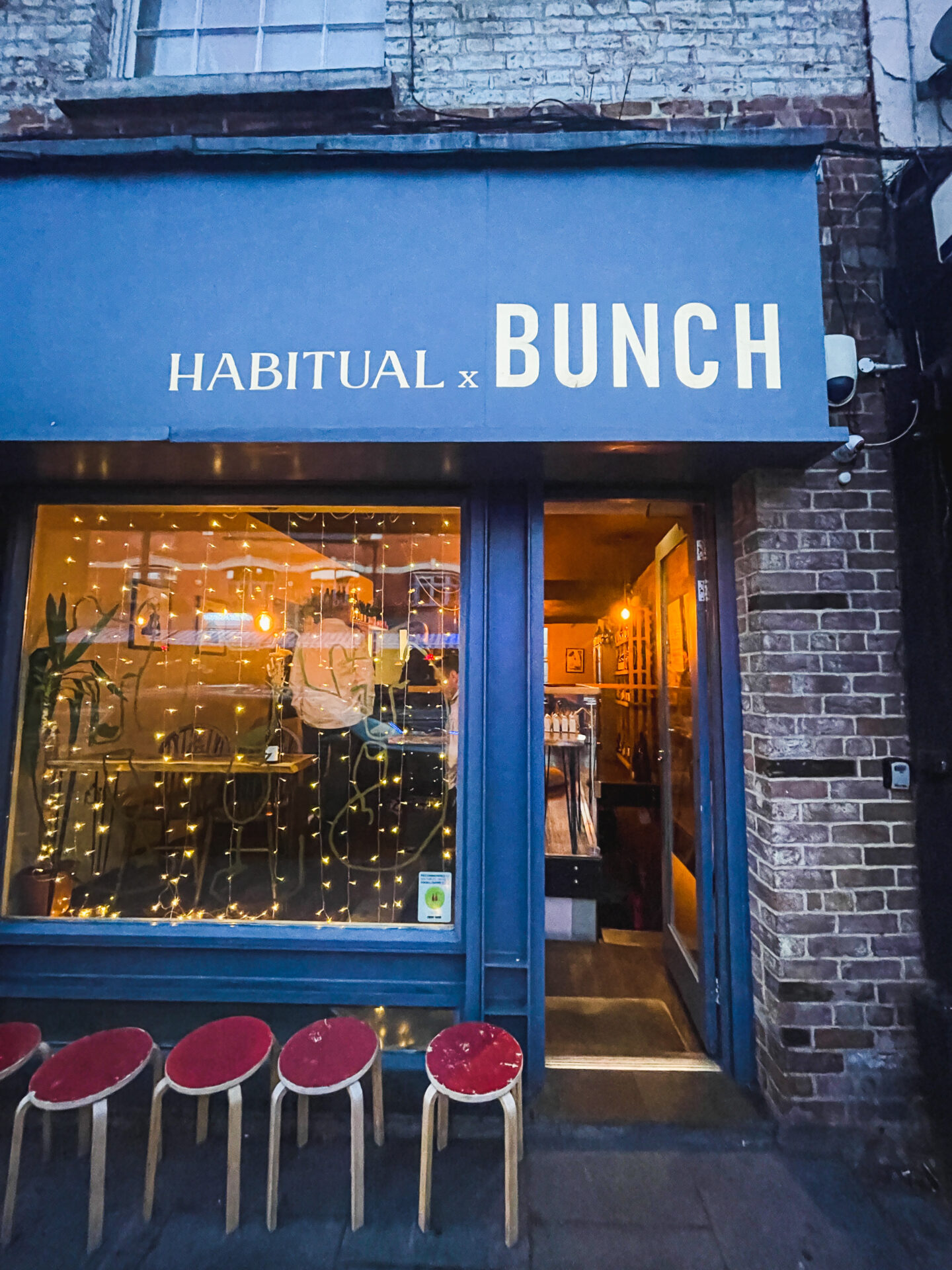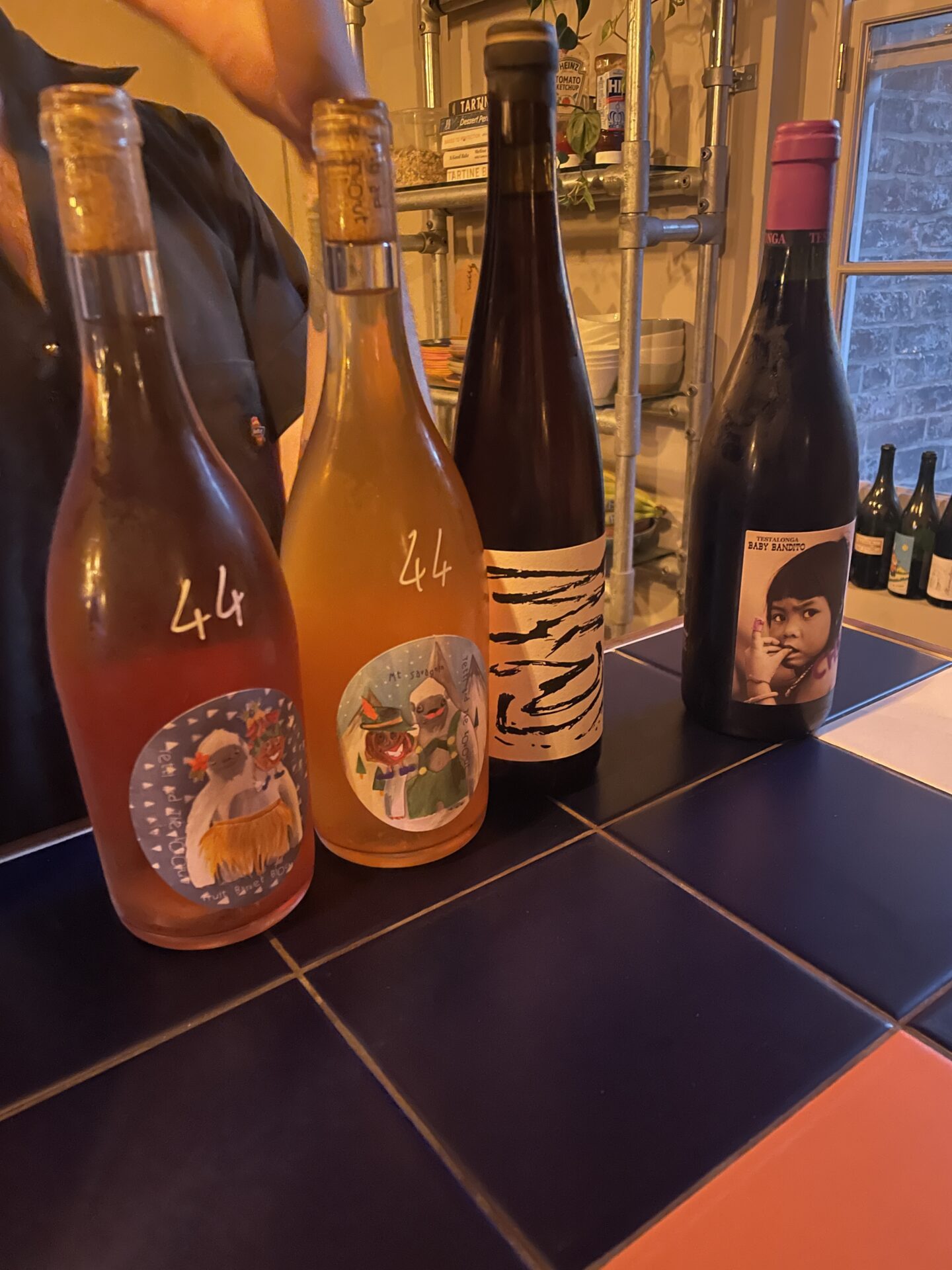 Located on Berry Street, Bunch is a small, friendly wine shop with a cool curation of natural wines by the glass and bottle. The kind of place you'll be asked "what are you into" rather than being handed a menu –– or just trace an eye across the shelves to pick a bottle that sings to you.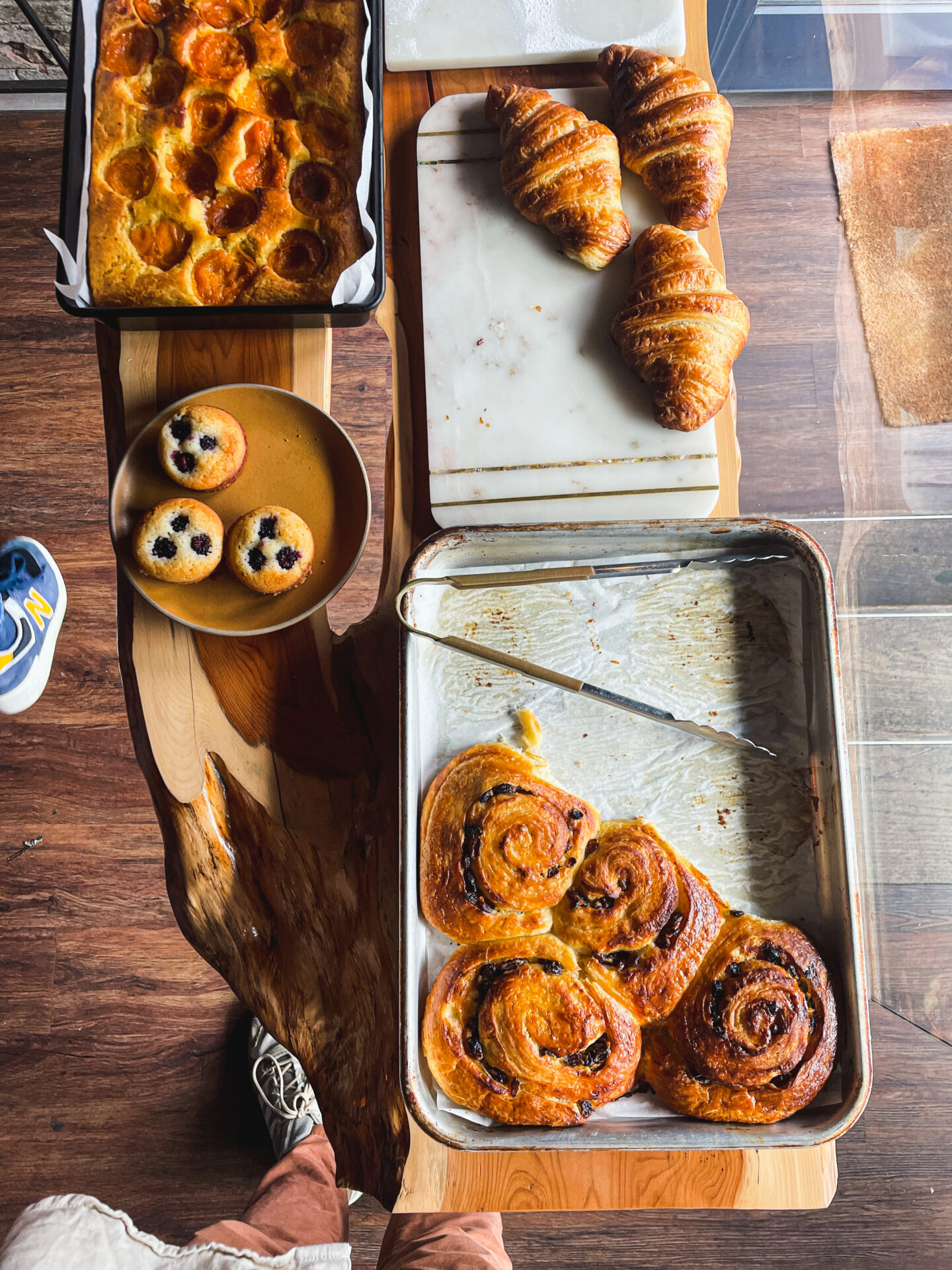 This space is particularly cool because it's a mish-mash of two operators under the same roof. During the day it's run by Habitual with great coffee, pastries, cakes and breakfast plates before segueing into Bunch in the evenings 'til late. The whole place is closed on Wednesdays, but most other days it opens either at 8am or 9am and goes 'til 10pm or 11pm. bunchwinebar.co.uk + habitual-coffee.co.uk
Madre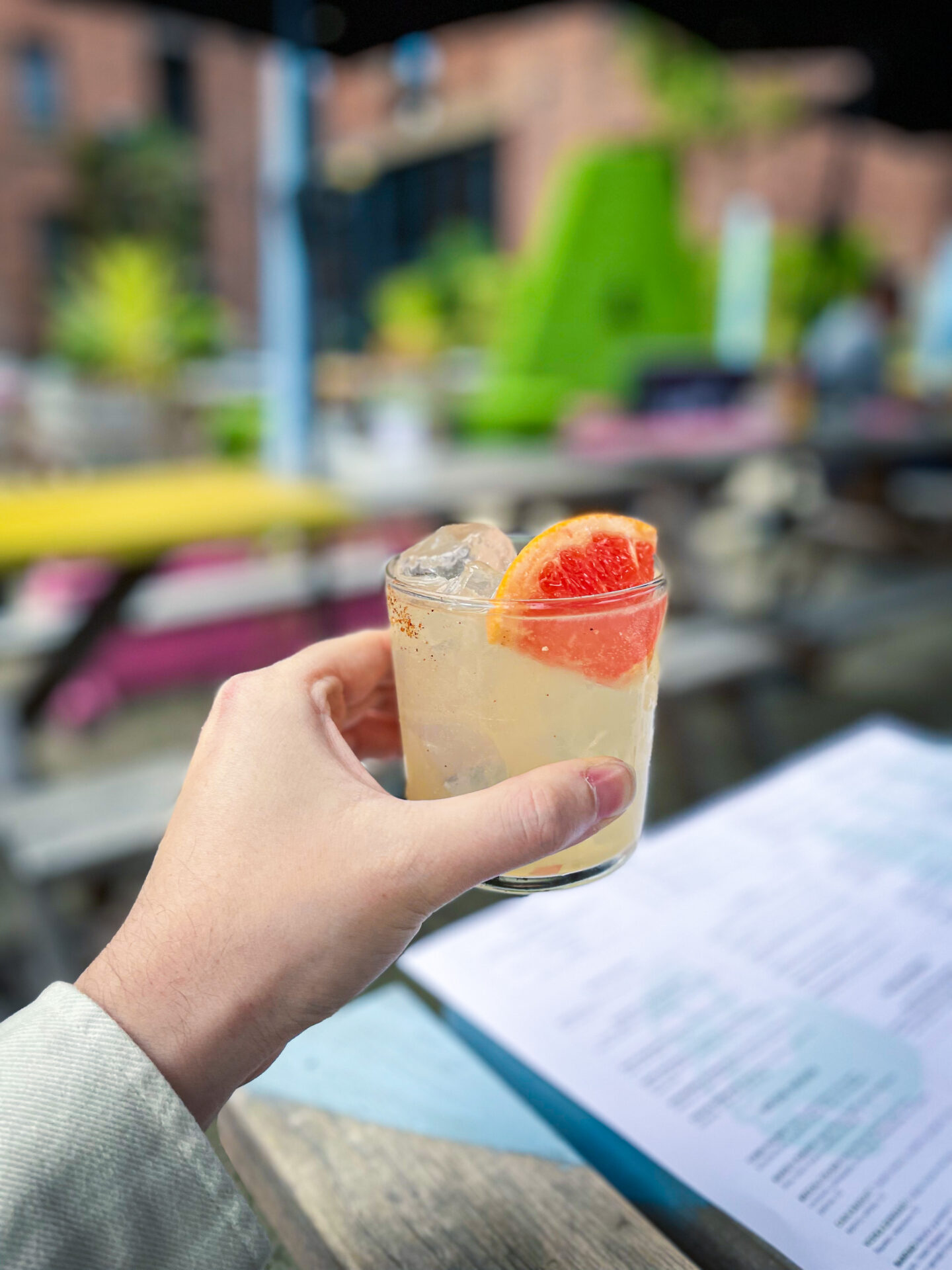 If you're prepared to go a bit out (about 30 minutes from Liverpool One on the number 86 buses) it will be worth it to eat at Belzan. Another small plates, produce-focused menu which takes a dash of global inspiration, this is perfect neighbourhood bistro and wine bar territory with a keen focus on three things: people, produce and provenance. Owned by Sam Grainger, Chris Edwards and Owain Williams – Grainger you might recognise from being a newcomer chef on the most recent series of Great British Menu – this is also the same team behind Madre at Albert Dock. belzan.co.uk
You cannot visit Merseyside without trying the quintessential local dish of Scouse. With Nordic origins from seafaring sailors, this dish is basically a staple in any Liverpudlian nan's house! We visited Fodder, a small community cafe in the Baltic Triangle that feels like walking into a family's front room. Bric-a-brac adorns every space possible, and the menu is pure casual comfort food.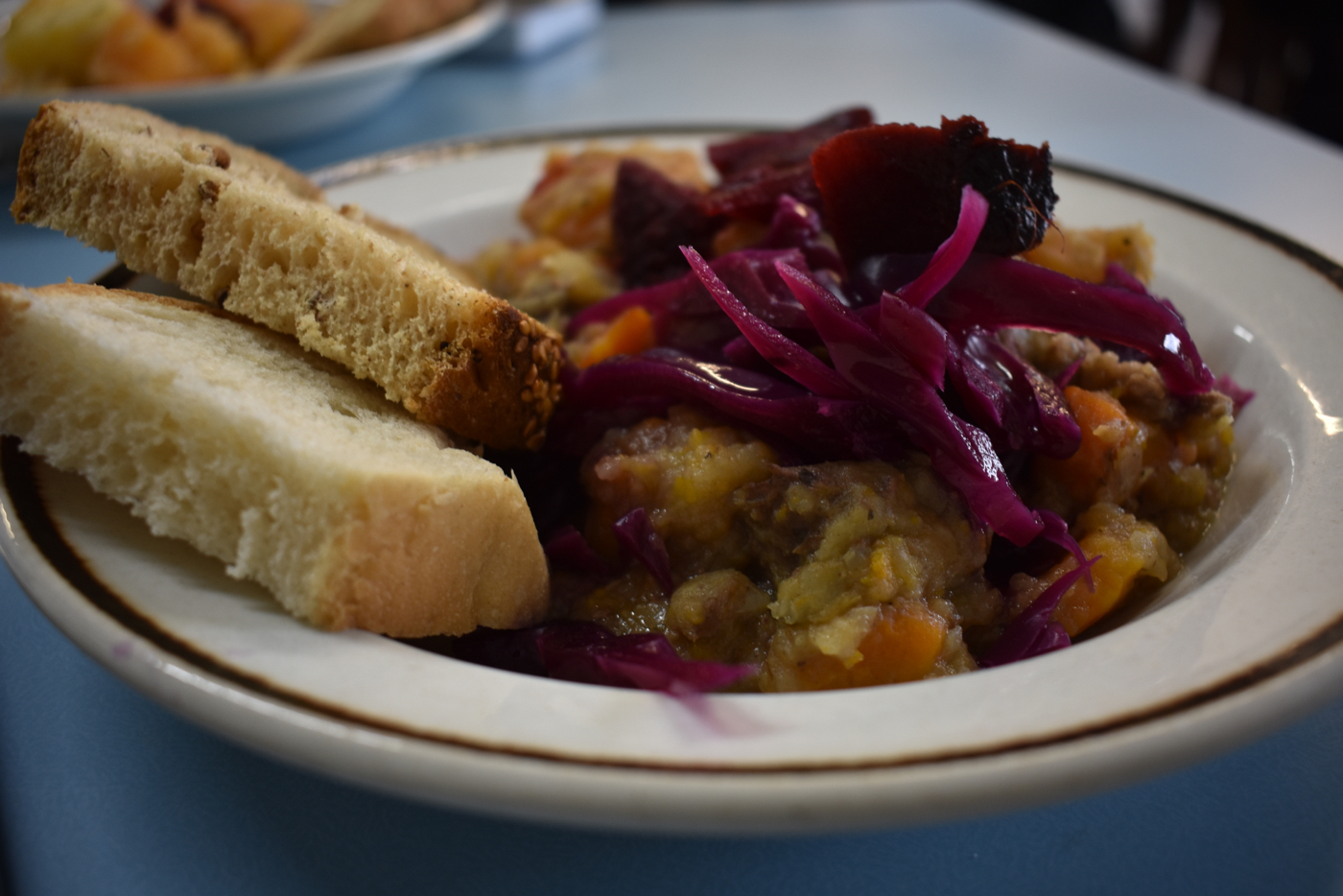 Here they serve three varieties of Scouse – traditional mutton, Liver Bird (chicken) and blind (vegan). A quick bowl, topped with red cabbage and beetroot and buttery bread is just £6.50 whilst the whole three-course Scouse experience, which fodder pride themselves on, is £12.50 including a starter of peawack soup and a dessert of Wet Nelly (as the menu says "the Scouse version of a fruit bread pudding"). Tea and coffee is included with each dish. You'll want to stay for hours in here, just for the warm hospitality of the staff and the homely vibe they're offering. fodderliverpool.co.uk
In the Georgian quarter of the city, we headed to Hope Street on a trip to Liverpool a few years ago and grabbed a few small plates at a quirky and casual all-day bar and restaurant called Pen Factory. A warehouse space from owner Paddy Byrne and Head Chef William Shuttleworth, the menu is is laid out with snacks, small plates and larger mains, whilst there's a great beer selection too. It's very good value and overall focuses on global flavours but also embraces local where possible, including vegetables often grown in their own urban garden. pen-factory.co.uk
Interactive map below with all our pinpointed places! Tip us with a coffee if you find it useful!