Every city we visit, no matter where in the world, we try and seek out that small little nook where decent music is played at full volume, people wear whatever clothes they desire and culture is the currency of choice. London has Shoreditch, Dublin has Temple Bar, but Manchester may reign supreme with the Northern Quarter – we cannot sing it's praises enough, so here's at least 20 reasons why the Northern Quarter is incredible.
Nestled above Piccadilly Gardens, away from the high-street jungle that is in the Arndale Centre, is a part of Manchester city brimming with character, charm and intrigue. There are no pretences with the Northern Quater, in true Northern style, what you see is what you get. And wait till you see what's there…
Naturally, we gravitate to the food & drink scene in any city, and thankfully almost all of our favourite spots in MCR are in the Northern Quarter, so here goes…
Food & Drinks
Common
As much of a bar as it is a cafe and a restaurant, Common is a Northern Quarter triple threat. One of our favourite places to eat in Manchester, this is a no reservations, small plates restaurant on Edge Street with a fiercely independent style. Stop by for brunch on the weekend washed down with a Workshop coffee (and try not be tempted by the donuts and delicious looking cakes on the counter) or enjoy lunch or dinner with some of the craft beers or unique wines on offer. The decor is downplayed, hip and very functional (think IKEA with a hipster twist).
Ezra & Gil
This place makes us so excited about the Manchester cafe scene the more and more we try it. We've had lots of lunches and brunch here and the coffee is great too (special shout-out that their tea of choice is Ireland's own Barry's Tea!) This is one of the best urban cafes in the Northern Quarter to eat or work at, with a lofty Warehouse feel and ample space, from high stools at the window to large communal tables and smaller wooden tables for two.
You'll always find something to tempt you on the small, but delicious, flavour-led menu and you can even pick up a few necessary 'provisions' too, as it's half cafe-half food store! We can't say enough good things about this place, and take a look at their website – if you're not drawn in by the dogs talking on the phone GIF, then this place just isn't for you!
Home Sweet Home
Like a US diner roughed up a little and tailored for for the mean streets of Manchester, Home Sweet Home is where people go to fend off a hangover or seriously calorie-up on a Saturday night. American classics punctuate the menu that's best enjoyed without any guilt and a deserved dose of unadulterated indulgence. The cakes are show-stopping, usually for their garish sugar-overload style whilst desserts are just plain gluttonous, like the cooked to-order cookie skillet, served warm from the oven with melting scoops of ice-cream on top and chocolate sauce drizzle.
Cottonopolis
Cottonopolis is a modern Asian fusion restaurant on Newton Street. A really gorgeous setting and a temptingly different menu, you'll find raw dishes, deep-fried, fire-roasted and steamed dishes side-by-side, all with a fresh Asian twist. Great for a Friday or Saturday night stylish dinner whilst just as good to start the night here with drinks at the bar.
Tariff & Dale
Where Tariff Street meets Dale Street in a far corner of the quarter is this eponymous restaurant and bar, Tariff & Dale. A buzzing bar, well-stocked with craft beer and ales on tap sits on the ground floor, alongside good cocktails and a DJ booth, whilst the basement restaurant serves casual brasserie dishes and pizzas from the wood-fired oven. Both get extremely busy at night, so booking for food is definitely advised.
Open from lunchtime each day, on Fridays the restaurant offers #Giropizza with unlimited slices of sourdough pizza and a soft drink for just £7 (or £9 to swap the soft for an alcoholic bevvie). Imaginative flavour combinations, high quality toppings and a deliciously burnished yet fluffy and chewy base means you'll be tempted by every slice that's offered to you.
Ply
Another new pizza place on the scene, PLY is a huge industrial-style pizza parlour with clever flashes of colour on the corner of Lever Street and Stevenson Square. The wood-fired oven is mirror-tiled and there's a big art element, not to mention great Neapolitan-style sourdough pizzas.
Soup Kitchen
Music venue-meets- casual canteen, Soup Kitchen is an incredibly adaptable and eclectic live music space, bar and kitchen. The menu is Jamaican-inspired comfort food at incredible prices, ranging from dressed jacket potatoes to jerk chicken, beans and cornbread. The pudding selection is small but incredibly tempting and there's lots of craft beers on tap and even more in bottles. In the evening, the space transforms to host gigs and events from small names and big international musicians and DJs.
BonBon Boutique
https://instagram.com/p/BIz-9KtgeXO/
Teeny tiny set in a blink-and-you'll-miss-it corner of the NQ, BonBon is where chocoholics are sure to relapse. Serving arguably the best hot chocolate in the city (freshly poured from the gently simmering large pots of the stuff) in various forms with added spices and flavours, there's also gorgeous chocolate truffles and artisan bar as well as lots of chocolate-dipped goodies. If you're lucky enough to get a seat, you'll cherish your bowl of hot cocoa that bit more!
Yard & Coop
It's all about chicken at Yard & Coop in this corner of Edge street. Youthful, edgy and casual, you'll find a restaurant brimming with hoards of Millennials every weekend knocking back hard shakes and stuffing their faces full of spot-hitting comfort food, usually before a night of local bar-hopping. Service can be a bit lax, but this is an affordable and tasty option for lunch or dinner.
Modern Americana with chicken at centre-stage is the menu whilst support-act sides are incredibly indulgent and mostly fried. Minus points for not insisting on free-range chicken, but you cannot deny that their 24-hour buttermilk-brined birds are not delicious, served to your table coated and fried in a lip-licking mix of herbs and spices alongside house sauces.
Walrus
You'd be splitting hairs if you tried to decipher between Walrus, Yard & Coop & Home Sweet Home. Each do a somewhat similar take on American comfort food classics, updated with a twist for the Manchester scene. Walrus combines music, food and cocktails. Sliders are a big deal here, as is pizza and they also serve incredibly indulgent 'dirty fries', loaded with the likes of pulled pork, spinach and mozzarella or pizza sauce and pepperoni. Stop by for one of their fantastic specials, like on Sundays where all food is 50% after 12pm and Thursdays when pizza is unlimited after 5pm!
63 Degrees
French brasserie 63º offers a taste of the French capital set within Manchester's Northern Quarter. Run by the Moreau family, the name comes from the optimum temperature to cook poultry low and slow, so you'll find lots of exquisite dishes cooked with a loving touch and a suitable French flair – a great high-end option aptly-situated on High Street.
The Blue Pig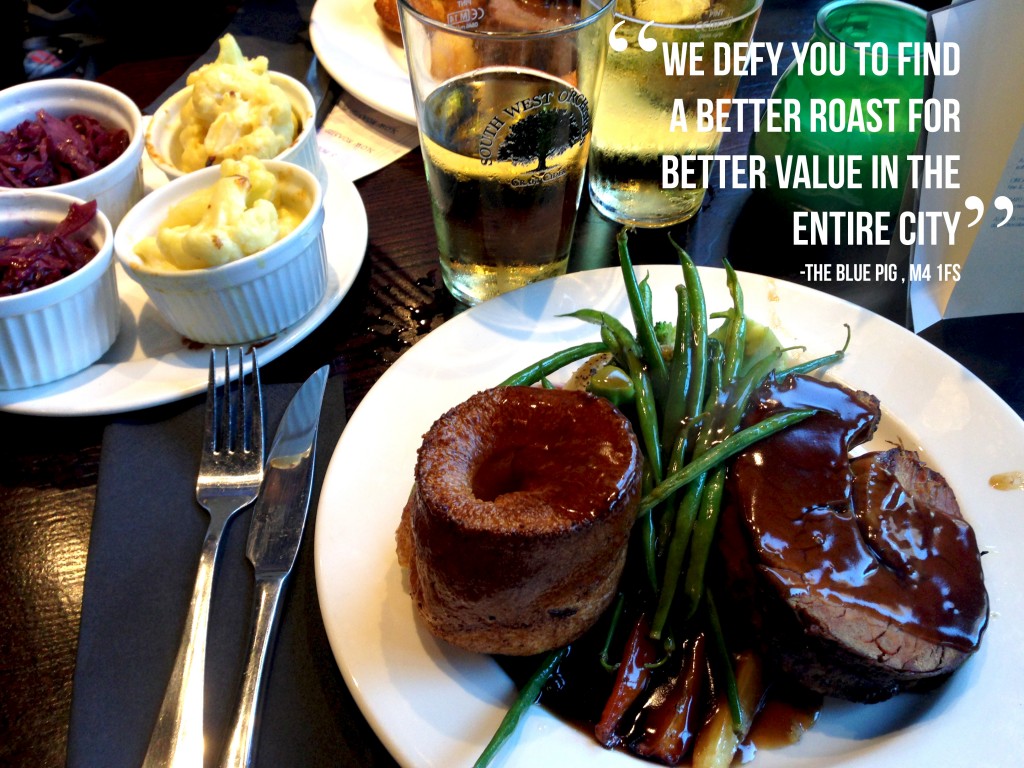 The perfect place for a Sunday roast is The Blue Pig. There, we said it. Sitting on High Street near the Arndale and Victoria Street Station, this is a modern, ultra casual pub and restaurant serving the best roast we've tried in the city so far. Succulent roast lamb or beef brisket in a generous pool of rich, thick gravy served with crisped and flaky roasties, red cabbage, green beans and a side of cauliflower cheese? Yes please. Each and every time, it's gotta be washed down with a pint!
Trof
One of our favourite places for a drink in the Northern Quarter, Trof's two floors squeeze in crowds every weekend when it's especially busy but it's also a beautiful place for a quiet drink on a mid-week date. Try some of the dishes upstairs and make sure to head along for Happy Hour from 4 or 5ish until 8/9pm each day where bottles of Prosecco are £15 and selected cocktails are two for £10 – some of the best value cocktails in Manchester.
Sugar Junction
 The cutest space for afternoon tea (or cake and cocktails, like us), Sugar Junction is split over two floors along Tib Street and adorned with quirky, mismatched interiors and styled with all manner of pretty vintafe trinkets. Sip from a china tea set and enjoy a tiered afternoon tea spread of freshly-baked cakes, dainty sandwiches and scones whilst retro tunes softly play.
There's coffee and about 20 different styles of tea, not to mention lots of different cocktails if you prefer something stronger! Open 9am-5pm everyday (even 'til 11pm on Fri/Sat), so right from breakfast 'til late you can stop by and enjoy a slice of something a bit different!
Retail Therapy
Oklahoma
Need a silly gift for a friend, a card with a cheeky message or a quirky piece of homeware for the flat? Oklahoma is your one-stop-shop for all things colourful and bright, from novelty gifts and modern bits 'n' bobs to gorgeously-designed pieces for the home.
Fred Aldous Ltd.
Fred Aldous is a stationery lovers paradise. Art geeks and creative geniuses need to mark 'X' on this spot because it boasts everything an artist needs to get creative. Not strictly for serious artsy types though, there's an incredible selection of stationery, cards, gifts and wrapping paper for all tastes – you're bound to buy at least one thing on every visit!
Fig & Sparrow
Not just one of the best places in the Northern Quarter for a coffee (flat whites FTW here), but Fig & Sparrow is also an example of a perfectly curated gift store. From the lush, luxury interiors to the designer stationery, the gift opportunities here are so on point.
Small yet perfectly-formed, this shop-cum-café is a must-visit!
Magma
Zine fans will cream themselves at this magazine and book shop with shelves upon shelves of fashion, art and lifestyle magazines, books and zines. If Magma doesn't stock it, it's probably not worth reading anyway! Great collection of different interiors, trendy tidbits and reading accoutrements too.
Piccadilly Records
Piccadilly Records really is the holy grail of record shops in Manchester. This clean, well-kept record store is vinyl lovers' Holy Grail and we've spent our fair share of time and money here since we invested in a swank little record player in 2016. You'll find exceptional staff recommendations here and it's a leader of the pack in so many ways.
Oi Polloi
A menswear Meca, Oi Polloi is arguably one of the best mens clothing shops in the UK with a keenly-curated collection of both UK and international designers. Now with a second branch in London's Soho.