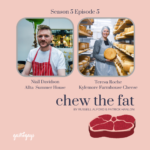 On this week's episode of Chew The Fat we have some news freshly released about allta's exciting summer residency pop-up concept at Slane Castle in Co. Meath as well as a long overdue listen to our visit to Teresa Roche at Kylemore Farmhouse Cheese.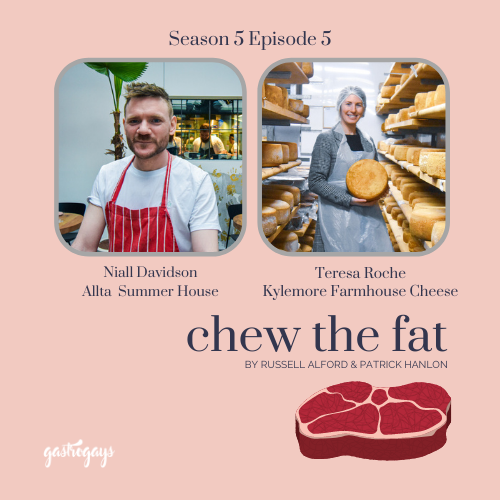 On the Chew The Fat Noticeboard – our weekly round-up of the interesting stuff to happen in the food and drink scene – we talk:
Pride –– With Pride being celebrated this month around the world, many establishments are creating and sharing some colourful and beautiful products, donating to very deserving LGBTQ+ charities in the meantime, too, including Bean and Goose chocolate and The Cupcake Bloke. Support your LGBTQ+ makers, creators, creatives, foodies, farmers, activists, thought leaders. Pride is protest at its heart, still fighting to be seen, heard, understood and treated as equals to all others, and so important –– even still in 2021.
New Nook –– Nádúr is the new sibling to Sligo's Nook! Opened this week in Collooney, the new restaurant and cafe has limited outdoor seating, currently split down the middle with half for reservations and half for walk ins, due to a large amount of queries!
Holy Cannoli –– In Dublin, Dinetown in the Liberties has a brand new sweet addition – Ciao Cannoli. Ciarán and Federico – the guys behind Catch Events – are selling 7 different flavours of this stunning tube shaped, fried and filled Italian pastries from their pink Citroen van. From classic, there's something for everyone. Dinetown is open seven days a week at the Iveagh Market on Francis St, and also features Ethiopian cuisine from Gursha, pizza pies from Serious Dough, and the OG in the location, The Sambo Ambo.
Silks Gin –– A brand new gin launched this week on the market from Boann Distillery. Silks Gin follows after the family-run distillery scooped Best New Make Spirit at the World Whiskey Awards just three months ago so has a serious pedigree behind it –– and that's carried through in the nod to horse racing and jockeys' silks in the branding and name, inspired by the nearby famous Bellewstown racecourse in Co. Meath.
One other major bit of news that's breaking in the detail but has been teased for weeks comes from the team behind popular wine bar and destination restaurant Allta on Dublin's Setana Place. After feeding thousands of homes throughout the pandemic with the alltabox, the team led by Hugh Higgins, Kevin Burke and Niall Davidson have been teasing on social recently about an allta summer house, set outside the capital. In the episode we chat to Niall a bit further about the inspiration, setting and the menu that lies ahead… If you would like to make a booking for the allta summer house visit alltasummerhouse.ie. Tickets cost €95 per person, and more details are on the website regarding accommodation and transport in the area, too.
Now, before we started this current series of Chew The Fat, we mentioned we had a few episodes recorded out in the field ready to be broadcast and you can listen back to the first episode of this current series, series 5 of Chew The Fat, to learn a little more about why we chose to hold them back and ride out the wave of a pandemic before bringing them to you. Now we want to share one we've been dying to bring you since the day we recorded it, almost exactly 18 months ago…
A new kid on the cheeseblock by all accounts, Theresa Roche has been quietly producing one of the finest cheeses to be created in Ireland in years under her Kylemore Farmhouse Cheese brand. An alpine style 'hard cooked' cheese (think French Comté or Swiss Gruyère) except switch the Alps for East Galway and you've got it. Based just outside Loughrea, Theresa is a former nurse from a family farm and returned home from abroad and set about totally switching up her career and devoting all her time to her own herd of Holstein Fresians and creating and ageing her stunning cheese. Though this chat took place in January 2020 it's as fascinating now as it was then and Kylemore Farmhouse is an incredible example of a contemporary Irish cheese from a traditional and humble Irish family.