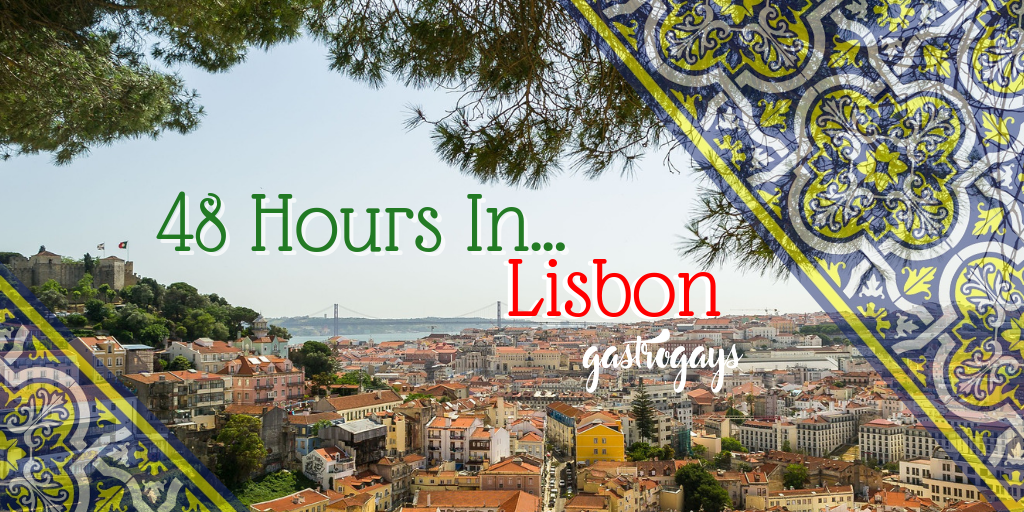 A sojourn in the westernmost, sun-soaked capital of mainland Europe is a right of passage for those who love to travel. The land of pretty, ornamental tiles, gourmet sardines, ginjinha, fado and of course *those* custard tarts, we're of course talking about the bustling riverside city of Lisbon. Over the last five years or so we've visited on several occasions, eating and drinking our way around the city, so here's our ultimate destination travel and food guide to Lisboa.
Transport around Lisbon
Lisbon is a walkable city but it is built over seven hills (historically, quite like Rome was) so be prepared for uphill struggles and steep descents. However, the more you get used to the inclines, steep steps and the cobbles, the easier it is. So wear comfortable shoes and just go for it, you'll soon adjust to it.
Lisbon is a fairly compact city centre though, the sprawling suburbs run out all the way towards Cascais in the west by the Atlantic and Loures in the north plus the sprawl to the south on the other side of the bridge at Almada. The river Tejo (which we call, in English, the Tagus) somewhat splits the city in two, but far more of interest on a quick trip is found on the north side of the river than the south.
The rickety old trams are a beautiful real-time relic of Lisboa of yesteryear, but they are tiny, hard to stand up in, brake abruptly and can get very crowded, especially Tram 28, which runs from Martim Moniz to Campo Ourique through the districts of Graça, Alfama, Baixa, Chiado, Bairro Alto and Estrela. This is a great way to see some of the main neighbourhoods and features of the city on a budget, but go in early morning or in the evening to avoid the crowds. Using the tram is simple, two options: either pay €3 per journey to the driver when you board, or load up your Viva Viagem travel card –– in fact, buying the 24 hour ticket for €6.40 allows you to use metro, bus and carris tram as much as you want, so is the most cost effective option. No need to 'tap off' when you disembark the tram, but you must 'tap on'.
You can also get a 48 Hour Lisboa Card (€34) or 72 Hour (€42) which is a 3-in-1 card entitling you to free transport across the bus, metro and tram network as well as free entrance to almost 40 key attractions, museums and heritage sites, as well as other special offers like reduced fare on official bus tours and special food and drink discounts.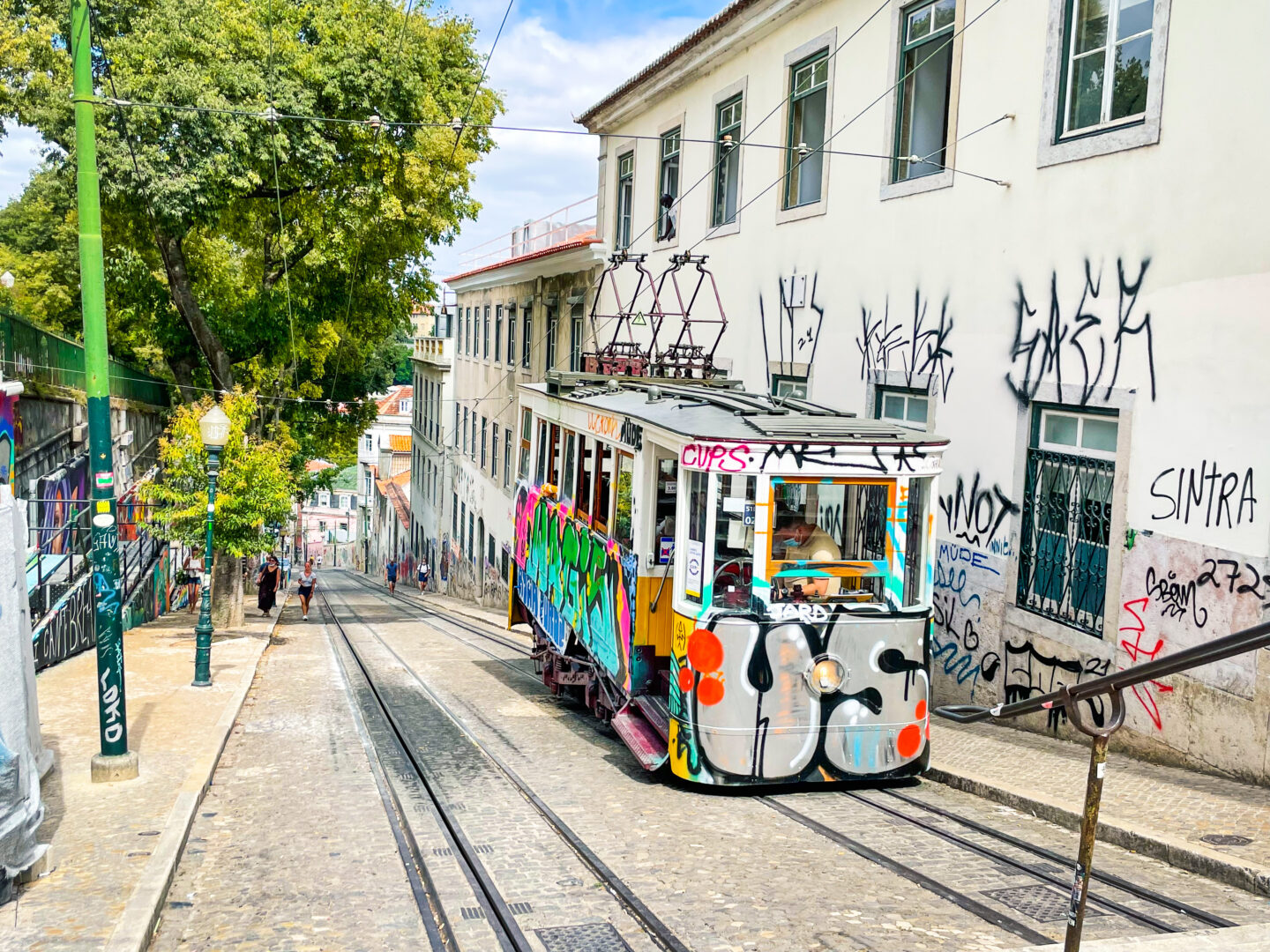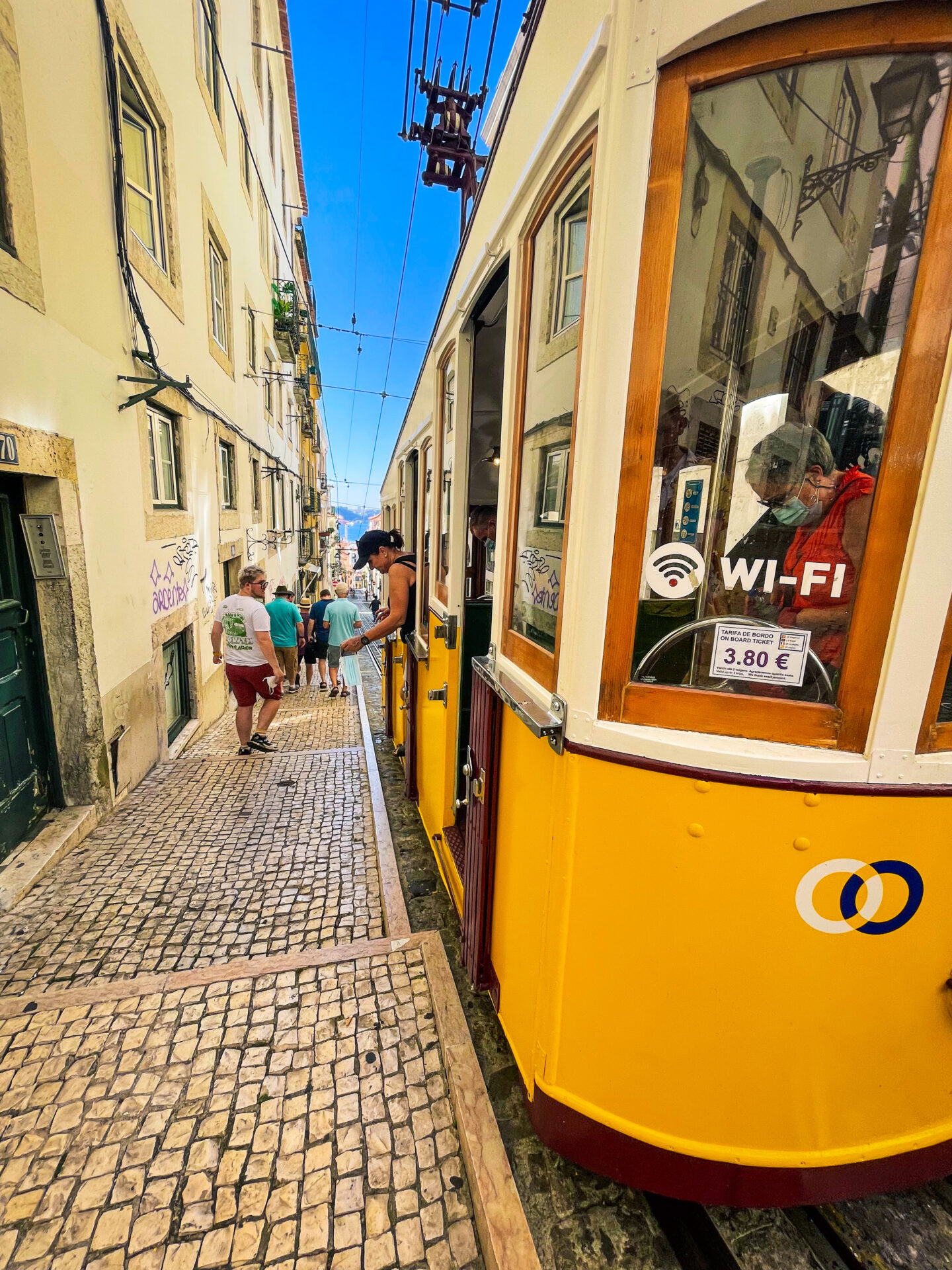 Like with many of the cities we've visited and recommended, take the tour bus. It's one of our failsafe tips to get to know a place within the first few hours – where the main streets and areas are located, how far walking distance it is between places you might want to visit and also a pretty visual overview of the destination. The starting point for the CitySightseeing Lisbon hop on-hop off tour bus is at Marquês de Pombal and 48-hour tickets begin at around €20 per person – you do get a slight discount with the Lisboa Card too, but you need to present the tear-off voucher in the accompanying booklet, the card itself is not enough. There are two routes on this particular sightseeing tour, the red takes you towards Belém in the west, while the blue takes you along the coastline on the east. While it's a great, snappy way of seeing the city, it isn't for the fact finders among you. Long periods of filler-music, interspersed with information about the sights around you. Enjoyability will be a judgement best left to you.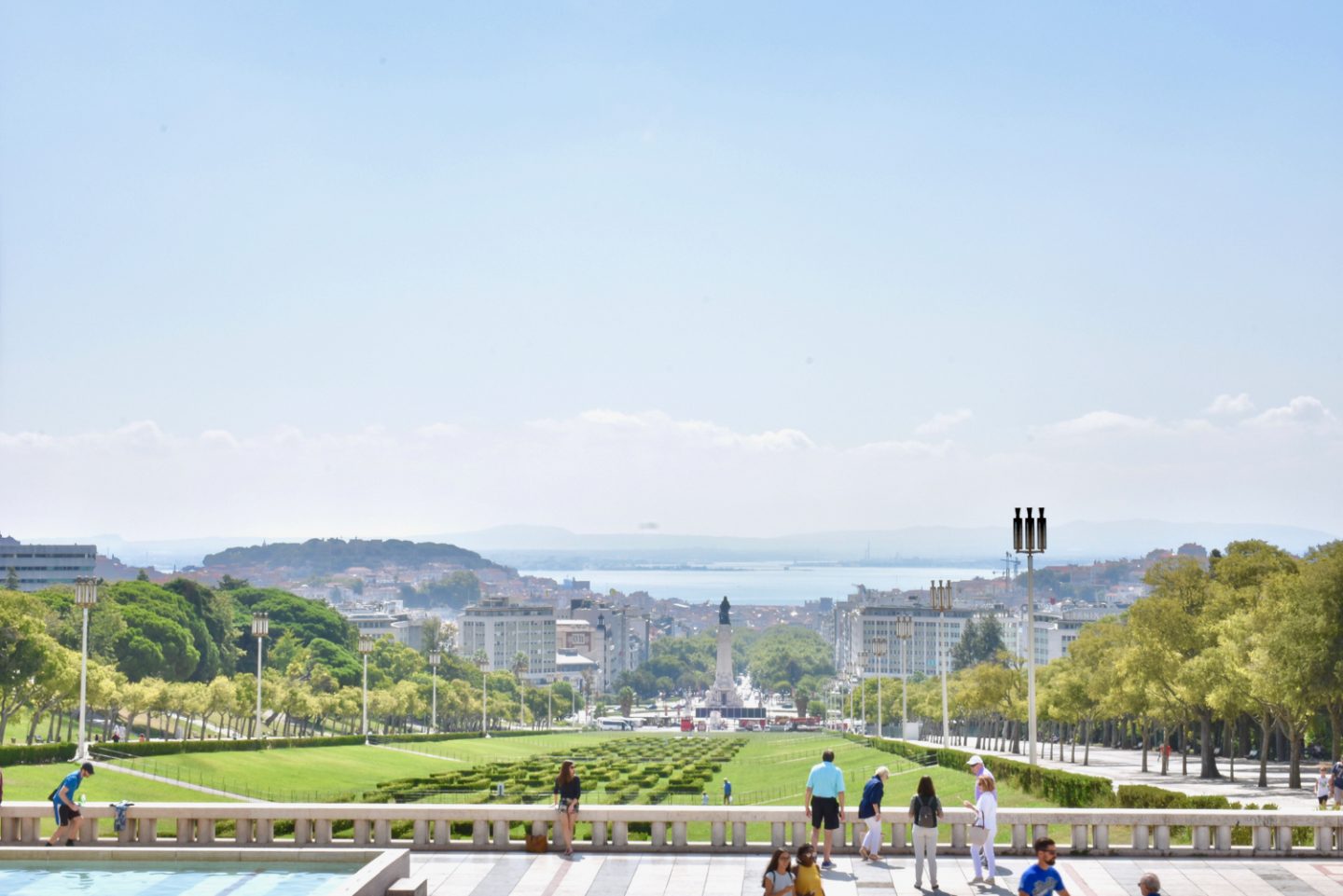 You'll spot tuk-tuks everywhere in the city, speeding through the streets. While they're a popular way of travelling around for tourists, there is no historical reason for them being in Lisbon, or for their operating. They're also not officially regulated by the city, but some operators are more reputable than others. Private tours for up to 4 or 6 passengers are available at negotiated rates around specific circuits. We didn't use a single one, so can't recommend it either way.
Bonjardim
Renowned for their spit-roasted piri-piri chicken at seriously great prices, you could absolutely call this a precursor to Nando's. With its tagline of "Rei dos Frangos" (king of chicken) you will be hard-pressed to find a superior rival to this place in the Portuguese capital. We've honestly lost count at the amount of people who have told us they've eaten here because of us (and if you do — tag us on Instagram!) because there have probably been hundreds at this stage.
The setting is down a side-street between Restauradores and R. das Portas de Santo Antão, and the restaurant is rustic, no-frills set up with square tables for two or four, draped in old school green chequered tablecloths. The terrace is always busy, but rest assured, stand in the queue – if there is one – and you'll eventually get a table. We've never booked a table, and not sure they even take 'em. We've witnessed them put tables together to even sit groups of 12-18 people, so try your luck.
The service is run by men of a certain age, they do things at their own pace, and it's luck of the draw whether you'll get one of the gruff, curt and surly looking servers or one of the friendly, welcoming, sweet servers. The menu is simple: 1/2 chicken, skinny fries, a green salad, creamed spinach. There's a couple of other grill options, but ignore those, the aforementioned is what you need to order. The piquant piri piri oil popped on each table allows diners to adjust the level of fire and spice to their own preference. Enjoy with a chilled bottle of Casal Garcia vinho verde (a lightly sparkling, super refreshing Portuguese white wine) or a cold beer like Super Bock or Sagres. Open midday to 11pm every day of the week, you must come here at least once on every trip to Lisbon — either for lunch or dinner.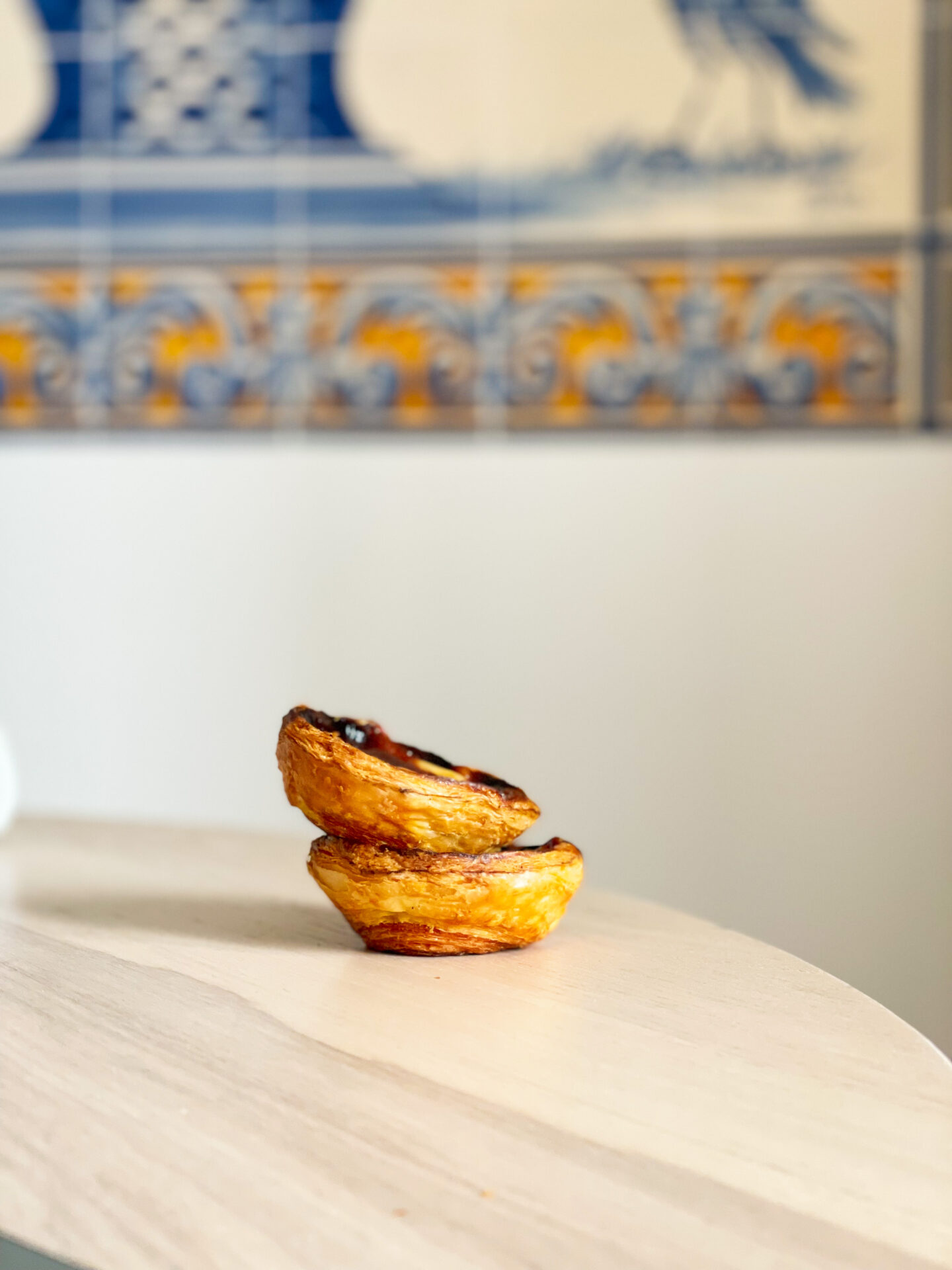 Over the years, we've managed to sniff out the best pastelaria in Lisboa, and where to find the best Portuguese custard tarts (pastéis de nata) in Lisbon. As this is a more specialised insight into our guide to the Portuguese capital, we didn't want to divert attention from the main draws of the city, so click through for our full feature on The Best Custard Tarts in Lisbon.
The Pink Street: Selfie Opportunity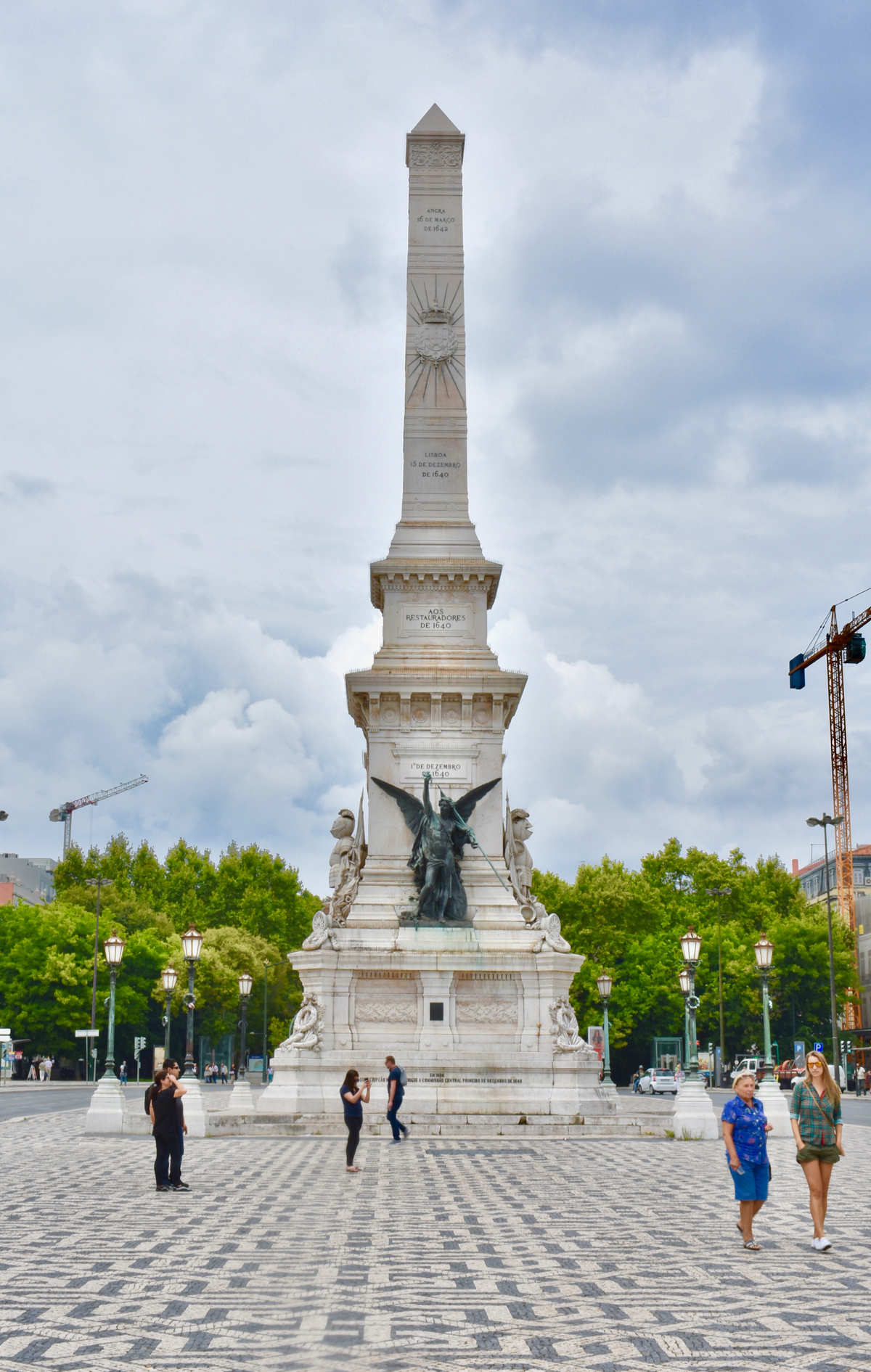 Let's Grab a Drink…
Forget vodka or gin, when we're in Lisbon, we love an apéritif of white port and tonic; though this is more of a Porto sip –– from Portugal's second city. You'll know port as the fortified wine that runs the gamut from dry to super sweet and is usually rich and ruby in colour, but that's made from red grapes. The white version is a lot lighter and perfect in cocktails. Grab a bottle, some ice, some citrus and fresh mint and sip to your heart's content (*responsibly, of course), this is especially stunning on a hot day.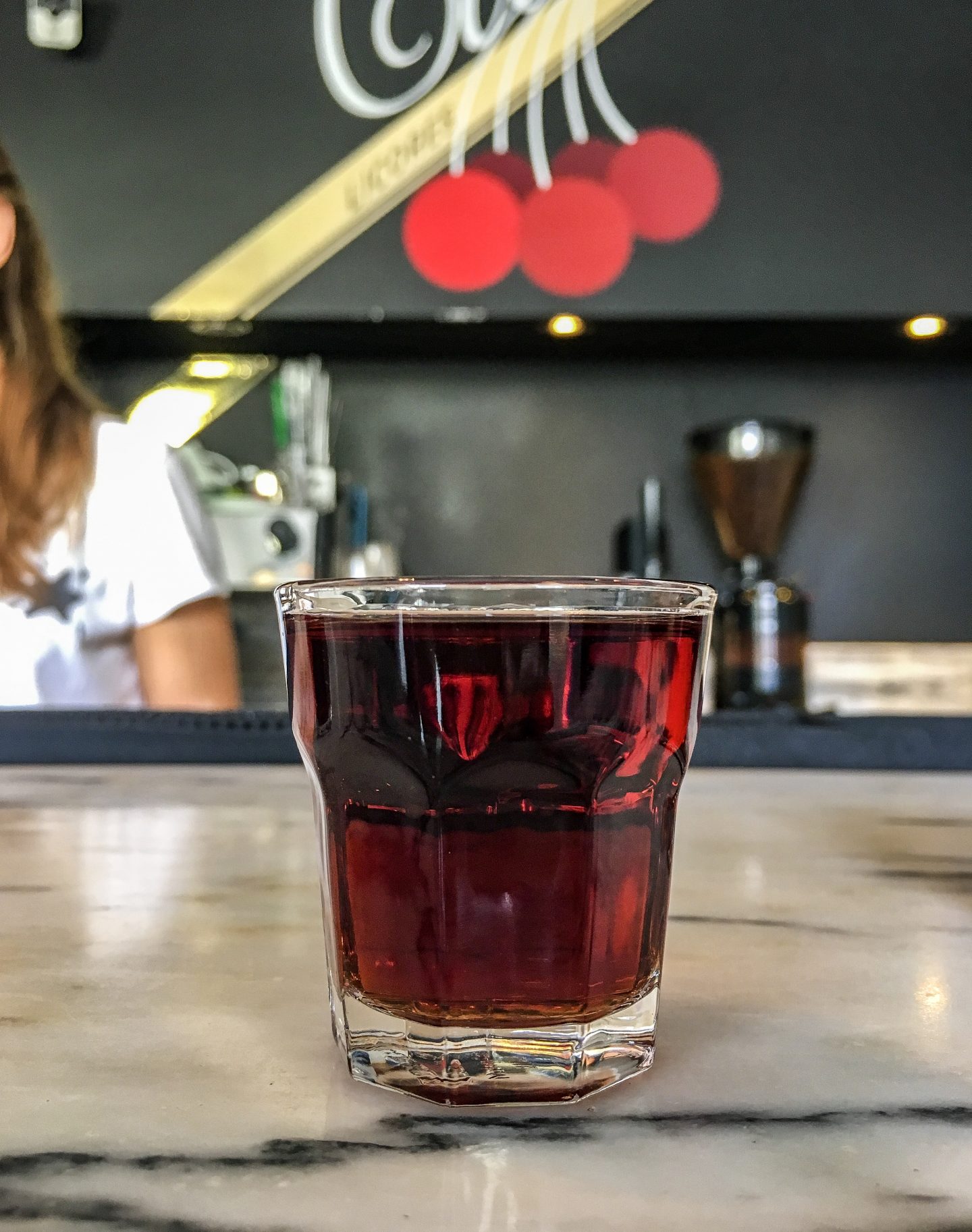 Then, there's ginjinha. This is a sour cherry-flavoured liqueur widely served in little hatches, kiosks and bars, as well as in tascas and restaurants across Lisbon. Try a shot for as little as €1, and perch outside as you sip this strong, fruit-flavoured spirit, which is served with or without fruit at the bottom of the shot.
The boom in tourism has spurred a novel new addition – serving a shot of ginja in a little edible chocolate cup – but this isn't traditional, so go for the authentic original. The best place to have ginja is at 'Sem Rival' on Rua das Portas de Santo Antão. Also at that same kiosk you'll find Eduardino, an anise-flavoured liqueur served just like ginjinha. Clock the creepy clown which the spirit is named after on the bottle! We like both styles of liqueur.
Visit Belém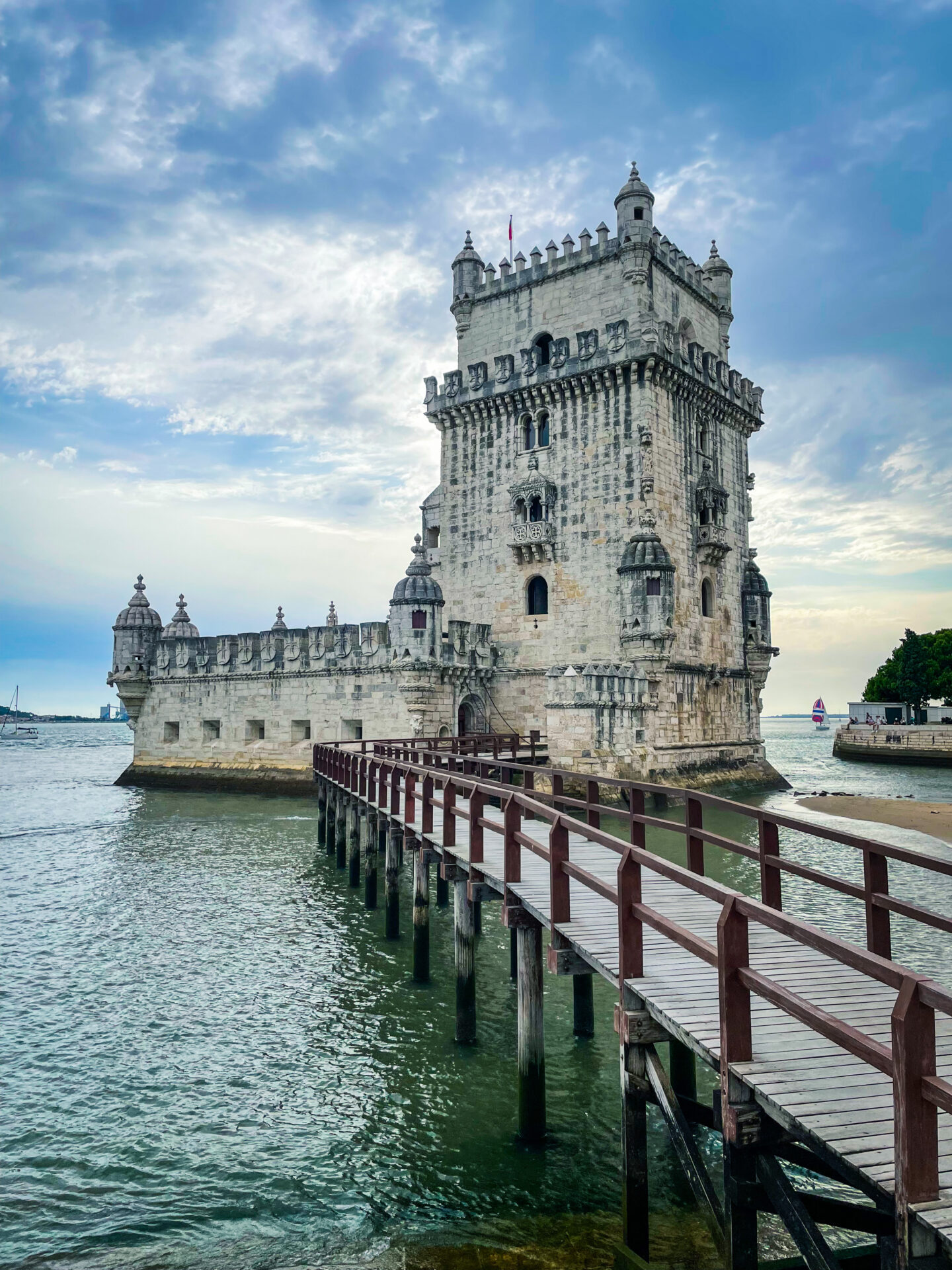 About 10km from the centre of Lisbon is the historic town of Belém, remarked for its stunning 16th century tower, elaborate Portuguese late Gothic style Jerónimos Monastery, and the incredible Padrão dos Descobrimentos statue. Dating back to the early years of the Age of Discovery, the Torre de Belém, or Belém Tower is A UNESCO World Heritage Site comprising a limestone fortified tower which acted as a significant defensive tower to protect the city of Lisbon and the mouth of the River Tagus (Tejo).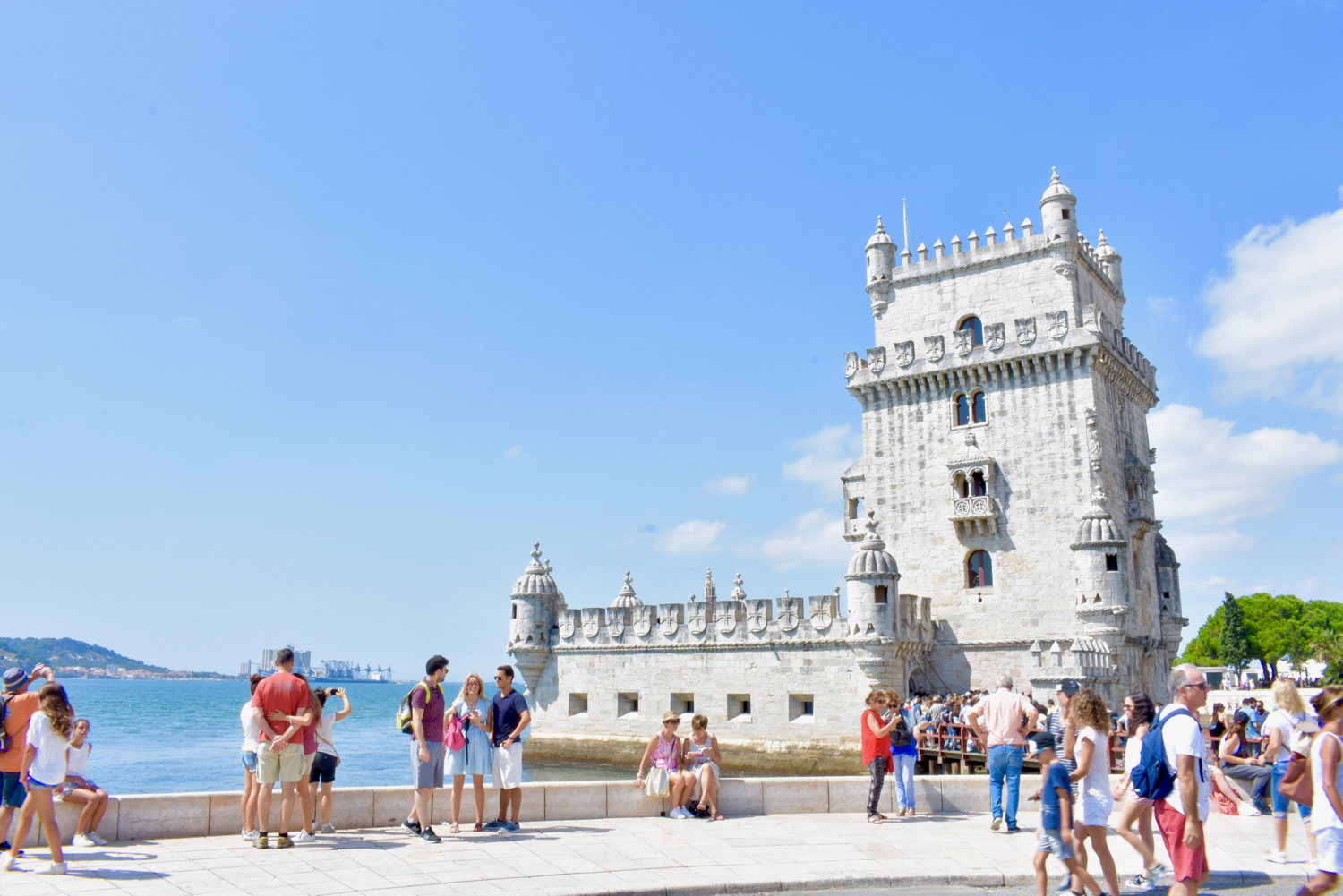 Belém: Padrão dos Descobrimentos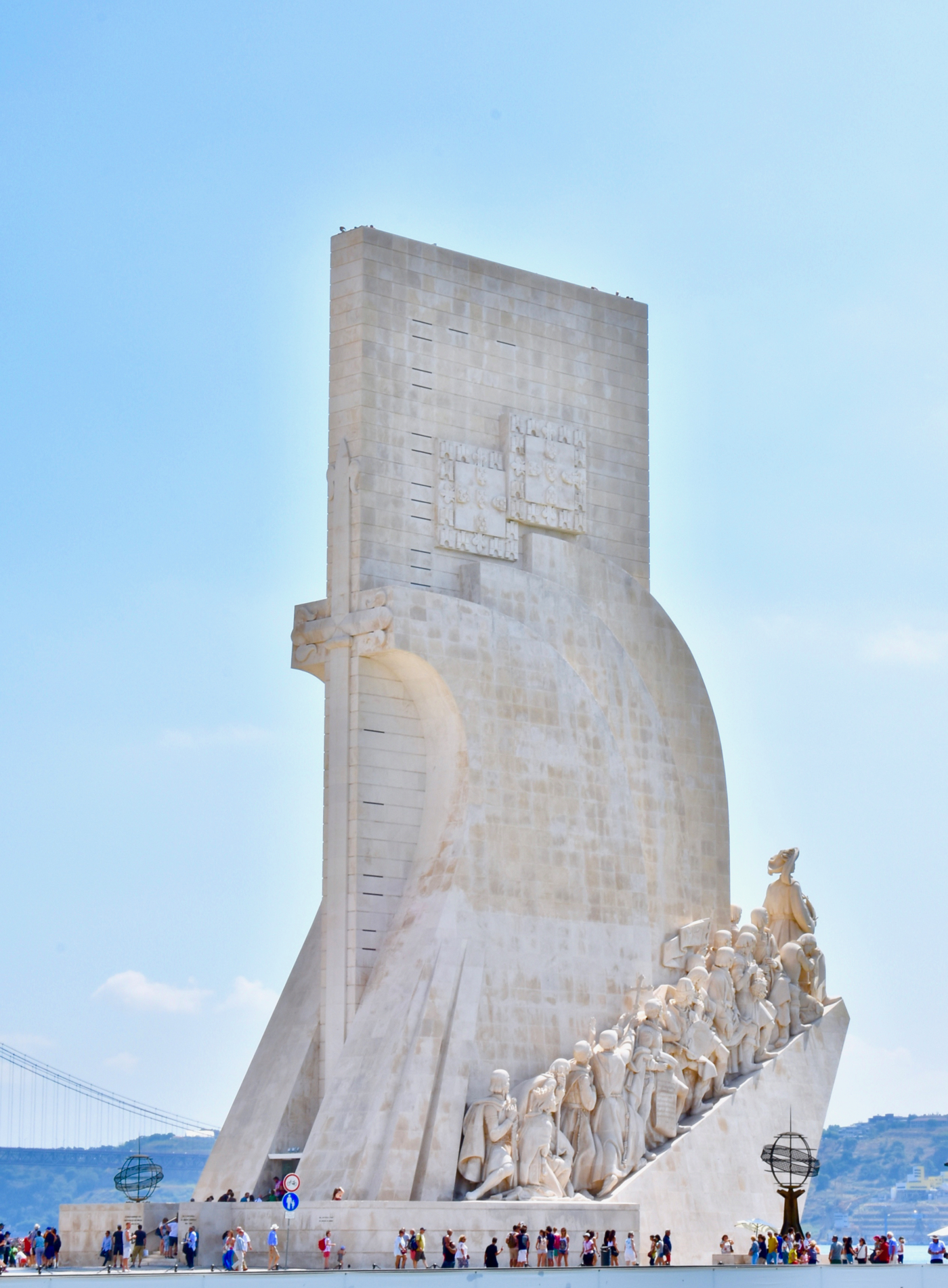 Somewhat nearby is a much newer structure, the Monument to the Discoveries (Padrão dos Descobrimentos). Opened in 1960, following an idea announced at the time of the Portuguese World Exhibition in 1940, this is a beautifully detailed monument dedicated to those brave explorers who constantly looked outwards, flying the flag for Portugal around the world.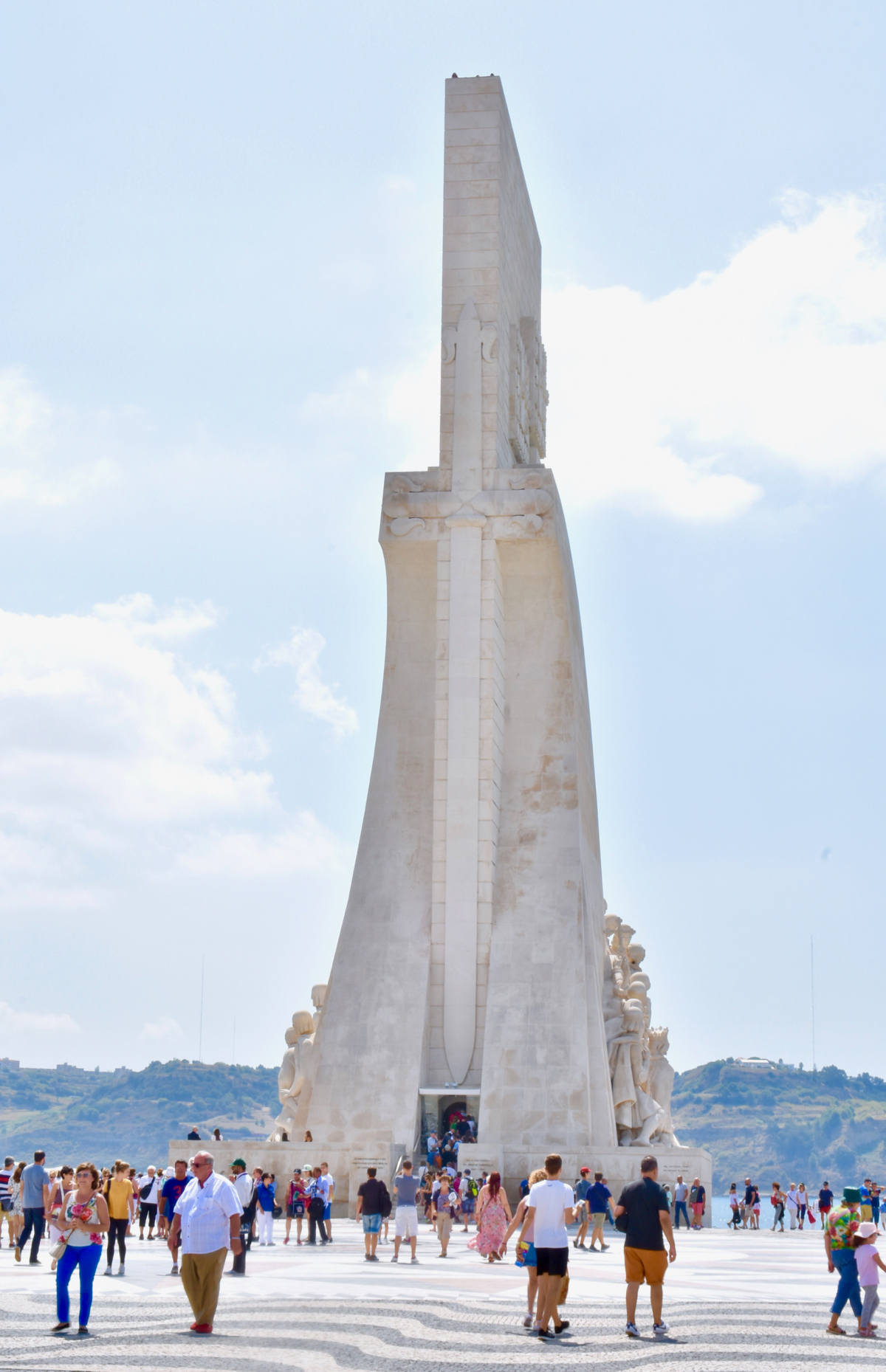 A modern depiction of the bow of a ship, on either side of a central rectangular column stand 16 figures representing the central figures of the Portuguese Age of Discovery – from cartographers to missionaries, navigators and captains to kings and queens. It's located right across from Empire Square (Praça do Império), behind which sits the Jerónimos Monastery, Bélem Cultural Centre and Jardim Vasco de Gama.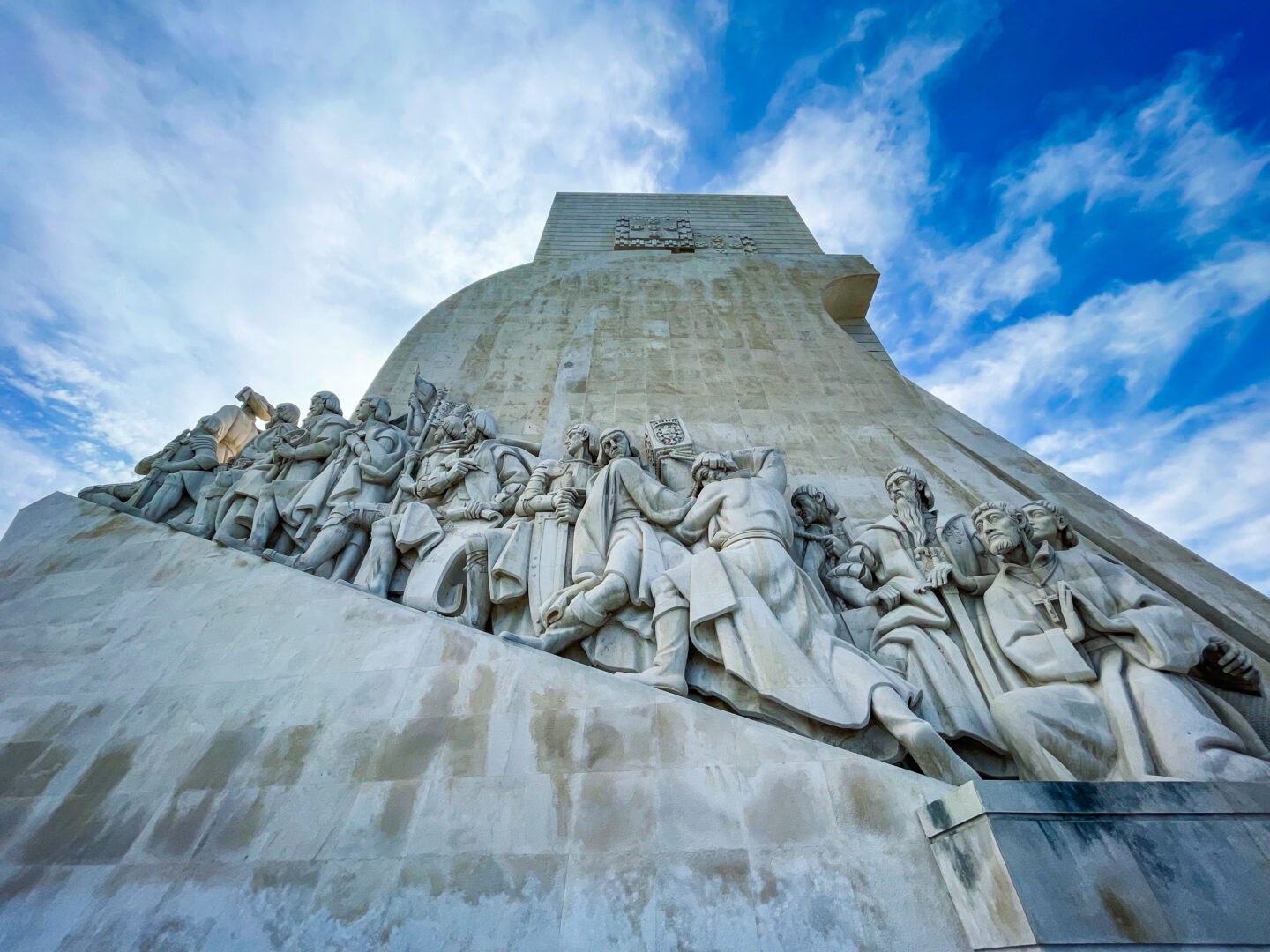 Belém: Pastéis de Belém
However, the biggest draw to Belém is probably Pastéis de Belém – which is the originator of the iconic custard tarts recipe that the city is famed for in the modern era. Theirs is the oldest recipe still used, we believe, but did we rate it? The hoards of people queueing up to eat-in and take-away these magnificent flaky, custards creations may be testament, but if you want to know our opinion click through to our Custard Tarts in Lisbon post.
By the way, there is different queues here for eating in and taking-away, so don't just join the biggest queue, sometimes there's no queue to eat in and have table service and you can walk straight in! If you're taking away…. you can order a box of 50 pastéis, if you like!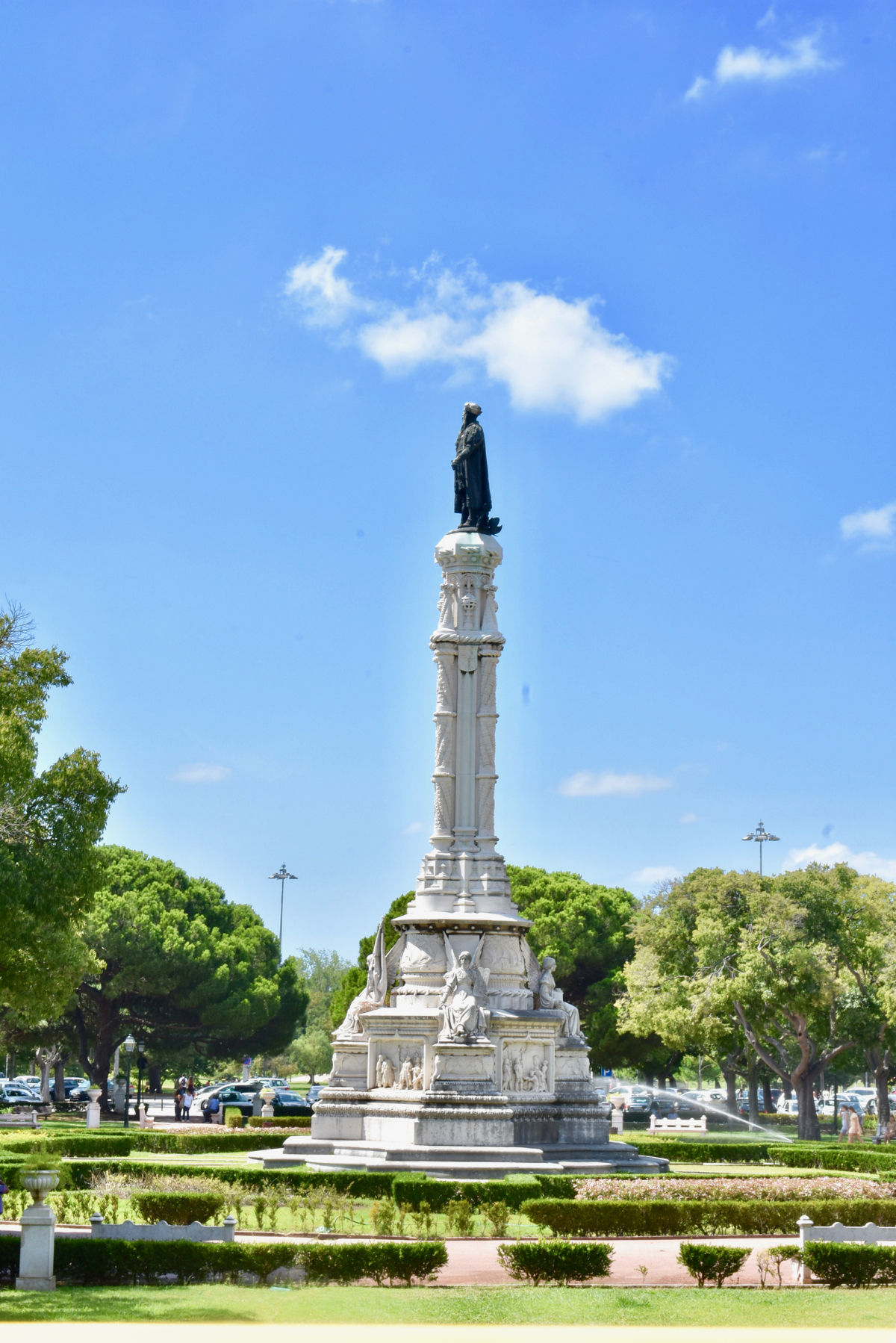 In our opinion, Belém is a really nice way to spend an afternoon to get away from the bustle of the city centre for a few hours. Where to eat? There are lots of touristy cafes, bistros and restaurants, but if you want something special, go to O Frade.
Belém: O Frade, Michelin Bib Gourmand Restaurant
Run by cousins Carlos Alfonso and Sérgio Frade, O Frade bears the family name of which the same family actually have run an eponymous restaurant for the last 55 years in the town of Beja. Here, in Belém, Carlos and Sérgio offer a modern, fresh take on classic Portuguese petisco small plates culture and a true taste of the Alentejo — the larder region south of the capital.
A U-shaped counter as the main feature of the small dining room, backed by walls of carefully chosen wines, invites you to pull up a high chair and interact one-on-one with the chefs who seamlessly dance between the tiny kitchen in the back and the bar – which is effectively the pass – skilfully adding oils, garnishes and dressings to dishes as well as torching egg yolks one second and opening bottles the next. This is a team who float on air to deliver dreamy dishes which have a familiarity of the old but the deft touch of new school chefs.
We had oysters with coriander and citrus, Galician steak tartare, mixed right before you, duck rice and a goat crème brûlée. The value and quality strikes the perfect chord (a requirement for Bib status) at O Frade, but we wager a Michelin Star is not far from appointing the wall here… We'd suggest pre-booking, as you're unlikely to get a table without a reservation.
Elsewhere – we haven't tried them – but we've also heard great things about both Nunes Real Marisquiera and Enoteca de Belém for food and drinks. On Sundays, at the Ajuda Botanical Gardens there is a help yourself brunch at Estufa Real which is served midday to 4pm for €42 per person. As mentioned above, the Citysightseeing tour bus takes you to the town. However, the trams 15 and 18 serve the town, as does a mainline train service from Cais do Sodré every 15 minutes or so.
Dinner: Infame (1908 Hotel)
Hotel dining can be a bit hit and miss, in general, whatever city you're in, but Lisbon has one infamous little restaurant connected to a hotel (1908 Lisboa) but fiercely independent. A destination restaurant, fittingly called Infame, steps from Martim Moniz just oozes modern sophistication at every hour of day, but is best enjoying long after the sun has set with a cocktail in hand. The night sky is the ideal backdrop for dinner and drinks in the space which is equal parts sexy detailing, plush interiors, industrial elements and floor to ceiling windows.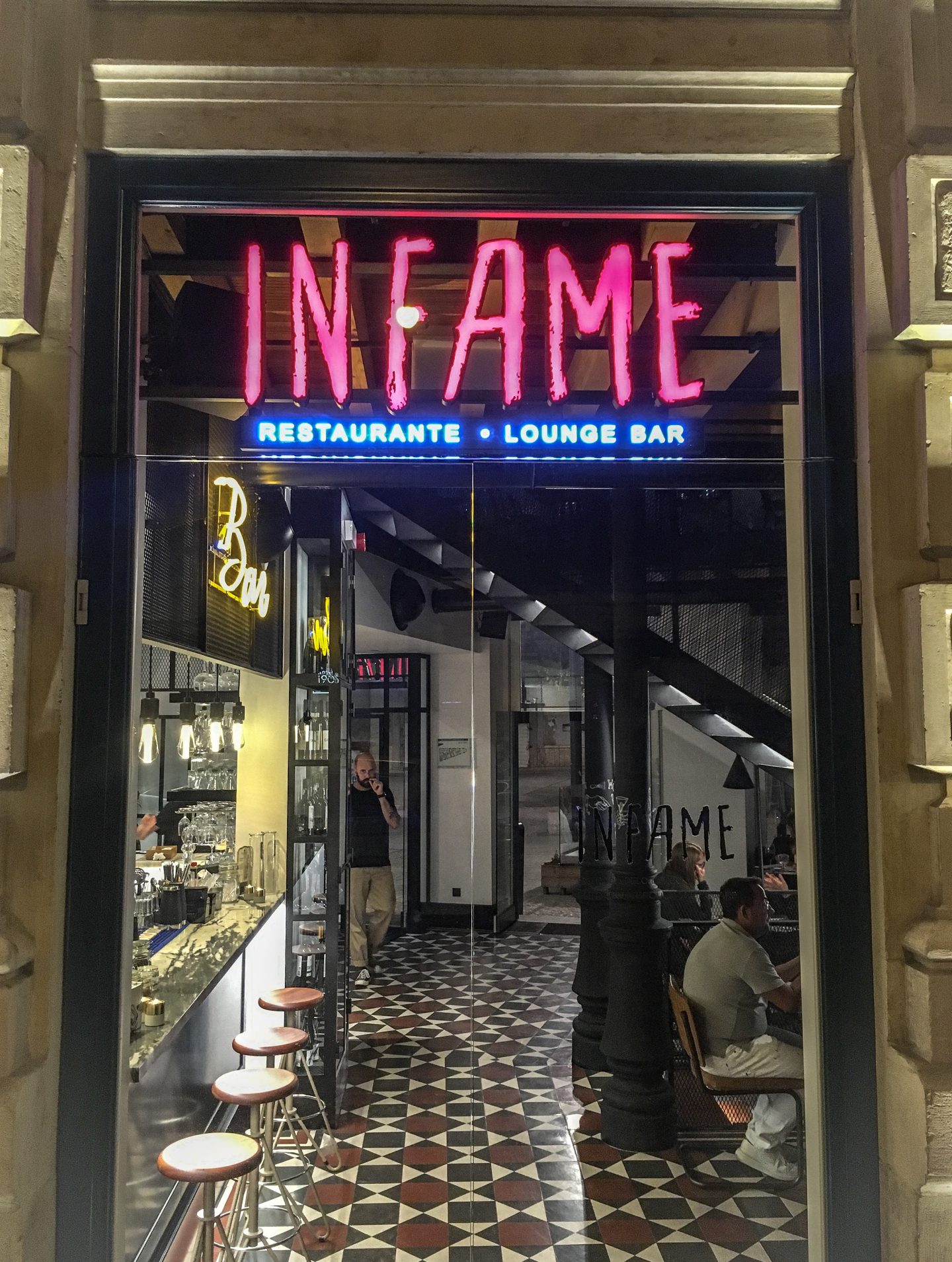 A stone's throw from Martim Moniz square, Infame traces a line from East to West, with a subtle Portugal-meets-the world theme underpinning the menu. Fresh local produce and specialist ingredients combine to create a modern mélange of Portuguese and global flavours, from Peruvian ceviche and pisco cocktails to asian gyozas and classic French steaks and sauces –– but don't get put off. This is a menu that seamlessly whips international inspiration into cool cohesion.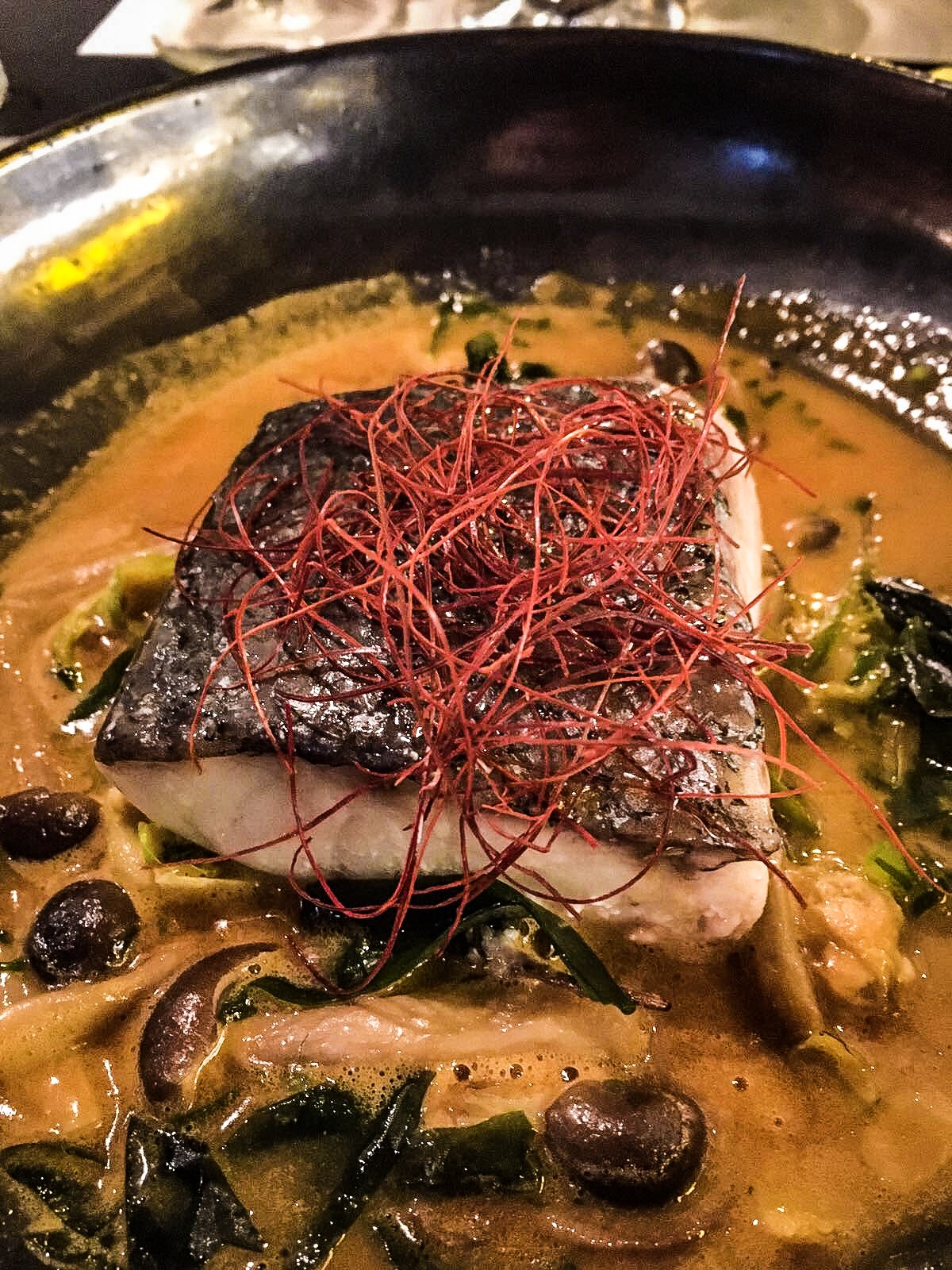 The à la carte menu is neither small nor large, but tempts terrifically with meat-based, seafood and vegetable-centric dishes. Naturally, we need to steer you toward the seafood dishes, which are fabulous. Mains sit mostly around the €13-€19 mark with starters mostly under €10 and desserts around the €5 mark each. So you can eat quite affordably here, and service is attentive. We've eaten here two of three times and in 2021 (after being closed temporarily by the pandemic) Infame reopened with a new chef team and a revised menu which seems a little more centre-pleasing than left leaning.
There's a great little cocktail bar adjoining; the terrace is ideal for late night drinks in the balmy heat with bar snacks; and brunch is served on the weekends, 11:30am to 4pm for €17 per person.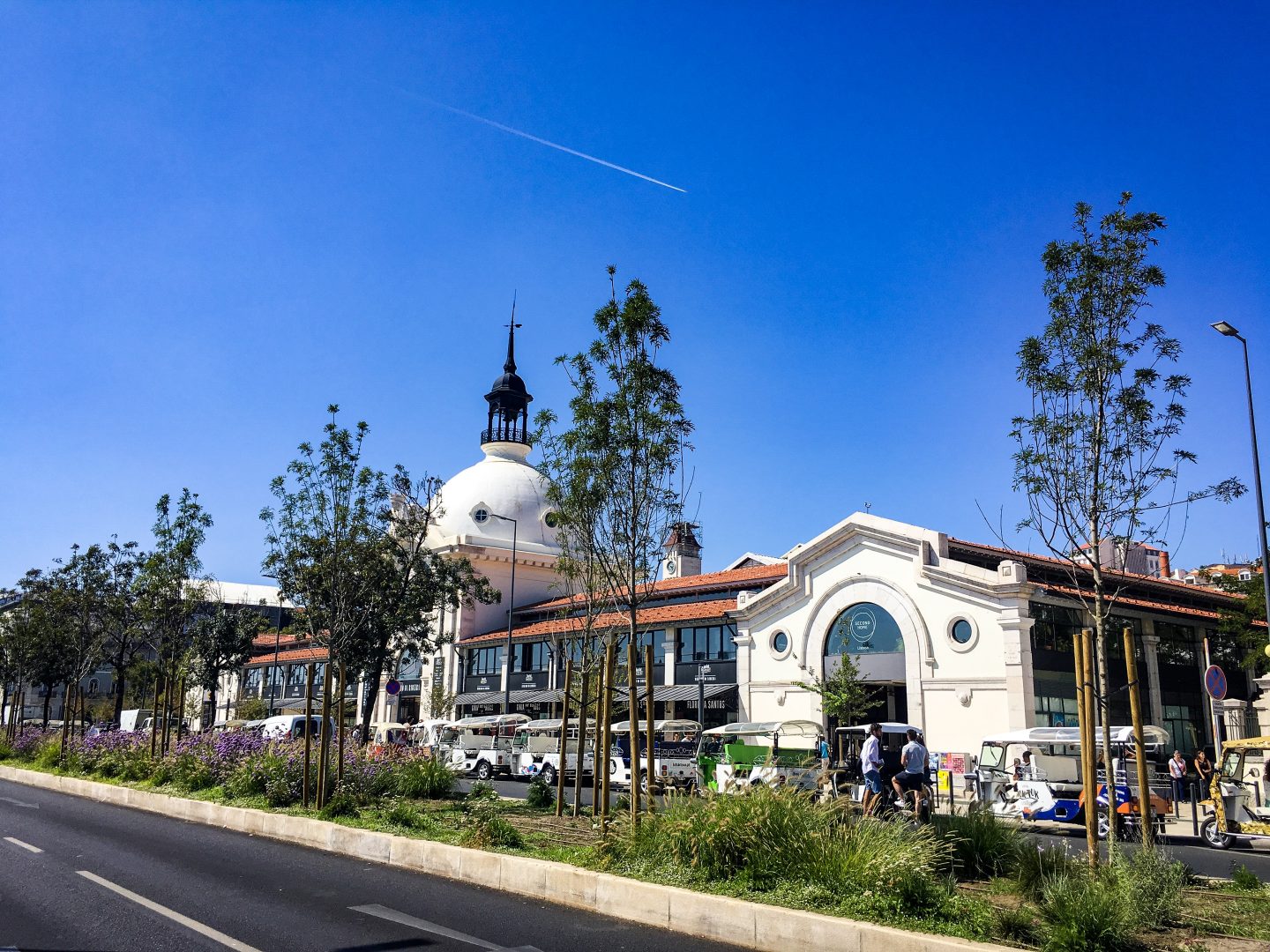 You cannot leave Lisbon without checking this market out. It's right by Cais do Sodré station, so you can't miss it whilst it also sits at the southern extremity of the incredibly cool and buzzy Bairro Alto district. Time Out Market is the market you wish you could find in every capital city you visit, boasting a picture-perfect line-up of local restaurateurs, dining concepts, bars and stores, each chosen in a very specific curation which arguably lists 'Lisbon's best'.
We don't even need to describe every element here, but beside the traditional bountiful fresh produce-filled Mercado da Ribeira is the new incarnation, with square stalls set around a central communal eating area filled with hundreds of seats and long tables.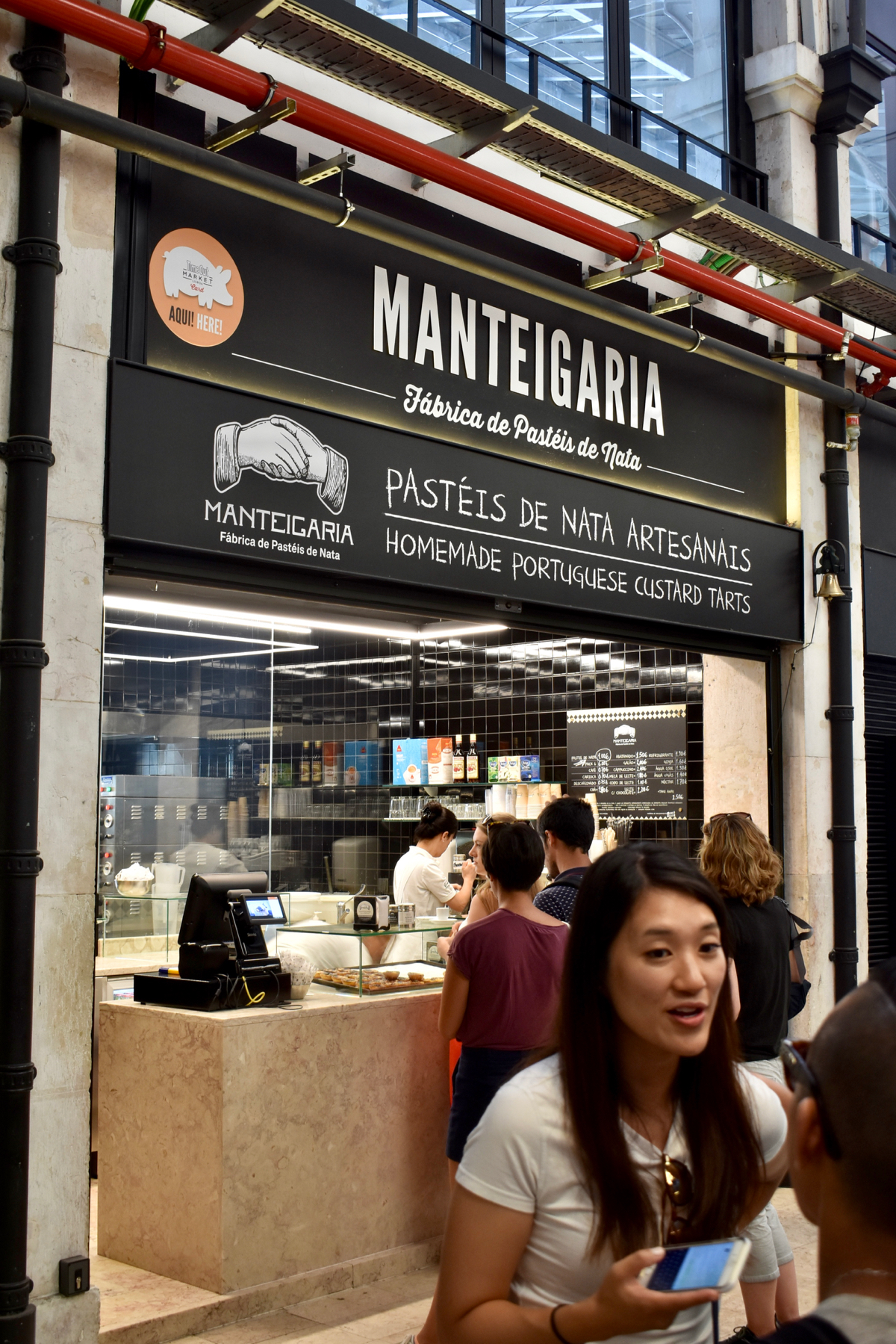 Wrapped around, you'll find a gourmet croquette stand, an outpost of SEA ME, a gourmet burger bar, Manteigaria pastelaria and much more. We particularly loved the offering from chefs Miguel Castro E Silva, Henrique Sá Pessoa and Croqueteria whose expansive menus each totally blew us away. These places turn the idea of market dining on its head and shatter the illusion of street food having to be limited, and this is also a chance for more established chefs of the Lisbon restaurant scene to have a more street food-oriented offering.
The blackened pork cheek (bochecas porco preto) from Henrique Sá Pessoa is absolutely sensational – and worth a bit of a wait – served on a bed of buttery mash with some crisp buttered cabbage on top speckled with juicy, salty bacon bits and a drizzle of incredible jus. The bacalhau (salt cod) dish at Miguel Castro E Silva is a chef's twist to the traditional Portuguese dish bacalhau à brás (mixed with scrambled eggs and potato sticks). Salt cod can be challenging to international palates –– the texture, the saltiness, the smell as it's drying or rehydrating, but we've gotten more and more used to it the more we've travelled to Lisbon, and really you can't come to Lisbon and avoid bacalhau –– it's everywhere, pretty much on every menu.
Blow-out dinner: Sea ME Peixaria Moderna
For one of the finest feeds of seafood in the entire city, book a table at Sea ME Peixaria Moderna. We can't even begin to describe the freshness of the fish and the simplicity of the flavours of this fashionable fish-focused restaurant. You can choose from the à la Carte menu or simply pick what you like from the counter, to which the staff will suggest a price and how best your chosen seafood can be cooked. It's incredibly popular (read: hugely busy at peak times) so best to book a table. You're guaranteed to be blown away, and you'll also be impressed by the bar and the quality of the sushi, too – we've heard it's some of the best found in Lisbon!
Listen to: Fado
Fado is a form of music which dates back to the 1800s (but who knows, really) and centres around ballads or laments which depict sentimental, mournful or melancholic lyrics. 'Saudade' is the word most associated with fado and it roughly translates as 'longing'. Songs from the heart with emotional lyrics, songs punctuated by love lost, memories of hardship and struggle but don't let that deter you, fado is absolutely beautiful to listen to, captivating to every ear which hears it.
Though we haven't gotten to go to any true fado bars on our snappy trips to the city, we do have it on good authority that there's a great authentic fado bar called O Faia on Rua da Barroca, open six days a week and closed Sundays (pinpointed on our Google Map, BTW).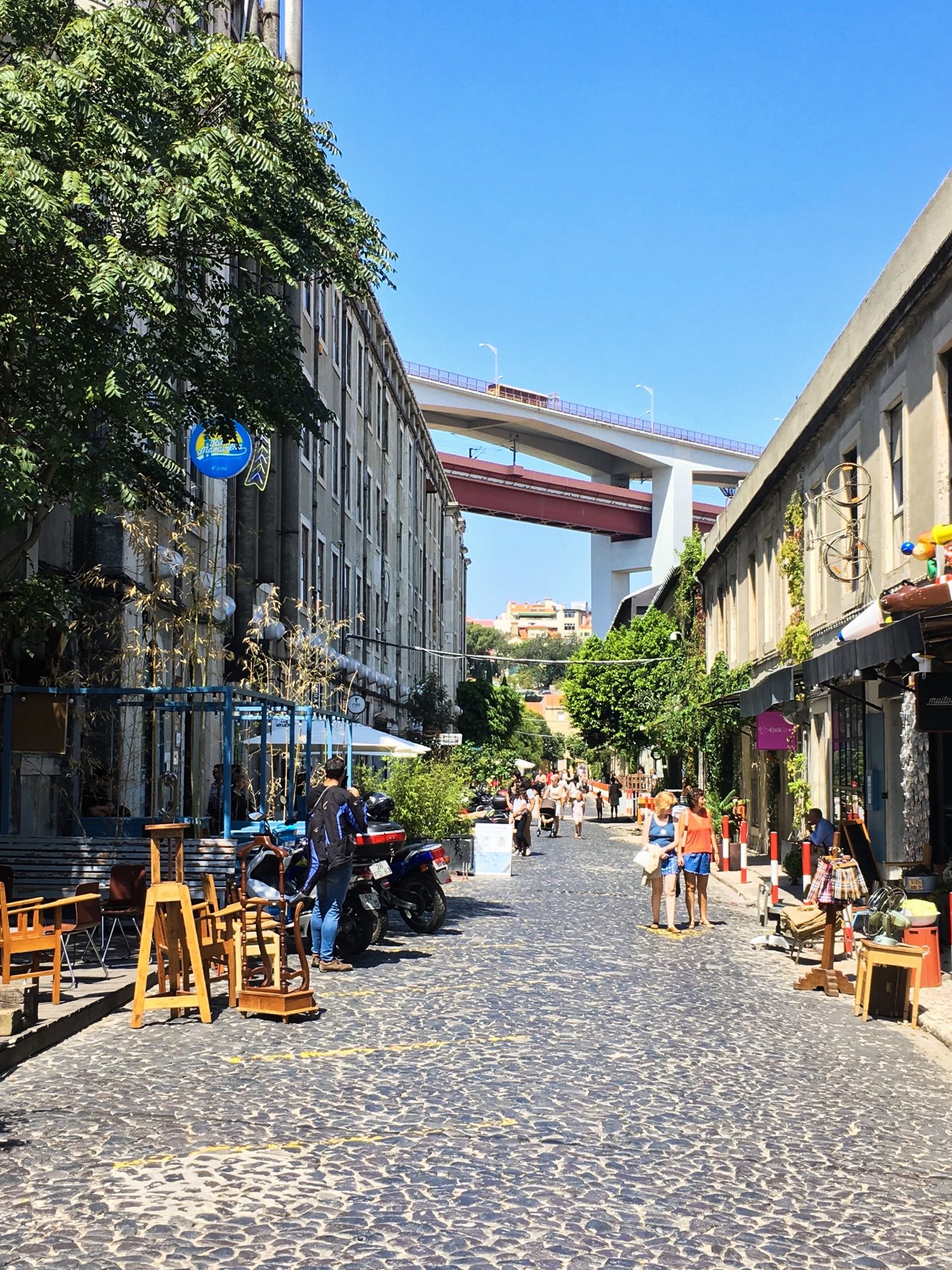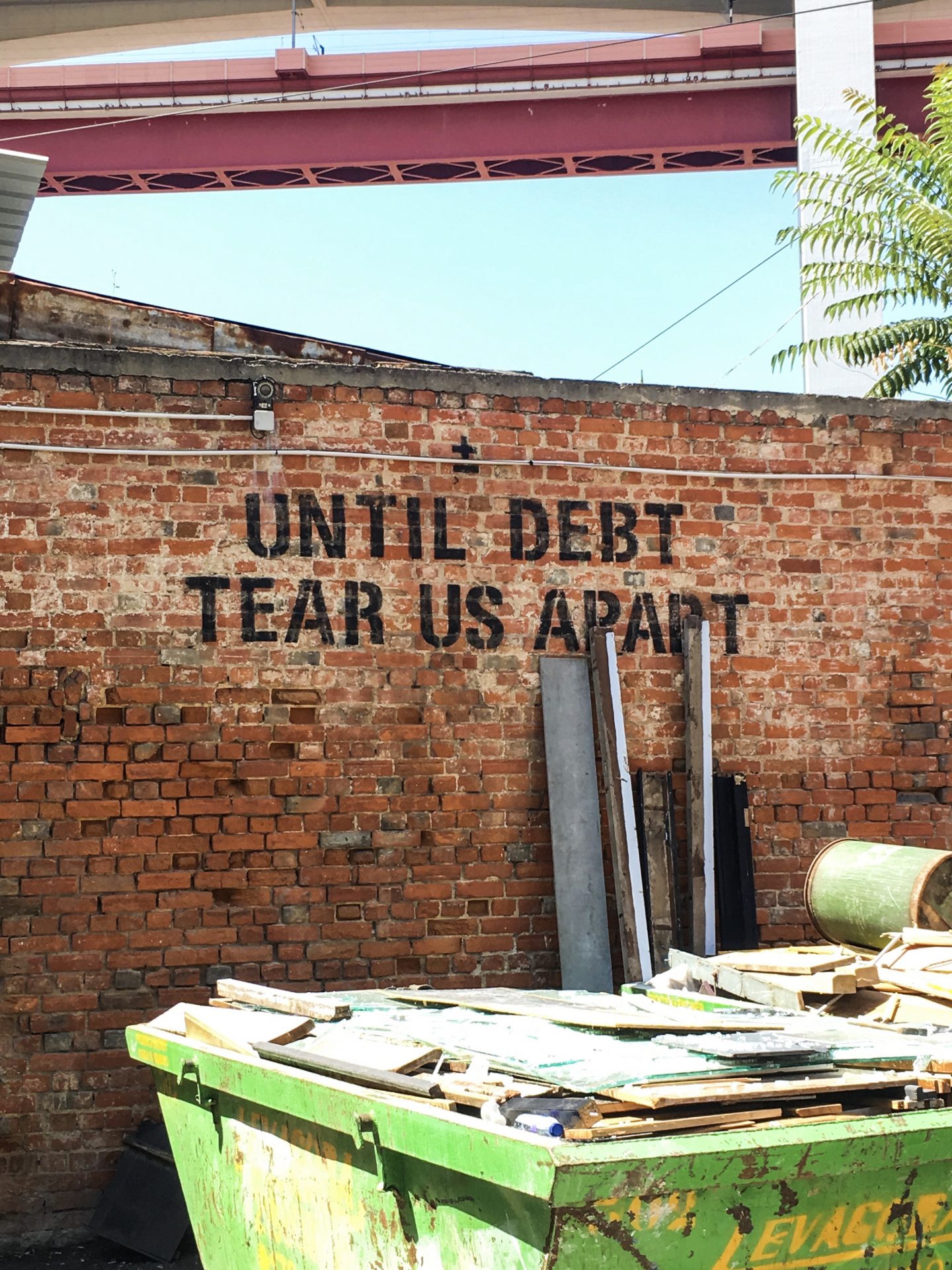 Set in an old industrial estate in Alcântara, LXFactory occupies today what once was the base of one of the largest manufacturing sites in Lisbon. Celebrating its industrial history, it's like walking on to a movie set with little boutiques, restaurants and bars set within and around the unusual architecture. It's appointed with lots of different offices and studios, too, from fashion designers and music producers to photographers, new technology start-ups and advertising firms.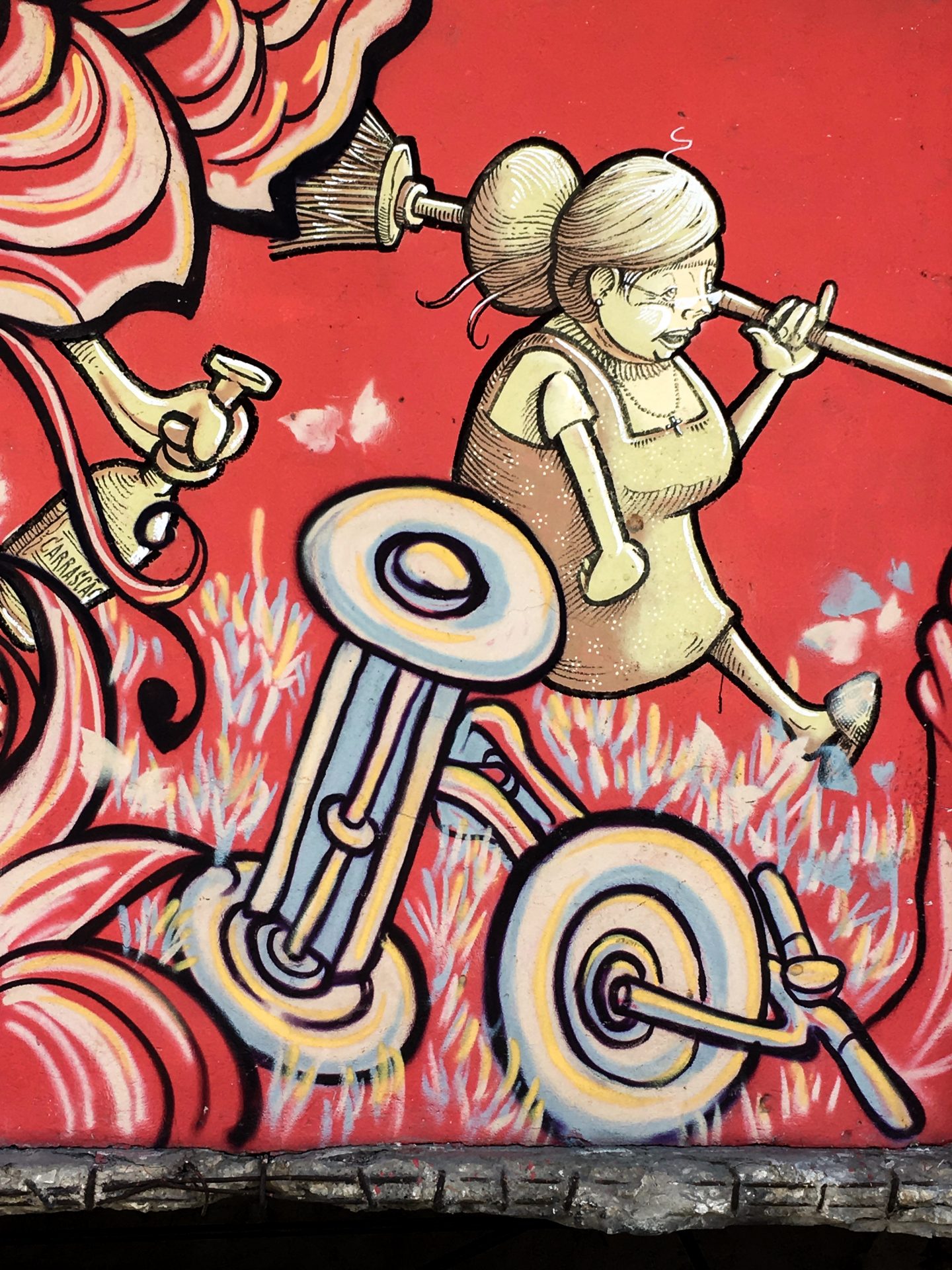 You could argue that this is the Shoreditch of Lisbon.
There's a destination restaurant and rooftop bar, Rio Maravilha – which we had planned to go to but didn't make it in the end – which is achingly cool and located within the LXFactory complex. Flashes of colour abound in the interior and if you go up to the sun trap rooftop bar you might spot the unusual statue….
One thing you must do is stop by Landeau for its heavenly chocolate mousse cake and a double espresso. Even in the fierce September heat in Lisbon, sun rays splitting the cobbles, we had to savour this much-celebrated delicacy and it was an ideal little afternoon indulgence and a fitting pick-me-up to push us along with our itinerary of exploring.
Coffee & Brunch Spots in Lisbon
LX Factory has a lot of of your brunch, lunch, casual dinner and drinks situations sorted, there's really a world of choice there and that precinct oozes coolness. But for coffee, espresso abounds in Lisbon –– like many Southern European/Mediterranean cities. Every street corner, every cafe, every restaurant. So much so, it's hard to find milky coffees like flat whites, but if you want one of the more modern cafes that take their coffee very seriously try Fábrica Coffee Roasters, Copenhagen Coffee Lab, The Mill, Heim, Hello Kristof and Bettina & Niccolò Corallo. Many of the above also serve food, pastries and even brunch. For brunch, we've heard great things about Augusto Lisboa and Fauna & Flora –– but really we've not really uncovered much of a brunch 'scene' in the city.
Miraduoros (Viewpoints) in Lisbon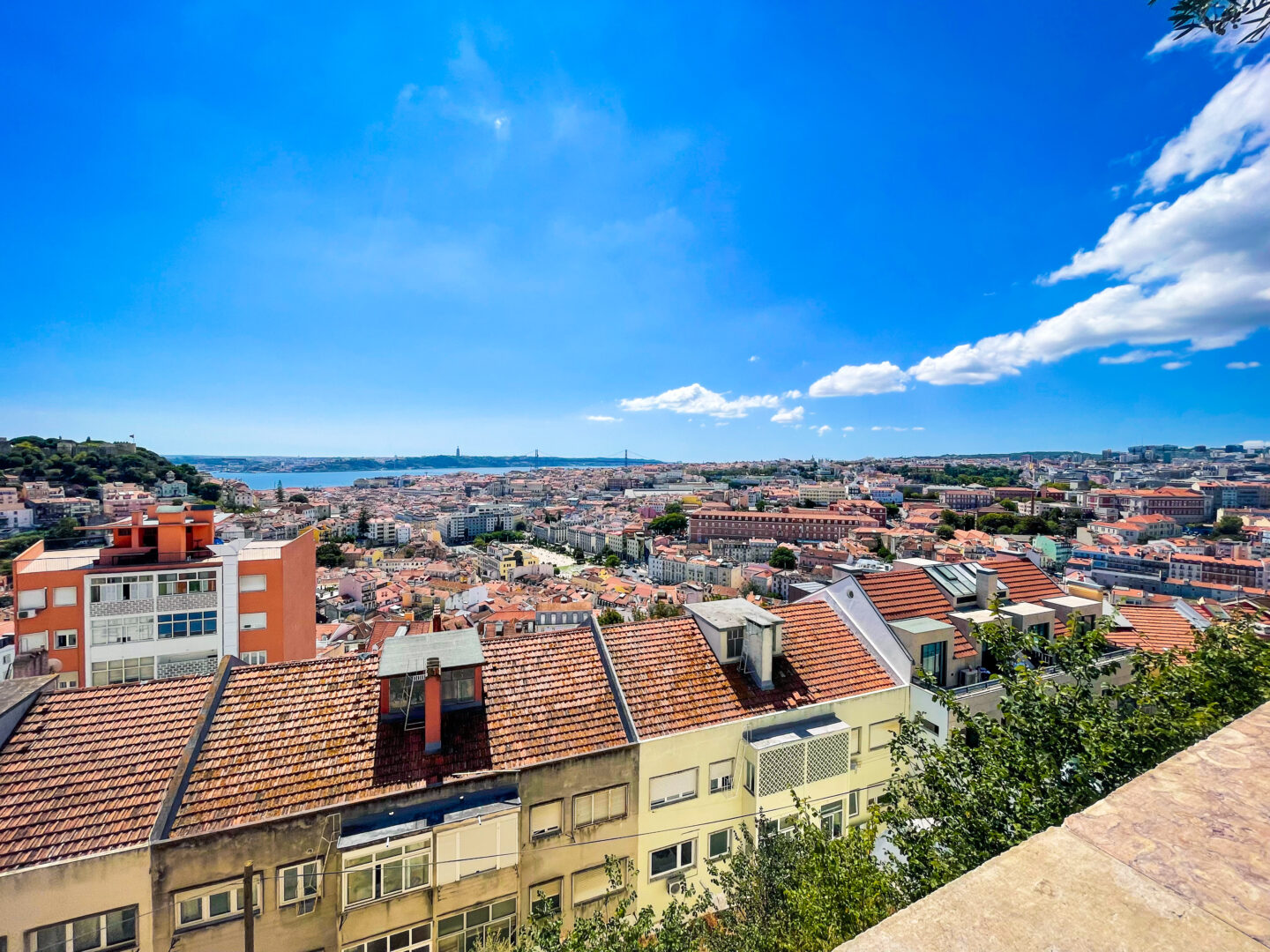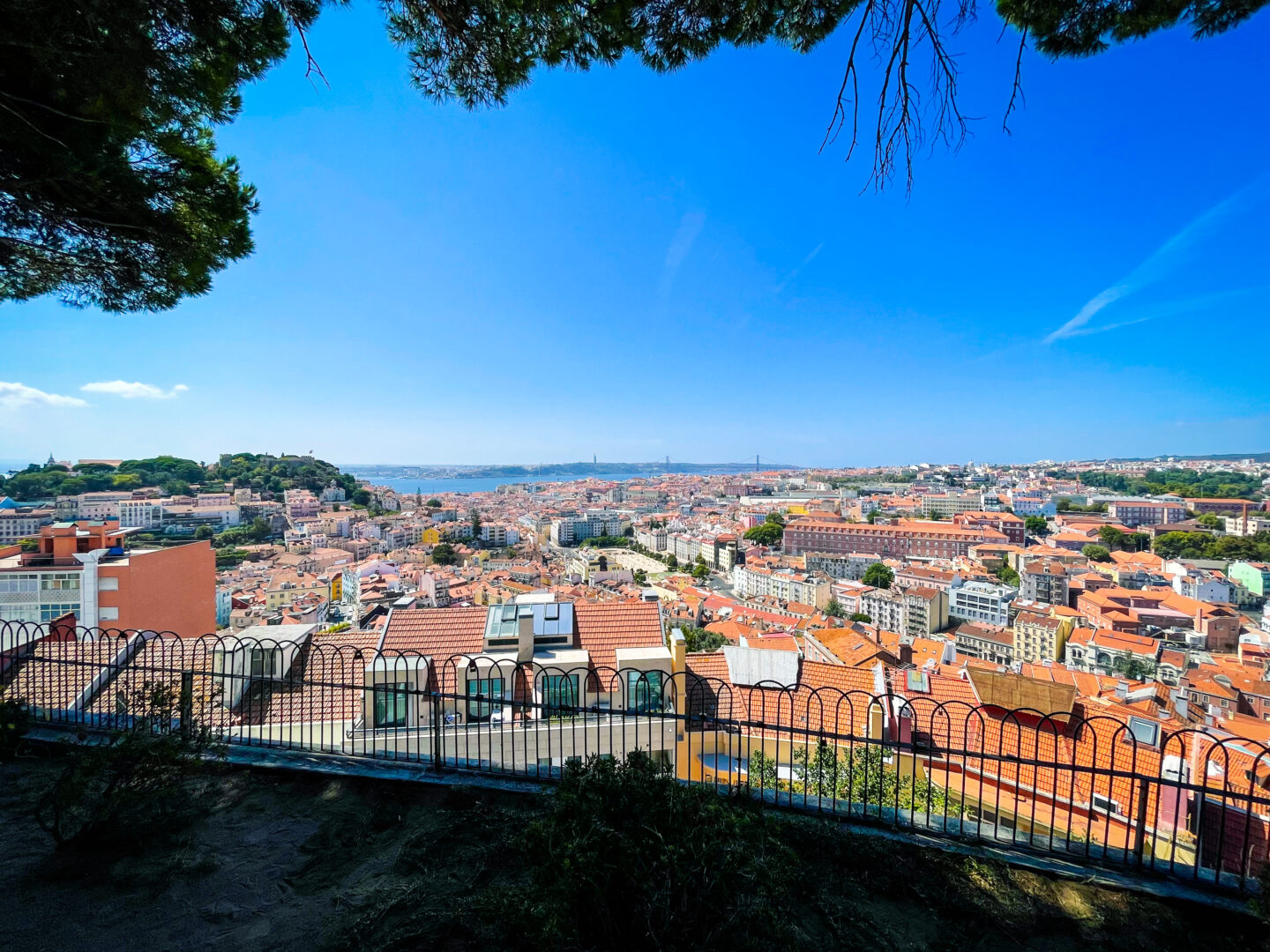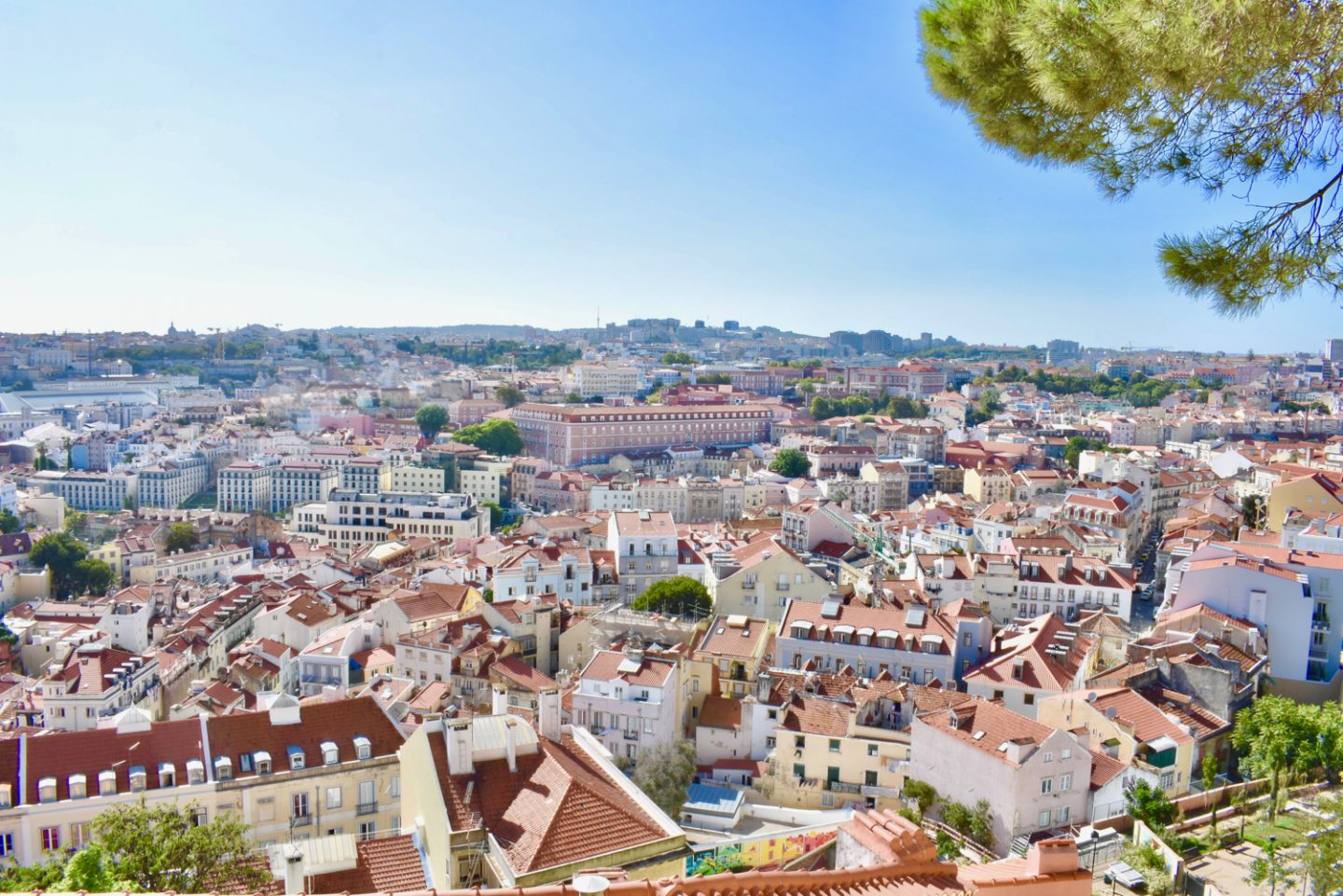 Lisbon is all about the viewpoints. Because the city is built across several hills, you'll find the most breathtaking vistas at countless spots dotted around the city – even in some of the most unexpected corners, crevasses and crannies. You could spend 48 hours traversing the city just finding miraduoro after miraduoro and nothing else. There are lots of blogs and websites out there offering guides to where the best viewpoints are, or you could just have fun exploring and stumbling upon them yourself.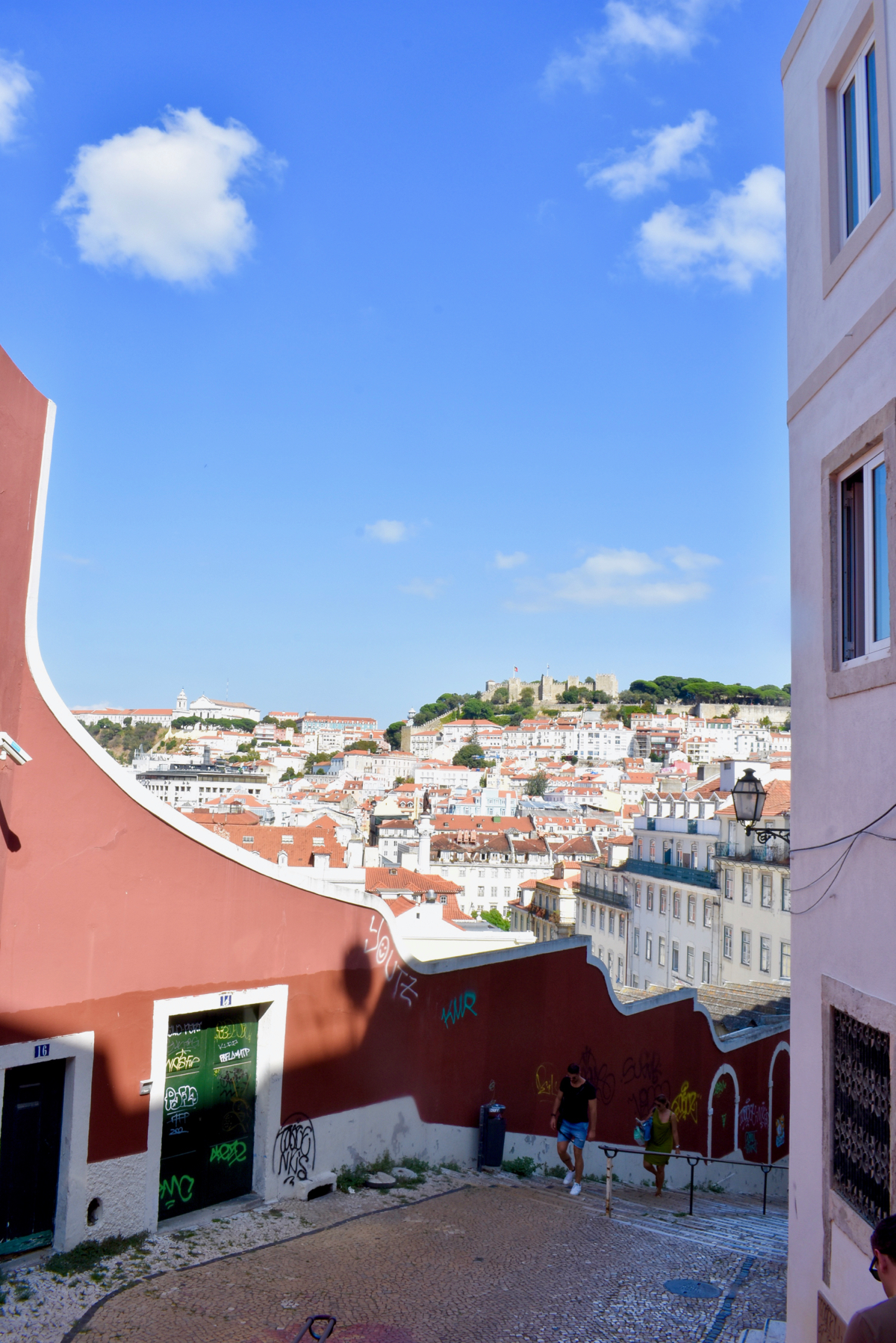 Gelato Daverro
Now, for gelato. We visited Lisbon in the semi-scorching heat of the summer, but we're sure anyone could find year-round excuses to visit Gelato Daverro. Now, we tried this first (and many times after that) at their St. Paul's Square shop, which has since closed as they relocate to a larger shop and factory, but you can find lots of their outposts scattered across the city. Check their Facebook page (linked above) for locations, 'cause it's well worth seeking this gelateria out! Try the white chocolate flavour, it's seriously special.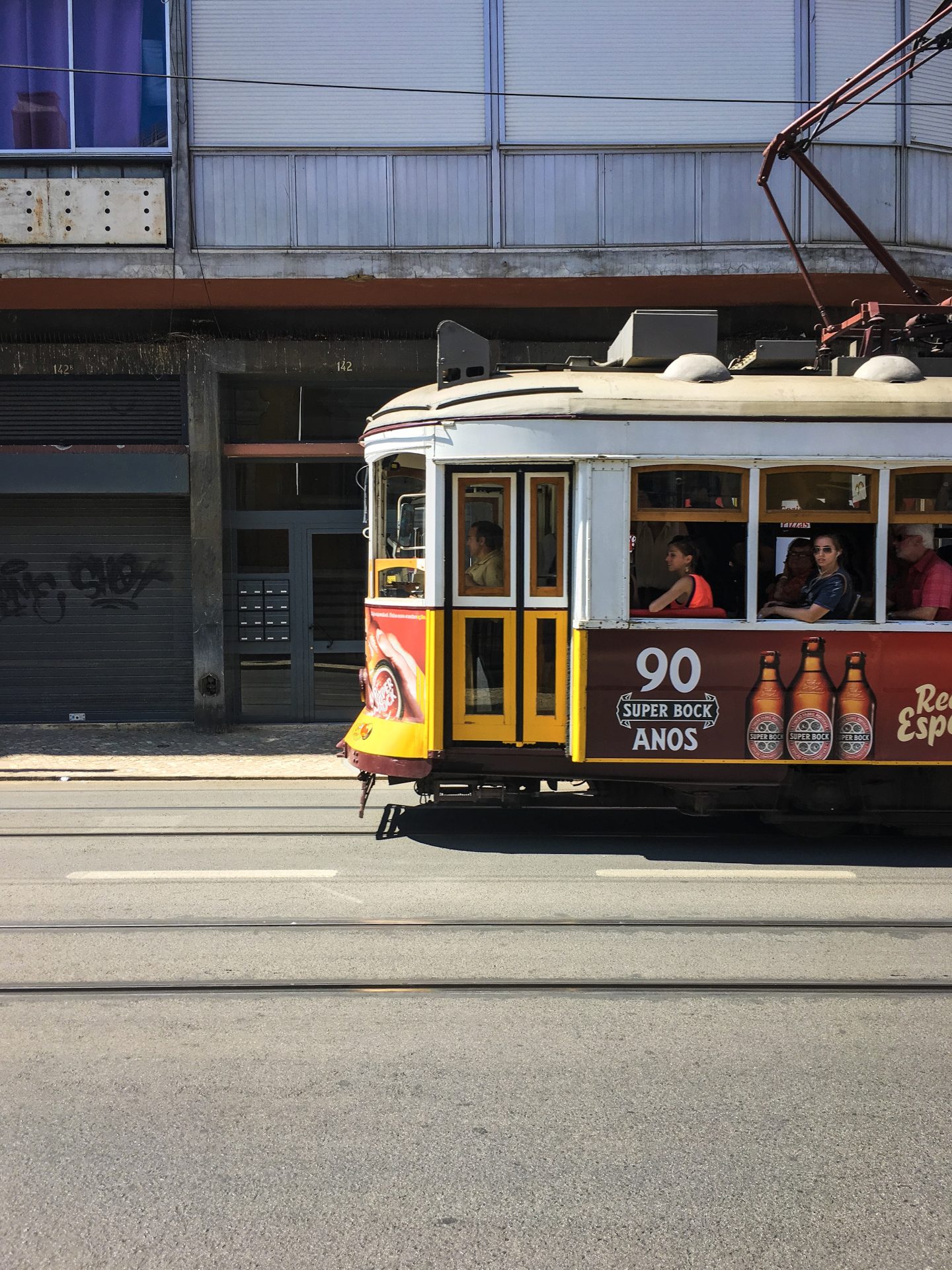 The airport is connected by bus and metro. The metro connects Gare do Oriente with the airport in a journey time of around 10 minutes – if you need to catch a train onwards to other parts of the country – and will get you to downtown Lisbon in around 20 minutes, mostly likely with a change of line. Carris buses and Aerobus operate frequent services, whilst local taxis are also available. We personally found booking an Uber was cheap enough, fast and effortless – plus it got us door to door and didn't require us lugging cases up and down stations and in and out of modes of transport. Pick up will be from designated set-down spots ('Kiss & Fly', as most European airports call it), where drivers can wait for free up to 10 minutes.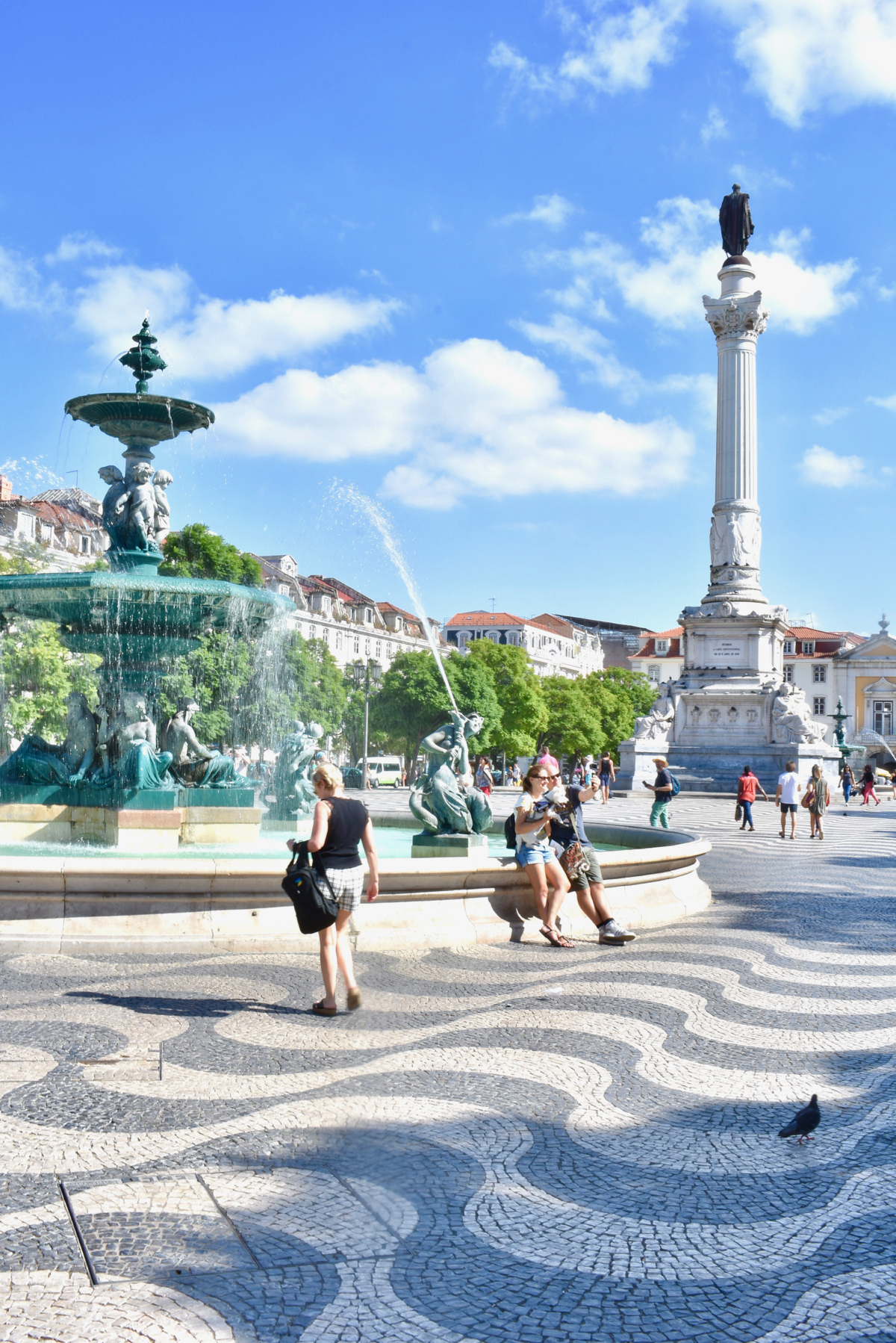 Other Essential Information
Like all major cities in the world, it's always important to have your wits about you. Lisbon is friendly, peaceful and easygoing, but keep vigilant about pickpockets, in particular on the trams and public transport. Keep an eye on belongings, and avoid standing close to the closing doors. Also, often into the twilight hours and almost exclusively surrounding major squares and streets, there's the chance of being approached by men offering to sell drugs, quietly but also pretty openly. You can read into the laws of the land in your own time, but it's something we were made aware of before visiting and is just a good thing to know for anyone traveling. It did make us feel a touch uncomfortable at times.

READ MORE OF OUR TRAVEL GUIDES HERE: