Clean hands; sharp knives. Are there two more important, essential and basic tools to have in a kitchen, whether professional or home?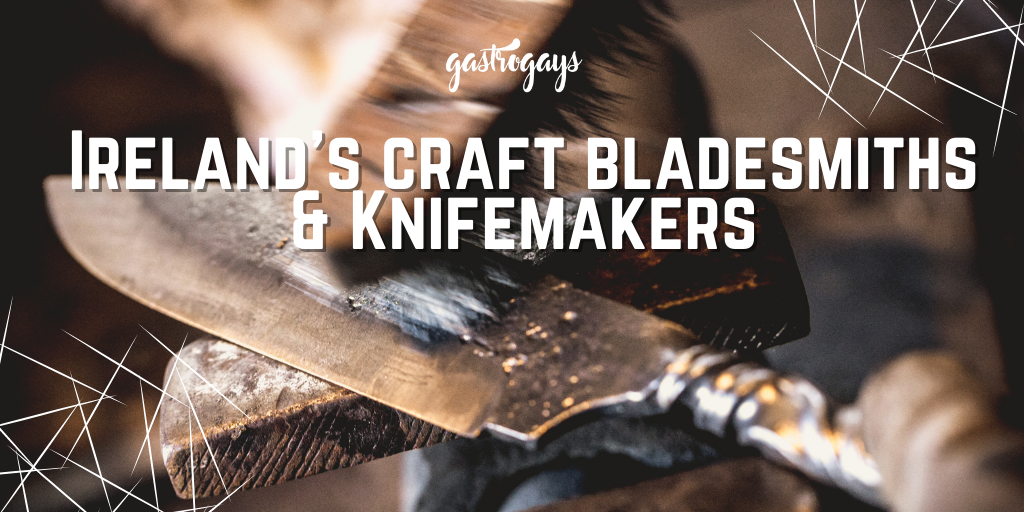 Even though 'wash your hands' has squatted rent-free in all our noggins since the arrival of Covid-19 in 2020, likewise blunt knives are putting you in danger's way in the kitchen. Consciously investing in your knives is something to really consider going forward to up your kitchen arsenal. We've undertaken a bit of research on the craft knifemakers and bladesmiths across Ireland, and we're going to share a few of them in this feature.
Before linking up with these artisan craftsmen (and we preface that by saying, that's a reality –– most *are* men, though not all!) we did a bit of a straw poll on Instagram when we were in the market to up our knife game. The results seemed to be quite conclusive in that the more prominent brands like Victorinox, Global and Wüsthof were the top three mentioned, but Sabatier, Zwilling, Kai Shun and Mercer Culinary came up every so often too in recommendations. Here, in no particular order, we're featuring the artisans, the small-scale and the (mostly) Irish-based craft knife makers.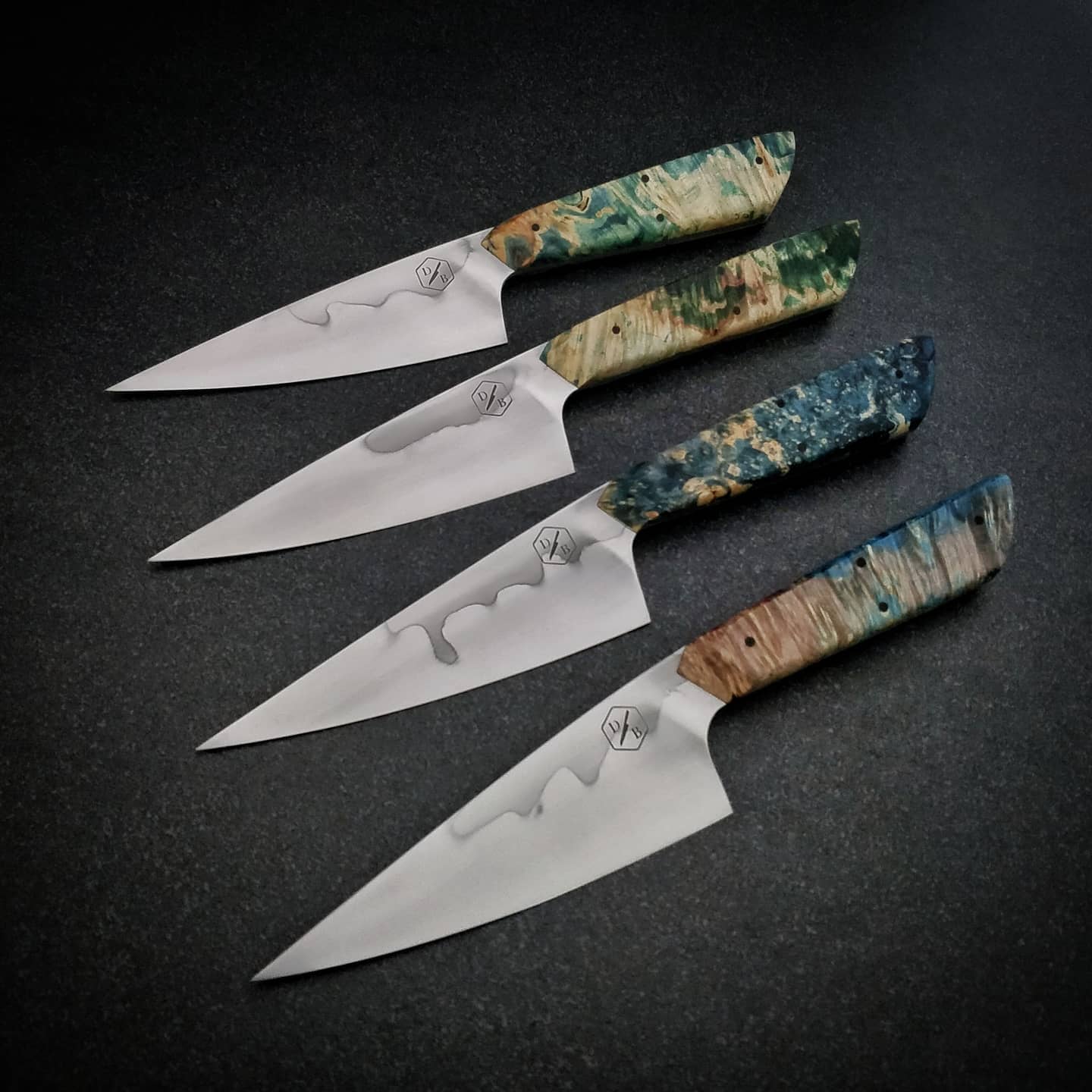 Sam Dunn has always been handy with his hands, preferring the more technical, hands-on subjects in school to being involved in construction and welding in his early career. He stumbled upon a knife making YouTube video and, interested in taking his time up with a hands-on project, took on the challenge and never looked back five years on. In the early days he linked up with fellow West Cork-based knifemaker Rory Connor for advice in the early days.
In mid-2020 Sam took the decision to slow his work, focus on the highest quality possible with the most detail and close his books as he was getting overwhelmed and rushed to produce, so now he's working on about an 18-month lead time, adding interested customers to his list and liaising with them on when their order may be complete. dunnbladeworks.com
Sam Gleeson, Ennistymon, Co. Clare
Sam Gleeson and his wife Niamh Fox are the talented and creative couple behind the much-missed The Little Fox, which was a fabulous addition to the fabric of the burgeoning food-filled town of Ennistymon in Clare. [Side note: the great This Is It, is a cafe/bottle shop/provisions store run by Ger O'Donoghue formerly of First Draft Coffee now in the space] Originally from the UK, Sam arrived in Ireland for the short-term to help Aisling and Luca of The Fumbally to begin their operation several years ago. He ended up staying put and since then has turned his crafty hands to several different things, from cheffing to upcycling. It was actually fellow bladesmith Fingal Ferguson who first piqued his interest and set Sam up with his first bits, and now it has progressed from hobby to bonafide workshop.
Recently overhauling his website, Sam is now putting more focus on his professional knifemaking. He describes his craft as "specialising in culinary knives combining traditional blacksmith skills with the eye of a precision furniture maker" and he's passionate about creating heirloom pieces that are beloved in everyday use but also have the potential to span generations. Sam is motivated by materials, and giving new life to recycled steels and other found gems like wrought iron cart wheels, whiskey barrel straps, storm damaged tree limbs from century-old orchards and estate house forests. His background in upcycling furniture is evident in his process and ethos.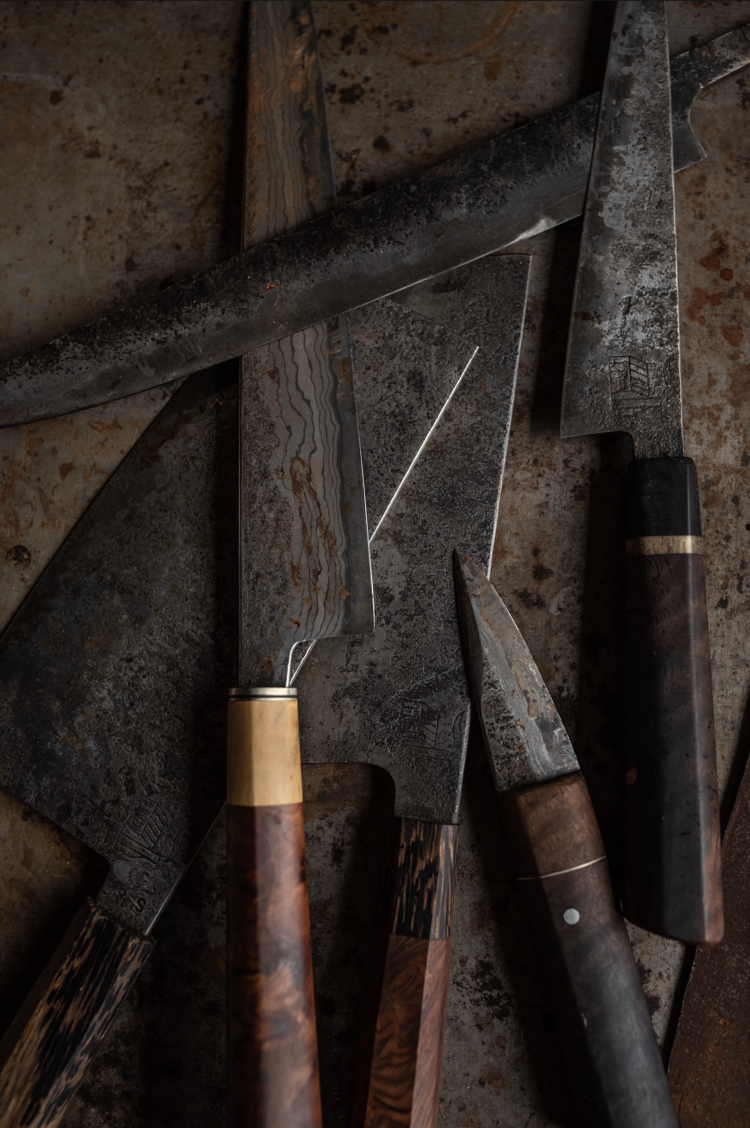 Sam's lead time for custom orders is around 18 months at this stage, but he often closes his books to stem the flow of order requests, so best to check in with him directly first to see if he's taking on orders. Sam takes a deposit of €50 for each order, with the balance due on completion. thisiswhatido.ie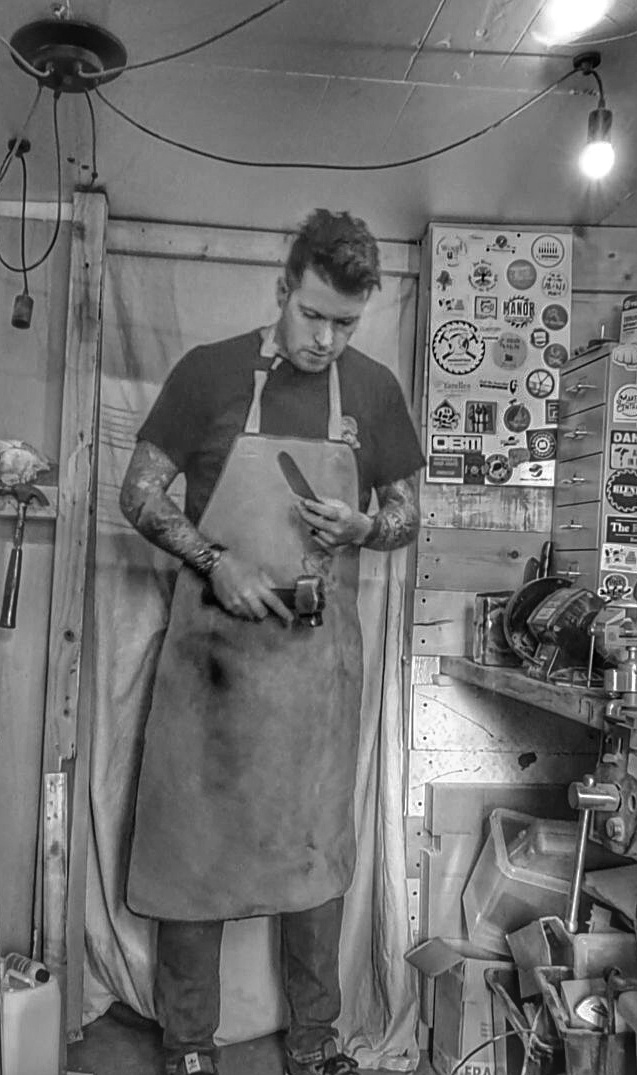 With a day job putting out fires as a fireman, Jonathan Allen continues the danger-dodging by turning his hand to knifemaking part-time. Based in Limerick, the North Kerry native doesn't take on a huge amount of commissions as he focuses more on high quality, high end pieces that are beautiful, functional and showcase his handiwork as best they can. His lead time is six months currently and he focuses on kitchen knives but also dabbles in bushcraft and hunting knives.
Jon's initial hobby was in copper but graduated to high carbon steel and now in 2021 he's planning to zone in on his own Damascus, San Mai and Gomai creations. He also plans to produce mono steel but mostly to be created as stock knives, which will hopefully be consistently in stock on his site. irishcustomknives.com
Lew Griffin's background is in steel work, welding and design, and arriving to knife craft was the ultimate destination in satisfaction for him. Design is at the core of everything he creates. We know a chef friend of ours, Conor Halpenny of Square Restaurant in Dundalk, has a custom Lew Griffin and really recommends him.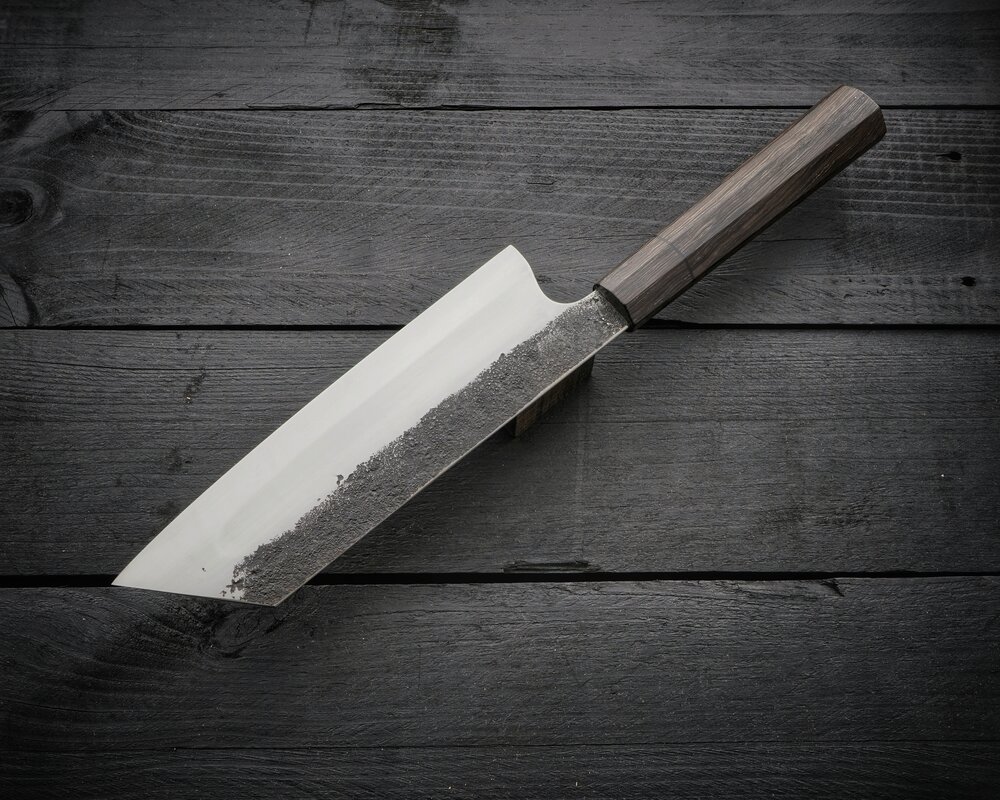 Late last year Lew opened up the orders for 2021 and had pockets of Spring availability but now in 2021 it may be six months or more before custom orders can be supplied. He sometimes has available knives on his site for instant sale, best to sign up to his newsletter to get the immediate notice into your inbox when there's availability. lewgriffinknives.com
It's a man's world, is it now? "I have to work twice as hard because I am trying to catch up with people who have a lifetime worth of confidence in making things in a world that expects a man's work to be better than mine," Holly Loftus tells us.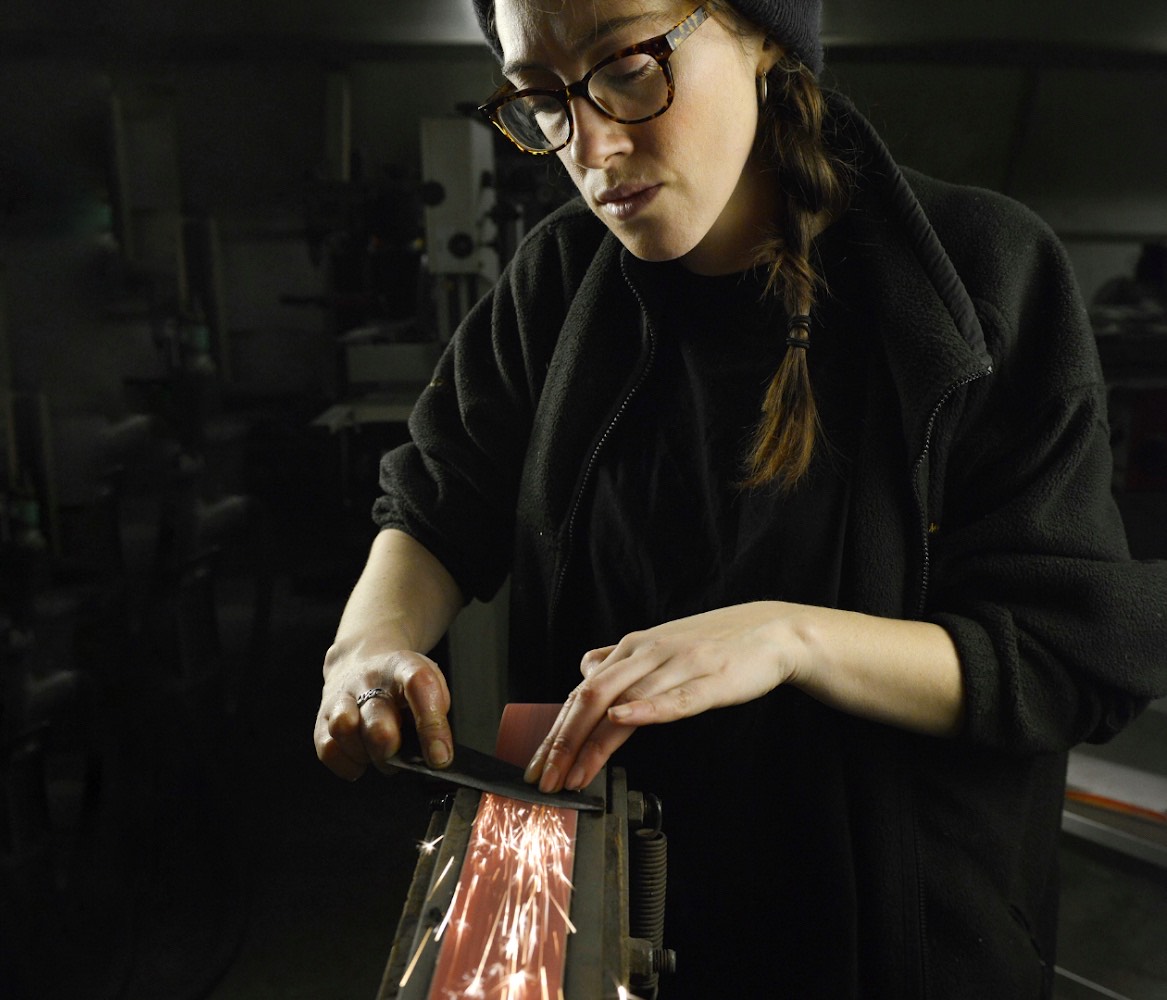 The Dublin-born, London-based knife maker had her interest in knife-making piqued almost a decade ago on a trip to America during a chance meeting with a hobbyist knife maker. She says: "I had assumed knives were made exclusively in factories, stamped out from sheets of stainless steel in batches and finished by machines and I was drawn to the idea of making something so utilitarian but with no previous experience in craft, no experience making anything at all, so it took me a long time to figure out how to get started".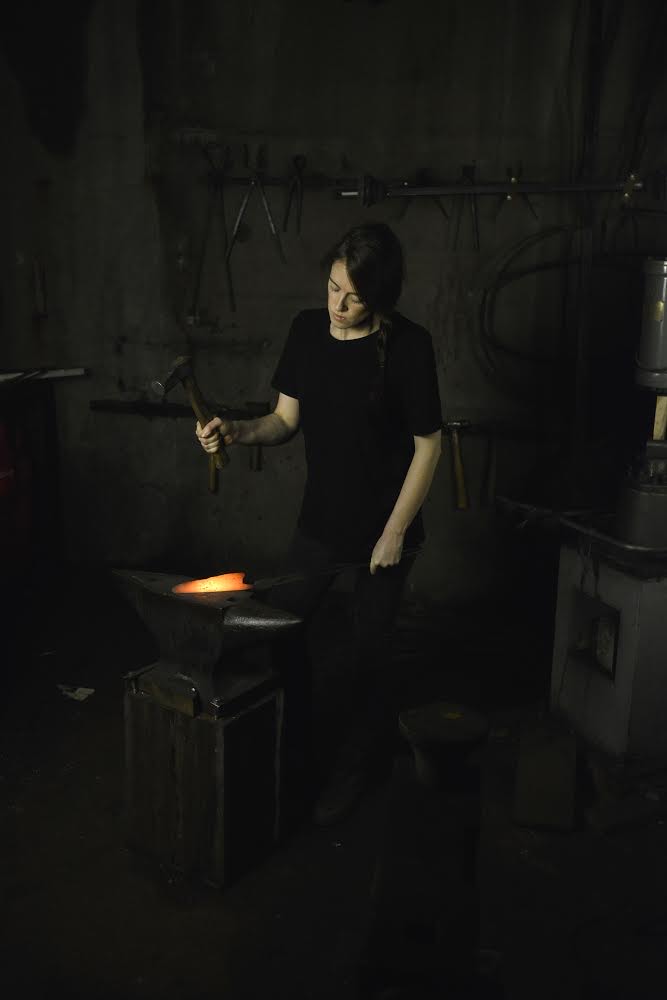 From there, Holly began poring over books and embarked on some rudimentary hand tool-led home trials – she divulges: "horrendous first attempts" – before undertaking a one-day knife making course forging a knife from start to finish. She continues, "I decided then that I wanted to commit to the craft, so I handed in notice and moved to Scotland for six months to obtain a City & Guilds qualification in Forgework. That experience gave me the confidence I needed to apply for work in the field and I immediately started working with Blenheim Forge in London making their Japanese influenced kitchen knives."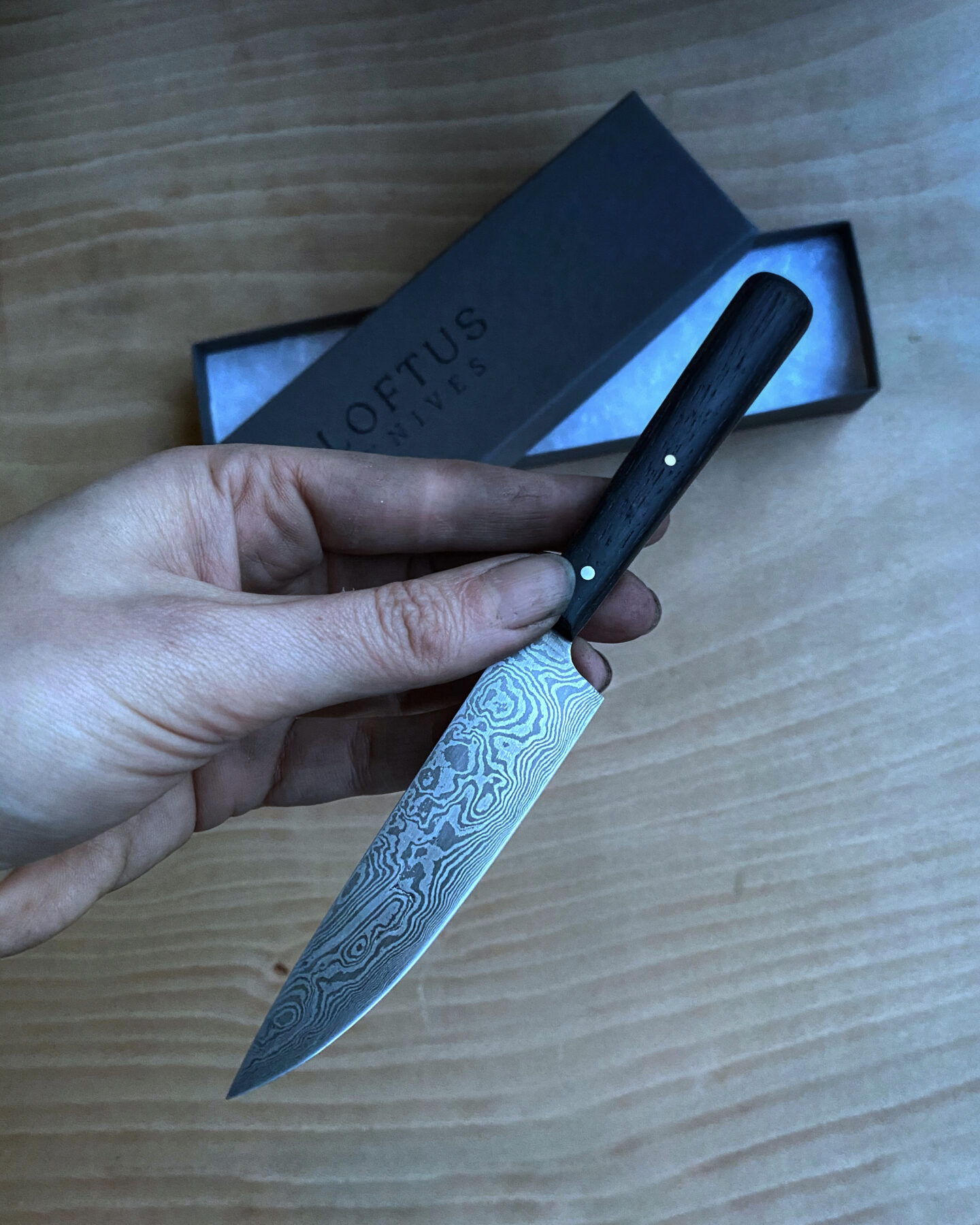 Holly spent almost three years learning and working with James Ross-Harris and Jon Warshawsky at their Peckham-based forge before gaining the support and experience to go it alone with her own business, Loftus Knives. Though not without many challenges, Holly opens up about "trying to catch up with people who've been using tools or doing mechanical problem solving for years before" as well as her own feelings of frustration of potentially not having the language to articulate when something goes wrong and help or advice is needed. "Not having a craft background meant learning to make a knife required learning all the ancillary aspects too –– like what speed the drill should be running at, what a grub screw is, how to change a disc on an angle grinder, how to order abrasives on the phone… Being pushed to learn so much has also been exciting and I am incredibly proud of the quality and performance of my knives now."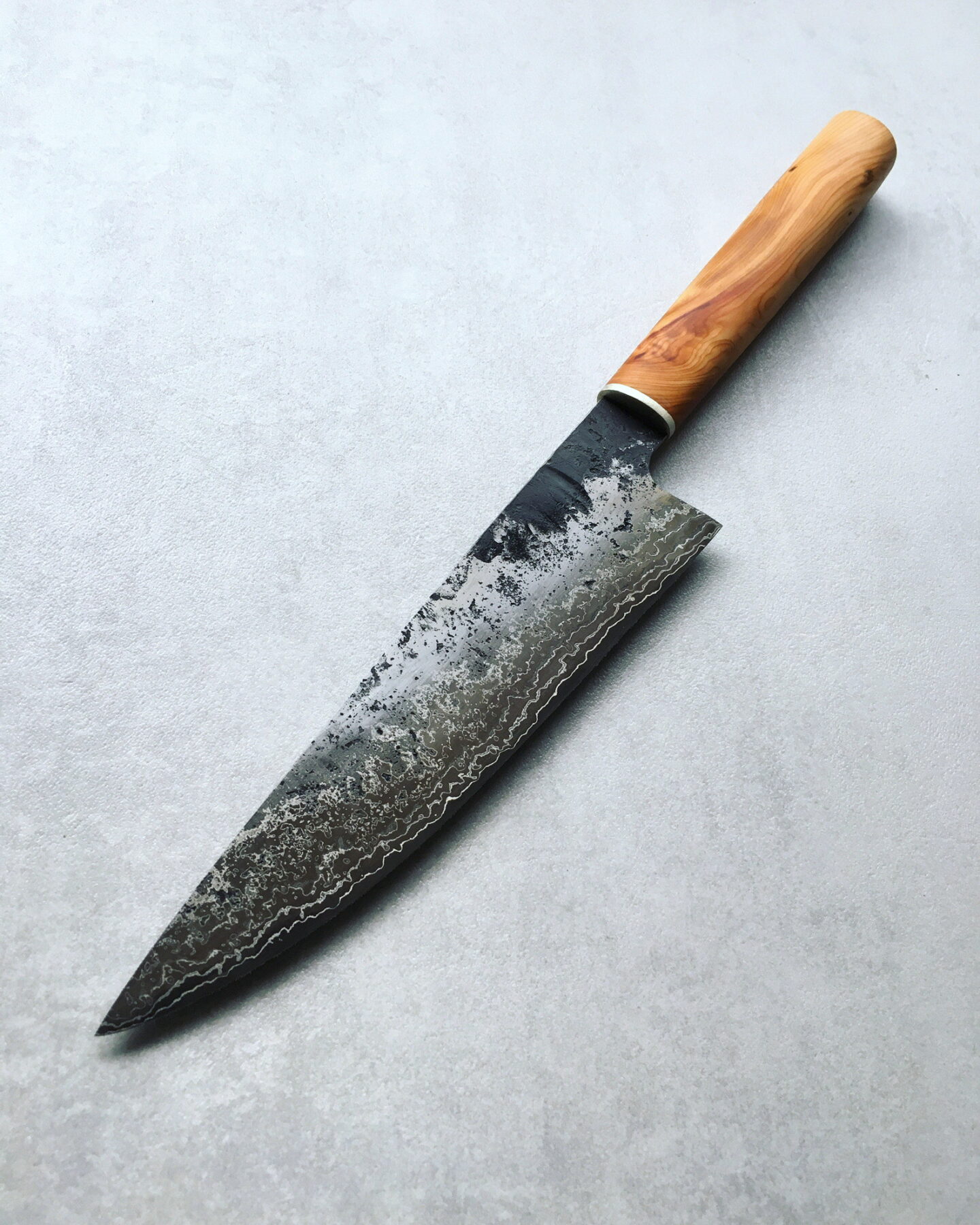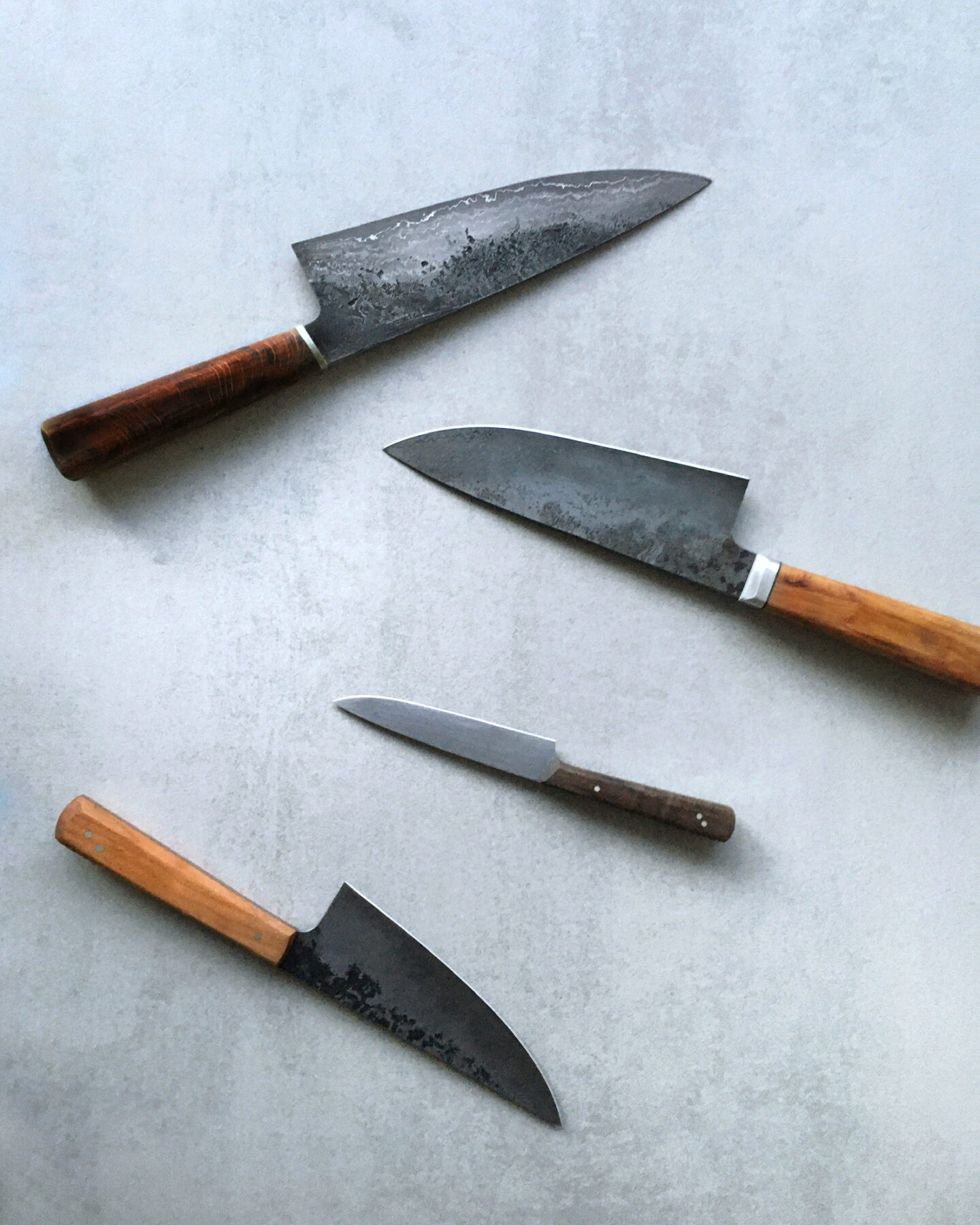 On the subject of standing out in such a male-dominated industry, Holly is quick to acknowledge the importance of "being visible and encouraging minorities into the field by demonstrating that women can forge" but also retorts that "this can mean my works gets reduced to a story about a woman making knives, rather than a story about the absolutely mega sharp knives I've spent years learning how to make –– there's a kind of tightrope I am balancing on where I want my work to be respected in it's own right as high-performance culinary knives, rather than just a female maker".
"We know that women use knives as much, if not more, than men in the daily preparation of food," she concludes, "but the market for handmade knives is largely male, and a lot of the handmade knives out there reflect that –– they can be macho and intimidating looking with large blades and muscular handles. My knives are certainly not "for women", but they are not "for men" either. I'm forging knives which make the experience of preparing and sharing food more enjoyable and I hope that anyone who uses them will feel more empowered and confident in their cooking skills." loftusknives.com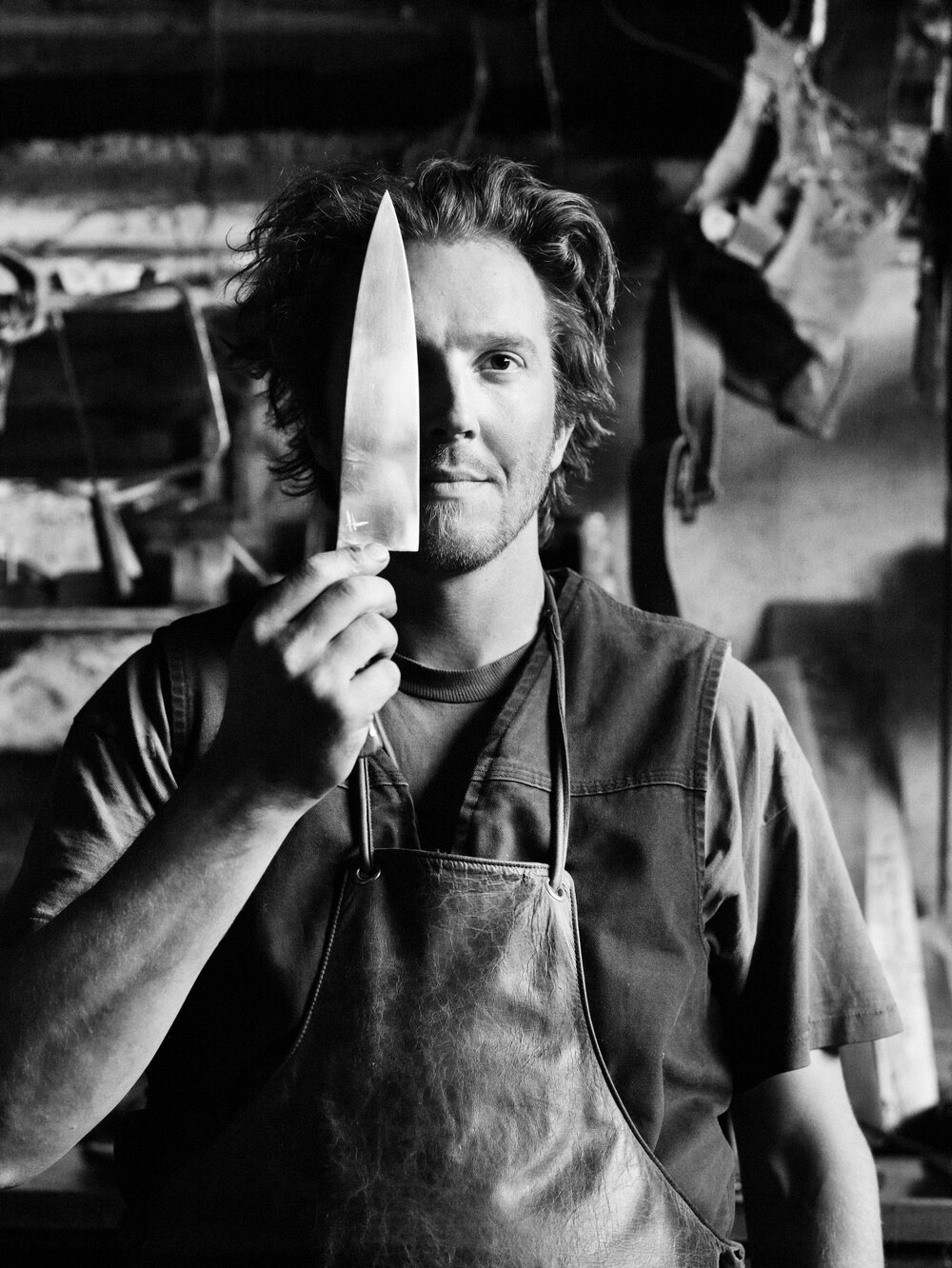 There's knife makers, and then there's Fingal Ferguson. Son of Tom and Giana Ferguson who – as fourth generation on their land in West Cork – were part of the Irish farmhouse cheese revival in the 70s and who still produce the iconic Gubbeen cheeses from their family farm to this day. Fingal is now a fifth generation farmer, rearing their pigs to produce the most stunning charcuterie and fresh meats, and has a pedigree as a skilled butcher for the past two decades… but in a little workshop behind the cheese dairy, there Fingal crafts his cult-status knives.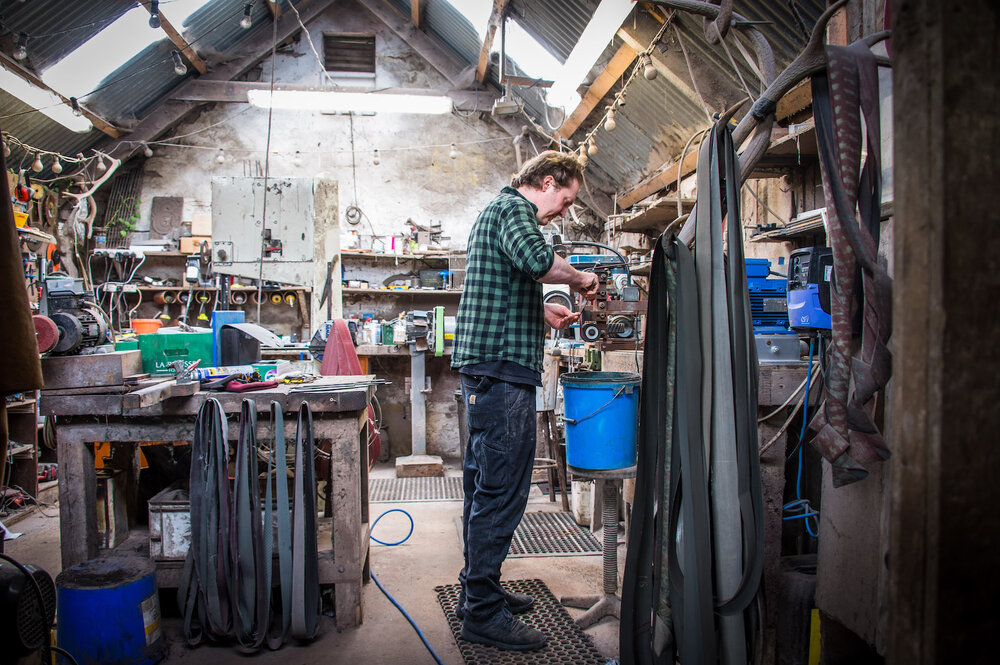 As a young boy Fingal inherited his uncle's set of knives, and growing up on a farm soon realised there's a knife size, style and weight for every job. Now as an adult, his aim, in his own words, is "to make knives that work for the purpose and the user; comfortable and sharp, and also pleasing to the eye". He continues "as a butcher and charcutier I work each day with knives, the knife is the tool of my trade, and I love working with and designing using the very best metals and beautiful handles from woods and other materials (bone, antler) often in a very traditional way but also at times with an eye simply to design".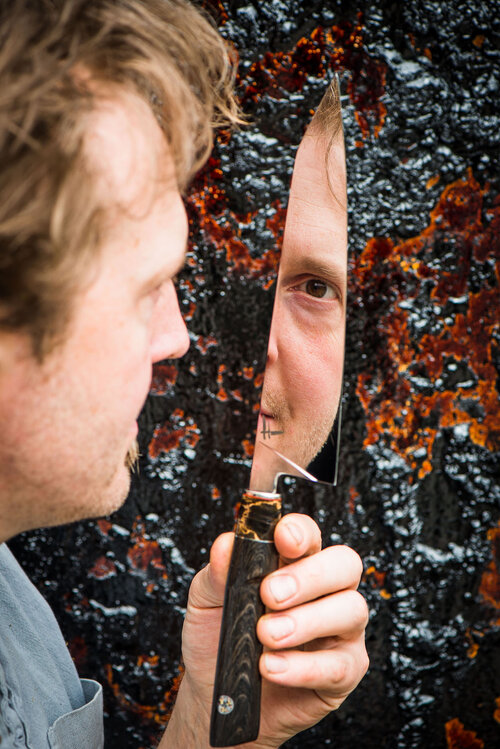 Fingal's blades are so in demand there's a years-long back list of orders, and who knows if and when orders may open up again but those who do already have a Fingal in their arsenal are lucky and they know it. Fingal gave us a tip about checking out Barcelona-based Florentine Knives for really high quality knives at a good price, as well as keeping an eye on Dictum.com for finished blades for serious bargains alongside make-your-own equipment. fingalfergusonknives.com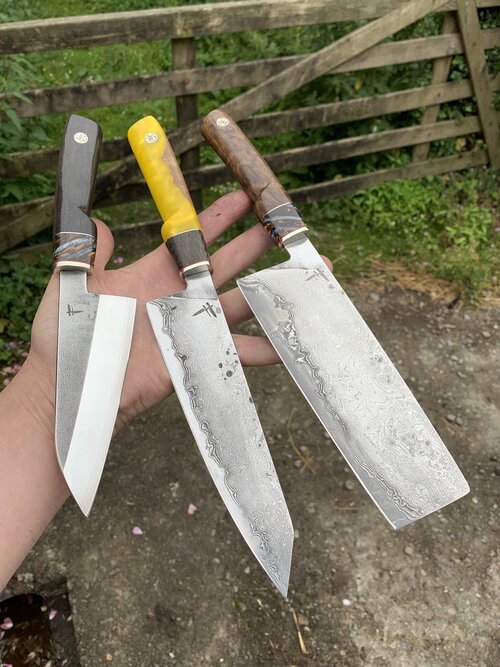 Broc Knives, Co. Armagh, Northern Ireland
Coming from a background of bushcraft and outdoor survival, Davie Crawford recognised the need for high quality knives, professionally made for those who partake in outdoor pastimes. BROC Knives was established in 2014 and his craftsmanship has been refined over the years. Available knives are listed on his site and he aims to deliver custom orders within eight weeks, but will work one-to-one with clients for their specific knife needs. brocknives.com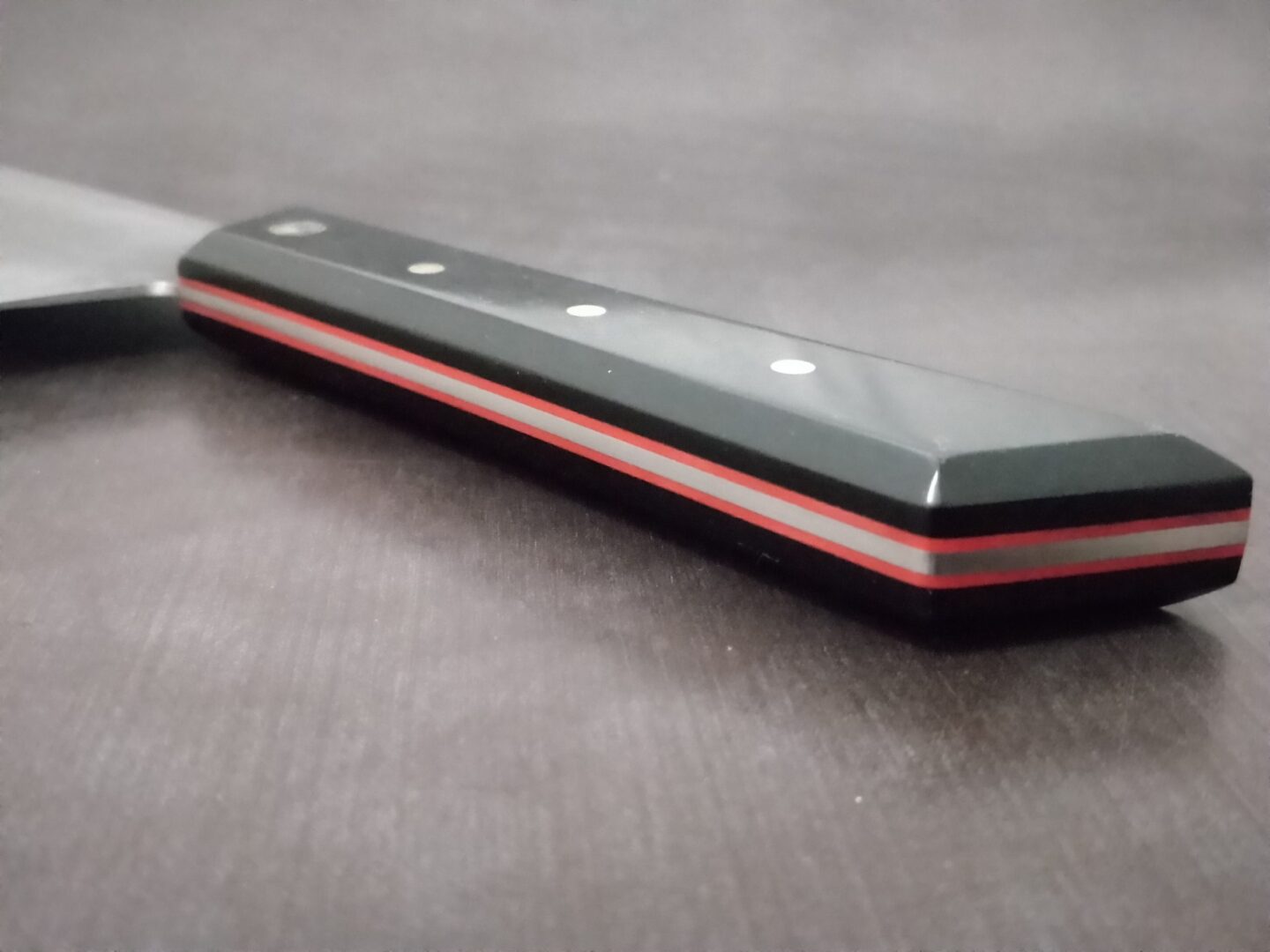 Paddy Smyth is a former chef and skilled butcher-turned-bladesmith, so he's used knives professionally throughout his life, paired also with a keen recreational interest in hunting, fishing and camping. Entirely self-taught, his craftsmanship has been attained through research, and trial and error all of his knives are hand made from blanks of various steels, planks of hard woods and full hides of leather.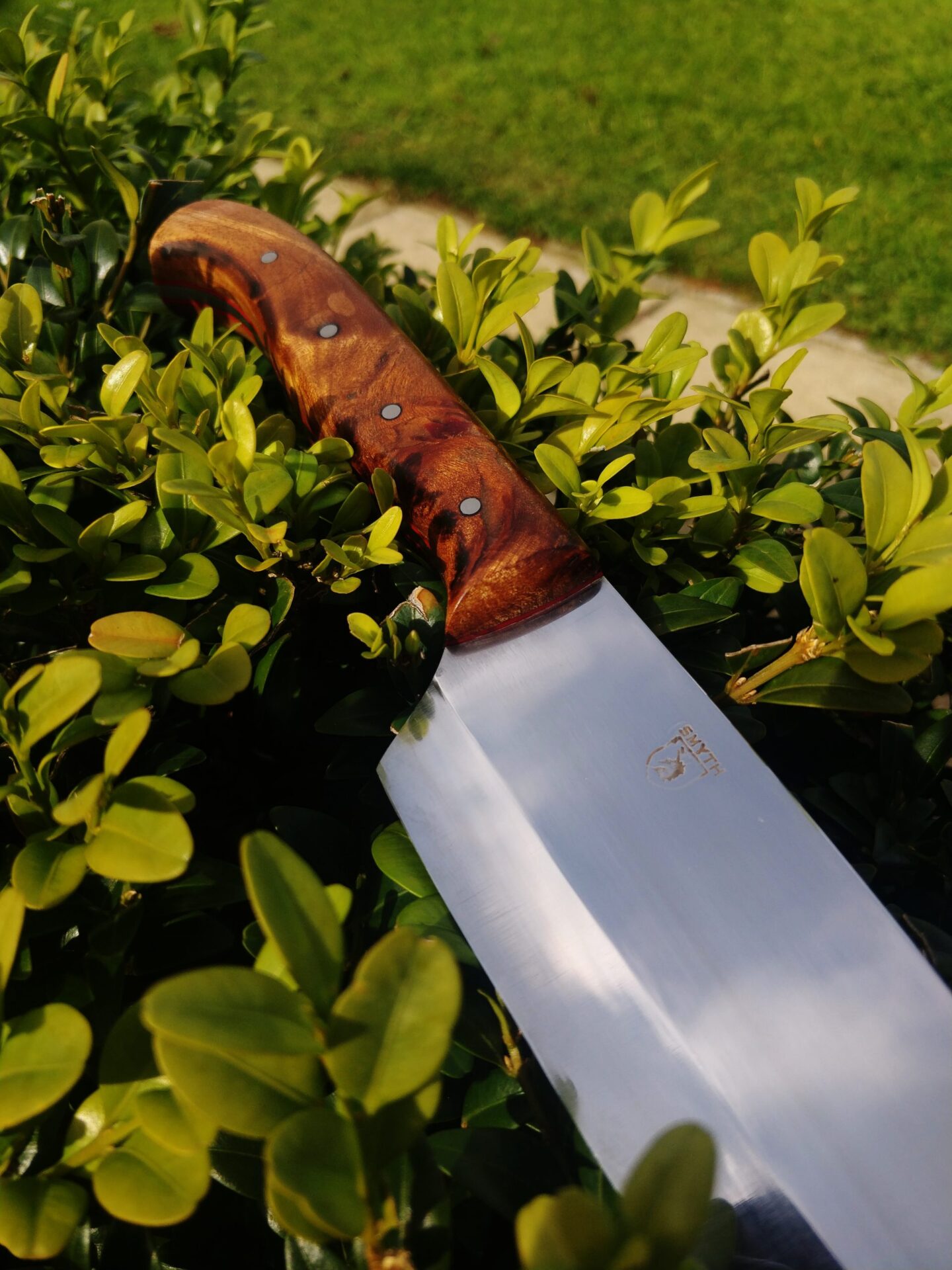 He says "Where possible I use Irish sourced woods and all is skilfully crafted to the finished product. A great amount of time and detail goes into each of my knives and all receive the same amount of care. Each knife is designed differently so as no two knives are identical, you will receive a unique hand crafted Irish knife." Paddy's range extends even beyond chef's and hunting knives to limited edition pens and giftwear. smythknives.com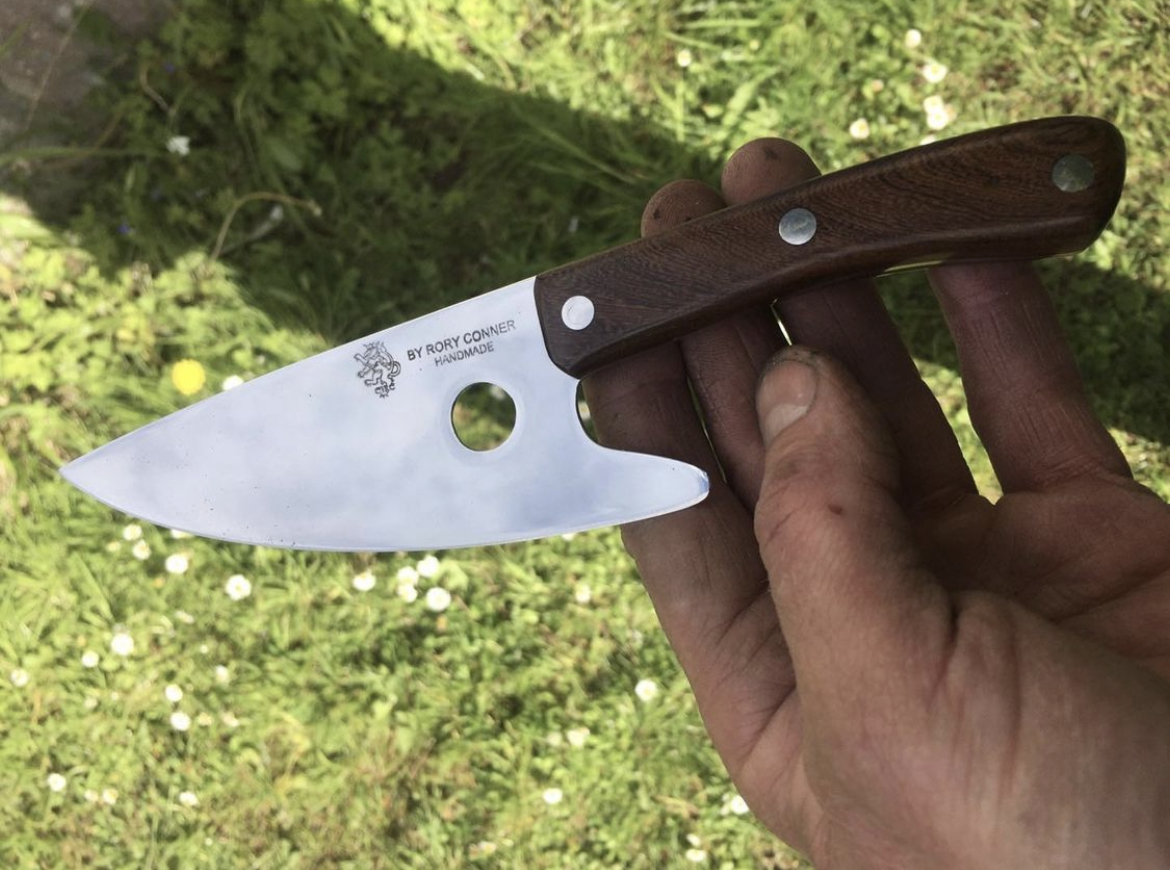 Based just outside Bantry, Rory Connor has been perfecting his craft for the last 35 years, having trained under Bob Loveless in the USA and his range runs the gamut from kitchen knives, cutlery, cheese and oyster shucking knives to outdoor knives for hunting, fishing, sailing and camping. Rory works in stainless steel and carbon steel for the blades, with Damas steel for a patterned finish. Handle materials often include the likes of bog oak, ethically-sourced exotic hardwoods, staghorn and coloured wood laminates. Operating to-order for custom options, Rory also every now and then has ready-made knives for instant sale on his site. roryconnerknives.com
Joe Forbes has gained quite a following as the man behind 'Derry Made Blades' on Instagram and since 2022 now operating in business as Walled City Blades. Fitting, as he's based in the beautiful 'Walled City' of Derry. His custom orders book is open (contact directly via Instagram) and currently he's sitting at about a three-month turnaround for custom designs. He's soon to include locally sourced and stablised knife handles and also offers a whetstone sharpening service.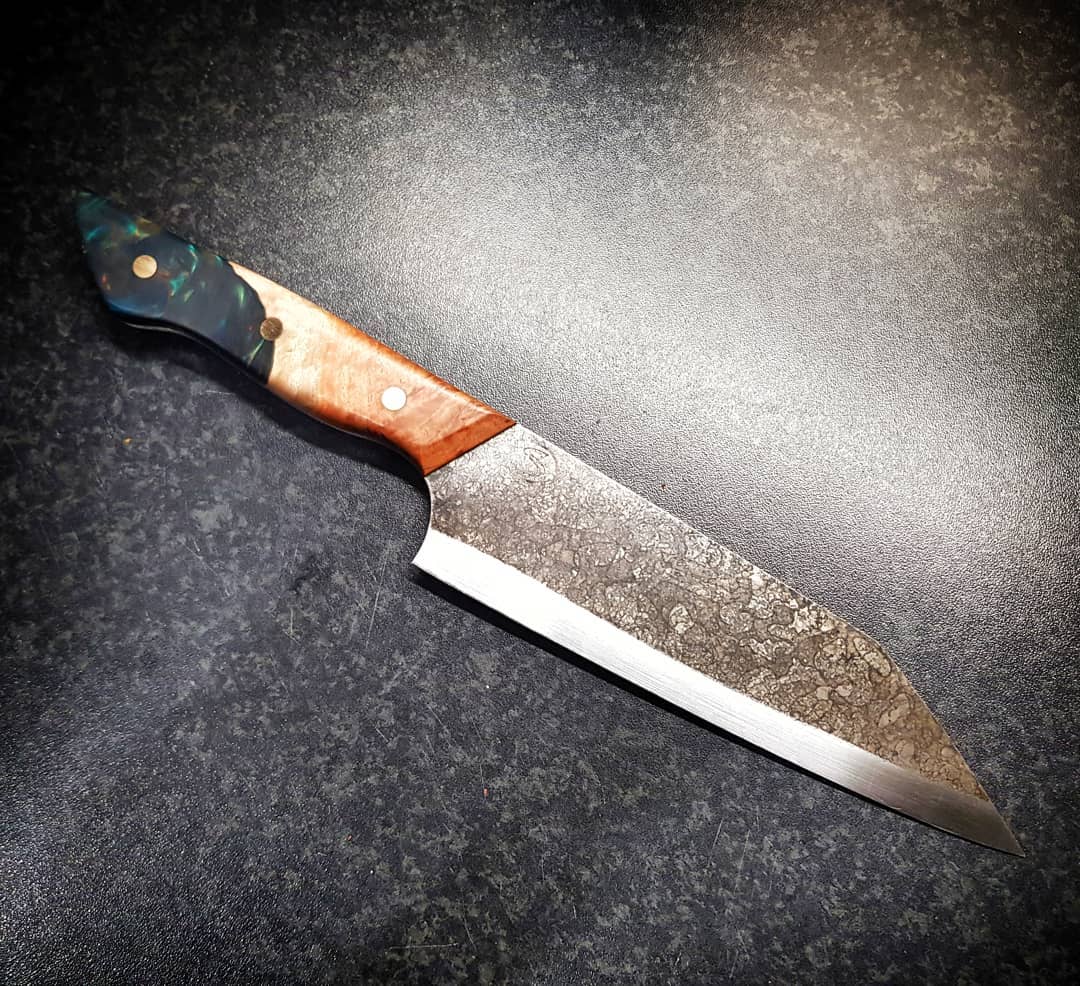 Stephen Porter began his knifemaking journey in 2013 as a side-project to his full-time day job in an accountancy and professional services firm. Derry-born but Newry-based, Stephen has a brilliant Instagram account where he documents the process, shows glimpses to his methods and the finished product of his knife work. Connect with him on Instagram to enquire about custom orders, too.
Another Northern Ireland-based, part-time knifemaker is Jimmy Morrow who grew up in the Armagh countryside, hunting, shooting and fishing with his father so was always familiar with the various tools used in the home, in the field and in the stream. As an avid collector, he progressed to making his own blades and after being inspired by a live demonstration almost a decade ago he then undertook a bladesmith course in London in 2013. Connect with him on Instagram or Facebook for custom order enquiries, whilst sometimes one or two will appear readily available to purchase. dreadnoughtforge.co.uk
Declan Mulholland and his eponymous bladesmith business is based in Stepaside, south Dublin. Arriving at knife making somewhat later in life, Declan combined a love of food and cooking with a keen interest in chef's knives and soon enough fell into the interest of the process of crafting high quality knives –– which also brought back a love of metalwork from his school days and a general interest in metal fabrication and steel work.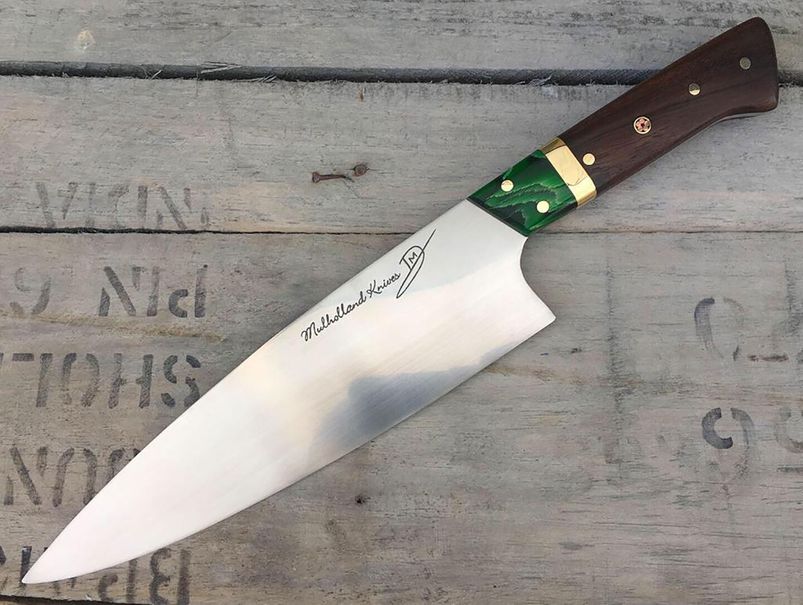 In 2016 he set about making a gas forge and accumulating as much knife making tools as he could, followed by his first knife in 2017. Quality in both practice and in materials is of paramount importance to Declan. He uses both stainless (AEB-L) and high carbon steel whilst his handle materials are a mix of everything from Irish and exotic hard woods to composites and natural bone. Working with about a six month lead-in, his chef's knives begin at €270 and paring knives at €160, but for most custom orders its POA. mulhollandknives.ie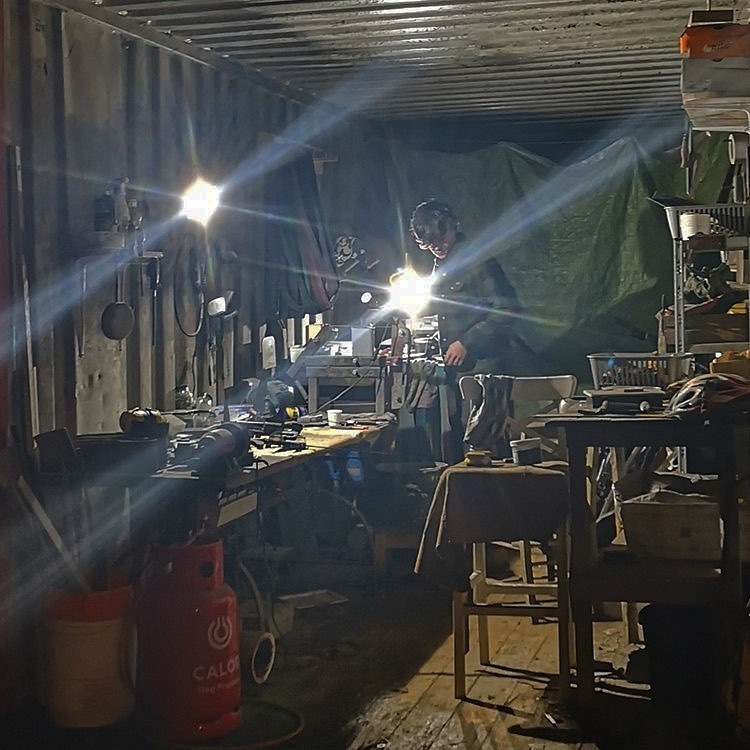 Mid-2020 and the media began to pick up on the profile of an extremely talented 17 year-old student who was forging his own knives in West Cork. For so many reasons and endless examples, there's truly something about West Cork. A hive of artisans, chefs, makers, growers, and several forgers like Fingal, Sam Dunn, and Rory Conner, now Luka Scannell is also within that mix.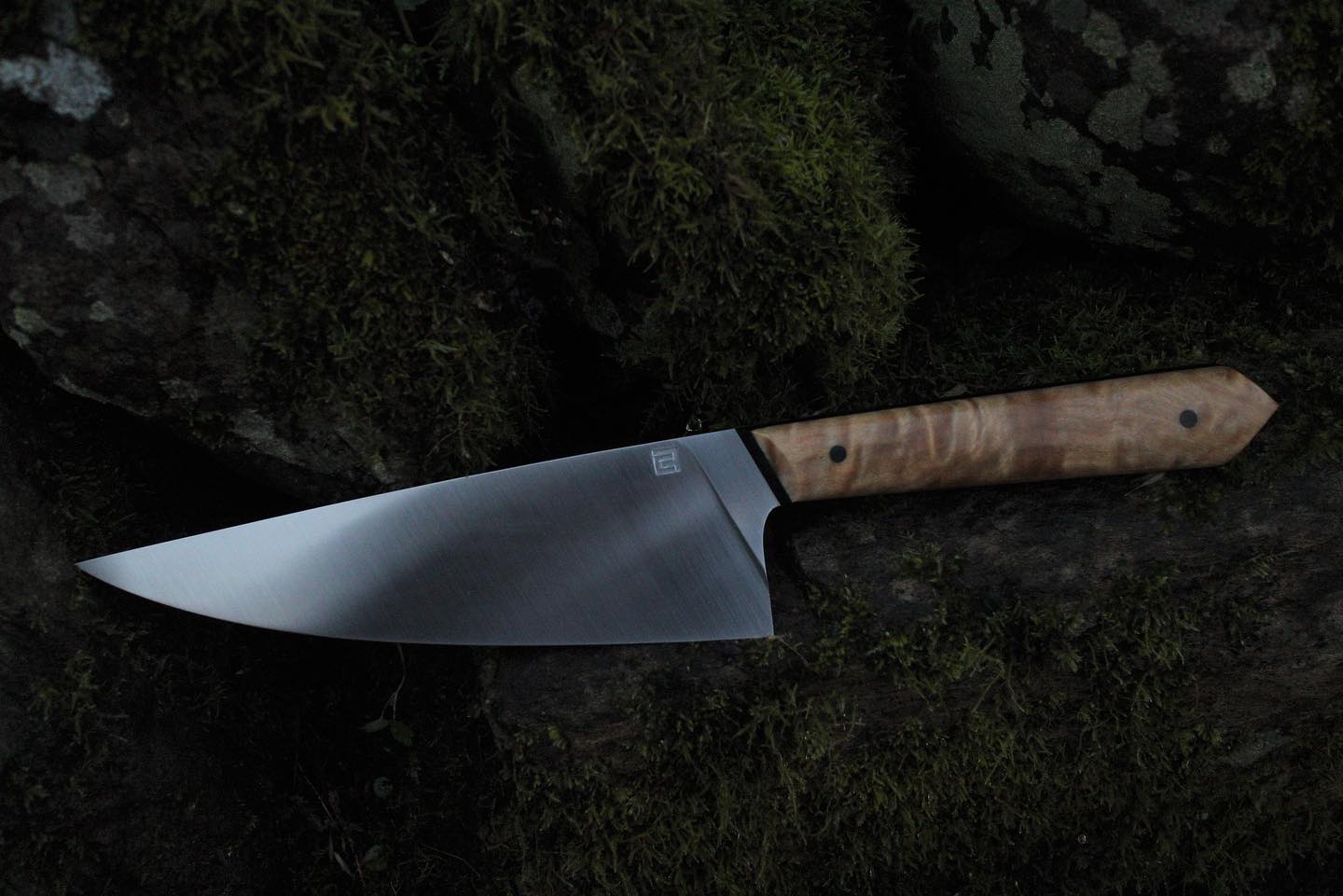 Based not far from Gubbeen in Schull, Luka was inspired by Fingal Ferguson as a younger teenager and began looking up YouTube videos and taking a stab at knifemaking in his shed. Now, he's progressed to a whole shipping container at the back of his house. After finishing school, Luka is now based between Dublin and West Cork. Luka's custom order books are often closed, but he told us in general when he takes orders it's a 6-8 month lead time. He's focusing mostly now on sales of pre-made knives and has a unique, colourful and striking style emerging in his work. We bought a knife from him in early 2022 in one of his flash sales.
The best place to keep up with his work is his Instagram @CollaForge whilst to purchase knives from him the best place is his website: collaforge.com.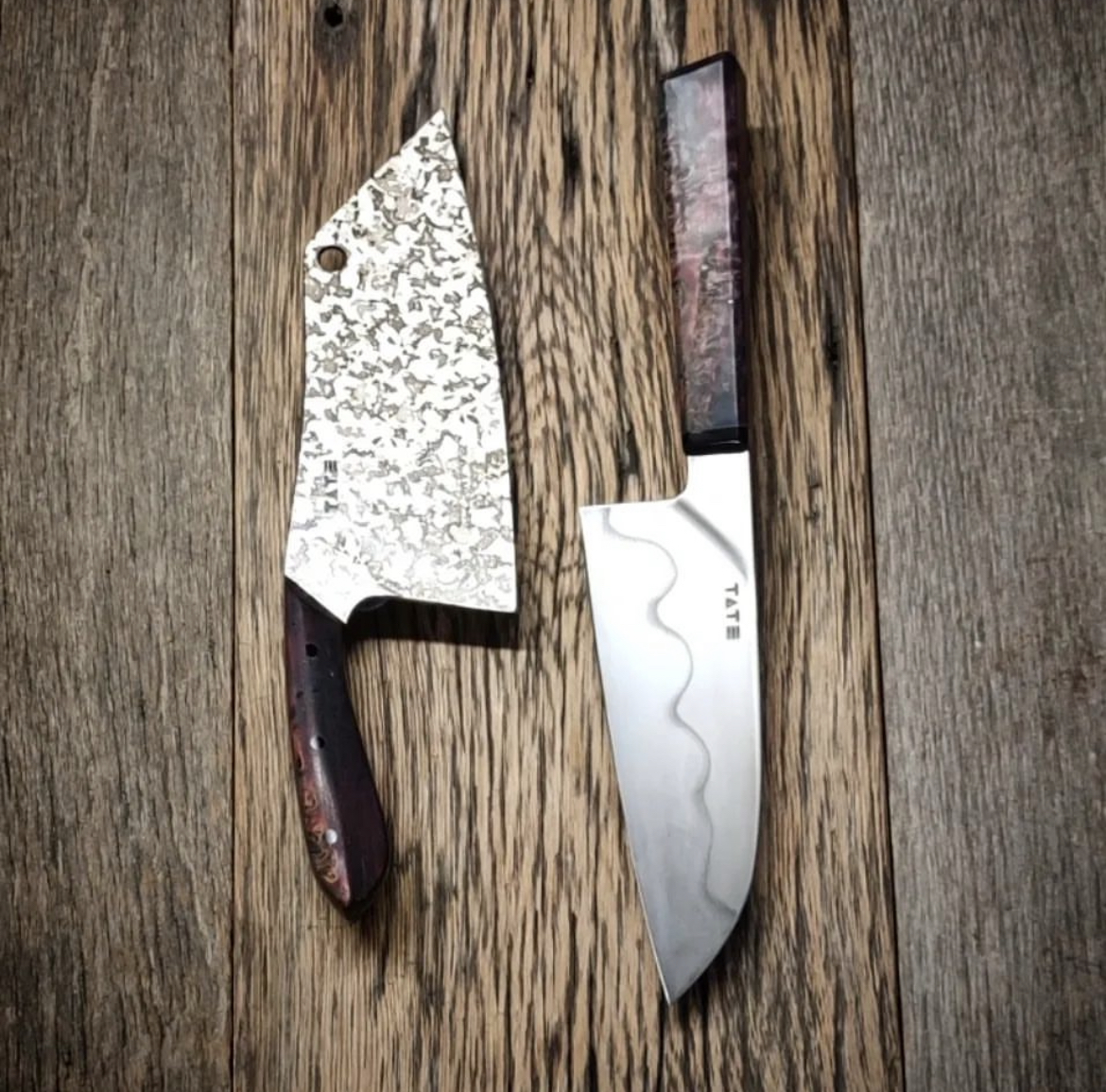 Introduced to the knifemaking trade by fellow Cork knife maker Sam Dunn, Ryan Tate is a maker based in Kinsale, Co. Cork and new to the industry since the pandemic. His books are open for orders directly via Instagram for the moment. Mae Restaurant in Dublin was one of the first restaurants to stock his knives, among their selection of many other Irish knives for diners to choose from for the main meat course on Grainne O'Keefe's tasting menu.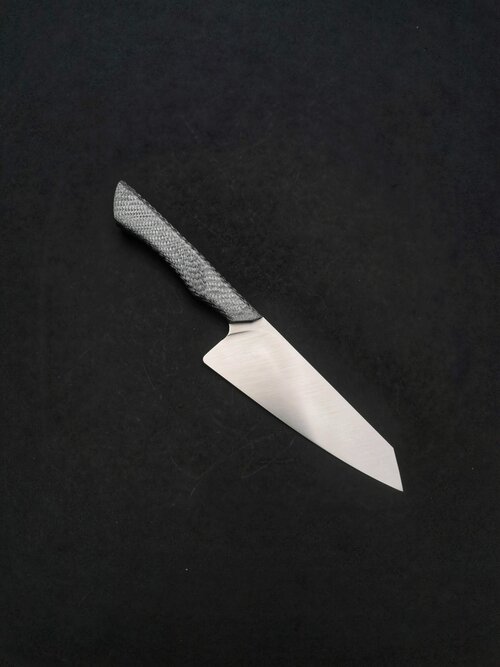 A penknife given by his grandfather at age eight sparked a lifelong interest for Cork-based knifemaker Chris Meade. Chris works with a wide range of stainless and High Carbon steel blades and a variety of handle materials, and his range runs across culinary, bushcraft, hunting and fishing uses, working one-to-one with a client on custom orders whilst also often selling pre-made knives on his website. cmcustomblades.com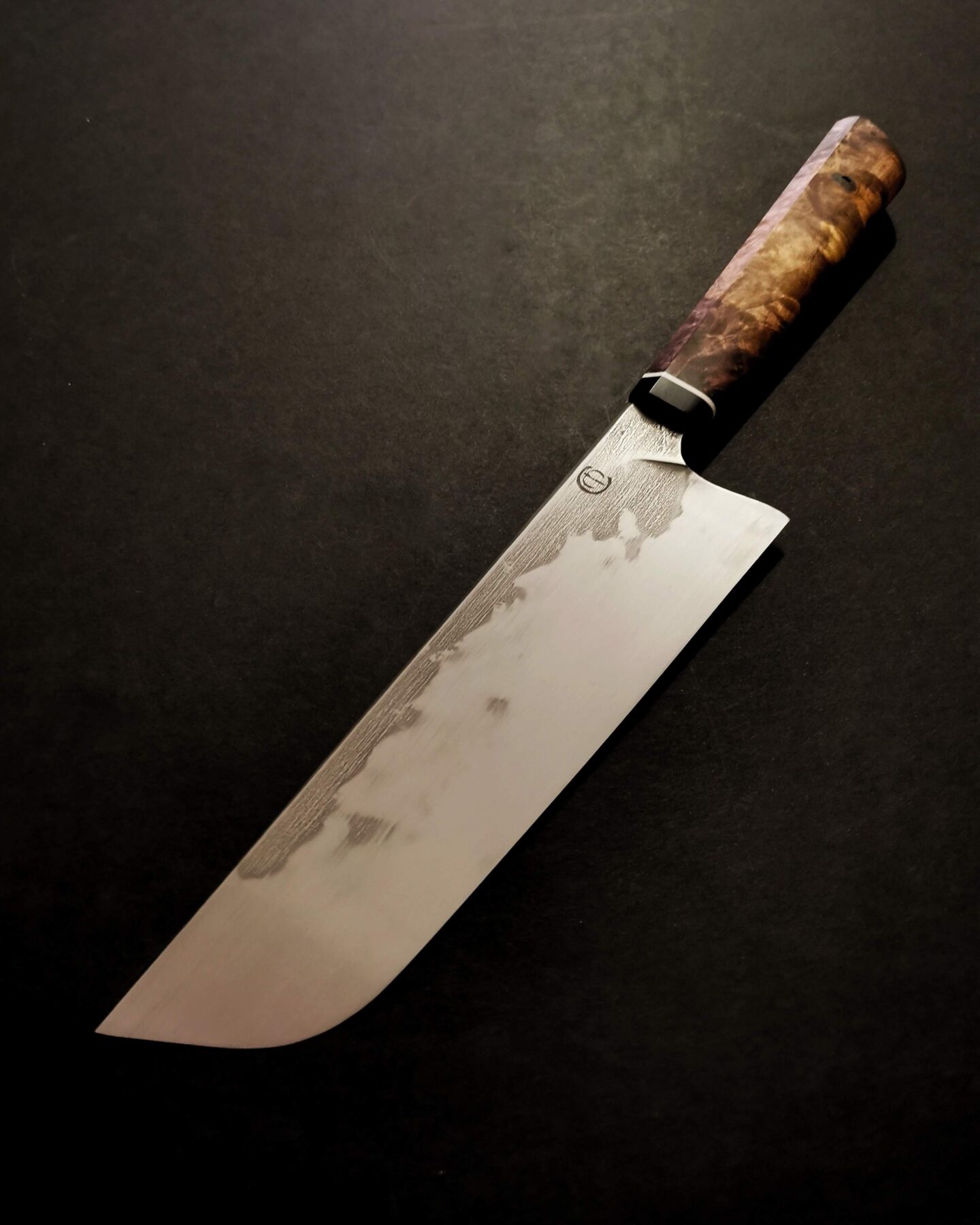 Paudie Ryan forges and finishes some of the most beautiful knives imaginable from his workshop in Limerick. At the time of writing the books at Anam Forge are closed as Paudie actually makes a lot of Damascus steel for other makers.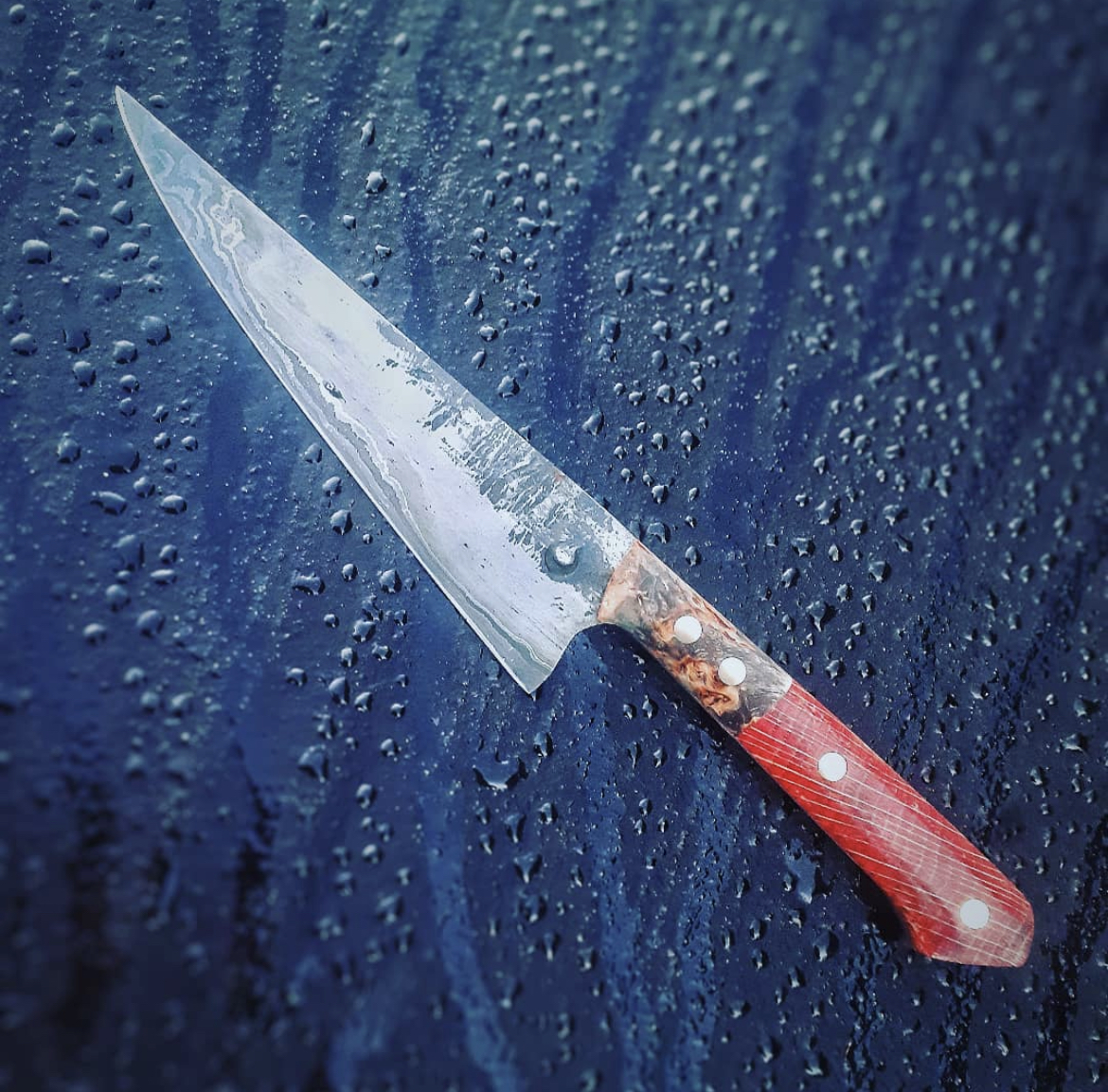 Over the last year or two Paudie has focused more on making and selling afterwards, as well as batch lots, rather than months-long lists for custom orders –– he says "I would rather take my time and make something I, as the maker, am truly happy with rather than make something to a deadline based on a picture of something done before". He's also very active on Instagram, so connect with him there. instagram.com/anam_forge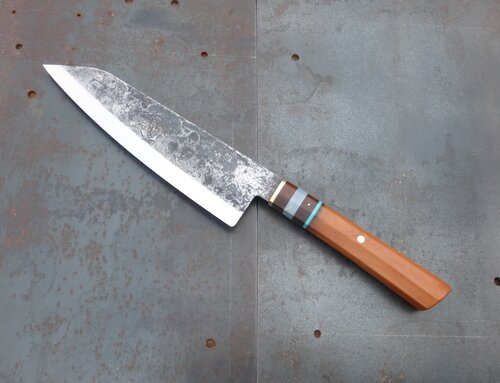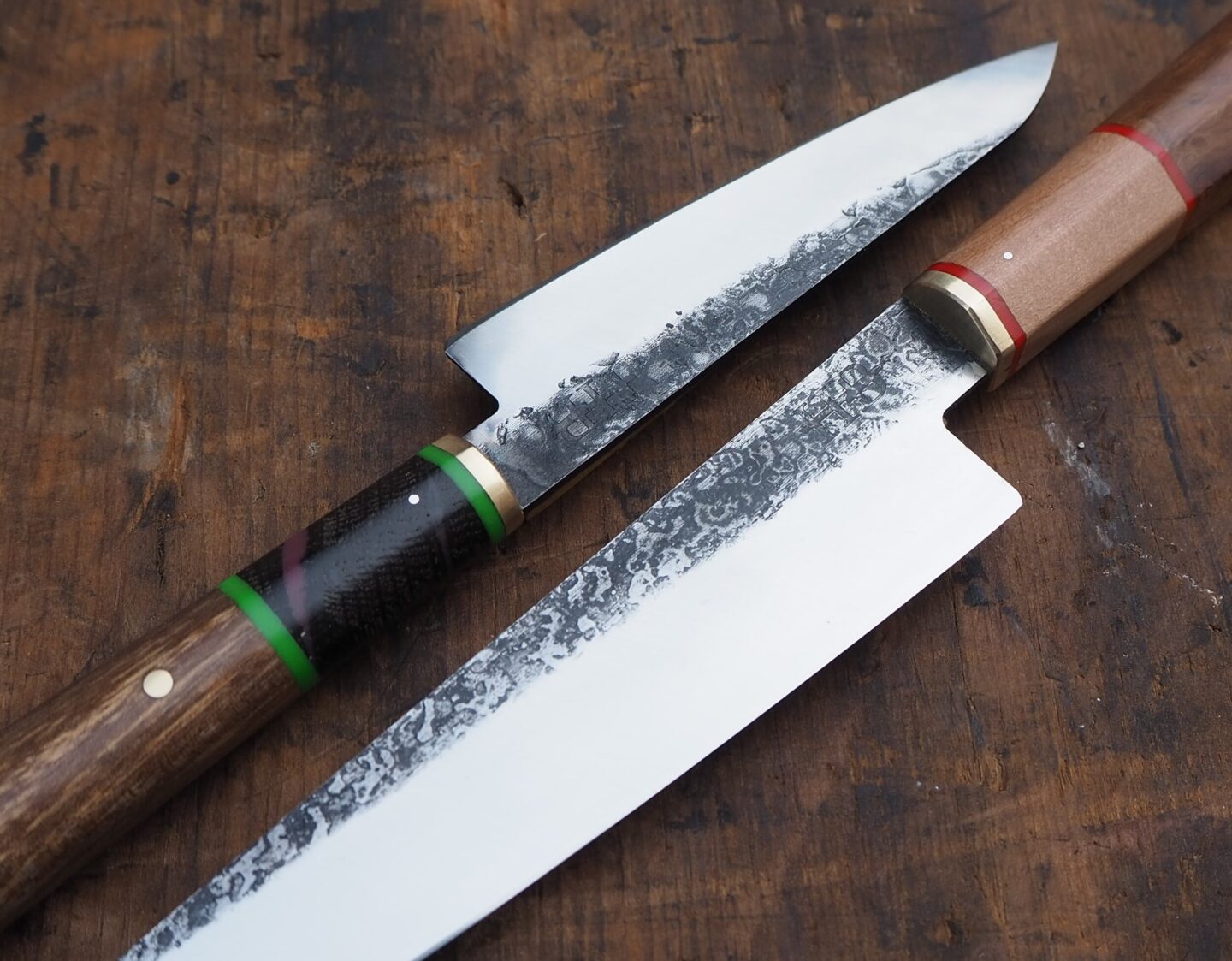 Another Limerick-based knife craftsman is Hugo Byrne, who comes from an artist pedigree with both of his parents (Mary Nagle, Mike Byrne) talented artists before him and all working alongside one another. After a stint at NCAD, he fell in to the knifemaking business and in an interview with the Irish Times recently credits fellow knifesmiths Sam Gleeson and Fingal Ferguson with inspiring and advising him.
Hugo is particular about the provenance that precedes his knives, he endeavours to celebrate the natural qualities of materials, so avoids bought-in materials for the handles. All of his knives are custom commissions and not available for instant purchase, though his site has lots of previous work displayed. hugobyrneknives.com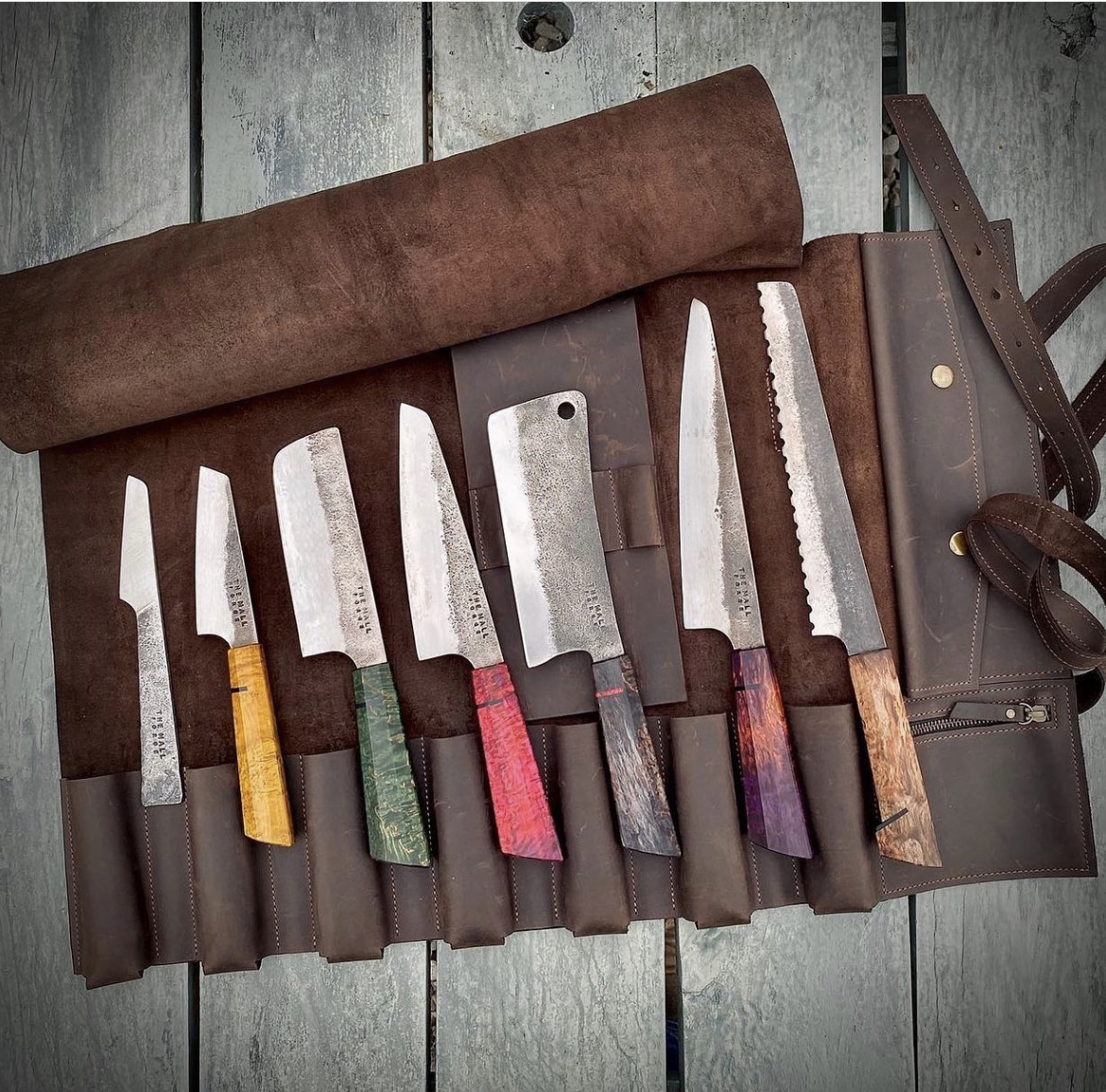 An up-and-coming maker also from West Cork (must be something in the water down there!) is Mark Ross who is taking his first steps into the professional knifemaking scene, currently working one-to-one with chefs and cookery enthusiasts for feedback on his knives but definitely one to watch for the future.
Chef Dave Rowley alerted us to John Mosse, who is another young Irish bladesmith who for the last number of years has been based in the UK. His studies are in blacksmithing and metalwork whilst his MA is in metal conservation. John has won or been shortlisted for several awards for his knives already and has more recently set up a base in the Cotswolds in a shared workshop.
His customers are across the UK and Ireland and he ships between both. John is accepting custom orders via Instagram and offers, in general, a fairly quick turnaround as he takes orders as-they-come. You'll probably have your knife in your hand within a month.
John kindly sent us one of his knives to try out ourselves and it's the one above, a beautiful carbon steel knife with a walnut handle with a hamon line.
John is also starting the teach knife making and blacksmithing in his former college in the UK, and hopes to begin something similar based out of his own workshop too in the near future.
"The way you presented these makers as small, usually one-person operations who were just making these amazing, functional works of art and were so busy… your feature was one of the reasons I took heart and decided to shelve a 20-year music career and start turning a hobby into something more," Erik Gullikson explains when we chat. It was this very feature you're reading right now that gave him a bit of courage and confidence in pursuing knifemaking as a professional string to his bow rather than just a hobby.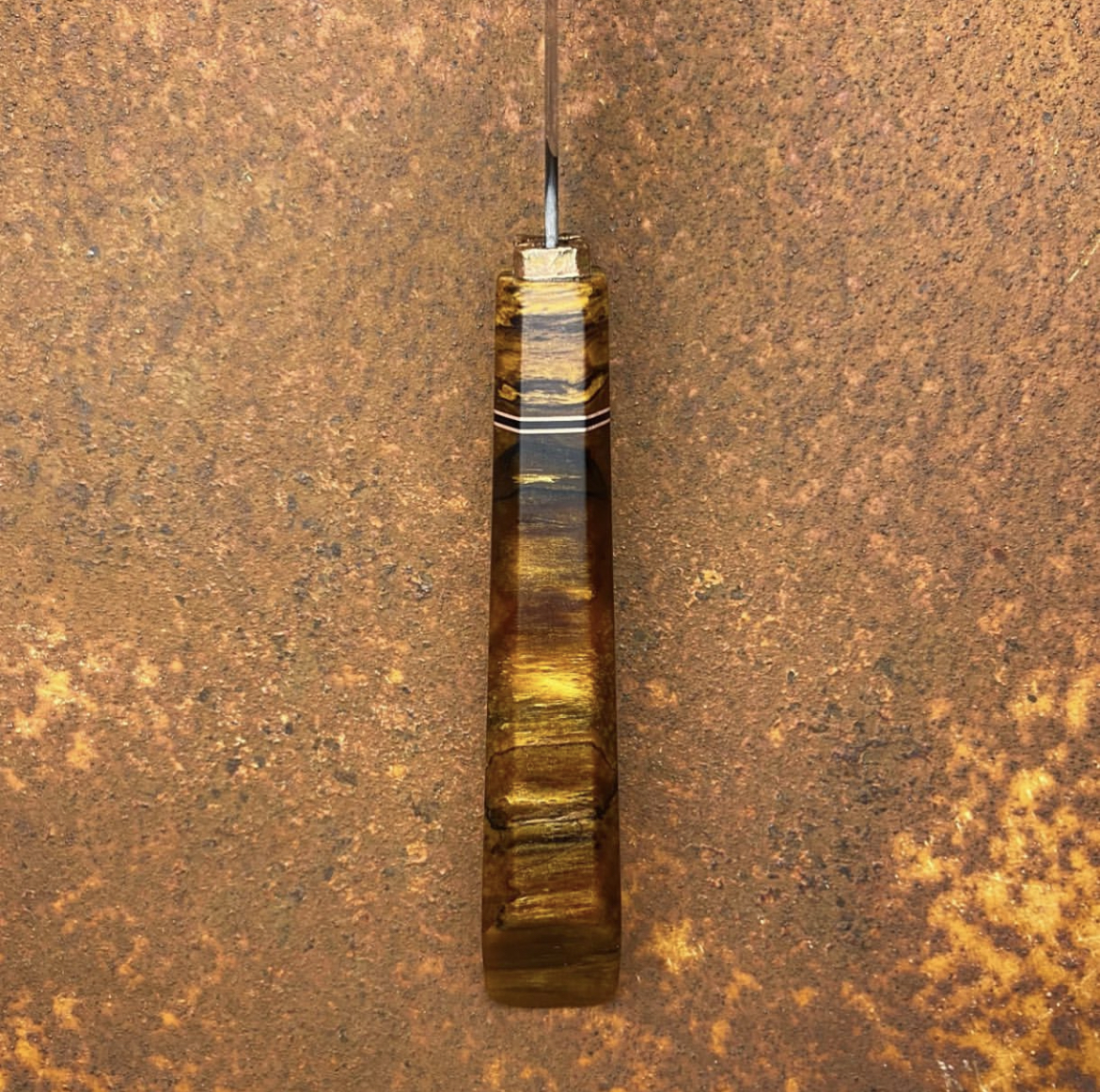 Having worked as a gigging musician and songwriter for two decades, Erik felt he developed an appreciation for storytelling, embracing structured flow and accessing raw emotion. He says "I learned to embrace graft and go with the flow" but also explains that the music industry was difficult to navigate. "My time in the music industry always felt very uphill in terms of finding appreciation," Erik adds, "which made it difficult to have that internal pride and appreciation, but now it's incredible putting my time and passion into something I *know* people will use and make beautiful food with'; tools with 'soul'".
Erik names each and every one of his knives, mostly in Norwegian (his heritage) or in Irish and is consultative in his approach with custom orders. "I always try to get a feel for their story and who they are," he says, "I ask them to provide one or two buzzwords they'd like to embody within their knife, for example 'Brutal | Bleak' or 'Warmth | Family", I take these and pick shapes, finishe and materials to reflect their own story and keywords in a comprehensive design which hopefully does them justice".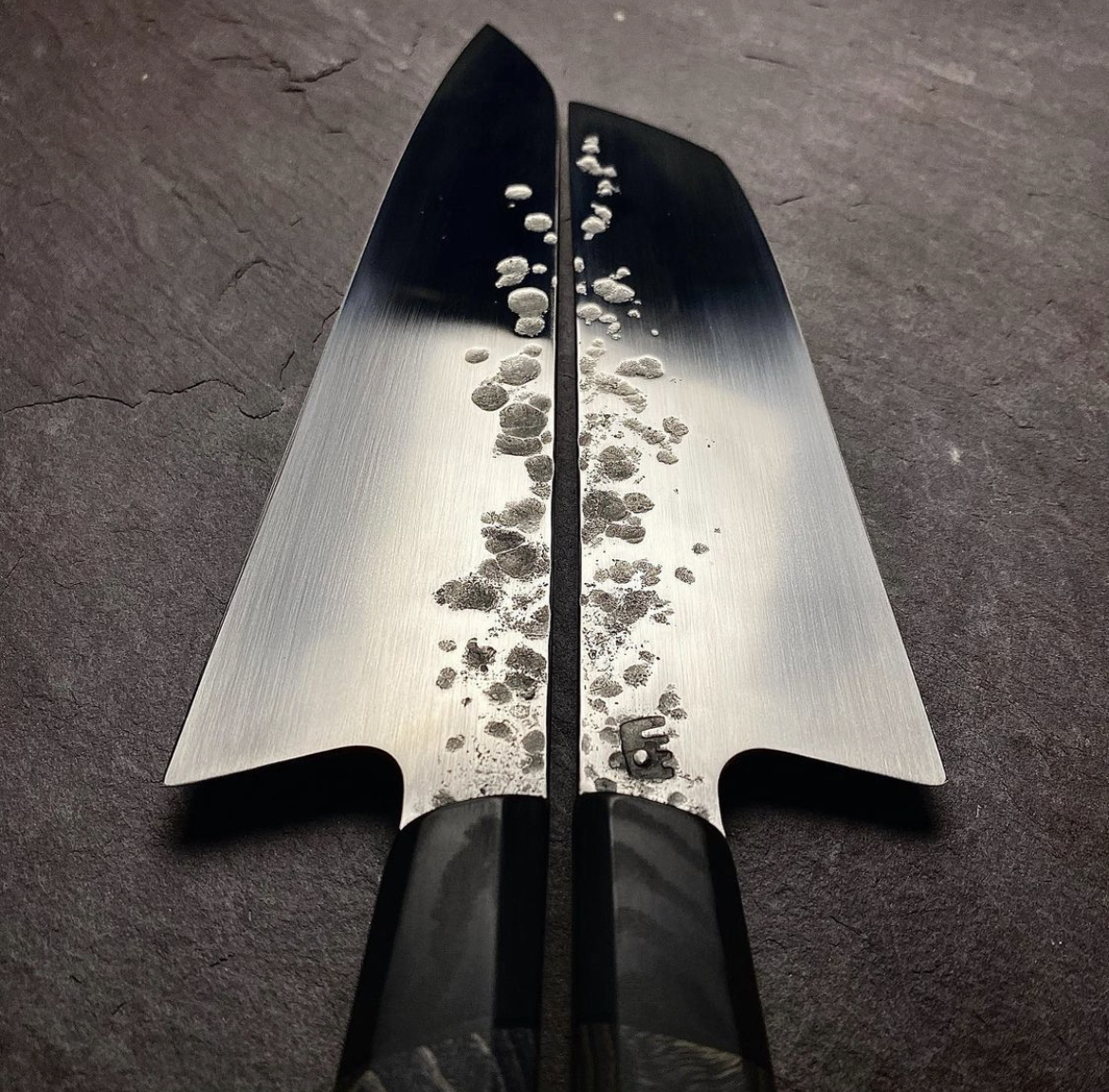 Most of his work has been through word of mouth, both here in Ireland and in the States and he's eager to up his presence in Ireland on the food circuit. Taking orders via Instagram @GulliksonKnives on a small scale is the plan for the moment, but Erik also tells us a new one on us: /r/ChefKnives, the Reddit thread. He says he's quite active there and has even gotten a few orders from it. Definitely a new one on the scene to watch! His lead time on orders is around four to six weeks. gulliksonknives.com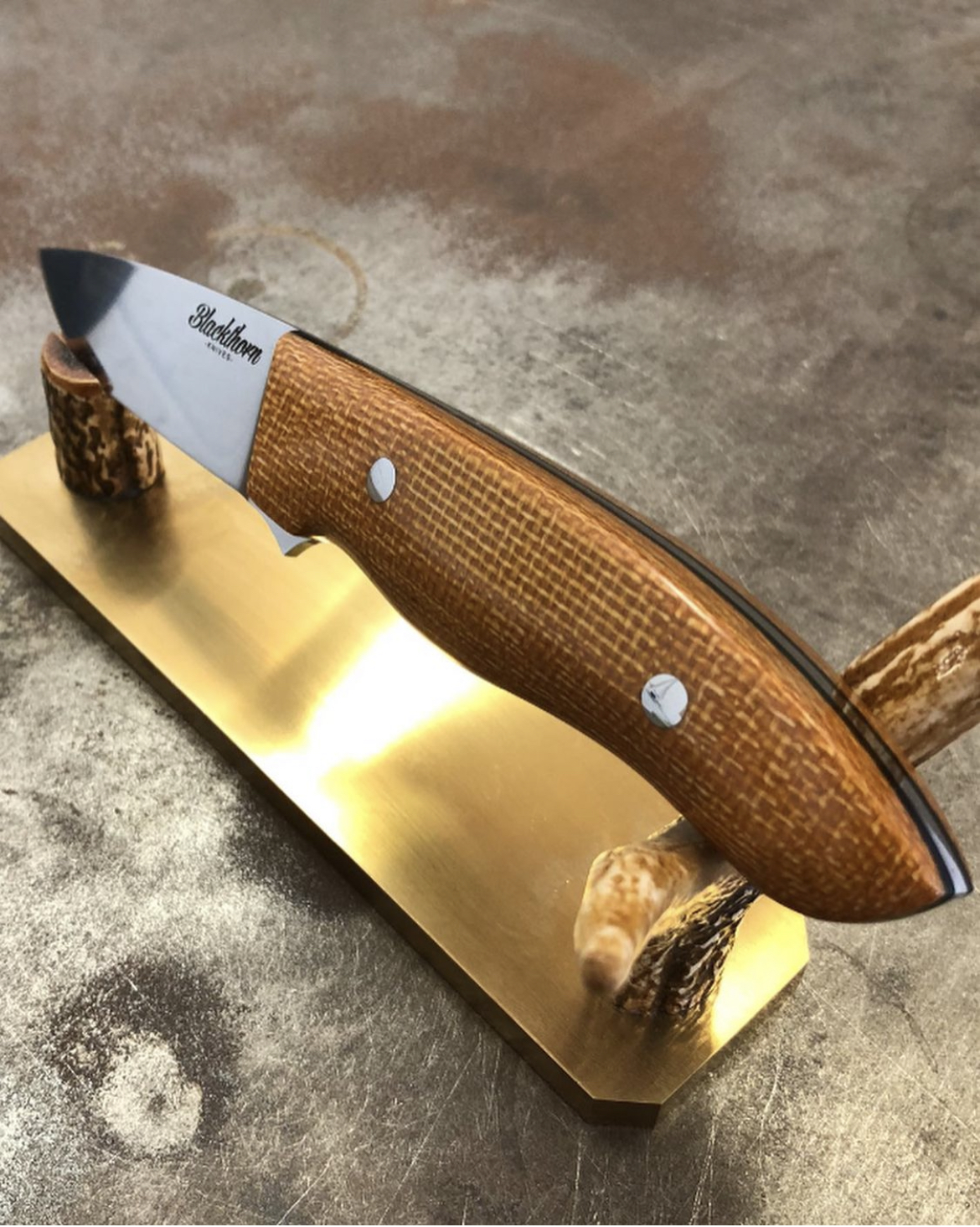 Mechanic by day, Kevin Daly from Tipperary specialises in making hunting knives using the stock removal method and stabilised woods as his hobby profession. He carries out each and every step himself, including the leather work, and tries to make handles and blade shapes that are both beautiful and ergonomic. blackthorn.ie
Borst Knives, Kenmare Co. Kerry
Slice Knives, Bangor, Northern Ireland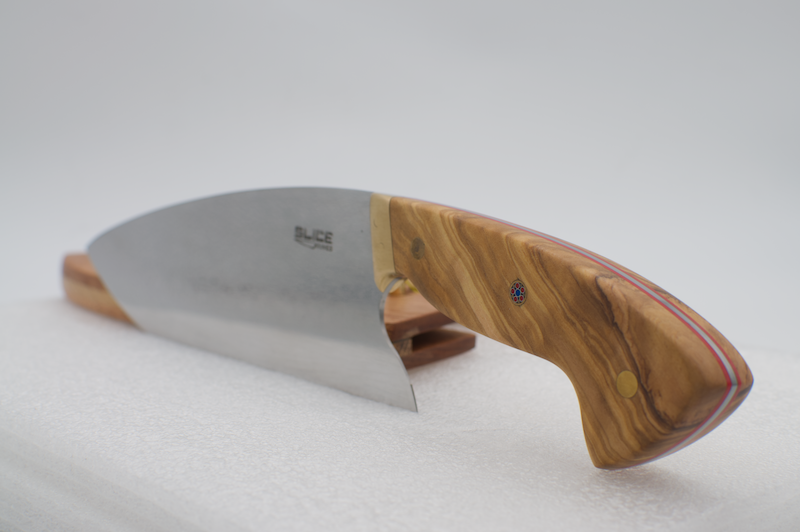 Based in Bangor, Michael Barr is the man behind Slice Knives. Michael's "day job" is as a Chief Technology Officer at a Technology startup but he's always had busy hands in his down-time, first working on his own cars, then self-taught welding, woodworking and now fire and hammers! From a background in making custom furniture and dabbling in art, the combination led down the road to blade smithing a few years ago.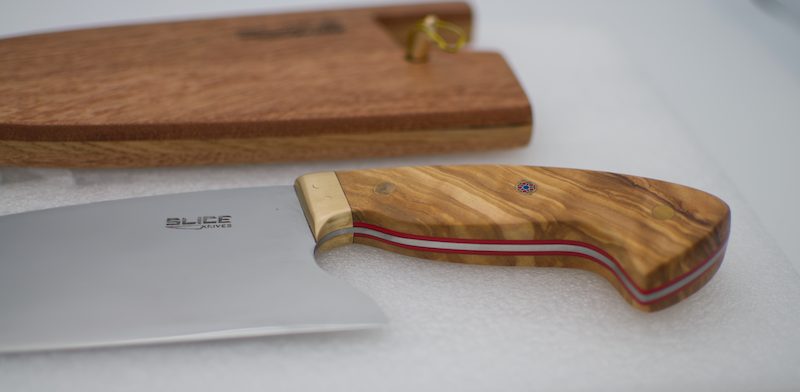 Michael makes mostly kitchen knives (chef knives, paring knives) that are usually stainless steel but also carbon steel and Damascus. Michael also dabbles in some bushcraft/woodlore knives. He produces his own leatherwork on the sheaths and his own woodwork for the sayas. sliceknives.co.uk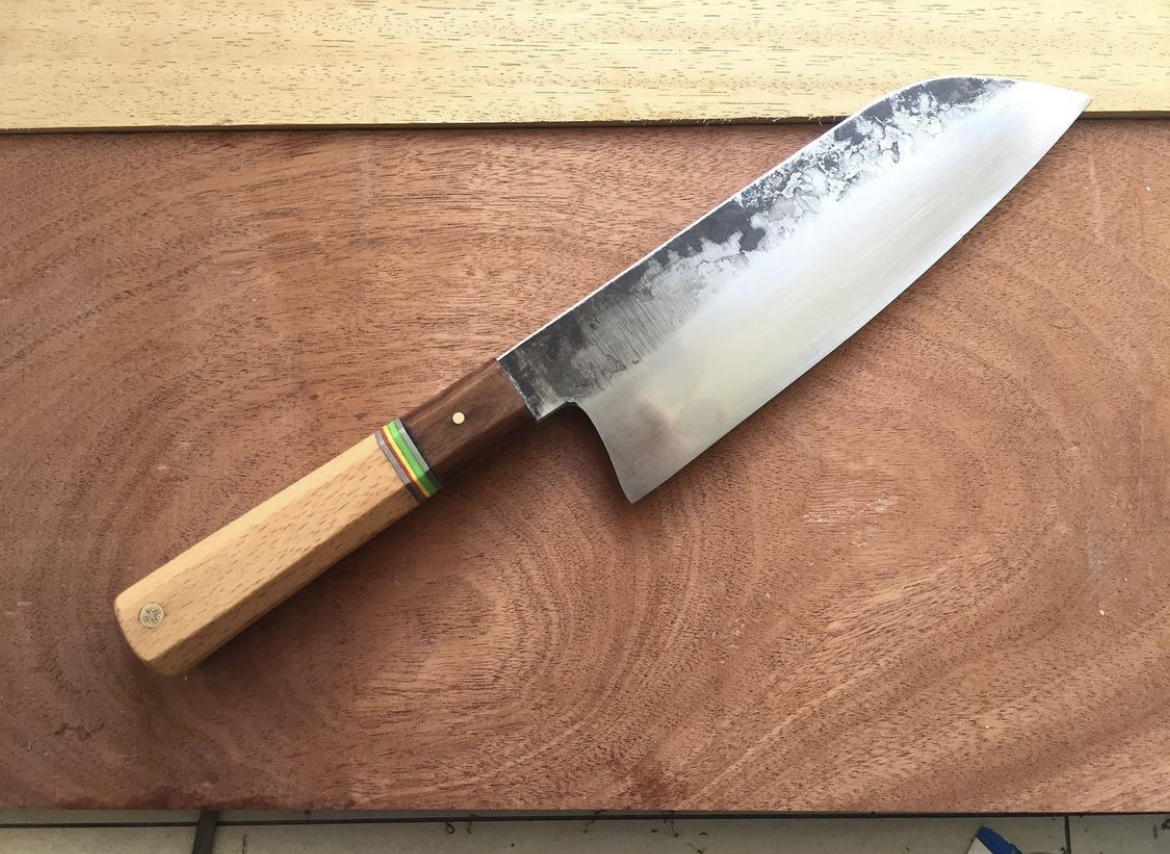 Out in Connemara look for newcomer to the scene Cuan Rynhart, who is just getting started and taking his first orders. He's also a co-owner of wood-fired pizza truck Fado Pizza currently set up at Fernwood Farm in Clifden, Fridays to Sundays.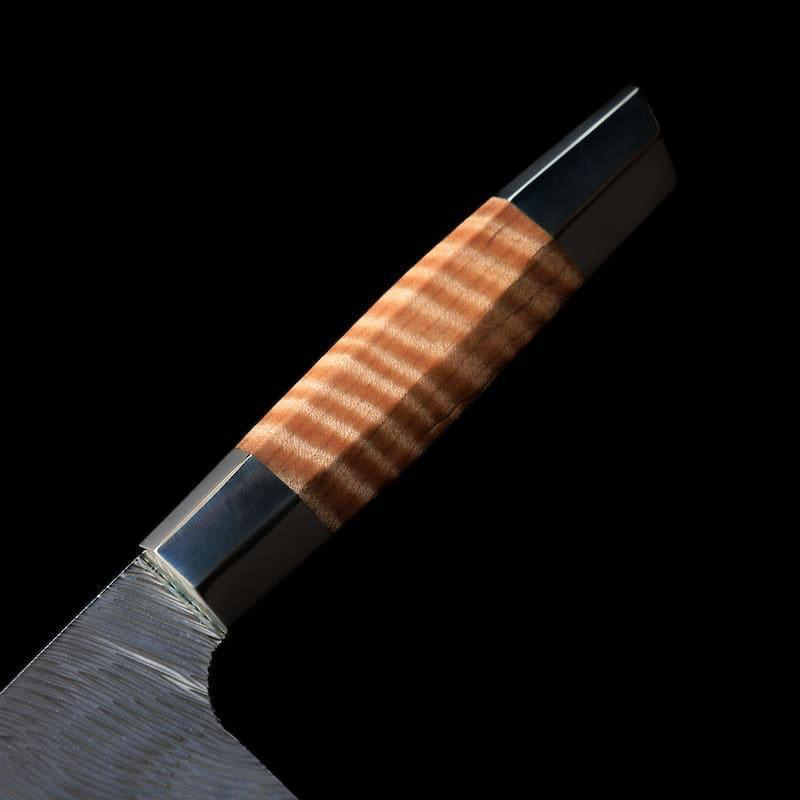 Patrick Brennan is an award-winning full-time knifemaker who crafts beautiful pieces, and is currently studying Jewellery and Goldsmithing to add to his creative talent. Usually there's about a 12-week turnaround for orders. Keep an eye on his Instagram and website for updates. brennanknives.com
JF Knives, Athlone Co. Westmeath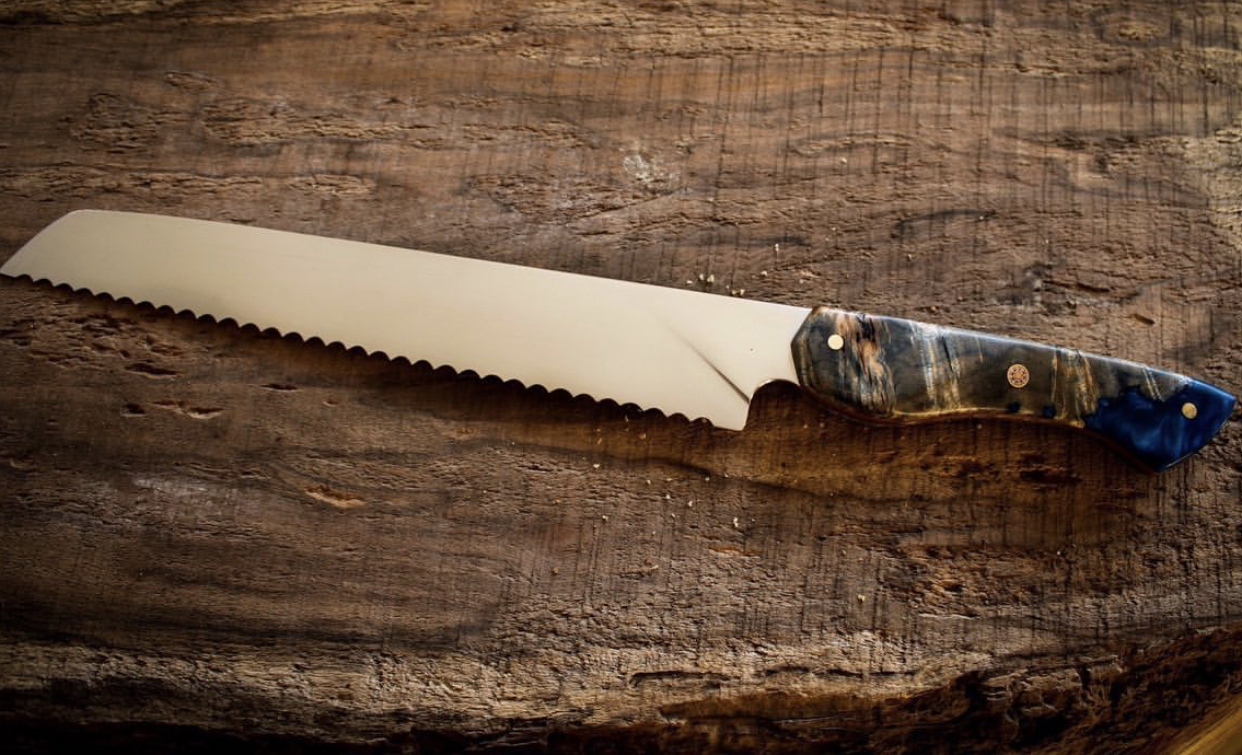 Jonathan is an Athlone-based knifemaker, originally a blacksmith by trade but veered off into the knife path and fell in love with it. He makes his own Damascus steel and hand forges 90% of his knives, taking custom orders via Instagram whilst his lead time is about 3-4 months at the moment. instagram.com/jf_knives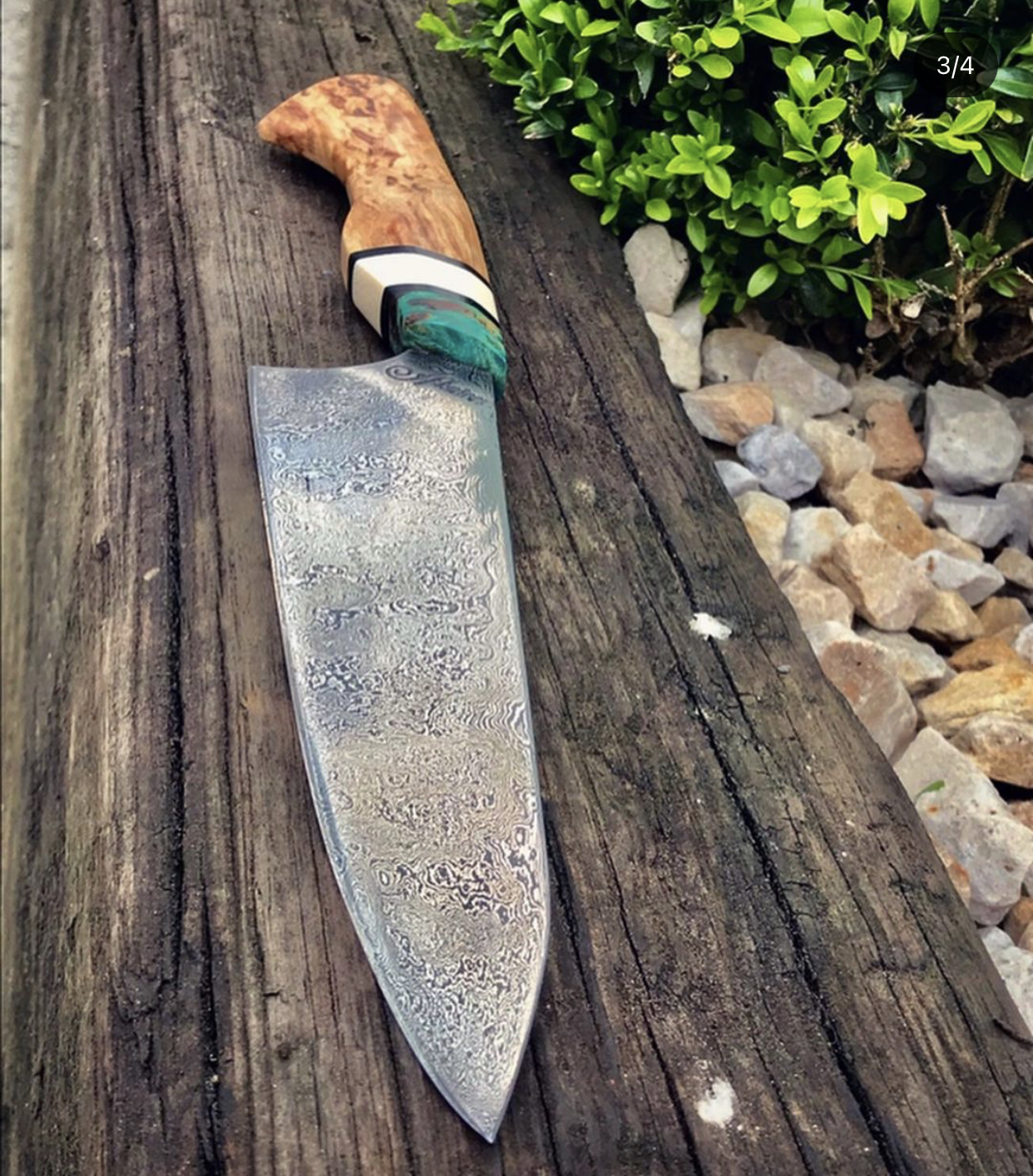 Knife Sharpening Services across Ireland
What's the point in possessing a beautiful weapon in your culinary arsenal without keeping it sharp? Chris Chapman of food delivery service Weekl.ie explains that when they began their business "our idea was to do lots of home kitchen services on top of sourcing great groceries. These have been scuppered by Covid (for now) but one thing that we have managed to maintain is our Knife Sharpening service, which was our first port of call out of the 'More than Groceries' ideas". A novel service to complement their fresh fruit, veg and pantry staples delivery service, Chris continues, "I was trained by a knife-making friend in Offaly about 4 years ago and I knew when we started the business that this was the perfect thing to bring to our customers. Mainly because I get so much joy out of cooking with a sharp knife, I wanted to bring that to more people".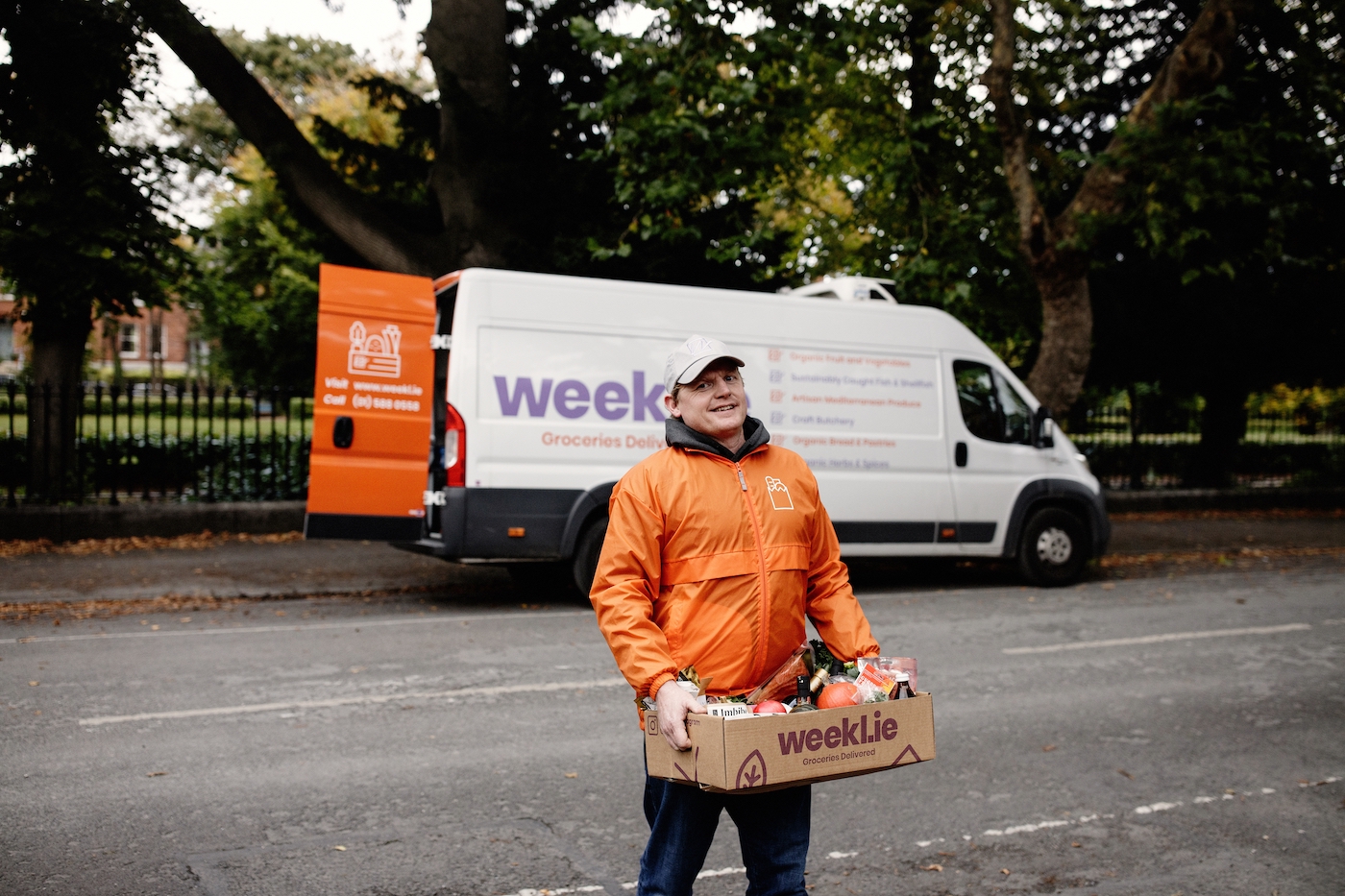 Better yet, for regular subscribers to the service this is offered as a complimentary perk to thank for their loyalty and when it first launched they had a weeks-long backlog of knives to sharpen, but now it's evened out at a handful a week –– which demonstrates how long those already sharpened are lasting. "We also provide the service to non-subscribers starting at €9/knife," Chris adds, and their radius is anywhere inside the M50 plus as far as Kilcoole in Kildare and most of Wicklow. Chris finishes by saying "when we sharpen knives it's not like when you sharpen them at home, we use a stone on a wheel so it puts a completely new edge on it and as long as the knife gets looked after at home it will last for months before it needs to come back to us".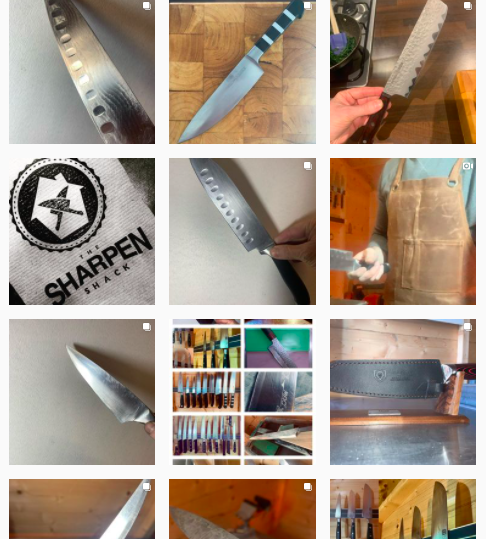 Peter McCabe (@The_Sharpen_Shack) is a chef, still keeping an arm and a leg in the chef industry, but during the pandemic decided to strike out alone and specialise in knife sharpening from his base in Newtownabbey. "After years of working as a chef in and around Belfast I've seen my fair share of knives," Peter explains, "and during the forced lockdown I trained myself to sharpen knives and set up a small knife sharpening business." He recently worked on some knives from two Irish bladesmiths and says "honestly they are the the most well balanced and beautiful crafted pieces of 'usable art' I've ever seen."
"I love helping out my fellow chefs, bringing back to life a beloved but forgotten blade –– the most dangerous knife in a kitchen is a dull one," Peter adds, and he works with both chefs and home cooks to sharpen their knives, usually dropped or sent to him in Belfast and for around £10 or less. Each individual knife takes around 30 minutes to 1 hour. For further afield across Ireland knives can be couriered to and from his base.
We know Village Butcher in Ranelagh in Dublin also bring in an outside knife sharpener once-monthly or a couple of times a year, but mainly for the Christmas market.
For more information on bladesmiths in Ireland, there's a great resource in Association of Knife Makers Ireland's website. Further afield, check out Marc Weinstock (Prick Blades) in the USA, the aforementioned Blenheim Forge in London, Savernake in Wiltshire and Blok Knives in Derby