At long, long last we can finally say it –– us GastroGays are cookbook authors!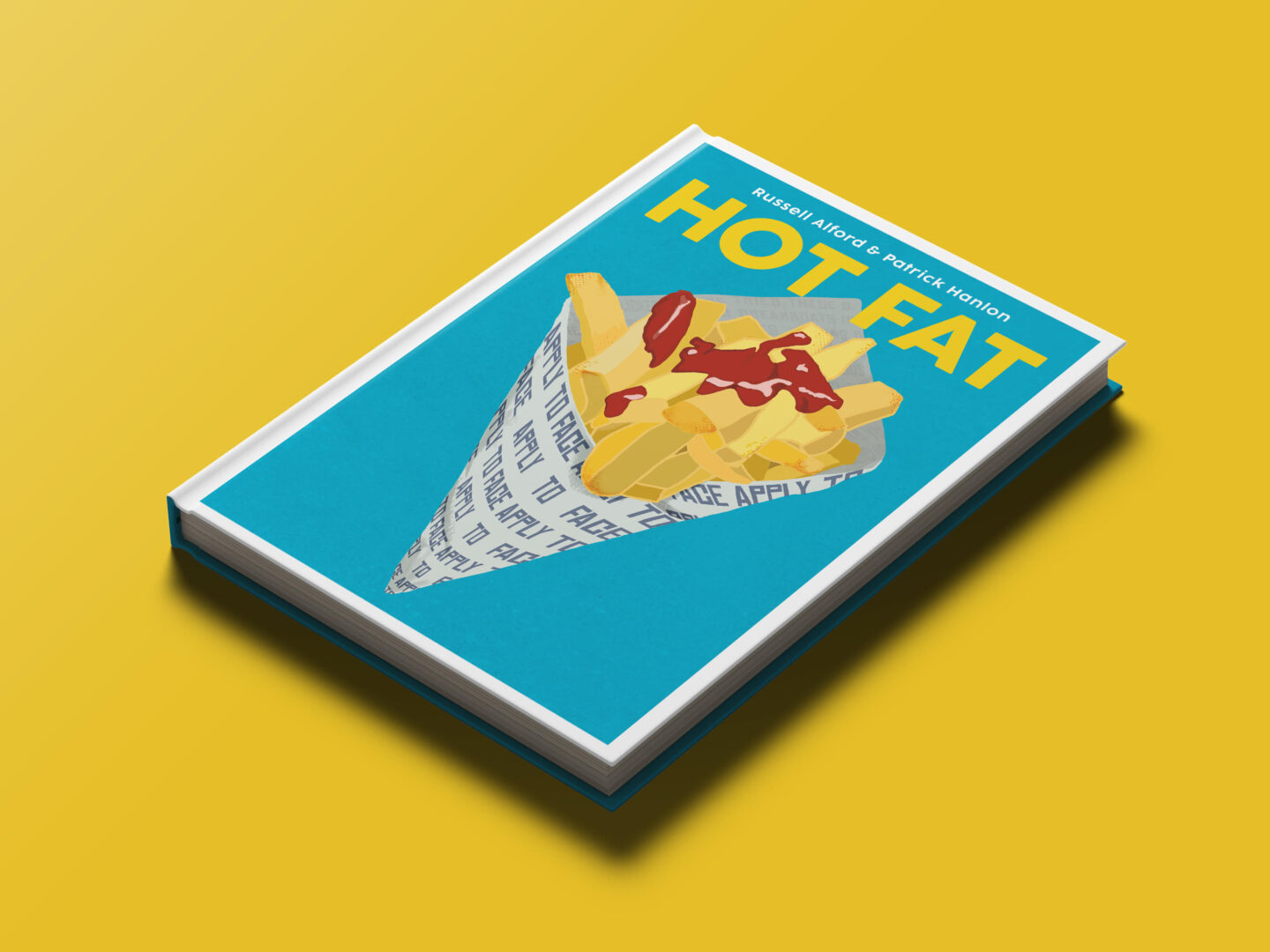 Something we've wanted for a long time and have been through a ringer a bit in terms of pitching to publishers and trying to get a foot in the door but nothing ever worked or felt right. It always felt like we would have to compromise or only accept the sole opportunity to do "THE" GastroGays cookbook, a repurposing of our blog content, and that's not what we wanted… but eventually we found the perfect match and we're proud to say our debut cookbook, Hot Fat by us – Patrick Hanlon and Russell Alford (of GastroGays!) – is out now, having launched on 5th May 2022!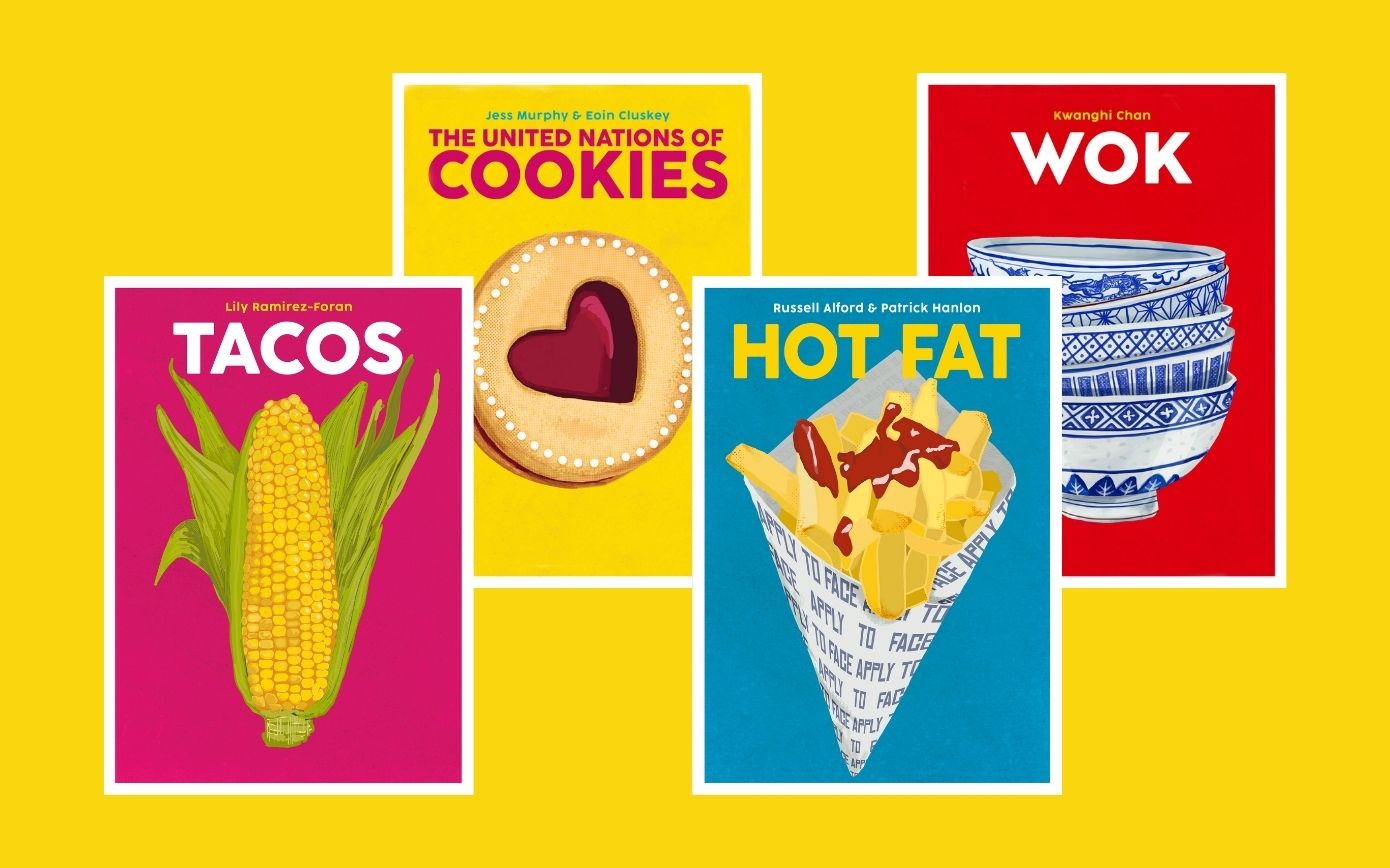 A year ago we were announced as one of the debut authors in the brand new Blasta Books series, a small format cookbook series from new-to-the-market publisher Nine Bean Rows. Kristin Jensen is the visionary behind both the new format and the new publishing house in the Irish market. Tired and frustrated with the formulaic way the industry has gone, hefty, colour picture cookbooks are clunky beasts to undertake and very expensive to invest in, so only the select "few" get them –– Kristin had a vision which made room at the table for other voices. Kristen wanted to provide a platform for those important voices who have something to say and stories in food to tell, but who had yet to be published. A Kickstarter campaign was launched and absolutely smashed all of its targets, meaning the light was green for the series to begin in 2022… But we've been working on this over a year now.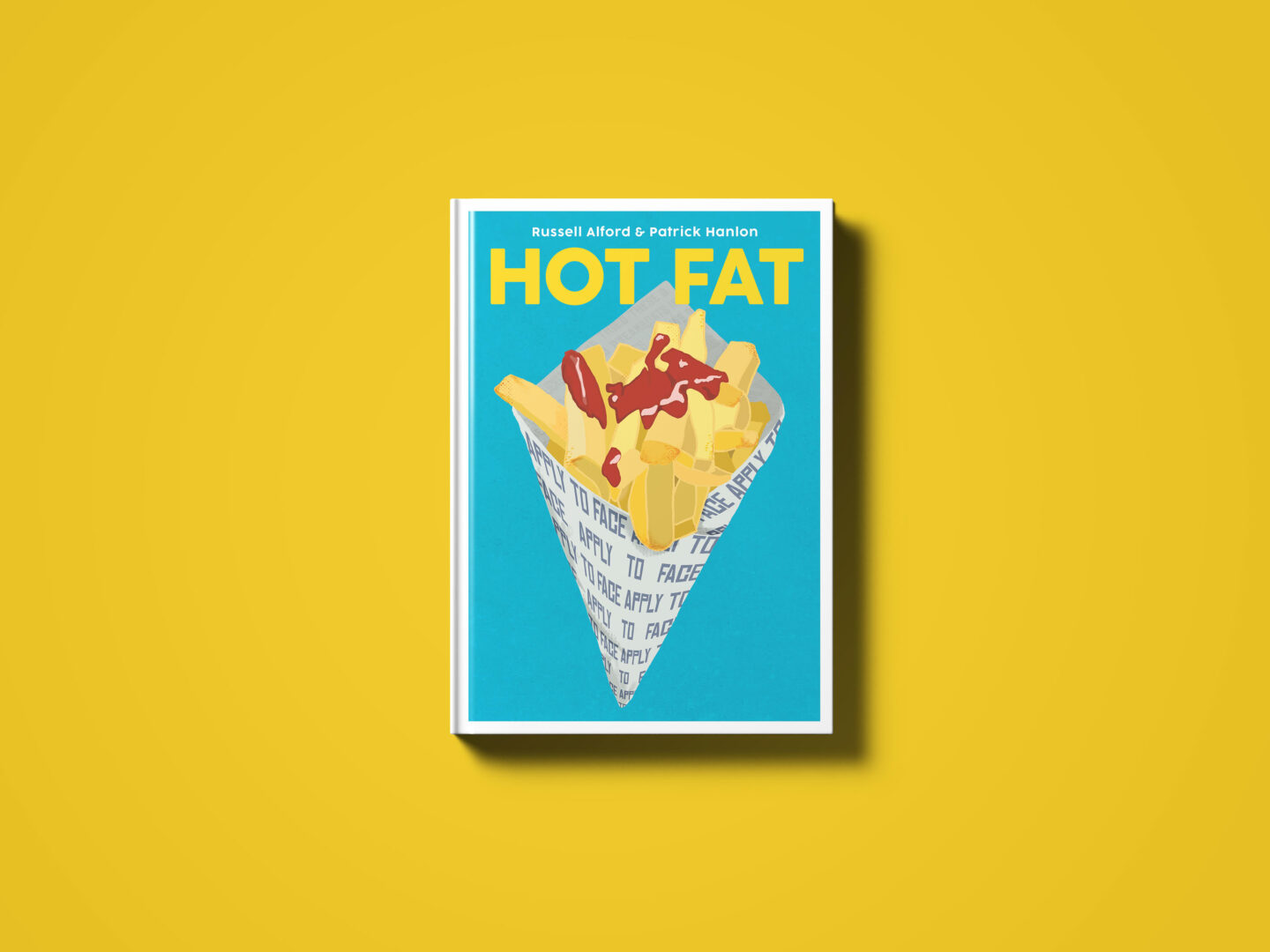 Our book is the second in the series, of which four books will publish in 2022 — one a quarter. Tacos by Lily Ramirez-Foran (writer and owner of Picado shop and cookery school in Dublin) was first to-launch in Spring, and United Nations of Cookies from Jess Murphy of Kai and Eoin Cluskey of Bread 41 will follow in late summer whilst Wok by chef and entrepreneur Kwanghi Chan will round out the 2022 series in November. 2023 will see a whole new set of authors and quarterly books, hopefully!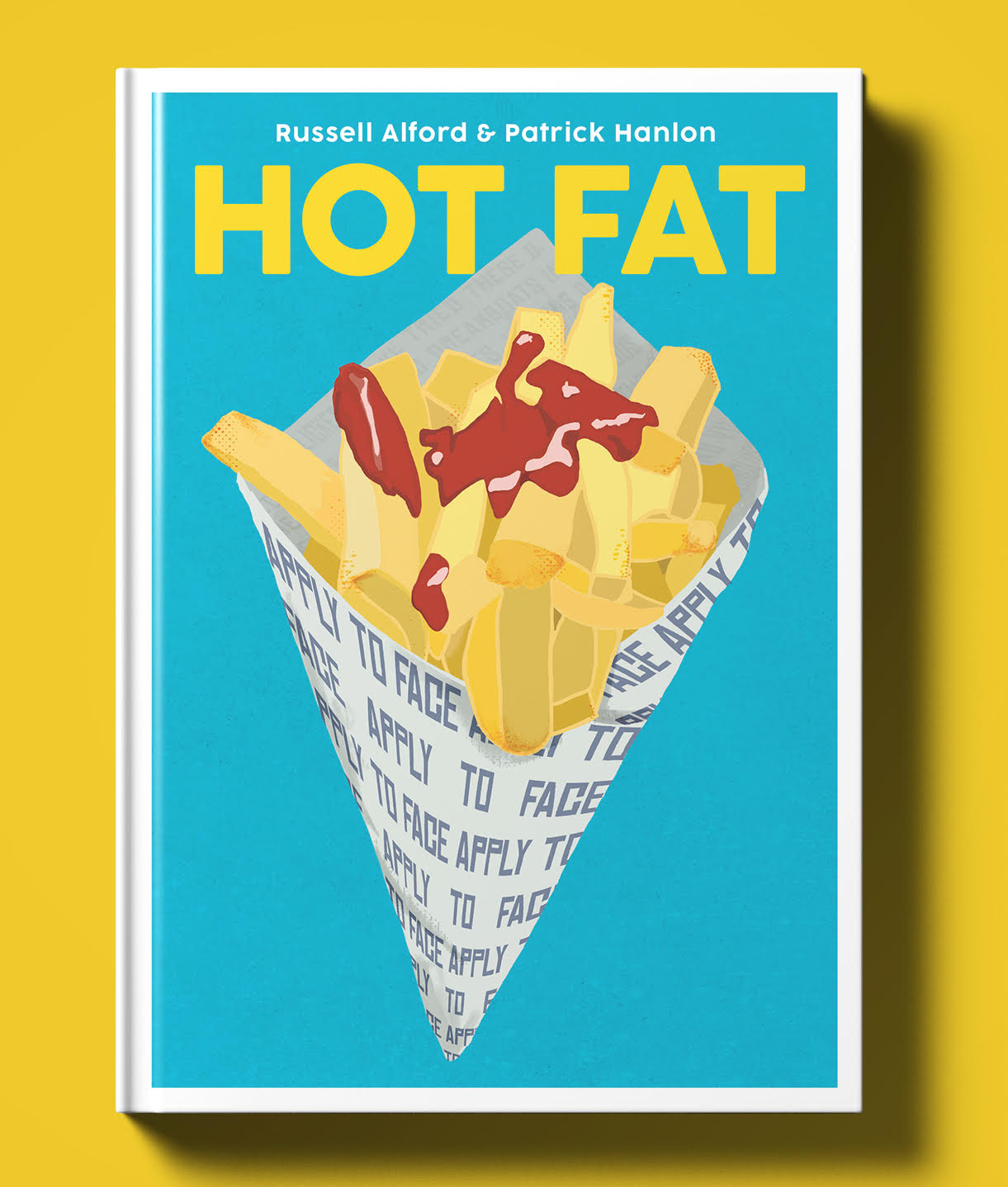 Hot Fat is all about the delicious art of deep-frying, which goes far beyond just chips (but that's a wonderful start, and indeed the cover of the book!) and is a petite, digestible and seriously delectable cookbook to appoint any shelf or kitchen counter. It's the culmination of a year of work and we couldn't be prouder of what we've achieved.
Hot Fat smashes the tired preconceptions of fried food (greasy, unhealthy, beige) and unlocks a world of delicious vibrant flavour and that all-important, craveworthy crunch. Across 30 different savoury and sweet recipes – with all the added sauces, sides and fillings – you'll find the likes of squid ink tempura-battered fish, corn dogs, ginger beer spiced onion rings, buttermilk fried chicken, spice burgers, spice bags, doughnuts and more.
The book is also packed with producers to look out for, as well as wonderful storytelling and useful information about frying safely, the background to frying and what type of oil to use, what fryer to pick up –– we made sure to use every inch of available space to include the useful stuff. It's fun, it's a bit tongue in cheek but it's serious, even with a bold name. We suggested the name Hot Fat to our publisher Kristin and we think it scared her, but we're so proud and heartened that she followed our lead and agreed –– it's incredibly brave to publish a cookbook with the word FAT emblazoned on the cover (at a time when diet books are still taking up most of the space on bestselling lists and book shop shelves) and it's also incredibly brave to take the steer of authors who want to shake up the space a bit and not be so safe. Kristin and us share that spirited vision to ruffle feathers in the right way, and we just know when she told us she was taking a chance on starting a publishing house we wanted to dive straight in and support her 1000%.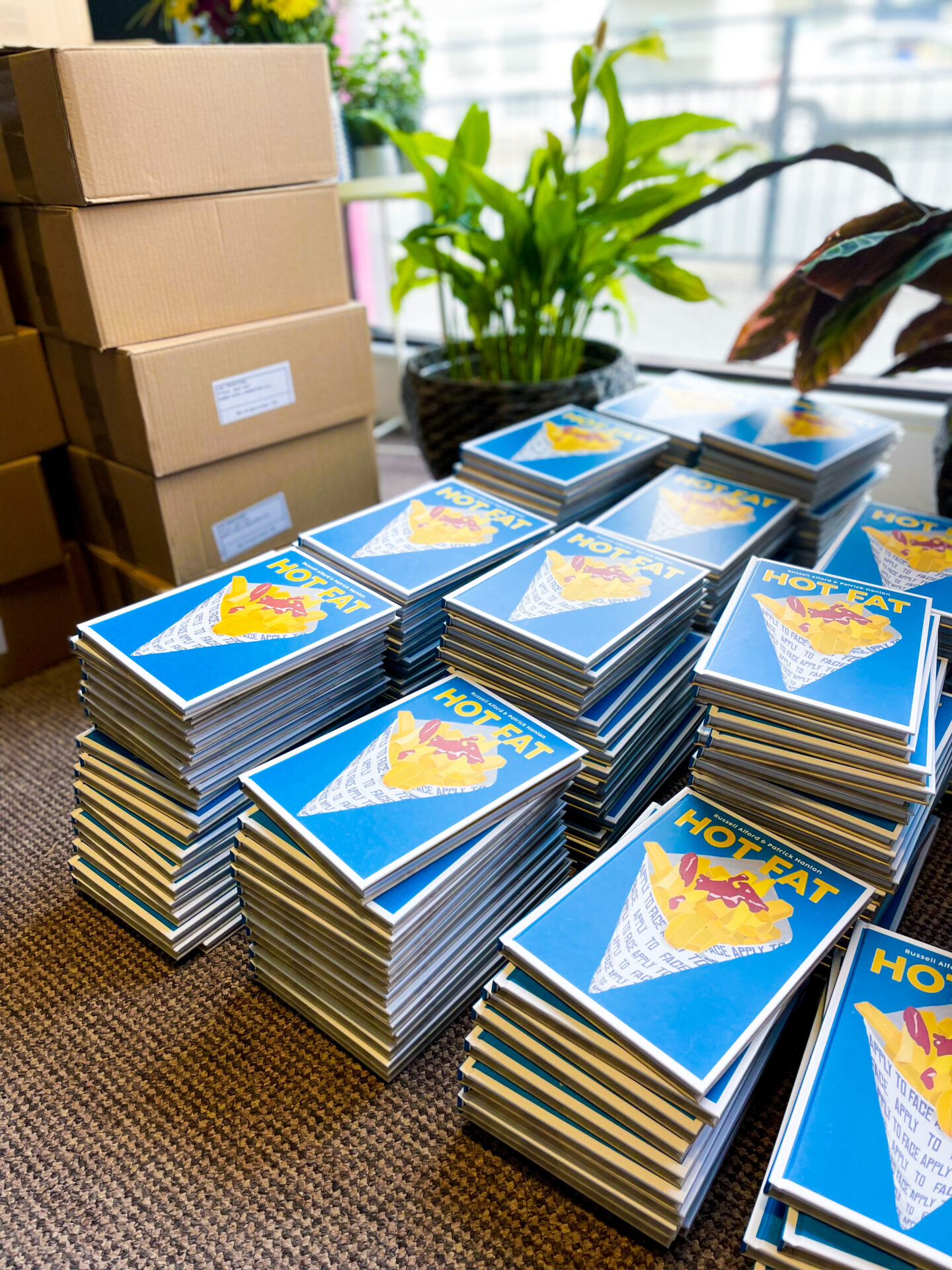 We have SO much more to write about the process of creating our first book. In fact, we've elaborated on the whole process on our Substack newsletter Chip Paper (we think it's really well worth a read, and is available to paid members for €5/month or 10% cheaper with an annual subscription, €52/year)
If you haven't yet gotten your copy, you can order order from us (and we can sign and personalise every single copy!) whilst you can also order from blastabooks.com (including combinations of the other books in the series and extra special merch options) as well as several other retailers, both online and in real life!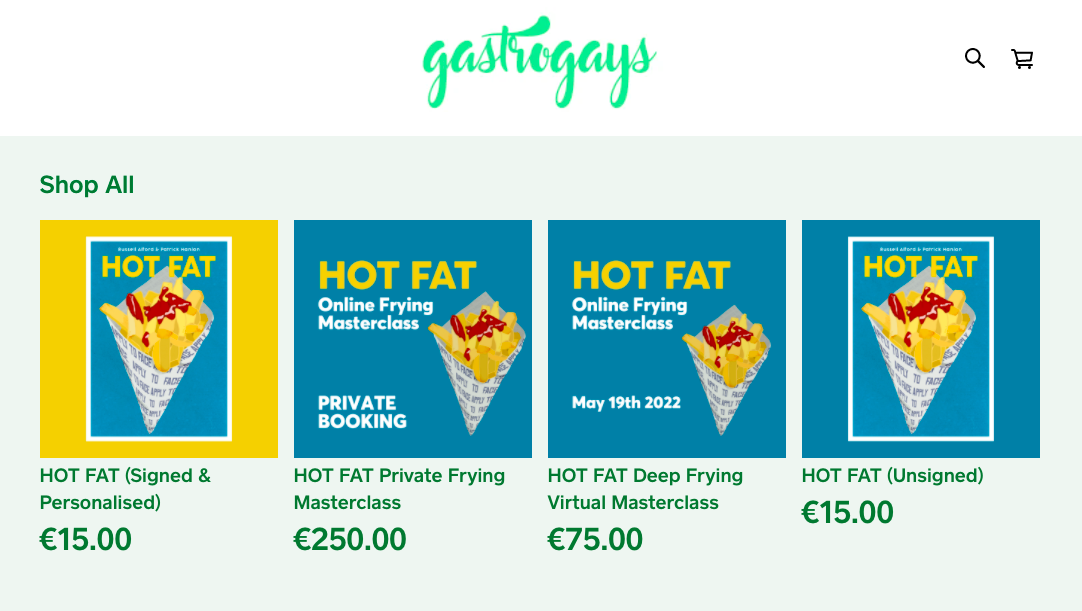 We've also been working away on merchandise ideas which we think are really cool, and whilst we still have some up our sleeves yet-to-launch, we've already gone to market with our Hot Fat Spice Bag Seasoning (which is the recipe in the book, bulked up in portion) as well as our Irish Socks Society Hot Fat socks (in two sizes! 3-7; 8-12). Keep an eye out for more launching soon…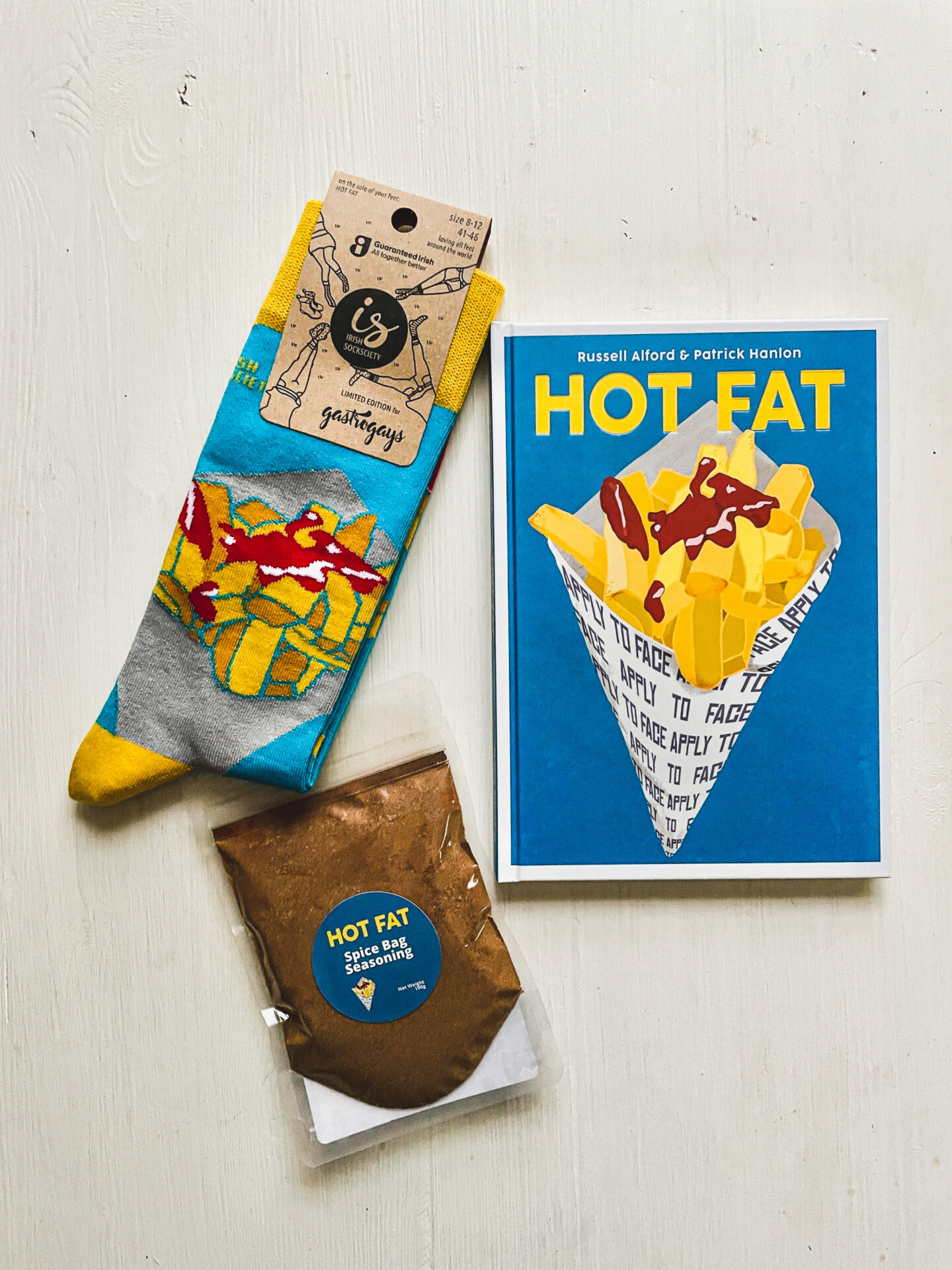 We're also offering the opportunity to book onto an EXCLUSIVE frying masterclass with yours truly! Across a couple of hours we'll cook signatures from the book (as well as two exclusive new recipes, just for attendees) and offer our secrets with a small, limited group, who can be as hands-on or hands-off as they like. That class is taking place on 19th May 2022 and places are very limited but we'd love to have some of you there, so snap up those spaces quickly!
Without you as readers or as part of our audience we would have never had the opportunity to produce Hot Fat, so thank you for coming on this journey with us –– which, we hope, is only the beginning of our adventures in physical publishing… we still have many, many food tales to tell. But we can't wait 'til the first is in your hands!