Christmas 2017 is fast approaching and we're all determined to bring a smile and some joy to our loved ones' faces as they unwrap special, thoughtful – and often delicious – gifts under the tree! Like previous years' guides (2016, 2015, 2014 – featuring great selections some of which may still available), we're going to primarily focus once again in 2017 on edible gifts, drinks ideas and food/cookery books! Note: some affiliate links (Amazon) are present in this post, which offers us a small commission for clicking through via our blog.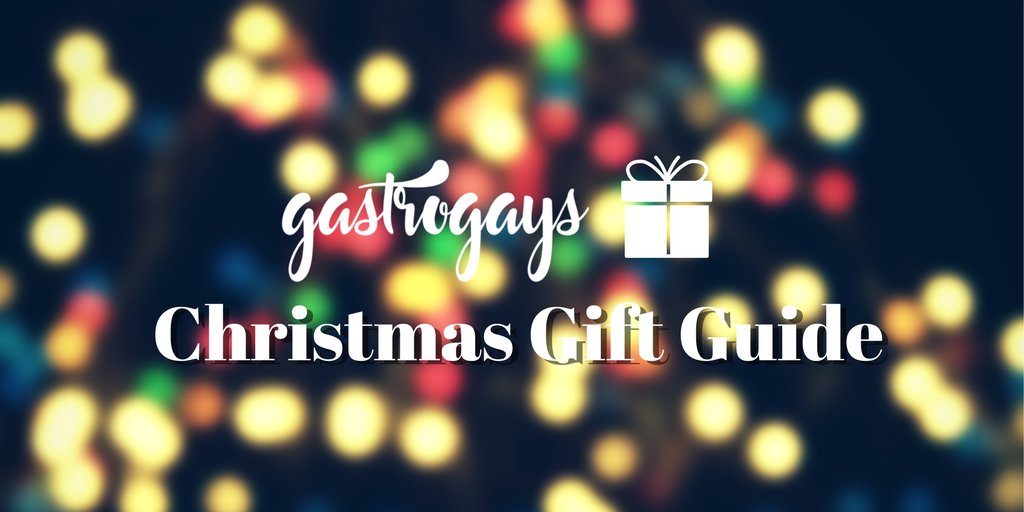 Gifts That Keep Giving
We're greedy. You know that, right? So naturally we believe that a subscription that continues to deliver gift-after-gift throughout the year – not just on December 25th – is always a marvellous idea. Some lucky person will get a gift a month throughout 2018, so here are the gifts that keep the 'season of giving' going for twelve months!
Bean & Goose Chocolate Tasting Club
For that chocolate lover in your life, can we please recommend the Bean and Goose Tasting Club. Sisters Karen and Natalie Keane create incredible flavours combinations with their chocolate products produced in Co. Wexford and on the first Wednesday of each month, the lucky recipient will get 3 individual bars featuring ingredients inspired by Ireland and the area around Wexford. Flavours are always diverse and often feature locally-foraged flavours. Think wild fennel, Irish sea salt, roasted almonds, and fragrant orange peel. Mouthwatering, right?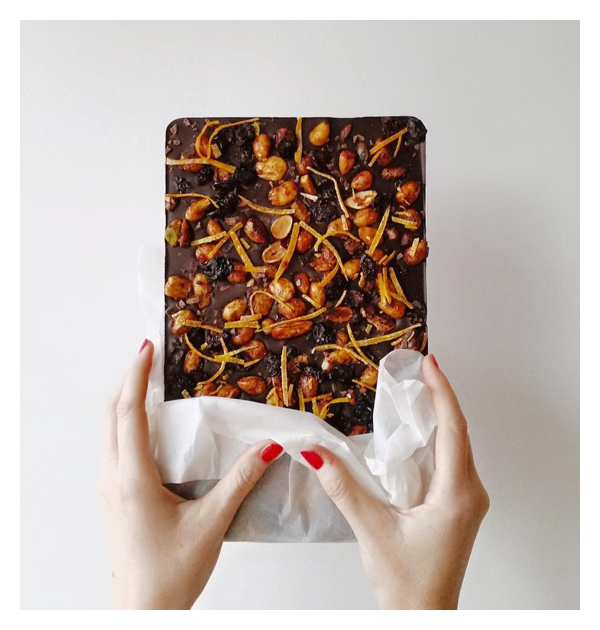 These ladies know great chocolate and have an incredible palate for creative, unique and delicious flavours, so Bean & Goose has long been one of our favourites! Subscriptions are offered in monthly (€19.95), quarter (three month, €59.95), half-year (six month, €107.95) or year-long packages (€204.95) and can be ordered directly from their website.
Pomora Olive Oil
We've mentioned Pomora on the blog a few times before, and testament then because we still really like this idea and the product you get delivered is wonderful. If someone you know is big into cookery, they will like this – whether they're big on Mediterranean flavours or are always running out of oil at the worst times, this will sort them right out!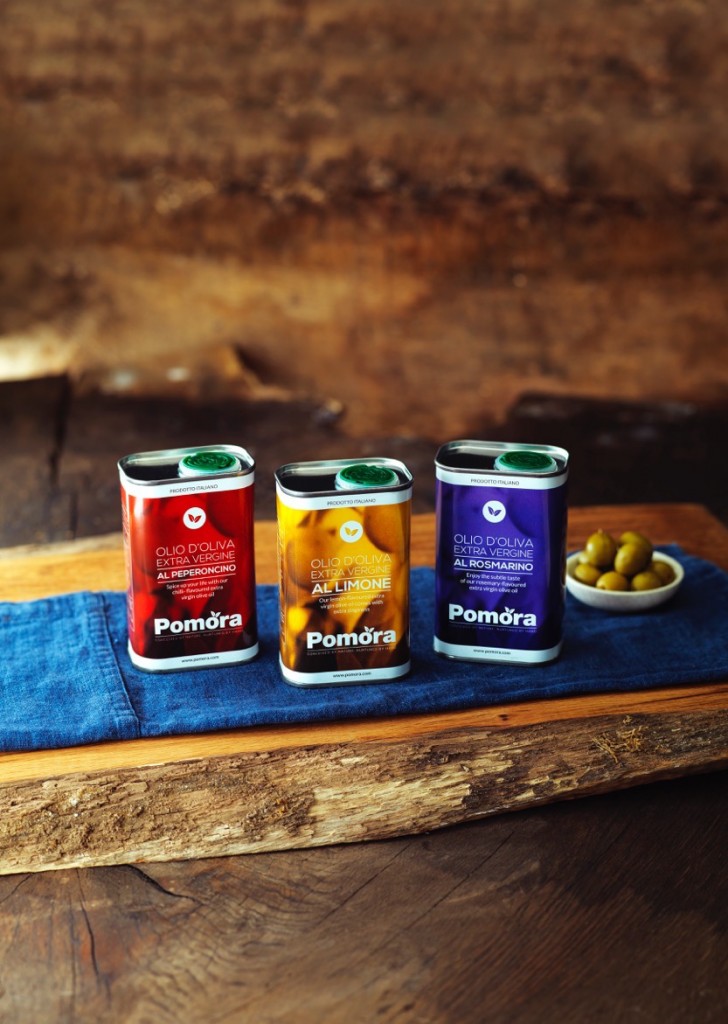 Adopt a tree in Sicily or Campania and sponsor its oil production amongst the company's groves. You'll be given all you need to know about the tree and the process right away and then every quarter you'll receive a trio of 250ml oil cans, direct to your door. They will alter between plain oils and flavoured oils and the service costs around £29 per quarter. Full details available on the Pomora website.
Ariosa Coffee
We love to support local brands as much as we can, and when they're this good, it makes our job incredibly easy. Ariosa Coffee recently took over a vacant cafe in our town of Drogheda and saved the caffeine-addicted of us with the exact casual, convenient coffee shop that everyone needed, serving exceptional coffee with incredible service.
But don't be fooled into thinking these are newcomers! The Ariosa team has been supplying cafes and restaurants around the country since 2003. Now, whether you live in Drogheda or not you can avail of their coffee subscription service with delivery available to both the Republic of Ireland and Northern Ireland on either a six month or 12 month basis. If someone you know is particular about their coffee beans, this is for them. Ariosa sources its beans, grinds to your preferred brewing needs (Aeropress, Chemex, whole bean etc.) and then delivers via courier service on the last Thursday of each month. A six-month, half-yearly service costs €90 whilst a year is €180, excluding the cost of P&P. Order as a gift from the Ariosa Website.
I Love Gin
If coffee, chocolate and oil isn't tickling your fancy- perhaps a gin might? This is where the appropriately named ilovegin.com come into play! For £14 a month, you can gift a box of two gin samples, alongside tonics chosen to compliment the gins given, plus a recipe guide to the perfect serves.
Very useful if you're a gin-fiend like the two of us, and something that will help open the tastebuds of any gin fan to alternatives that they'd not have tried before. It's currently only available in the UK and obviously to anyone over the age of 18. Details on how to order your gin subscription are here.
The Perfect Hampers
For a special food & drink lover, there really is nothing better than receiving a hamper chock full of products to nibble away on when you've officially had too much turkey and ham. Ireland is blessed with some of the best producers in the world and there are so many retailers who'll do the hard job of picking the perfect products to suit your tastes, needs and budget.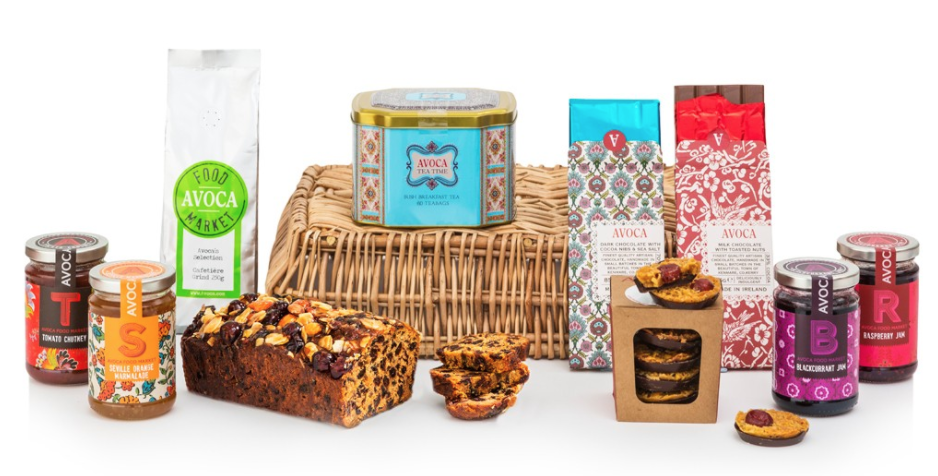 Avoca do Christmas exceptionally, every single year. We've been lucky enough to get the chance to see their kitchens in their base at Kilmacanogue, Co.Wicklow in the run-up to Christmas and we can truly vouch for the quality, care and attention that goes into every single one of their own-branded produce that then punctuates your personal Christmas menu. Avoca is bursting with pride for Irish produce and their All Avoca Hamper (€89.95) is perfect for that person who loves to pop into Avoca for a cuppa and a scone, featuring their iconic jams and chutneys, chocolate, florentines and tea. While for €95, you can get the All Irish Hamper full of local Irish producers, such as Gubbeen oatcakes, Dalkey Mustard, Bean & Goose chocolate and many others. Click through to their website for a full range of hampers, though some may become unavailable online in the run up to Christmas best to check in your nearest store for stock. Delivery is available worldwide.
If you're wanting to keep things local when ordering your hampers, look no further. Dubliners are now blessed with not just one, but two branches of Fallon & Byrne food halls (November 2017 saw the launch of the long-awaited Rathmines sibling to the Exchequer Street original, whilst the Fallon & Byrne People's Park restaurant and cafe is also located in Dun Laoghaire). In either of the food halls, customers can choose between a number of hampers filled with finest and favoured Irish foods. Some options are only available to order within the Dublin area due to perishable products, but the likes of the Gourmet Ireland hamper (€150) is available across the country.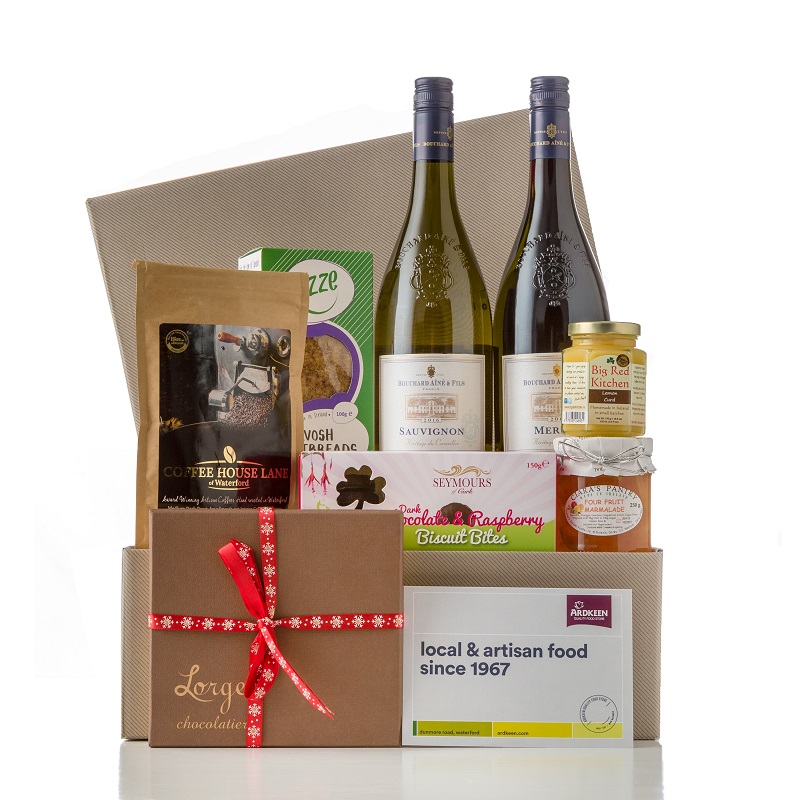 Moving south, the iconic Ardkeen Quality Food Store, which in 2017 celebrated 50 years in business in the Waterford area, offers a fantastic selection of hampers, too. Ranging in price from €32.50 right up to €400, as the frequently-heard Irish saying at this time of year goes: "there's one for everyone in the audience". Products featured in the likes of the Copper Coast hamper include two bottles of wine, coffee from our friends at Coffee House Lane, chocolates from Benoit Lorge in Kenmare, biscuits from Seymours in Cork, and Lemon Curd from Meath. Last orders from Ardkeen can be placed until the 20th December and all details of how to order are on the Ardkeen website (try to resist buying everything for yourself though!)
Out West, the premier larder of all Galwegians, McCambridge's offers incredible choice of hampers, including gluten-free and alcohol-free options available. The Craft Beer hamper for €48 caught our eye for any craft-beer fans, while the After Dinner hamper features all you'll need for a cheeseboard from cheese, wine, chutneys, crackers and pate's and post-dinner chocolates, costing €80. Last day for orders is 15th December, and delivery charges are cheaper for addresses in the Galway region.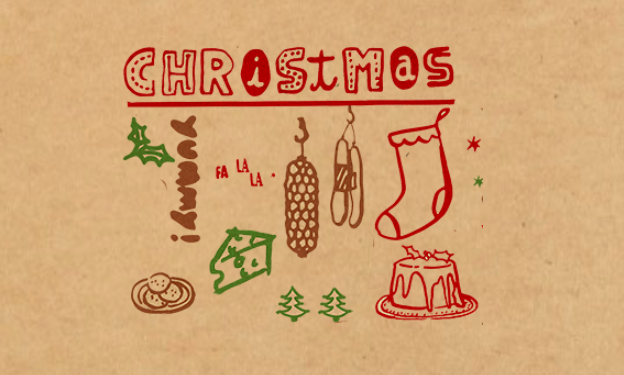 Up North, order from Indie Füde, arguably the Mecca of Ulster's food scene. We recently visited for the first time, after hearing loads about it, and dropped a small fortune buying products from Johnny and Laura. Northern Ireland is one of the most exciting regions of Ireland for food and drink at the moment. These hampers are delivered in bespoke Christmas tote bags, or in wooden boxes, with stunning wood carvings on them. This year, a special Game of Thrones Box is available, called the Winter Feast. Perfect for a GoT fan, it costs £99.95, and has unique products designed by some of Northern Ireland's top producers specially for the box, on the theme of a Winter Feast.
If that isn't your cup of tea, create your own by customising a hamper but there are tonnes of options across their well-appointed range. Products we'd seriously recommend are Abernethy Butter, Broighter Gold oil, Corndale Chorizo, Ispíní Charcuterie, and cheeses such as Ballyhornan Smoked and Young Buck. Visit their website to order!
Food & Drink Stocking Fillers
For some, a hamper might be just too much of an expense. So here's a selection of our favourite products from around Ireland, gadgets and the likes.
James Whelan Butcher Beef Bonds
Last year we gave the gift of Beef Bonds to Patrick's parents and it was one of the best gifts that we've ever given, if we're honest. James Whelan Butchers is slowly becoming more and more well known across the country as they continue to expand into many of the key Dunnes Stores premises including Swords and Cornelscourt. Not to mention the fact that Pat Whelan's butchery brand has been picking up awards left right and centre (the Great Taste Supreme Champion Beef Dripping is a dream, €4.99).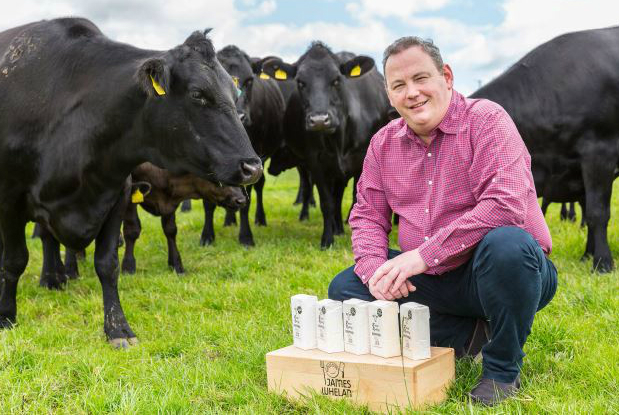 For either €100 or €150, you have a choice between sponsoring the upkeep of a Hereford, Aberdeen Angus or Wagyu cattle. Then, choose how long you'd like the meat to be matured for (14, 18 or 22 weeks) and then reap the rewards upon maturation. You'll get a delivery of a selection of roast Joints, steak cuts, slow cooking cuts like round steak and shin, steak mince and steak burgers, plus some offal and marrow bones too if you're lucky. Our freezer has never been happier and can you believe we only just worked through the last of the meat delivered in April this December! Bestow this to the most devout carnivore you know and they'll love you for life.
Bertha's Revenge
It's been no secret that we love Bertha's Revenge. It's the first product mentioned in our 25 Irish Drinks You Must Try, for good reason. While we're overwhelmed with amazing Irish gin producers around this emerald isle of ours, if there is one you want to give to someone, make it Bertha's.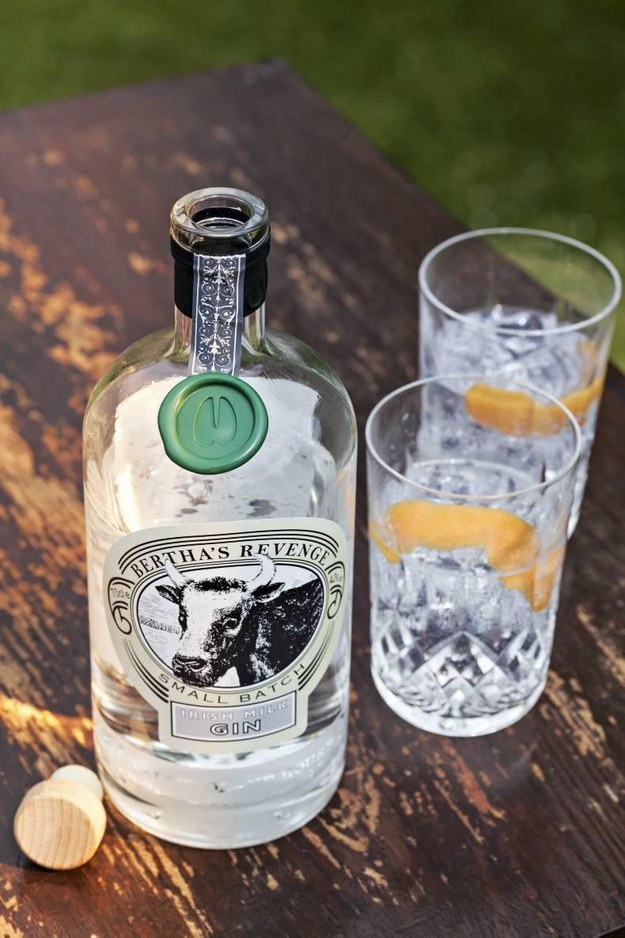 It's a real gin lovers' gin, heady with spicy notes of cumin, cardamom and finished with sweet citrus. Paired with a quality tonic (don't settle for less here) it's a sip that's sure to be treasured. Available across Ireland in off licences, specialist spirit stores and larger branches of Dunnes Stores. In the UK, it's also available on Amazon
(Affiliate Link), and in a number of stores. A full list of stockists is available here.
We included Wicklow Way Wines in our guide last Christmas, and some family and friends took the hint so we then ended up with three bottles of the then-recently released Móinéir Blackberry Wine. Score! Since launching their wonderfully unique Irish fruit wine at Bloom in 2016, this little hands-on winery in the wilds of the Wicklow Way has gone from strength to strength, featuring on the wine lists of the some of the most prestigious and celebrates restaurants and hotels across the country. Both the Strawberry Wine and Blackberry Wine are phenomenal in flavour and they are packed full of 100% Irish fruit. It's like the flavour of an Irish meadow on a balmy summer's day, bottled and ready to be enjoyed year-round. The joy of wine, right?
Móinéir Blackberry Wine in particular is stunning, and a Great Taste Award 2017 winner, ideal to enjoy alongside blue cheese and crackers on Christmas Eve or as a sip alongside your Christmas meal. Its flavour is complex and rich. The Strawberry wine is amazing with goat's cheese or something soft like hot smoked salmon, whilst it also perfectly stands up to spiced dishes like Thai and curries. We're not experts on wine, but we know an incredibly special bottle of wine when we see one. We've loved this as a gift – we know a food lover in your life will cherish this too.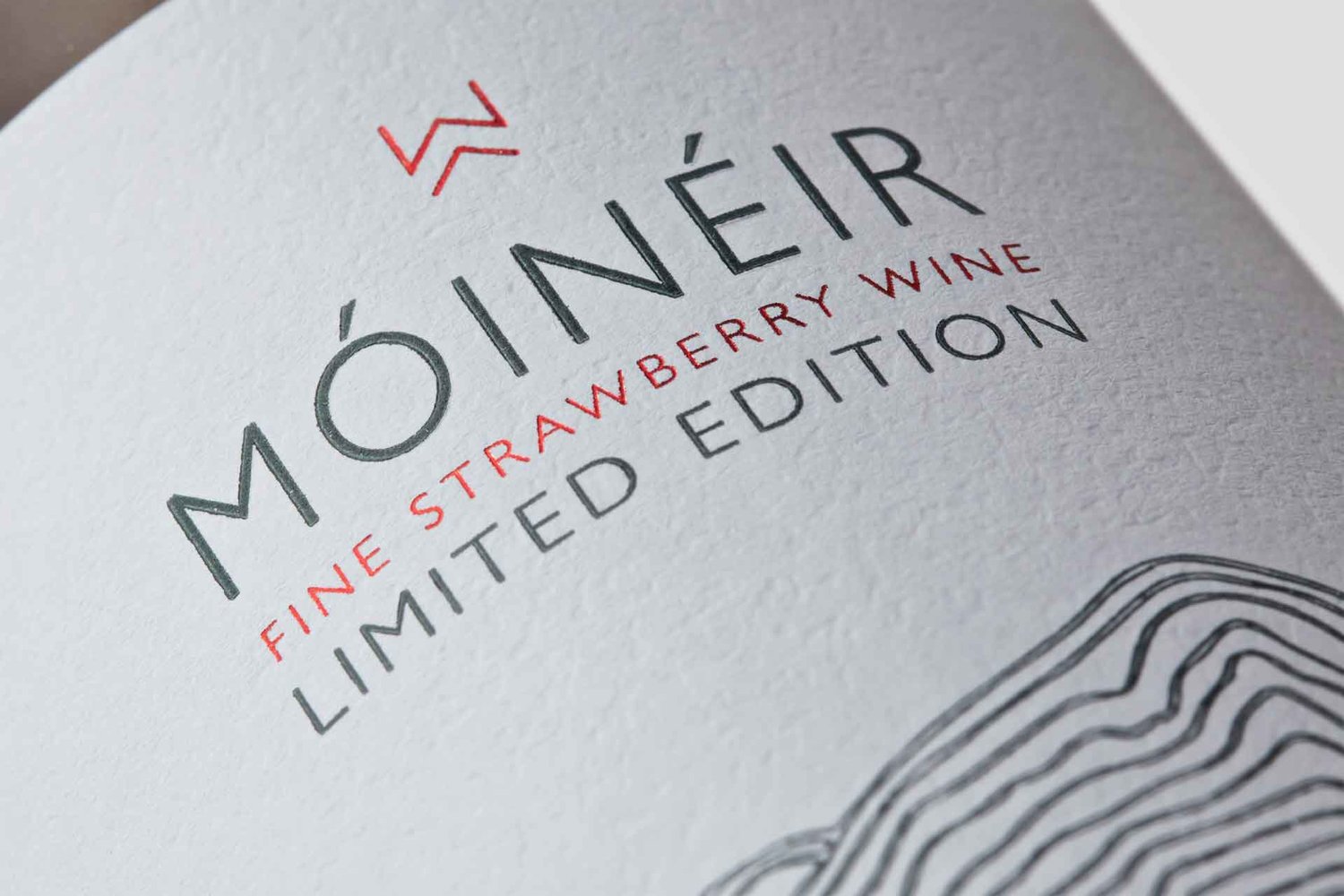 So here's the thing, you can pick up a bottle or two at one of Wicklow Way Wines' many retailers across the country. Or, you can spend between €120 and €145 and invest in six bottles of the stuff by ordering direct from Wicklow Way Wines. Eek, we know, it might sound like a big purchase but hear us out: free shipping within ROI, order direct to your door in a couple of clicks online within a few working days and you can then hold on to a bottle or two for yourself and give away four others to your favourite friends. Or, keep the six (order three of each, we say) within arm's reach in case you find yourself at a loss for a last-minute gift for someone special who slipped your mind in all the festive furore. Either way, an investment, but a worthy one when it's wine!
Sage Appliances Smoking Gun
Sage Appliances and us go way back, and we've used lots of their products. Note: we did receive this next suggestion as a gift, but when we did they told us "you think you won't use it, but believe us, you will". And they were right. We so often have our moments where we try to be overly creative in the kitchen, and nine times out of ten, this smoking gun is in hand as we get up to our culinary hijinks. Hand on heart, it's one of our favourite pieces of kit we've used this year and it's a cinch to work.
We used it in our Smoked Old Fashioned recently and: HNNG! Remember when everyone thought it was weird and 'cheffy' to own a tiny handheld blowtorch? Then the blowtorch became an essential tool in every cook's cupboard. This is what the smoking gun will be in the next few years. Don't say we didn't let you know. The is available to order direct from Sage themselves for £79.95 whilst also available in Lakeland and John Lewis in the UK and Harvey Norman in Ireland for €99. Or you can purchase on amazon using our Affiliate link here
 for €69.99.
Our Six Best Cookbooks of 2017
Cookbooks are dead, long live the cookbook! Nonsense, right? While there are millions of websites and blogs, like yours truly, there will always be a place for a cookbook in our opinion. Getting the pages splattered in oil, adorned with doughy fingerprints and stuck together with sugar is a feeling that just cannot be replicated. Some of our favourite gifts are so often a book we've wanted for a long time, which we can pour over throughout the year. Some we might not even open in the 365 days of 2018, but a book is timeless and having your shelves stocked mean you're never short of inspiration, intrigue and surprise. This year, like last year, we've thumb marked six of our favourites. All links below are affiliates to Amazon, but all titles are available in good bookstores nationwide.
In promoting this book, the winner of the 2013 series of The Great British Bake Off, John Whaite, said: 'food should not be about guilt' and we couldn't agree more as thankfully we feel we're all joining hands and knelling the end of the clean eating nonsense. When plenty of established cooks jumped on trendy bandwagons to sell a few more books, John well and truly stuck with his guns and pursued to publish the type of food we share in our adoration of: comfort. This book is his fourth but is most defiantly the work which defines him most, and best. His recipes here are unashamedly indulgent, rib-sticking, cosying-up worthy and are developed for flavour in the pursuit of happiness, not for virtue. Whilst Instagram and Pinterest is awash with tired old spiralised courgettes, this book is such a tonic. What's more, even the shape and cover have a luxurious, inviting texture. You may gain ten pounds by just glancing at this book, but your happy place inside will thank you for years to come once you've invested in this and cooked from it. A mealtime marvel.
If you've been following us for a while, you'll know that without a doubt, one of our favourite Irish designers is Helen James. She's the vision behind Considered, the exceptional homeware collection exclusive to Dunnes Stores and is one of the Irish brand's designers in residence. We've lost count of the amount of our props and kitchen equipment sourced from this collection, no joke. What Helen has created are practical, functional and stylish interiors. Her items not only have a purpose, they have eye-catching allure, but most of all they provide a sense of home. It's what 'Hygge' and 'Lagom' is in a modern Irish kitchen, we think. Fitting, then, that her first book is called A Sense of Home, and we shrieked with utter joy when we found out Helen was releasing it in 2017. Not a 'lifestyle' book, not a cookbook, not a 'self-help' and not an autobiography, it's simply indefinable. It's the manual you need to have a calm, clean, conscious, clear and… considered… home. There are recipes, notes for decorating rooms, homemade cosmetics and advice on how to live your truly best life wherever you drop your pin and rest your head. Wrap up in a blanket, pour a cup of tea in a gorgeous china cup and live in the moment whilst flicking through the pages of this.
For lovers of food, the release of a new Nigella book is akin to the midnight magic when the clock chimes twelve and a new Harry Potter title officially hits the shelves. Aside from her ever-foolproof recipes, Nigella Lawson's storytelling through food is some of the most engaging you'll find on the shelves today. This is her 11th book and we've lingered on every single word she's written since her debut, the classic How To Eat
. One of us still proclaims Nigella Bites to be her best, the other has a particular penchant for Nigella Express
, but At My Table is a serious contender between us for the accolade of: 'Nigella at her best'. She feels energetic, enthused and excited by food in a more refreshing way than ever, least of all whilst demonstrating these new recipes in the accompanying BBC Two series. The series has been her most beautifully shot yet. We're always biased by a Nigella newie, because we have such a soft spot for her, but this has substance, structure and serious I-Need-To-Make-That ability. If we could all only bottle what Nigella possesses…
Since we visited Lisbon for a first-time (read: long overdue) trip this year, we've been enamoured with Portuguese cuisine. We were blown away by the food culture in the city and we were guided along the way with some suggestions from our friend Laoise Casey. It just so happened that in the past year Laoise's spent quite a bit of time in the Portuguese capital working on chef Nuno Mendes' next book, Lisboeta. The acclaimed London-based chef of Chiltern Firehouse and Taberna do Mercado fame has released a tome dedicated to documenting the culinary life and culture of Lisbon natives.
Shall we count the ways we love Olia Hercules? This Ukrainian-born, London-based chef, food stylist and culinary storyteller is someone who we've long looked up to, turned to for inspiration and admired for her never-ending passion for what's cooking, where it came from and why it's all so marvellous. Her sophomore book, the follow-up to 2015's Mamushka
, documents recipes – all derived from stories and people, naturally – from Georgia, Azerbaijan and beyond. One to pick up that's guaranteed to transport you to parts of the world unseen by your eyes but viscerally tasted through the senses.
If you're not aware, The Gannet is a great, almost encyclopaedic website that tells the most wonderful stories about food, the people who make it, eat it, produce it, teach it and those who dedicate their lives to it. A debut book from one of the founders of the site, Irish Londoner Killian Fox, is a peculiar collection of little oddities and lesser-known facts, which any food lover will be fascinated by and all the more food world savvy for reading. You'll either read it cover to cover, or dip in and out and take what you need. At the launch of this in Dublin, acclaimed Irish Times restaurant critic Catherine Cleary asked as her opening question to Killian: "So how does it feel having written a book that everyone is going to keep in the loo?" Everything from X to Y is covered by this book and it's a wonderful stocking filler.
Book links above are affiliate links to Amazon. We appreciate clicking via GastroGays.com if planning to purchase any of the books above.