"What's seldom is wonderful" is an expression we live by, in cookery especially. Luxury travel to most is a seldom treat – especially to us. We're always more than happy to go economy, snap up a bargain or work to a tight budget. However, on a special occasion, like a birthday, anniversary or personal milestone, sometimes you need to splurge.
The idea of 'luxury' is obviously subjective too. For some, luxury is the idea of arriving at a hotel, being faffed over and bathing in Veuve Clicquot whilst every wish and whim is granted by beckoned call. For others, it's solitary seclusion in the form of a warmly-styled den the stuff of Hygge dreams, a full-bodied bottle of red for one and a book you can get completely lost in for a night. Wherever you seek luxury and for whatever reason, we have a place we want to share and suggest: The Wood Norton.
For us on this occasion, luxury was this beautiful Grade II-listed building in Evesham on the edge of that ultra-recognisable area of outstanding beauty, the Cotswolds – just a 45 minute drive from Birmingham. What you don't see from the exterior is that this setting comes with an eclectic past! A former hunting lodge and grand stately home, this premises was later used as a BBC building!
The stately home was originally built by the exiled Duc D'Orleans at the turn of the 19th century with opulent French-style decor. Tumbling through the hands of many private owners through the 1900s, fast forward to the beginning of World War II and the estate was bought by the BBC to relocate operations away from London. Reconfigured for a new lease of life with studios and a serious amount of output from the 1940s onwards, The Wood Norton became one of the largest broadcasting centres in Europe at the time. Bear in mind, Russell worked as a tour guide at the BBC for almost three years, so he could rhyme more facts about the corporation than you'd expect! The BBC still runs a training academy on the grounds to this day.
Having re-opened Wood Norton Hall in 2012 after a transformative renovation, The Wood Norton now offers 50 rooms including five spectacular suites, a fine dining restaurant serving exceptional British produce – local wherever possible – and both a brasserie and a contemporary bar with shared alfresco terrace.
Great for conferences and wedding venues, The Wood Norton is both opulent and luxurious whilst being comfortable and cosy. We were treated to the Princess Louise suite, one of the five suites at the hotel and it was beyond anything that we're used to.
The décor is traditional British hunting lodge meets French chateau, especially in the bedrooms and suites. The size of the Princess Louise suite was actually a little overwhelming in the best possible way and we spent the first hour just pointing out all the details of the room(s) with awe – you can tell we're so not used to this kind of luxury!
The bed was light as a feather but thick cotton bedding was perfect to wrap yourself up in whilst the room also included lots of hanging space, a full-length mirror and a beauty station. Brides will live for this and us pair of queens were in our element! Separate seating areas meant we could work on our laptops curled up on sofas in a choice of two rooms. The Wi-Fi was fast and free and the room included a Nespresso machine with choice of capsules (very important – we don't all like lungo!)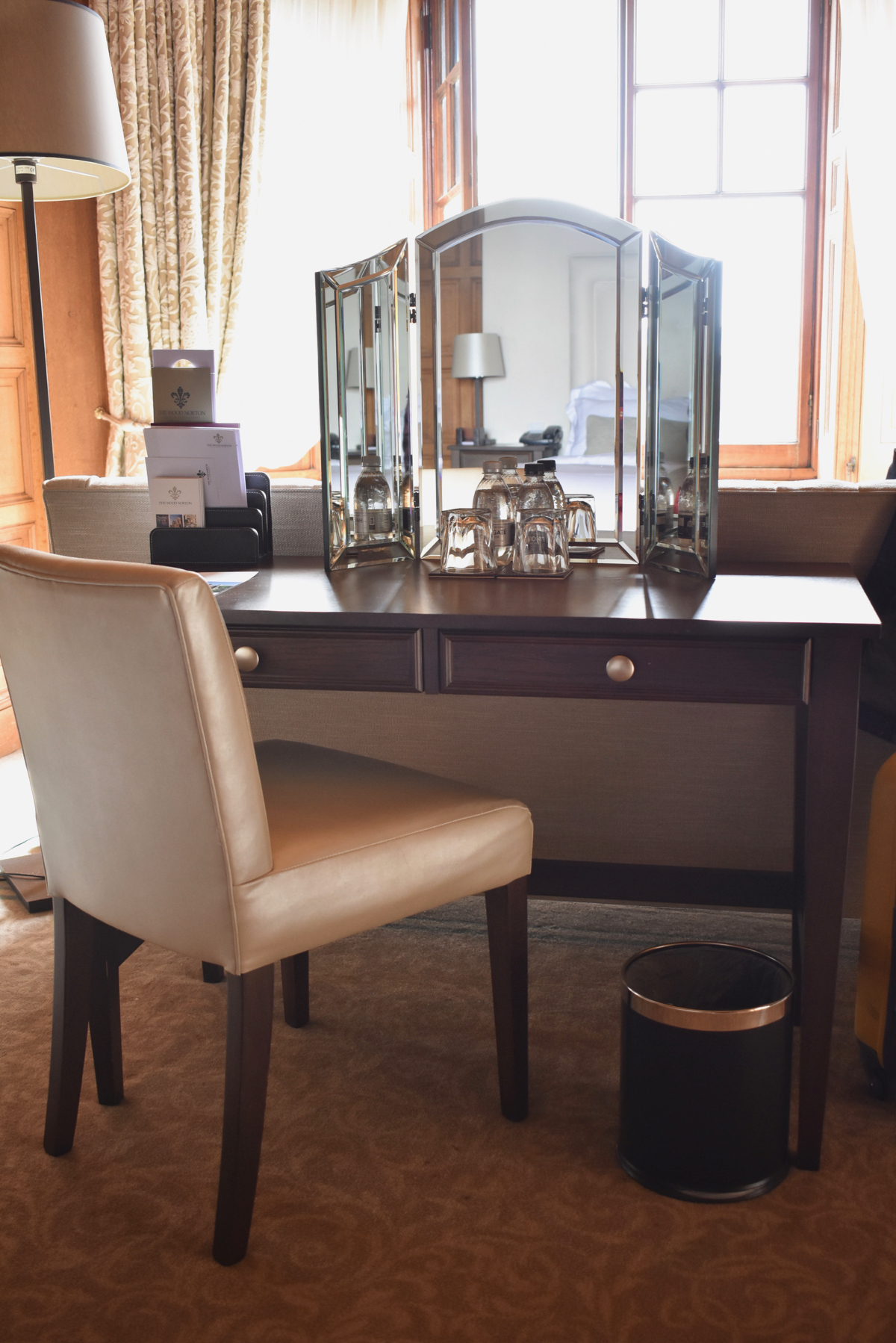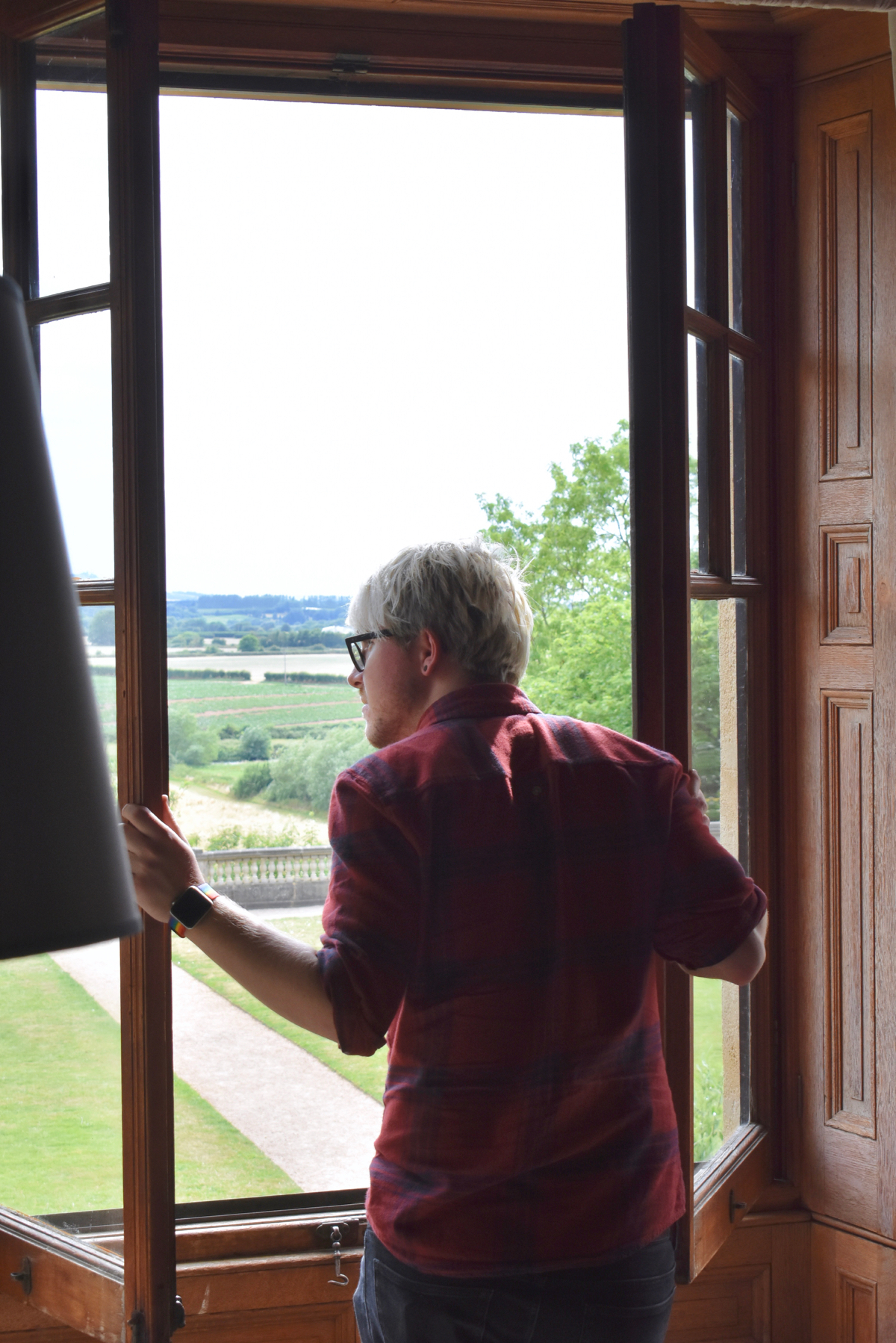 Then, we have the bathroom in the Princess Louise suite which was pretty much bigger than our flat in London! By far the biggest and most luxurious bathroom we've ever experienced, it features a wood panel surround and marble flooring, whilst there's even a large bay window bathing the space in natural light.
Alongside a huge tub (big enough for two, if feeling romantic!) and a glass pod shower room with powerful double shower, Molton Brown toiletries come as standard and in abundance. This bathroom is so spacious and inviting that it's a joy to spend time in – it's easy to see why this is an incredibly popular suite for wedding parties getting ready before the big day ahead.
The Princess Louise suite even boasts its own balcony overlooking the grounds, right above the terrace below.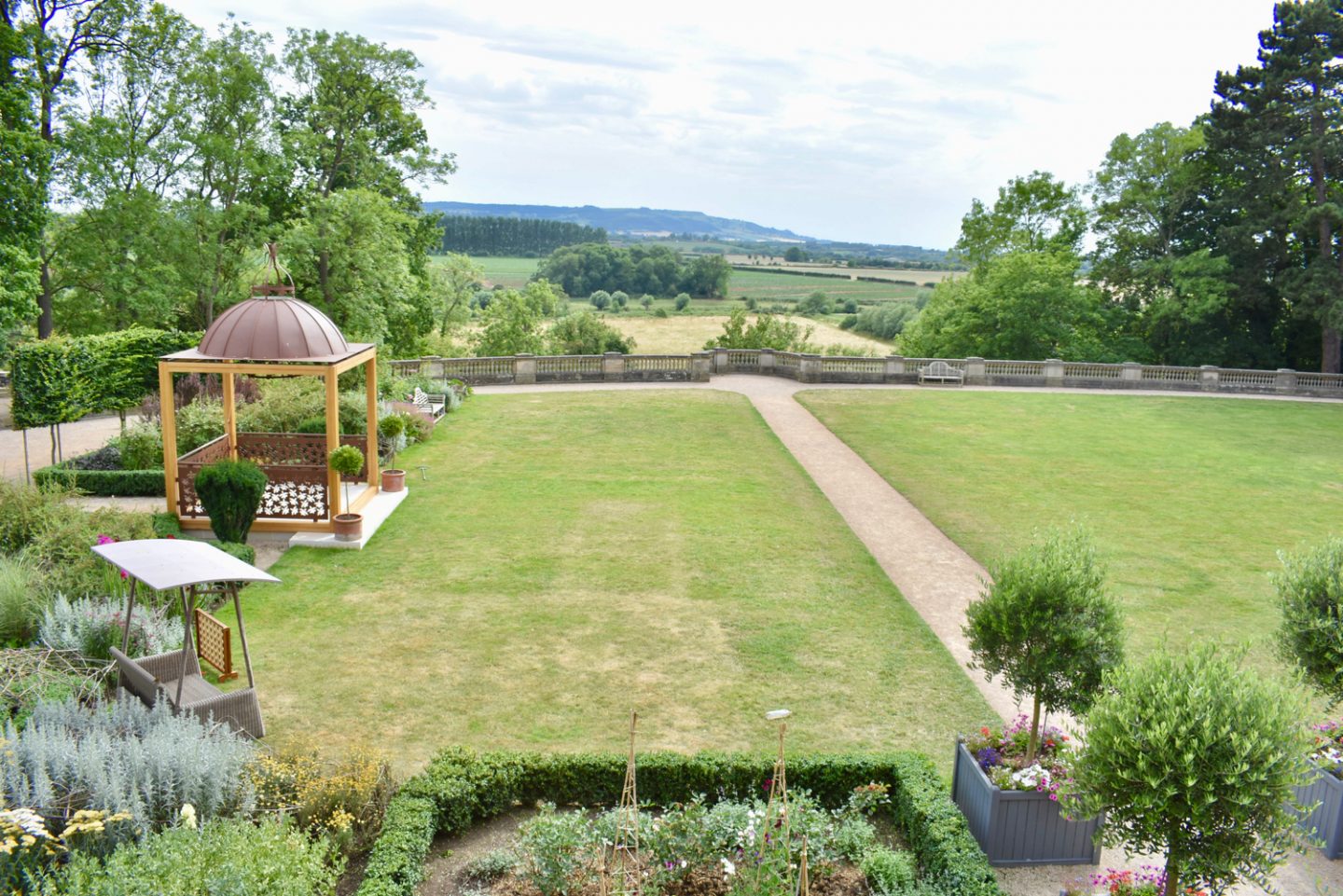 We loved the elegant and traditional touches of the hotel but the bar is more of a modern and contemporary take on tradition, mixing tweed fabrics, parquet flooring and leather chesterfields with bright pops of colour, metal-topped bar and modernist paintings.
Though there's a small but well-formed wine list, we particularly loved the selections of gin that the bar stocked, including one of our favourites from Ireland, Drumshambo Gunpowder, and each of the gins we ordered came with local Franklin & Sons tonic water.
You'll even find some seriously unique rooms in the hotel, including the Duc's former bathing quarters! There's also a house cat, named Bear, who freely roams around the property and is loveable and every guest's friend – he's always eager to make a new friend who will give him chin and ear scratches! 90% of the time, though, he's curled up in a ball sleeping somewhere!
We ate breakfast both mornings in the hotel and the spread of cold meats and cheeses, warm pastries, fresh juices and yoghurt pots with fresh compote and fruit salad was enough but there's also a hot menu you can order dishes from the kitchen on and we had to have a traditional English and an omelette Arnold Bennett.
We also ate dinner in both of the restaurants – one on either night. The first night we opted for the more casual and traditional Fleur de Sel Brasserie where we ate from the summer specials menu of grilled plaice fillet and beef ribs with maple pork belly. On our second night we were booked in to the fine dining Fleur de Lys restaurant for a tasting menu experience which had all of the best elements – local produce shining, dramatic reveals, cloches, piping hot souffles delivered to the table in seconds. It all amazed us, but most importantly it tasted incredible. Really impressive for a pair of hotel restaurants, we very much recommend booking in with reception to try one or the other.
Secluded on a south-facing hill overlooking lush woodland and widespread farms, throughout The Wood Norton's extensive grounds there are pristinely manicured yet not stuffy formal gardens and ample green space. English Heritage was tasked with designing a classic French garden which ties in beautifully to the French architecture and history of the property. There are rose bushes, herbs, sweet-smelling lavender plants and even bee hives on site (the spoils of which you can try at breakfast!)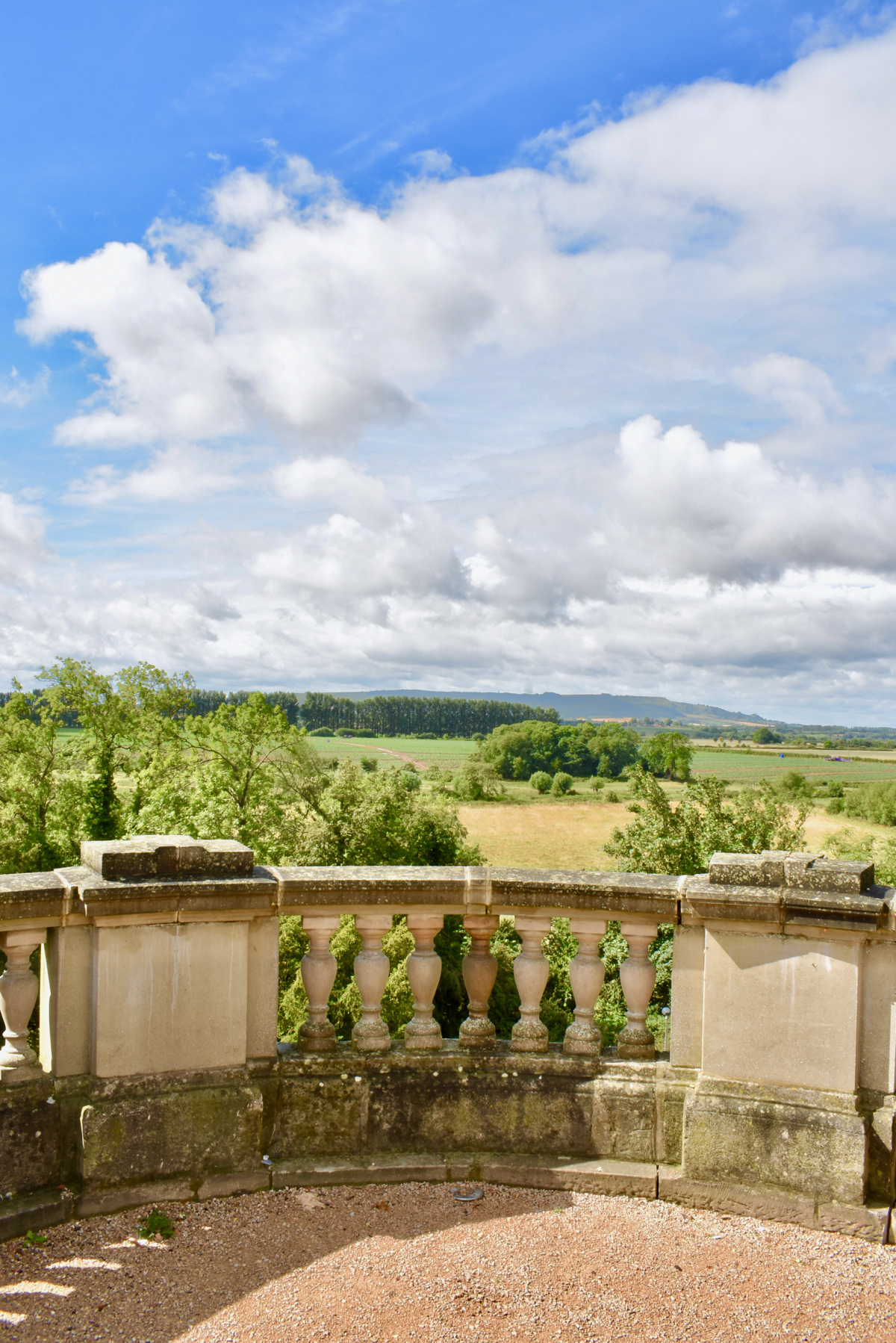 Equidistant from Worcester, Stratford-Upon-Avon and Cheltenham, Birmingham Airport and the NEC is only 45 minutes away; Cheltenham Racecourse is 30 minutes' drive and The Belfry is also 45 minutes away. Birmingham and Oxford city centres are less than an hour's drive.
We sound like we're gushing but it's because this place is something we're totally not used to and it blew us away. For us, luxury is a once-in-a-year type treat and there's no doubt that this was definitely a highlight of our year! The Wood Norton is the perfect location to explore the Cotswolds, one of the most beautiful parts of the United Kingdom.
Fancy a stay at The Wood Norton? Book via this #AffiliateLink and you'll help support us as we receive a tiny percentage commission. We appreciate the support!
Disclaimer: We stayed as guests of Wood Norton on a complimentary basis after we got chatting over email. We paid for some of the food and drink but the two-night bed and breakfast stay was organised in a complimentary capacity.