Recently we invested in a Weber Kettle Barbecue after discussing it for quite a while and, we have to say, we're in love with it. It was a great decision and we've loved experimenting with charcoal, cooking over open flame and all the smoke and char BBQ cooking affords. Safe to say Meatopia in Dublin's Open Gate Brewery every year and people like Andy Noonan have inspired us along the way. Summer time and the smell of hot smoking charcoals are a match made in heaven, and the flavour which is imparted on food from this method of cooking is second to none, if you ask us.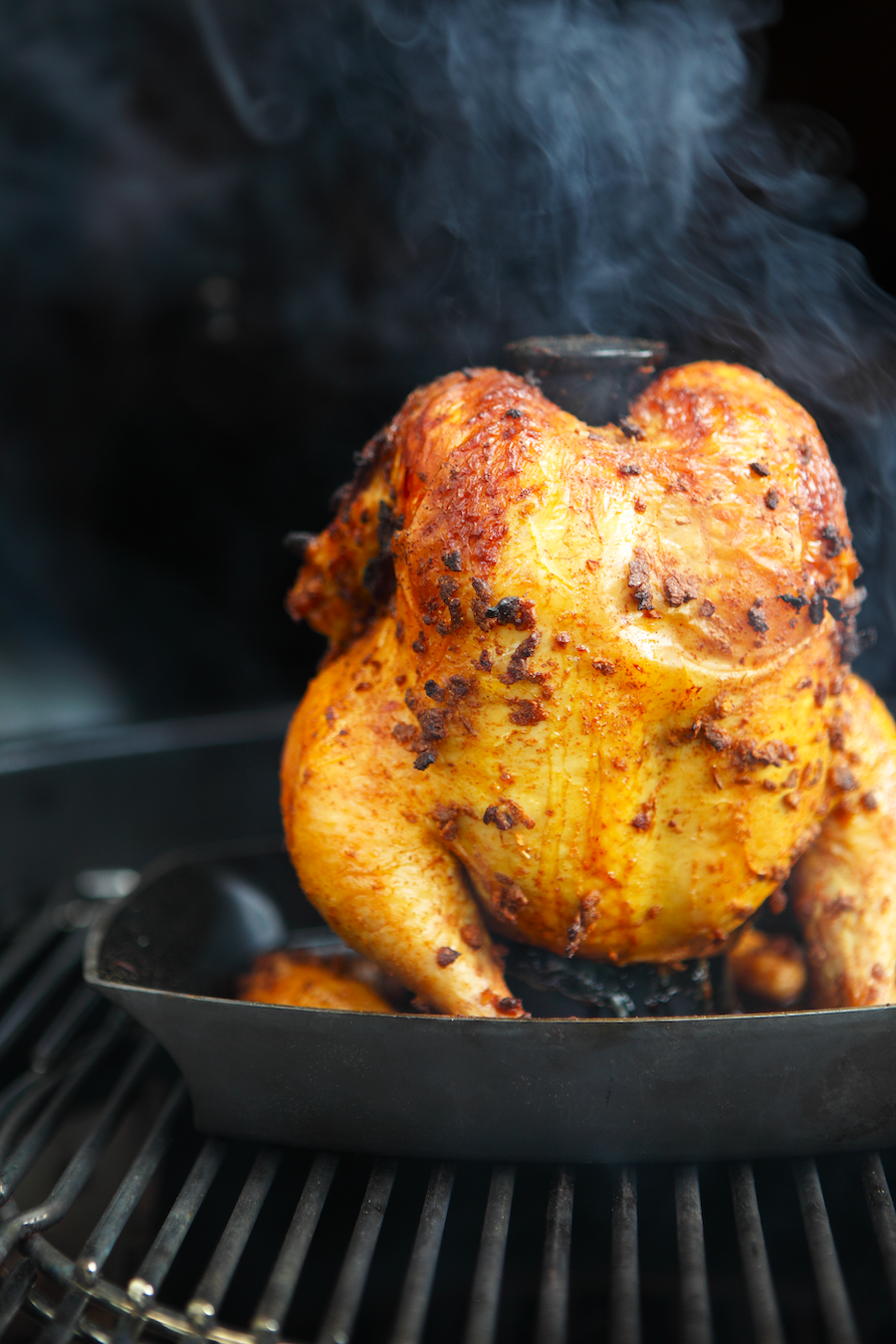 Recently we were invited to an event hosted by Weber by our PR pals to try out some food cooked using some different bits of their range, which included showcasing some of their BBQ product lines too, including a Weber Poultry Roaster and thermometer. We asked if we could share the love with our audience and offer the opportunity to try these out too so if you love BBQ and are inspired to get grilling yourself, drool and savour at the delicious recipe we've been supplied with below and then scroll to the bottom of the page to enter our competition. In the meantime, here is a recipe which you can try out on your BBQ, supplied by the Weber team which we sampled during the event, and it is just gorgeous!
BRB, firing up the barbie ourselves! 🔥🍗
Satay Beer Chicken Infused with Thai Spices
Serves: 4 – 6

Difficulty level: Medium
Preparation time: 10 minutes
Grill time: 1 hour 10 minutes
Grill temperature: 180 °C
Grill method: Indirect 
Equipment: GBS Poultry Roaster
Core temperature: 75 °C
Ingredients:
Rub
2 tsp turmeric
2 tsp curry powder
2 tsp ground ginger
1 kg whole free-range chicken
1 tbsp soy sauce oil
200ml satay sauce
Sesame seeds
1 bottle of Tiger beer
1 stalk of lemongrass
1 peeled thumb of ginger
1 split red chilli
1 lime
Method:
First make the rub for the chicken by mixing all the ingredients together.
Next create some shallow cuts all over the chicken with a sharp knife. This will help flavours infuse into the meat and reduce cooking time.
Lightly coat the exterior of the chicken with soy sauce then evenly coat with the rub.
Finally smother the whole bird with the satay sauce.
Half fill the GBS Poultry Roaster cup with the beer followed by the lemongrass, ginger and chilli.
Firmly sit the chicken onto the GBS Poultry Roaster cup making sure the chicken is stable and upright.
Cut a wedge of the remailing lime and plug the neck cavity of the chicken. This will help keep all the scented steam in the carcass and stop it from escaping.
AT THE BARBECUE:
Prepare the barbecue for indirect heat, approx. 180°C. If using a charcoal barbecue, you need a half chimney starter of lit briquettes.
Roast the chicken over an indirect medium heat for approximately 1 hour 10 minutes or until the meat has reached 75°c. It is recommended you probe the meat with an instant read or I Grill Thermometer.
Allow the chicken to rest for 10 minutes before carving.