Looking for a five-star hotel near Grafton Street in Dublin? Literally steps from one of Dublin city's two main shopping thoroughfares, there's something so unique about The Westbury, a five star hotel in Dublin city centre. From the service to the food, that cocktail bar to the new terrace suites, this is one of the best hotels to base yourself in in the Irish capital –– and we're gonna tell you why.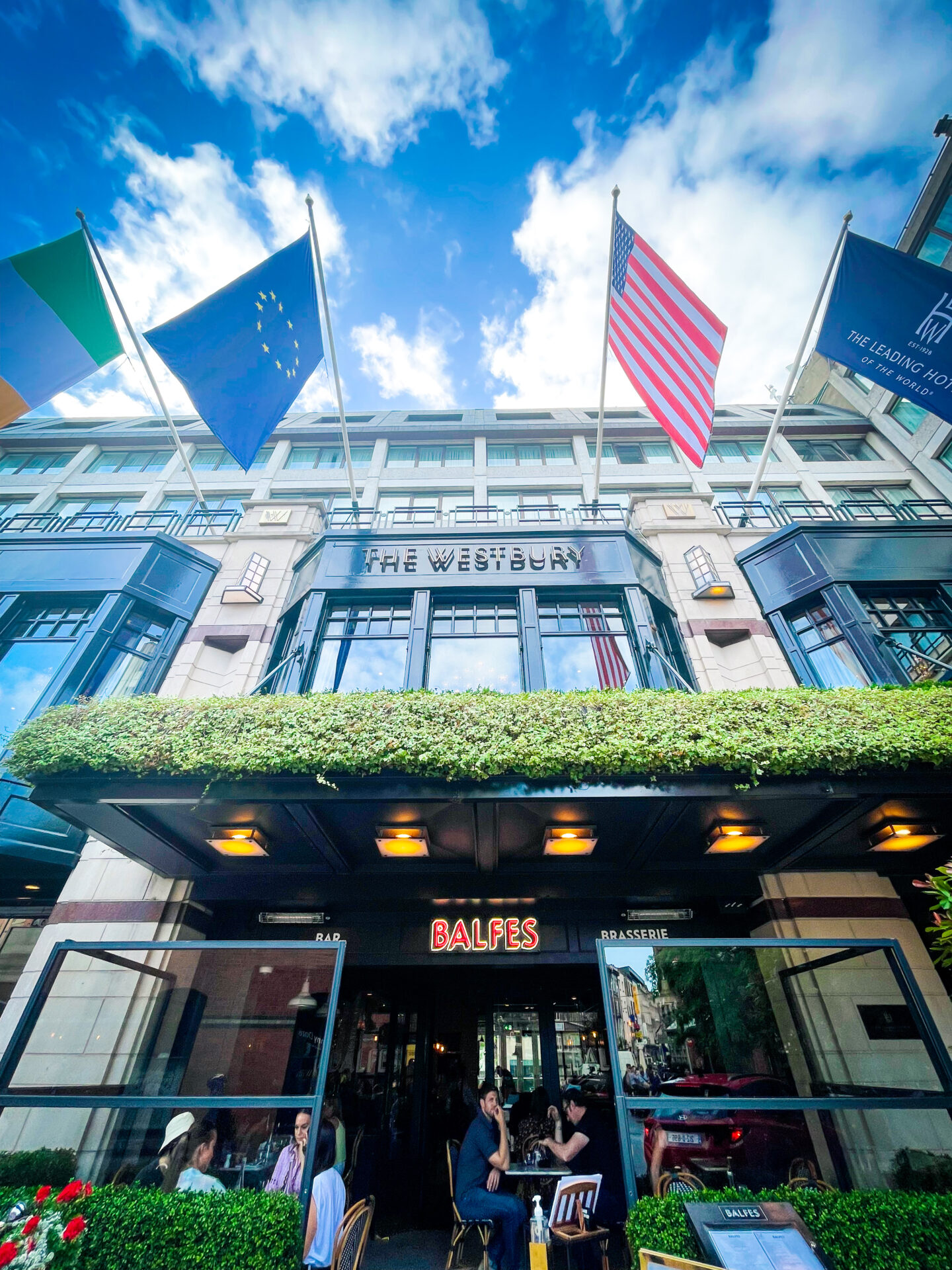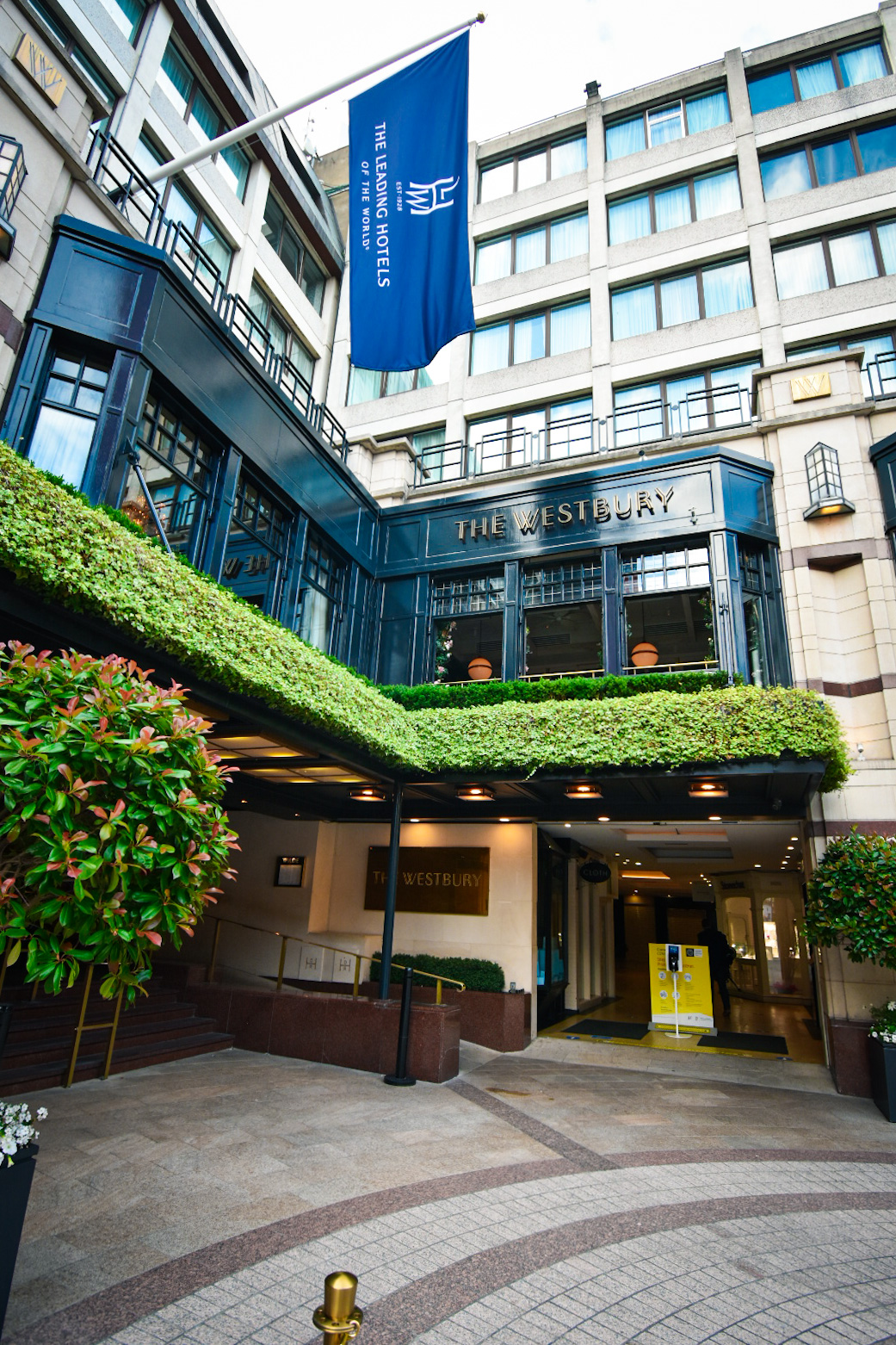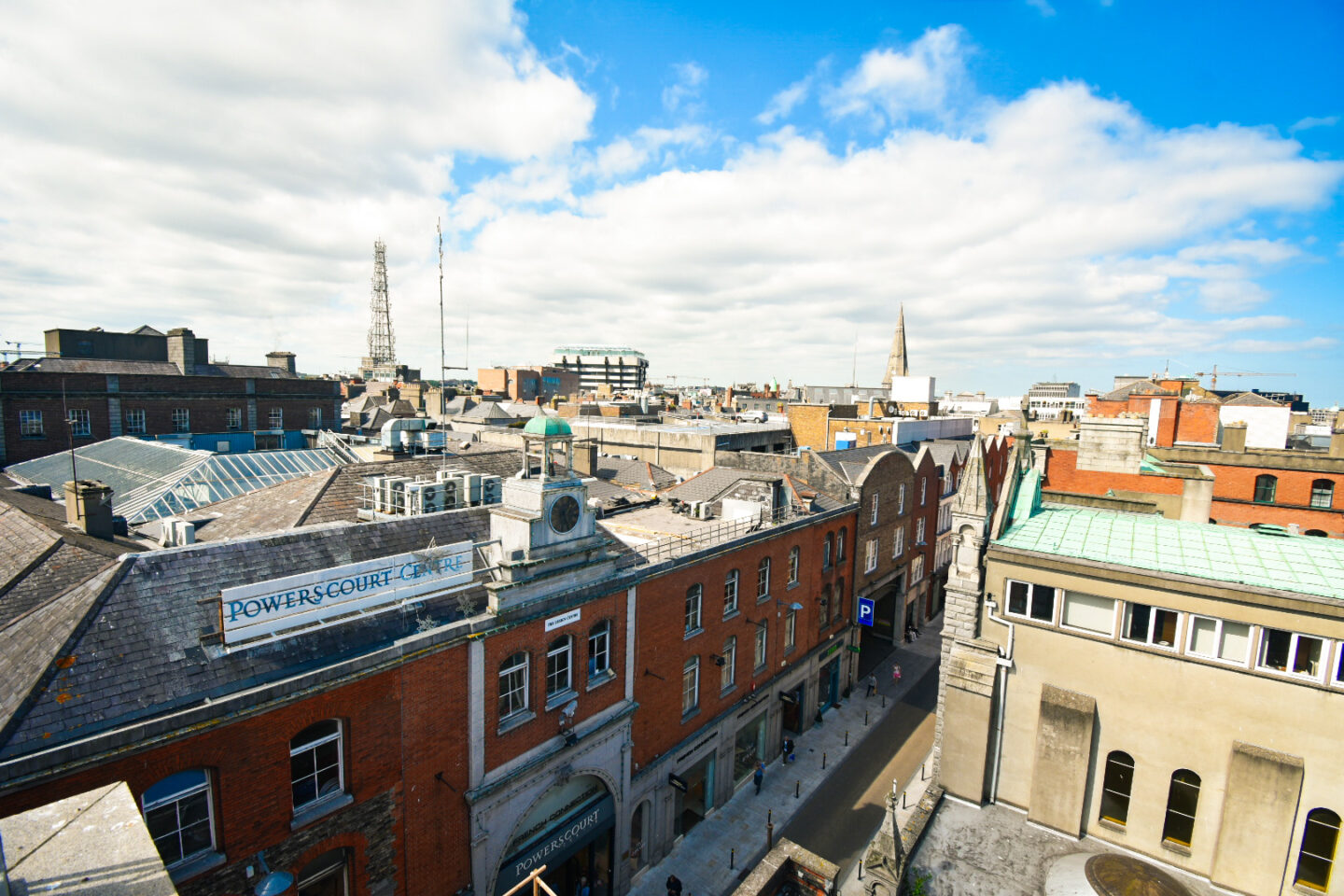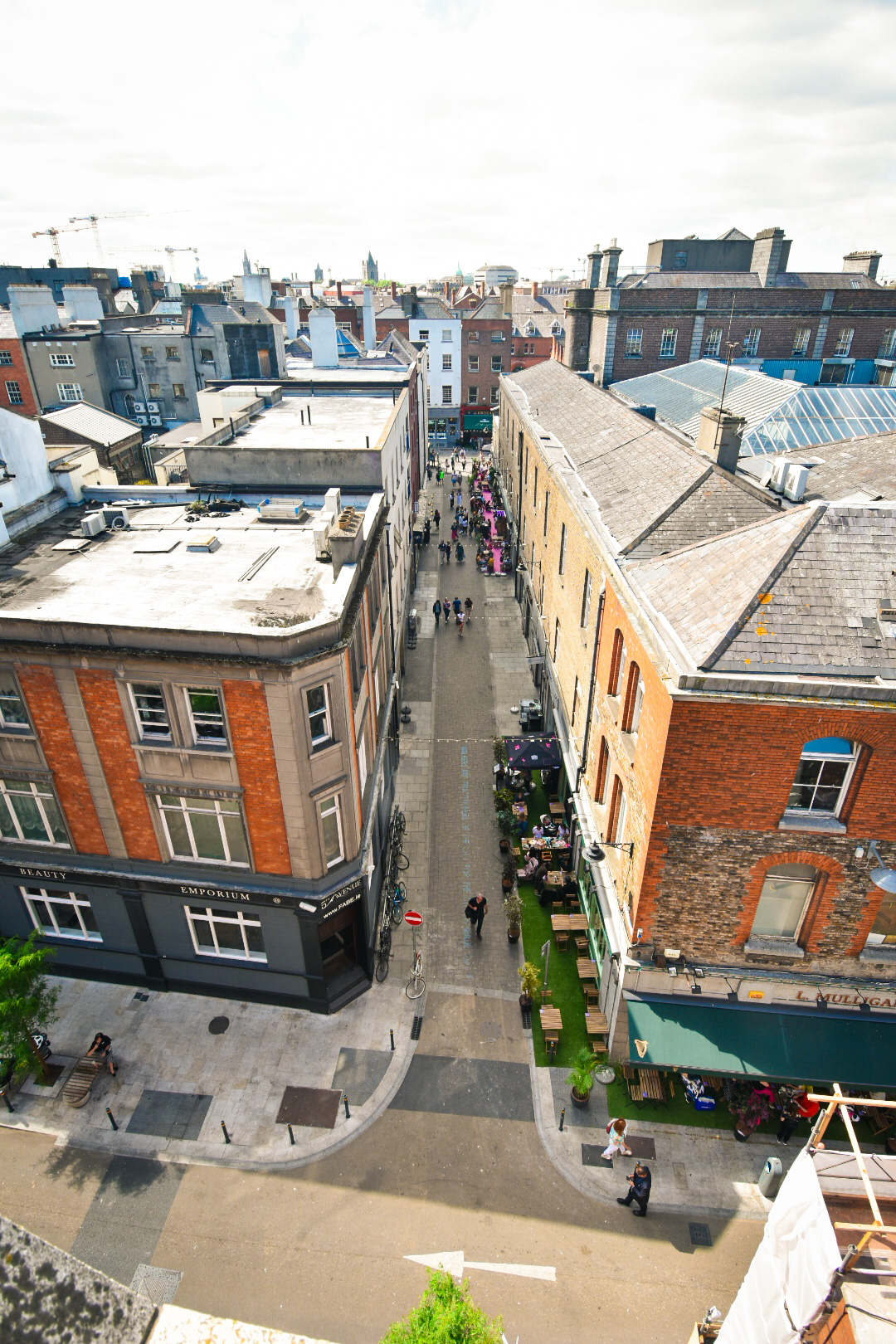 By steps we mean literal steps from the shopping highway of Grafton Street, with luxury department store Brown Thomas and the resplendent and historic Georgian Powerscourt Centre moments away as well as the trendy areas of Drury Street and South William Street a stone's throw for lots of cool boutiques, cafes, wine bars and restaurants. If you're looking for a hotel stay for shopping and dining in Dublin city centre and need a central hotel to base yourself in, this is the one.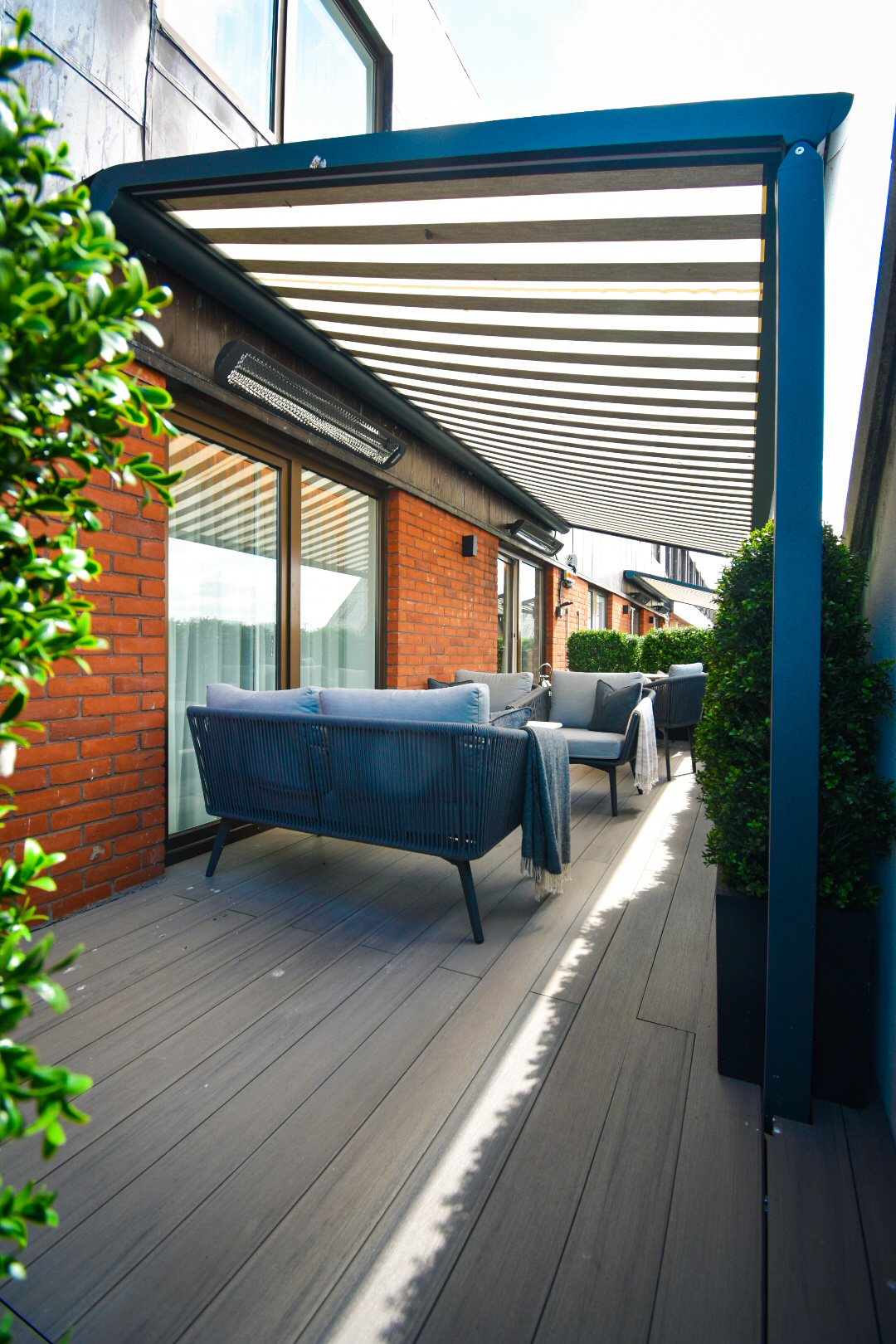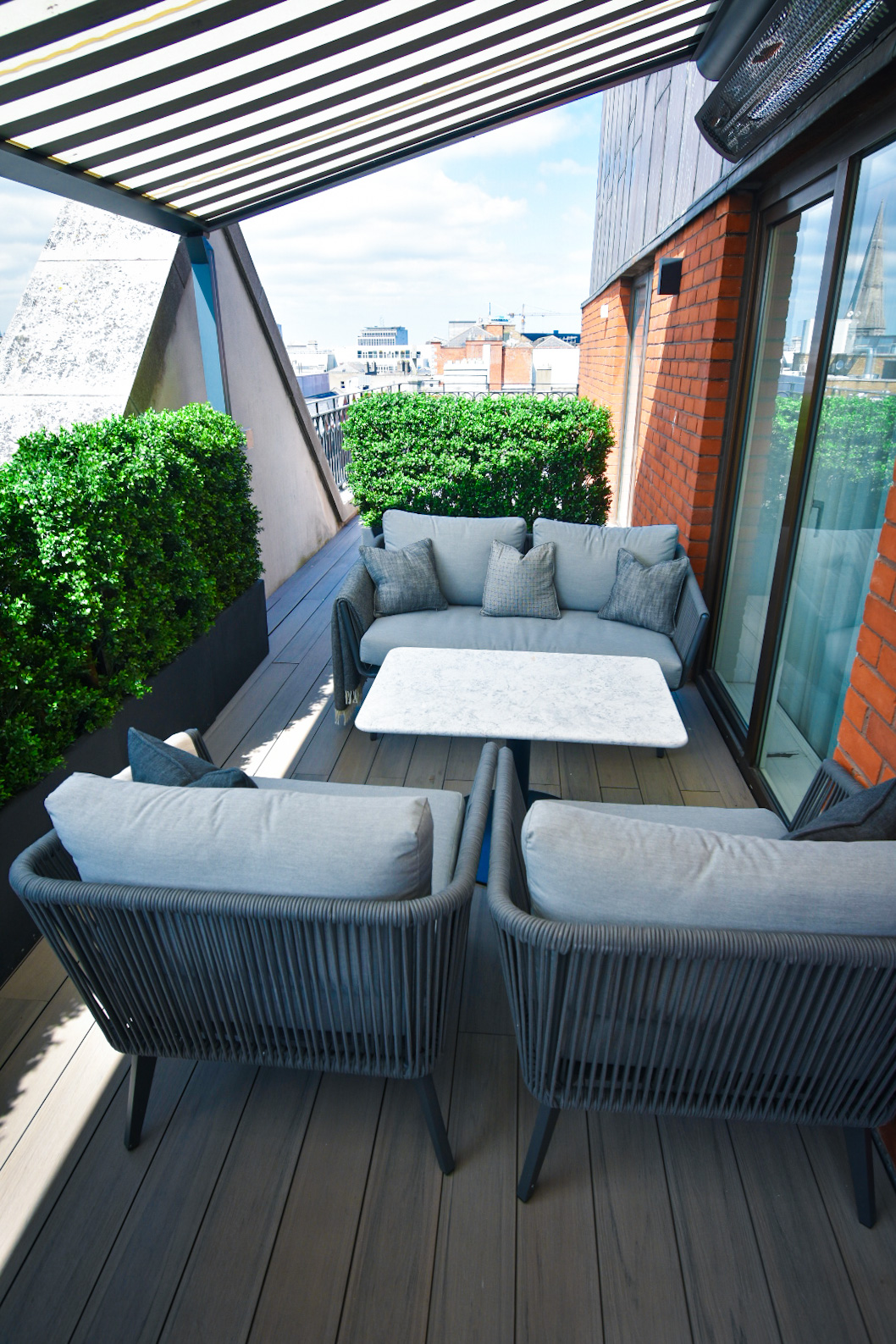 We recently got our first opportunity to stay at this hotel in mid-2021 and jumped at the chance –– particularly as The Westbury Hotel has recently unveiled new Luxury Terrace Suites, each individually designed complete with awning, terrace furniture and an expansive private vantage point to soak up the city views from a unique and lesser-seen perch!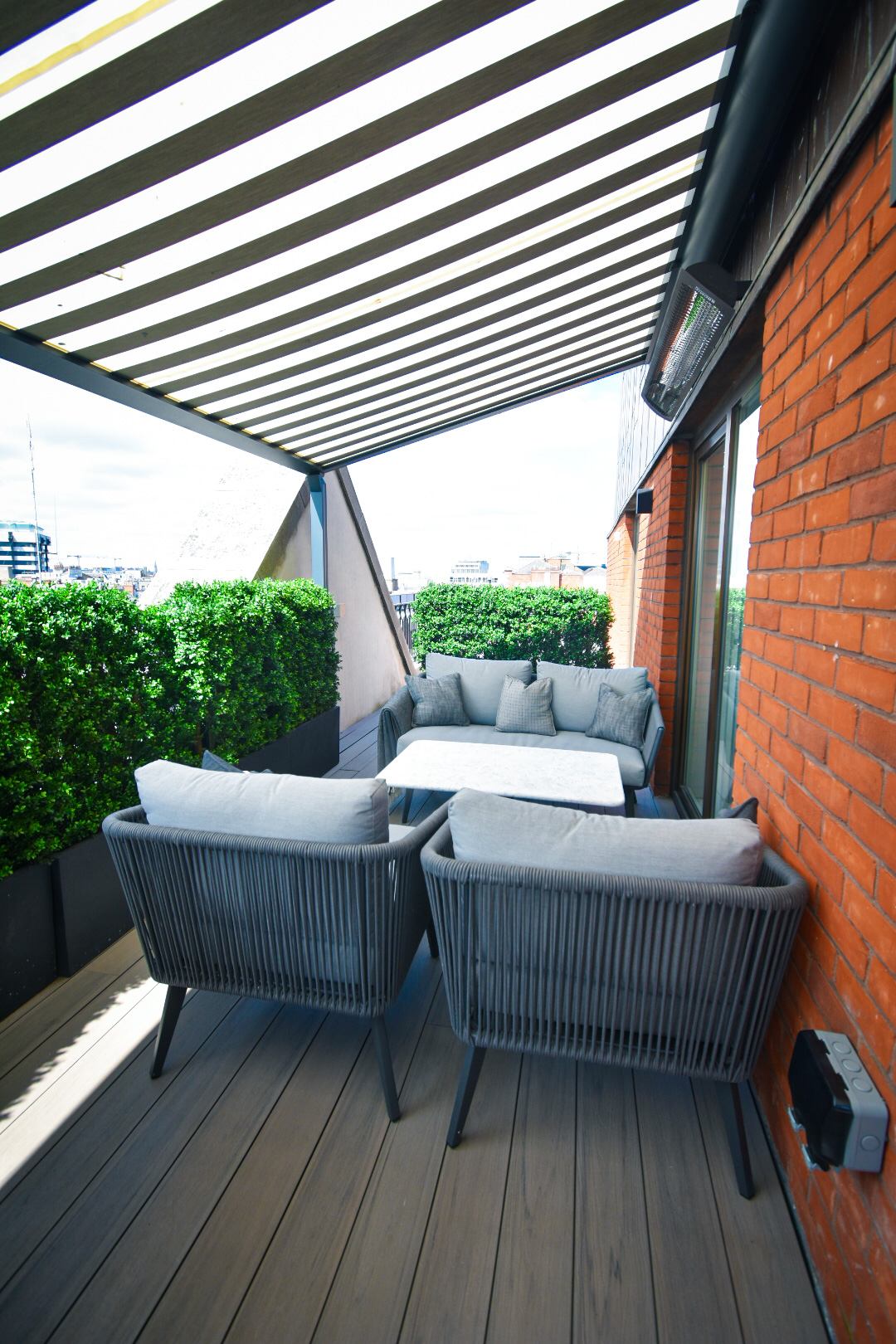 Complete with planter surround, powerful overhead heaters and a retractable awning, this is come-rain-or-shine territory and a little private oasis in the city. Whether you're looking to have breakfast al fresco en terrasse or just want to toast at sundown with a bottle of something sparkling, these terrace suites are perfect for all sorts of occasions. Private, secure, special and unique, we can't recommend it enough –– especially if you're staying for a couple of nights as you'll really get the benefit of the terrace.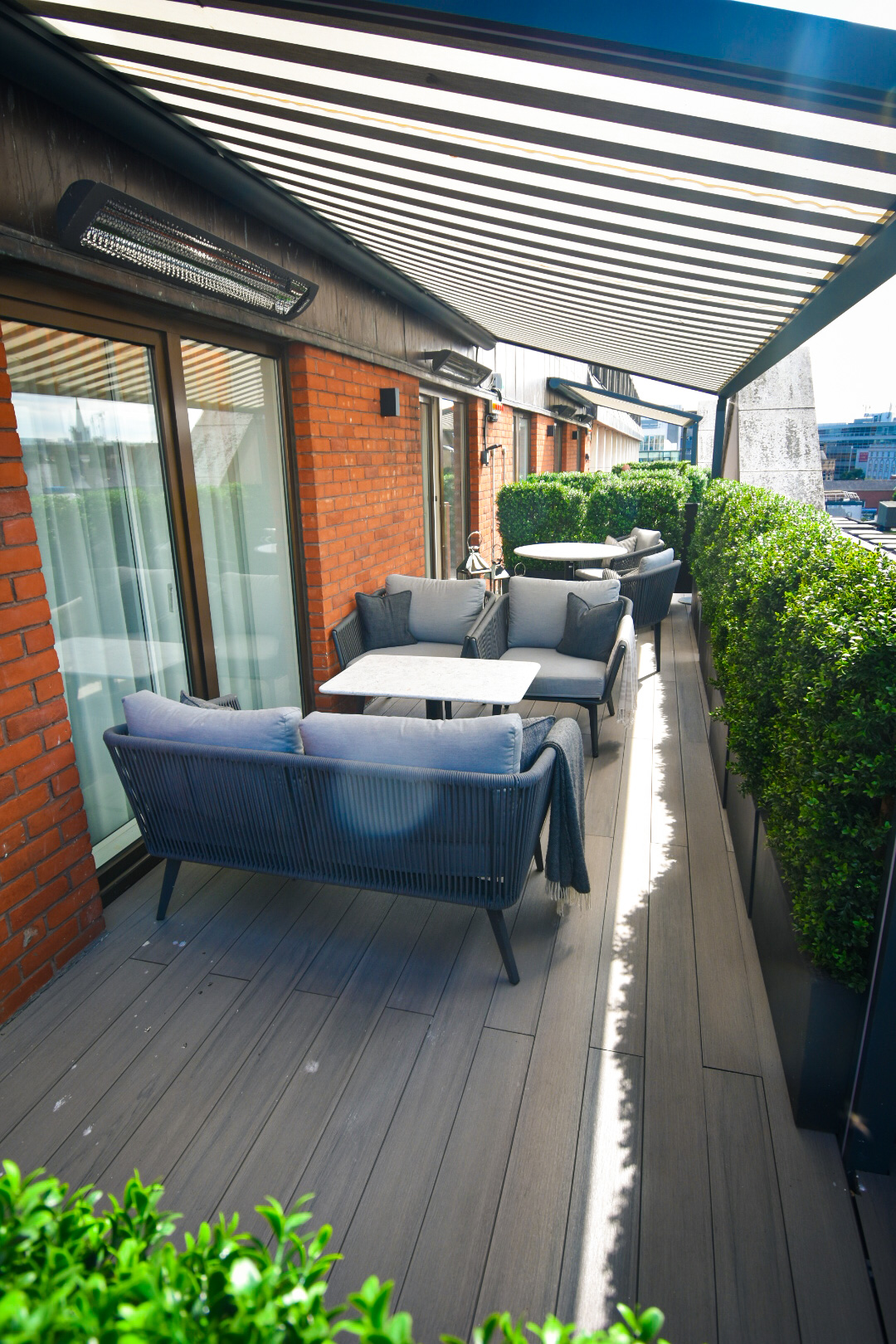 Part of the Irish-owned, family-run luxury Doyle Collection of eight hotels (which includes the likes of The River Lee in Cork, The Dupont Circle in Washington DC, and The Bristol, The Marylebone, The Kensington and The Bloomsbury all in the UK) The Westbury hotel has been a staple in the Irish capital for over 35 years. In the last decade or so it's received a significant renovation which included the arrival of its two restaurants: Balfes and Wilde. More on those later…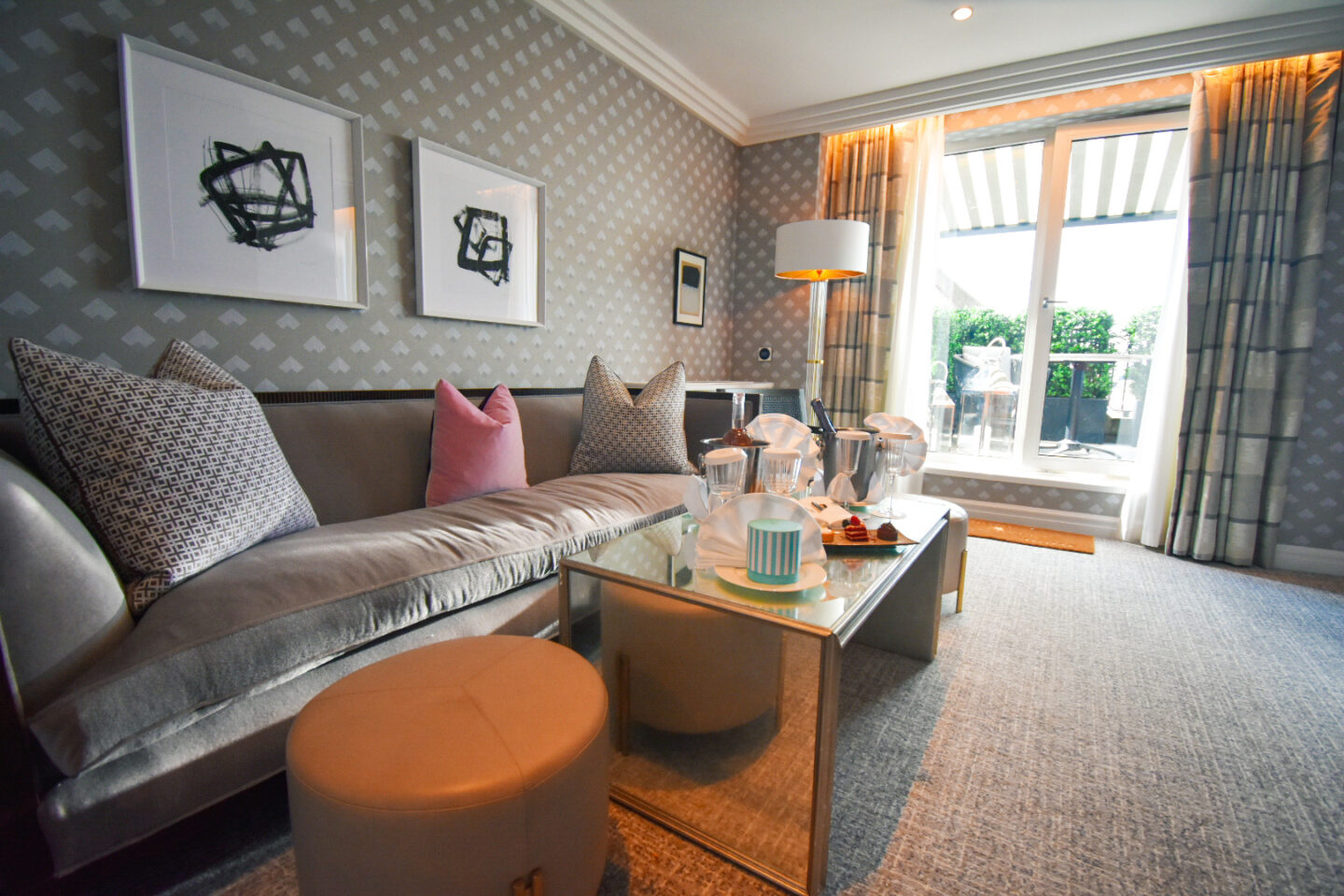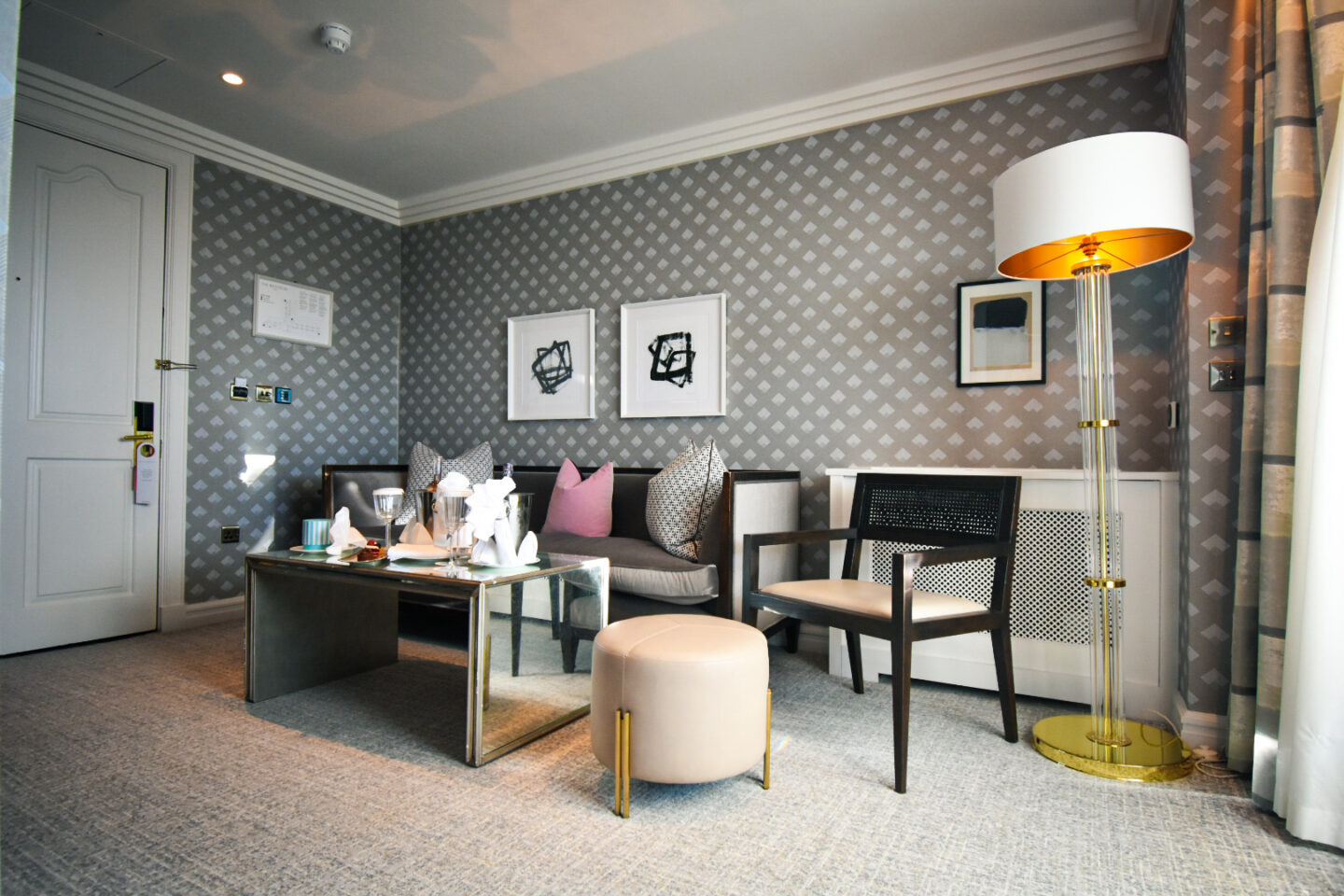 Inside the new terrace suite rooms, located on the fifth floor, the interior has been totally modernised in a warm grey colour scheme with monochrome contrast throughout with pink, gold and eau de nil (a pale green) accents, thoroughly contemporary but still in a classically elegant way. Copper and polished brass detailing, George Smith armchairs and B&B Italia sofas.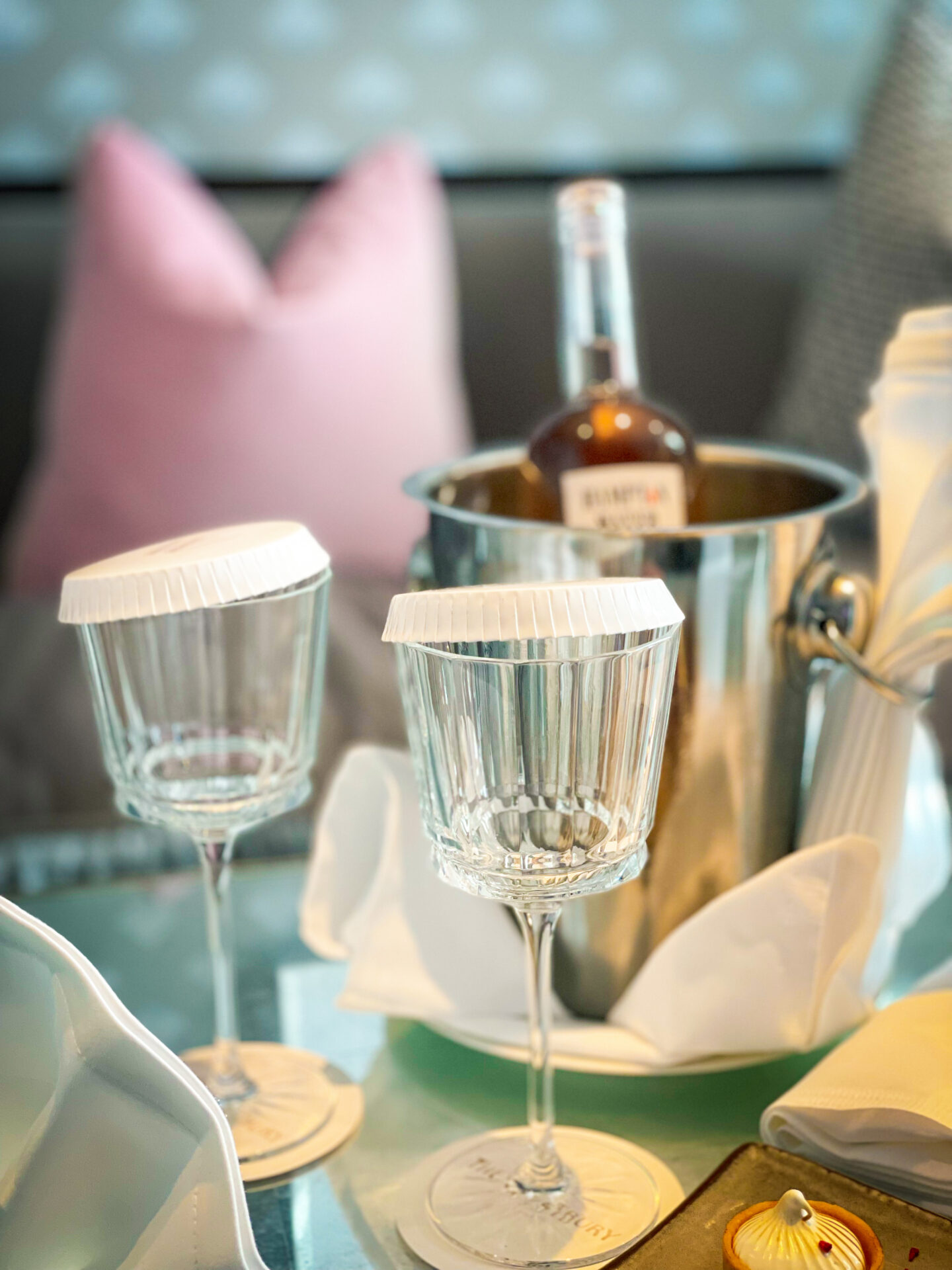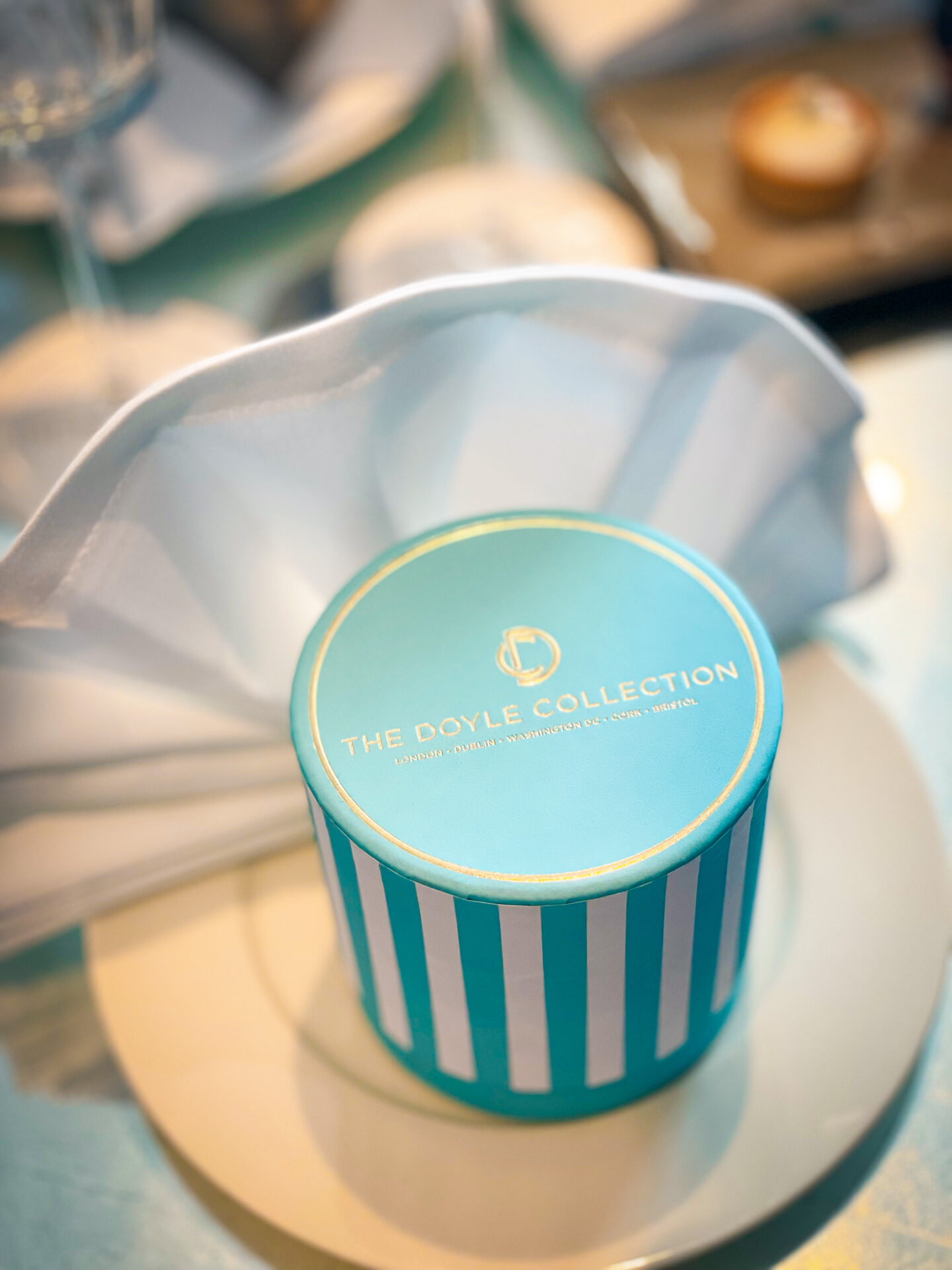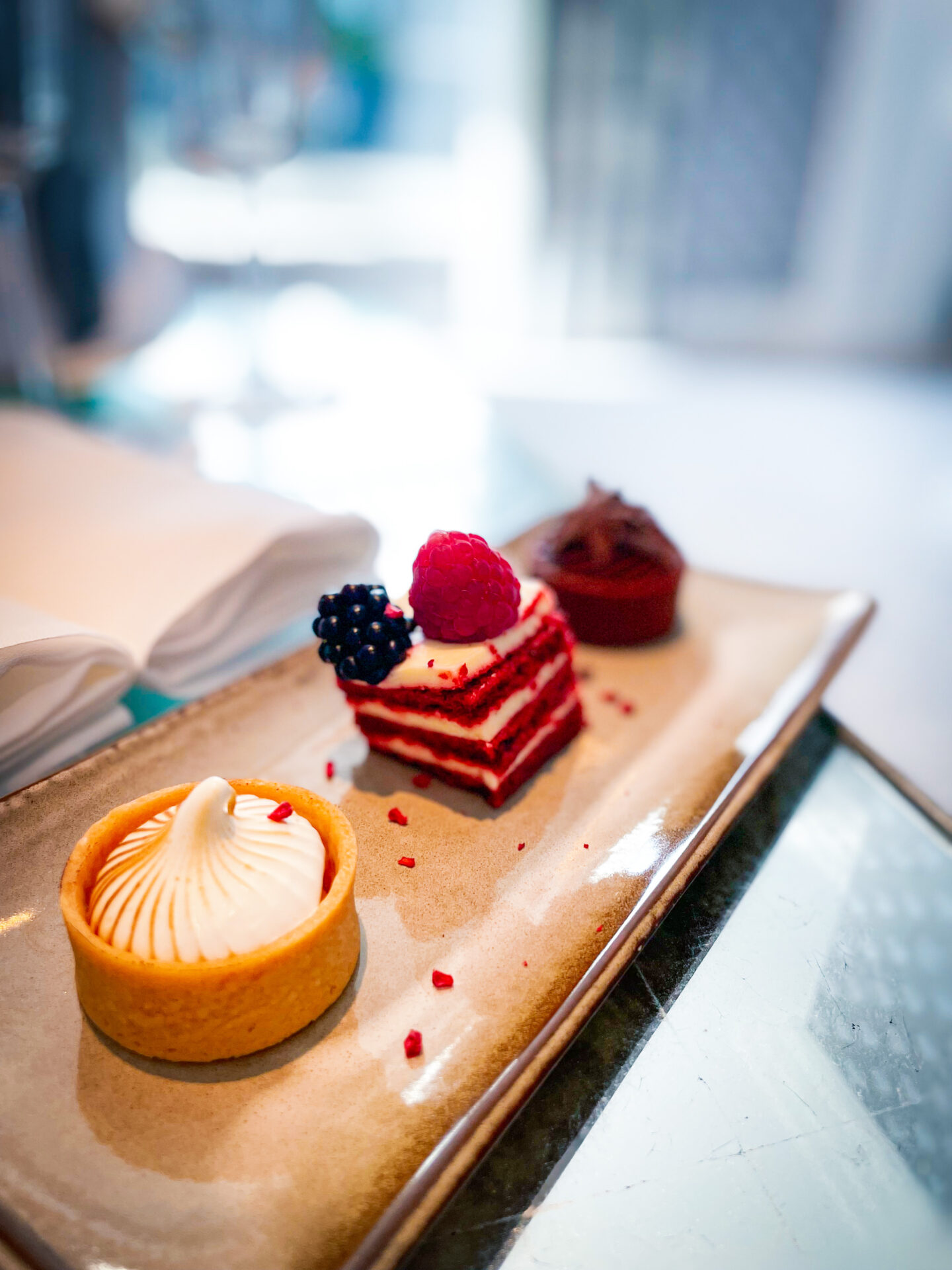 The design of the room, though thoroughly modern, reflects subtleties of the 1930's Art Deco 'Grande Hotel' era, which has long been part of the design inspiration and aesthetic of The Westbury. Old world glamour brought into the 21st century, but two things that have stayed the same: the vintage Murano lobby lights and the art decorating several suites, all from the Doyle Family's own collection, including Irish artists like Donald Teskey, Aidan Bradley and Colin Middleton.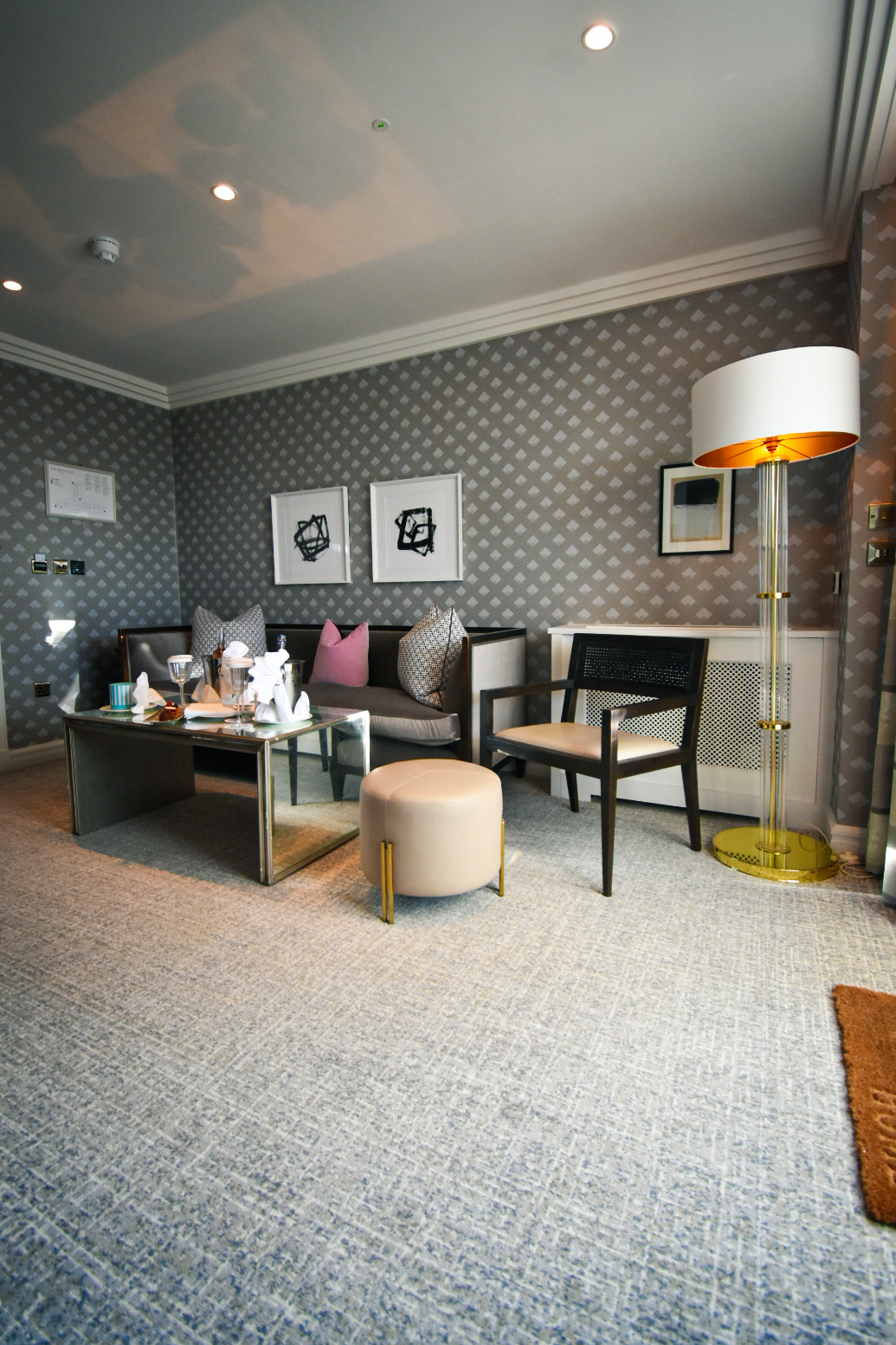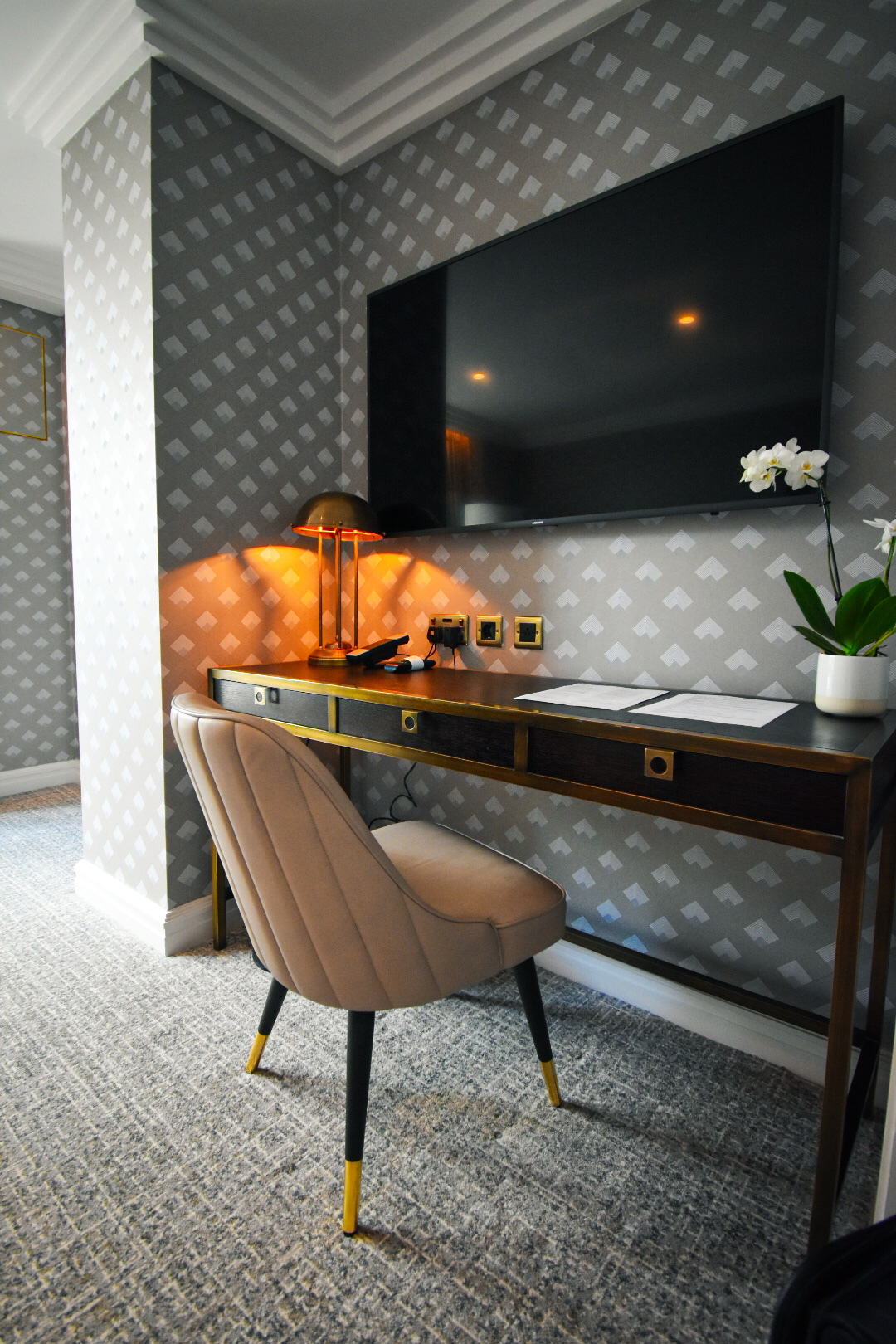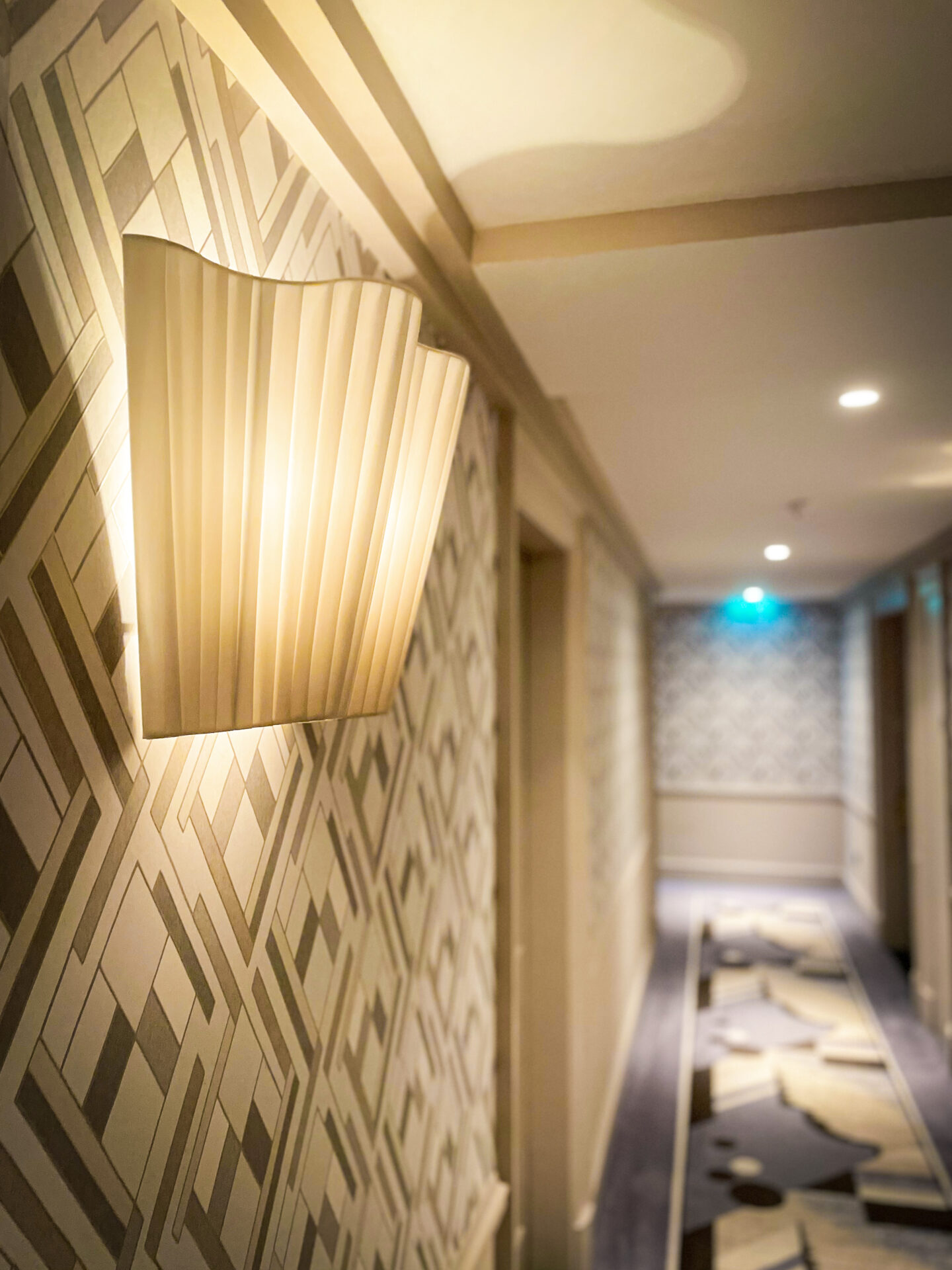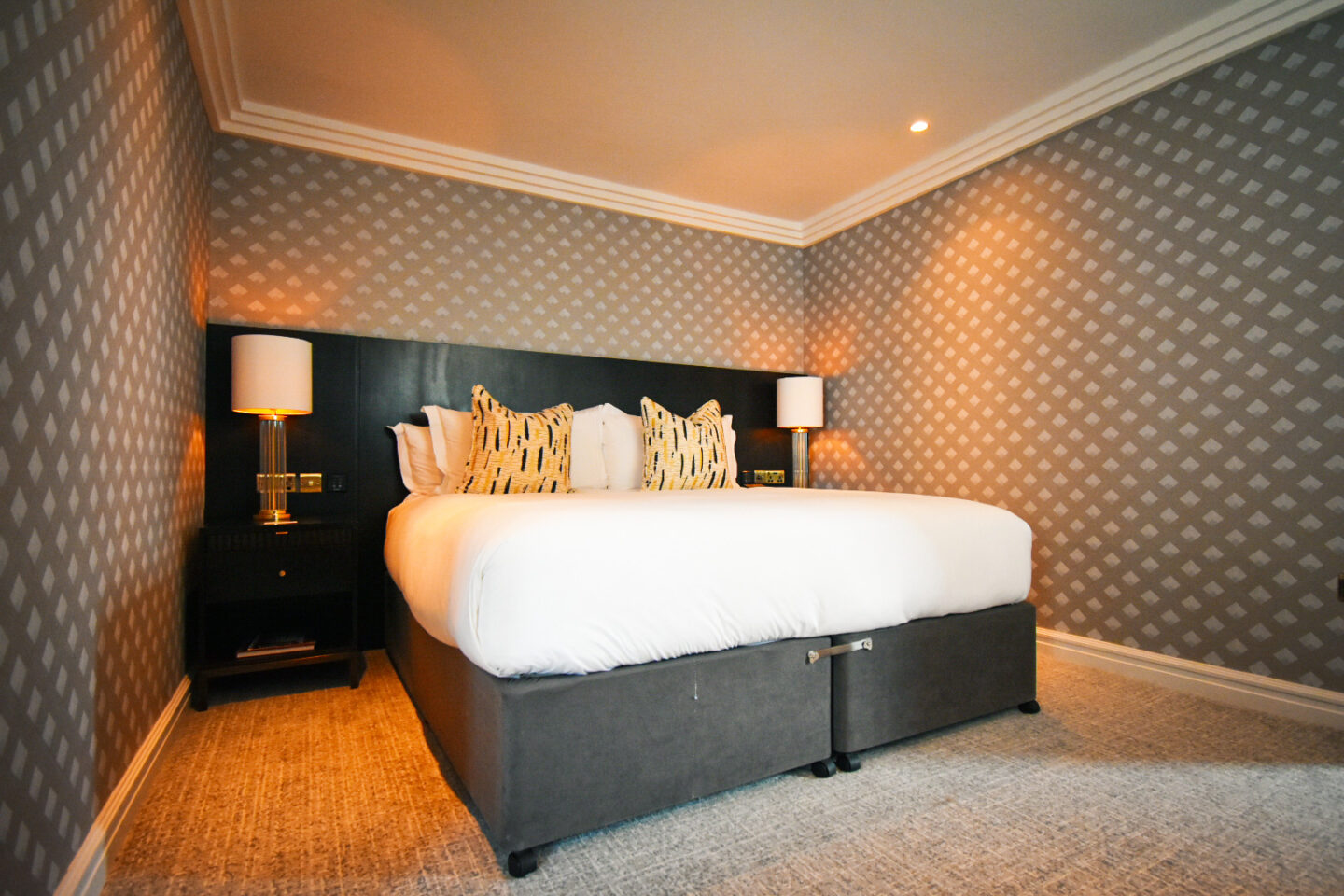 The bedroom is in its own interconnecting room between the expansive bathroom and the living room, with big windows/doors in each room and all west facing. A tall king bed was supremely comfortable – in its Lissadell Ireland linens – and the two side tables feature quite large with drawers in each with USB sockets on both sides.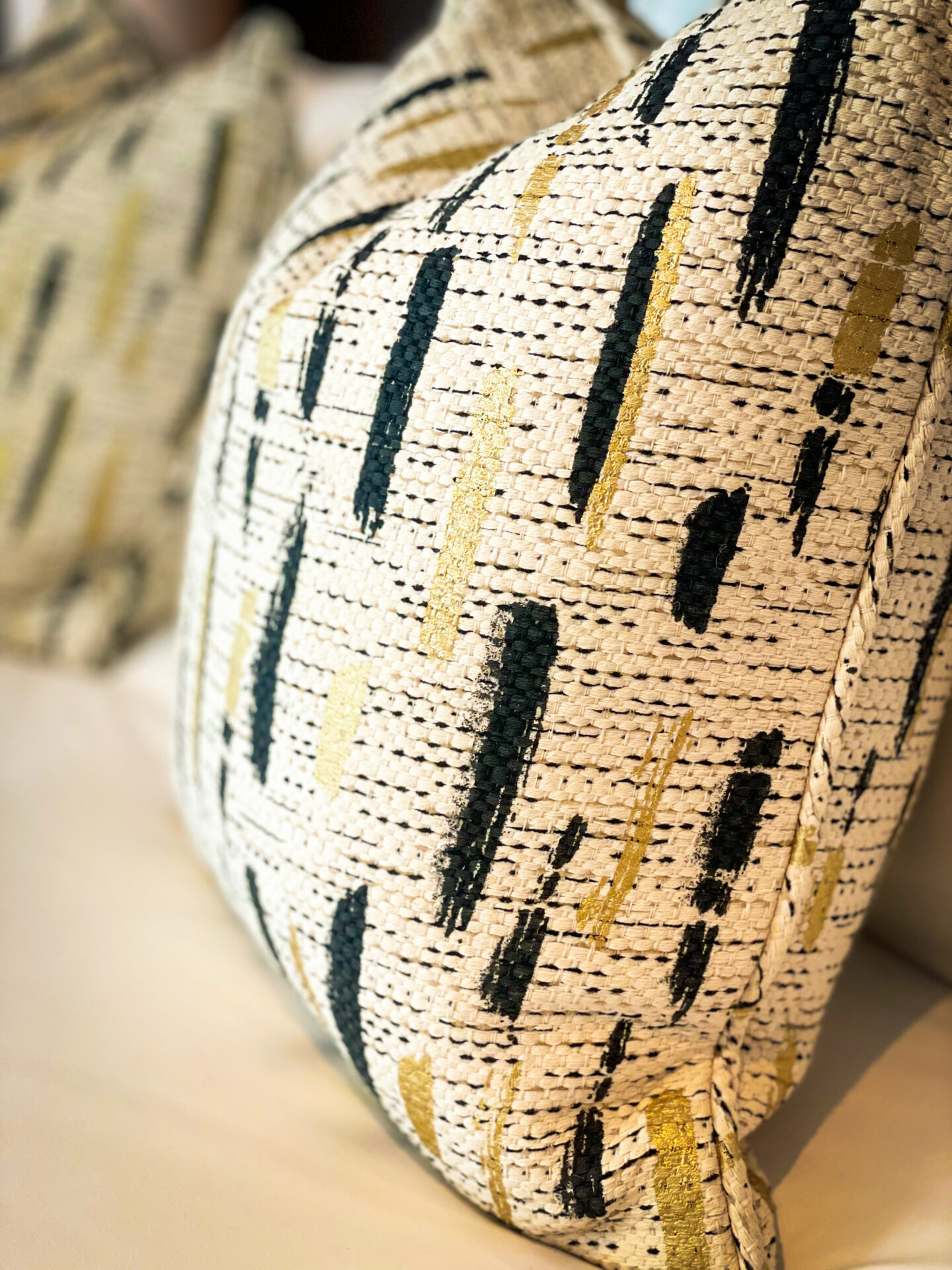 To one side – and this was a really nice touch – some suggested reading material which was all travel books among them Ireland The Best: 100 Places by John and Sally McKenna. The living room had a similar theme of Dublin or Ireland-based travel books, which was lovely to see and clear that this was a considered effort where they could have just provided no material.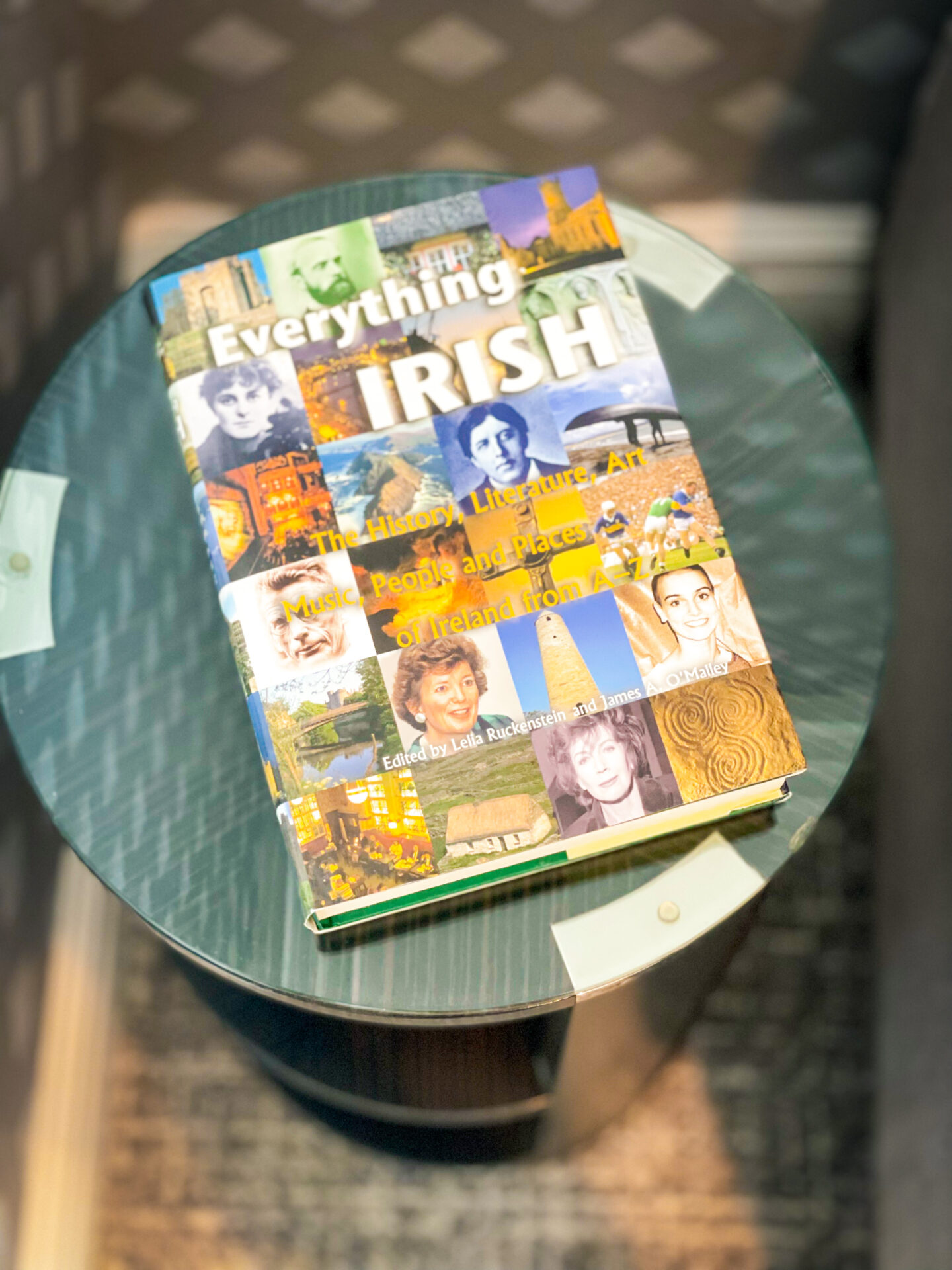 The cornicing throughout the suite was something particularly beautiful, and even more noticeable from the view from the bed. You'll see from below that, yes, the next morning we had to take advantage of the amazing TV and binge watch a couple of eps of MasterChef Australia and RuPaul's Drag Race before checking out! The blinds are operated electrically too, controlled from a switch beside the bed so you don't even have to get up to greet the morning sun.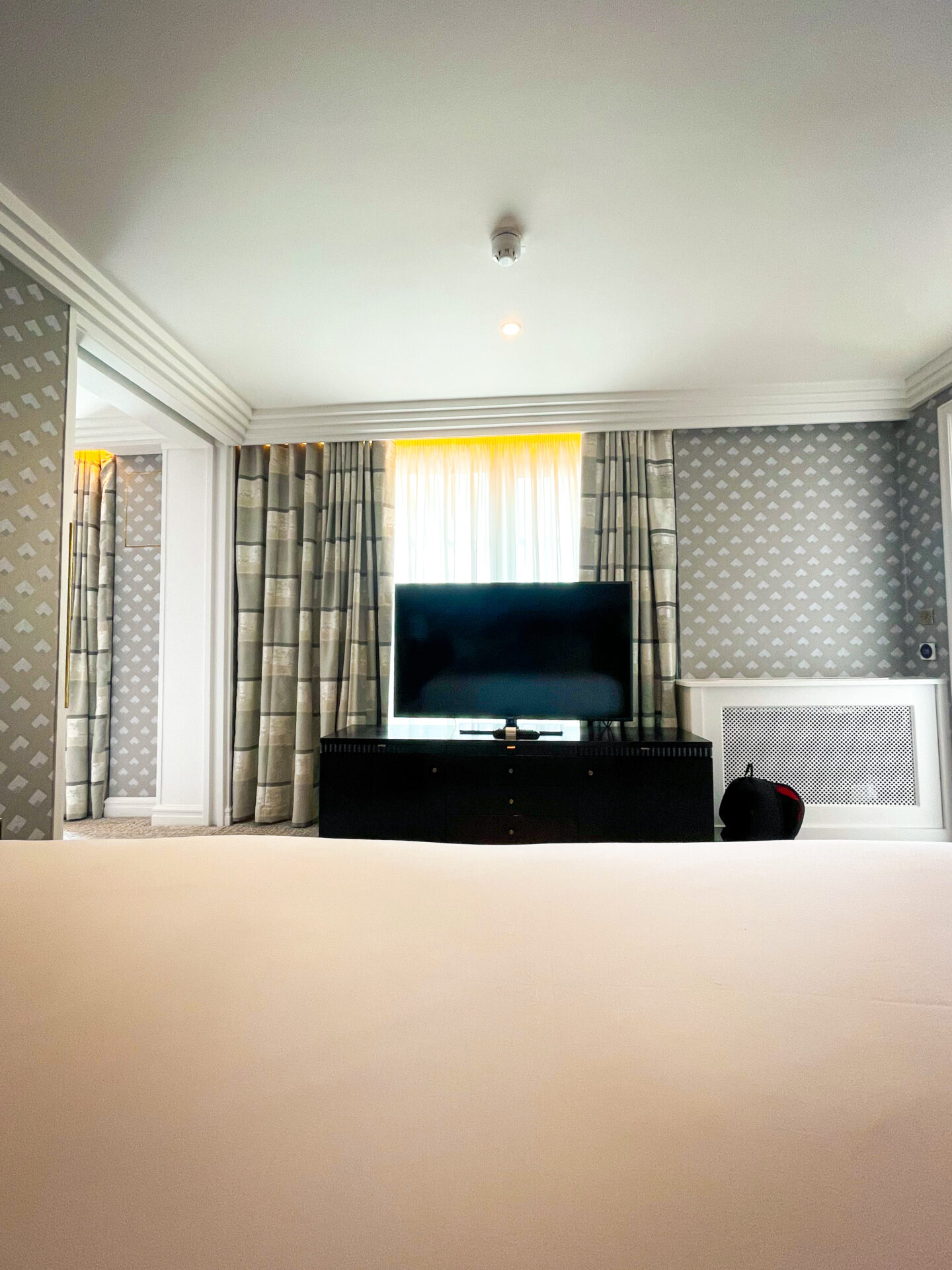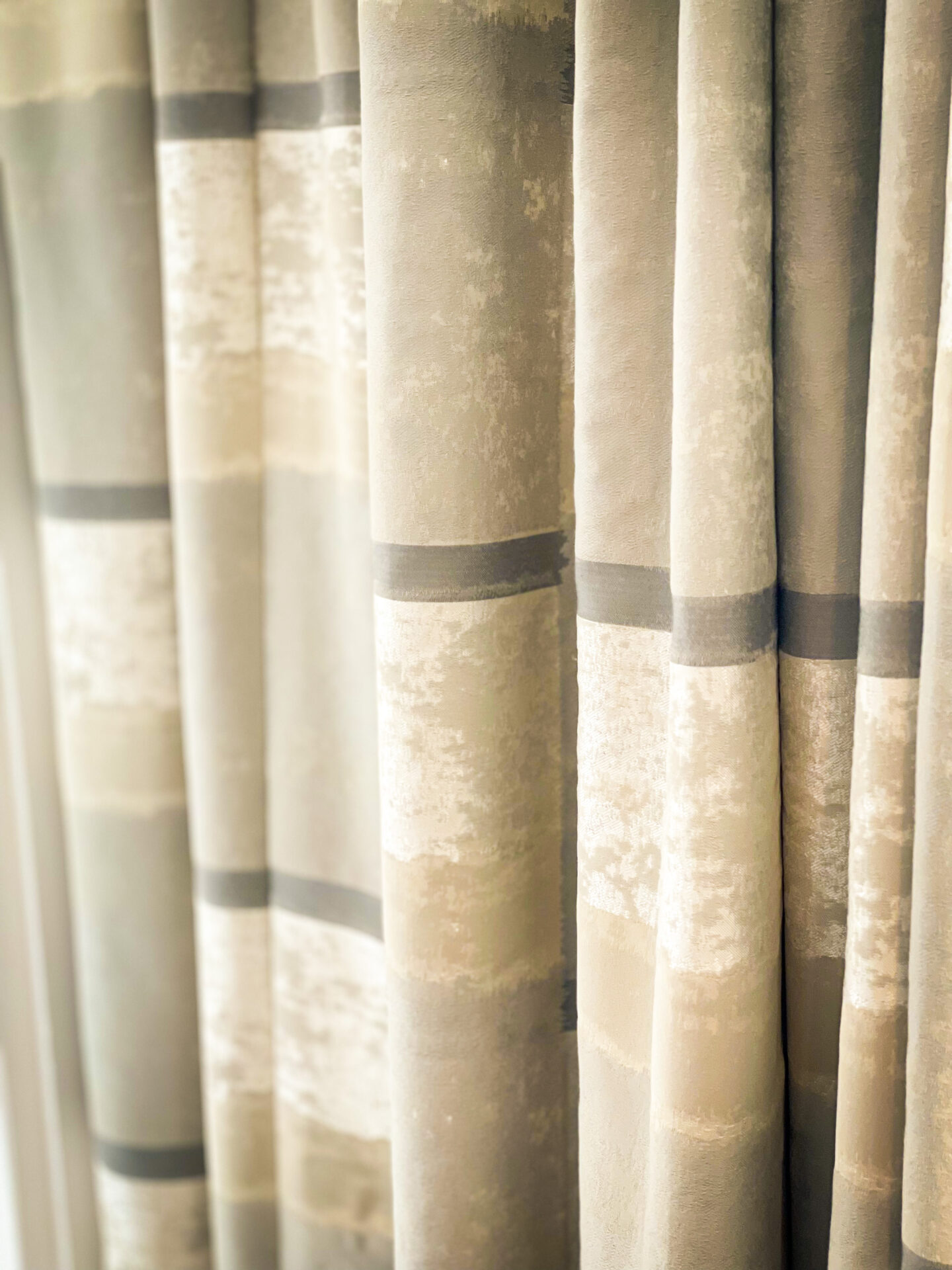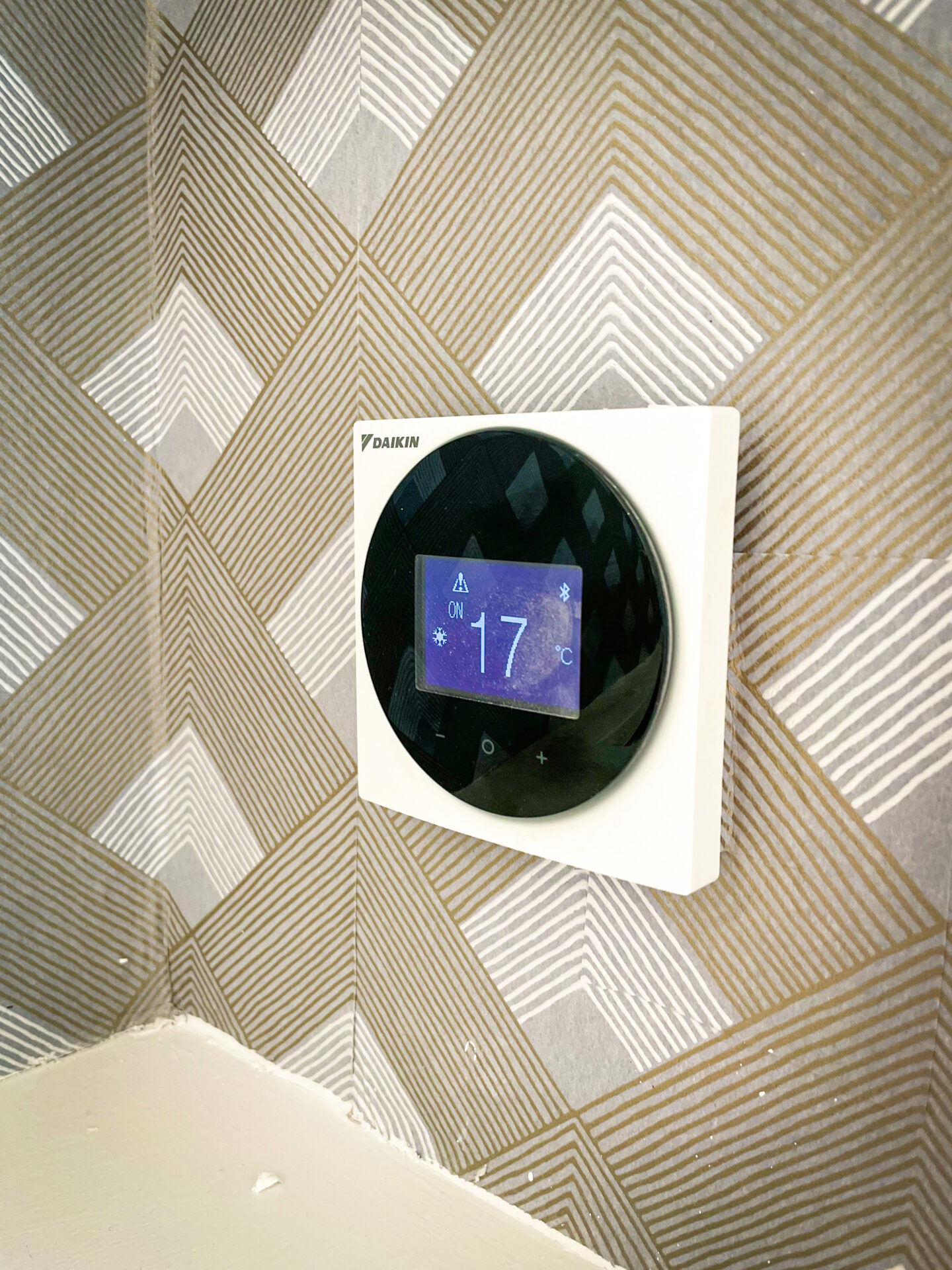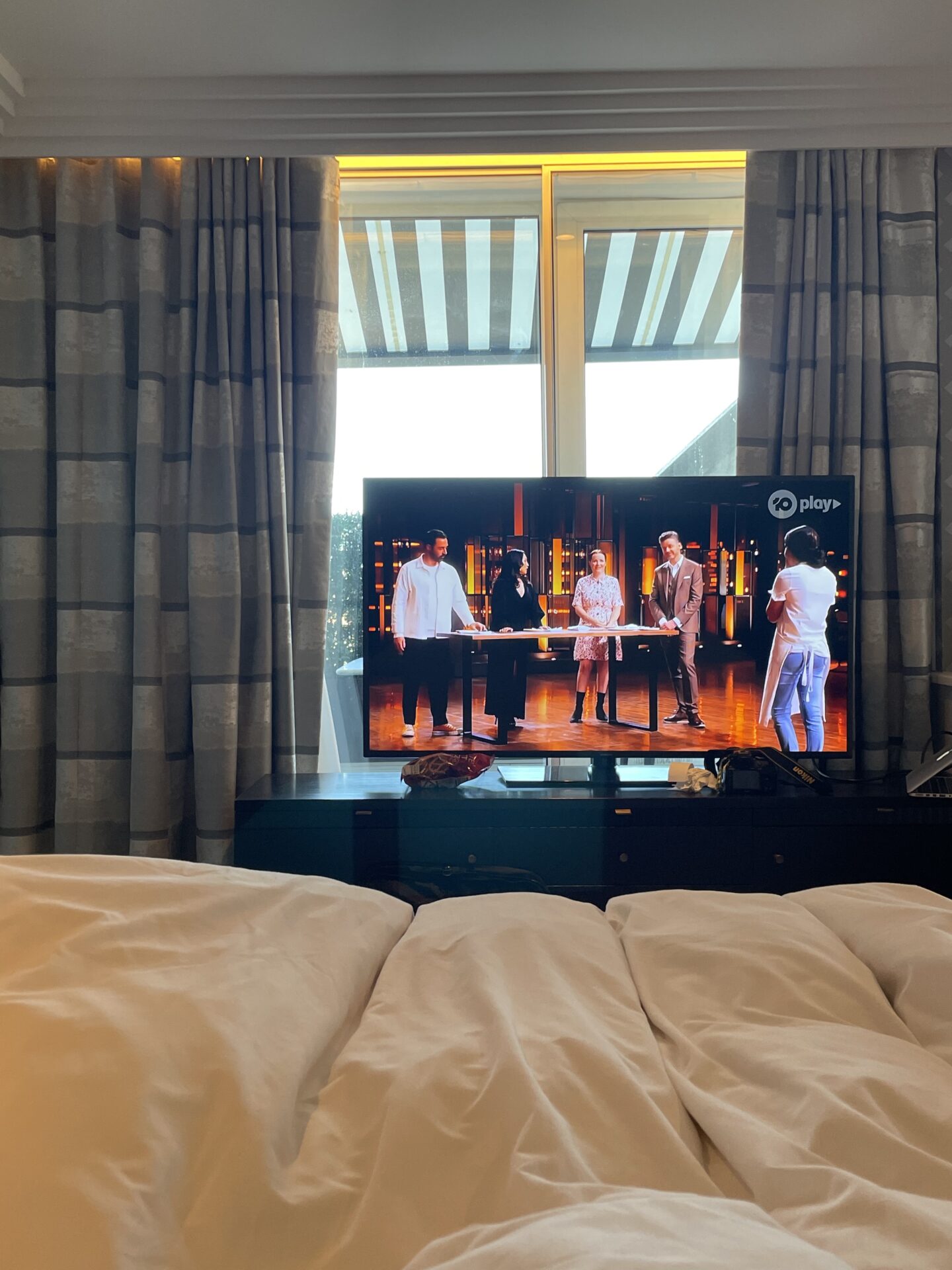 The entire suite is semi-open plan, so you can easily glide from one room to the next and it doesn't feel like it's boxed in, which is most evident in the Italian marble four-piece bathroom with the freestanding tub right under a large circular mirror flanked by a storage unit to one side and a cupboard to the other. The hanging pair of bathrobes was a lovely suggestive touch and this bathroom really feels like your own mini spa, coaxing you to lap up every facet. Also, those shutters providing privacy from the terrace are truly beautiful how they soften the light coming in.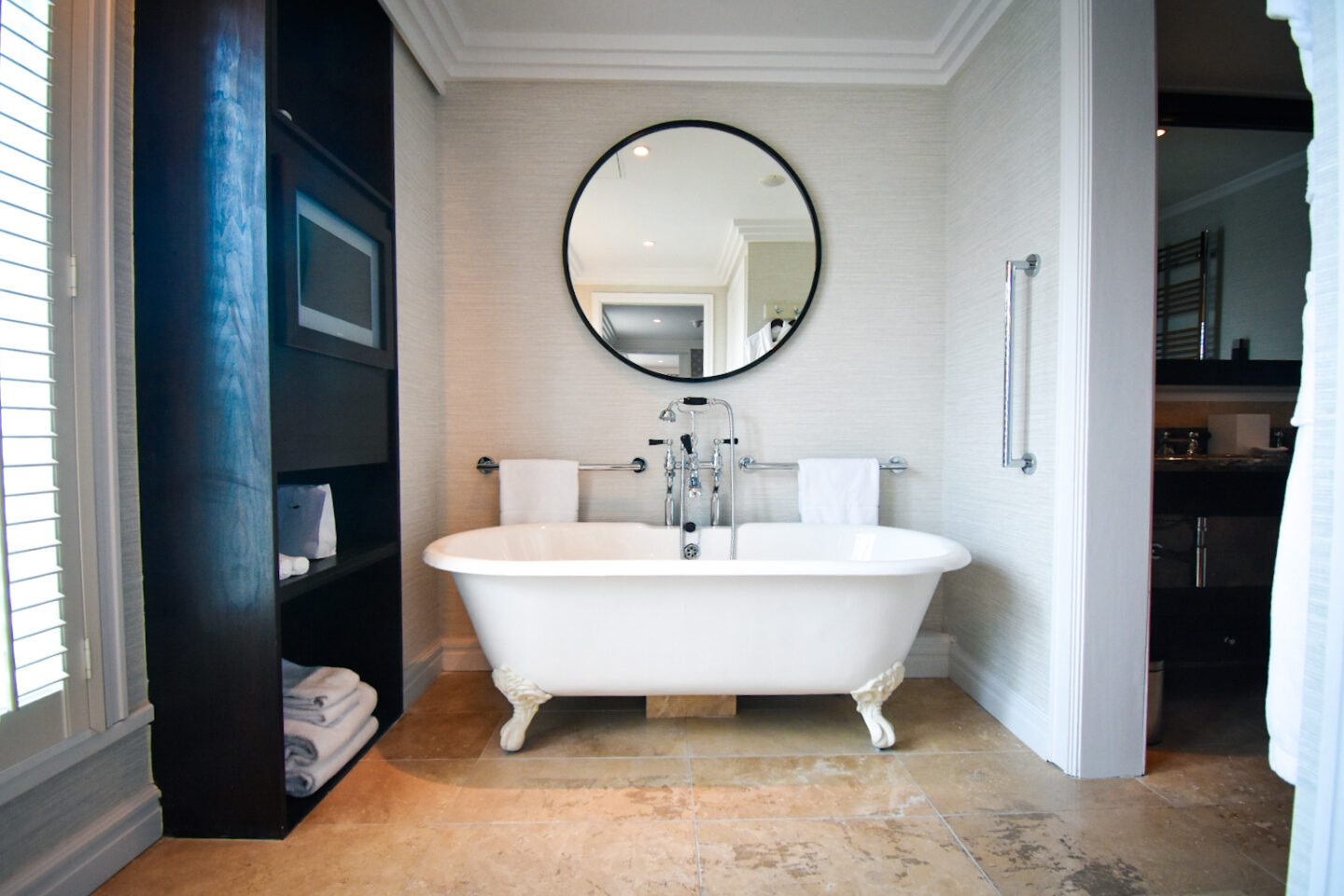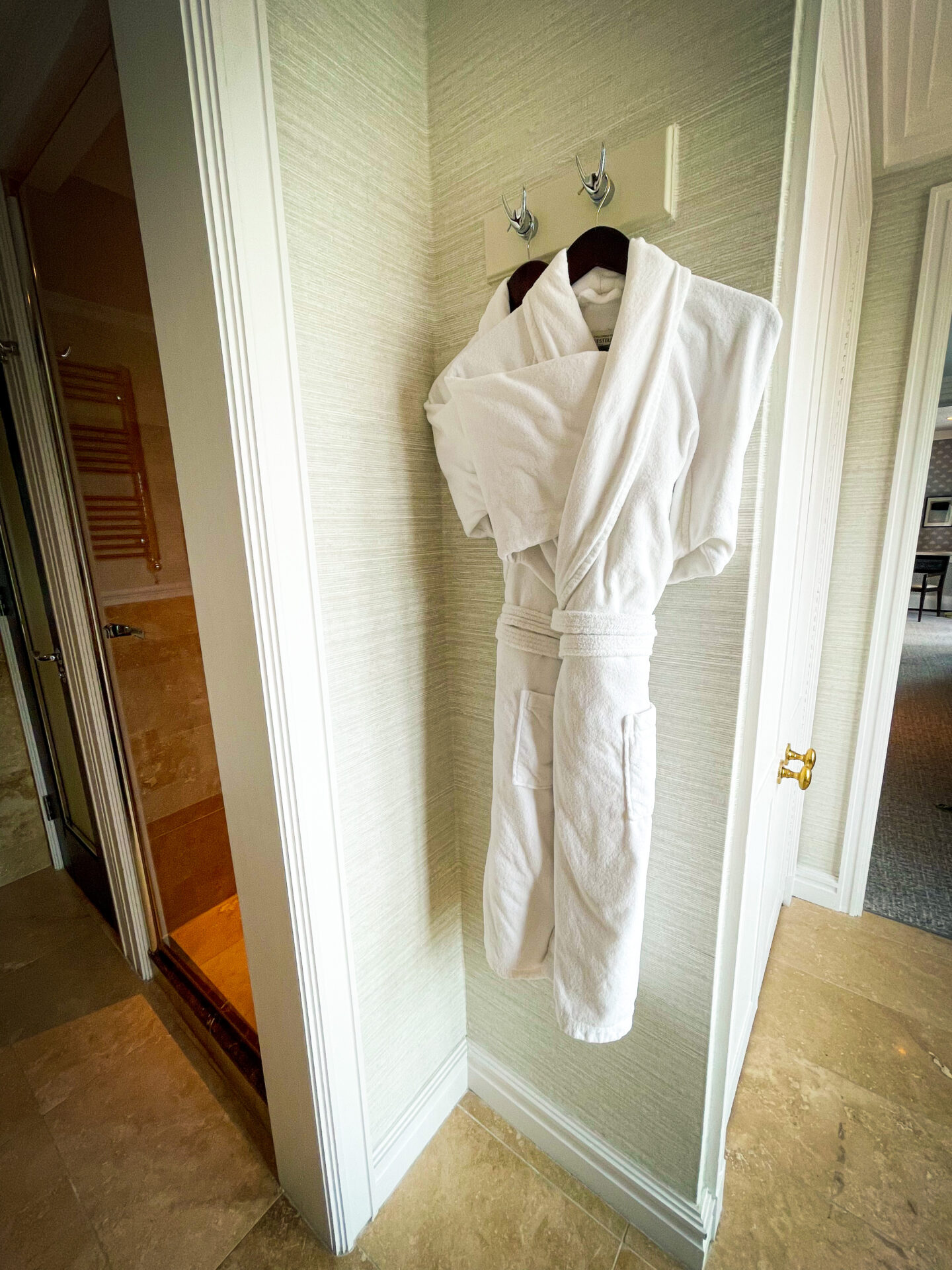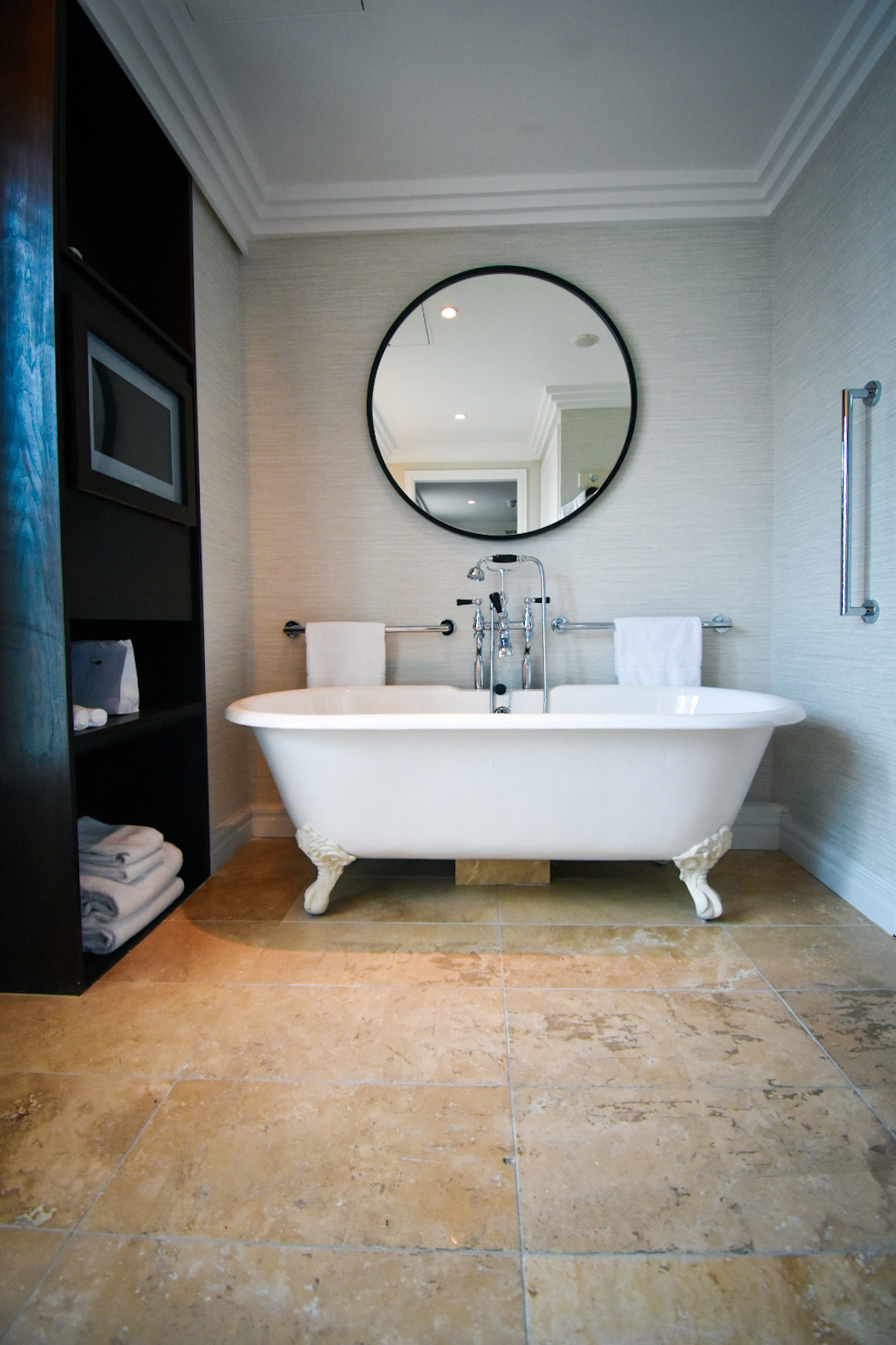 The toilet and shower are in separate units and the toiletries are all luxury US brand MALIN+GOETZ, which are actually quite prettily packaged in paper bags rather than exposed. Potentially a pandemic practice, but we kind of prefer it as opening the paper packages is a bit of a surprise!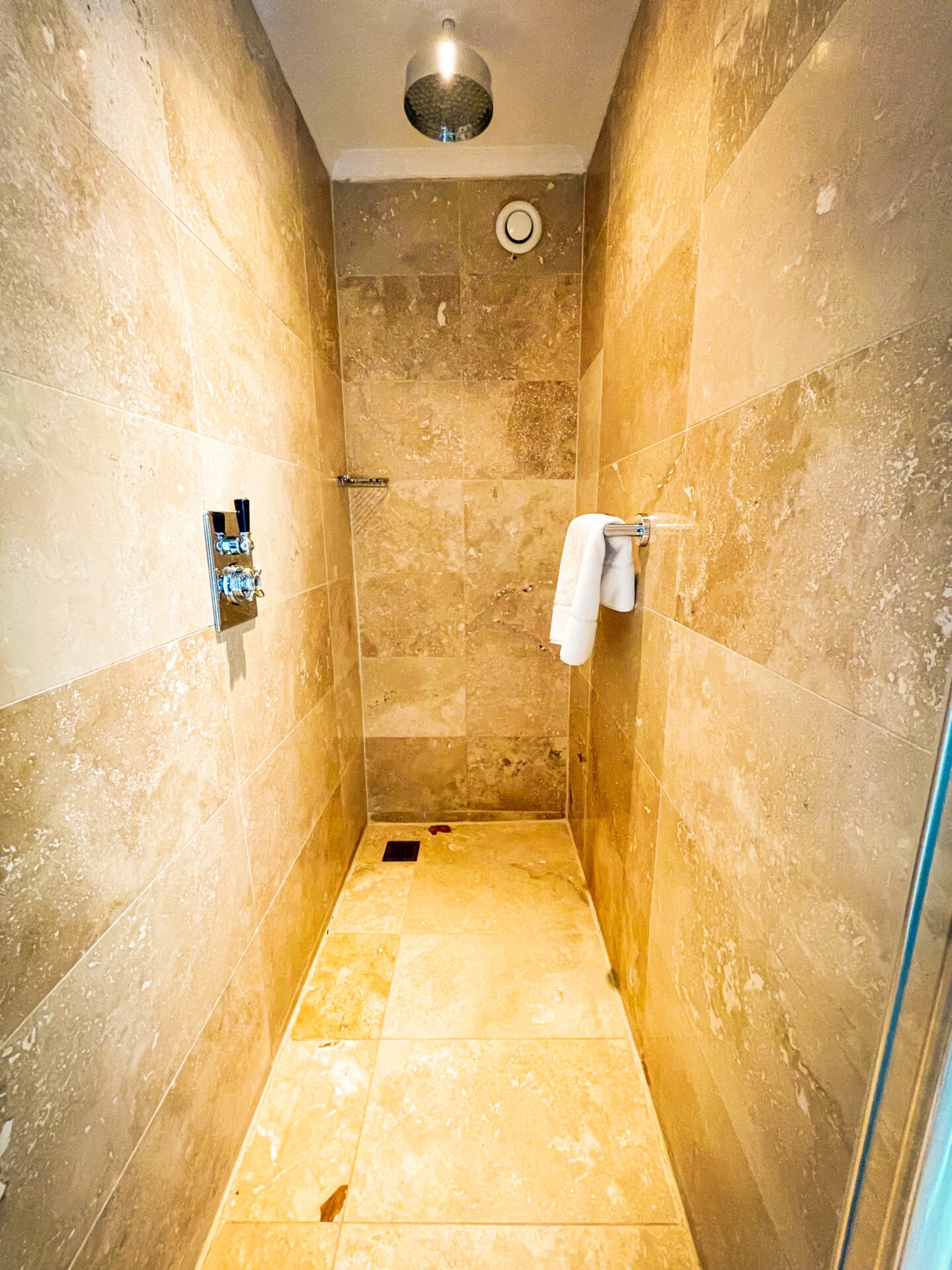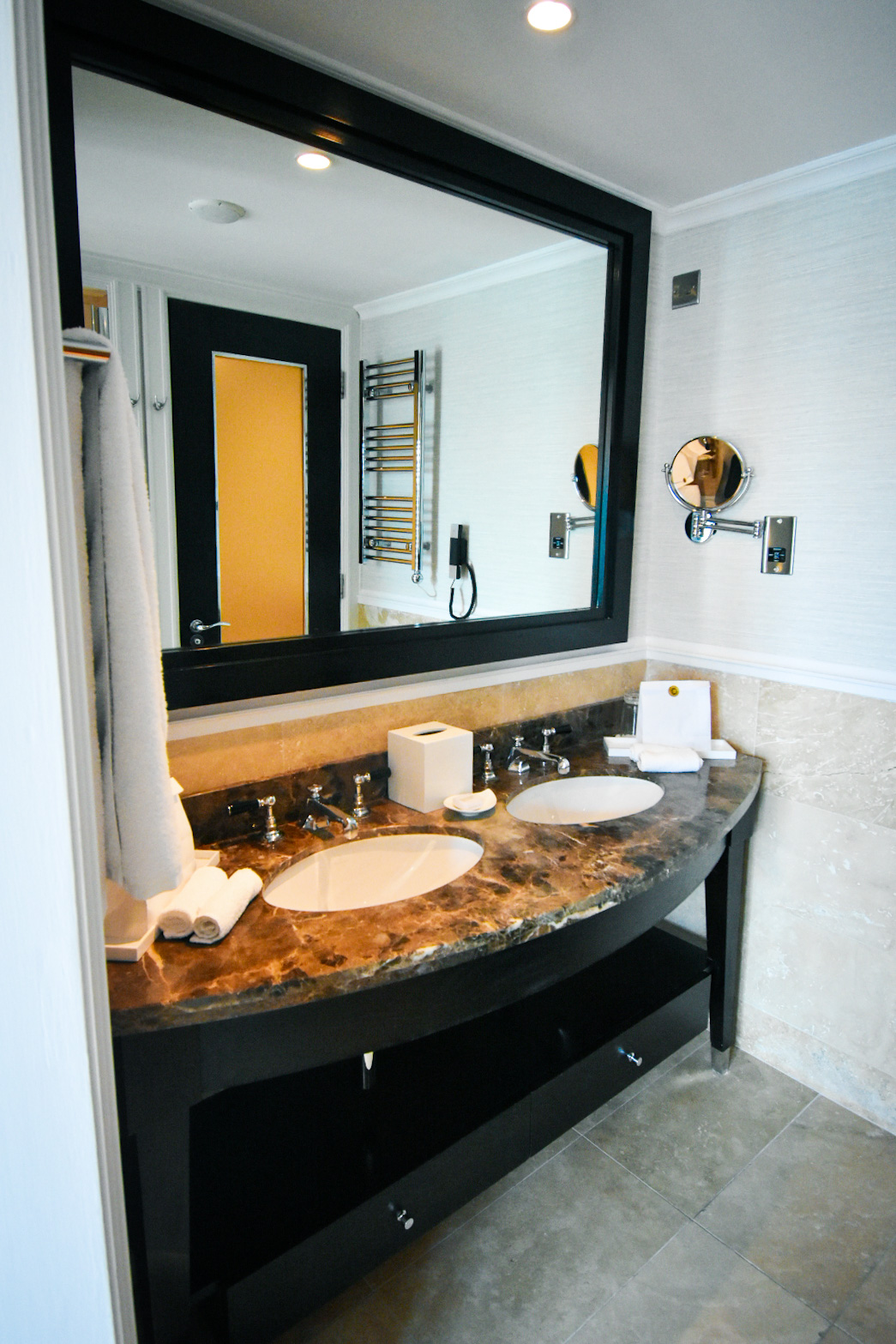 Dining at The Westbury: Wilde and Balfe's
Wilde has seemed to elude us over the years, which is mad as Patrick worked with a Dublin-based agency on social media content for the launch and first few months of the fine dining restaurant opening whilst we lived in London, so in some ways has had an insider experience but has never actually eaten inside. Unfortunately how timings worked out on this overnight trip, we had a prior engagement scheduled for mid-evening so we had to switch out a booking at Wilde for an earlier table at the more casual, street level Balfes so still Wilde eludes us… maybe one day!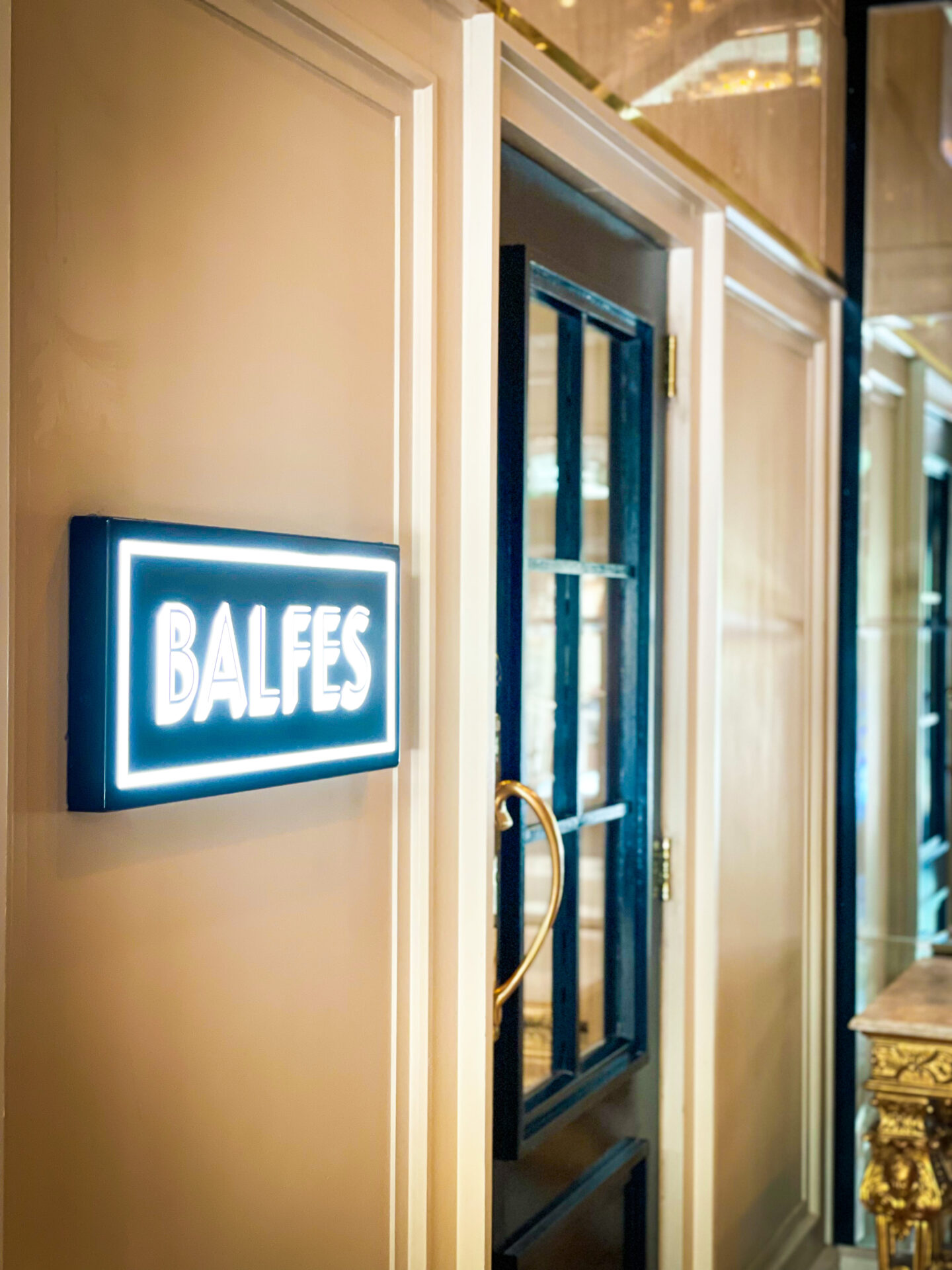 Balfes is fabulous in itself. A more casual, bistro-meets-brasserie-style offering that combines the cool casuality of New York with a dash of Parisian style but down to earth Dublin service. It also boasts a large zinc-topped bar and an expansive terrace. The menu is similar in ways but also different the to Wilde menu, and great for groups of friends for brunch, lunch and dinner. Breakfast is served weekdays from 8am and all-day dining runs daily 'til 9:30pm. We nabbed a corner table right on the terrace on a beautiful sunny day and lingered for hours.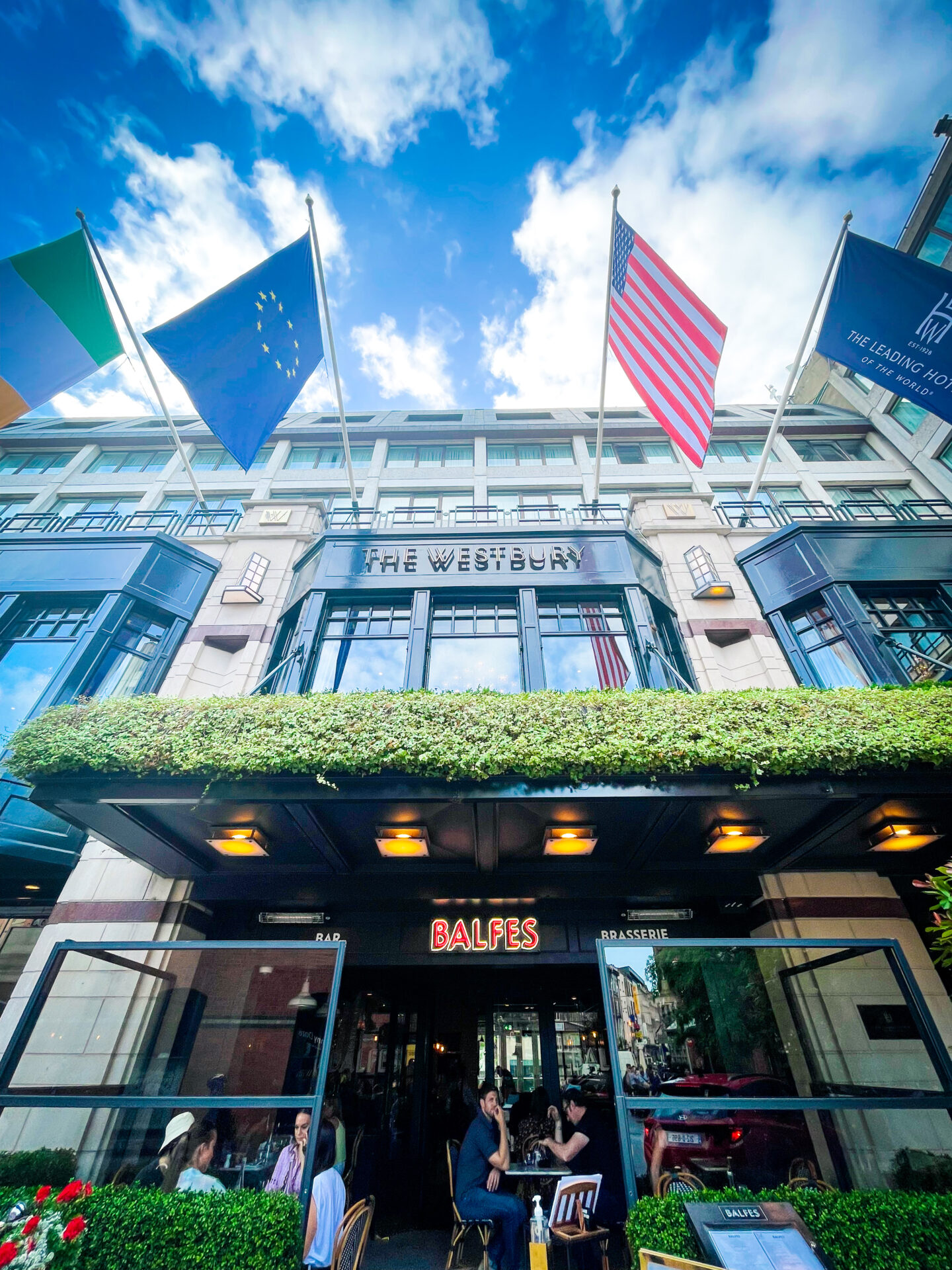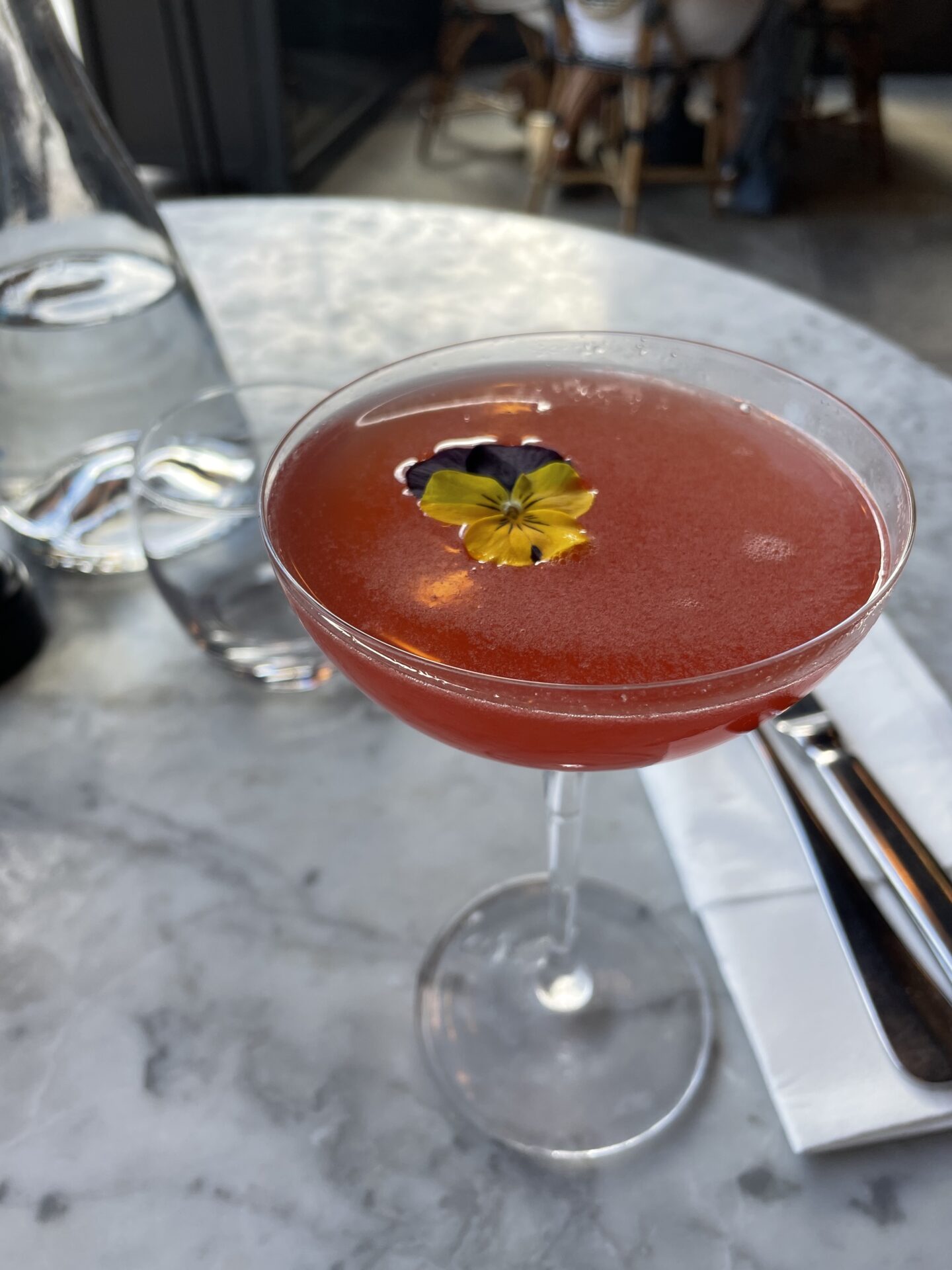 The cocktails are fun and delicious, with a mix of classics and contemporary twists, so we went for one of both: The Venetian Spritz (the Italian classic, but this one mixing both Aperol and Campari) and the U Ok Hun? which combines pink gin, Suze, Belsazar and gorgeous citrus –– both really refreshing sips and the perfect starting point.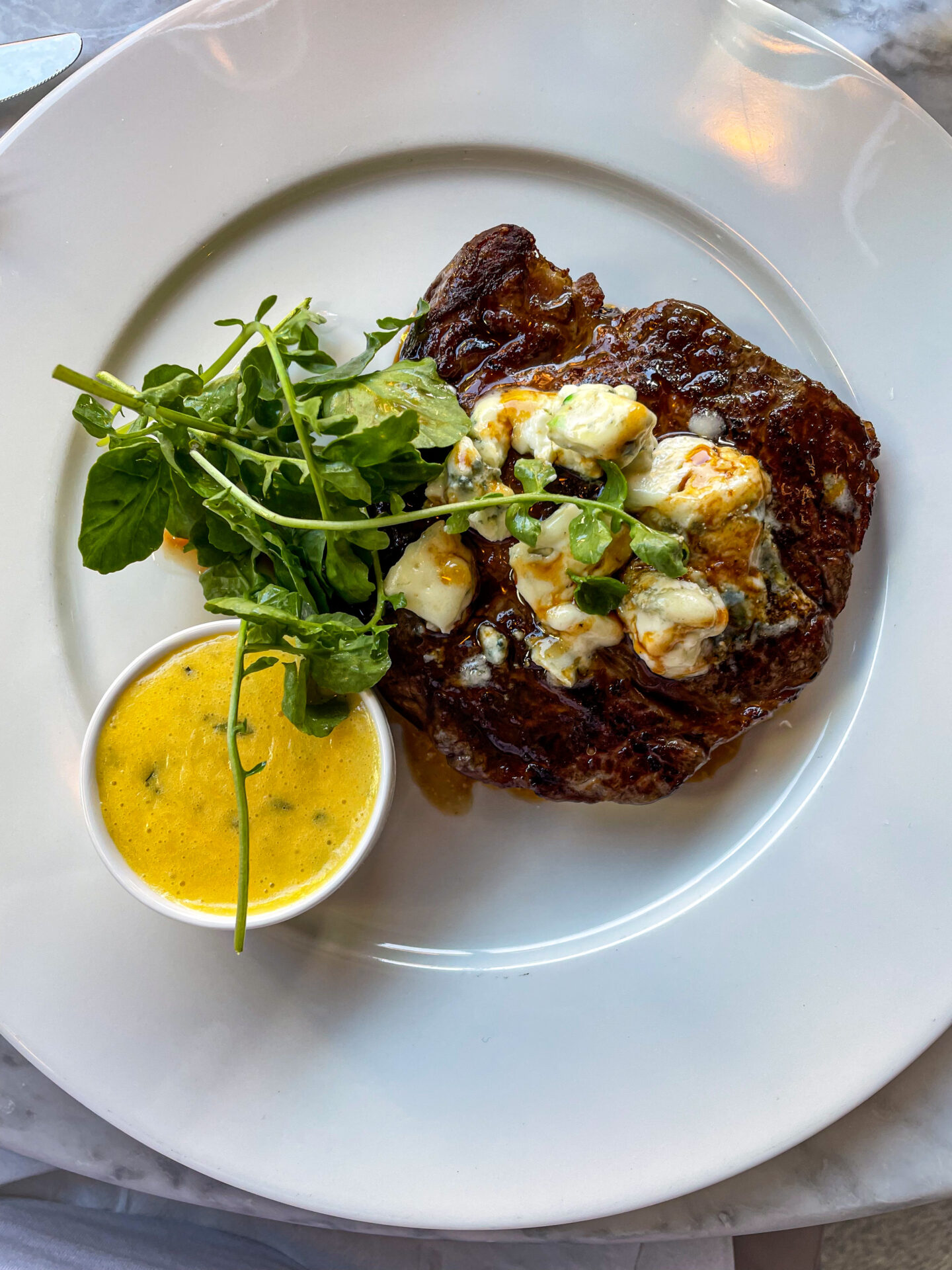 The starters have lots of choice, from grilled gambas to buffalo burrata as well as an Irish charcuterie plate with house pickles, however we chose tuna tartare with honey, soy and sesame, and Carlingford Rock oysters with shallot vinaigrette. The starters were the only downfall of the meal, the soy in the tuna overpowering the subtle flavour and turning the colour of the finely diced meat a little grey as if it had been sitting in the dressing too long, and the oysters were poorly shucked with shell in almost every one. At €16 for the tuna and €3 a pop for the oysters it wasn't the greatest value either.
However the mains were sensational –– a generous, piping hot, fresh from the pan breaded chicken schnitzel with asparagus, watercress and a fine 'Caesar' aioli crowned with a mountain of grated Parmesan, and a 10oz rib-eye steak cooked medium with Béarnaise, additional Beara Blue crumbled on top and hand-cut fries on the side. Desserts, though we had to dig deep to find room, were knock-out territory, so we're glad we did order: a deceptively light Cru Virunga chocolate mousse with honeycomb and crème fraîche and an Irish whiskey Baba with Five Farms-spiked Chantilly and fresh raspberries. We'd almost appoint ourselves here with a glass of wine and a selection of desserts, alone! The bill, including the cocktails, sparkling water and a glass of white wine, came to around €150 for two.
Dublin's Best Cocktail Bar? The Sidecar at The Westbury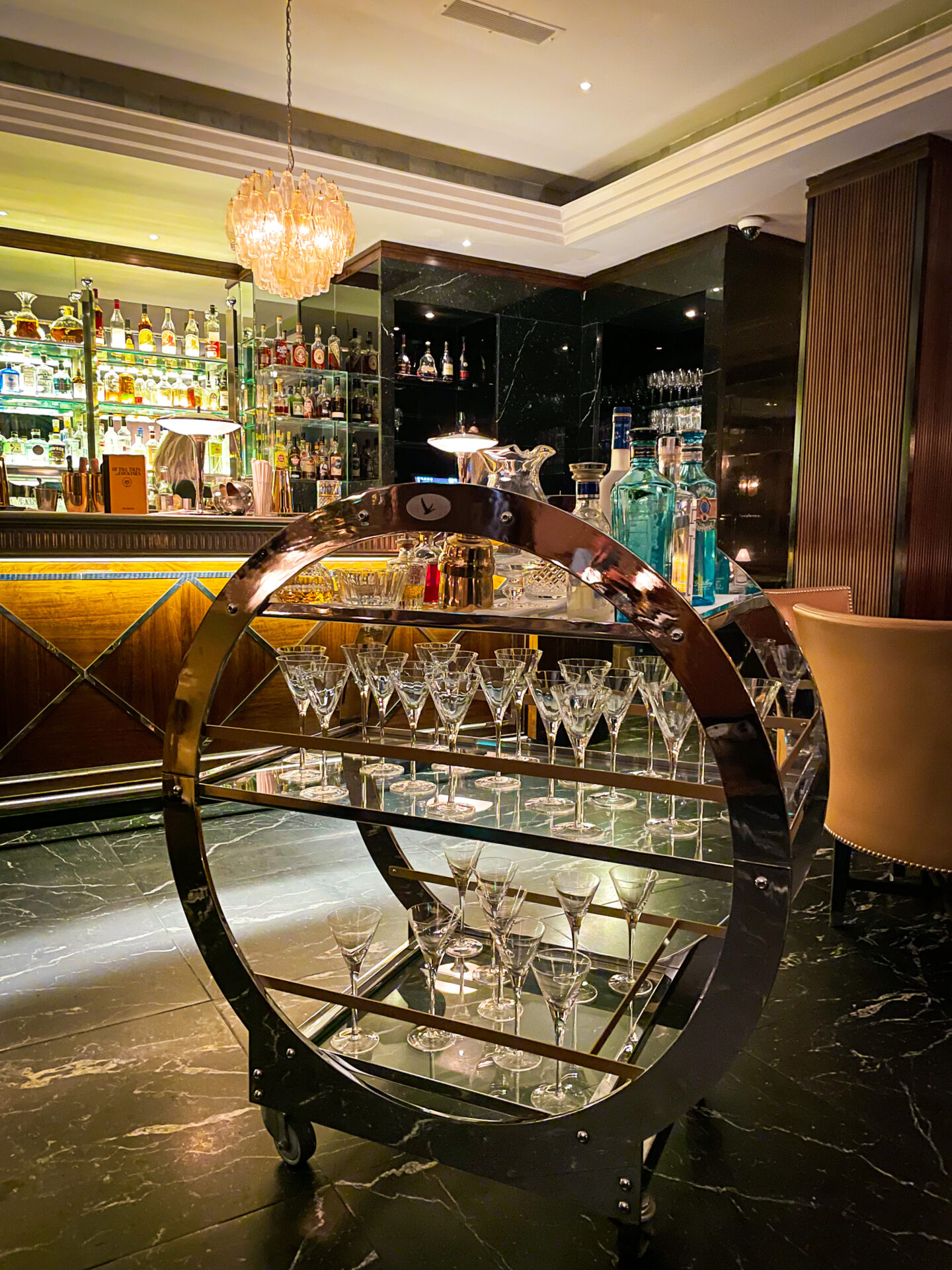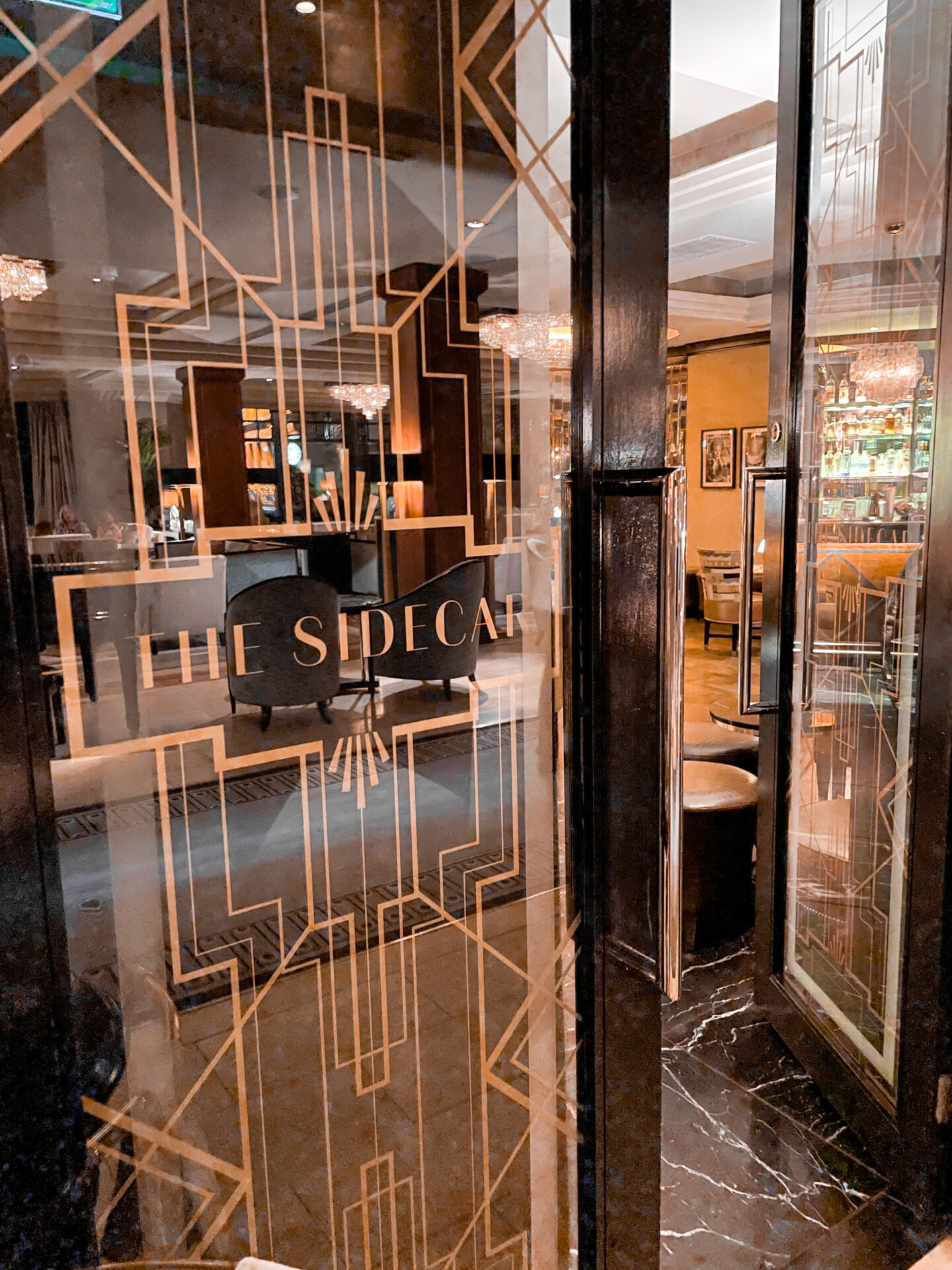 Then we arrive at the real cocktail destination. Though we hadn't ever stayed at The Westbury until this trip, The Sidecar is a bar we've had lots of experience with. Since moving home from London it's become our go-to bar for a fancy drink in the city, either before or after a meal somewhere central in Dublin or just as a bit of a celebratory sip occasion. We'd venture to declare this is THE best place for a gin martini in the Dublin, with an expansive selection of both Irish and international spirits and wonderful five-star service.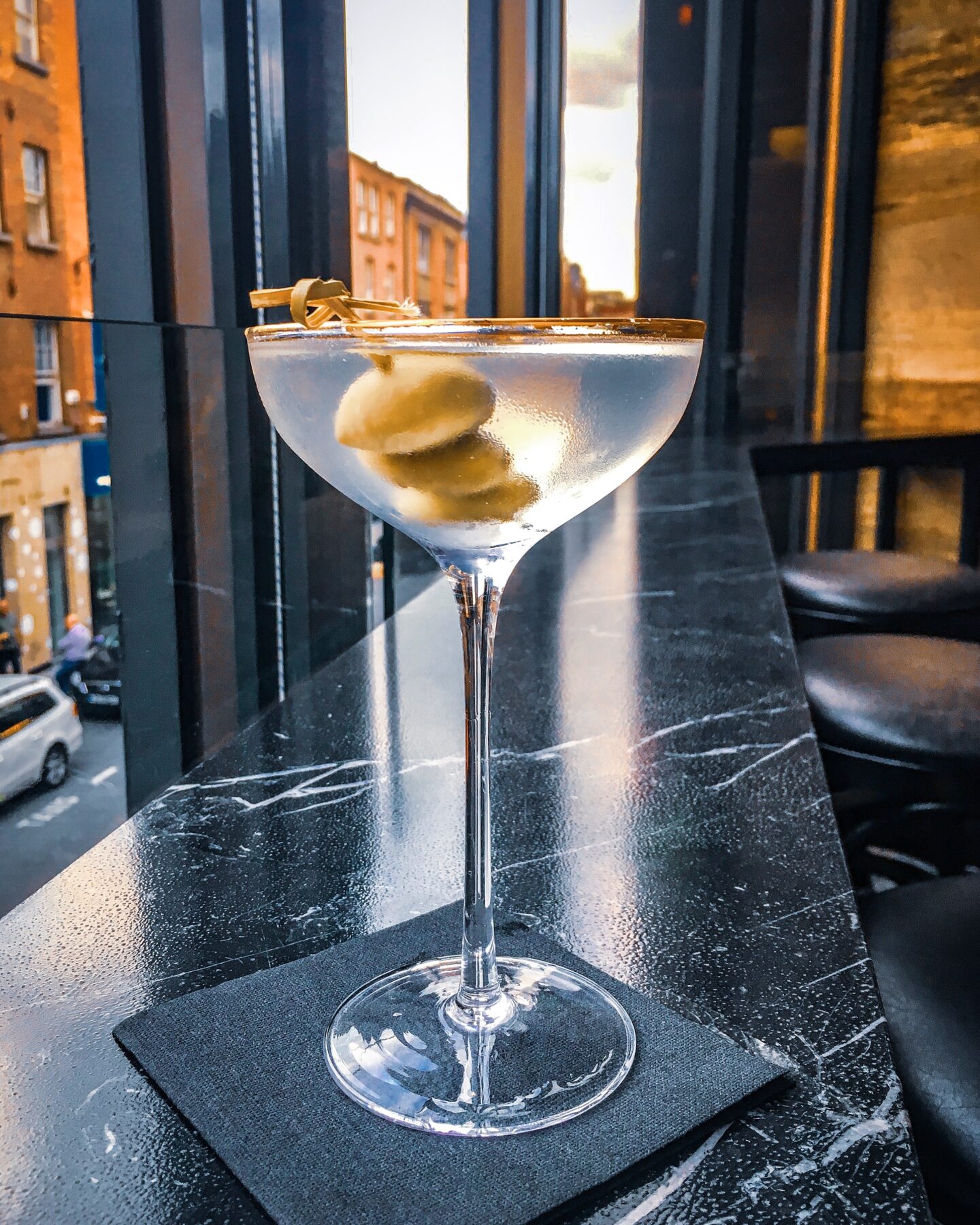 And what's our preferred martini, you might be wondering? Well, we affectionately dub her "Dirty Bertha". A very dirty and dry Bertha's Revenge Gin Martini, using one of our favourite gins in the world. You can hear more about Bertha's Revenge from this episode of our podcast Chew The Fat.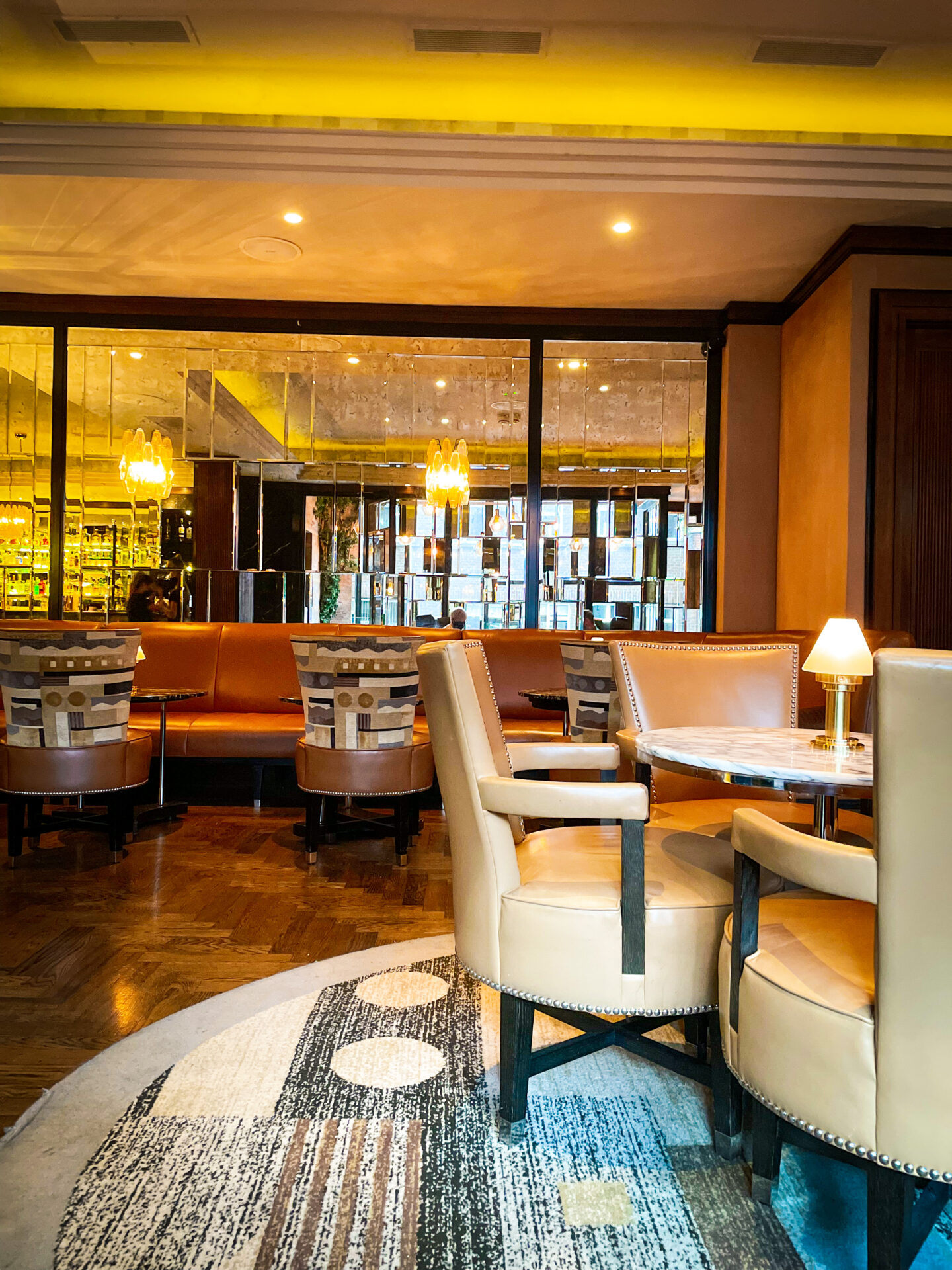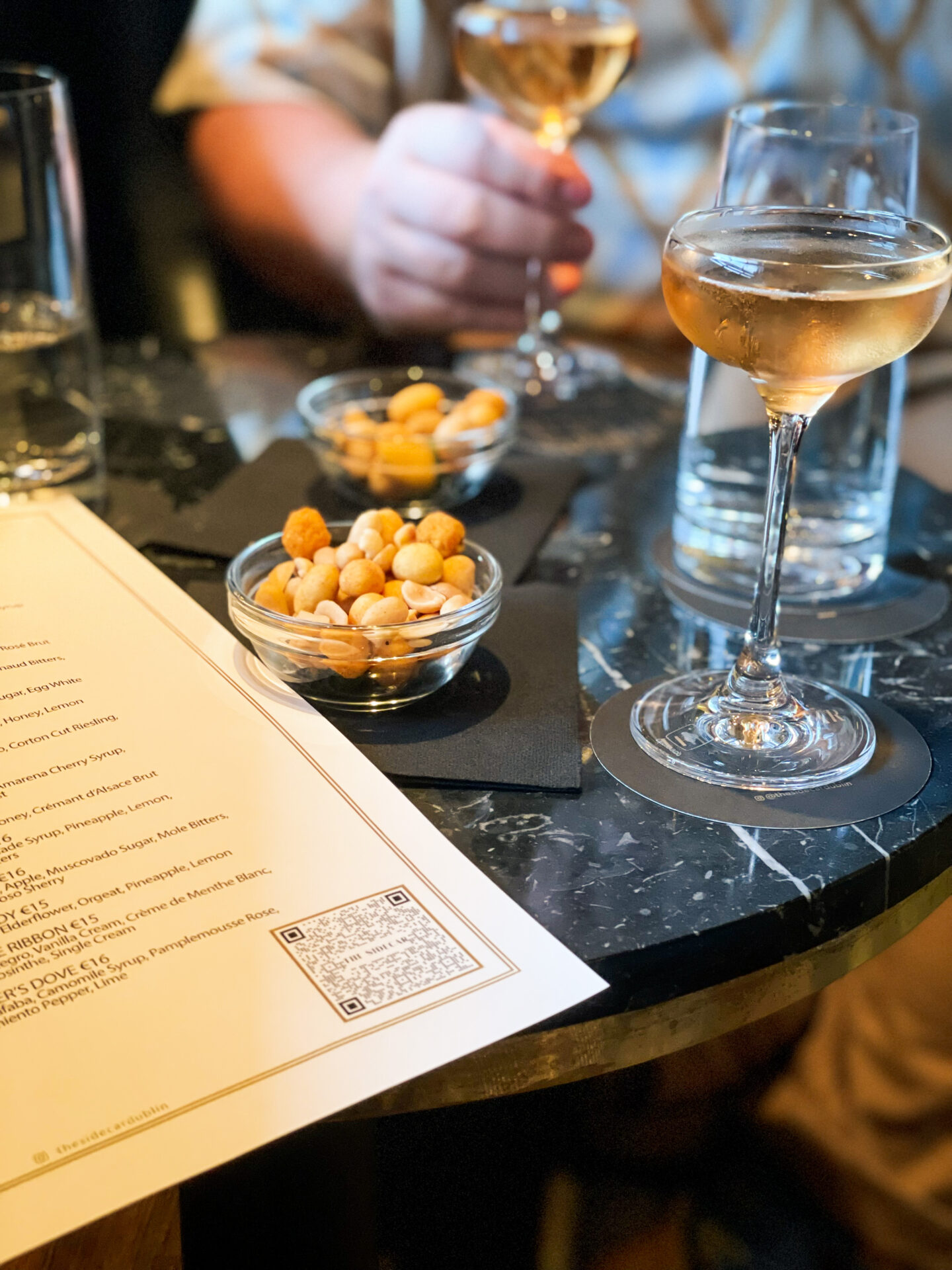 Coupettes of Champagne on arrival to your table as you peruse the menu, and little bar nibbles are served with drinks to get the tastebuds tantalised.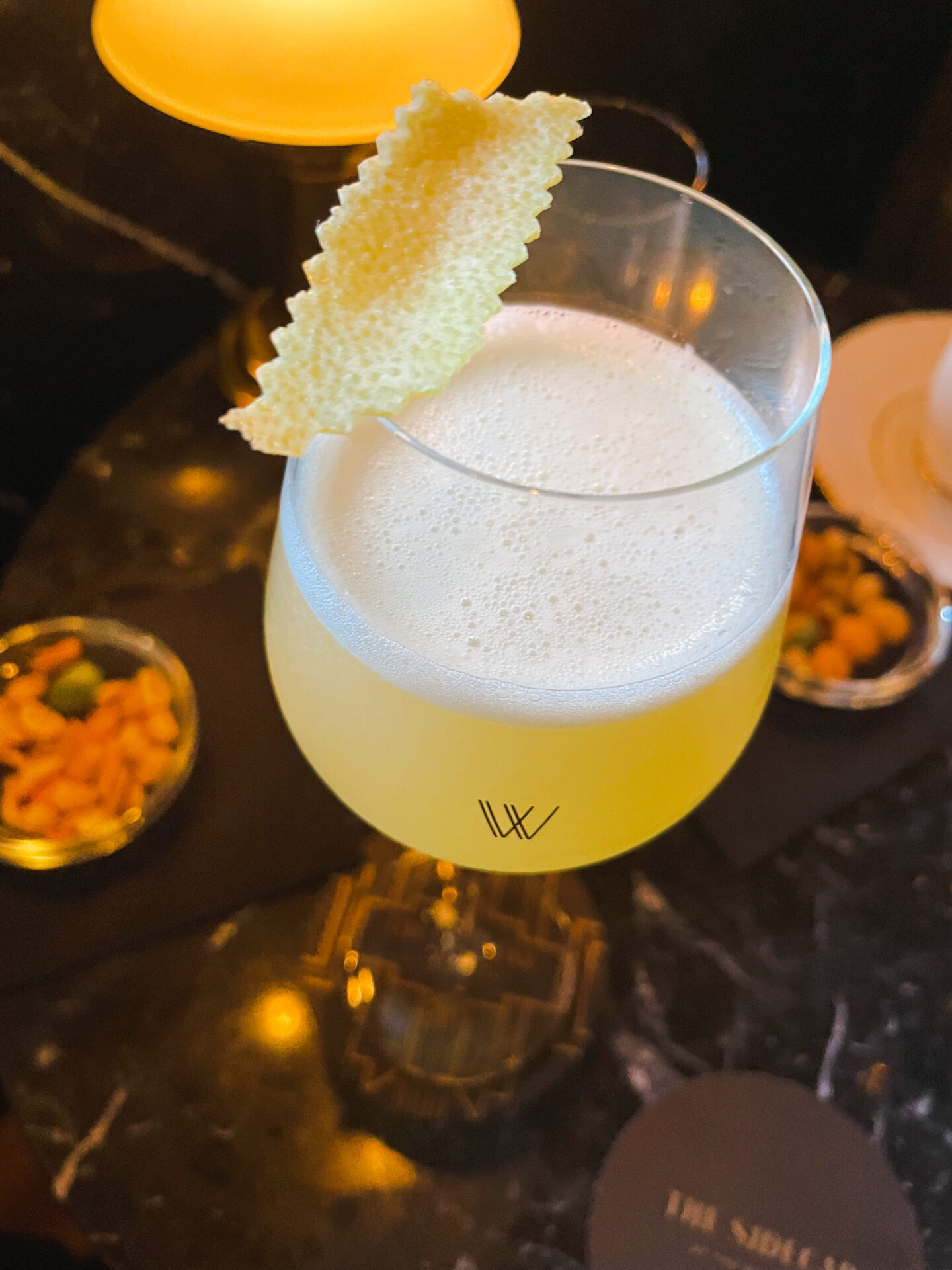 We had a couple of cocktails between us from their menu, which they explain as being captivating, unique and sometimes unusual twists on the classics –– so there's a little of the familiar and a lot of the unexpected! We went for the Tall Tale (above, a take on a French 75 we believe, with Hendrick's Orbium Gin, Velvet Falernum, Absinthe, Honey and Crémant d'Alsace Brut), The Bellevue Hotelier (A twist on a Mezcal sour using a very smoky Del Maguey Vida Mezcal, served in a tea cup!), pictured below.
Then, we went for The Flying South (pictured below, a sort-of mélange of an Embassy, a Sidecar and a Dark 'n' Stormy with Diplomatico Reserva Exclusiva Rum, Apricot Brandy, Bitters, Oloroso Sherry and a dried apple garnish) and The Café Century (a twist on the 21st Century cocktail with Monkey 47 Gin, makrut lime and cherry blossom).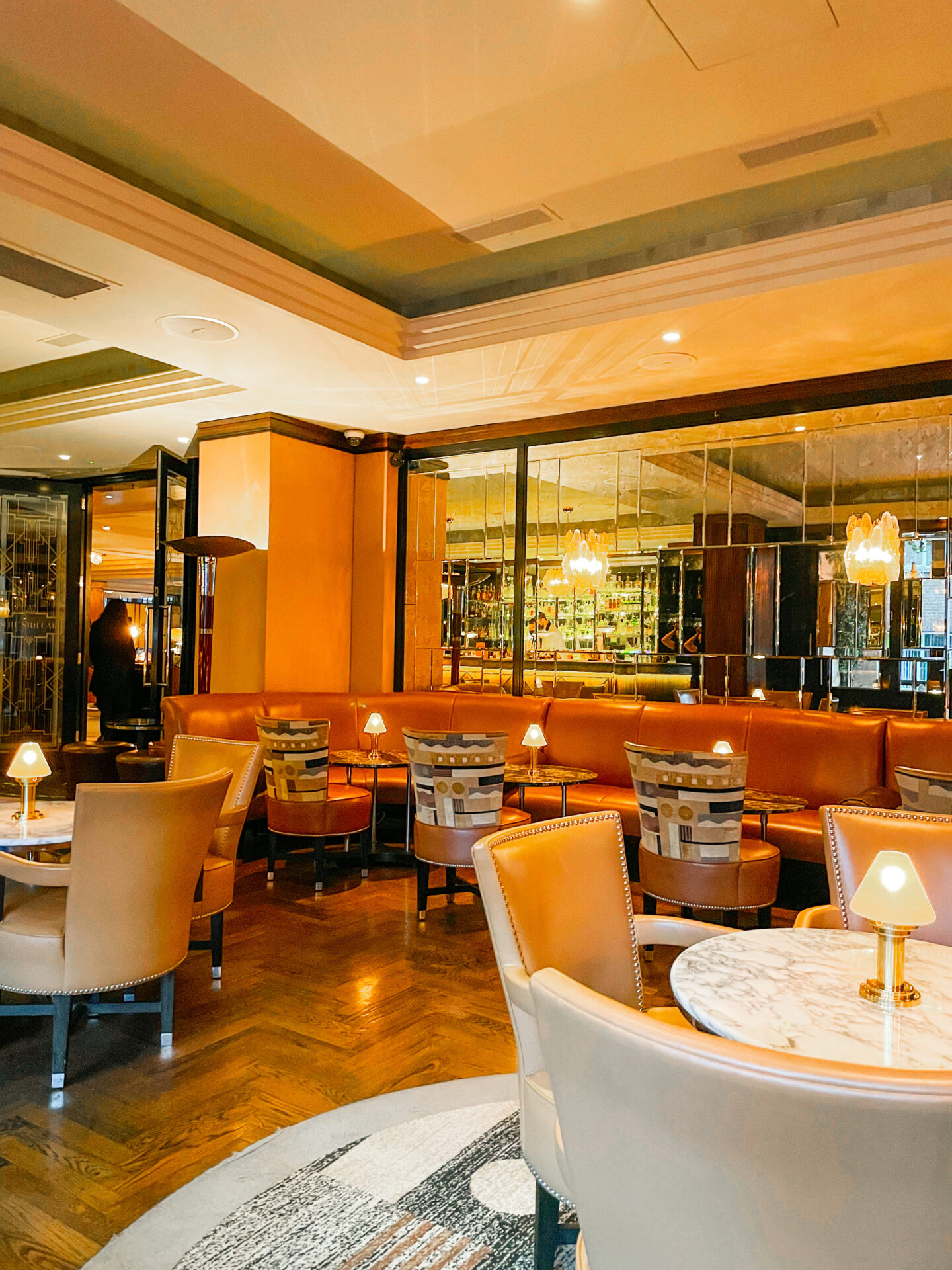 The Sidecar is a dreamy imbibing destination, and opens from 3pm daily. Each cocktail sits around the €15-20 mark, so maybe a little pricier than your standard cocktail bar but these are anything but "standard"… and of course our night cap of choice will spell no surprises. Our bill was exactly €100 including service.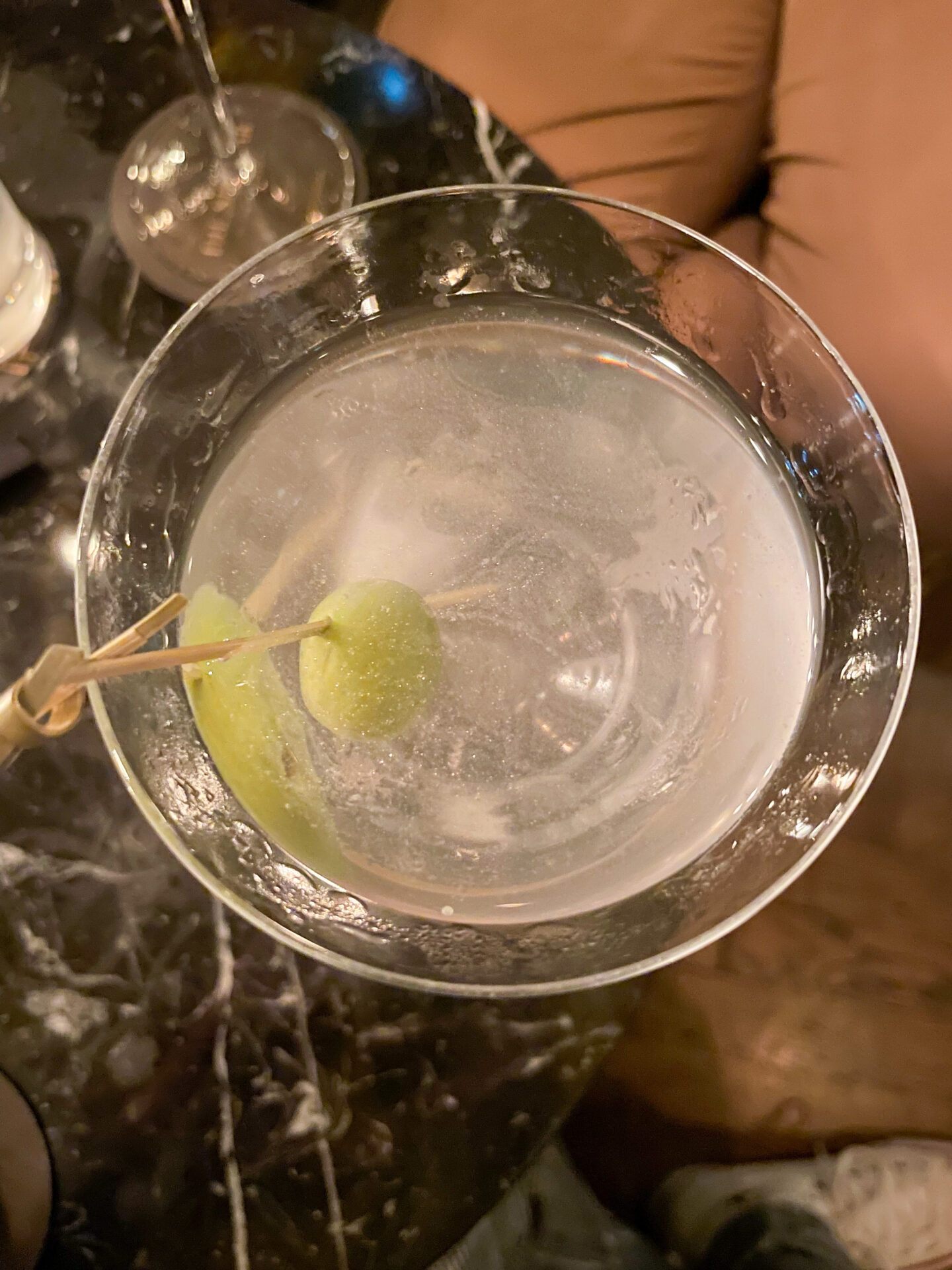 Enjoying this review of The Westbury Hotel Dublin? Book a stay here (Booking.com #AF)
Breakfast at The Westbury
Now, we may have lied earlier, as we actually have dined within Wilde but this is where breakfast is served so not quite the full Wilde experience. Breakfast is a dream at The Westbury, and somewhere we'd really recommend even if you're not a guest. If you're looking for a gorgeous breakfast experience right off Grafton Street, this is your best bet. Service was impeccably charming. Friendly, warm and invested, but also aware when to allow you to your own devices.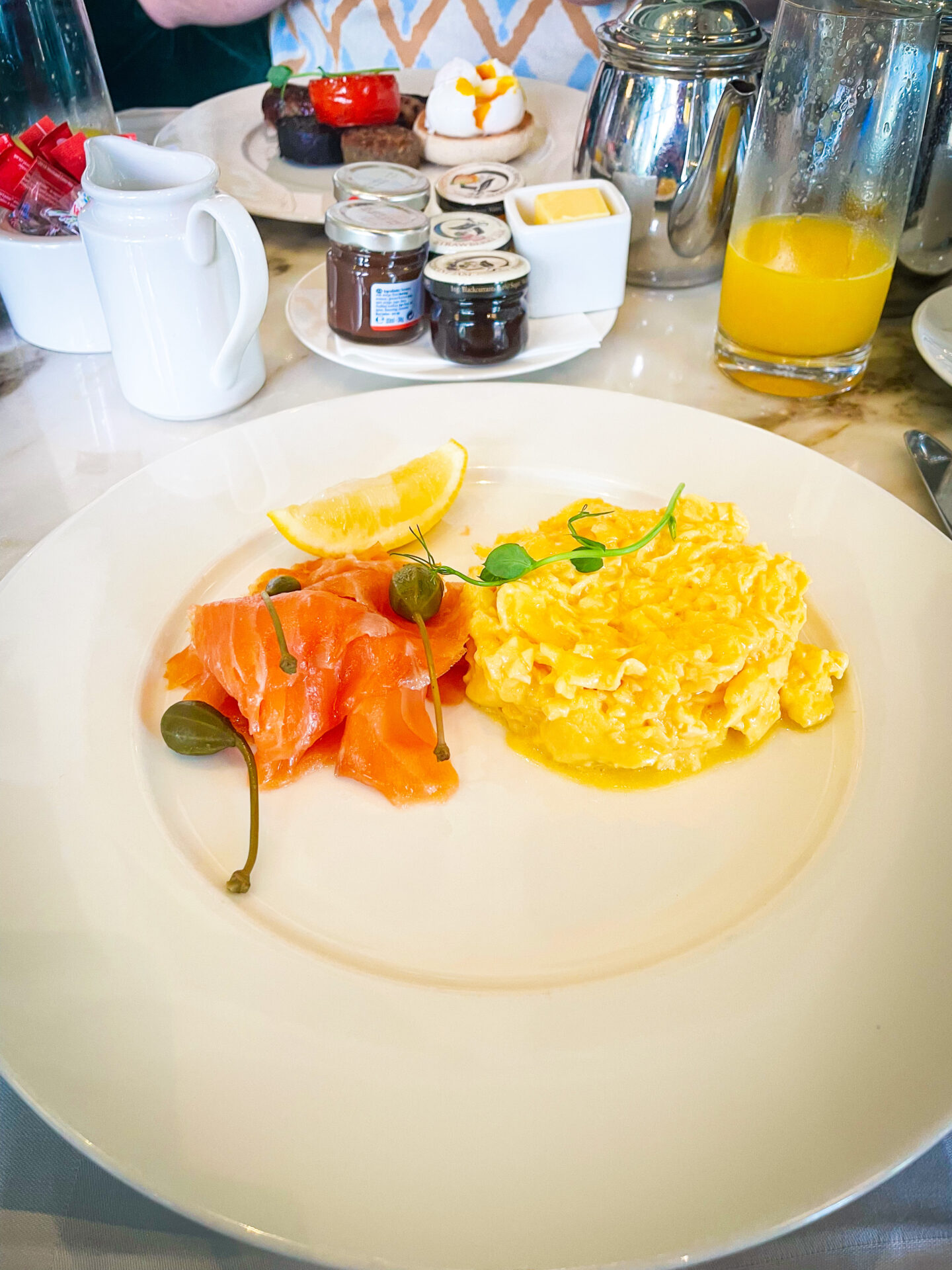 Orange juice is the barometer of a good breakfast, isn't it? How generous a hotel is with the glass size is one thing, and how fresh and zingy the orange juice is is a teller as to the quality. Here, both levels exceeded expectation, so the orange juice will keep us coming back regardless. Each guest is offered a Continental Plate of meat, cheese, pastries and a lovely fresh fruit salad that tasted as if it was chopped and assembled to order rather than sitting in its own juice overnight.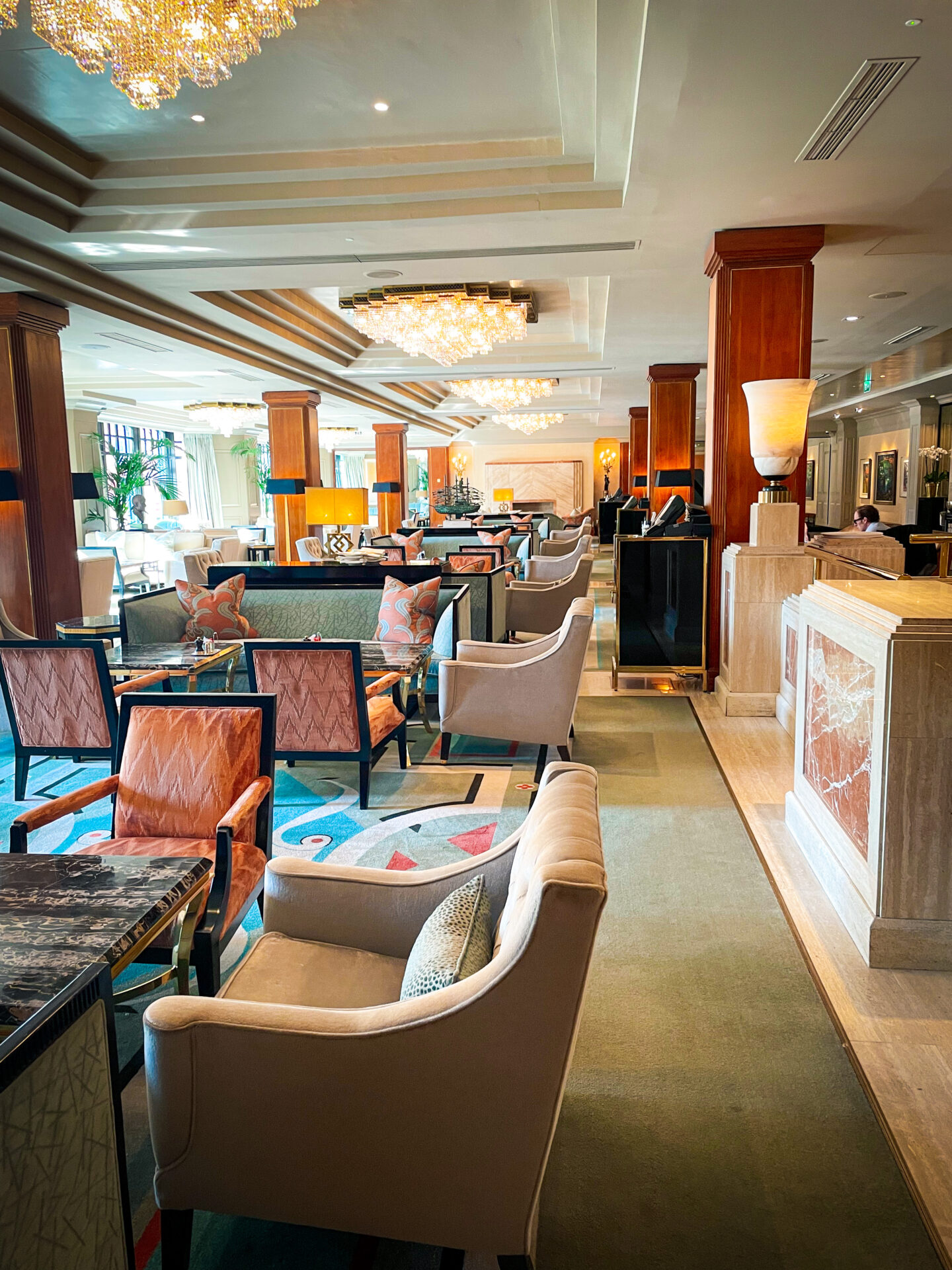 Elsewhere in the hotel in the main lounge area just across from the reception you'll find The Gallery where Afternoon Tea is served daily, midday to 5:30pm. €58 per person, Patrick and his sister have booked this before a couple of years ago and it was gorgeous, so we would recommend booking ahead. There's also now a Bubbles & Cake service where for €35 per person you can enjoy two glasses of Charles Heidsieck Champagne and two cakes as a smaller, elegant alternative to the full tea service.
The location of The Westbury is its main selling point, so you would imagine it doesn't need to sell itself, right? But this hotel is constantly striving for the best, whether that be the best cocktail, the finest breakfast or the most luxurious suite this close to Grafton Street.
Disclaimer: We stayed at The Westbury as guests on this occasion, however there was no obligation to post about our stay on our site, all opinions and observations are our own. Book your stay at The Westbury Hotel Dublin here (Booking.com #AF)