This week's overview of the restaurant critic columns includes Leslie Williams hipster hunting at Eatyard for the Examiner, Katy McGuinness checking in to The Merrion's new restaurant for the Independent Weekend Magazine and Jay Rayner finding the most perfect pub in the Yorkshire countryside doing incredible things with food in the Observer. This is Today's Chip Paper.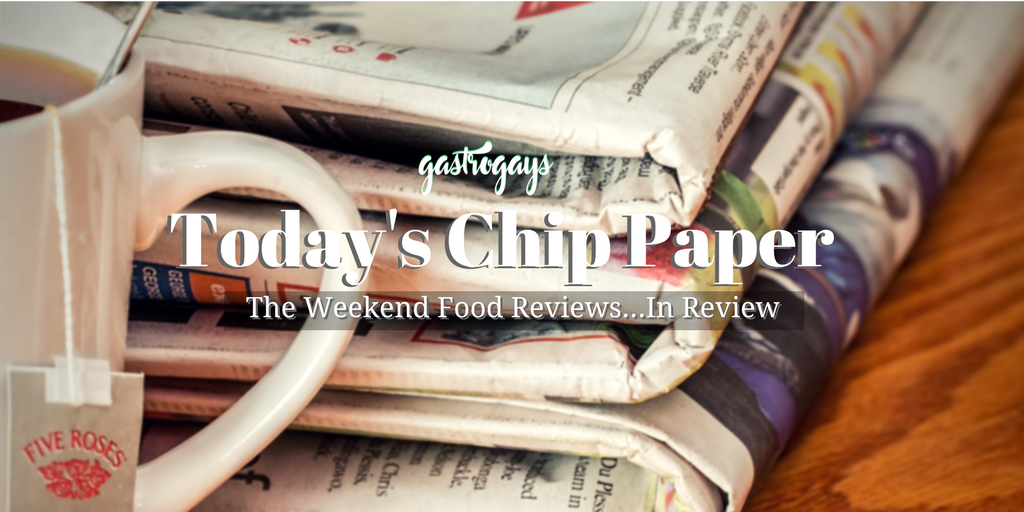 Overends Kitchen

, Airfield Estate, Dundrum, South Co. Dublin
"Brunch can be the place where chefs hit the snooze button". In the week after we visited Airfield for a BBQ masterclass, Catherine Cleary visits Airfield (more specifically its Overends Kitchen) in Dundrum for the Irish Times restaurant column.
Cleary soothes any "bloody Airfield again" sentiments by explaining that this review is of the new all-day brunch menu which is "joined by the Sunday roast options". We had no idea that the head chef is Luke Matthews who was previously of London's Harwood Arms. We also didn't know that he and two friends opened Mews in Baltimore two or three years ago – just like last week's Chip Paper (#4), it seems Cork – beyond the city itself – is becoming more and more Ireland's food destination.
Best dishes? Seemingly almost everything. Special mention though for "those desserts", which Cleary reports "haven't suffered from sitting on the "ignored for a while" counter". We love the sound of the "great gritty blood orange polenta cake whose baker has resisted the urge to lamp in sugar by the shove so the tang of these seasonal fruits still survivies" – we have something similar in this Grapefruit Gluten Free Loaf Cake. No mention of the fabulous Shane Smith in the piece, but an all round legend where baking is concerned! 
Final line? "Farm to fork done so deliciously". Bravo.
Leslie Williams heads to Eatyard at the Bernard Shaw for The Examiner in this week's food critic review in the Munster-based publication.
Without letting Dublin's one and only street food spot/ food market allow itself to be itself, of course the word 'hipster' is bandied about more than once here. Because great food at stellar prices in a casual, convivial setting with affordable drinks instantly makes it 'hipster', it seems. Last we checked that was just the definition of a great dining experience, but us two come into the category of "millennial" so let's move on swiftly. 
Less a review and more a surmising of everything Eatyard is about and what it offers, Williams eats from a wide variety of traders – Kinara Kitchen, Box Burger, Vish Shop, Just Wing It, Mr Doughnut. Applaud the love letter to Bodytonic's stable and their support of the craft beer industry – something we feel strongly about too and it can't be overlooked that Ireland is absolutely up to its eyeballs in great breweries, large and small, at the moment.
The "most satisfying taste of the day" for Williams? "[Vish Shop's] Cauliflower Wings — chunks of cauliflower coated with Sriracha Sauce, spices and a touch of pineapple and served with Aioli and triple cooked crispy chips. These are a genius creation — textured, complex spicy, sweet and savoury — all at the same time." We need to go to there, STAT.
Williams closes with: "standards are high with the added bonus of getting to hang out with people far prettier and cooler than you". For the record, after hanging on a few occasions with Leslie, we'd rather his company than that of the cool kids!
We also weirdly found ourselves in The Merrion the same week Katy McGuinness took to the hotel's newly-opened Garden Room for her Irish Independent Weekend Magazine review. Though, our paltry tenner for a tea and catch-up date with PR pals pails in comparison to McGuinness' €154 bill…
8/10's all around for the food, value and setting. For those uninitiated, McGuinness explains: "Anyone who ever visited The Cellar restaurant (which The Garden Room replaces) will remember a gloomy, windowless space that one could put up with for dinner but was the last place one would ever think of booking into for lunch on a sunny day". Seemingly it's been re-done and has breathed brand new life into the space.
We're ALL about starter-size portions of "generous" 'snacks' like boneless chicken wings with pistachio lardo and fontina, and truffle arancini. Hand-cut beef tartare with quail's egg. Yes. Omelette Arnold Bennet. Yes, but *not* for €18. Half a smoked cauliflower. Absolutely yes. This indeed seems like a menu worth shouting about.
Departing line takes the form of "the new Garden Room squares the circle in that the hotel now has a restaurant that does what all the best hotel restaurants do: provide a relaxed an unpretentious venue that works for everyone".
Voici

, Rathgar, Dublin 6
Our attention was piqued by seeing that Voici, a French-style wine bar in Rathgar was the subject of Lucinda O'Sullivan's Sunday Independent Life Magazine review – namely because we've never heard of it before and we can usually count on O'Sullivan to review somewhere a little under the radar.
The "here", which the name translates to, is 1A Rathgar Road which is the corner where Rathmines segues into Rathgar. This, it transpires, is from the same people who run Scoop Gelato and Classic Crepes. Yes, us neither. But as the review continues, it transpires that these guys (Raymond Kennedy and Patrick Moloney) know their stuff, with a luxe French interior and a menu that reads like those brilliantly  cosy but grand French bistros that are worth their salt and don't want to share and recommend to friends for fear of your personal hidden bolthole being exposed to the masses. By that we mean croques, galettes, Completes and all wines by the glass. Vive La France!
O'Sullivan remarks that the crêpes were all "lovely crisp square 'envelopes'" but that the "ugly, well-scratched boards" three of their dishes were served on ought to be thrown in the fire. Eeek, there's rustic French and then there's plain old tatty.
The interior, though, sounds dreamy – "Prussian blue room, stripped floorboards, banquettes, bentwood chairs, a wall of wine".
A Croque Madame for €9? Bargain – "they looked so fab I nearly sat down again", O'Sullivan exclaims – and pair that with a €7 glass of Picpoul de Pinet, you've got a contender for your new favourite French fancy of a lunch spot. Lovin Dublin were hot on the scent a couple of months back, too.
Over in Yorkshire, Jay Rayner is astonished by The Moorcock Inn (leave it out!) in his Guardian review.
Within the first couple of paragraphs, here's a snapshot of the sweeping statements:
"the most self-assured and self-possessed, poised and absurdly wistful launch in years."
"Frankly, it was a revelation."
"What in God's name possessed them, apart from great taste, fearsome cooking skills and a "sod it, let's do it" attitude?"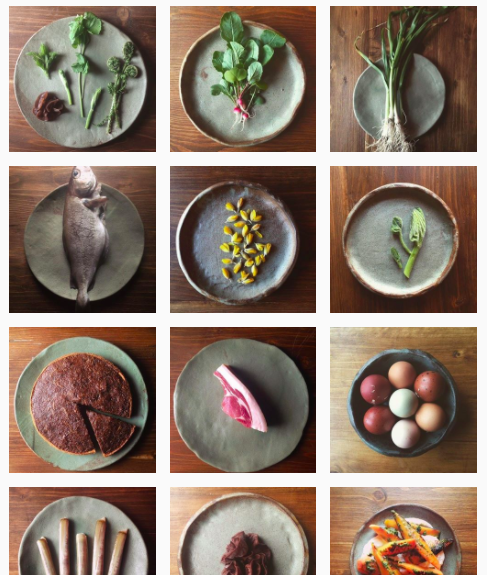 Well, what follows is like a romantic sonnet in the form of a modern British pub menu. "The changing bar menu included things like trotters on toast, horseradish fritters with rose pickles, and platters of their own charcuterie (gossamer-thin slices of pork shoulder, with a ribbon of translucent fat, are served the right side of room temperature, lifted by the grassy waft of chamomile)… At weekends they were roasting whole pigs for Sunday lunch…. Potatoes have been long-smoked over that fire outside, until split, sweet and saggy, then dropped into the deep-fat fryer to crisp." Good lord, we're actually salivating at the bold, bygone era simplicity.
We know what this is, actually. We can picture and almost taste it. This is John The Unicorn, our former favoured stomping ground in Peckham, transported to the depths of the Yorkshire countryside when former head chef Ben Mulock used to command the pass about three years ago. This is akin to the fare that his small, well-formed little menu of pub bites was touching on – but fattened up a notch if it was to sustain itself in a stocky northern countryside pub. There's heralds of what he was trying to do in the Moorcock's menu and this could well be the spark that lights our first flight to Yorkshire.
Rayner, earlier, sets the scene: "You enter round the back [GG: Pardon! Sorry, that name again…] where firewood is stacked high and a massive charcoal grill sends smoke pirouetting into the evening sky. Inside all is raw wood and beam." *hums* these are a few of our favourite things… Rayner imbues the review with lavish praise and even compares dining here to the feeling he first got when he tried the Sportsman in Kent.
Yorkshire's got another gem… and it's soon to be one of the first names in cutting-edge British pub dining.
Today's Chip Paper returns in two weeks.
There won't be a feature on the week of 14th May, as we're in Lisbon for Eurovision 🕺