We've gone all critic-y. In the week that we found ourselves sampling no fewer than THREE brand new openings in Dublin city (Loose Canon and Masa, both on Drury Street; Pi on Georges St), where have the critics been? Widespread, it seems. This week's Chip Paper is Irish-only as there was so much to get through. It's destination: disappointment at Clontarf Baths, Ukiyo and the Glucksman Gallery at UCC; good Taiwanese and Malaysian in Dublin, a celebration of beetroot at GIY in Waterford, pretty good fish in West Cork and a rounding-up of the 20 best pizza places across Ireland.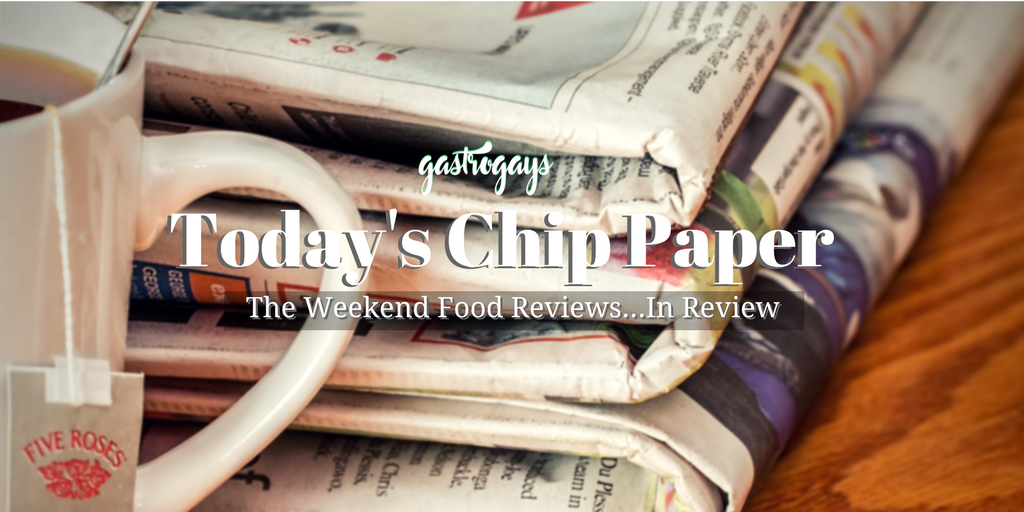 "Yeah, what did ever happen to the supposed food offering at Clontarf Baths?" you might have wondered to yourself.
Well, it's not up to much, it seems. Katy McGuinness visited and surmised her experience in the Irish Independent Weekend Magazine… and it's not good, folks. Rarely we've ever come across a review which warns against ordering dishes, this one has it: "a terrible idea. Don't order it."
If you're not from the Dublin region, you might not know about the Clontarf public baths. In fact, holding our hands up here, we were only out of nappies when they closed in the early Nineties. McGuinness provides the much-needed backstory – "The Baths reopened in March after an extensive and obviously costly restoration of the original Clontarf Baths and Assembly Rooms, which date from 1886. The local Cullen family is behind the venture… The outdoor salt-water baths closed 22 years ago, and have re-opened in a limited sense in that the pool can be used by members of swimming and sporting clubs that provide their own insurance and supply their own life-guards. [edit: hmm…] There is no date set for the baths to be open to the public; health, safety and insurance issues appear to be the delaying factors."
Ireland still, somewhat, enjoying the spoils of that maligned Mediterranean climate that's found our shores, McGuinness and dining companions spot an opportunity to sit outside and propose it – which is quickly rejected. "The Baths only serves drinks and coffees on the terrace overlooking the water. We are shown to a table indoors from which every possible view of the pool or the sea is obliterated – by walls, by masonry, by a tea station, and by a huge banquette in the middle of the adjacent conservatory-type structure."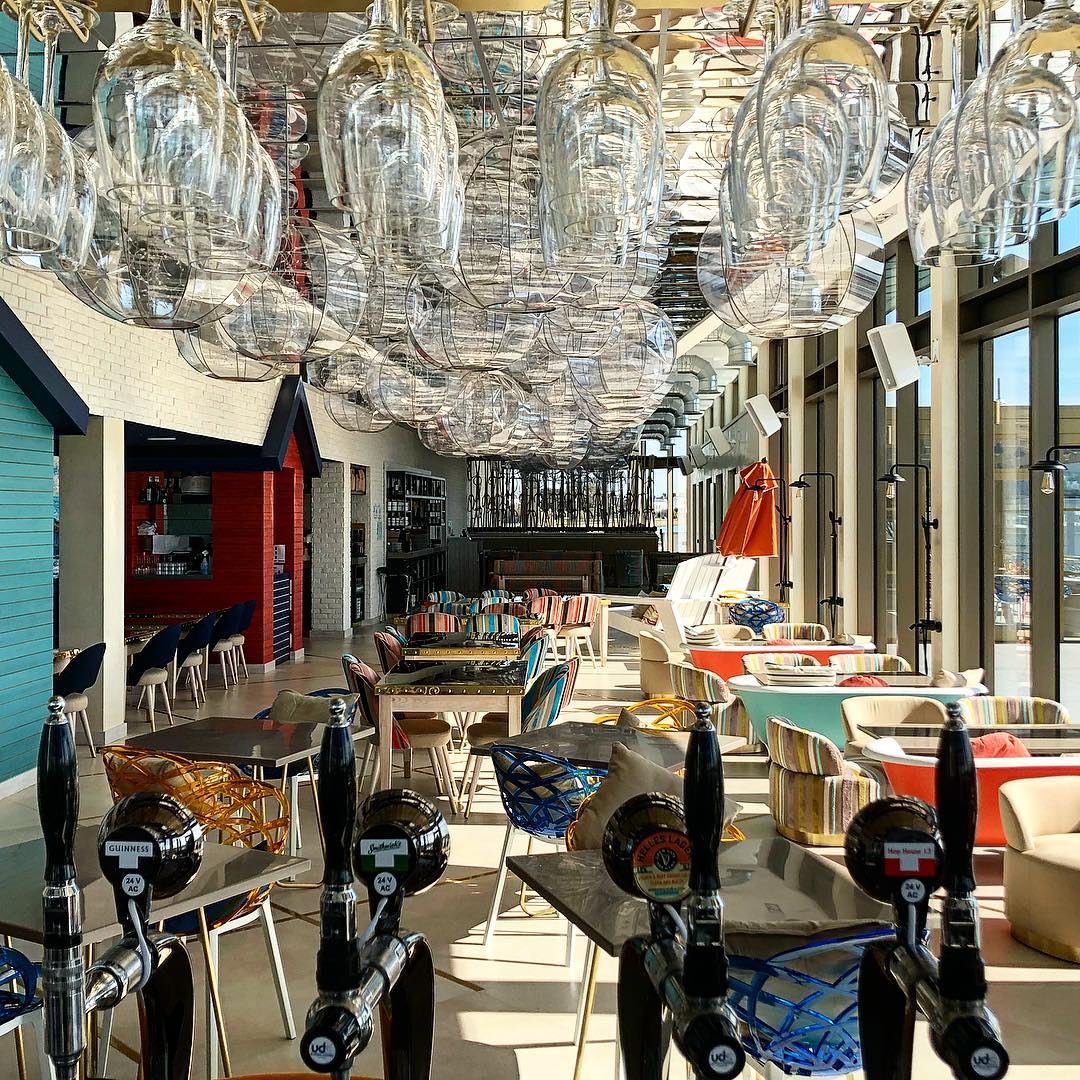 "The décor has – as one might expect – a nautical/seaside theme. Nothing wrong with that. But thre is way, way too much going on." Eek, this isn't even a 'concept' restaurant. It's just a dining offering at a kind-of-public-baths-but-not. This wouldn't happen in Sweden, where public bathing is ever-present… just sayin'. McGuinness continues, gloriously, "it's Avoca by the sea done badly, reportedly by an Irish firm based in Dubai". Can you hear an eye roll? Hopefully.
It's brunch time, apparently, so brunch is the subject of the review. McGuinness and co. order three dishes, of which the eggs benedict is "the winner", served on a soda farl with "too much" bacon alongside spinach and a "good" hollandaise. Then, from so-so to so bad. "Any restaurant that puts a lobster roll on their menu is on a hiding to nothing". You tell em, McGuinness. "… because the reality rarely lives up to the hope and expectation. The quantity of lobster meat is simply never enough, and the punter feels short-changed. At The Baths the dish costs €19 and it's a serviceable iteration – lemon mayonnaise, finely chopped celery, brioche bun – but no more. Predictably, the amount of lobster feels stingy. The chips are fine, but under-cooked and not crisp enough."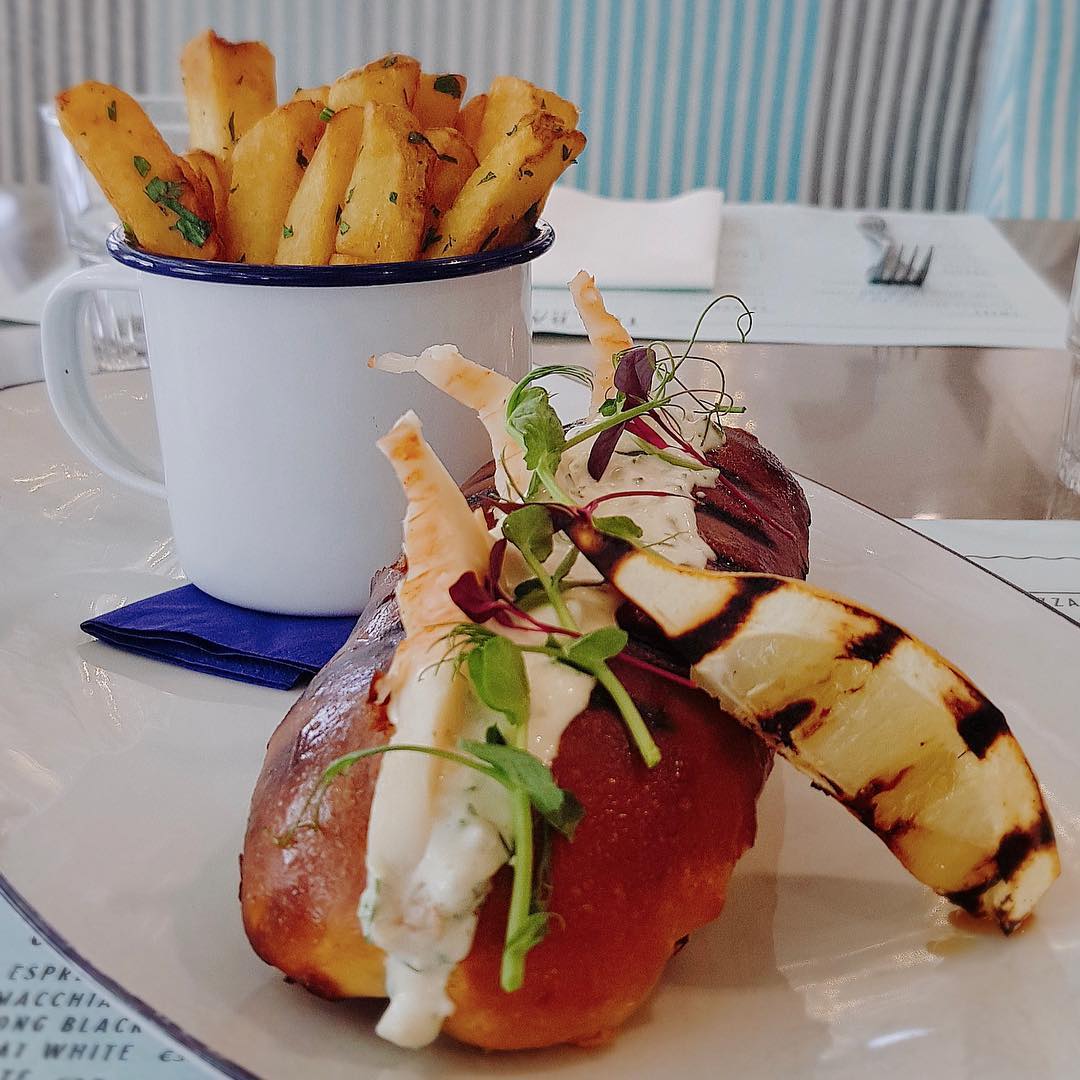 "But it's the Coddle Pizza that stops us in our tracks." Sorry, WHAT?
"First of all, it looks terrible – pale, the cheese barely melted, the pieces of organic bacon limp and flaccid. It looks as if it hasn't yet been in the oven. But it has." This is an abomination and needs to be stopped right this second. "And there are Guinness sausages, wrapped Calzone-style in pizza dough topped with a zig zag of honey mustard sauce." Seriously, someone make it stop. MAKE IT STOP NOW. "What a truly terrible idea, and what an awful pizza. Don't, whatever you do, order this dish – not even for fun."
Desserts any better? "We share an uninspiring knickerbocker glory and bland affogato, both sweet, creamy, forgettable." Final words from McGuinness: "In such a magnificent location, both the décor and food at The Baths are a disappointment". The Baths walks away with a surprisingly okay score of 19/30 and retreats to lick its wounds, and hopefully overhaul that menu.
From bad menus in Clontarf to inexcusably bad service in Cork (and a lack of flavour to boot), Joe McNamee visits the Gluckman Gallery at University College Cork for the Sunday brunch he never knew he was having, and instantly regrets, in the Irish Examiner restaurant review.
"Service needs to be seriously addressed – and urgently," McNamee interrupts his review mid-way through with a warning. "When we arrive, the only two active tables are almost finished yet none of the staff utter so much as a word to us, not even a smile or nod of acknowledgement to register our arrival, from their positions behind the counter. No one makes any move to point us to a particular table, so we seat ourselves". McNamee further describes their "eventual server" being nice but "very nervous… clearly in need of serious training" whilst of the more senior staff "the general air of detachment [from them] border on disdain. Not a good luck overall". Ouch. The saltiness is reserved for the service, rather than the dishes, it seems.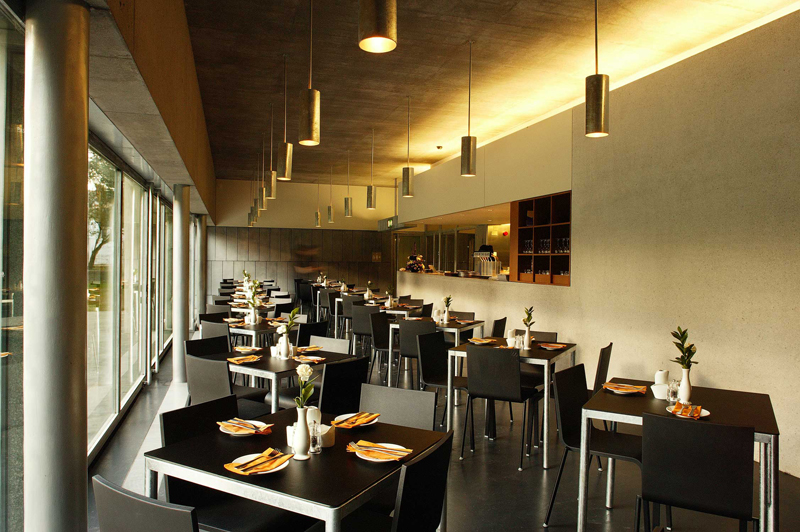 McNamee is at the cafe within the "exquisite" Glucksman Gallery, set in the "leafy, arboreal shade of UCC". Describing the basement space, the writer explains "it's long, narrow, décor spare and minimalist with as much raw concrete as a body can handle."
"I kick off with a glass of in-house kombucha, sharp, with lovely citric mandarin note. It does a mighty job of readying my inner temple for the offerings ahead." A "usually fine" McCarthy's black pudding is "overcooked and dry, almost a crumbling biscuit" in a dish with poached eggs, tomatoes and "excellent fresh chard" which is "entirely under-seasoned". Another dish of hash browns with eggs and other bits lacks "any semblance of seasoning (are we detecting a pattern here?)" Within that same dish comes a salsa, which is "actually a Spanish-style tomato sauce rendered down to a dense paste. To look at it, you'd imagine it would be bursting with the deep, rich flavours but it is anaemic, devoid of depth or punch".
McNamee opts for "what might pass for a full-blown dinner: chilli tempeh, beans, patatas bravas and beets. The tempeh and beans are well-cooked, textures absolutely spot on, but again seasoning and flavour are mysteriously absent… as for chilli, I ask for a chilli sauce, eventually receiving a curiously gloopy sriracha". The bravas are "not the traditional crispy fried potato cubes but softish, sautéed potatoes – again they require serious seasoning." The writer is baffled by the whole experience, noting that this is a serious misstep from a duo of chef-manager joint operators who have credentials and have had successes in the past.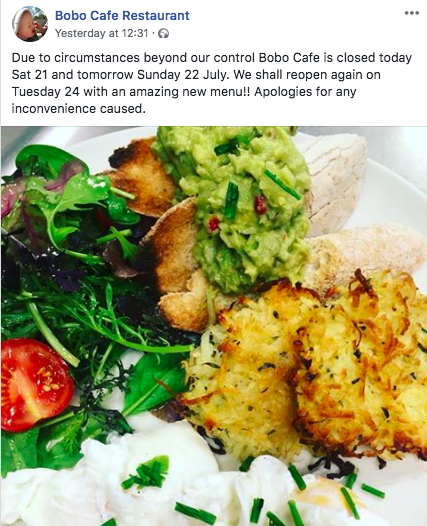 Update: The cafe curiously posted this to their Facebook page the morning the review came out in print, announcing they were shutting up shop "due to circumstances beyond our control" paired with a picture of the hash brown dish in the review, and explaining they would reopen with a brand new menu… watch this space.
Ukiyo

, Dame Court | 

Bao House

, Aungier Street
We rarely get to nab Totally Dublin when we're up and down to the capital, and when we do by the time we get 'round to reading it it's already last month's edition. For the July issue, Conor Stevens is seduced on the surface, but blue-balled by the new Ukiyo menu and Aoife McElwain – who was on Irish Times Food File duty this week in Marie-Claire Digby's absence – writes up about Bao Bun on Aungier Street.
"I read a lot of menus," declares the opening line of Stevens' surmising of the newly-relaunched Ukiyo with its new-look basement and updated offering. "I read them for pleasure. The menu is the dirty talk that precedes the foreplay of the appetisers… when a menu box appeared some weeks ago underneath the neon sign denoting the entrance of the all-new Ukiyo lounge on Dame Court, I was transfixed like a pervert at a peepshow. This is a menu that promises to do many things to me. Japanese things."
We bumped into an industry pal on Exchequer Street a few weeks back who told us about Ukiyo's new menu and absolutely sold it to us, but what lies beneath doesn't seem to be up to much… The backstory moves the review along, "Ukiyo has been slinging entry-level bento boxes (and facilitating the murder of song) on the corner of Exchequer Street for what feels like forever (it has been 14 years). The food was never going to transport you to downtown Daikanyama, but it has always been affordable and doesn't take itself too seriously… In what must have been a gargantuan task the owners have connected the karaoke area in the basement of the original restaurant with a cavernous subterranean space in the old CHC building."
The dishes seem to be a big old disappointment. "We order liberally from a menu of small plates 'designed for grazing and sharing'," Stevens explains. First up is Tempura Halibut with Ponzu Mayo – "the fish is startlingly fresh and flavourful but the batter has none of the brittle snap and rustle that tempura demands". Next, Beef Tataki with Black Truffle Oxtail Vinegar – "four slices of rare fillet beef are line up on a rectangular dish topped with 'soy caviar'. It's a fine plate of food but the meat has been rubbed with something spicy (perhaps Togarashi?) that bullies the vinegar into the background."
"Good taste is also absent in the marinated mackerel," the review continues, "the fish is limp and yielding, and tastes only of the blow-torching it received before being sent out". The gyoza are "perfectly fine"; the bao with blackened shrimp is "let down by a lank slaw"; and the salmon belly with liquorice teriyaki "just doesn't work". So, we're wondering, what actually does work other than gyoza which are notoriously hard to get wrong? Not only the food is a misstep, so too is the space – "you are dealing with a space that becomes a club at the end of the day, so the space was never really going to feel like a dining room".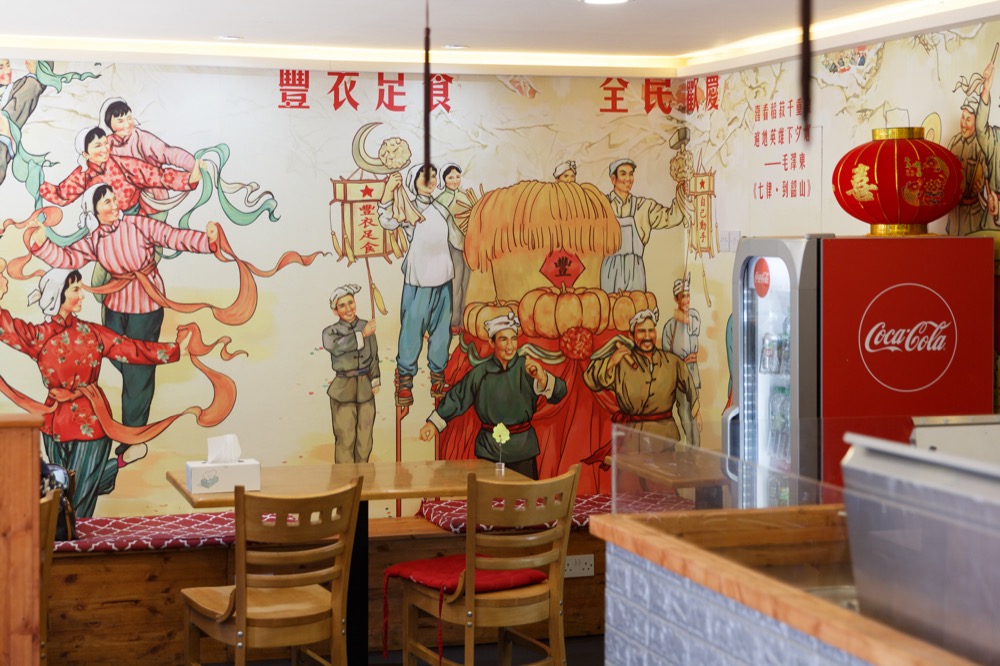 McElwain's feature on Bao House is more an overview of how it came about, rather than the flavours found. "These steamed buns are a speciality associated with Taiwan, and Bao House are [sic] among a select few – alongside Chameleon in Temple Bar  and How Bao Now food stall at The Irish Village Markets – who go the extra mile to make their own baos [sic] from scratch." If we're correct, we believe 'bao' is both singular and plural.
Wynne Liu is the woman behind it all, originally from Dalian, a "seaside city in the northeast province of Liaoning of China". We didn't know this, but McElwain writes "Liu runs another food business, a food stall called Bite of China located at Kildare Village, and the companies share a central kitchen in Killiney". The central unit creates "pillowy texture" bao (using Chinese flour, not Irish) and delivers to the Aungier street restaurant daily, whilst the fillings are all made in-shop.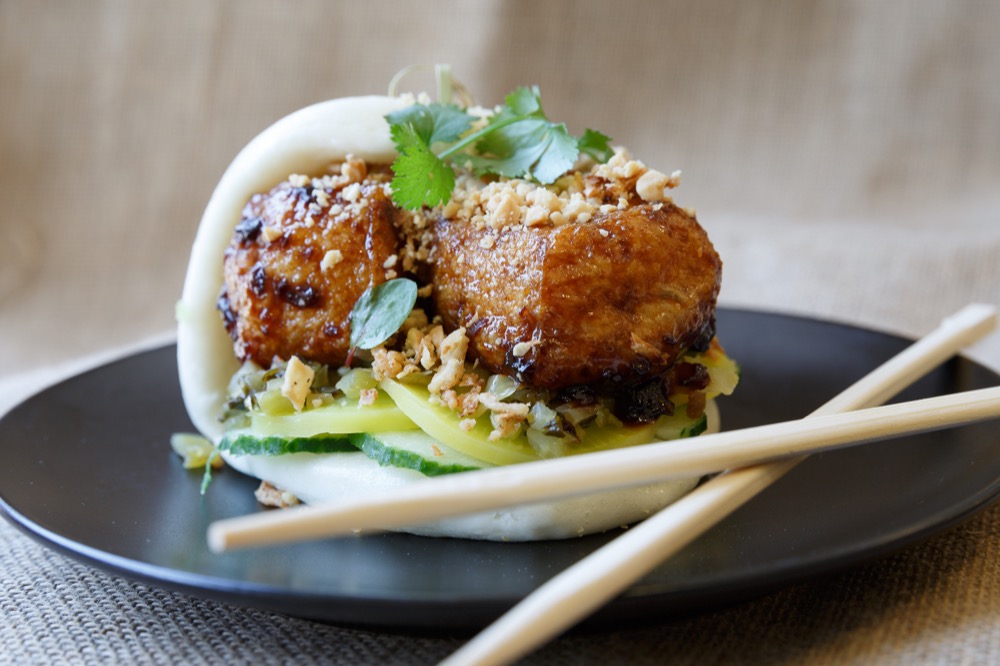 "The pork, beef, duck and chicken are all Irish," McElwain reports, adding "the chicken used for the bao is the succulent thigh – bread-crumbed and fried – and so much tastier than the breast. Puffed and fried tofu is on the menu for the vegans and vegetarians. This is gloriously messy eating".
"All baos [sic] come with a hoisin-style sauce, crispy onions, spring onions, pickled radish and greens," the review continues, whilst pointing out Bao House's extremely good value. We've walked by this place probably 20 separate times, en route to somewhere else along Camden Street or retracing our steps after a coffee stop at nearby Network, one of the area's best cafes. It's always piqued our interest, but we've never tried, always making a mental note to remedy that. Now we must – especially as we're coincidentally off to Taiwan in two weeks' time!
Along the Copper Coast, Catherine Cleary visits the home of GIY on the Dunmore Road as GROW HQ Cafe gets the Irish Times restaurant review treatment.
We have to profess to being great fans and fledgling mates with the GIY people, having spent a nice chunk of our time over the last year in and out of Waterford, where they're based, and crossing paths with them at various festivals. We adored watching Grow, Cook, Eat on RTÉ earlier this year with Mick Kelly and Karen O'Donohoe presenting and we've even got the book too!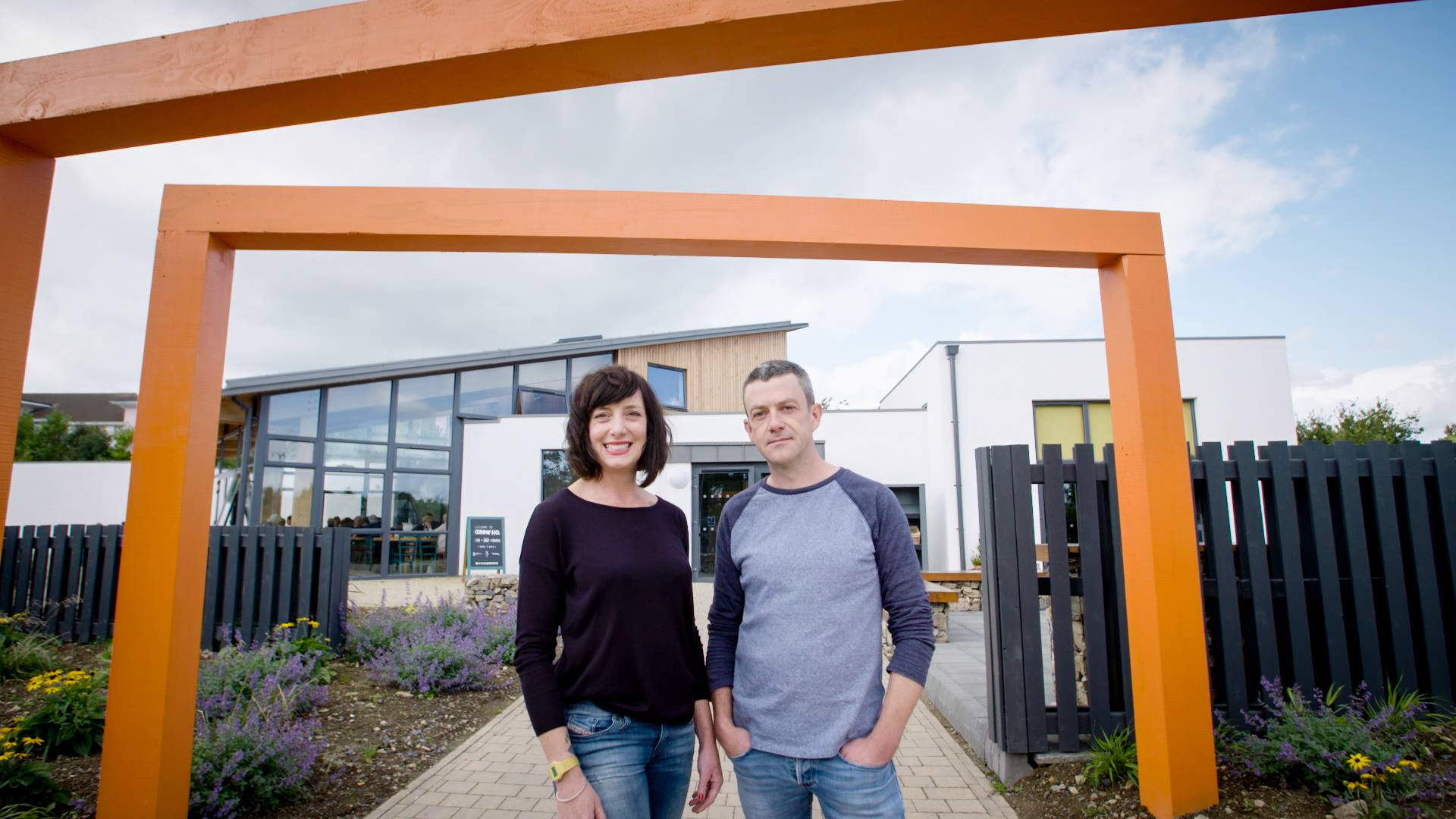 The one thing we haven't done is eat in the cafe, so our eyes lit up at this inclusion in the Irish Times Weekend Magazine. JB Dubois, who we've seen speak a few times and is passionate about root to stem cooking, is the guy leading the operation here.
"The name makes it sound like a militia encampment for barrow pushers and gnarly-knuckled folk who know how to pinch out the side shoots on a tomato plant," Cleary begins, adding: "In the depths of the recession GIYers met all over Ireland to share the experience of growing their own food. Now the grass-roots movement has a shiny new building beside one of the busiest roads in Waterford." A fabulous idea, no? In the land of exceptional Comeragh lamb, fluffy Walsh's Bakehouse blaas and wonderful breweries and distilleries (Metalman, Dungarvan, Blackwater), it's nice that Waterford leads the way with such a veg-centric operation, so pure and wholesome you almost want a bit of soil to fall out of a salad leaf or two in your bowl.
"Service couldn't be better," exclaims Cleary. "There's a knack to keeping the spirit in an all-day cafe where peaks and troughs can wear out the wait staff in the gap between busyness and boredom. It helps that outside the view is so gorgeous, a sun-soaked garden with tiered planting leading up to those raised beds and a wooden greenhouse". The "glass fronted" cafe is the "largest part of the new wood-and-glass building that turns its back on the ring road, so effectively you can't see or hear it". The cafe has "plenty of large, heavy, pine-topped tables and wooden chairs painted in primary colours. It couldn't be more cheerful if it had been designed by a children's book illustrator. There are handwritten mottos on the concrete wall between cafe and kitchen and a menu that sounds exciting… Each week there's a veg hero and it's prepared five ways. Today it's beetroot."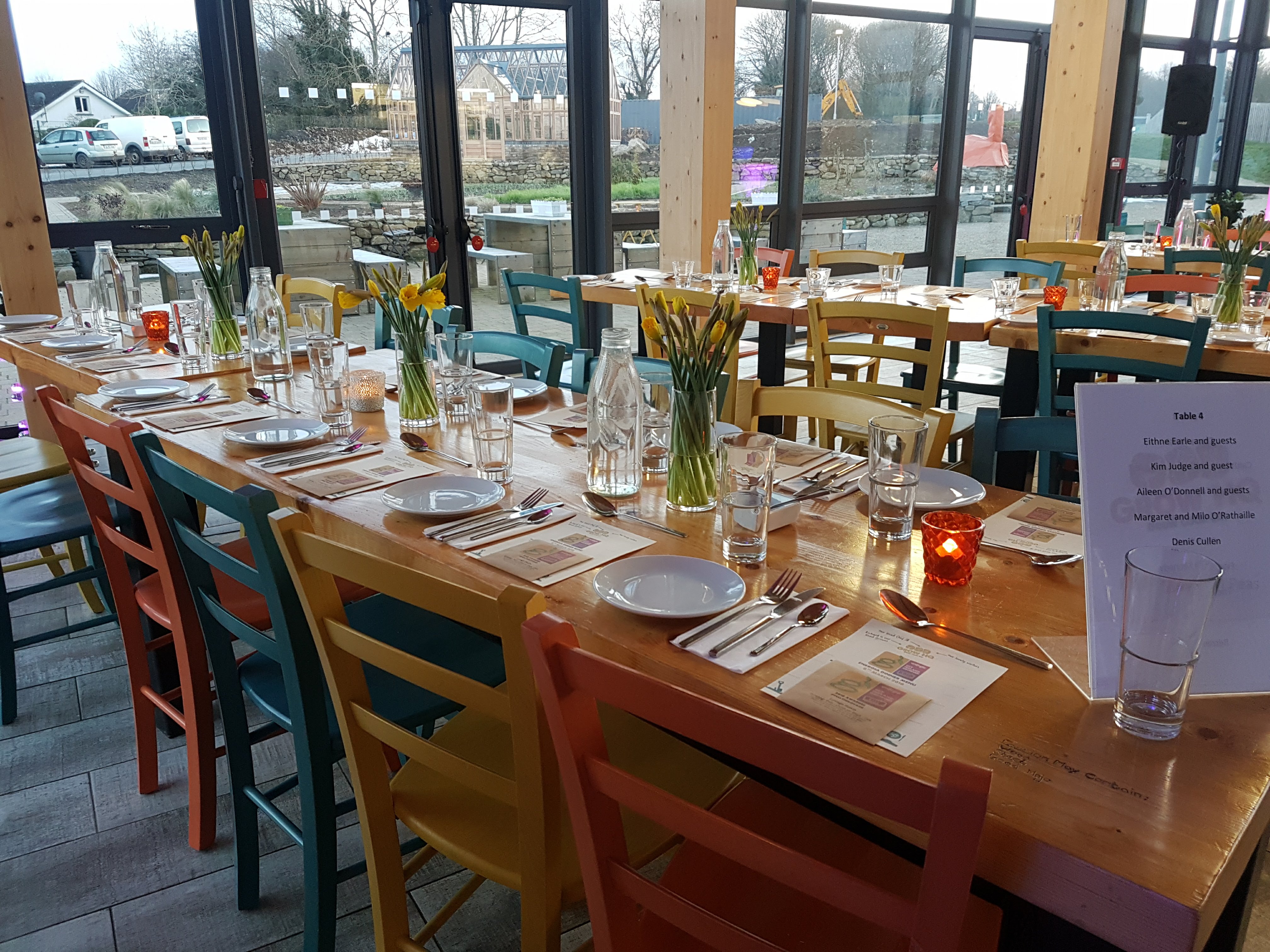 Of the food, Cleary's beet platter "takes this once-pickled and jarred vegetable and does something different with it. Four of the five treatments are good". The best is a "sausage shaped fritter, purpler than my highest-falutin' prose and fried nutty brown on the outside and then served with a spiced yoghurt". The beet gazpacho is also well-remarked, as is the "beet slaw in a yoghurt dressing with poppy seed for crunch and chioggia crisps and a golden beet hummus so bright it looks like it's been laced with turmeric. The bit that doesn't work is a risotto, which doesn't taste of the fennel or Knockanore cheddar that's supposed to be in it, and is more watery than a risotto ever should be."
"It's been a great pitstop – not cheap… but inspiring," Cleary surmises. Food provenance is noted as "exemplary" with veg grown from the gardens right outside making up much of the menu and local Seagull Bakery sourdough – which we've yet to try but heard and seen lots, notably from following their Instagram. Overall? "A great place with enormous potential." Cleary suggests scaling back the "hashtag gimmick of one veg five ways and just do one luscious thing with it every day. With an idea this beautiful, less is more".
"Being off duty at the time, I just wanted something simple and good," and what Tom Doorley found was "deadly dull" on a Monday evening in West Cork. So the next day, he stoops his head in the door of L'Escale in Schull and finds much, much better stuff – but still is left shaking the finger a little bit in his Irish Daily Mail restaurant review.
"L'Escale is French owned and aims to be all things to all people. Children in lifejackets, fresh from the water, come in and order crêpes and hot chocolate. Tourists munch huge plates of fish and chips. On occasion, they even serve pizza". On the day Doorley visits, he notices "a big table of French visitors taking all afternoon to linger over groaning plates of seafood and bottles of – by Irish standards – remarkably cheap wines. All French, of course".
"It's a big, happy space and the food isn't bad." Doorley and dining chums share a platter of seafood, served lounging on an ice bed. Oysters lacked the juiciness Doorley desired, but crevettes made up for it in their subsequent juiciness. Dublin Bay prawns were "rather over-chilled" losing a lot of "their sweet succulence". A whole lobster, split and claws cracked was "exceptionally good… full of crustacean taste". Doorley advises: "with good Irish soda bread, this would have been more of a feast. With a few slices of ordinary baguette (and bog standard mayo in a ramekin), it seemed a little naked".
"Things looked up with the arrival of monkfish in a delicate, crisp batter, verging on tempura, with a flavour and a texture so fresh that the goujons almost mimicked the best kind of prawn. The chips were cut in-house and nicely crisp." A pair of "big, sweet, rather lovely" crêpes alongside a duo of macchiatos finishes the meal. Doorley's parting remark is that the food has been "in parts excellent" and with a little more attention to detail "it could have been the stuff of dreams".
We spotted Madame Trish Deseine dining there this week too – if we're not mistaken by her social postings. Same night, mayhaps? Whatever way, a smattering of tourist-laden culinary traps aside, West Cork keeps coming up trumps – if it's even au fait to use that term anymore, having lost all positive connotations sadly.
Langkawi

, Upper Baggot Street, Dublin 4
"It has been a feature of the Dublin dining scene for more than 25 years… it must be 20 years since I was last there," Ernie Whalley recounts in his Sunday Times Ireland restaurant review of Langkawi on Baggot Street. The same publication which, side note, had our Chew The Fat podcast (and subsequently us) front row and centre in the main splash of its Food supplement this weekend.
Pinching selves and humility at an all-time high, it's a glowing read of what we do and endorsement of the route we've taken; we couldn't be happier with Katy McGuinness' feature, so thank you if you've read it and supported our little podcast that's gotten a bit of a name for itself already!
Of Langkawi, Whalley explains: "It's a survivor, yet it seems to have done little in the way of self-promotion" but it has a loyal band of merry diners, it seems, because when Whalley arrives it's "packed to the gunwales" enjoying a menu "based on recipes of the traditional variety that [chef and proprietor] Alexander Hosey learnt from his mother". Whereas everything at Ukiyo seemed to be womp womp, everything ordered at Langkawi pretty much delights. "rojak pasmebur, the complex salad popular in Malaysia, contains a potpourri of ingredients, including cucumber, potatoes, bean curd, turnip, tofu, bean sprouts, prawn fritters, spicy fried crab, octopus and sevred with a sweet and spicy nut sauce". Phewf. The writer's "wholly vegetarian" version was pre-dressed in sauce and would have preferred it served separately. A fair comment.
The mains were the magic moment. A "dry end of the spectrum" rendang – which is a culinary staple of Malay cuisine – was "in no way dumbed down, in that a small arsenal of chillies fired volleys over and above the delectable flavours of coconut milk, lemongrass, galangal and palm sugar". Enhancing the pleasure of said dish, "precisely cooked rice". Whalley's dining companion chose the fish curry, which got top marks for flavours, both in-your-face and hidden, and for using filleted plump chunks of John Dory. Desserts is where it seems to trail off a bit – one choosing "vanilla ice-cream laced with Baileys" and the other opting for "sago melaka; tapioca pearls with palm sugar and coconut milk ice-cream". Of the latter, Whalley recounts "It is truly good to see traditional favourites such as this on an ethnic menu, but I have to say I wouldn't pass up a wobbly panna cotta or a substantial baked cheesecake in favour of this particular treat".
"We liked Langkawi for its honest cooking… plus its fair pricing," Whalley concludes.
Various Pizza Places, locations across Ireland
Following Katy McGuinness' review of Sano last week (and our subsequent rounding-up of pizza places across the city in this feature), it was interesting to see the Sunday Independent also do a spread on pizza just a week later, albeit documenting 20 top places across the country from critic Lucinda O'Sullivan.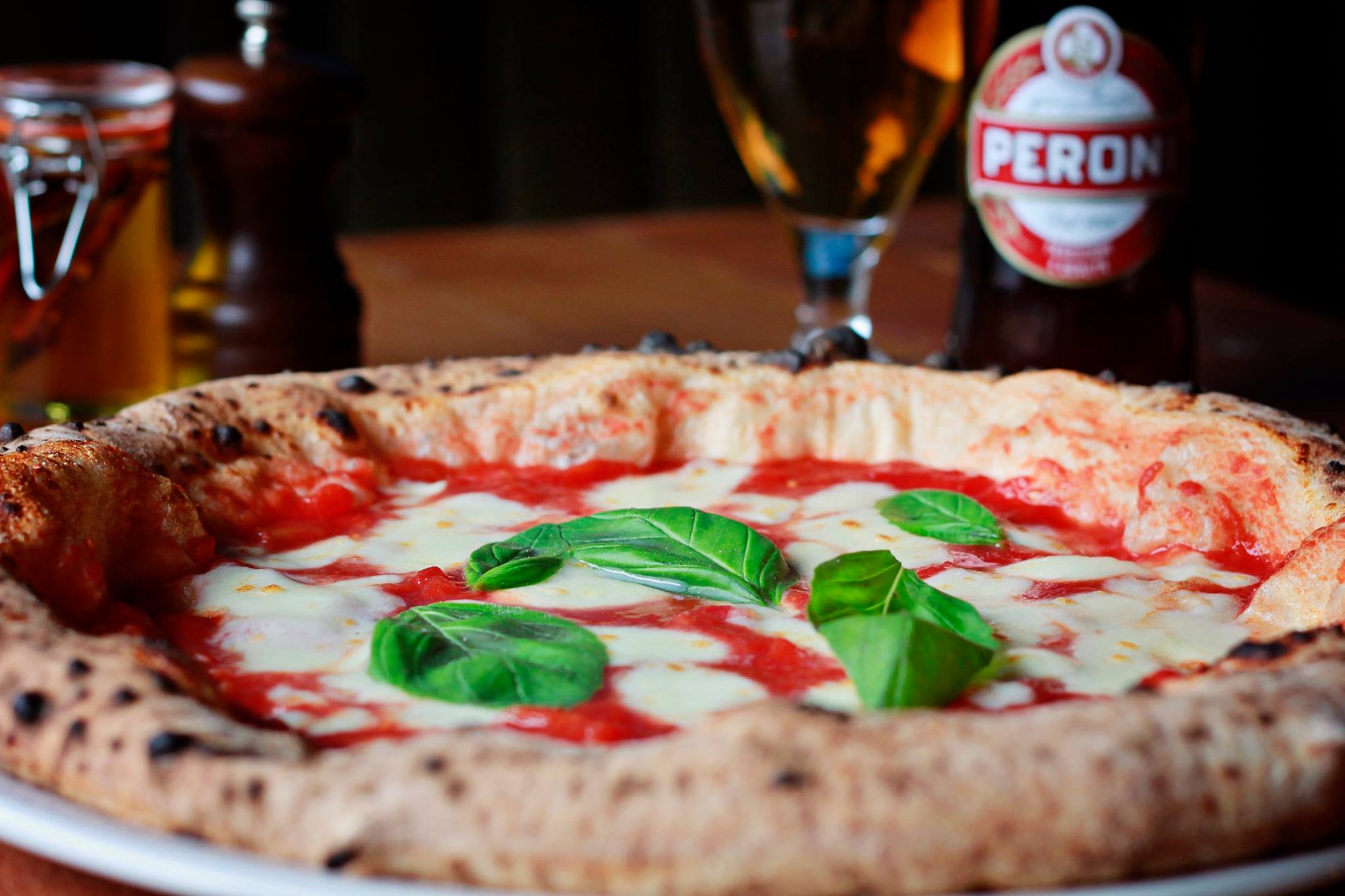 Of our list of city centre-only establishments last week, rightfully Cirillo's and Gaillot et Grey make the mark, as does the more recent addition to the city, Forno 500. Two we missed – Osteria Lucio ("Michelin-starred chef Ross Lewis' sleek city osteria has all the feel of Milan or Venice… with its amazing tunnel area to the rear; try the Bianca Gorgonzola") and Pizza Yard in Ranelagh round out the top five in Dublin CC, according to O'Sullivan. Of the latter, a newcomer to the popularly pricey neighbourhood, O'Sullivan remarks "pizzas here are sold literally by length, 12-inch square, and you can combine pizzas to form a larger creation, up to two yards (six pizzas) long, adding a fun factor for families or groups of friends".
SoCoDu gets a shout in the form of both Fellini's in Deansgrange and Shovelhead, a new spot on the Old Dunleary Road, in Monkstown specialising in sourdough pizza. In the south of the country, there's Antichi Sapori on Waterford's High Street, which offers "all of the favourites, plus some specialities, such as a Guinness pizza with smoked scamorza cheese, pancetta and rosemary". We need to go to there and shotgun one of those, Liz Lemon style. Then, in East Cork, there's Franchini's serving "pastas, risotto and pizzas at really good prices in the five-star surroundings" – it's the casual option at Castlemartyr Resort.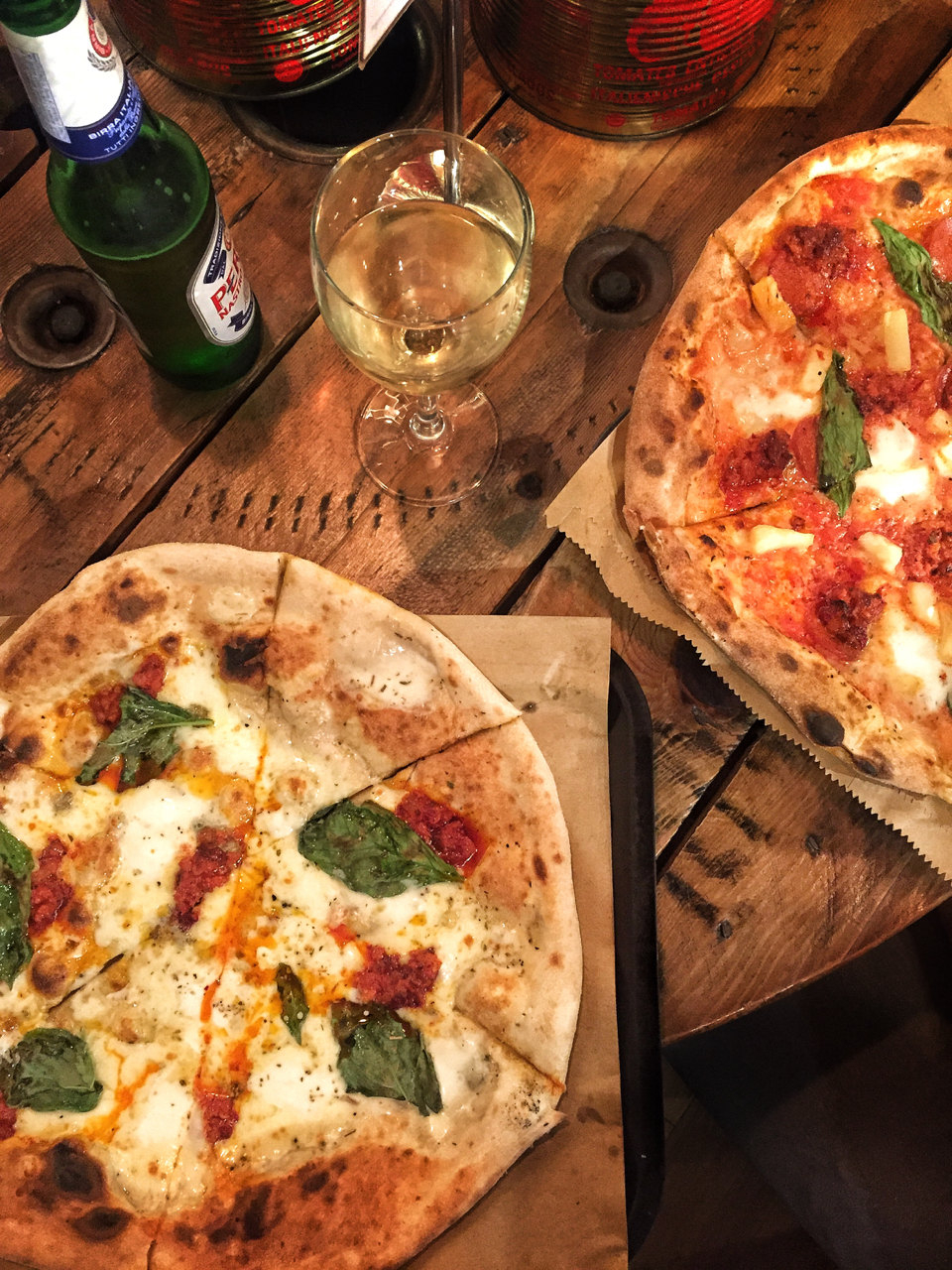 There are other spots mentioned in Kerry, Longford, Mayo and Clare, whilst naturally The Dough Bros (who we featured and wrote about in our Galway city guide) make the cut too – "a legend in Galway… try the Prawn Po'Boy Pizza, Gannet's prawns, fior di latte, burnt chilli emulsion, pickled daikon and fresh lime". Sounds epic!
Today's Chip Paper returns next week