Dublin, Dublin 2, Co. Dublin, Dublin commuter belt, Dublin. Barely a restaurant review outside the capital area this weekend. For those who cry 'outside the Pale' at critics, we hope this is just happenstance and coincidence this week, but it's not uncommon that almost (or all) of the critics stick to Dublin. We know the limitations, and we sympathise, but Ireland is a small, accessible place. Are the best things happening in Dublin right now? Look at West Cork. Look at Northern Ireland. Towns like Cashel, Moira, Dungarvan and Ennistymon. Should critics be actively seeking outside Dublin to be a point of difference? One would imagine… here are the weekend food reviews in-review. This is Today's Chip Paper.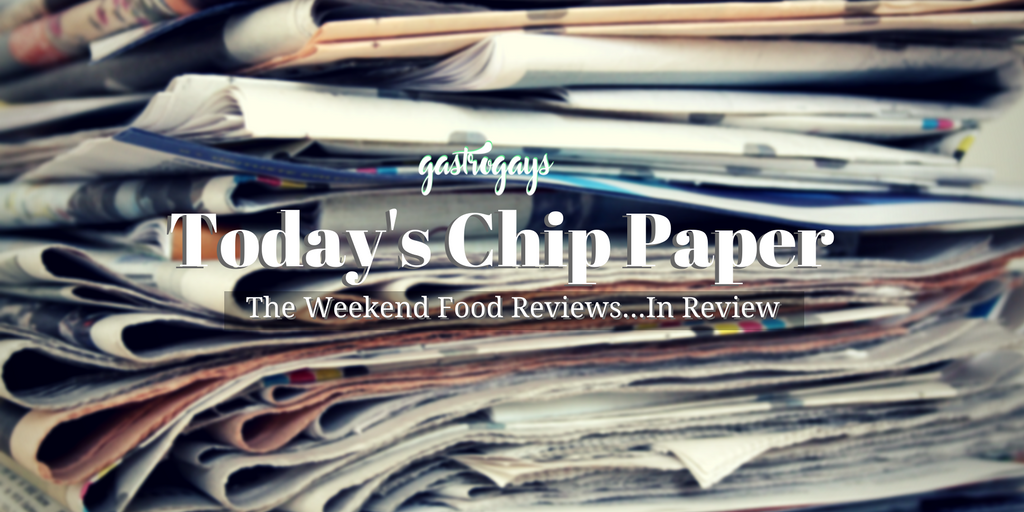 Tom Doorley is this week in an "unusual place" for this week's review in the Irish Daily Mail – more notably a "Grafton Street institution that has been part of Dublin life since 1971".
First, Doorley explains that he was piqued to review this place because (a) it's part of the near-unstoppable Press Up group, (b) it's got a new-ish menu and (c) he wanted to investigate the chip situation, because of the aforementioned Group put their hands up in a social media squabble Doorley was involved in, arising from his review of the Dalkey Duck a few weeks previous.
We watched this particular tête-à-tête play out on Twitter and wondered: why bloody bother? Yes, provenance of produce and display of skill is paramount in modern day cheffing, but are we *seriously* picking apart what a restaurant relegates to an expected side dish? Is that the candle we hold to, and barometer we measure against, restaurants these days? Can we not hold that to other things, like the quality of the meat they use, the food waste, the quality and value the wine list represents? Are we arguing about which restaurant chips their own potatoes? Unless you're a fritkot in central Brussels whose sole raison d'être is chips, we're not bothered. Unless you're a restaurant where chips are paramount to the operation, we almost kind of expect the side order of chips, fries, or whatever you want to call them, to be pretty non-plussing and bland.
"I had to try them," Doorley exclaims, adding he had a hankering for chicken wings, too. "It's not changed," 'Captain A's' as he used to call it, "since I was last there over ten years ago" but Doorley does point out that it's a bit "rubbed at the edges" whilst it's still seriously busy, reasonably priced and "the staff are lovely". The wings were "crisp, well sauced and needing more chilli heat" whilst mozzarella breadsticks needed "more time and heat" and hamburgers were "very good" particularly the bacon and cheese which was "splendidly savoury in a simple, caveman-like way".
"Frankly not very good, greasy onion rings" were not a satisfying side to the burger options. Doorley adds: "ice cream and chocolate sauce was pedestrian to say the least, but a sundae with lots of crushed cookies was ace… it appealed to the primitive in us".
So the point of this all? Doorley is sorry to disclose the chips were "a disappointment". The critic elaborates: "the flavour was fine but the texture wasn't. The first duty of a chip is to be crisp on the outside and fluffy, up to a point, on the inside. Those were simply not crisp." Doorley had a good time, despite the flaws, he reports. Another of Press Up's stable, Wowburger, had "perfect" chips. So the stable is in check, but maybe one horse is not playing ball.
"They light tall candles and unveil a small rose-petal-strewn shrine, where they burn sumac-scented incense to the god of small plates Yotam Ottolenghi. Okay, there's no shrine but the menu is a "You had me at hummus" love letter to the Middle Eastern cooking that the London-based chef put on the map."
Catherine Cleary's Irish Times Magazine restaurant review column this weekend profiles Industry & Co. on Dublin's Drury Street which is now opening for evening service two nights a week.
Giving context, Cleary explains to the uninitiated: "It's not a restaurant but a shop, selling lot of things you'd find in restaurants; glasses, plates, potted succulents and filament bulbs, all of which are dotted around and set on the small tables in this candlelit room…[Industry] opened a couple of years ago like a edition of Monocle magazine in shop form… In the last month they've started clearing the floor after closing on a Friday and Saturday and setting out small square tables and seats best described as rectangular milking stools".
Of the offering, it's mezze plates and large and small plates, with "a nimble little wine list and loud music, set to the "young person in a bar" decibel level". The critic and her companion order the mezze plate "and another dish each", as suggested by the serving staff. To begin, "house pitta works well, served in paper bags alongside the mezze plate of all the standards, done well". Chargrilled scallions are "a good judge of the kitchen, simple to get right but also easy to get very wrong" whilst the baked almond falafel is "more mealy than the nuttier take I imagined". The star of the mezze is the labneh, "flavoured with enough lemon to make it luscious enough to eat on its own with the great bread". Unfortunately, the feta – "which is also listed as marinated" – "doesn't taste any different from a chalky fresh version". Beetroot hummus is "meek" but the classic hummus is "creamy and does what it needs to".
Where the small/large plates are concerned, it's a bit of a confusing situation. An 'Irish lamb chop' "looks oddly like some kind of falafel shaped like a chop because it's served with a skin of linseeds, the woody brown type that hardcore fibre types sprinkle on their porridge… the coating is a little off, not least because you can't discern between fat and meat, so there's some chomping of lamb fat before you get to the main event. The fat-entombed meat is great, tender and succulent and perfectly pitched with the salsa verde and some ribbons of sweetly pickled red onion". Quarter spiced, roasted cauliflower "looks a little underdone… but they've nailed the flavour, drizzled it with a tahini yoghurt and the obligatory pomegranate seeds". Desserts are reported as being "not cheap".
Cleary concludes with "Evenings at Industry are not breaking any new ground but serving up the crowd pleasers well. If you're not bothered by decibel levels and are looking for a good casual bite in this busy part of town". 6.5/10, we wonder if that's a fair score given the comments?
Ruchii, Main Street, Blackrock, Co. Dublin
To the suburbs, and Gillian Nelis finds an Indian restaurant in situ inside a pub in Blackrock to be wholly satisfying and exciting in this week's Sunday Business Post review.
Some background: Ruchii is described as "an Indian restaurant run by chef/patron Sateesh Sayana, [which] has been open on the first floor [of Conway's pub in the south Dublin suburb of Blackrock] for a few months now, The pub remains fully operational… whilst the restaurant is self-contained in a long, narrow room upstairs… This is an arrangement that could work really well for both publicans and restaurateurs, especially given the frankly bonker rent that some landlords are now quoting for stand-alone restaurant premises."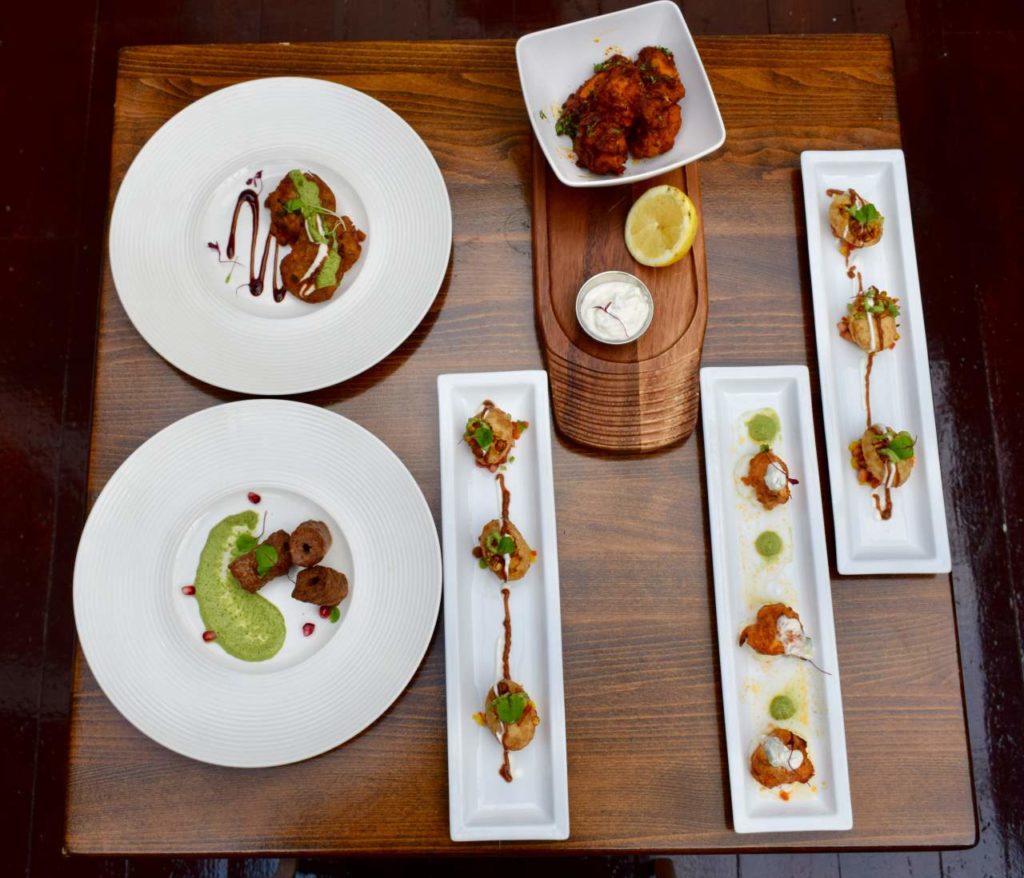 With a "good range of menus", the critic "decided to get into a festive mood by ordering from the Diwali menu, which is €29.95 for three courses". Firstly, Samosa chaat was "a sophisticated take on this Indian restaurant staple – pastry perfectly made and the potato filling nicely spiced" whilst the chat pata prawns "packed a decent punch, but it was mild in comparison to the chicken chettinad" – "a fine iteration" but advises for the spice-averse to order some extra raita to go alongside, toning it down to a "medium spice level".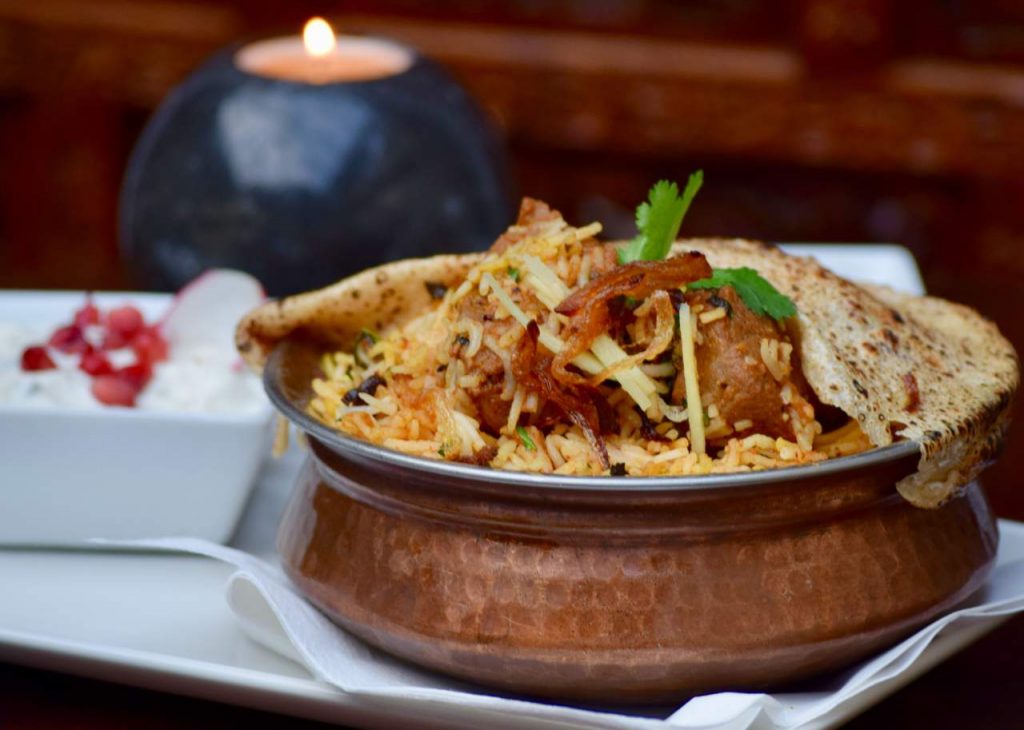 "Lovely charred chunks of paneer made in-house were the centrepiece of our other main course, paneer makan masala," Nelis recounts, which was served "in this case, in a creamy tomato and fenugreek" sauce, though additional honey was a "little too sweet". Speaking of sweet, dessert was gulab jamun, "little honey cakes which were served with ice-cream and a shot of sambuca that was poured over them and set alight at the table". Sambuca makes us shudder when it's gussied up in serving alongside – or within – a dessert. Just so unnecessary. Nelis adds: "I'd have preferred the cakes already heated up, as the flaming didn't actually add much heat," whilst declaring "Ruchii joins the ranks of solid, affordable neighbourhood restaurants in the Dublin suburbs".
Del-Fino, Camden Street Lower, Dublin 2
Where Gillian Nelis seemed to find little to criticise in her surmising of the new opening on Camden Street, Leslie Williams finds the complete opposite in Del-Fino in this weekend's Examiner. We usually include ample quotes in these snippets, but honestly, there were too many juicy tidbits in Williams' review this week, that we'd be basically copying and pasting the entire thing. Honestly, there was a fault with almost every dish, if not the dish itself, with the way it was served.
"Dublin's dining scene seems to be having a bit of a boom, by Christmas we will have had 35 new restaurant openings since summer and I'm told the Christmas dining rush has come early," Leslie Williams begins his Irish Examiner piece of the new spot on Camden Street – which is rather erroneously earmarked as being in Dublin 1 for some reason.
The review continues: "The subtly lit room (yes, I mean dark) has button-back bench seats, shiny brickwork, and a parquet floor — so far, so traditional. Not so the menu, which has dishes from at least three continents and is impossible to define… There are Italian and US Italian dishes, Côte de Boeuf and braised dishes, a dash of Scandi here, a dollop of Labneh and preserved lemon there, kimchi, Japanese Wafu, and devilled eggs… I found this eclectic (I would say bizarre) mix frustrating and confusing so settled on a grab-all strategy."
Beginning, the 'fermented potato' beignets were "crisp and fluffy with a hint of fruity ferment and worked well with a Romesco sauce" whilst the 'wafu' beef was "0.5cm-thick slices of rare meat (cooked sous-vide and flash browned), topped with tasty fermented pimento and lifted Japanese flashes of flavour from the wafu vinaigrette".
So far so good? Don't hold your breath, the next line "At this point our train began to wobble on its rails — we didn't actually crash off the viaduct into the creek, but boy did we wobble". The critic was told his missing Padron peppers in the calamari dish was the piquillo slices. They weren't. The main dishes began to arrive whilst mid-starter. Crispy pork croquettes were as described but "lacked punch and seasoning" with unnecessary sauerkraut served alongside. Heavy gnocchi. Overcooked pappardelle. Osso bucco "didn't seem to have anything to do with the Italian shin of veal dish but worse still, it was bland and characterless". Wrong chips dish delivered. No gremolata as promised on the pork dish. Lemon tart was actually a sponge dessert and the 'Twix' dessert was lacking the actual caramel necessary.
The chef comes out to apologise at the end, but Williams concludes it by damningly stating it was "a hot mess of a meal" and warns that the entire place needs "a massive injection of focus at both front and back of house or they won't survive Christmas" – yeesh! … then gives it an overall (almost) 6.5/10. Er.. WHAT?
Meanwhile, Lucinda O'Sullivan – taking an introductory swipe at "frenzied foodies battling for pizza pride on social media 👀" – went for a "higher end Italian" at…. none other than, DEL-FINO! We kid you not.
Before we get to the serious stuff, O'Sullivan begins by pointing out that she was relived Del-Fino aren't doing pizzas because "the Twitter spats between those who should know better about the best pizza in town is becoming boring". Spats? Those who should know better? Ooh, quite pointed, especially coming from the writer who just over three months ago in lieu of a standalone review documented 20 different of "the best" pizza places across Ireland, delving into their differing thickness and toppings. We'll just look past that, shall we all? In fairness, we're a bit bored of "the best" battles to be honest, ourselves.
Anyway, O'Sullivan says "it's taken the best part of a year, and a bucket of cash, to turn this place into its sooper-dooper [?] current form" before calling it "a better class of restaurant" than the fast food and kebab joints appointing the area, before every dish is listed and praised. "The wine list is excellent," O'Sullivan reports – however, Williams reported that neither he nor his dining companion recognised a single brand on the list.
Three different reviews in from three different critics, not quite a clear sweep. Whose experience do you trust most to form your opinion?
Cowfish, Bray, Co. Wicklow
In the Irish Independent Weekend Magazine, Katy McGuinness has eyes for another restaurant (Creole Food) whilst late to her original reservation and flirts with the idea of ditching it, but doesn't. McGuinness calls it "an outdoor terrace that has been walled over and roofed in to create a restaurant". Noise is an issue, in so far as: "what there isn't is any successful sound-proofing and the impact of the hard surfaces on conversation is unfortunate. Not that that seems to bother the majority of the other customers, groups of screechers and guffawers who've left their inside voices at home".
McGuinness chooses three of the four small plates, but instantly regrets it when the "three little spherical crab croquettes" arrive, which are stingily priced and "don't taste of anything" whilst the tiger prawns, four of them, from the Josper grill are actually "insipid", the pil pil dressing having "no oomph or sizzle". It gets better, in the form of "tasty" lamb cutlets, "accompanied by a generous helping of baba ghanoush that's smoky and full of flavour, and a rib-eye on the bone that's a fine piece of meat, cooked medium-rare and served sliced to share".
Another chip quibble here, as at Cowfish they come "anaemic, topped with Parmesan grated on the too-big (lazy) large holes or in a machine rather than the cloud that you get when you micro-plane" – McGuinness includes this with a quote from Nigella Lawson about stealing chips from another person's plate at a restaurant once. We were at Nigella's show in Dublin, and she had *so* many amazing soundbites on that stage, as well as a couple a day later in our podcast interview too [subtle plug]. McGuinness awards Cowfish a fairly respectable 20/30.
Today's Chip Paper returns next week.