Serious case of Déjà vu.
Last week's Chip Paper #29 was Shelbourne Social, Bowls, Cafe En Seine and Variety Jones. This week, we kid you not – it's the same line-up! Different week, same places, albeit with different critics and publications offering opinions. There's a double whammy for Shelbourne social which is yet to get a really positive review. Also, no fewer than two critics make a point within their word count – once again, it should be stressed – that the relentless pace of new openings in Dublin is verging on overload whilst others point fingers at online hype and pointed nods at restaurant groups themselves. Let's get stuck in…
"My head was reeling before I even made it through the doors of Dylan McGrath's new Shelbourne Social, thanks to the restaurant's migraine-inducing website, all pulsing graphics and non sequitur images, including one of Tupac. For why?" Katy McGuinness exclaims in beguilement in the opening of her review of Dylan McGrath's new D4 restaurant in this weekend's Irish Independent.
The frustration with the website and booking process turns out to be a prime example of the entire experience, as – looking back – McGuinness declares: "[the website is] expensively over the top, like everything else about this misguided restaurant". Among the other irritants include the "litany of attempts to up-sell", the "most unflattering lighting" and the staffing. McGuinness explains: "On the night of our visit, staff are unable to control the disruptive screeching from one rowdy table and, at the end of the evening, with customers still in the room, a manager is noisily counting coins. Acceptable in a café perhaps, but not in a high-end restaurant."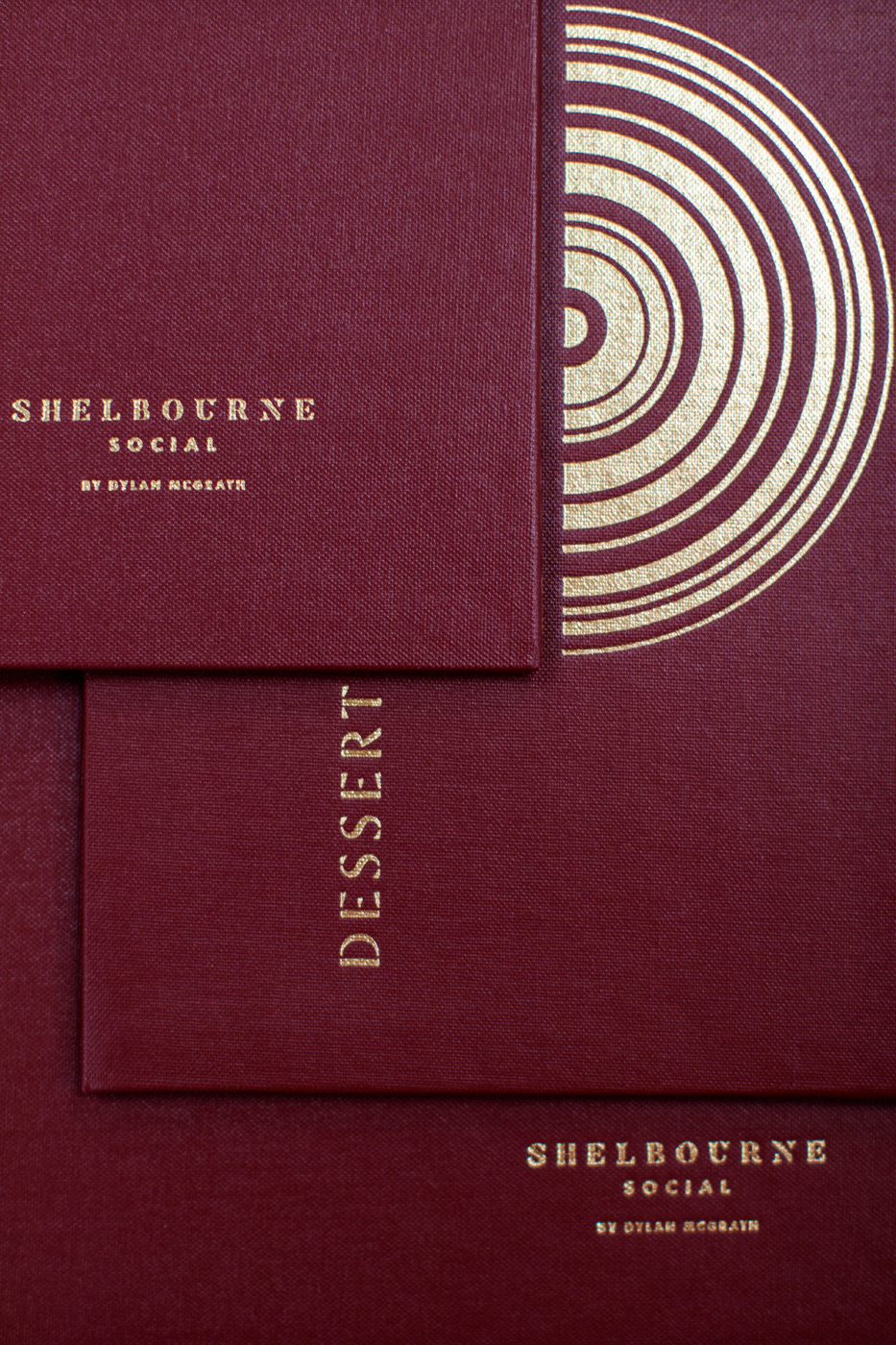 "The writer describes the flashy dining room as "buzzy" but suffers another stumbling block trying to "make head or tail out of a menu that's desperate to be different". To the dishes, and the curd bread is "rather delicious" with the pulled lamb with goat's curd alongside; "pleasant". Following on, is "main-course size tartare of torched Dexter beef with garlic, confit egg, Parmesan and kohlrabi, a dish in which there is far too much going on, and burrata with (disarmingly sweet) truffle sauce that is woefully over-chilled, so that the cheese is firm rather than oozingly creamy". Then, a revelation: "by [the mains] stage the dishes are becoming indistinguishable, with many of the same elements cropping up over and over again. Eating begins to feel like a chore". The mains fail to excite, whilst the chocolate and hazelnut meringue was "dull" but a complimentary additional dessert – the smoked banana ice-cream with miso caramel – "delightful". The whole experience gets half marks – 15/30.
Which brings us to critic number two for this week's surmising of Shelbourne Road's newest resident. Catherine Cleary queries the cut of this place's jib and finds "a fascinating deep dive into Tiger 2.0" in the Irish Times Weekend Magazine.
Cleary begins by reminding the reader that this big bucks-bolstered new opening is celebrity chef Dylan McGrath's first foray into the 'burbs since Mint in Ranelagh, and that what's found is "in the prow of a new glass and steel building deep in the embassy and rugby belt of D4". Of the menu? "needs a sat nav. There's some serious seversplaining going on. Prices are an indication of what size the potions are but it's not clear whether some dishes are sides or standalone plates" whilst of the provenance it's remarked "none – plaudits for the cheffing, not the farming".
Dishes "swerve from delicious to disaster" and there's little stand out, save for the pork belly, which is "all the pig, distilled down to mouth bombs". It seems that both critics had similar experiences of the food, however desserts is the interesting one. Whilst McGuinness delighted in the unusual ice cream, Cleary calls it "a car crash… Soft serve ice cream should never be grey, but tile grout is the colour you end up with when you make it with smoked banana. The colour is poor, the taste is worse. Cooked banana is nobody's idea of a good time."
The summary comes like this – "There's an obvious market niche for this: a safe space for CEOs. One eye is on the tech crowed and all that Google and Facebook money, but Shelbourne Social feels more old fashioned than that" and in the 'in brief' bit it's dubbed "Shanahans with bells on". Though, in giving her 6.5/10, Cleary bestows this: "There are true flashes of brilliant cooking, but the swerves from delicious to disaster feel dizzying… steer clear of the platters and you can eat here without a shocking bill."
It was in the Irish Daily Mail last week, this week it finds itself in the food review of the Sunday Business Post Magazine, as Gillian Nelis takes an overdue visit to check out the newly-reopened spot on Dawson Street.
"I forgot to go until now," the writer discloses in the first few lines, adding "I mean, who forgets about a place this size that has had a €4 million makeover, and that is located in an area of the city which is changing on an almost daily basis?" After a five minute long voyage into the unknown trying to find a staff member to seat Nelis and her dining guest, then a move from a too-close-for-comfort table with dining neighbours beside, Nelis takes stock of Stephen Gibson's menu, which is "a mix of snacks, sharing plates and mains… [the menu] is served throughout the entire building".
"It's a nice space with a 1920s vibe, as is the adjoining cocktail bar and the main bar on the other side of the building." Less successful, it seems, is the courtyard. "The 'street garden' terrace out the back, with its fake shopfronts, mummified trees and retractable glass roof is an odd, soulless space that seems totally out of place." Before the dishes begin arriving, Nelis is delighted by the olives, which arrive "sitting in olive oil flavoured with orange peel and rosemary… I'll be nicking that idea the next time I've got friends coming round" – us, too!
The food is all in all very good, from the crab brioche rolls with the "unctuous touch" of lardo
Panama Cafe, McClintock Street, Belfast
In the Belfast Telegraph, Joris Minne finds himself in "one of Belfast's most attractively understated, beautifully lit, warm and welcoming cafes".
Defending the need for such cafes in the city, and arguing against anyone who argues against the upsurge in casual dining daytime spots, Minne finds a "short and sweet" lunch menu, after visiting firstly for breakfast and now following it up a couple of days later with a midday drop-in.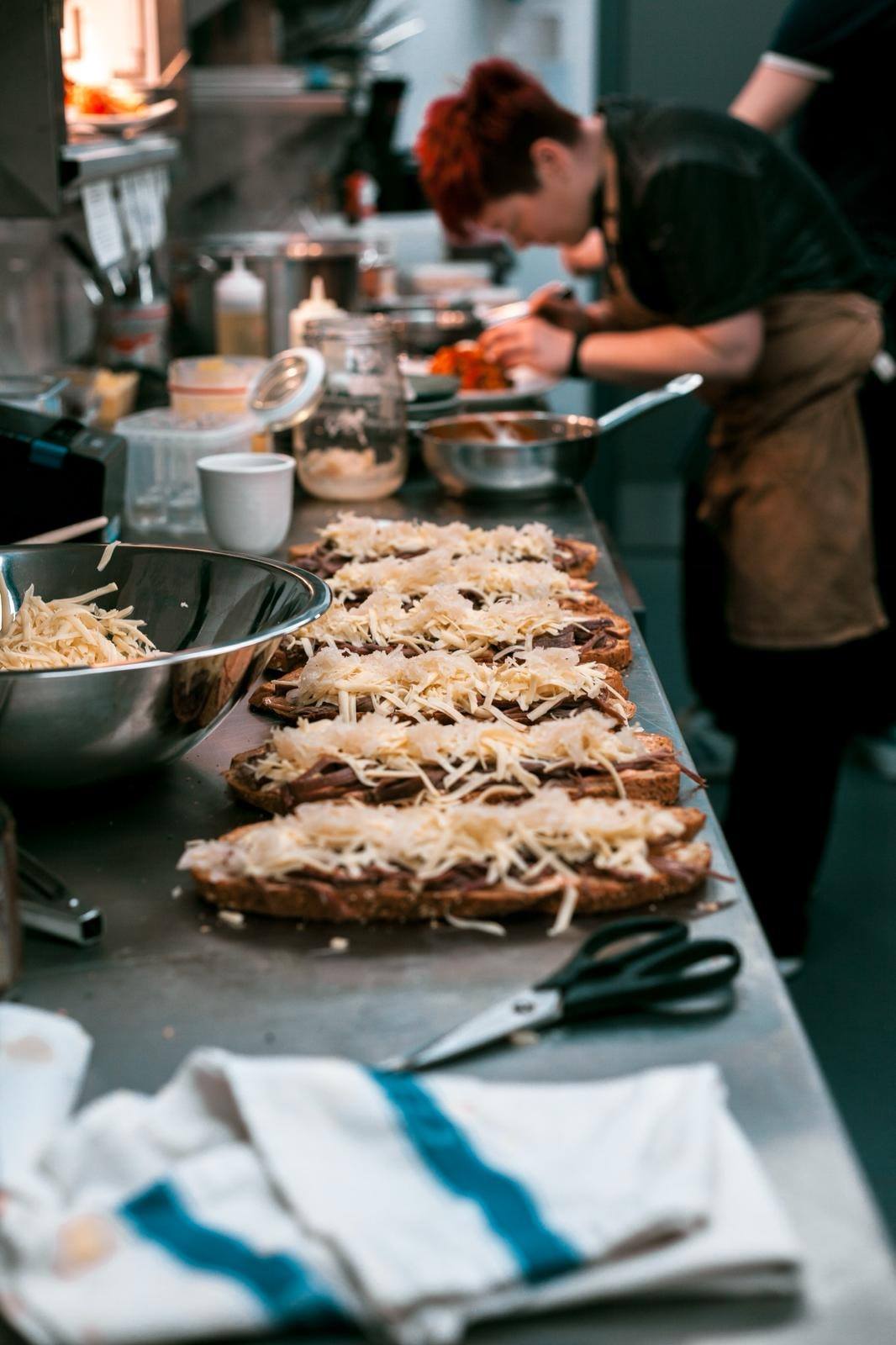 "There are savoury waffles, falafel tacos, sandwiches and soups. But if this sounds ordinary, it isn't. The salt beef reuben is generous, with layers of dark sliced beef accompanied by pickled gherkins and mustard creating a sedimentary bed of geological proportions between two equally thick toasted slices of rustic sourdough." There are fewer things more satisfying at lunchtime than a generously-stuffed Reuben. "An accompanying salad is drizzled with a beautifully balanced and tangy dressing. The resulting experience is as good as you'd get in any of the reputable New York delis," the writer adds.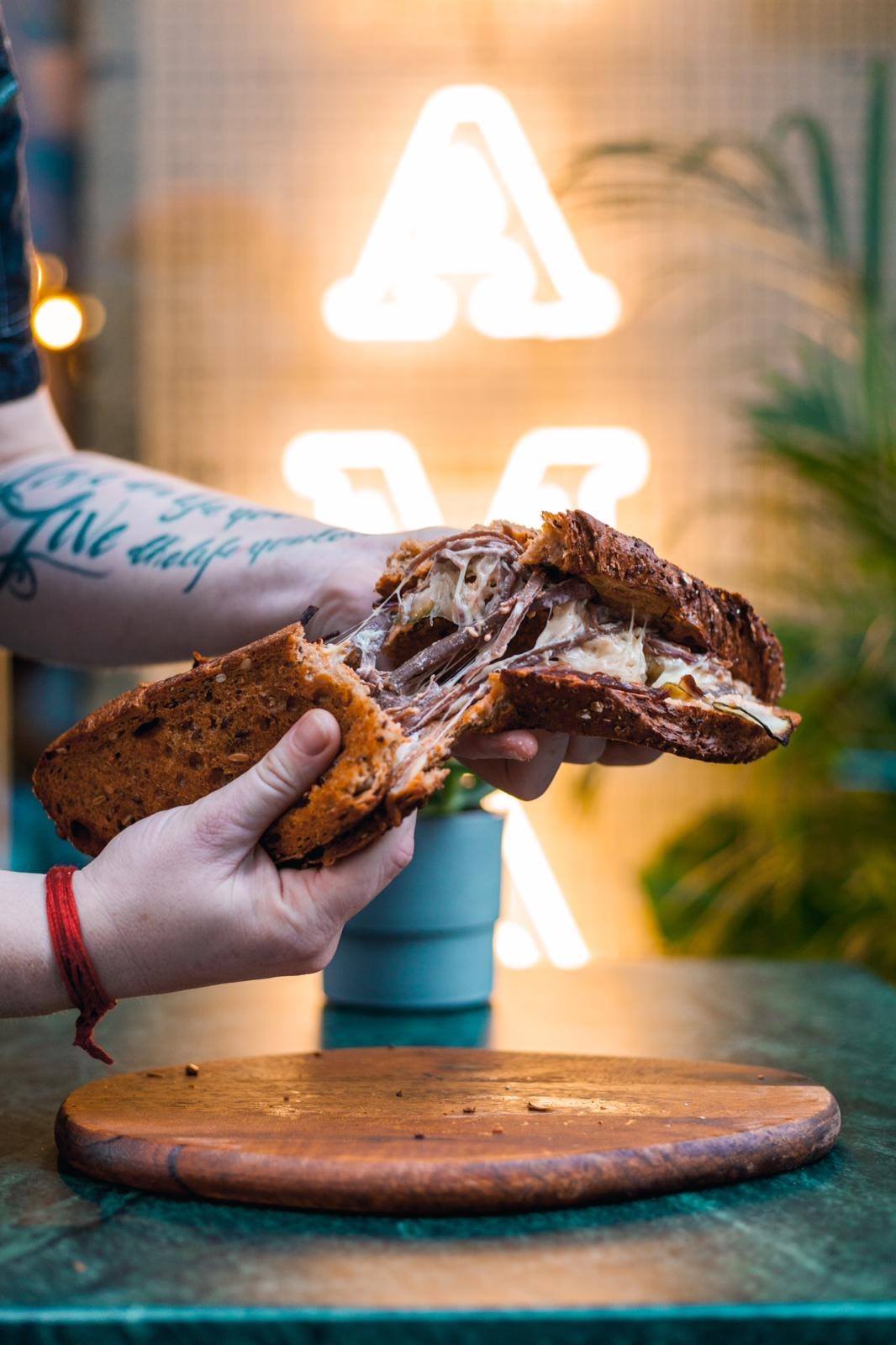 "The food and drink offer are bang on trend," Minne continues, "flexitarians are going to love the mix and match vegan, vegetarian and meat dishes… The salad with quinoa, pickled red cabbage, broccoli, rocket and courgette, enlivened even further by a chilli and lime dressing, could feed three. At £6 this is remarkable value, and you can take your leftovers home (believe me, you will)". Caution is then urged – "the banana bread is addictively heavy, moist and bursting with flavours. If they bring it to you heated, it will be ruined. As a precaution, order it and ask for it not to be heated". Note taken, and though banana bread is a cafe staple, it can be so hit and miss, so this is a good lead to go on.
Of the space, Minne writes: "It is unusual for the abundance of natural light coming in from the high windows and the added attraction of the garden at the back, which you can admire and enjoy for the comfort of within just as well in the cold February days."
"And so, it was a joy to visit the new Variety Jones on Thomas Street," another week another stellar review for Keelan Higgs' D8 restaurant. Lucinda O'Sullivan writes in the Sunday Independent that "Higgs has a way of making things seem so simple, but everything is classically cool and delicious… it's all very now".
Of the location, the critic offers the opinion that Thomas Street has promise as the "new new", for want of a better phrase, writing "while Thomas Street is not Dawson Street, it is an edgy up-and-coming location with lots of development happening, just as Camden Street was 10 years ago".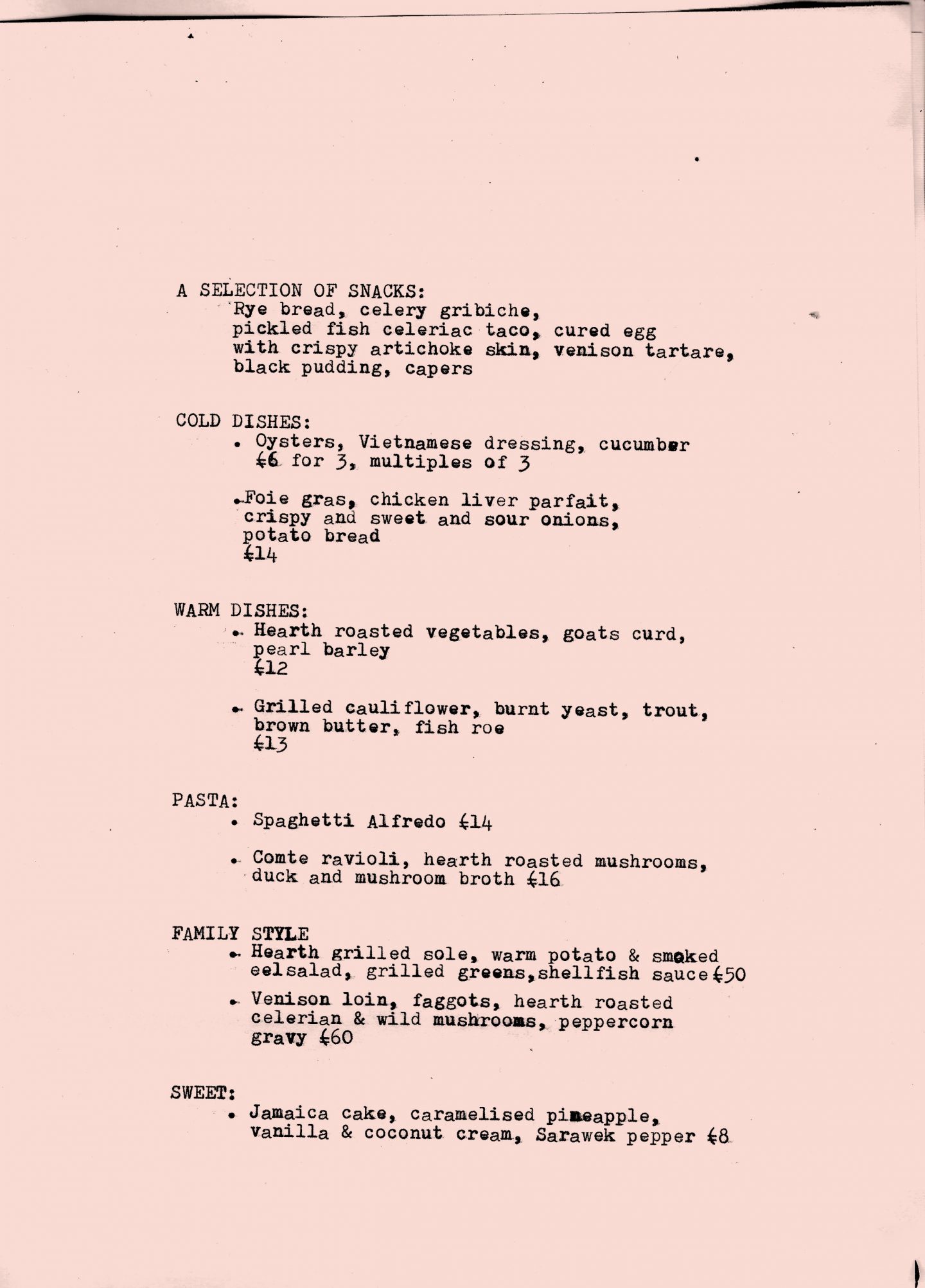 A trio of starters tasted included "hearth-grilled vegetables with barley and curd; sublime rich, silky foie gras and chicken liver parfait; grilled florets of cauliflower blackened and gloriously enhanced with the complementary flavour of burnt yeast, topped with slivers of sea trout, brown butter and vibrant salmon roe". For main, O'Sullivan and dining guest shared a "sublime whole, large sole on the bone topped with a cockle and mussel sauce, laid alongside plumptuous plumes of grilled cavolo nero, and served with a little pot of warm potato and smoked eel salad," which is called "the bargain of the year" at €50. Again, the Jamaica cake ("rich, dark, treacly") is a winner, dubbed "an indulgent joy". Go now, O'Sullivan urges, adding: "Soon you won't be able to bag a table here for love nor money".
Harking back to our comment in the intro, O'Sullivan writes: "by now, even the most ardent about-towners who move on to the latest new hot spot before the paint has dried on the last, must be getting tired of the faceless, formulaic format of Instagram-perfect spectacular decor matched with food that is 'middling, only middling… so many venues are being launched by this type of operation that I've had to start passing on some, as I'd merely be part of their PR machine, featuring them every second week'". We can't imagine WHO the first bit is hinting at – we think to ourselves, ultra-sarcastically, and of course it's the Ivy, Cafe en Seine (Mercantile), Press Up groups of this world that the latter is referring to. Restaurants-du-jour-by-numbers. Something we saw over and over again in London and it really does become same-y, boring, stifling and entirely uninspiring.
Bowls, Marlborough Street, Dublin 1
Cackling (or maybe LOLing?) at: "those recesses of social media where the food enthusiasts of the capital tend to hang out occasionally get noisy with enthusiasm for this or that new opening" as the opening para of Tom Doorley's review of Bowls in Dublin 1 in this week's Irish Daily Mail. Doorley is, in the same utterance, quick to assure that two of said hottest new openings of late (Uno Mas, Variety Jones) were dutifully road-tested for DM readers before any other critics sunk their teeth into 'em. The race to be first reported alive and well, in case you thought it wasn't a thing anymore…
To Bowls, which sits within a spot Doorley declares "I know well because I have stalked it for years in search of authentic Asian food" in the north inner city. Later in the review, Doorley quips: "it's BYOB here and there's an off-licence round the corner with a hatch made of what appears to be bullet-proof glass. It sure ain't Dawson Street and I love this part of town all the more for it."
Of the concept, Doorley explains: "The idea is simple. You get a bowl with a base of carb, in the form of noodle or rice, and various other elements. It's a kind of one dish meal." The namesake bowls are "remarkable value", particularly for the customisable options for the portion size, but the "Bowls Style BBQ Pork Rubbed & Black Garlic" which was "less successful, rather dry, tame and timid".
The dumplings were tasted, but didn't find favour, being "too heavy, too doughy to write home about" and tasted just "okay". However, the wok fried prawns in XO sauce were "the best thing we ate". Finally, the "last remaining" custard tart was snapped up, which had sadly "deflated somewhat since early morning" and which had a confusing price – €2.80 charged, but appeared to be priced at €3 on the counter. "Think Macau rather than Algarve," Doorley writes of those delicious pastel de nata Portuguese custard tarts that are fast becoming "the new donuts" in Dublin – mark our words on that one. Every bakery, or cafe… or restaurant, for that matter… will be doing their "own take/slant/twist/version" on them soon enough. Echoing what we said last week to Leslie Williams' take on them, Doorley writes "full marks to bowls for making their own, but one can't help reflect that one of our supermarkets does an equally good, if mass-produced version. And you get three for €2". For the unaware, that's Lidl and we remain steadfast in our position here that they are the best we've found in Ireland to date, because we have a suspicion they are direct from Portugal itself, so they are the authentic article. We're very much not snobs, we love a bargain and we love when a cut-price chain can do something seriously well. We've no shame in hoarding Aldi's Schmo Mal0n3 candles and we know exactly the products to buy in Dealz that you won't find cheaper elsewhere. Look, we take our hat off to anywhere that produces those tricky-but-deliciously-worth-it tarts, but facts are facts: the Lidl ones are proper Portuguese pastéis, not unlike anywhere you'd find them in Lisbon and they are 3 for €2. €3 each is. Most other in-house versions available in places across Ireland are not similar.
Like Leslie Williams' Examiner take last week, Tom Doorley gives a hint that Bowls would-be a shoe-in for a franchise roll-out situation, however "it doesn't have the wow factor needed for that kind of enterprise".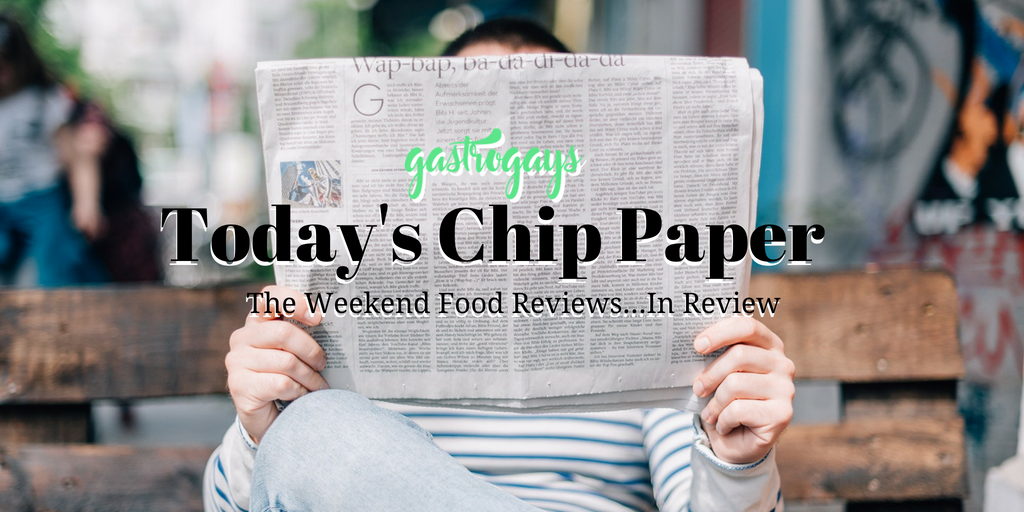 We're in Sweden for the next two weeks, so Chip Paper may return next week in a shortened version of what we can find online, but failing that we'll return with this later in February.