We've gotten messages every week here and there when we've missed 'Chip Paper' from loyal (we guess?) readers asking if it's only a sometimes thing and whether we've stopped it. Truth be told, this is – and always was meant to be – a creative outlet and a hobby really. We lavished the weekend papers and wanted to surmise and sum up where all the critics had been dining out and recommending (or slating), however as a hobby it's practiced on borrowed time. Being self-employed, as some of you know, is more than a full-time job, it's a 24/7/365 dinghy-bobbing-on-a-swelling-ocean type of situation where you're weathering storms and manning all stations from sunrise to beyond midnight trying to keep afloat and stay in the green. So to give over the bulk of an afternoon every Sunday to compile this comes with a healthy dose of guilt that the time ought to be better spent with family, on accounts, emails, prepping for a busy week ahead or just trying to carve out some respite from screen time and open a bloody book or take a walk in the woods. How and ever, as a hobby it's also a passion project and something we love doing. Getting those messages is a wonderful feeling, as all too often in the digital world those are the rare communications you receive amidst wave after wave of negative comments, snipes or complaints. You're really only told when you're doing 'wrong', not complimented or applauded when you're doing right. And with that said, onto Today's Chip Paper…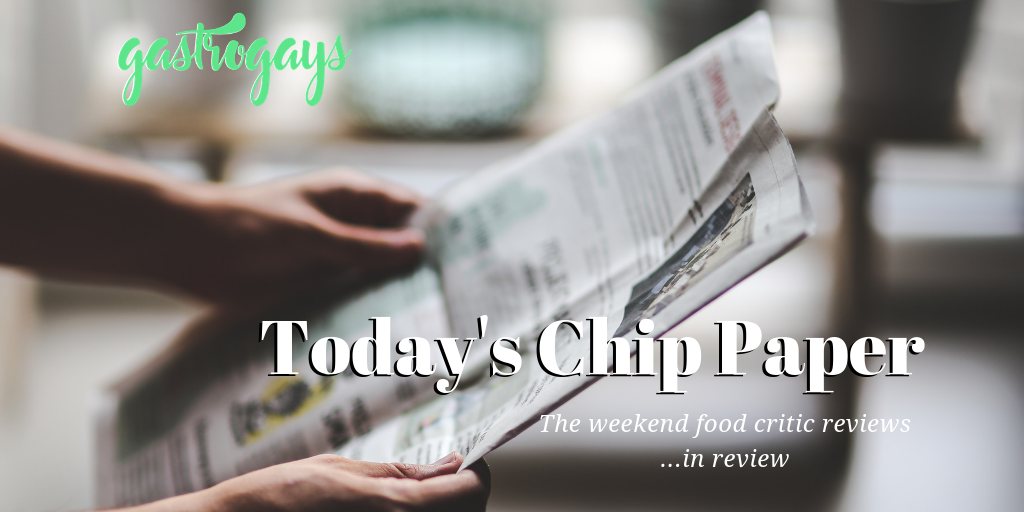 As luck would have it, we had a table booked for Lucky Tortoise on Aungier Street for the very day Gillian Nelis' review came out in the Sunday Business Post [paywall]. We're scribbling this down after just returning and opening Gillian's review – we were holding off on reading 'til we had tried it ourselves since the times coincided so poetically…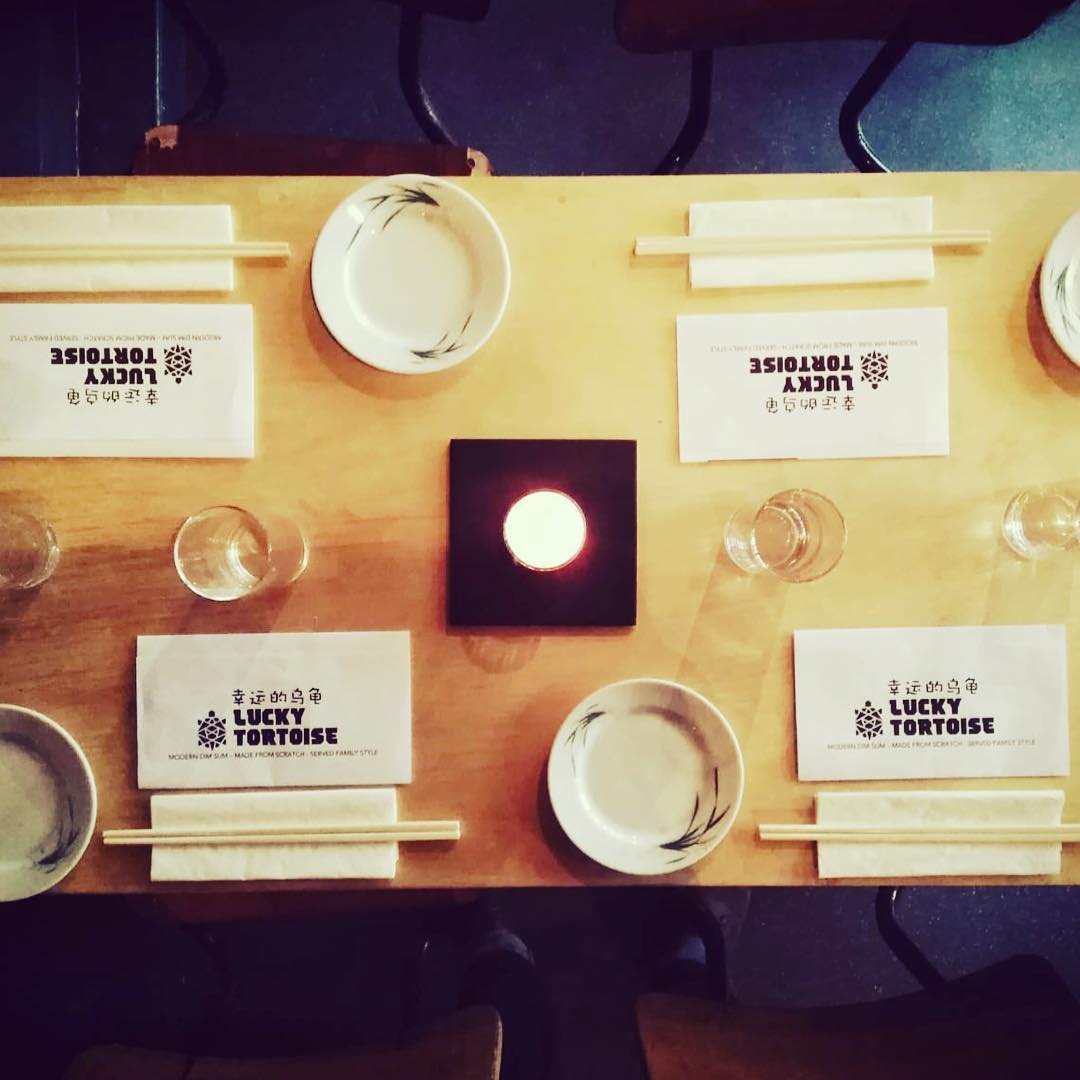 "Princely Dim Sum at a Pauper's Price" the headline reads, and Nelis makes a point to stress "great value [doesn't] necessarily mean cheap" but assures that "at Lucky Tortoise you'll get a very good meal for not a lot – in this case 20 quid a head for the entire dim sum menu, plus some side dishes of fried rice, sesame cucumbers and kimchi". The critic took along a friend more versed in the ins and outs of dim sum, whilst giving a tip that this friend's favourite spot for it is Pattaya in Clondalkin – noted. "The place was packed and I was very glad I'd booked, as our chances of getting a walk-in would have been slim to none". Indeed, that was us about a week ago on a Saturday (early) evening when we were almost laughed at for even suggesting they might have a table, so we resigned to booking one online ourselves. We were informed 24 hours notice beforehand is usually the minimum to guarantee a table even with a booking online.
The miso soup which arrived first was "decent" according to Nelis and okonomiyaki (that gorgeous cabbage-filled Japanese pancake with all manner of toppings) "was done very well here, arriving with pleasingly crispy edges and a generous amount of mayo and okonomiyaki sauce (which tastes a bit like brown sauce) on top". Next, "good" vegetable gyoza and prawn and pork siu mai but the char sui bao "had us similing broadly… we'd have ordered more of these little flavour bombs," Nelis reports.
Sides went from "fine" to "just as good" but one "wobble" was the rice noodle roll which was "gloopy and pretty tasteless" yet the critic passes this off as "more than forgivable" considering how newly-opened LT is. As it's a pop up-turned-permanent, the writer gives a little more background to the brand and its creator, Thom Lawson, and when she calls him for more information the takeaway is: the bar stools at the back are for walk-ins, but bookings are encouraged; the plan is to open midday-10pm Monday to Saturday and 'til 8pm on Sundays; and that Lawson is so run off his feet that he's had to take some unplanned shut-up-shop days just to catch up but all is right as rain now. "Lawson joins the ranks of independent operators attempting to go their own way, and providing good, fairly priced food in premises that may not have chandeliers and swanky bathrooms, but which offer the city's residents and visitors something a bit more affordable".
We couldn't agree more with that last line, and so much of this review mirrors our experience so we haven't much more to add. We loved the miso soup and the bao (though didn't expect shredded pork, as from our experience char siu is almost always barbecued pork belly or loin, sliced) and the texture of the buns is truly spot on. We weren't mad on the noodle roll or the vegetable gyoza, mind, and didn't get any okonomiyaki which we would have loved to try. The dim sum is good value, though you might find a similar variety and amount of food in one of the Asian restaurants on Parnell Street or Capel Street for even less. But on the prime, pretty penny-warranting, über trendy thoroughfare that is Aungier Street, it *is* good value. It's small, it's well formed and it's got a strong, loyal base already so it will do well. We'll be back many, many times. And we're jonesing for a custard bao…
Superpubs and €70 steaks in the Daily Mail, as Tom Doorley takes a trip to the newly-revamped Cafe en Seine on Dawson Street. Fresh from a serious overhaul by owners the Mercantile Group, the critic checks out the reincarnation of what was "one of the very first superpubs" when it opened in '93 – though stresses that back then it wasn't "one of those vast, sprawling barns that grew up in the suburbs during the 1970s but the new sort: big, beautiful, busy and designed for entertainment".
"The world has moved on," Doorley declares, along with "the traditional pub is dying"; but he makes another interesting point that many people want entertainment from their restaurants/pubs and that food is less and less "what they are looking for" when going out for a good time. He warns that "in a place like this" there's always a danger of that…
Of the new space, Doorley says the €4M refurb "has resulted in a vast establishment carefully crafted to look as if it has been here – possibly transplanted, back by brick, from Paris – since the days when the combination of fin de siècle and art deco were in vogue… it's impressive and just restrained enough". Of the menu (under Pichet's Stephen Gibson's eye) it's reported as "delightful" and "first rate execution in an environment that certainly feels special" and that "something of a Dutch treat" in ordering as much of the menu as possible was "revealing".
The duck wings were "gloriously savoury… slow cooked, tender, varnished with miso, soy and other savoury things". Scallops with merguez were "to the nanosecond of doneness and explosions of layered flavour" while a "savoury mess" of spinach and Jerusalem artichokes from a "kitchen alchemy" of cream and cheese was "deeply comforting and warming". Unattractive to look at but good to eat was the tuna sashimi with watermelon and ponzu. The star of the show was the côte de boeuf, "all 750g of it, immaculately cooked, well on the rare side of medium, attractively charred outside and ready cut in slices"… "it was €70 worth of carnivorous delight".
Bowls, Marlborough Street, Dublin 1
Staying in the capital still, Leslie Williams reviews Kwanghi Chan's new Bowls restaurant ahead of the fast-approaching Chinese New Year in this weekend's Irish Examiner. "The menu in Bowls is short but inviting with a selection of dim sum dishes which change daily plus signature bowls with meat or tofu and a choice of rice, noodles, vegetables and dressings," Williams' review begins.
The critic began with 'Wo Tip' chicken and scallion pot stickers which were "crisped briefly… inside the delicate minced chicken was an excellent contrast… worked particularly well drizzled by Kwanghi's ChanChan Black Garlic Sauce". Siu Mei (steamed) dumplings and XO-sauce topped crispy prawns in Chinese Sherry followed, both with "Excellent" flavours. "Baked char siu buns were good but the least interesting of the dim sum starters… but perhaps I was just disappointed there wasn't a steamed version," the writer advises.
The bowls are "the main reason you will likely be visiting" Williams writes, calling this "perfect lunch fare" as they come in between €9.45 and €13. Out of three tried, the best was the chicken thighs, a 'custom' order featuring lots of interesting additions. "While the rice bowls worked well, the noodles and broth added a wonderful extra dimension," Williams advises. The writer explains that Chan grew up in Donegal but was born in Hong Kong and has risen through the ranks of the Irish restaurant industry, most notably training in Chapter One, and is a noted figure in the food scene regularly appearing on cookery segments on TV and also with his ChanChan range of sauces, rubs and mixes (the spice bag seasoning is not to be missed!). Williams continues: "Kwanghi's classical training shows through in the quality of ingredients and balance of flavours in the dishes – if I had a spare million, I'd set up a chain of [Bowls]". So the takeaway, we surmise, is come for the bowls (as the name very much suggests) and maybe go to Lucky Tortoise for the dim sum.
The writer finishes with a trio of Pastéis de Nata and recommends them, describing them as 'Macau-style' ("a little deeper than is usual, generous custard filling, luscious, creamy and rich with good pastry") and "enough of a reason to visit Bowls on their own". He recommends getting early in the day if you want to try them as they are baked freshly each morning and sell out quickly, but sorry – "a mere €2.80 each"? Williams also recommends our friends Graham and Daithi's (The Cupcake Bloke) 'The Bakery' in Rialto for Graham's excellent version (which we know he learned how to make in Lisbon itself) but sorry everyone, we're the experts on the 'aul pastel de nata here, and we haven't found more Lisbon-like ones than in Lidl. That's a fact. We think they probably ARE actually produced in Portugal, frozen and flown over to be baked daily in-store. And they're €2 for three. Plus there is a Lidl 2 minutes from our house…so convenience influences us!
After a resplendent 9/10 "one of my meals of the year" review from Catherine Cleary in last week's Irish Times, this weekend it's Katy McGuinness in the Irish Independent who trial runs Keelan Higgs' restaurant Variety Jones on Thomas Street in Dublin 8 that's making a serious splash on the Dublin food scene.
Here's a couple of choice quotes pulled from the piece: "utterly delicious… revelation… perfection… exquisite… impeccable… magnificent" – we kid you not, so you know this review is glowing and the experience amazing, save for a bit of a kerfuffle with reservations and being sat at the bar on uncomfortable stools. The review is worth reading, because it delves into each of the dishes which sound absolutely stellar, but here's some tidbits.
"I arrive in a grump," McGuinness begins, "apparently the trend towards bar seating and tall tables is driven by the fact that customers find sitting on a stool so uncomfortable that they are less likely to linger, ensuring quicker turnaround for the restaurant". The situation is "rescued" by Vanda Ivancic's charm, the sommelier – "a familar face from Luna, where chef Keelan Higgs also worked. Hugh Higgins, another Luna veteran, is in the open kitchen alongside" – and giving background to what the menu entails, the critic reports: "the menu is concise, with the appearance of having been typed on an old Smith Corona and Gestetner-ed, geared towards family-style dining rather than the traditional starter/main course/dessert format. Some of the food is cooked over burning ash in an open hearth… along with cooking over flame and in wood-fired ovens".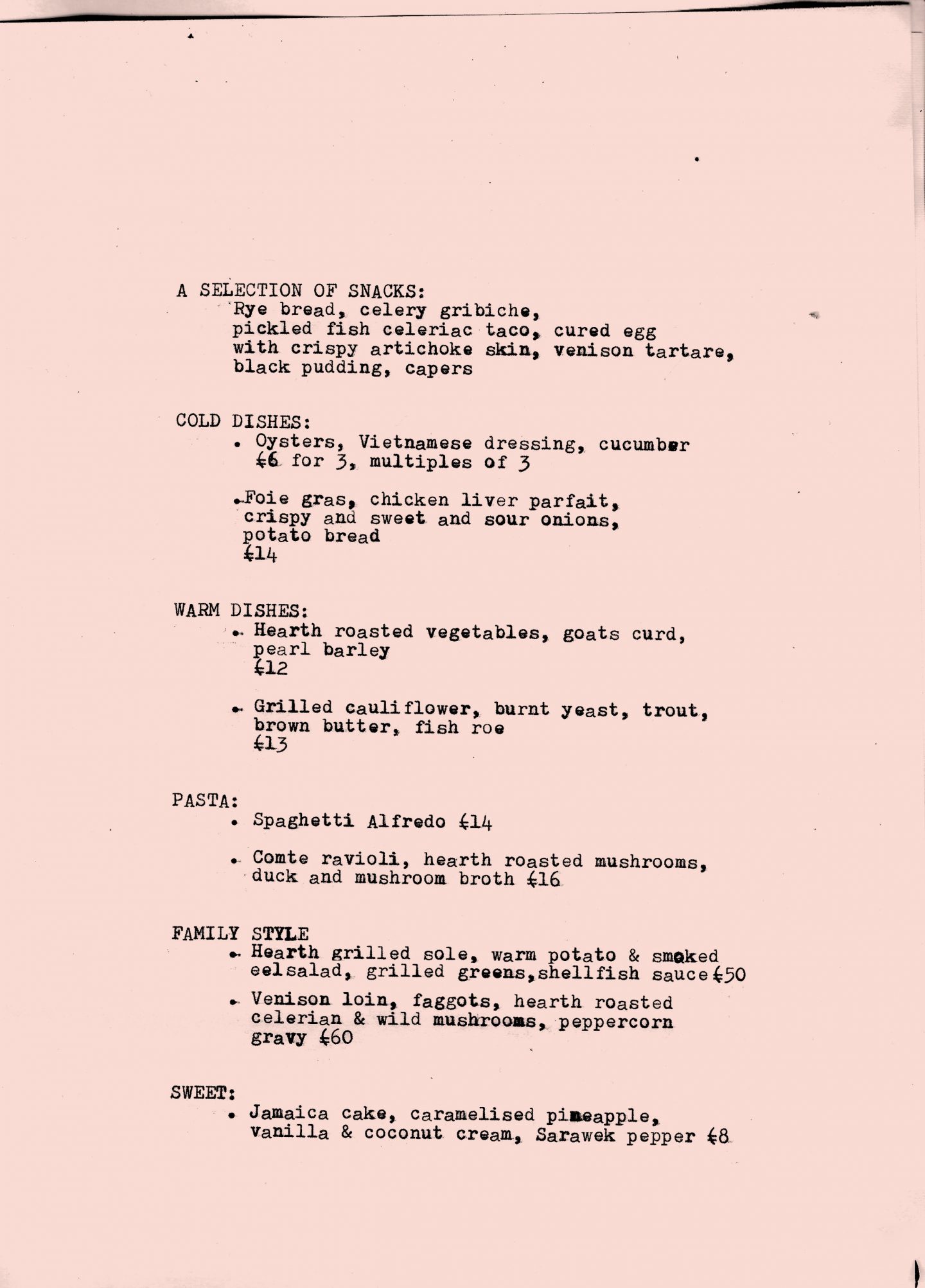 "Higgs' cooking is unashamedly focused on flavour and it's outstanding. The room would benefit from some finishing touches… but the food is nigh on perfect already," McGuinness concludes. Listing off the dishes, we're drooling at the utterance of "Comté ravioli that burst joyously in the mouth like an Irish version of soup dumplings" as well as every single other dish mentioned.
Extra: Various locations across Ireland
In this weekend's Irish Independent, Katy McGuinness takes us on a coffee trail 'round the island, summing up the 50 best places for a cup o' joe across the Emerald Isle. We even make the cut!
"The recent VAT increase has caused the cost of a cup of coffee to rise in many places across the country," McGuinness kicks off, adding "with the price of a flat white nor firmly established at over €3, thanks in part to the recent VAT increase, it matters more than ever whether it's any good or not". A caveat follows – "While there are many cafes and restaurants throughout the country that serve great coffee, the list concentrates on the establishments where getting the espressos and pour-overs just right is the number one priority". So, third wave, coffee nerd-approved, hipster-but-substance-underneath type places, and the writer puts her hands up and admitting almost half of the 50 are Dublin-located – "but Cork is not far behind," McGuinness ripostes.
When Katy McGuinness called out for suggestions on Twitter, we had to fly the local flag and suggest our friends Ariosa, who've been roasting beans in Co. Meath for years upon years but opened up their first cafe in the heart of Drogheda town about three years ago. They're the best place in town for coffee, they have loyal-to-the-point-of-cult status from their caffeine-dependent regulars (us included) and they have some of the best coffee in Ireland. Fact, don't @ us and it's not because they happen to be in our hometown. That's a bonus and we're incredibly lucky. Here's what we said: <"Brilliant super friendly service, passionate team, excellent products and they've brought a new energy to the town of Drogheda" say Patrick Hanlon and Russell Alford aka The GastroGays. Endorsements don't get better than that.>
Some of our personal faves are included like: Coffee Angel, 3FE Kaph and Love Supreme in Dublin; Filter in Cork, Bean in Dingle (Dingle) and Maison Gourmet (Kenmare) [odd that My Boy Blue wasn't included]; Coffeewerk & Press in Galway and Established in Belfast.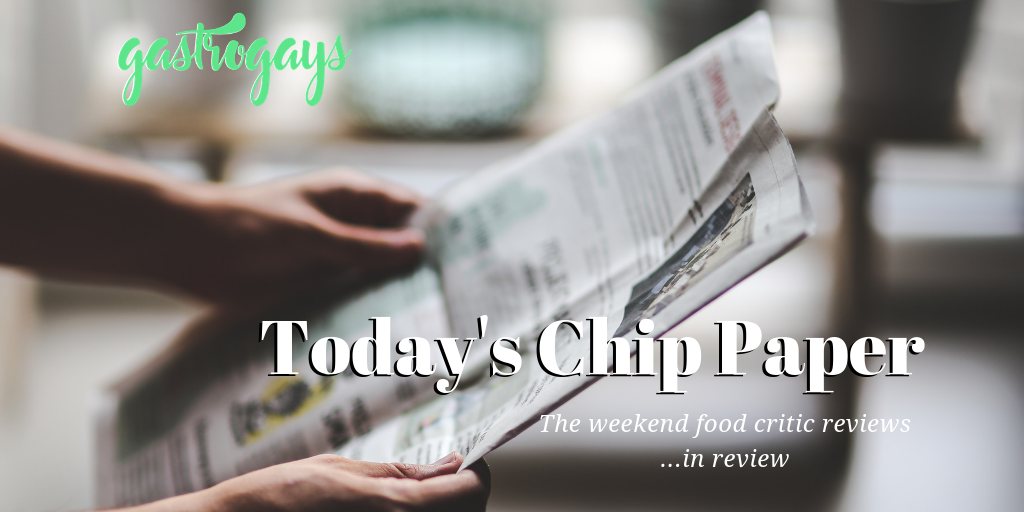 Today's Chip Paper returns next week.