In the week that we literally moved our lives to another house – and needed SO many chip papers ourselves to wrap all our stuff up, mostly gin glasses and bottles in fairness – it's an all-Irish TCP this week, but with international flavour – Korean, Italian and Thai – as well as another declaration of the best pizza and a visit to the Shelbourne's Saddle Room.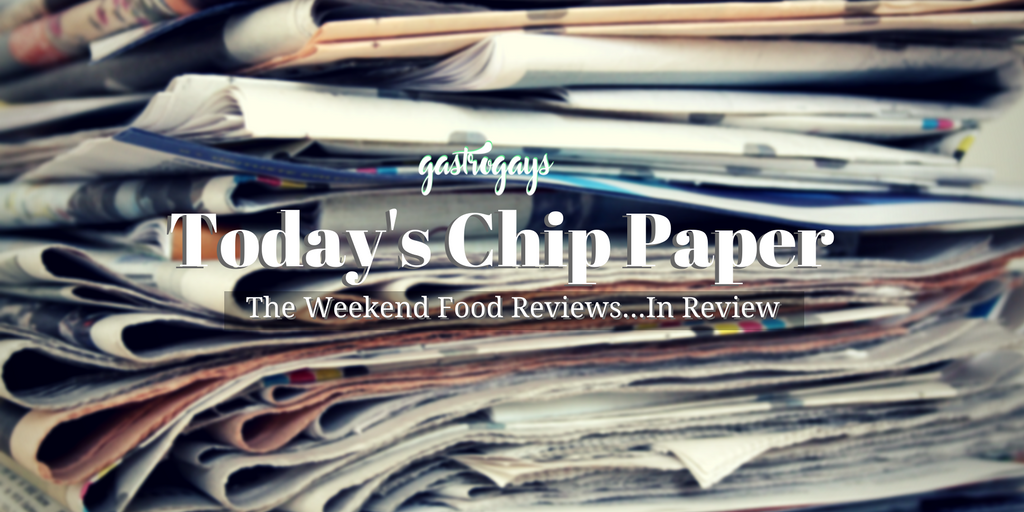 Useless fact: we both go to the same hair salon in Dublin and one of our hairdressers is from South Korea and we always love catching up with her and chatting about Korean food and where to find the best bibimbap and kimchi in Dublin. So we were all eyes on Katy McGuinness' review of Brothers Dosirak in this week's Irish Independent Weekend Magazine – but the whole experience leaves wanting, unfortunately.
Korean in Dublin is a bit of an anomaly, but McGuinness revisits this place which she "happened upon one day when on the hunt for some elusive ingredient" as it's set at the back of the Super Asia Foods min-market on Capel Street. Explaining the name, a dosirak is "in essence the Korean equivalent of the Japanese bento box – a traditional packed lunch comprising several distinct elements".
When baffled by an exotic menu and choosing unfamiliar dishes surrounded by "many of whom look to be regulars", McGuinness and her dining companion employ a useful, smart tactic in asking the staff what's good to order. What arrives is "trencherman-enormous". Vegetable dosirak includes "four square slices of tofu in a bland sauce, with good white rice, accompanied by side salads of cold potatoes, crunchy kimchi that could be fierier and a few leaves that come to the table undressed…" Horrifyingly, the writer then finds something "pink and mysterious buried under the kimchi". Continuing, "it looks as if it might be bacon but one bite confirms that it's something far, far worse" it's then revealed that it's luncheon meat A.K.A. Spam! – "a bizarre inclusion in one of the only two vegetarian options on the menu".
The Bibimbap fares better, "pleasant-though-bland thinly-sliced beef accompanied by mixed vegetables and rice, all topped with a fried egg scattered with toasted sesame seeds". The writer questions the provenance of the ingredients, of which the menu features none, disclosing "I know that I'm not alone in being less than thrilled at the prospect that I may unknowingly be eating battery eggs, industrially-reared pork and intensively-farmed chicken". McGuinness' highlight is the home-made Korean chilli sauce – "subtle and many-layered in terms of flavour complexity" – that we're hoping even though it's homemade may be available to buy from either the restaurant or the mini-market.
Some poor menu choices aside – side note: always love McGuinness' jibe at vegan/vegetarianism in almost every review, don't say you don't notice it too! – the writer sums it all up as a "tucked away canteen" with "lovely staff, funky ambience, enormous portions and low, low prices, just not great for vegetarians, or for anyone with pesky hang-ups about provenance". We're envisioning great, heaving portions of Korean fried chicken and sticky-glazed wings, rounds of cold beers and fresh, fiery, crunchy kimchi on the side. If we could get that (note: using free-range chicken), and that alone here, we'd be in this place every other week!
Totally Dublin's food writing team of Conor Stevens and Aoife McElwain are right on the money, filing October's issue (#169) with two places currently firmly positioned on the press trail – Luna, with its slightly-amended menu from a new head chef – and Bread41, the recently-opened cafe of Bread Nation Bakery on Pearse Street.
You all read Mr. Stevens' Ivy Dublin review recently? If not, stop what you're doing immediately and go read it here right now, then come back to us. So fresh from that "poisonous experience", Stevens found himself "in dire need of an antidote, some kind of ceremonial cleansing to banish the bile". The writer ends up in John Farrell's stable – a collection of restaurants the Stevens remarks "never disappoint" – "777 is a fiesta waiting to happen, The Butcher Grill was serving prime USDA beef before you knew you needed it and I hear that Dillinger's has never been better… Luna is the jewel in the crown of this restaurant group".
Propping up the bar for a stiff one at the start, Stevens find "the bar staff distinguish themselves by their lack of self-consciousness. They do their jobs without fuss or pretension, and that job is to make very good drinks". Indeed, it's one of the most elegant, lesser-known bars in the city, at basement level a stone's throw from Stephen's Green and running right along Drury Street. "The floor staff is exclusively males [on the night the writer dines but marshalled by a woman… Emma the floor manager runs the room with an equal measure of charm and calm capability. All night she makes the job looks easy. It is not. This is what hospitality is about."
Onto food and the table cleverly swerves the Salume (which is sliced at the charcuterie station by the bar, rather than "testing the kitchen") and first up, the baby fennel barigule with poached peach and goat's curd is "a nicely composed plate" before a "show-stopping" watercress risotto with Irish snails and broad beans. This is fast becoming the dish to-order at Luna. "The flavour profile is huge, It is creamy, salty and verdant and those snails are delicate and tender… I want it again right now." Another menu staple, the signature Spaghetti al Tartufo is "profoundly redolent of those Summer truffles" and is "stellar, spectacular". The Filetto Rossini (a twist on the Escoffier-attributed classic) is finished tableside and the writer calls it "a coup de (foie) gras", adding "at the first bite my pupils dilate. The dish is rich the way Jeff Bezos is – obscenely so. It is also one of the best things I have ever eating in this city".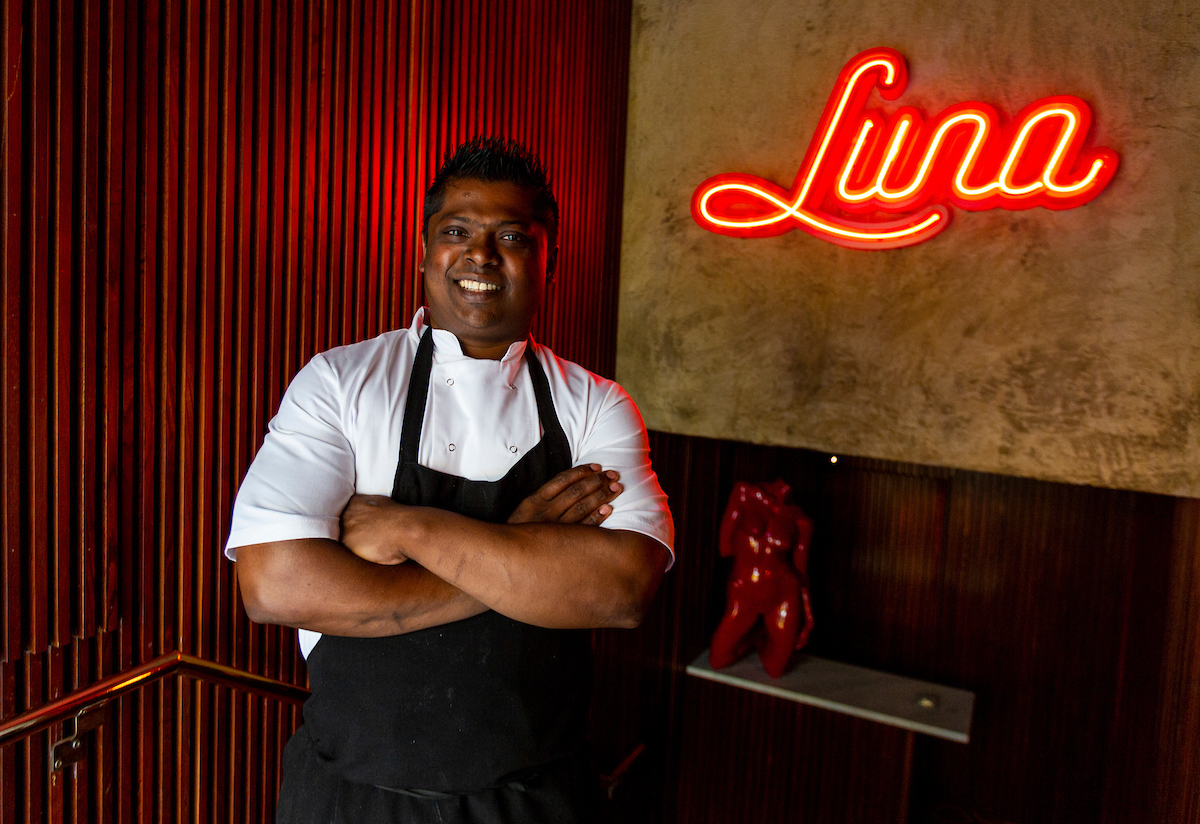 Finishing the review, an ode to Vish Sumputh from Mr. Stevens, whom he describes as "a genial broad-shouldered Mauritian serving broad-shouldered food. He has a firm grip and he makes eye-contact when he speaks to you. When he speaks about food he does so like a painter talking pigment." Then, a final word: "If the Michelin guide is to mean anything… then Luna 2.0 should be looking to the stars".
Also getting a mention in the capital-based monthly, Aoife McElwain – whose star truly ascended to stratospheric levels in Dingle last weekend with her Singalong Social at Dick Mack's Pub – visits Bread 41, saying "food envy may as well be on the menu, or at elast disclaimed in the fine print – if you love 'real' bread, clear your diary and plan in some trips to Dublin's newest bakery and cafe. Good to read that the adjoining Bread Nation Bakery supplies such stellar cafes as "3fe, Fia, Two Pups and lots more around the city".
Industrial minimalism is cafe du jour paint-by-numbers and the "extensive counter draws you in", but the writer assures: "its the goods on the counter that make you want to stay. Granary browns mingle with polenta and thyme loaves, while wholegrain sourdough and Wicklow mountain rye loaves lie in wait for their lucky owners… buy a loaf to take home for toasting and butter bathing." The croissants, of which everyone in town is talking about, are "delectably rolled" and come fresh out of the oven alongside the other viennoisserie treats "at 7am, 11am and 1pm every day" – this is essential information. There are kinks that need to be ironed out by McElwain explains it's only week two post-opening so it will find its feet, and that the lunch menu's most envy-inducing dish will be the black pudding on fermented potato bread with date brown sauce.
Saba, Baggot Street Upper, Dublin 4
"We had not originally intended to eat there," …not quite what you want to read as you embark upon a critic's review, but how and ever Ernie Whalley find himself at the second incarnation of Saba for this week's Sunday Times Ireland review. To elaborate, he writes: "on foot of positive reviews from other critics, two recently opened restaurants I had been desirous of inspecting could only offer us tables at times when no one in their right mind would wish to sit down to a three-course meal" so Saba it was.
The critic deems himself "a fan" of the original on Clarendon Street, before explaining a slight gripe with the interior – "Restaurant designers have come to the conclusion that lighting that makes the banks of the Styx look like Blackpool in Illuminations Month equals "sexy". That may be so but this optically challenged diner loses his enthusiasm when, as in Saba, he cannot read the menu."
One of the starters stood out from the Saba cookbook, the Vietnamese spring roll of minced pork, wood ear mushroom, glass noodles, carrot and cabbage, with Ernie pointing out it being "a generous portion, six fat rolls… wholesome, filling and delicious, especially wrapped in the accompanying crisp lettuce and mint leaves". Black pepper squid, served in a cardboard cone, was "substantial, to the cusp of gluttonous" and "the crisp exterior of the squid belied the squishy, tender and unusually flavoursome flesh within"
The next dish, Gaeng pet nua, "nailed both taste and texture… The pea aubergines lent some "crunch" and the slight bitterness the Thais revere in their food, and the subtly seductive aroma of sweet basil wafted upwards from the bowl". However, the writer adds, "most of the flavour from the beef fillet had leached into the sauce. This dish might have benefited from using a more robust cut.." The aromatic half-duck dish received "high marks for the crispy skin, but lost a couple for being slightly overcooked".
We know from dining ourselves that Saba has a great menu, and a great cocktail menu, but the beer and wine lists are a bit patchy in our memory, so it's great to see Ernie approved of the bottle of Janare, "a crisp Italian white from the interesting falanghina grape", that was available on the list when dining – there are so many possibilities for pairing wines with Asian food.
Joe McNamee enjoys a "boys night out" at Mirco Fondrini's newly-opened traditional Italian osteria in the heart of Cork city in this week's Examiner review. Formerly an integral part of Farmgate Café at Cork's English Market, McNamee explains: "this year, he finally flew his Cork 'nest' to open a traditional Italian osteria, offering home-style cooking and good wines." In fact, it's the former space of locally popular and sadly-lamented Star Anise, and the writer reports that he has "hardly touched the tight yet bright space other than adding a few perfunctory potted plants but it is a moot point for his warm, welcoming personality, the embodiment of hospitality, does more for a room than any designer's swatch book."
After an olive-dimpled focaccia, bruschetta is a "self-assembly job" McNamee orders two starters: "delightfully al dente ravioloni, older siblings to ravioli, in a purée of butternut squash, sage, walnuts and oozing rich creamy gorgonzola. Patate e baccalá alternates layers of grated potato and salted cod mousse, baked in the oven; simple yet sumptuous, it is my favourite dish of the evening."
The "Chanson's ragu' bianco, served with tagliatelle, is tomato-less 'white' ragu pinging with nutmeg notes" whilst the Lasagna da Mirco is "porcini e salsiccia, porcini (cep) mushrooms and Italian sausage, humming with sweet fennel, layered in sheets of fresh pasta, golden brown, more-ishly chewy on top". A tiramisu ("on the menu and therefore must be ordered") is a "wholesome, fresh alcohol-free version [which] passes with flying colours". A salame dicioccolato "exudes dense, bitter cocoa notes cocoa" and is a wholly grown-up affair but the star afters is the regional cheese selection from Lombardy, "including spicy bitto; comté-esque capra val bregaglia, further sharpened by citric goat's milk; and sweet, creamy tallegio".
Final word is "we four are besotted with our new home from home. Should Fondrini choose to push beyond this verbatim delivery of dishes from one of the great global cuisines, opening the door to local, seasonal Irish influences and ingredients — farmed, imported sea bass as the only fish option seems wrongheaded when an abundance of fabulous Irish seafood is so readily to hand — then Da Mirco could become a genuine original, another Leeside institution in a city fast regaining its epicurean swagger".
"I've had the Shelbourne Hotel in the back of my mind for a while… The Shelbourne's Saddle Room restaurant is one of the few in Dublin that keep the lights on on a Sunday," writes Catherine Cleary in this weekend's Irish Times, adding: "It's a place where there's hope of getting a good dinner on a school night when so many of the city's chefs are putting their feet up."
Opening on a scene-setting scenario, Cleary writes: "I've been given a table in the corner of the room to the side of the hotel. You arrive to an area with an open kitchen and the oyster bar, then go past the Elton John gold lamé button-upholstered booths to a room of cappuccino carpets and walnut browns. It feels like a set for a brandy ad, or a cigar ad, or both."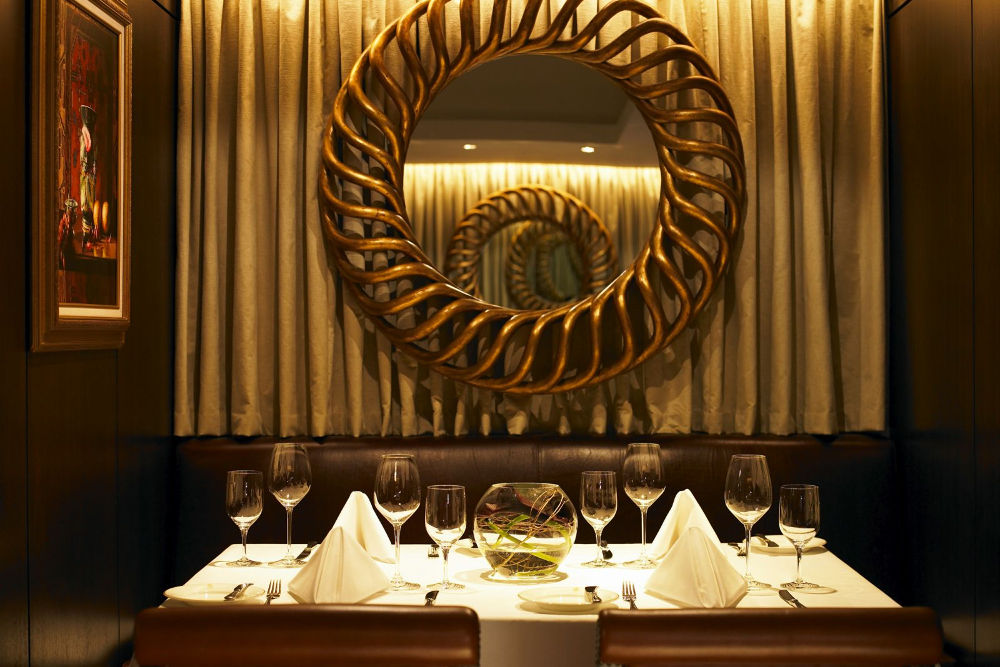 "The Saddle Room feels as autumny as new boots and a knitted scarf," Cleary writes, including further in the review that "the pre-theatre menu is full of things both light and earthy that sound good for this lowering-of-the-light transition season". Aside from the "forgivable mistake" of serving four oysters when the writer almost remembers the menu stated six, "everything else is perfect". Humble vegetables delight as part of every dish, shining a light whilst stealing a little focus from the stars of each plate, from the butternut squash in the Fivemiletown goat's cheese dish to the "properly tasty spuds, finished with just the right amount of salt" and "long-stem broccoli cooked so briefly it's lost none of its bright flavour or colour" served with the venison main. Speaking of, the venison is "a celebration of Irish wild meat, one of the consolations of winter, along with candle-lit suppers of a whole baked Mont d'Or with toasted crusts for dipping" and it arrives as "small lusciously tender rounds of pink meat with spears of salsify and nutty brown mushrooms".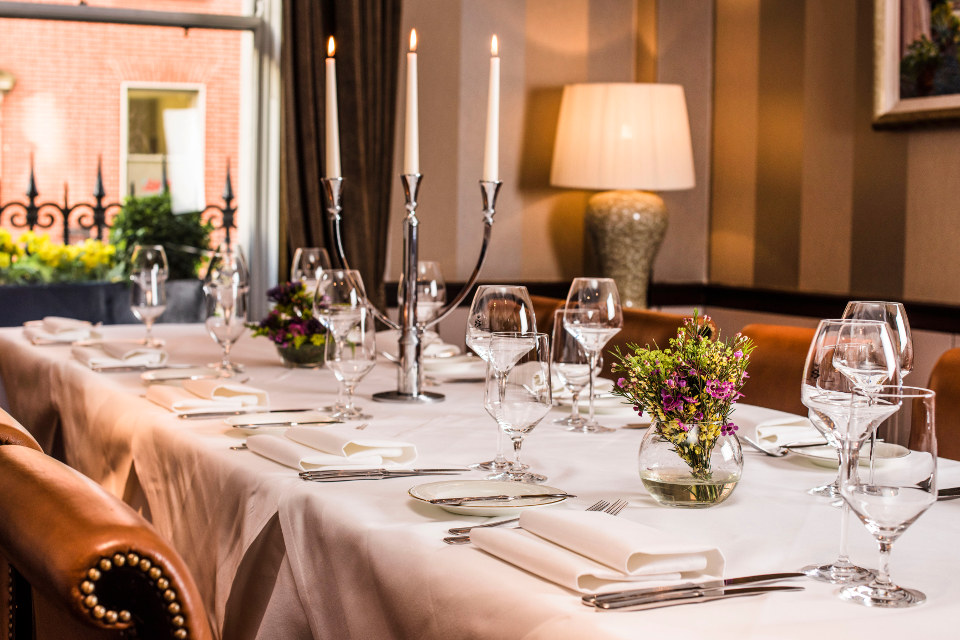 "Desserts put the tin hat on the happy face," Cleary states. "My bread pudding is the loveliest thing, the baby that a loved-up bread-and-butter pudding would make with a Yorkshire pudding. There's a jammy berry ooze in the middle and clots of it in the creme anglaise, which, if I ruled the world, would be served warm with this deeply comforting dish. A biscuity buttery pastry case filled with sooty chocolate fondant and finished with pistachio ice cream and brandy tuile is an exercise in doing the classics brilliantly."
8.5/10, a decree starting "Dublin's best Sunday night dining secret", and the conclusion comes in the utterance of: "there are parts of the dolled-up Shelbourne where you get dolled up and go to be seen. The Saddle Room is where you go to be fed".
Stop the presses: Just when you thought Dublin's finest pizza had been found throughout endless weeks of critics pointing out places appointed with the best pizzas you've ever tasted, you discover you're clearly mistaken or mislead. Another week, another declaration of "the best pizza in XX" and this time it's the turn of Tom Doorley in the Irish Daily Mail. Doorley declares that The Wodfire Cafe is IT. Apparently the 'blogosphere' (is that a thing anymore?) is abuzz about Pi – note: Pi is *phenomenal* – as are several of Doorley's critic contemporaries. Okay, so let's delve into why… because credit where credit is due for spotlighting a place that needs an eye thrown to it, who the masses may have never heard of.
"I just want to report that I've found pizza elsewhere in Dublin that I believe eclipses that of Pi, if only by a very narrow margin," Doorley declares, whilst singing the praises of Pi's pizza al funghi and how great Pi is, but this tips maybe just a little higher. There's no doubt Pi has been hyped – and we were the MOST sceptical, because we've remarked before we're allergic to hype – but we're vocal in urging that it lives up to it in every way.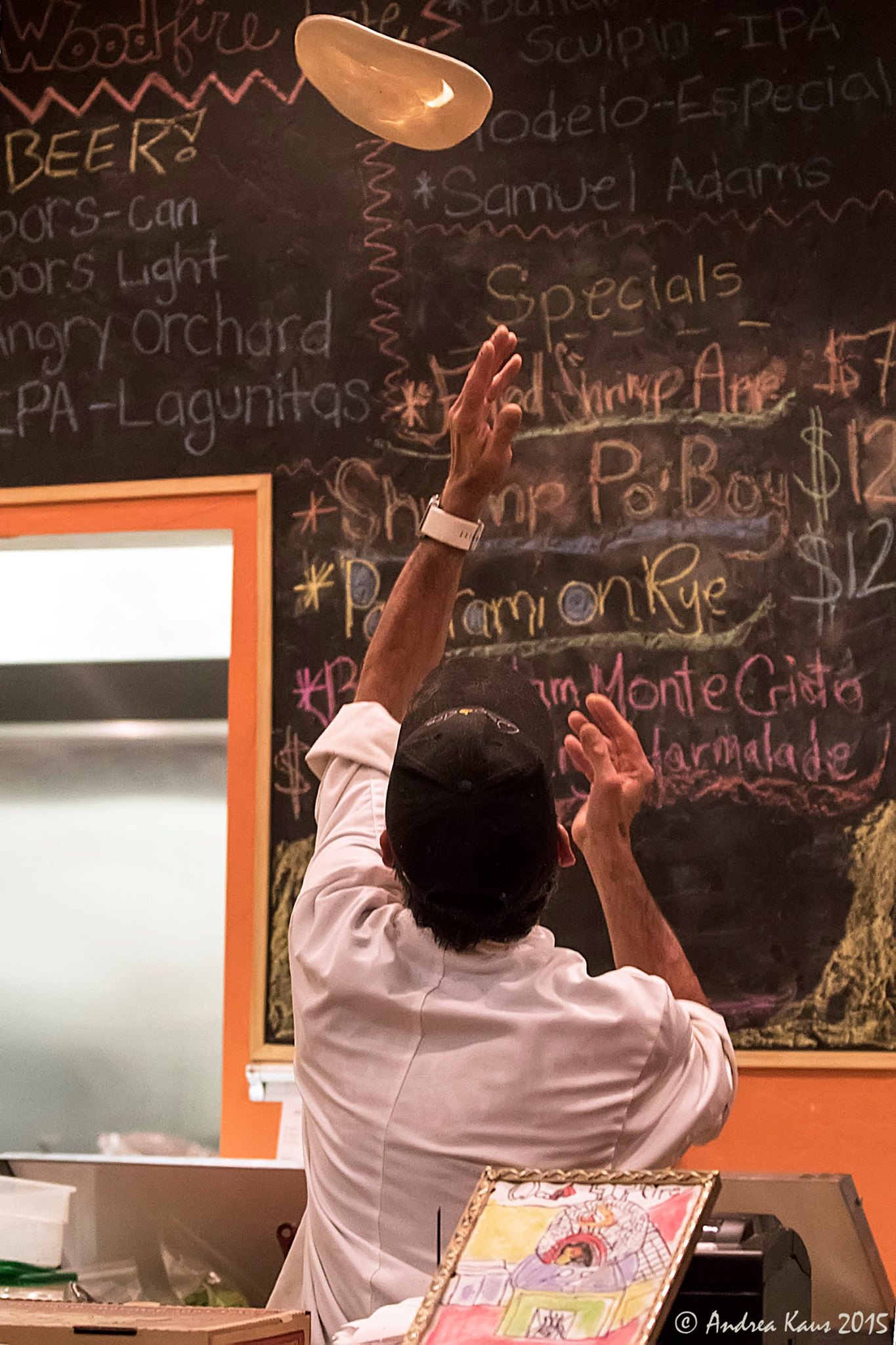 So, to the review and Doorley calls Woodfire Cafe "rather brilliant" and a "very different kind of restaurant in Dublin 7… which might be taken as just another Italian joint but there is a ring of authenticity here". The writer explains: "as is often the case – it was not social media that had me beating a path to its door. It was friends who live in the area". Take that, blogosphere.
"48 hours prove… San Marzano tomatoes…bubbled crust… creamy rich mozzarella," all the heralds of a fantastic-sounding pizza and these are all pinpointed in Doorley's surmising of the slices. It's hard to hide behind such few ingredients if you're a true margherita pizza, so when it's done well it belts like a hymn in church. We'll take Tom Doorley's word for it – if this is better than Pi, we're going.
Two tiramisu's in the same week? "Tiramisu may be something of an Italian cliche, and heaven knows how many atrocities have been committed in its name since it was invented… but when it's good, it's very good indeed, as it is here. Ethereal sponge, lots of whipped mascarpone, just enough espresso, no booze. And a portion so generous that I couldn't even contemplate finishing". Considered us influenced by the way, after two tiramisu encounters in one weekend, we now need to either go out and source one or make one ourselves!
Today's Chip Paper returns next week.