In the week that we turned chefs ourselves, catered for 60, did two public demonstrations of dishes and interviewed a local food producer on stage, all at the wonderful Waterford Harvest Festival (a favourite Irish food festival of ours), we take our weekly look at where the critics are eating and what they're saying – perhaps with a different perspective? No. There's a couple of 'meh' reviews in Wicklow and Wexford, a seemingly must-try new brunch in both Belfast and Greystones whilst Masa gets the Totally treatment, The Cake Cafe gets a sweet tooth surmising and the "best pizza in Dublin" is declared. This is Today's Chip Paper, the weekend food critics' reviews… in review!
Daata, Greystones, Co. Wickow
Just when you think "Ireland's not really that small" and in the same breath that some reviewers have pointedly put forward their weariness at the onslaught of new openings, one critic reviews a not-so-recently opened spot outside Dublin which another critic reviewed no less than a week or two previous in a competing national title. In this week's Sunday Business Post Magazine, Gillian Nelis visits Daata – where Lucinda O'Sullivan wrote about in the Sunday Indo a fortnight ago.
The feature begins with the writer lamenting the old days, where "several critics made a virtue of visiting a restaurant more than once before writing their piece". Gone and forgotten it seems, as Nelis explains "with media budgets shrinking everywhere, getting to go somewhere twice is a pretty rare occurrence for any food critic these days".
Back to the subject though, and some backstory is given on Greystones' Daata, "which opened last year" and "has generated a bit of attention by offering a weekend brunch menu populated by dishes like Tandoori fruit salad and an egg naan roll with saffron"… "served on Saturdays and Sundays from 11am to 2:30pm". Nelis finds the value so good, this is a rare two-occasions-one-write-up situation, where a dinner and a brunch a couple of days later give a more rounded view of the place. The aforementioned dinner takes place on "an Autumnal evening that was most definitely curry weather". The curries tried included the Afghani chicken – "a bit like a korma… but the heat pretty much obliterated the other flavours of fenugreek, pepper and lemon" – a Lahori spiced lamb slow-cooked in ginger and Karahi Masala – "flavours of the dish still came through with the cooking of the lamb on the bone really making a difference" – and the "decent" chicken tikka as well as "above average" tandoori prawns.
Brunch fared better with a "warming, nutritious breakfast" spread including the naan, porridge, mango lassi, chai tea, "extra calories by nabbing a slice of the buttery paratha that came with the Aloo Anday" and something totally new to us: "two ka-bombs – shots of coriander and onion 'juice' that you pour into a little savoury pastry and eat in one bite". Sounds like a recipe one of the Wellness Witches may peddle in a cookbook some day soon; think we'd pass on that one at breakfast time. Overall verdict? "[Daata is] very much a neighbourhood restaurant with a menu to match… the cooking is solid, the service is excellent, and the pricing is at a level to make it accessible to a wide cross-section of diners".
Pi

, South Great George's Street, Dublin 2
The headline goes: "The best pizza in Dublin. No Contest"
This is something that's been a fraught theme of late amongst those in the Dublin food circles and the critics themselves. Everyone wants to find the best leopard-spotted, unctuously indulgent yet light on the bloat pizza that there is going. We've had reviewers as recently as last month declare the best pizza pies in the country, and now in the Irish Times Catherine Cleary has put her name behind Pi, the newly-opened pizza place from Reggie White in Dublin city centre.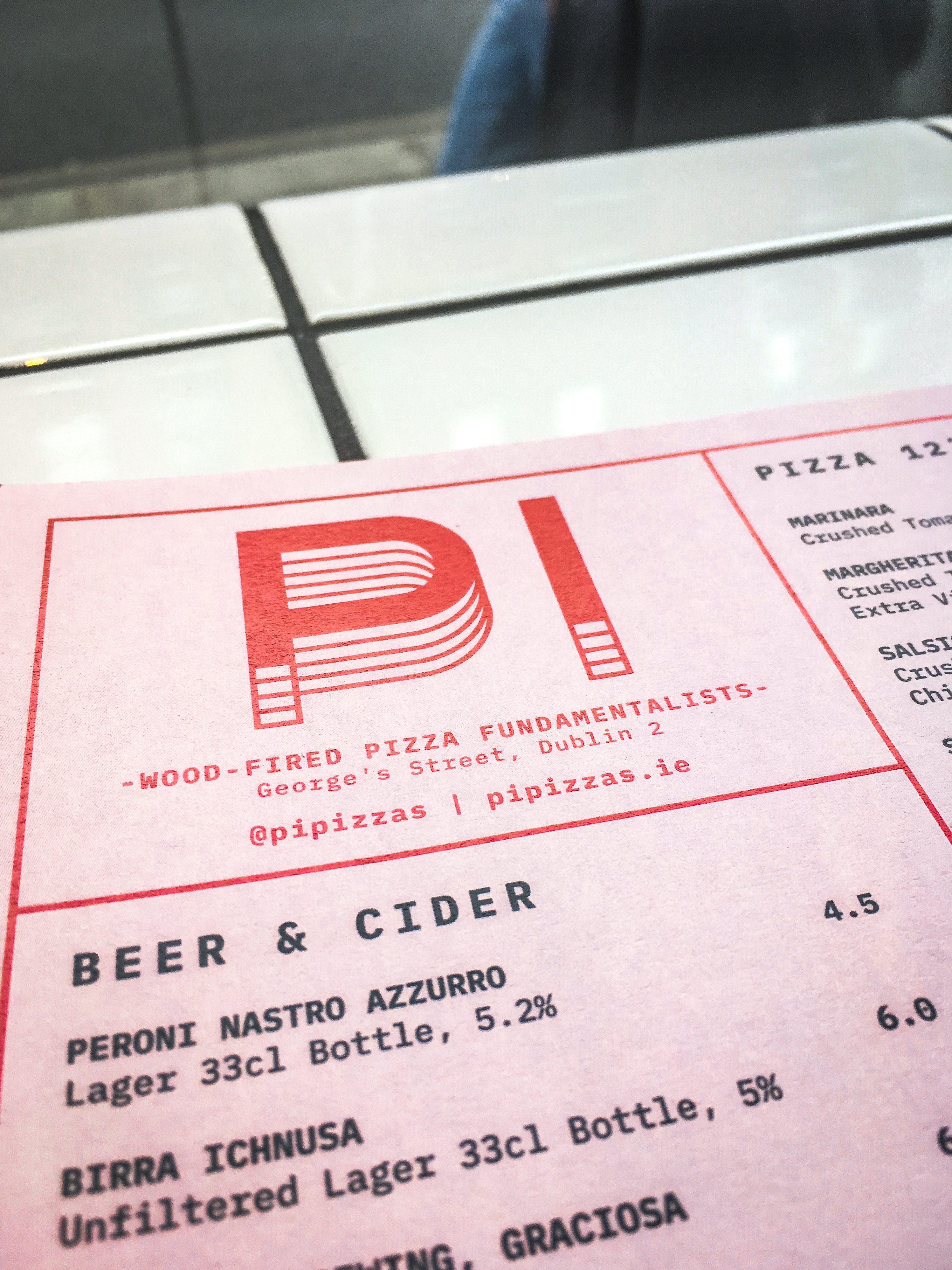 Before we go through the review – we have to admit, when it was teased a couple of days previous we knew it would be Pi. It's well-known this relative newcomer has stormed the scene and convinced a lot of people, ourselves included! Now, we did do our own round-up in a Chip Paper a couple of months back when it seemed every critic was getting their chops 'round a pizza and claiming it to be the best, and we're torn between two almost-neighbours: Pi on Georges Street and Dublin Pizza Company on Aungier Street. Both do sensational pizzas with high quality toppings and sometimes unusual, exciting flavour combinations. So there's nothing but a hair to split them in our opinion.
But enough of ours, Cleary calls it "very fully formed" for a start; "it feels like the Irish branch of a chain incubated somewhere cooler" before delving into its design: "speckled concrete floors, subway tiles, a black-tiled wood-fired oven like a gargantuan Darth Vader helmet and the name coming at you from the 1980's in cheesy 3D graphics". The writer then soothes any suspicion this might be a review tinged with criticism by saying "Pi is terrific". Cleary continues "Bringing slow food to a bigger audience and making the favourites with better ingredients are common themes with chefs… but they stutter and fall and we're left with artisan-washed menu and cocktails in jam jars. And then you get someone who just loves something and a backer who gets it".
The review then delves into said pizza chef and his wealthy business partner – "Pi has been eight years in the baking" so it's clearly no overnight success – before delving into the food on a busy Thursday night. "Doing one thing seems like a fresh idea these days when a blizzard of menu options is the default setting," Cleary writes, in celebration that there are no sides or salads available. It's just pizzas here in all their glorious, complex simplicity. "Puffy crusts" are "as good as the rest of them and gives a reason to order the dips… to make the very best of them".
Cleary, somewhat predictably, finds highest favour with the plant-based option: "it's heartening when the veggie pizza is the best (and most expensive) one of the menu", but also commends the funghi, the margherita and the sole vegan option, "which sounds delicious". The writer declares towards the end that "Pi smells like a franchise". A stellar review and a real coup for this casual newbie on the Dublin dining scene – we managed to get a table for three the day the review came out, have no idea how we wrangled that as the place was jammed, but hey, the Irish Times influenced us, and damn the pizza was as good as the first and second time.
Then, Hunter's Hotel.
This week, Tom Doorley in his Daily Mail column "after an absence of perhaps a shade or two more than two decades" finds himself revisiting Hunter's Hotel in Rathnew, Co. Wicklow.
"A hotel that's been in the same family for two centuries doesn't do wavering. It's a beautiful building with a vast garden and nothing that really matters has changed in decades. If you want cutting edge food and a vast selection of 'natural' wines, you are way out of luck," Doorley assures in the opening of the review. "Relatively plain" and "dose of nostalgia" are the next phrases scribed – fair deuce if you kept reading, we definitely did.
"Mildily chaotic" and "chintzy" are the next descriptions. Living for this. Then, a zinger: "Our starters, while being perfectly pleasant, suggested a desire on the part of the kitchen to move with the times, an urge that should be thoroughly resisted in my view". BAM. "There was some pinkish liquid at the bottom of the dish and an unexpected taste of smoked paprika," yes, prawn cocktail – you guessed it. Shiitake mushroom risotto – WITH – pesto followed. "A lot less unfortunate than it sounds, apart from producing a lot of green oil in the bottom of the dish" is the description. We are SWEATING.
Guess what? The mains actually kind of impressed. We were shocked in a way that you spot a potential car crash from the corner of your eye but everyone holds it together at the last minute and avoids any unexpected danger. Kudos. Desserts also get a thumbs up straight from the Seventies. Millefeuille and crumble. We'd possibly suggest inserting Miranda Priestly uttering "groundbreaking" with distain here, but there's an utterance of "bliss" alongside "wonderfully tart and fresh with sweet, crunchy crumble", so we'll hold our tongue.
"Eccentric, unique, glorious," Doorley concludes in his overview of this time-forgotten, traditional-to-a-tee restaurant. We were waiting for him to write "Iconic." We were left wanting.
The writer concludes: "We loved every moment".
The Cake Cafe, Pleasant's Place, Dublin 8
A favourite of ours when we lived a few streets away before moving to London – The Cake Cafe leaves a sweet taste  but with a sour tinge from the menu and service in Katy McGuinness' review in this week's Irish Independent Weekend Magazine.
Enjoying a post-summer pow-wow with three friends in the leafy courtyard of the popular casual cafe that's been serving slap-up breakies, lunches and delectable cakes for years, McGuinness is at first charmed by the house doggo – "The chairs might not be the most cosy, but there's an adorable restaurant dog pottering around, saying 'hello' to everyone and certainly not giving anyone the impression that he has designs on anyone's sausages". The spot, on Pleasant's Place and also accessible via the bookshop in the Daintree Building on Camden Street, has welcomed a new chef in the form of Tadgh Byrne, and the writer professes to not knowing much of the menu pre-kitchen change, but does encounter the menu as "confusing", in fact "for first-timers: it's boggling". McGuinness continues: "it's over half an hour before any food arrives, and when it does it comes in three separate deliveries, each at least five minutes apart, which is not very relaxing".
What is ordered is a slight let-down as there's even more confusion via service with what actually comes on which person's plate, as a Chef's Special dish is ordered with optional extras but there's a kerfuffle. Service aside, "for the most part [the food] is pretty good. If lacking finesse in terms of presentation. It's clear the kitchen is using ingredients of good quality, although I'd like to see more suppliers name-checked". The flavours in the writers' Chef Special ('organic potato rosti with spring onions, goats cheese, smoked bacon, organic kale and green goddess dressing – ordered with extra chorizo, which turns out to be merguez sausage, and an egg on top, which turns out to be two eggs because apparently egg is included anyway) are "harmonious and satisfying, the eggs perfectly poached".
A hit with the table is the smokies "made with Goatsbridge smoked trout baked with crème fraîche, slow roast tomatoes, shallots, herbs and salsa verde. It's rich and unctuous". However, not all goes to plan – the eggs in the scrambled egg dish "are dry, heinously overcooked" and the signature house-made baked beans are "an insipid business, badly in need of oomph".
The cakes "are the star of the show" – as clearly a caff with a kitsch, traditch twinkle in the eye in terms of design and the very word 'cake' in its name needs to deliver in dessert-form – and top marks for the "simply gorgeous" Victoria sponge, "a joy both to behold and to eat"; a respectable, if a little "crumbly… enhanced by citrus" carrot cake; and a "surprisingly good" vegan, sugar-free caramel slice. We cackled at the line "…although the flavour of coconut dominates. God love the vegan who doesn't like coconut, it crops up everywhere". For what could have been a disastrous review given the surface, it seems quality ingredients and great cooking save the day and earns the cafe a more-than decent 23/30 – McGuinness is "charmed by The Cake Cafe, despite the slightly chaotic service" and suggests giving it a week or two "and all will be well".
The Pocket, University Road, Belfast
"The Ulster Fry, the burrito, the burger and the Asian are back and they're better, healthier (or less damaging than previously) and tastier than ever," Joris Minne declares in the Belfast Telegraph in a review of the game-changing brunch spot in Belfast, The Pocket.
"But the real changes are being made most dramatically in the brunch sector," Minne continues. "Emerging in recent years through the likes of General Merchant's, Sozo and Cafe Conor, brunch has become a wonderful focal point for friends and family across the city… The next stage is upon us and the first move to create Brunch 3.0 has been made by a tiny cafe in the Queen's Quarter called The Pocket… It may be the size of a doll's house, passes all the hipster interior design tests… It's so different to anything else you've seen, it's so well imagined and executed by chef Jonathan Dunne, you can be sure you're witnessing the birth of a new trend."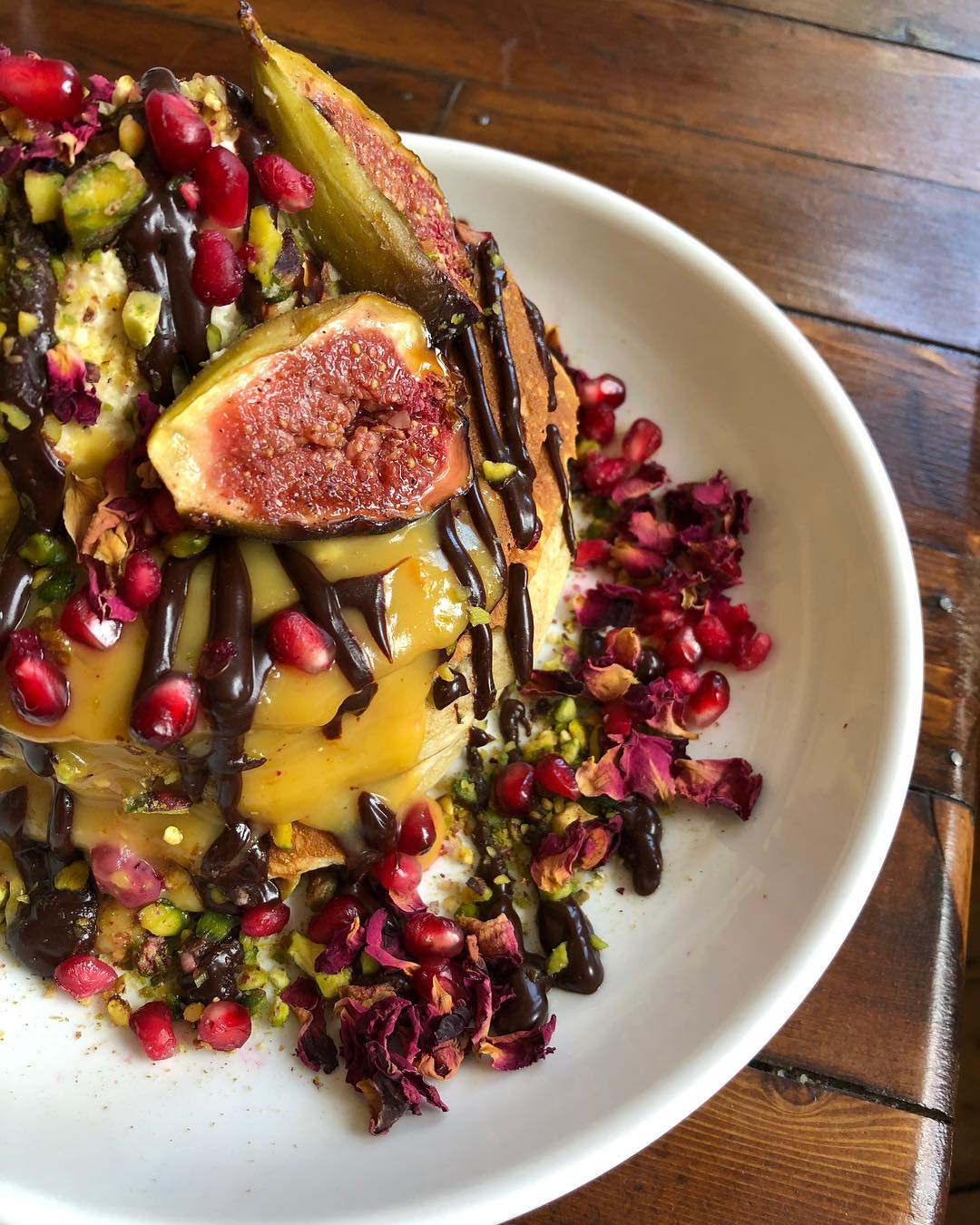 Well, now, from the headline we imagined finding the Mecca of Ulster Frys, a divine apparition of fully-formed fadge, the second coming of Soda farl by way of a gloriously artery-clogging, protein-overloaded plate of deliciousness. Sadly, the aforementioned doesn't get mentioned again, so we've been blue balled – but that aside, this brunch spot sounds spot on and does indeed appear to be doing something (thankfully) different with a breakfast menu.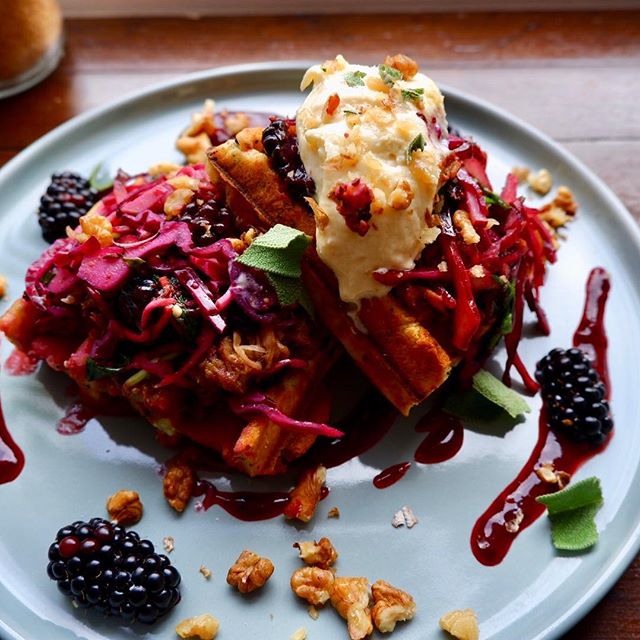 Minne details two dishes in particular: "Waffles with cream, raspberries and white chocolate sound conventional enough. But it's not until you uncover the slightly savoury waffles and the hint of basil in the cream and the beautiful texture balance between the soft and crispy waffles and the back-of-the-throat richness of raspberry and basil that you sense you're entering a world of new flavours…
The pancakes with beetroot marinated smoked salmon again sounds run of the mill but when you've tasted the dry, salty and crispy beetroot rings, the baked beetroot leaves (yes, seriously, beetroot leaves!) and the soft lush pancakes which are blini-like only bigger you realise you have entered a new brunch era." The 3fe coffee, from down south in Dublin, is "up to the standards too". Looks like everyone's found a new favourite late morning spot in Belfast city – "It's the care and attention, the precision and the detail which makes the Pocket stand out" Minne concludes.
Masa, Drury Street, Dublin 2
Fresh from Masa being reviewed in both the Irish Times and The Independent on the same weekend, Aoife McElwain reviews Dublin's new destination taqueria in this month's issue of Totally Dublin. [Read: so basically at the exact same time, as it's a monthly] "Apart from El Grito in Temple Bar, he says, he felt Dublin was lacking in tasty, traditional and affordable tacos," McElwain recounts from conversing with Shane Gleeson, the owner-operator of the new spot on Dublin's painfully trendy thoroughfare of Drury Street, before adding – in almost the same breath – "Gleeson and his team are working to deliver on their promise and showing signs of doing a great job, once some initial teething problems have been sorted out".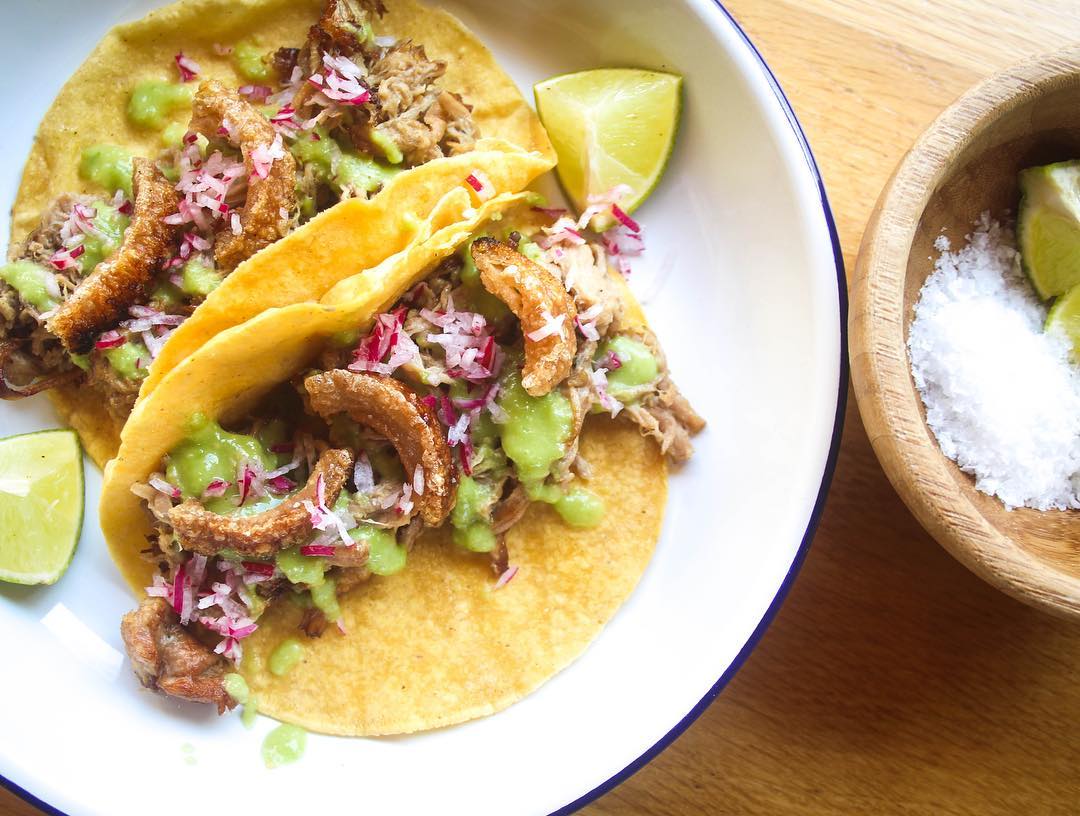 Like other reviews, and our own experience, there are teething problems. "When we visit, there is only Corona for the drinkers; it's a Sunday and they have run out of wine, Pacifico and Sierra Nevada, but that was just a temporary hiccup in the first fortnight of opening." They also later in the review run out of the Asador tacos. McElwain advises to readers that "Gleeson is working on extending their license to serve tequila and mescal for extra taqueria authenticity". Brilliant. McElwain writes "The tacos themselves are the real deal, and that's largely down to the homemade corn tortillas", first up is the "exceptionally good" chicken taco "– crisp and juicy fried chicken thighs sourced from Manor Farm are topped with a salsa macha, a chipotle and garlic heavy salsa".
"The beef barbacoa (€5.45 for two tacos) is a little less successful – the beef chuck sourced from FX Buckley is tender and slow-cooked, and the feta and coriander on top is a nice touch but it's lacking in a sauce to finish off the flavour profile. What makes Mexican food so special is its multi-dimensional taste profiles; it's all about the layering of tortilla, meat, chillies and sauce. Gleeson has since taken the barbacoa off the menu because he wasn't happy with how the juices impacted the corn tortilla, making it break apart." We adore this paragraph because it's real and honest and no bullshit. It didn't work, everyone knew it, it's gone. That's refreshing in the restaurant industry and not some smoke and mirrors nonsense.
In a surmising, McElwain writes: "Service is friendly and attentive, and the food is with us within 15 minutes of our order being placed. The decor… is urban greenhouse meets 1980s swimming pool – in a good way. This space is blessed with its wall of windows making it ideal for laid-back hangs and that's very much the vibe at Masa." Concluding: "Despite the teething problems, this is a no brainer for people who love fast food with flavour and authenticity with an extremely reasonable price tag." Couldn't agree more and that's pretty much what every review to date has sung in harmony on: this WILL work and will be a massive success, it's just the early days. We're all allowed to learn on the job when it's so new.
Whereas Nelis lamented a lack of the seeming end of the more-than-once review, Ernie Whalley happened to be on a press jaunt to a food festival in Wexford and subsequently paid "a long overdue lunchtime visit" to Cistin Eile in Wexford Town – the reader is assured he's known chef/prop Warren Gillen for "many years", by the way.
Whalley arrives at the "small, homely restaurant… which has established a loyal following" and remarks at youthful Gillen – " he still looks about 21, standing as a living rebuttal to the theory that this industry ages one prematurely". Of the space, "there are two rooms, making the restaurant's narrow frontage something of a trompe l'oeil. The kitchen is in the middle, the small team beavering away, partially on view". The two servers "looked like amateurs… they were professionals, the real deal" and the menu is "wholly free from elaboration or innovation. Comfort food, farmhouse food but with its own USP". Perusing the "short, to the point of terse" lunch menu, Whalley and Sibella kick off with bowls of spiced potato and celeriac soup, which "seemed appropriate" given the Autumnal shriek the weather has exclaimed. "Excellent" is the verdict, "the spices highlighting the nutty notes that celeriac evinces (but only when cooked soon after it's dug up) and the texture dense but not gloopy or grainy".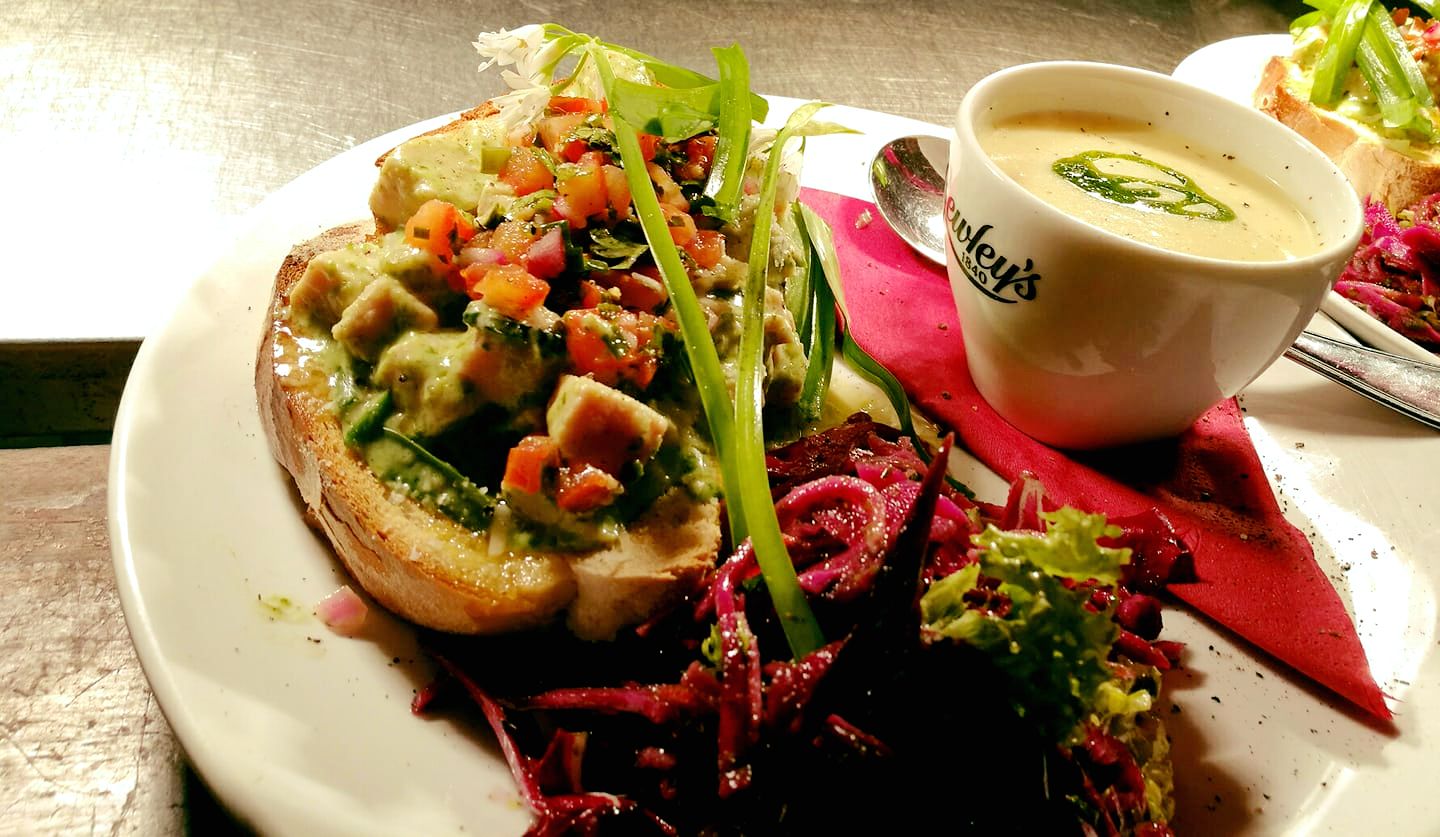 Lamenting the lack of lamb's liver on menus these days, Whalley wagers that Cistin Eile's version ("grilled or fried with crisp kale, buttery mash plus a duo of sweet apple and zestful mustard sauces") is "in my top three dishes of 2018 come December". Sibella enjoyed the haddock 'Catch of the Day', with the writer continuing; "everything on both plates was cooked to perfection, texture and flavour perfect, quite an achievement for a small kitchen during a busy lunch period". Whalley partook in a craft beer, or two, in fact, the same one – "Clever Man's characterful 'Ejector Steat' stout" – re-ordered upon initial enjoyment and a happy marriage paired with the kitchen's "endearing dessert – ginger cake with caramel, honeycomb, and rum and raisin ice cream".
Worth noting Cistin Eile translates from Gaeilge to English as "another kitchen" (also "other kitchen" in some contexts) but this review in general feels like any other, or indeed just another, review. Aside from the lamb's liver dish and professional service – are we any wiser? What's to shout about? Is this worthy of a beeline to Wexford? Not convinced.
More next week when Today's Chip Paper returns