Did you miss Chip Paper? After a bit of a break whilst we were in a field at All Together Now and then traversing Taiwan, Today's Chip Paper is back – your weekly round-up of what the critics are saying and where they're eating, peppered with a little of our thoughts and experiences too. This week, seafood several different ways across Dublin, afternoon tea above Belfast city, gorgeous guesthouse dinner in rural Cork and a new vegan cafe worth its chops. This is Today's Chip Paper.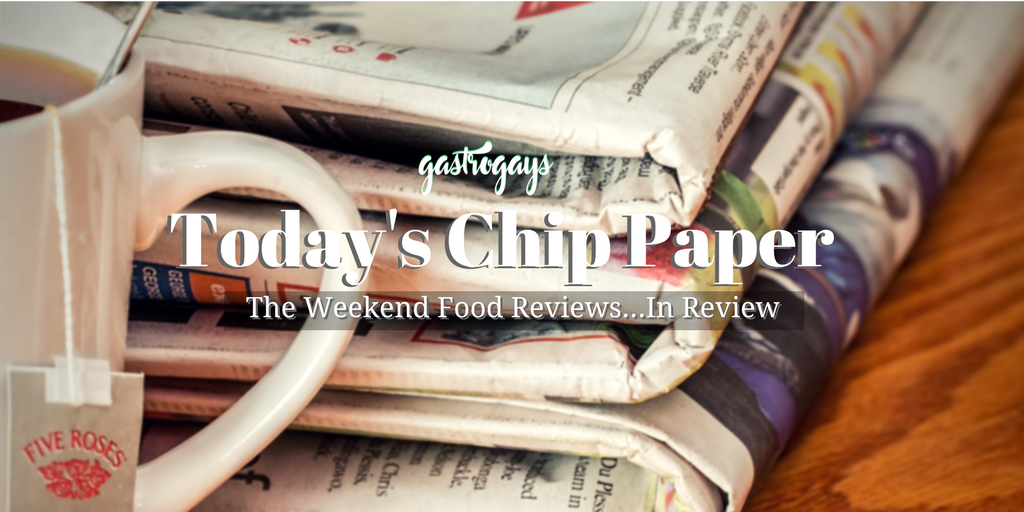 "I began to wonder if The Ivy Dawson Street was all fur coat and no knickers," begins Lucinda O'Sullivan's Sunday Independent restaurant review of the newest addition to the Dublin dining scene. The lead-in also teased: "as other big British brands have learned, it will take considerably more than a bucket of bling to impress Ireland's diners".
First remarking on the "PR overkill" of the launch, O'Sullivan provides some comment on the location and interior – "set in the new One Molesworth building on Dawson Street, [it's] a 150-seater brasserie in the style of the lavishly embellished classical Parisian greats such as La Coupole and Bofinger, but here the extravagant lush jungle decor screams Carmen Miranda – she of the tutti frutti hat – with music to match".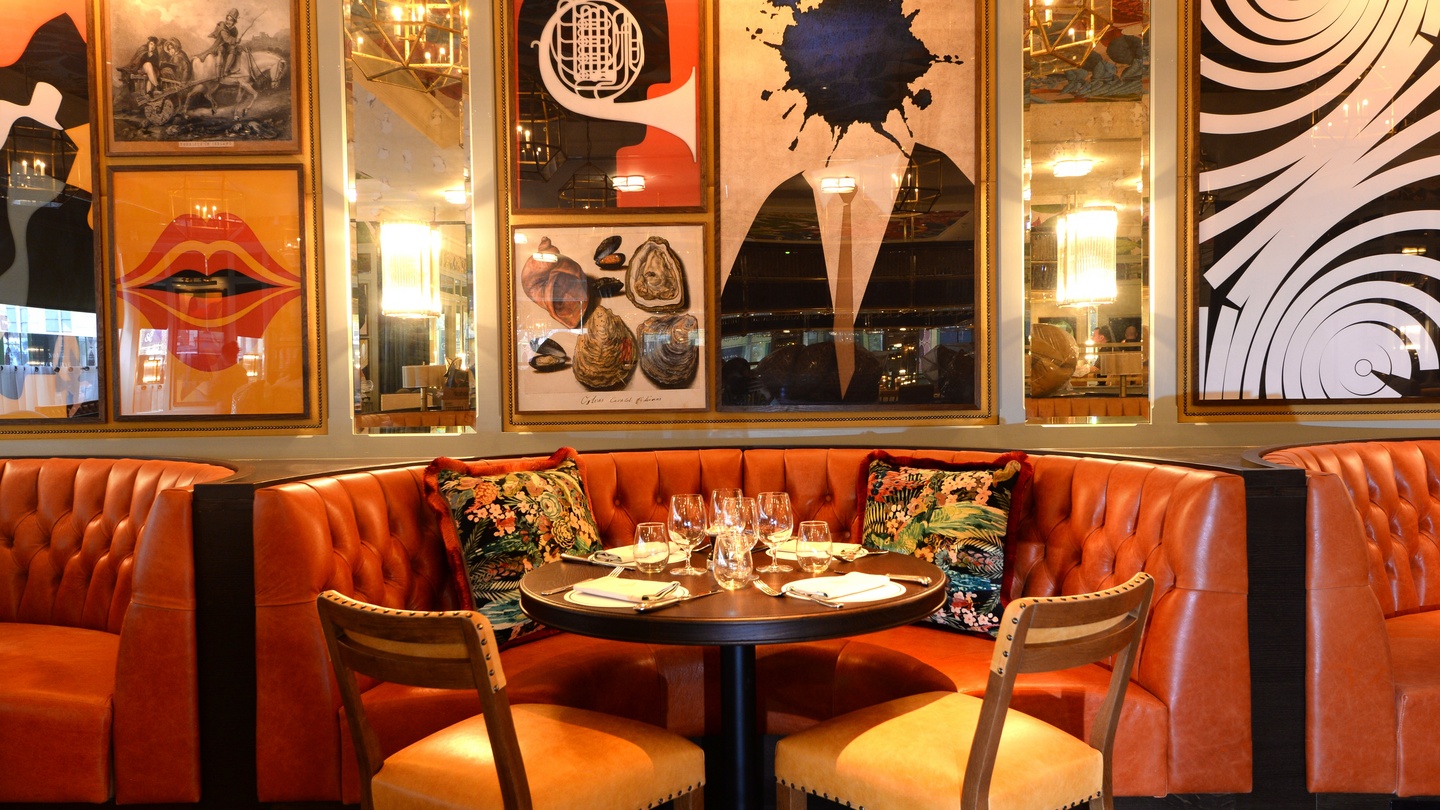 To the food, and something other critics or foodies-in-the-know have been remiss to mention, is the staggering price of the breakfast, let alone dinner. O'Sullivan writes: "opening for breakfast from 7am, the full-Irish costs €15.95, though eggs Benedict are a modest enough €9.95". Of the main menu, the writer adds: "there's something for everyone, with mains (€14.50-€42.50) including fish & chips; hamburgers; crab linguine; monkfish and prawn curry; steak; and the grilled whole lobster. Remarking on the 'signature' dish of Ivy Shepherd's Pie, O'Sullivan says it "was delicious, if delicately sized" whilst  also pointing out that the Asian duck salad starter "could weigh in more heavily on the spicing".
O'Sullivan was first refused by the waiter to have the lobster – the priciest main on the menu – cracked, de-shelled and served ready-to-eat, "taken aback that my request to crack and shell the claws on my lobster (€42.50) was refused "by a manager", I told the waiter that it would be done in my local bistro without fuss, never mind The Ivy, and I asked to see the relevant manager". –Living for the drama- O'Sullivan was then dutifully obliged in the request by said manager. "One needs to be shoreside in jeans, or in a crab shack with a bib, to be cracking lobster claws, not messing around through garlic butter on a small table in a citified restaurant that considers itself smart!" is the parting shot from the sharp-eyed critic. Was it worth it? "It was pleasant enough." The rum baba after seemed to find stronger favour.
Overall? "Though the flash was blinding, and the lobster business crazy, the food was good, our waiter was a delight, and the famous Ivy 'buzz' had attracted the glam brigade – the music thumped and a saxophonist was cruising the aisles as we left.."
Michael's, Mount Merrion, Co. Dublin
No shell issues in the next review, as over in Mount Merrion Michael's is surmised by Catherine Cleary in the Irish Times Magazine restaurant review. The headline exclaims: "Sublime seafood worth shelling out for" paired with a big fat 9/10 so you already know this is going to be good – and Michael's has achieved somewhat cult status amongst discerning Dublin diners of late, so it's great to see it lives up to its reputation. This is one of those rare reviews where it's really a one dish wonder – it's all about the seafood platter.
Providing some necessary backstory, Cleary explains "Michael's is a restaurant that was taken over by Pakistani restaurant group Kinara and then bought out by [Gaz] Smith. He kept the name and it feels like he kept a lot of other stuff too… all they need is a Dean Martin soundtrack to go full cheese on the Italian neighbourhood joint circa 1990". The restaurant is located "in a strip of shops in Mount Merrion on Dublin's southside".
Smith is well-known online and in-person as being a larger-than-life in personality and precise in skill, so it's no wonder that the combination of both are evident in the dining experience too – "One of the quirks of Michael's is that the walk-in fridges are next door to the restaurant, accessible only through the front door. So chefs walk through the place carrying boxes, like it's an impromptu house party with more guests than they expected."
"Smith has built up a relationship with two fishermen who fish lobster and crab from the bay and sell it directly to his restaurant," Cleary explains, whilst a starter of razor clams from Portmarnock "knock the socks off any razor clams I've tasted in Ireland – sweet and curly tendrils of meaty clam served with their beautiful shells in a wine and garlic sauce that's had fresh coriander torn into it".
Next, THE sharing platter, which is only available for two "and as Irish seafood experiences go it's unmissable," Cleary declares. "There's whole John Dory on the bone surrounded by such a feast on a simple white plate, the whole lot drenched in shimmering melted butter… claws so fresh that the crab meat comes away in sweet threads rather than one generic wodge. It's the same with the Clogherhead prawns. Their luscious feathery innards take some winkling out of their shells because they haven't cooked into a lump. The joy of this platter is not just the freshness of everything, which is the starting point of all things good, but it's also the cooking that delivers that precious freshness with as little fuss as possible."
Cleary exclaims: "in this small neighbourhood restaurant with a big personality at the helm you can get the kind of seafood you mostly can't get elsewhere unless you're willing to splurge big."
Coincidentally, that same seafood sharing platter at Michael's is lamented in the Irish Independent by Katy McGuinness who finds the version at Fallon & Byrne in Dun Laoghaire's Peoples Park a let-down and the menu overall uninspiring.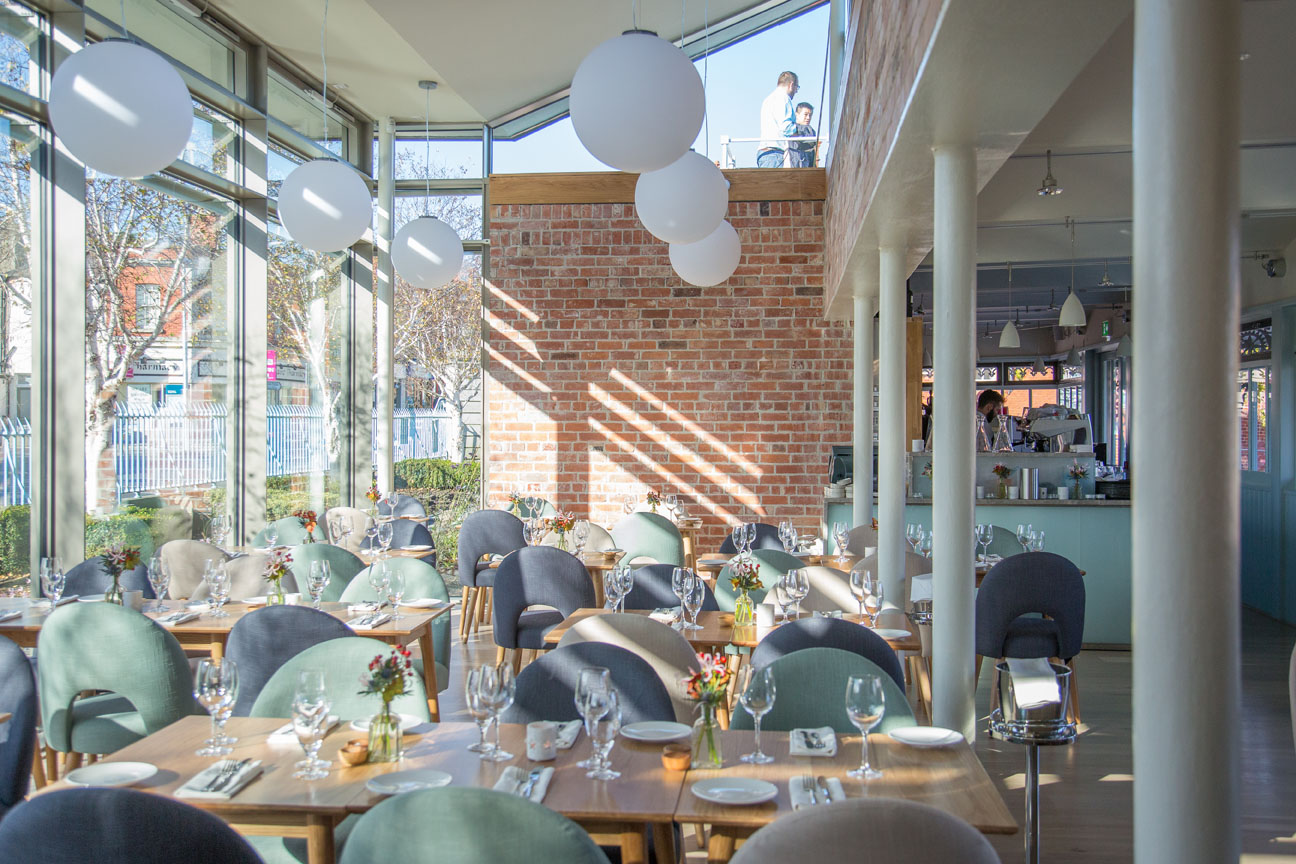 Ambience gets not-far-off top marks in this review – "we visit on yet another of those warm evenings, the light lingering late, and the park filled with parents and children playing and eating ice-creams. It feels like another country" – but both food and value scrape just above half marks each. Of the "all-day menu, with sharing plates, salads, sandwiches and some main courses" McGuinness describes it as "a dull read and one of those – thankfully now rare – occasions when there is little to excite, no dish to set the heart racing, nothing that both of us want, requiring one to capitulate".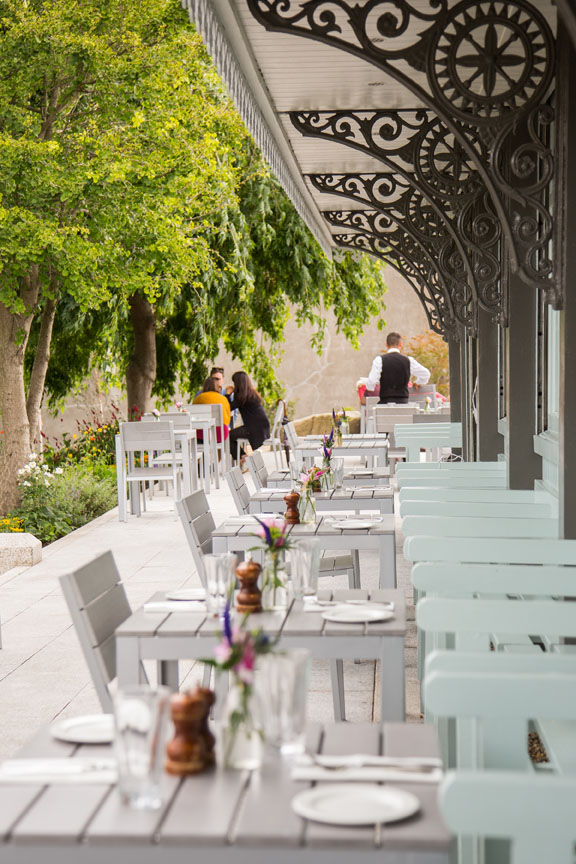 "We settle on a seafood sharing platter that's woefully short on provenance information, comprising dressed crab with cucumber and apple, smoked salmon, mackerel pâté and prawn cocktail… [the crab] is fine, but lacking the sweet flavour of the, for instance, Lambay crab that you'll find on the menu at Michael's in Mount Merrion and which is now my benchmark." Not all is lost though – McGuinness adding: "F&B's mackerel pâté is a thing of beauty – you can buy it in their shops – and it doesn't disappoint here: it's smooth, creamy, lemony, rich, delicious. The smoked salmon is grand (although I'd have liked to know its origin), as are the tiny prawns in a watery but dill-heavy dressing". The platter is "a generous serving and would make a fine lunch for two, at a cost of €18.95".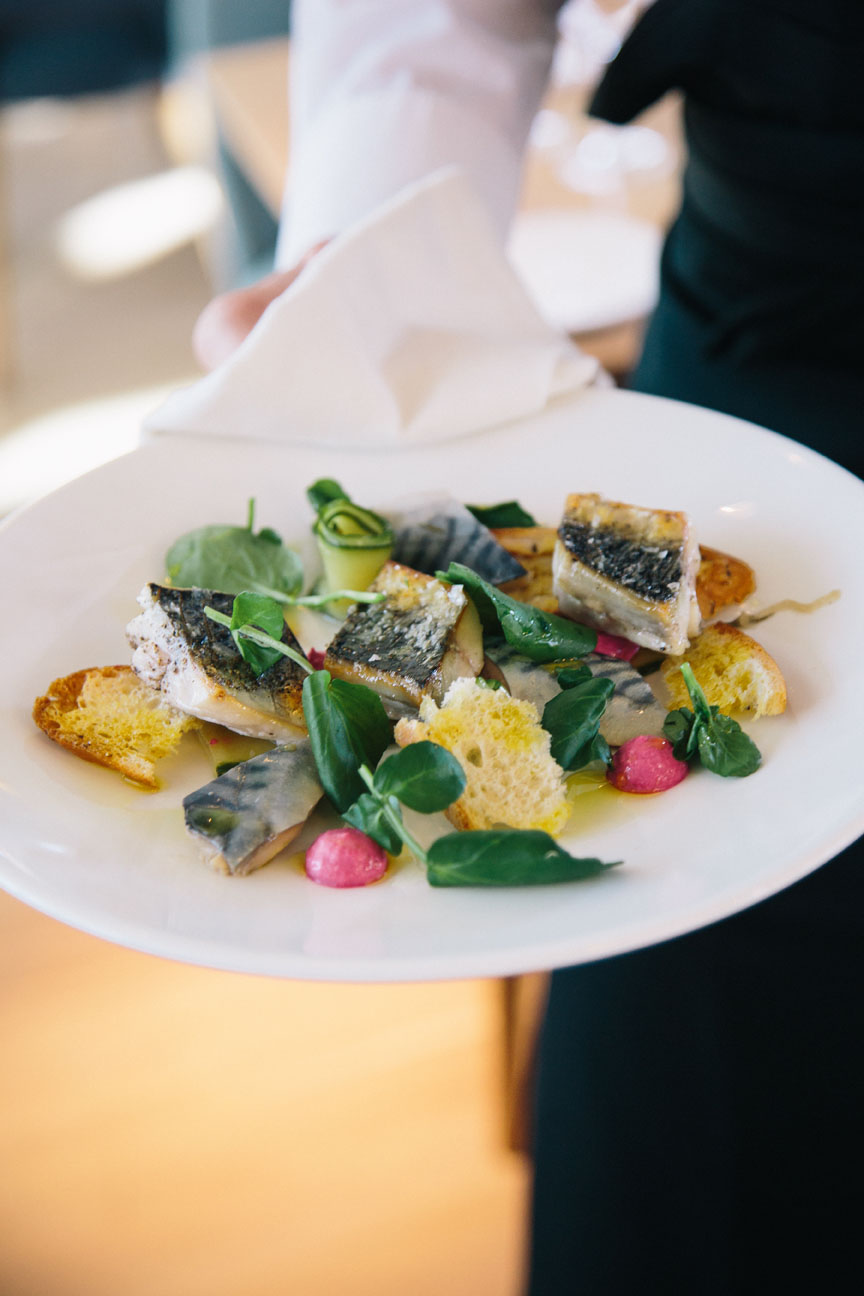 Other dishes tried include a "yawn-worthy" hake served with a cassoulet – "it's not a cassoulet" the writer quips – and a "too-wintry" braised Comeragh mountain lamb "with broad beans, pea shoots and artichoke that tastes as if it's straight from the jar".
"This is dull fare," McGuinness concludes, adding: "It seems odd to me that Fallon & Byrne as a business should set the bar so high when it comes to its food halls in the city centre and Rathmines… but be satisfied with such an unprepossessing offer in one of its restaurants. It's a menu in need of a root-and-branch review. In the in-brief box at the bottom, the surmising is: "desultory food offering that appears devoid of – and I hesitate to employ such an overused word – passion".
Down the country, Ernie Whalley finds himself at Ballyvolane House (which we wrote about ourselves recently here) a day early for an event, so makes an occasion of it in The Sunday Times Ireland. Interestingly, we spotted that Katy McGuinness was staying there this very weekend! Two critics in one month… and that's only a couple of months after royalty stayed, in the form of TRH Prince Charles and the Duchess of Cornwall. Ballyvolane House is becoming quite the star.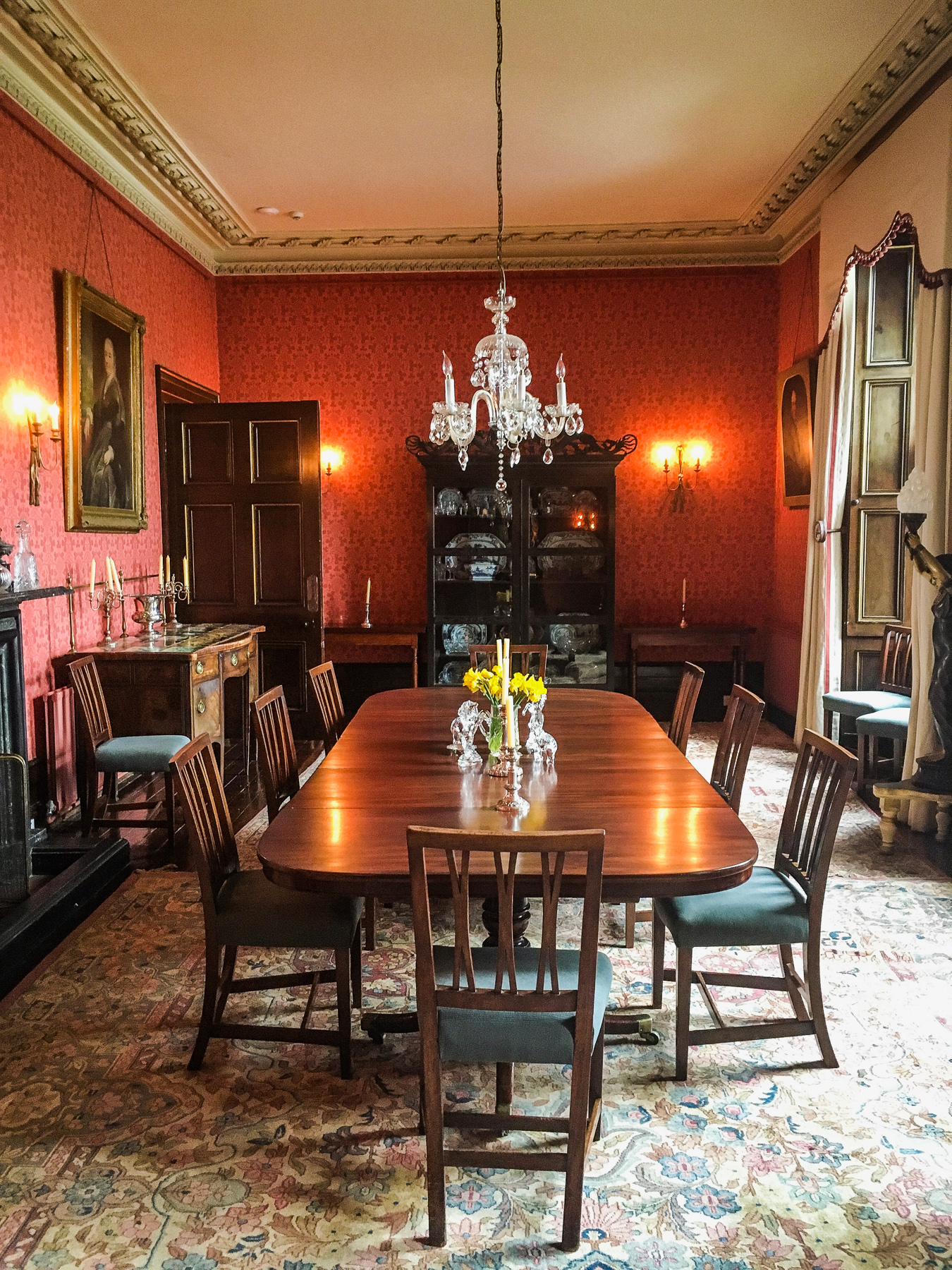 "I was due there, at the behest of Wines of Spain, to host a tutored tasting at a dinner held to celebrate the fete of San Fermin, patron saint of Navarra, showcasing wines from the region… I thought it would be pertinent to go down the day before and essay a review," Whalley begins. Something we didn't know was that non-residents can rock up to the guesthouse and enjoy a lavish dinner – "Ballyvolane's four-course dinners are priced at €60 per person, about what one would pay in the average Dublin restaurant".
"Ballyvolane, a period house in the Blackwater Valley, is enchanting; furnishings, ornaments and other artefacts seem organic, unlike many other such houses which leave the impression that "atmosphere" has been achieved by successive visits to an auction house… the place looks loved and lived-in, which it is."
"Before dinner we discovered the pleasures of a large drinks cabinet, funded by an honesty box, and so took advantage of a brace of G&Ts. The gin, of course, had to be Bertha's Revenge." No one can resist the drinks cabinet – it truly is a beauty and humbly stocks a whole heap of other gins that Justin and Jenny have collected – but guests would be remiss not to partake in a tipple with the gin made on the very grounds.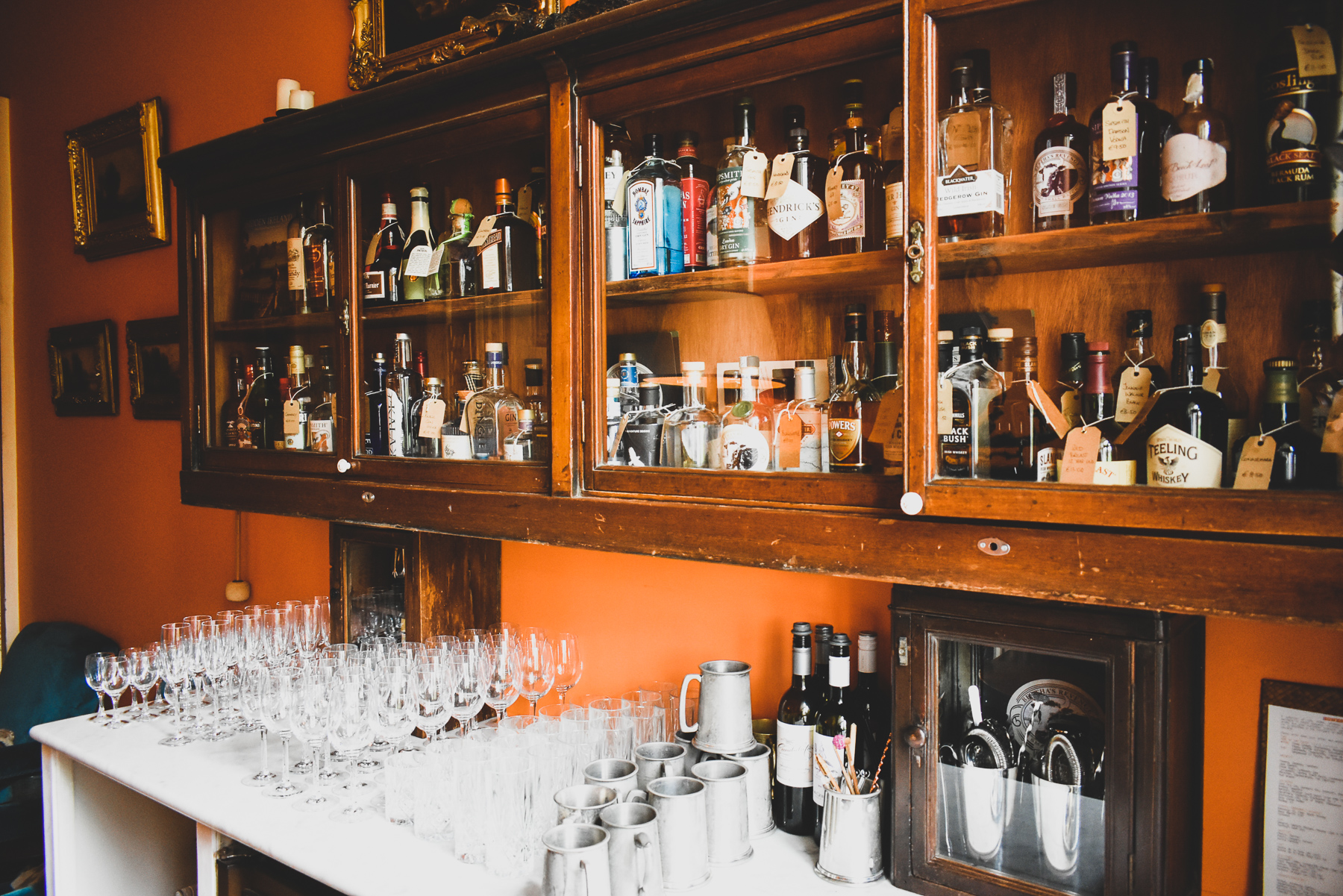 Dinner (by resident chef Steve Mercer) is a communal affair in a grand dining room, so Whalley continues: "relaxing with our pre-prandials enables us to get the know fellow diners, on the whole a pleasant bunch. As Ballyvolane House only has six bedrooms, some of the other guests were 'glamping' in the extensive grounds". Whalley offers top marks for a "tremendous little amuse-bouche, a thick, flavoursome cauliflower soup partnered with a crisp onion bhaji" whilst Bertha's Revenge gin gets another outing in the "particularly fine gravadlax". Likewise, top marks seem to be bestowed on the "Ballyvolane Pork Plate, an assortment of tasty goodies from Justin's own saddleback pigs, foremost among which was a brick-thick pork chop of a flavour I thought no longer attainable".
Of the sides, "the supporting cast – garden vegetables including plainly boiled spuds I would describe as "of Wexford quality" (I have no higher praise) and lightly blanched leaves of chard skating on a velvety lake of perfect pea purée," Whalley positively gushes.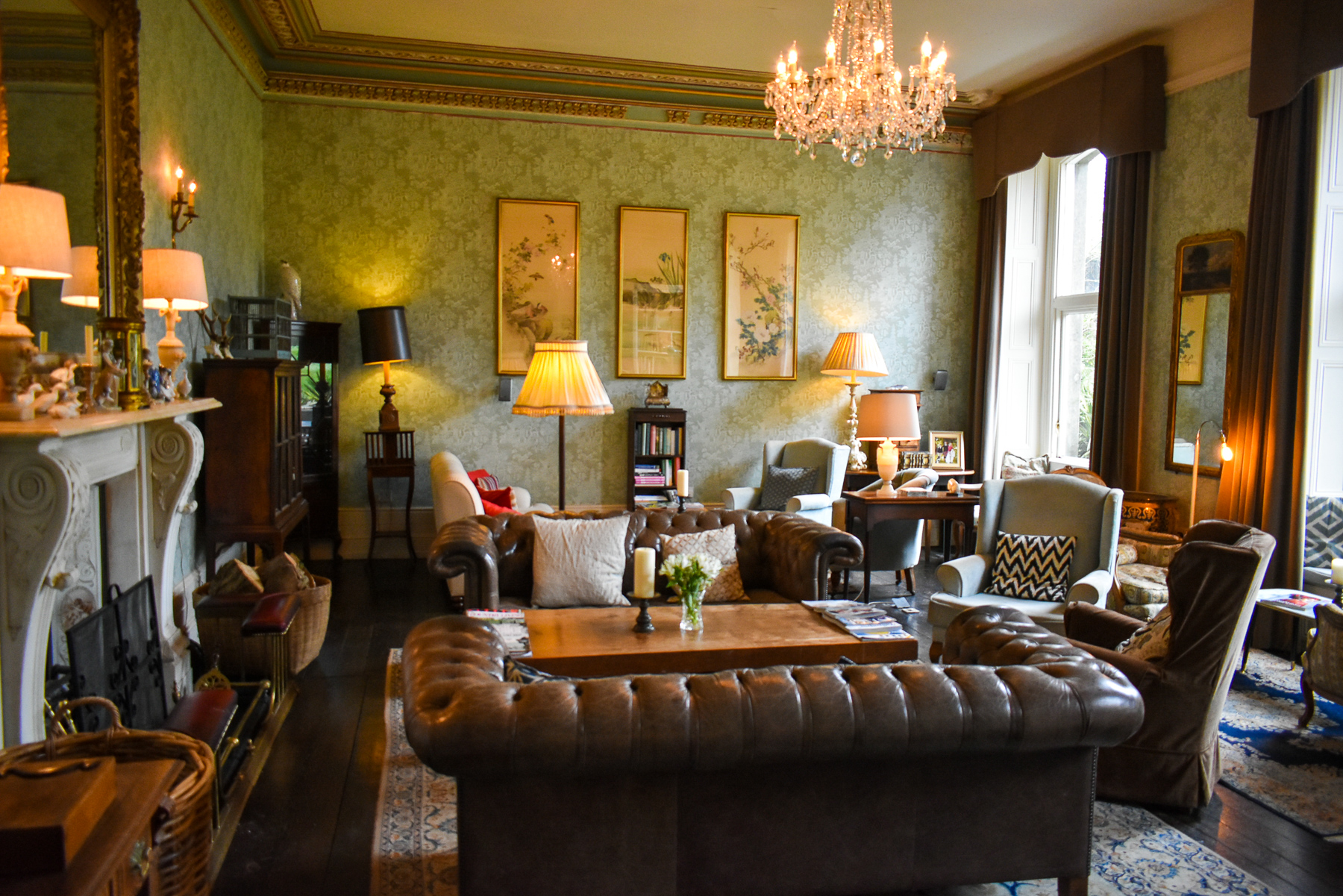 Afterwards we retired to the drawing room for coffee, brandy and more conversation. Walking the grounds the next morning, after a tour of the tiny distillery, Imelda and I agreed that Ballyvolane was about as "chill-worthy" an abode as can be found
Afternoon Tea at the
Grand Central Hotel

, Belfast, Northern Ireland

Up in Belfast, Belfast Telegraph's Joris Minne tackles afternoon tea 200ft above street level at the Observatory within the newly-opened Grand Central Hotel.

Set on the 23rd floor of the new hotel, Minne exclaims: "the Observatory is, quite literally, the hotel's glittering crown. Perched way up there, you have unrivalled views of Belfast… Grand Central's executive chef Damian Tumilty says from up here the city doesn't look like itself anymore".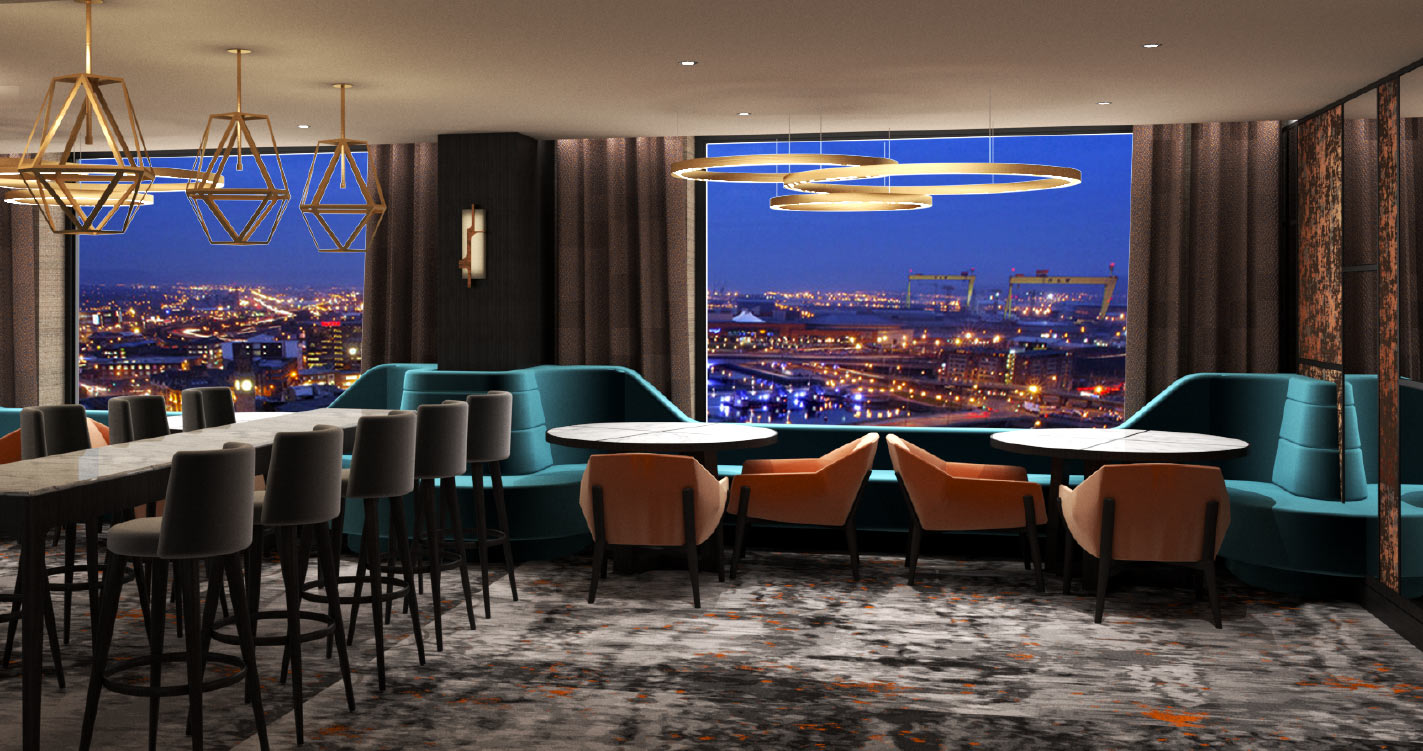 "It's worth paying the £40 for afternoon tea here for the view alone. The 23rd floor is so high up we even watched weather fronts moving in from the south and into the sunlit uplands of the Cave Hill within minutes. While the view is dizzying and breathtaking, the ample afternoon tea soon settles nerves."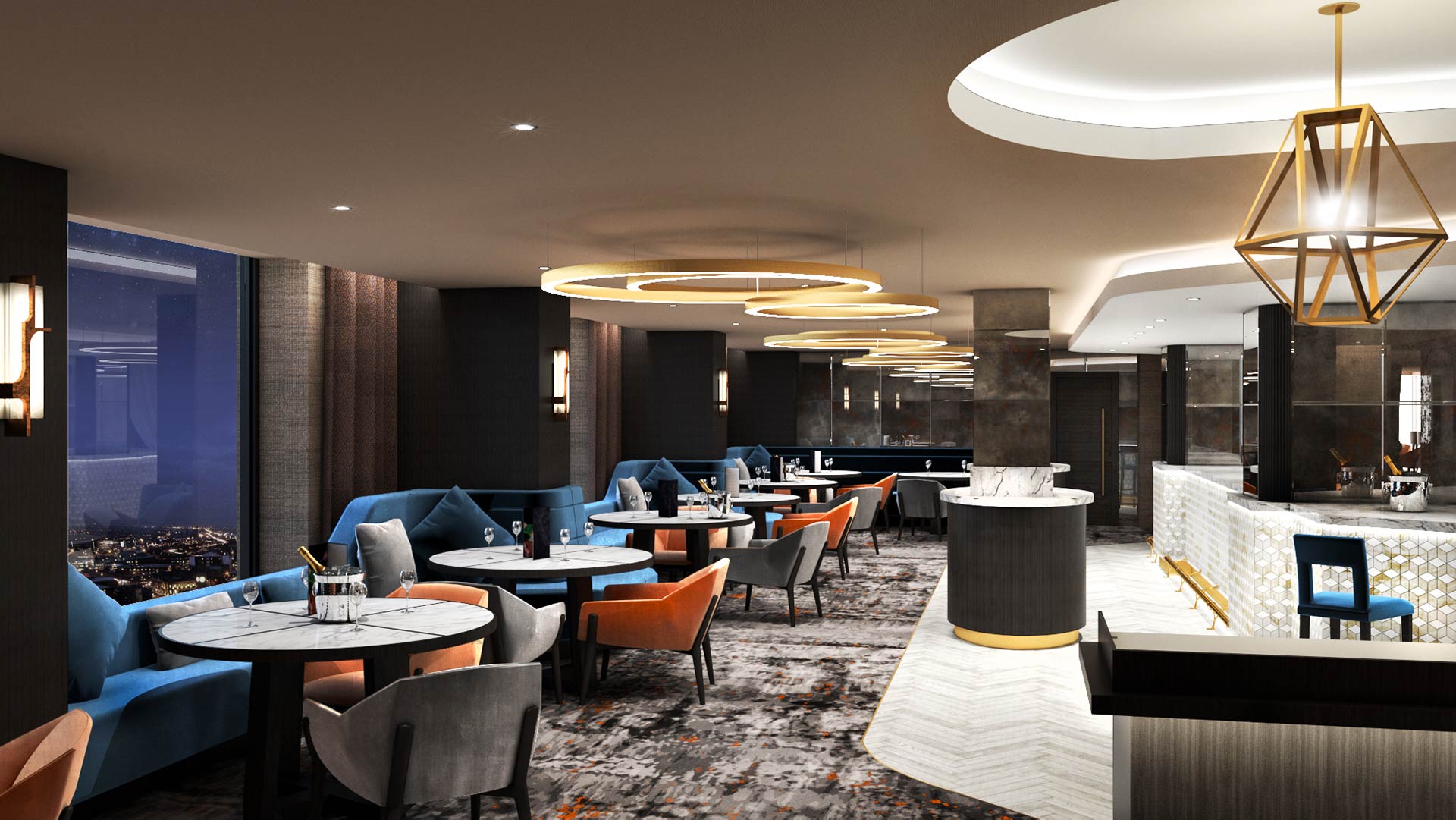 Of the choice of teas, single-estate Assam and Cloud Catcher are a pair remarked by the writer for their quality, whilst "the extra tenner for a glass of Bollinger is worth the whack… because this is the high life". So, the heralds of a fancy afternoon tea: scones? "Excellent" Little sandwiches with the crusts cut off maybe? "four good little [ones]" as well as "top-class smoked salmon (not too chilled)" and "possibly the best coffee eclair I've had outside France". Minne confuses the spelling of macaron with the other sweet bite coated in coconut and holding that extra 'o' within its name, but we'll forgive – "there are macaroons [SIC], which I cannot abide, no matter how passionately endorsed by pastry chefs and servers. They belong in big cardboard boxes as protection for electrical goods".
"Don't think too much about the price. All afternoon teas are a luxury," Minne advises, after spending £50 on this experience, "But perhaps none is quite so luxe as this."
143V

, Tivoli, Cork
143 V is the subject of Joe McNamee's restaurant review column for the Irish Examiner this weekend – a vegan cafe "sited in a former terraced shop, a brisk 10 to 15 minutes from [Cork] city centre" set in an area "that appears to have been in commercial decline for some time".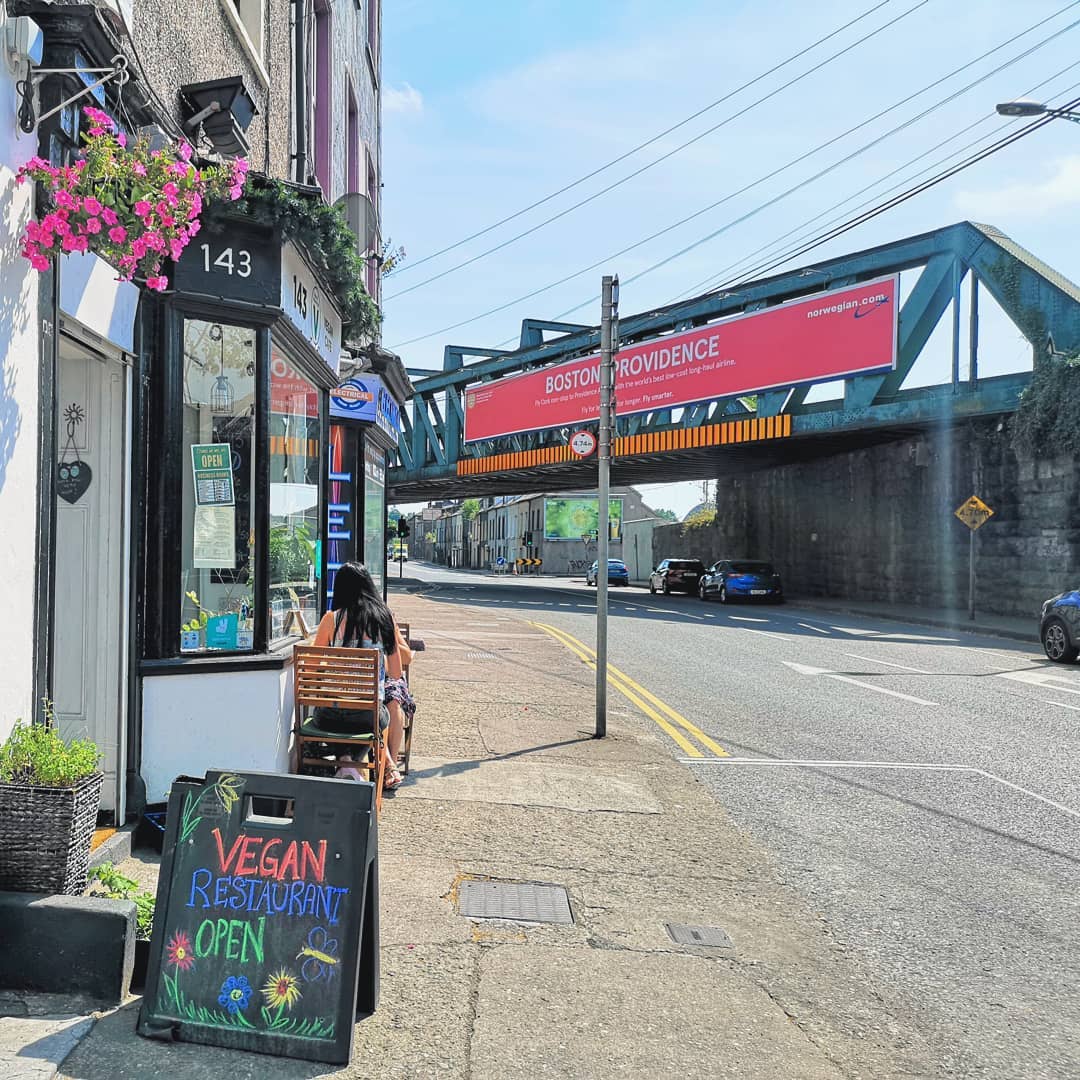 "All doubts instantly dissipate the moment we walk through the door. Sometimes you just know when a place is right, even before totting up the pluses and minuses and this first impression is wonderful. It is tiny, quirky, awkward, but in a way that lends real character and, most importantly, it is light, bright and very welcoming."
The southern burger featuring homemade seitan is "crumbed and cooked Southern fried chicken-style" served with all the usual burger trimmings and "it works well, an ideal gateway dish for a meat eater crossing over into veganism". The rainbow bowl (stuffed full of goodness it seems) is remarked for being "tasty medicine" whilst the Sweet Falafel Sandwich features "denser, fudge-like" chickpea patties – "we prefer our falafels on the lighter, crunchier side… but flavours are sound and fillings add crunch".
One issue is the vegan cheese, McNamee writing: "it is an uncanny imitation of an industrially-produced cheddar, but as a fundamentalist worshipper of real cheese, particularly Irish farmhouse cheeses, it seems a futile exercise, the strongest impediment to any potential conversion to veganism on my part".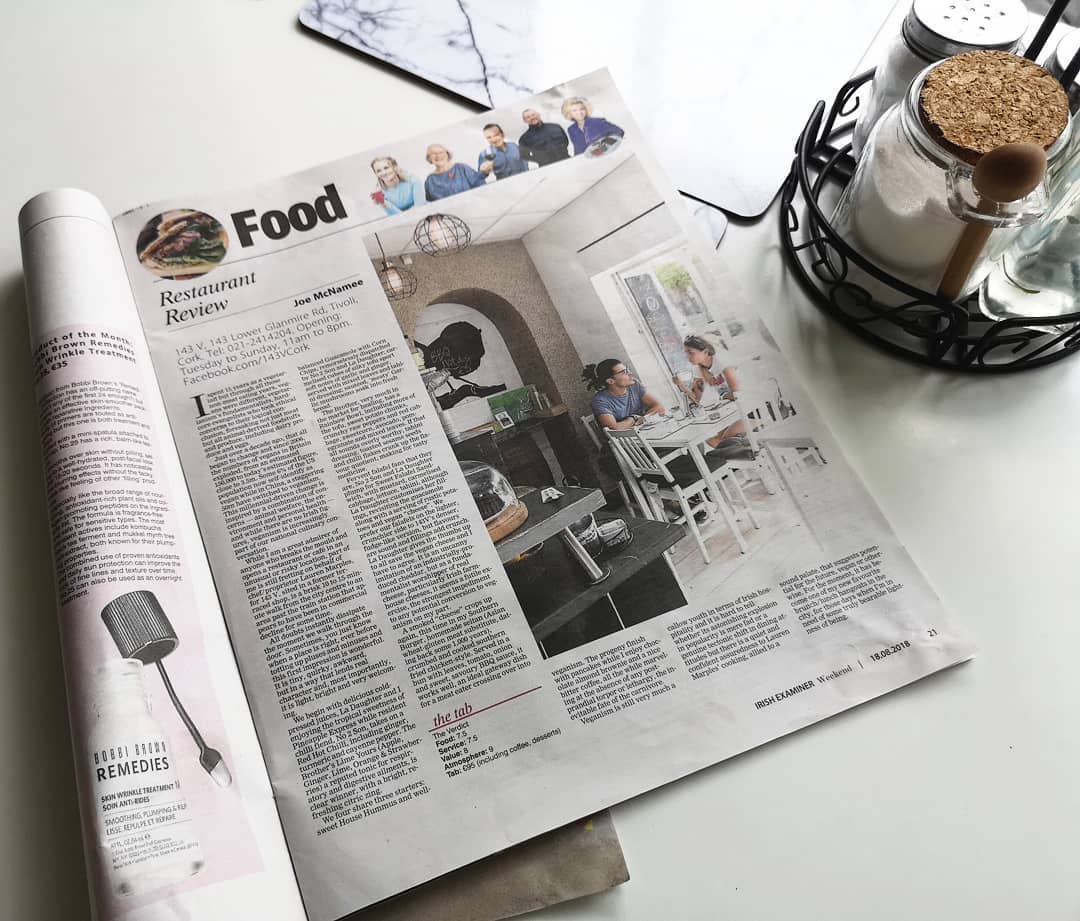 Overall, it seems to impress – and McNamee concludes: "There is a quiet and confident assuredness to Lauren Marples' cooking, allied to a sound palate, that suggest potential for the future, vegan or otherwise."
Today's Chip Paper returns next week.