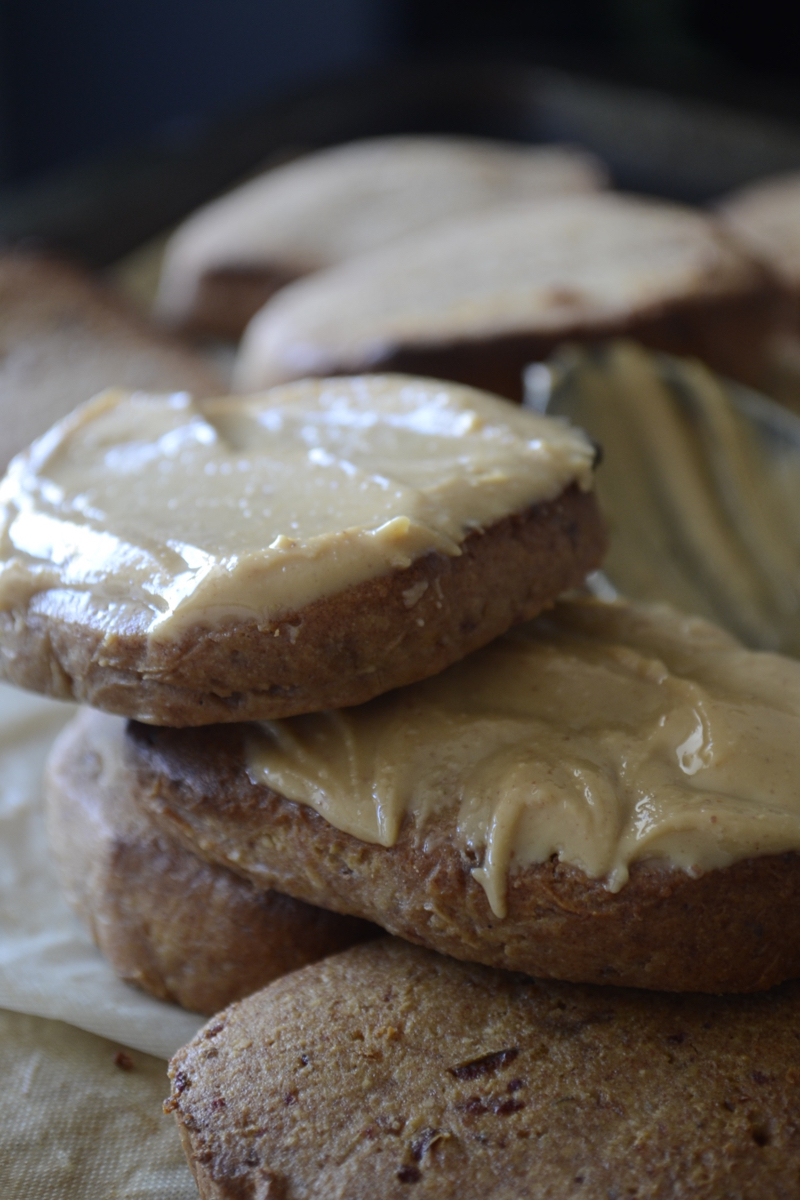 Everyone loves a cookie. Something to nibble on that's not going to fall apart or require expert dexterity if catching a bite on the move but also something indulgent that's worthwhile of taking time out and having with a cup of tea or piping hot coffee. Enter the most wholesome, sweet and indulgent cookies of the them all: sin and guilt-free, you need to try our vegan, gluten-free cookies right this second.
Here's the thing. Why on earth are these gluten-free fancies called visage vegan cookies, though? Great for the face, you wonder? Not so much – only if applied to face in copious amounts – so we're-gonna-tell-you-why…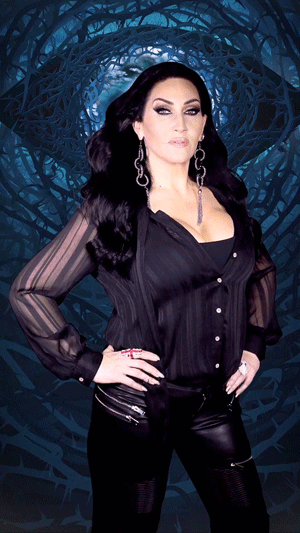 Russell has the pleasure of meeting lots of exciting guests with his job at ITV, so we were both naturally thrilled when a few months ago Michelle Visage dropped in to the studios post-Big Brother. We've been fans of hers for years and adore her on Rupaul's Drag Race. You all know that Michelle is also our fellow columnist too? We both write for Gay Times Magazine – double the reason to take out a subscription! [There's also another fantastic avenue to hear her fortnightly on the What's The T? podcast with Ru and Michelle which is completely free to download too!]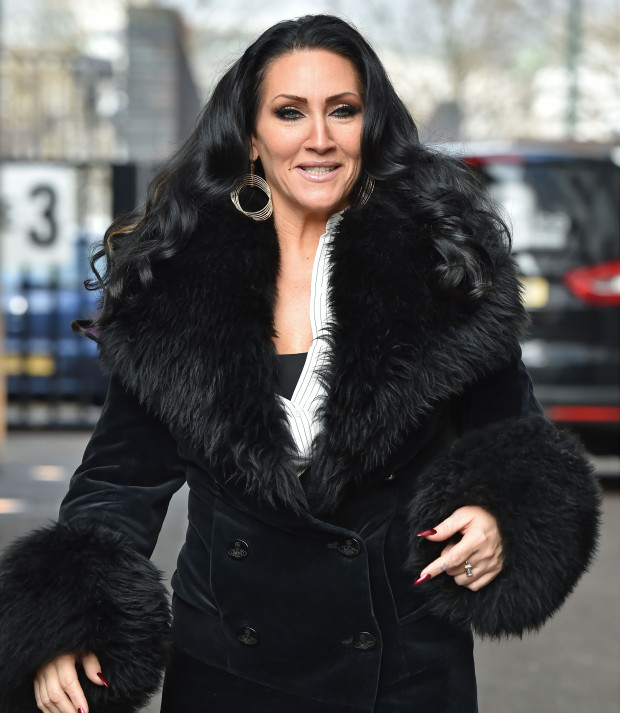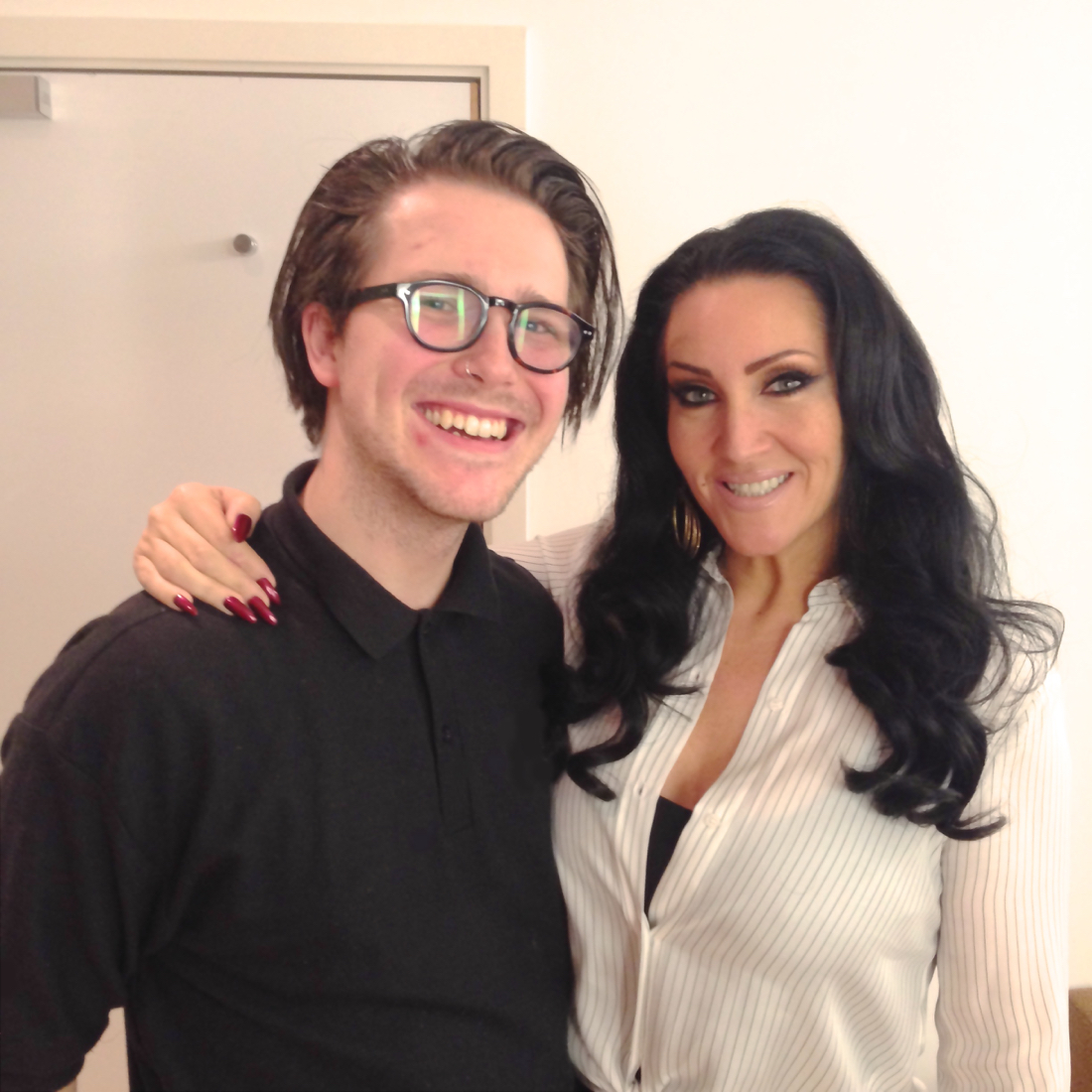 These were originally a spin on our cashew and coffee cookies, but needed to be gluten-free as our fabulous new squirrelfriend has moved to a vegan diet, devoid of sugar and gluten (and is reaping the rewards, health-wise) so we wanted to make something to show our love  which wouldn't compromise her diet.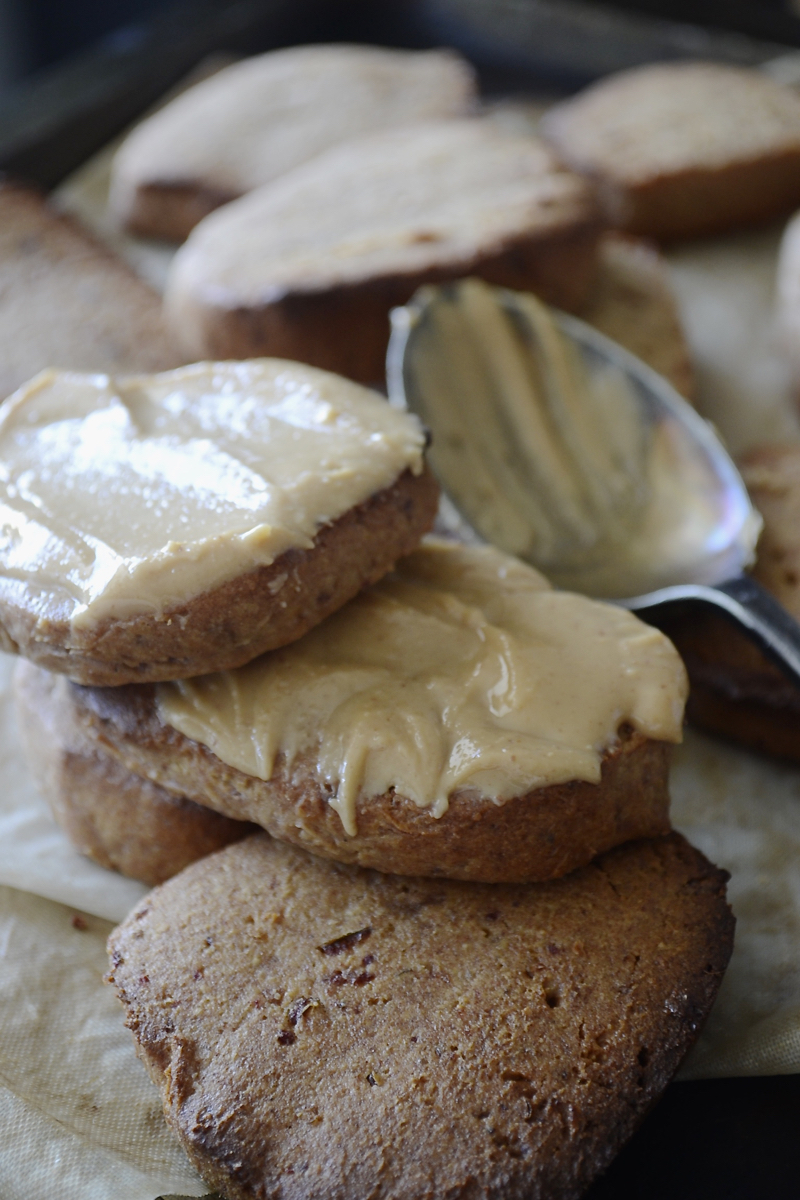 We love to bake using formulas, which the idea of may sound very technical, but it's the complete opposite. You may notice that lots of our recipes are based around similar quantities of ingredients and we interchange cups and g measurements to make recipes as simple, straightforward and easy to follow as possible.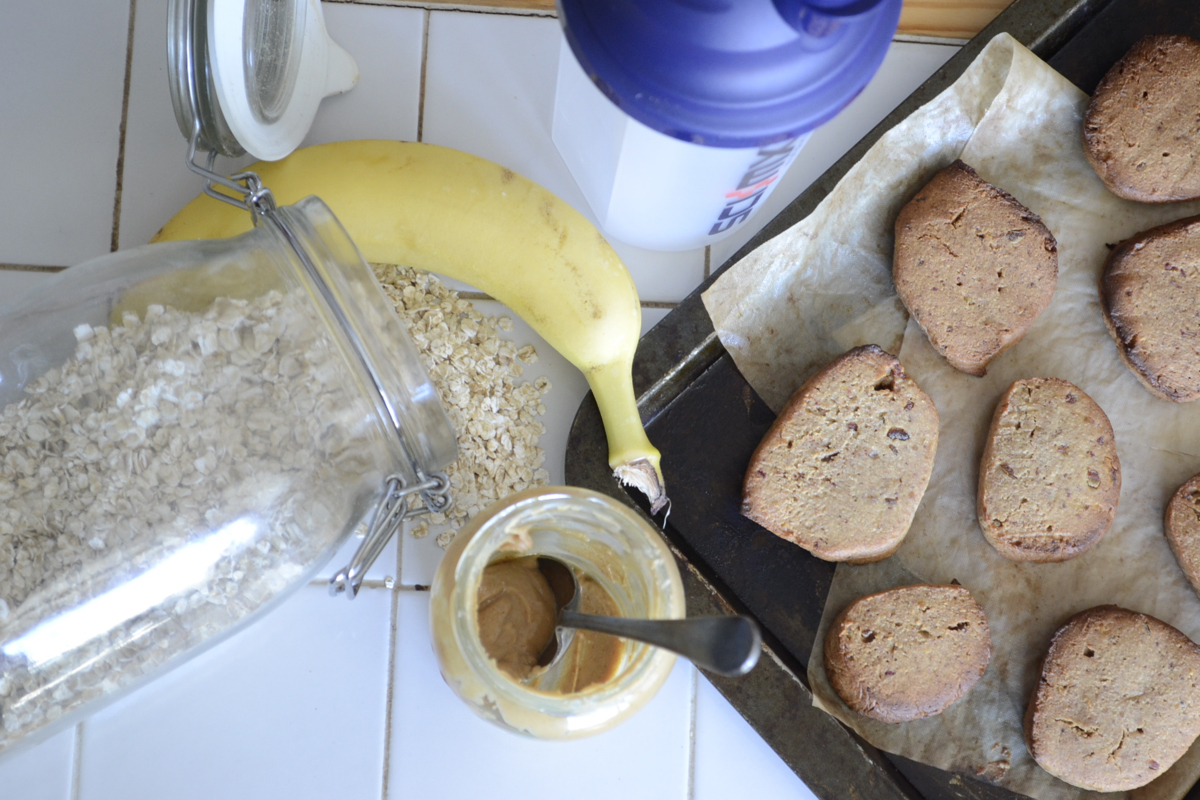 These vegan gluten-free cookies are made with a ratio of equal ground almonds to oats (a cup of each: about 225g) with only three other ingredients – banana, dates and peanut butter. Five ingredients means this dough can be made in literally seconds. Maybe even five seconds? Test yourself! GO!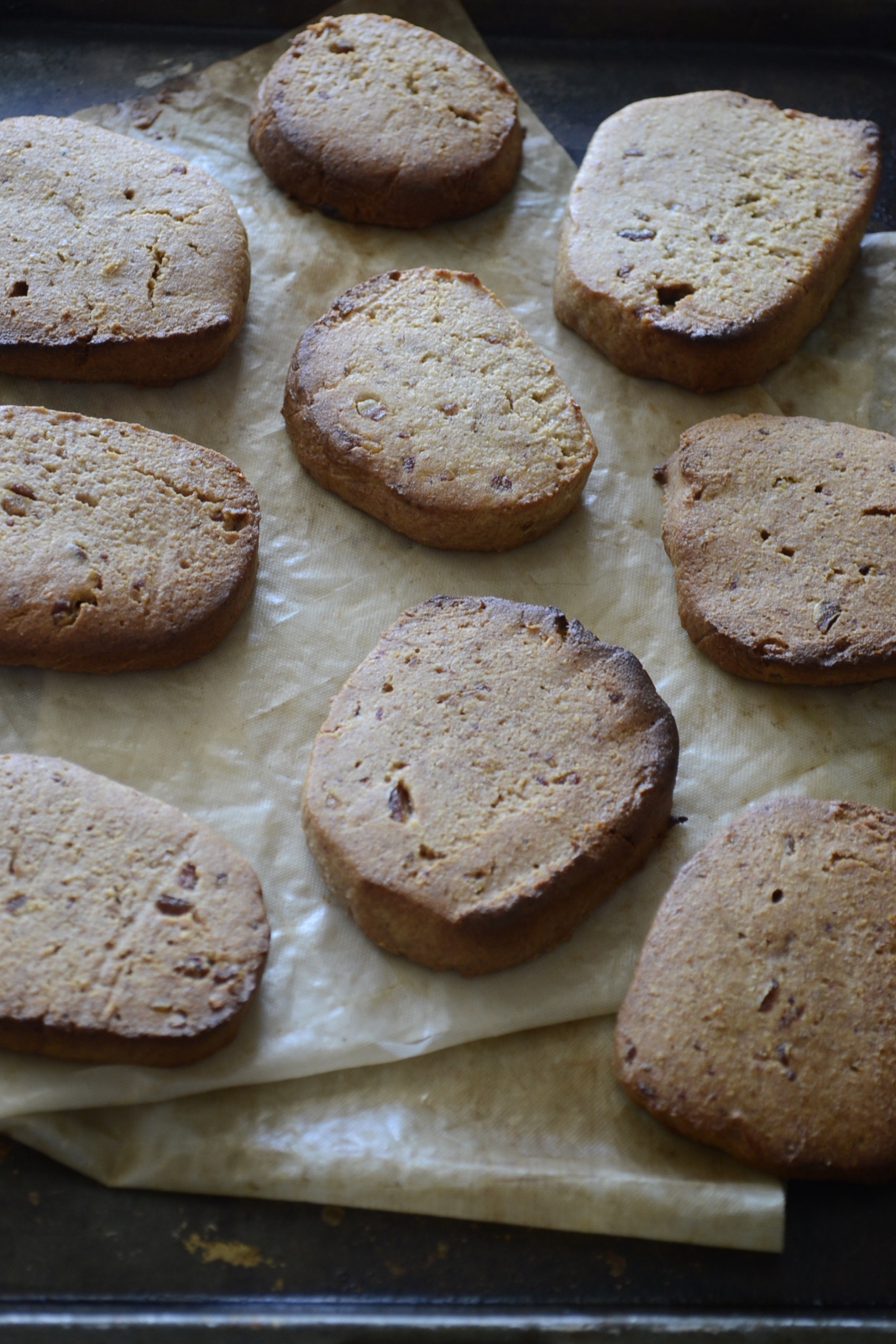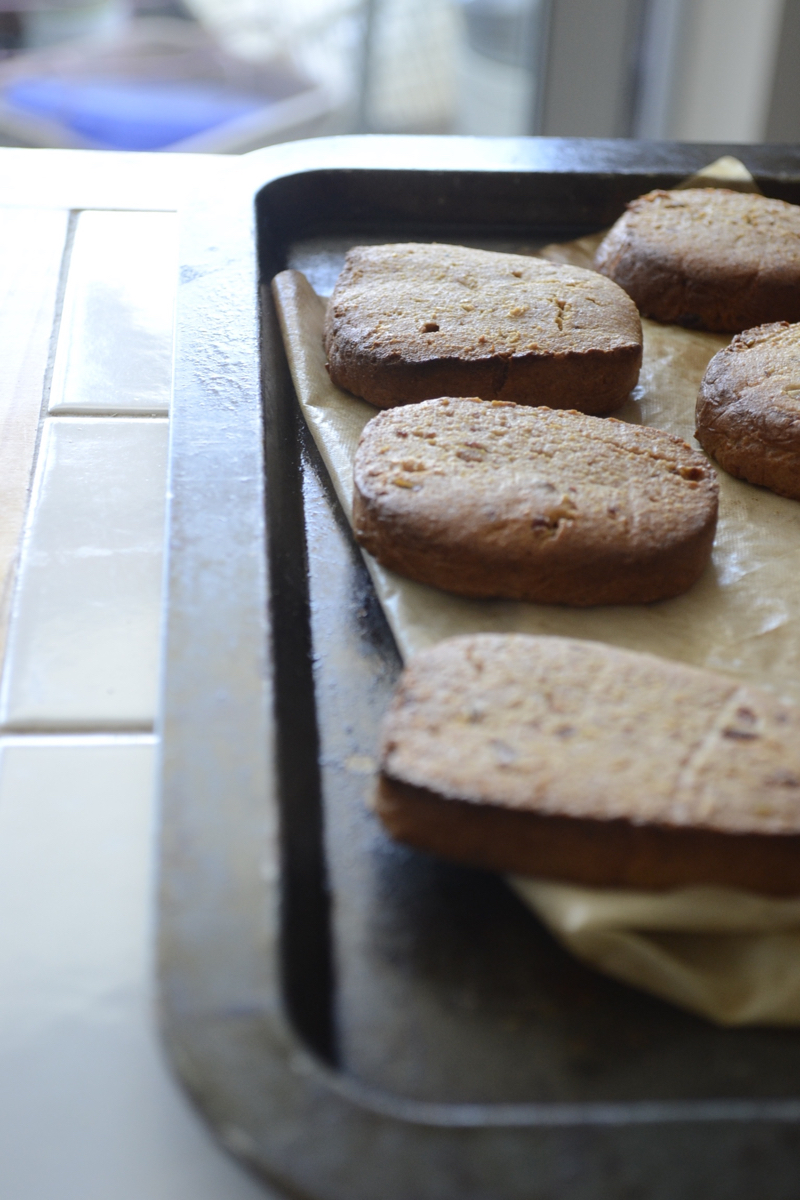 1 cup of ground almonds
1 cup rolled oats (we use

Flahavan's Irish Organic

variety)
1 medium banana, preferably browned and mashed
1 tsp vanilla (optional)
150-175g peanut buter
250g dates
1. Pour hot water over the dates in a bowl or tub until they are just about covered and leave to soak for 10-15 minutes, then drain almost all the liquid off.
2. Leave the dates to cool almost fully and blitz in a processor with the banana and vanilla.
3. Measure out the dry ingredients and, in a large bowl, cream the peanut butter for a few minutes with a hand mixer or a vigorous beat of a wooden spoon to make it lighter.
4. Add everything to the larger bowl and form a sticky-ish dough.
5. Wrap in logs as thick or thin as you want (depending on the cookie sizes you want to yield) and refrigerate for at least 30 minutes – the longer you leave it, up to one day, is best. So if you can't make 'em today or tomorrow, give it as much time as possible to firm up. At this point you can also freeze, but wrap very tightly in several cling layers.
6. When ready to bake, pre-heat the oven to 180°C and bake for about 20 minutes until the vegan cookies are browning at the edges and crisp-looking.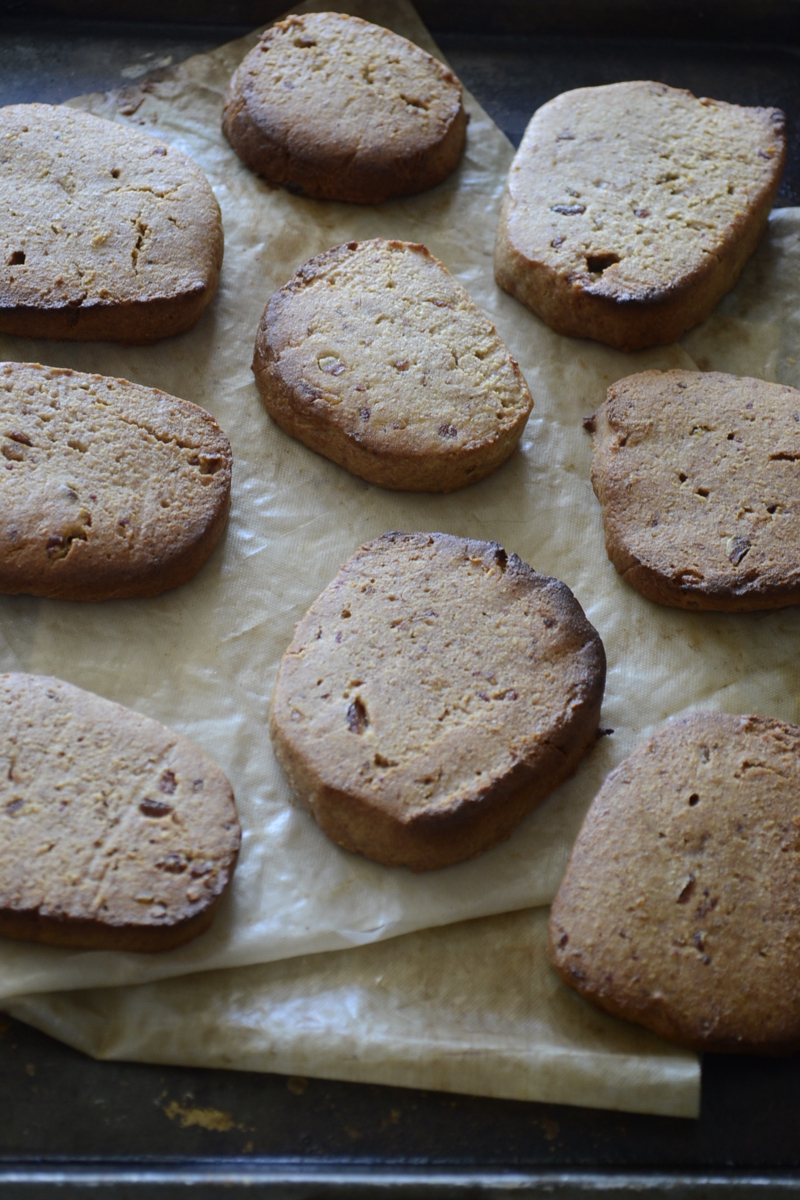 We love these as a pre-gym snack as you have both slow release energy from the oats, a boost of fatty fodder from the peanut butter and the sweet, sugary hit from the dates. Just because they're healthy doesn't mean they can't be a treat.
Of course, our workout gear is always pretty epic… What else would you expect!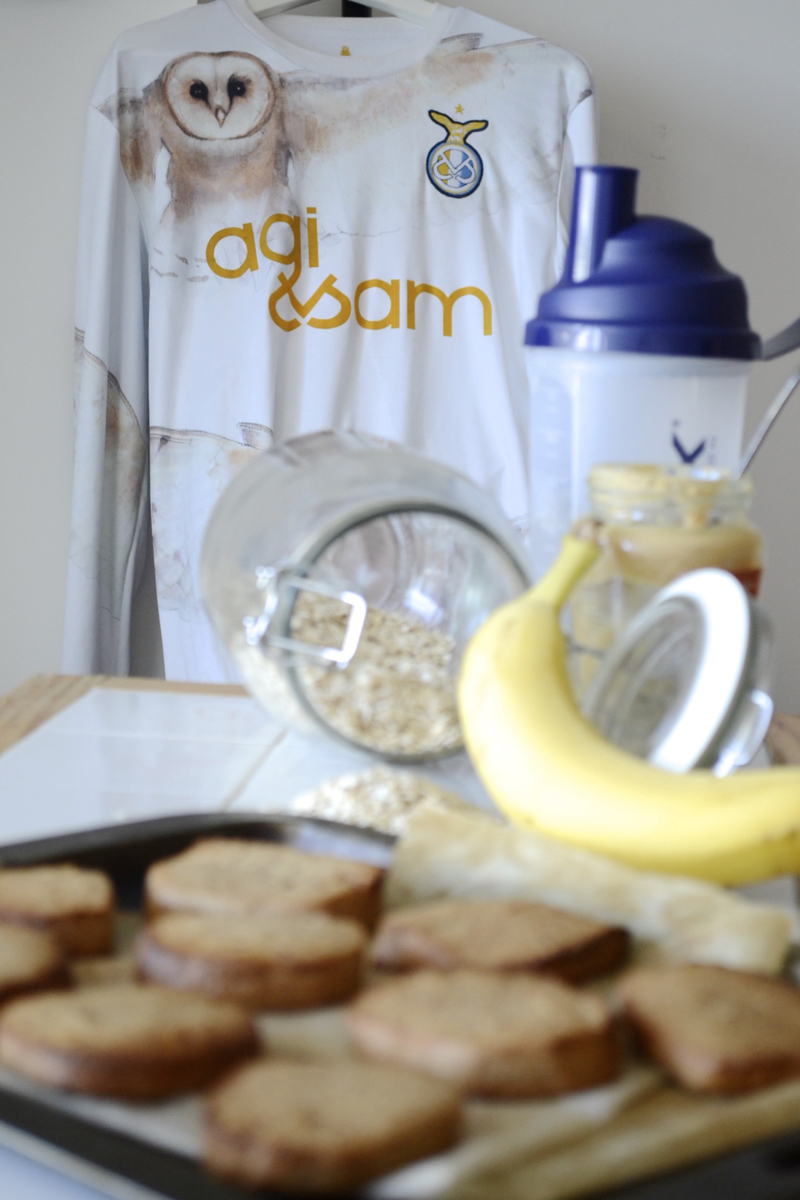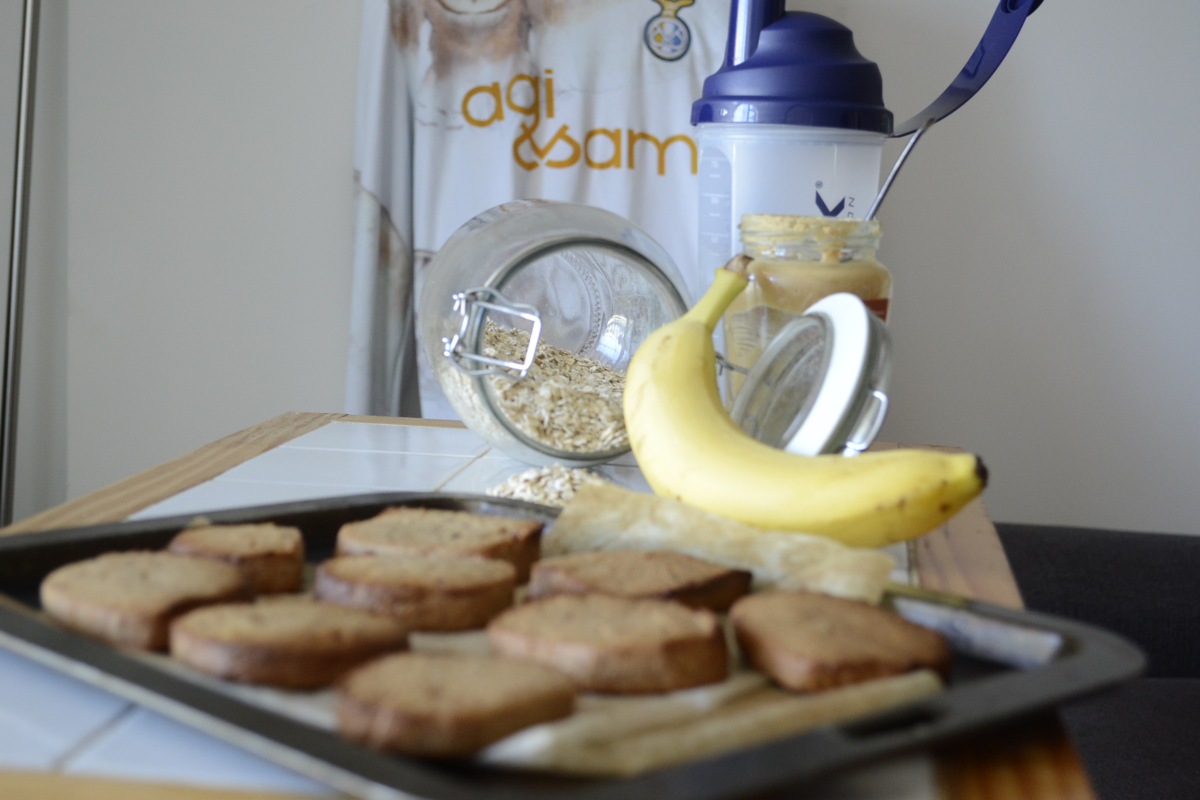 Take these vegan cookies to work in a little lunchbox for a mid-morning or afternoon snack with zero guilt. That 4pm slump is always the worst. We all get it. Fill the same lunchbox with a few dried fruits, seeds and nuts and away you go – prepared for any pangs of hunger throughout the day.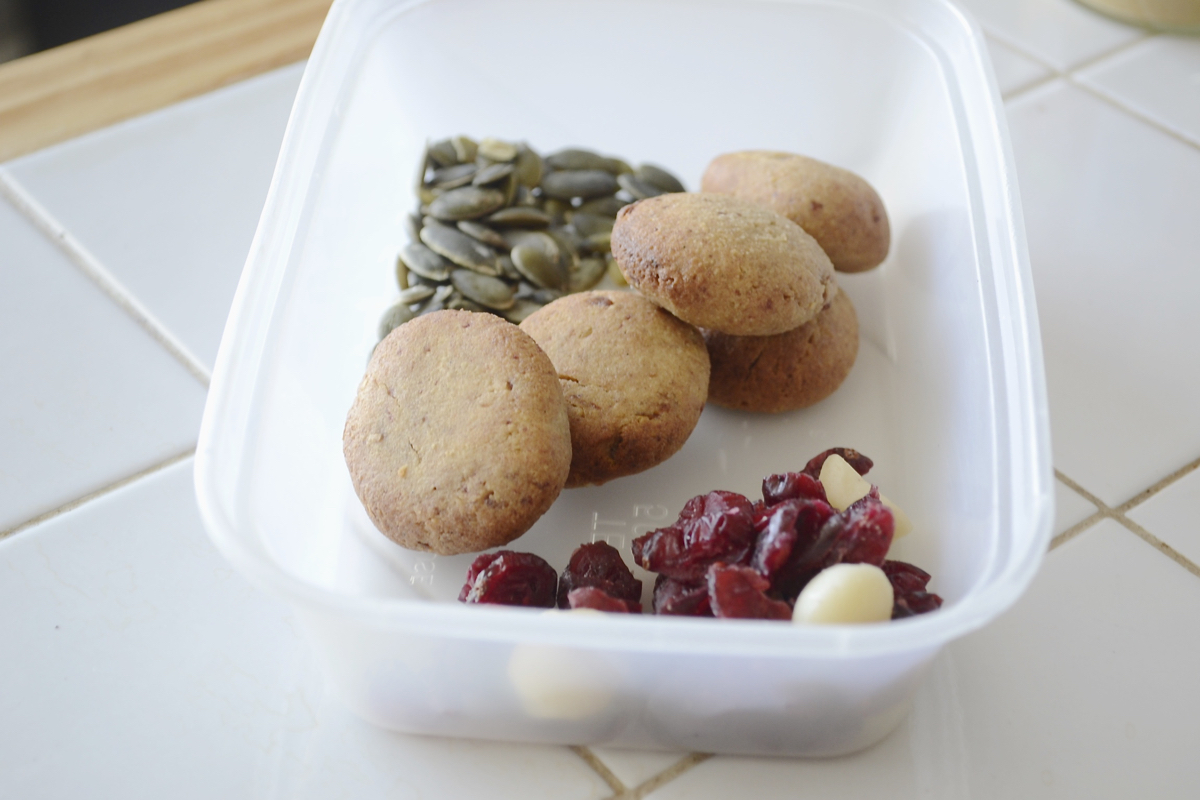 Have them with a hot drink for a little peace and quiet during the day or take them to a friend's house when catching up. Endless opportunities!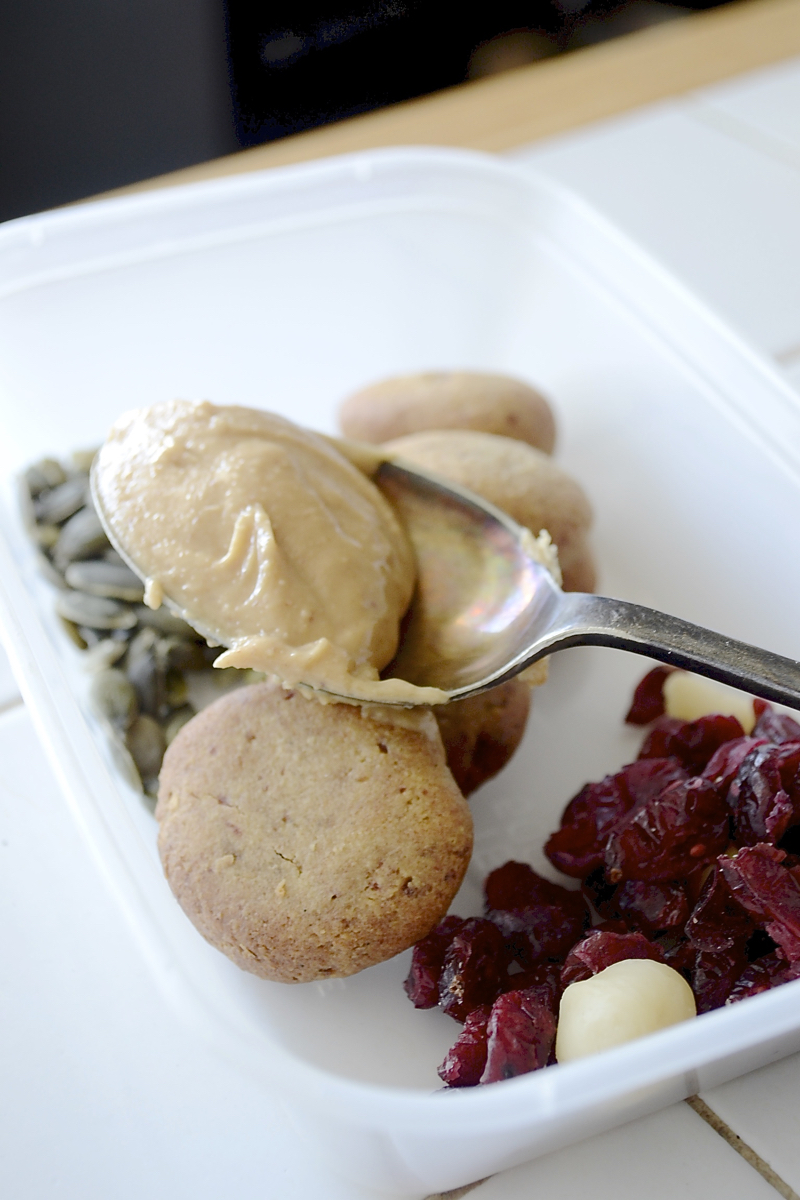 We predict this dough will re-appear in your fridge a lot over the next while..