We realised recently that we've kind of never talked about our very first small screen appearance (on The Restaurant on Ireland's TV3) on our blog. Not that we try to brag or share every single bit of publicity that we receive, but more about the fact that in our short (but also not so short) three years of blogging it's a pretty nice milestone and benchmark to have under our belt and we get lots of questions about it.
We were delighted to be asked by the producers to take part. We got a couple of emails, had a call or two and even attended a meeting in Dublin in summer 2015 before we were confirmed. Then, we sneakily flew home in August for a whirlwind two-day trip to film our episode at The Restaurant's filming location,  Marco Pierre White's Courtyard Bar & Grill in Donnybrook.
Irish followers will already know all about this series, which has been broadcast for over a decade on Irish TV – first on RTÉ before dropping the format, later revived on rival station TV3 as of 2015. For UK and other international followers, we'll explain: The Restaurant is an Irish reality cookery show, similar to Hell's Kitchen in some ways but also original in its own right.
Basically, a celebrity takes charge of a busy restaurant for one day of service, planning the menu, overseeing the team, tweaking dishes, prepping through the day, and then running the pass for a full dinner service that night. They serve regular customers as well as a panel of three judges and often some influential bloggers or personalities as well (*waves*). The 'Head Chef' also has screens in their kitchen so they can watch the judges and dining room's reaction to the dishes.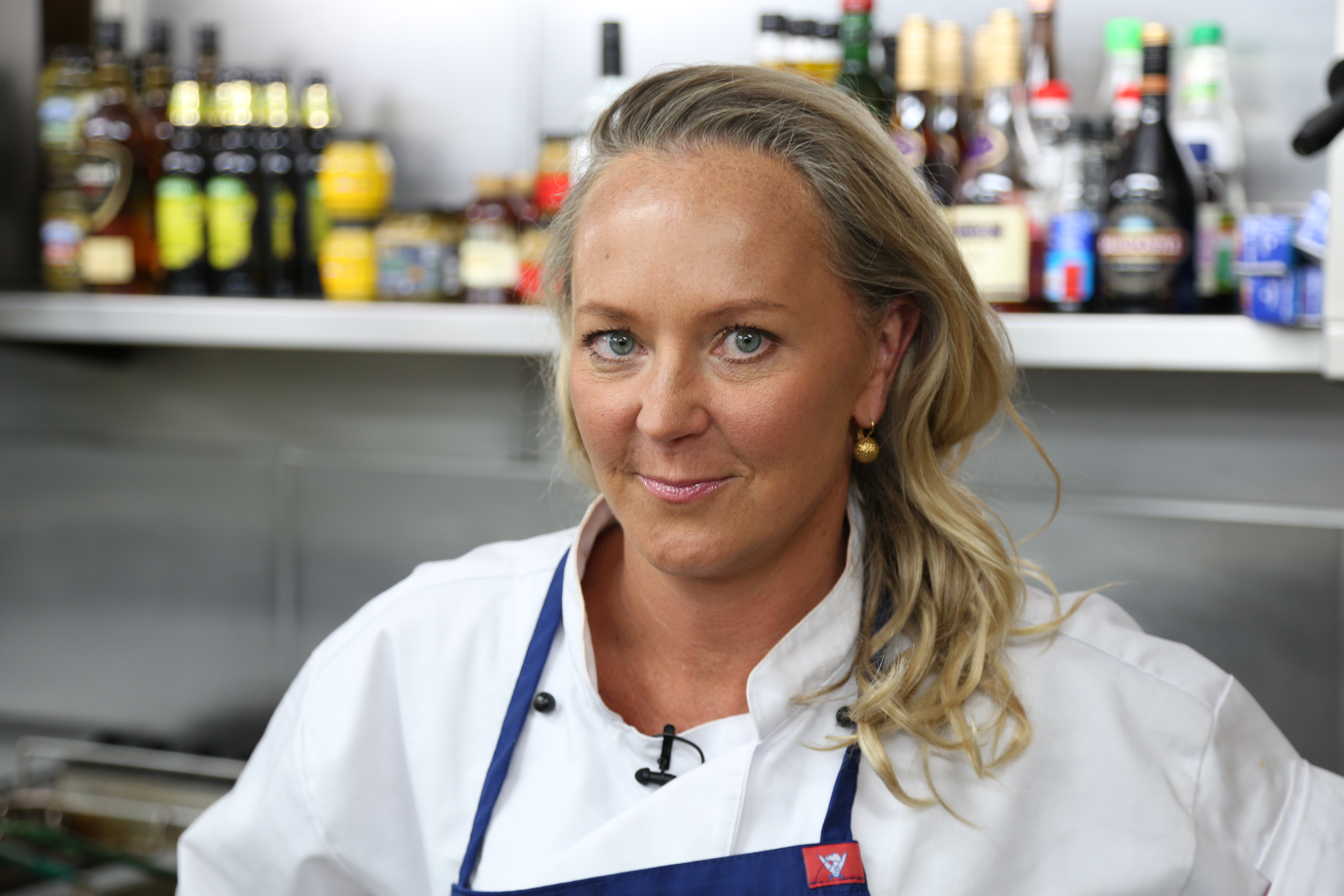 The identity of the celebrity chef is kept under wraps until the very end of dinner service, after the judges have given a combined score out of five for their effort. Then, the celebrity reveals themselves, joins the judges table and learns their fate as the judges discuss their individual best and worst dish and give their score. As it's already broadcast you will know that Dr Eva Orsmond, a celebrity nutritionist and well-known TV personality in the Emerald Isle, was our celebrity chef.
The judges are legendary chef Marco Pierre White and esteemed Irish Daily Mail restaurant critic Tom Doorley, joined each week by a different guest judge. It just so happened for our episode that the gorgeous Clodagh McKenna – one of our favourite Irish chefs and an absolute champion of all things Irish cuisine – was guest judge and sitting just a table away from us. Starstruck!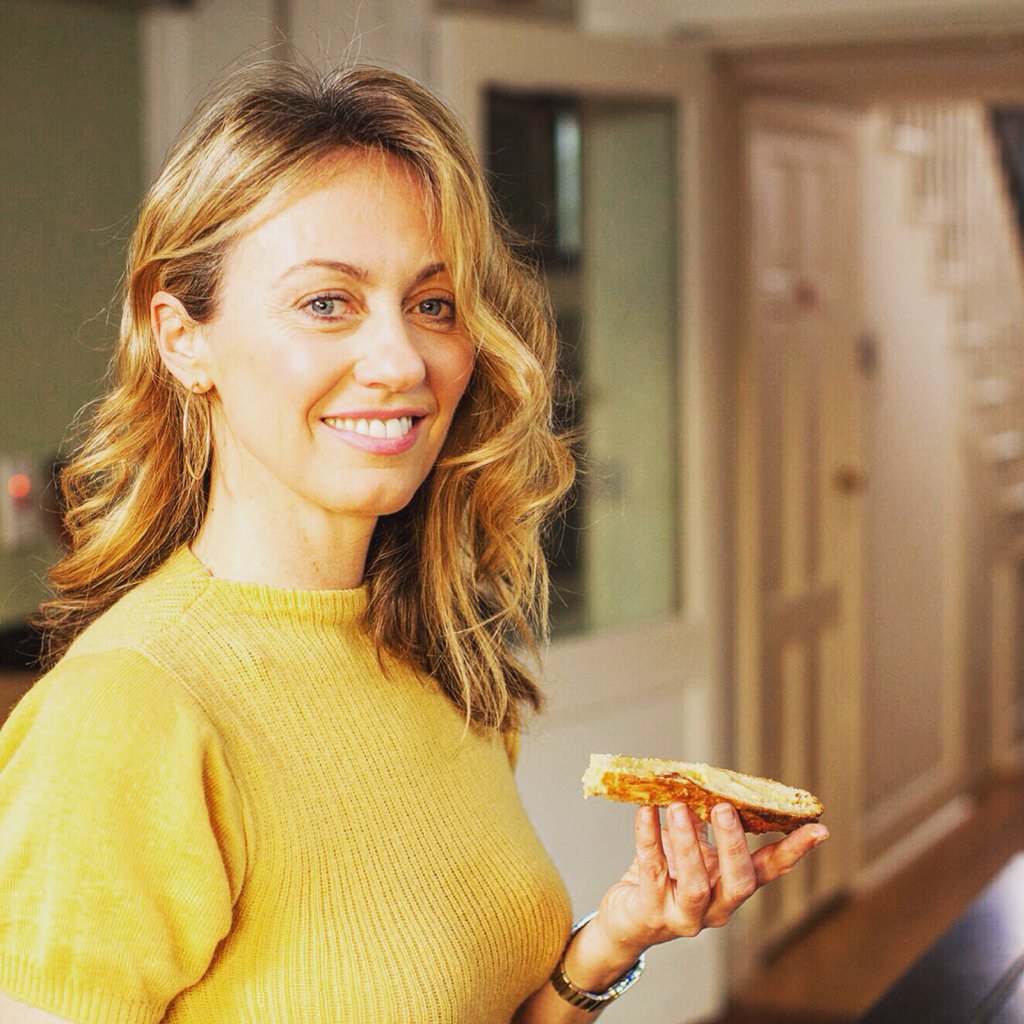 To say the day we went to Dublin to film started with a headache is an understatement. Not only was Patrick recovering from a horrible late summer flu, our flight from London was delayed by no less than THREE hours, so we arrived so much later than ever expected. Throwing ourselves into a taxi when we touched down at Dublin Airport we had just about enough time to check-in, shower, spruce ourselves up in our best dinner attire and run out the door again. The rest of the evening… well, you saw the rest on TV!
After an incredibly long wait, our episode eventually broadcast in February of this year which was just PERFECT timing as we were in Stockholm the night it was transmitted so we had to watch on an incredibly shaky hotel WiFi connection (routed sneakily through a VPN) and also live-tweet, post on Facebook and Snapchat all about it whilst it was on air. Safe to say we had a couple of glasses of wine to end that night…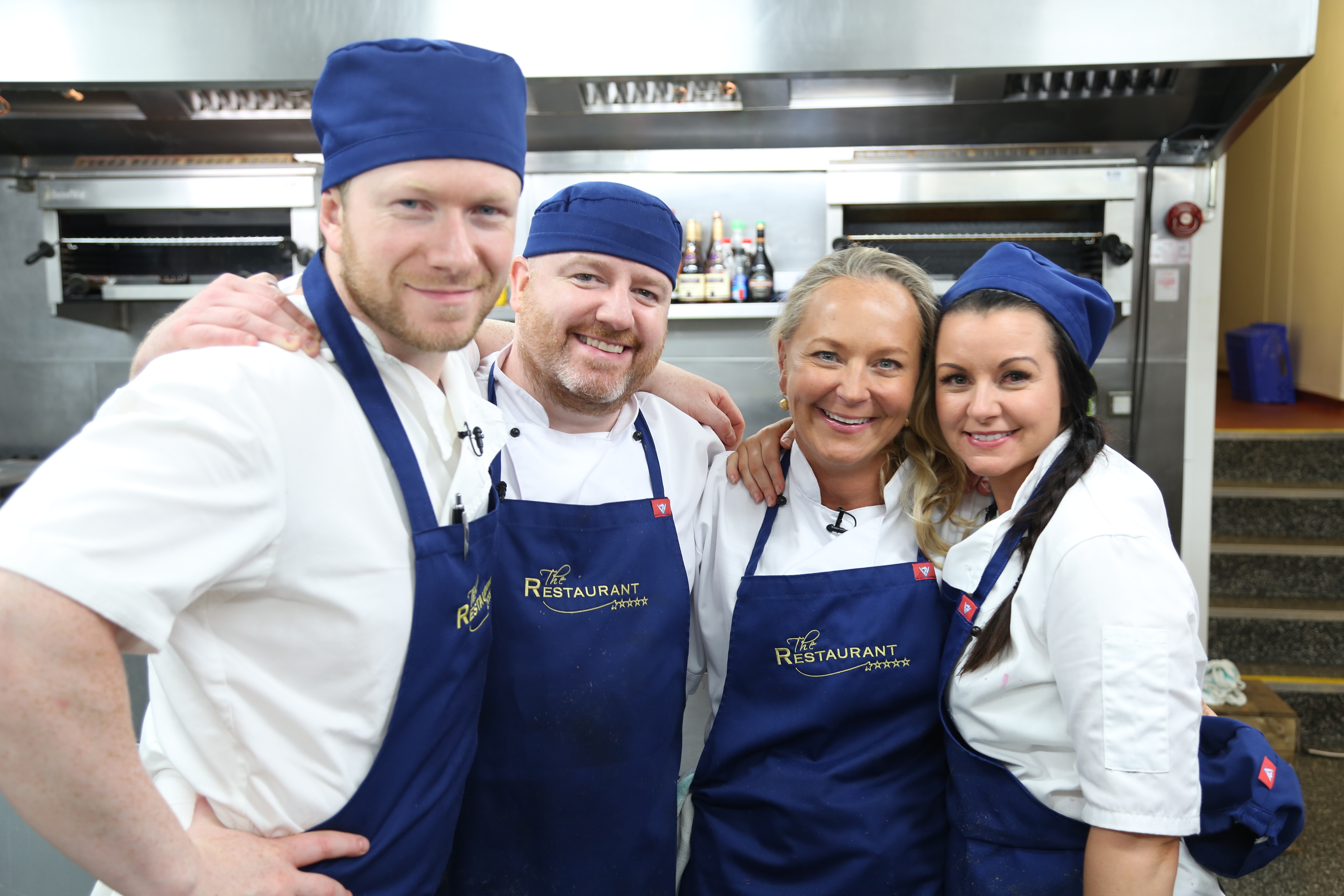 For those who watched it on TV, hope you liked our appearance; we hope we came across well! It's unfortunately not available online anymore but we're working on getting a link we can maybe upload and share of our appearance. In the meantime, here's a couple of things we learned about the whole experience, inspired by the questions everyone has asked us (in order) since we filmed…
What was the food like?!
It was good! Just like a real restaurant experience in so far as we had a choice on a menu, dishes arrived perfectly hot, the food was full of flavour – it was as much like any other real restaurant experience we've experienced except there were cameras everywhere – which you don't even notice.
What are the judges like in real life…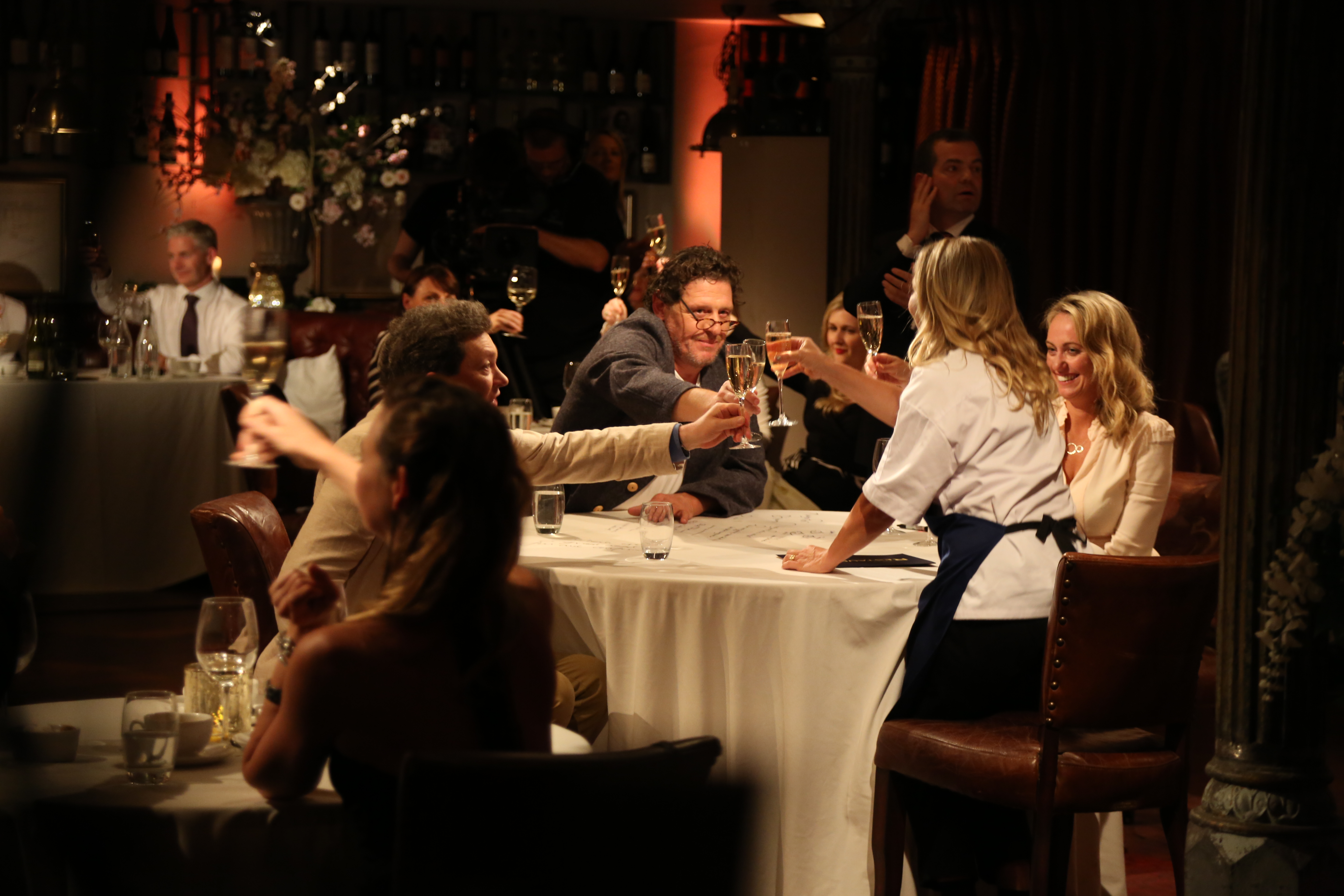 They have a job to do and they need to do it well, so there's really little time for interaction once the judges arrive. They're on camera the entire time and taste every single dish, so it's hard to steal their eye or grab a moment with them. We did get to chat to Clodagh for a few minutes afterwards about the experience, but it's even a whirlwind at the end trying to get everyone out and filming their last thoughts and scores, so there's always someone grabbing either you or the judges.
No one like a drunk on TV
Wine and dining goes hand in hand and you can't really have one without the other for the most part. Yes, the wine was complimentary, and yes it kept flowing – which is NOT a good thing! Though our glasses were kept topped up, we'd like to think we definitely held our composure thankfully but it would have been so easy to be a messy, sloppy, overindulgent drunk… and no one wants to see that on TV. It doesn't do you or the show any justice.
They also do a hilarious wine tasting segment before dinner. Not only is the celebrity the head chef but they're also sommelier for the night, choosing one red and one white bottle blind to serve with their menu. It's a bit of fun and each of the diners get to try the wine blind too to see if they can recognise the flavour profile and region it's from. Naturally, pretty much everyone gets it incredibly wrong – and we were no exception. Patrick guessed correctly that it was an Old World red (what a vague guess!) whilst Russell was convinced his white was New Zealand Sauvignon Blanc (his favourite type of wine). Little did we know that both were from the same vineyard in France! All the wines are supplied by Aldi and were incredibly drinkable and enjoyable, actually!
It's tougher to critique than you think
Think about every time you receive a course at a restaurant. You probably take about 10 seconds to ascertain if you're happy with the presentation and scents, then within the first few bites you'll quickly decide if you're happy with the taste and flavour.  That will pretty much be all of your reaction until you put fork and knife down on the plate once finished and sum up what your experience of the entire dish was. It's pretty reflexive and natural to us all, but on The Restaurant you're only there to talk about the dishes, wines or judges. So the entire time filming you're discussing the dish, the flavours, the presentation, who the celebrity head chef is, does the wine pair well, what would you change about the dish… it's can get tiring talking over and over about the same thing and thinking of comments to give!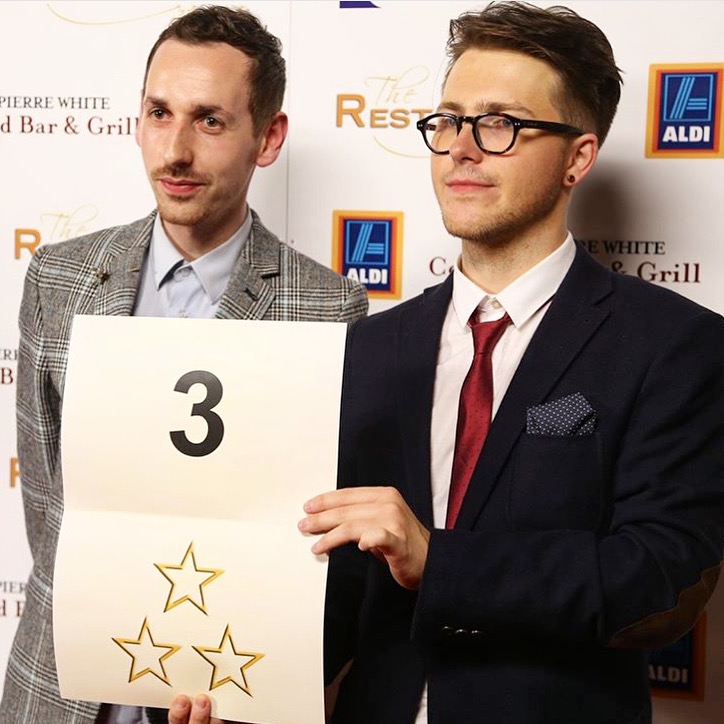 It's a long process
It was an entire evening, from about 6pm until 10pm and though it was tiring, it was a great experience to see how they set up each shot and how everything is structured. It's timed to within an inch of its life and the incredible production crew are pretty seamless with everything.
Yes, it's free BUT..
There's an anonymous collection for charity following each service, given to the celebrity chef's charity of choice and each table is provided with an envelope to donate whatever they can. It's a lovely little gesture.
Now… we've got the bug; Who wants to commission us for more gigs?  Contact us <or> Tell your local stations and producers…