The Swedish capital is a city like no other. Stockholm is as historic as it is hip; as chilled as can be chaotic; compact while being colossal. Whatever you think about Stockholm, we feel it's a city that has to be visited at least once, for the food, the views, the fika, and the fashionable, well-heeled Swedes. As somewhat of a second home since we relocated back to Ireland from London, we've visited Sweden more in the past four years years than any other destination, so we feel confident and assured that we can share this as our personal "ultimate guide" to Stockholm for visitors and tourists.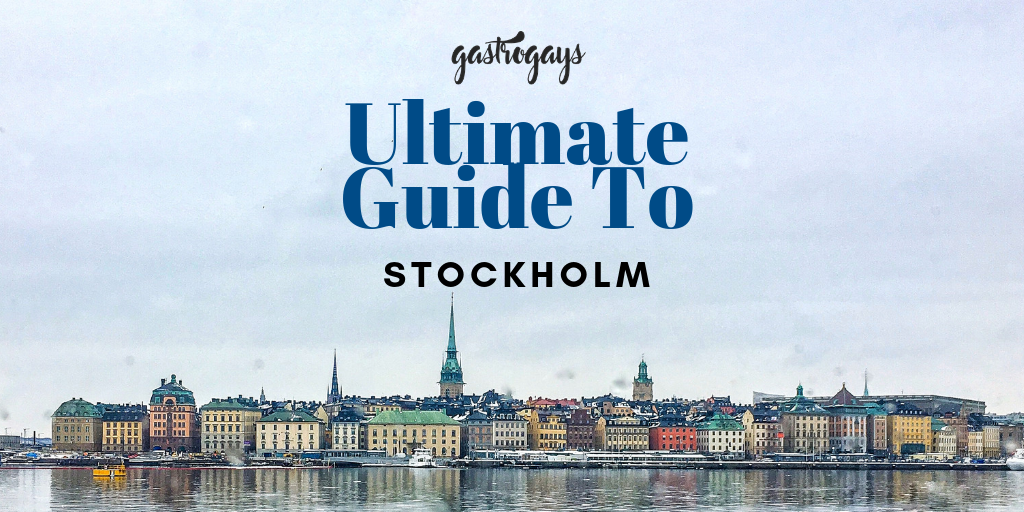 Where To Stay
You are well and truly spoiled for choice in terms of hotels and Airbnbs in the Swedish capital. Like many other major capitals, accommodation can be expensive but there's everything from budget to blow-out. We recommend doing your research and deciding on a key location, what you want to be near and what you want to do with your trip. In particular, we've really enjoyed the Scandic group, which has hotels in virtually every corner of the city.
🏨 For: Shopping & Dining 🛍
Located in the fairly posh Östermalm area in the north-central corner of the city, the Scandic Anglais is ideal for a quieter stay but not being too far from the action. Overlooking Humlegården park and the Kunliga Biblioteket (National Library), the rooms are spacious and there's also a sprawling Jamie's Italian restaurant underneath (where breakfast is served too) whilst in the evenings the beautifully appointed, chic cocktail bar is a popular spot to grab a drink and listen to live music.
Nearby are busy shopping streets, including what some consider the '5th Avenue of Stockholm' – Birger Jarlsgatan – and it's only a skip and a jump from Kungsträdgården park. Taverna Brillo is right across the road – a collection of different food and drink spaces popular with local young professionals – whilst Michelin-starred restaurant Ekstedt, and the always popular Östermalms Saluhall are just a street or two away. Click through to our dedicated posts on the Anglais and Ekstedt to read more…
🏨 For: Central And Connected 🚉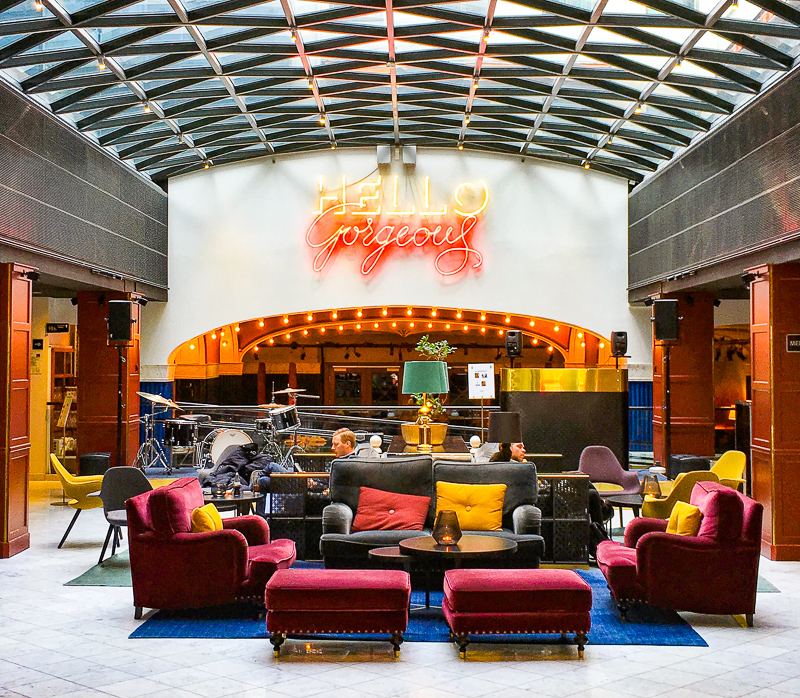 As the name might suggest, The Grand Central by Scandic is a perfect place to stay if you're wanting to be at the heart of the city. Located at the back of Central Station (with an extra entrance to the Arlanda Express on Kungsgatan to save walking the whole way through the station and back again), this is a stunning, stylish hotel that is a great base for you in the city of Stockholm, especially if it's a quick trip and you need close access to the station for seamlessly arriving and departing. With many bus services and rail connections, you'll be connected to wherever you need to get to if you stay here. Rooms are colourful, comfortable and chic in style, slightly smaller than the Anglais ones, and there's a live music 'theme' to the décor. As with Scandic hotels in general, the breakfast buffet is absolutely hard to beat, it's fantastic. Click through to our dedicated post on Grand Central for more.
🏨 For: Museums & Exploring, Luxury 🎫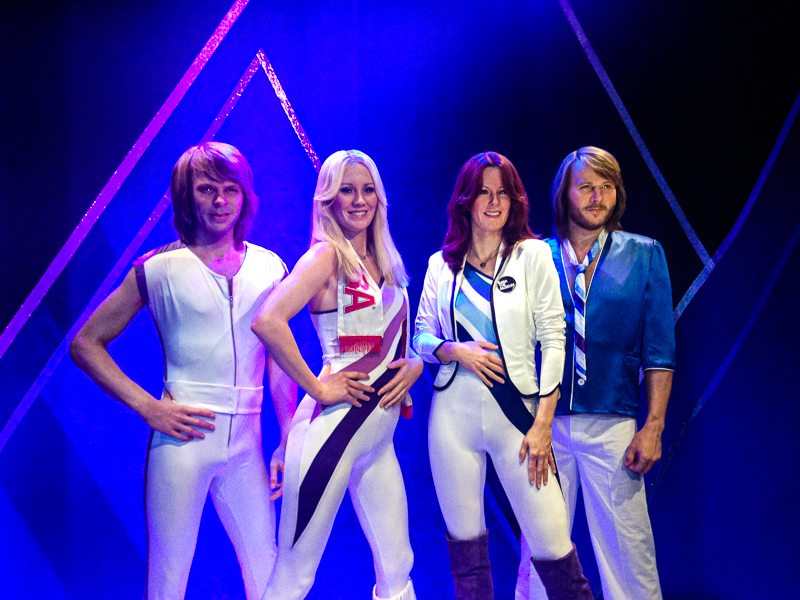 We are a bit biased about this one, because we adore ABBA and this next hotel suggestion is… as good as inside The ABBA Museum. The Pop House Hotel is located on Djurgården (yur-gorden), the epicentre of most of the cities popular attractions and also locally known as the green heart or "lungs" of the city. You can read more about what to do and see on Djurgården area here.
🏨 For: Cutting-Edge Style 💄
Right in the heart of Stockholm is Downtown Camper. Among the newest hotels by the Scandic group, it has a very independent vibe and style and combines location, luxury and leisure. This is the ultimate millennial hotel and is the perfect base for a quick trip around the city, while also ensuring you have some downtime too. The rooftop pool and wellness suite is worth a visit, while if you feel like leaving the hotel, the Lifestyle Concierge would be happy to send you in the direction of experiences and things to do around Stockholm and beyond including renting bikes or going on guided runs.
Located moments just off Sergels torg, around the shopping district as well as a short walk from Stockholm Central station (for the Stockholm Tunnelbanna) and the newest station, Stockholm City for suburban rail services.
🏨 For: Cosy, Rest & Relaxation 💤
Though we've never stayed over, try Ett Hem (a gorgeous, considered city bolthole that's got a cult following) for something super special. Outside of the city, head to one of the major islands in the Archipelago (either by bus or boat) and visit Vaxholm and stay at either the Waxholms Hotell or Vaxholm B&B – click through here to read more about our wonderful day with Linda!
What To See & Do in Stockholm
If there is a perfect city-break destination, it's Stockholm. History, architecture, culture, art, food and so much more, plus, it's walkable, clean, friendly and welcoming.
History, Museums, Culture
Stockholm has been considered the capital of Sweden for over 500 years, so naturally it's brimming with history. As a city within a wider archipelago, each island has its own tales, and had various different functions as the years passed by. Naturally, high up on the list when it comes to history is Gamla Stan, the 'Old Town'. The most central island of the city, reachable from the Gamla stan Tunnelbana (Green and Red Lines- numbers 13, 14, 17, 18 and 19), it's all quaint cobbled streets, Germanic and Dutch style buildings and history at every turn –– even if it's a bit tourist-filled.

The large and imposing Kungliga Slottet (Royal Palace) is worth a visit, which is the official residence of the King Carl XVI Gustaf and Queen Silvia, used generally while performing duties as head of state, though their actual residence is Drottningholm Palace, some 15km west on the island of Drottningholm. Walk through the palace and see historic artwork, the most stunning, intricate design in every room, plus furniture displays from the collection and exhibitions on the formal clothing of different ranks of royalty. A visit to the palace costs SEK 180 (€17)/ SEK 90 (€8.50) for concessions. Tickets available here.
A stroll around will also bring you to the nearby Riddarholmen, a medieval church and burial place of Sweden's past monarchs. It is open during the summer months and is only 5-minutes away from the Palace itself, and combination tickets to both are available. The Swedish parliament, the Riksdag, is set on a small, adjoining island technically still part of Gamla stan, with tours available during weekends, and all week long during summer.

Sitting majestically by the waterfront, around 20 minutes walk from Gamla stan is Stockholm Stadshus (City Hall). Famous globally for being the setting of the Nobel banquet each year, it is pure opulence with one room in particular being decorated with 18 million gold mosaic tiles. The guided tour is fascinating, taking place daily at 10.00, 11.00, 12.00, 13.00, 14.00 and 15.00, though there may be some seasonal changes. Tickets cost SEK 120, or about €11 for an adult with reductions for over 65's, students, youths and children under six go free. More information on the City Hall website.
On Djurgården, there's a 'living history museum and zoo' known as Skansen. An expansive 75-acre site that documents life in Sweden at different times in history, it's open-air and for all ages.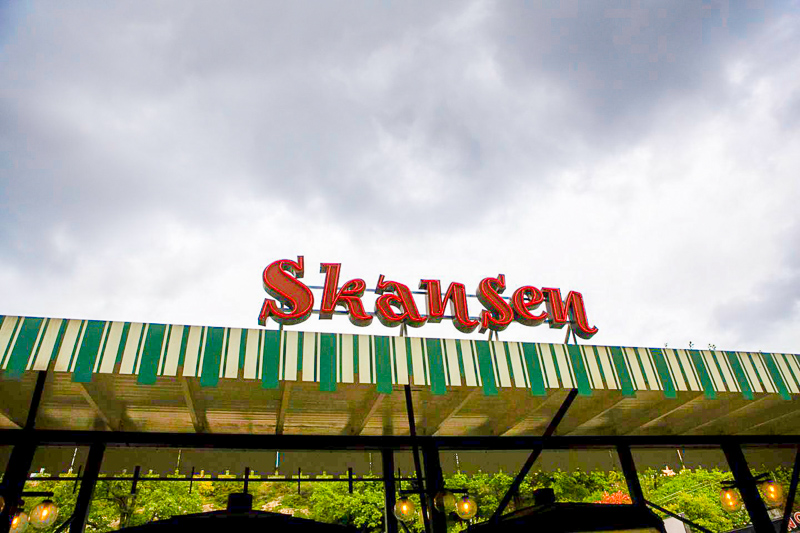 When it comes to history though, one cannot forego a visit to the Vasa Museum, the most popular attraction in all of Scandinavia. The museum is also on Djurgården, which can be easily reached by Tram number 7. The Vasa was a Swedish warship, named after King Gustav Vasa, which sank in Stockholm harbour on its maiden voyage in 1628. Forgotten for over 300 years, it was salvaged in 1961 and restored in all its former glory. The museum not only gives the history of the mammoths ship's construction and salvage efforts, but also a taste of life in Stockholm at the time. It's interactive and fascinating but also immensely popular.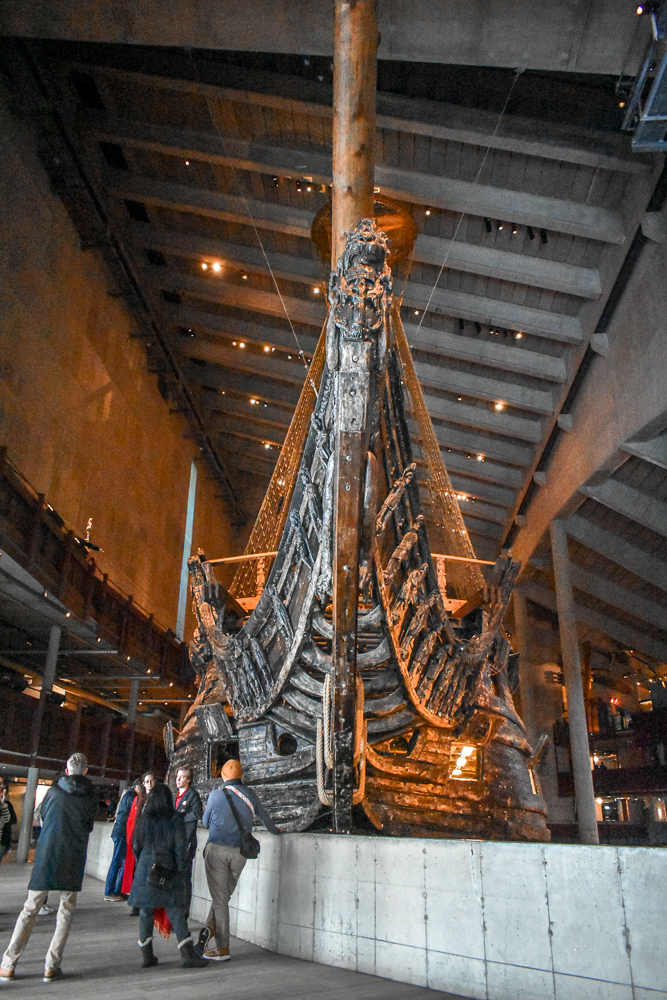 Nearby it too is the Nordiska Museet (Nordic Museum) which is the perfect way to spend a few hours learning about Nordic life and culture over the centuries.
For us, so much of Swedish culture is the impact they made on the modern music industry, of which ABBA is one of the premier examples. Stockholm is home to ABBA: The Museum, which is up there as one of the must-do attractions in the city. The tagline is "Walk In, Dance Out" and it couldn't be any more true. Probably the only museum in the world where you feel like that, and it's an incredibly fun experience, dedicated to the work one of the most successful Eurovision winners in history.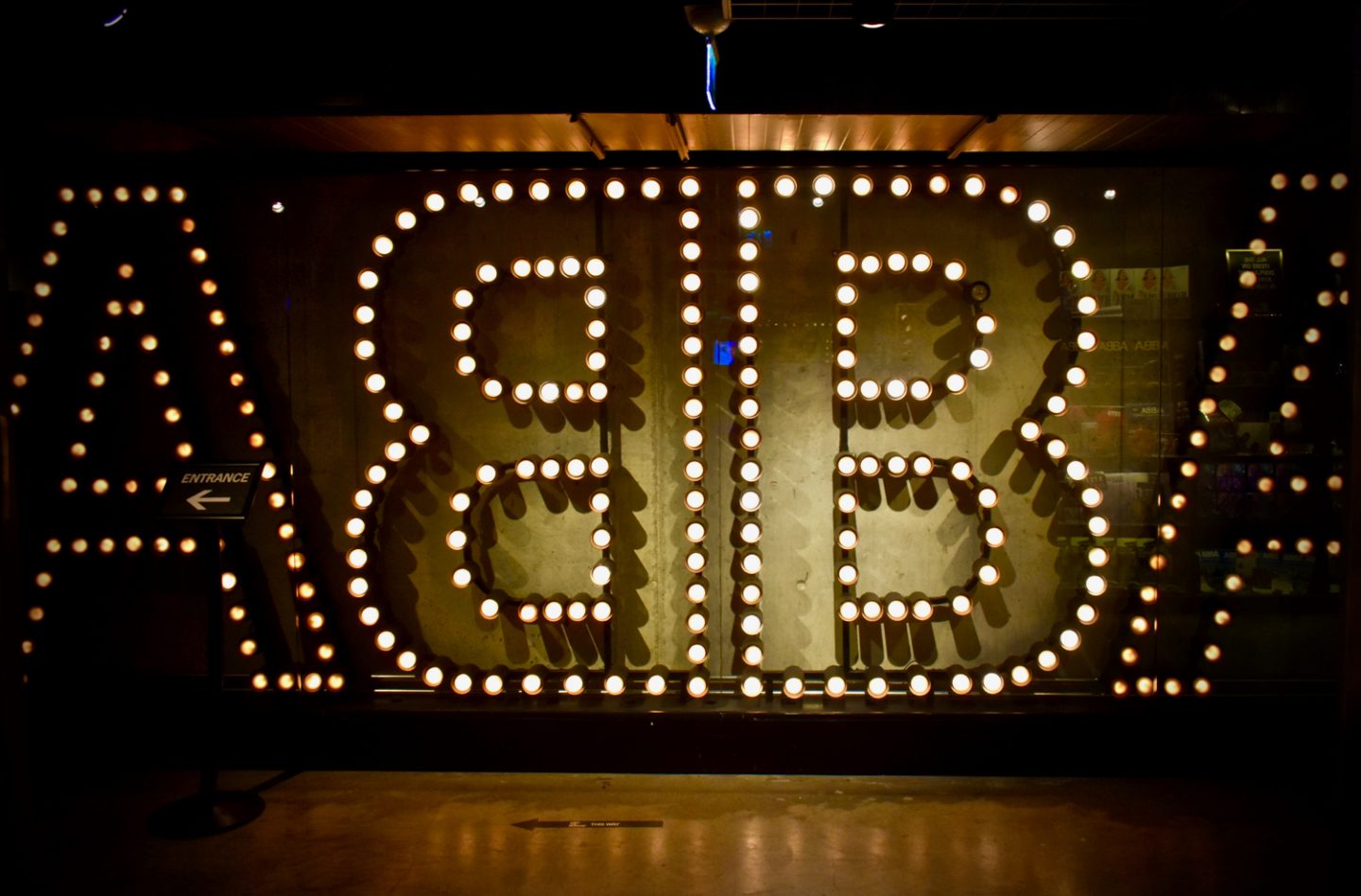 Stocked with an impressive collection of ABBA memorabilia, including videos, installations, recreations, costumes, props and so much more. Plus, you get the chance to "dress up" like ABBA, have a go at singing some of their hit song as well as appear on stage with the band themselves. There is also a revolving temporary exhibition, which at the time of writing is all about Mamma Mia: The Musical. Tickets cost around SEK 250 / €24. If you want to take your ABBA obsession to the next level, there is Mamma Mia: The Party, an immersive live theatre show with dinner served throughout, and no doubt, plenty of dancing and singing. This is right around the corner from the museum. LOADS more about Abba: The Museum in this post– we've visited 4 times now!
Among the most popular museums in Stockholm is the world renowned Fotografiska, the city's Museum of Photography. There are four large exhibition spaces, constantly updated so there'll always be something new, as well as some smaller, more permanent curations.
There is a rooftop cafe which offers you a great viewpoint of Stockholm too and lunch there is one of the best in the city as it's plant-based – a way Swedes like to eat in general. Entry is SEK 165 / €16 for adults, free for under 12's and reduced rates at SEK 135 / €13 for seniors and students. The joy of this museum is that is open so late, 9am-11pm Sunday to Wednesday and 9am-1am Thursday to Saturday, so perfect activity if you don't fancy retiring to your hotel after an early dinner.
🍴 Where to Eat and Drink in Stockholm 🍽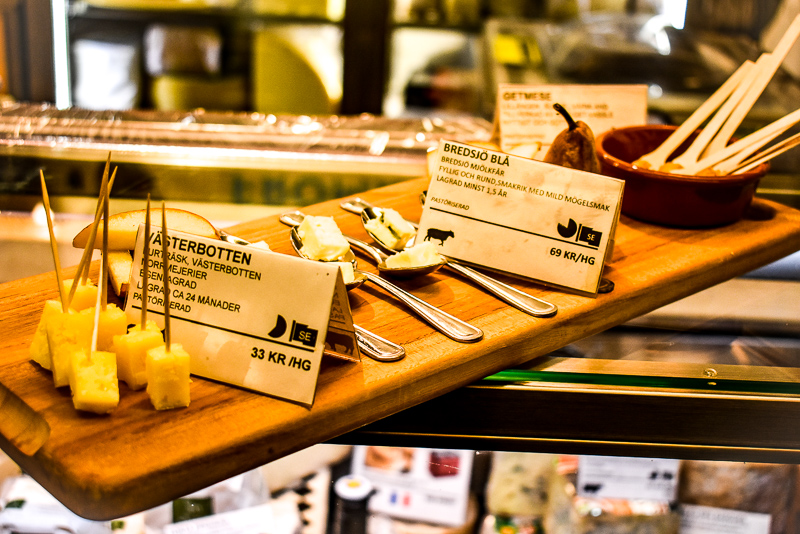 We always try to take part in at least one food & drink tour when we visit a city, and Stockholm is no exception. Food Tours Stockholm operate a number of tours including one around hipster precinct Södermalm showcasing the global influences on its culinary scene and another touching on the eating hot-spots around historic Gamla Stan. However, we opted to book on to their Nordic Experience, a 3-4 hour tour taking in about 9 to 10 different spots around Norrmalm including the classic food hall at Hötorgshallen.
An entertaining, interesting tour (and if you have our guide Gunilla, you're in for a treat!) and you get to try plenty of food & drink throughout, trust us. There is a fair amount of walking required but you will also take the metro to bring you between spots which are further apart. This tour costs SEK 895 (or €85) per person, but it is a great way to spend a few hours on a Thursday, Saturday or Sunday. Tours are in English primarily.
In terms of eats, Stockholm is a treasure trove and a culinary capital. Not quite as well known for foodie credentials as its Danish counterpart, Copenhagen, but Stockholm can absolutely hold its own in the food stakes. We're not going to give a paragraph on each suggestion because it would be far too long, so we've pasted our most up-to-date Google Map below to pinpoint places by location, but first here's a handy go-to list of some of our favourites:
Shibumi (closed 2018)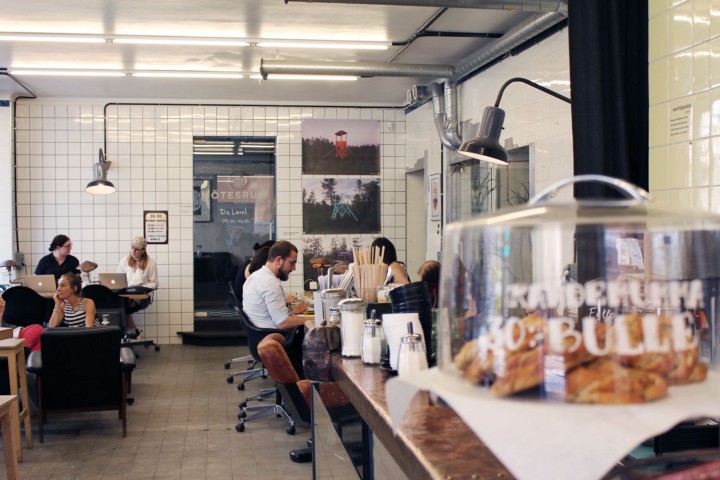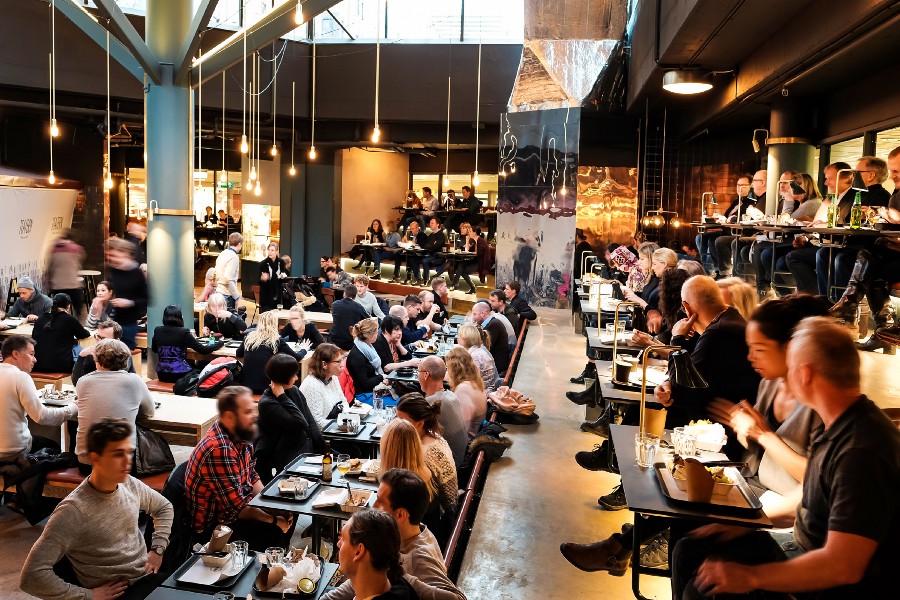 Away From The City…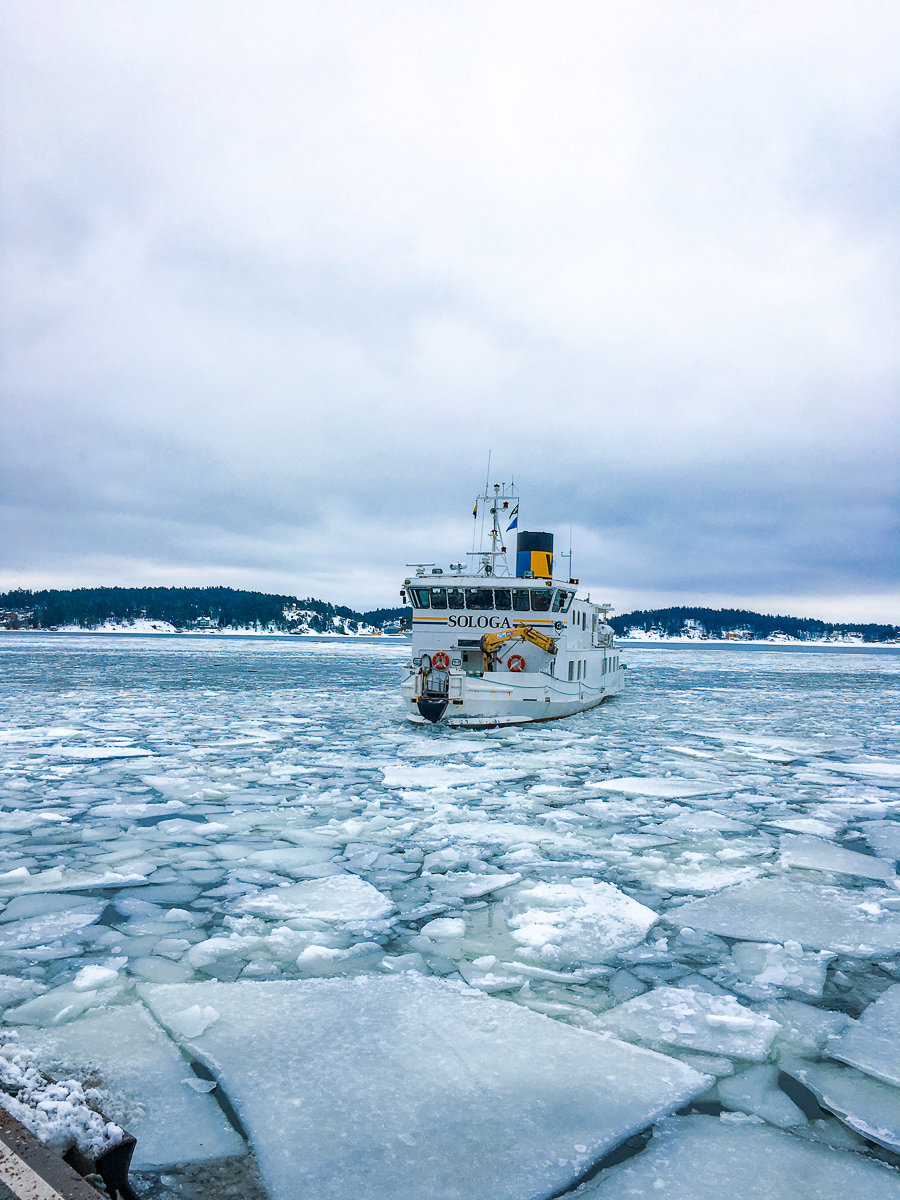 Taking a slightly longer break in Stockholm? It might be worth considering taking a night or two outside of the city and check out some of the islands! Stockholm sits across 14 islands within an archipelago of over 30,000 islands and skerries. Sounds massive, but only about 200 of them are actually inhabited, still, plenty to choose from!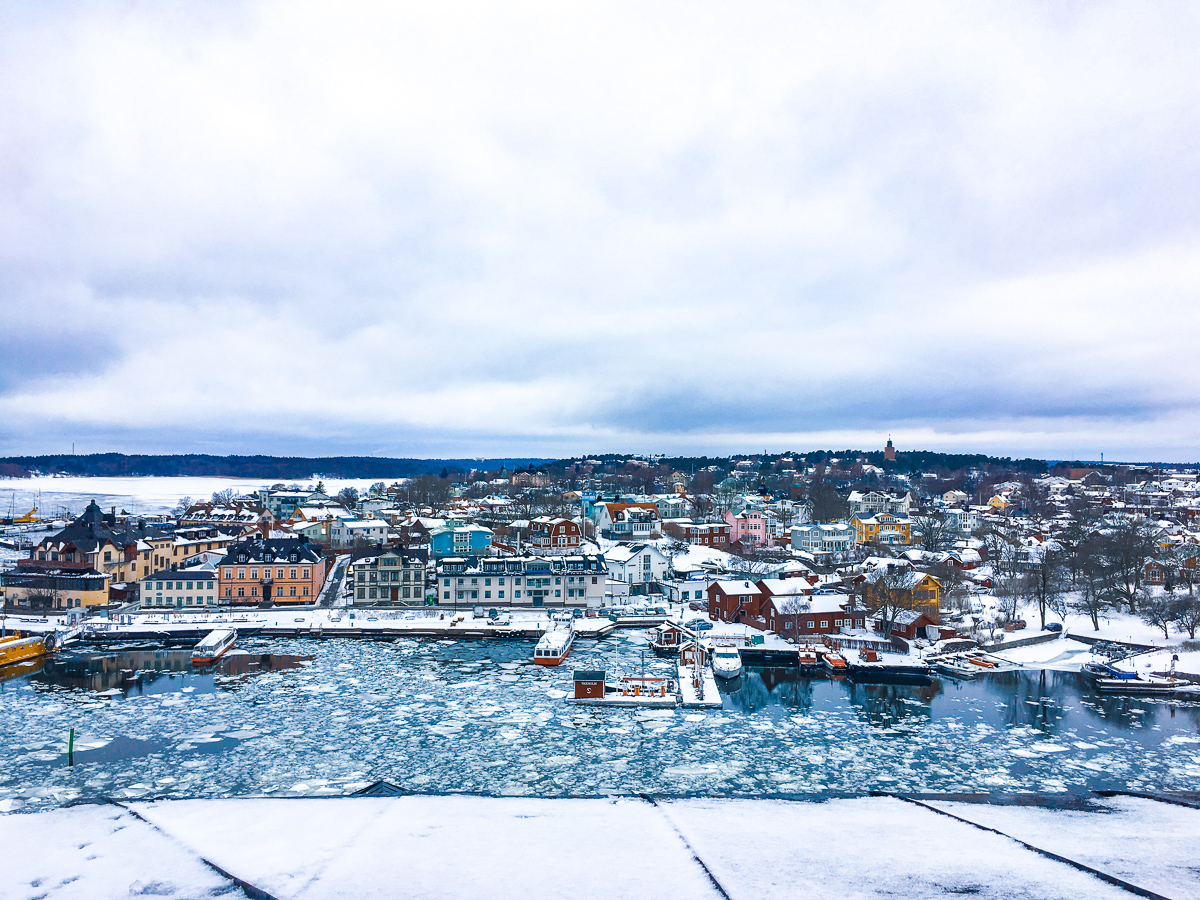 We spent some time in Vaxholm, which takes about around an hour on the Waxholmsbolaget Ferry, but there is also a bus which brings you directly to the island in about 40 minutes. Staying at the gorgeous waterfront Waxholms Hotel, there is plenty here to see or do for an evening or so away from the city. An alternative place to stay is Vaxholms B&B, where we had a kanelbullar baking class with Linda, the owner, but also offers accommodation and so much more. Vaxholm is famous for its island fortress, built in 1544 by King Gustav Vasa to defend the city of Stockholm from the east. Over the centuries, the fortress has been attacked by the Russians and the Danes, but nowadays, there is a fascinating exhibit on military history and how the town has grown around it. Eat at the hotel or at one of the local restaurants, like Hamnkogren Vaxholm.
Getting Around Stockholm (Public Transport)
Stockholm is a very easy city to navigate via public transport, though may not have the frequency that some may be used to from the likes of London or New York.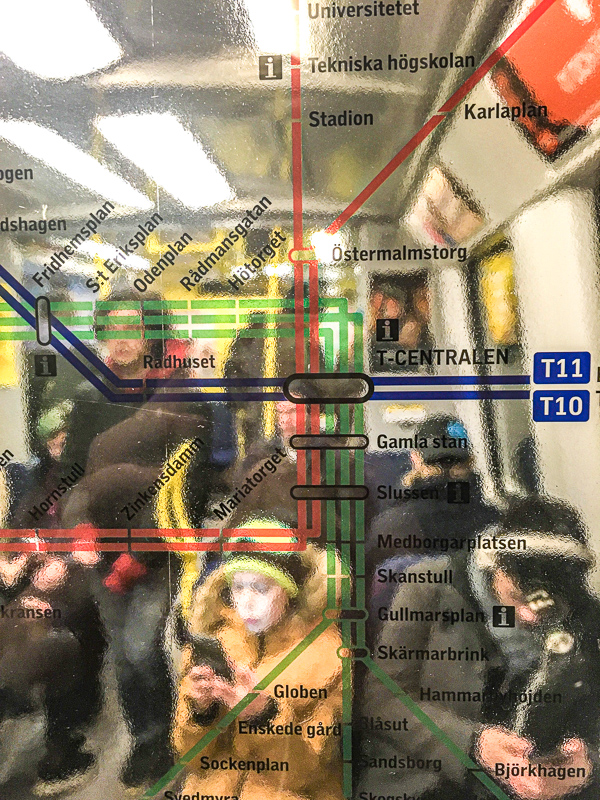 Firstly, to travel with ease, we'd recommend picking up an SL Access Card (SL stands for Storstockholms Lokaltrafik, wider Stockholm area public transport). You can pick a card up at most ticket agents, all SL Centers (official ticket office and tourist information centre) or at commuter rail stations. They cost SEK 20 which is about €1.80, and can be reloaded for up to six years. If you plan on traveling by bus a lot more than rail, you can technically use one card for your group as long as it is preloaded with enough travelcards or credit. It becomes a bit more complicated if you plan on using rail, but there is plenty written online if that is of interest.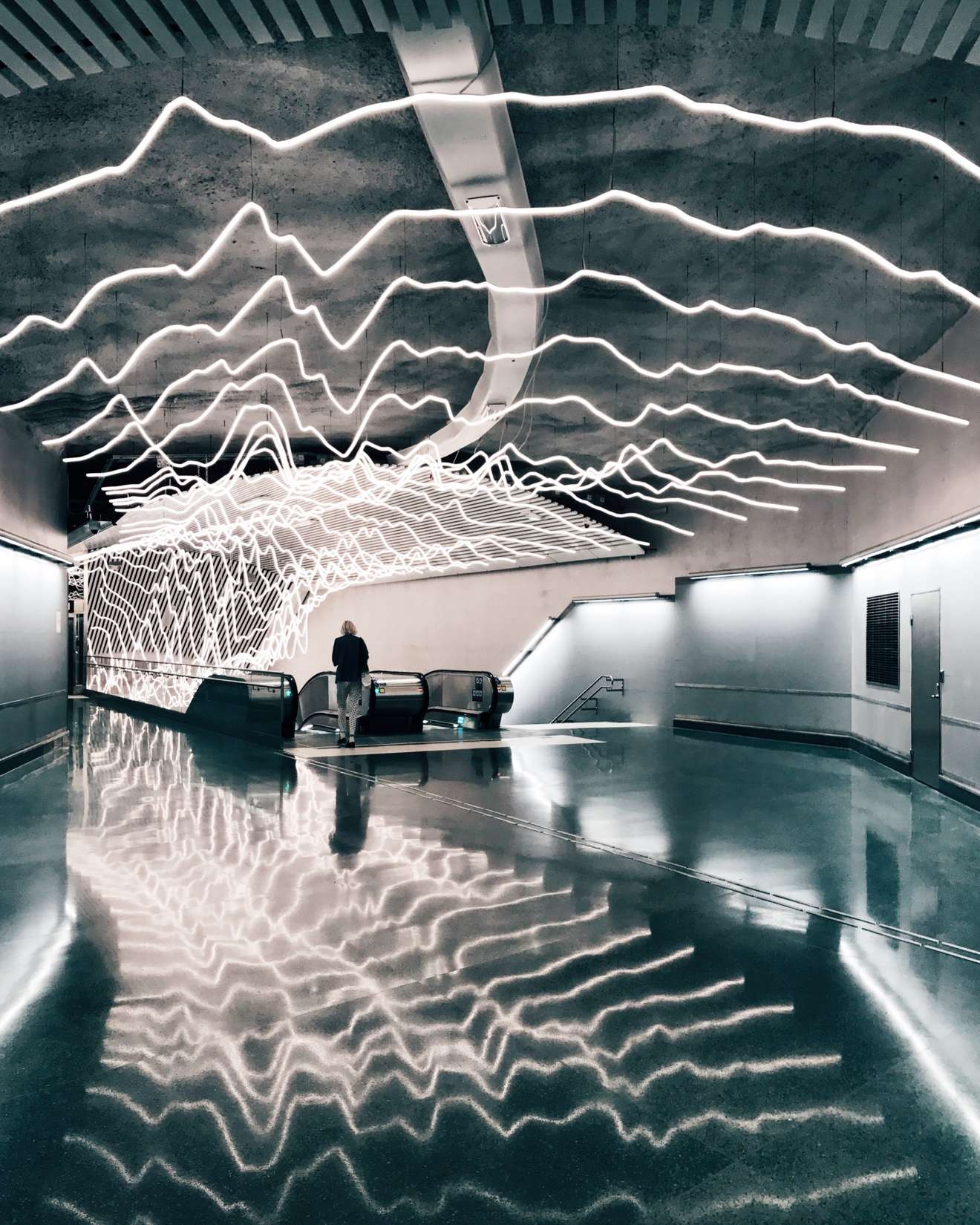 The Travel Card prices are:
24 hours: SEK 130/€12.20 (adult); SEK 90/€8.50 (discounted)
72 hours: SEK 260/€24.50 (adult); SEK 170/€16 (discounted)
7 days*: SEK 335/€31.50 (adult); SEK 225/€21.15 (discounted)
Discounted fare – Anyone under 20, over 65, or full time students with approved ID's. For context, a single ticket valid for 75 minutes bought on a vending machine costs SEK 40 or €4.20. If you are planning on traveling around the city on more than 3 occasions throughout the day, the Access Cards represent great value.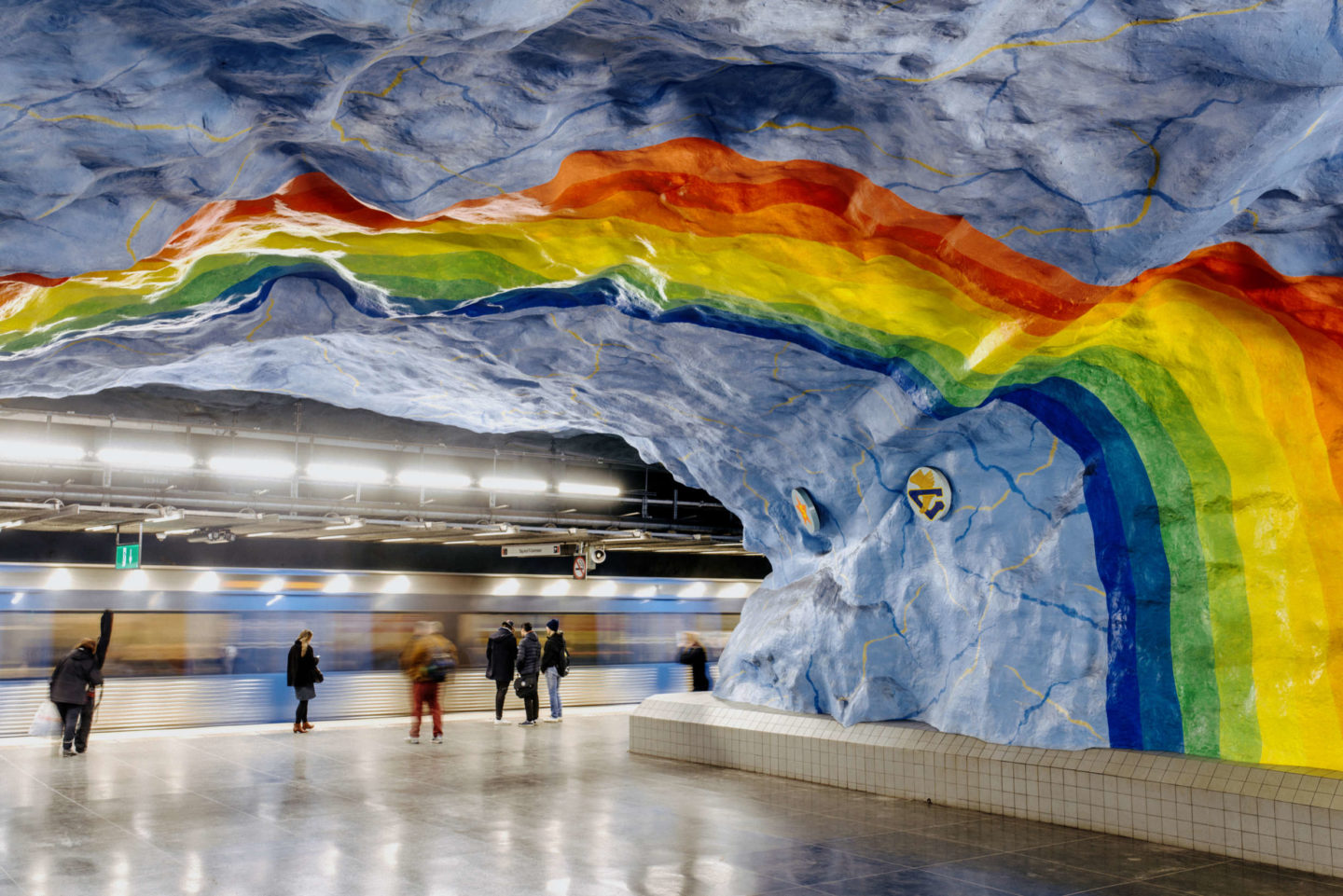 The city has 7 Tunnellbanna lines (Underground Metro), and this is very efficient and easy to navigate. Stockholm's bus services are generally quite reliable. One major plus point is that the stops are quite a distance apart, meaning you make great strides on a journey, and a lot of the city centre has designated bus lanes. Maps are easily available on Google Maps and can help direct you where you need to go.
There are a small number of trams and light rail systems in the the Stockholm region, though they serve the outskirts rather than the city centre. The only exception is the Spårväg City line, or Route 7 which brings you from Segals Torg to the island of Djurgården (for the ABBA Museum, Vasa, Skansen etc.).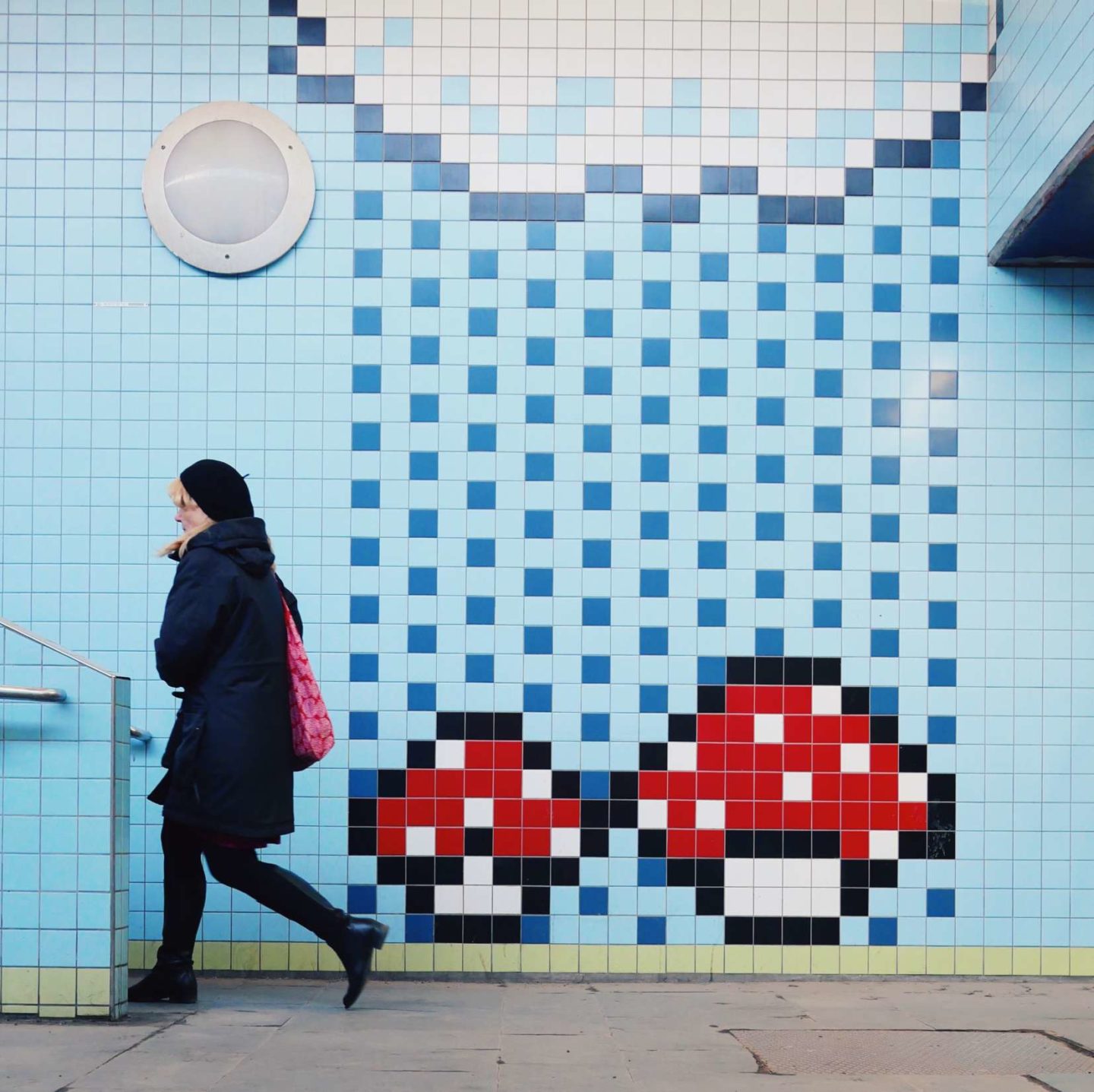 We cannot talk about the Stockholm Tunnelbanna without mentioning how beautiful many of the stations are. Often regarded as the "world's largest art gallery" as some stations are worth visiting just to admire how they are decorated. Stations are deep below the city, and often have been left with the carved bedrock exposed. The most beautiful stations are usually on the Blue Line in particular. You can read more about the artwork here.
✈️ Getting To Stockholm 🚝
A majority of international flights will bring you into Stockholm Arlanda, the largest airport in Sweden. There are three ideal options to get from the airport to the city centre.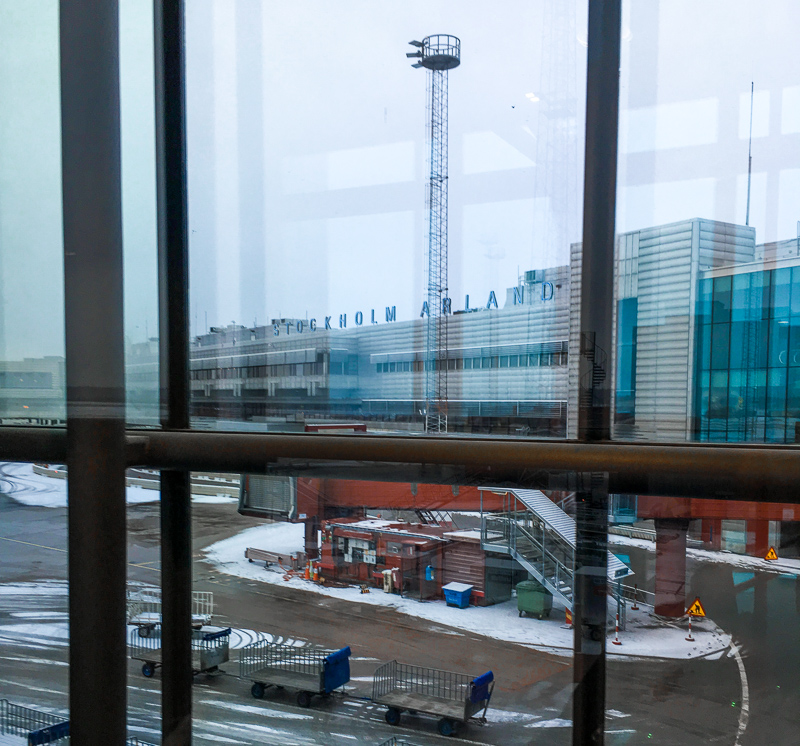 Arlanda Express: the quickest option is also the most expensive option. In 20 minutes, this service will have you at Central Station. Tickets can be pre-booked online, and are cheaper if you are booking far in advance (Single tickets bought 90 days in advance is 154 SEK or €15/£13….30 days is 196 SEK or €19/£17…14 days is 252 SEK or €25/£21). A full price single is 280 SEK (€27/£23) and a return is 540 SEK (€52/£45). There are occasionally seasonal offers which can be found on their website, and a constant offer is available which is perfect if you are travelling between Thursday and Sunday: 2 single tickets for 350 SEK (€34/£30), 3 for 450 SEK (€44/£38) and 4 for 550 SEK (€53/£46). You can purchase at the station but try to save yourself the bother and buy online.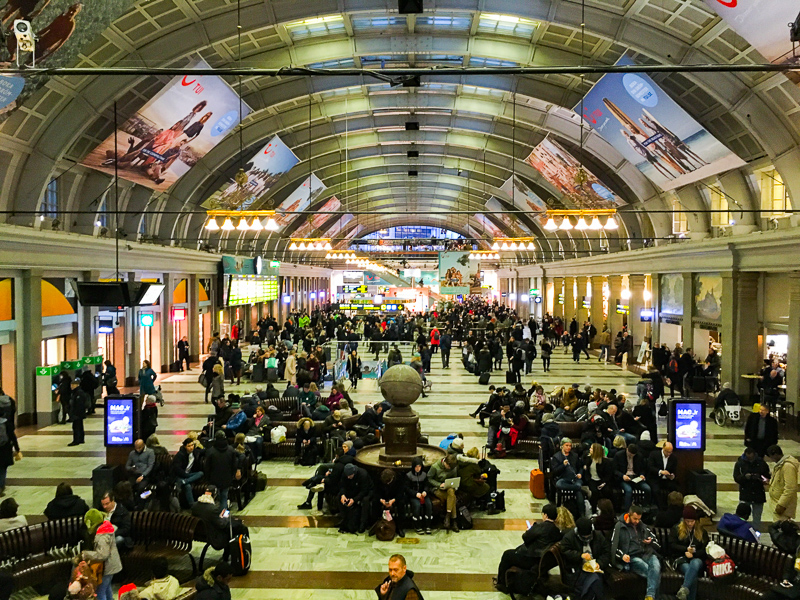 Swedish Railways: national rail trains do run to the airport, however, in order to help fund the rail link between the city and the airport, an additional tax is charged to some train fares to enter and exit the station (many Stockholmers detest this). So while trains are available, and on the face of it may look cheaper than the Arlanda Express, you might want to check if the fare includes this tax or not.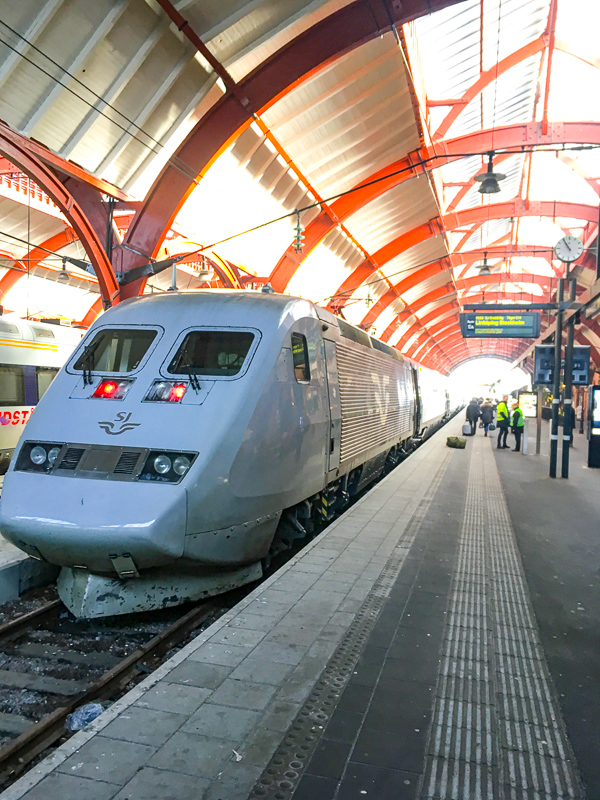 Flygbussarna: probably the best alternative option to get into the city centre. Coaches leave the airport every 15 minutes for most of the day (best check their website for timetables in particular late in the evening). The journey is 45 minutes, traffic permitting, though we highly recommend giving yourself a bit of extra time in particular for early flights. Busses have a maximum capacity, so if one is full, you could be waiting another 15 minutes for the next one. Handy to note, the bus stops at Eriksplan, if you happen to be staying around Vasastan or parts of Kungsholmen. Fares are 99 SEK (€10/£8) if purchased online in advance, while on machines at Central Station or the Airport, or in selected stores cost slightly more – we believe.
✈️ Other Airports ✈️
Arlanda isn't Stockholm's only airport, there are in fact four in total. However, the number of destinations and airlines operating from the likes of Västerås and Skavsta are limited (mostly budget airlines such as Ryanair). Details can be found here.
🌍 Green Travel Options ♻️
Swedish people have become more conscious about their environmental footprint, especially where air travel is concerned. In April 2019, airlines reported 15% reduction in passenger numbers in Sweden compared to the previous year, as flygskam or "flight shaming" takes hold. With that in mind, it's worth sharing some alternative routes to Stockholm without traveling by air.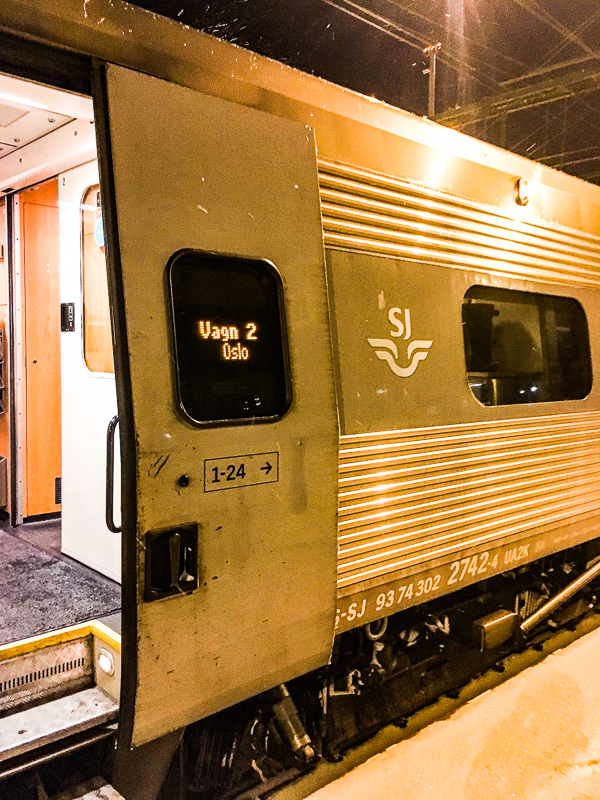 Thanks to the Öresund Bridge, linking Copenhagen, Denmark with the Swedish city of Malmö, it's exceptionally easy to link in within the vast European railway network. Taking Malmö as your Swedish starting block, the train takes around 4 hours. Copenhagen, which is only 30 minutes away over the bridge, is connected via a 7 hour journey with the likes of Hamburg in Germany.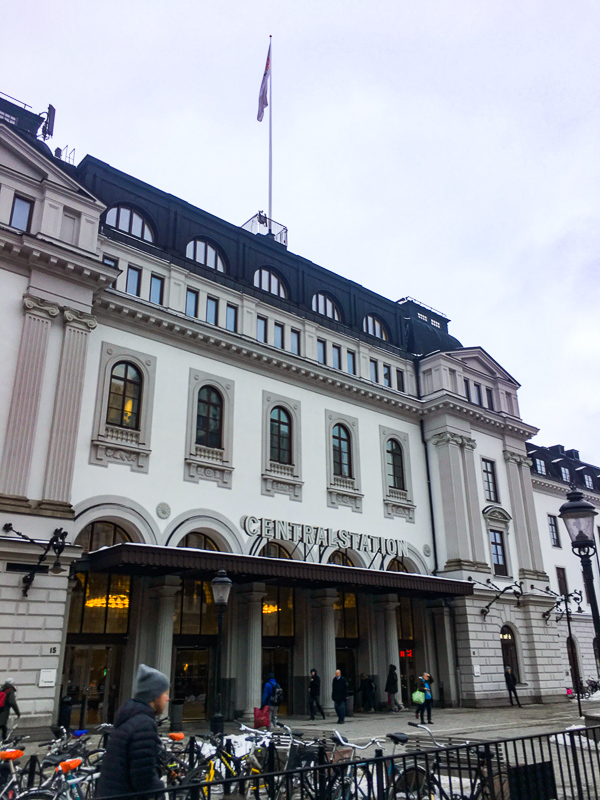 The fantastic website "Man In Seat 61" has a route via London via both the Channel Tunnel as well as the ferry to Holland, taking in and around 48 hours to get to the Swedish capital without flying. Of course, Swedish Railways are also part of the inter-rail network too.
General Travel Tips For Visiting Stockholm
Card Is King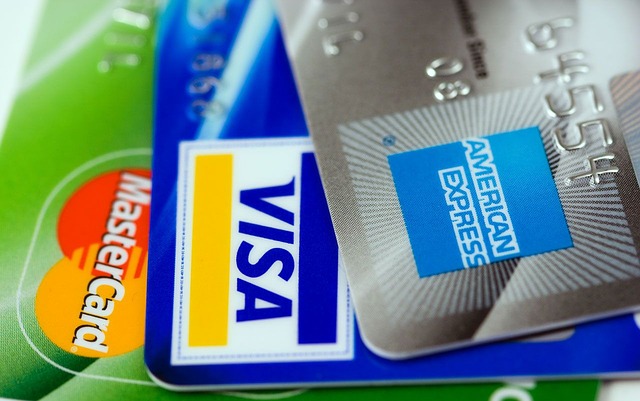 Sweden in general is a fairly cash-free society. Card is widely accepted and often almost enforced in the country's major cities (we have been caught out in some smaller towns and village cafes and shops away from the main urban centres). If you're staying around Stockholm, you shouldn't have to worry. As Sweden isn't a Eurozone country, depending on your bank, it is likely you will get pay nominal extra charges for currency conversion. You could use international banking cards such as Revolut (you can use our referral link here) and top up with Swedish Kroner instead of worrying about doing the sums on currency conversion or sparing the use of card for fear of charges.
A Note On Alcohol…
This is something that always throws a first-time visitor to Sweden, if they're after a bottle of wine or a few beers of an evening… Sweden has very strict regulations regarding the sale and advertising of alcoholic products. You won't be able to pick up a Prosecco or a Pinot Noir from the local supermarket, as all alcohol products above 3.5% ABV will only be sold in the state-run Systembolaget. The opening hours are limited to 10am to about 6/7pm Monday to Friday, and until 3pm on a Saturday while remaining entirely closed on a Sunday. (On that note, mentioning the ABV content, underneath the above ABV is fine to be sold in supermarkets, so you'll find a selection of beers and ciders and lower alcohol products in supermarkets, but everything else is in Systembolaget).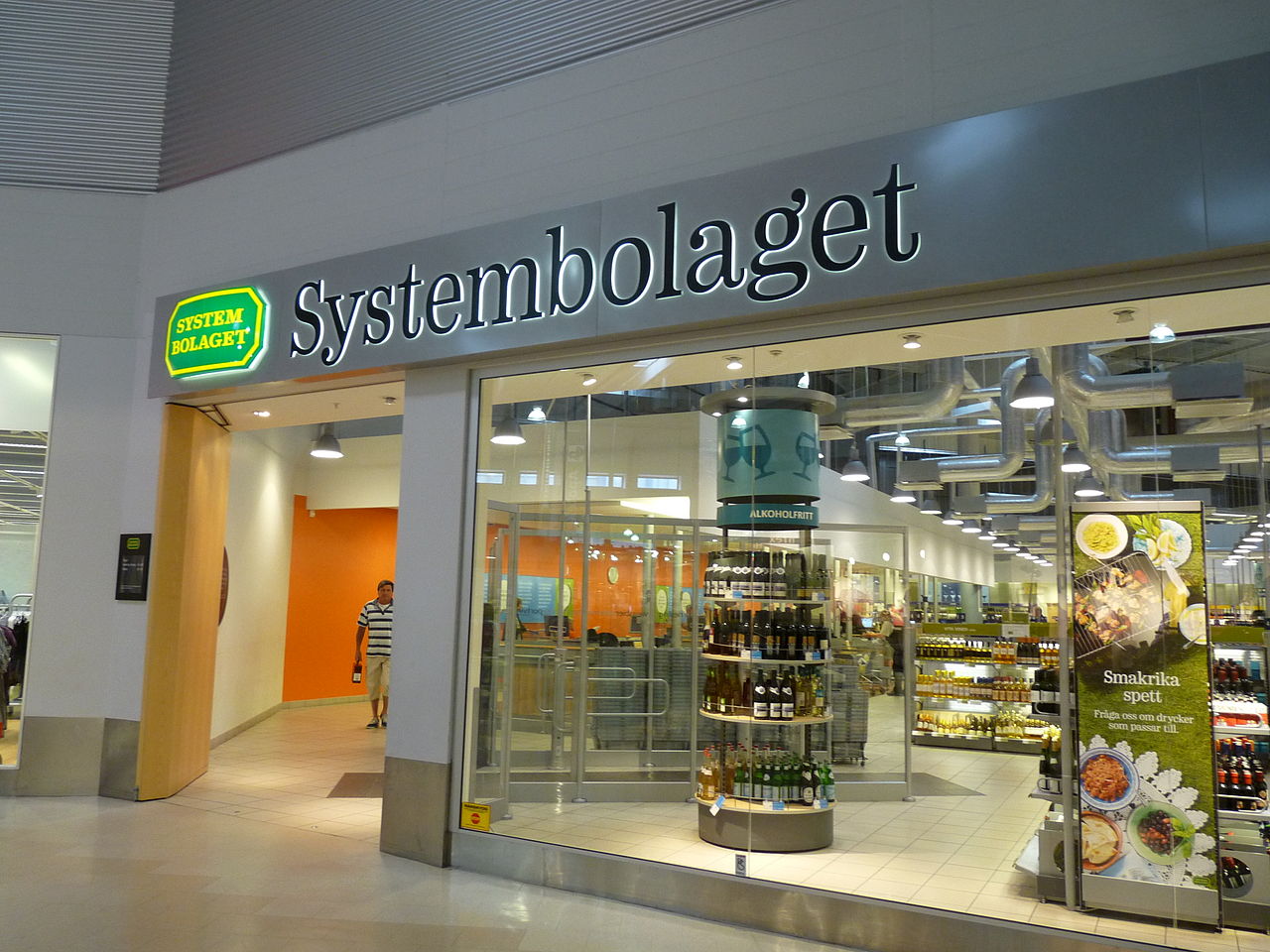 You will find a genuinely impressive selection of wines from across the world, with staff with an extensive knowledge of their products. In contrast to some other European countries, you won't find any six-packs, offers or special deals to entice you. In fact, you won't be able to get any chilled products, because that would give certain things a preferred status. Everything is sold individually and at a fair price, so as to encourage smart choices and not to over indulge. Whereas in other parts of Europe you need to be 18 to purchase alcohol, you must be at least 20 years of age to buy anything from Systembolaget in Sweden.
Budget Budget Budget
We did resist the urge to call this part "Money, Money, Money". Sorry to report, there is no denying that Stockholm is not expensive. It is. But just like many other non-Eurozone Scandinavian cities, that's to be expected. Is it a rip off? Not in the slightest. You'll get value for money, you'll get high quality produce, services and experiences (in the most part), so put the currency converter away for a little while, and treat yourself if you can because visiting Stockholm (and Sweden in general) is expensive but so worth it.
It is possible to visit Stockholm and it not cost a fortune, if you are prepared to do the research and planning for it. Having a realistic daily budget, planning, pre-booking and researching are all key to ensuring you don't break the bank. A recommendation we sometimes make to people is to enjoy a late breakfast, usually included in your hotel stay, graze over fika just after lunchtime, then splash out on an early dinner. These small ways will help alleviate the costs a little.
Eating Times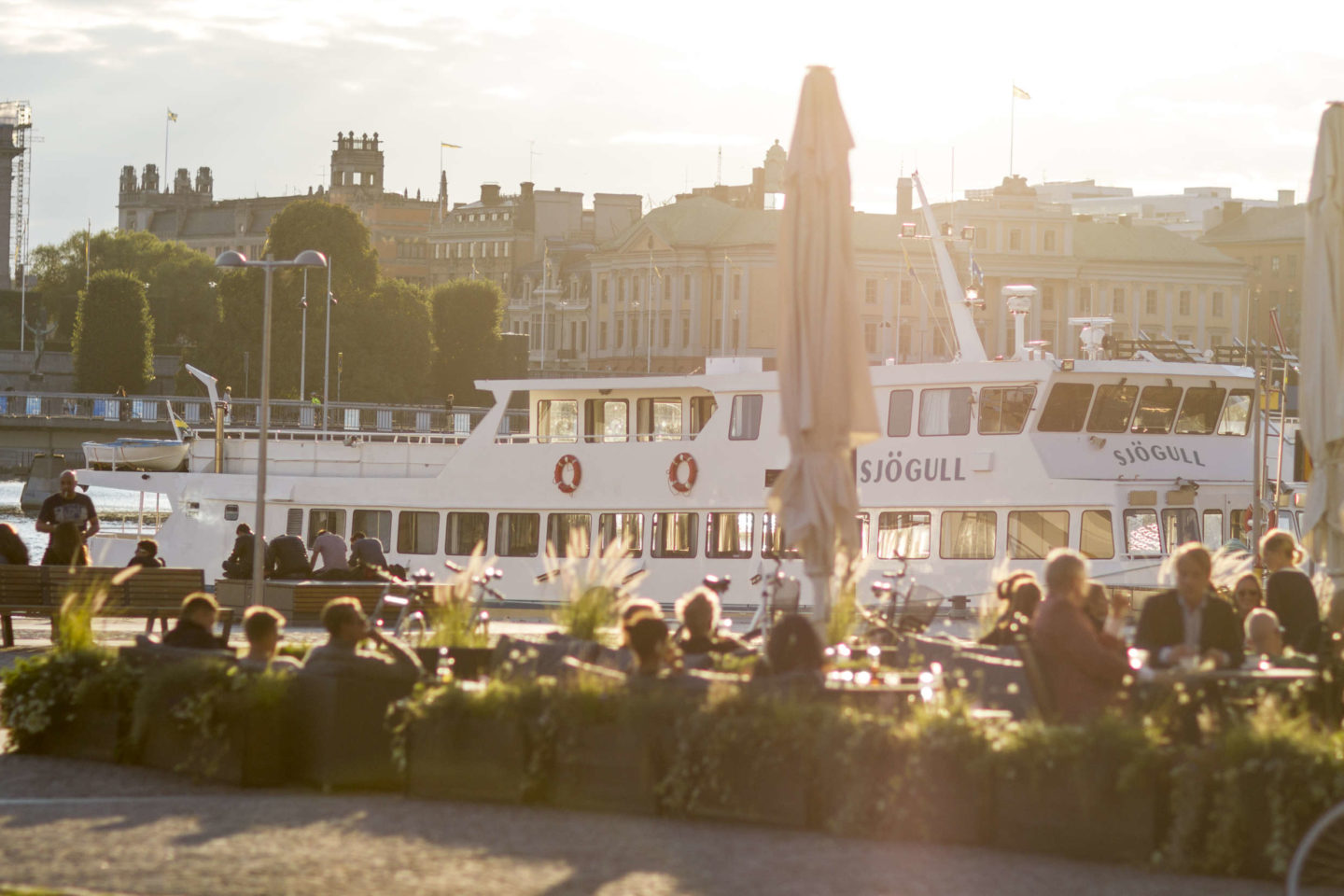 This is something which we've found a bit caught out by, and is a bit strange, but hear us out. A lot of Swedish restaurants and cafes which offer both dinner and lunch often serve very different menus between the two: a buffet-style dagenslunch spread in the afternoon and usually à la carte for the evening. In general, Swedes take a pretty early lunch break, so lunch may begin at 11:30 and finish before 2pm. Take this into account when planning lunch across the city. Failing that, plenty of cafes will serve sandwiches and cakes for fika in between the two mealtimes. On food, by the way, Swedes are quite plant-focused in their cuisine and as much as 10% of the population is vegetarian and just under 5% identifying as vegan, making it one of the biggest vegetarian/vegan destinations in the world.
Take A Walk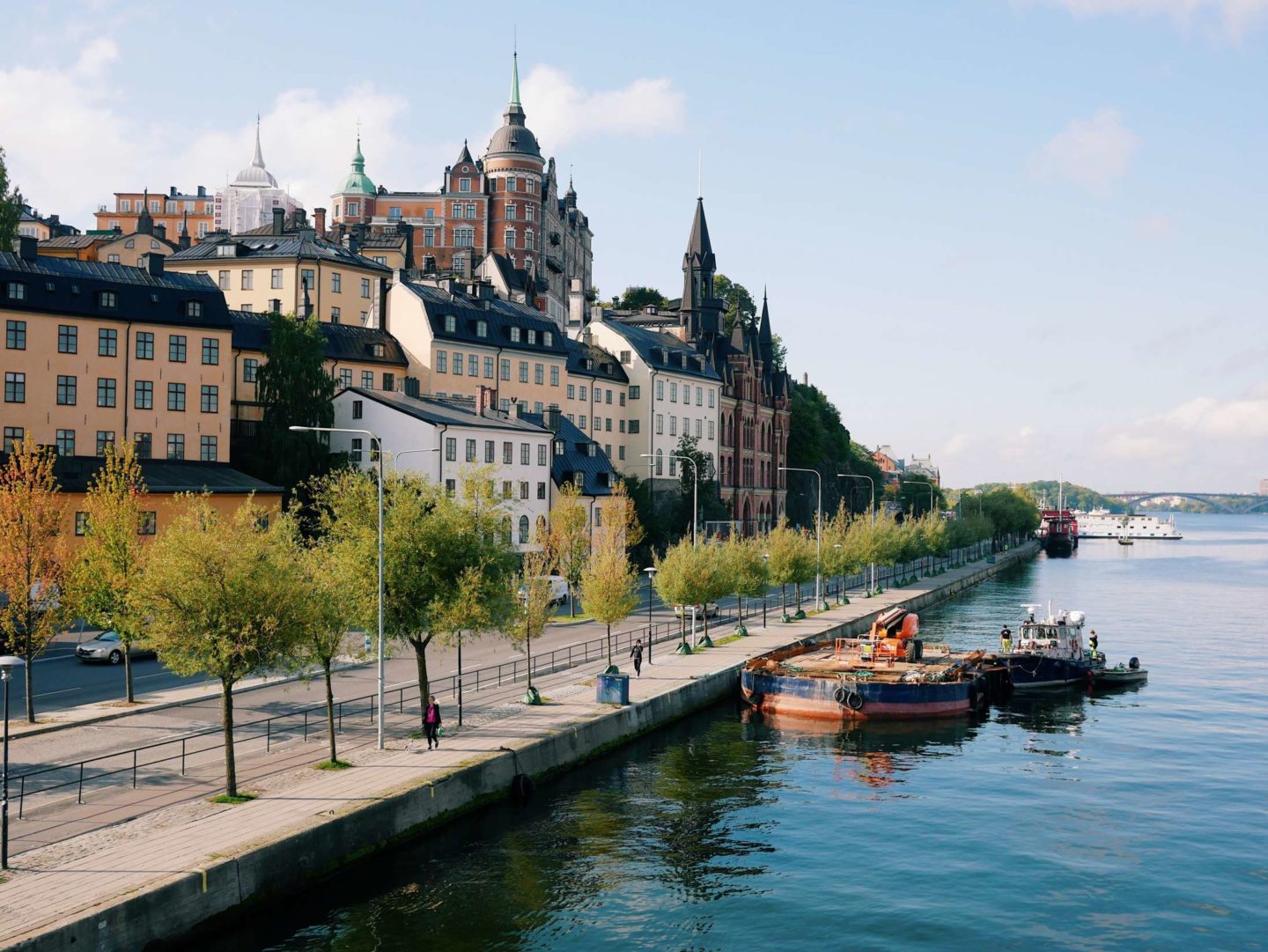 For the most part, Stockholm is an easy city to navigate by foot. During the warmer seasons, it's beautiful to traverse the streets, walk along the waterways and through the open, manicured squares. During winter, the snow comes and it comes by the truckload. It can be a bit troublesome for people, though the city authorities are excellent at salting and trying to clear main thoroughfares as best as they can. There are some hills and inclines, as well as major infrastructure works around Slussen leading to Södermalm in the south, as well as some tall steps on some streets around Norrmalm, but in general it's a flat, walkable, fairly accessible city.
Map
If you have found this guide useful, we'd love to see where it takes you around the Swedish capital. Tag us in your photos on Twitter, Facebook and Instagram and share with your friends using the links below!