Funnily we should have ended up in Brixton again, eating burgers…
Last Saturday night, a balmy and buoyant evening, we visited our family across the Thames as Patrick's sister and boyfriend arranged for us all to meet up and break bread as it had been an age since we had seen each other. Little did we know we would end up in an already established favourite of ours – Brixton Village Market. You may remember our post from last month on the great chicken 'n' cocktail emporium across the road on Arcade Row, Wishbone/Chicken Liquor.
The Joint is a hipster haven and where other establishments have been all style and no substance (a fur coat and no knickers, if you will – how often do you get to use that turn of phrase on a food blog? Probably rare for a reason, but we had to take the opportunity!), this eatery is certainly full of substance. Though, however kitsch, slapdash and 'of the moment' this burger joint is, you can't slack on service, lads.
Read on for our intial review of Brixton, and an extra update following the opening of their new Marylebone branch…
Brixton Village is packed full, shoulder-to-shoulder, with little cafés and restaurants all vying for prospective customers' soft spots of hunger and on a Saturday night expect it to be packed and to queue for the few small tables outside of each place. Thai, Caribbean, BBQ, Spanish, French – expect every cuisine you can salivate over at this food heaven found at the end of the Victoria Line.
We peg it as hipster as The Joint has barely any frontage (just a window into a kitchen), a short and succinct menu, a causal BYOB policy (great for us!) and most of the seating is up-cycled bread crates with cheap, low stools to sit on.
£7-£10 will fetch you a burger at The Joint, with the choice of eating your chosen filling in a bun or a wrap at no added cost. The menu has two distinct flavours and two separate meats as the focus. Choose between slow-roasted chicken or pulled pork and your choice of either 'Asian' or 'BBQ' marinade (all the same price). There's also a roasted veggies option and room to add 'extras' like cheese, guac or a fried egg for a bit of extra cost, as well as some unique sides like hush puppies and charred, buttery corn.
The burgers are out of this world tasty, with lashings of meat and rivers of marinade and sauce – which in this instance only makes the experience more the merrier by dripping down your hands and tempting you to lick it all up like the hungry hunter you are in your natural habitat. Though none of us opted for the wrap option, it's safe to say it's bun all the way as the sweet, sepia-coloured bun with it's toasted top bears a subtle, hidden, vanilla and fig flavouring. The sides are kitsch, retro and just what the doctor ordered.
"I decided to be the odd one out of the group, choosing the BBQ marinade instead of the Asian on my pulled pork bap. I generally love anything that is BBQ flavoured so I was very excited by my choice. The burger is very impressive; its basically glowing. What I really loved about this burger was the fact you didn't need to unhinge your jaw to eat it. Unlike burger patties, the pulled pork means it is so much easier to squash down into the soft bun, so that was a more pleasant experience than others".
The burger is delicious- not quite as smoky as expected, but definitely as sweet and sticky. If you couldn't identify the taste within the burger, it was present on the stunning hush puppies we ordered as a side. If you are a fan of crispy mounds of sweet, fried dough balls, you must try them. The bits of corn running through them was a bonus, and I reckon they were made with cornmeal coating too. Simply gorgeous. 
As much as I enjoyed my choices, I would definitely recommend you choose the Asian style flavouring. As nice as the BBQ sauce was, after trying the Asian variant, it give your mouth a bit more of a flavour explosion"- Russell
Now, the service lets The Joint down a bit in our eyes. Yes it's ultra casual and for the most part catering to the young, carefree and cool, as well as the young and cool-at-heart, so it's all a bit informal, slapdash, bobs your uncle and thrown at you. Is that the beauty of eating out? Having things flung at you, no server interaction and a bill with a bare pound sign and figure written on dropped to the table*? A little personable interaction and a not so wham-bam experience would send this place on the path to perfection for diners like us.
*We were seated wedged between the small bins for the customers' scraps/rubbish and the cleaning supplies/cutlery table. At various points, obviously in the pursuit of being efficient and quick, customers' trays and napkins were flung right beside our party eating by the servers. Likewise, the cloths to clean the tables were flung back on the very nearby table after use. It wasn't anything so big worth complaining about, and far be it for us to tackily take our complaints to the blogosphere, we are more than capable of doing that in person, but it left a little to be desired and wouldn't have taken a heap more effort to be a bit more aware and conscious of customers' comfort. Obviously had we been seated in any of the different tables, this wouldn't have been an issue.
UPDATE: So it's been over 18 months and my, oh, my, The Joint certainly has stood the test of time  so far, which we had no worries about! We've eaten our words… Read on.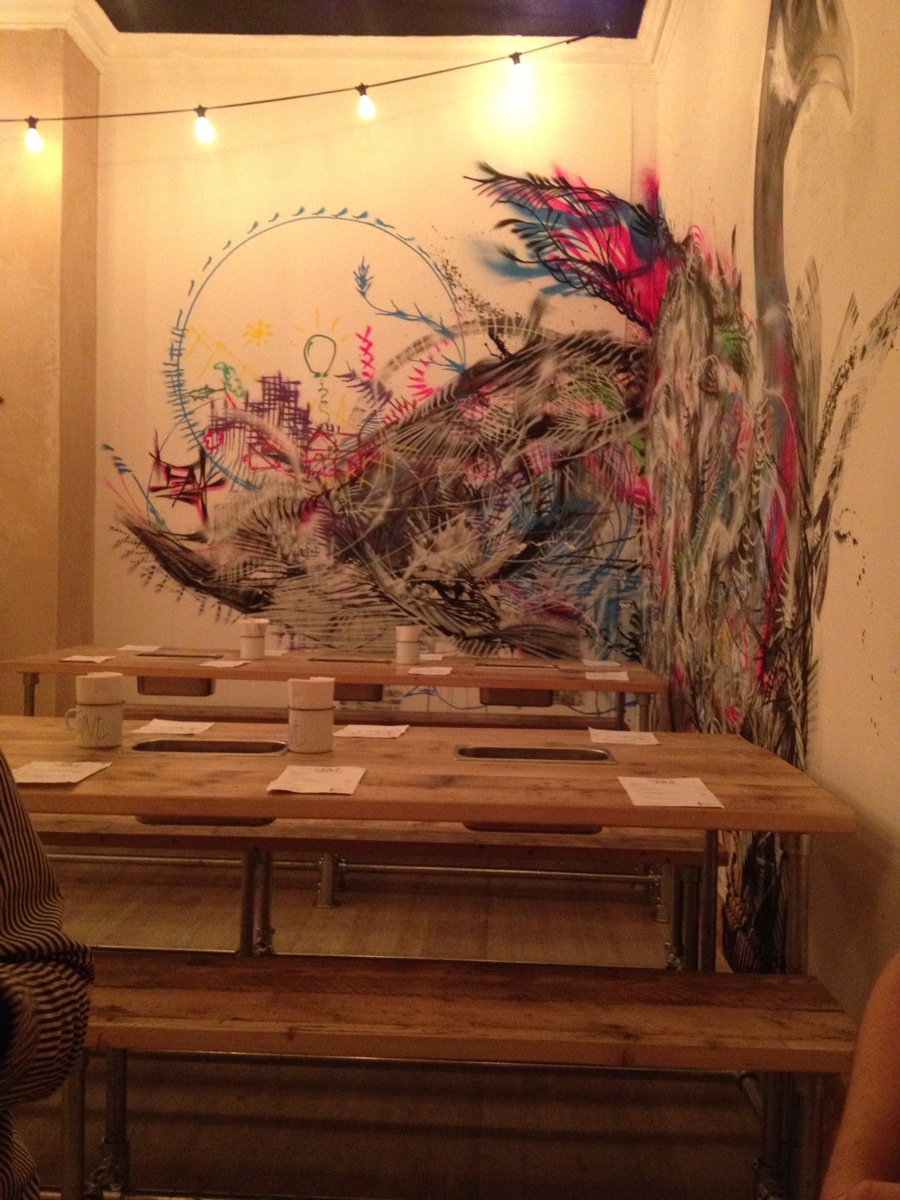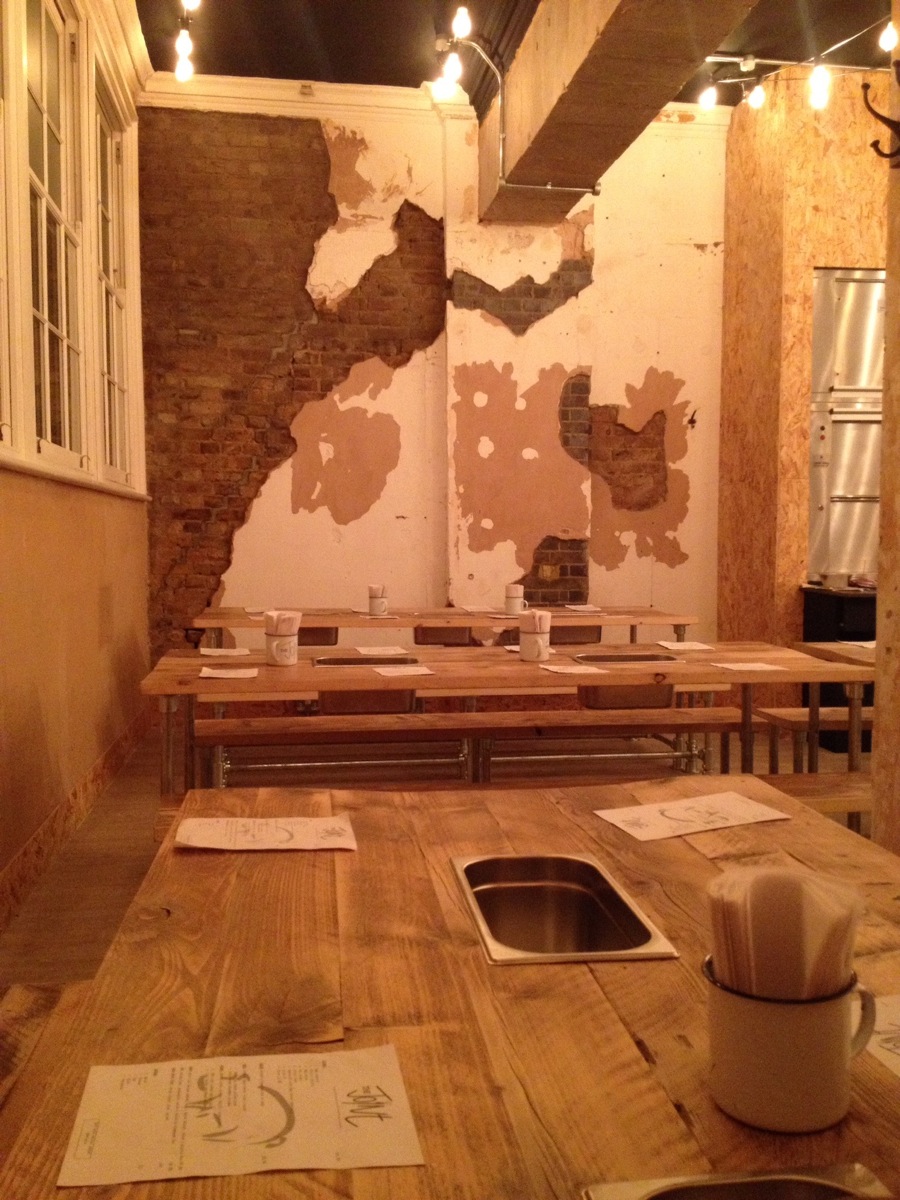 Following on from their ever-popular (and now more sleekly-executed) serve in Brixton, Warren and Dean have now set up shop in the heart of affluent and ultra-fashionable Marylebone. Chalk and cheese locations, eh? We think so, but this business model definitely needed a more bricks-and-morter location that has ample space for walk-ins and lots of capacity for reservations. Now they've proven themselves in both extremes, expect The Joint to go catastrophic over the next few years!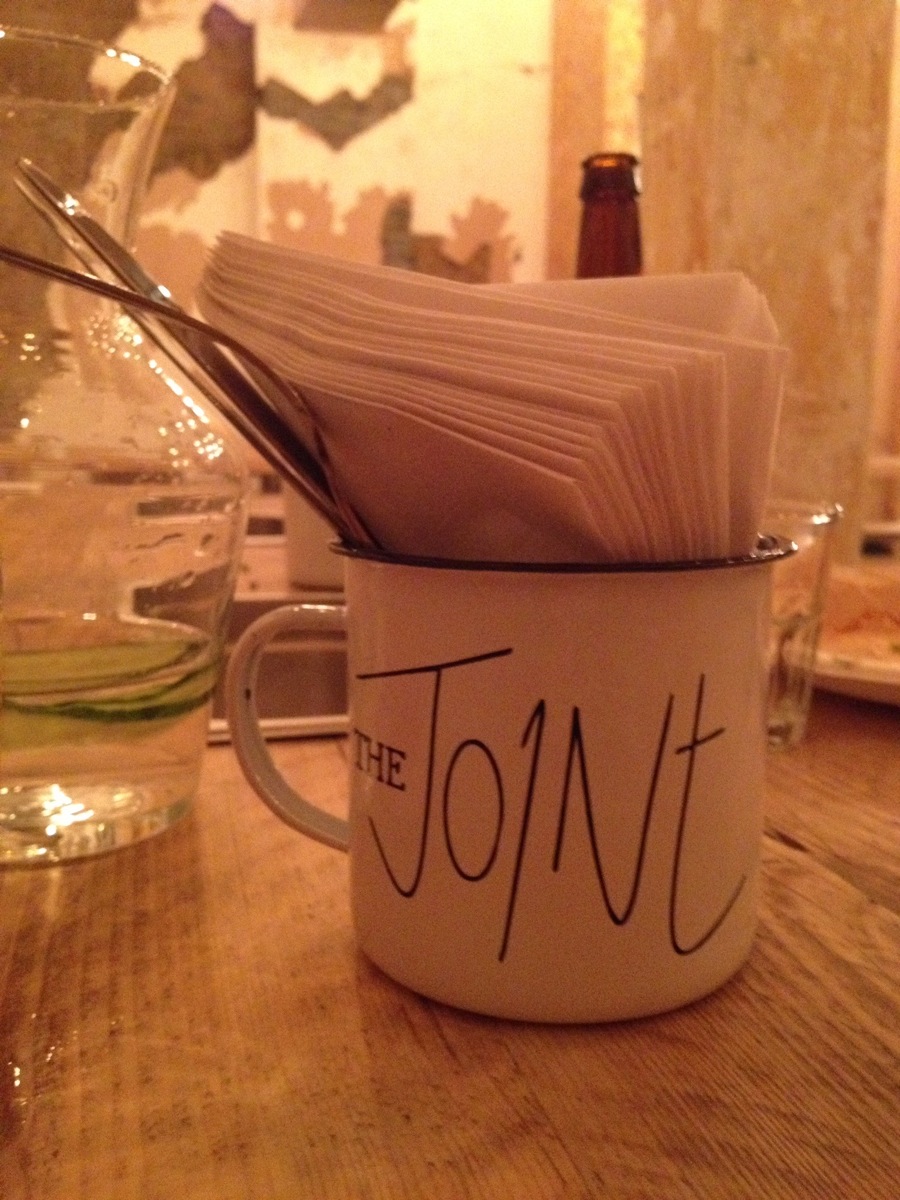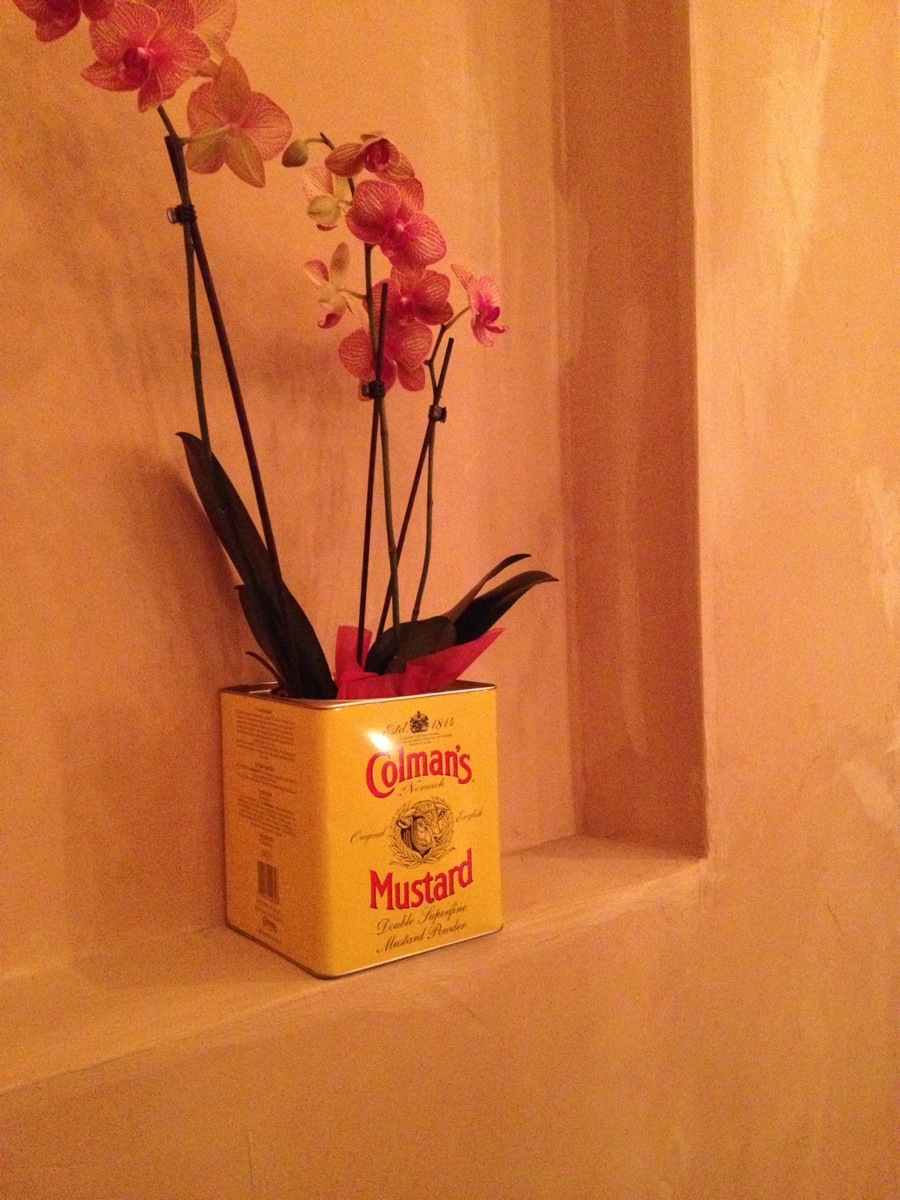 Set along New Cavendish Street, the second Joint location is emblazoned with art across the walls in an industrial-style yet warm and comfortable setting. They have graduated from upturned crates as seats and recycled tables to large bench seating with a hidden cocktail bar downstairs nestled near the kitchen and toilets, plus a little al fresco terrace outside that gives a causal nod to their first original.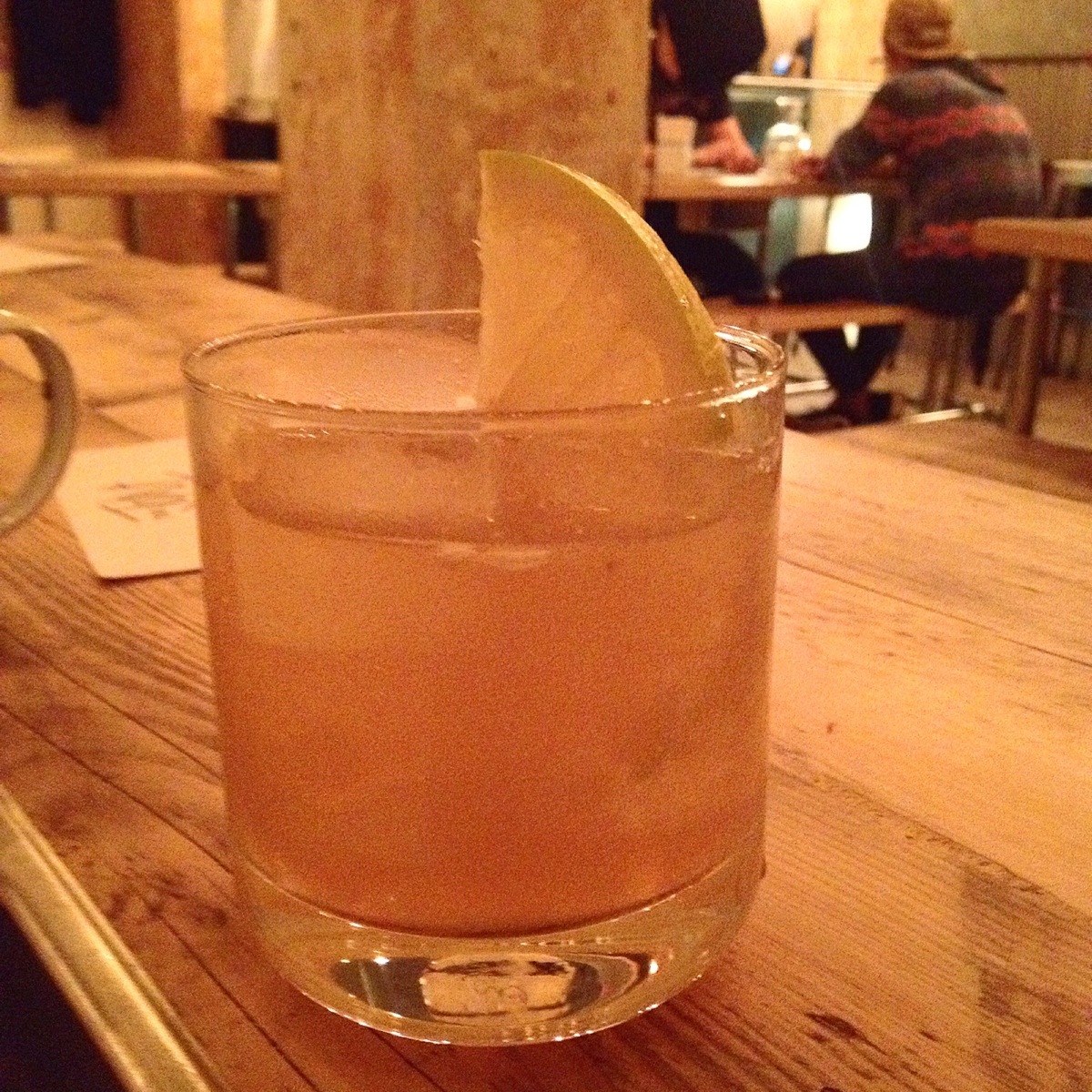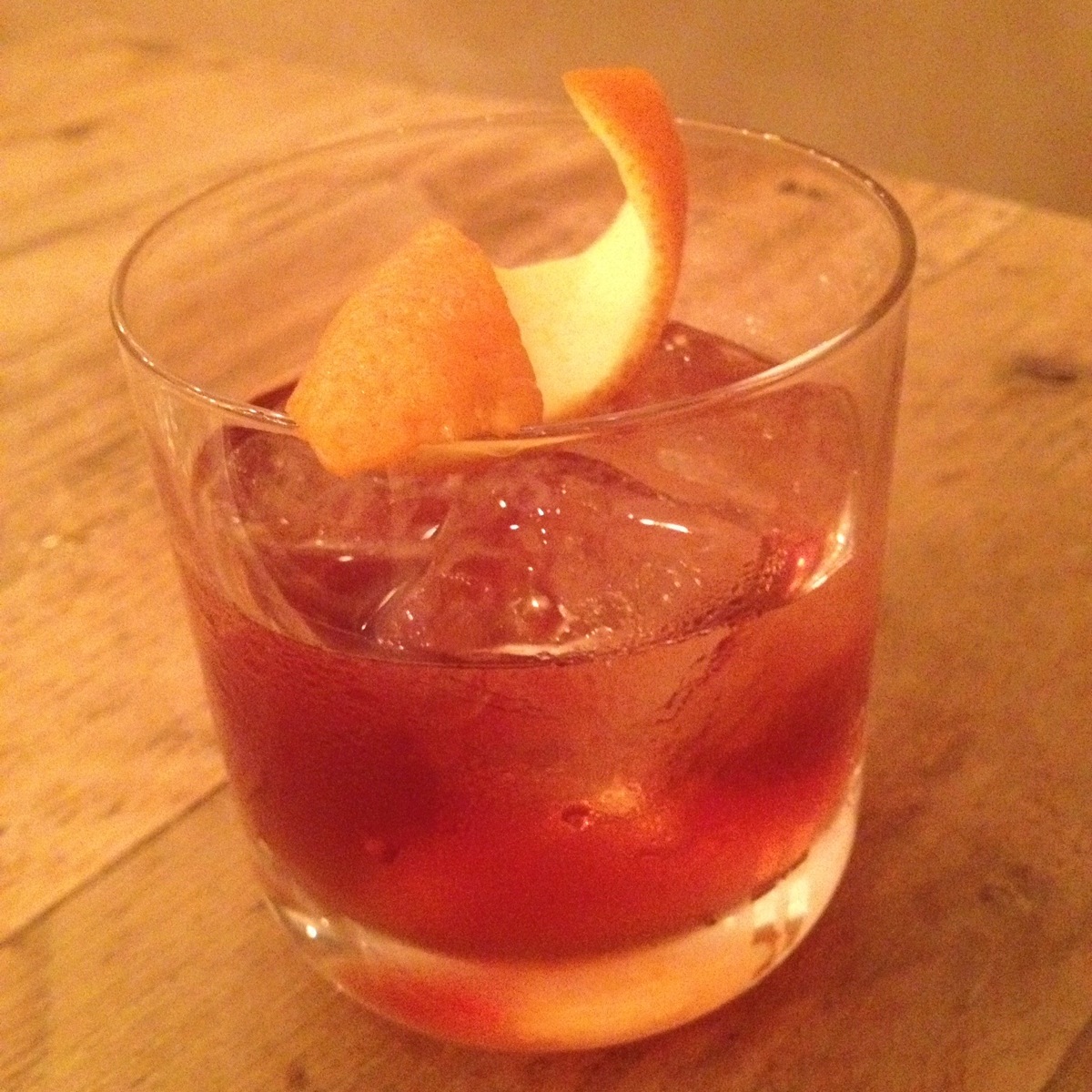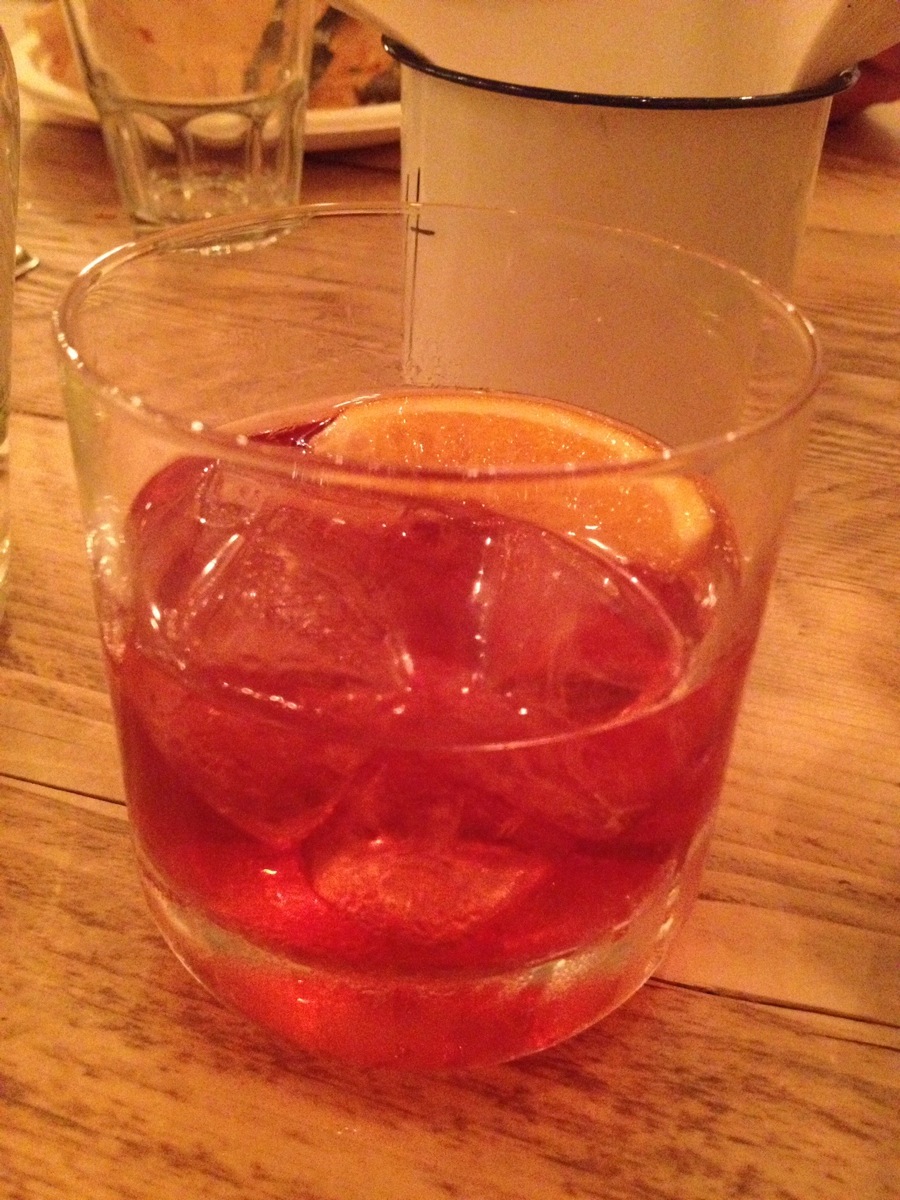 The large bar in the centre of the main floor is the stuff that their Brixton location could only dream of, slinging  impressively grown-up cocktails and a selection of  locally-brewed London craft beers and a curated choice of wines. The service here is also more sleek than the former. There's more space, more staff and more opportunity to engage and be attentive. Tick, tick, tick. There's charm in the slap-dash, bish-bash-bosh style of Brixton, but sometimes you want to forego the hipster necessities and have a juicy drip-down-your-face burger and fattening sides in a more comfortable setting and this has absolutely been remedied by the launch of this second location.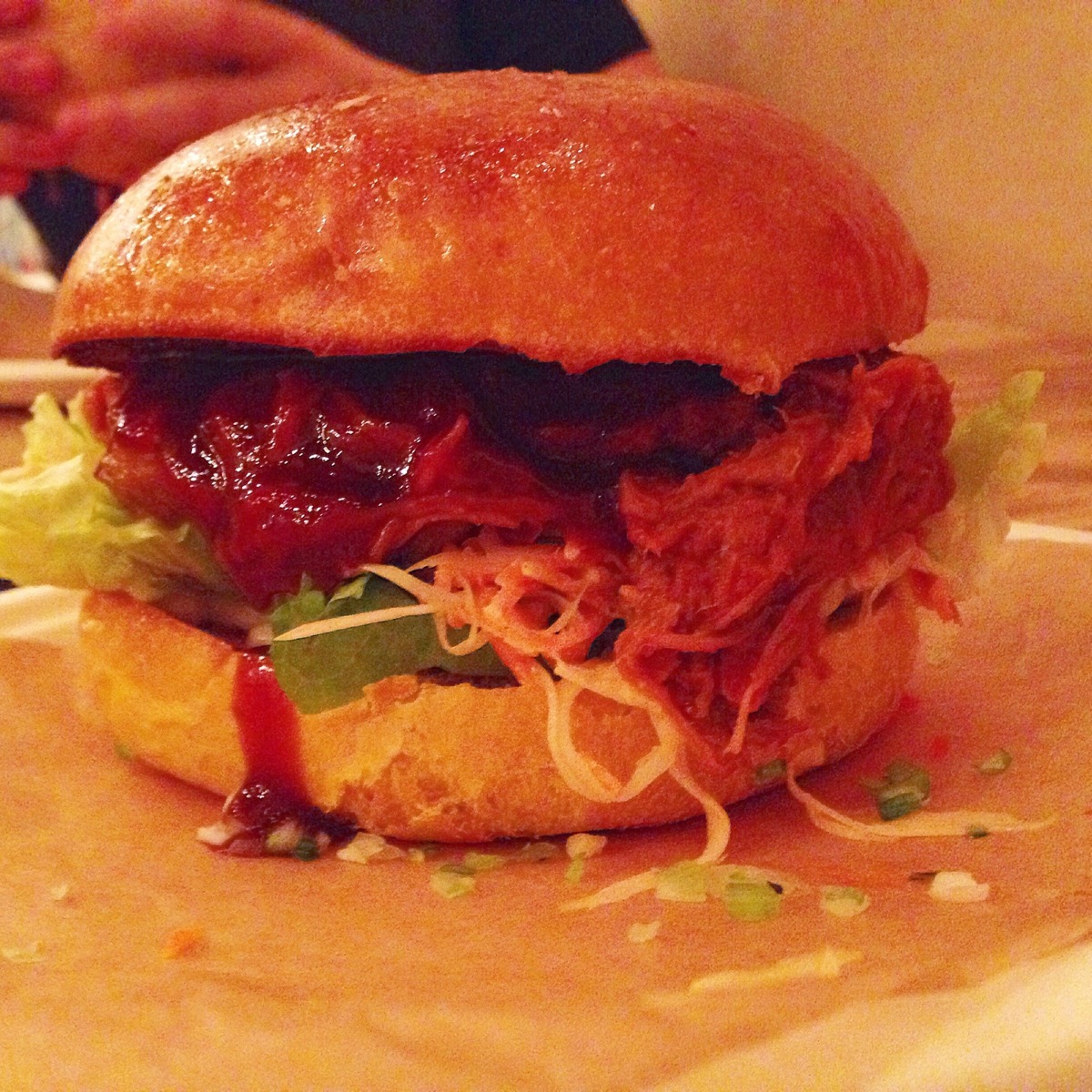 The menu is very similar, with some seasonal additions. The drinks are for sure tempting you to stay a little while longer and there's also been a premium offering of slow-cooked baby back ribs dripping in sweet BBQ sauce. Good lord. Handy that we both work a stone's throw from this new property as we've been about four times already this year.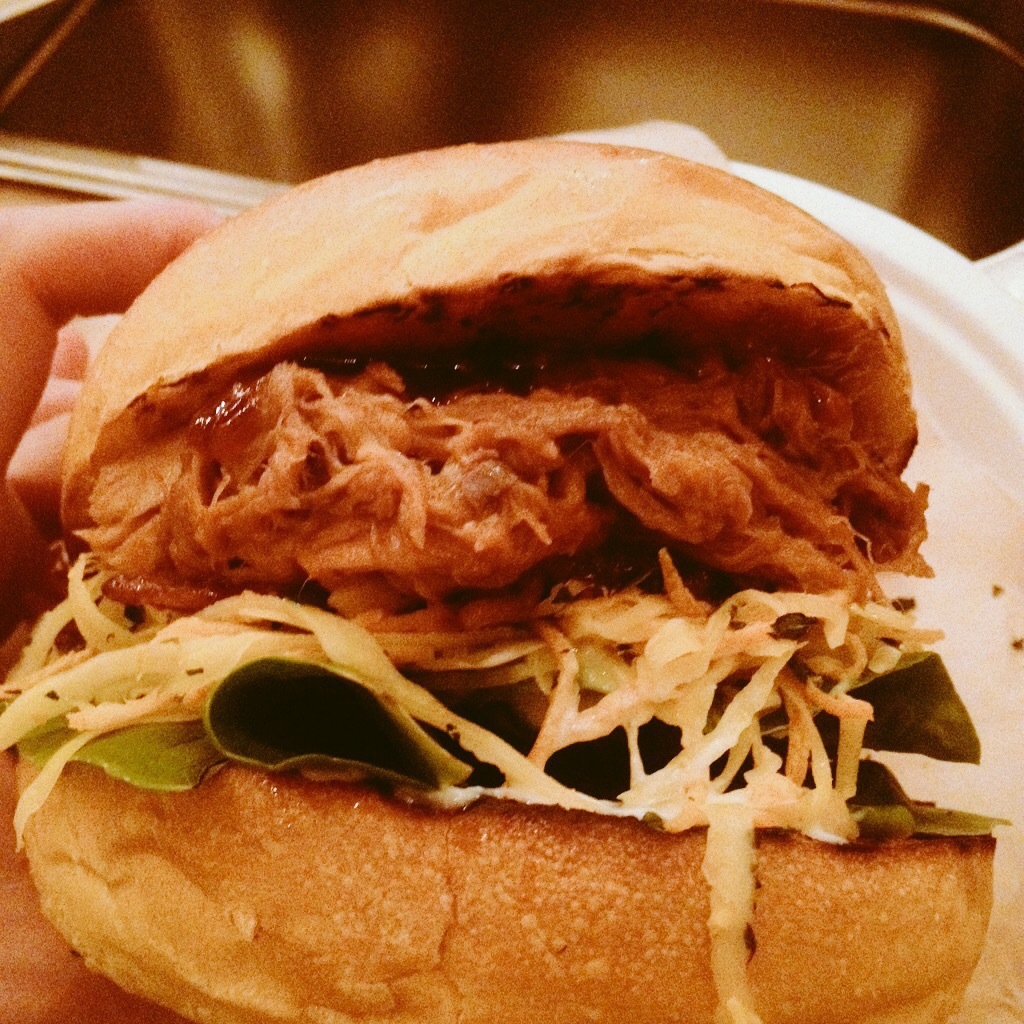 The Joint has the best burger (that's not a patty) in London. There, we said it.
What is it: A hipster burger pop-up, but don't be fooled by the nonchalance, there is serious flavour going on here.
Where is it: Brixton Village (formerly Granville Arcade), near enough Brixton High Street and New Cavendish Street, Marylebone.
Tube: Brixton (the southerly end of the Victoria line) / Marylebone
Price range: Reasonable and affordable, you're paying for the food and that's it, and boy do you get fed!
Service: A little lacking on a Saturday night but great for groups.