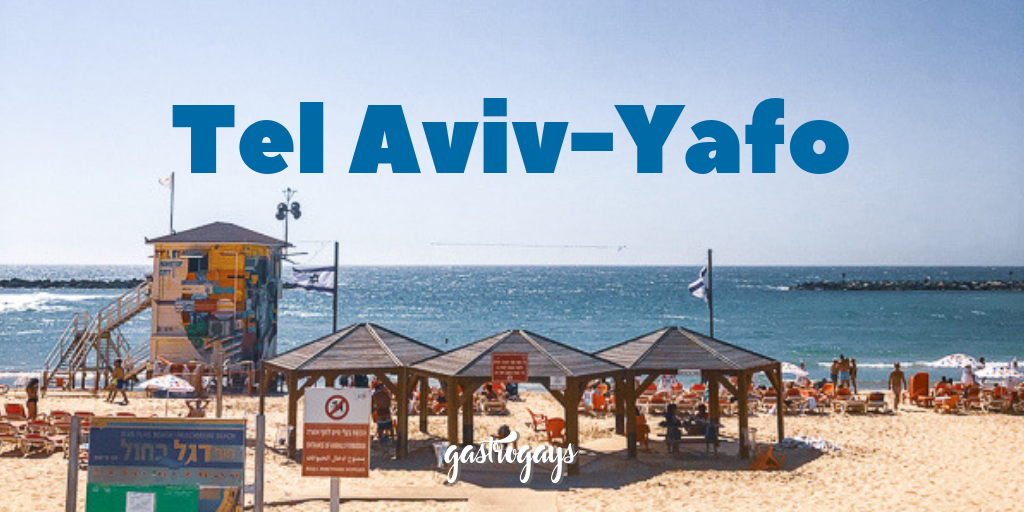 We recently spent around ten days in Tel Aviv, Israel during Eurovision, when the city hosted in May 2019. So, naturally this won't be our usual '48 Hours In…' style of guide as it will be a little more comprehensive, but dip in and out of this as you see fit if you're planning to visit this beachside city which is so worth exploring.
Set right by the Mediterranean Sea and only about an hour from Jerusalem and also right by the country's main airport, Tel Aviv is a sun-soaked city that's laidback, easygoing and an amalgam of modern and traditional in equal measure. Here's our travel tips, foodie recommendations and advice for travelling to Tel Aviv-Yafo.
Getting to and from Ben Gurion Airport
There's a train connection into the city, as well as buses and taxis. Be mindful of the Sabbath (Shabbat) which takes place between sundown on Friday afternoon until sundown on Saturday where public transport doesn't run, though you can still get taxis. Gett is the most popular taxi app and available on all platforms. There is also a taxi rank at the airport, just follow the signs. A taxi into the city is about €30-€40, and can easily be pre-booked and obviously avoids the need to navigate public transport systems upon arrival, which for many can be a stressful start to your trip. Our flight via Paris arrived on Saturday morning at 5am, so choices were limited.
Train to the city takes about 15 minutes and costs about €4 and leaves you at Central Station (Tel Aviv Savidor Central) which is located on the east side of the city, at least 40 minute walk away from the coast, about 40 minute bus journey to Jaffa but is well connected by the bus station located adjacent. It's on the border with the Ramat Gan district though.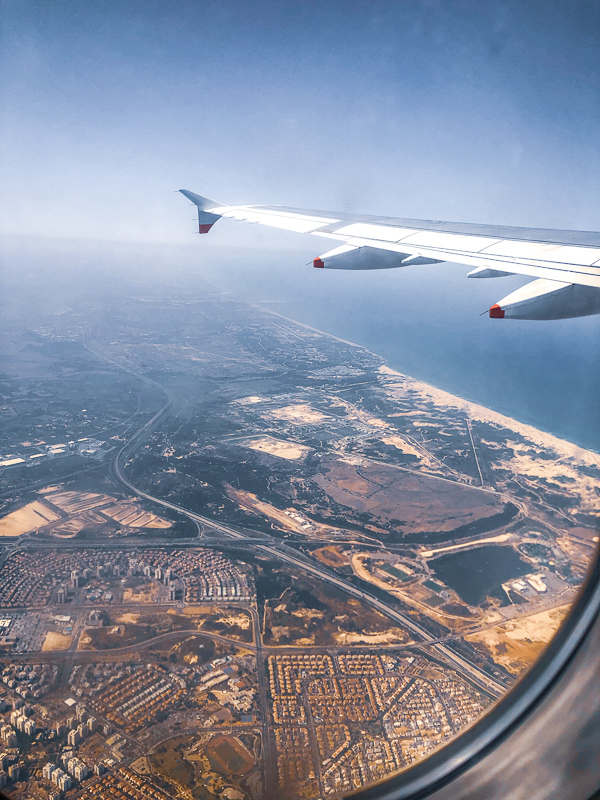 Getting Around Tel Aviv
Traffic, traffic, traffic! Being the economic heart of the nation, Tel Aviv has traffic at pretty much every turn and you'll hear honking day and night. As a city that never sleeps, its roads are pretty much busy day and night, especially along the coastal roads and main ring roads around the city. As mentioned previously Gett is the main taxi company.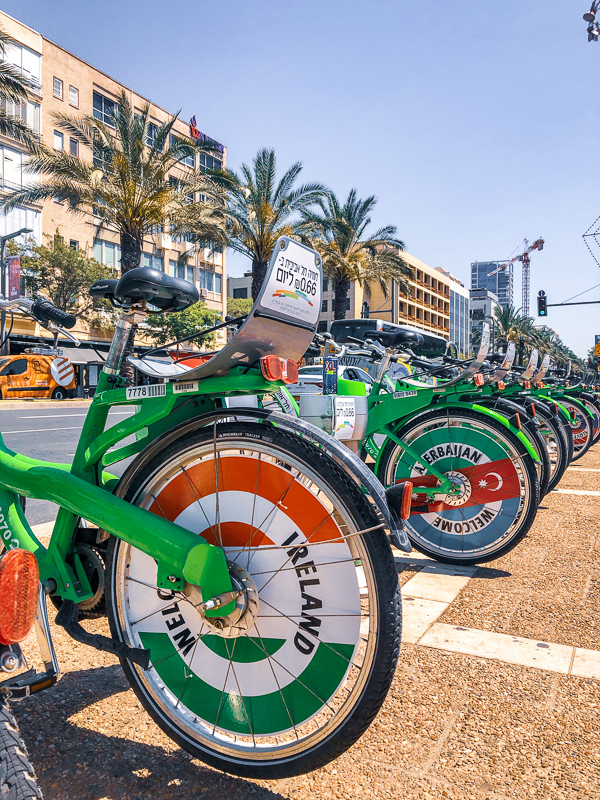 Though there are elements to try combat traffic, though. There is a widespread city bike scheme and there are several scooter operators. They locals are split on whether the scooters help or hinder things, but there's no doubt that they are zippy little things to help you get from Point A to Point B in the city, which is fairly flat and has lots of cycle lanes, so navigating is pretty simple. One of the scooter operators is Lime (and if you want to sign up, use either of our referral codes here and here – it'll help us out in future!) It is vital to note though, you will require internet to unlock and lock each bike, which isn't ideal if you're on an EU roaming plan and Israel isn't included (some operators such as Three UK include data in their plans). You also are legally required to wear a helmet and have a drivers license.
There are four main train stations in the city, all lined up vertically going towards the airport in the north and running parallel to the coast on the other side of the city centre (the aforementioned Savidor Central). A metro/light rail is currently being added to the city, with the first public lines of it operating from 2021 onwards. There's also an extensive bus network, as well as coaches for excursions and inter-city trips. The Rav-Kav is the travelcard (which looks like a chip and pin credit card) to use on the buses and trains around the city. It can seemingly be also used for the bike scheme, but we couldn't figure it out when we tried. While we found the bus system easy to plan and navigate, it was difficult when on board and at some bus stops as, naturally, Hebrew is the language that is used on signage and announcements. Always handy to have a map loaded on your phone and know your destination before boarding.
Where to Eat in Tel Aviv
We were in the city for almost two weeks and we were based just north of the centre in an Airbnb near Arlozorov Street, and we made a Google Map (as we do for everywhere we visit – ours is at the bottom of this page) of the different places dotted around the city and we must have had 100 we wanted to try, so here is a short summary of a couple we really liked!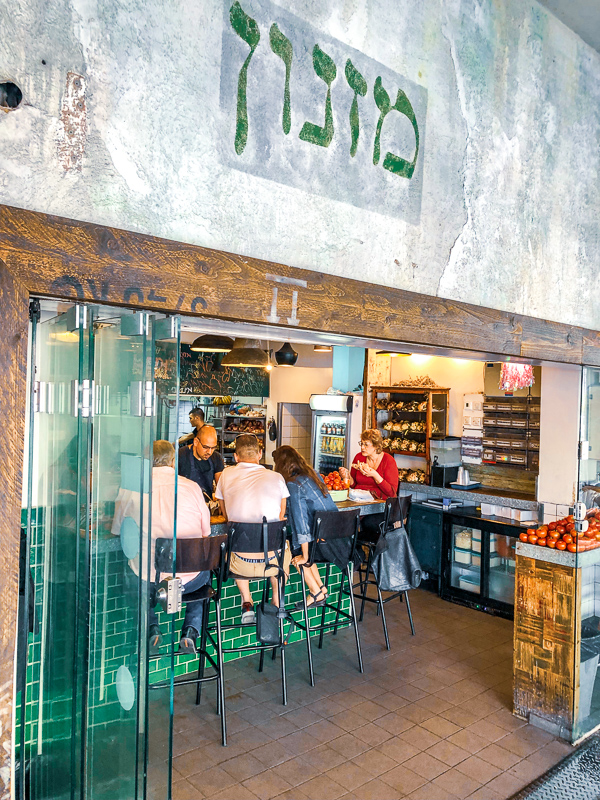 Miznon מזנון ('Buffet')
So good we ate there twice – in two of their branches, one on Shlomo Ibn Gabirol and another on King George (there's a third in the north of the city beyond the University area). This is top of our suggestions for Tel Aviv because we just fell in love with everything about this super casual, accessible and exciting restaurant. It's all energy, shouting orders, Spotify playlists pumping out, open kitchens, ingredients spilling out everywhere. It's organised chaos and it's incredibly delicious. If we could have eaten here every day we would have!
It means 'buffet' we believe, and everything we tried was glorious: the whole cauliflower, the pita bread gorgeously stuffed full of great-tasting, fresh ingredients, the smashes potato, the schnitzel. Everything was a knock-out! The whole cauliflower was so good, we've been remaking it at home since coming home using this dead simple recipe.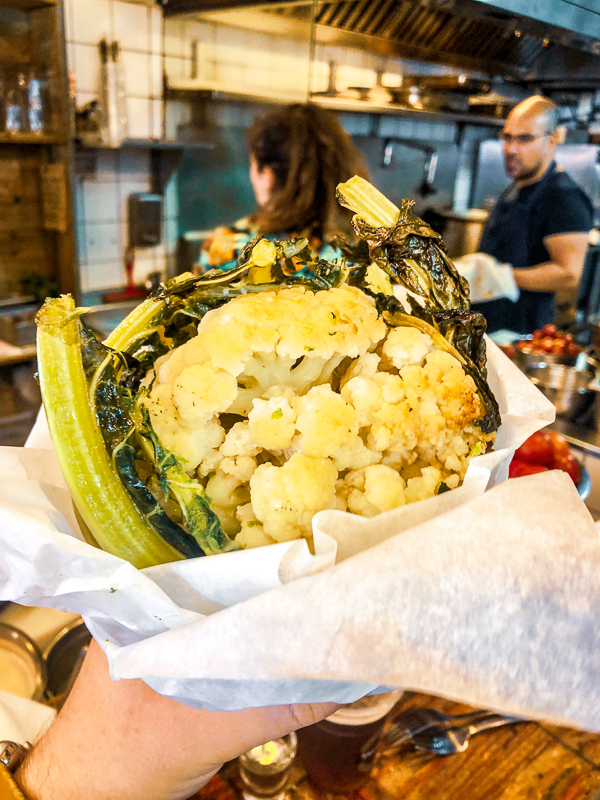 There's also branches in New York, Paris, Vienna and Melbourne, too!
Ha'Achim האחים ('The Brothers')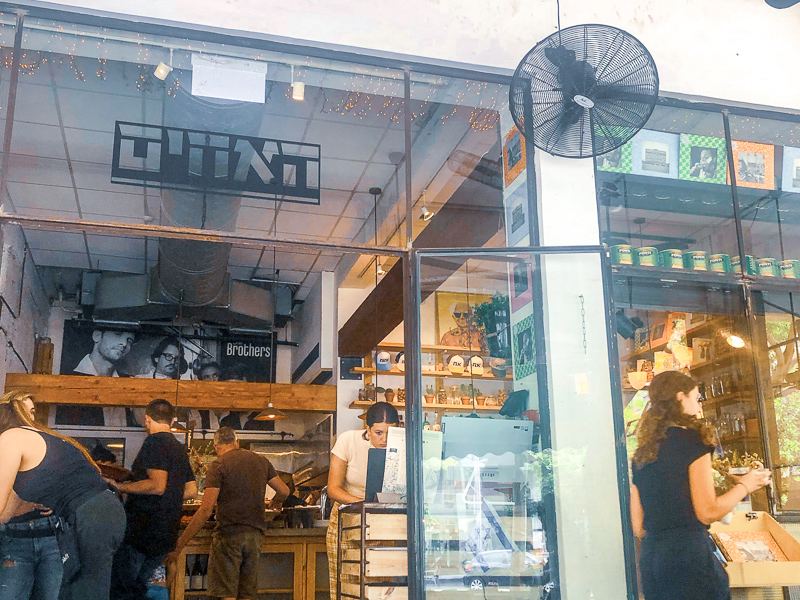 Another of our top suggestions is Ha'Achim, but specifically for the Friday brunch service they do. For 60ILS per person, it's all you can eat and they pile plates and plates of the most gorgeous salads, hummus, sauces, vegetable-based dishes, breads and all manner of deliciousness and you simply eat, eat and eat. It's always busy, so best to book ahead, and this Ottolenghi-esque spread is available only for brunch service on Fridays and Saturdays between 9am and 12:45pm. The rest of the week it's an a la carte menu, which we've heard amazing things about, but sadly didn't have time to try. We'd suggest trying to get to the brunch, but if not, put this towards the top of your list to try on your trip!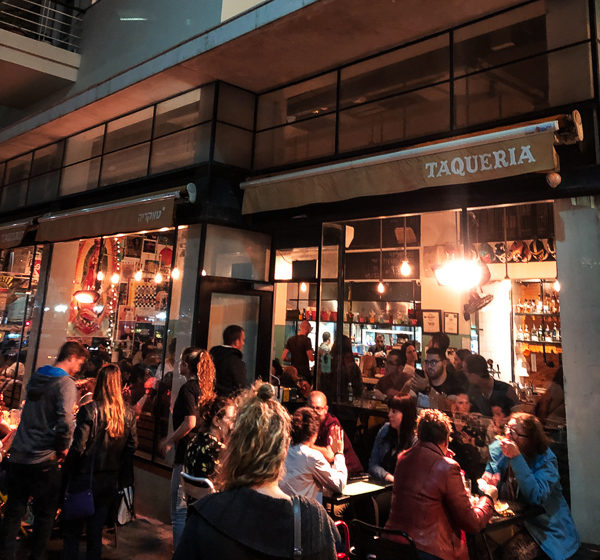 This thriving spot on Levontin St is all about tacos and tequila and has a great, casual, young, energetic vibe. It's popular, loud with music, has a terrace and a bustling bar. We ate here on our first night in Tel Aviv and it was the perfect bite. We adored the carnitas tacos (and kind of wanted to just keep ordering them over and over) and they were the star of the ones we ate, washed down with strong, salty and sharp Margaritas. A great spot for a casual dinner once the sun goes down. Apparently, bookings are only taken on Fridays. It's directly across the road too from Abraham Hostel – a very popular spot for visitors.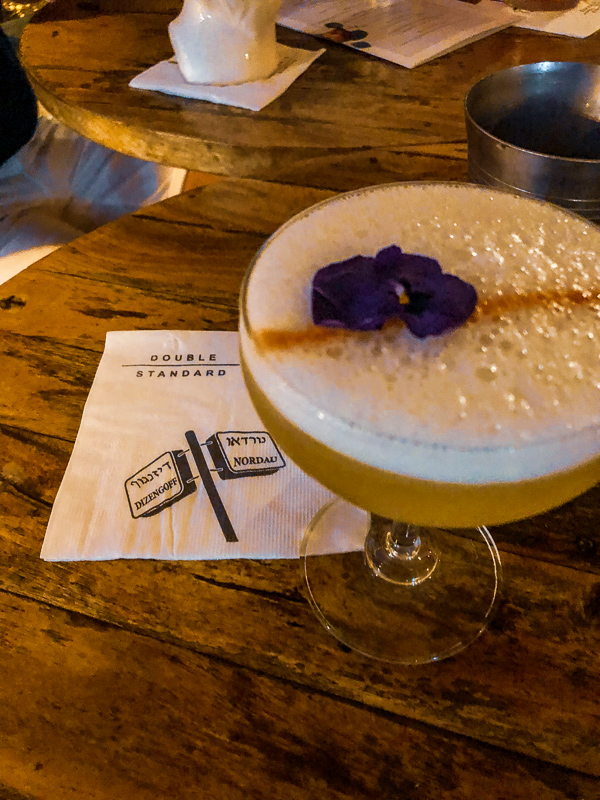 Happy hour is a thing in Tel Aviv and many, many bars have happy hours from as early as 5pm until even 9/10pm. If you're lucky, there may be extended ones after Shabbat. It's usually two hours in timeframe and it's often buy one, get the next one free. Double Standard is a great cocktail spot, an offshoot of the popular Spicehaus, with lots of imaginative drinks served in creative ways!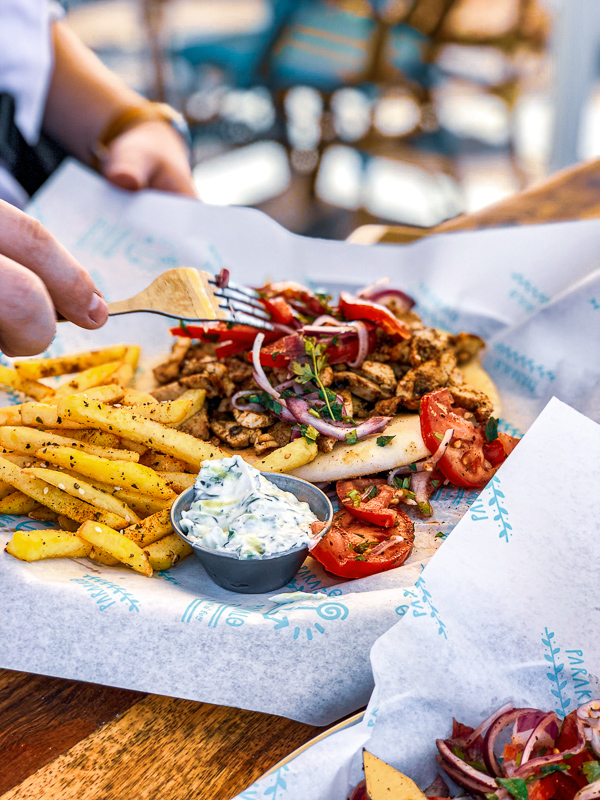 A Greek restaurant right by the promenade close to Jaffa with an unspoilt terrace-side view across the Mediterranean. Great for drinks and really great food – we had chicken gyros and shawarma, which were served with really nice fries and dressed salad.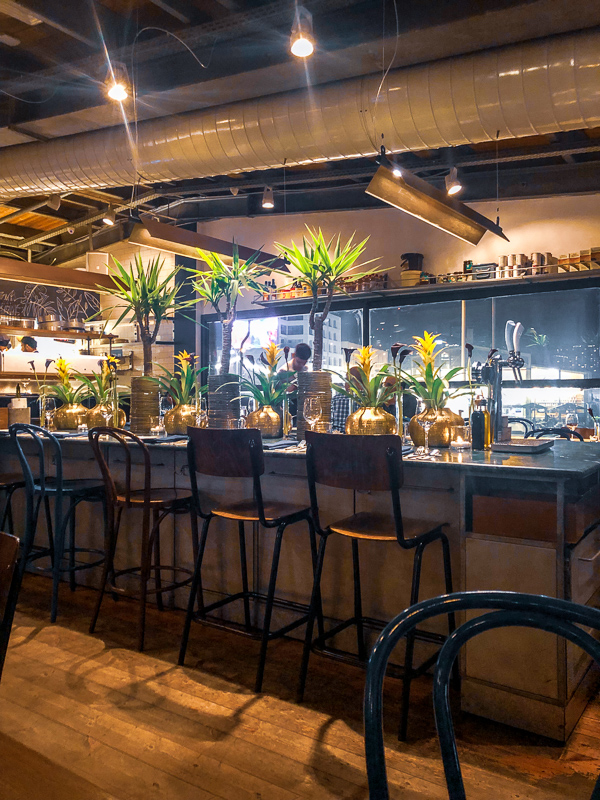 The most northerly restaurant we tried, this is located in the new port district in one of the old hangers which is now a little food market and Kitchen Market is located above, using much of the produce sourced from one floor below.
It's a small, well formed restaurant with a great menu and wine list. Good for slightly higher end dining and Israeli wine. Interestingly, the clientele must be fairly international/tourist-y as Kitchen Market is one of the only restaurants in Tel Aviv-Yafo that we found in English!
For cheaper, more casual bites, we loved Dosa Bar for an early evening meal (a South Indian restaurant, entirely vegan menu, that spills out onto Ben Yehuda street in a burst of colour, with the most wonderful service) and Savta (below) on Shlomo Ibn Gabirol which offers really tasty, generously-packed, freshly-made soft sandwich rolls from a little colourful hatch of a cafe. The logo is a cute grandmother because the name is 'grandmother' in Hebrew! Landwer is also a great, stylish and reliable restaurant chain for coffee and all-day brunch/lunch dishes at reasonable prices with a fabulous street corner terrace at the King George Street branch.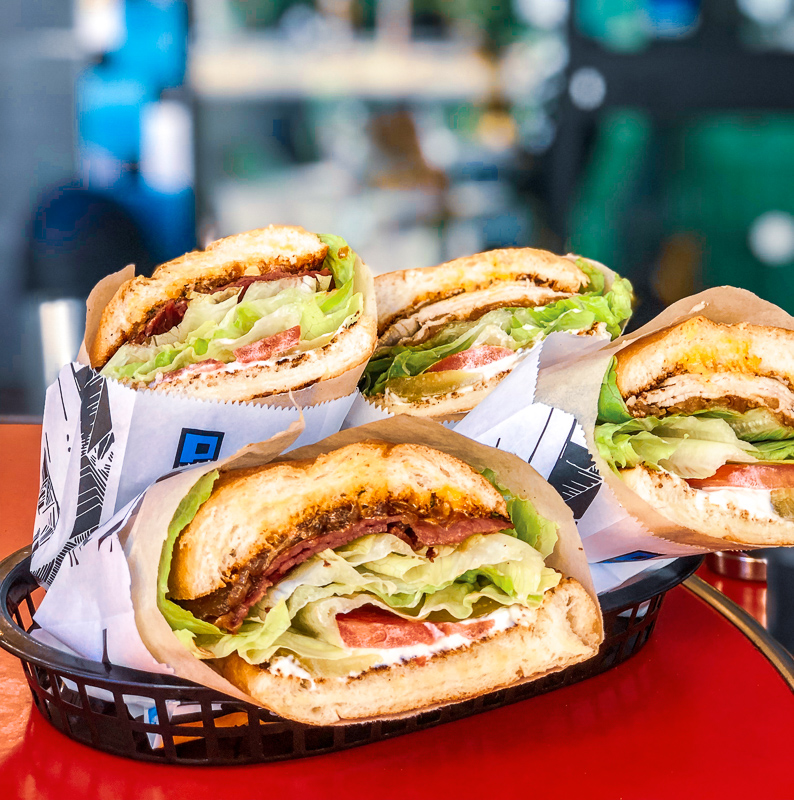 For coffee, we didn't get to try it but we have it on good authority Cafelix is one of the first adopters of the third wave coffee movement in Tel Aviv, with a number of branches across the city and also a presence in Germany.
Other places we wanted to try but didn't get to included:
Port Sa'id | Teder.FM | North Abraxass and HaSalon (both owned by Eyal Shani, owner of Miznon) | Spicehaus | Imperial | Mezcal
Loads more on the map below.
What to See and Do in Tel Aviv-Yafo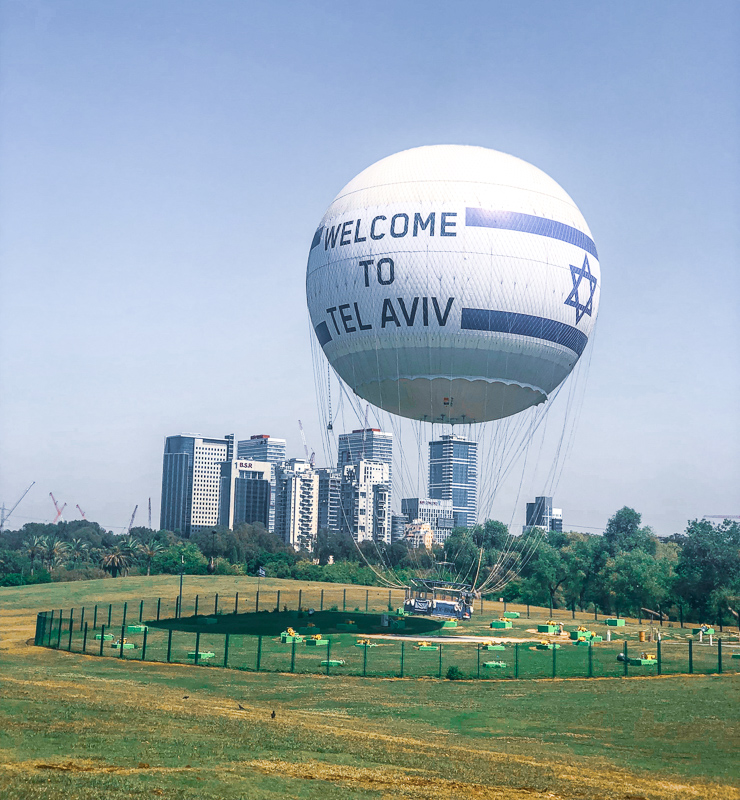 Tel Aviv may be hectic, busy and always alive with energy, but we would wager it's not particularly known as, say, a shopping destination, or a museum-filled city or abundant with historic buildings like Jerusalem, but what it does have in spades is an attitude and an atmosphere. It's easygoing, laid-back and a bit of a party city when the sun goes down, so it's eclectic and you'll find your own personal groove here in whatever you're into. Here are some notable highlights:
Jaffa יפו Yafo)
Obviously the historic "old" city of Jaffa (Yafo in Hebrew, Yaffa in Arabic) is a must, and lots of the food and drink suggestions surround there too. It's the tonic to the skyscraper, economic-fuelled new city by the newer port to the north and it's all ancient architecture and historic streets by the old port in the south. You might know of 'Jaffa' oranges? That's this Jaffa and that's also somewhat why Tel Aviv has adopted the moniker 'The Big Orange", in contrast to New York City's "Big Apple", as well as its 24-hour, 'city that never sleeps' reputation.
A couple of restaurants in Jaffa to look out for include Abu Hassan (THE premier place for hummus, and everyone knows it – the original is on HaDolfin Street); Cafe Puaa for casual Mediterranean/Levantine cuisine; Itzik HaGadol for some of the finest meats, grills and kebabs in the city (doesn't look much from the outside, but Big Itzik's menu is EXPANSIVE and a bit expensive); and Sicilia for great Italian dishes and seafood.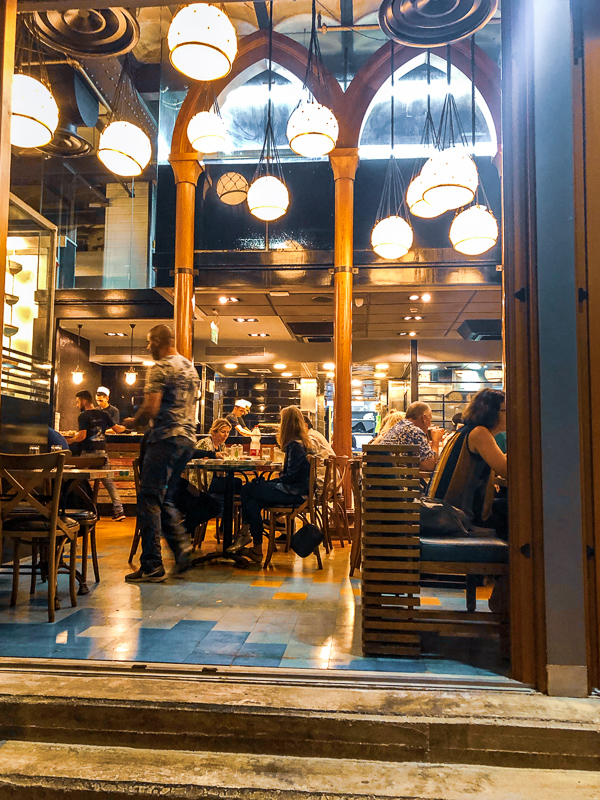 Finally, HaZaken VeHayam (which translates its name as The Old Man and The Sea) is a must. This is more theatre than fine dining cuisine – but the food is excellent too, especially the seafood as it's location is right by old Jaffa's marina. To start, you get 20 – yes, 20 – different small dishes of various salads flung – and we mean flung – at your table along with warm-from-the-grill flatbread and a pitcher of lemonade. Then, order your main courses. We shared a shellfish platter (crab, prawns, mussels) with added squid rings whilst our two friends ordered the grilled sea bass. All exceptional, the waiters are comical and very personable and a seat on the terrace outside is a must. Pre-booking is not available unless you're parties of 10 or more, so just rock up and queue for a table – trust us, it will be worth it.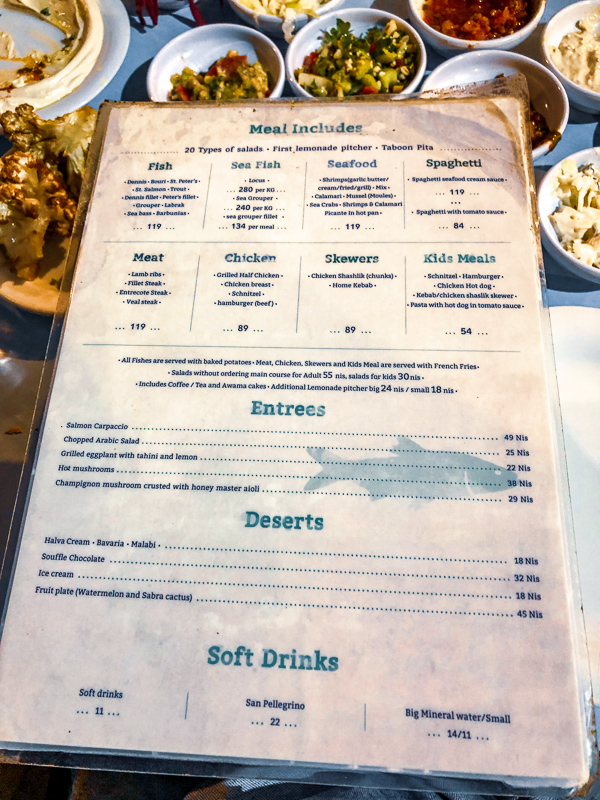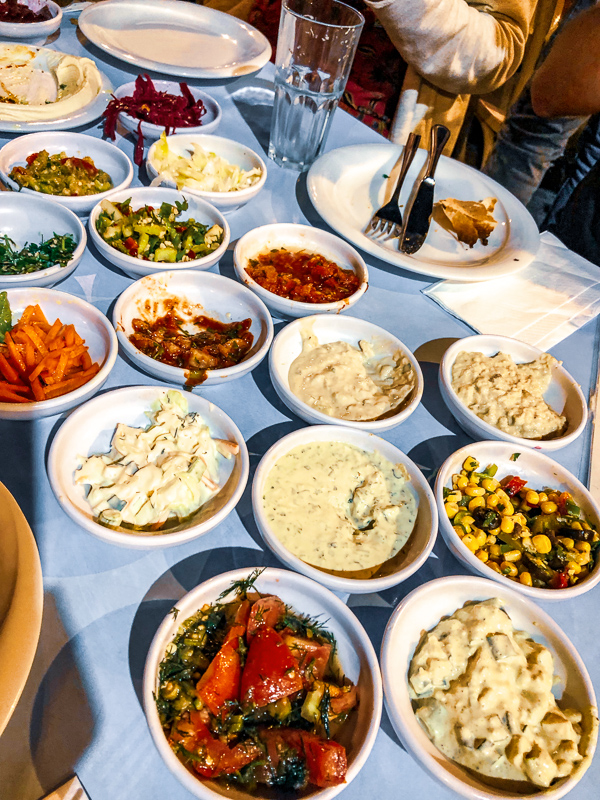 Shabbat Dinner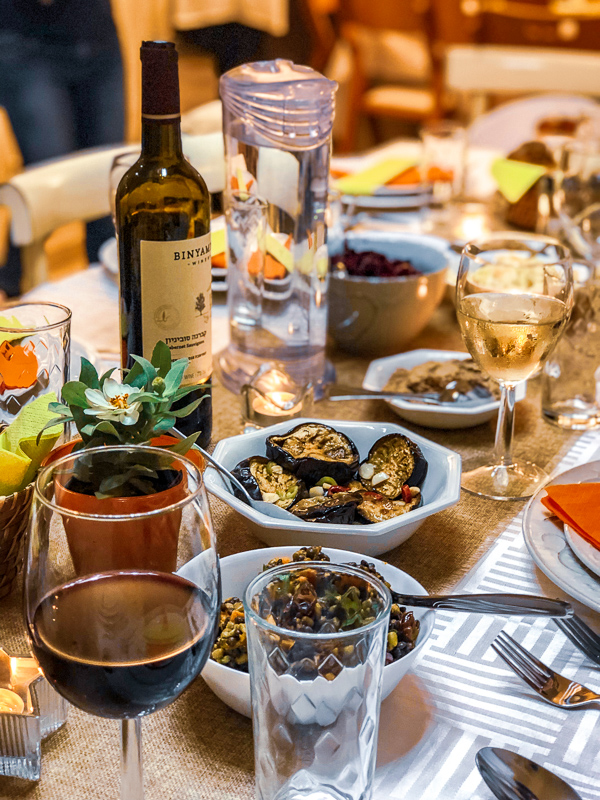 This was probably our favourite experience in Israel (bar Eurovision itself, obviously). Friday evening, we visited Anat's house in the northern suburbs of Tel Aviv to join about 20 or 30 other visitors and her family to enjoy a traditional Jewish Shabbat dinner. Initially, we expected it to be a prayerful, solum affair, but it ended up among the most fun night possible. Wine and arak (a spirit common in the Levant) was flowing and the food was good, honest home-cooking.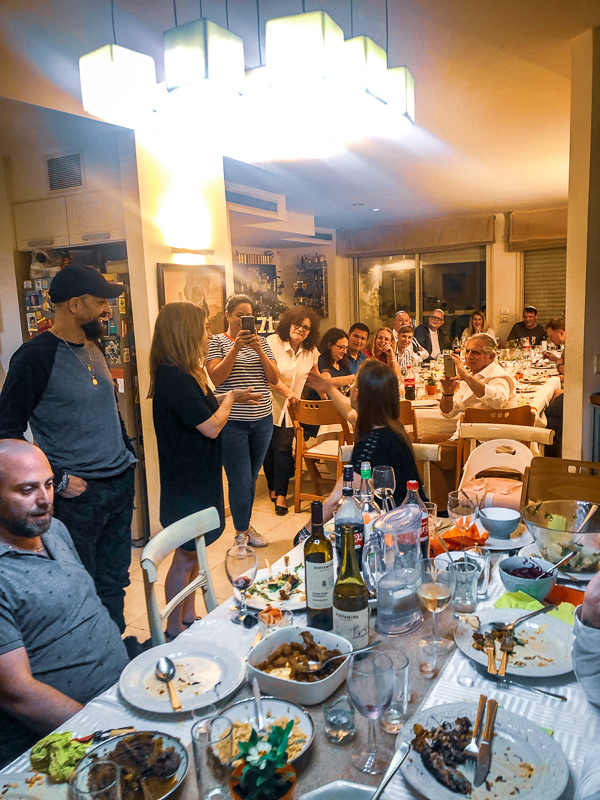 After several days of eating in restaurants and from street-food vendors, it was incredibly comforting to enjoy a home cooked meal. The family were incredibly welcoming, social and hospitable – definitely something you should do when visiting Tel Aviv. Details are here. If there is one thing you must do when in Tel Aviv, make it this!
The Beach!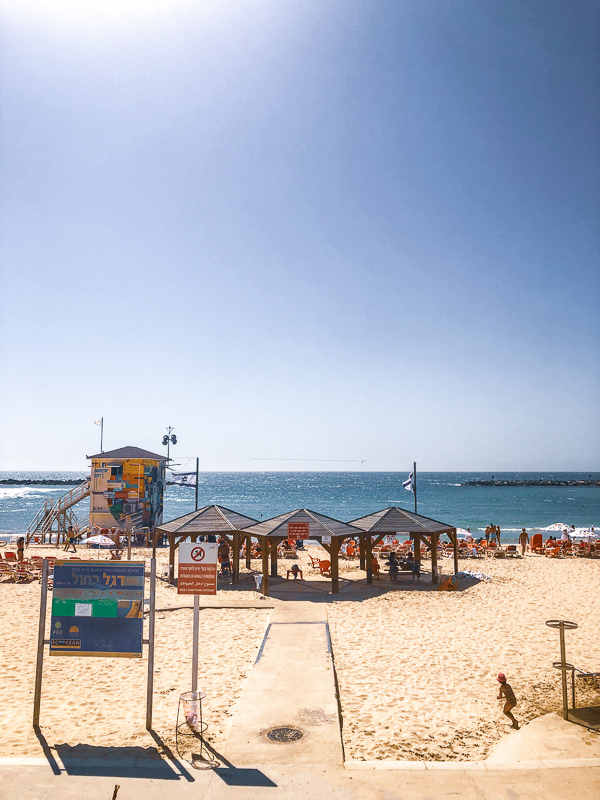 Tel Aviv is a seaside city and much of the action centres near the coastline, with beaches running along the promenade from the Clock Tower at Jaffa right up to Tel Aviv Port in the north. The major international hotel skyscrapers are all dotted along the promenade overlooking the beaches too. Locals and visitors alike flock to the beach as often as possible, so you'll always find things to do, whether you want to play some volleyball or work out on the outdoor equipment or just bask in the sun on a lounger or go for a dip in the Med, the beach is one of the best things about Tel Aviv.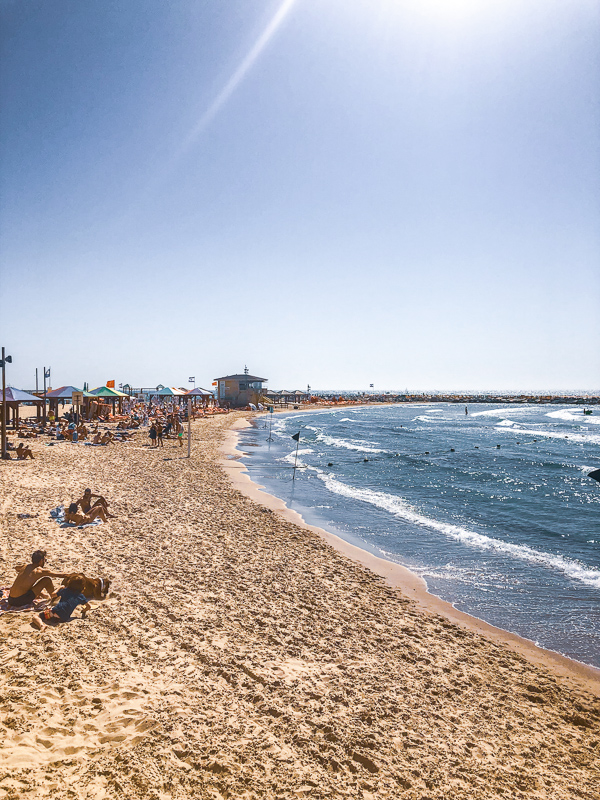 For the gays, the Hilton Beach (opposite the hotel of the same name) is traditionally the main gay beach in Tel Aviv – and it's right beside the official dog beach, which in our book is the best thing about it: hot men plus hot dogs, what's not to love? For the younger LGBTQ crowd, the Frishman Beach (running between the Sheraton and The Dan hotels) is the more popular sandy, sun-soaked spot to hang out.
Day Trips: Jerusalem, The Dead Sea, Masada etc.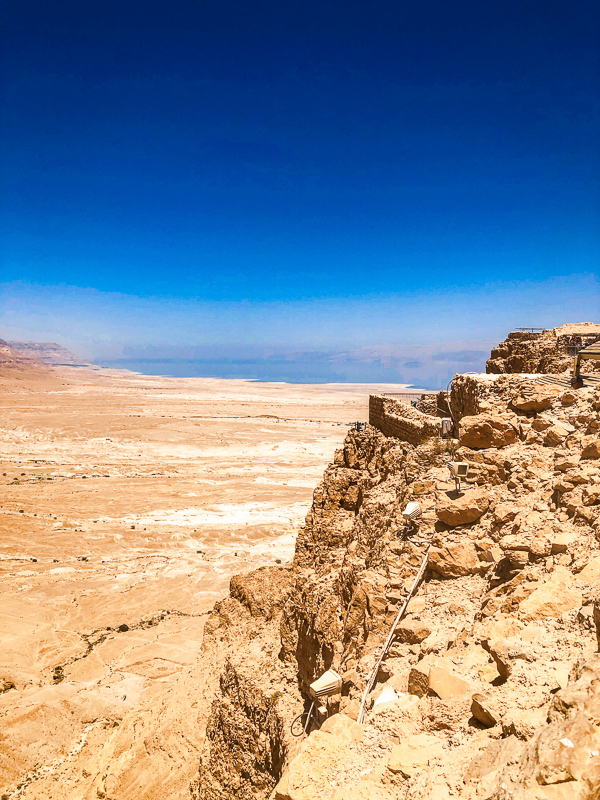 Tel Aviv is perfectly located to explore a lot more history, architecture, culture, ancient sites and other cities, with great bus links in particular. Different tour groups operate and organise excursions and we embarked on one, booking through Egged Tours. The one we chose was a day-long trip to Masada and The Dead Sea by coach which included hotel pick-up and drop-off at either end of the day. It's a full day too- leaving around 7am, returning at about 7pm.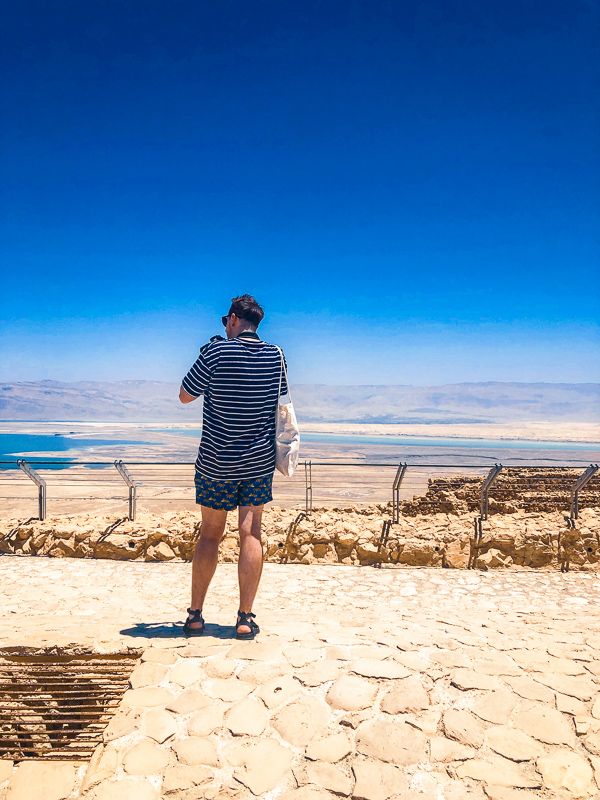 Masada is an ancient hilltop fortress in the Judaean Desert, once a palace built by Herod The Great but later used as a fortress for Jewish rebels against the Romans, where a mass suicide occurred before the Romans besieged. Our tour included entrance to Masada, taking the cable car up to the hilltop site and having a guided tour – but didn't include lunch (there's a big canteen on site with lots of food options).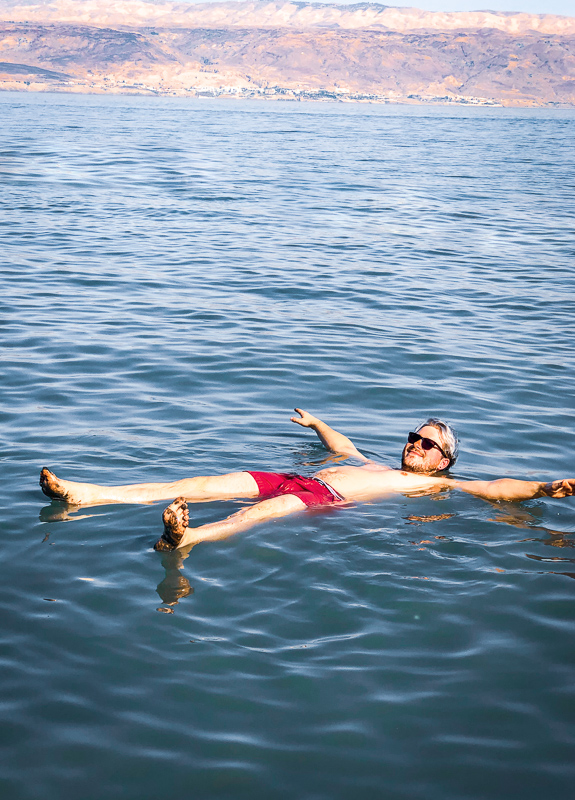 Then, an hour or two at the Dead Sea lounging, soaking, floating at a resort with Jordan in the distance. A really worthwhile day, which passes around Jerusalem, takes you to the highest point of Jerusalem and then the lowest point on earth, some 400m below sea level, entering the West Bank, driving through the Judaean Desert as well as spotting Jericho in the distance and Ein Gedi where the Dead Sea scrolls were found.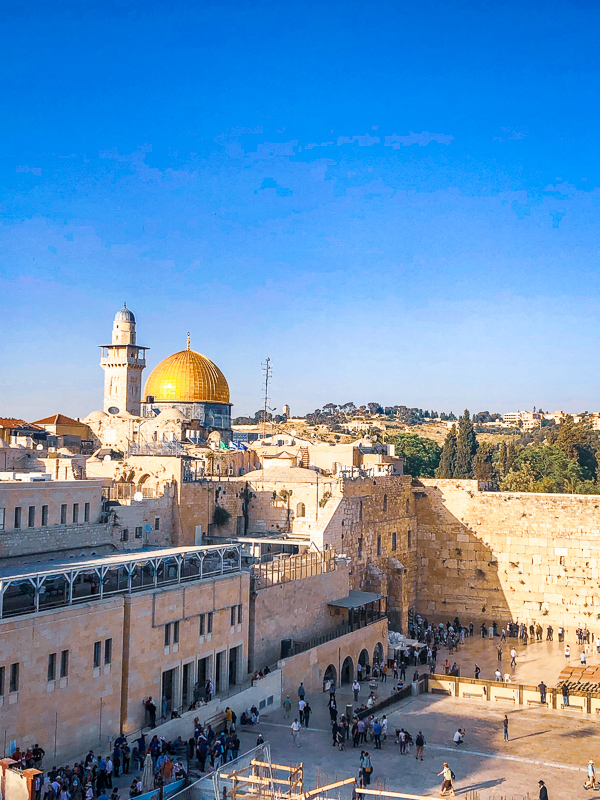 Jerusalem is just over an hour away by road (car/bus) or rail, and is well worth visiting if you're in this area of the world. The most historic of Israel's cities, Jerusalem is so unique with its four distinct quarters (Jewish, Arab, Christian, Armenian) but it's far more sprawling and modern than people may think. Of course, there's the walled, historic old city with its different entrance gates and so many historic buildings and sites to see in one square kilometre.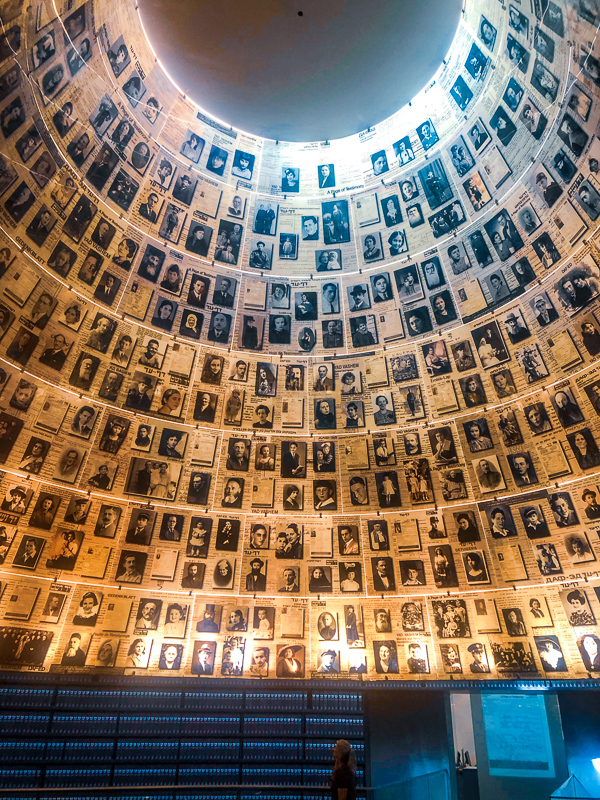 We'd suggest definitely a full day to explore Jerusalem, if not a day or two trip, and we'd also really suggest spending a couple of hours at Yad Vashem, the Holocaust museum. Entrance is free, but as you'd expect, it is an emotional and overwhelming experience which you need to be prepared for.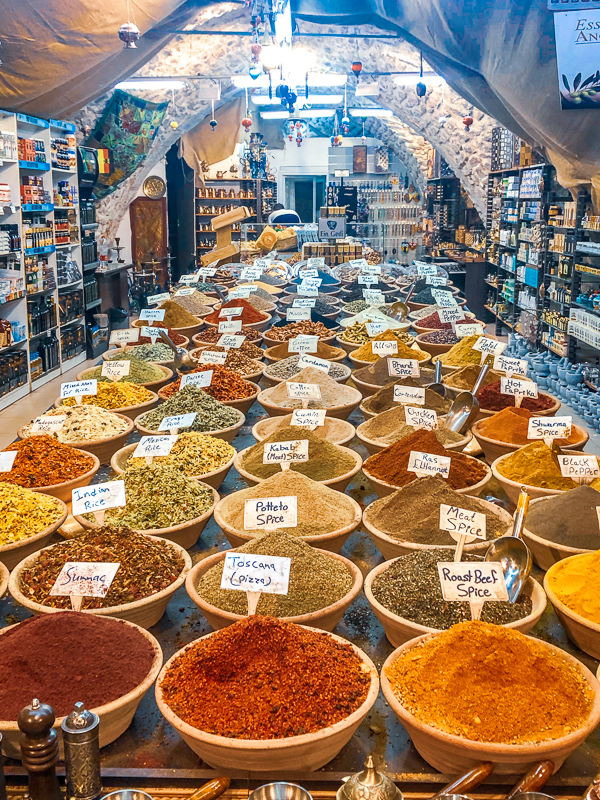 Other Things to Note about Tel Aviv-Yafo
The currency is the New Israeli Shekel ₪ (simply known as 'Shekel' or currency code ILS), and on the subject of money, we found Israel to be fairly expensive for everything, from transport and attraction entrances to daily essentials like water, snacks and meals eaten out. The country has a high cost of living, so expect pretty much everything to be higher priced than you're used to if you're from the part of Western Europe we're from. We were still paying off our trip to Iceland about a year after we visited, and Tel Aviv feels a little like that!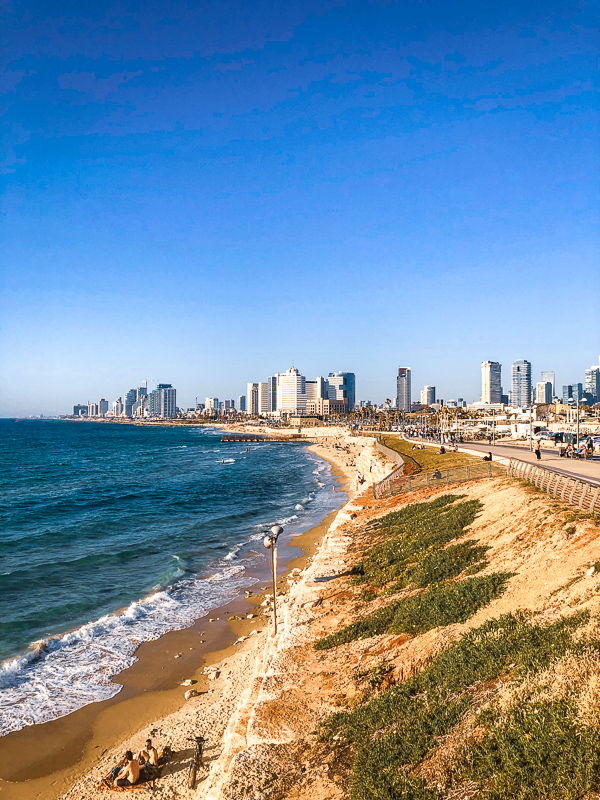 The Sabbath (Shabbat) as mentioned earlier runs from sundown Friday to sundown Saturday and lots of shops, restaurants and public transport stops as locals take a day of rest at the end of their week. Not everything halts, but many things do so plan your activities between Friday and Saturday evenings wisely.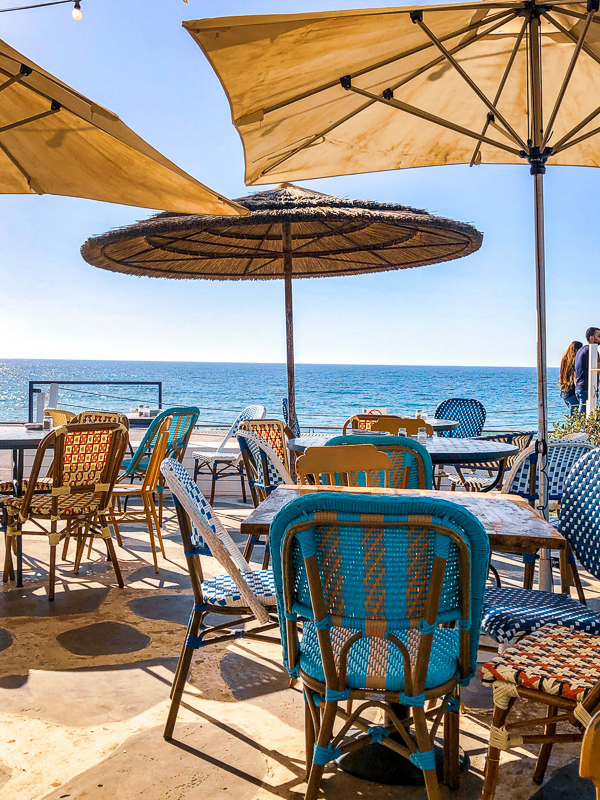 In pretty much every restaurant and bar, service will not be added to your bill, so bear this in mind and those serving will remind or prompt you that service is additional. It seems expected to tip for service in Tel Aviv, and we generally kept it to 15% as standard, up to 25% for really good service.
There are cats… EVERYWHERE! As non cat lovers, it was a tiny bit off-putting. Reminded us of Kotor where cats freely roam every street.
For a map full of places we visited, places which piqued our interest as well as those recommended by others, click here.