Ireland has given the world some fantastic delights in terms of food and drink. Instinctively people think of Guinness – the quintessential Irish beverage –  and rich stew with colcannon, which combined together are two of the most comforting things to eat on a damp and dreary day; they instantly transport us  back home.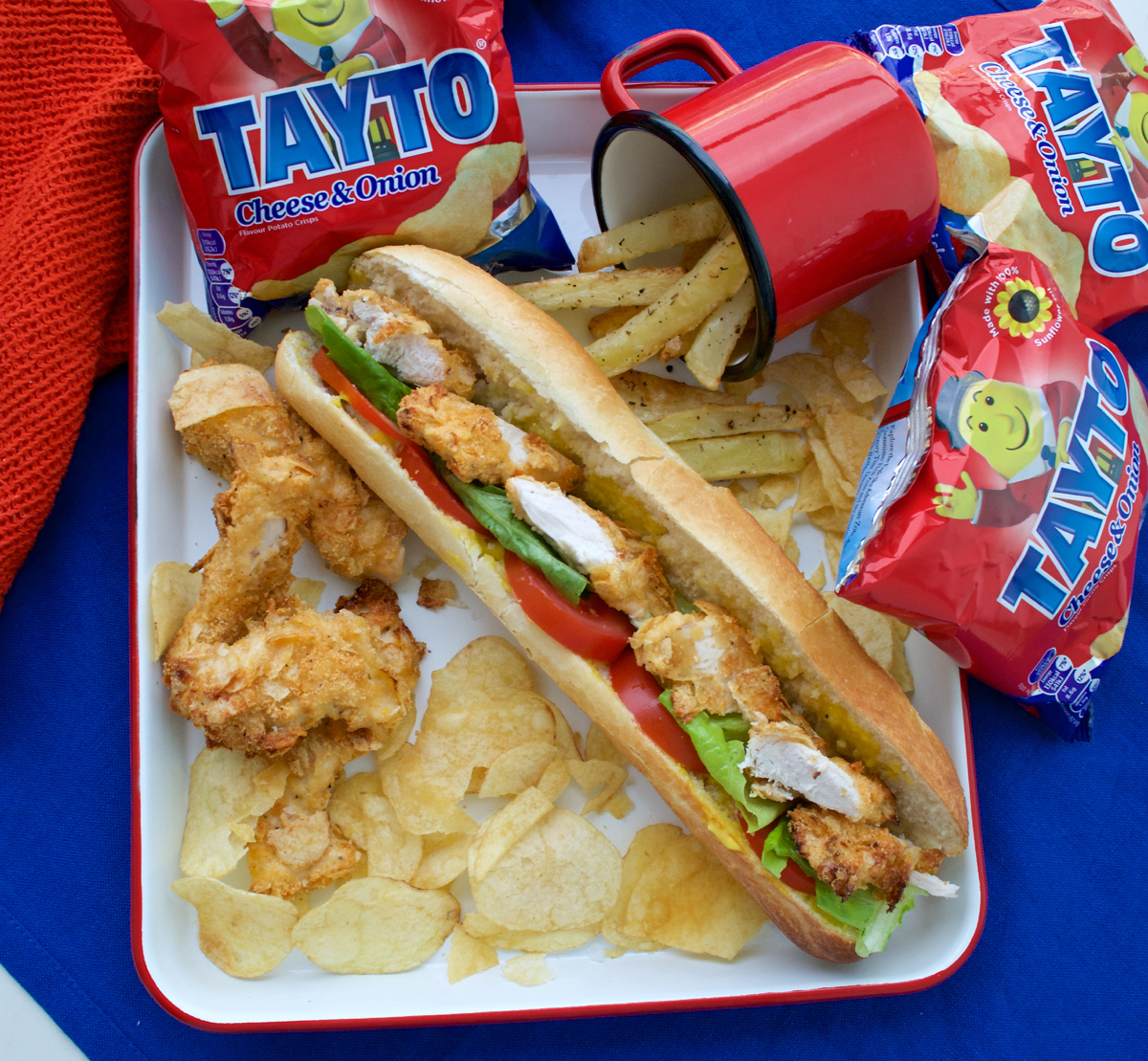 Yes, you've got Jameson whiskey, Ballymaloe Relish, Kerrygold butter, Avonmore milk, but one brand has become the ultimate edible icon of the Emerald Isle and that is Tayto crisps.
Ireland has colloquial delicacies that are almost like a predisposition for the stomach: a three in one (the benchmark of every Chinese takeaway in the country; an amalgamation of chips, rice and curry sauce that varies so widely in taste, texture and flavour), Spice Burgers (a peppery, breadcrumb-coated beef burger) and a chicken fillet roll (a staple in the deli of every supermarket, newsagent and petrol station comprising a baguette filled with a breaded chicken fillet and salad –the ultimate university lunch and hangover cure).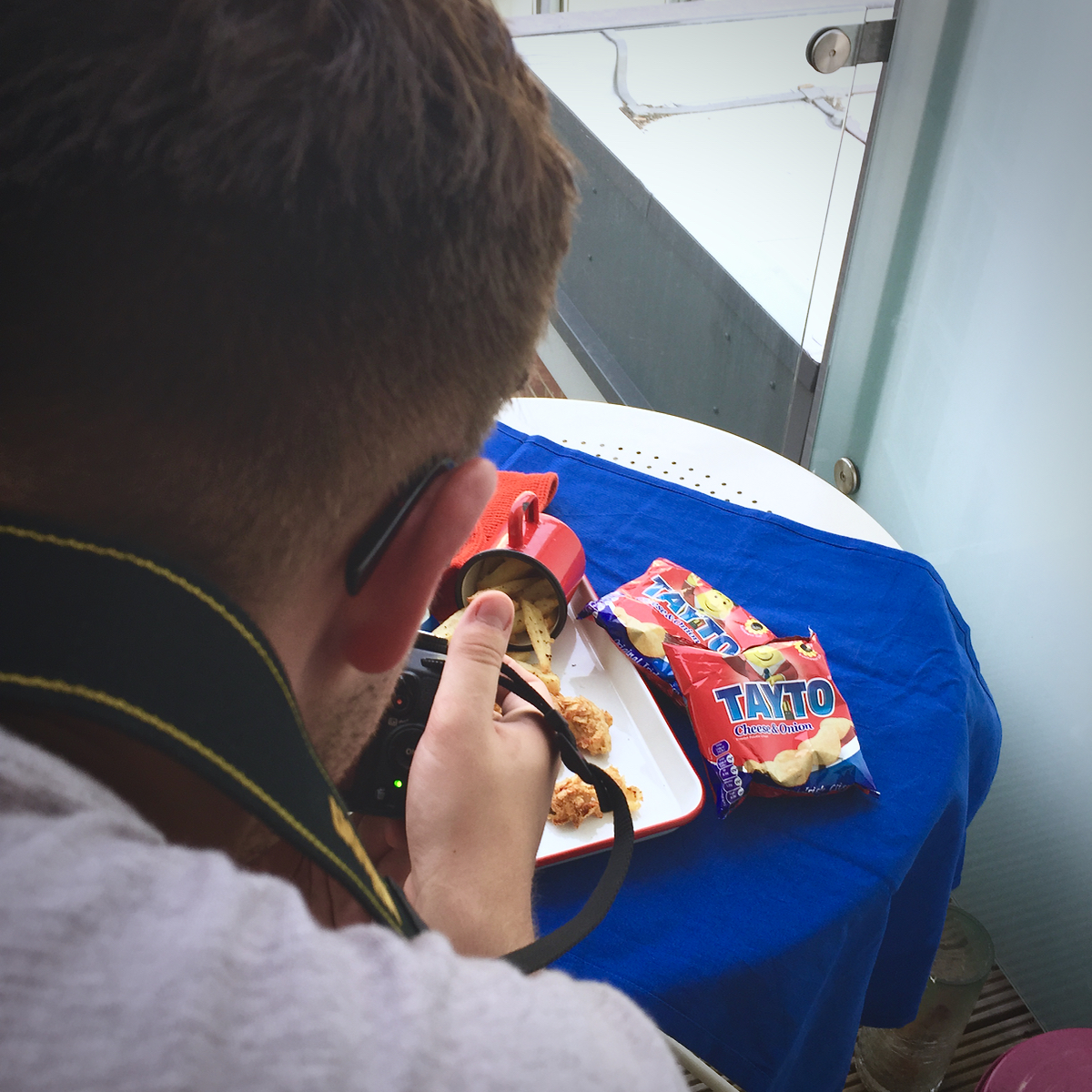 Now, where does Tayto factor into this? Well us pair of gluttons have decided that one comforting taste of home is simply not enough, so we've gone insane and combined Tayto with a chicken fillet roll. Granted, they are often served side by side, but we took it a step further…
Bonus photo from our @AerLingus flight. Rusty got THE LAST Tayto sandwich on board our flight. (he did share FYI) 🙉🙉🙉 pic.twitter.com/I8QxjLSL5q

— GastroGays (@GastroGays) August 1, 2015

Why, we hear you ask? Well it all stemmed from a trip back home to Dublin. Aer Lingus began to sell Tayto sandwiches on board their European flights. A truly Irish comfort food. They've proved to be a big hit, because on our most recent flight we got our grubby mitts on the last one available on that particular journey. The next day, while exploring Dublin city, our tummies were rumbling and the one thing we were craving was a chicken fillet roll. Then it struck us, like a carb-filled strike of lightning, why can't we combine the two?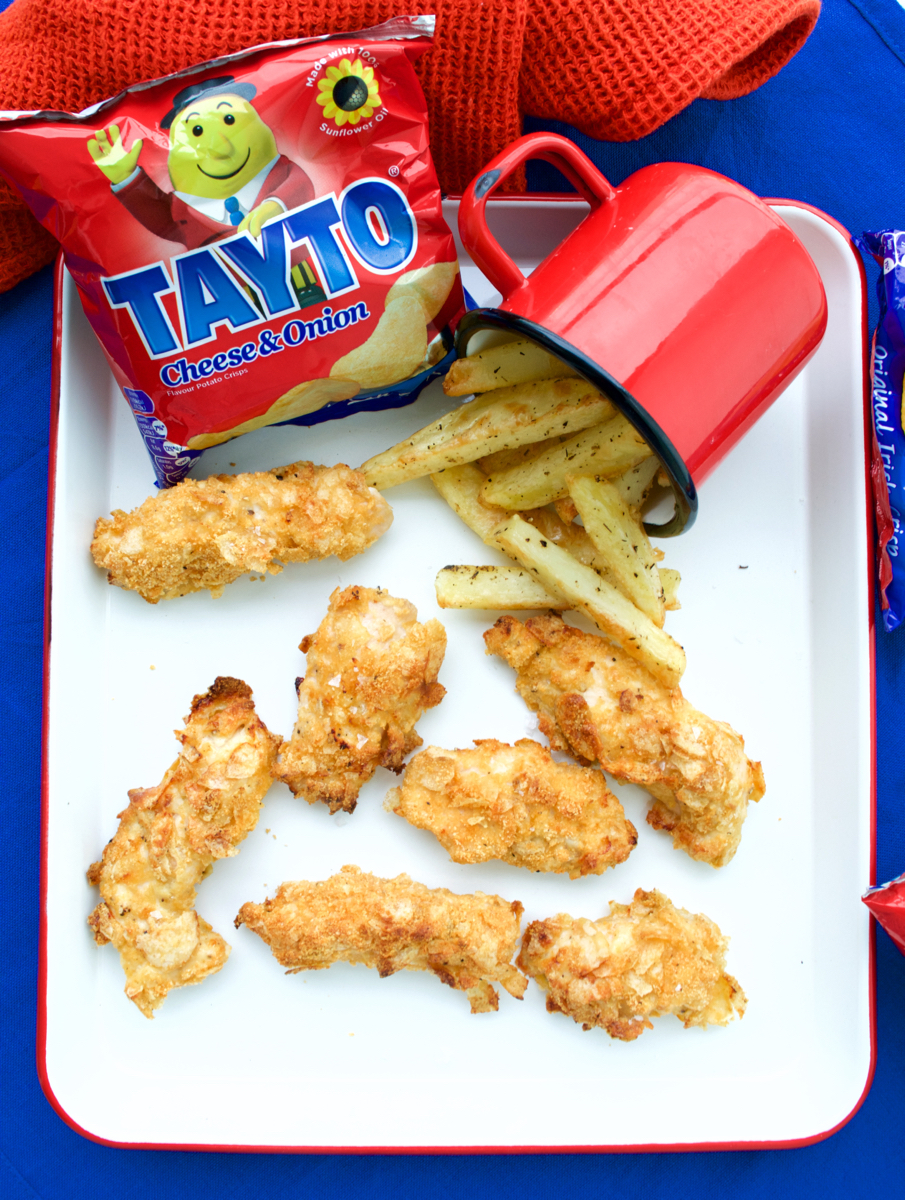 Now, don't give us grief over this being unhealthy. It is in no shape or form designed to be and we simply won't apologise for it. When the body craves this, you know your in for a real treat of savoury indulgence. You can at the very least thank us that it isn't deep fried and is simply baked.  Tayto sadly contains MSG (Monosodium Glutamate), which is an ingredient we both try to avoid, in particular as it encourages ulcers for Russell. However, Tayto has such a unique flavour, other crisps just don't cut the mustard here.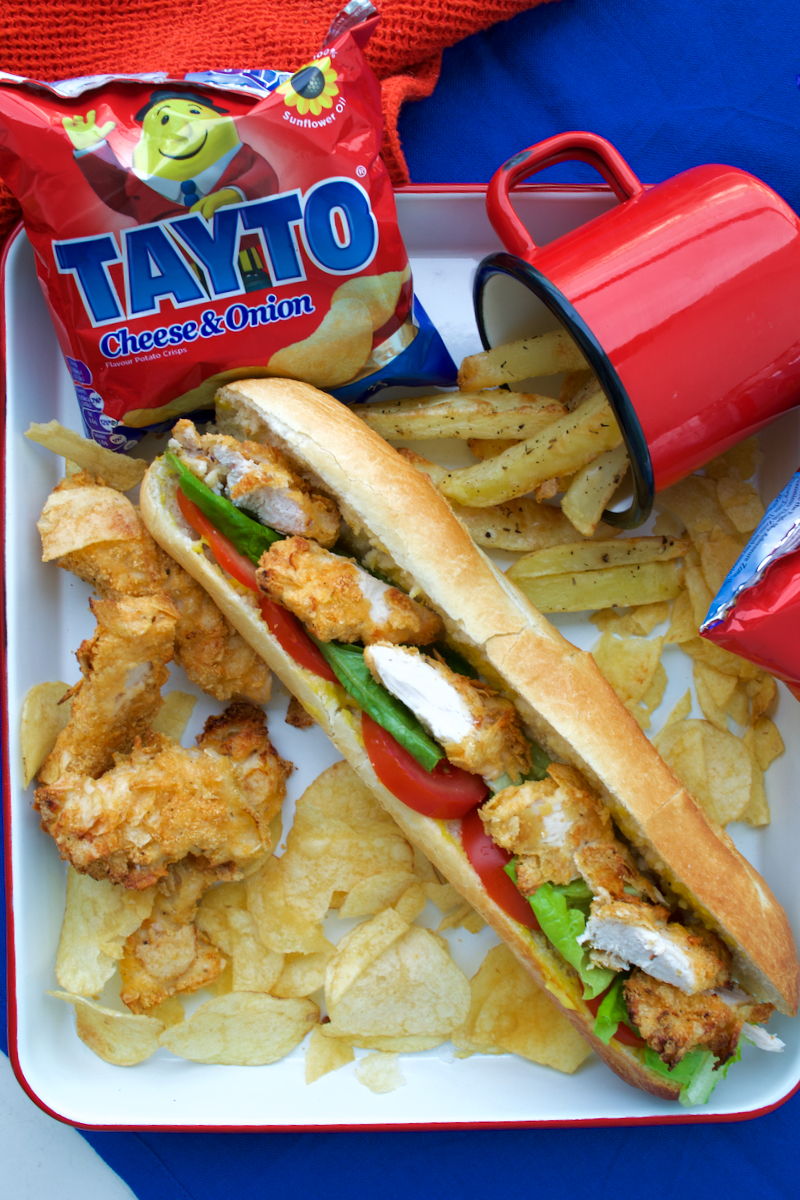 Tayto Chicken Fillet Roll 
Serves 2
2 chicken breasts (at least higher welfare, ideally free range or organic)
3 packets of Cheese & Onion Tayto
100g plain flour
1 large free range egg
100g golden breadcrumbs
1 tsp garlic powder
2 tsp black pepper
2 bake-at-home baguettes (or from the bakery)
Lettuce
2 large salad tomatoes
Butter or mayonnaise (optional)
Salt & Pepper for seasoning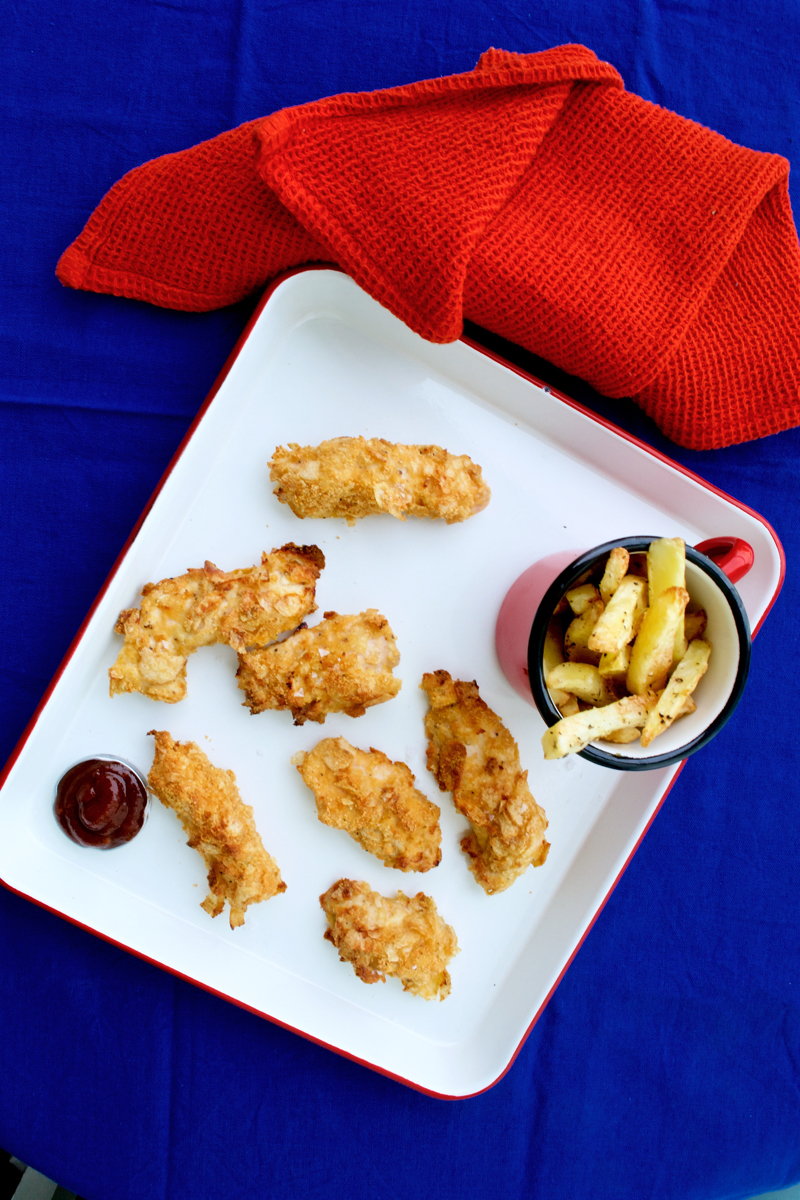 1. To begin, take the chicken breasts out of the fridge to get them room temperature. If they are quite plump, it might be advisable to flatten it out a little bit more by bashing it with a rolling pin between two sheets of cling. But be careful it doesn't become too thin.
2. Preheat your oven to 200C and crush the crisps into smithereens, but not into a complete dust!
3. Prepare your work station for coating the breasts with three plates side by side plus a baking tray – seasoned flour on the first plate, egg wash on the second and crushed Tayto on the third with breadcrumbs, garlic powder and freshly-ground black pepper. The crisps have enough salt and onion flavouring in them so no need to add anything of the like.
4. Now dip the chicken breasts into the flour, followed by the egg. Then the best way to get good coverage with the Tayto mix is to lay the chicken on the crumbs, and turn it around to get a decent coating on it. Feel free to use your hands to shower more crumb on the chicken from above. Leave eacg on the baking tray as you repeat.
5. Roast in the oven for 20-30 minutes, depending on the size of the breasts. If using bake-at-home baguettes, follow the packet instructions for cooking them in the last 10 minutes. They usually cook in less then that time but you can easily substitute for pre-bought baguettes.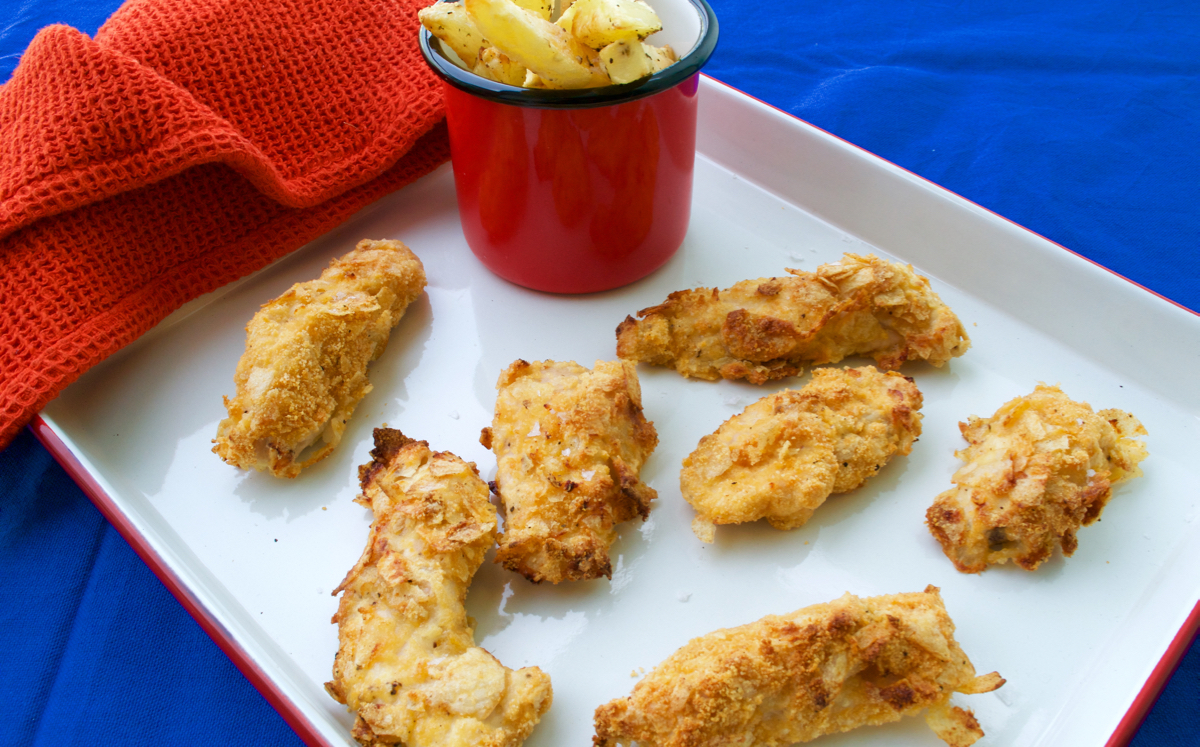 6. While everything's cooking, prepare your fillings. We love lettuce and tomato but it's entirely up to you. Imagine you're at your very own deli counter, what would you choose?
7. Remove the chicken from the oven and allow to cool slightly. Cut into slices and then begin to prepare your roll. We recommend you cut it in half again, but the choice is yours. Begin to inhale and consume.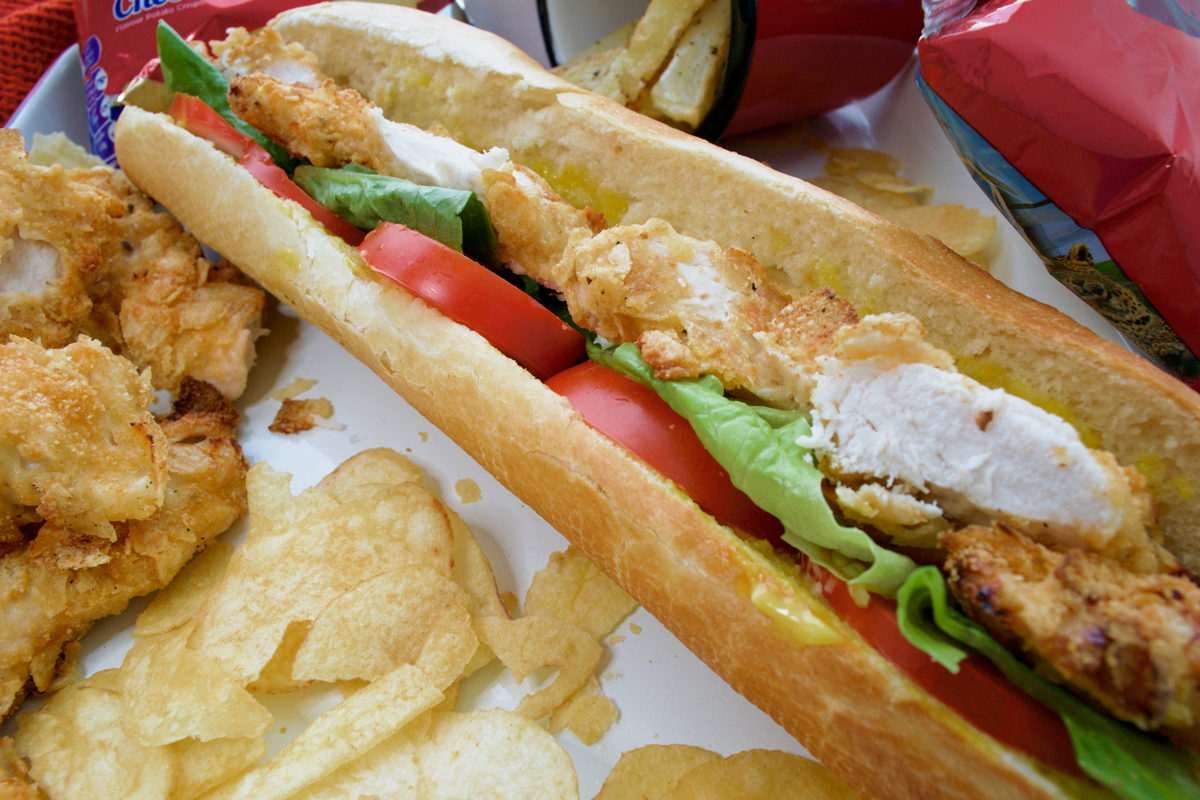 Tip: if you want, the same recipe works well for making chicken strips too, as we've done in the pictures above, if you wanted them as a snack on their own. We find you need more of the crisps, flour, eggs and seasoning, as there is a greater surface area to cover because the fillets have been cut (and if used in the roll this only increases the amount of crispy, tayto-y goodness!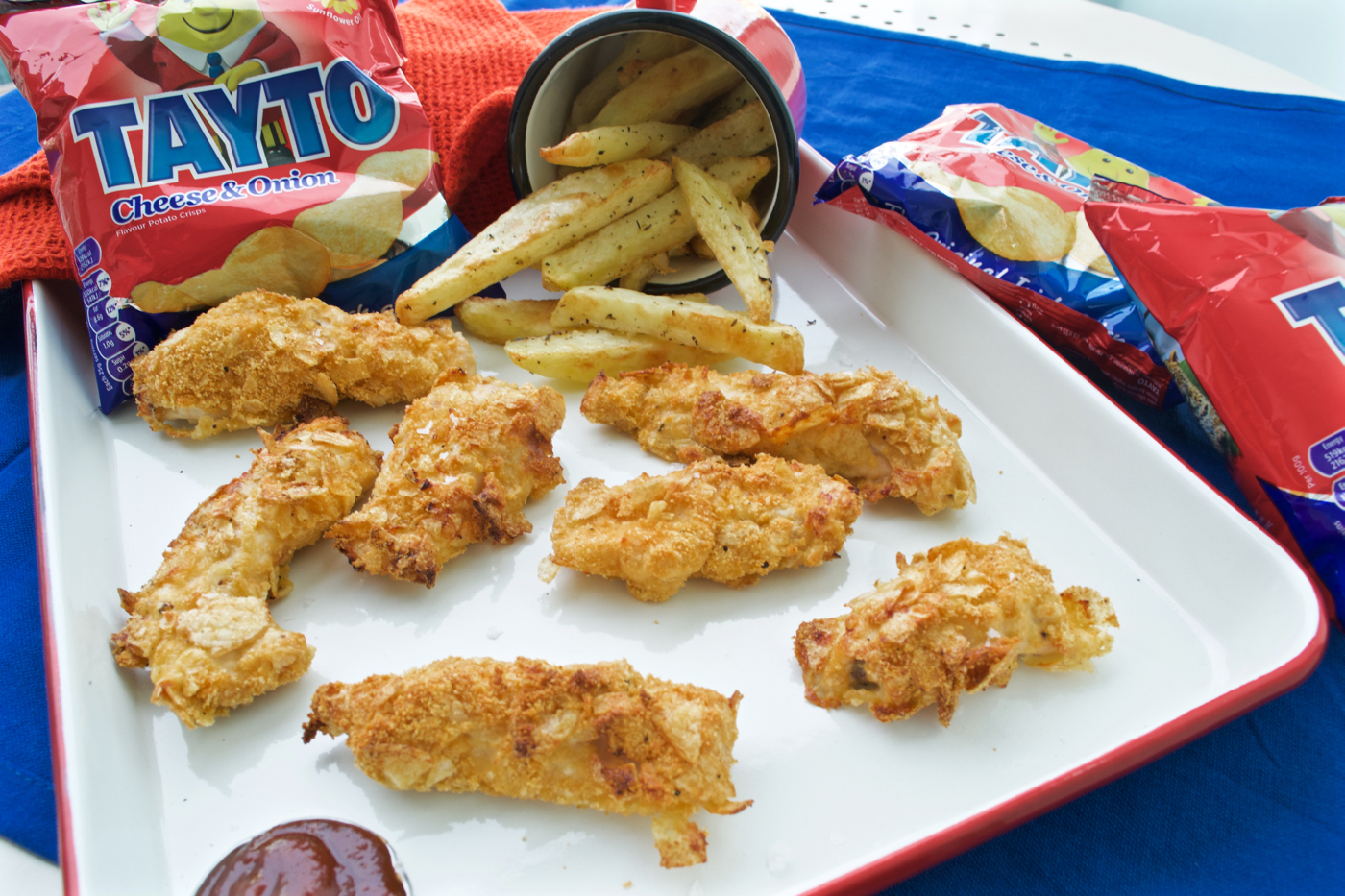 P.S. Tip 2: For tayto-philes, amp up the flavour by doing a DOUBLE coating before baking. You greedy bastards!