Sponsored by the Taiwan Tourist Board
For our very first trip outside Europe together – it also happened to be our very first exploration of Asia – and we were so excited to delve into Taiwan. Invited by the Taiwan Tourist Bureau in August 2018, we couldn't wait to explore this sweet potato-shaped island, sitting between the East China Sea, Philippine Sea and South China Sea.
Known for xiaolongbao, beef noodle soup, bubble tea, Chiang Kai-Shek, HTC and night markets, we were blown away by Taiwan and spent most of our trip in Taipei. Safe to say – put Taiwan towards the top of your travel bucket list and here's how we suggest you spend a trip to country's first city.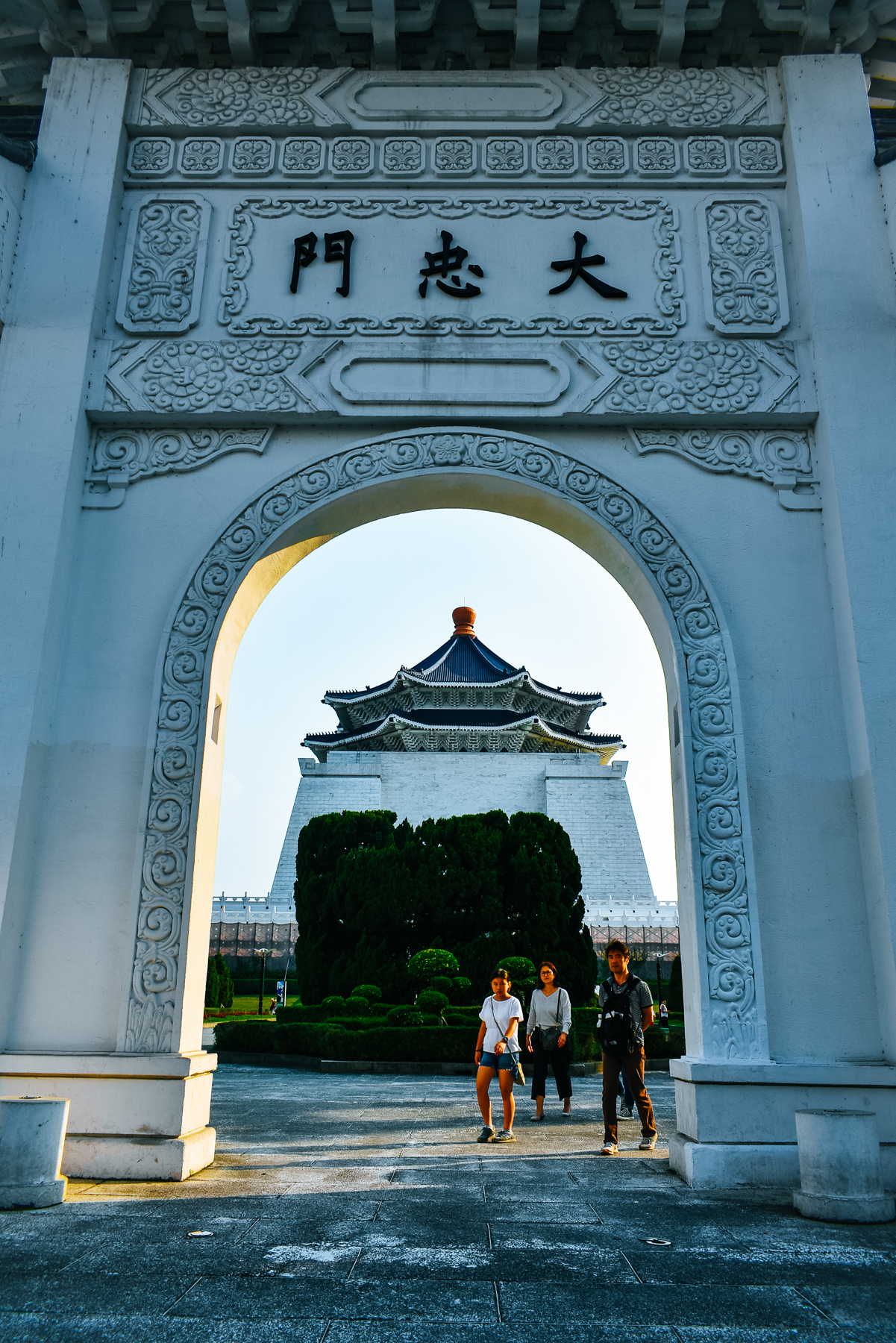 So where is Taiwan? The Taiwan Strait separates this island from mainland China and, looking more broadly, Taiwan sits a short jump from Hong Kong almost in the mid-point between the Japanese and Philippine islands. Less than two hours' flight from Hong Kong and Shanghai, Taiwan is one of the most prosperous economies in Asia and together with Singapore, South Korea and Hong Kong is regarded as one of the four 'Asian Tigers' or 'Little Dragons' due to their rapid growth, economic dominance and international regard from the 1960's to the present day.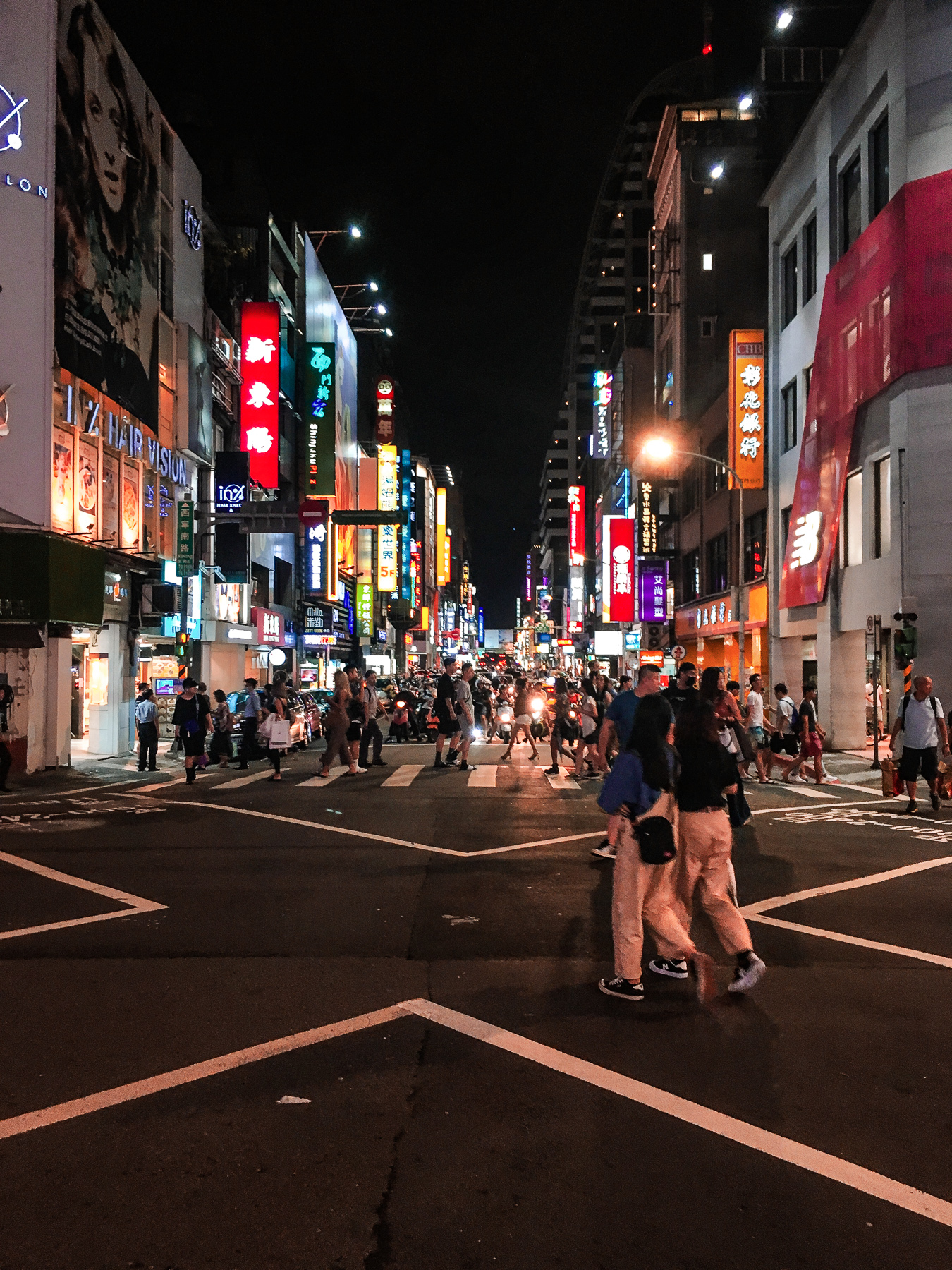 We arrived into Taoyuan Airport via a Cathay Pacific connection in Hong Kong (which boasts a direct connection from Dublin Airport to HKG where we originated, began in June 2018) and the flight times were so good that we actually arrived at around 11am so we could hit the ground running. Thankfully, we had a wonderful guide – Lily – showing us around for the most part so we could pack as much in as possible and report back on lots of different things to do, see, eat and drink!
What to See and Do in Taipei ⛰
Situated in a basin in the north of the island, Taiwan is surrounded by mountains and sits in a convenient geographical position with a population of 2.7 million people. The city boasts a subtropical island climate and there is a distinct difference in the seasons – so, like Europe, spring and summer is humid, hot and sunny and autumn and winter can be cold, windy and dark, however not usually to the extremes of Europe in deep winter. The Taipei seasons follow the order of the seasons in Europe too, so June, July and August are generally the hottest summer months and December to February the coldest winter months.
We usually tell visitors to do one of two things as a first port of call when they arrive in any new city: go on a sightseeing tour so you quickly get an intensive overview and bearings of the city; or go to the highest point and survey the city below. For the former, there's the Taipei City Sightseeing Bus which has two routes (blue; red) with 20 stops in total and both lines beginning at Taipei Main Station. There are audio guides in several languages, WiFi and USB charging on board too. The prices range from a NT$400 for a four-hour pass to NT$1200 for a two consecutive day pass, all tickets offer unlimited hop on/hop off within the time constraints of the ticket type.
For the latter, we suggest getting right to Taipei 101 (台北101) – the tallest point in the city, the country and at one time the tallest building in the world. Located in the Xinyi district, you can't miss this structure with its 101 floors (*technically, 101 above ground level, there are a further five basement levels), it was completed in 2004 and at the time was the tallest building in the world, taking the title from the Petronas Towers in Kuala Lumpur, but later surpassed by the Burj Khalifa in Dubai since 2010. It's now currently the 10th tallest building on earth, but is definitely the tallest building in all of Taiwan. It also has the accolade of being the greenest skyscraper in the world.
Why 101? Lots of reasons: What's bigger than 100? 101. So it symbolises going one better than the limit of what's possible. The tapered eight segments which are designed to resemble a traditional pagoda each feature eight floors apiece – 8 x 8; in local culture and Chinese-speaking parts of Asia, the number eight symbolises prosperity, wealth and good fortune. You might look at it and instantly remark: Chinese takeaway boxes, and you would be right because these were originally designed to replicate traditional money boxes, which this is modelled on – further symbolising wealth and fortune, here. The 360º views from the 89th floor indoor observatory are breathtaking but will leave you wobbly-kneed and with a dash of vertigo. For those braver, and we tried but it was closed for renovations when we visited, you can ascend to the 91st floor to the outdoor observatory. Entry costs NT$500 per person.
Taipei is actually a relatively new city, about 130 years in existence – and wasn't always the capital. In fact, Tainan, in the south, pre-dates Taipei as the first city of the island and the 'original capital'. You'll notice a lot of Chinese and Japanese influence on Taiwan as both colonised the island nation for large periods of time, but back in the 1500s it was actually the Portuguese who arrived first and took note of the island, which was populated by dispersed indigenous tribes. Portuguese sailors dubbed it 'Ilha Formosa' (beautiful island) before the Dutch arrived in the 17th century, followed by the Han Chinese and then the Japanese, before the republican and nationalist movements.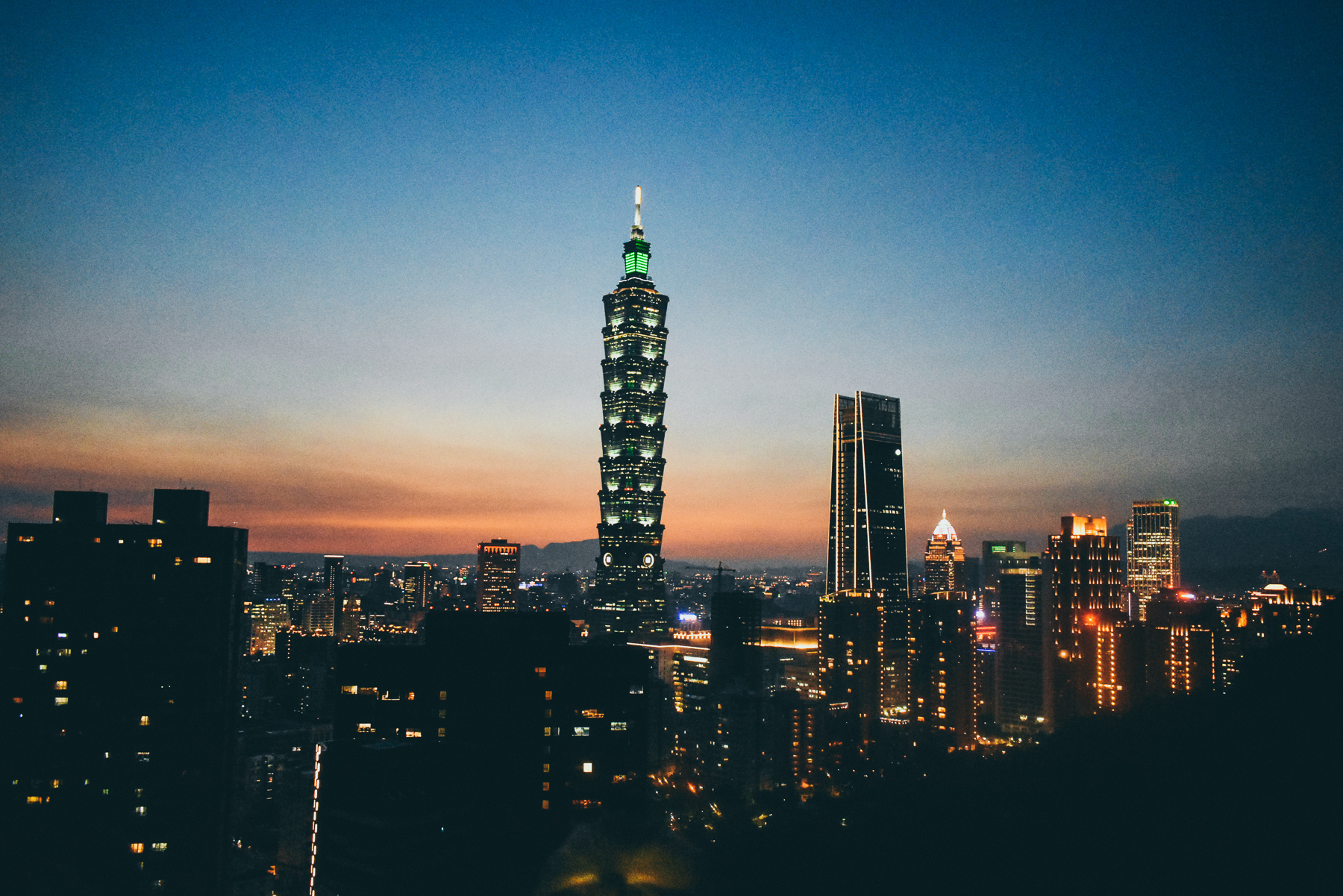 To see some more of this natural, stark beauty – and to look down on the impressive view of the city that later became the capital – ascend Elephant Mountain (象山 Xiàngshān) at some point. A brisk hike which offers three different levels of observation (and picture-taking), this is in the same area as the skyscraper if you've got the energy for it, but we could only muster getting up the few hundred steps to the first platform as it was the evening we arrived and we were jetlagged and exhausted, but definitely recommend getting there for sunset if you've managed to grab a power nap or sleep on the plane!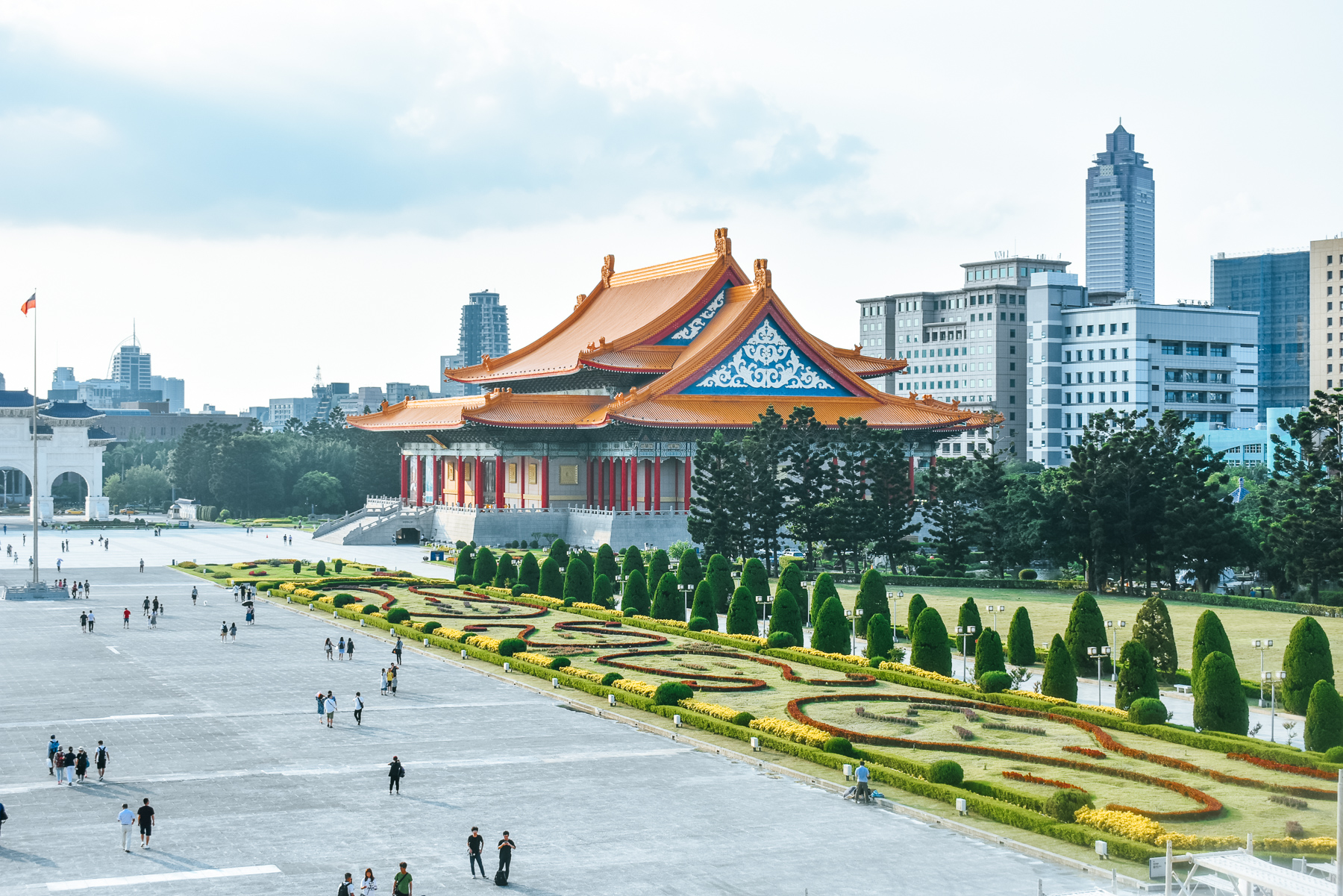 One monument which you should make time to visit is the Chiang Kai-Shek Memorial (中正紀念堂) in memory of Taiwan's (ROC) first President, from 1948-1975. Located within a vast beautiful park of Liberty Square, with the twin-like National Theatre and National Concert Hall opposite one another, the main focal point is the seated statue of Chiang Kai-Shek.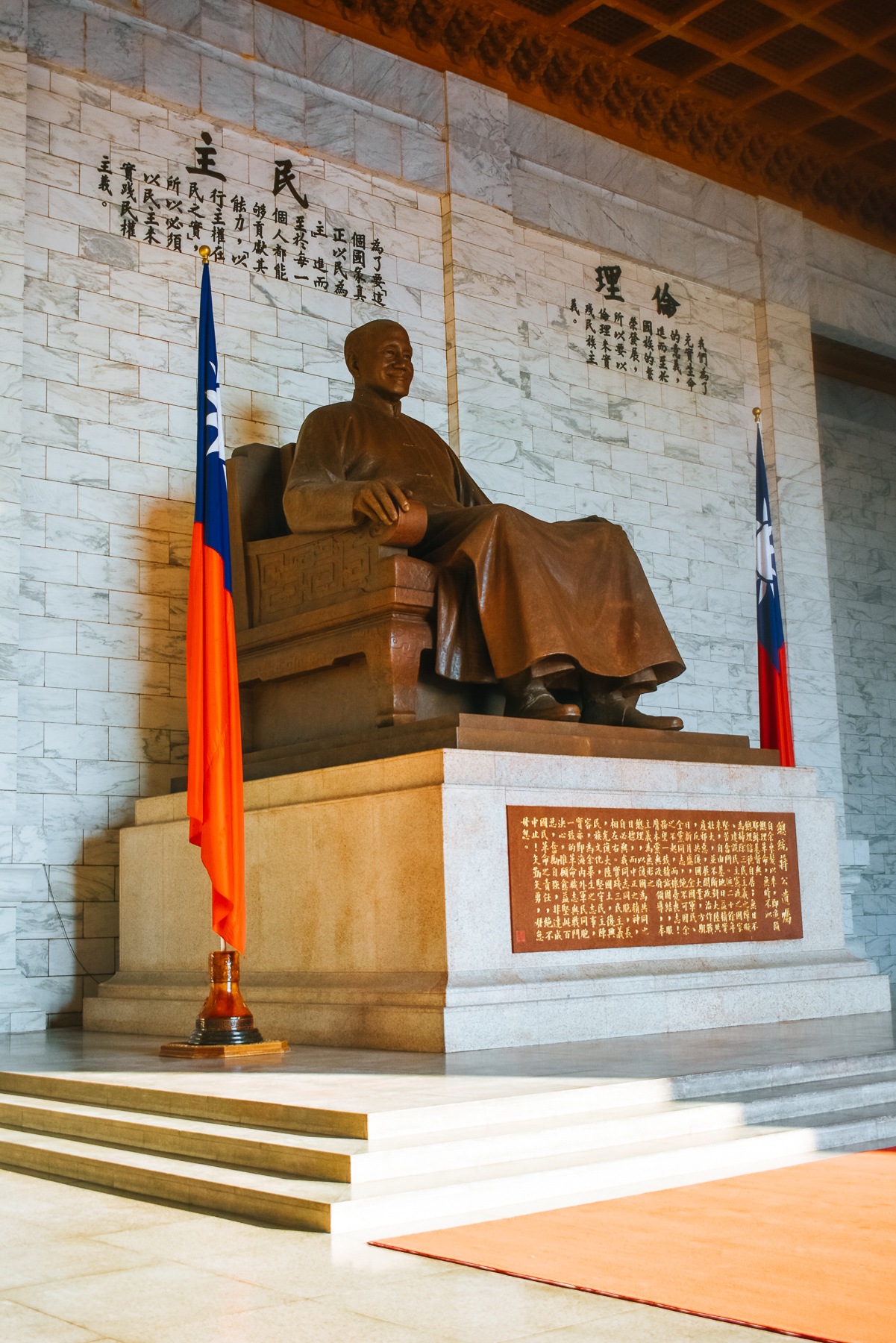 As big as the Lincoln Memorial in Washington DC., soldiers stand guard throughout the day, and change over on the hour every hour until 4pm. Worth coming along to view this military display and tradition which has been on going since the memorial opened in 1980.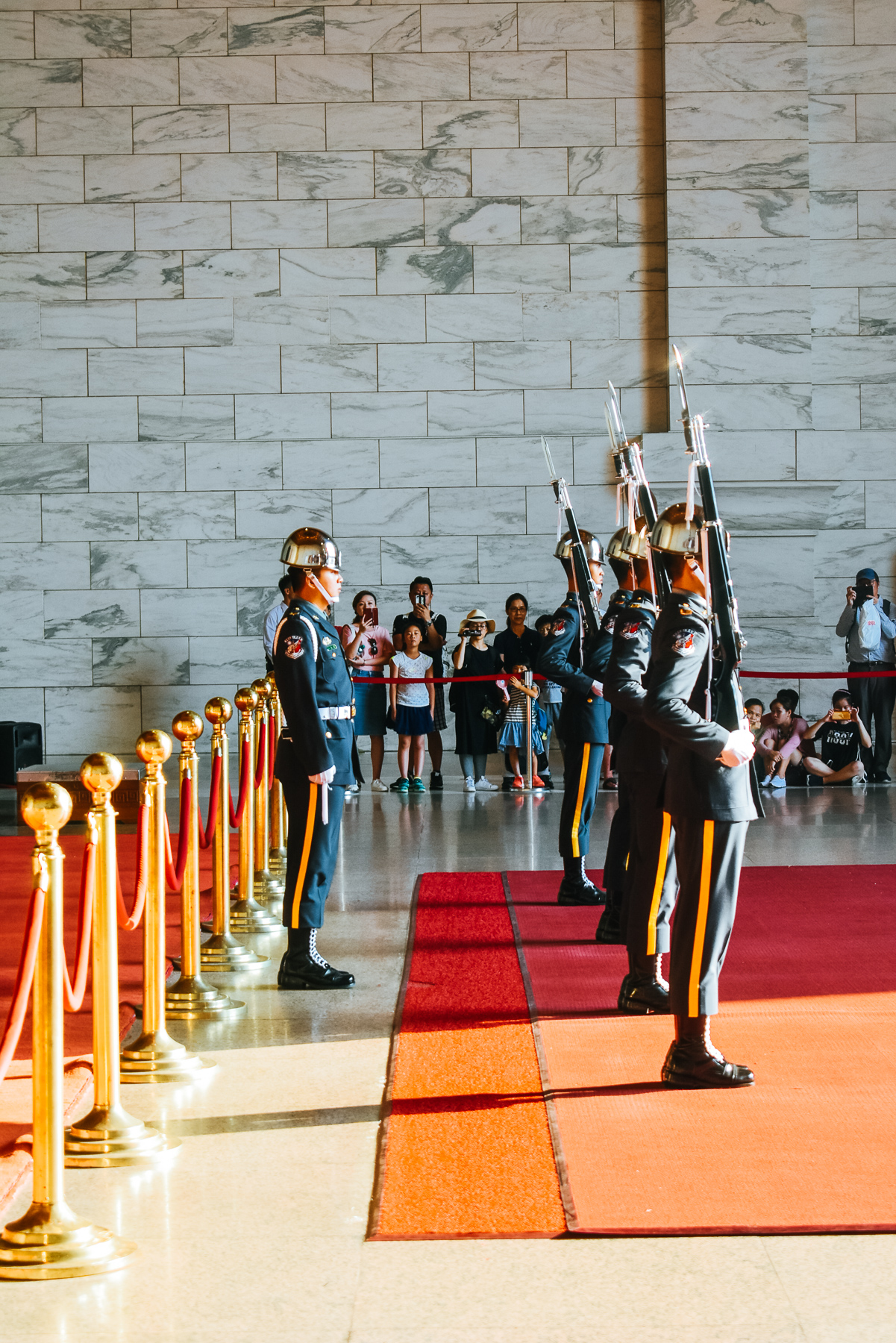 A library and museum about the life of Chiang Kai-Shek occupies the space below he monument and thankfully there are elevators inside, if you don't feel able to climb up the stairs.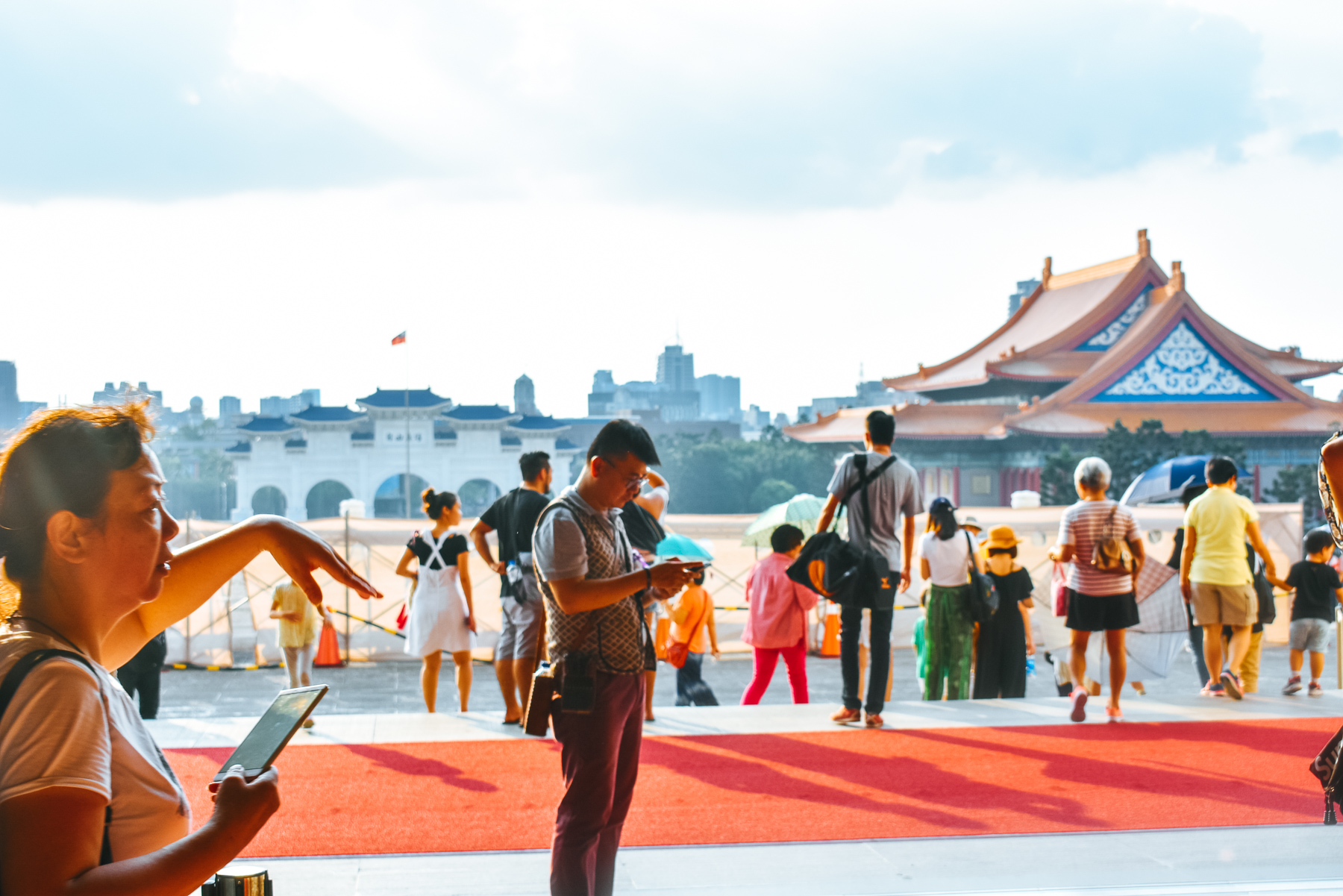 Longshan Temple (艋舺龍山寺) is a masterpiece of traditional Chinese architecture and one of the most well-established temples in all of Taiwan. Though it dates back to a temple here erected in 1738, no original building stands and the current temple is a re-building which was opened in 1924.
A Buddhist temple dedicated to the Goddess of Mercy with Taoism aspects included, too, there are three halls within and it's one of the most beautiful and most-visited temples in Taiwan, let alone Taipei.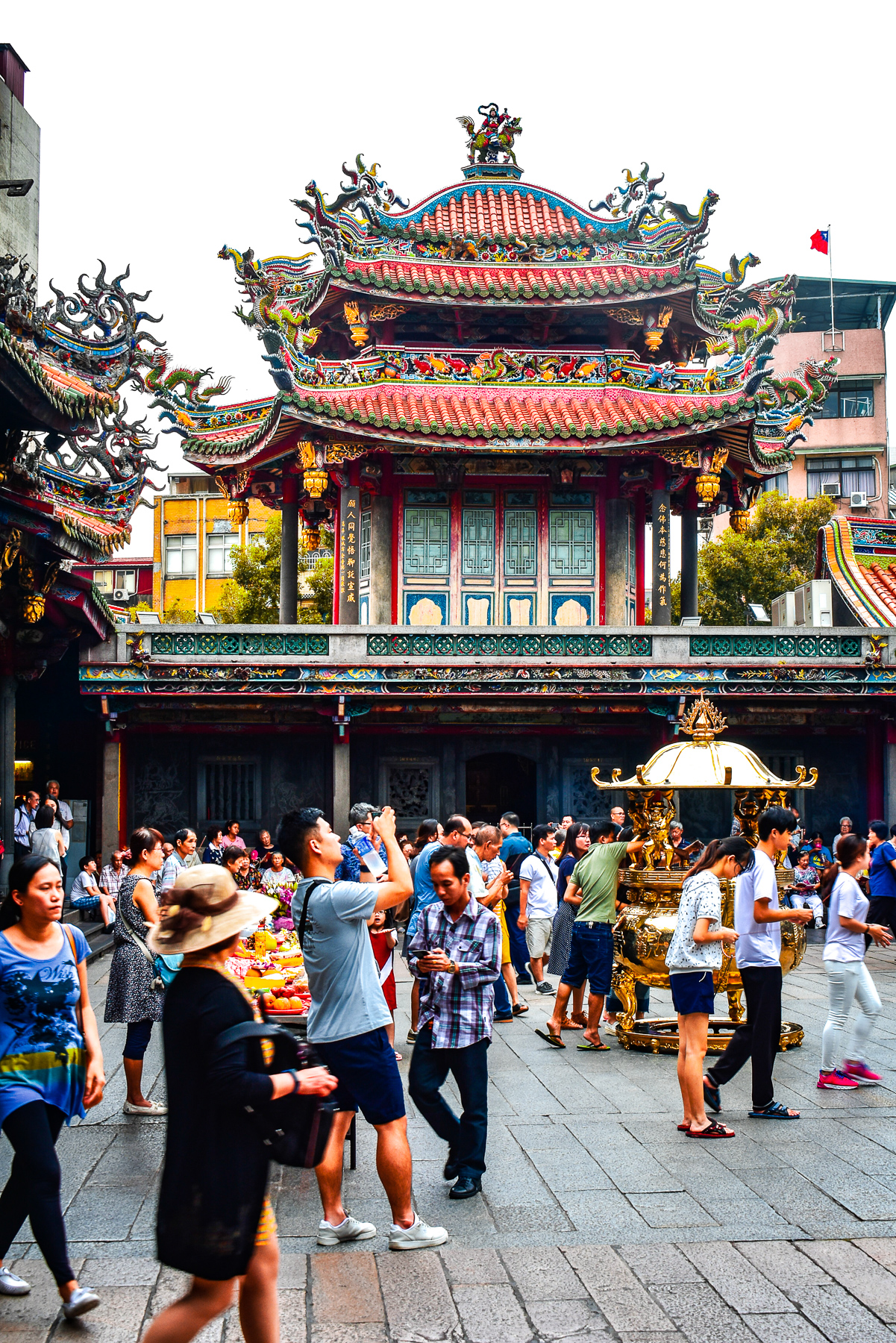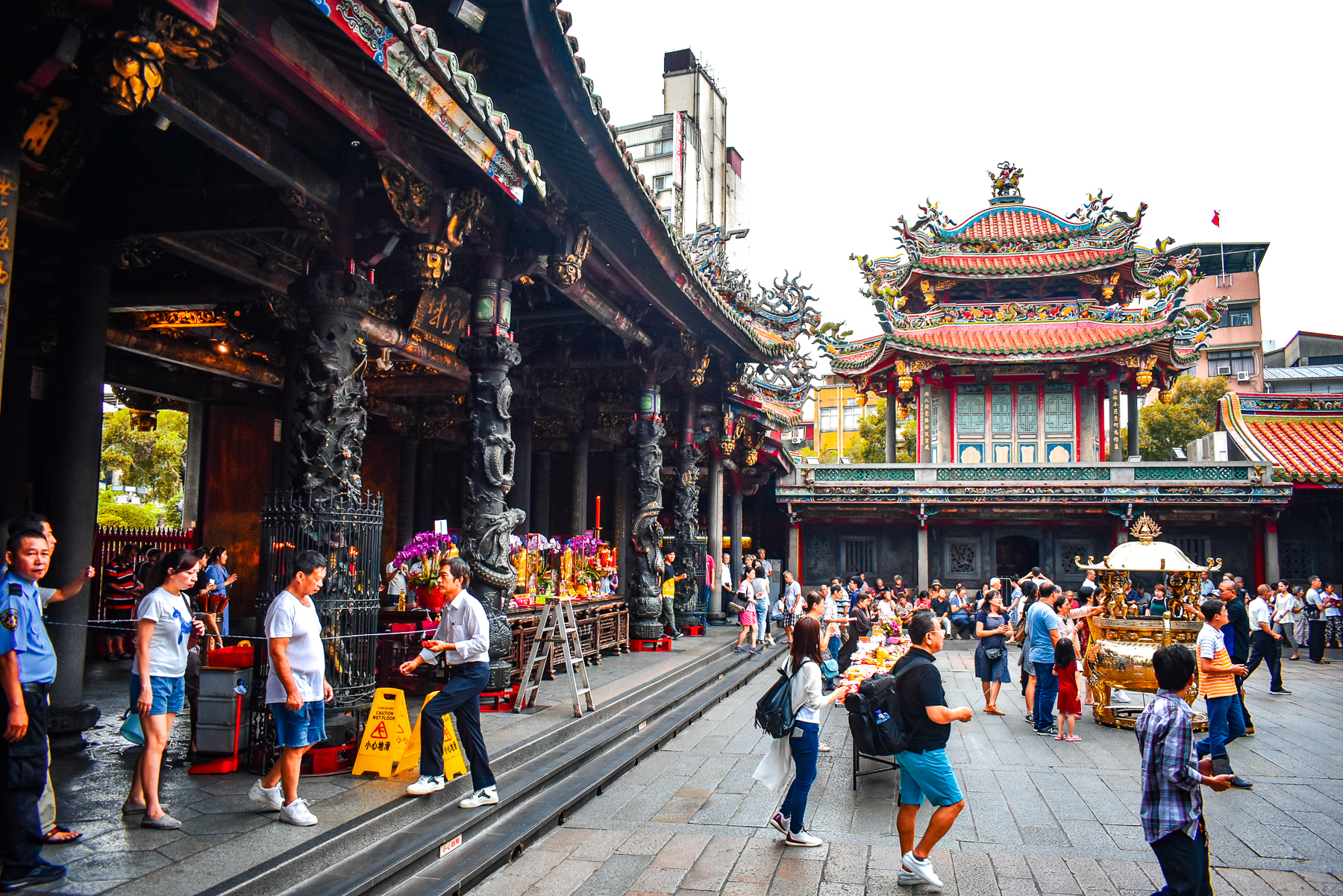 It's peaceful yet always busy and an overwhelming experience on the senses – of chanting, of incense, of statues and beautiful architecture sitting within the bustle of the city around it.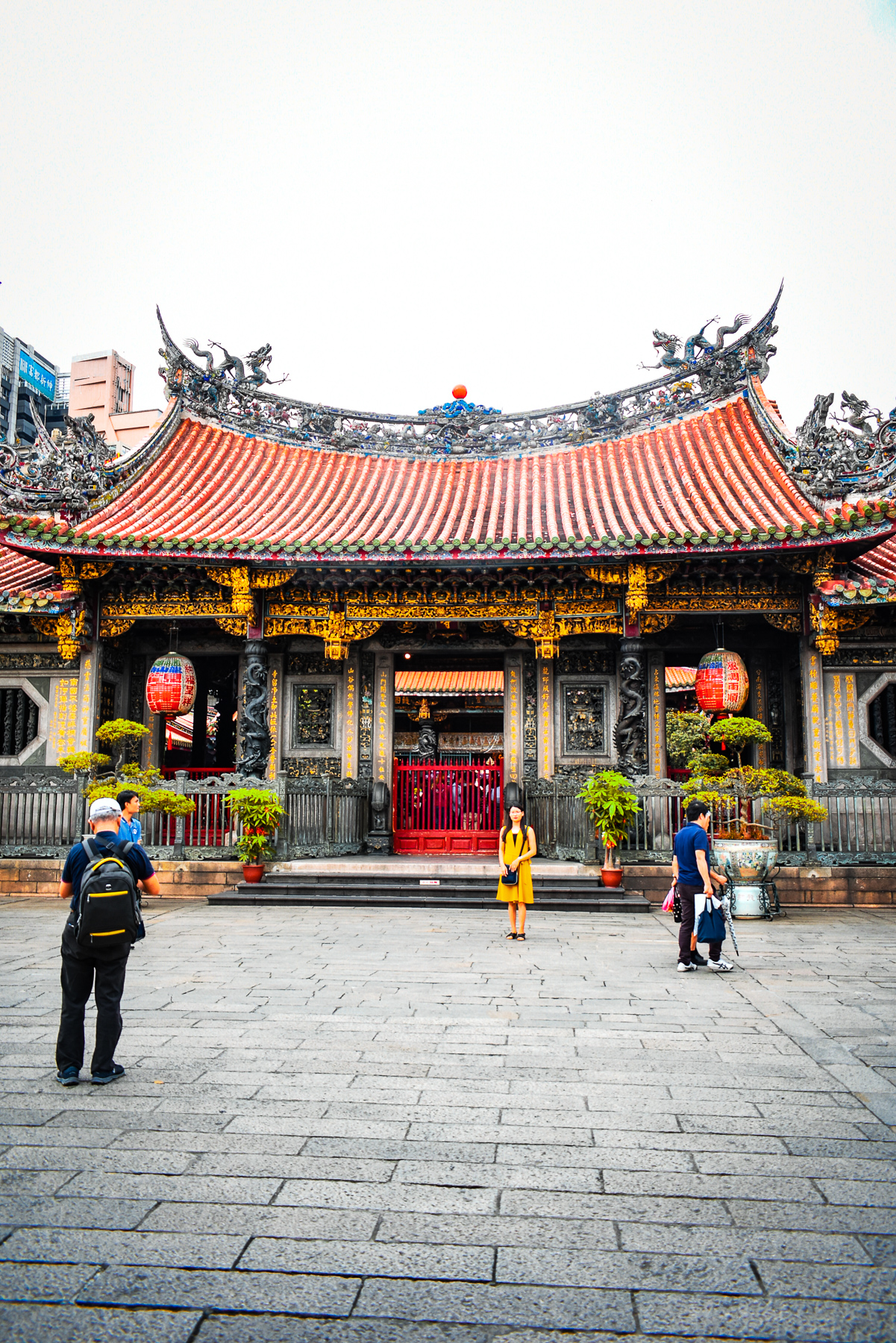 National Palace Museum is among the most popular museums in the country and is worth a visit if you're interested in seeing the history of Taiwan through artefacts and antiques. Jade, bronze and porcelain are the mainstays of this vast space which shows the development of the country, its customs, faith and traditions through objects.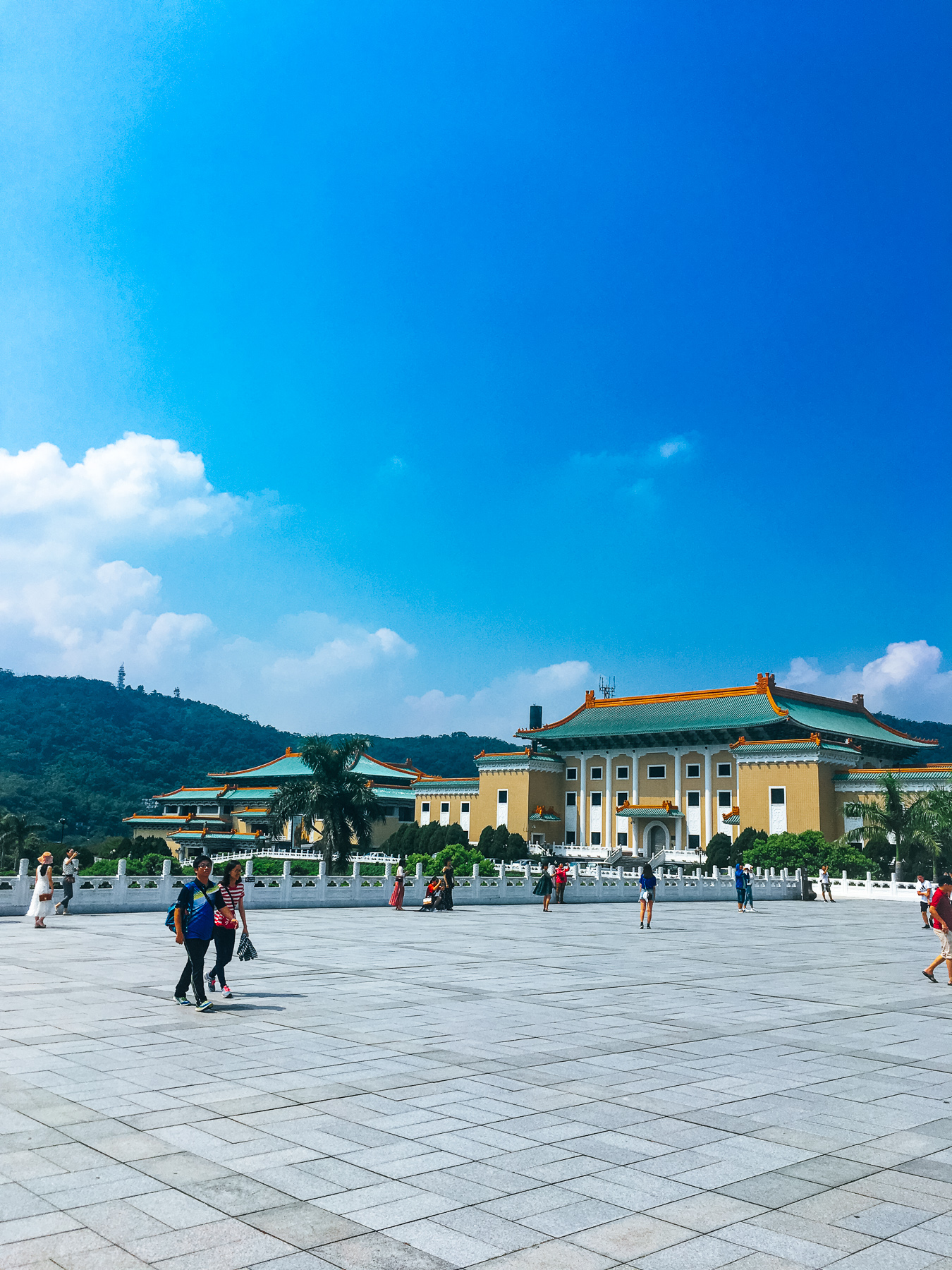 Compared to many of our Western museums, where artefacts are found in fields or on archaeological digs, here many have been passed down throughout generations, looked after carefully and with great pride.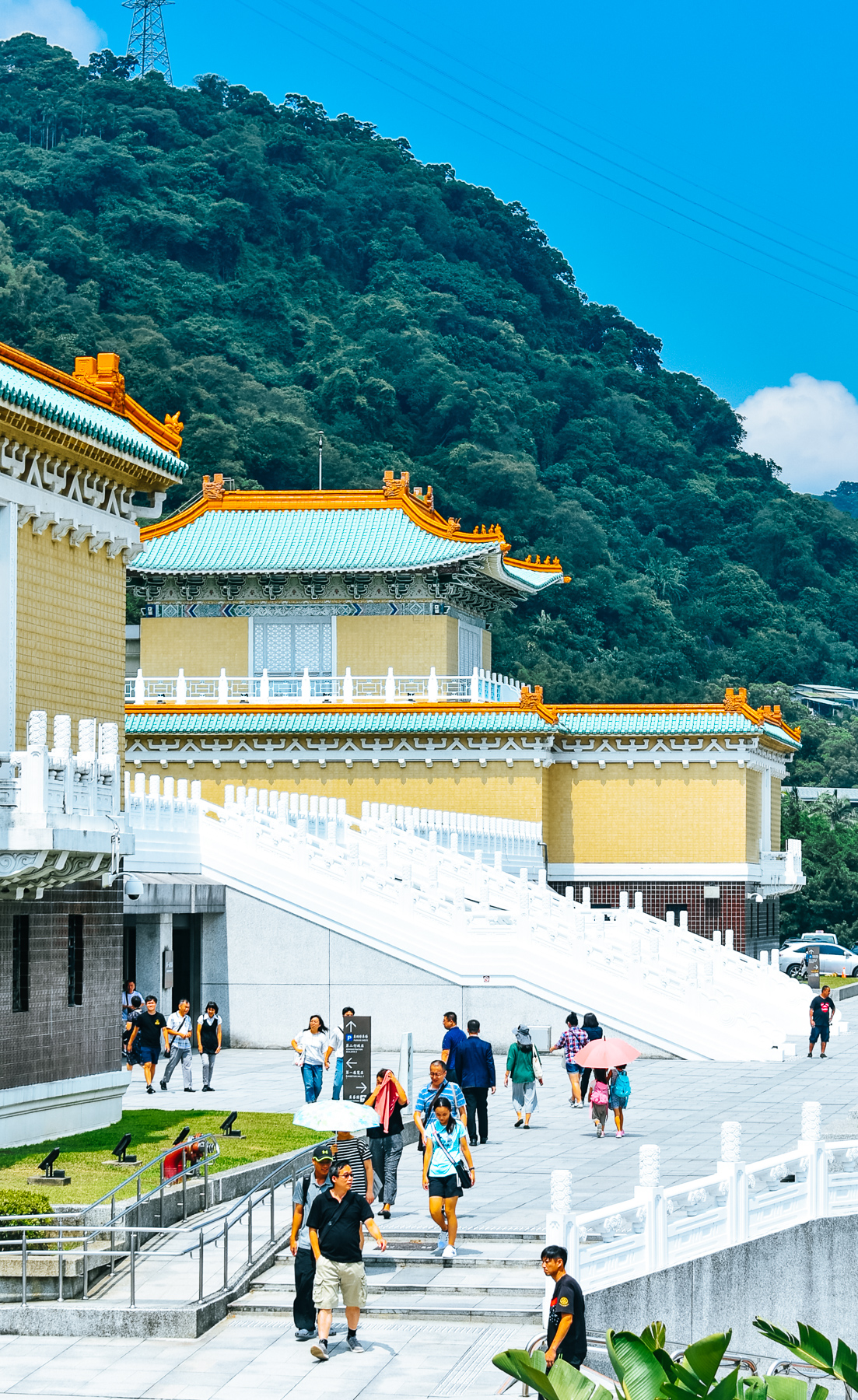 Nearby Silks Palace restaurant is where you can enjoy some traditional Taiwanese food served in a high end manner – try the beef noodle soup here!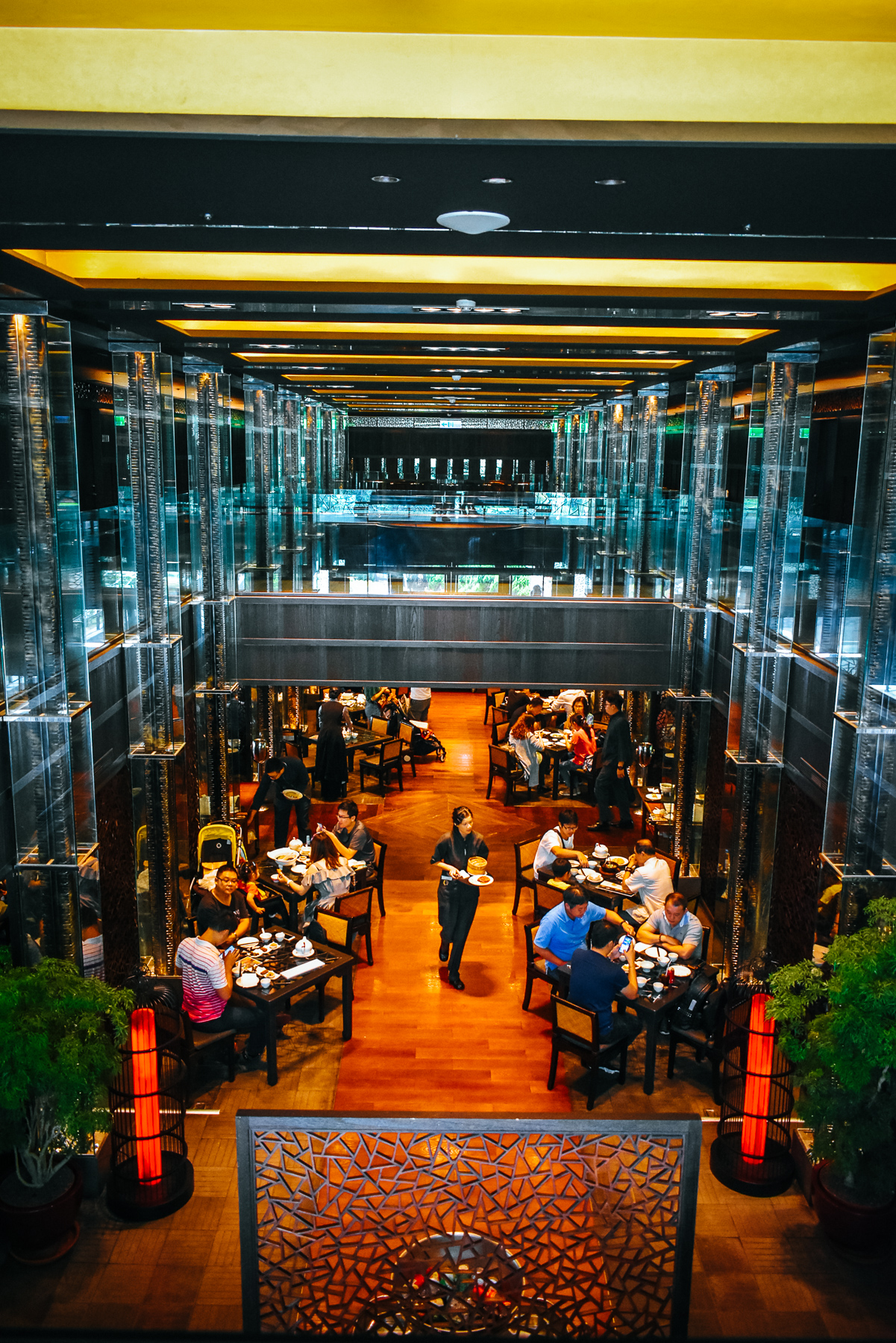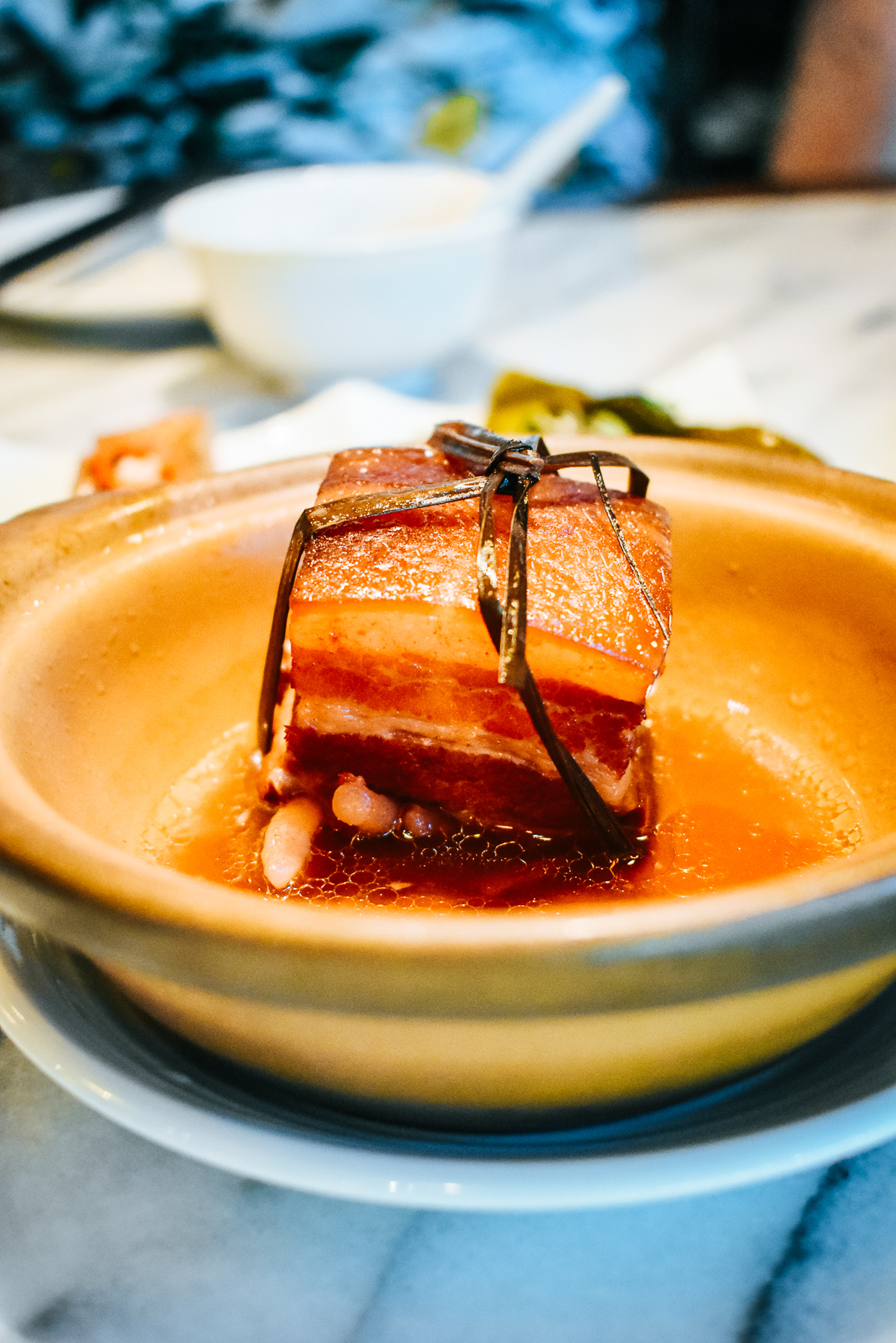 And if Asian style sweets are to your taste (often more gelatinous than European floury creations), the afternoon tea-style dessert selection is for you. Beautiful morsels that are almost too visually arresting to consume!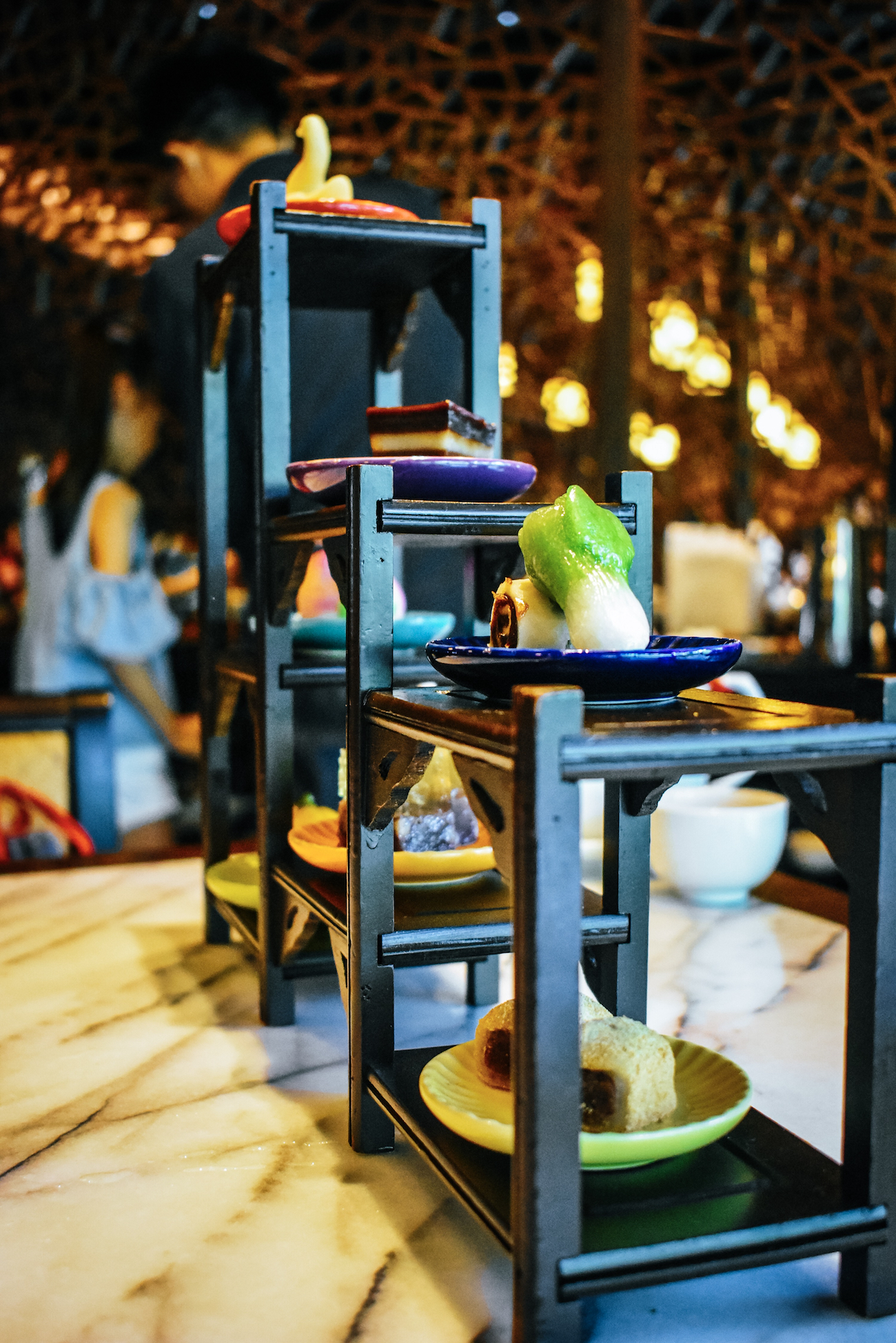 If like us you are visiting around August, worth checking out the Taiwan Culinary Exhibition – which is a fantastic showcase of food, traditions, ingredients and innovations from right across the island and beyond taking place annually to showcase the cuisine of Taiwan to the world.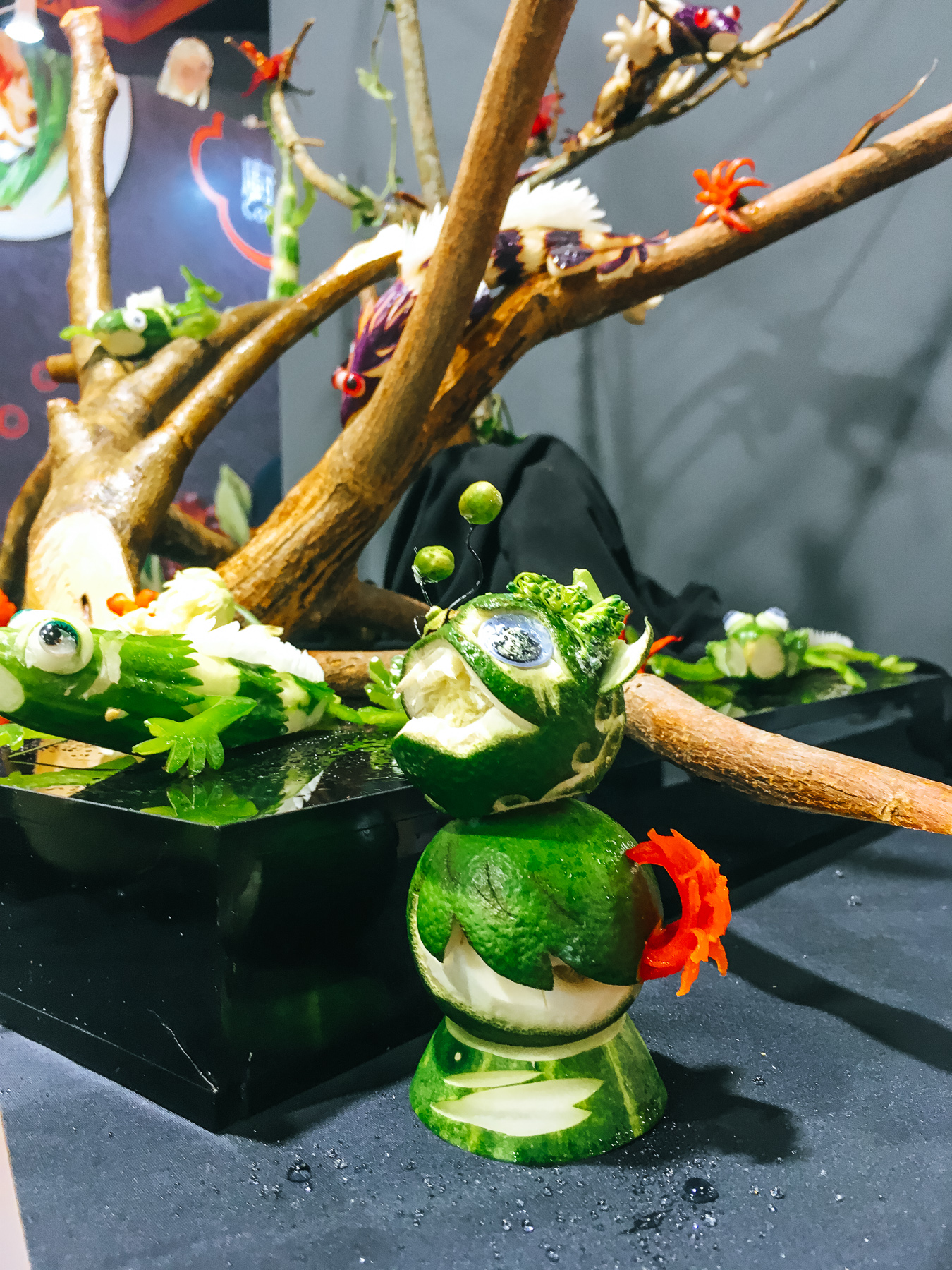 There are fruit carving competitions, food producers showcasing their products, chef demos, indigenous cuisine given a spotlight in the city, and plenty of treats to buy and take home, as well as, of course, sampling street food in a nicely air-conditioned hall!
Taiwan Cooking 101 School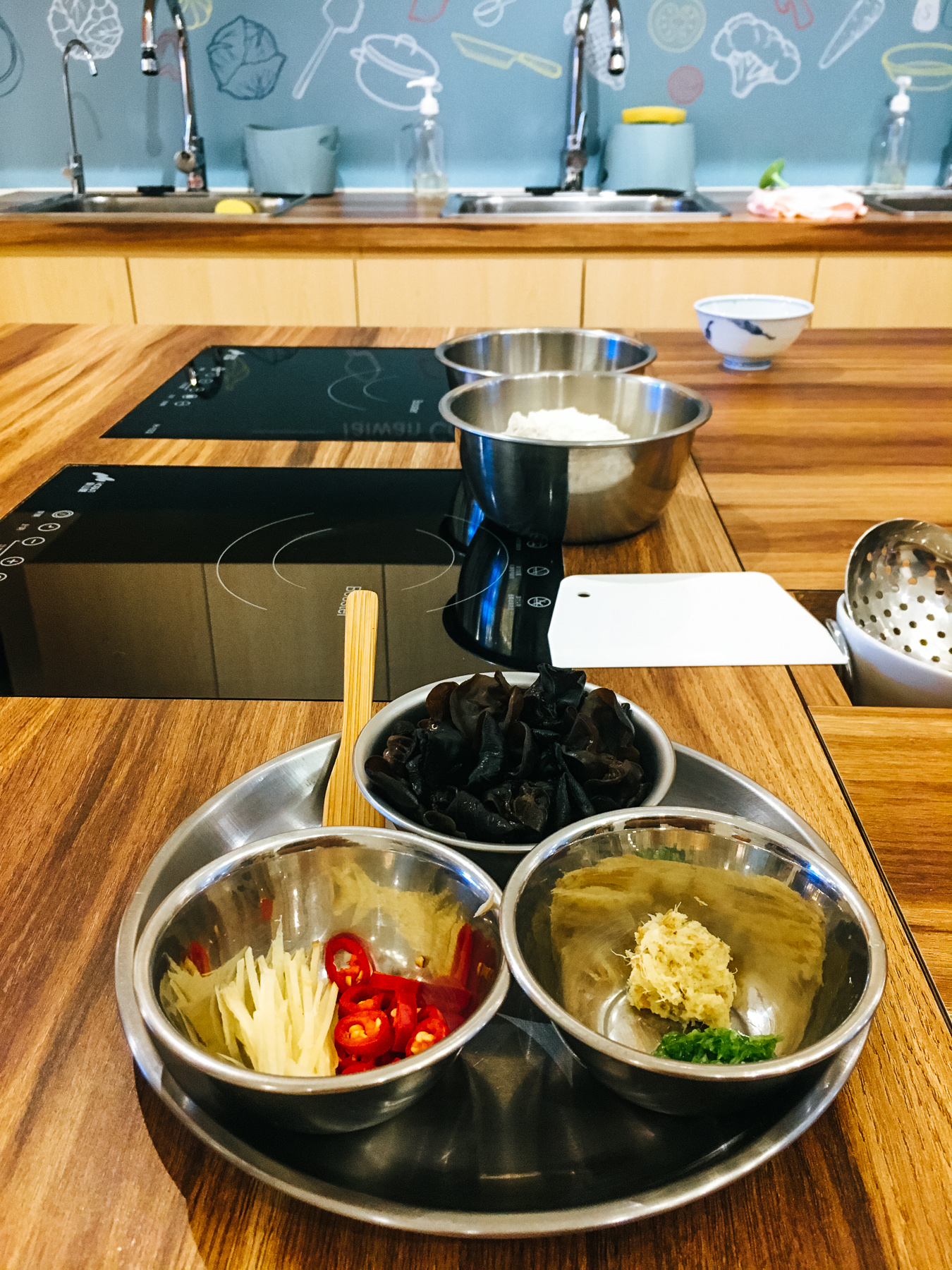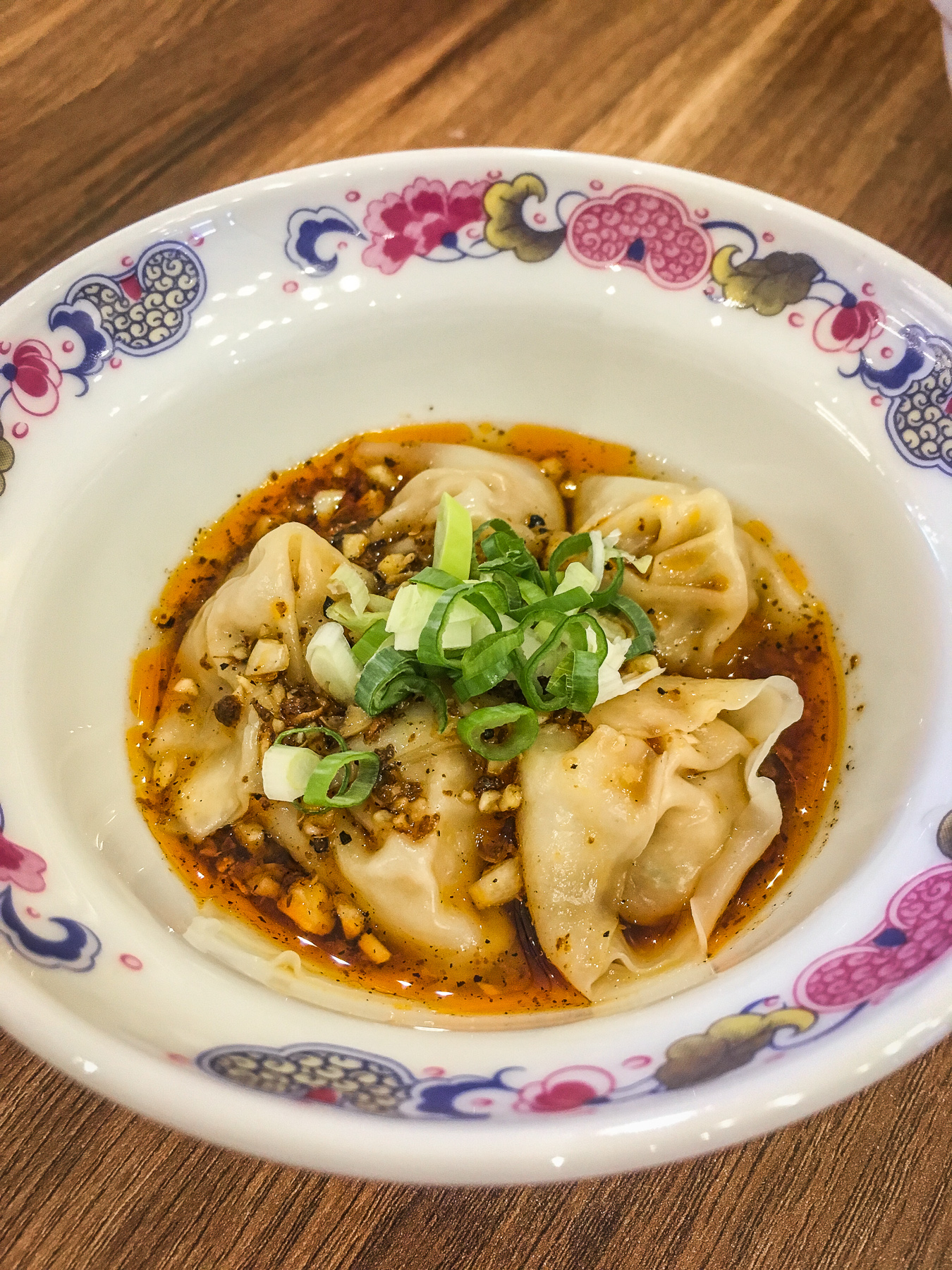 It's all well and good hanging around eating lovely food, but nothing can give you a greater appreciation of the skill and work involved than cooking it for yourself. The coming of age of food tourism means experiences are more and more popular than ever, and people are keen to learn a skill to take home with them from their travels. We love an immersive experience ourselves and Taiwan Cooking 101 School offers just this.
Classes operate in Taiwanese, English and Japanese and can be booked online for a variety of Taiwanese dishes. There are 3 different sessions per day, each 2 hours long. A really great immersive experience and will leave you wanting to recreate these iconic dishes when you get back home.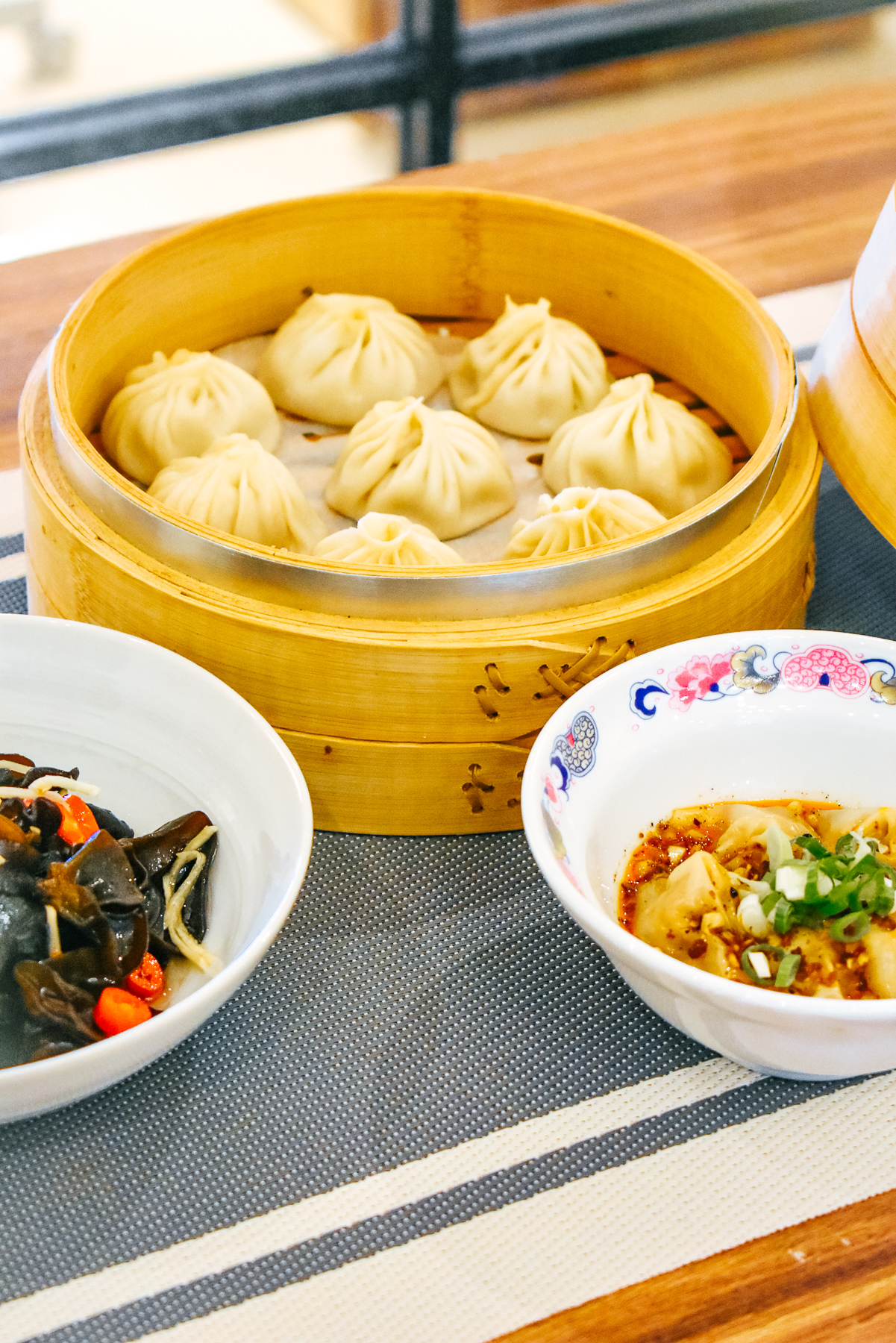 What to Eat and Where to Eat in Taipei 🍜
Taipei offers a diverse range of cuisines from classic Taiwanese dishes and aboriginal cuisine to all manner of international delicacies. Taiwan is a melting pot of cultures and influences living harmoniously on the one island, so its cuisine is naturally a mish-mash of different styles, flavours and tastes. A key feature of Taiwan is the night markets, electric with activity when dusk hits and brimming with colourful street food traders and stalls of all different styles and varieties, some say this is the true, local experience of food in the city. We didn't get to a single one as we were so busy (and then catching up on work in the short hour or two in the evening we had free) so it's something we've got relatively zero experience of – so you're on your own for that one 'til we next visit. We have it on good authority that the Raohe Night Market, Ningxia Night Market and Shilin Night Market are particularly good.
One of the top places to eat in the city, and it's easy to see why. Our very first stop when we arrived was for lunch at Din Tai Fung's branch within the basement level of Taipei 101, but though it was founded here in the city (on Yongkang Street) it's now an international institution with branches worldwide including New York, Sydney and we believe one in London is on the cards too, very very soon.
The view into the kitchen shows you just how much skill is required to make the iconic dumplings that Din Tai Fung is famed for. With specifically 18 curls in each xiaolongbao, it's such a skill to create these soup dumplings and its mesmerising to watch the masters at work. Order as much as you can from the menu, this is one of the premier eating experiences to have in Taiwan!
Auntie Xie's (Xie Ah Yi)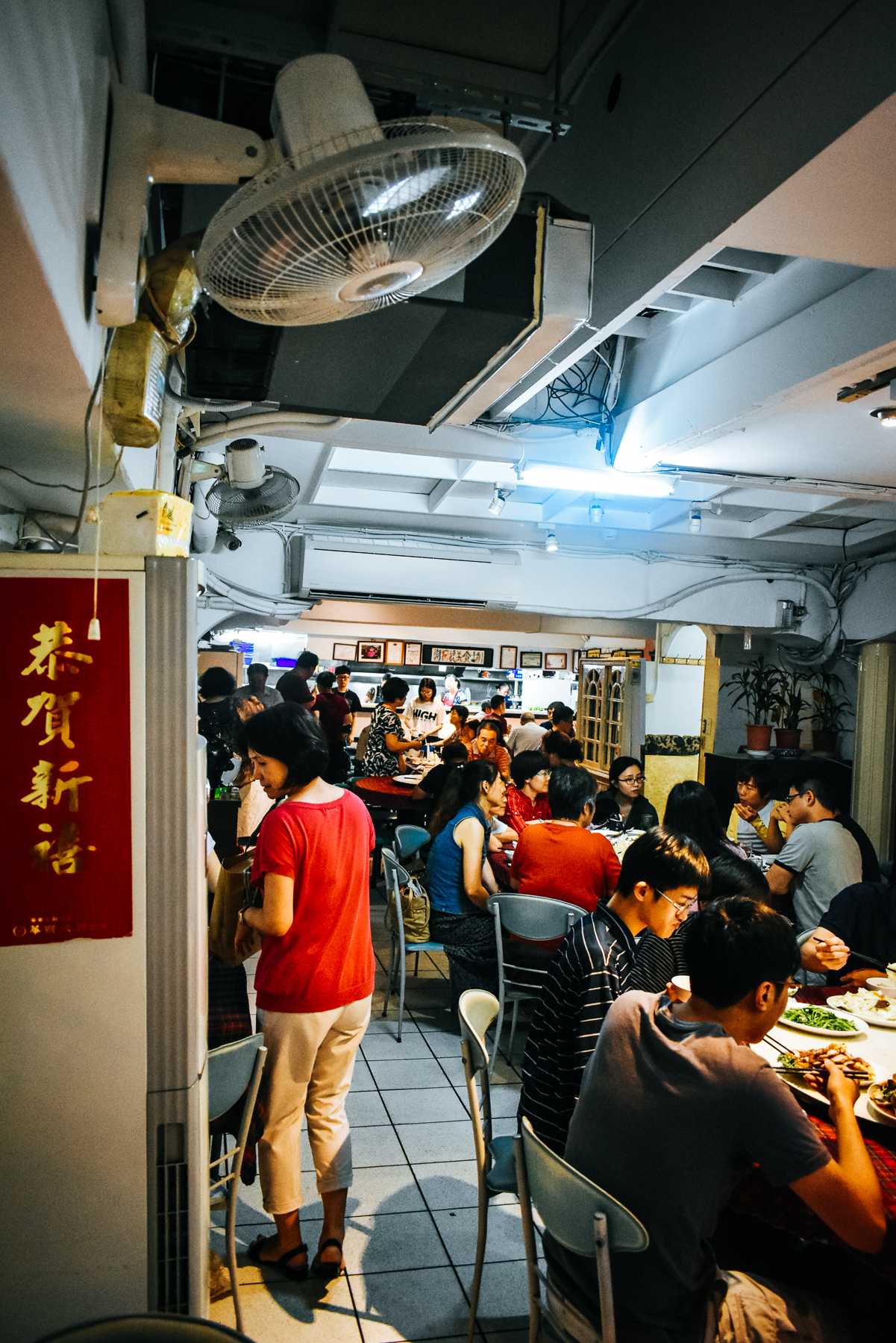 This is one of the most unique dining experiences we've ever had. From a very subtle entrance on a main street, you descend a staircase to what feels like a large communal dining room. We've been told that if you're trying to find Auntie Xie's, the best thing to do is show the logo and any taxi driver or local will point you in the right direction.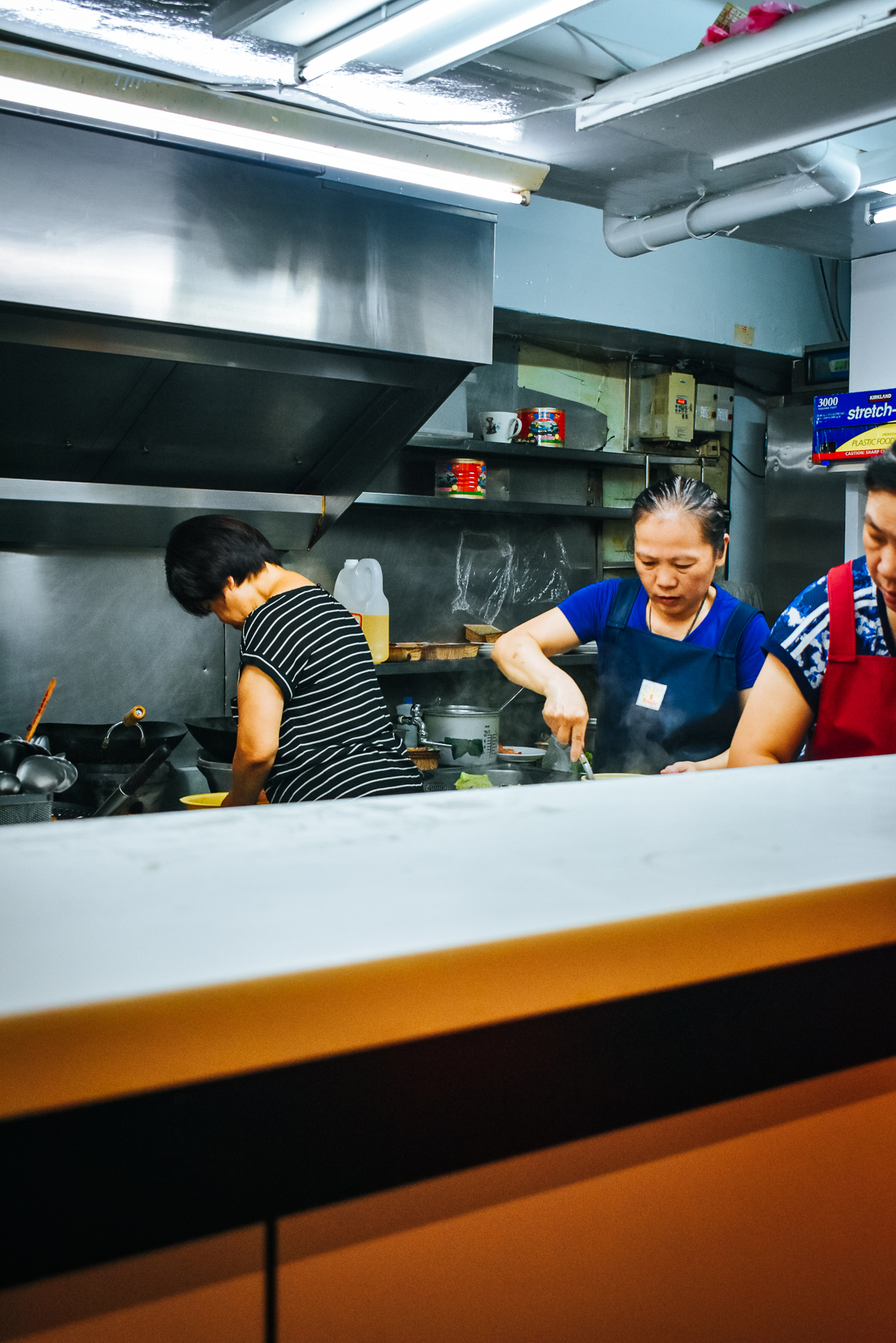 The kitchen is run by a group of formidable women, who are cooking as they would for their family. A bit like turning up to your aunt's house, a little late and bemused, you're told where to sit and a plate of food is put in front of you because "you look starving". You don't seem to have a choice of things, in fact we didn't even see a menu ourselves or on any table.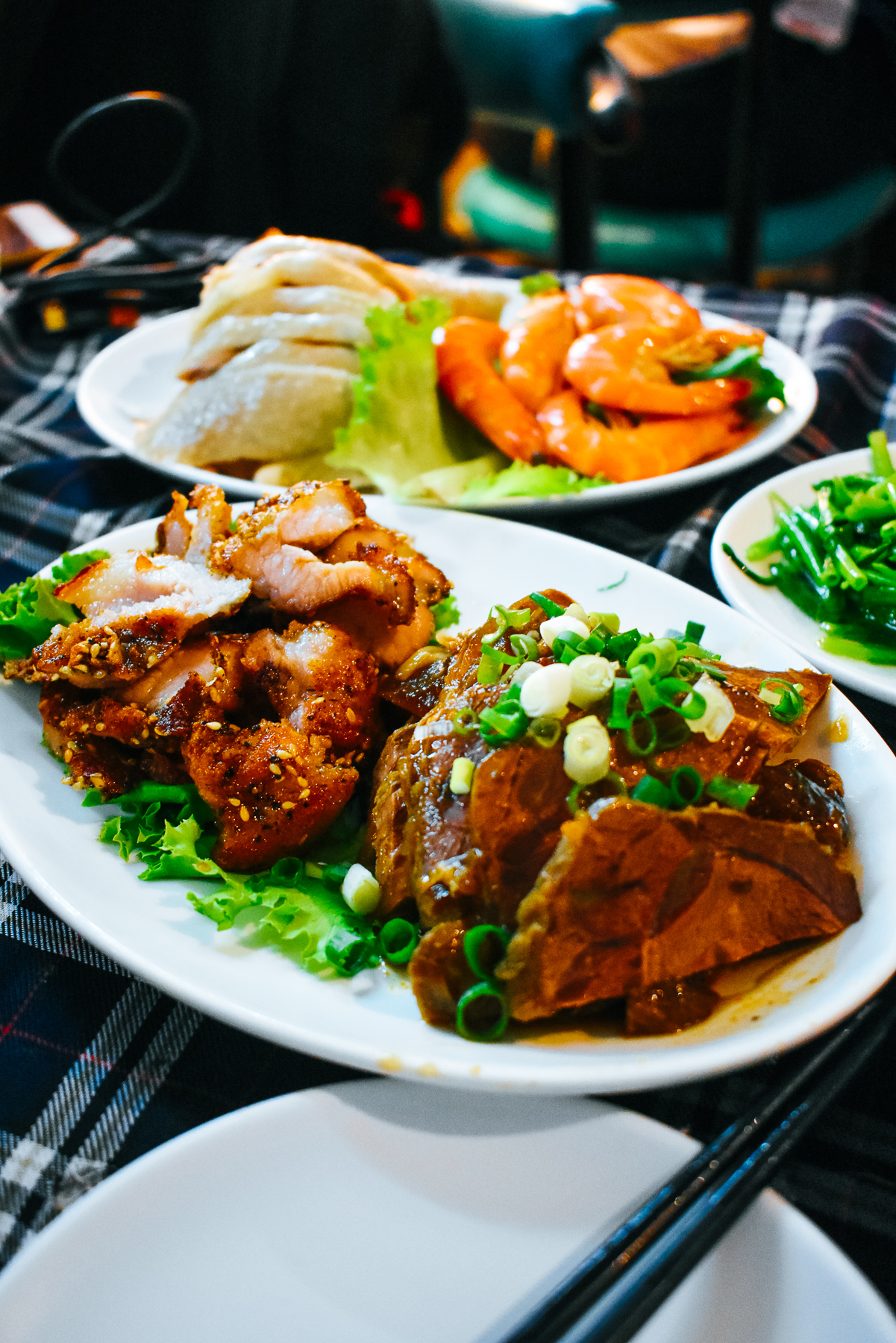 We did insist though on not having the fish, which they were able to accommodate. Instead, we had boiled chicken on the bone and served cold, crispy pork, flash-fried beef, prawns, water spinach (a staple of most restaurants here). All incredibly flavoursome. The fish on offer was a whole milkfish, to be carved and eaten in it's entirely (hence why we opted for an alternative…) Our personal favourite though was a special dish they allowed us to try: deep-fried burdock, gently battered and perfectly crisp – packed full of flavour.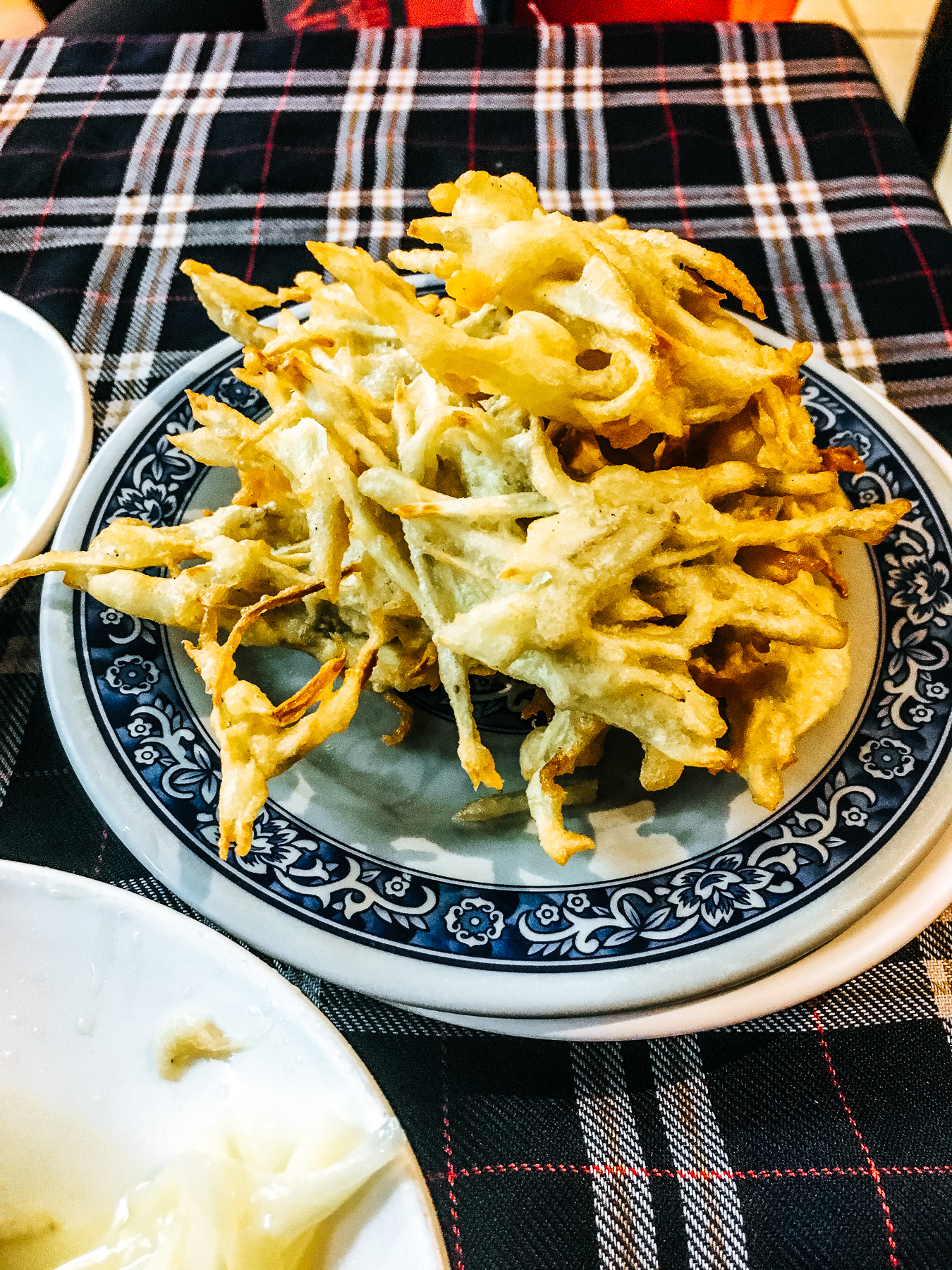 Modern Toilet Restaurant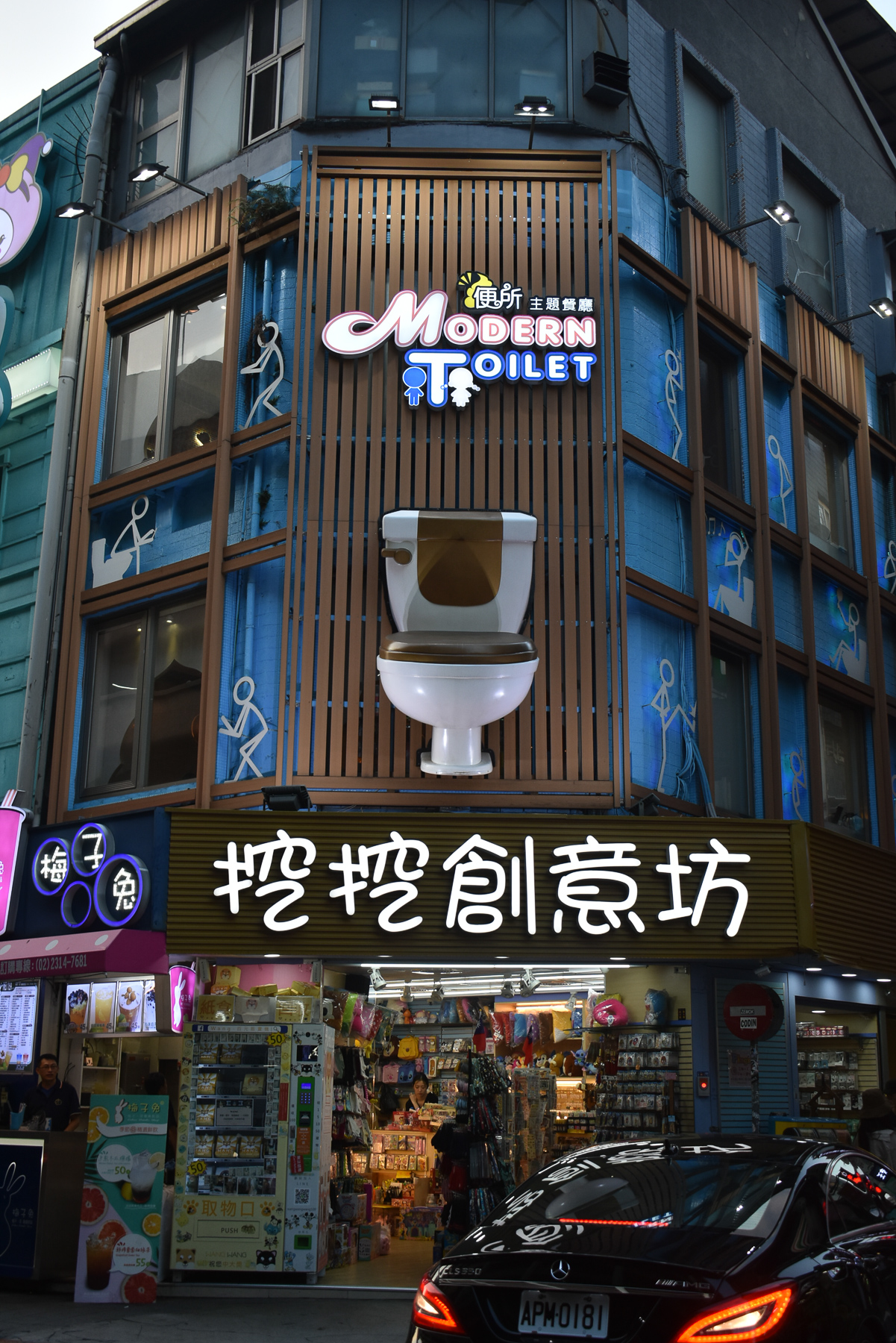 Probably one of the most, quirky themed restaurants we've ever come across is Modern Toilet Restaurant. If you're a touch immature, don't have an objection to equating food with deification, then this is where you'll love! This poo themed restaurant (yes), is one which piques the interests of many a traveller. You sit on toilets instead of seats, most food is served in miniature loos and some is designed to look like…well…shit. We didn't eat here ourselves, but we've heard it's not bad for food.
Ah Chung Flour Rice Noodles (With or Without Intestines)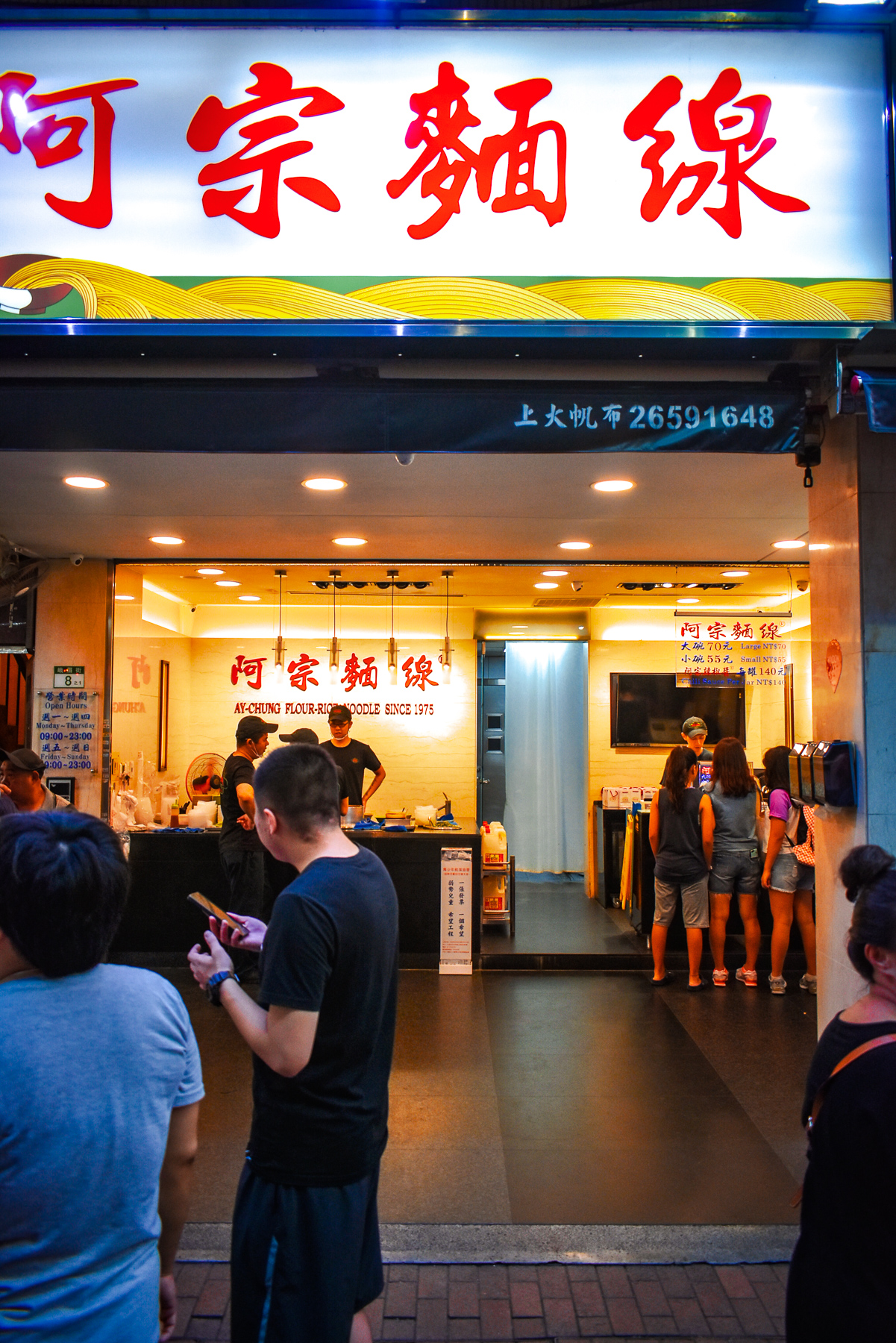 Okay, maybe the name will put you off, but hear us out. Food tourism is all about new experiences and flavours, and this is authentic and incredibly locally popular. Now, not everyone enjoys this (in fact, our guide wasn't a fan herself of offal in dishes, so you wouldn't be alone if you opted against it), but this is one of the busiest restaurants in the city, yet hasn't a single seat. There's always a queue – so it must be good!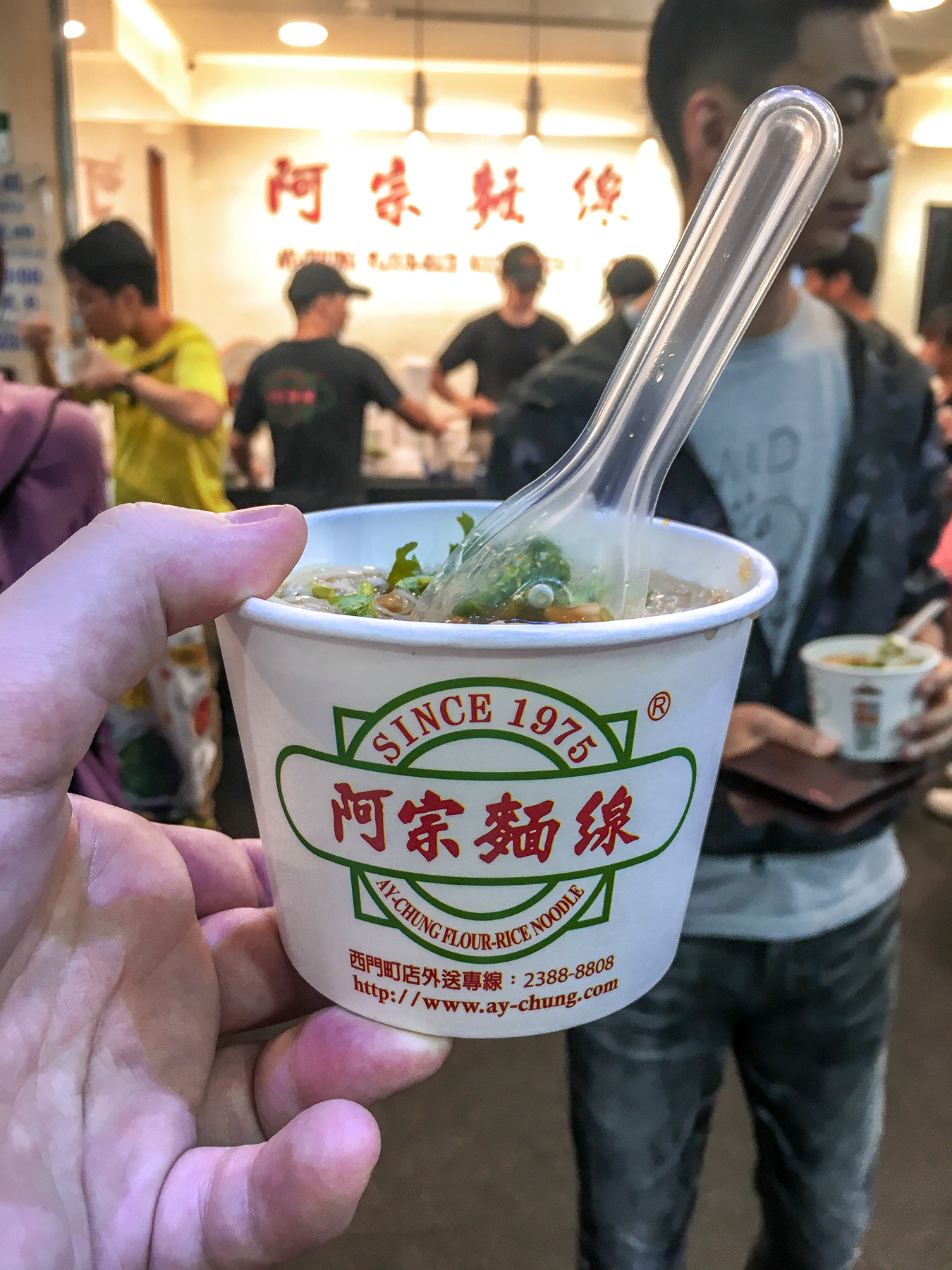 Options are limited, but a bowl of rice noodles, packed full of flavour with, yes, some small mouthfuls of offal in them, are excellent value and worth trying while in the city. Plus a very cheap dish to try if you please.
Smoothie House Shaved Mango Ice
Shaved Ice is another one of those dishes synonomous with Taiwan and if you, like ourselves, arrive in the humidity of summer, you'll appreciate anything that cools you right down! Blocks of ice are shaved down and mingled with natural flavours, then served, in the case of Smoothie House, in a mountain of ice, with chunks of mango and mango sauce.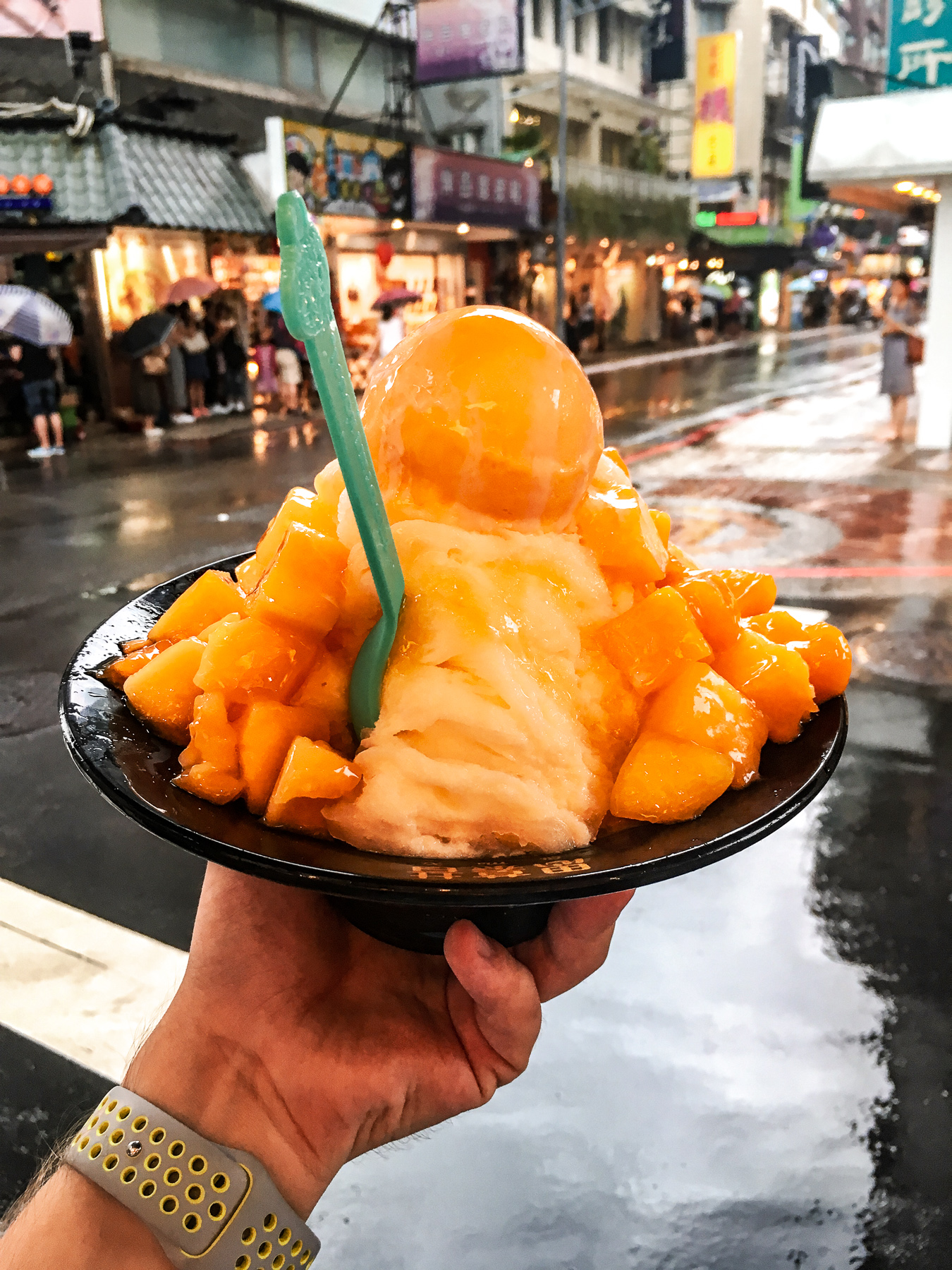 Not as sickly sweet as ice-cream and a truly larger-than-life creation, be prepared to queue and wait, this is delicious and refreshing!
Tian Jin Flaky Scallion Spring Onion Pancakes (蔥油餅 cong zhua bing)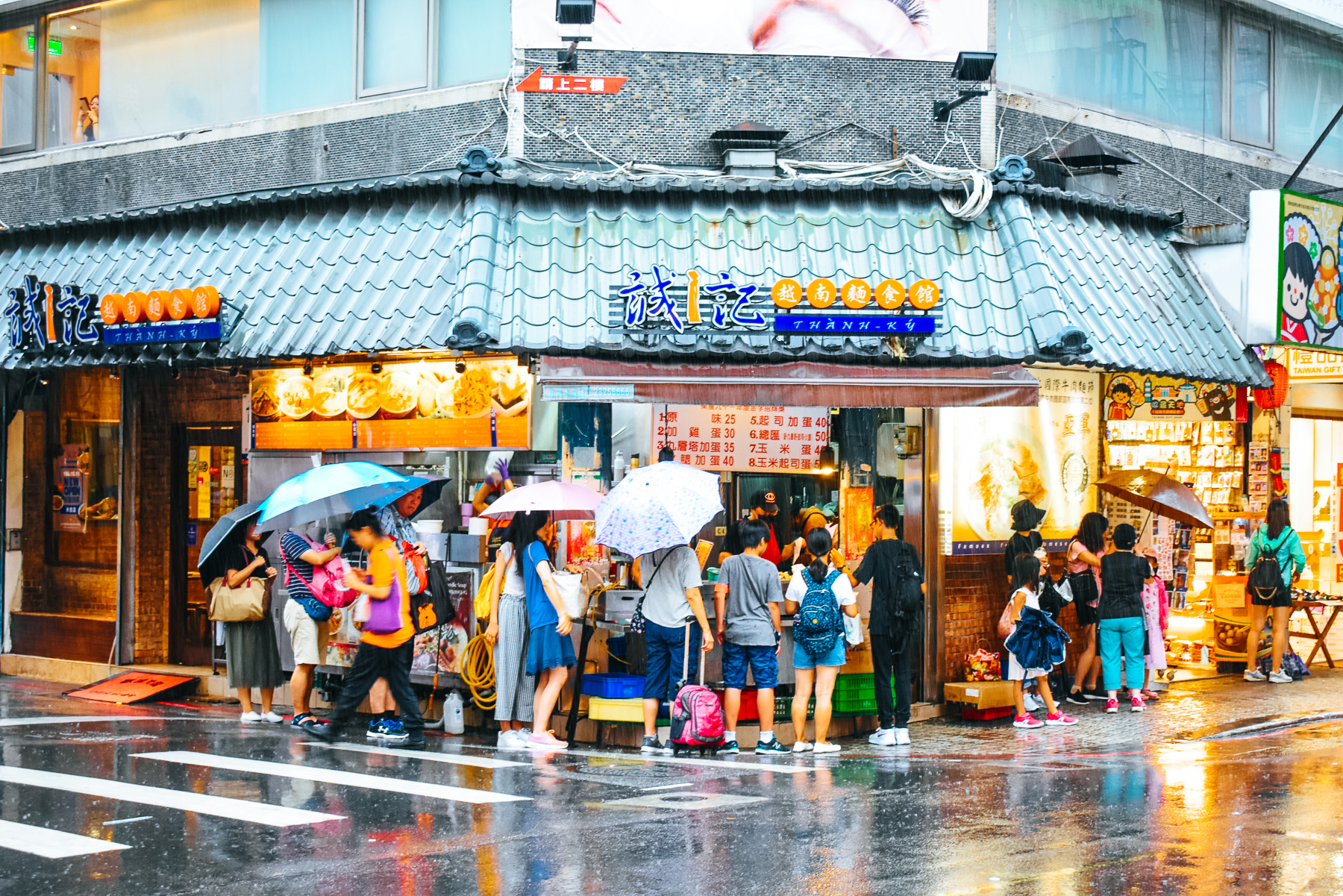 Directly across the street – on Yongkang Street – sits probably one of the simplest street food dishes in Taipei, but one of the most delicious. Thick, fluffy scallion pancakes, served warm freshly off the griddle in a paper bag, to be consumed on the move. Extra flavours and toppings can be added, but plain and simple is as satisfying as anything else. Barely a few pennies in cost, this is seriously cheap and delicious – the perfect snack on the move, made before your eyes in moments.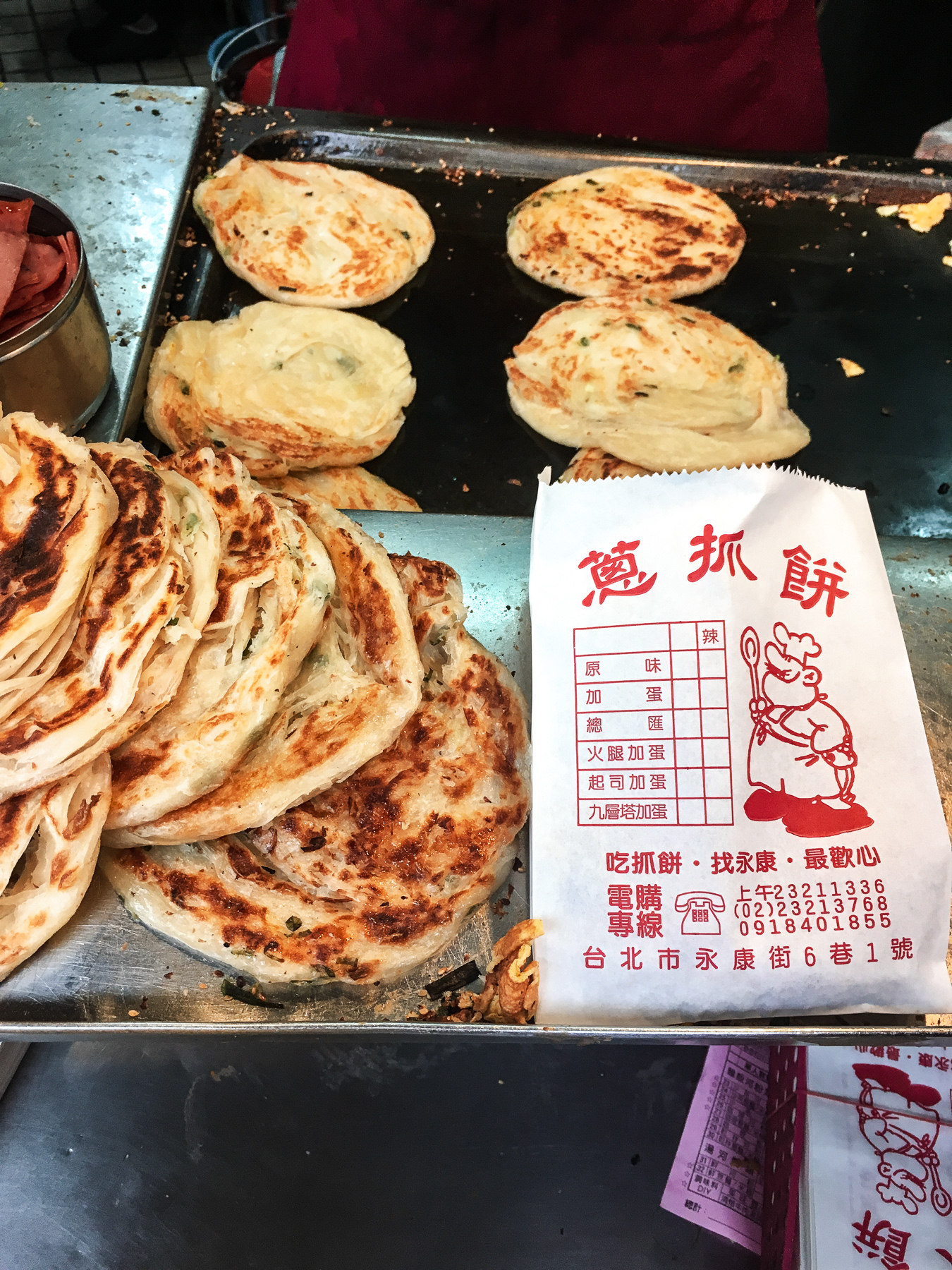 Must-See Areas of Taipei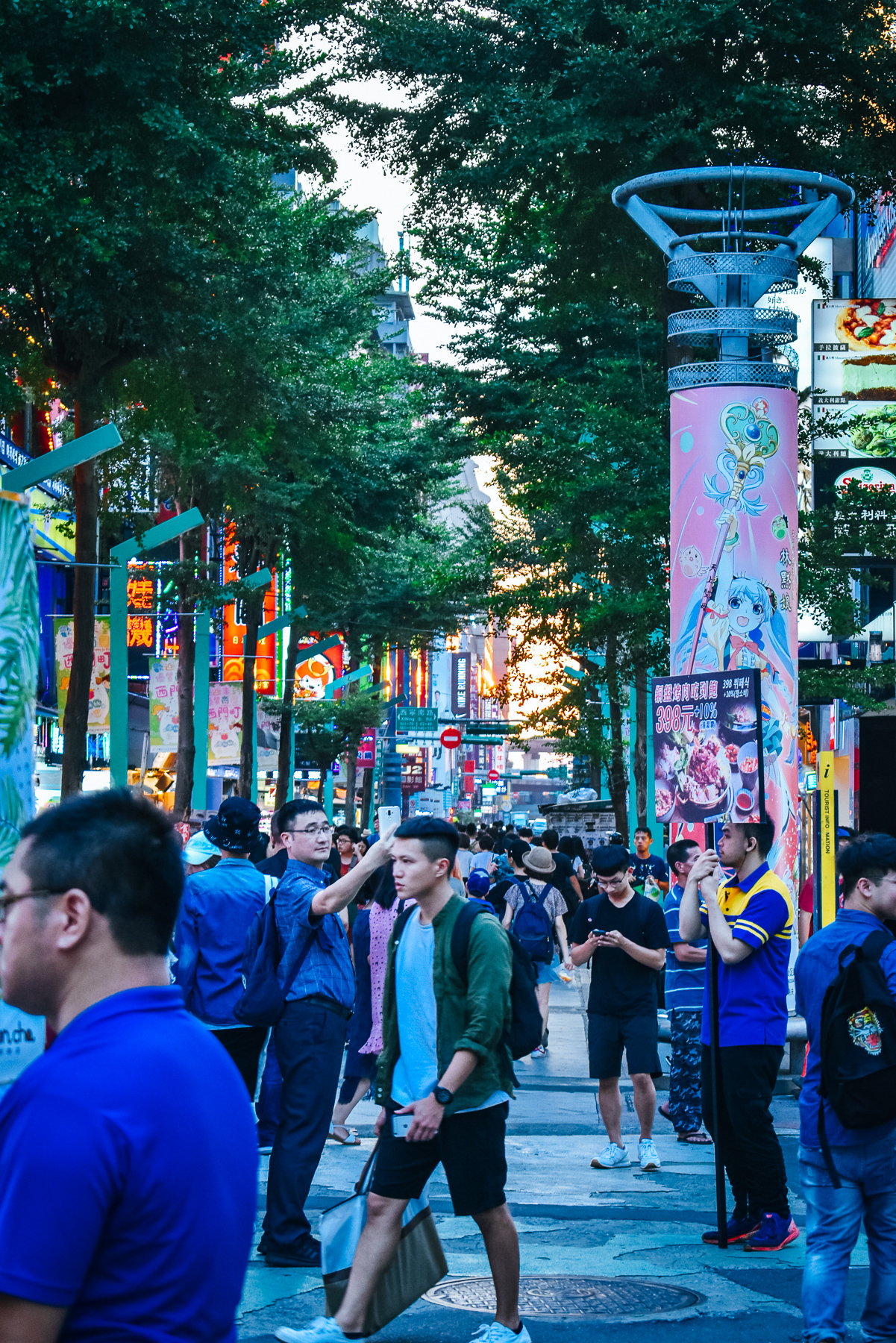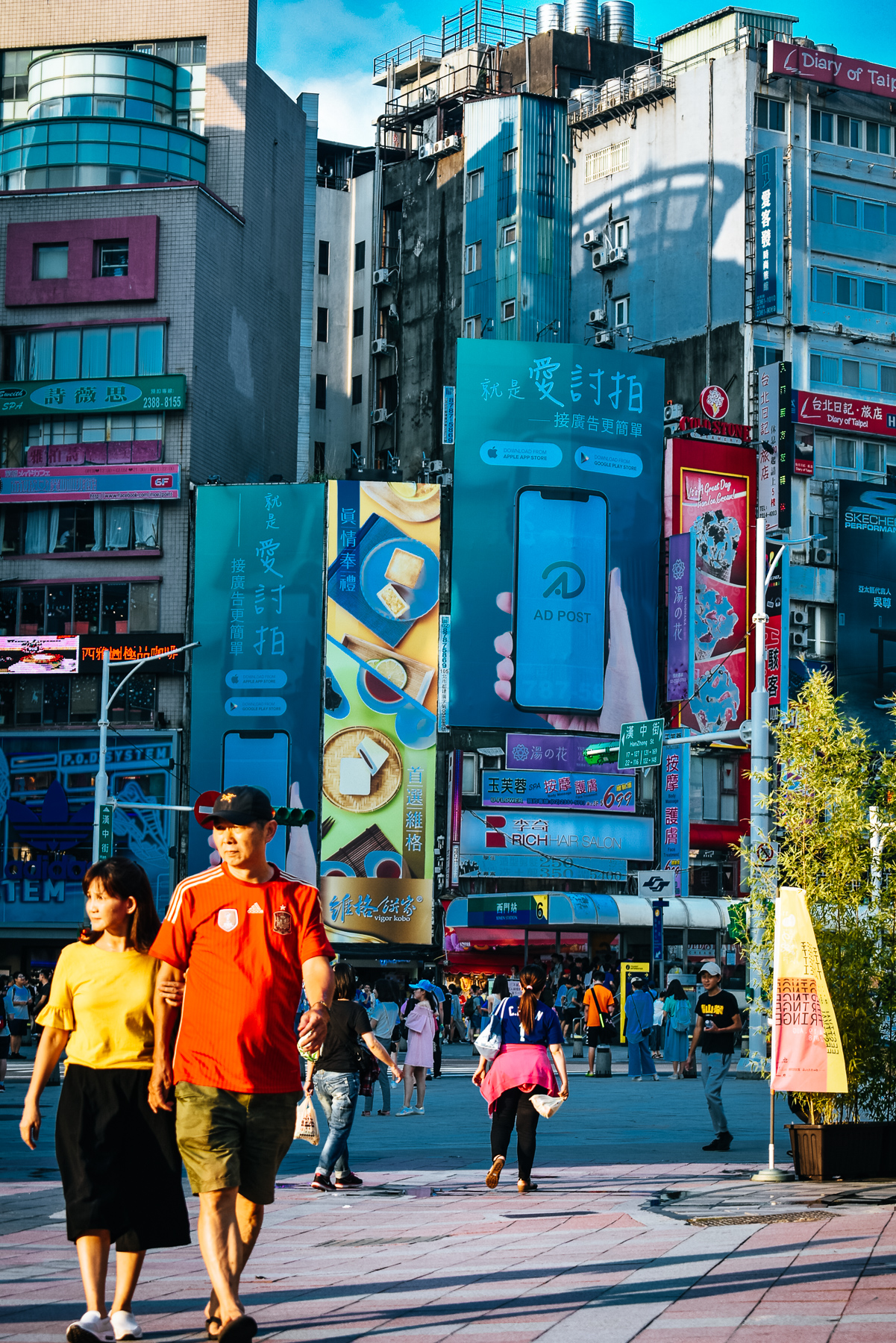 The area around the Ximen station stop, Ximending (西門町), is an area you must explore, and is pretty much the beating heart of central Taipei. You'll quickly realise why it's often referred to as "The Times Square of Taipei".
A collection, cluster and concentration of different streets packed to the brim with restaurants, shops, boutiques and cafes, you'll find familiar brands from Europe and the States sitting alongside Taiwanese businesses, big and small in these sprawling streets.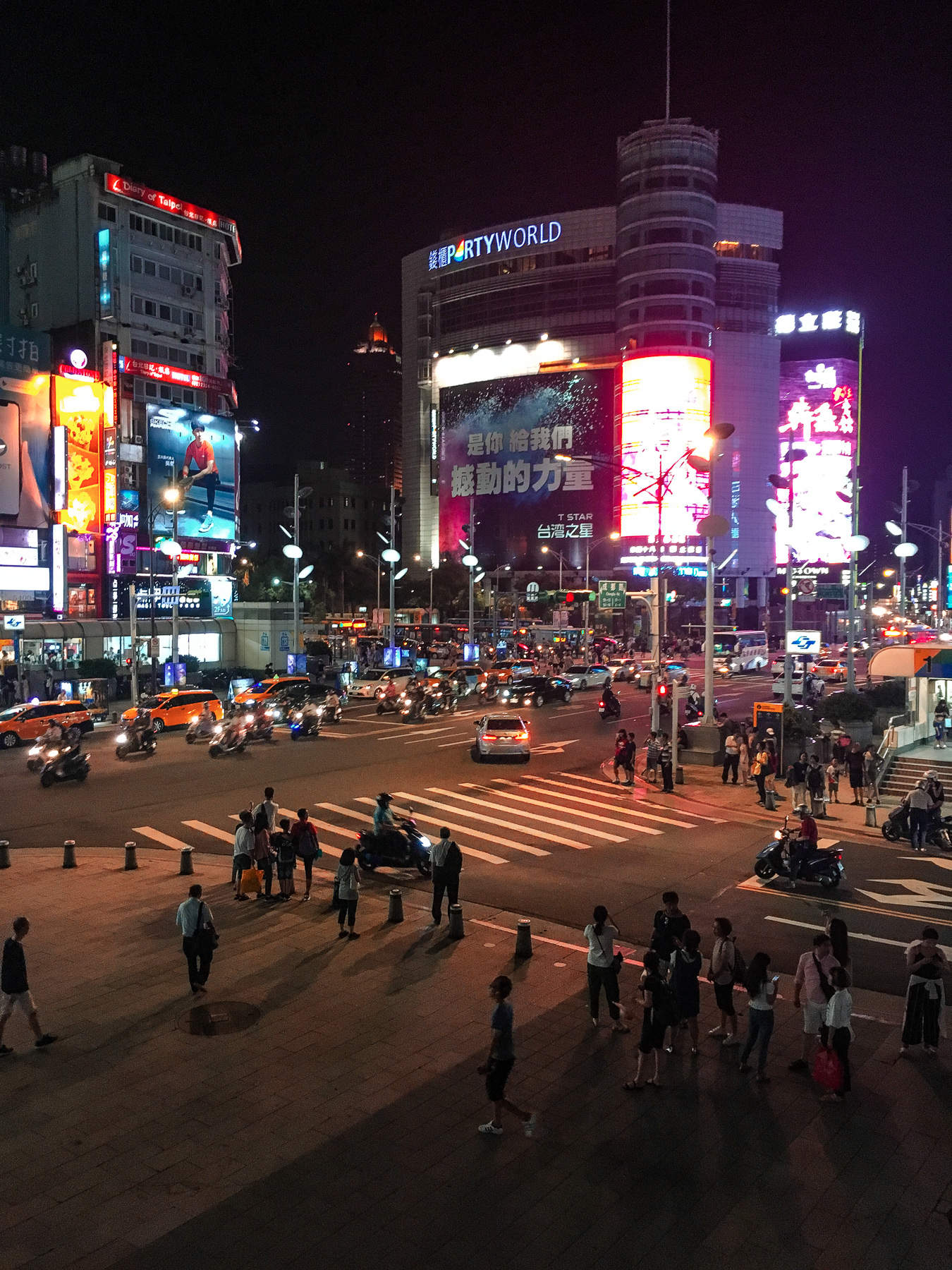 At night, in particular, it's an assault on the senses. Thousands of peoples going to and fro, a flurry of light, sound and colour. Needs to be seen and experienced!
The Red House (紅樓劇場) was one of our favourite spots in the city, which is very near Ximen Station, too. Somewhat unassuming from the outside, this is a creative hub, full of young entrepreneurs and craft businesses selling fashions, furniture, bags and jewellery and more plus a theatre on the second floor!
A gorgeous building, originally built by Japanese architects in the early 1900's it was originally used as a market, then turned into a theatre but sadly burnt down in more modern times. It was rebuilt and restored at the turn of the millennium. Now, it's packed with little crafts boutiques and also has a cafe and gift shop at the front.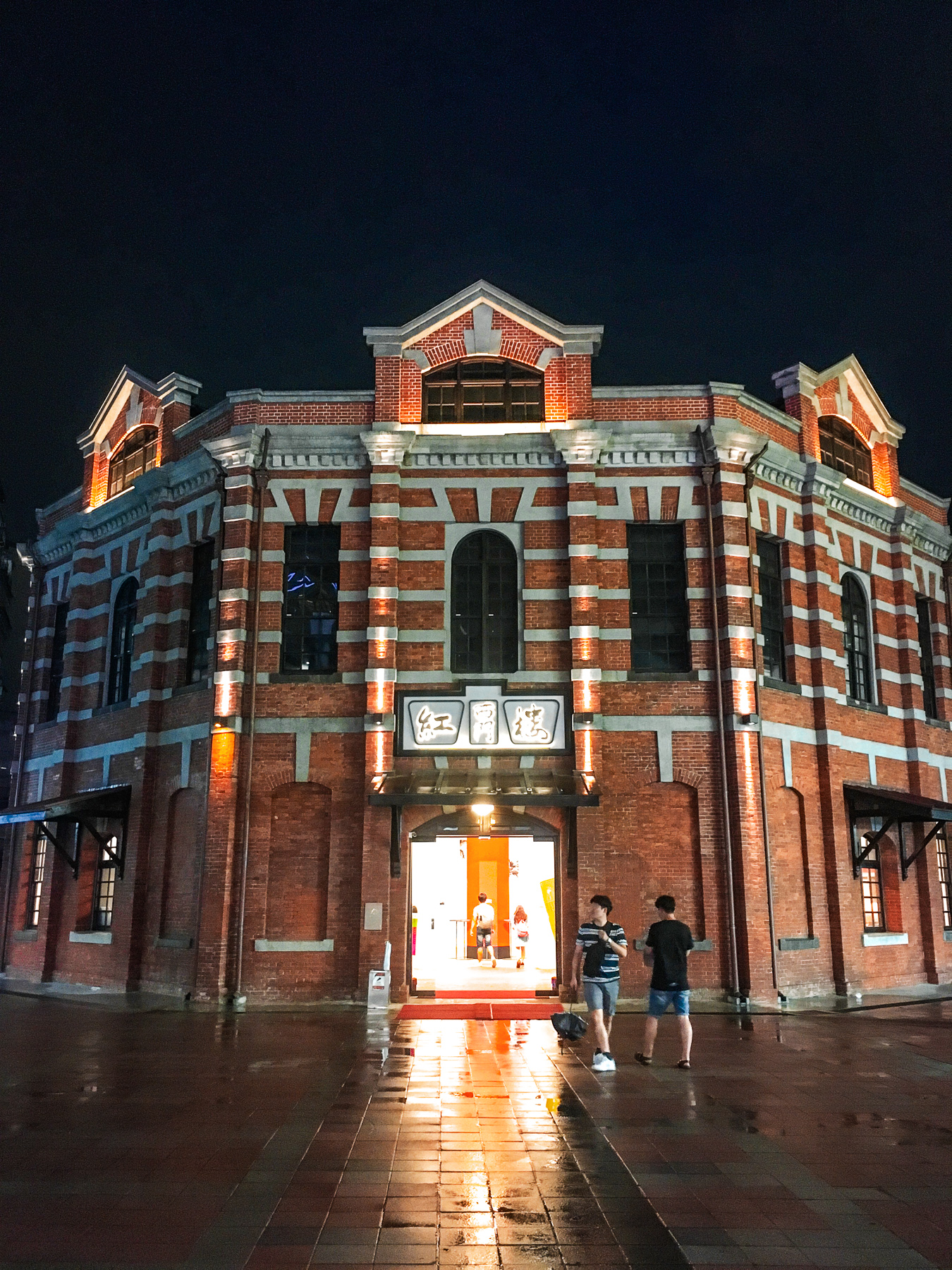 This area is the city's LGBT+ area, too!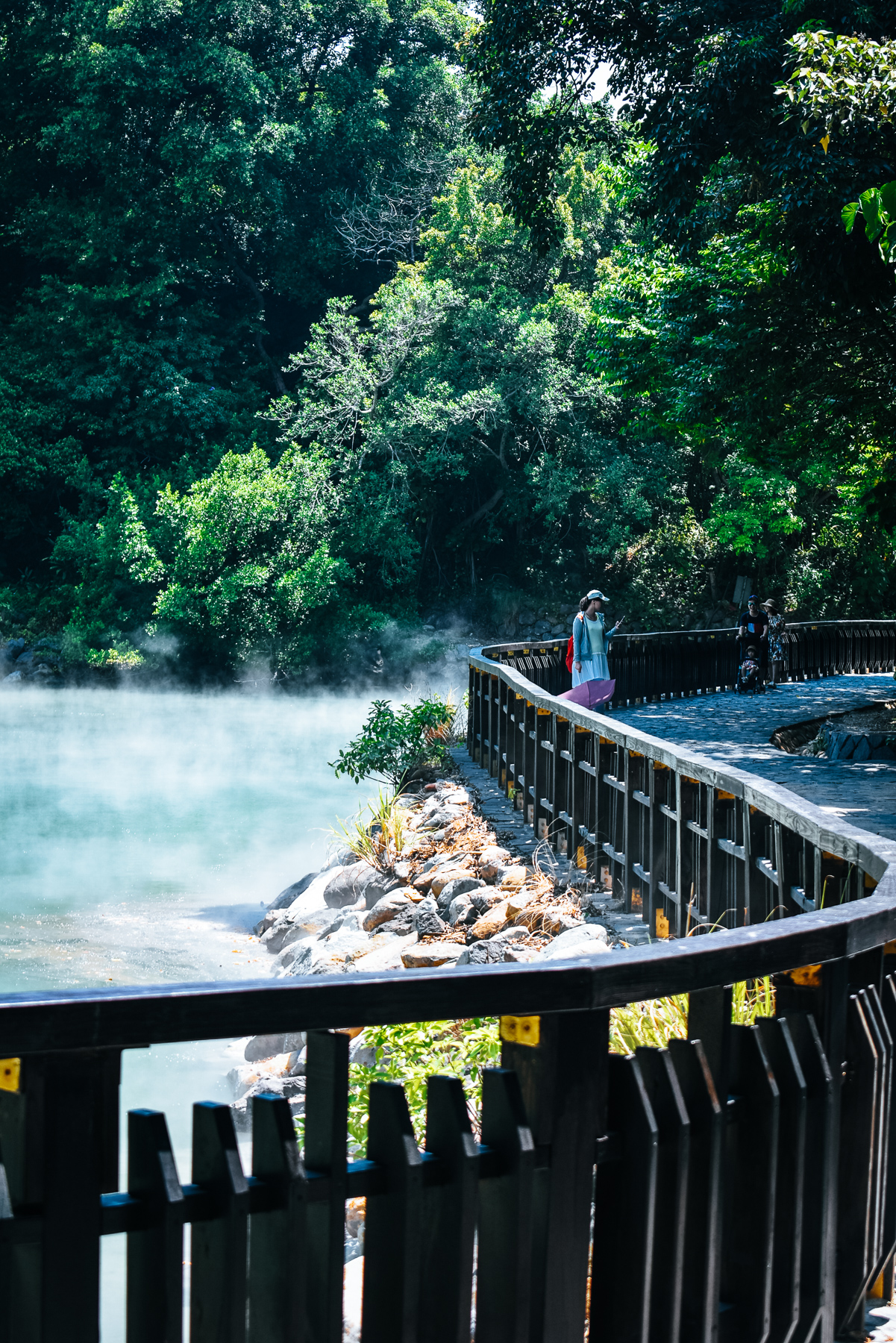 For something a little different, a visit to Beitou should be on your list. When Taiwan was occupied by Japanese between 1895 and 1945, this part of the city was seen as a valuable area thanks to the hot springs and since then it's been developed into a region of relaxation and tranquility with lots of public bathing, spa hotels and relaxation and rejuvenation opportunities.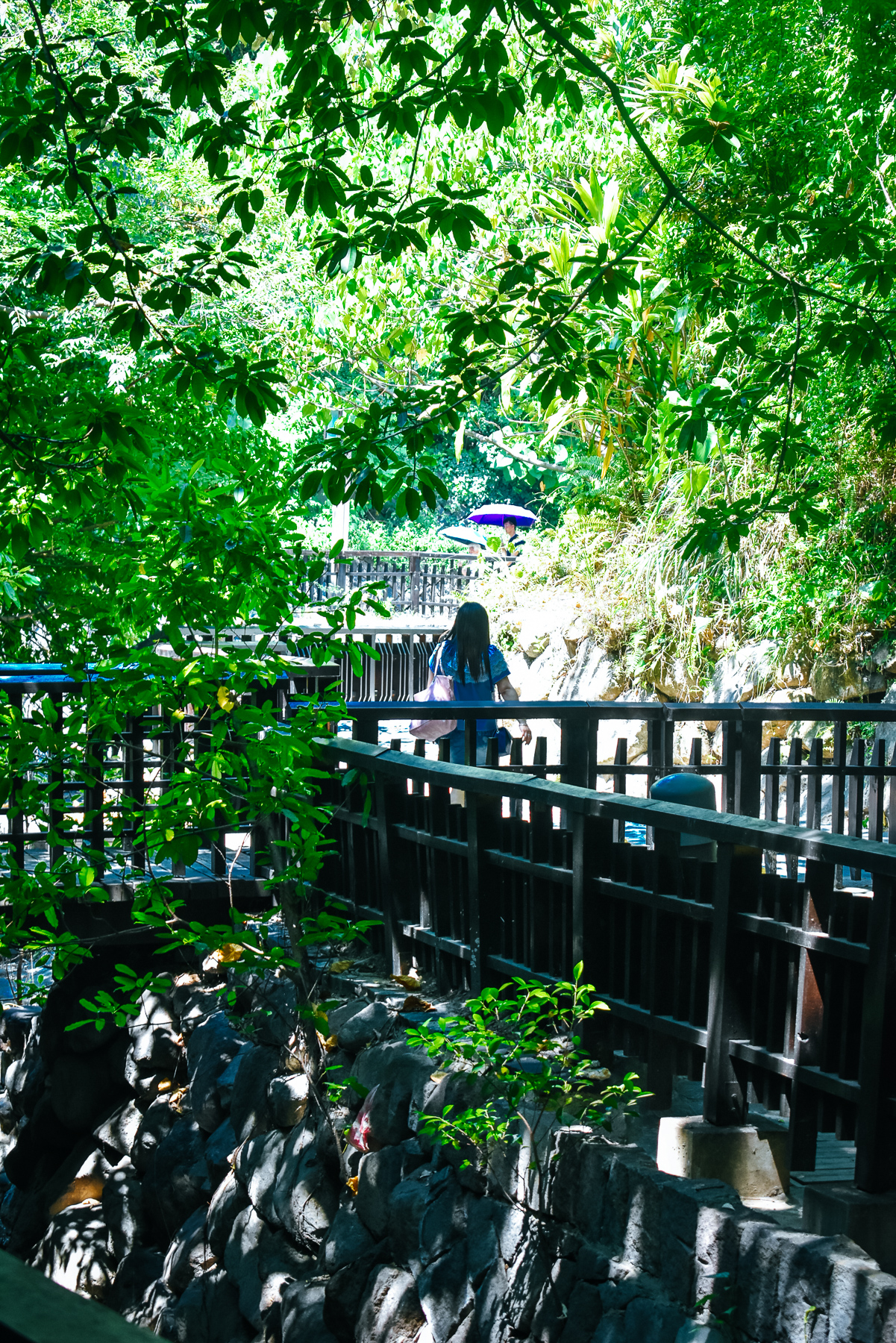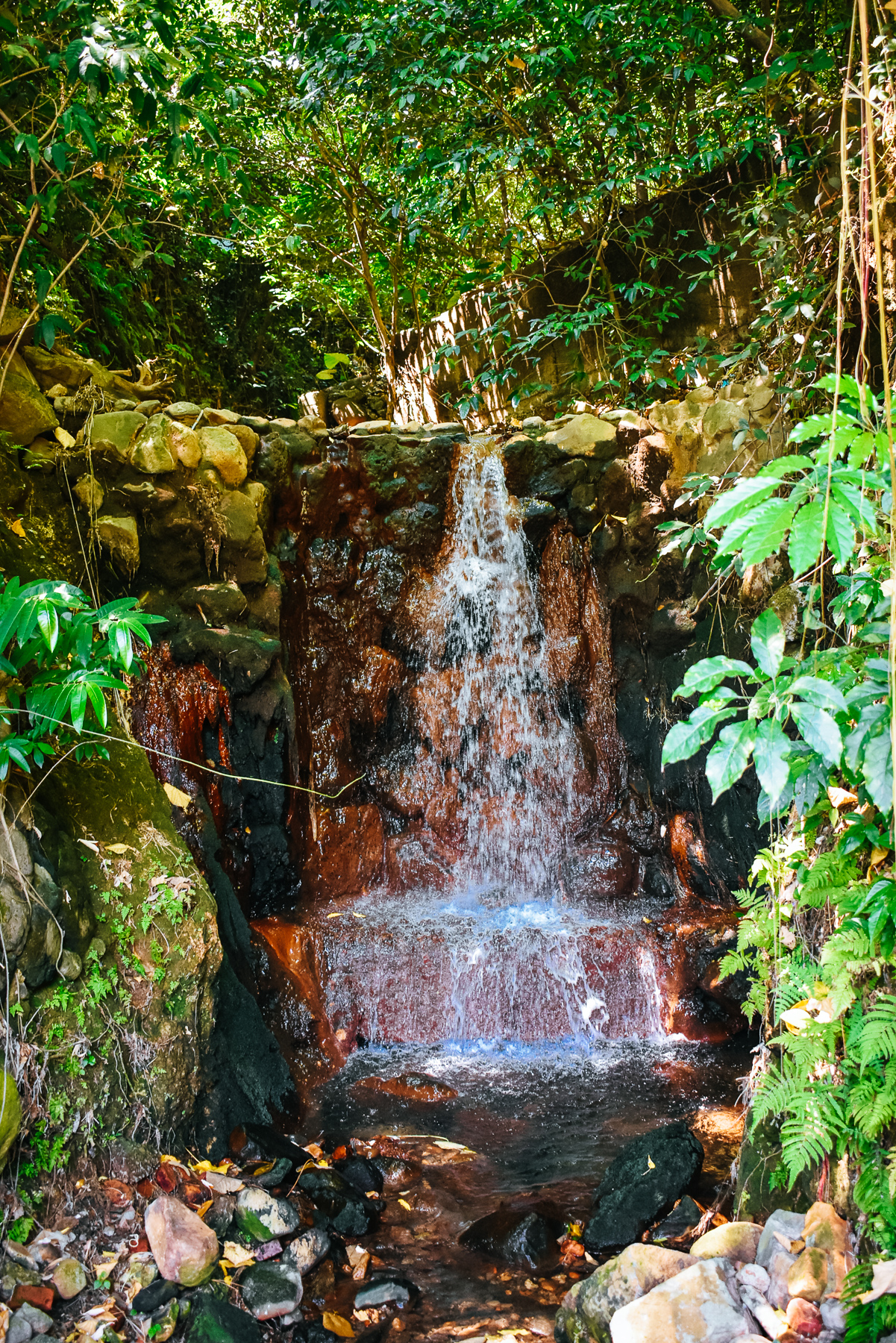 Two public baths are open, both of different styles (one a higher quality one, an another a more modest offering). We also visited the most incredible former hotel in Beitou now made up of the compact, but beautiful, Beitou Museum full of artefacts, art and information from the time of Japanese occupation.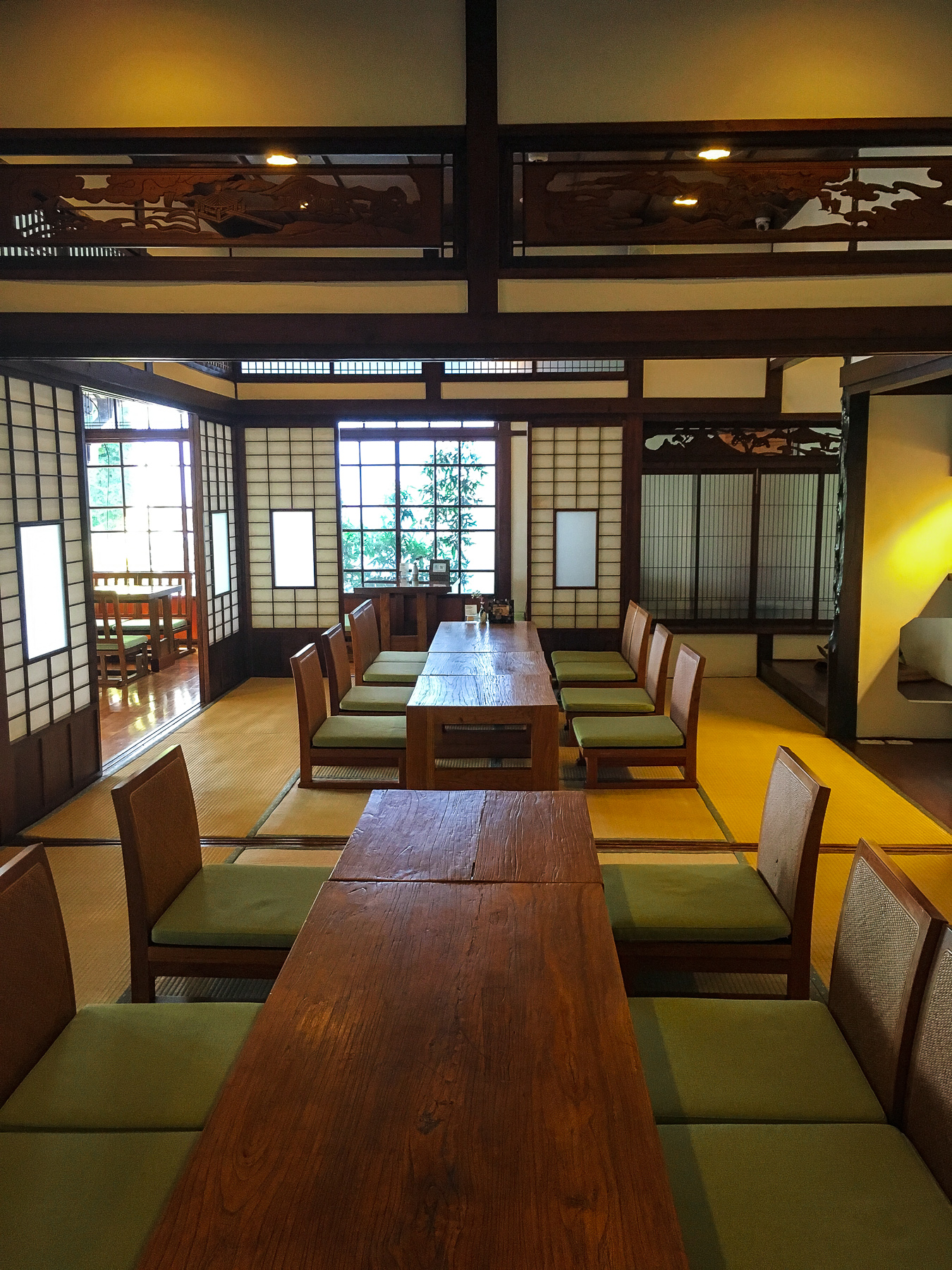 We had a really wonderful traditional tea ceremony with some sweet treats, too.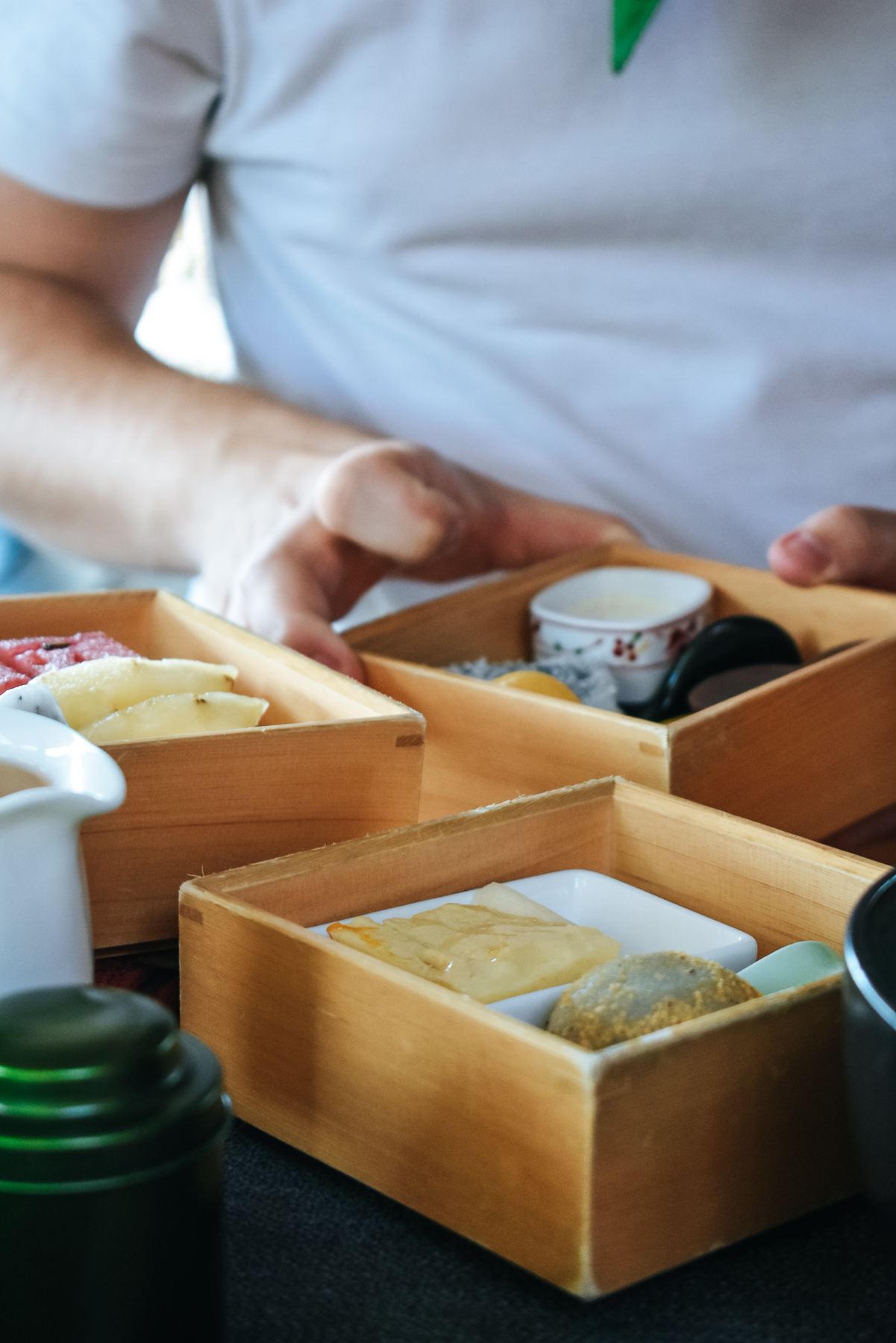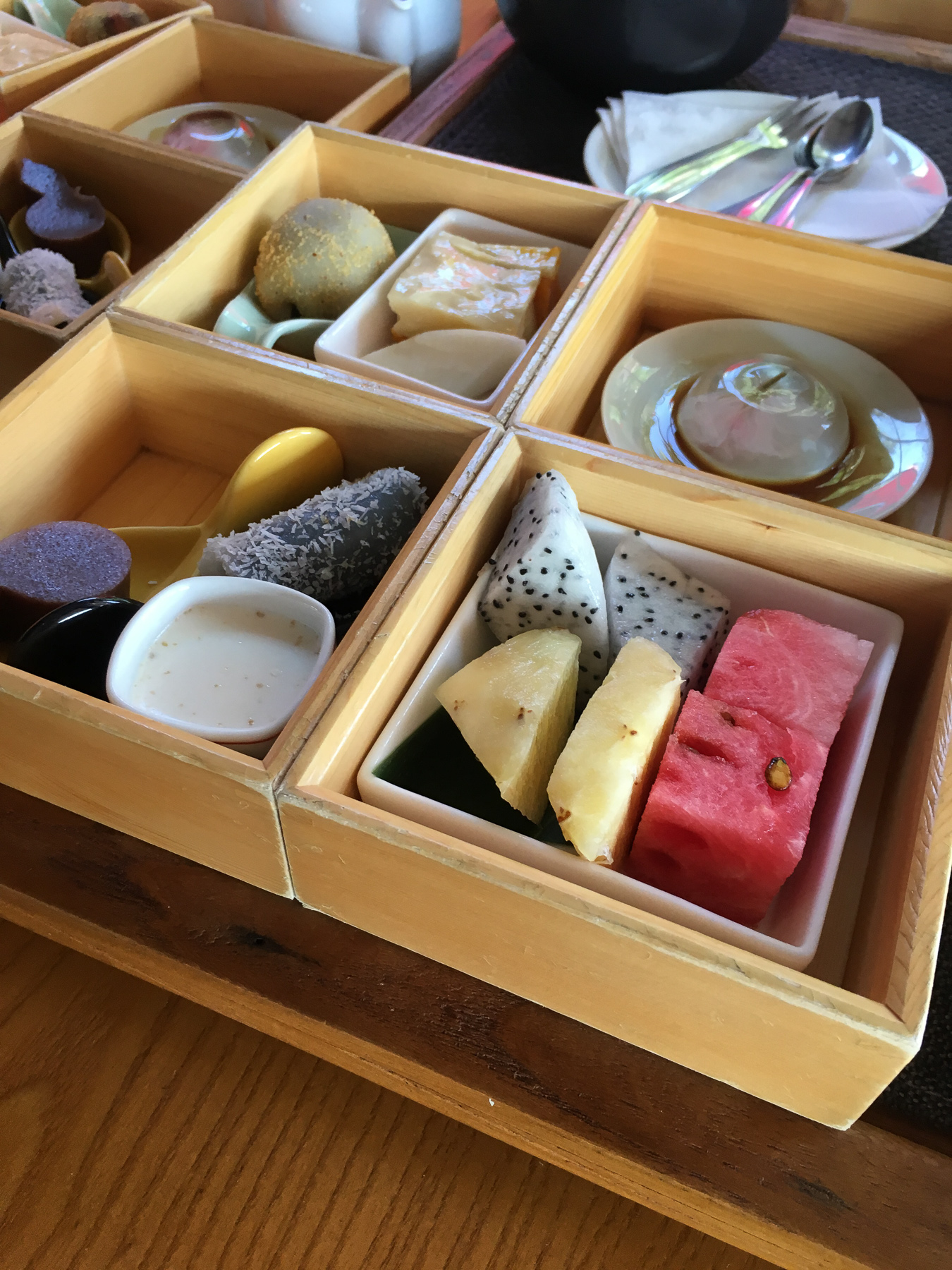 Back in the centre of town, Yongkang Street (永康街) is a trendy, hipster paradise, perfectly appointed with all manner of independent restaurants, boutiques and little side streets with small offices, cafes and cool housing.
Yongkang was one of our favourite areas of the city, oozing sophistication whilst still having that typical Taipei buzz about it.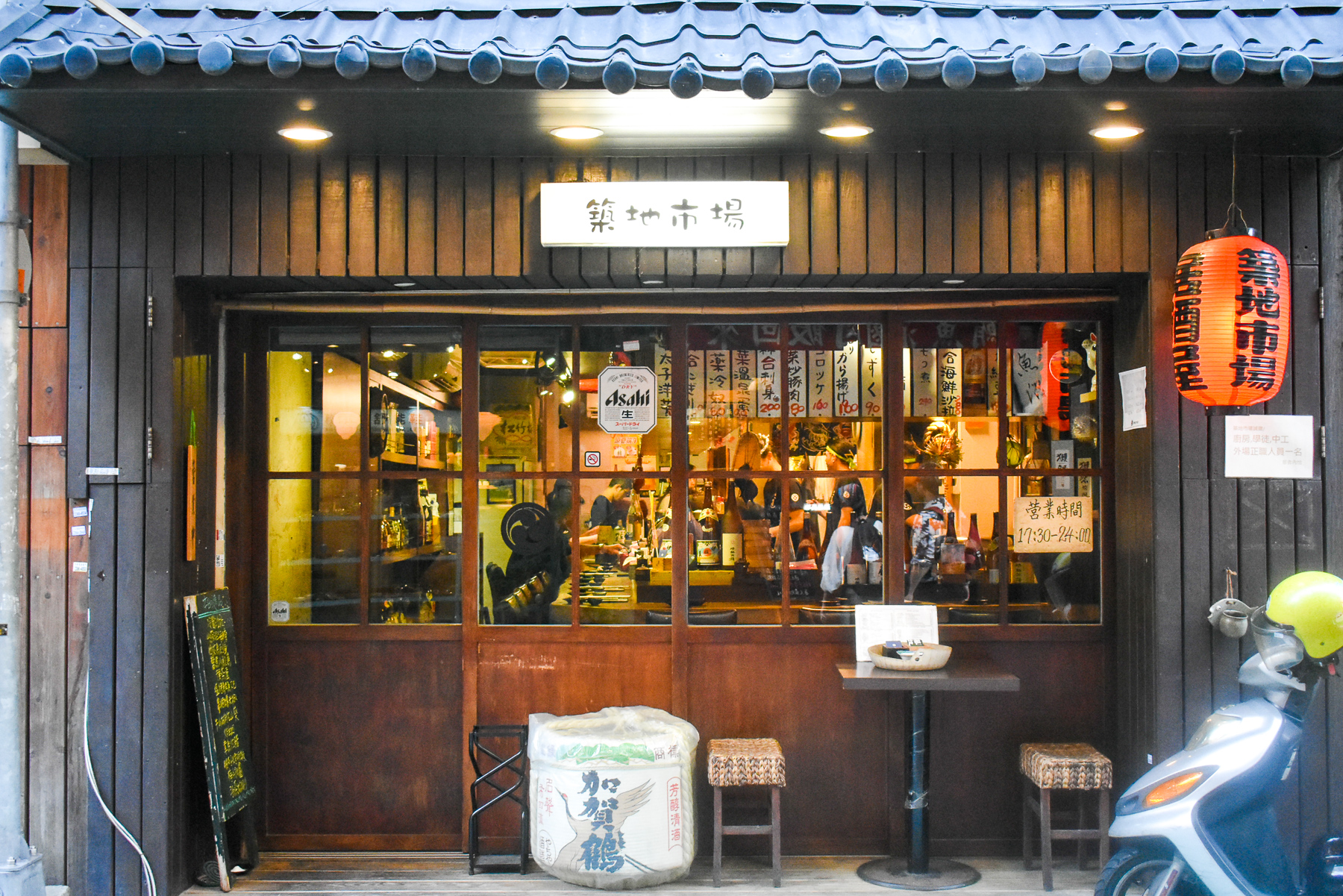 Dihua Street (迪化街) the oldest street in Taipei, with elements dating back to the 17th century of Dutch rule, is a wonderful example of the mixture and mélange of architectural styles in Taipei.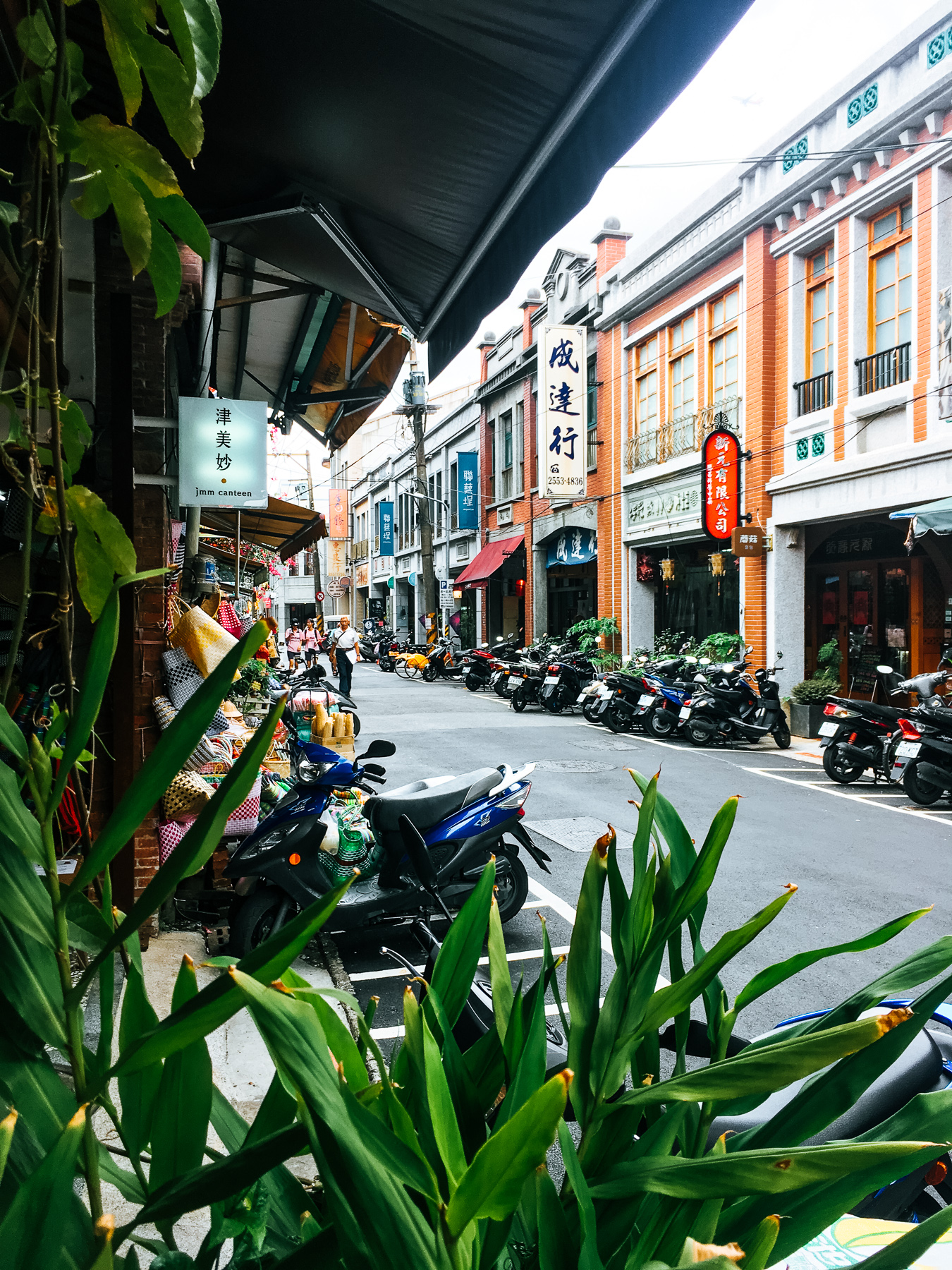 Finally, if you're after a bit of peace and quiet- a perfect place to catch up on some work or just enjoy a coffee, check out U MKT/Shintomicho Cultural Market (新富町文化市場).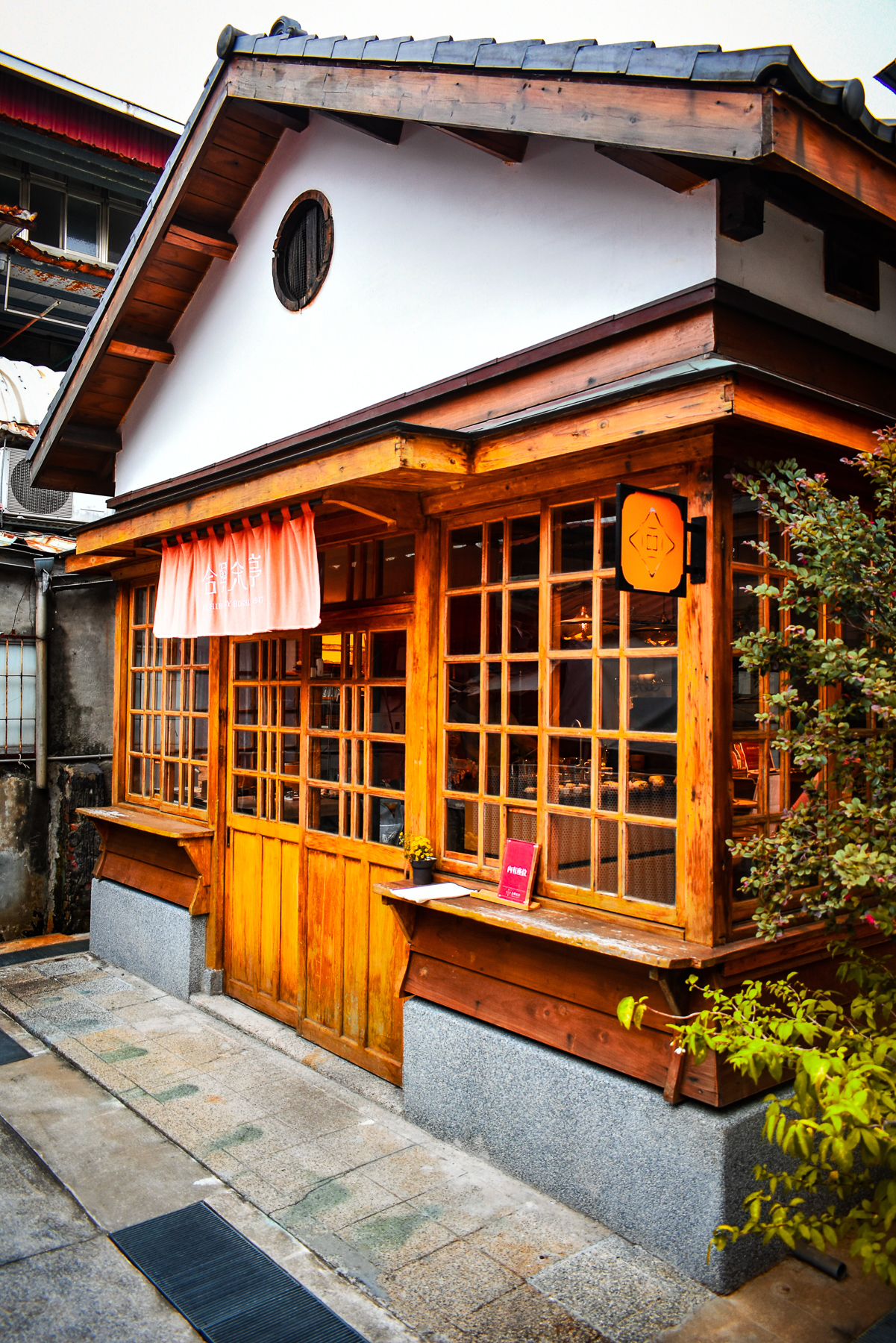 This former market hall was built in 1935 and has been regenerated as a co-working space for young creatives. The popular cafe at the front is open to all, but members can rent out the kitchen space, the radio studio and the desk spaces throughout the building.
It's a beautiful building – plus it's located directly beside a classic-style tea house as well as the Dong San Shui Jie Market which opens from early in the day to whenever all stock is gone!
Home & Folio Hotels – Where to Stay in Taipei 🏨
We stayed in the trendy Da'an District, which is a great area to base yourself – not quite in the heart and hub of the business of downtown Taipei but still only a couple of underground stops from all the action. We stayed in two hotels – the first of which was Home Hotel.
Near the Zhongxiao Fuxing underground station, this tall hotel building is elegantly-appointed and every touch in the design has been produced exceptionally. It's a hotel remarked in the Michelin Guide and within it has the Al Sorriso restaurant which uses local ingredients and techniques to create Italian dishes served with home-style Italian conviviality.
There's also a wonderful in-house bakery producing the most amazing cakes and desserts every day – worthy of stopping by to try these alone!
The second Folio Hotel was smaller and set within a remodelled former bank building, transformed in a recent renovation into an upmarket, design-focused hotel and restaurant, Port 23. Together, Port restaurant and Folio hotel form the portmanteau 'Portfolio' which is a cute and neat little combination of names and functions. Art and architecture merge and mingle at this self-described "treasure box" hotel, with its modern, compact and colourful rooms complete with everything you need.
We particularly loved the break-out, chill out areas around reception (perfect for laptop-tapping and catching up on work or researching where to explore) as well as the magazine selection spread out on the first floor – a really unique touch!
The breakfast spread is a much smaller affair than the options at Home Hotel, and the quality wasn't as high, butit offers everything you need for a satisfying start to the day. This hotel is located a stone's throw from the Da'an underground station too.
Getting around Taipei 🚇
Taipei has an extensive infrastructure of MRT (underground) stations (117 of them at the time of writing) across five main lines and two branch lines. There is a comprehensive network of over 300 bus routes and also four main rail stations, the biggest and most important being Taipei Main Station – which is also where you catch the MRT to and from Taoyuan Airport.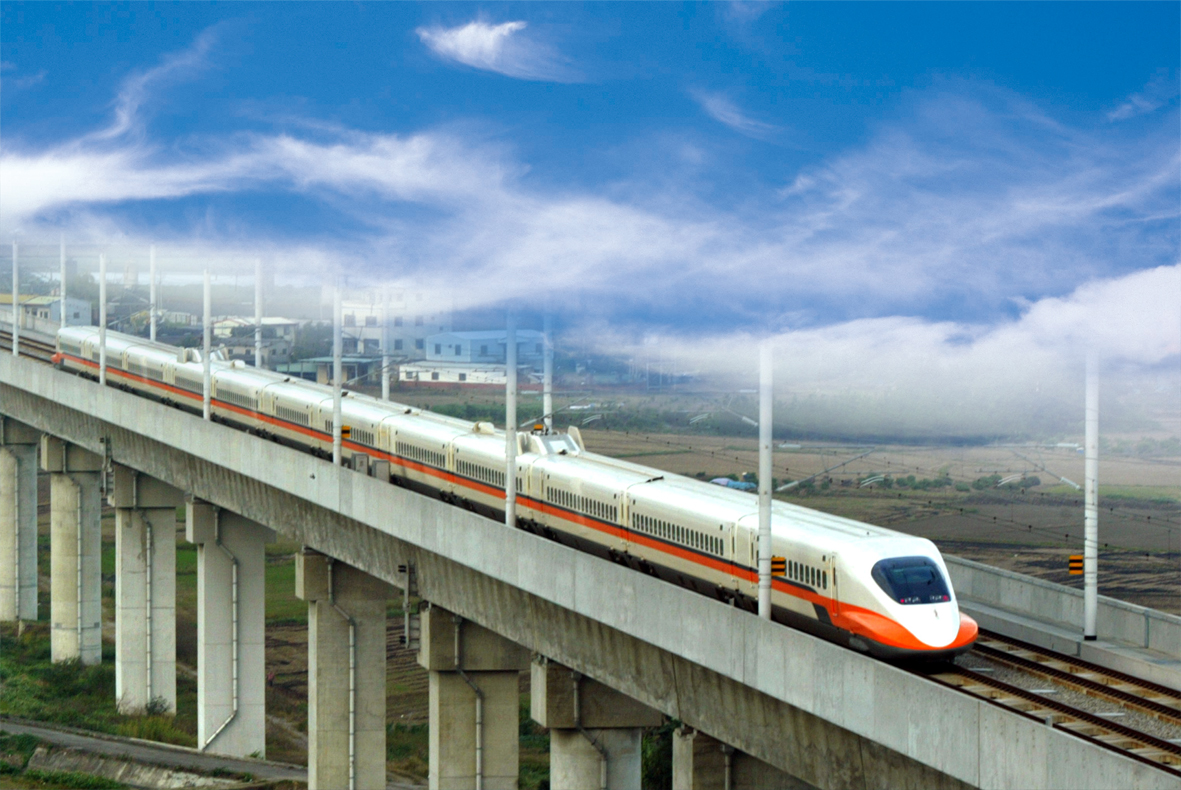 A Taiwan High Speed Rail (HSR) also operates to connect the island fast, conveniently and comfortably and all cities and counties of the country are accessible via Taipei. Worth noting that there's actually a smaller airport in the city centre, Songshan Airport, which is for mainly domestic but also international routes offering quick access to the city centre.
FOR MORE INFORMATION ON TAINAN OR TAIWAN IN GENERAL, AND FOR SOME MORE INSPIRATION BEFORE BOOKING YOUR OWN TRIP TO THE COUNTRY, VISIT THE OFFICIAL TOURIST BOARD WEBSITE: ENG.TAIWAN.NET.TW