Sponsored By Taiwan Tourist Board
Where Taipei is expansive, fast-paced and full-on, Tainan – Taiwan's second city – is a little more laid-back, easier to navigate and also easier to digest. Perfect, too, because it's arguably Taiwan's food capital (as well as being Taiwan's historical capital, before Taipei). Though Taipei caters to anyone and everyone, Tainan is where the real food lovers flock to to find the best dishes on the island. We spent a snappy two days in the country's second city, down the south west of the island, and here's how we suggest you spend yours!
Like every two-day trip we take, we left wanting more. We couldn't squeeze enough in, but Tainan is a destination we really hope we can get back to and encourage everyone who's visiting that part of the world to go out of their way to check this city out. It's ideal for a 48 hour trip, as it's a little more compact and easier to navigate than Taipei. Its land area is 2,000km and population just under 2 million, whilst Taipei (including New Taipei City) would be at least triple that.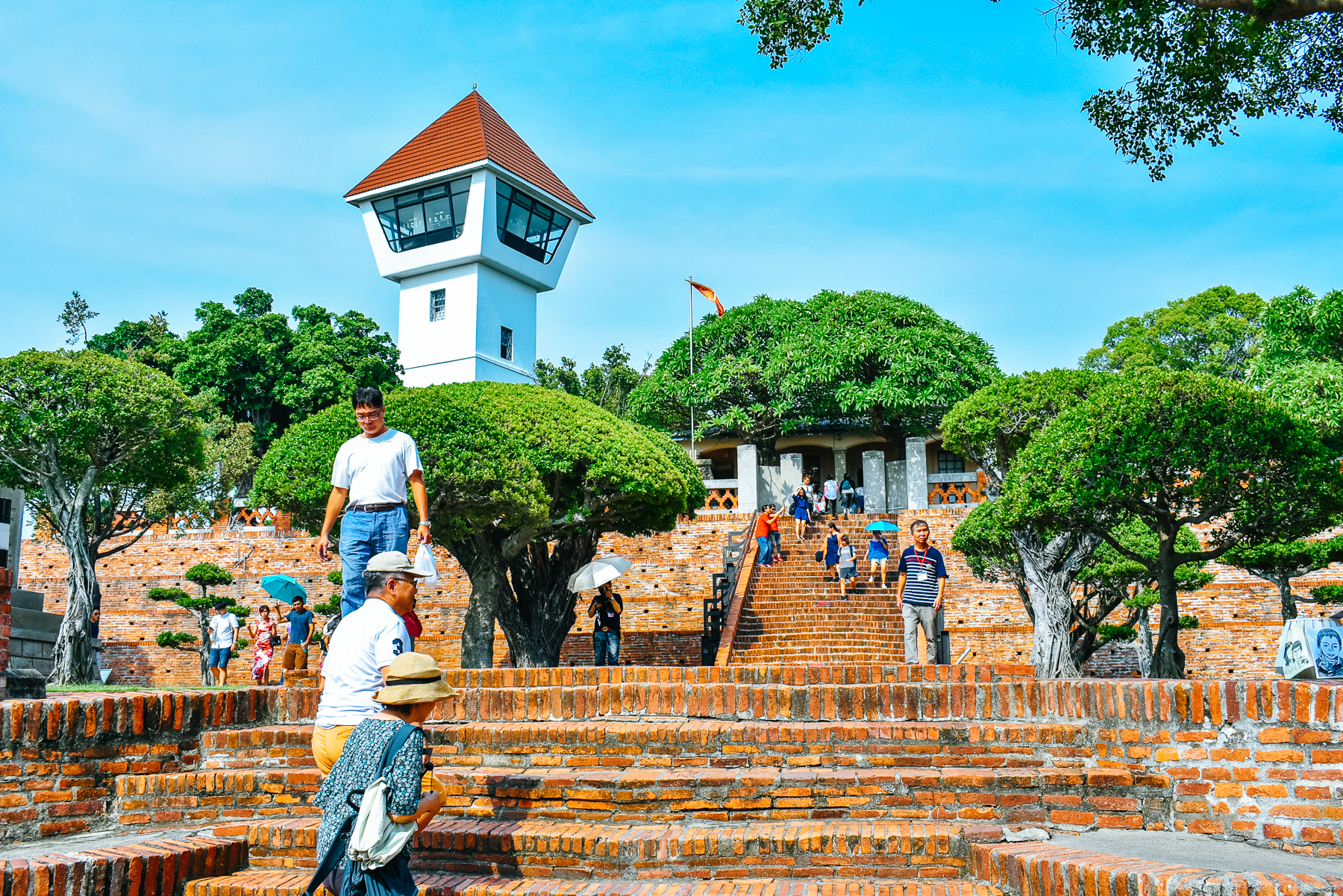 For most of our audience in Western Europe, Taiwan is a fair trek so Tainan as a sole destination may not be top of your list – but if you plan on visiting Taiwan and only make it to Taipei, you're only getting some of the story and only a glimpse into the diversity and breadth of what Taiwan offers. Like so many other countries, the second city is often the more creative, grittier, more authentically traditional place to see. Tainan is no different. It still has its skyscrapers, built up districts and seamless infrastructure, but all-in-all, is a relatively low rise city with lots of history and culture at its heart.
Things To See/Do in Tainan 🏙
In a 48 hour trip to Tainan, you'll want to explore everything quickly and with great ease. The main attractions of the city are the temples and fortresses, dotted about the different districts. One of the easiest options for visitors would be to pick up a Tainan Pass, which offers entrance to most attractions as well as transport around the city- full details available here.
A visit to Tainan wouldn't be complete without visiting the Confucius Temple (臺南孔子廟), which was the original Confucian temple in Taiwan, dating back to 1665. While it's a big tourist attraction, Confucius ceremonies continue to take place to this day on the site. Over 300 years, with many different ideologies and regimes coming and going, this is a remarkable place to see and be able to appreciate art, traditions and antiques from across the centuries. Be sure to write an affirmation on one of the pieces of paper before you leave!
Similarly, there are fortresses dotted around the city too which tell the story of how Taiwan has gone through colonisation, from the Spanish to the Dutch, then later the Chinese and Japanese. Over the many years, the land around these fortresses has been reclaimed from the sea, and the city has built up around them. Each one offers a different, stunning display of traditional Taiwanese architecture, and are well worth a visit.
Fort Provintia (Chihkan Tower, 赤崁樓) is fairly central and especially beautiful to see. The ruins of the original Fort Provintia, built by the Dutch in 1653 but destroyed by a devastating earthquake in 1862, stands in the corner in the shadow of the pavilion we have today. During Japanese colonial rule, this became an Army Garrison Hospital.
There's a cute little park surrounding the tower, with a koi pond surround. Packs of fish food can be bought in the machines dotted about for the equivalent of about 20c. A tip is to feed the fish furthest away from the machine, they're far smaller for the obvious reasons! Have a walk through the two pavilions and take in the view from the top.
Another fortress – the bigger of the two – is Anping Fort/Fort Zeelandia (熱蘭遮城), where you can learn more about the Dutch rule in Taiwan, which at the time was known as Formosa (beautiful island). Despite it's importance as a Government office during the 1660s, it became abandoned until after Japanese rule in the 20th century, when it was rebuilt.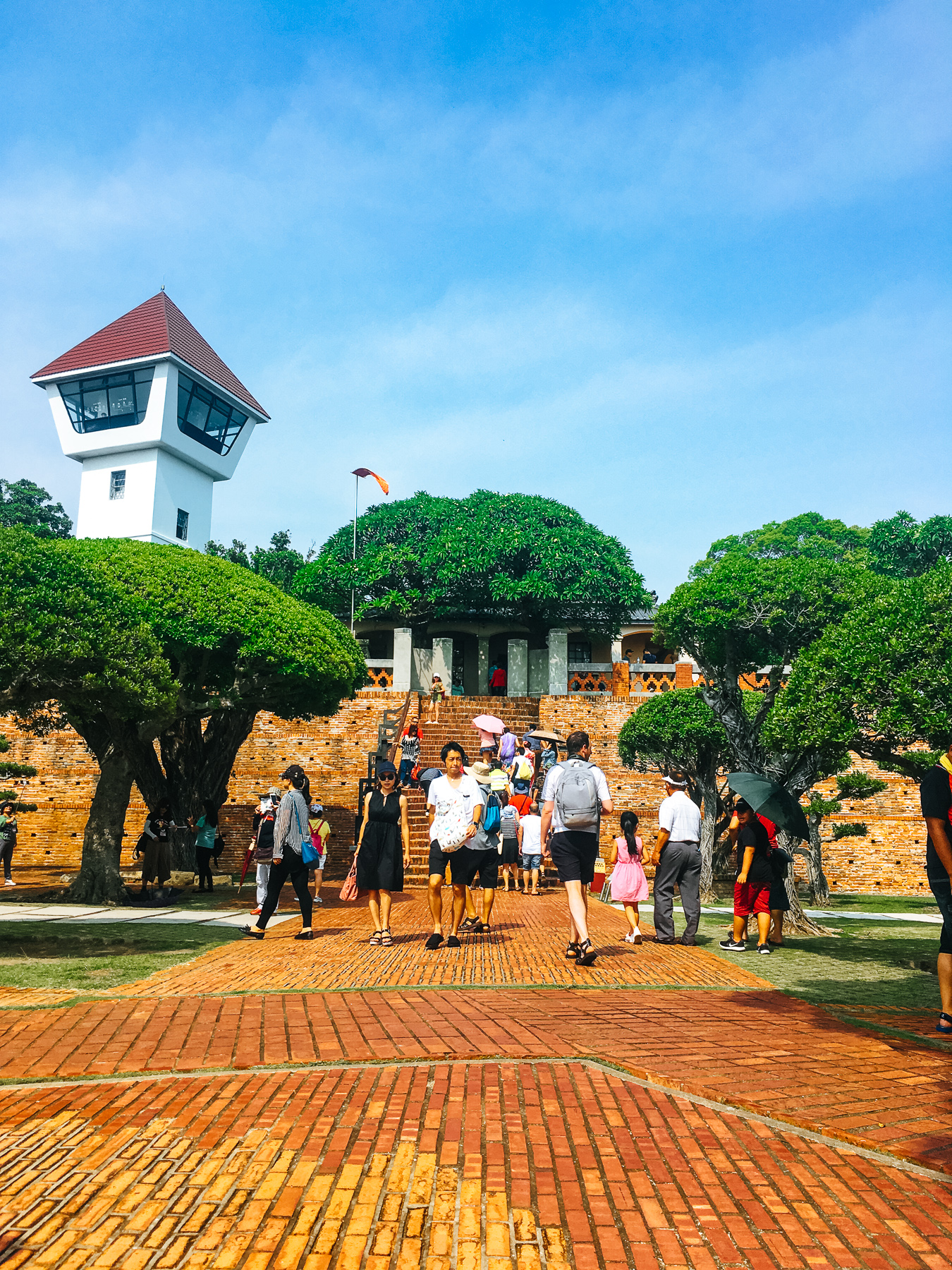 Again, the views from the top, which is up quite a number of stairs, are beautiful. If you're feeling very energetic, be sure to climb the surveillance post too, built in 1975. If not, have a walk around the ancient walls which are the only remaining part of the original Dutch Fort on site.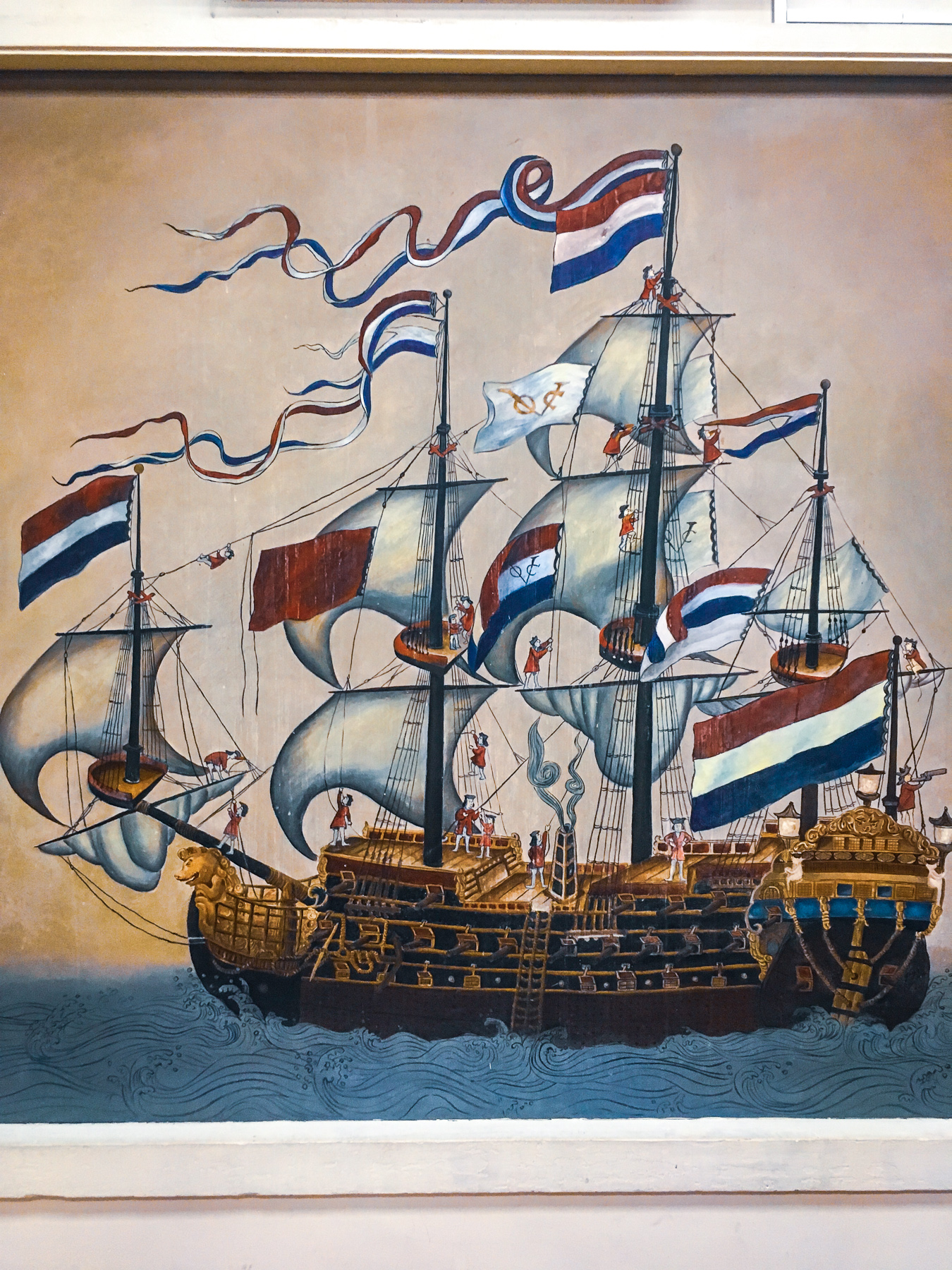 Anping is a bustling area of markets and attractions, it's around here you'll pick up some souvenirs, local crafts and of course, endless amounts of street food. Take a walk through these street markets to get to the unforgettable and mesmerising Anping Treehouse (安平樹屋). Around this area, Banyan trees have dominated the surroundings, taking hold of former warehouses and outbuildings.
A deep rooted tree, the Banyan grow roots from the leaves which wrap themselves around and through anything they can get around. Truly a phenomenon that needs to be seen to be believed – it's mesmerising to see how this expansive warehouse has become engulfed by nature. It's where the man-made and the natural intermingle in a dazzling, dark, dramatic and almost poetic way. In this example, nature is winning.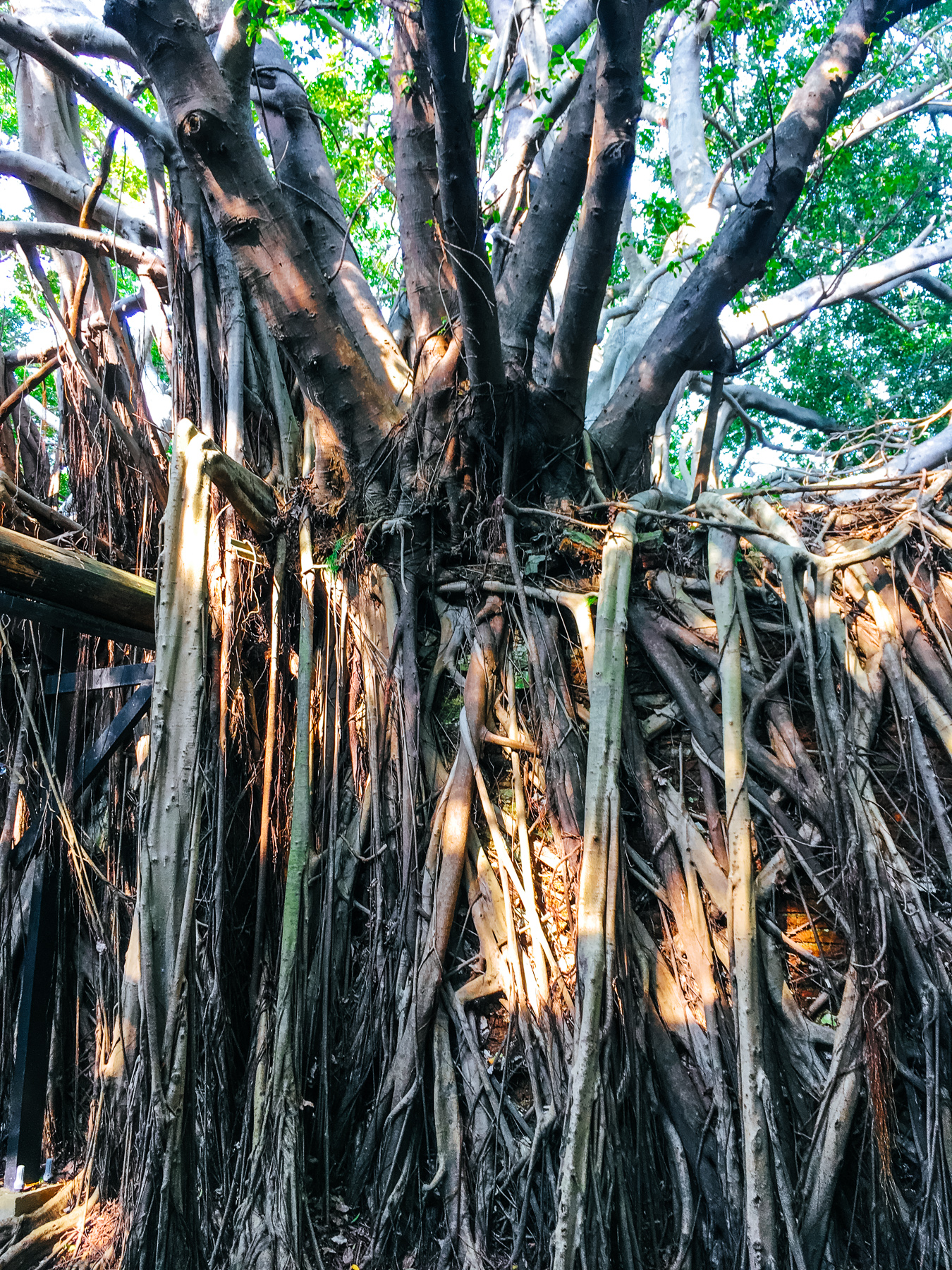 Areas to Visit in Tainan
Like so many parts of Taiwan and the Far East, street food is king, and there's a few areas in particular where you should try and check out Shennong Street (神農街) is especially beautiful at night, and is packed full of small retailers as well as cafes and restaurants, some below in particular which caught our eye…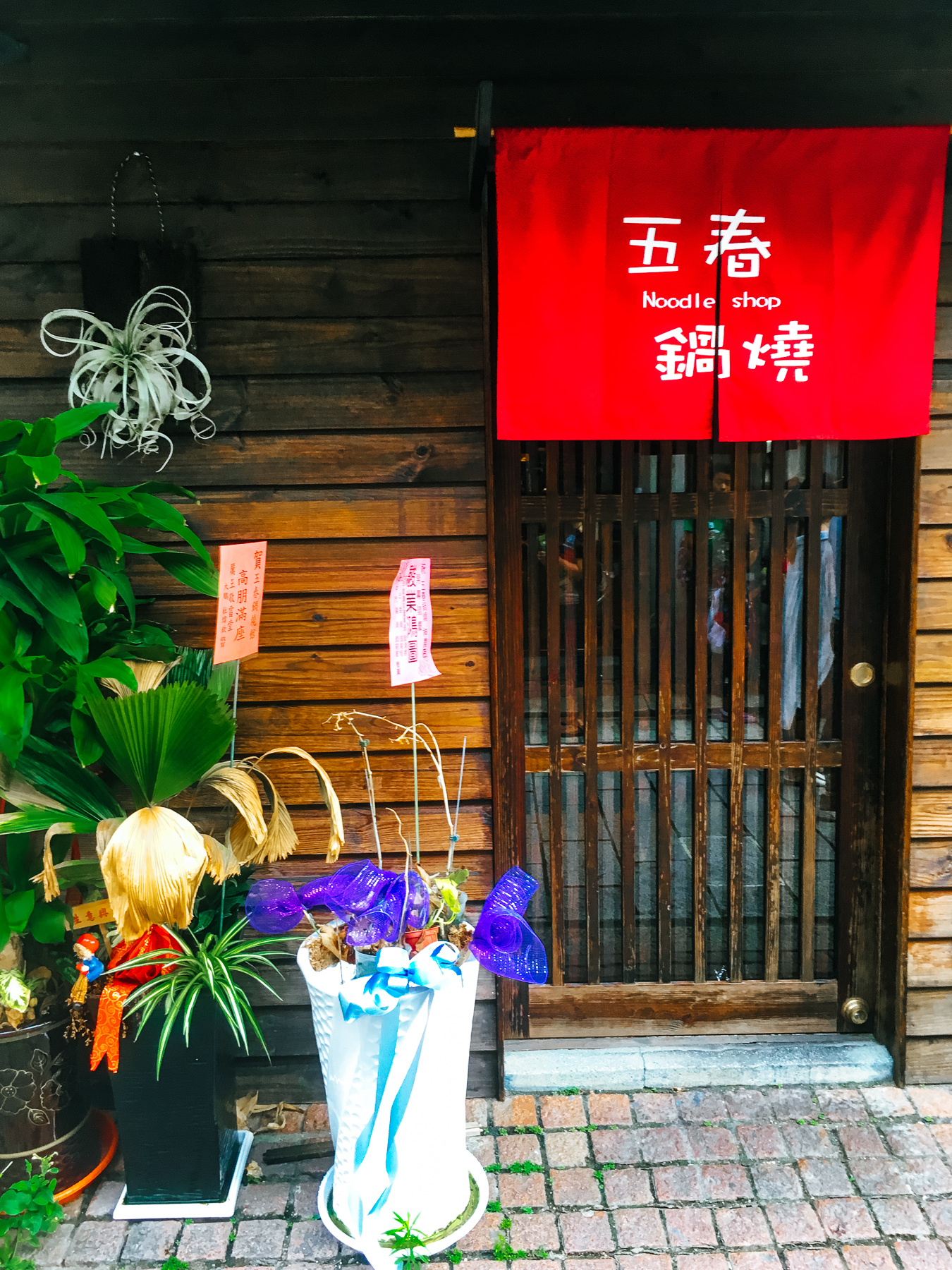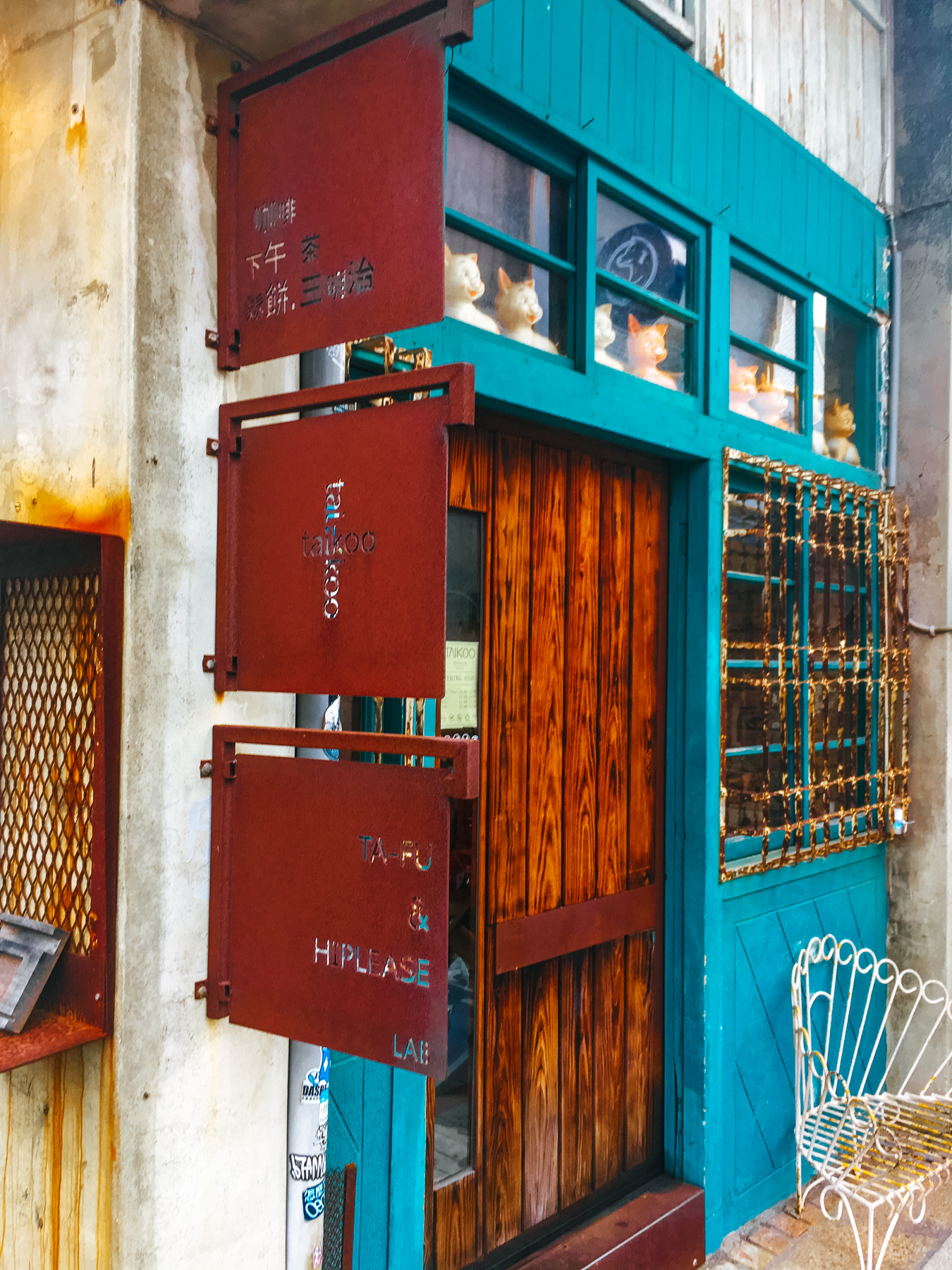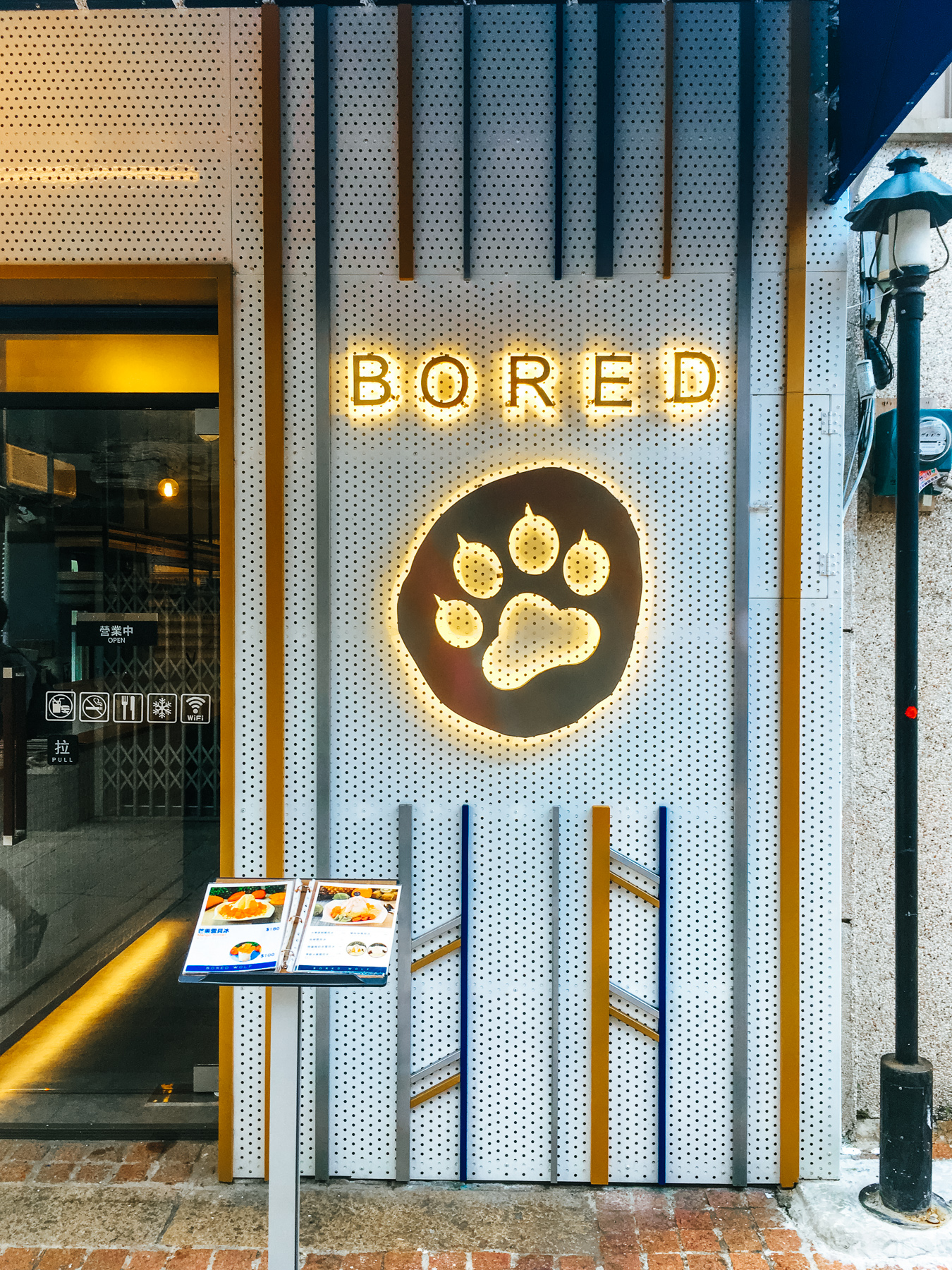 One of the coolest areas to visit and explore is the Blueprint Creative & Cultural Park (BCP, 藍晒圖文創園區). This is sort-of the hipster area, where young entrepreneurs have set up shop and taken over this district with the support of the city as a kind of Business Improvement District, which lots of cities across Europe are doing of late, too.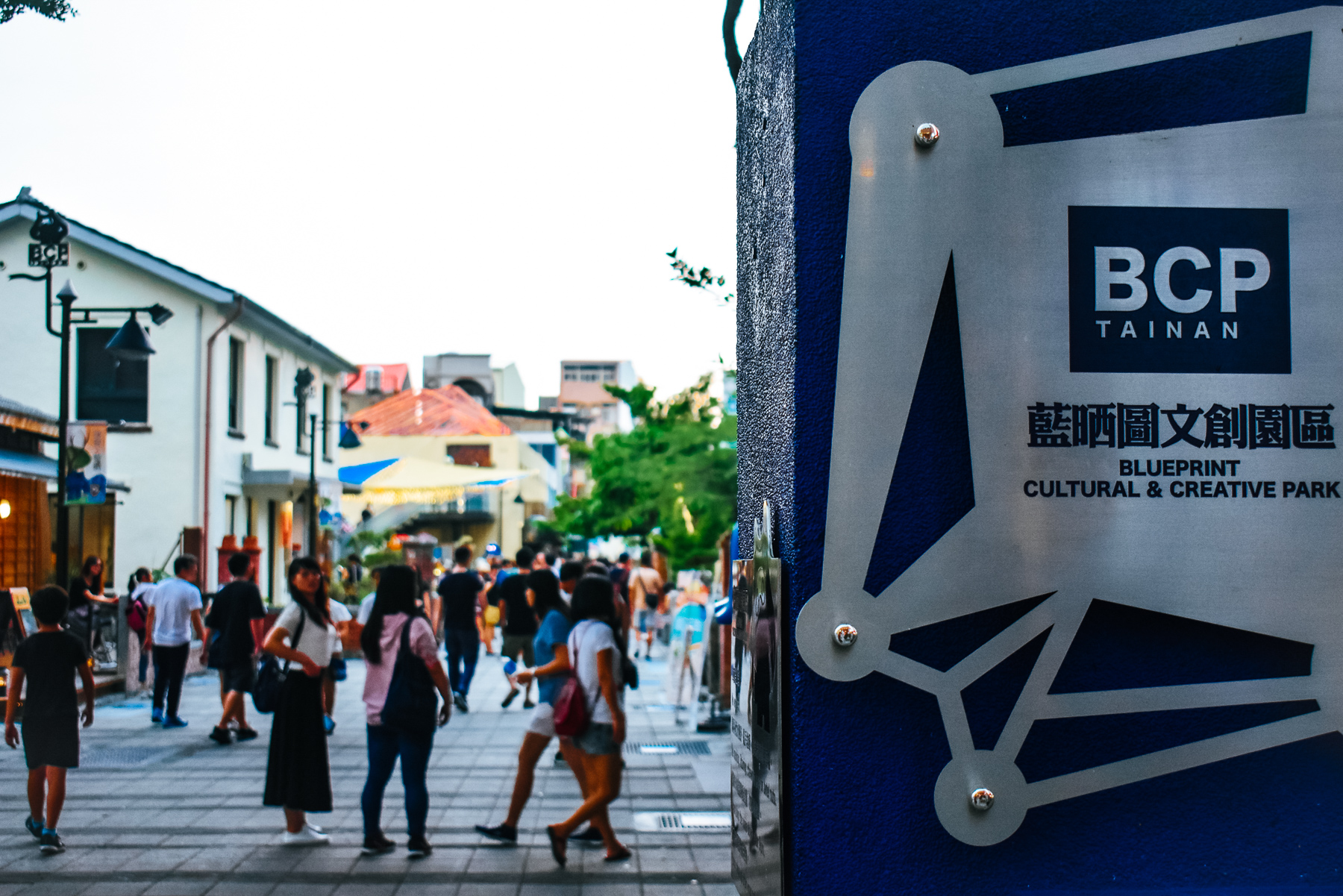 Street art and performers adorn the area, and there are cafes, ice-cream shops, pop-up shops and more all around. There's a real youthful, vibrant, thriving scene here, and it's worth spending a couple of hours exploring on foot, checking out the shops, picking somewhere to eat and also picking up a few crafts and gifts in particular.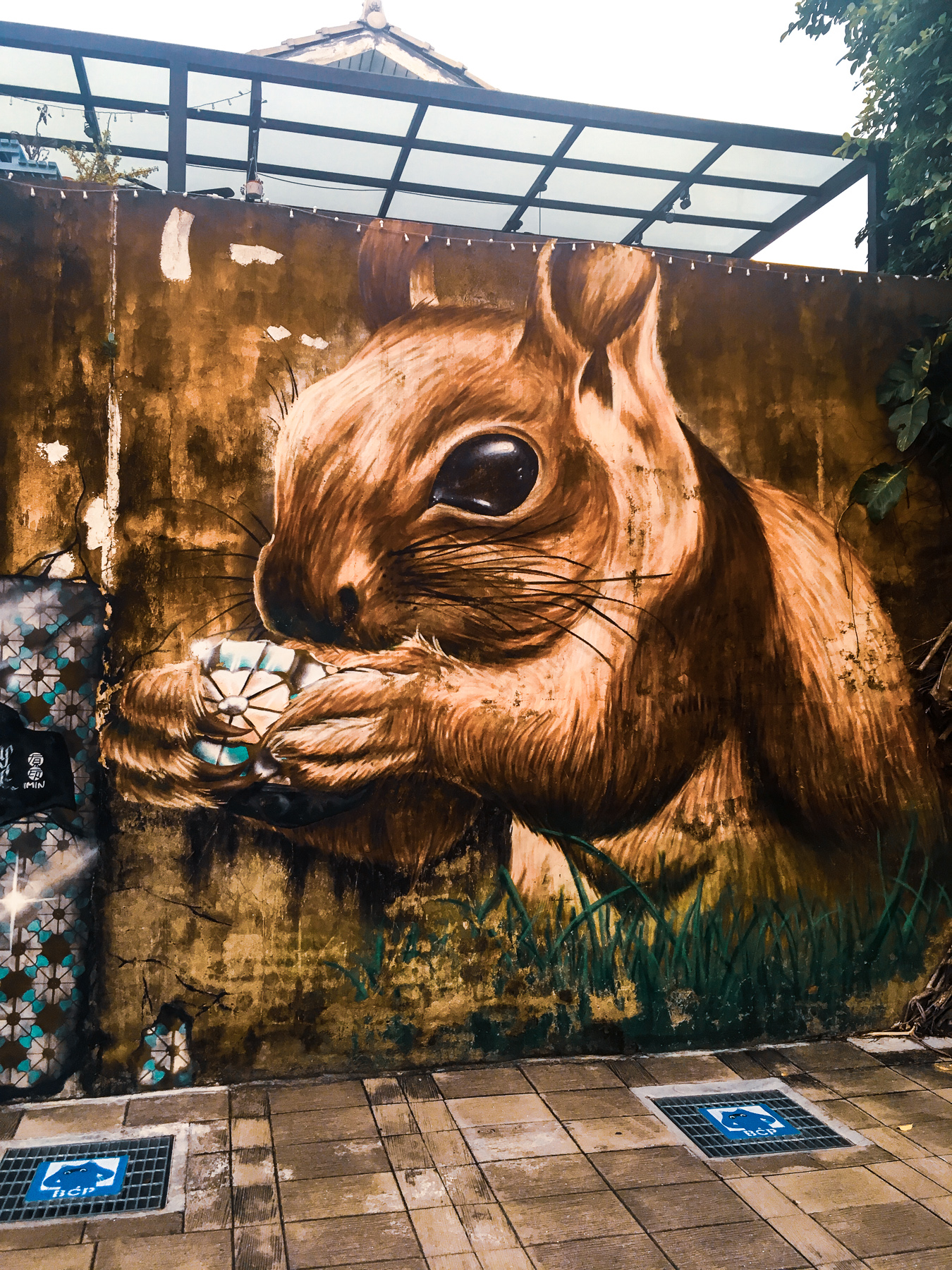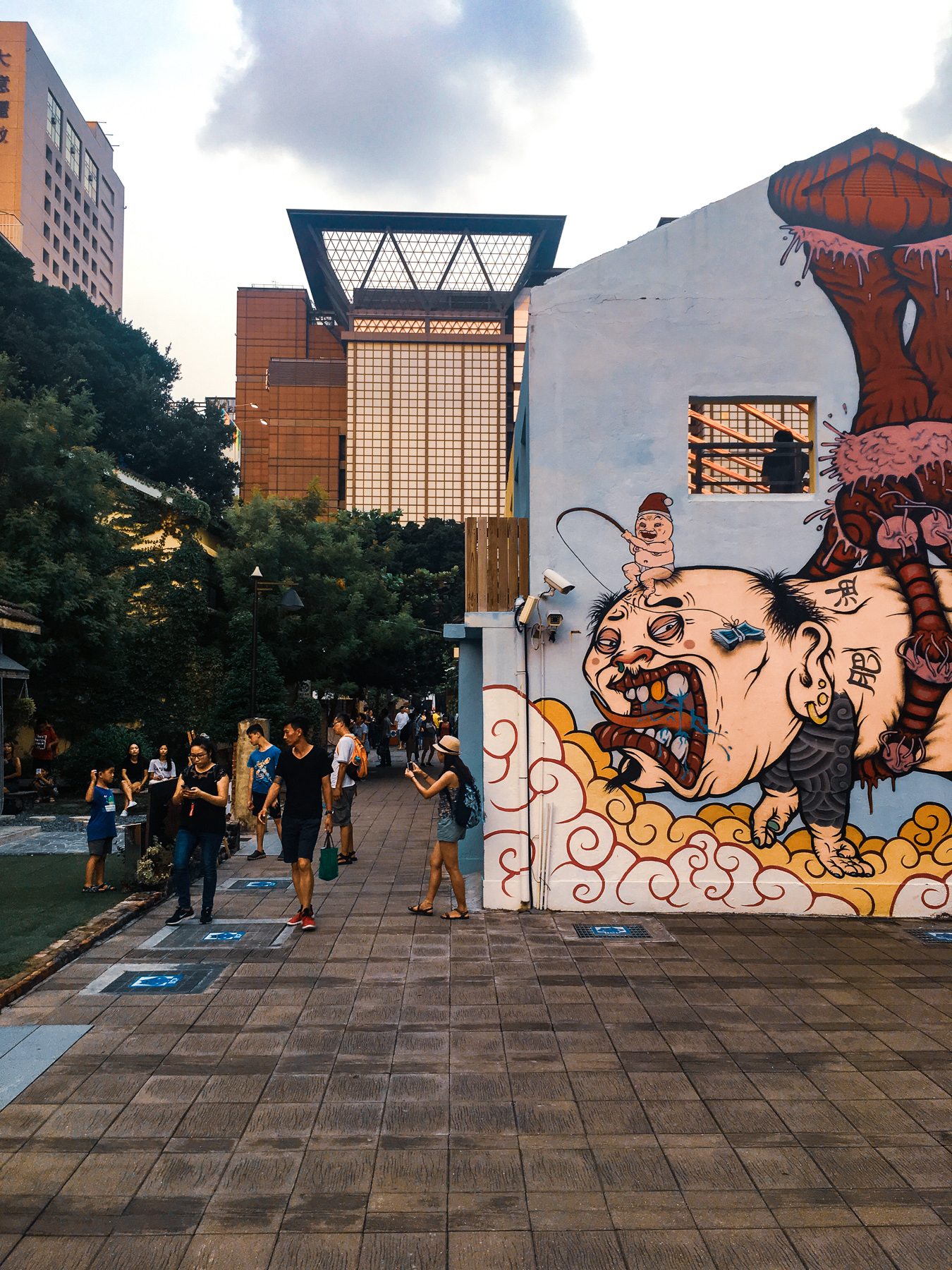 A visit to Hayashi Department Store (林百貨) should also be top of your list. When it was originally opened in 1932, 'The Five-Stories House' was the tallest building in Tainan. However war broke out and this splendid building, which once marked a turning point in culture and modern lifestyles of the Taiwanese people, was closed – later becoming an office building for the local salt company.
In 1998 the building was listed as a heritage site, and in 2013 a large-scale restoration took place to restore it to its former glory. This is a beautiful department store, diverse and offering a premium selection of local crafts and some international brands whilst heralds of its history are also present in the design details. The old world lift is a must-try, worth the small queue!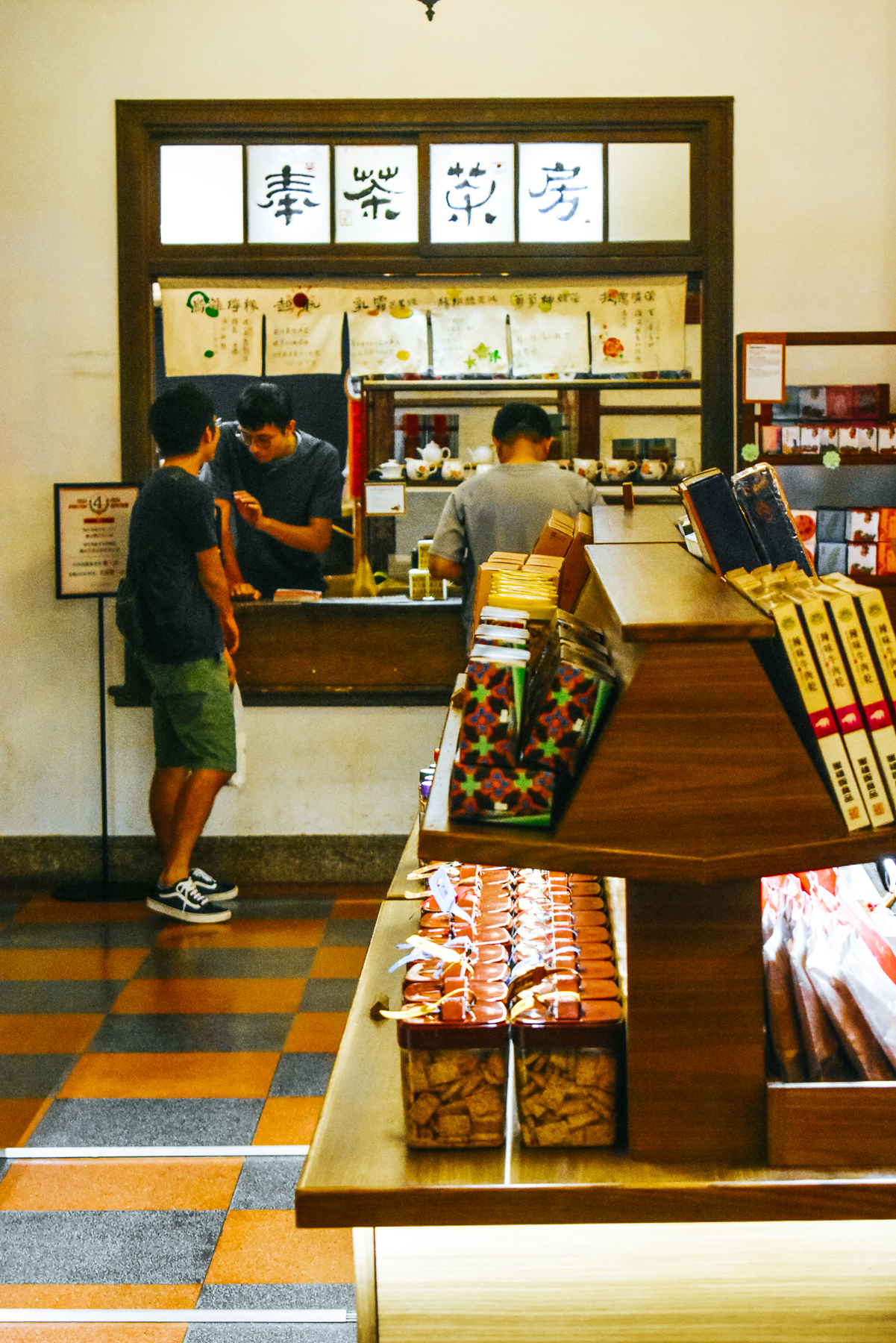 Staff are incredibly helpful and welcoming, and even if you don't feel like buying anything, there's a restaurant on the roof as well as a viewing platform and shrine. Try to coincide a visit with sunset.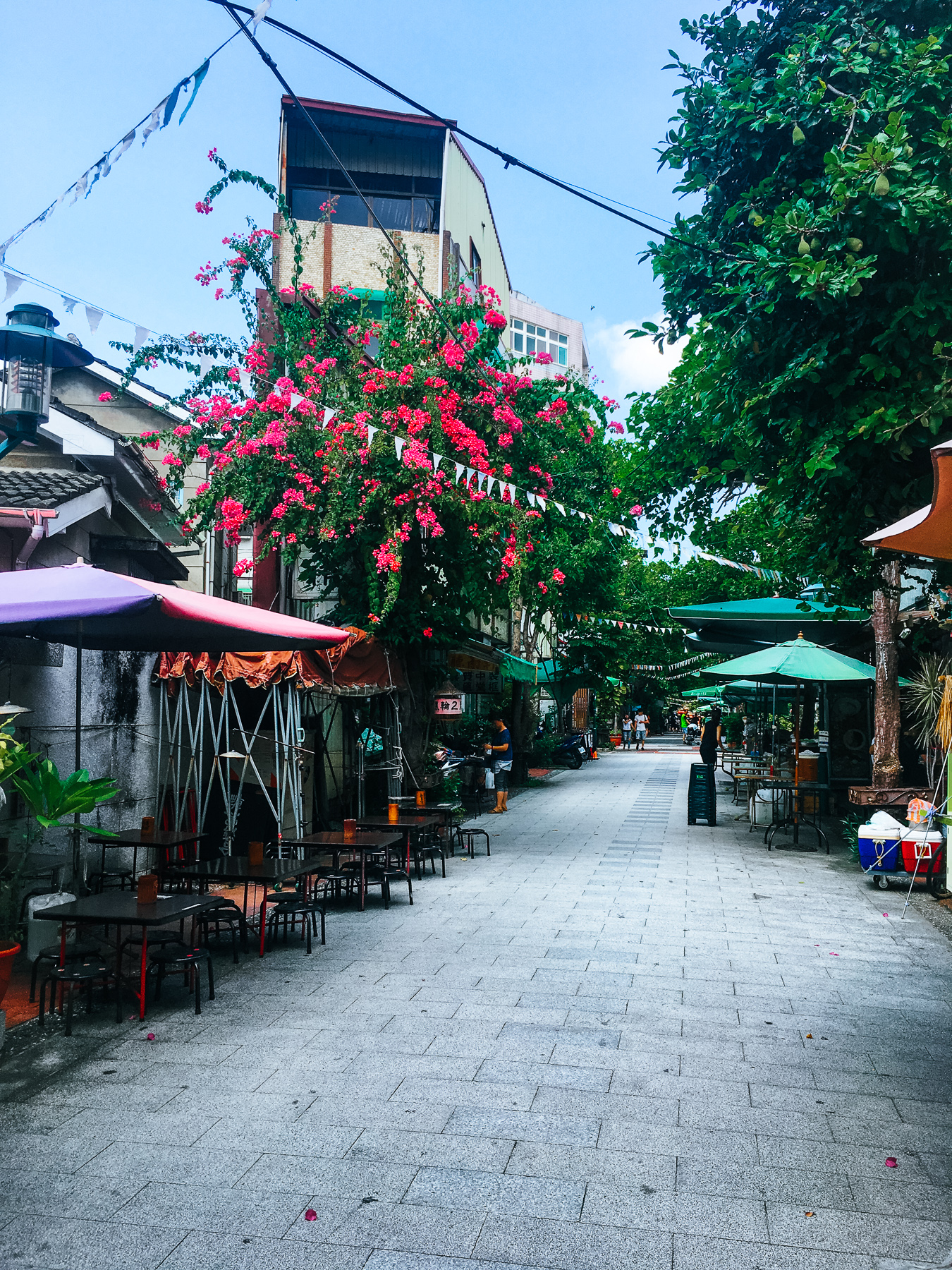 If you're visiting the Confucius Temple at the weekends, it's worth checking out Fuzhong Street (富中街), with its gorgeous craft market, while during the week it's a quaint and quiet street to stroll down. Shops and cafes are on either side and at the front is the Pan Gao Stone Arch (泮宮石坊) which was erected in 1777.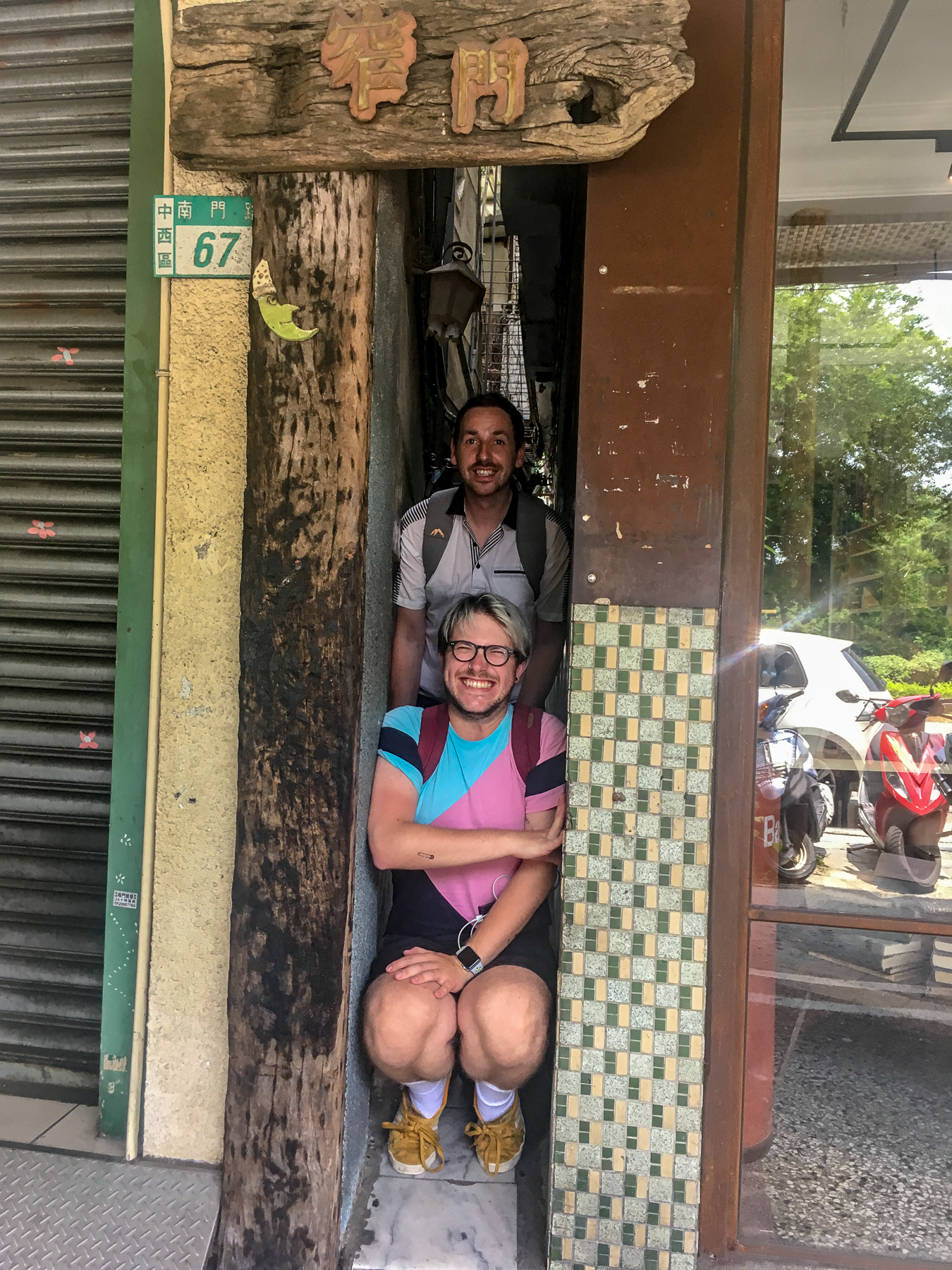 Similarly, just outside the temple on the main road (Namen Road), a visit to Narrow Door Cafe is a must. It's not just a name, it genuinely is a cafe down a narrow alley way to access it.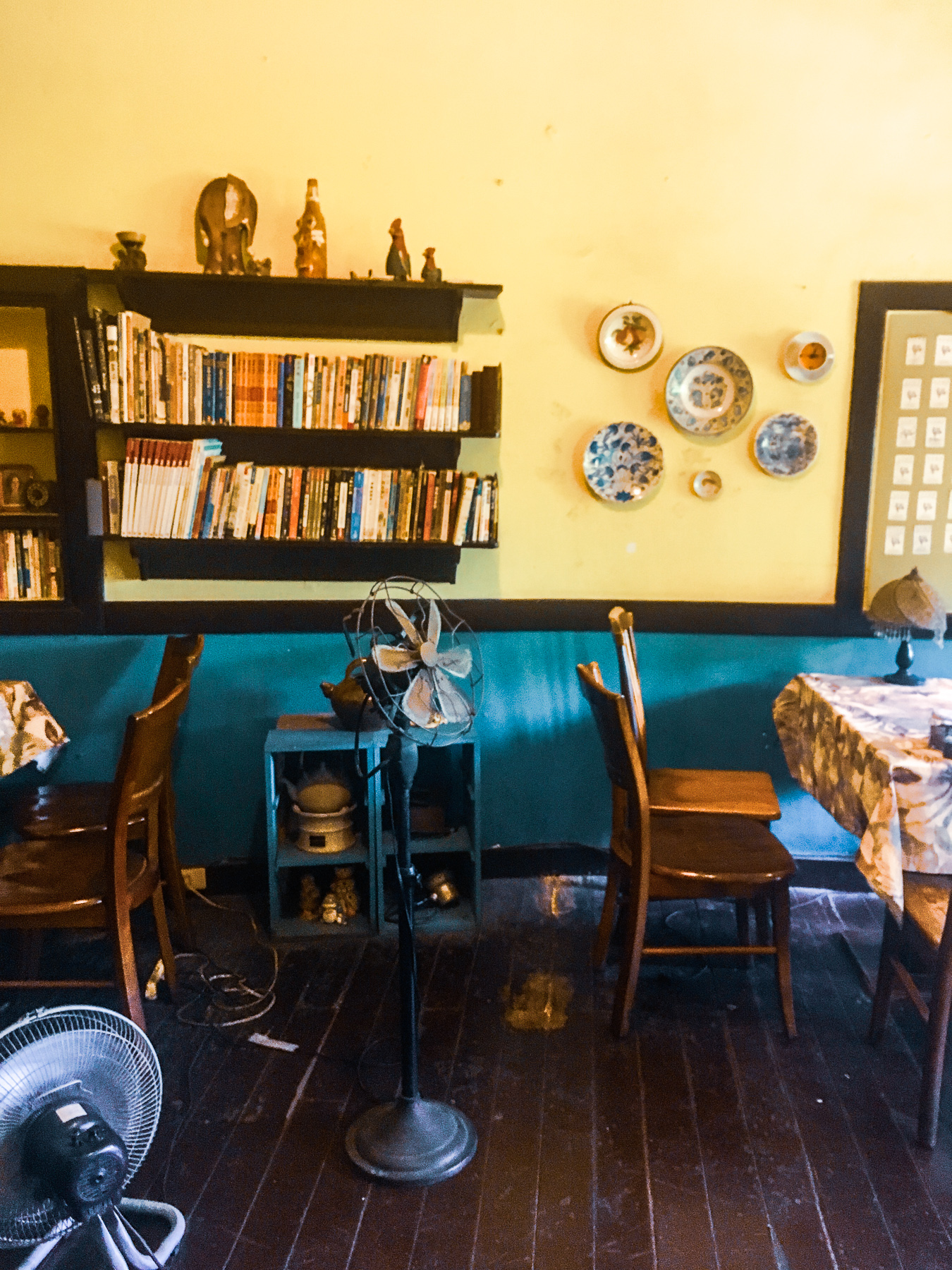 Down the road on the corner, you should also visit Klin Bakery. It's been in Tainan for over 60 years, and is a firm favourite with locals and visitors alike.
You can pick up a selection of sweet and savoury steamed buns for the equivalent of about €0.40 each, as well as grabbing some Taiwanese baked cakes that aren't too dissimilar from a large macaron. These hollow hard shelled buns are in various flavours as well as. Perfect as a little snack! Each symbol has a different meaning too.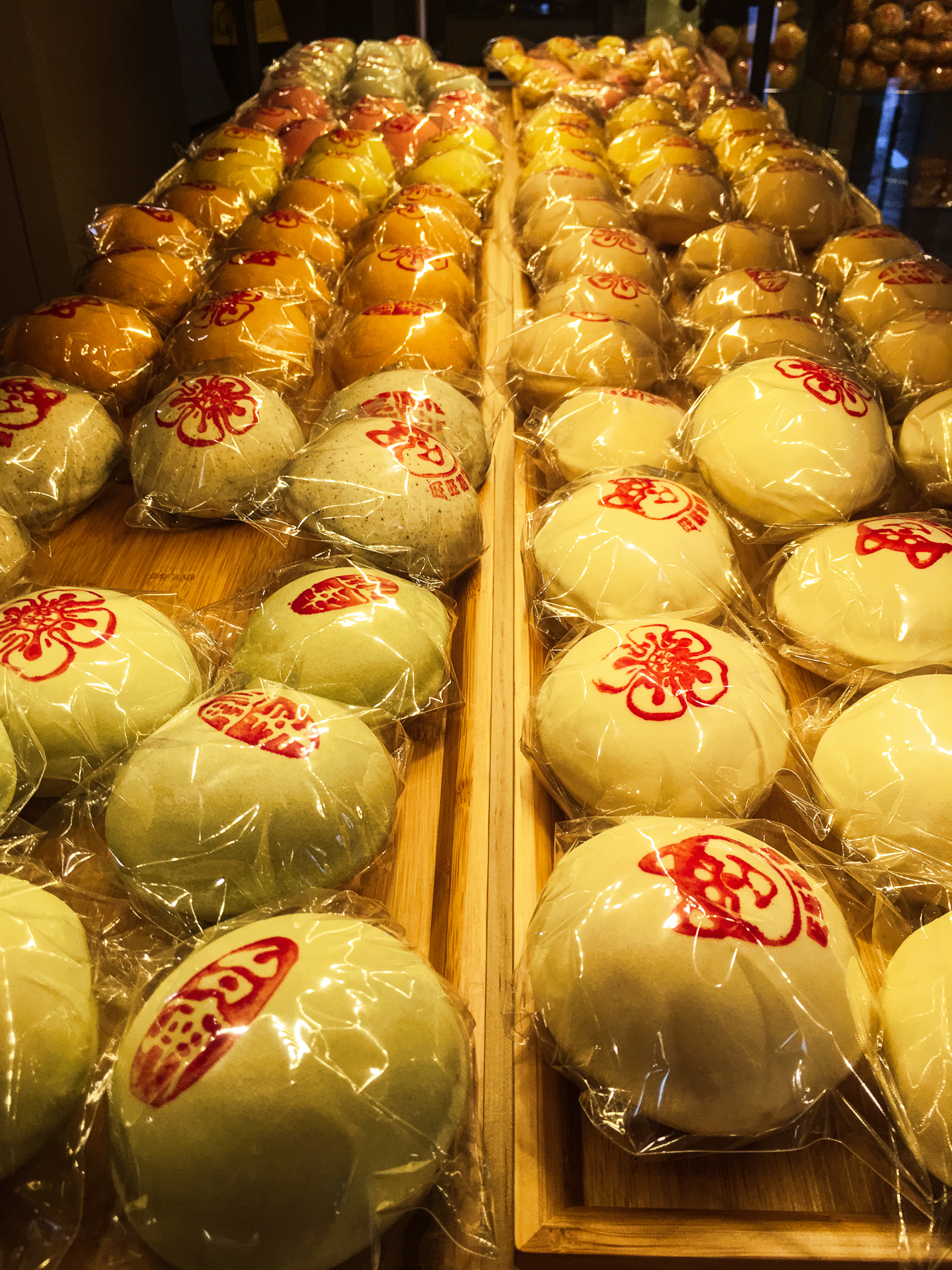 Where to Eat in Tainan🍲
One of our favourite places we ate on our entire trip to Taiwan, was Du Hsiao Yueh (度小月). Open since 1895 on Zhongzheng Street, the name translates as 'The Slack Season' referencing the off-season when fishermen wouldn't be able to go out to sea during the time between the Tombsweeping Festival and Mid Autumn Festival, owing to rough seas. At a loss of income, a member of the Hong family sold noodles which he carried around the streets using shoulder poles in order to make a living during this time.
This place has expanded beyond the city of Tainan, with branches in Taipei and Hong Kong and beyond.The iconic dish is their Dan Zai noodles, topped with shrimp, with a broth cooked in a pot which has never been cleaned, so is perfectly seasoned with flavour.
Popular with tourists and locals alike, many popping by for home cooking-style take-out, and others asking for extra of the iconic broth. Of course, there is a perfect incarnation of the national dish of braised pork on rice (which we recreated in this recipe for you to make at home) too.
One dish which caught our attention was the deep-fried mushroom with "special pepper", which for any Irish among you tasted like a vegetarian Spice Bag. Minds blown! Du Hsiao Yueh really was one of the best places we ate on the entire trip – everything was sensational!
Other places to eat include MVSA, a Spanish tapas restaurant which mixes local produce with Iberian inspiration. Chi Kan West House, a vegetarian-only restaurant is also a very good option. Come here just for the stunning building alone which is a spread over several levels. The food is almost entirely Taiwanese, but some extra dishes inspired by Europe and the States, which we didn't enjoy as much.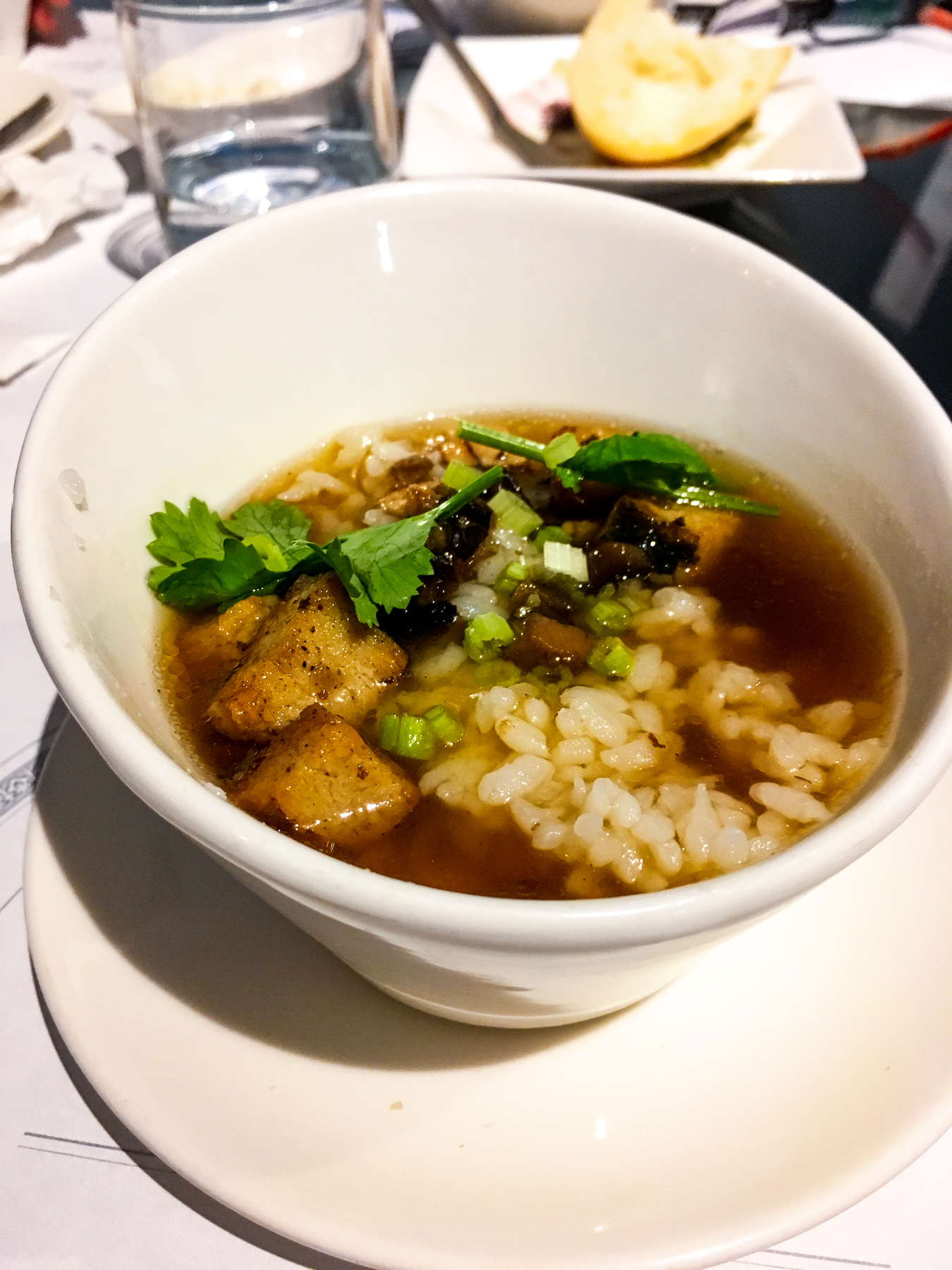 The menu may say some meat products, but every ingredient is a vegetable, and the likes of the congee porridge is a real treat if order it. A very unique property is available too to stay in, above the restaurant, which would be ideal for a group!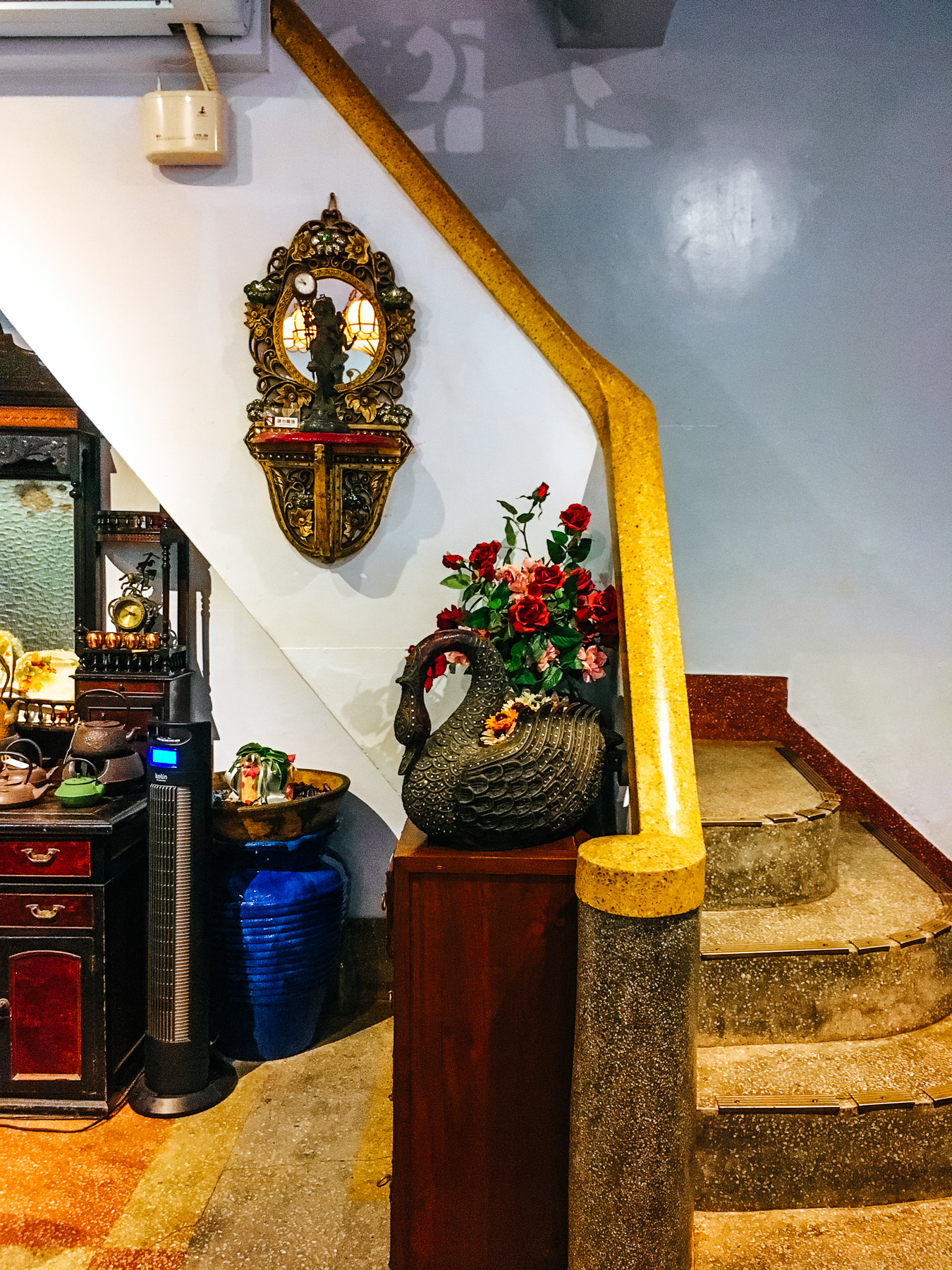 Where street food is concerned, one of famous dishes to try in Taiwan originates from Tainan, and it's coffin bread. Scary name aside, there's nothing terrifying about this, except for the fact it's scarily indulgent and terrifyingly delicious! This is a thick slice of bread, with the centre cut out, and fried, then filled with a creamy, vegetable mix, a bit like a thick cream of vegetable soup, then topped with a lid of fried bread. A must try!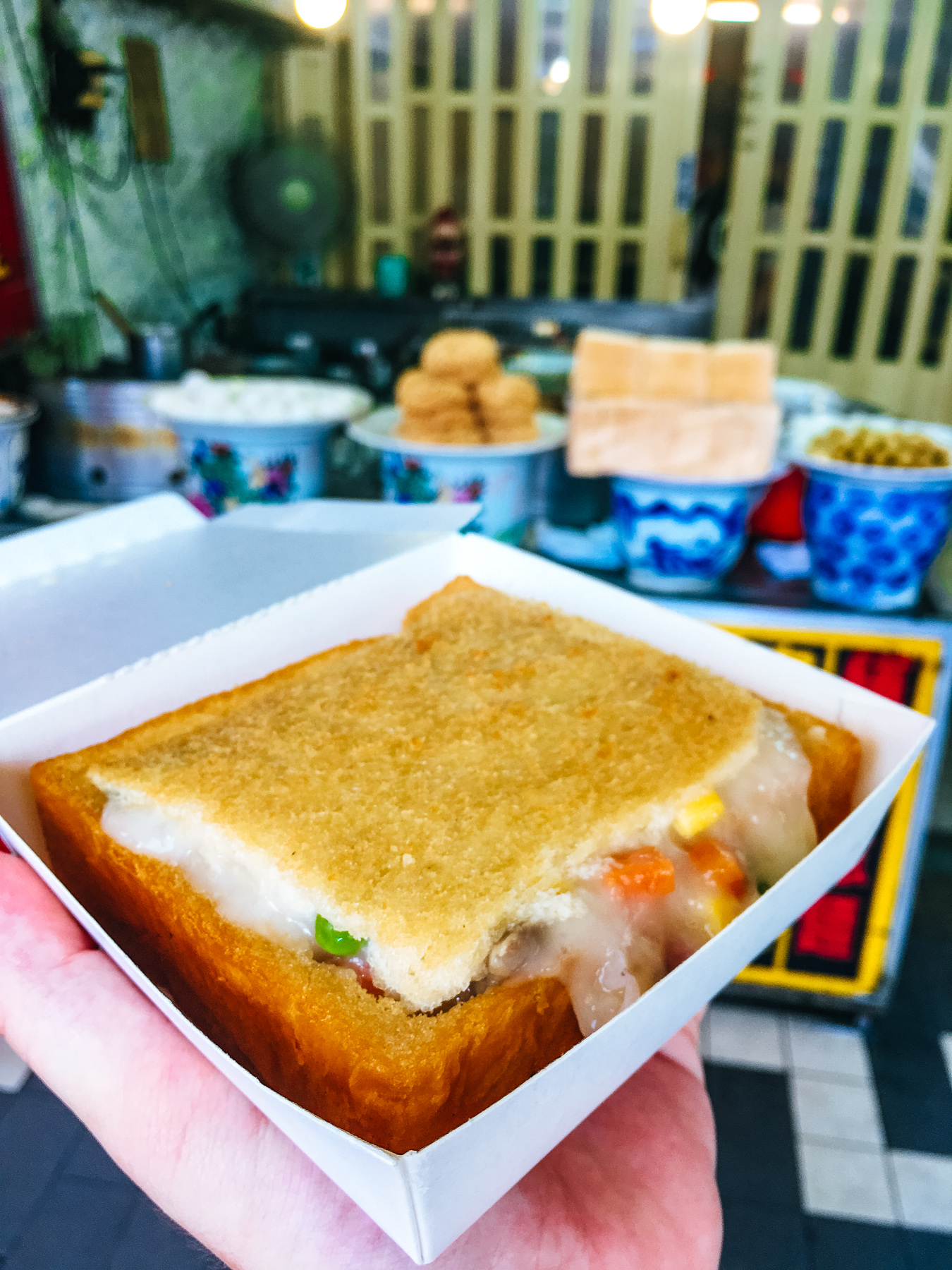 Some other places which caught our attention, though we did't have a chance to try, are all pinpointed on the interactive Google Map at the bottom of this post! So click away and find more of our suggestions!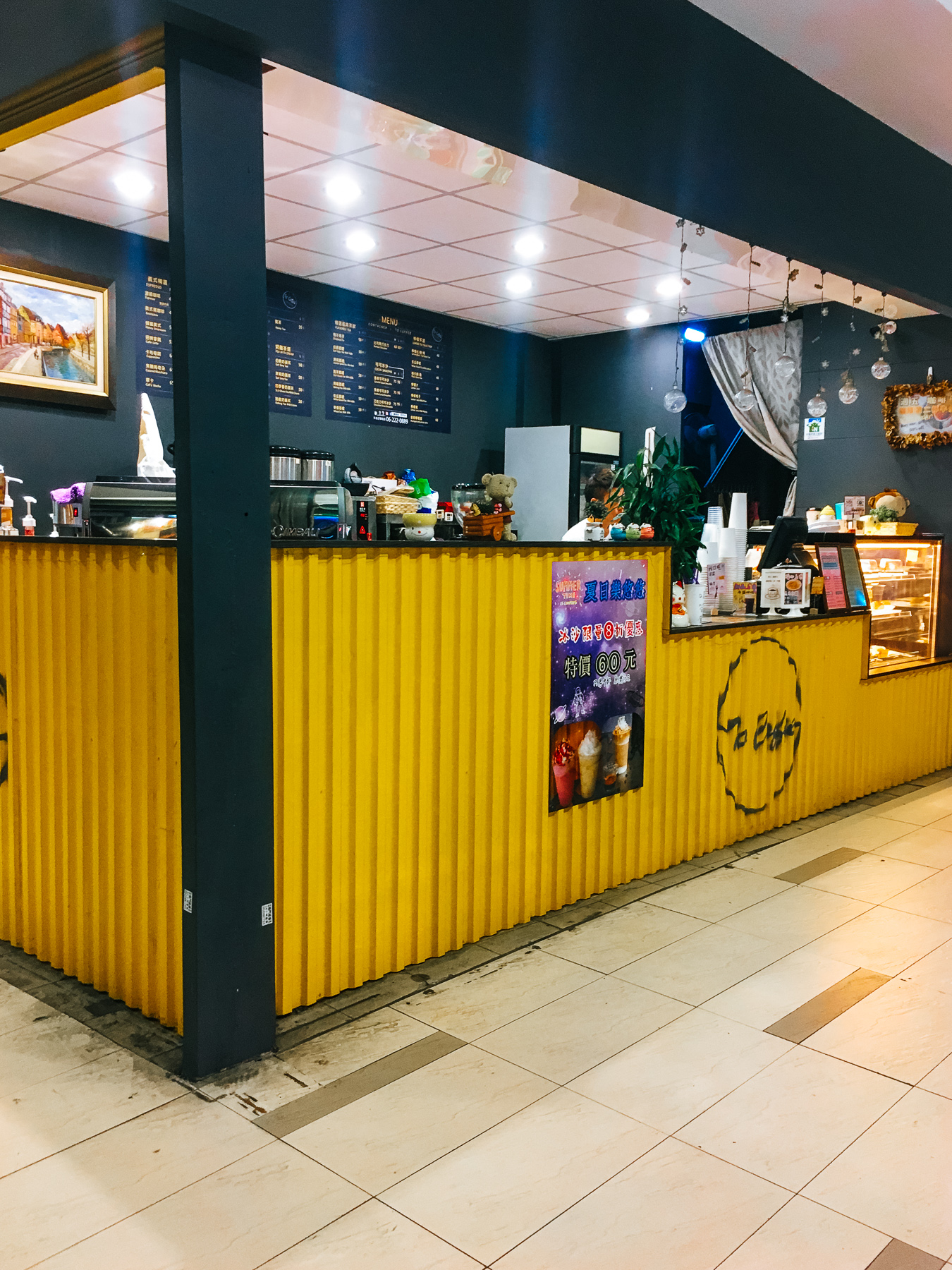 Getting to Tainan🚄
Taiwan High Speed Rail (THSR) is the ideal way to travel. A journey takes about 2 hours on it, from the impressive Taipei Main Station and departures are as often as 3 or 4 trains per hour, but pre-booking is advised. Also good to note that if you choose to fly into Taiwan and want to take the train, Taoyuan HSR station is connected by a shuttle bus from Taiwan Taoyuan International Airport – thus avoiding having to travel into the city centre and then slightly back out again, as most of the THSR stations are found on the outskirts of the country's cities.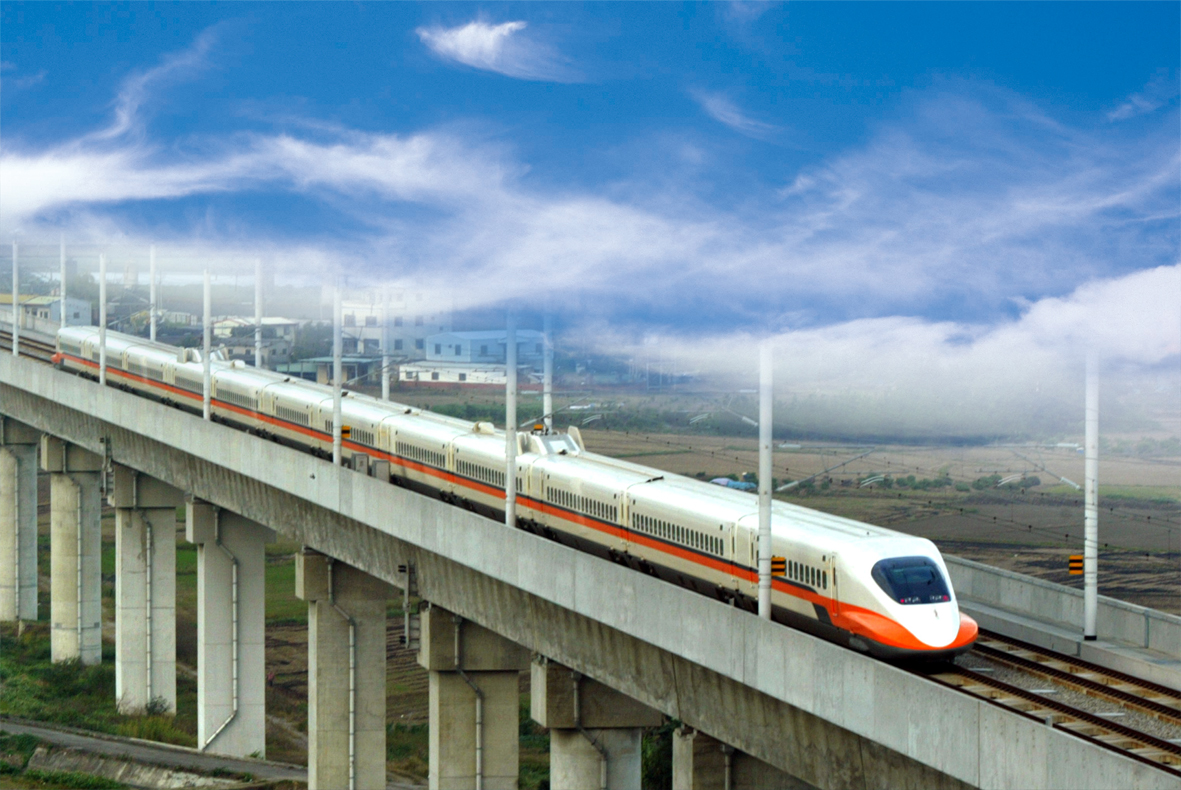 Train tickets at full fare cost about €40 for standard class. Upon arrival in Tainan, you'd need to get a bus into the city centre, as the High Speed Rail is built in the outskirts of the city, with a journey taking about 15-20 minutes. There is a slower train available too which costs about €25 for a ticket, with a journey time of about 4 hours. An 8 hour bus journey between the two can cost around €15.
Where To Stay in Tainan🏛
On our trip, we were booked into the Tayih Landis Hotel which was centrally located and the perfect base for the city. A large, elegant and tall hotel with over 300 rooms, service is impeccable, rooms were spacious, and breakfast in particular was especially good with what we think is the best, most expansive breakfast spread of any place we stayed in in Taiwan! It's a Western-styled hotel with lots of marble in the reception area and an expansive interior courtyard, with the gym and restaurant right in the middle on different floors.
Tourist Tip:
Dotted about Taiwan you'll see green signs outside shops, cafes and retail businesses. In lieu of full-blown tourist information offices, these establishments are willing and available to provide extra bits of info and advice to tourists in English (and other languages, which will be displayed). We spotted these in various places around both Taipei and Tainan, and it's a great way for visiting tourists to feel comfortable and encouraged to bother workers to look for information and advice 🙂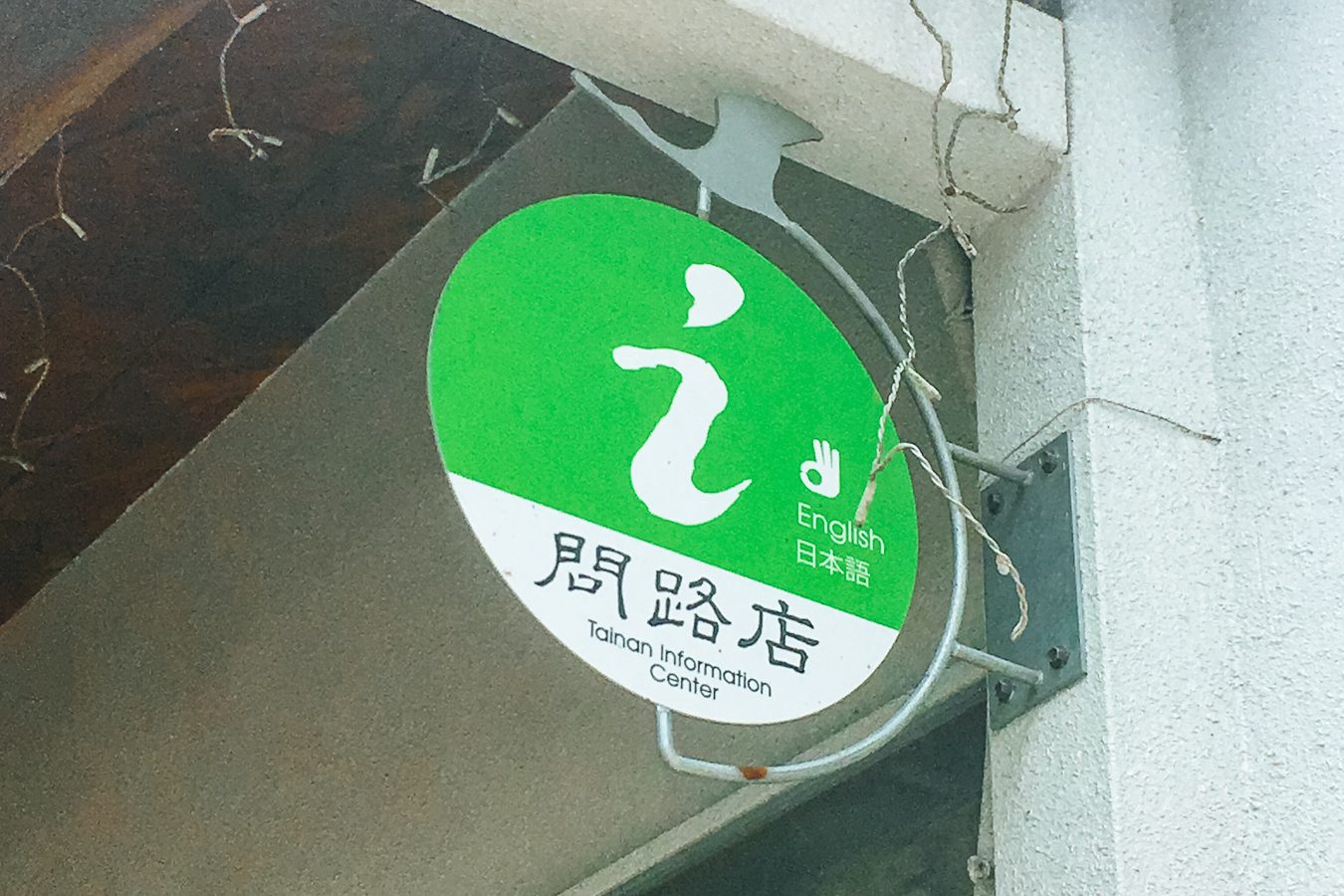 Exploring Further Around The Area
One of the highlights of our trip to Taiwan was visiting Alishan which you can read more about here. While in the south of the island, this really is the best place to try and explore this unique part of the world…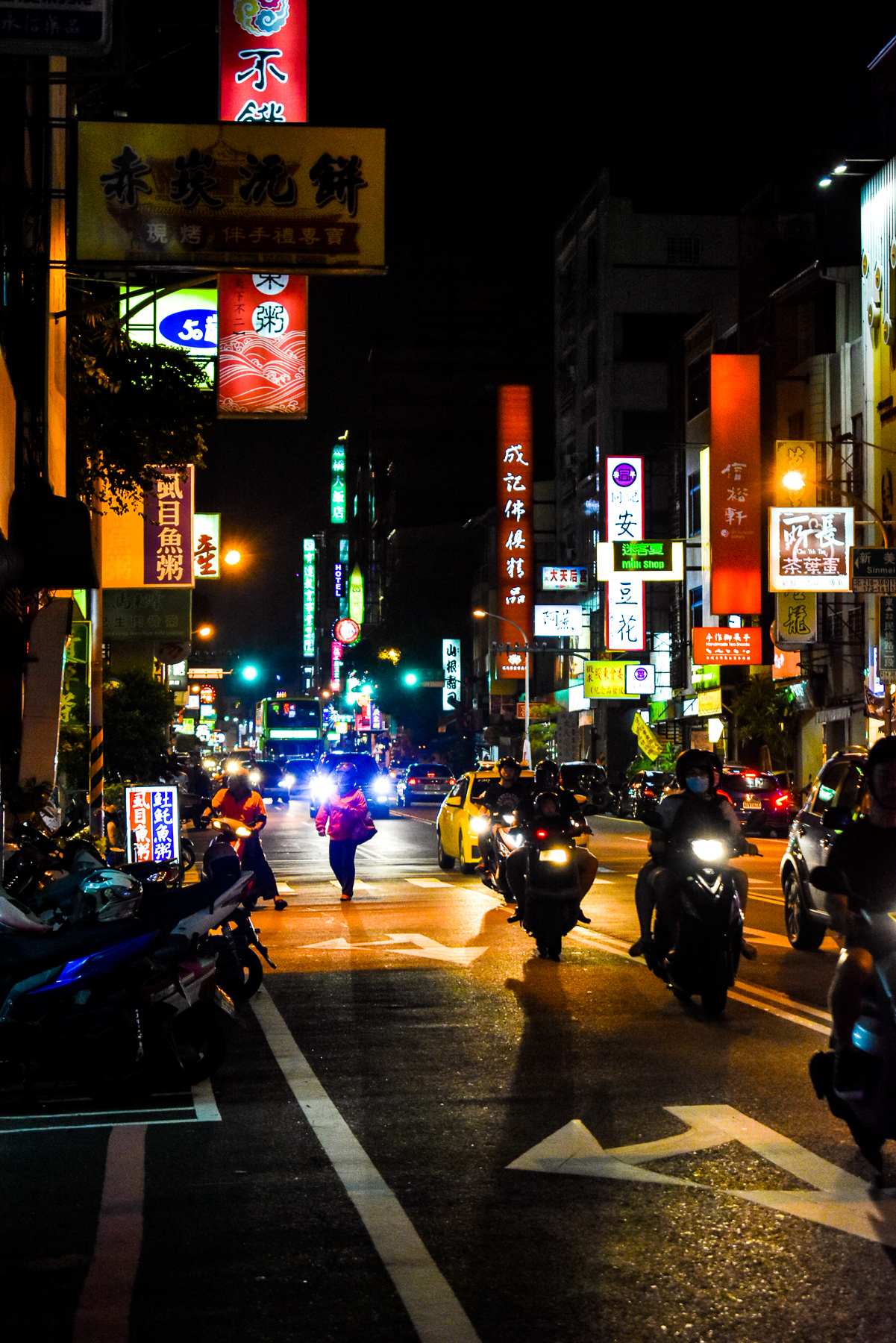 For more information on Tainan or Taiwan in general, and for some more inspiration before booking your own trip to the country, visit the official tourist board website: eng.taiwan.net.tw