When you grow up in Ireland, soda bread is a quintessential part of your diet. It's often one of the first things you learn to cook, usually passed down by the former or passed along throughout family generations. We've noticed that quite a lot of international cooks seem to handily include soda bread recipes in their culinary arsenal as an "OMG YOU DON'T NEED TO KNEAD"  type of bread, while for us it was literally the first one we ever made, and the one we return to above all else. Whatever way you look at it, bread that can be prepared in under an hour with very little labour is positive, whoever writes about it, but the Irish have a particular affinity with this yeastless loaf.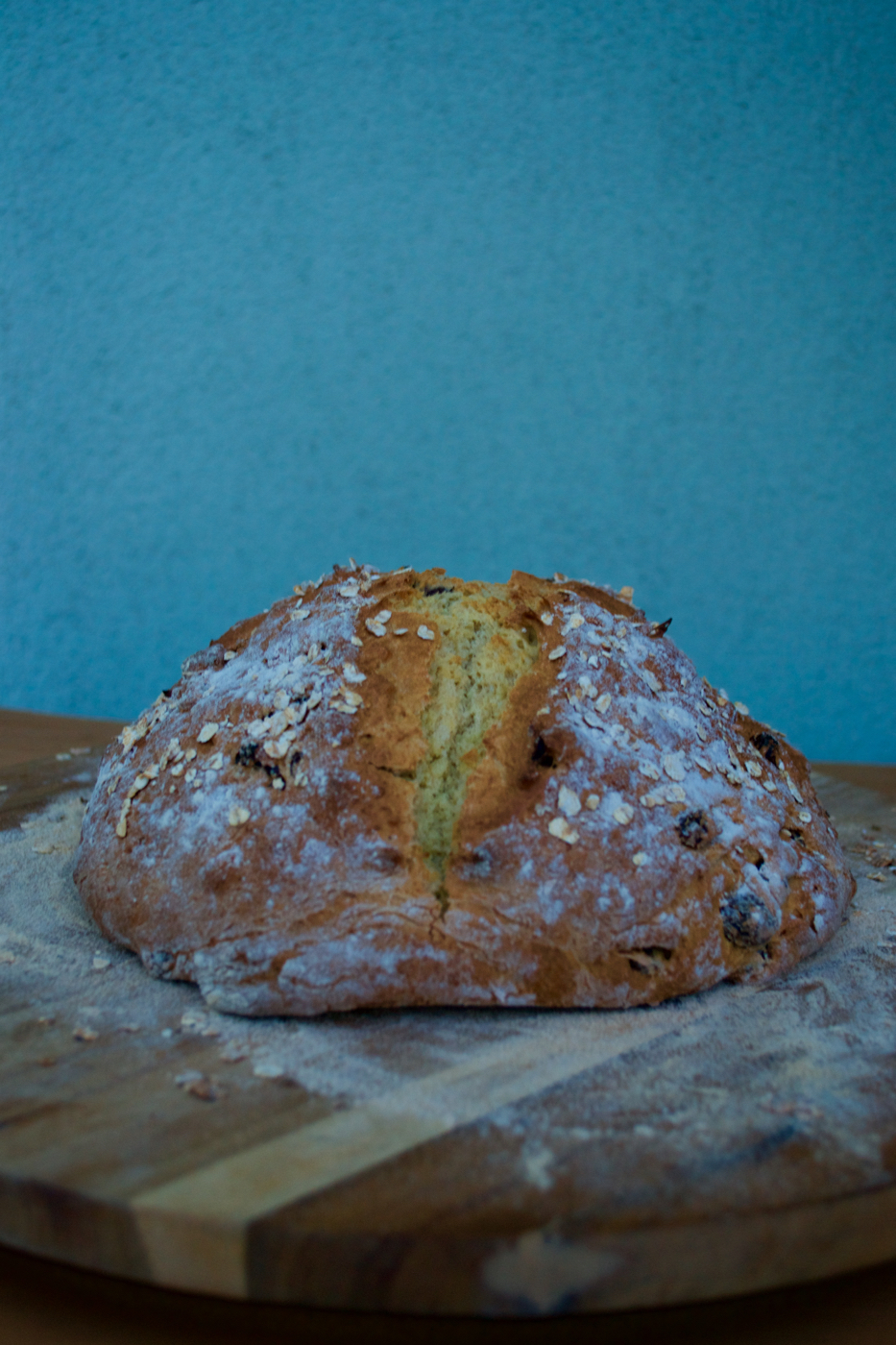 Our recipe is a tad different to various others you may find around. (Believe us, we've struggled to find one like this from this side of the world at least). Traditionally soda breads are savoury, perfect to smother in salted butter, whether toasted or not, and especially glorious to dip into piping hot homemade soup. This recipe, however, is a sweet alternative, ideal to have with a cuppa and similarly smothered in butter.
Russell grew up with this. His grandparents always seemed to have a few slices of what they just referred to as plain 'ol "soda bread" on the kitchen table with a pot of tae. However, his grandparents had  passed before he had the opportunity to ask for the recipe.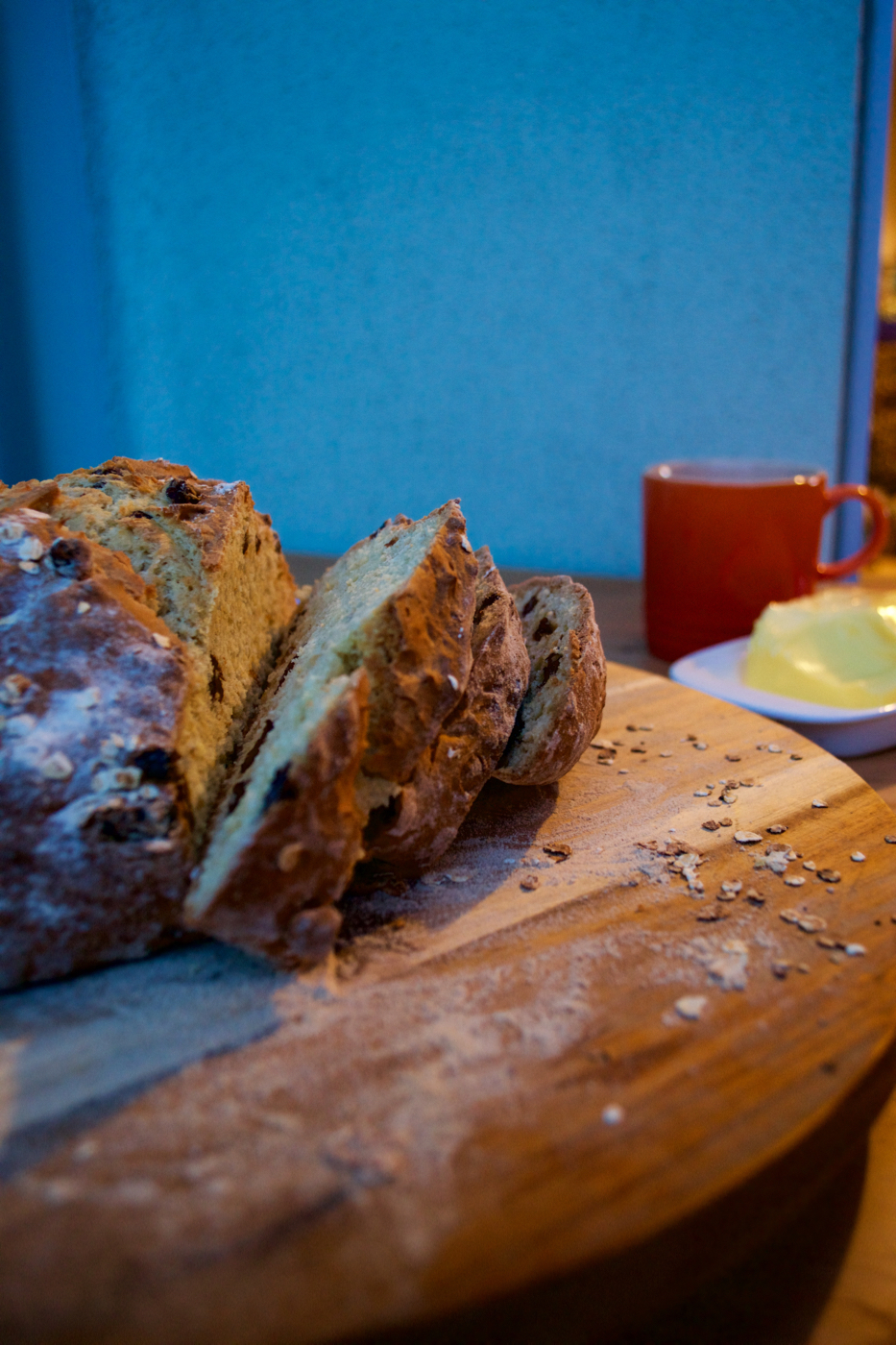 Fast forward to the present day, when researching what can be best than trialling  one of the greatest Irish cooks' recipes? We have a copy of Darina Allen's Irish Traditional Cooking (1995), which contains a wide range of breads including variations of soda bread, plus one called "Spotted Dog" which is a currant loaf to you and us. Our version is somewhere in between a standard soda and this one, though it omits the optional egg and has a slightly higher sugar content; making it taste more like Russell's grandparents version and memory always makes things taste far better.
Darina Allen introduces these recipes with some factual nuggets which we'd like to share. For example:
"Originally baked in a pot oven or bastible beside the open fire, white soda bread is often referred to as cake bread. The word bastible seems to be a bastardisation of the name Barnstaple, the town in Devon where these iron baking pots were made"
Also:
"At times of the year when the men were working particularly hard…the farmer's wife would go out of her way to reward them with a richer bread than usual for tea. According to her means she would go out of her way to reward them with a richer bread than usual for tea. Currant bread…was also a treat for Sundays and special occasions"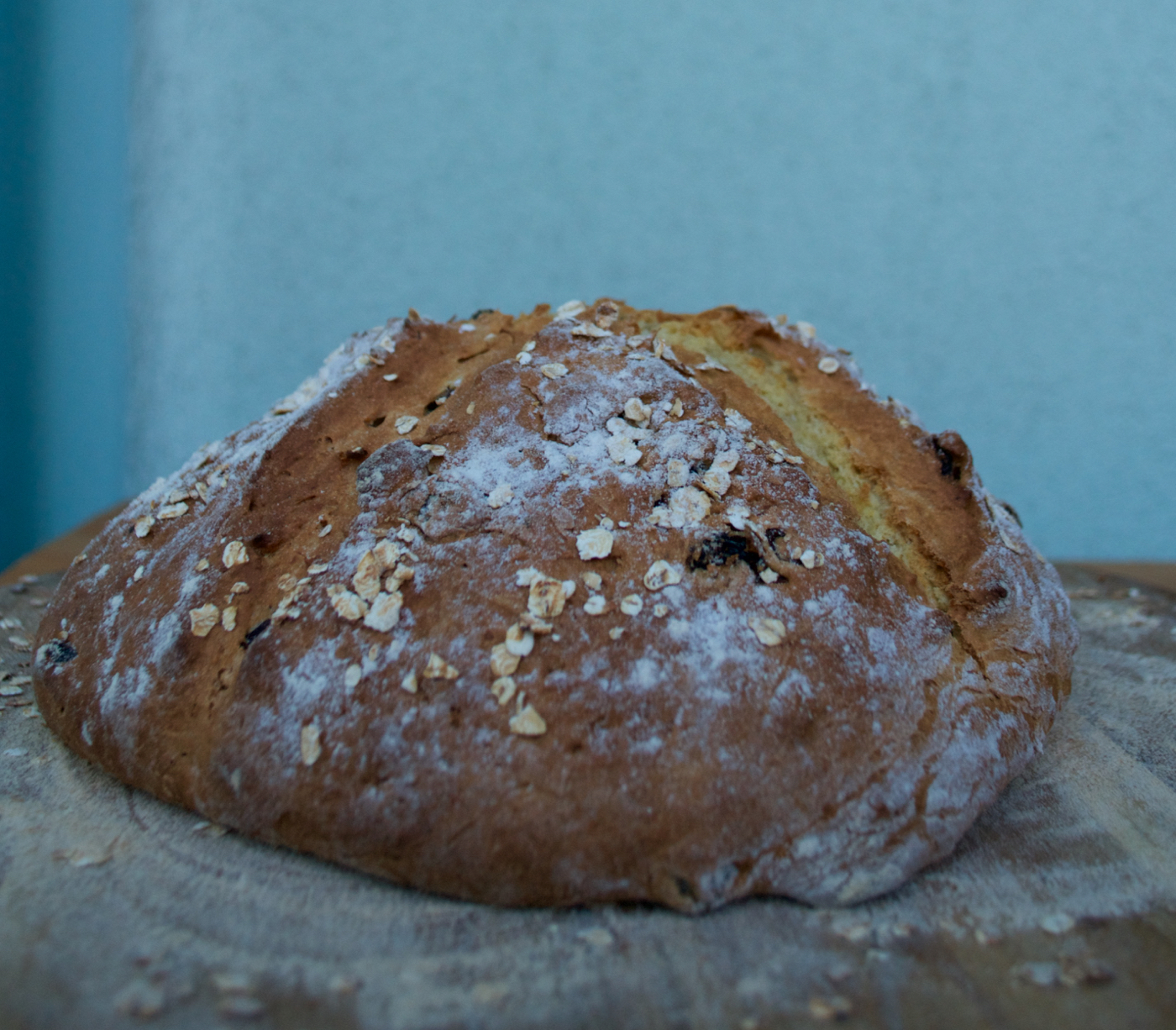 Sweet Soda Bread
450g plain white flour, plus extra for dusting
1 level tsp salt
1 level tsp bicarbonate of soda
350ml buttermilk (or milk with the juice of one lemon)
100g raisins soaked in a mug of black tea
100g golden caster sugar
Zest of a large orange (optional)
Handful of porridge oats (optional)
1. Begin by making a large mug of black tea, placing the raisins in the mug first, then the tea bag, then the boiling water. Leave to soak in for about 10-20 minutes. We use a good strong Irish tea like Barry's which has a strong tea flavour- if you find your bag's a bit weak, use two instead.
2. Drain the tea out and pre-heat the oven to 230°C.
3. Sieve the dry ingredients and sugar into a large bowl and make a well in the centre. Add the raisins and orange zest and mix evenly through the dough. The orange isn't traditional to any extent, but it does add a nice citrus note to lift and cut through the sweetness.
4. Pour most of the buttermilk in at once. Using one floured hand as a claw, mix until it all comes together. If finding it dry, add a bit more of the buttermilk. If you're finding it a bit to wet, don't be afraid to add a bit more flour.
5. Once it has all come together, turn the dough out onto a floured surface. Knead it briefly for a few seconds, then mould into a round shape about 5cm deep and place on, surprise surprise, a floured baking sheet. If you like, scatter over a handful of porridge oats over the top, purely for decoration.
6. Cut a cross into the surface. This is known as "letting the devil out" or "letting the fairies out", we know which one we prefer! We'll leave you to guess…
7. Place in the oven for 15 minutes, then turn down the temperature to 200°C for a further 20-30 minutes, or until cooked. If in doubt, tap the bottom of the bread, which should sound hallow if cooked.
8. Traditionally it is cooled on a windowsill, but a wire rack will do.
Serve with lashings of GOOD salted butter. We swear by Kerrygold which is luckily available in stores right across the UK and even further afield, While a nice crunchy crust is our personal favourite, if you'd rather a softer version, here's a tip: once the bread is out of the oven, cover with a damp tea towel until cooled, then keep covered with a tea towel until it's all eaten.
This loaf will keep for two to three days beautifully in an airtight container, but really best eaten on the day it's baked and deliriously delicious when fresh out of the oven.