Food trends are hard to avoid: Avocado on toast; ice cream sandwiches; now even black pudding has 'superfood' status. Sweet potatoes have never been trendier either, but they've long been a welcome alternative to their starchier relations, Maris Pipers and King Edwards, so here's our recipe for the perfect baked potato, filled with some really lovely, easy things to make it even better!
When you bake sweet potatoes in the oven, magical things happen. The flesh turns soft, sweet and fluffy in under an hour with practically no work from you at all.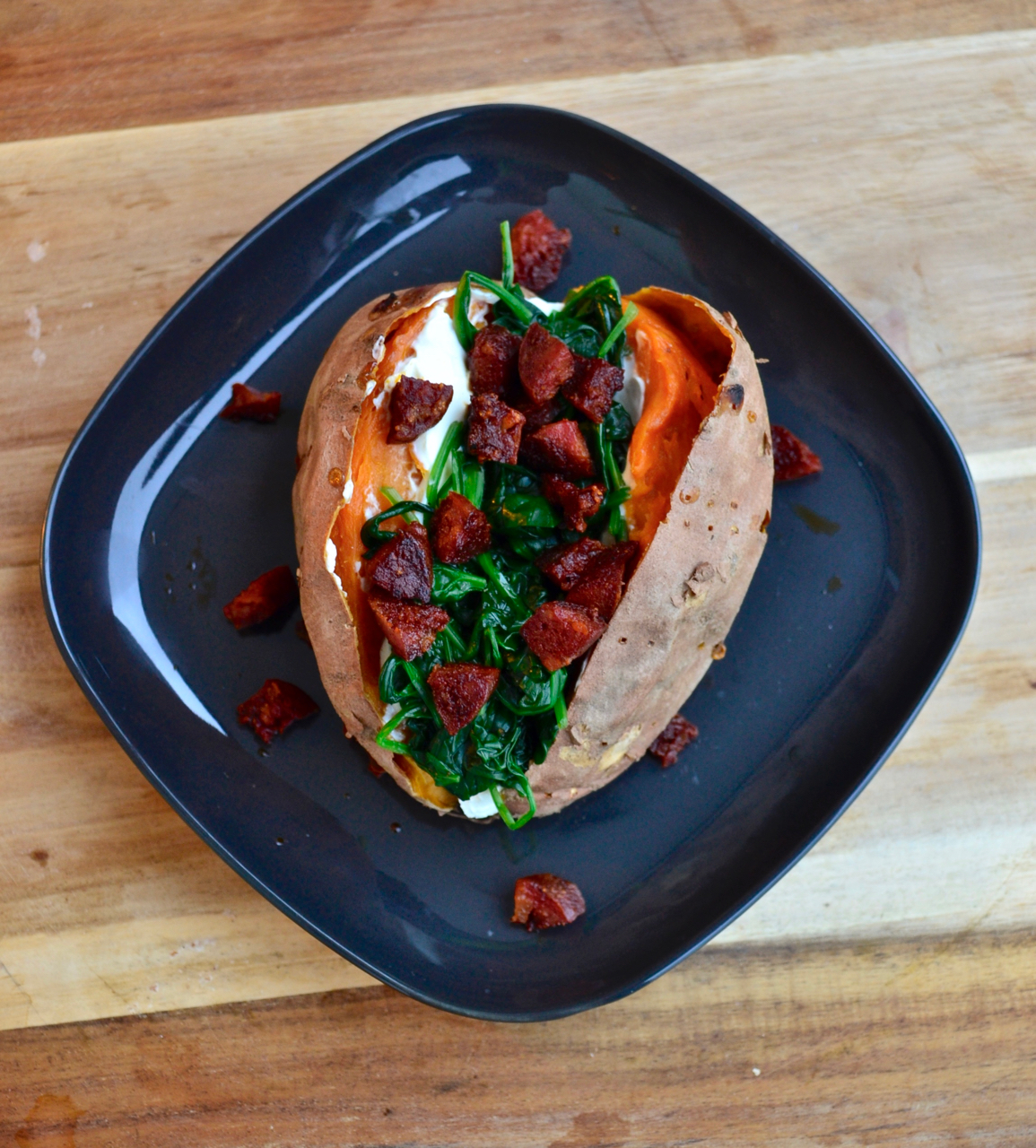 Cooking for one often lends itself to laziness – ready meals, unhealthy treats and food waste – but you shouldn't fall off the wagon just 'cause you've no one to cook for and impress.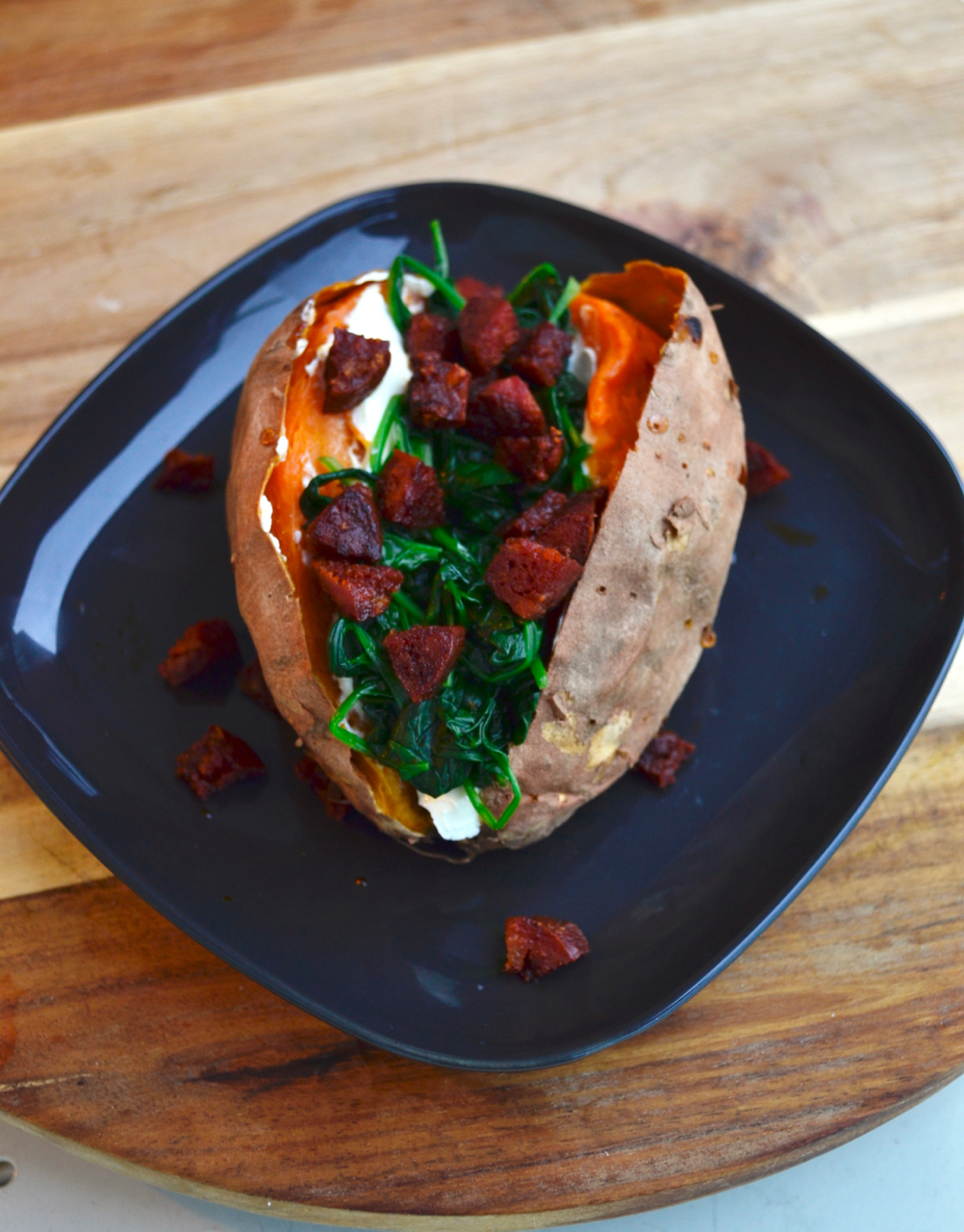 This frugal recipe doesn't require you to buy in excess, meaning it's perfect for those nights where you just have no recipe inspiration and little in the fridge.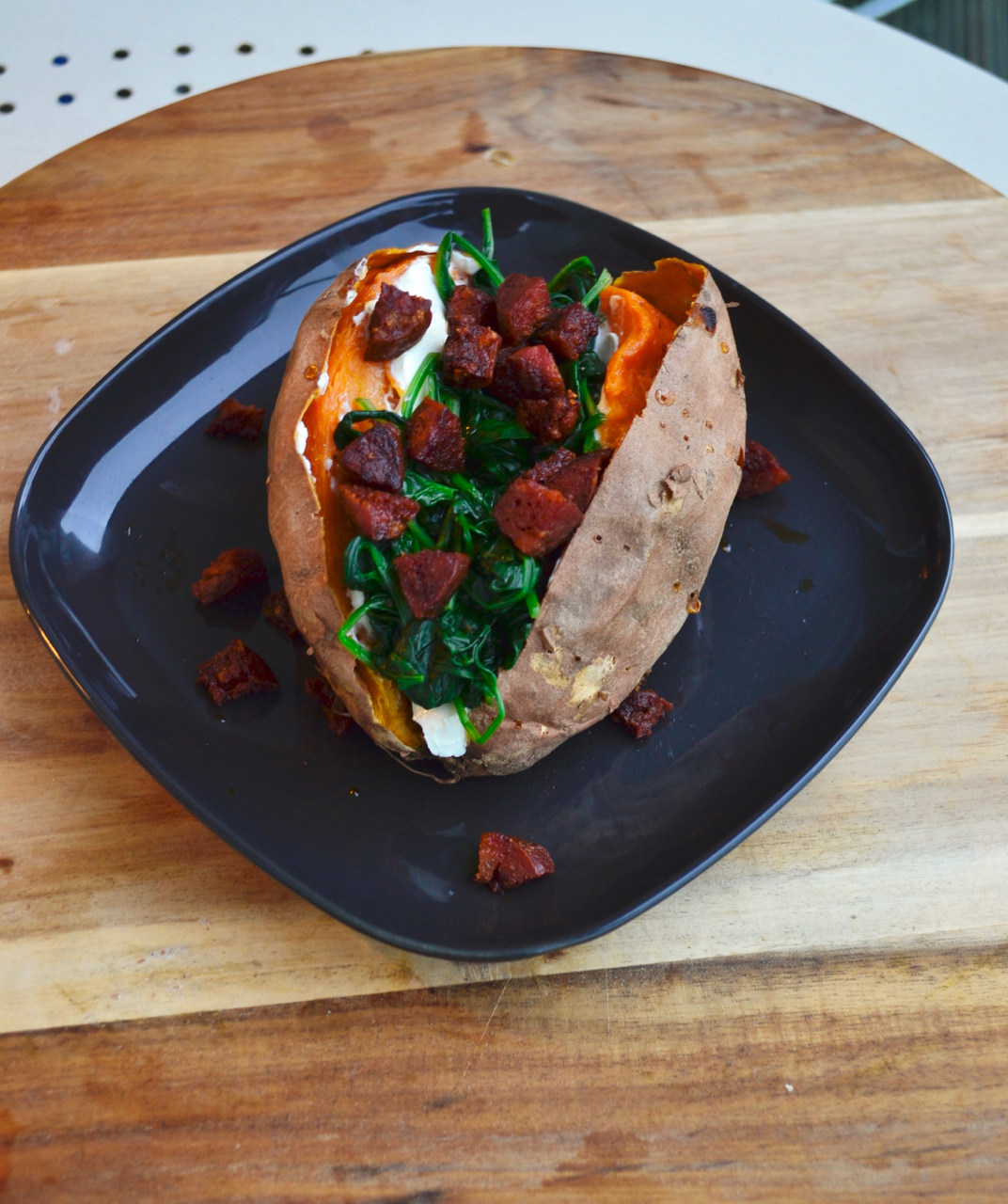 🍠 Baked & Filled Sweet Potato 🍠
Serves one
1 large sweet potato

2 handfuls of spinach

2 tbsp cream cheese (flavoured or plain, your choice)

About a 3inch-long piece of chorizo (or two rashers of bacon)
1. Preheat the oven to 180°C. Scrub any dirt off the potato and prick the skin with a fork right the way around. When the oven is hot and ready, place it directly on the rack, though if you are a bit worried about dirty oven racks, use a baking tray. Leave to bake for 50 minutes.
2. During the last 10 minutes of the bake, cut up the chorizo into small chunks and fry on a dry pan on a medium heat until crispy.
3. Remove the chorizo, now crispy, golden and slightly scorched and having released its paprika-spiked oils, and throw the spinach into the saucepan with a splash of water until it wilts. Crack some black pepper in there for flavour with a sprinkle of ground nutmeg, if you like.
4. Split open the potato along the long side, cutting about half way way down. Spoon in the cream cheese and top with spinach and crispy bacon.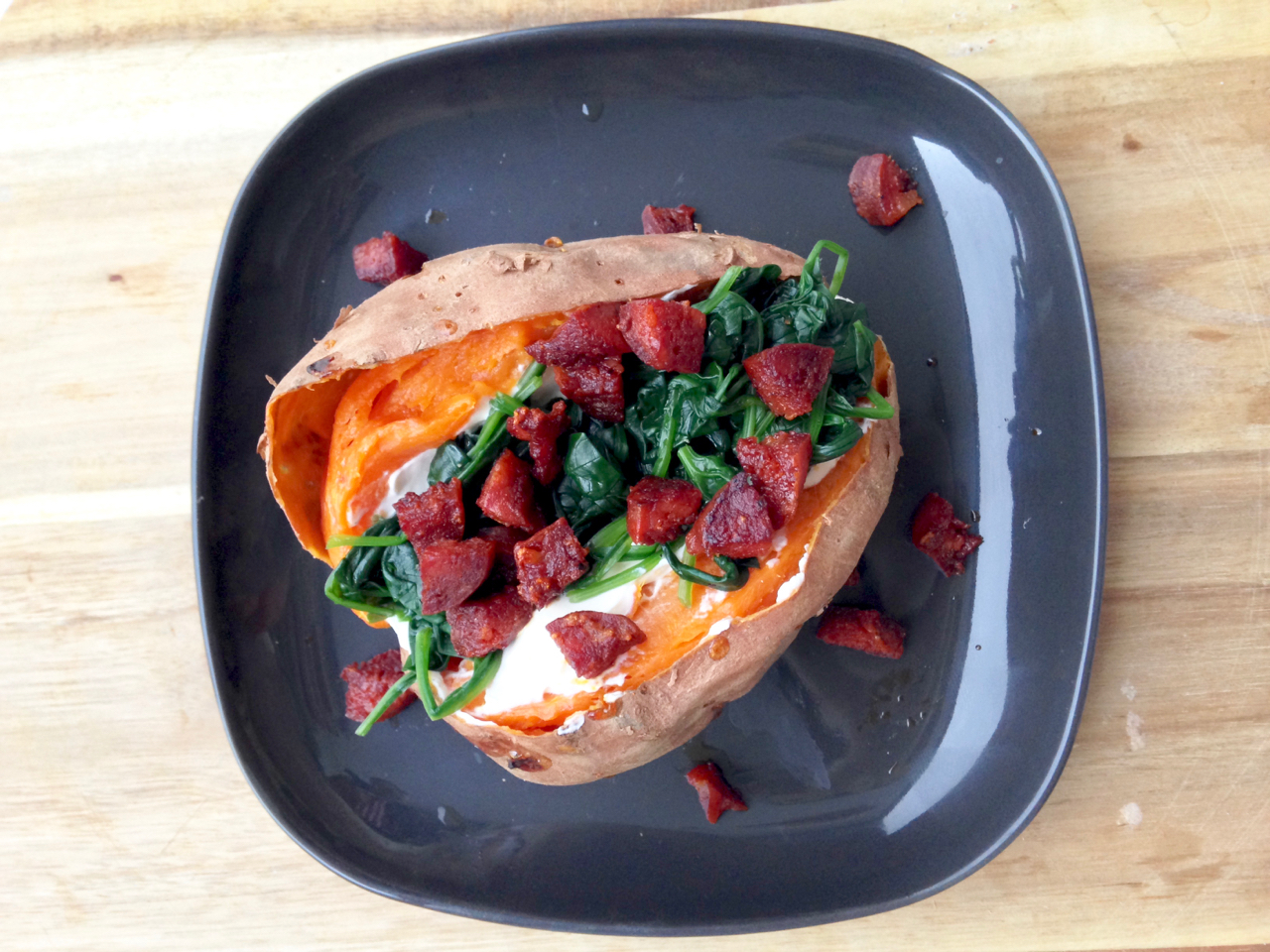 Filling, healthy and full of flavour! This is #CookingForOne but you can just double, treble or quadruple the quantities to cook for someone else or a group. Why not experiment with toppings? Crispy fried onions add gorgeous texture, gently toasted pecans are a sweet potato's best friend (both American crops) and you can make this full-on vegan with roasted chickpeas in lots of spices and some tahini dressing – so adaptable, so customise this recipe as you see fit!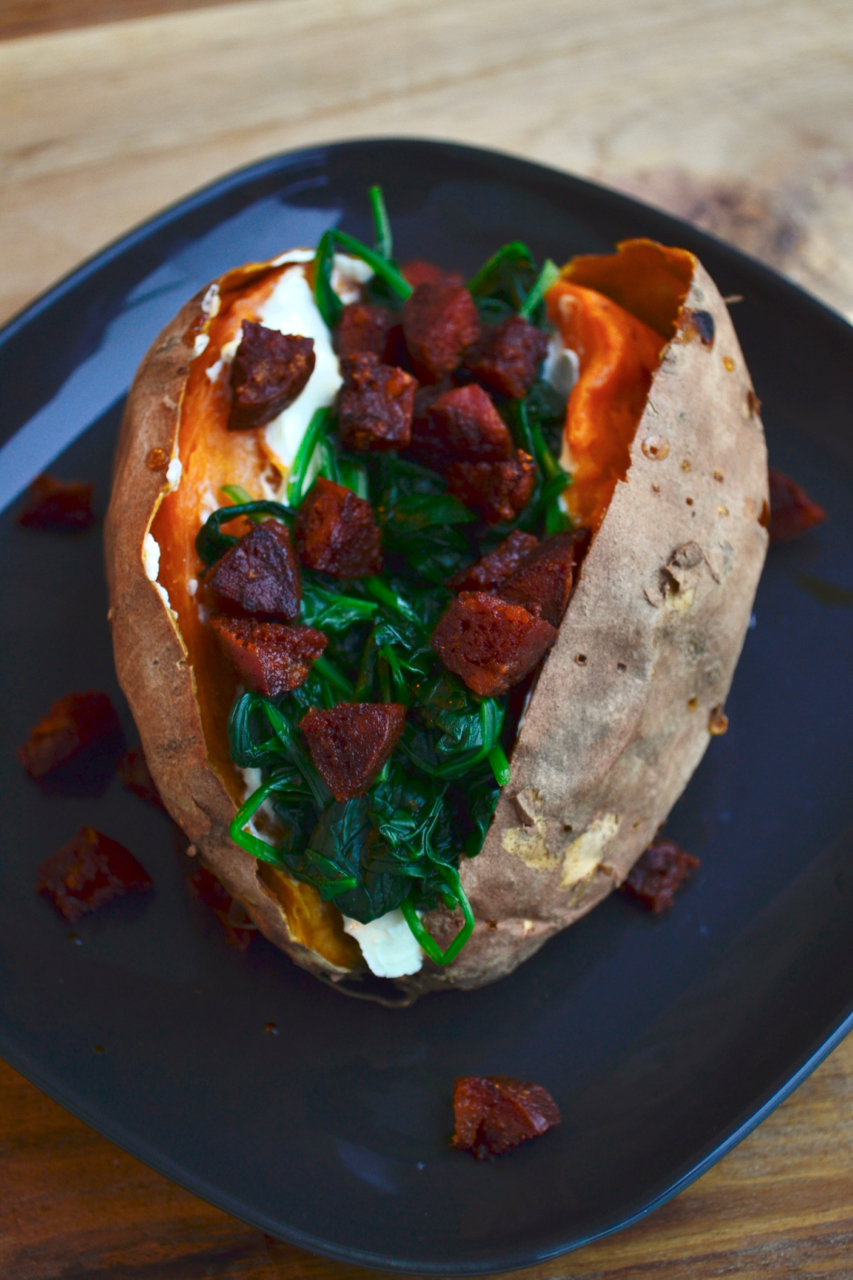 This recipe for baked, filled sweet potato originally appeared inGay Times Magazine, where we're the food columnists with a monthly recipe. Do follow GT on Twitter, Facebook or Instagram and subscribe to the magazine if you like!