We've been to Sweden so many times over the years, and creamy potato salad is a staple on the bord (or table, to you and us). Often noticeable for using new potatoes with a whack of mustard and a generous hit of dill, our take on this iconic Scandinavian recipe includes spring onion and is made lighter and sharper with crème fraîche in place of standard mayo.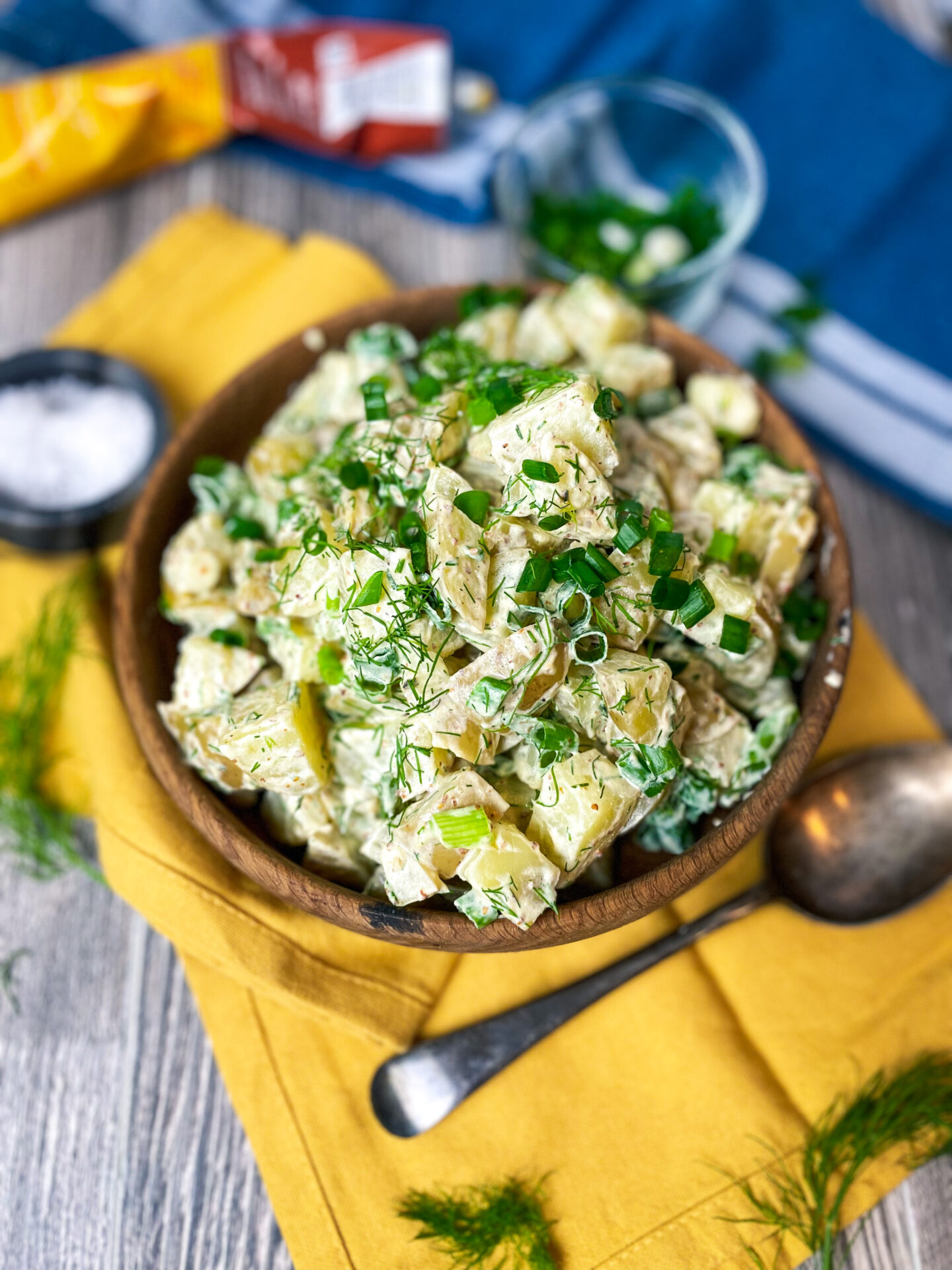 Do as the Swedes do –– serve a big 'help yourself' portion of this in the middle of the table at all manner of occasions, from Midsummer to Christmas, family barbecues on the beach to picnics in parks with friends. This recipe was created in #collaboration with Stena Line – a family-owned business with Swedish roots – to celebrate Midsommar, the mid-year point and iconic solstice celebration in Sweden. 
Ingredients
500 – 750g new potatoes, chopped into cubes
3 generous tbsp of crème fraîche
1.5 – 2 tbsp mustard (we use slightly sweeter Swedish-style 'senap' mustard here, but you can use your mustard of preference, to taste)
3-4 spring onions, split into 'white' parts and 'green' parts, then both thinly sliced and kept apart
Generous handful of dill, de-stemmed and roughly chopped
Salt and pepper, to season
Method
1. Bring a large pot of water to the boil, adding in a little salt, and then simmer the potato cubes until tender (around five minutes) before draining and shocking in cold water to cool quickly. Drain again, and leave to one side as you make the dressing.
2. In a large mixing bowl, add the crème fraîche and the mustard, then add the white parts of the chopped spring onion and about three-quarters of the chopped dill. Stir to combine, taste, and season accordingly.
3. Tumble in the potatoes, stir to coat and and serve garnished with the finely chopped 'green' parts of the spring onion and the remaining dill.