We posted this on Instagram Stories in Autumn 2018 – not even on our grid – and we were inundated with "recipe please" requests. Honestly, this was something we threw together with leftovers and the recipe came right out of our heads, but we felt a duty to post.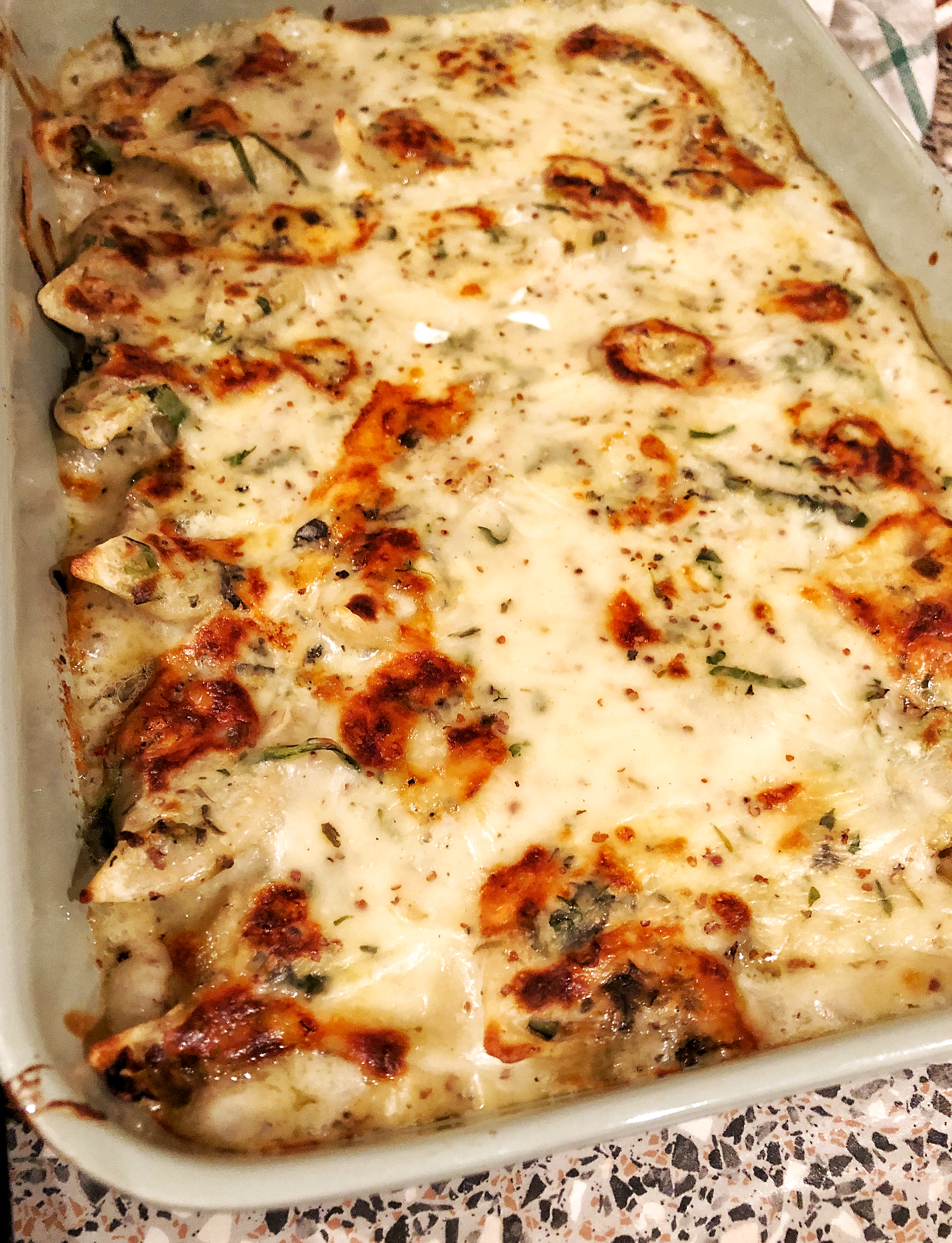 We haven't tested this a number of times, but we're not too bothered by that because this is exactly how we cook, and exactly how we try to encourage people to cook too; don't stick to recipes and cookbooks; don't go out and dutifully add to basket all the elements a recipe dictates; use your intuition, imagination and creativity when it comes to cookery.

Stuffed Bleu d'Auvergne Conchiglioni
Serves 4 (or a greedy 2, like us)
For the Stuffed Conchiglioni
Conchiglioni pasta shells (available in most larger supermarkets)
250g beef or lamb mince
Outer leaves of green cabbage, thinly sliced
1 leek, trimmed and thinly sliced
1 medium white onion, sliced
4 cloves garlic, sliced
200g Bleu d'Auvergne (or your favourite blue cheese)
Spices and herbs to your liking
Fresh thyme leaves, for garnish
For the white sauce
45g butter
45g plain flour
150ml milk, then enough water to bring to a thick consistency
A little nutmeg (optional)
2 tbsp herbs of your choice (herbes de Provence, chives, tarragon if you like)
Seasoning
A little natural yoghurt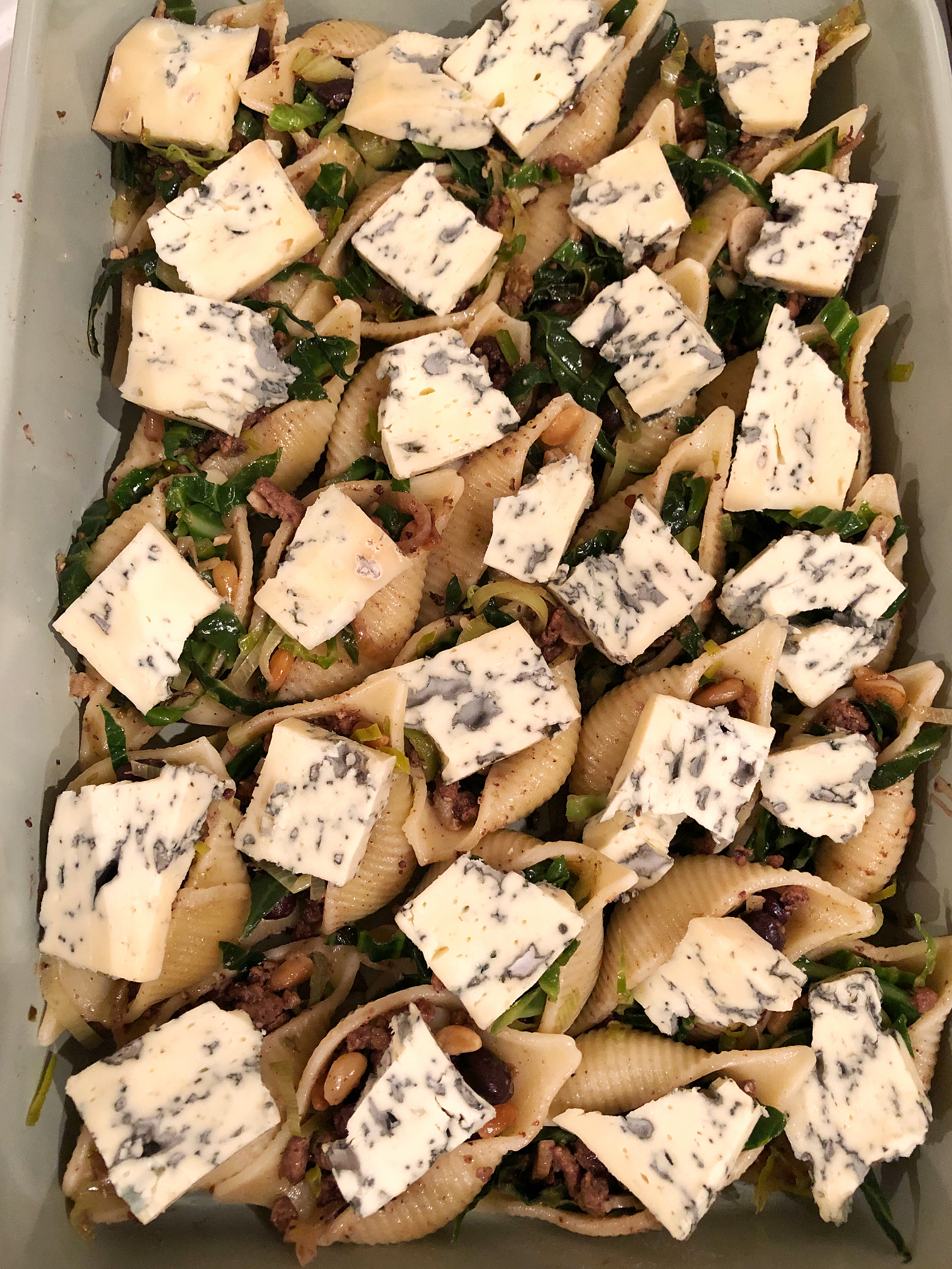 1. Par-boil the pasta shapes in boiling water until just soft and pliable. Immediately drain and shock in ice water to stop the cooking process. Drain again and set to one side.
2. Meanwhile, pan-fry the mince in a little oil in a hot pan until browned – you may need to do this in batches. Remove from the pan and then on a medium heat sweat the onion and garlic with the sliced cabbage and leek until soft. Taste for seasoning and make of this what you want – you can add in any combinations of herbs, spices and flavourings here to suit your tastes. We actually used leftover fatteh mince so we had put coriander, cumin and sumac into it, as well as some toasted pine nuts and black beans for texture. Combine everything into the mince and set aside ahead of filling the shells.
3. Make the white sauce by melting the butter in a saucepan and adding the flour, stirring to a roux and cooking out for a minute or two before gradually adding milk and then continuing with water until you reach desired thickness (and enough to cover all the shells). Taste, then season generously and at this point you can flavour with herbs (we use dried Provençal herbs here) or with a spice or two; nutmeg would be nice here. Take the sauce off the heat and allow to cool a little.
4. Fill each shell with a little of the mince mixture and arrange open-side up in a lipped baking/casserole dish, keep them close together and touching so choose your dish appropriately.
5. Top each shell with a square, slice or chunk of Bleu d'Auvergne. This is a blue cheese lovers' dish so we say: the more blue cheese the better! Then, pour the white sauce carefully over everything to coat.
6. Cover in foil and place into a pre-heated oven at 180ºC for 20 minutes, removing the foil and switching to grill for a further 10 minutes to add colour.
7. Serve with a couple of fresh thyme leaves on the top and some crusty baguette on the side. Heavenly.