Set on College Green beside Trinity College, The Westin Dublin opened in 2001 after an expansive construction which linked three historic buildings. Almost equidistant between the two shopping districts around Grafton Street and O'Connell Street whilst also directly across the road from where the Temple Bar district begins, The Westin Dublin is quite literally at the heart of the city –– an accolade few other hotels can claim and probably the most central Dublin city hotel.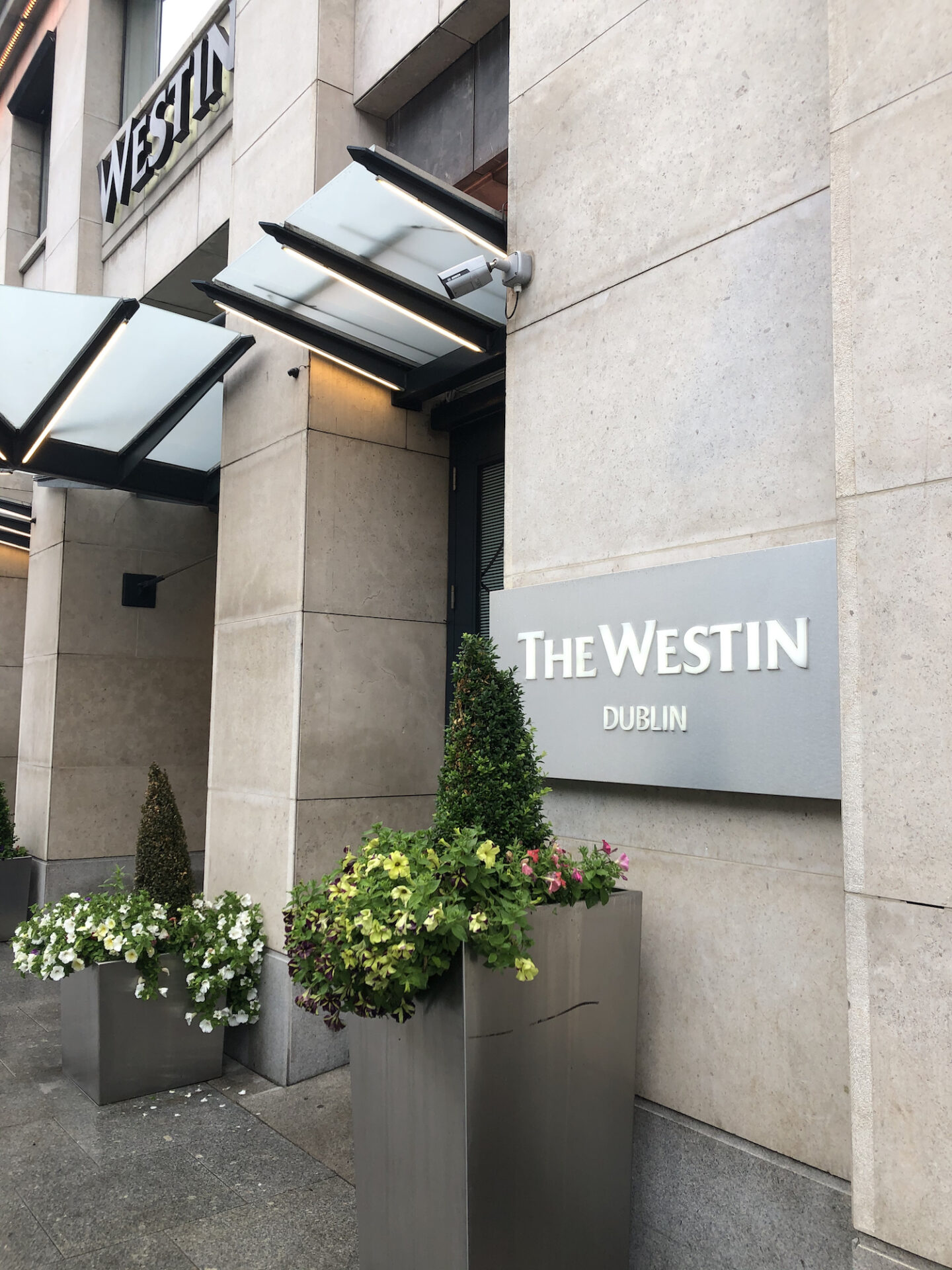 Three former bank buildings, locals remember the Perl Insurance building on the corner of Westmoreland Street and Fleet Street; the Scottish Widows building on the corner and the Provincial Bank of Ireland building (later taken over by AIB) directly facing Trinity –– all three individuals now harmoniously interconnected to make this five-star luxury Dublin city centre hotel.
Boasting 191 guest rooms, during construction over twenty years ago the external facades were retained and preserved, cementing the history of this address. Though no longer functioning as a bank, the buidings' former glories are also preserved, each meeting room at The Westin Dublin is named after an old coin (Guinea, Florin, Farthing); the subterranean Mint Bar sits within the former vaults; and the resplendent Banking Hall has been meticulously preserved (itself a protected structure) and still hosts many of the hotel's lavish events and parties.
Take a peek inside the Grattan Suite. We were lucky enough to stay as invited guests of The Westin in late summer 2020 and in this third floor suite, overlooking the statue of Henry Grattan and Parliament House, of the Grattan's Parliament era and named in his honour, it truly is pure luxury.
With a hallway and living area, equipped with work station, tea/coffee/minibar station and both couches and armchairs to lounge at whilst listening to the radio or watching something on the flatscreen TV, each window also offers a different view of this uniquely historic precinct. Want to lavishly lay low? Order room service through the in-room tablet.
Lighting is important, a mix of overhead and lamps throughout the suite zoning corners and areas whilst bouncing light off the warm lemon, grey and black colour palette which nods to Art Deco.
In the bedroom, a tall king-size awaits, with twinned bedside lockers, a vanity station, expansive wardrobe (with free-standing iron hiding within and automatic lighting) as well as a cosy armchair nook to curl up into. Again, a state of the art TV in full view pulls focus from the outside vista that frames a side angle of the Trinity College entrance.
The bathroom, with its marble effect surround and double doors, boasts both a neat little bath corner (Russell always delights at the presence of a tub to linger in for an hour!) and an expansive shower room, with Heavenly Spa toiletries provided, and a piping hot towel rack –– which was already on, warming towels in case you wanted to take a shower or bath right as you arrive.
We weren't actually going to mention the resident's gym/fitness suite at The Westin Dublin, through our own greedy choice. You see, we had this rare dream that even as non-guests we might have some magic access card that whenever in the vicinity we'd just drop in and take full advantage of this great little suite.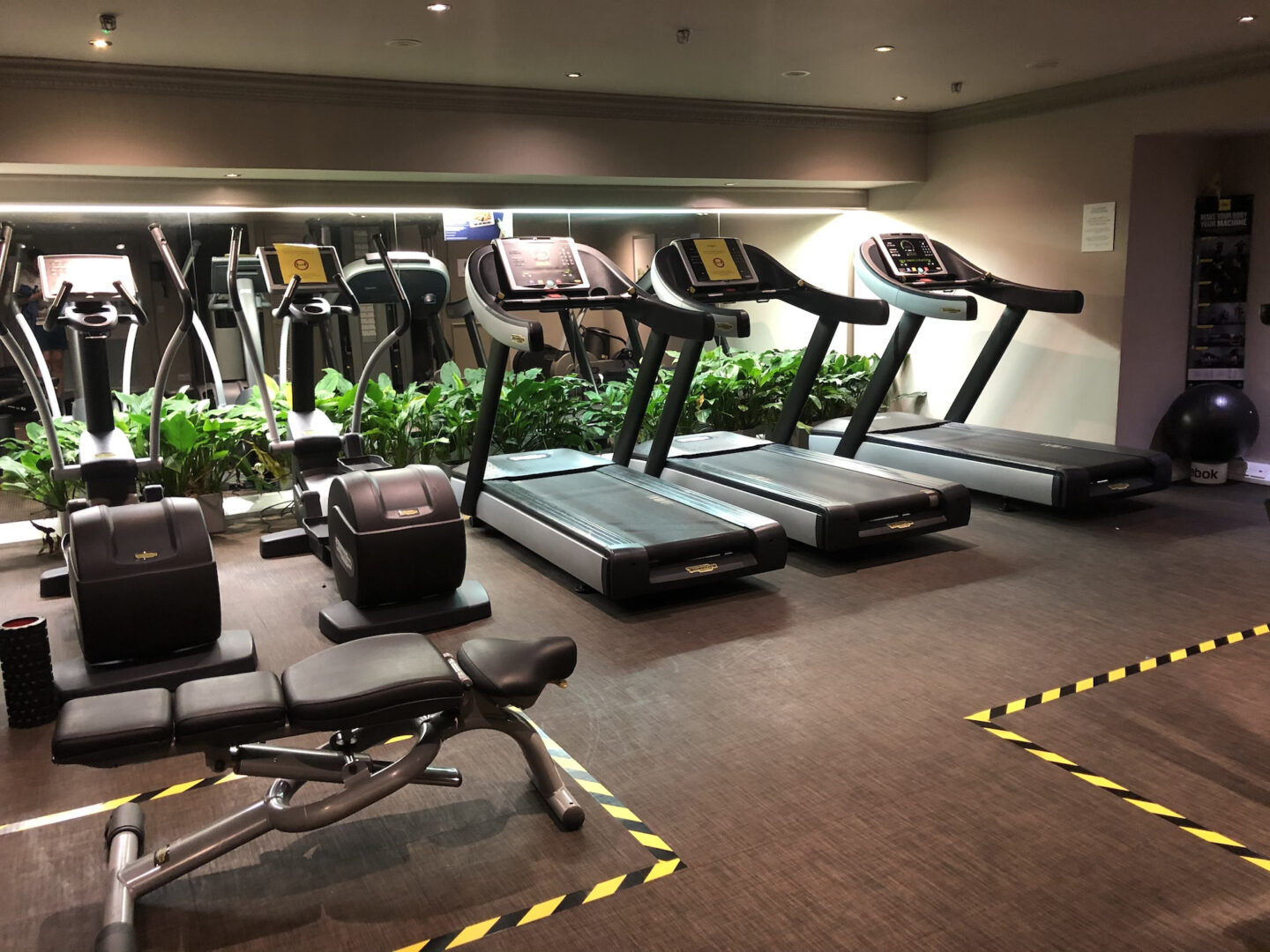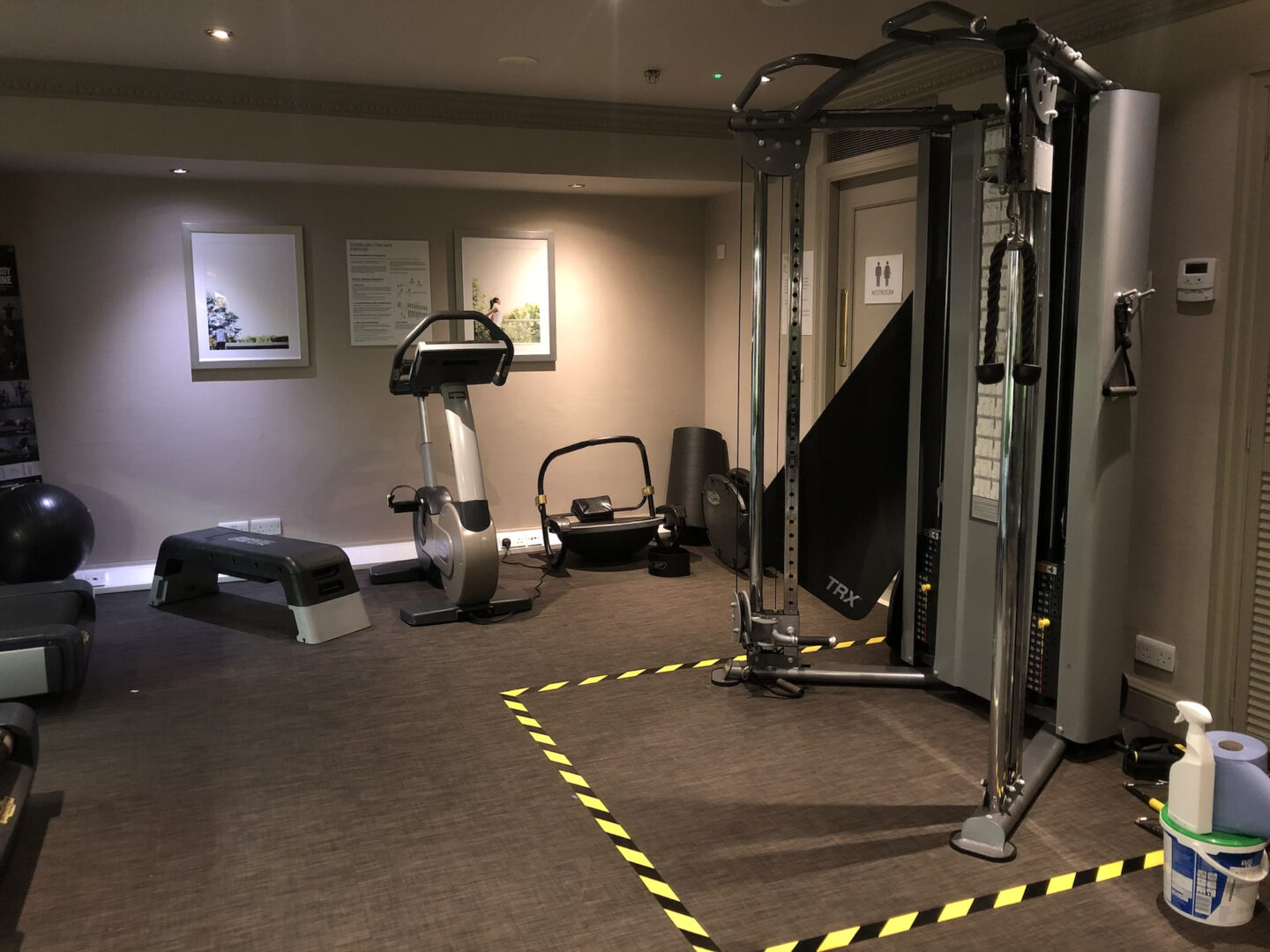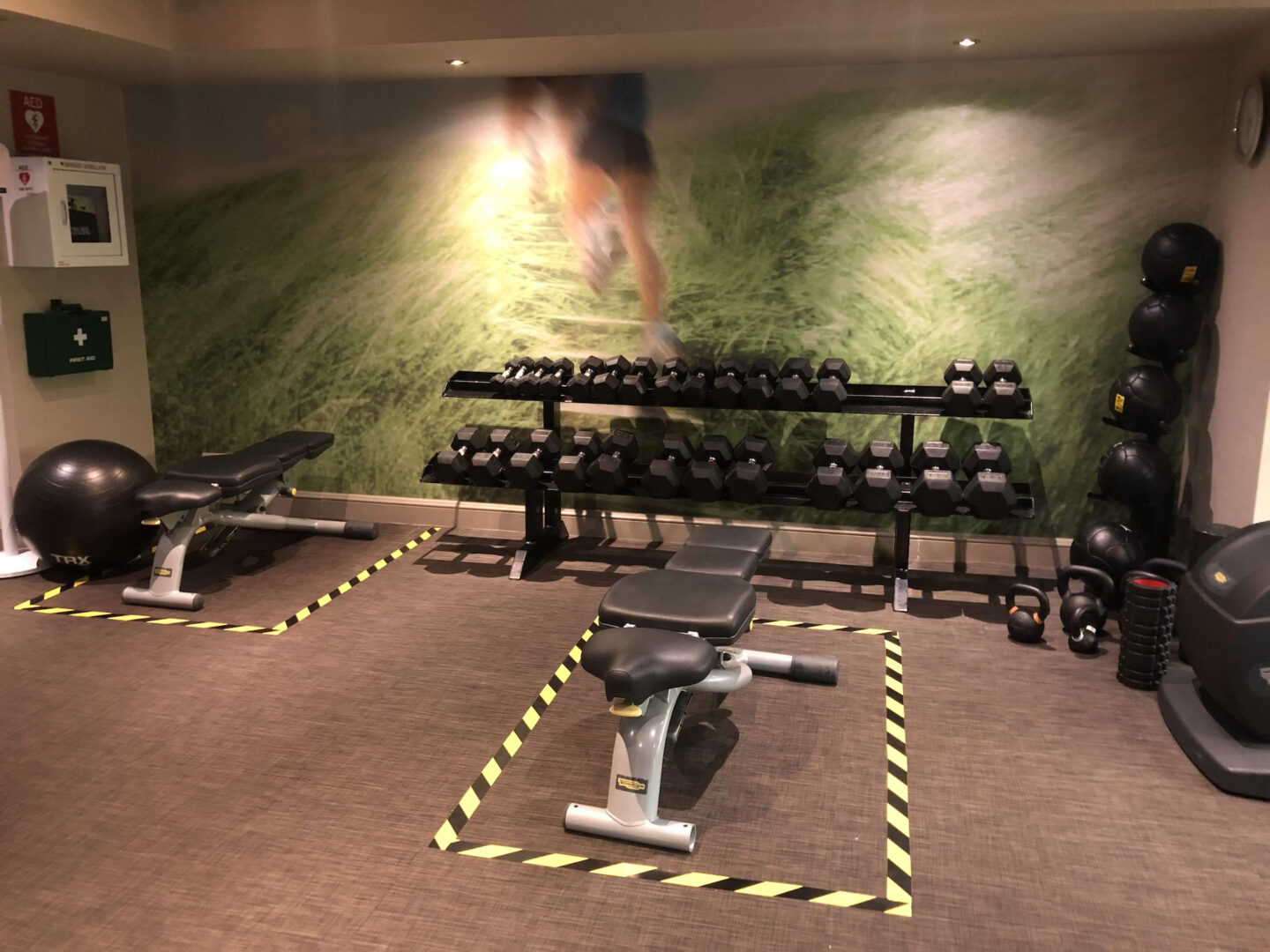 Equipped with all the necessary accoutrements (TRX, cable machines, free weights, cardio machines, kettlebells) you can really push yourself here and when we went it was so quiet and secret we had an entire hour to ourselves. Towels are available to use and send to laundry afterwards if need be, and it has a water cooler and in-room unisex toilet.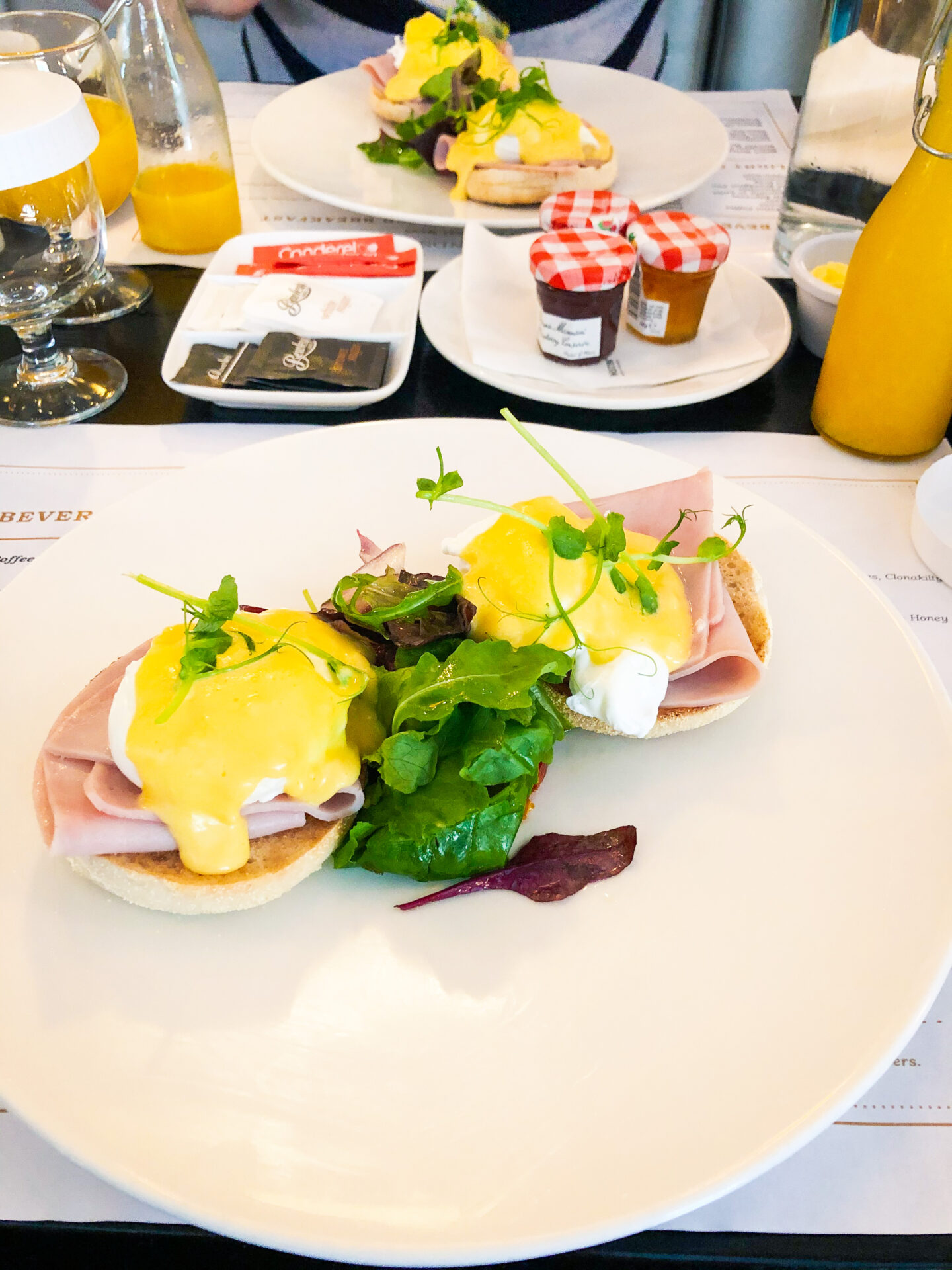 Breakfast and dinner is served in the hotel's restaurant, Morelands Grill, whilst one of the finest areas of the hotel is the Atrium, set in the heart of the main entrance portion of the hotel and boasting a skylight top cascading light down to the quintuple storey-height interior lounge.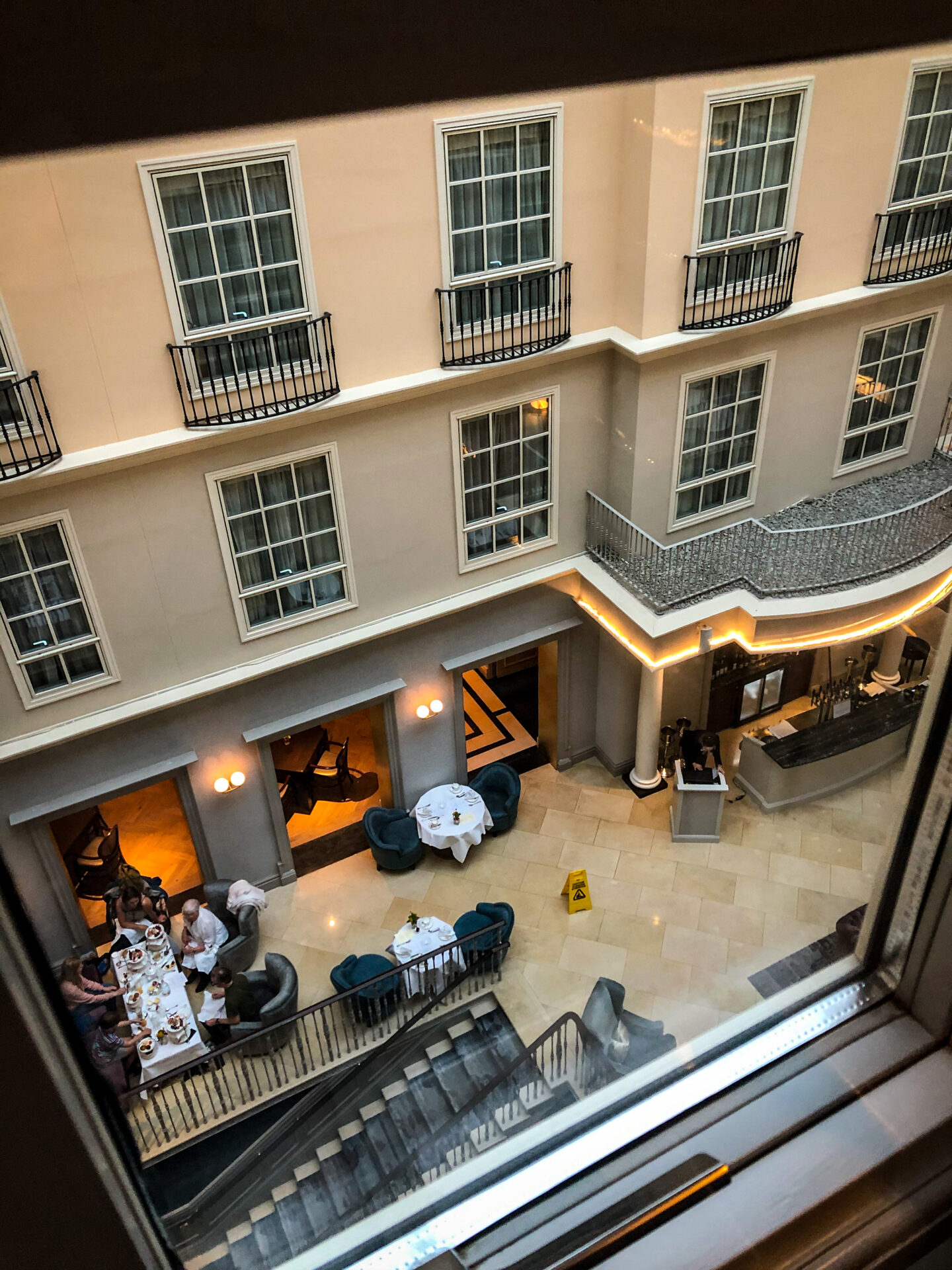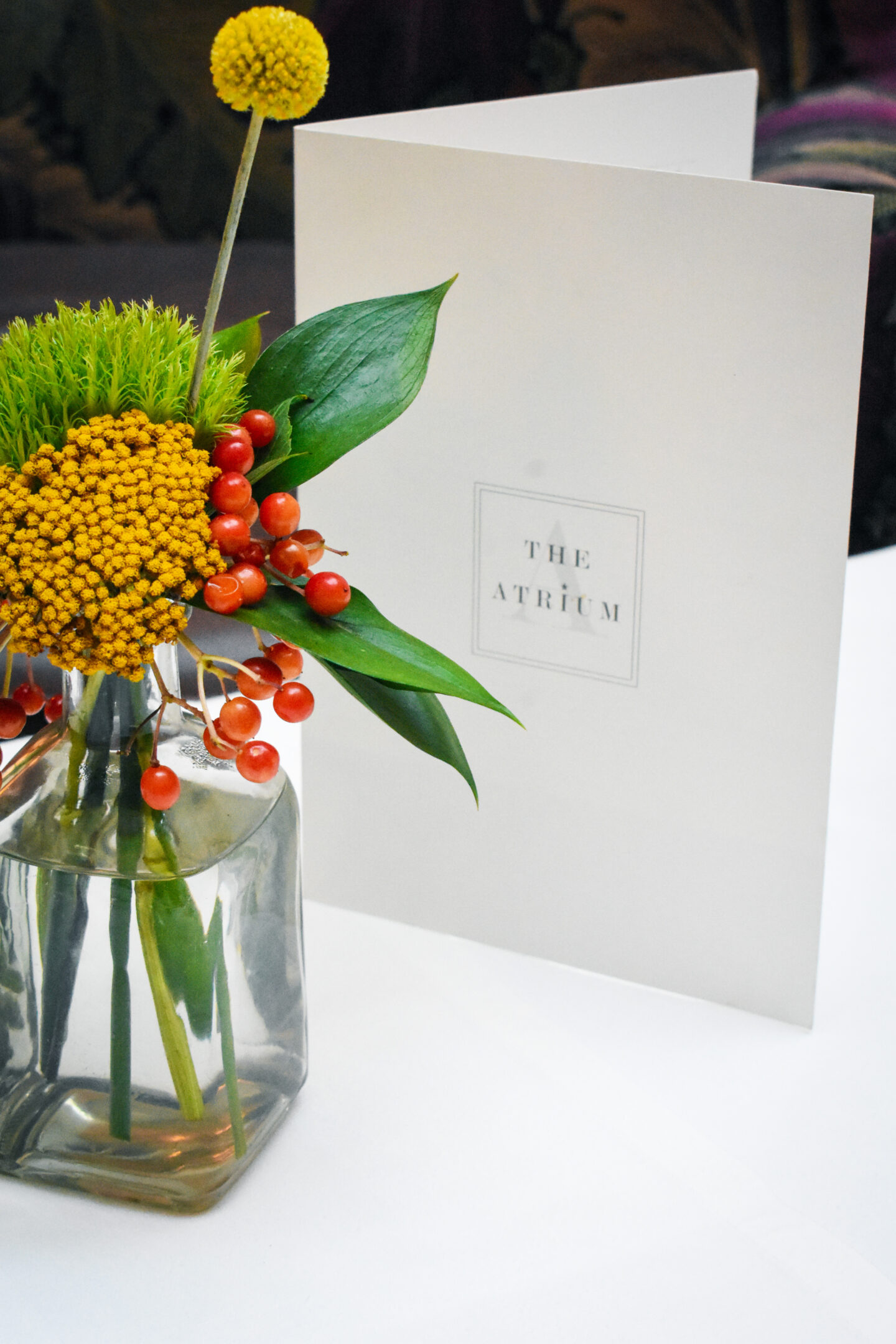 A stunning setting for afternoon tea, served daily between midday and 5:30pm, and when we were lucky enough to experience it as part of our stay there was a wonderful pianist tinkling the ivories throughout, mixing classical twists on contemporary, chart songs with 'jazz brunch'-style instrumentals.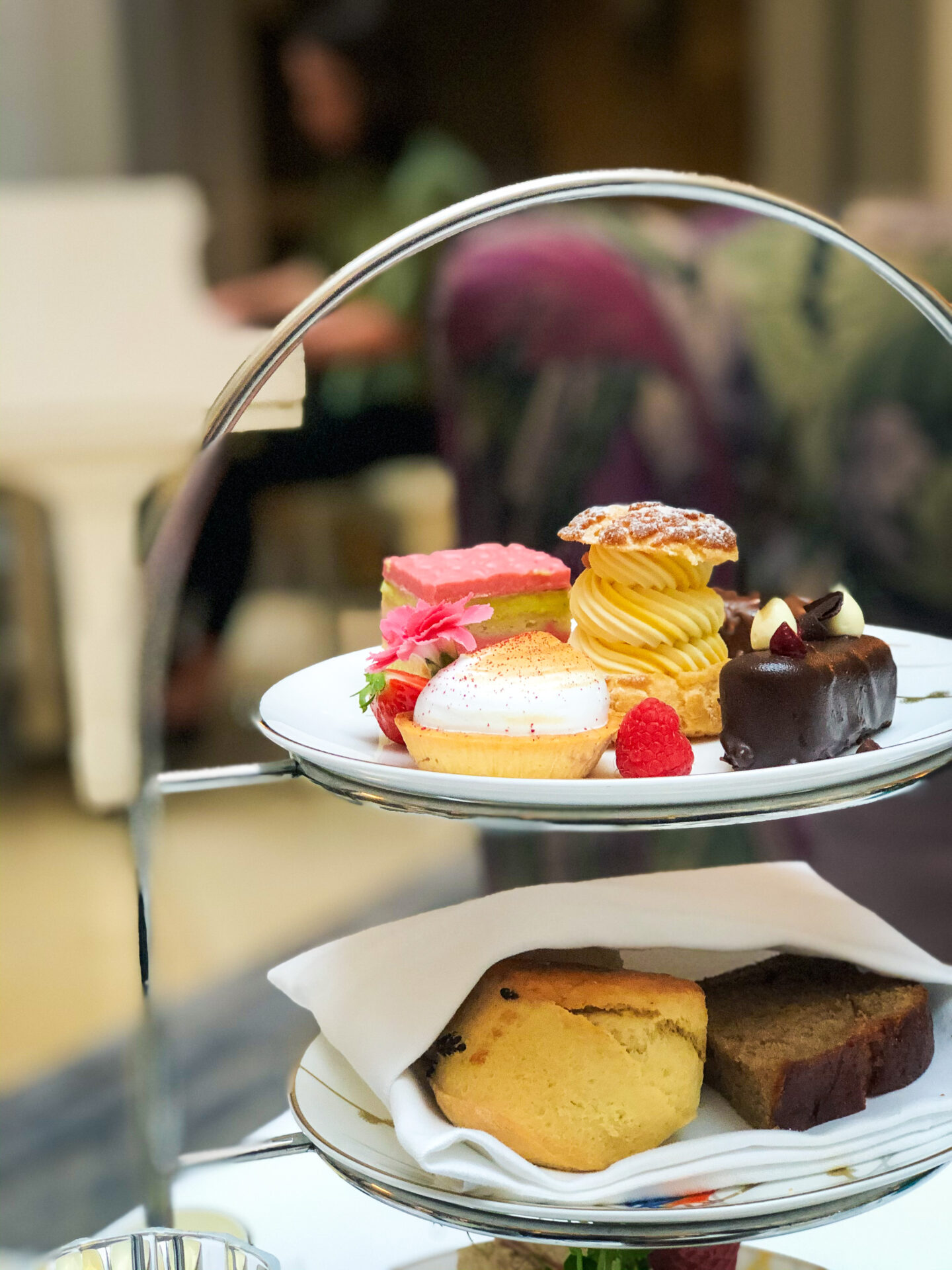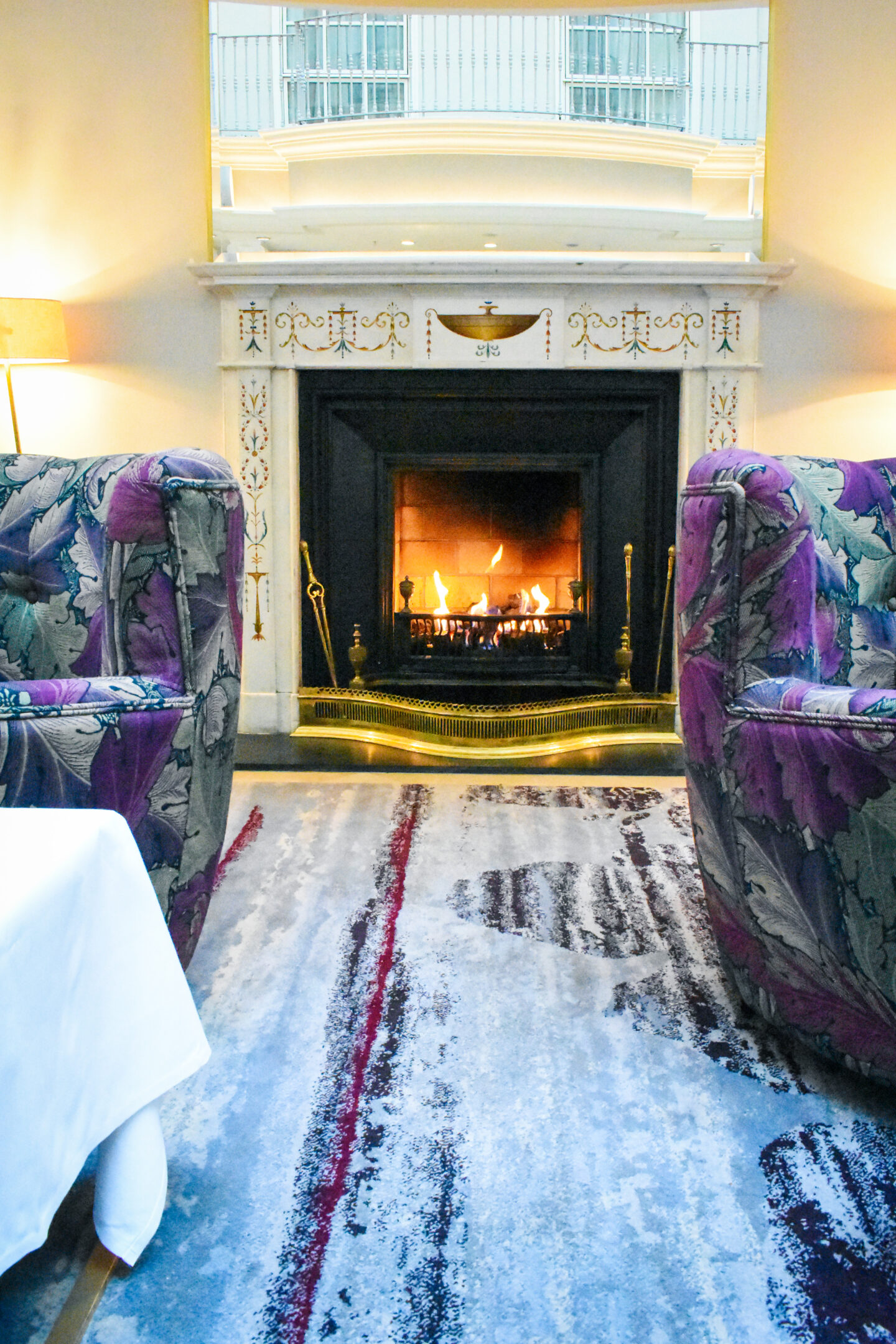 Though it was August, it was a wet, miserable and stormy outside so respite from that within the Atrium for an afternoon tea experience was delightful, especially as we were perched right in front of the crackling fire.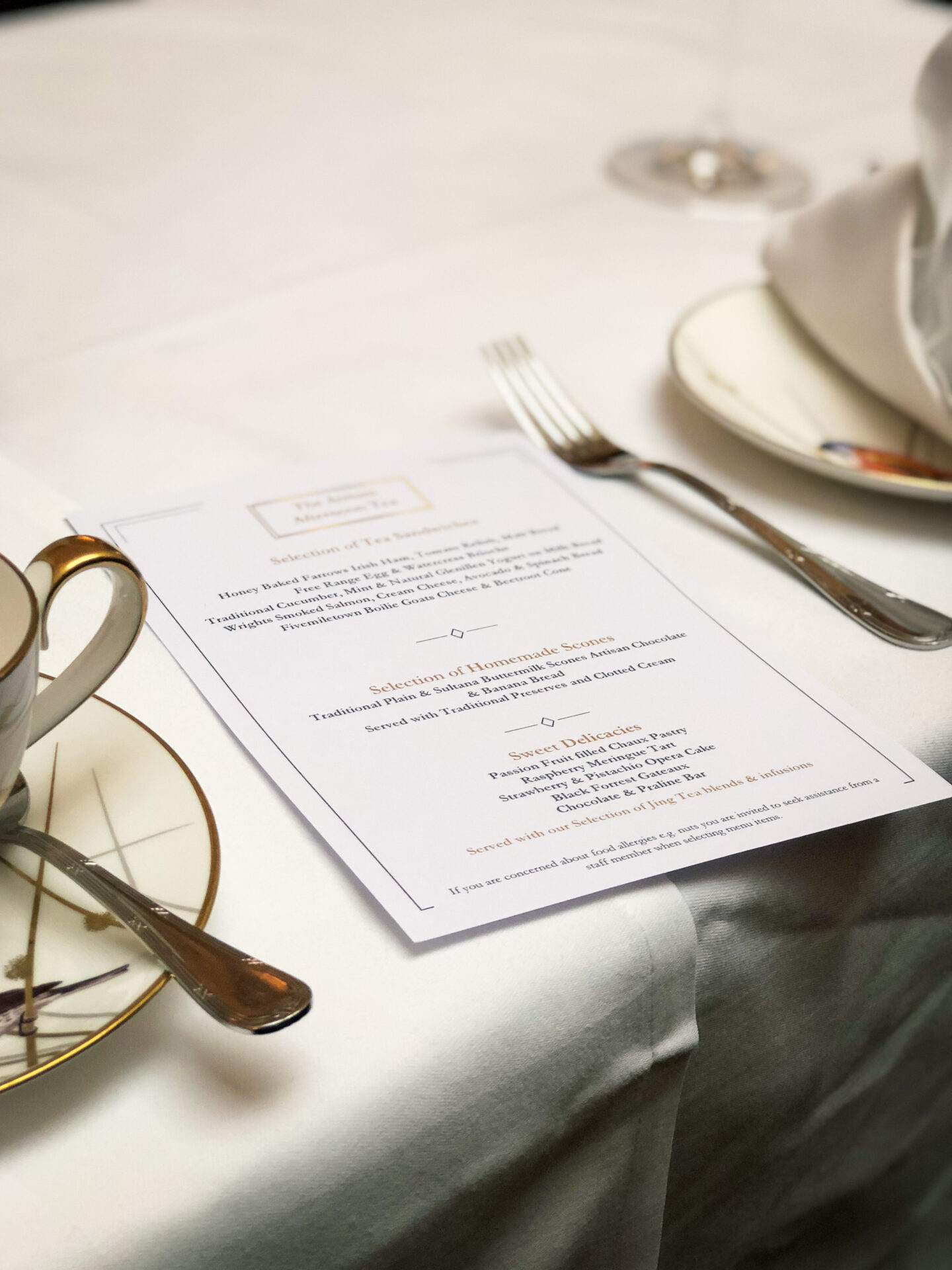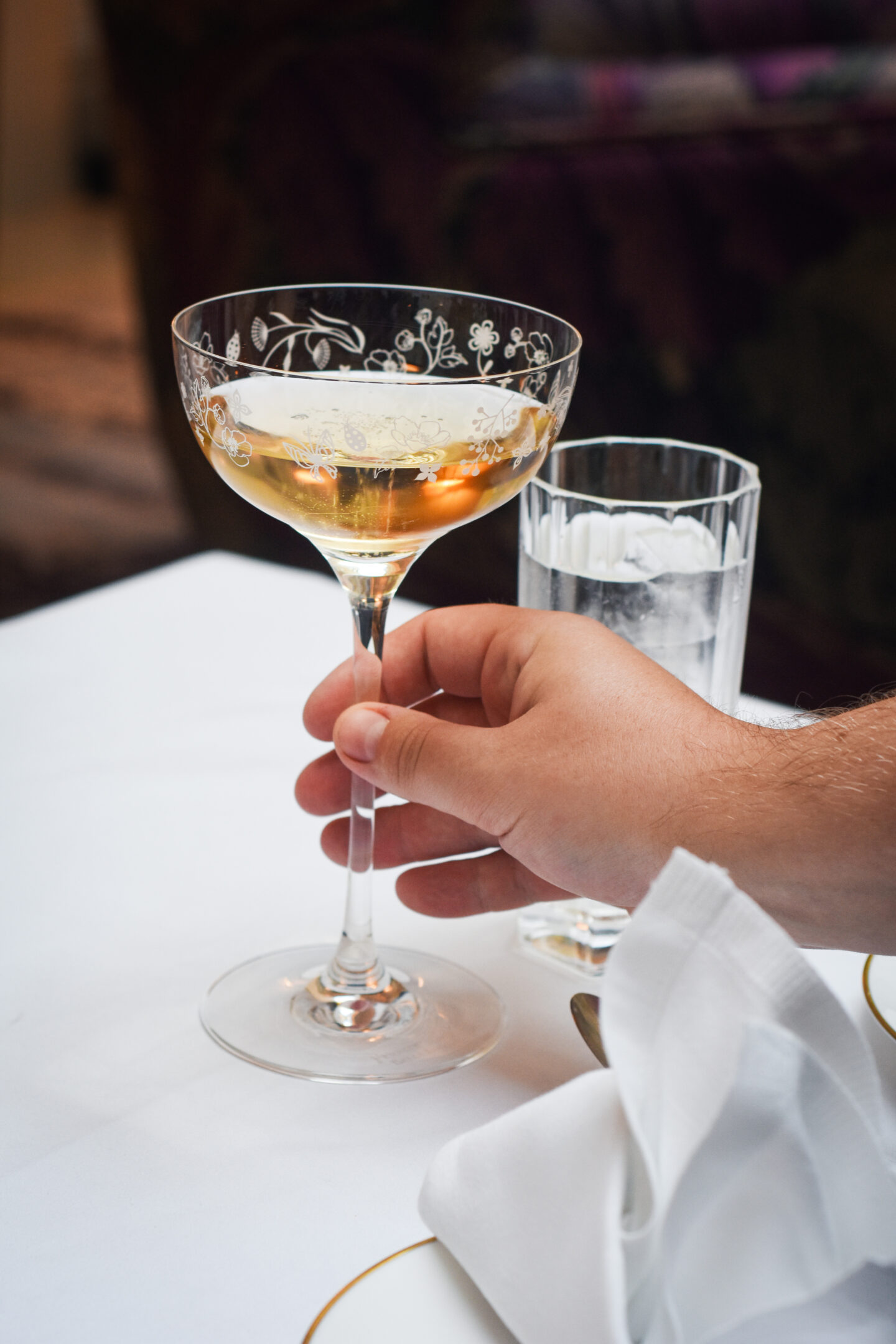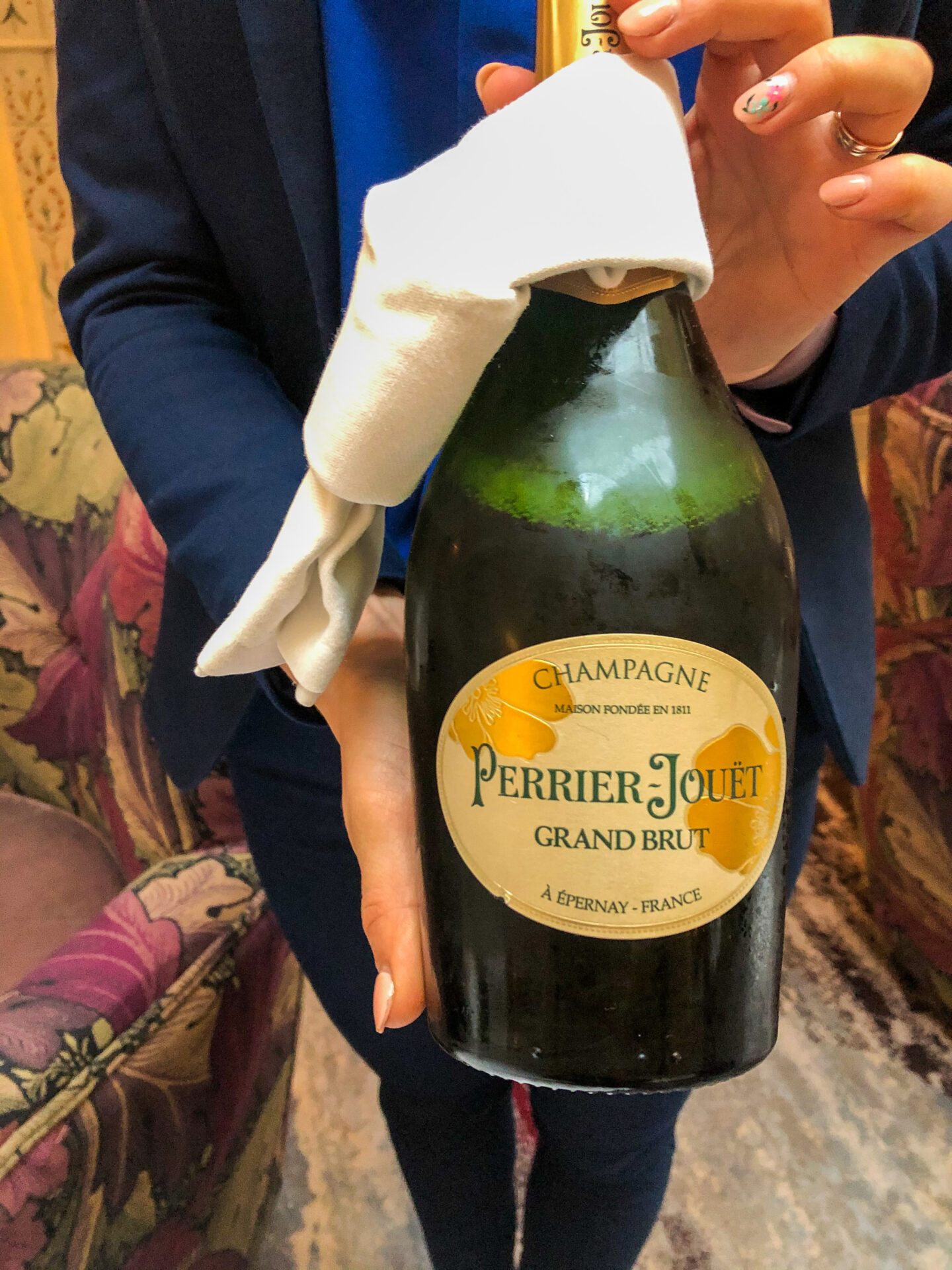 If you're partaking in the Champagne Afternoon Tea (and you can opt for a signature cocktail instead, if you wish) the house Champagne is Perrier-Jouët, which hails from the Épurnay area of France.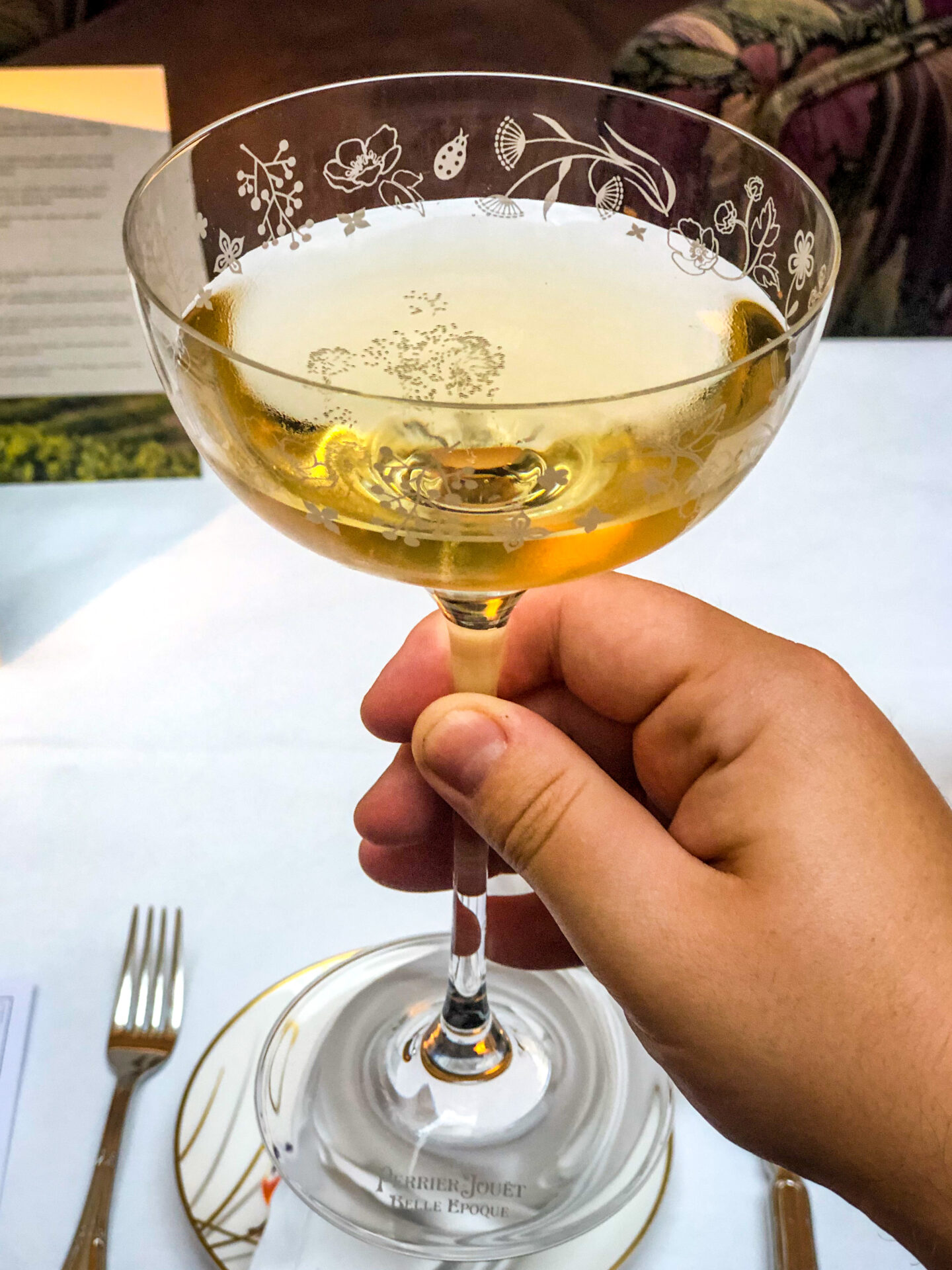 Tea is served in stunning William Edwards china with a nature theme and little birds and butterflies dappled across the cups and saucers. A Jing Tea menu offers classics such as breakfast tea and Earl Grey alongside more unusual or exotic teas like Assam, darjeeling and flowering.
Within the three-tier selection, you'll find savouries of mini crustless sandwiches, an egg and watercress brioche bun, a goat's cheese cornet and a malted bread sandwich. We particularly loved the provenance of the ingredients in the savoury selection, name-checking their Irish suppliers.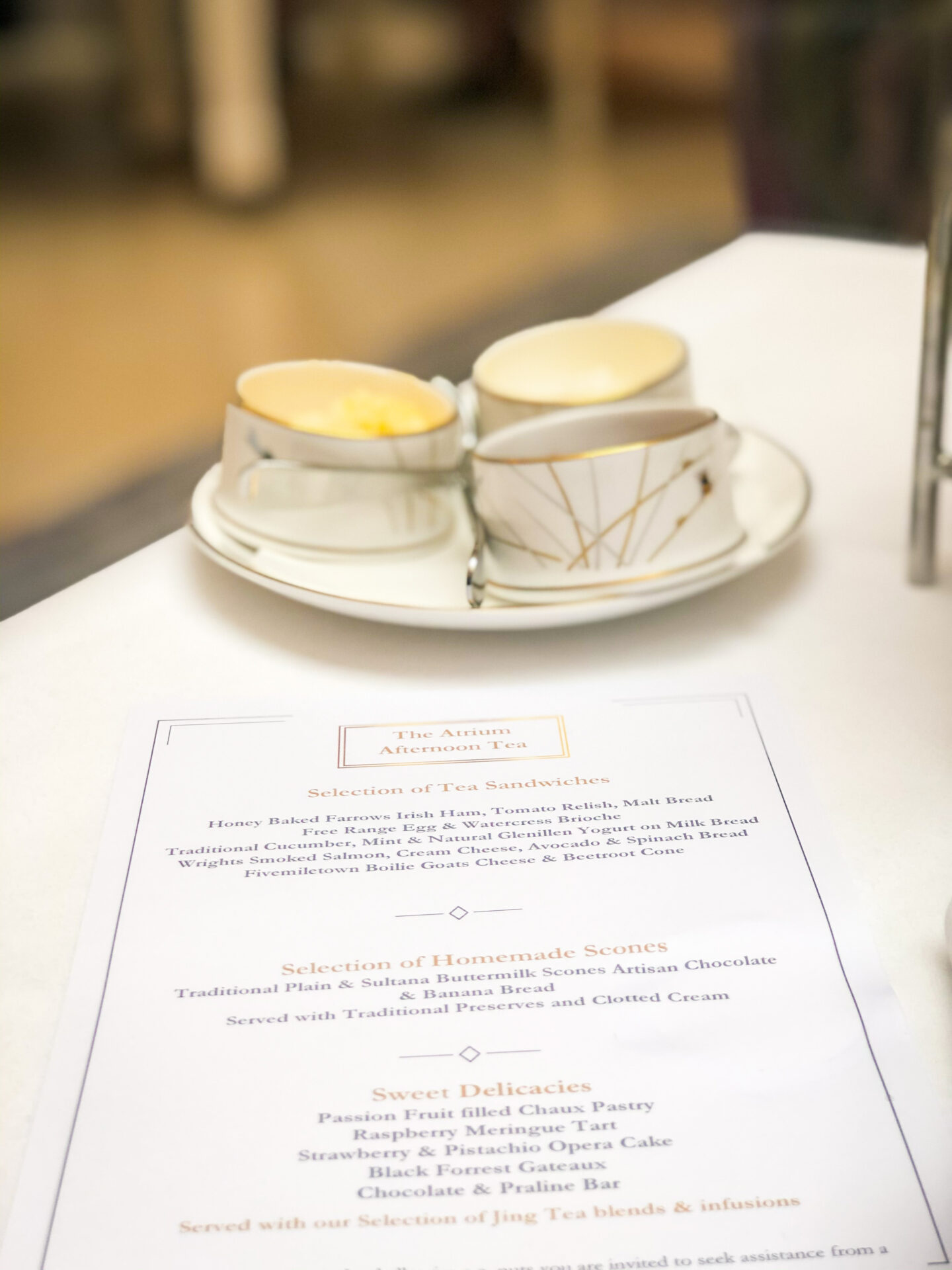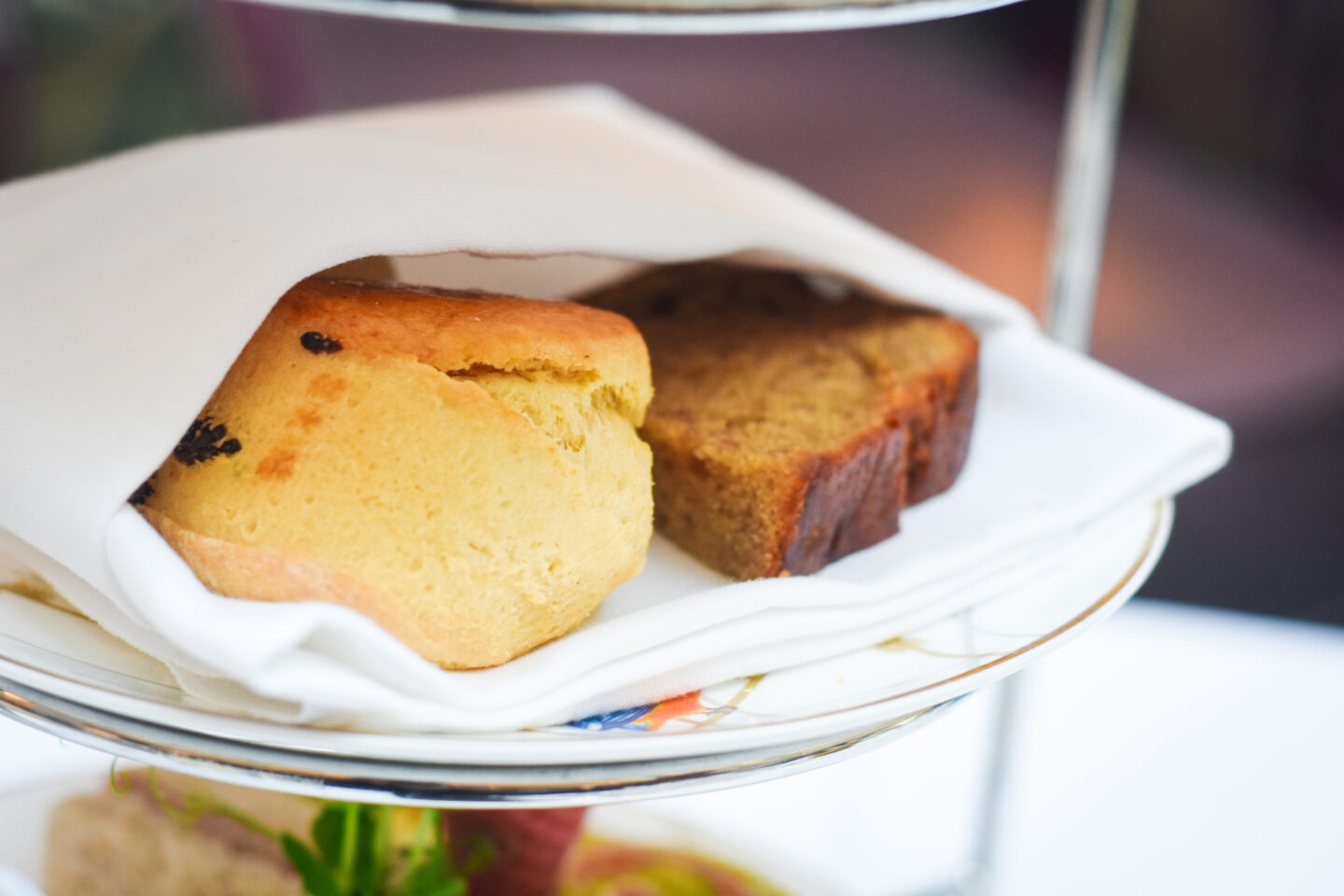 A duo of plain and fruit scones, served with clotted cream, jam and butter sit alongside the lightest-in-the-world banana bread which just melts in the mouth.
The dessert/petit fours tier is a real showstopper, with a frequently-changing selection of tarts, cakes, macarons, choux buns, mousses and chocolate delights. Each one rich, indulgent and ending the afternoon tea on a sublime note. Shout out in particular to Evelina who was wonderfully attentive and professional –– a real credit to the team!
So, all seems dreamy, right? Well it truly, truly was. One small thing to note –– the WiFi wasn't particularly fast in the suite we stayed in on the third floor and was a little clunky (continuously disconnecting from our devices and having to re-join networks) which, for us, is a big bugbear but for others may be almost unnoticeable. Another small thing to report, totally out of the hotel's hands, is that we stayed during the Covid-19 pandemic so naturally some of the areas in the hotel were off-limits and there was a lot of structure to the process of an overnight stay –– which is great to see but there wasn't 100% access to everything the hotel affords.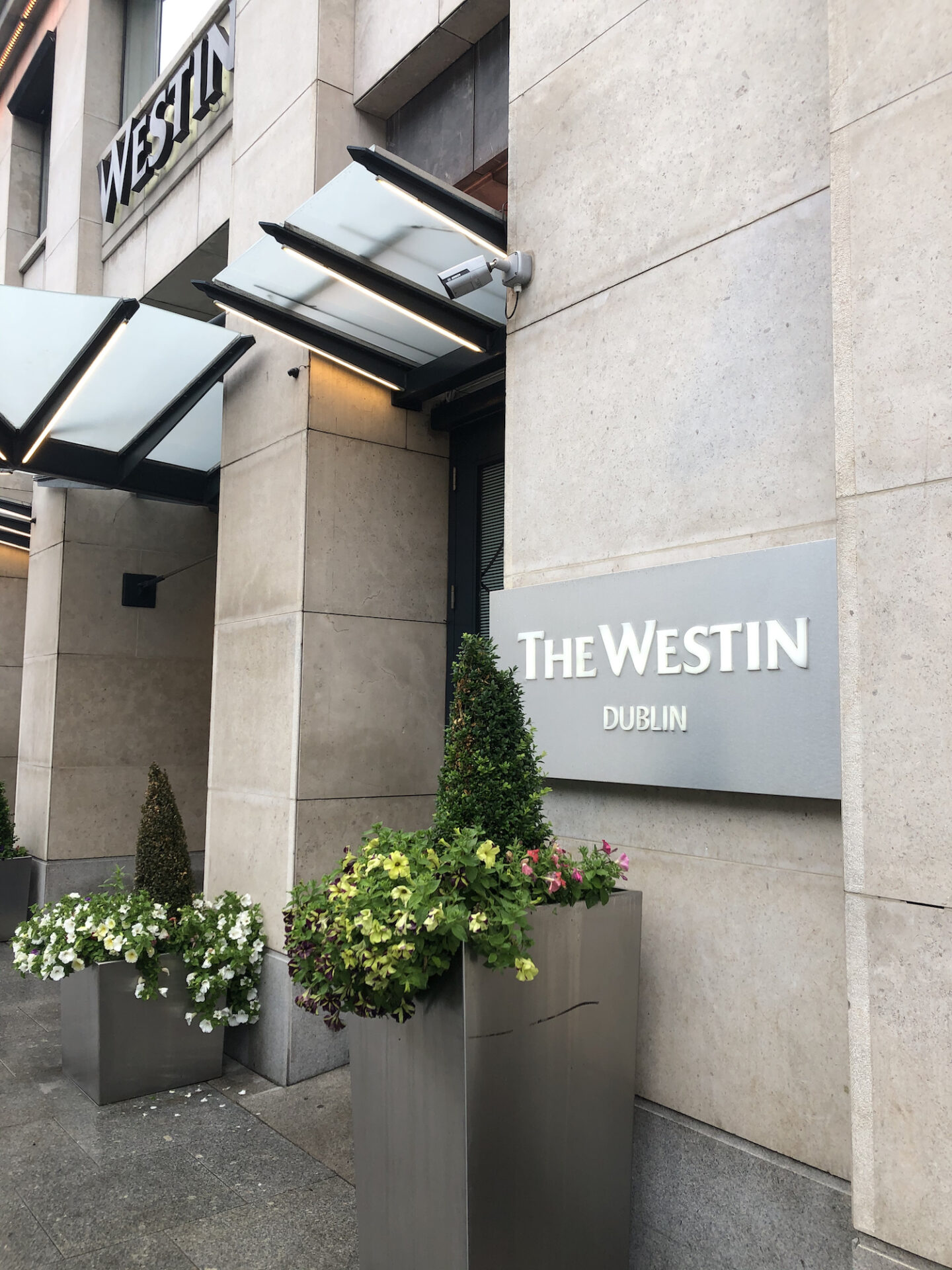 Overall the hotel offers wonderful, personable service, an enviable address slap bang in the heart of the city and some of the most luxurious and dreamy rooms Dublin city affords. Definitely recommend, and we're looking forward to staying again!
Note: We stayed at the hotel on a complimentary basis, however this doesn't affect the opinions shared in this feature.