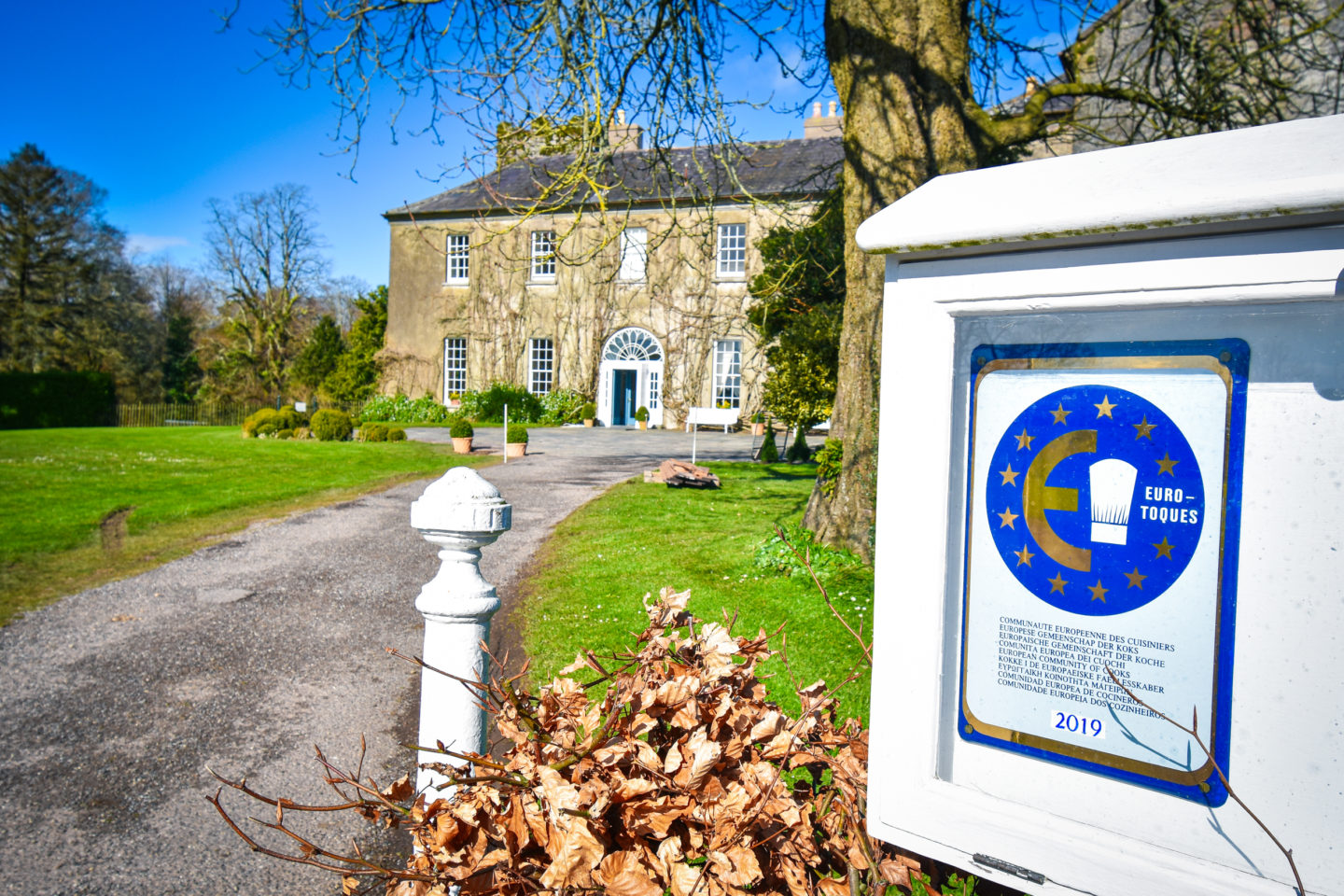 Everyone in Ireland knows Ballymaloe House –– indeed, many international eyes on this site and those who have never visited our platform will know the name 'Ballymaloe'. Most will remark on the international standing of the incredible Ballymaloe Cookery School, set up by Darina Allen and her brother Rory O'Connell in 1983 and continues to be one of the world's most renowned culinary schools, in the league of Leiths and Le Cordon Bleu.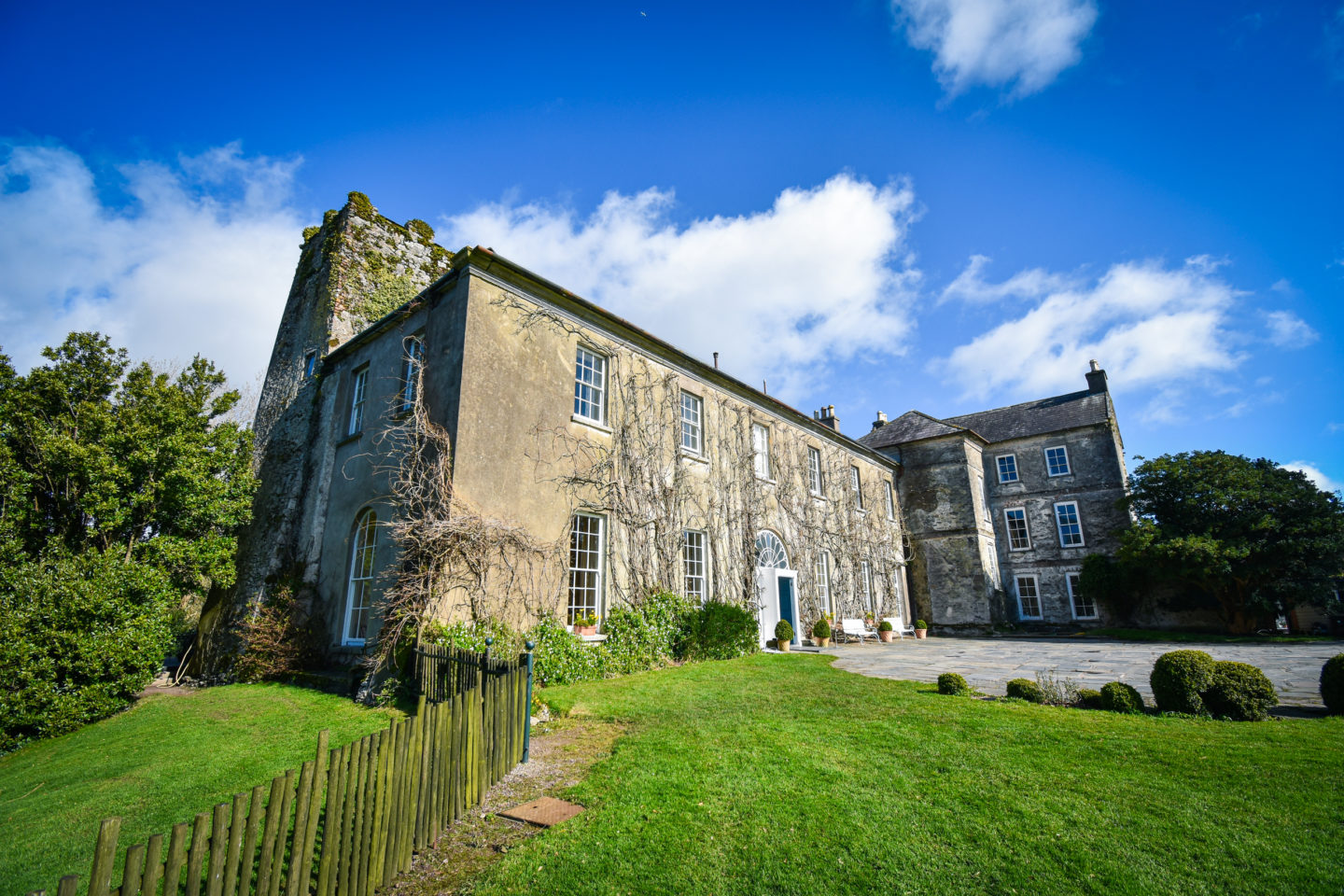 Set in East Cork, around 30 minutes drive from Cork city, between the townland of Cloyne and the village of Shanagarry, it's worth noting that though they share a name and family connection, Ballymaloe Cookery School is on a completely different property -–– three miles down the road and about a ten-minute drive away. It's there that the cookery school is based, alongside expansive organic farmland and manicured gardens. This is where the students learn, serve and indeed some even live on-site. This is something we ourselves didn't realise and we have a hunch many others don't realise either! More on the Cookery School later…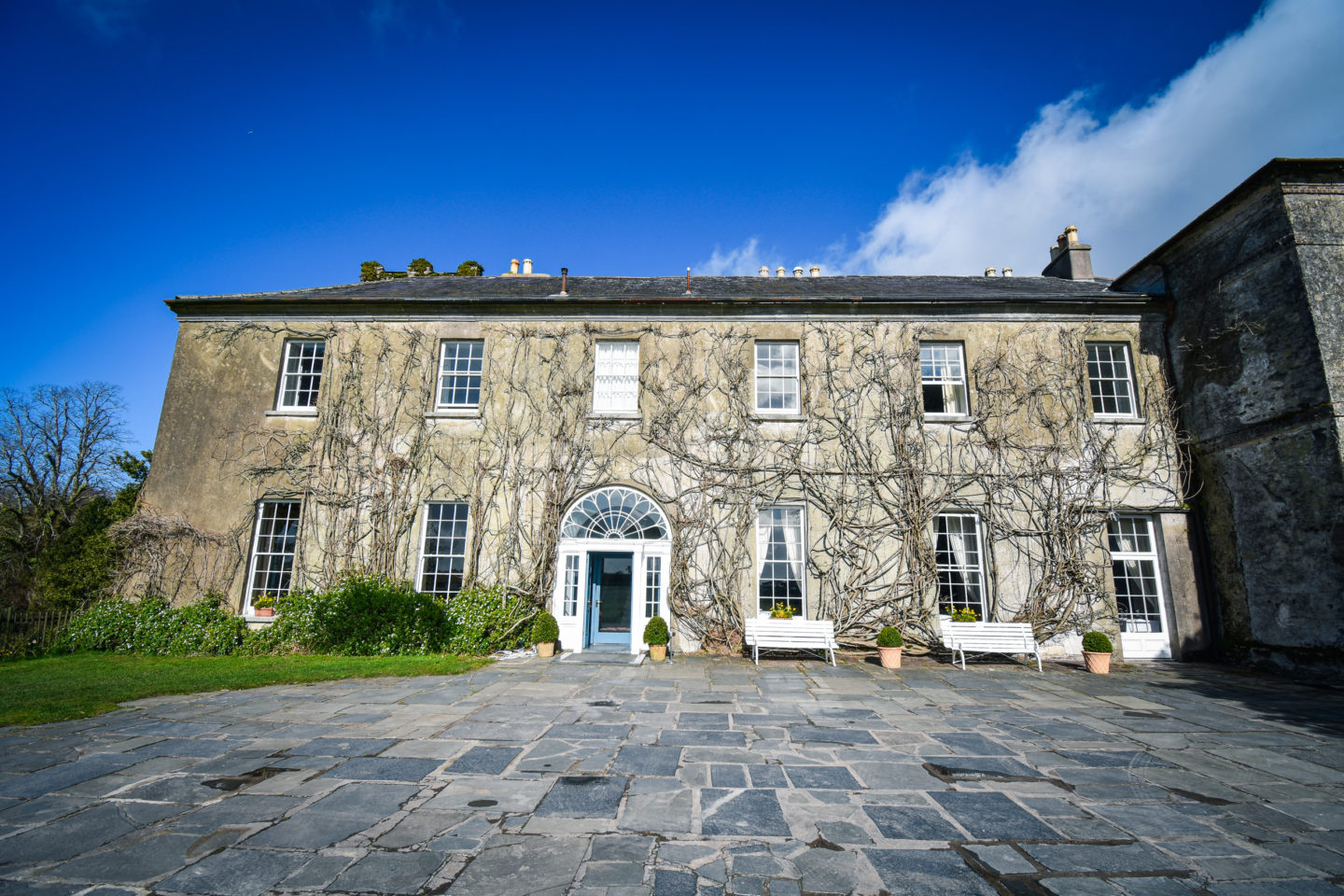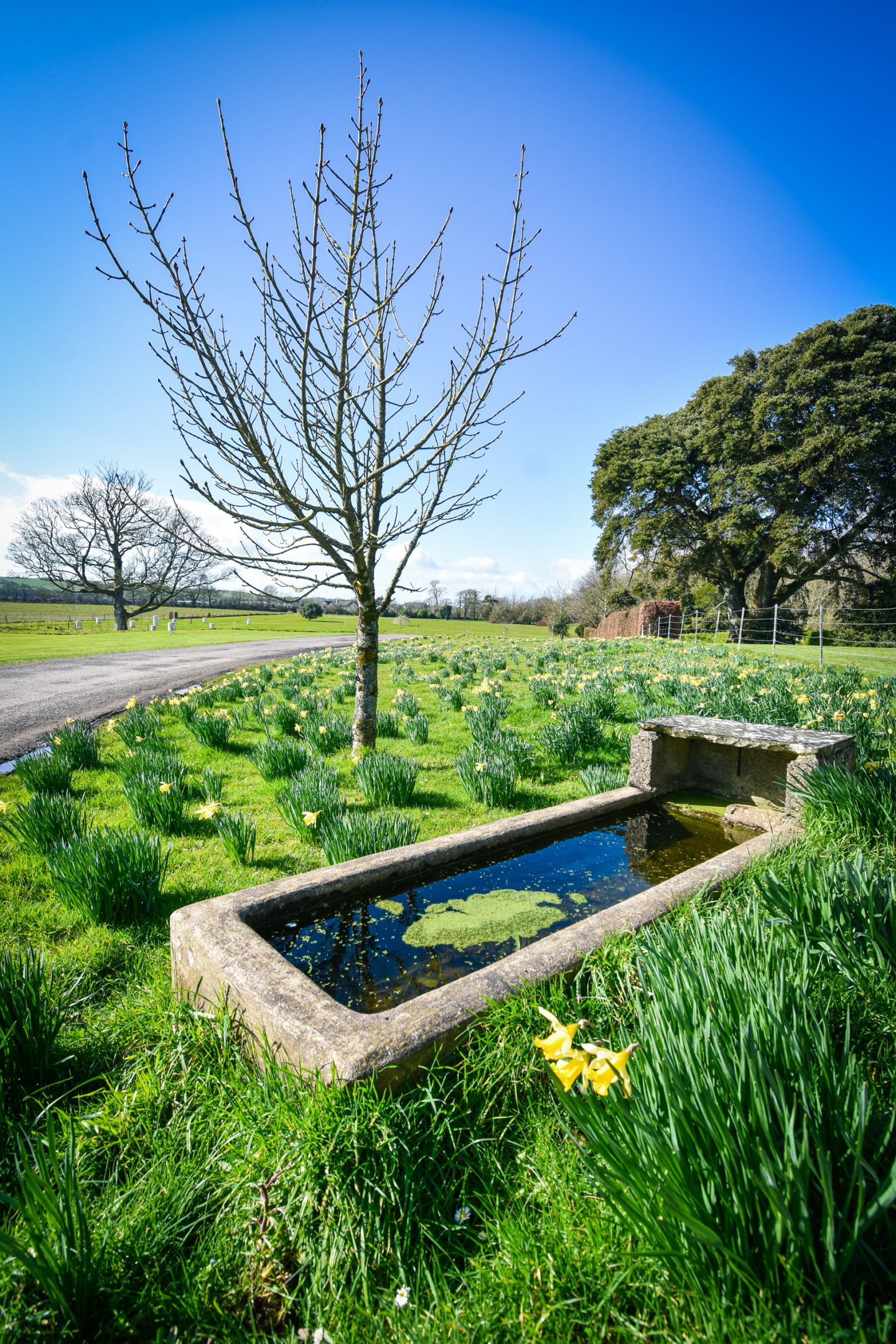 Naturally famed for its outstanding food, Ballymaloe really came into its own with the late Ivan Allen and his wife Myrtle (known as 'Mrs. Allen' to all and sundry) at the helm. It was this farmer's wife who single-handedly put Irish food on the map. Quite amazingly, she was so groundbreaking and ahead of her time she won a coveted Michelin star in 1975, a year after they were introduced to Ireland. Mrs. Allen later opened a restaurant in Paris – La Ferme Irlandaise ('The Irish Farm') – showcasing the quality of Irish food to the amazement of those on the Continent, and she solidified her place as the modern matriarch of Irish cuisine.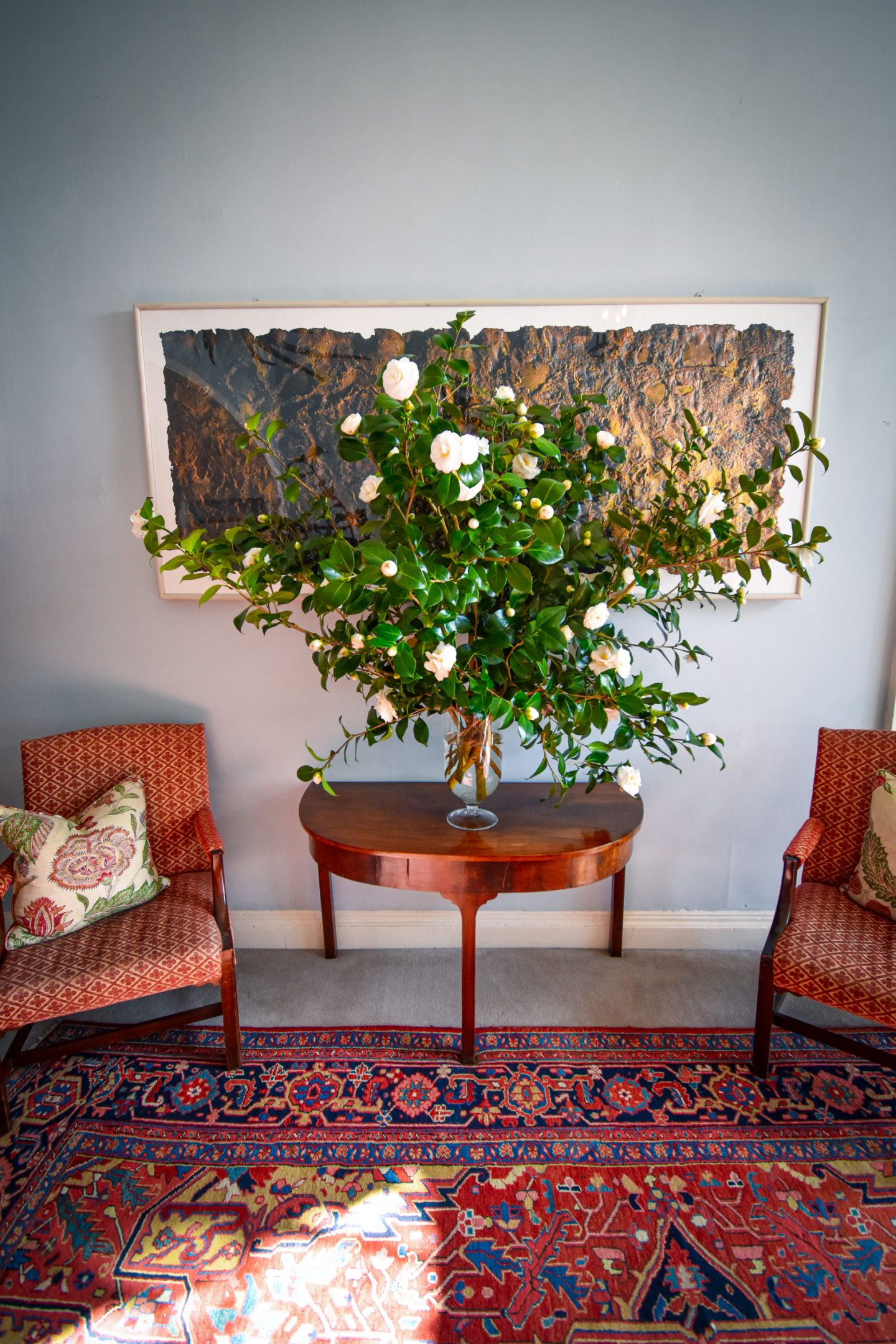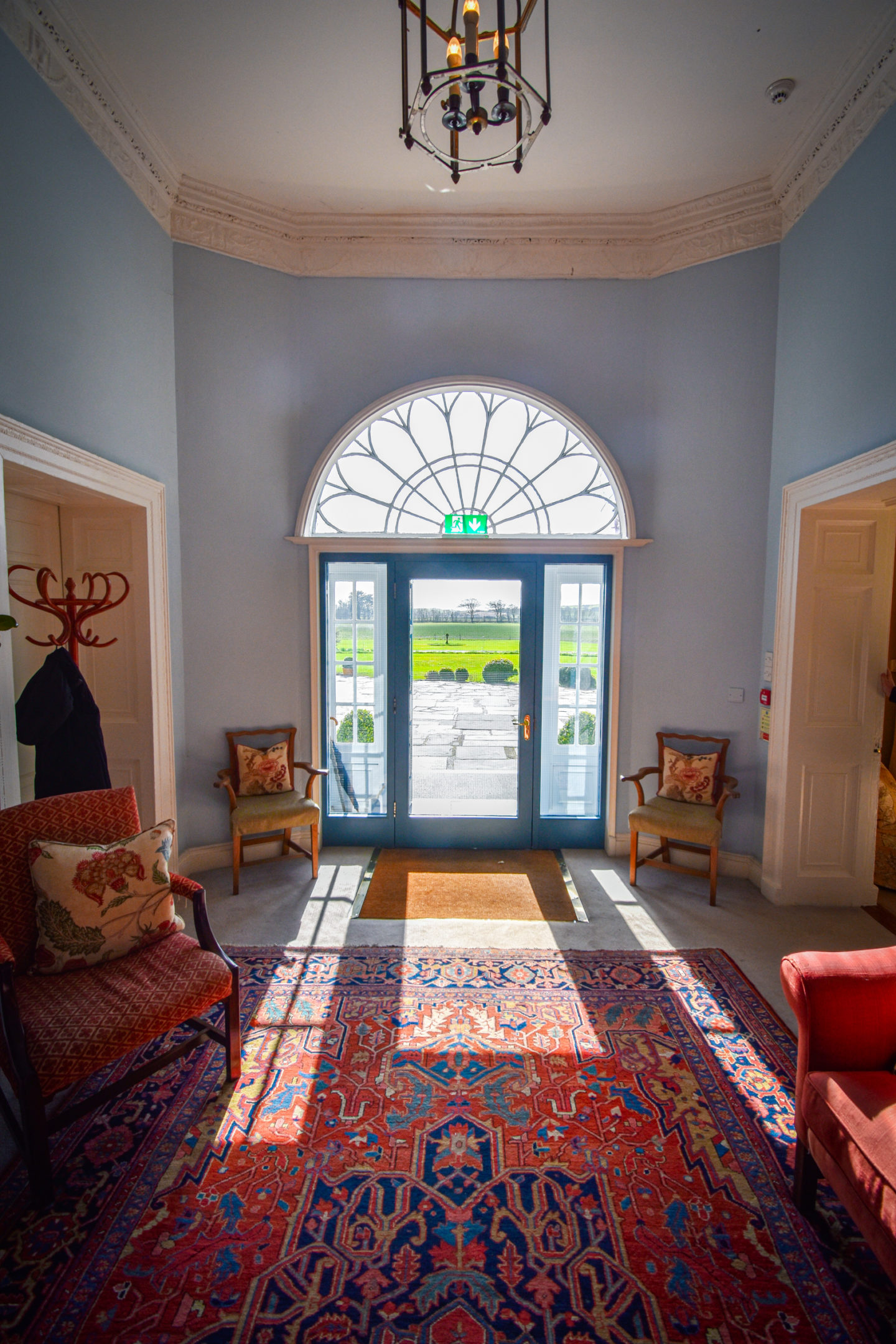 Let's go back a little: ten years previous to winning a Michelin star, the Allens first opened up their home as a restaurant but they had been resident in the property for over 15 years beforehand. The Allens took ownership of the property in 1948, first focusing on mixed farming and self sufficiency whilst bringing up their children. Mrs. Allen's foray in the food world commenced when she began writing a cookery column for the Irish Farmer's Journal, documenting how to deliciously serve the produce they were growing on their 300-acre farm. As years went by and one by one their children flew the nest, Mrs. Allen's plan for the large property evolved into a restaurant of their own, which opened its doors in 1964 and evolved into the country house hotel and restaurant it is today.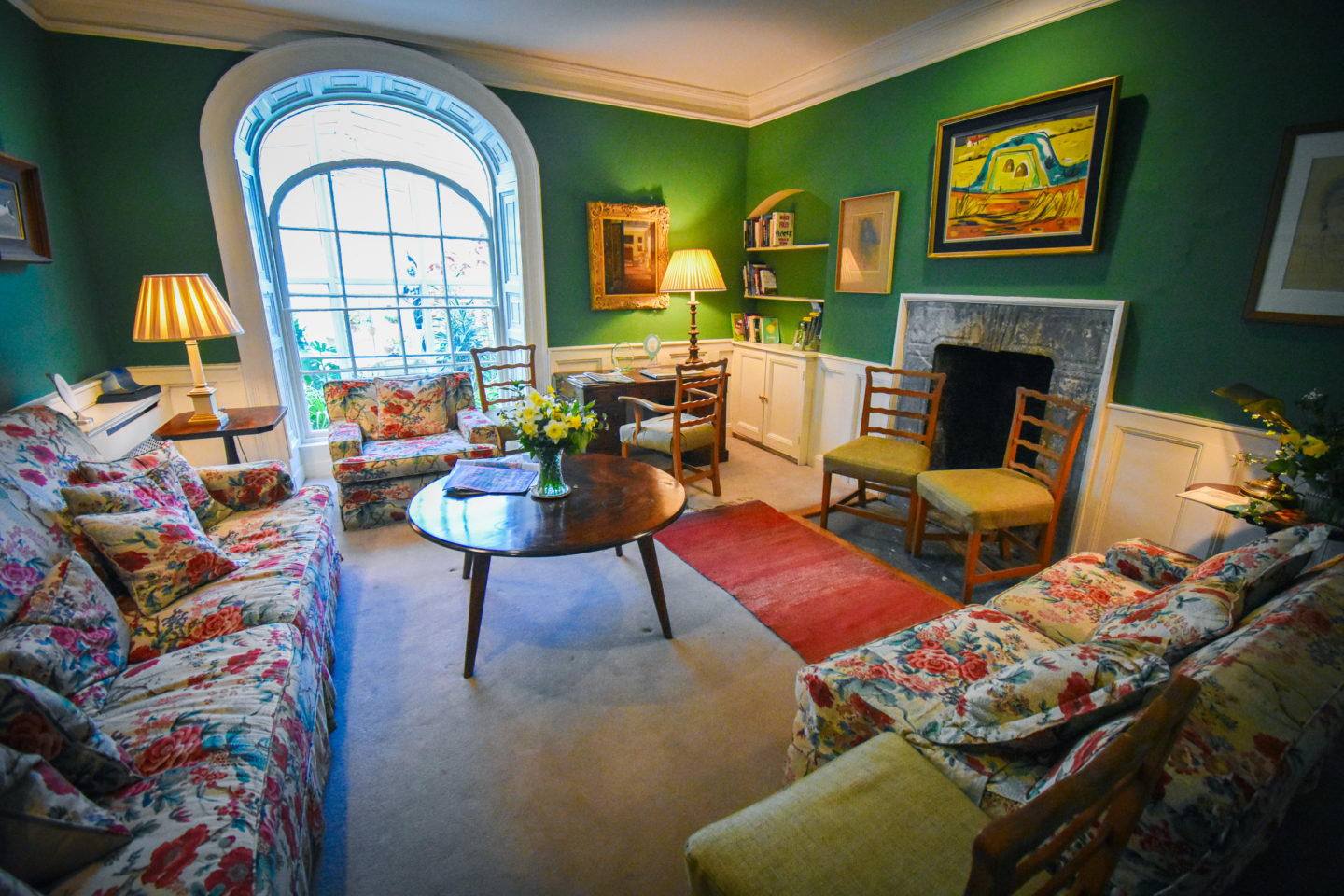 The cookery back then was pure and simple, viscerally connected to the land and an amuse bouche for visitors of the extent of the Allens' self-sufficiency, intertwined with celebrating Irish producers. The cuisine demonstrated the quality of Irish ingredients and didn't reinvent the wheel where recipes were concerned; timeless, knowledgeable, true to form and classically elegant dishes. A menu hand-written and changing daily. A light French influence in dishes, as French was the cuisine and the only 'cuisine' in those days. Local meats and daily-landed fish from Ballycotton intertwined with their own fruits, herbs, vegetables, veal, black pudding, dairy and more. Little has changed over the years in terms of this approach to their menu. Indeed, the buzzwords du jour on every chef-worth-their-salt's menu these days "local, seasonal, organic, sustainable" were the cornerstones of Mrs. Allen's menu.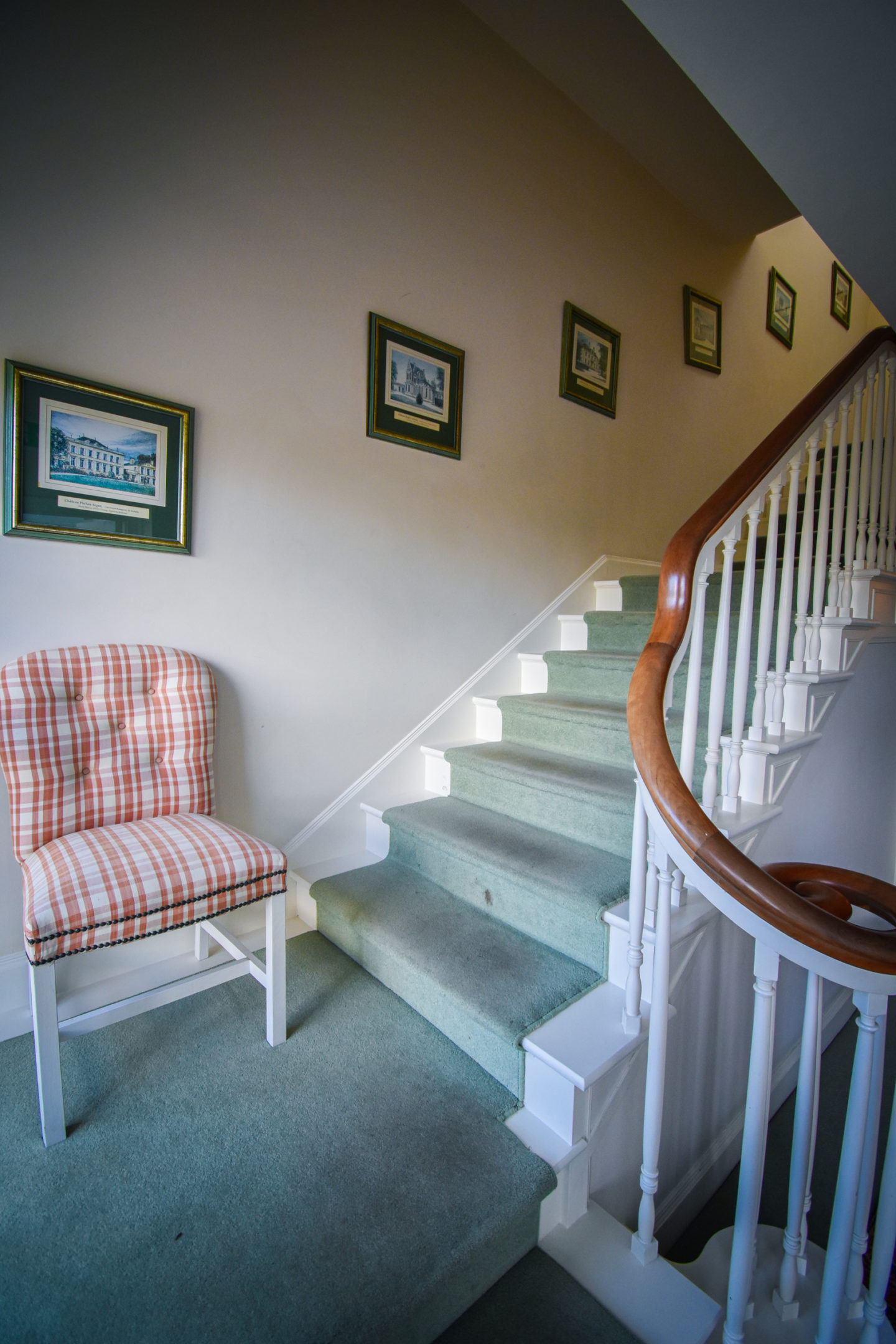 As the years went on and the name of the house, its restaurant within the Yeats Room, the addition of several other Allen family businesses and the growth of the Allen family as a dynasty, Ballymaloe and all that went with it has continued to rise in its ranks and cement a name for itself. Ivan Allen died in 1998 and up until her own death in June 2018, Mrs. Allen was still a force in Ballymaloe House and a figure and authority on Irish food. The dynasty, of course, continues and by all accounts the future of Ballymaloe will continue to be female, as Darina Allen and her daughter-in-law Rachel Allen are probably two of the most prominent names in Irish food, famed for their respective television shows and cookery books, whilst both are hands-on tutors at the Ballymaloe Cookery School.
Interior of Ballymaloe House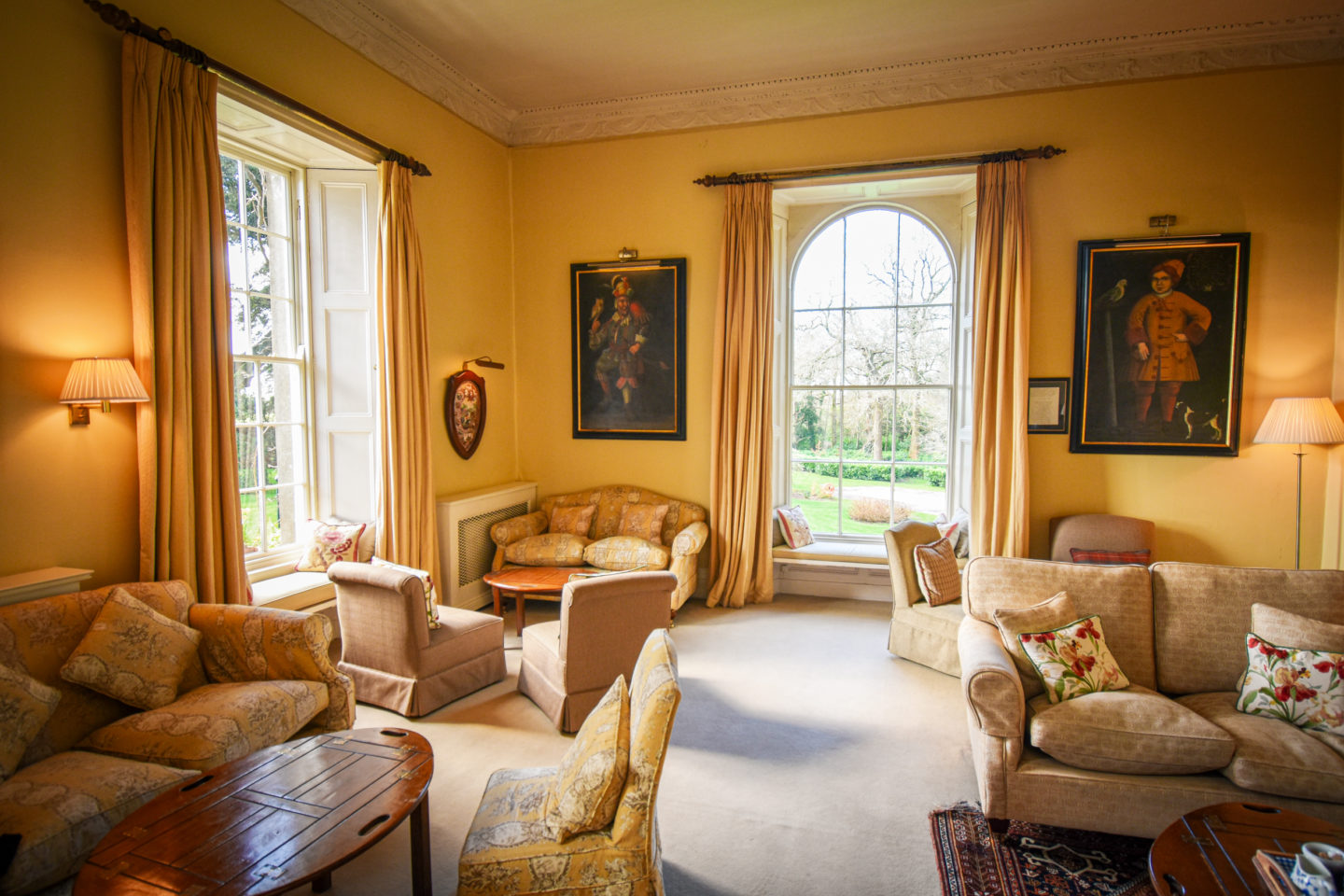 Ballymaloe House is a member of Ireland's Blue Book, a unique collection of country house hotels, stately homes, manors, historic properties, castles and high-end restaurants, including a selection of Ireland's Michelin-starred outposts. Specialising in charming and stylish hideaways, we stayed as guests of Ireland's Blue Book and their portfolio ranges from cosy and comfortable rural retreats to luxury boutique hotel stays and spa breaks across Ireland –– something for the many, at either weekend or mid-week, and at a wide range of price points.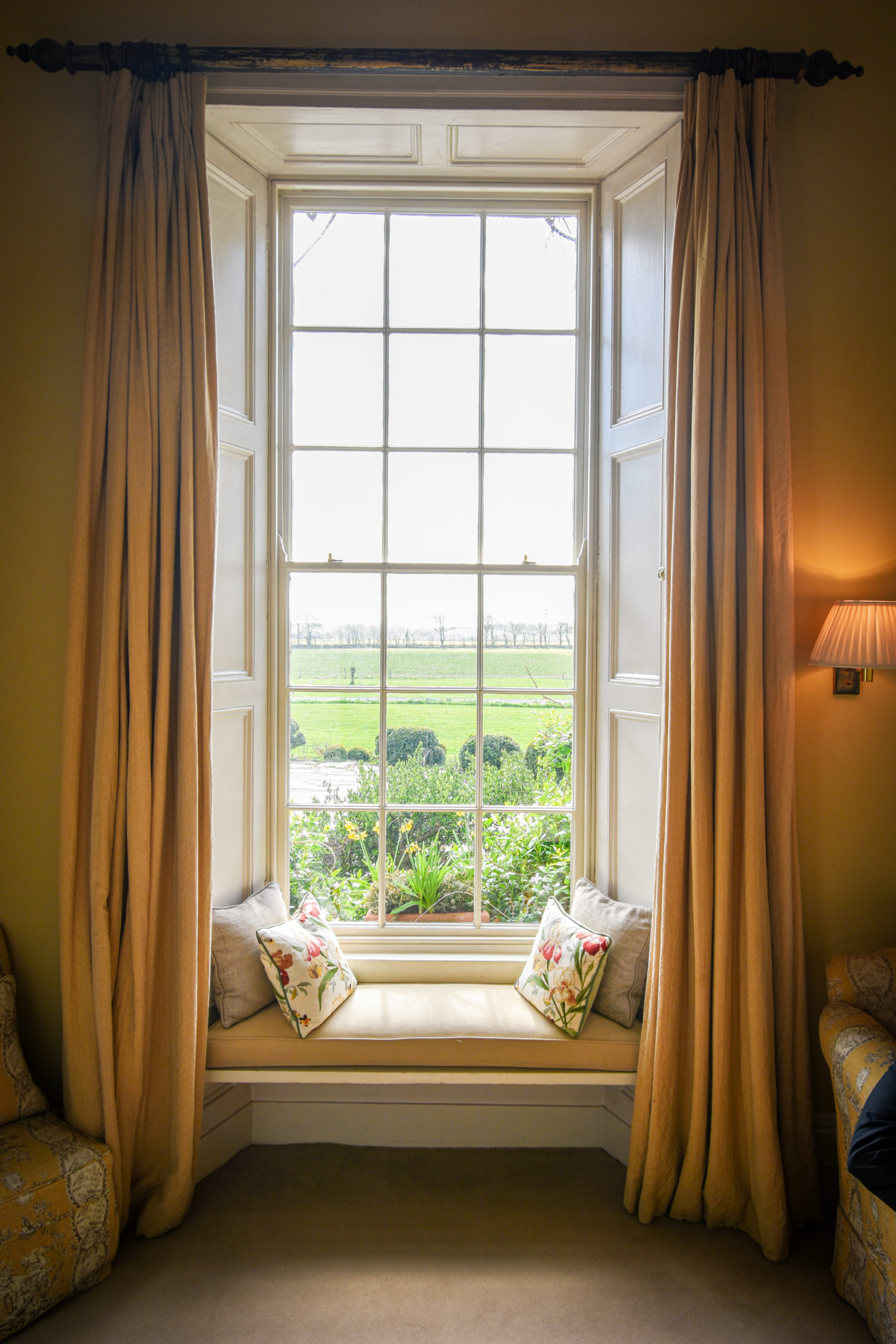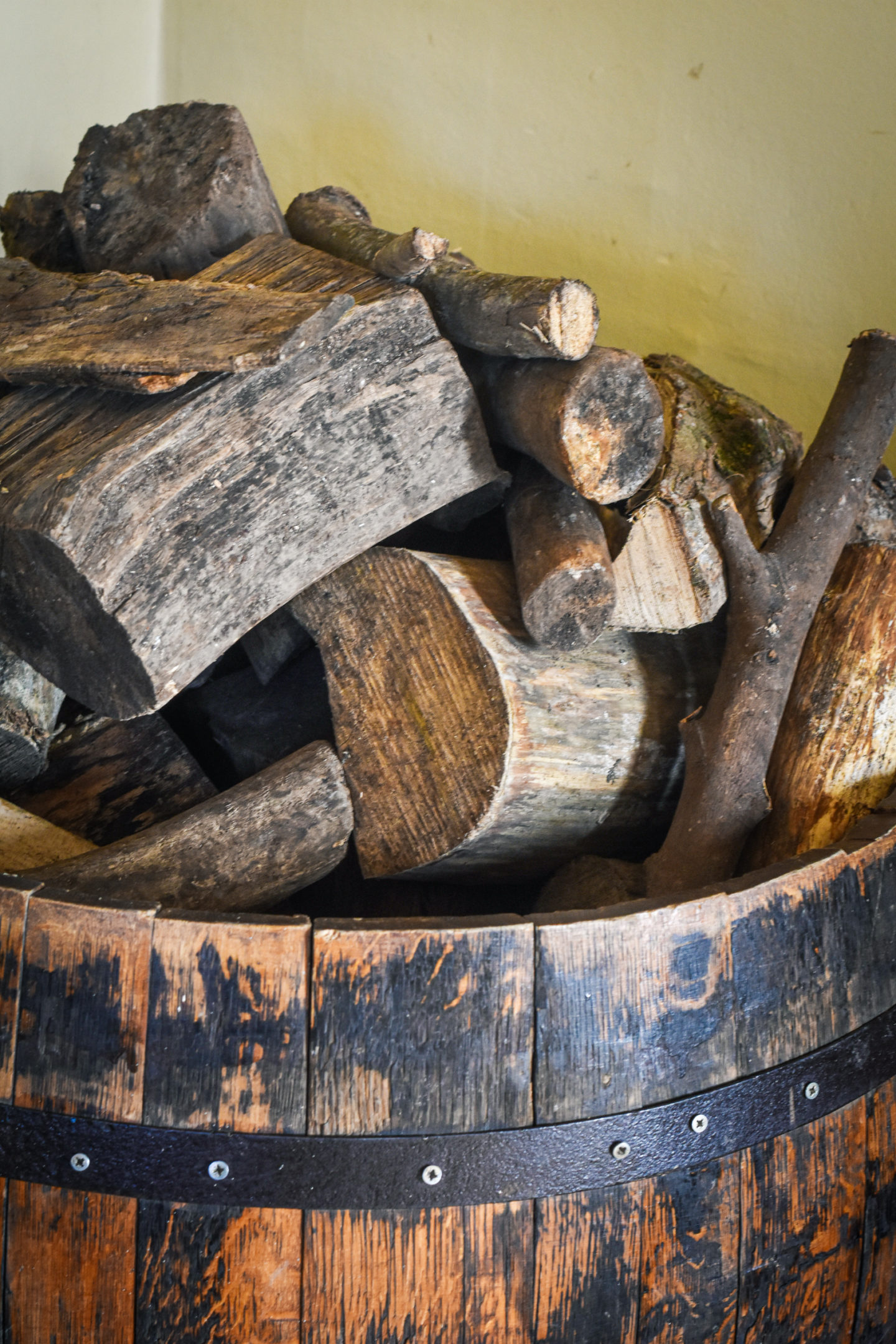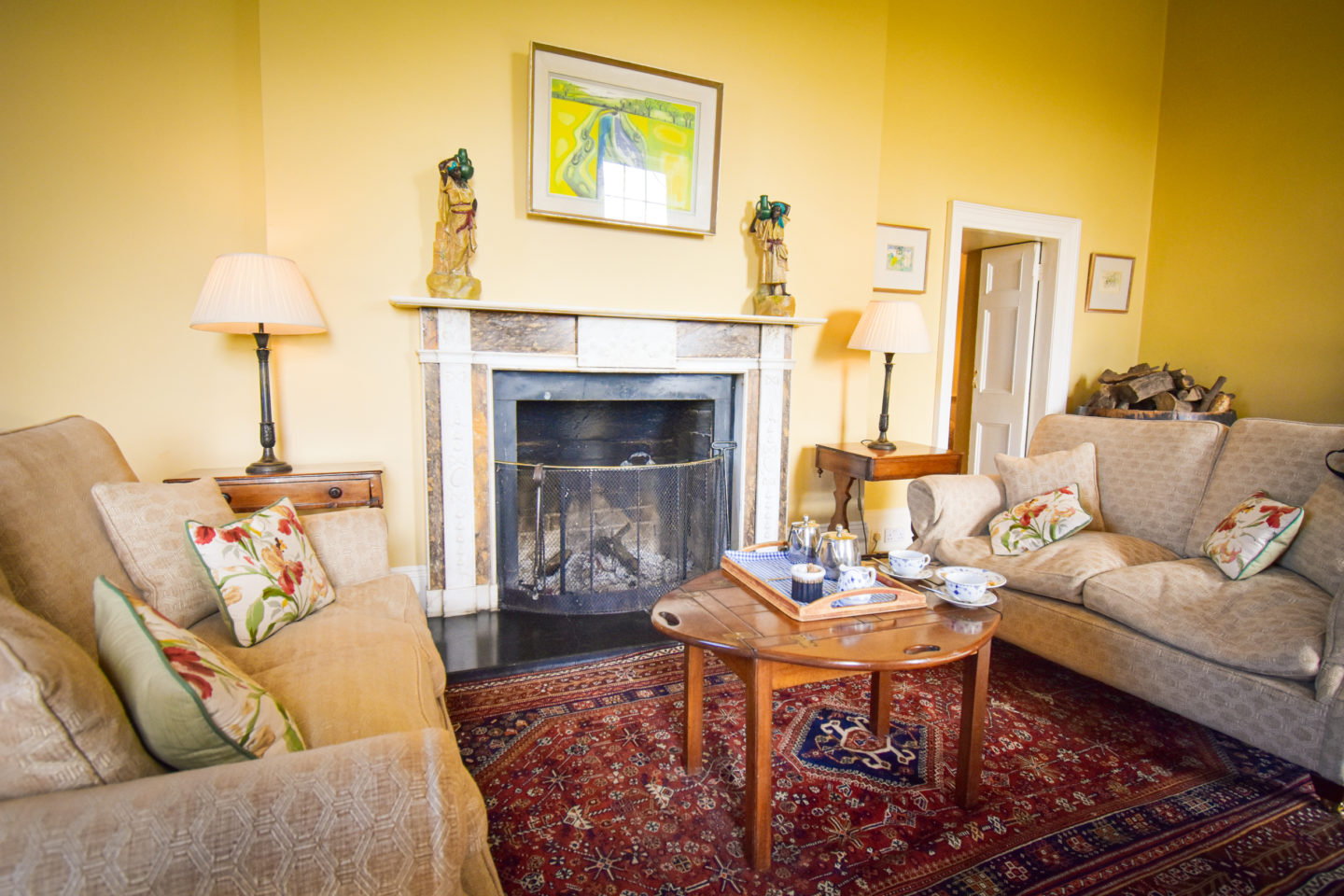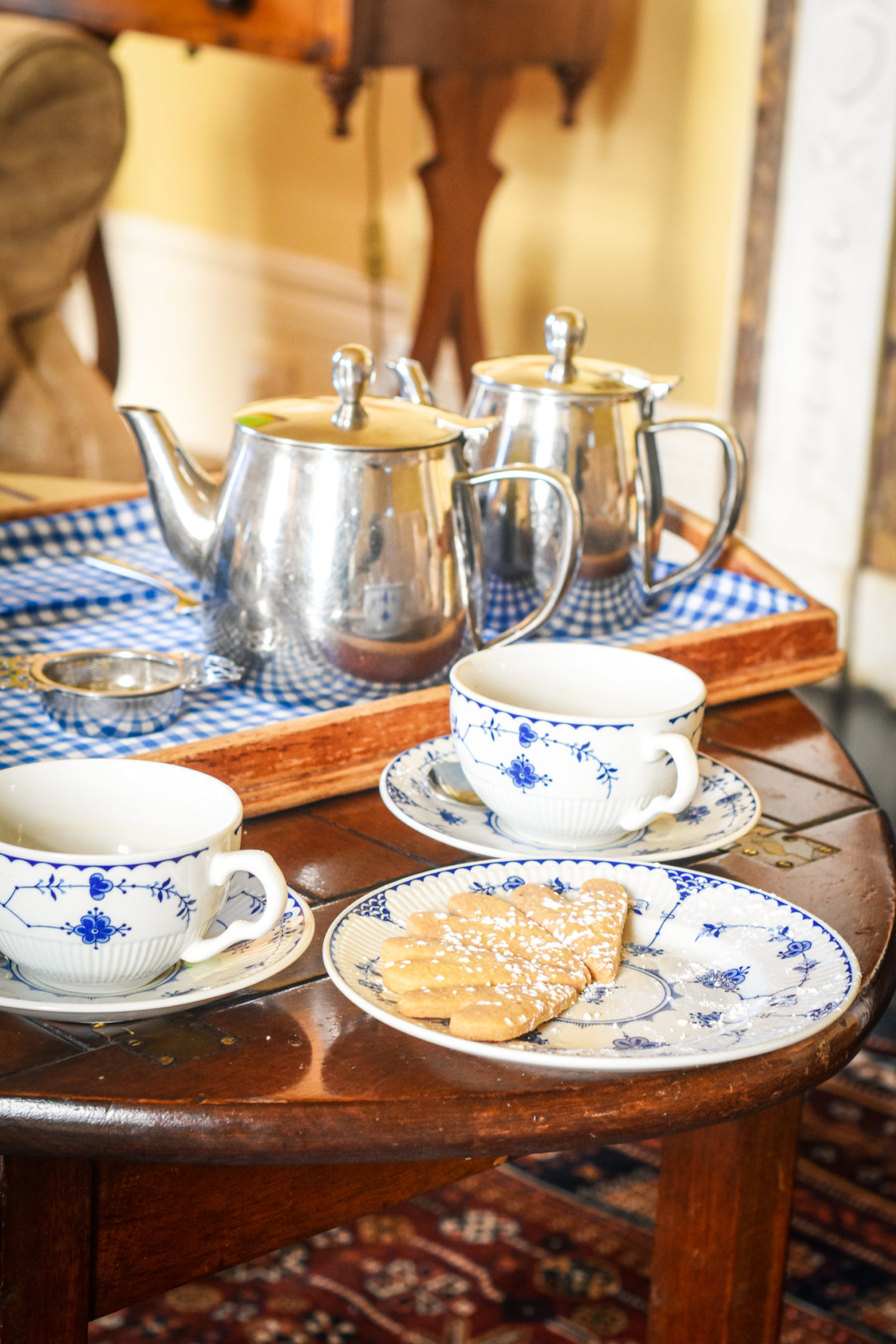 Naturally the interior of this historic country house hotel is eclectic, yet comfortable. From the drawing room to the restaurant, the bedrooms to the bar and lounge, the feeling of the property is that of warmth –– a country house hotel kept pristinely preserved in its greatest form, with just a dash of eccentricity, too. A small library of classics and lesser-spotted recipe books, travel guides and texts surrounds the little bar area. Artwork hangs in many of the rooms from the likes of Pat Scott, Michael Farrell, Louis Le Brocquy and Norah McGuinness.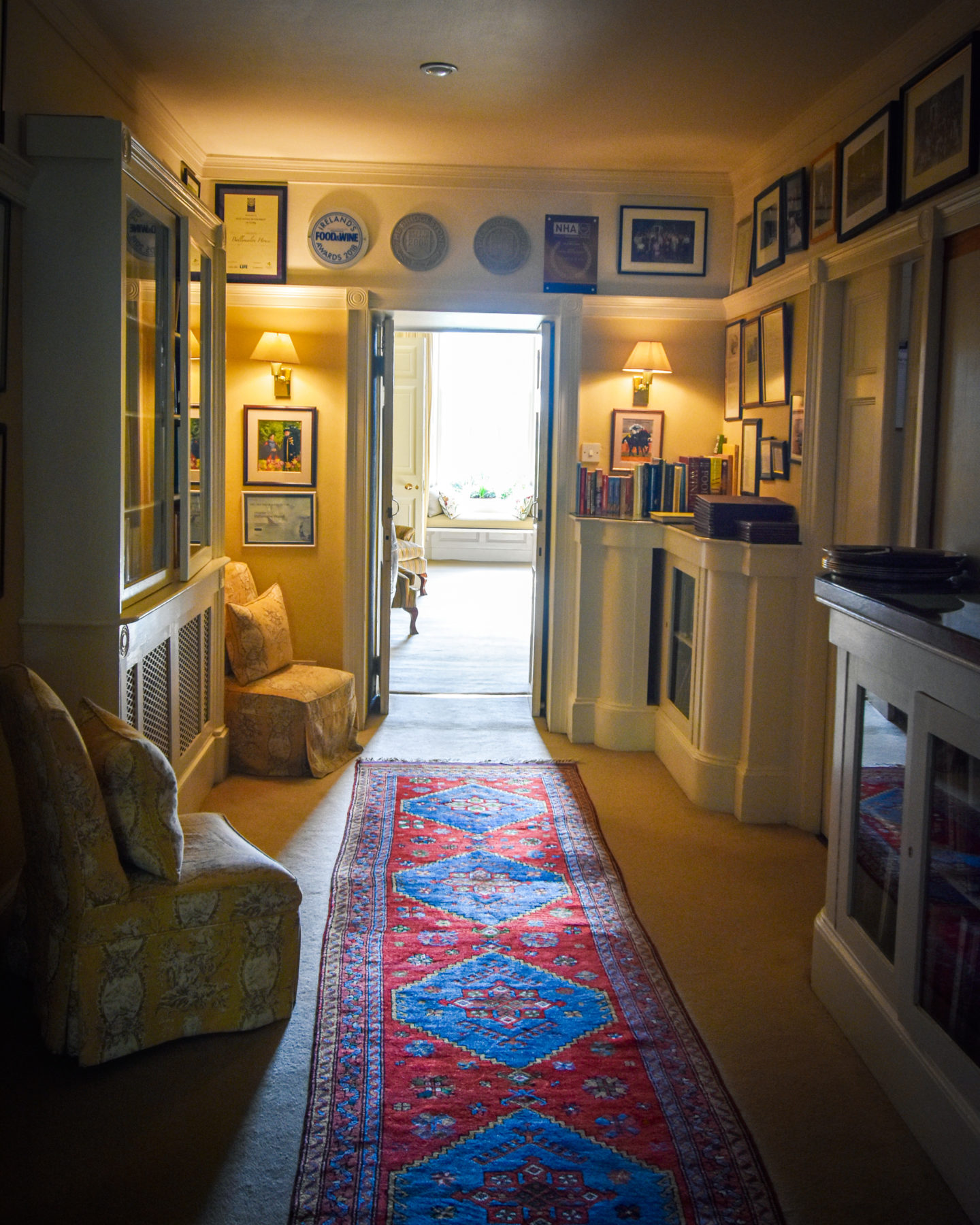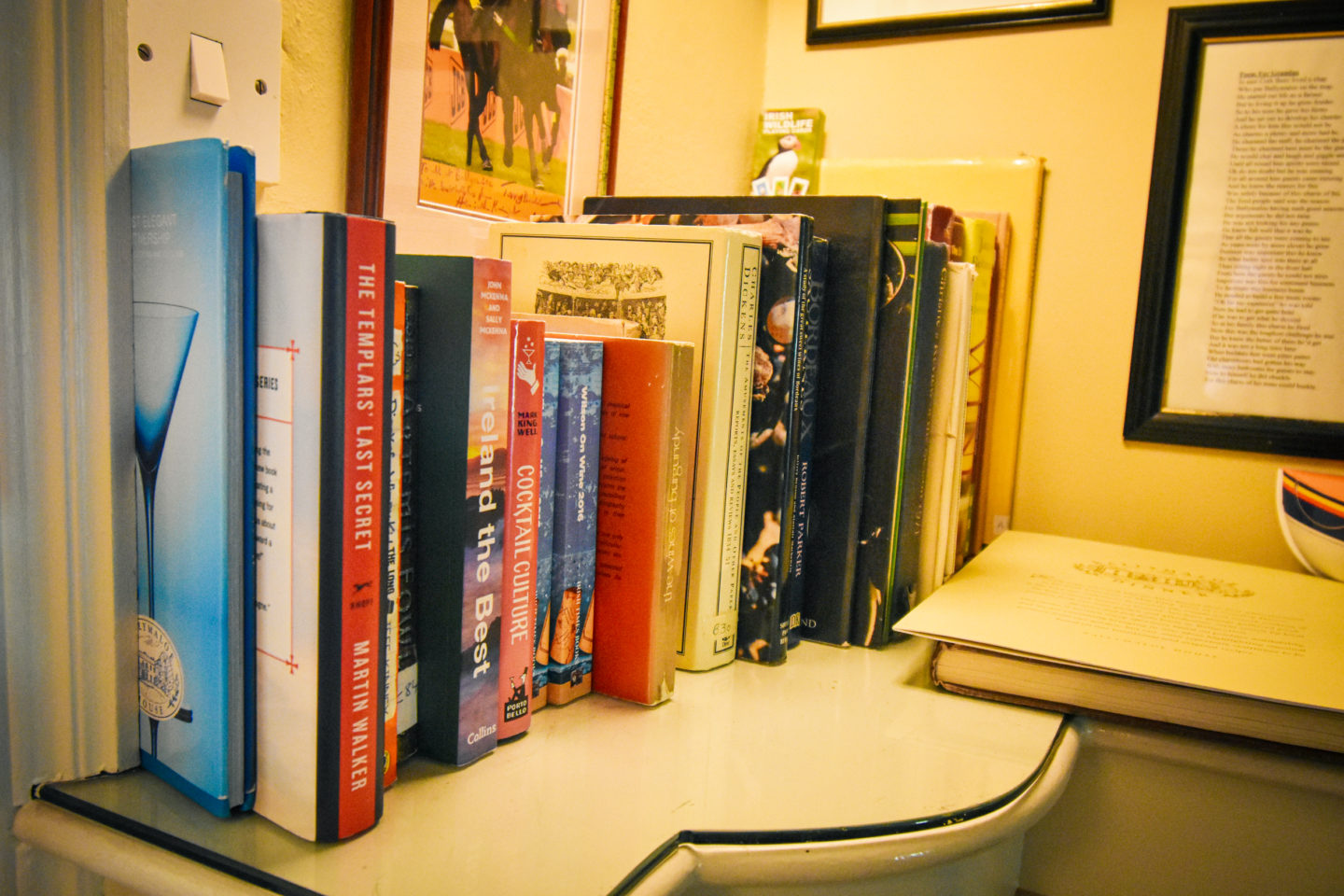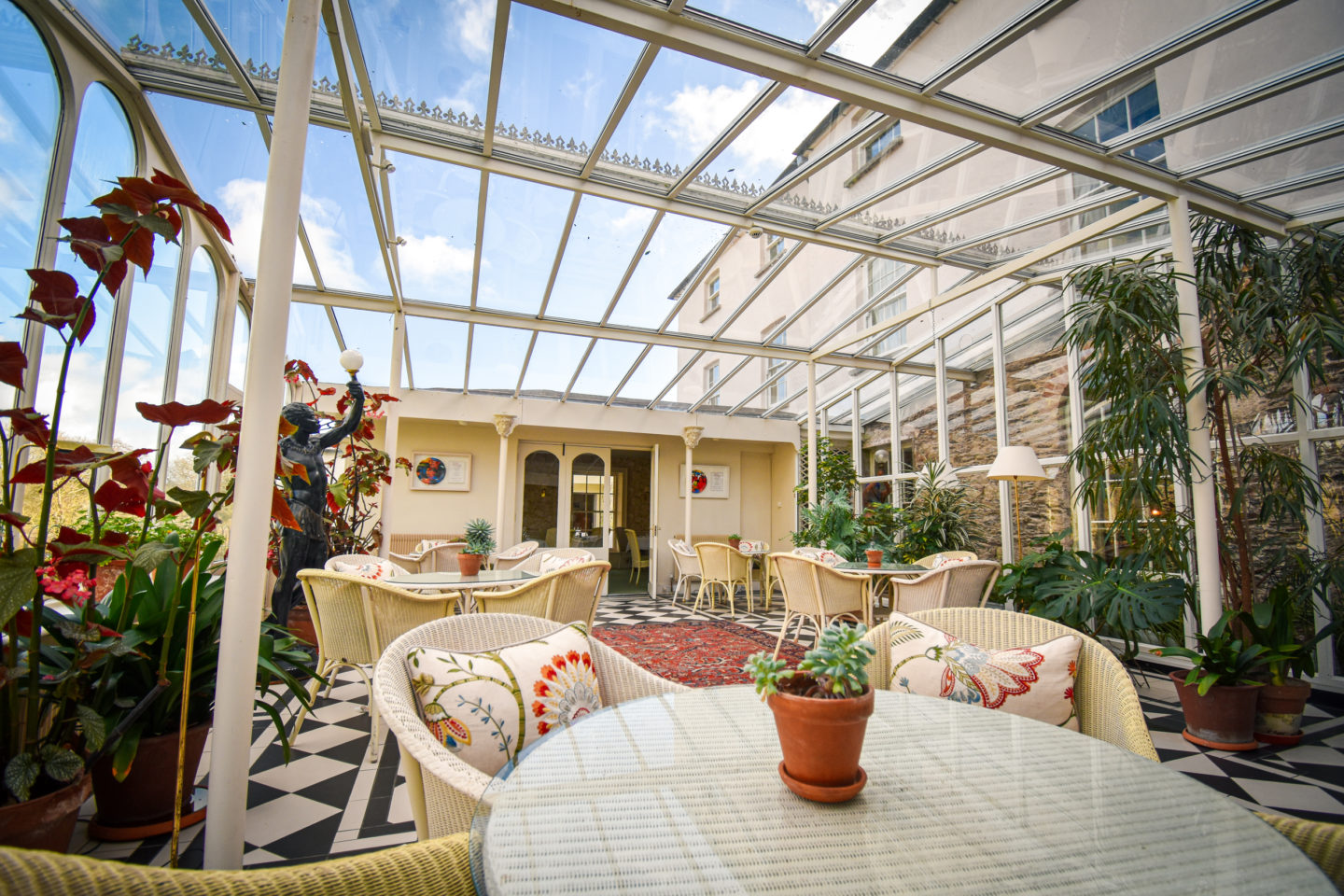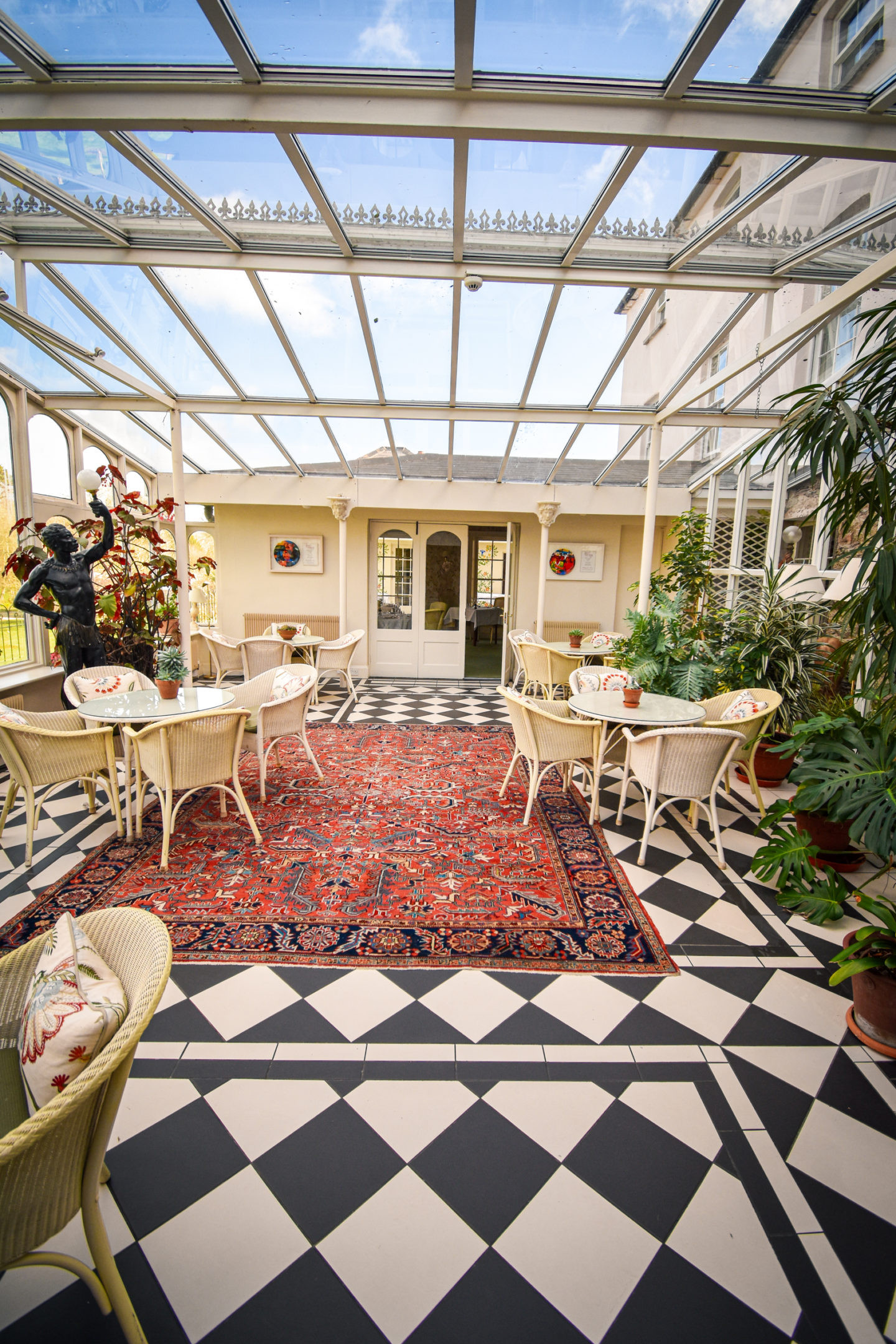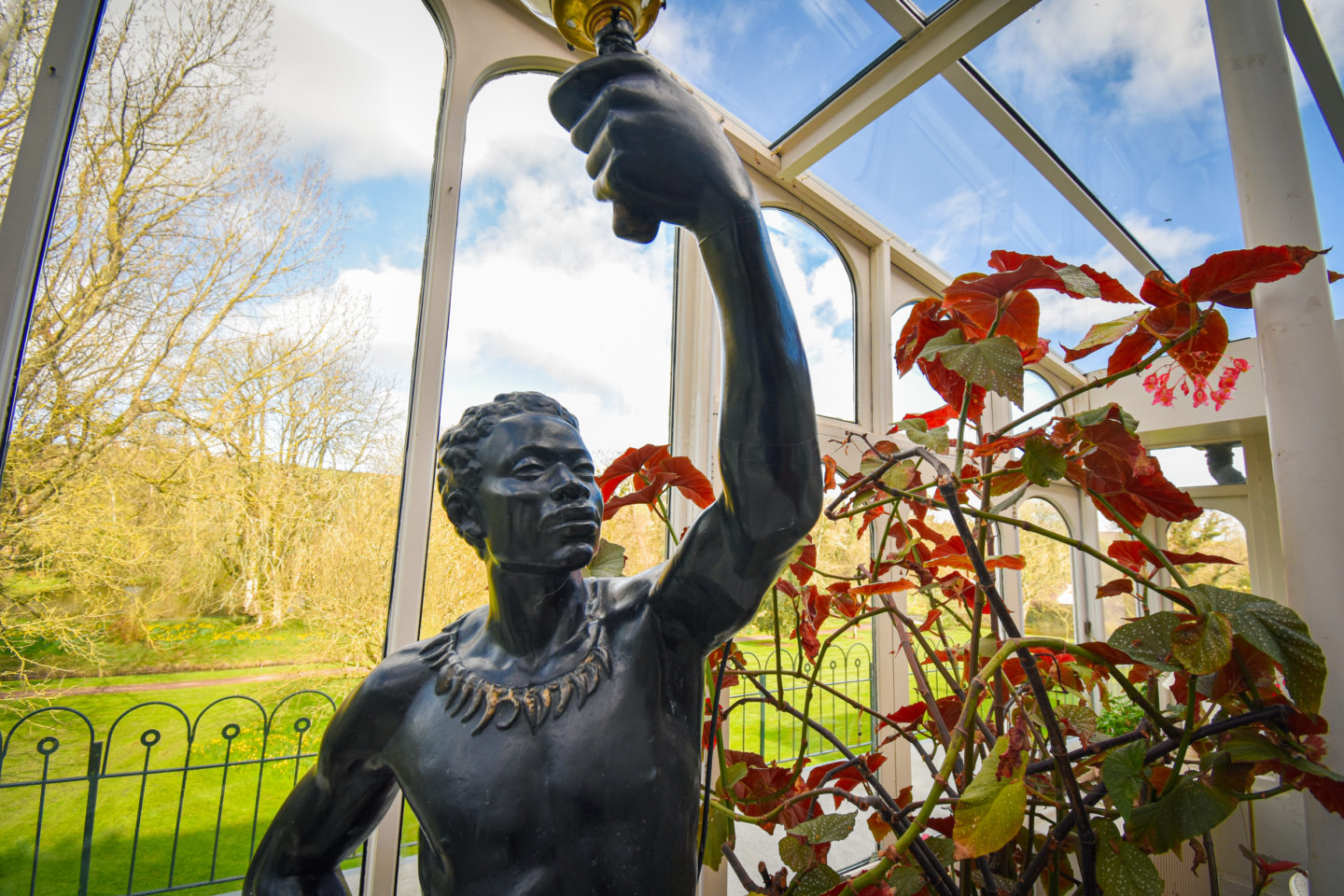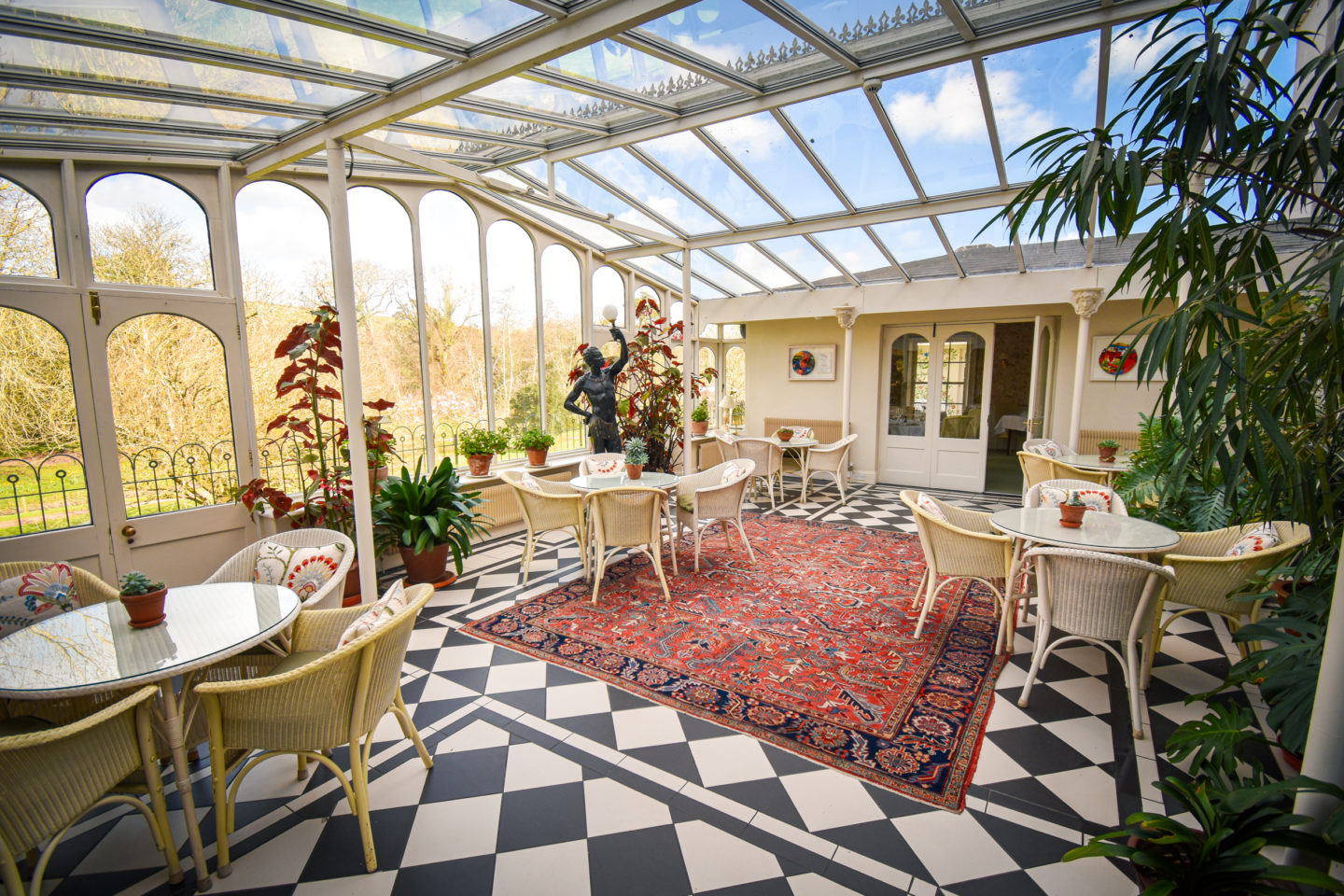 Bedrooms at Ballymaloe House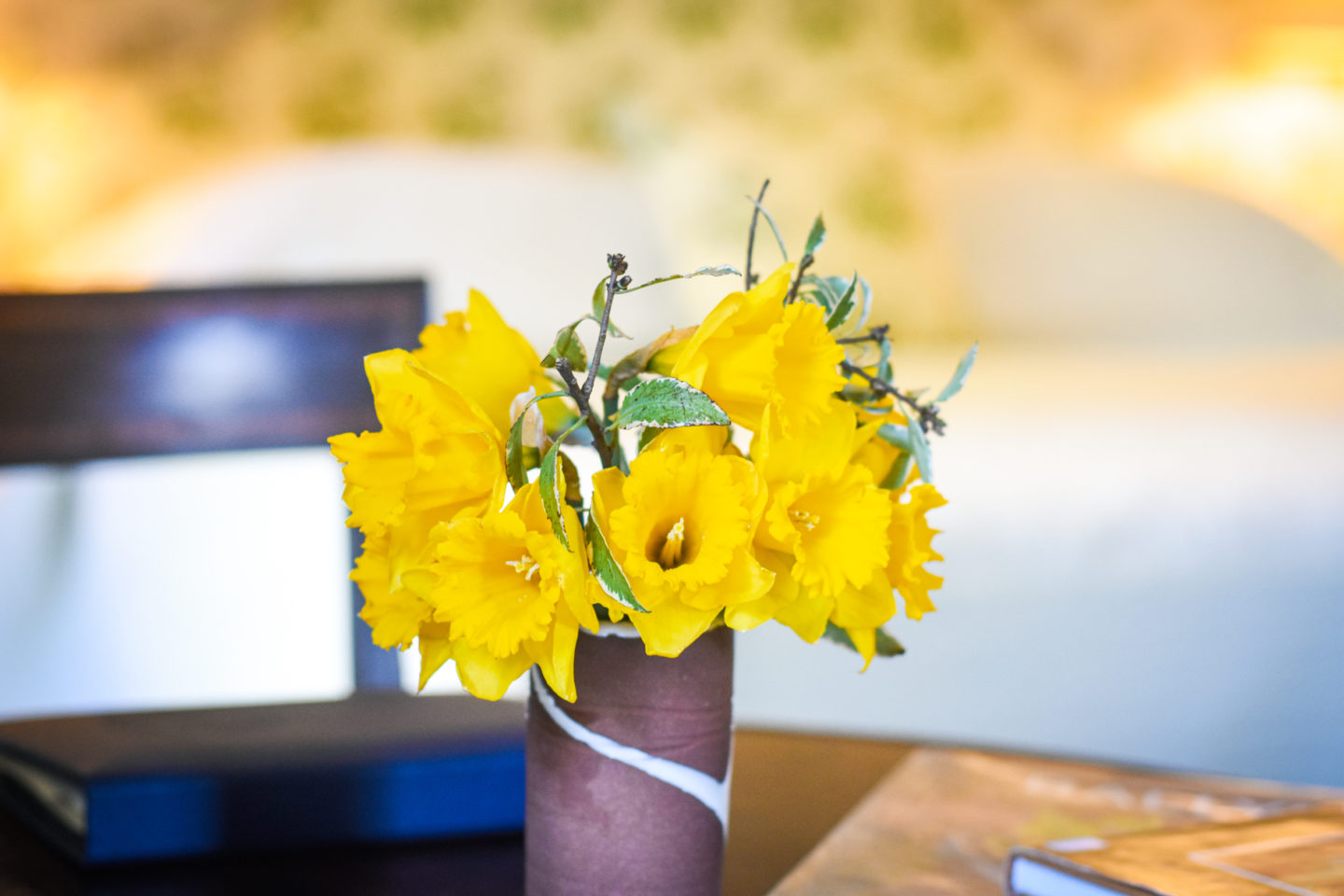 Fresh-cut flowers in every room, changed daily, is just one graceful little touch of the accommodation at Ballymaloe. We stayed in the New West Room, one of the garden-facing rooms to the back of the house, with its own small terrace and large sash windows. Being early March, daffodils seemed to be in full seasonal bloom when we stayed and the entire grounds appeared to beam and dance in bright yellow clusters.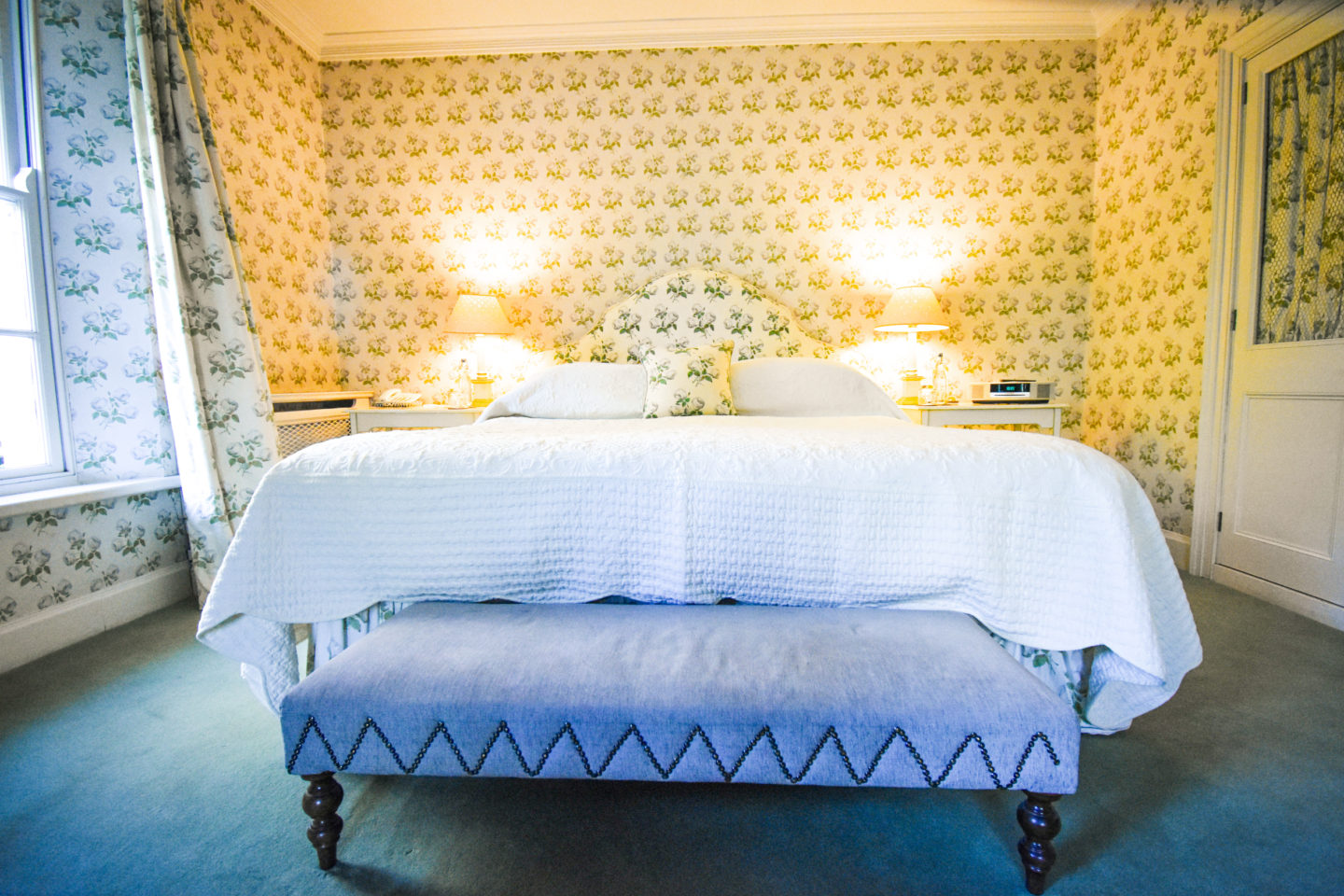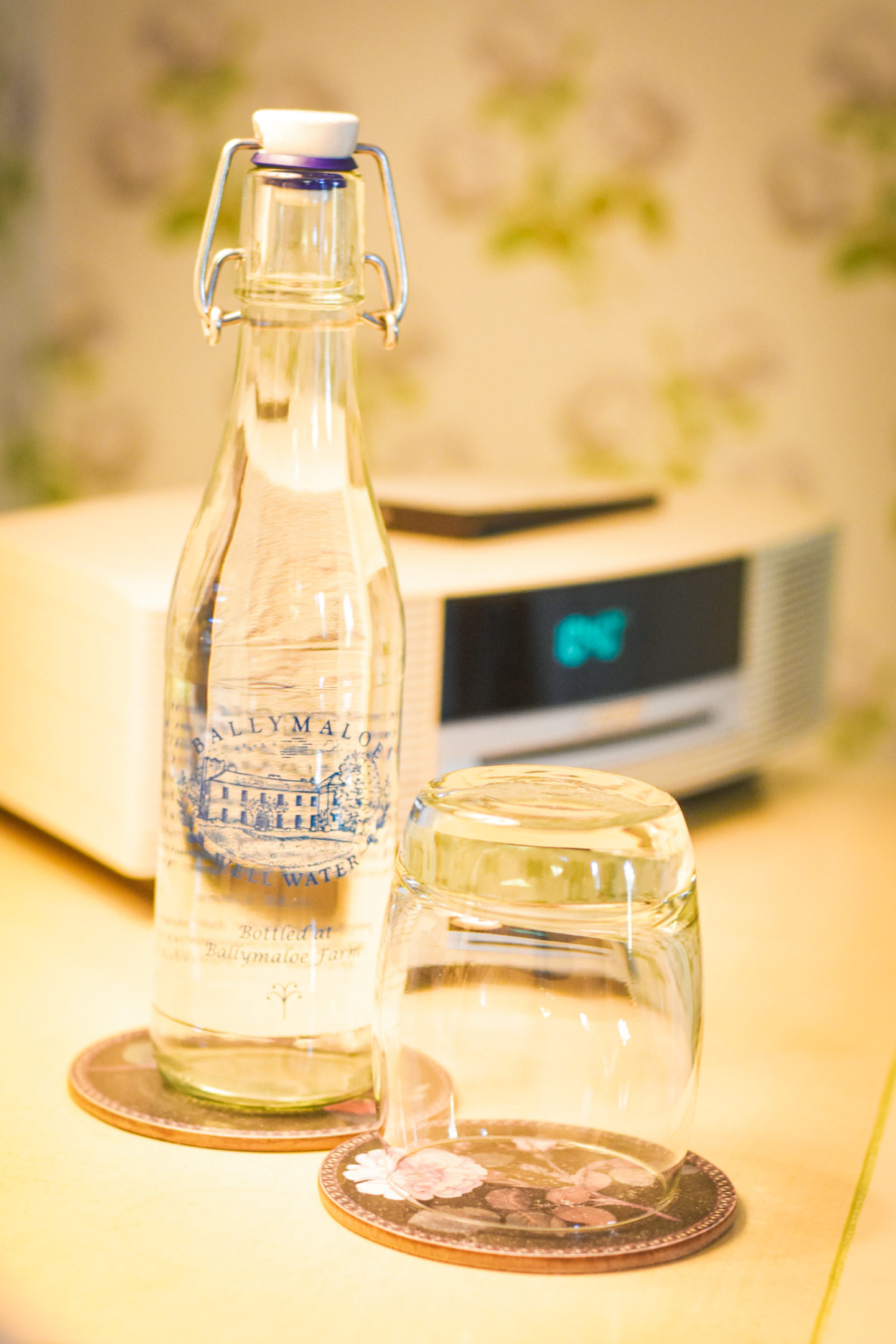 Each room is individually styled and all are differently-sized, whether cosily appointed in the eaves or the loftier main rooms looking out over the fields. If we say 'classic Irish country chic' it may allude to the interior stylings, particularly of the New West Room.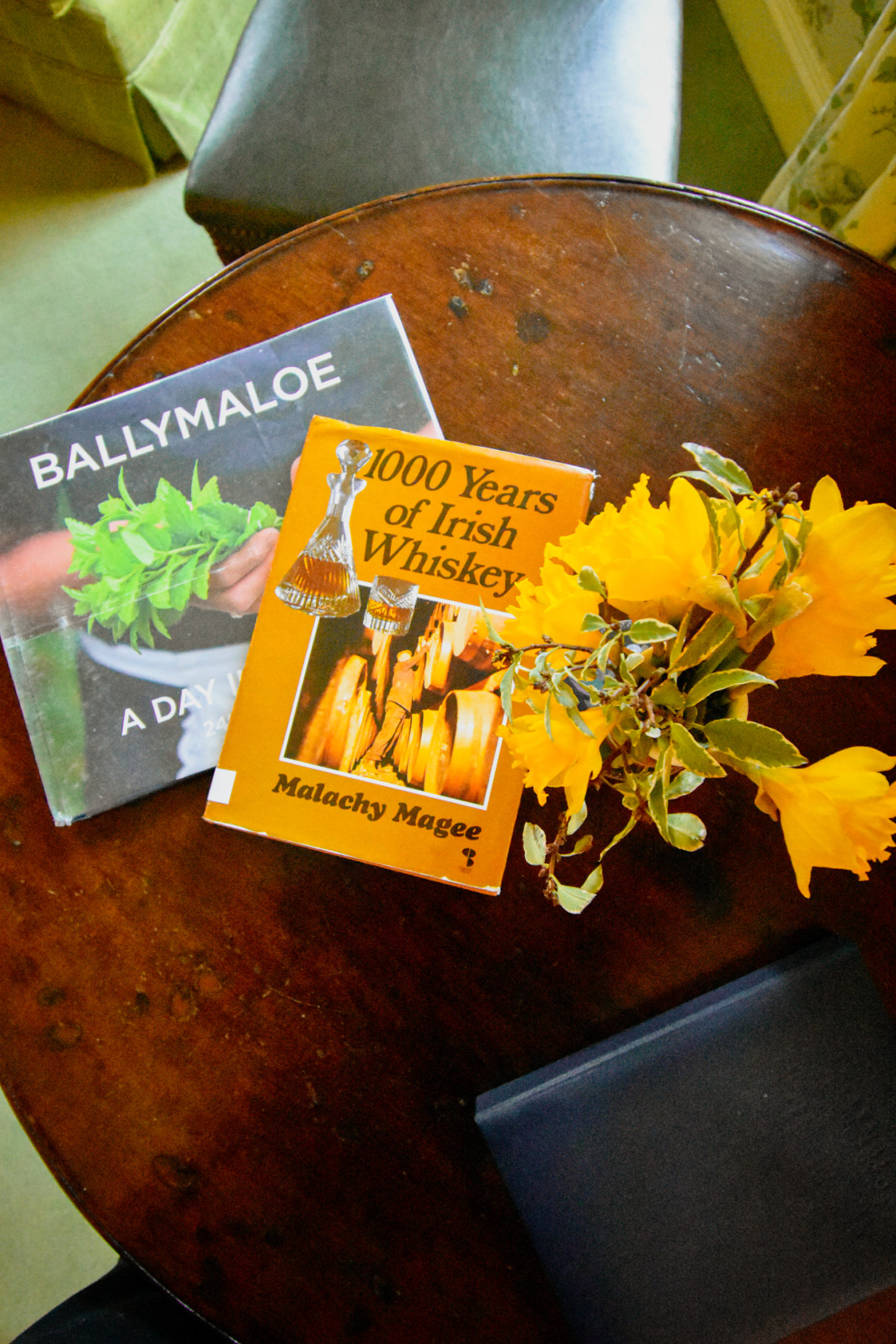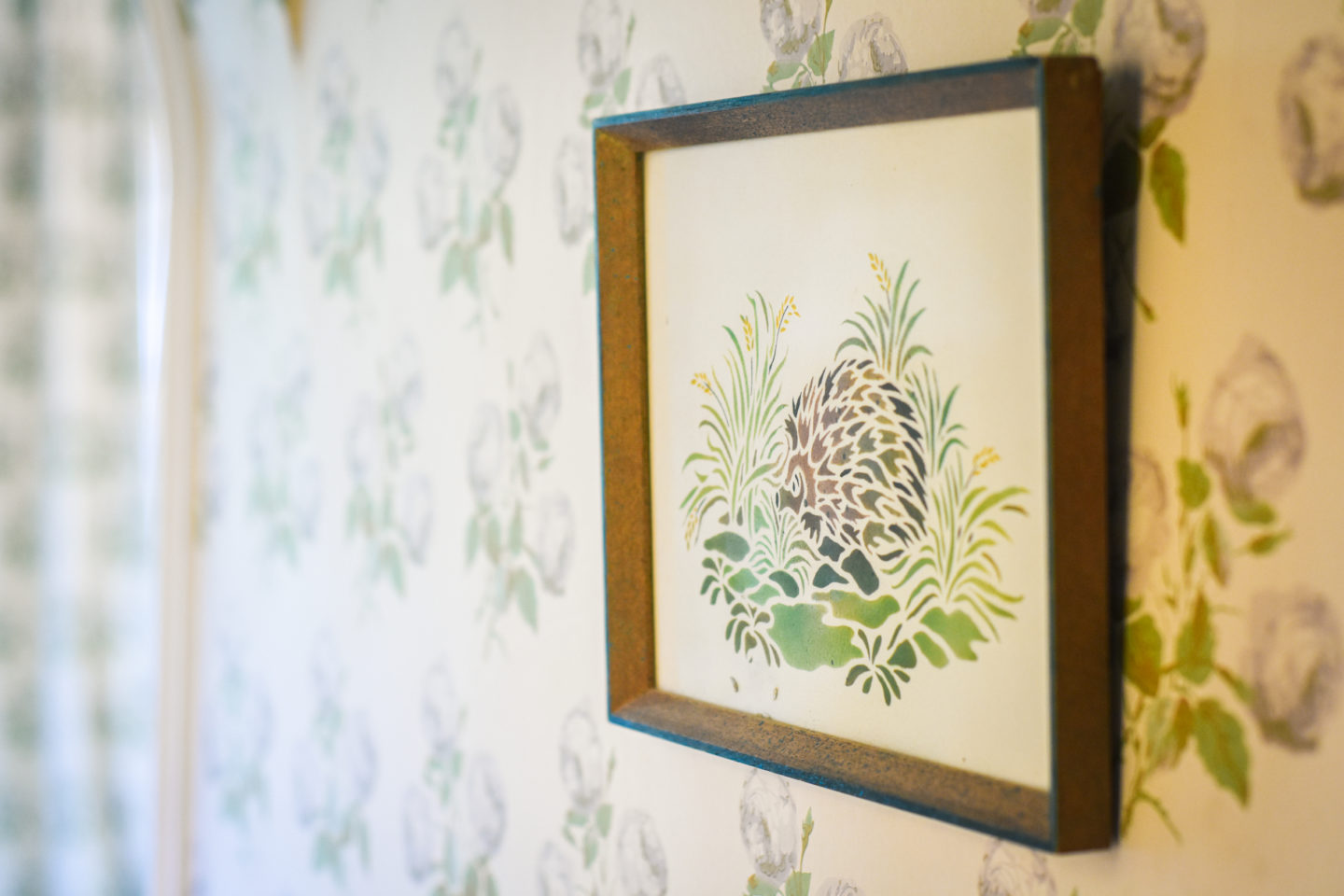 Dappled floral motif wallpaper, continued through the curtains, wide-check pairing of pastel green armchairs in a wide check pattern, all-white bed linen with heavy cotton bedspread. It's cosy, it's classic, it may feel a stitch dated to younger eyes but it feels sympathetic and felicitous to the house and grounds, and if the rooms were all contemporary, block-coloured boxes with mod cons it wouldn't feel right.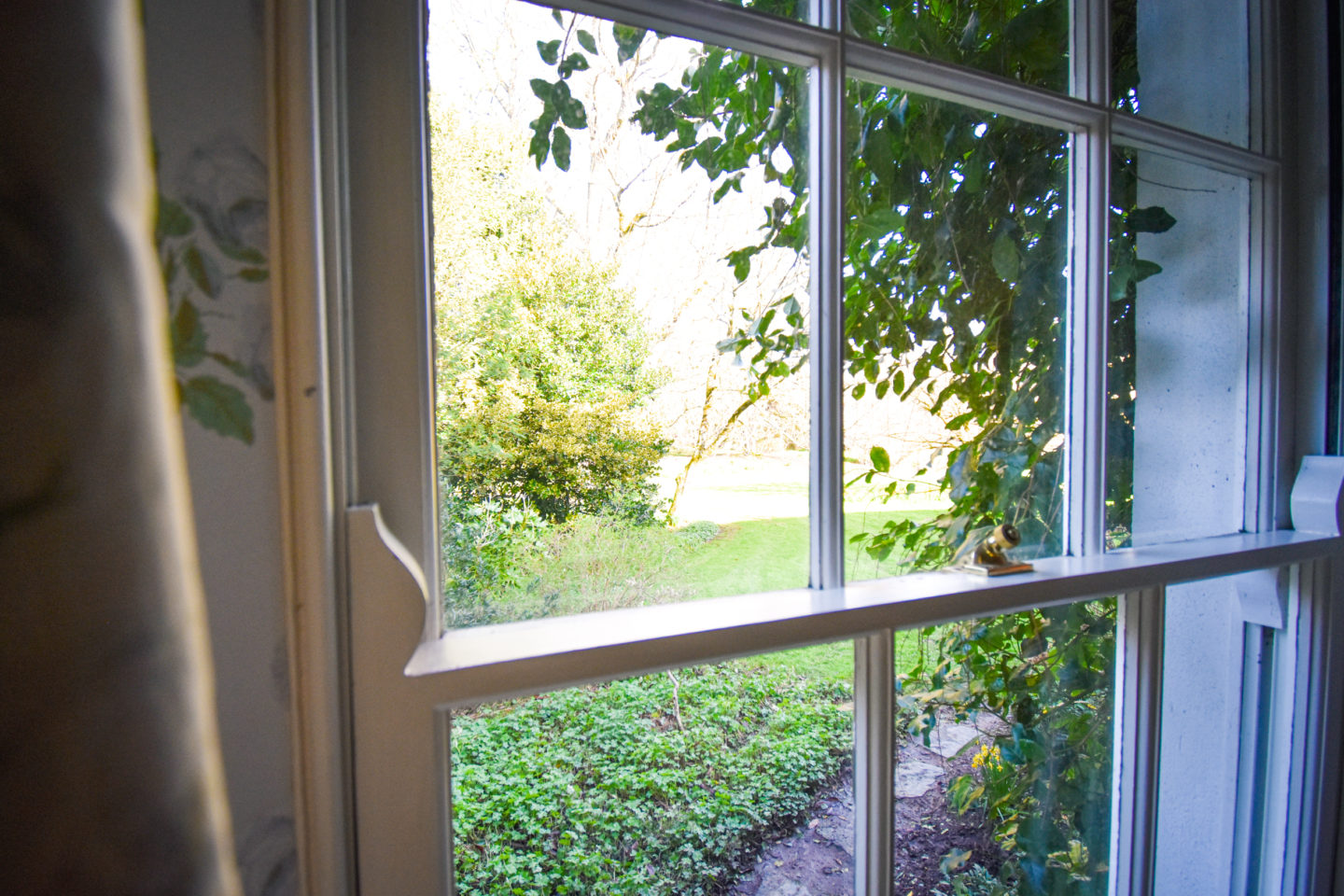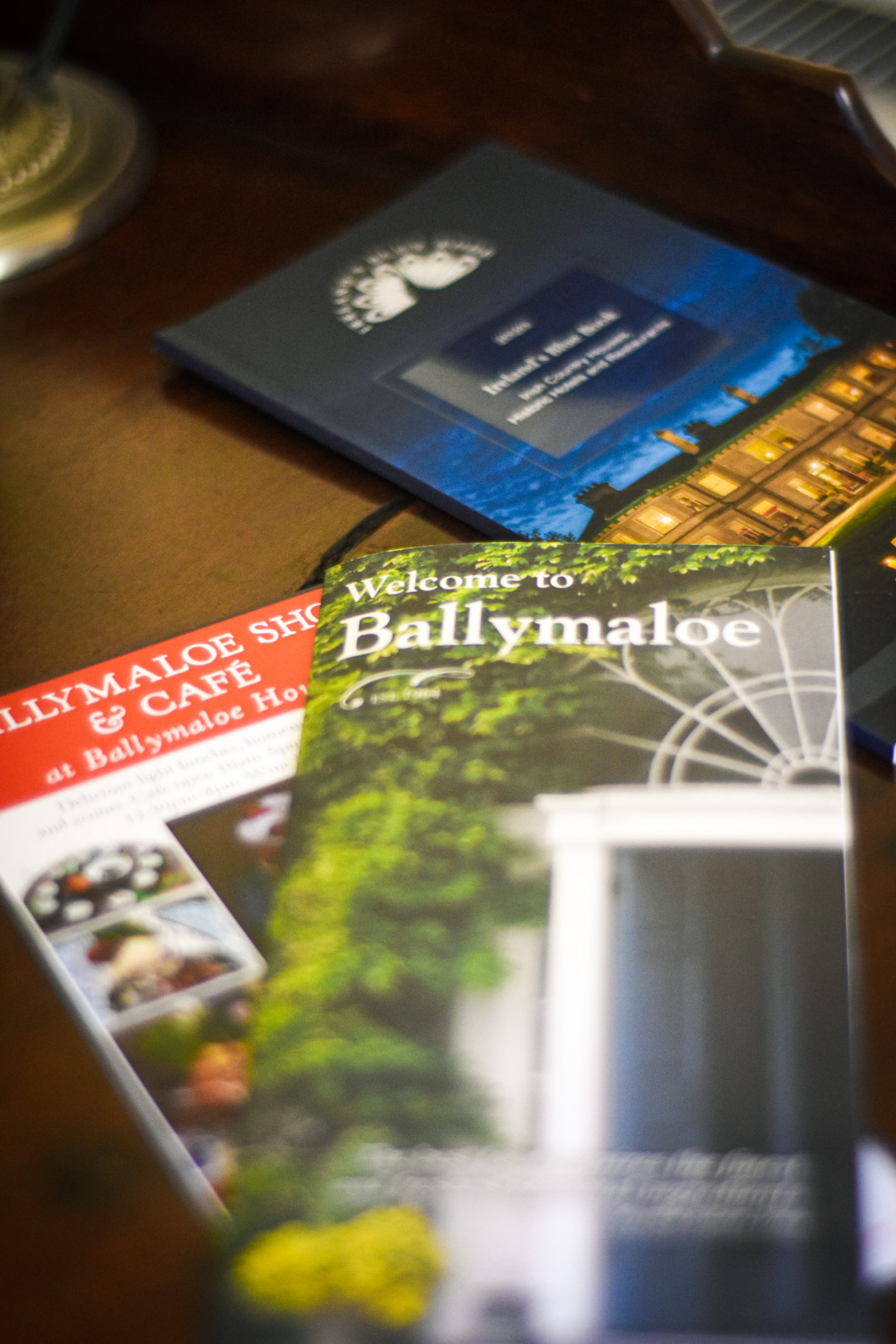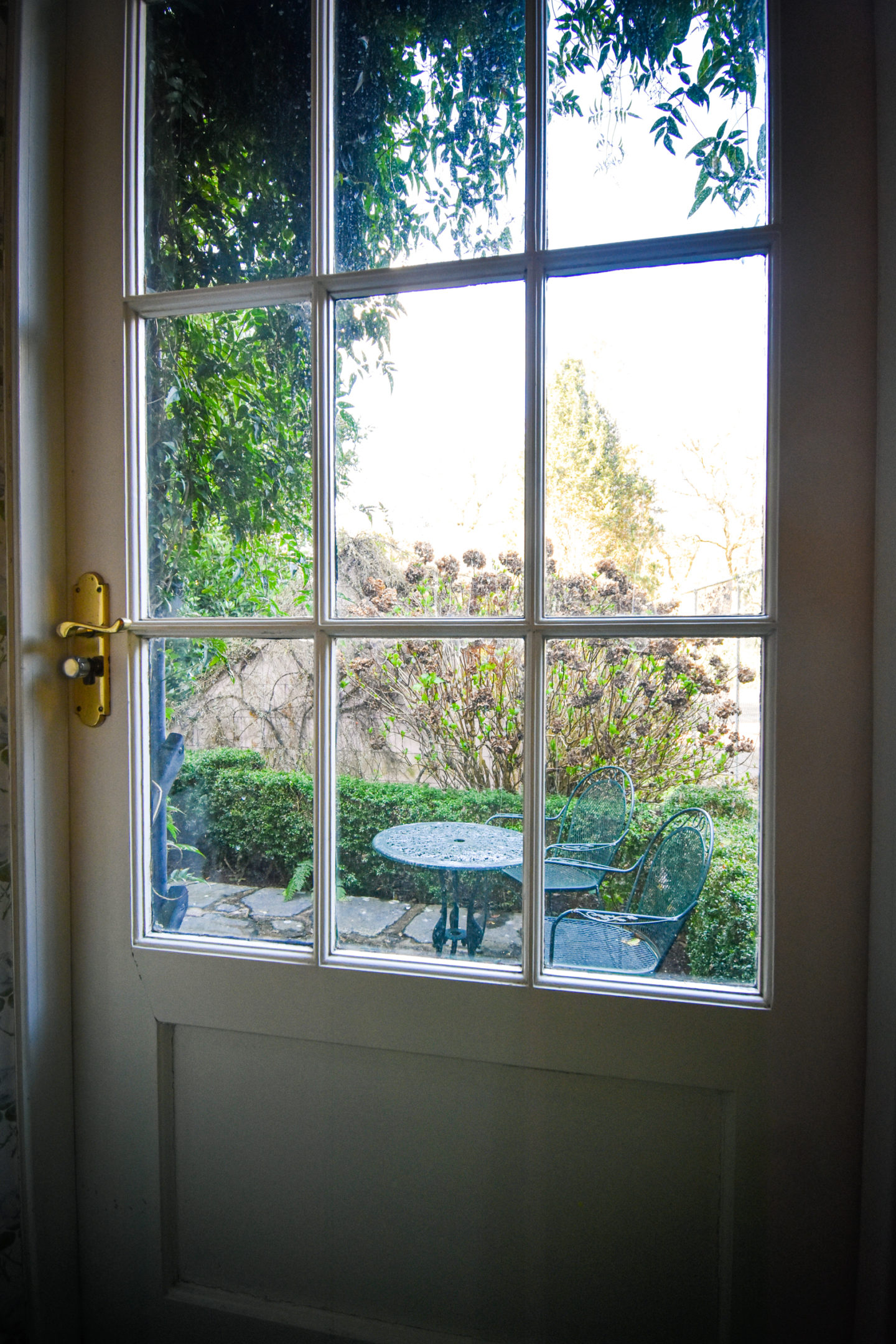 A vanity desk and cushioned seat sits in the main room whilst the seemingly very newly-renovated bathroom is contemporary where the bedroom is classic, with glass, marble, terrazzo and continuing the pastel-lime green hue in the furniture. No TV, a digital radio (though ours was on the blink) and a couple of books and brochures complete the room.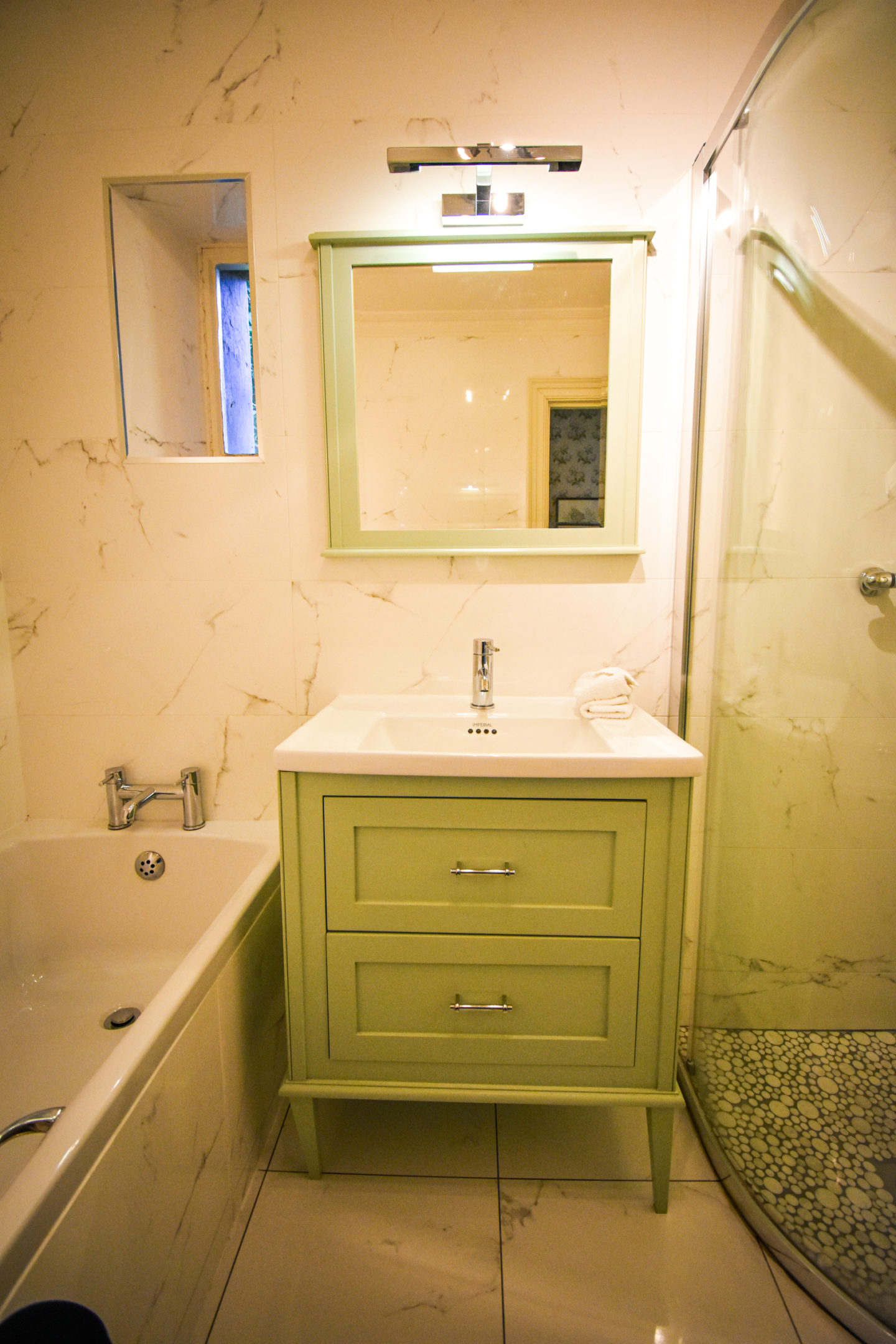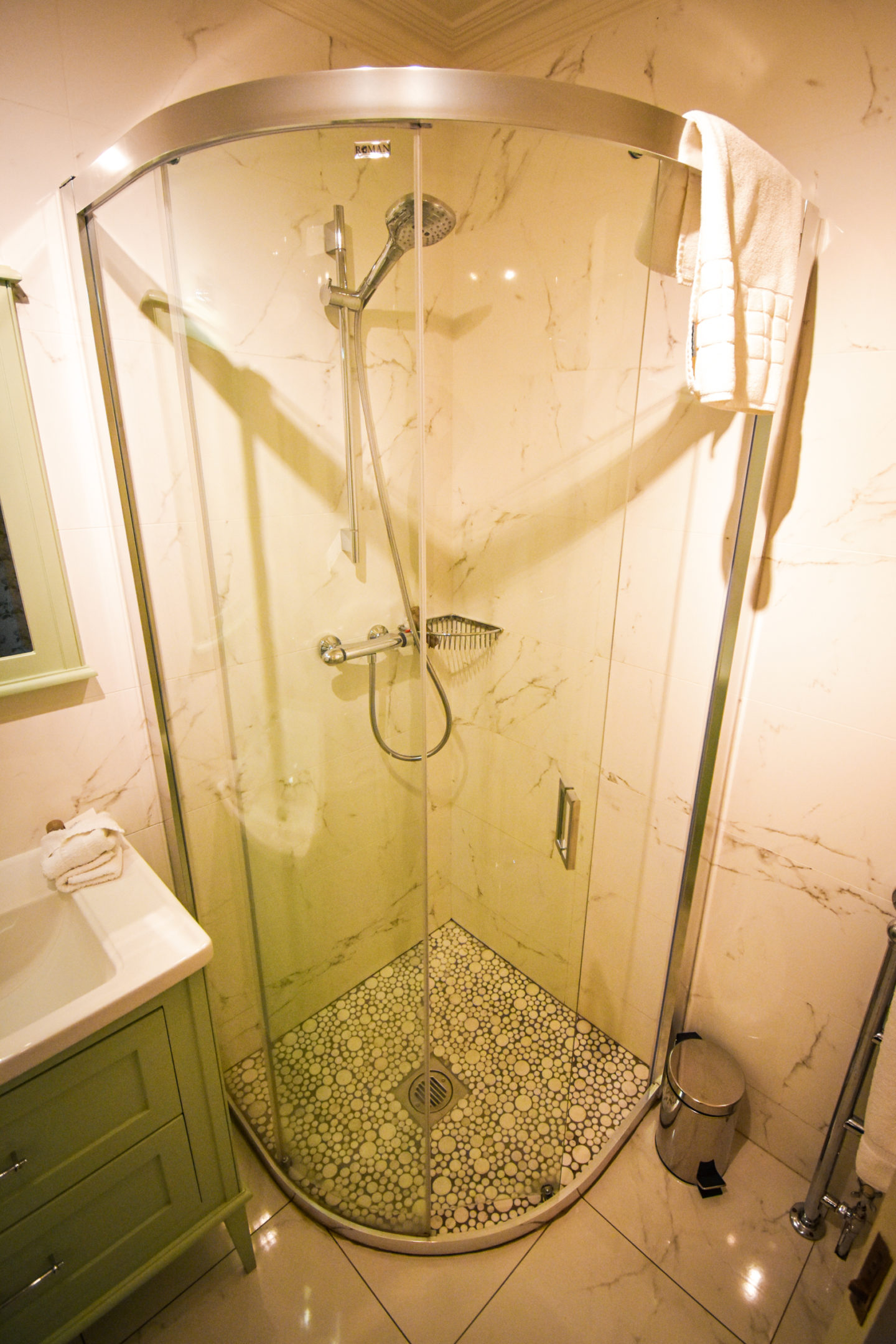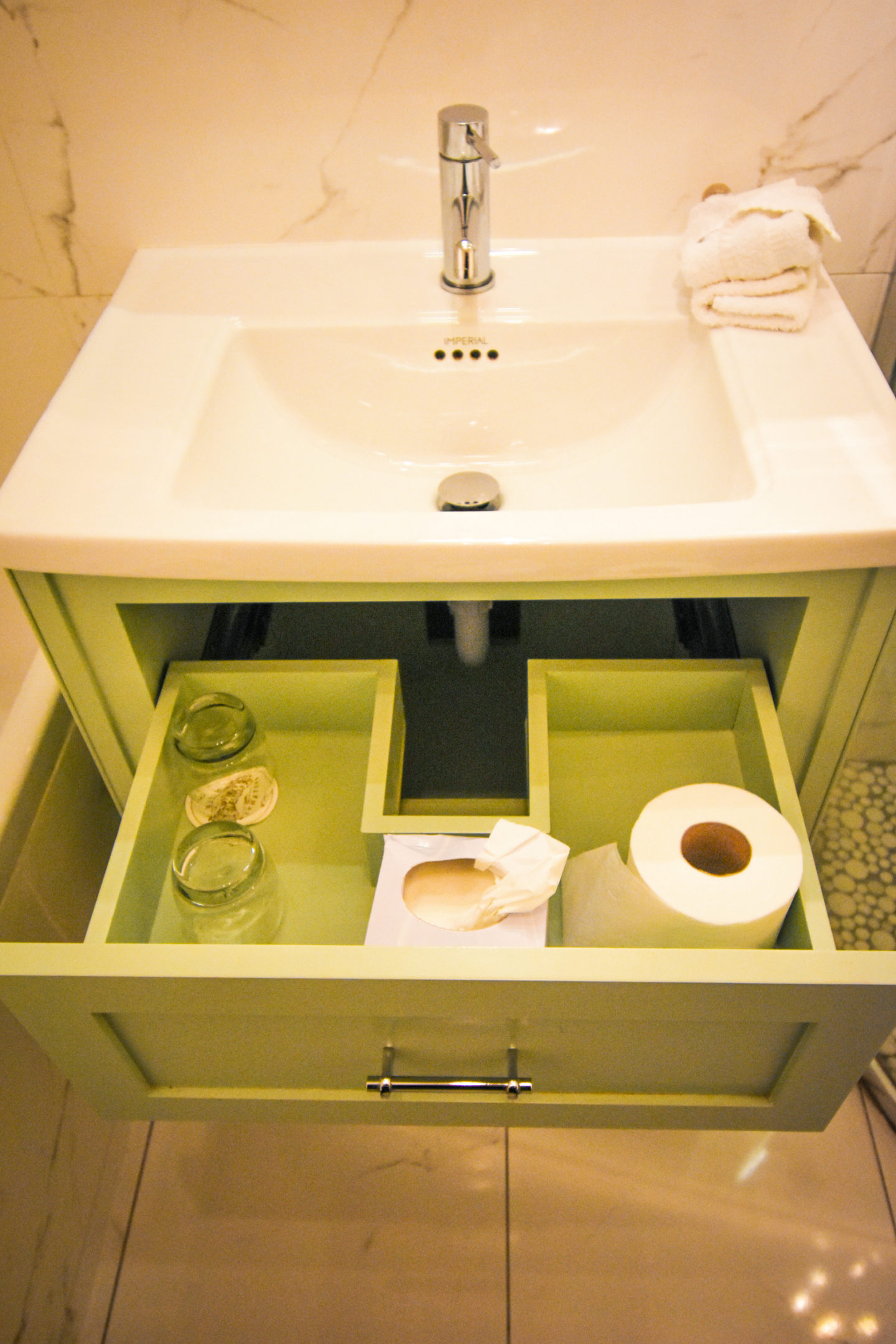 As expected, the ethos of supporting Irish and showcasing local continues to the tiniest elements, like the Voya toiletries (a Sligo-based, sustainable, organic and eco-friendly brand specialising particularly in seaweed products) and Ballymaloe's-own lavender soap.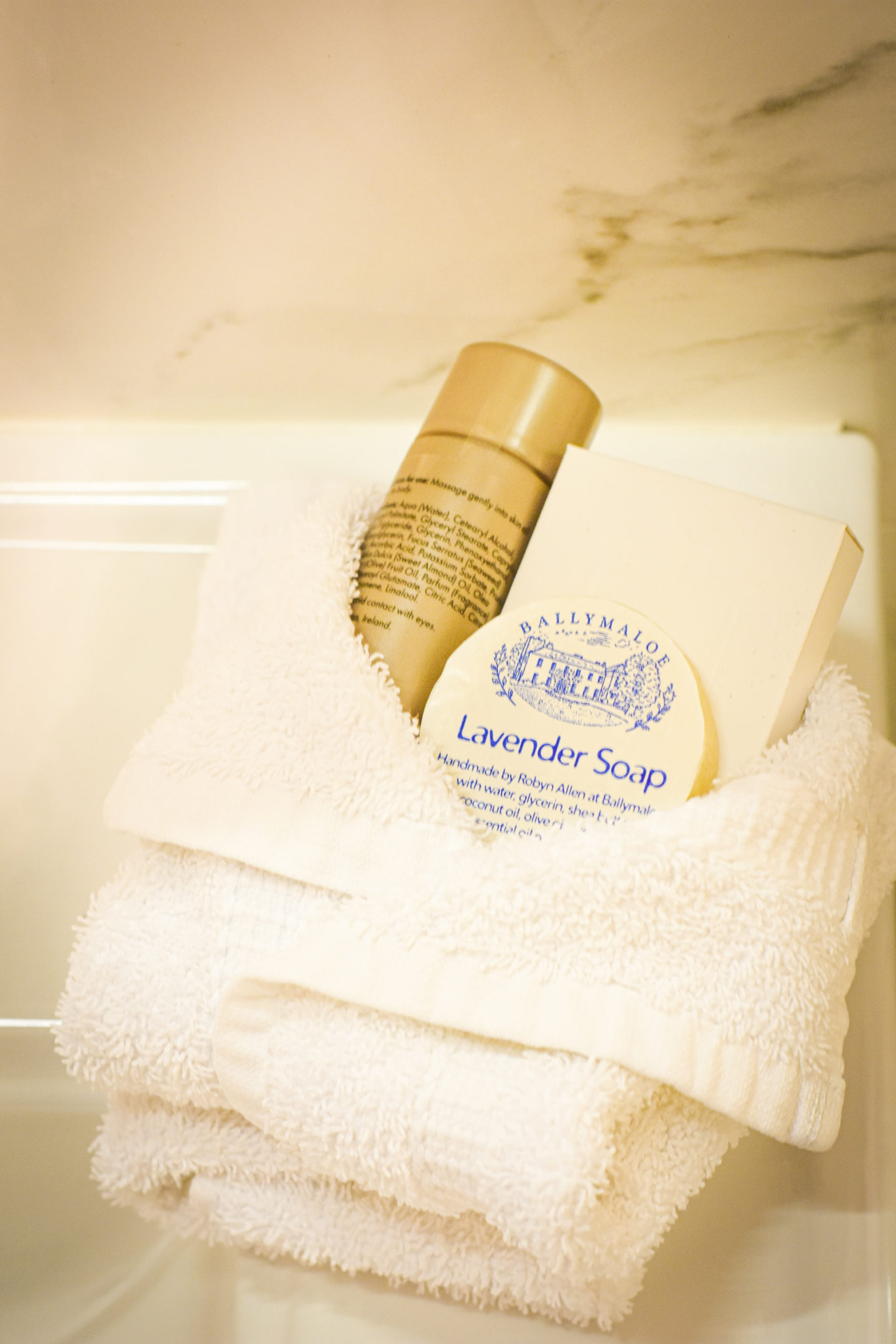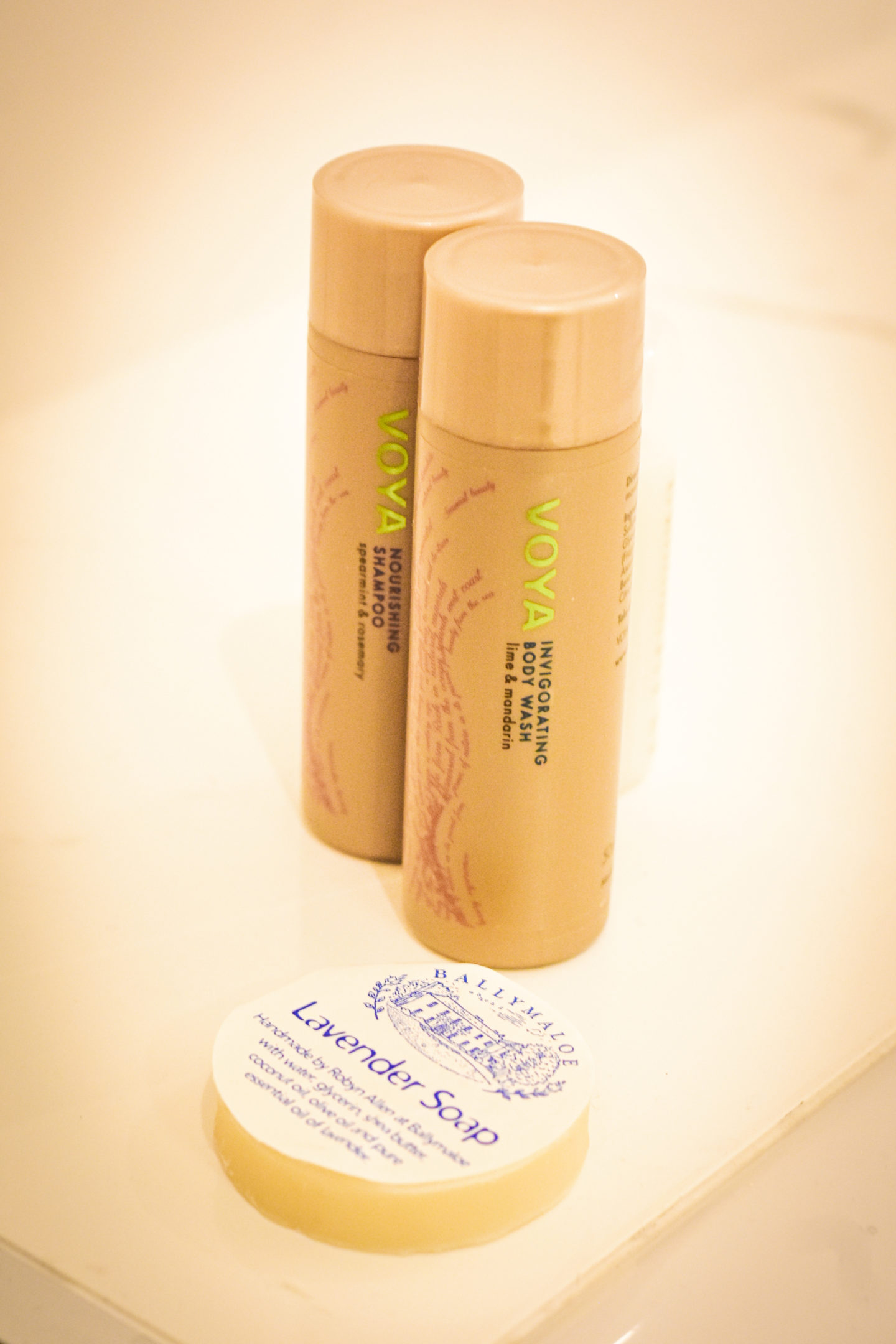 Ballymaloe House Garden & Grounds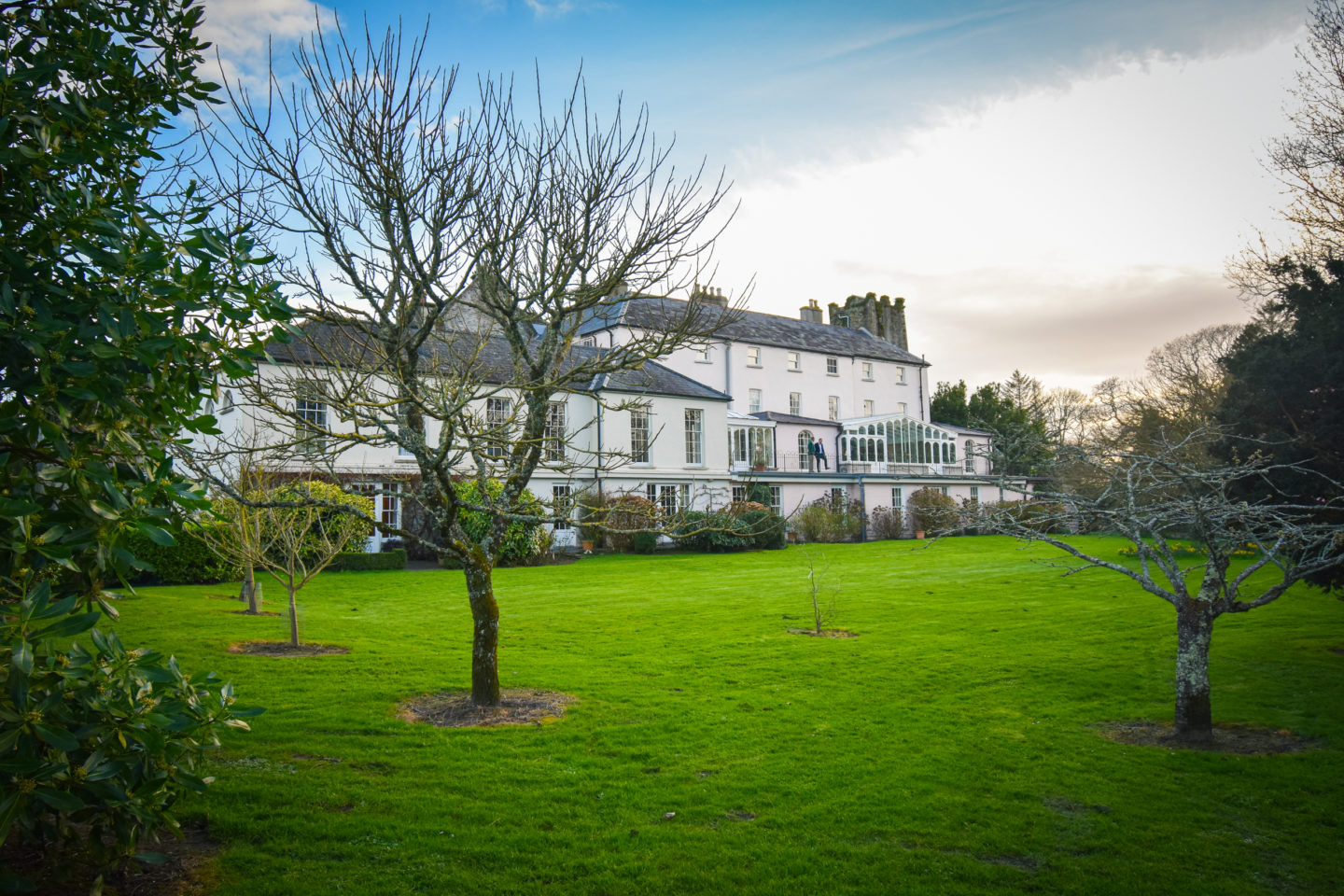 Did you know the origins of Ballymaloe House are actually a historic Norman castle, with the modern building(s) built around it? Take a peek at the back of the house in the picture below, and you'll spot some elements of it are still incredibly well preserved and visible!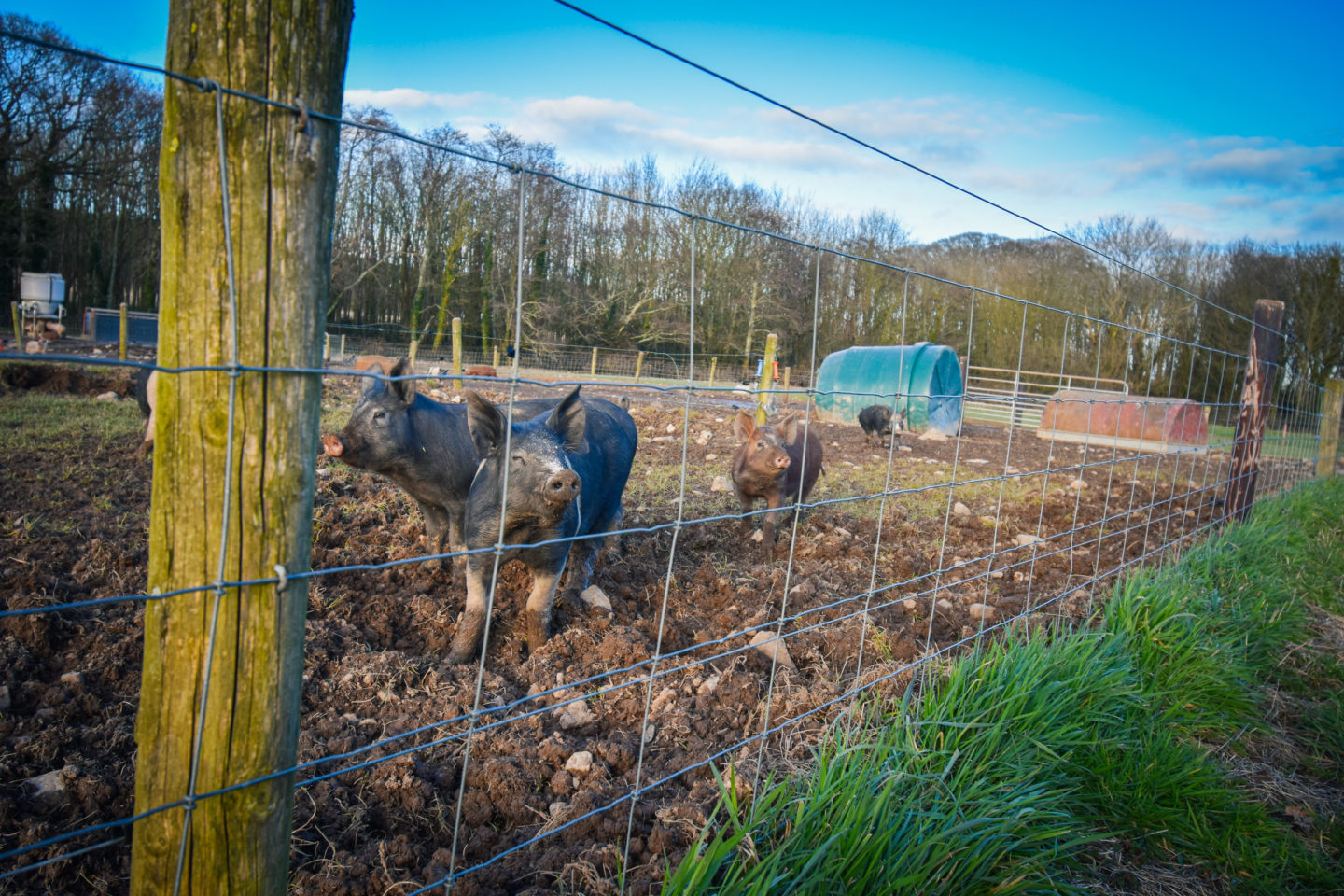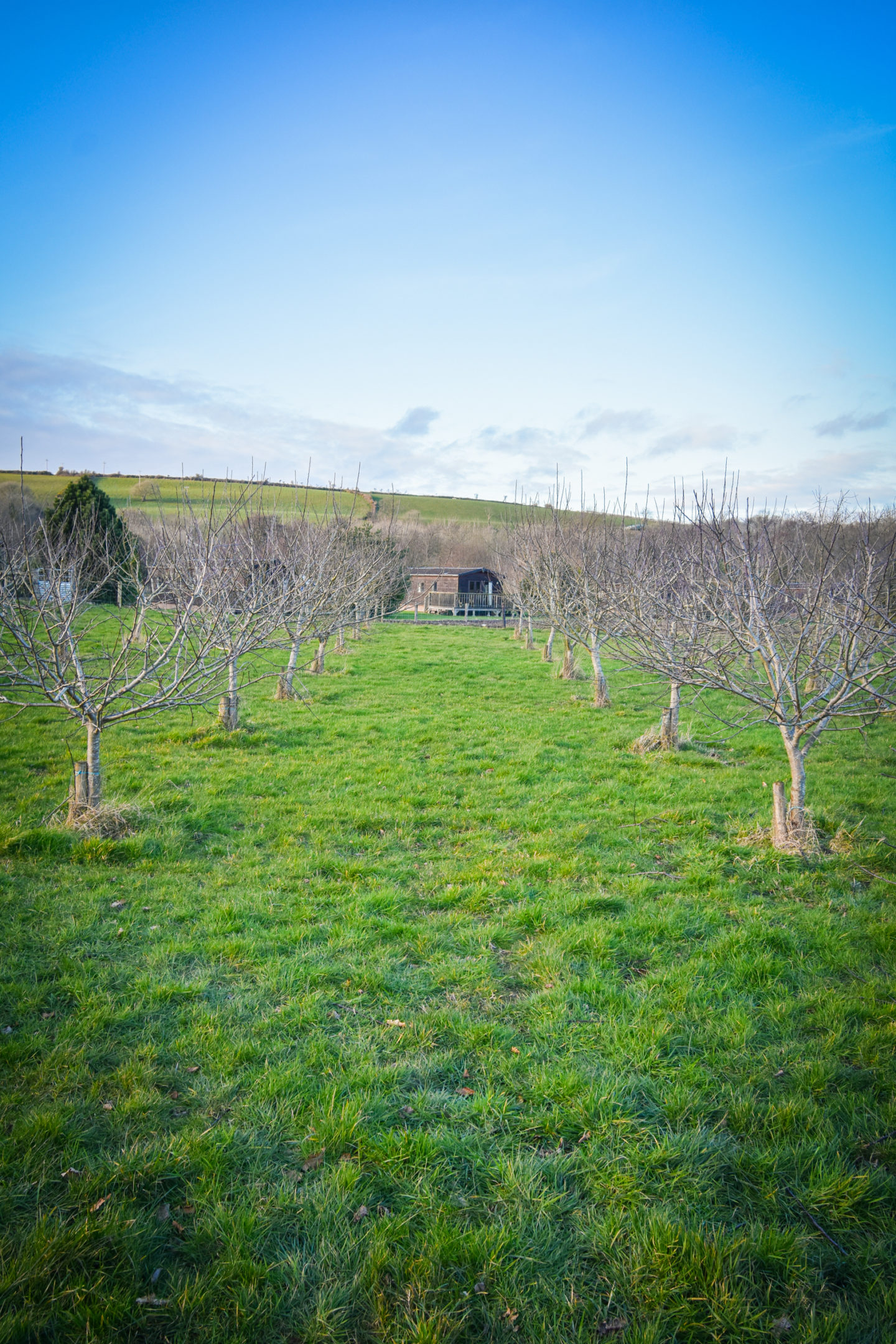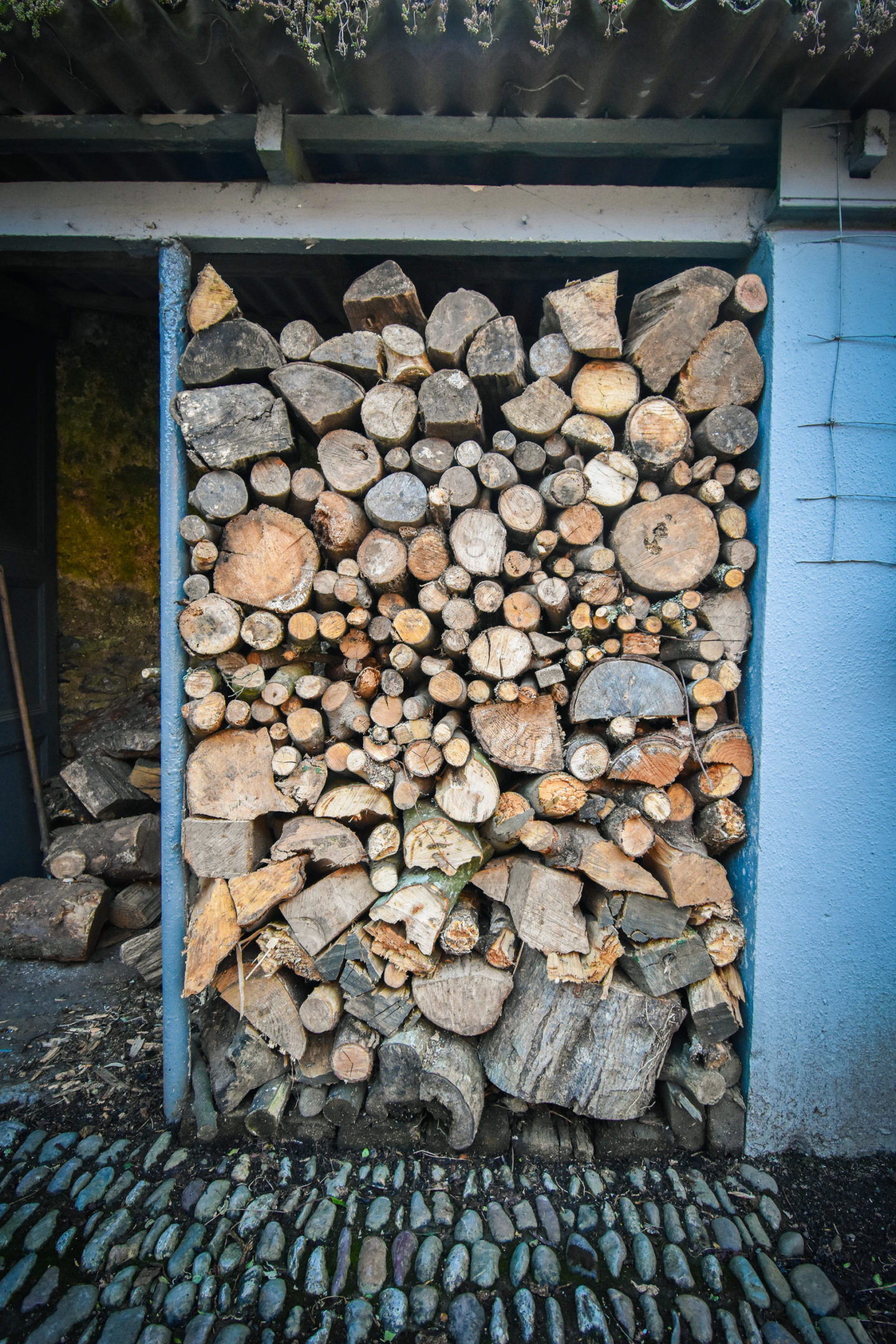 A walk around the expansive grounds encompasses the expansive orchard and livestock fields, forest, lake –– there's even an outdoor swimming pool which is filled with warmer climes, usually late May to early September. You might spy the kitchen garden and walled garden, meticulously planted with all manner of fruit, herbs and vegetables.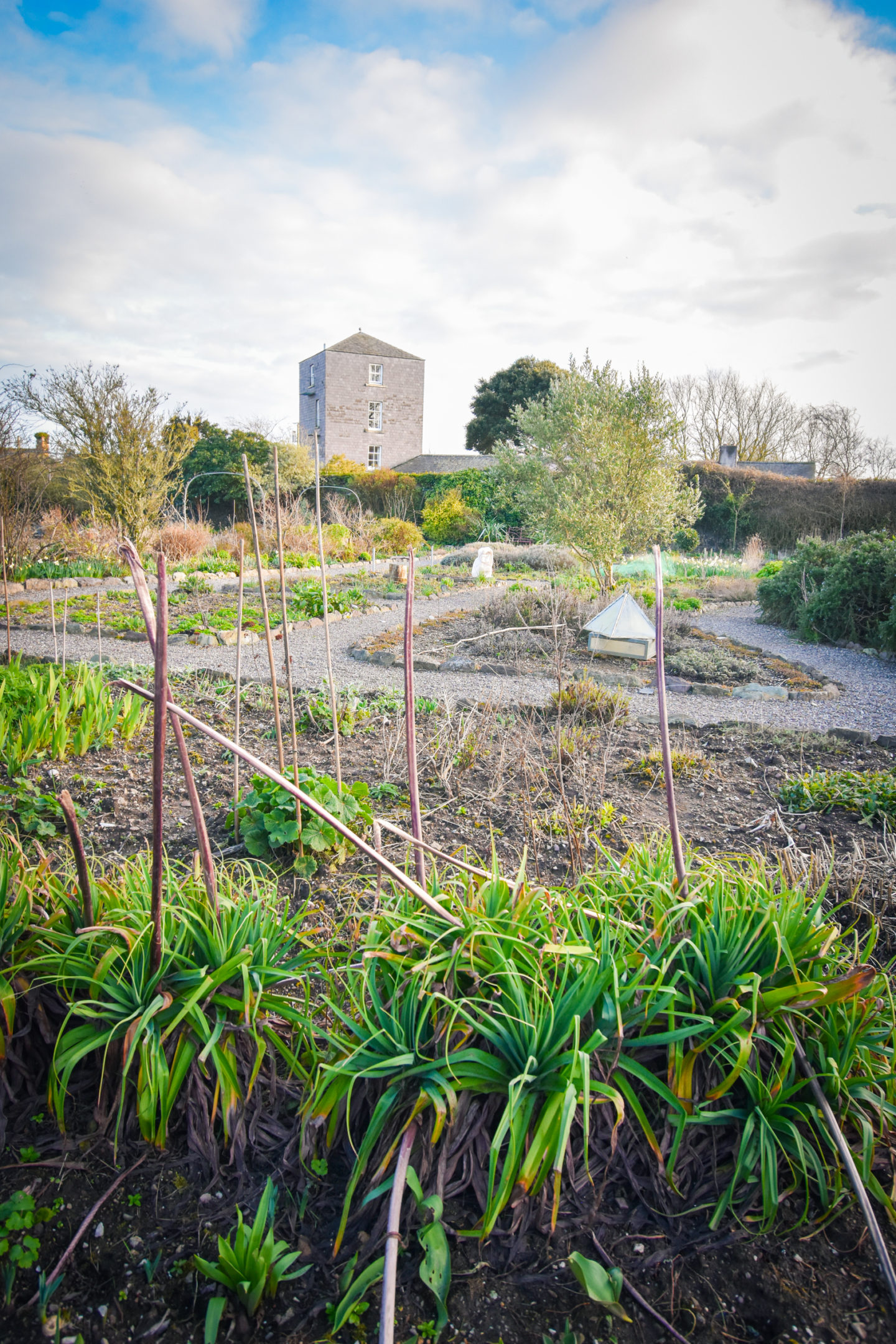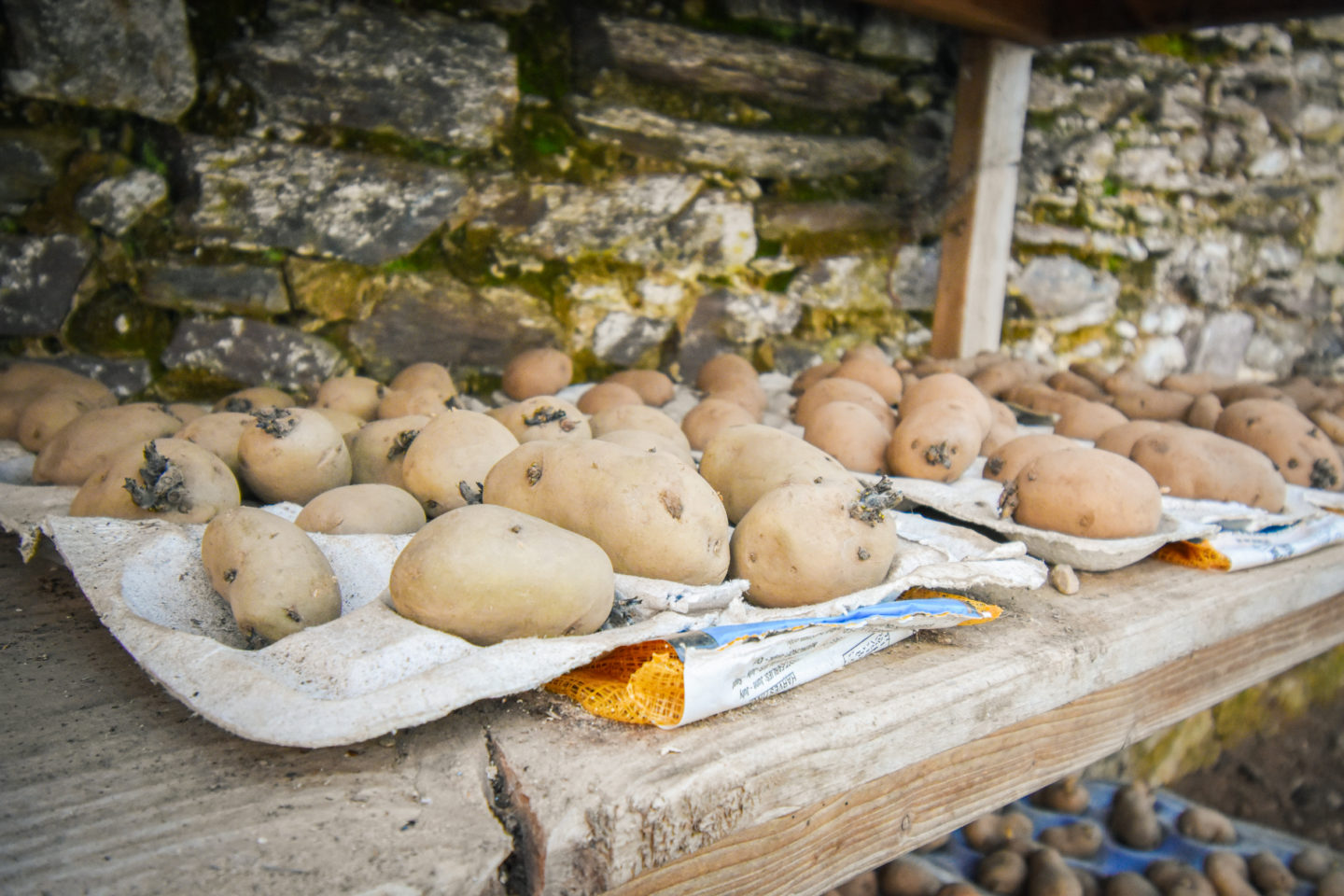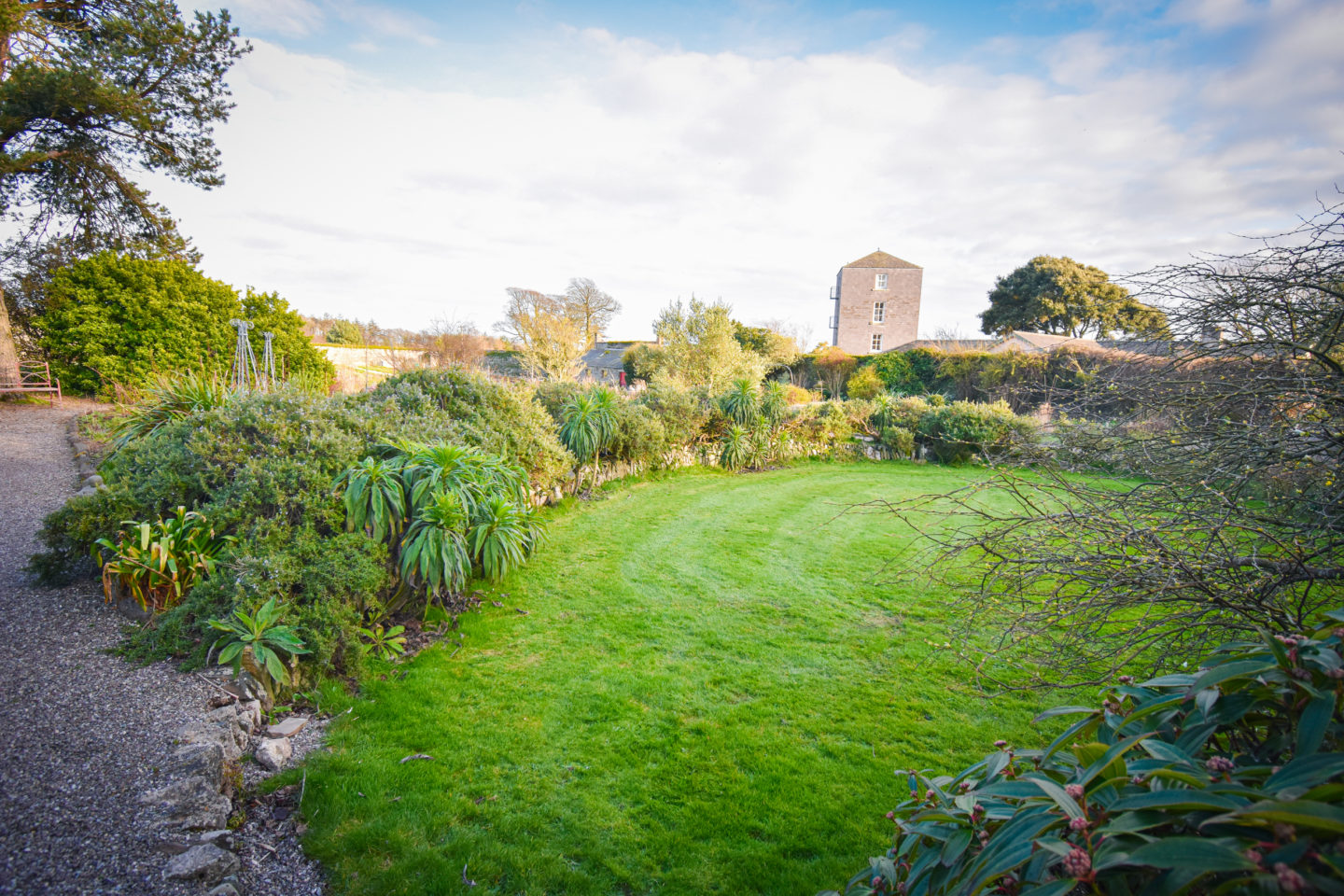 Green credentials run throughout Ballymaloe House, from the kitchen and beyond. All the food waste is fed to the hens and pigs on-site –– which in turn provide free-range egg and pork to the kitchen. There's an on-site well, and managed wetlands system for its own sewage and what's more for the last 15 years the House has been run on a woodchip-fired, C02-netural automatic boiler fuelling the hot water and radiators of the entire property.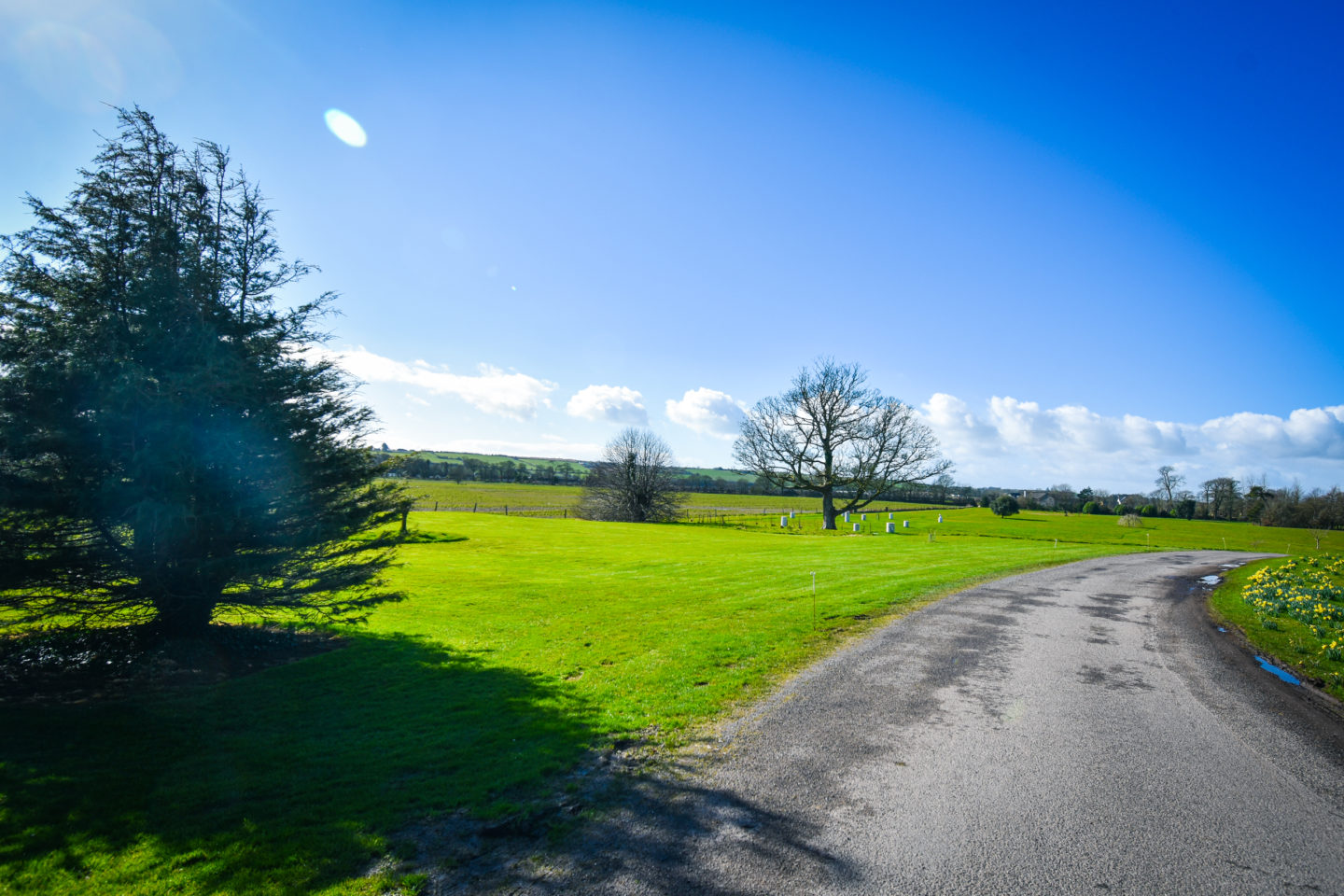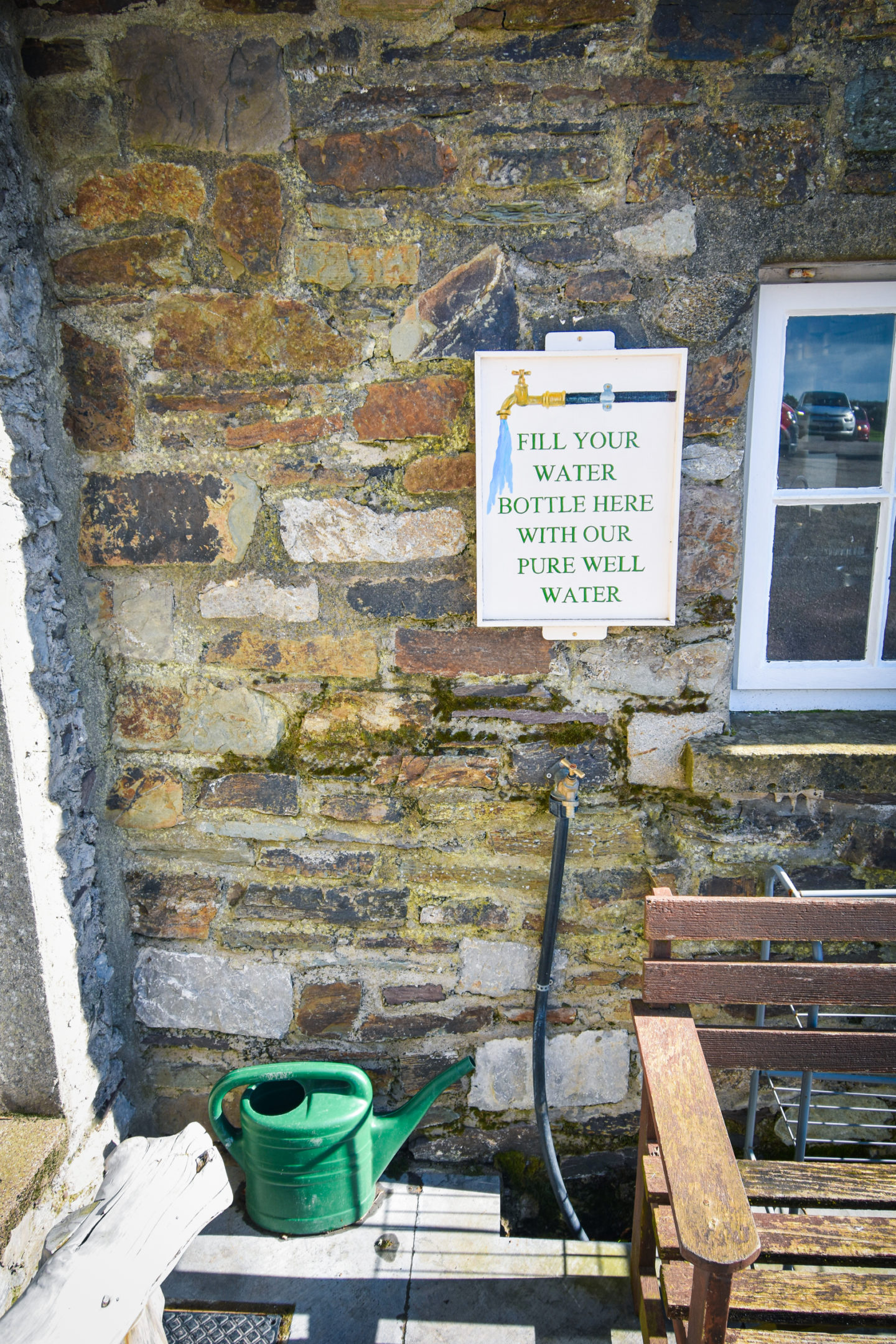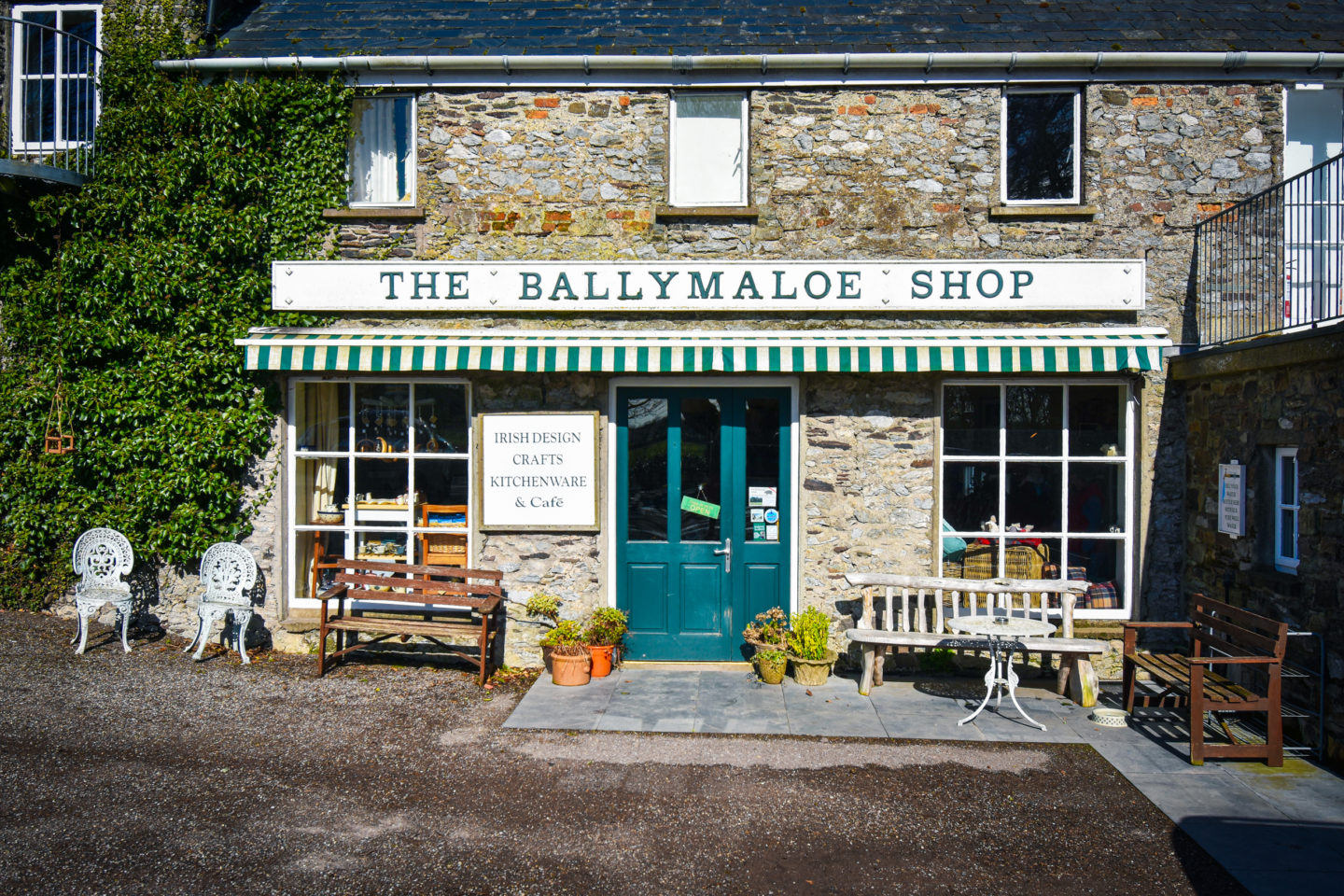 On the grounds you'll also find The Ballymaloe Shop and Ballymaloe House Café. The former is a treasure trove of local crafts, knits, household bits and bobs, kitchen equipment, books, gifts and produce, and was once the piggery.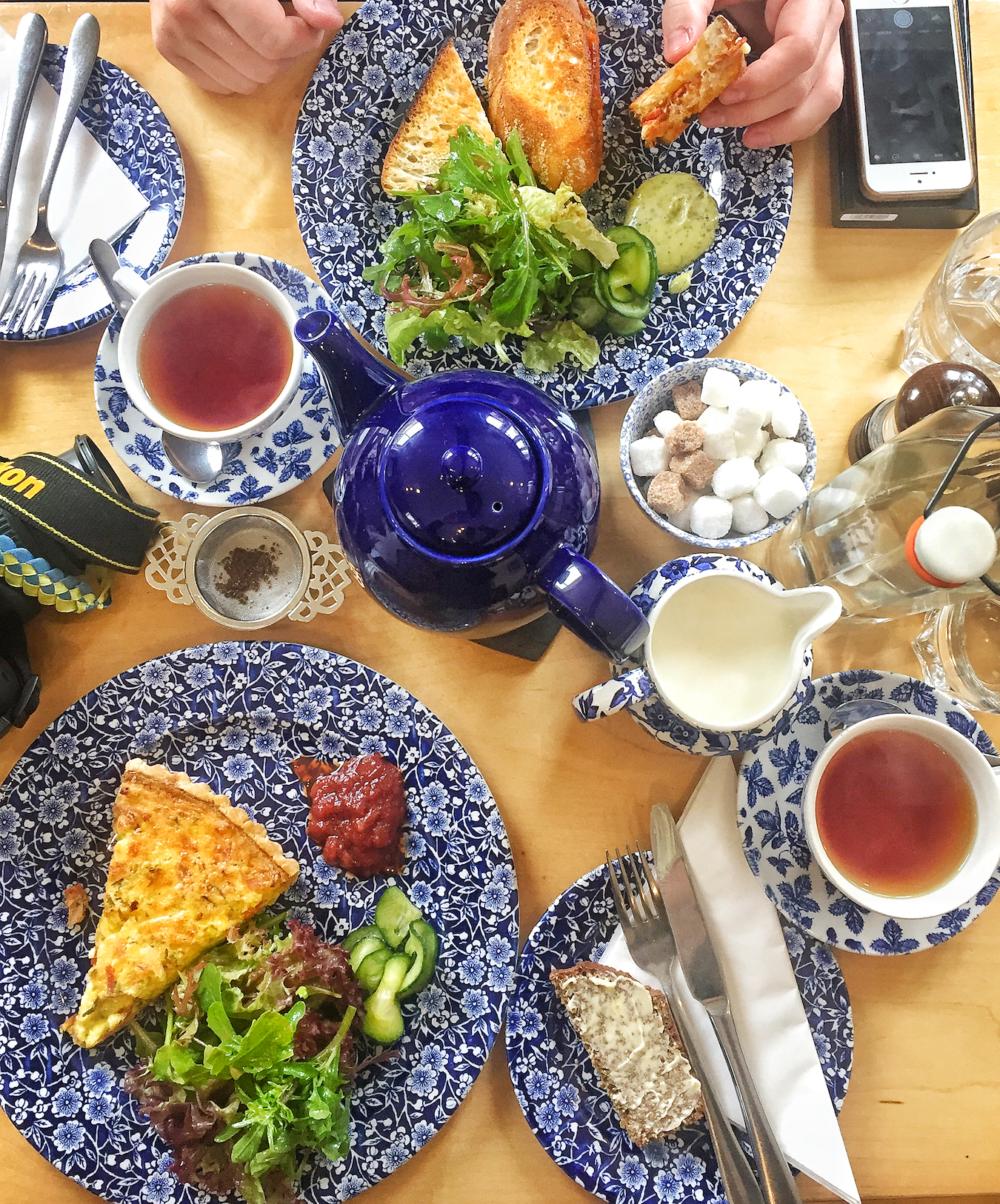 The latter is a little cafe and tearoom. We ate there two years ago as our very first taste of Ballymaloe and it was a beautiful, heartening homemade menu of traditional classics like quiche and apple tart, served with warm charm and piping mugs of strong black tea. Only a couple of tables, on a first come, first served basis and serves from 10am to 5pm daily.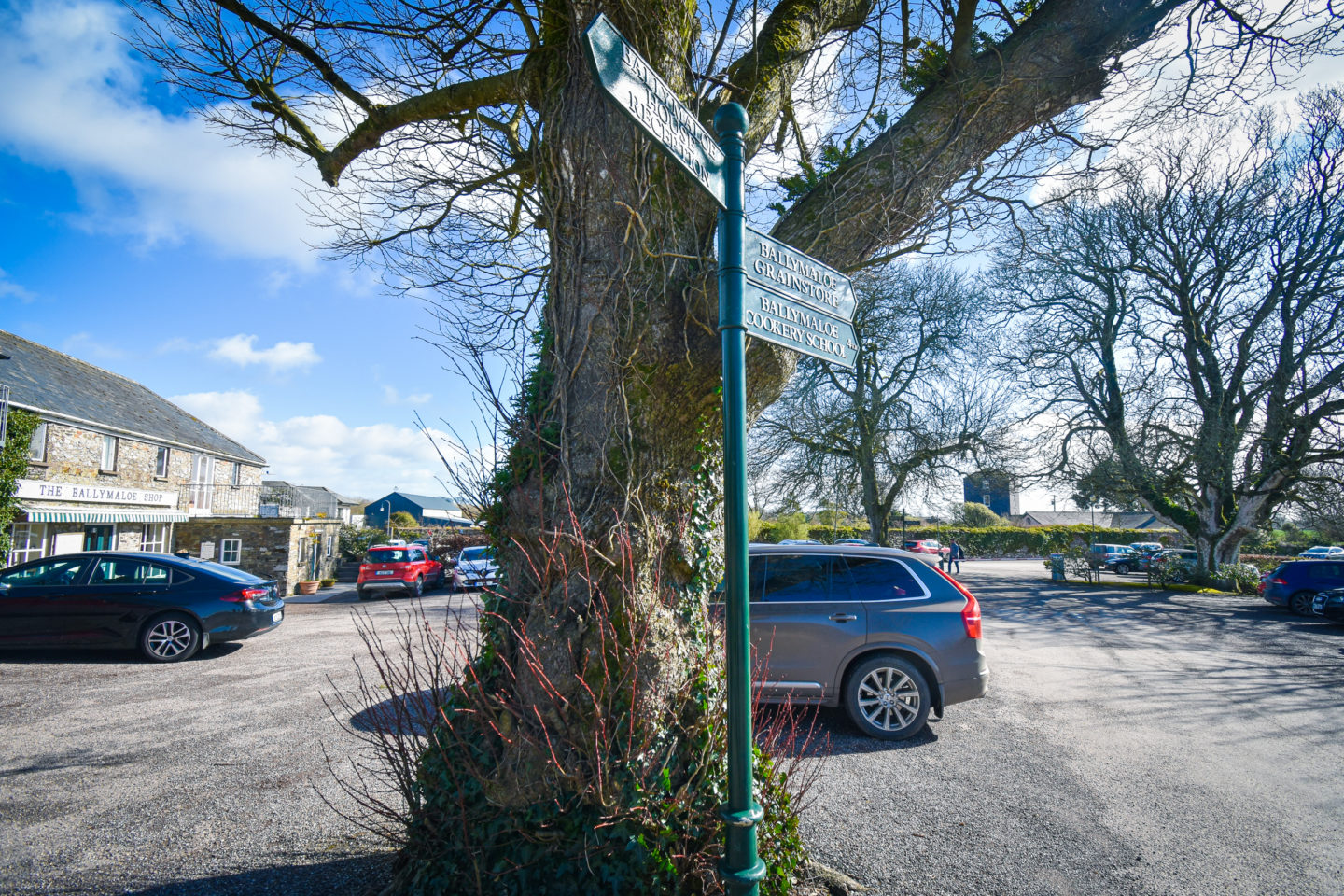 On site there's also the Grainstore, an expansive events space, theatre and screening room that hosted the Ballymaloe Lit Fest for five years until 2017. Three guesses what this space functioned as and was converted from. There's The Golden Bean coffee roastery, set up and run by Marc Kingston and supplying a host of local cafes and restaurants with coffee.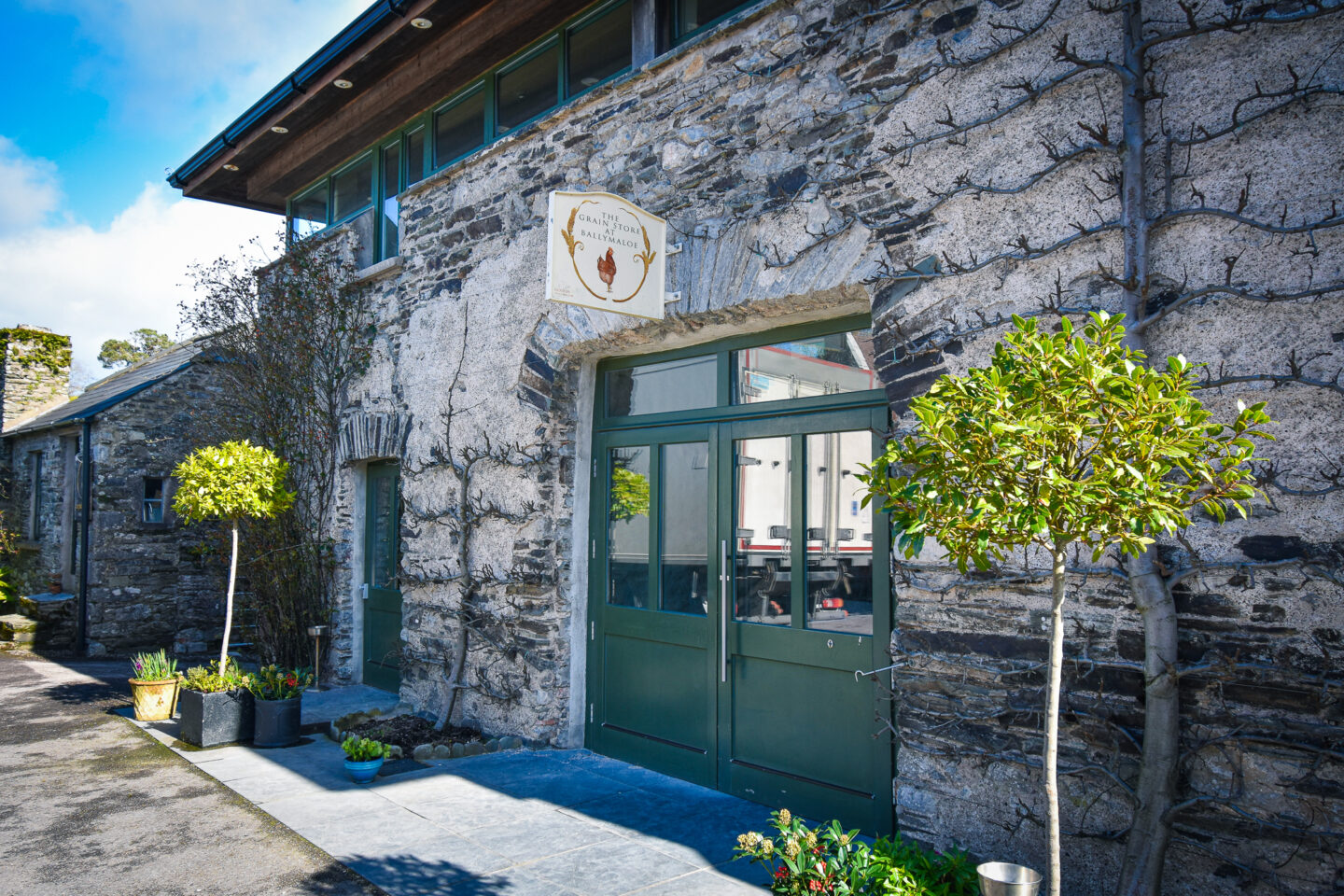 Elsewhere in terms of Allen family businesses, Ballymaloe Relish is synonymous with the Irish breakfast and represents a range of sauces, spreads and chutney varieties under the 'Ballymaloe Foods' brand, developed by Yasmin Hyde, daughter of Ivan and Myrtle Allen, and now led by its second generation –– Yasmin's daughter, Maxine Hyde.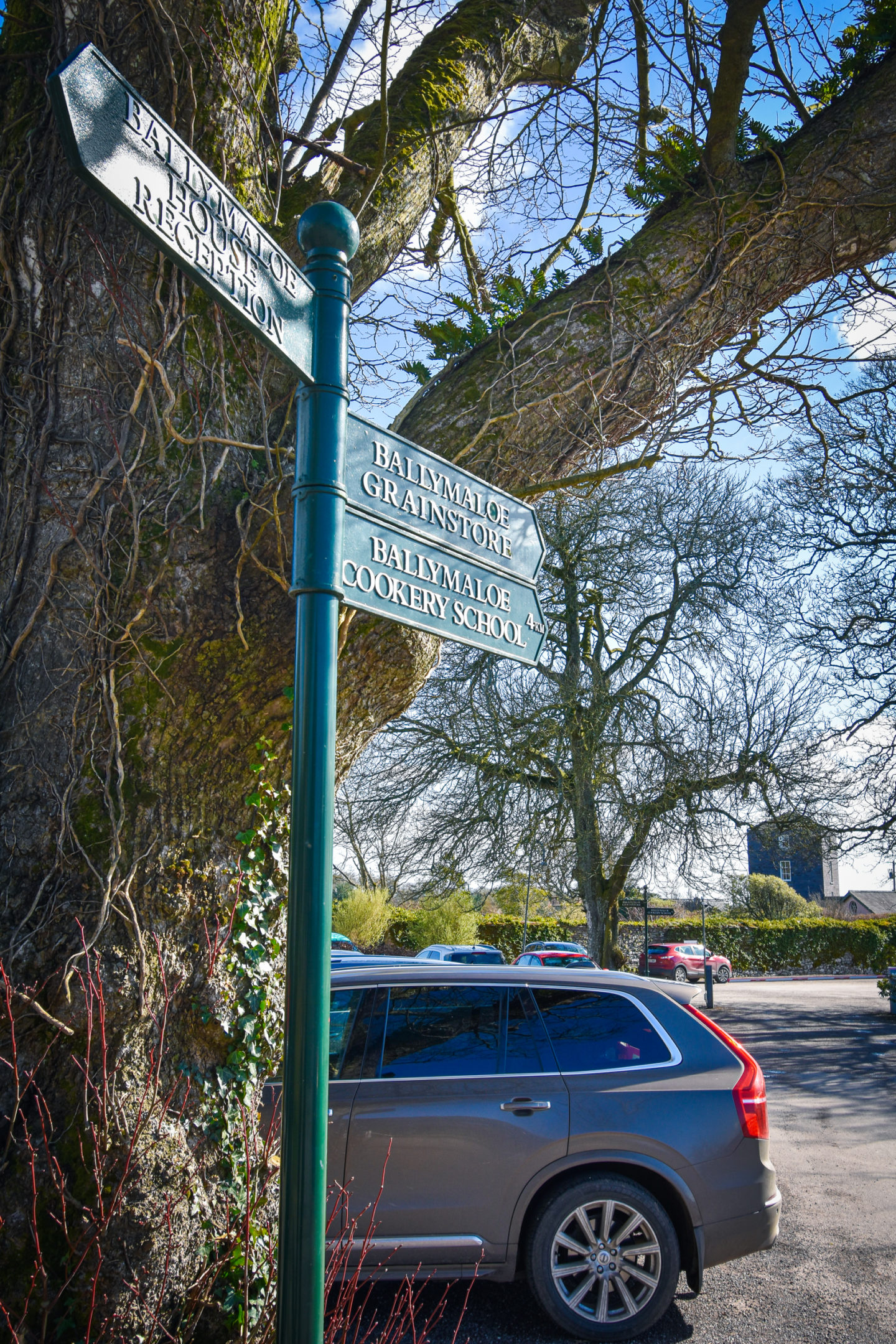 Then there's Cully & Sully, the soup and ready meal business developed by Cullen Allen and Colm O'Sullivan. Saturday Pizzas is a pizza brand run by Darina and Tim's son-in-law Peter Dennhardt, husband of Emily Allen. A chef and master butcher-turned-pizzaiolo, the Saturday Pizzas brand is now focusing on "fresh but frozen" pre-made pizzas for retail that you continue cooking at home, and have recently been picked up by Aldi. Paddy O's Cereals which produces popular granola is also connected in a way to Ballymaloe as Darina Allen (nee O'Connell) is an aunt of Paddy O'Connell, the brand's owner, and he trained as a chef in Ballymaloe Cookery School.
Dinner at Ballymaloe House Restaurant
Now for the main event. Dining at Ballymaloe is an old world experience, and you almost feel transported back to those days of Mrs. Allen as head chef.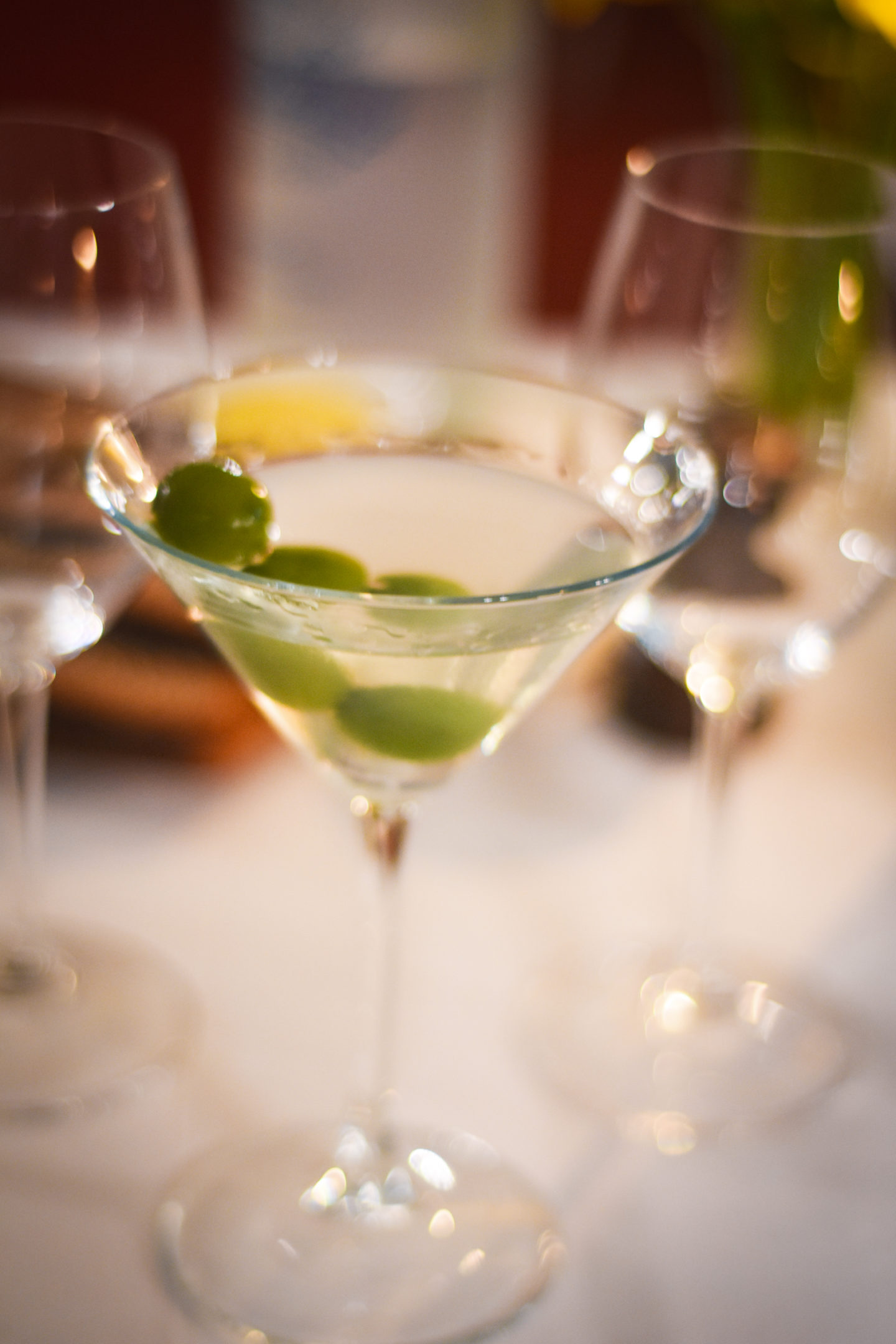 Of course, we had to start dinner with a martini –– and we spotted Ornabrak on their spirits list and ordered a neat little sipper, made dirty. Ornabrak is a quintuple-distilled 'Single Malt' gin produced by Patrick Shelley, sitting under the umbrella of Origin Spirits Ireland, which also includes Kalak vodka. Ornabrak features 100% Irish malted barley and a choice selection of just five botanicals to enhance its pure, luxurious taste –– exceptional in a martini, where the gin should be the star.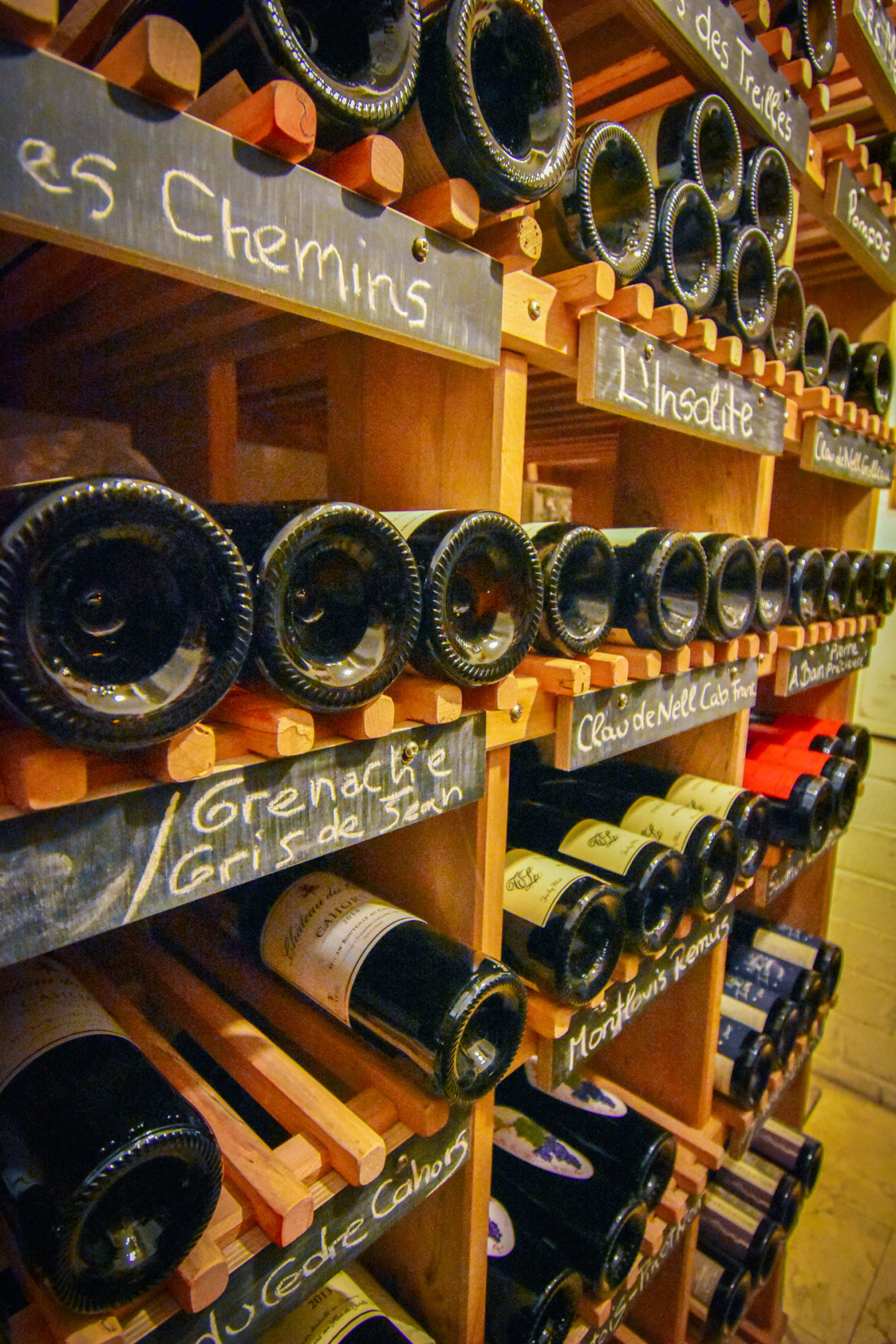 Before we went for dinner we took a quick peek at the Ballymaloe wine cellar which has been meticulously organised, overseen and maintained by head sommelier Samuel Chantoiseau.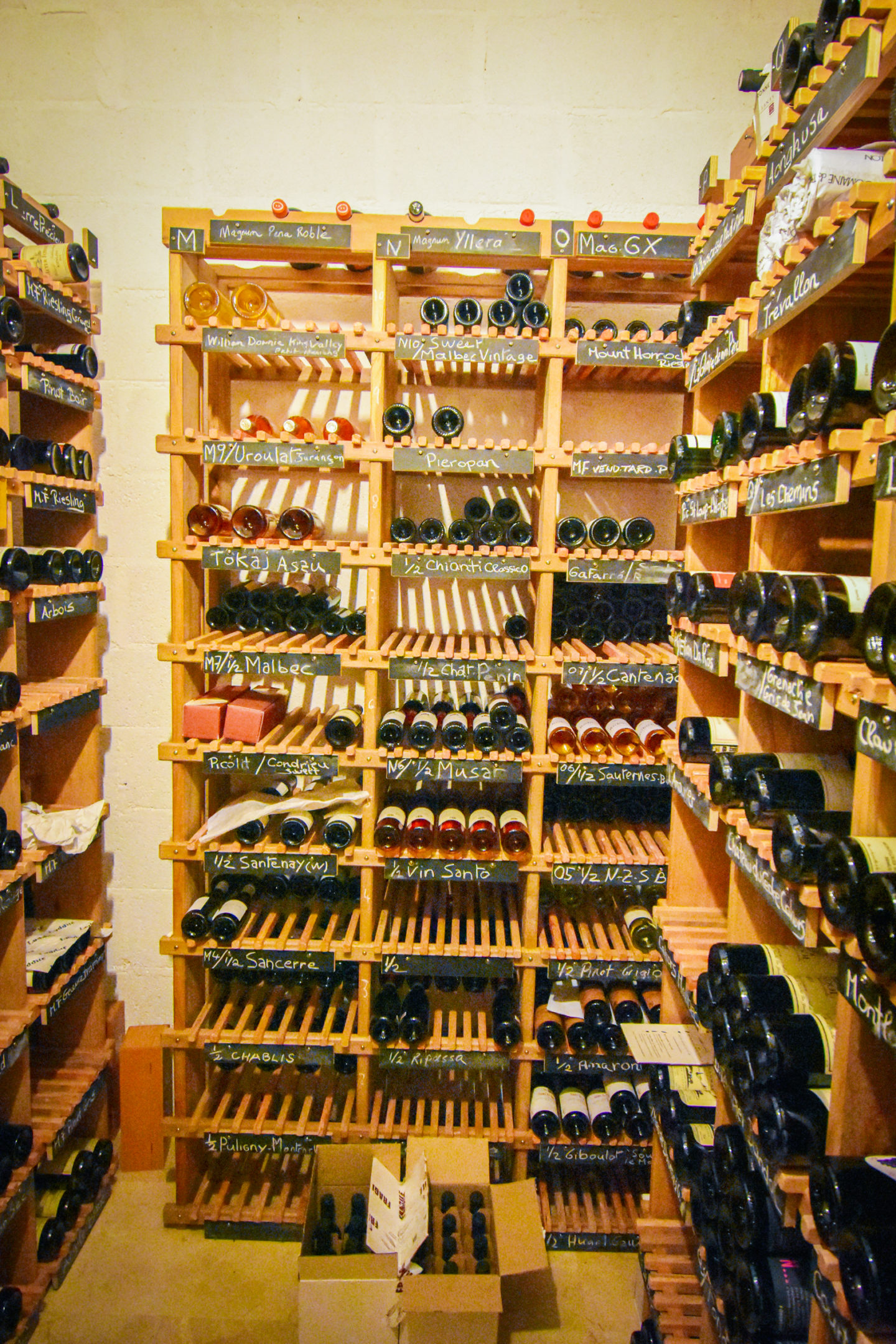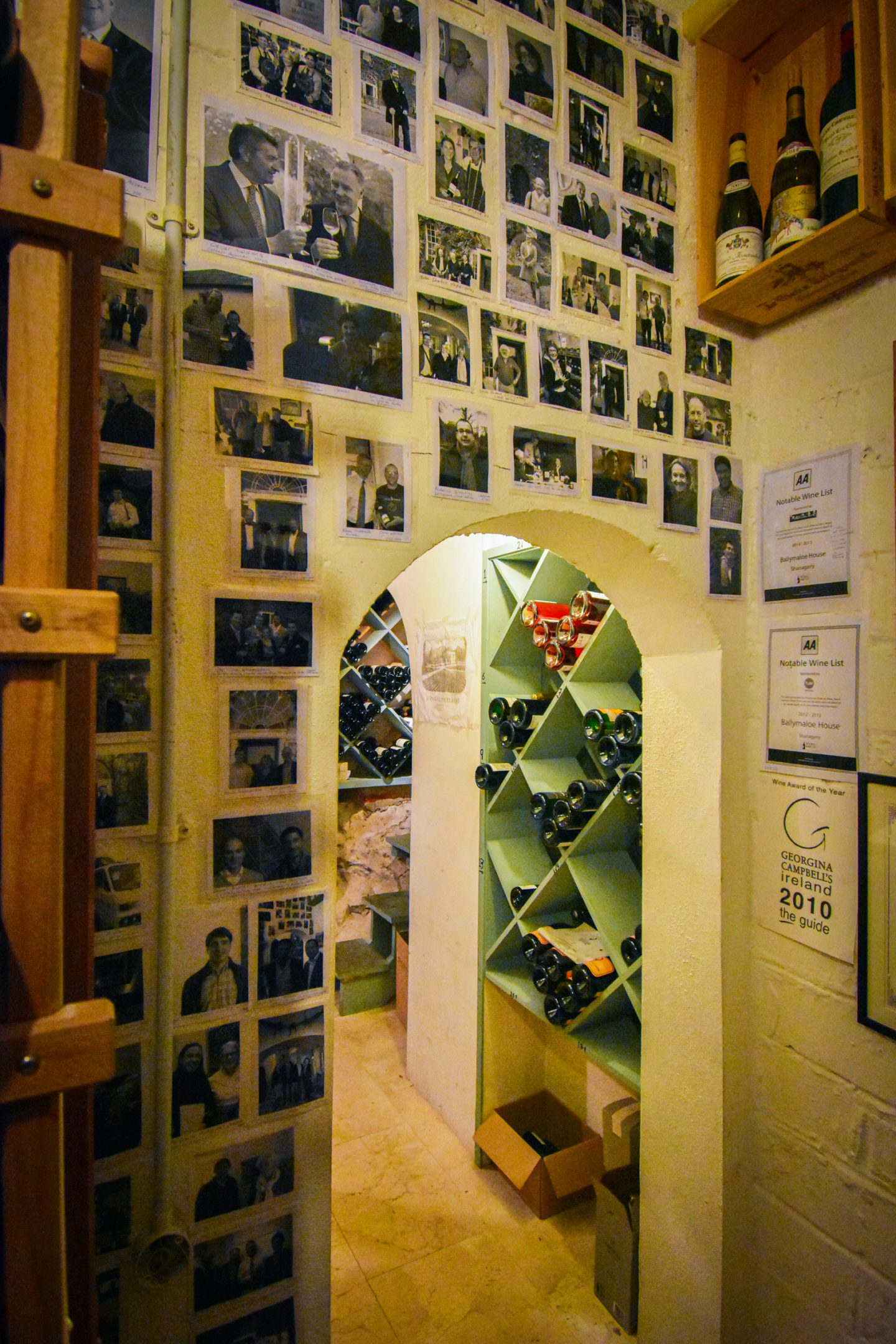 It's a proper little cellar and it's set underground, built into the house's stone which helps keep it cool and temperature controlled. Whilst some of the timber shelving comes from a tree that had fallen on the property years ago.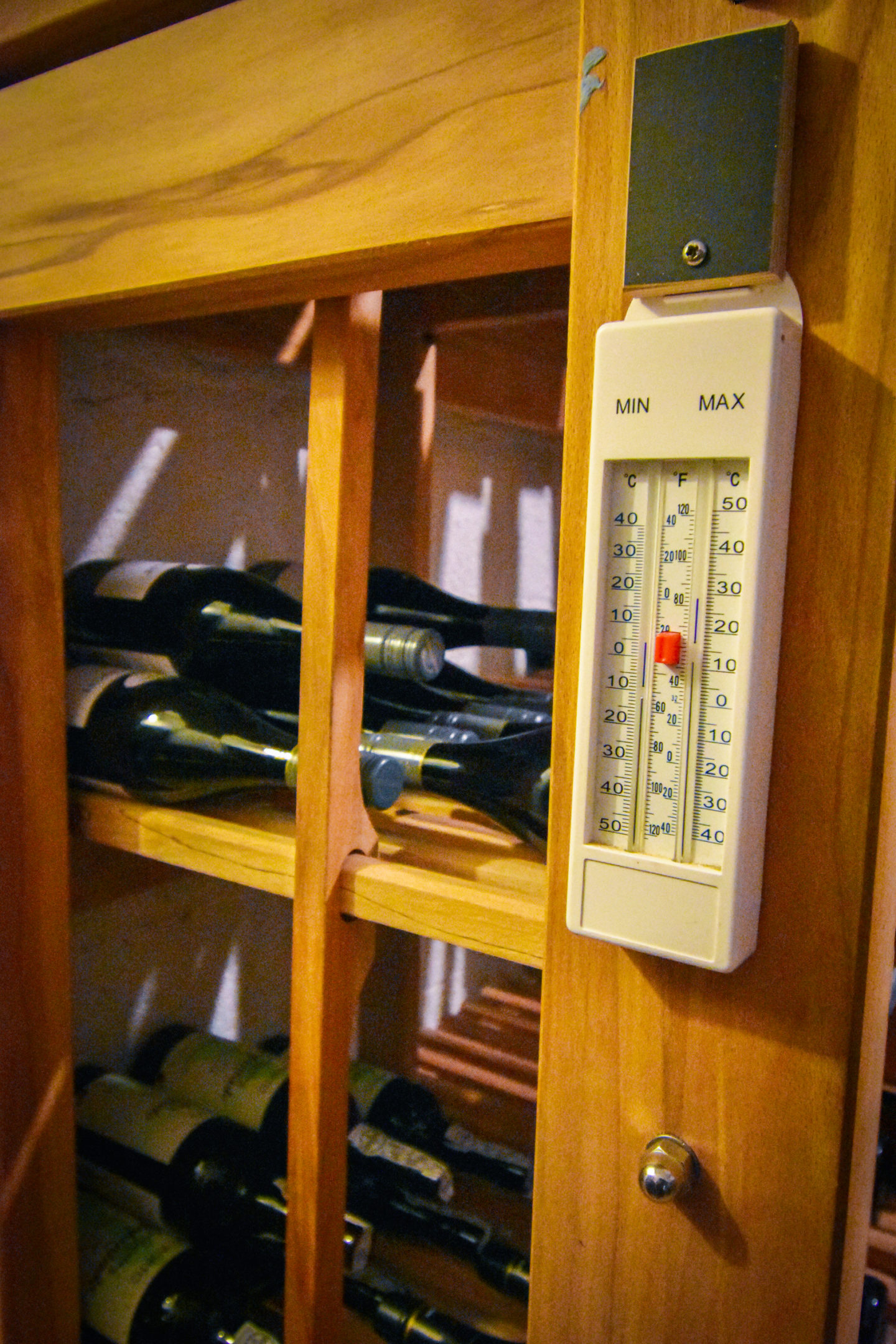 Each drop is organised by region or style, and by age. Heavy on old world selections but a truly globe-traversing list, anyone who has dined or had a drink or two at Ballymaloe House know how expansive the wine list is in terms of style, origin and price point, so there really is something for everyone and there's no doubt this is one of the best wine selections in the country.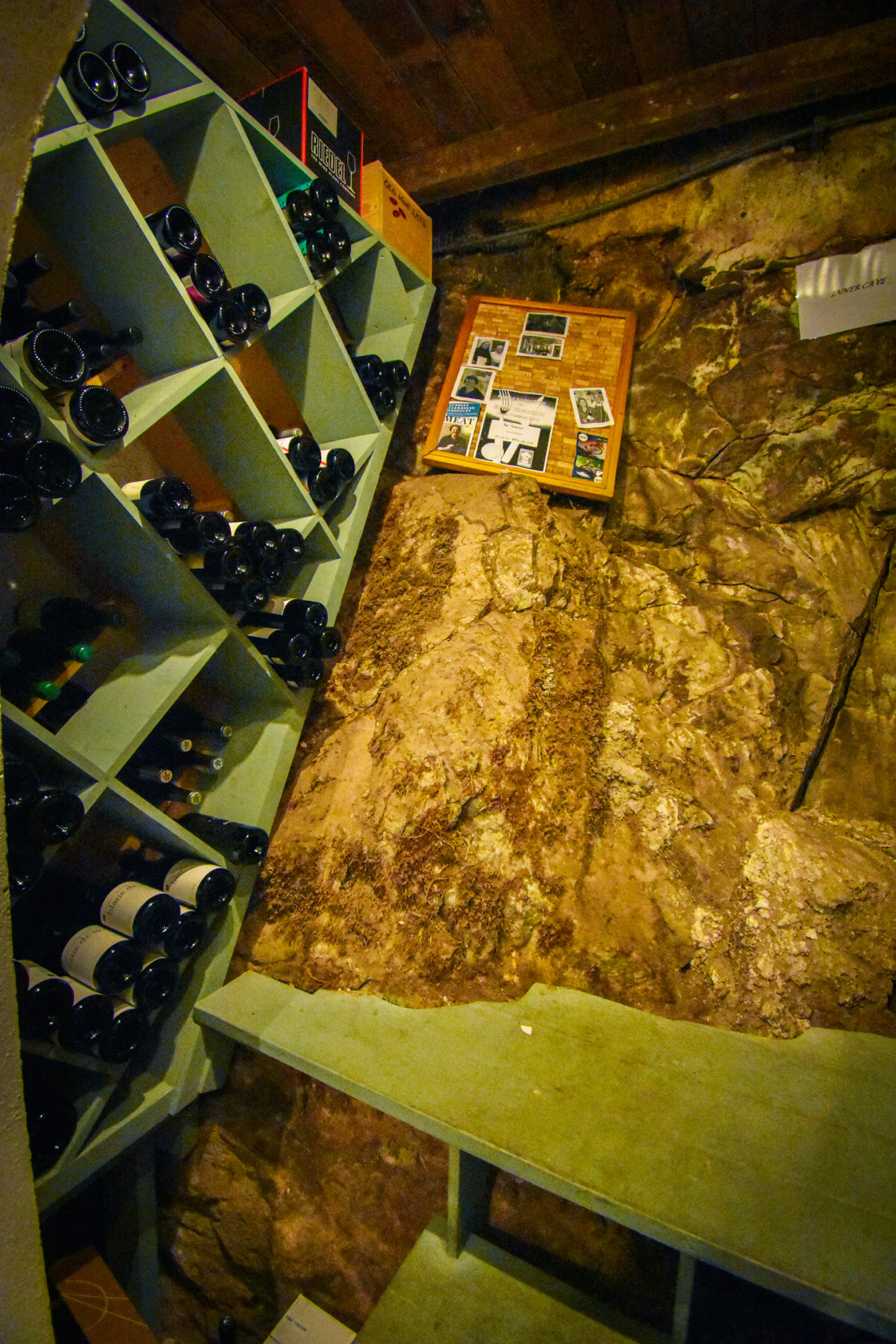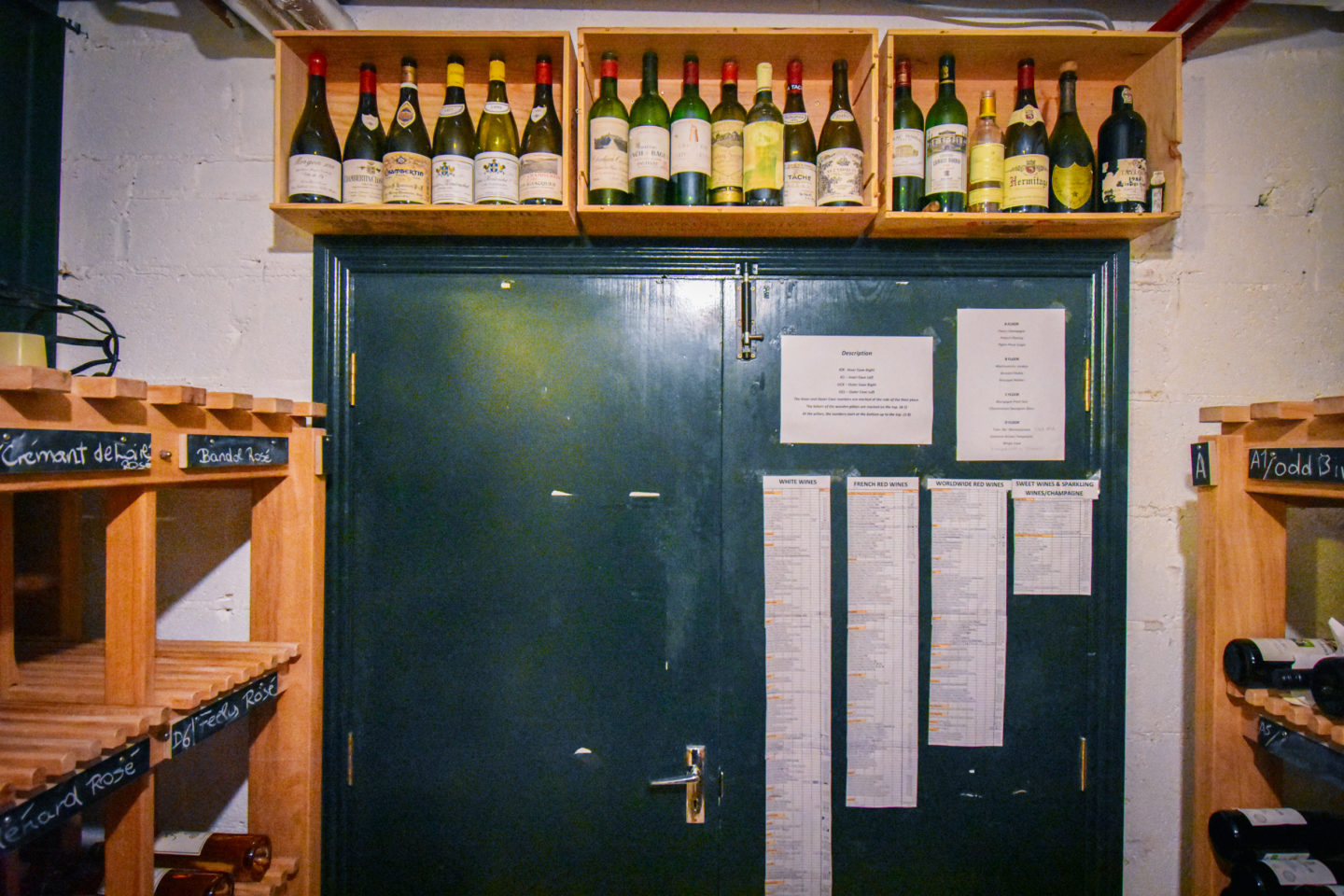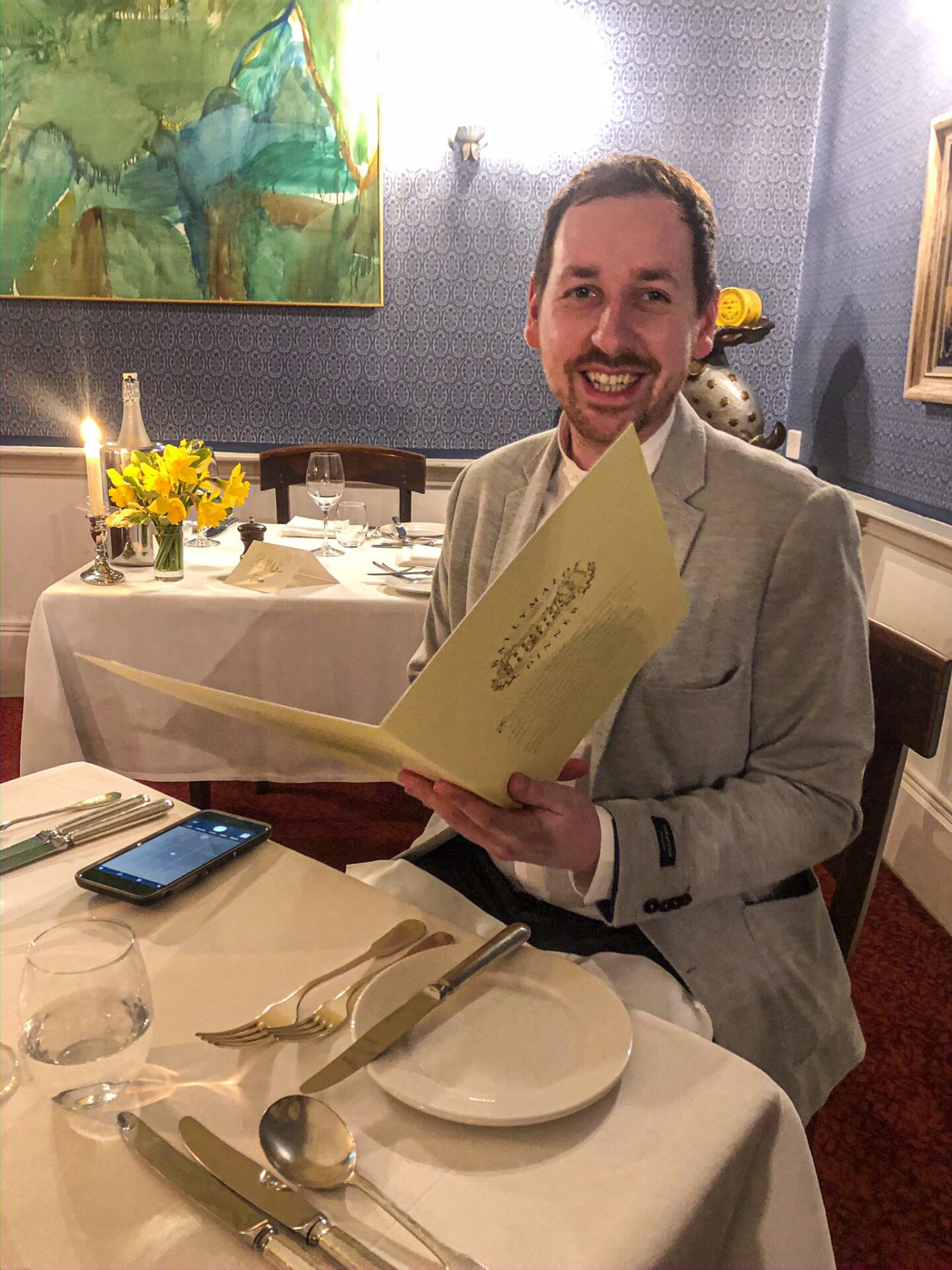 Dinner, usually five courses, is served daily in the Yeats Room between 6:30pm and 9:30pm. There's a special Sunday Lunch service 1-2pm weekly whilst a Sunday evening buffet is often hosted, too. But the buffet we were lucky enough to experience was the Friday evening Hors d'Oeuvres Buffet (€80pp), which is both iconic and legendary. An entire room is given away to a lavish spread of what must have been 40 different options of little bites.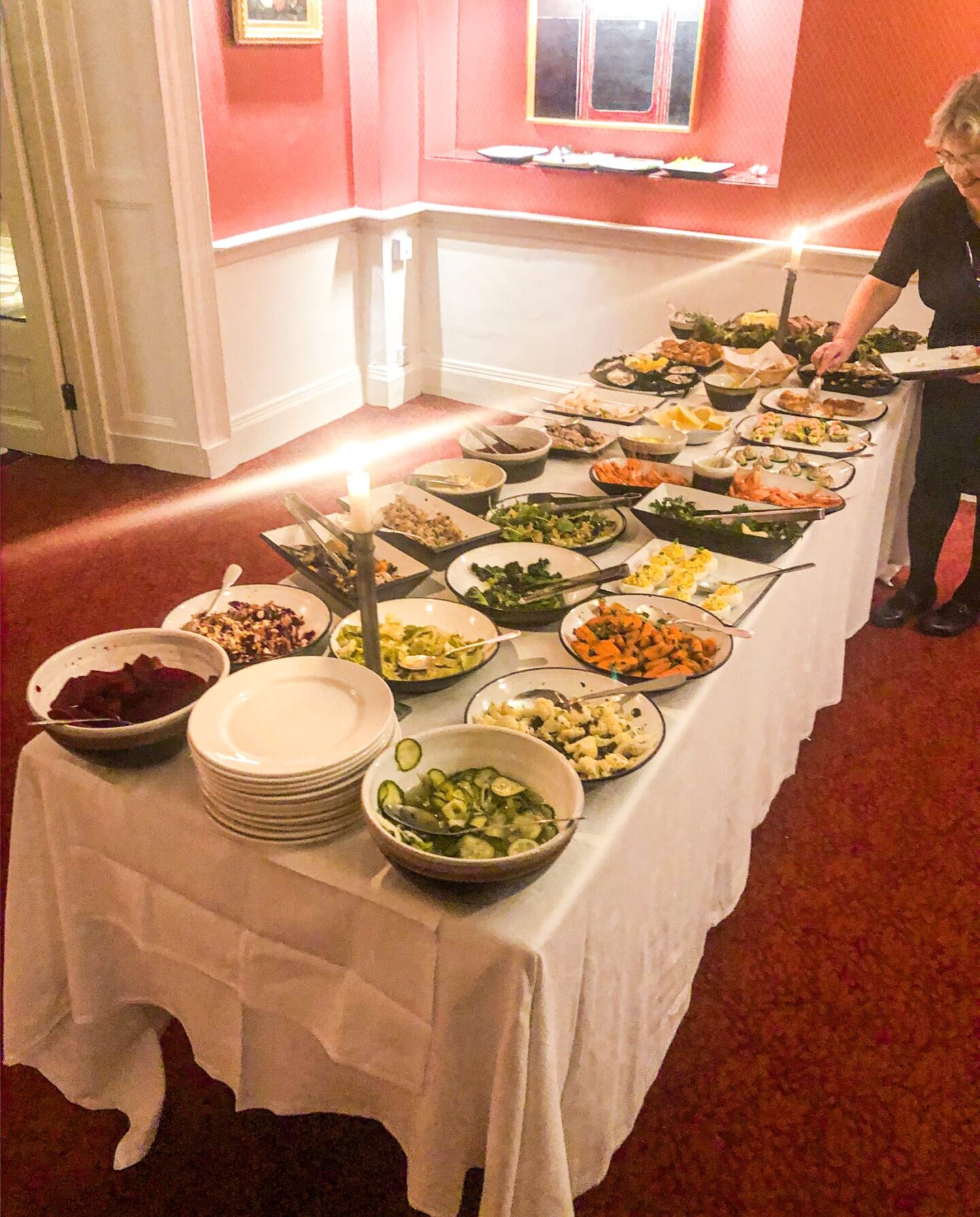 The hors d'oeuvres spread reminded us of how they often serve celebration meals in Sweden and wider Scandinavia, with a smörgåsbord (literally 'sandwich board') of many different hot and cold bites. Oysters, Ballycotton prawns, pâtés, mussels in the half shell, tiny vol-au-vents, lavish salads; take a little of what you like and place it on your plate. Each table is brought in individually and Fern Allen, daughter of Ivan and Myrtle, who manages Ballymaloe House, deftly walked us through every single element in almost one breath, which takes serious skill for a frequently-changing spread depending on what's plentiful or seasonal.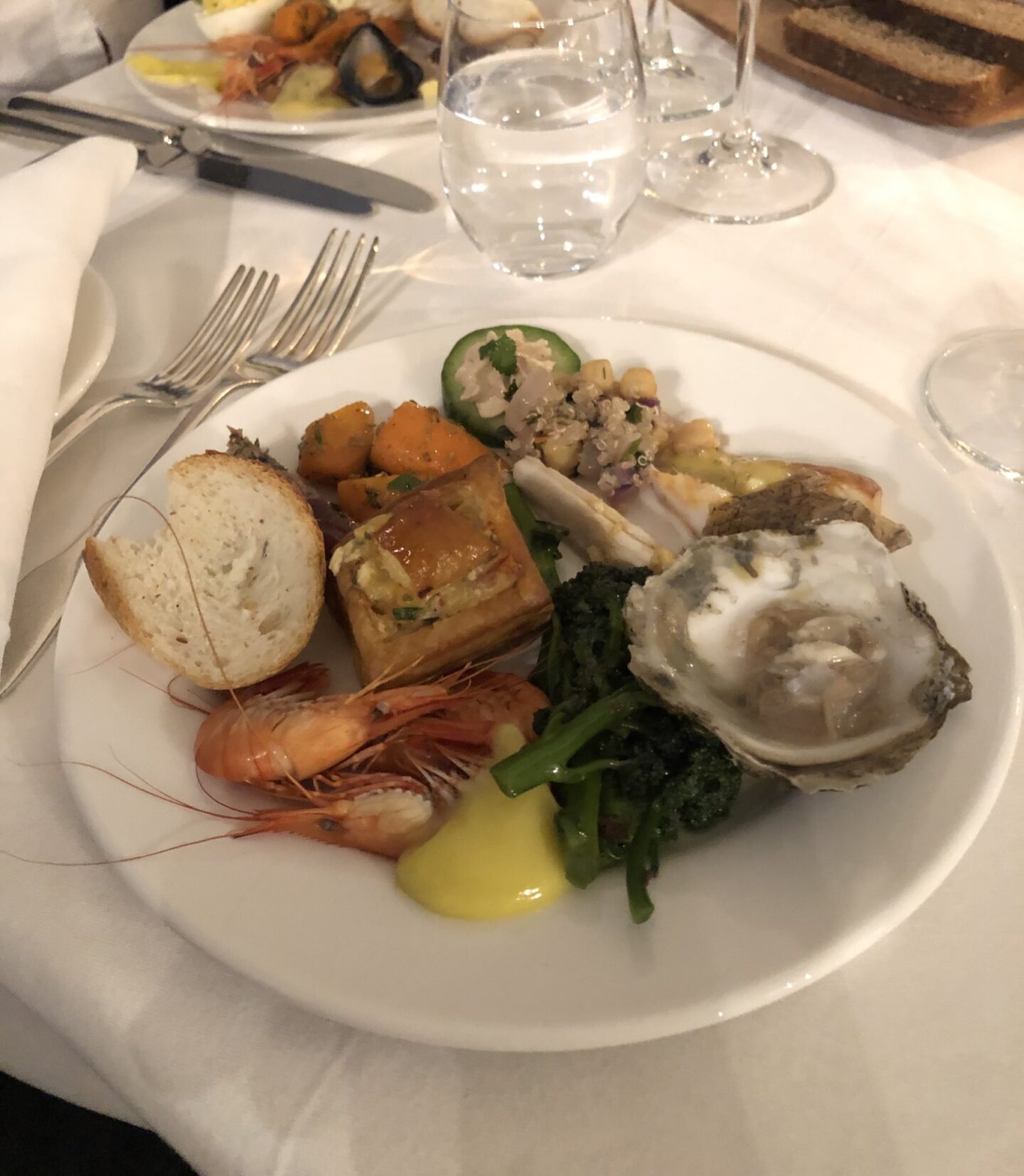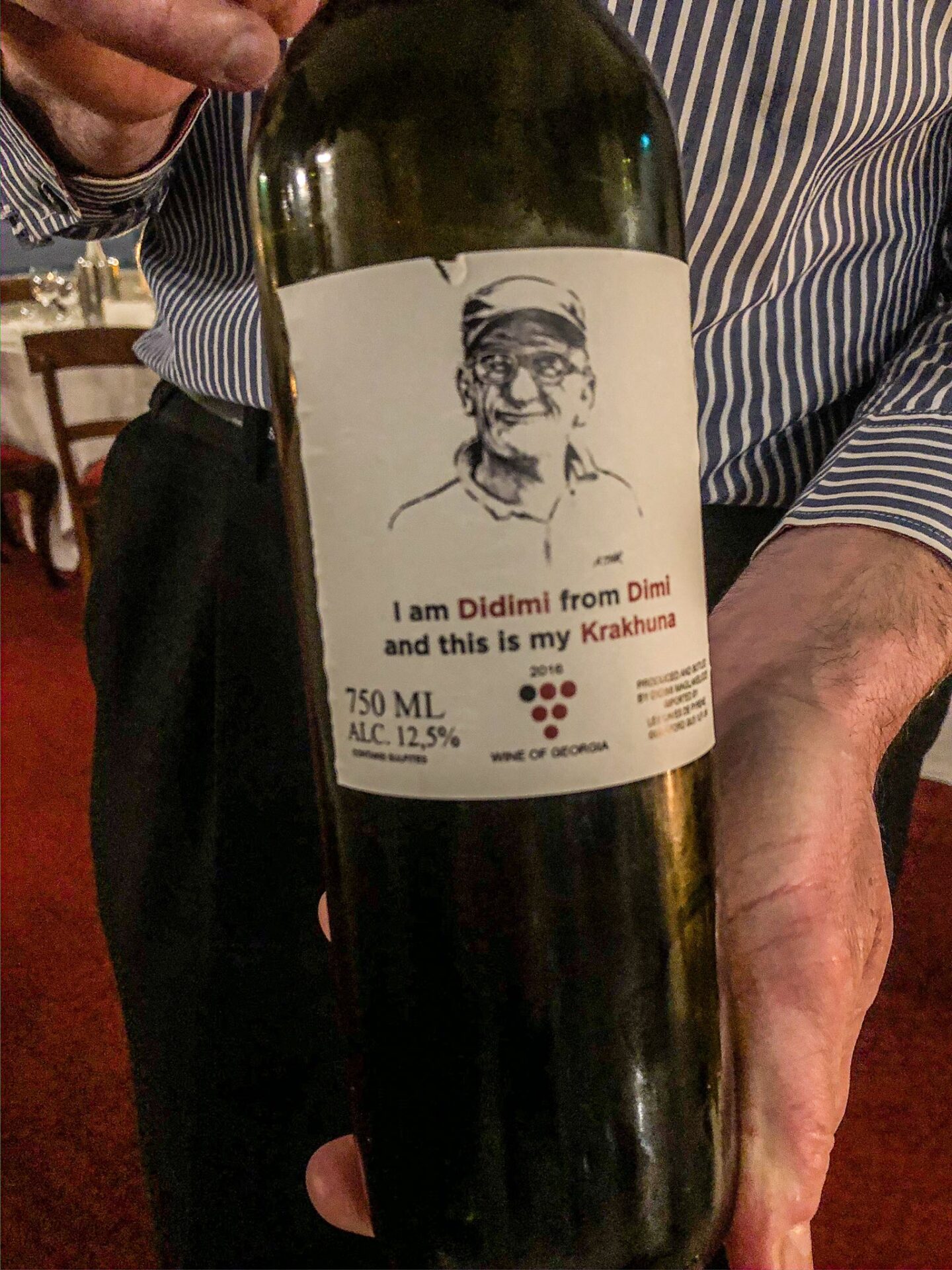 Plates loaded up, we returned to the table and split a bottle of the Georgian Krakuna – 'I am Didimi from Dimi' – which comes from the Imereti region of central Georgia. We've had Didimi's other wines before but this was the first of the white/orange style we enjoyed, and Samuel expertly knew to decant this twice to really bring out its flavours at the correct temperature.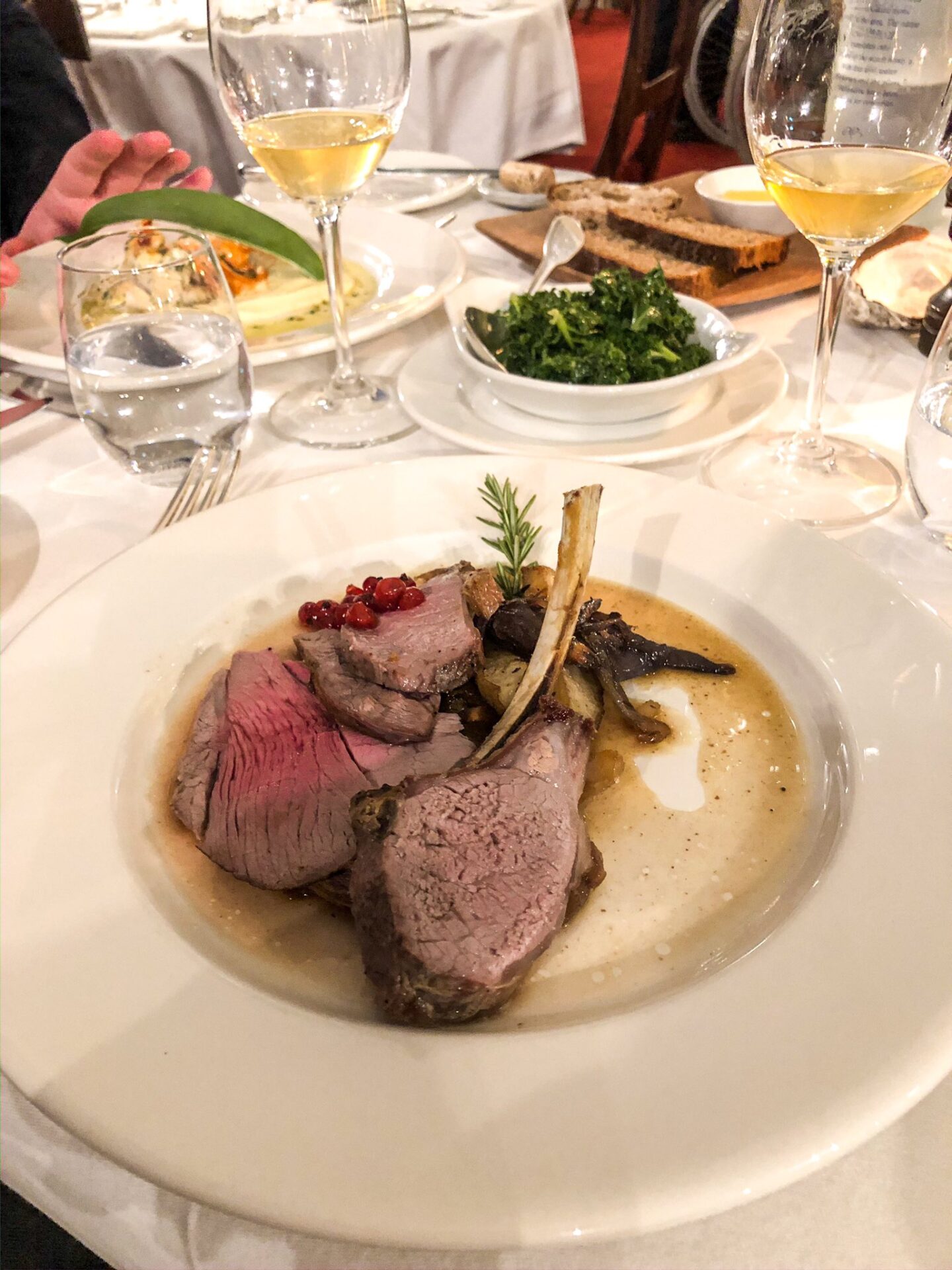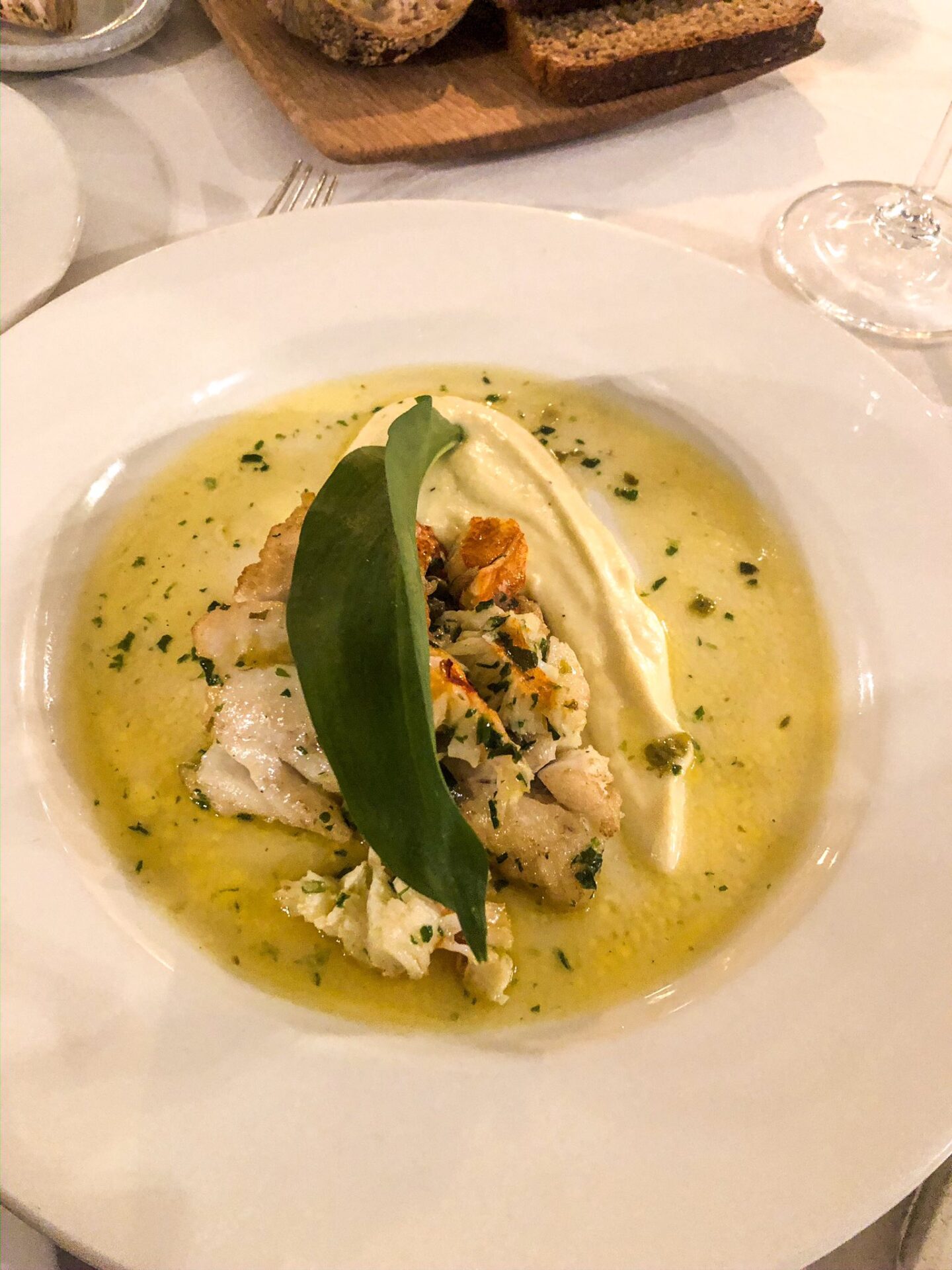 The mains were refined and elegantly served. Being early Spring, one of us had to go for the roast East cork lamb with mint Béarnaise and Jerusalem artichoke, whilst the other opted for pan-seaed Ballycotton cod with lobster with wild garlic and caper butter and cauliflower purée. All mains on the night were served with piped champ, sautéed kale and dressed garden leaves. Following mains, we took a little break to make room for the cheese course –– which, à la Française, is served before dessert. We savoured a sliver of all the different farmhouse cheeses, which come with Ballymaloe cheese biscuits and quince.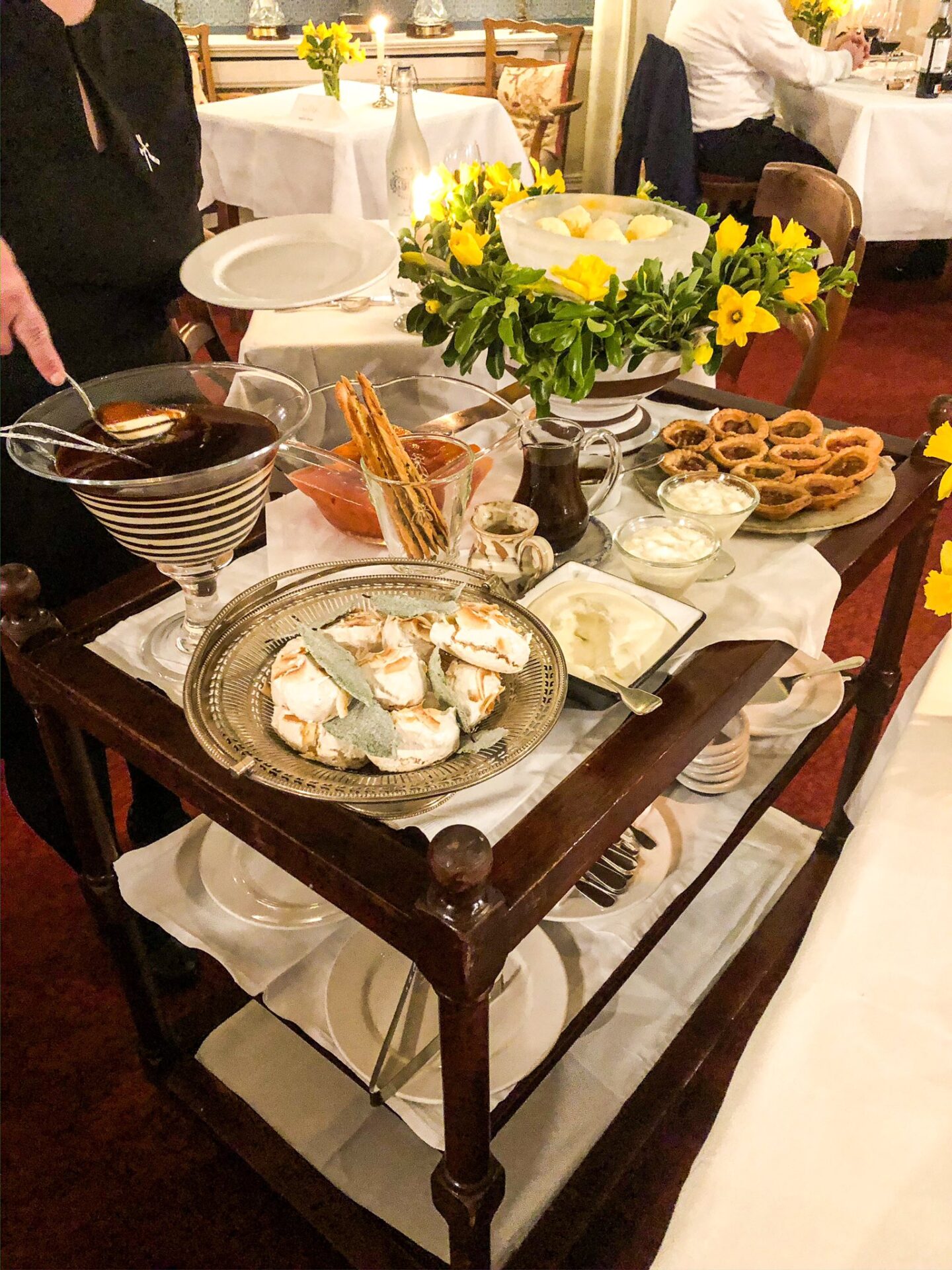 Naturally, as we're good friend with JR Ryall the House and restaurant's Head Pastry Chef, we had to delve all over the dessert trolley, which is usually 8-10 different desserts, again, depending on what comes in and out of season, but he tells us there are some staples he just simply can't remove or can't resist –– like the carrageen pudding, which we seem to remember has been on offer since day one, or as close as. So, being gluttons, we took a little bit of everything.
Dinner ends with some petit fours (we struggled to find room, but, stoicly soldiered on) and your choice of Barry's Tea or Golden Bean coffee. Sensational. The hors d'oeuvres buffet we really can't recommend enough –– what a special way to see Ballymaloe, dine within its restaurant and really get to grips with its food ethos.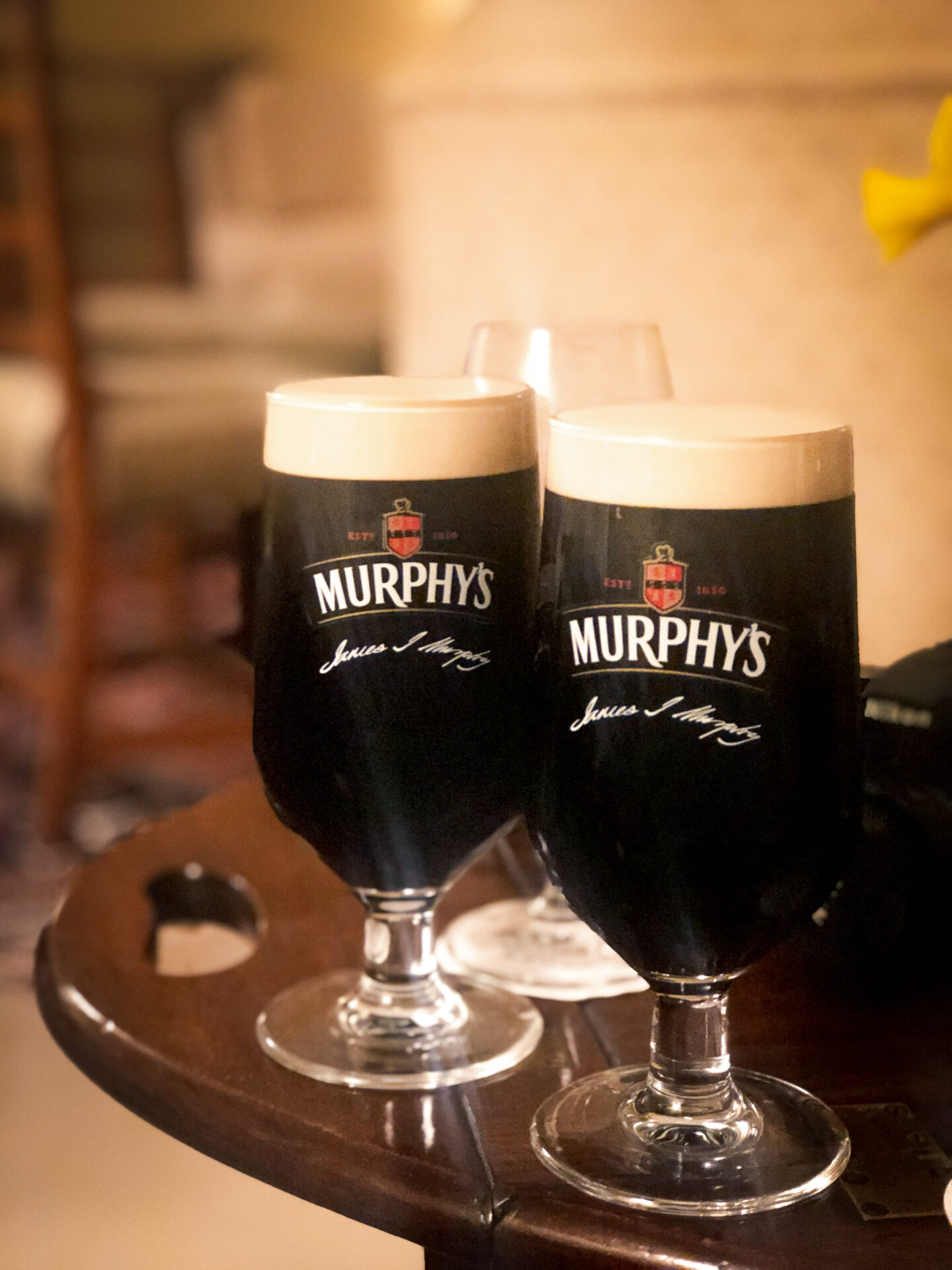 After dinner we retired to the drawing room, where naturally guests pivot for a postprandial, which in our case had to be Murphys -– the Cork stout rivalling Guinness. Where a fairly full Ballymaloe House with a number of couples as guests that weekend was also hosting a small wedding at the same time, somehow a live music session – led by Rory Allen strumming on the guitar – with almost the whole pax pulling up a stool or occupying a couch as we pivoted from Irish classics to requests, while the fire crackled and midnight approached.
The next morning. The breakfast – served in the same room – is truly one of the best Irish country house hotel breakfasts we've ever enjoyed. Everything fresh, elegant, an expansive selection and the warmest service that's like a good morning hug.
Ballymaloe Cookery School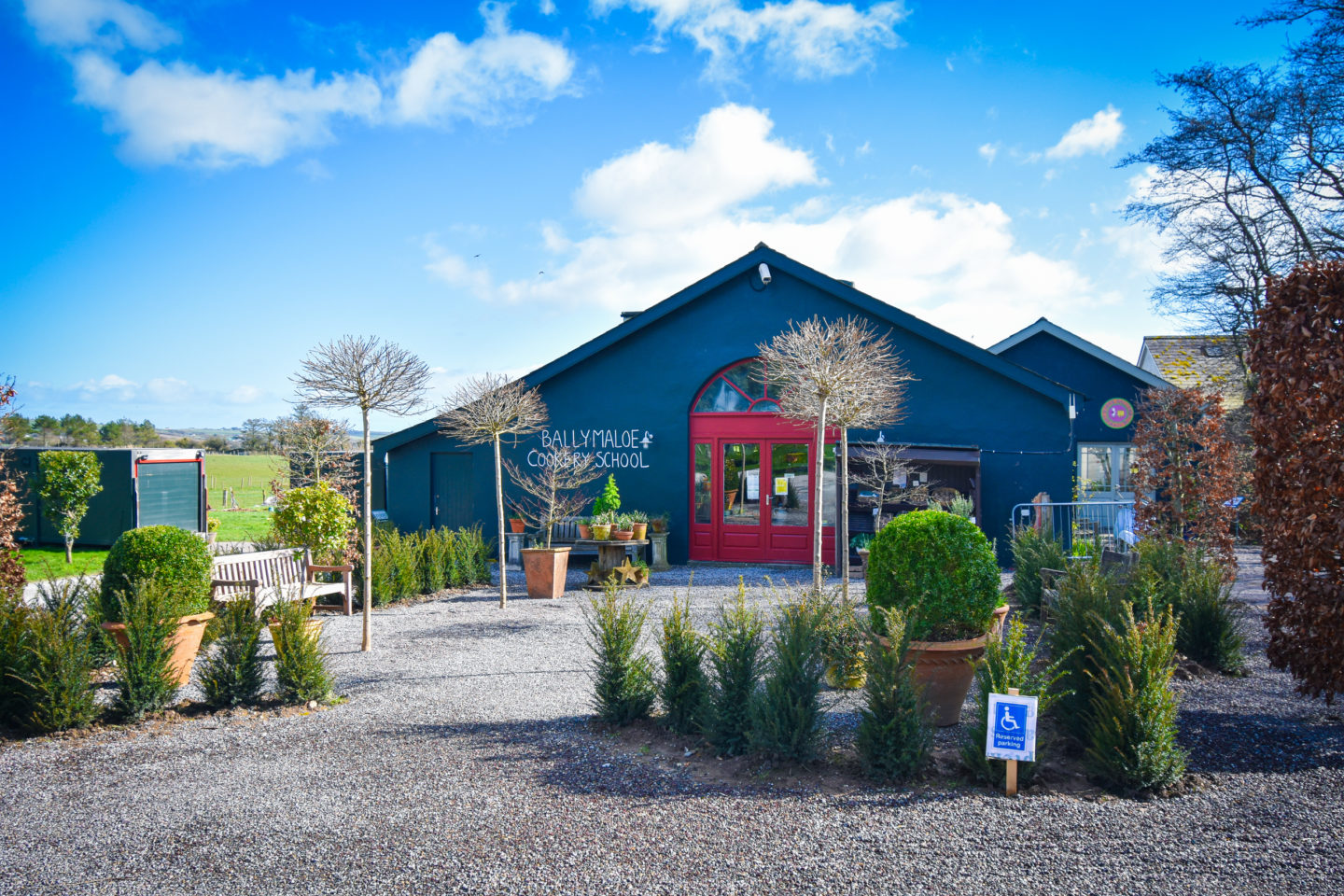 Though we've mentioned the iconic cookery school already within this lengthy feature, we're naturally focusing more on Ballymaloe House here. Though being a short drive away, we suggest getting to Ballymaloe Cookery School as a visitor or for one of their day courses.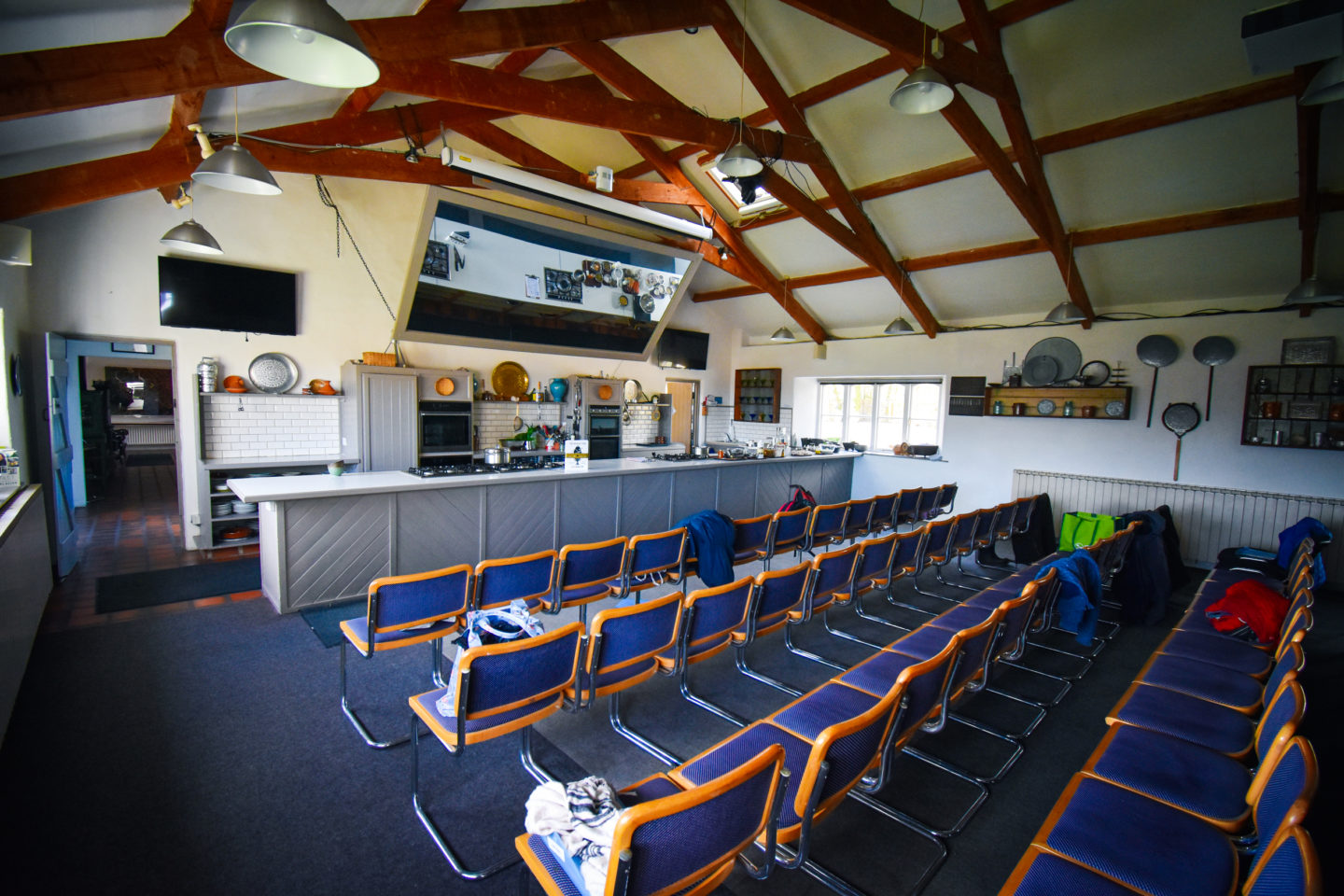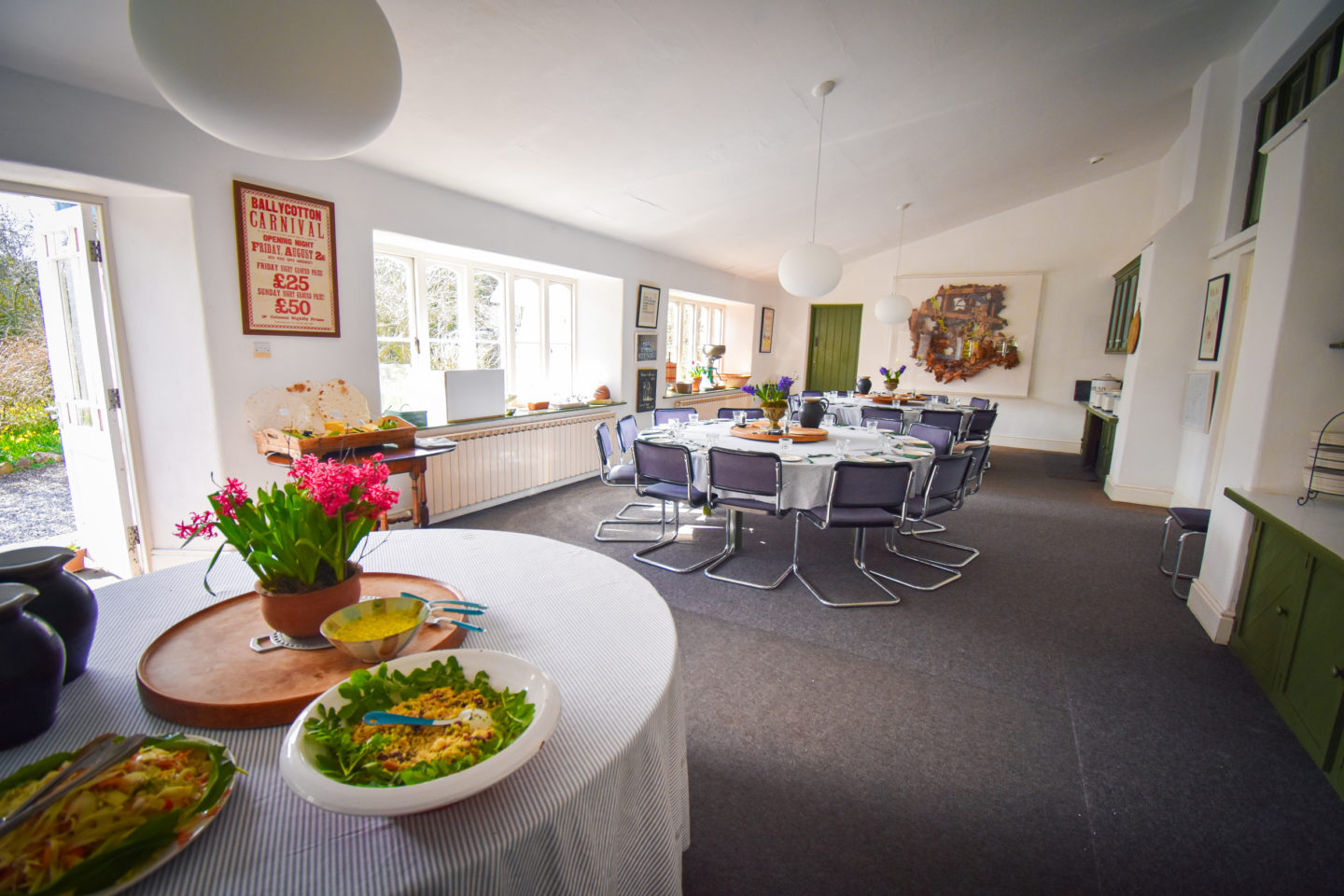 We were lucky enough to get to experience the student lunch on the Friday we visited, and we had a wonderful walk around the gardens (you can get a map at the shop/reception) whilst we also came back the next day to buy some stuff from the on-site shop (overseen by Toby and Penny Allen) and also to experience the Saturday Pizzas experience!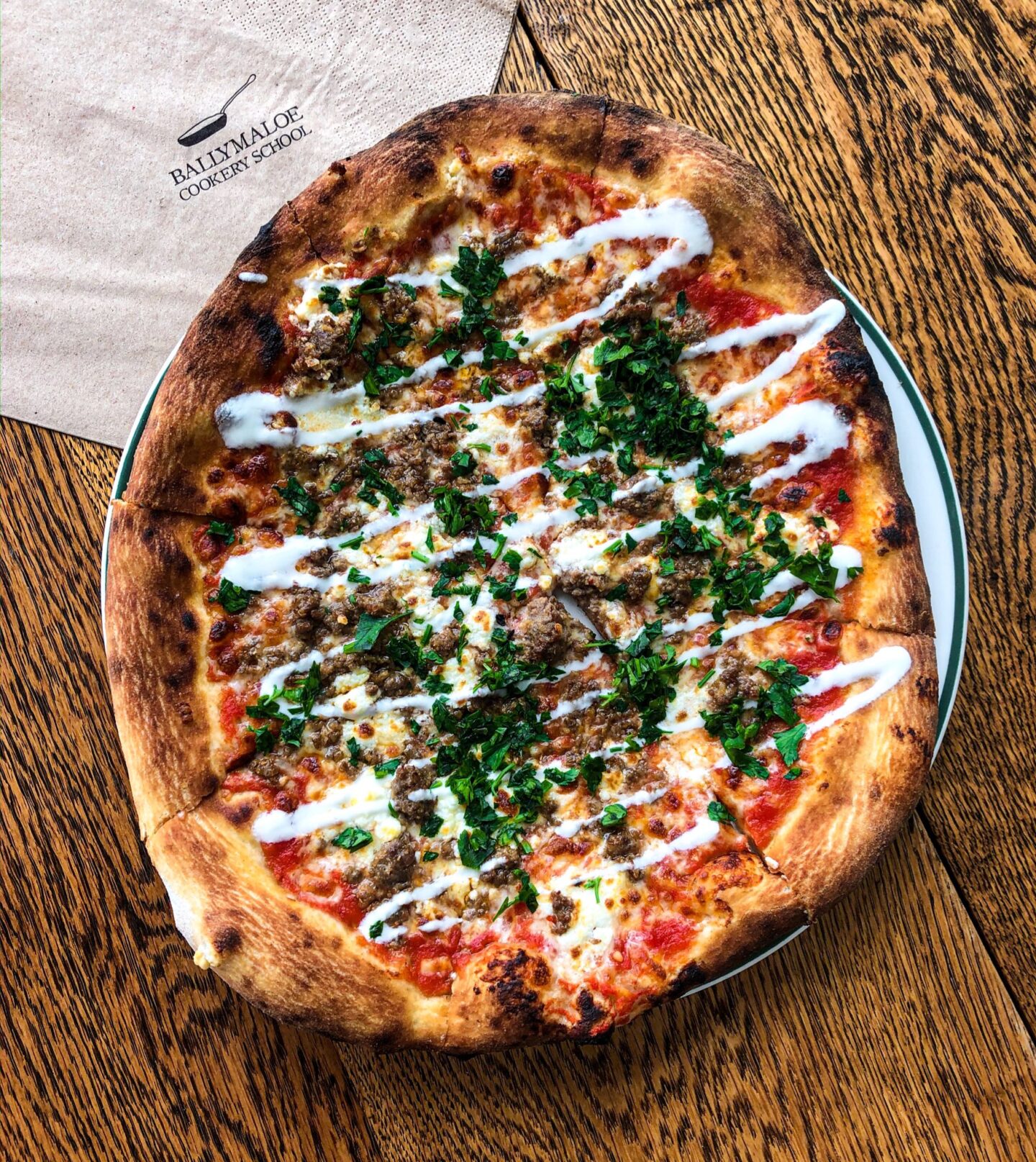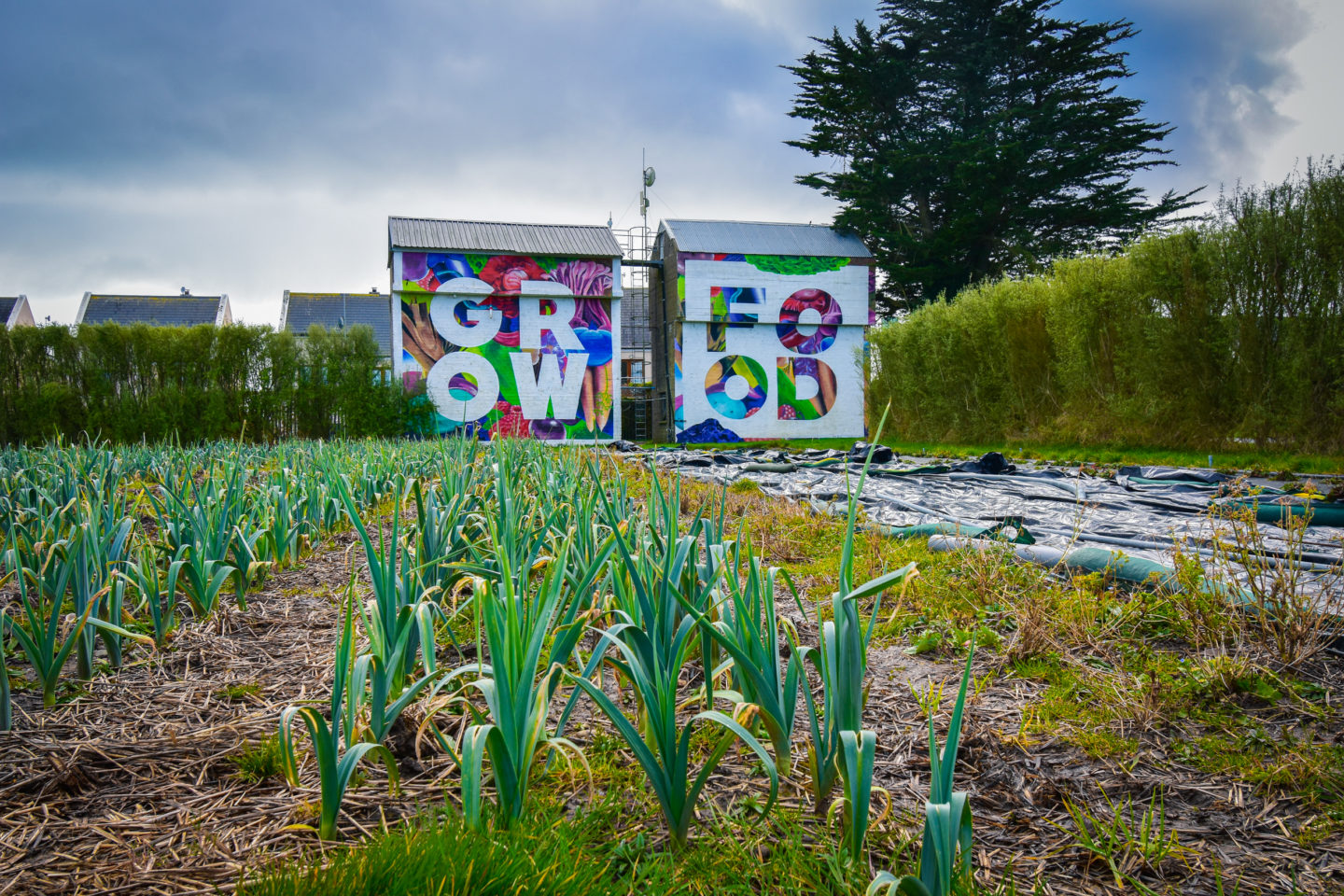 Then, we bid farewell. But not before one last glimpse at Ballymaloe House to soak up the final moments of our first stay here. The giant Myrtle tree outside is an incredibly fitting and fine specimen standing tall and protecting the property. It's no coincidence though –– the late Mrs. Allen was gifted the tree as a young child and whenever she moved throughout her life, she upped and replanted this tree. So wherever she went, it went too and there it stood so long as Mrs. Allen lived and will continue to stay following her death.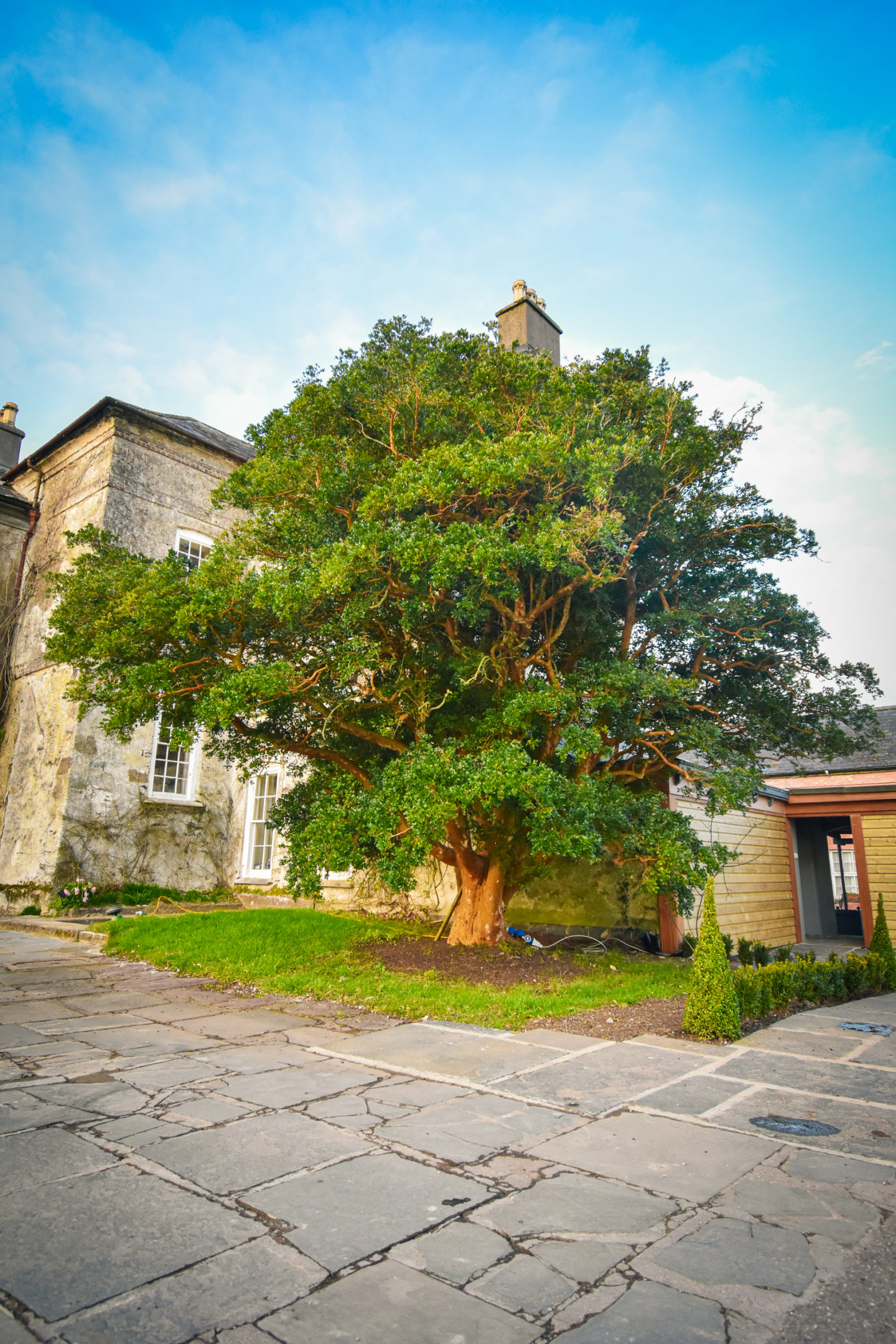 Now, almost 100 years old, it's still flourishing. Mrs. Allen will always live on in spirit, and in a beautifully poetic way there will always be a Myrtle at Ballymaloe House.
Disclaimer – As mentioned in the piece, we were invited to visit Ballymaloe by Ireland's Blue Book who had no involvement in the creation of any content on our socials or on this website. Views are all our own.