A recent trip of ours was a little different to anything we've done before because we didn't have a single thing booked and we didn't know where we're going. Honestly.
Whenever we plan a trip – and we've planned so many at this stage – we have a very clear plan that gets acted upon. After agonising over prices and dates it goes like this: Flights booked? Check. Accommodation booked? Check. Route from airport to hotel? Check. Then ensues the researching, a labour of love but one of our favourite aspects when we pinpoint the best restaurants, bars, places to shop and, of course, things to see and do. We love our food-led travels and we adore what we do. However, one of our recent trips was with Srprs.me and we were 100% clueless about where we'd be going and what we'd be doing!
We heard about Srprs.me from our friends Yaya & Lloyd of Hand Luggage Only a while back, and we fell in love with the idea. So when the opportunity to work with them on a trip – as they also offer Irish departures from Dublin after their UK launch a couple of years back – we jumped at the chance to try the Srprs.me experience for ourselves!
The concept might feel a little unnerving for the travel control freak, but we promise it's more exciting than anything else! There's something really refreshing about delegating all those niggling organisational details to someone else. There's something incredibly freeing about turning up to the airport unawares, staring blankly at the departures board and then jetting off into the unknown! A leap into the unknown and a dash of mystery can be the most amazing appetiser to travel.
So how does it work? You choose your theme (European city break or a corner of the continent – East, West, South or North…subject to availability), tell them your travel dates and the length of your break. Handily, to avoid a trip to somewhere you'e already been, you can let them know three places you *don't* want to go to, plus advise them on anything else they need to know. Though we adore them, we highlighted Portugal, Brussels and Sweden as we've explored each one pretty extensively over the past few years. We want something different and totally new to us! You have a choice between a hotel and a hostel, which is reflected in an overall price, too.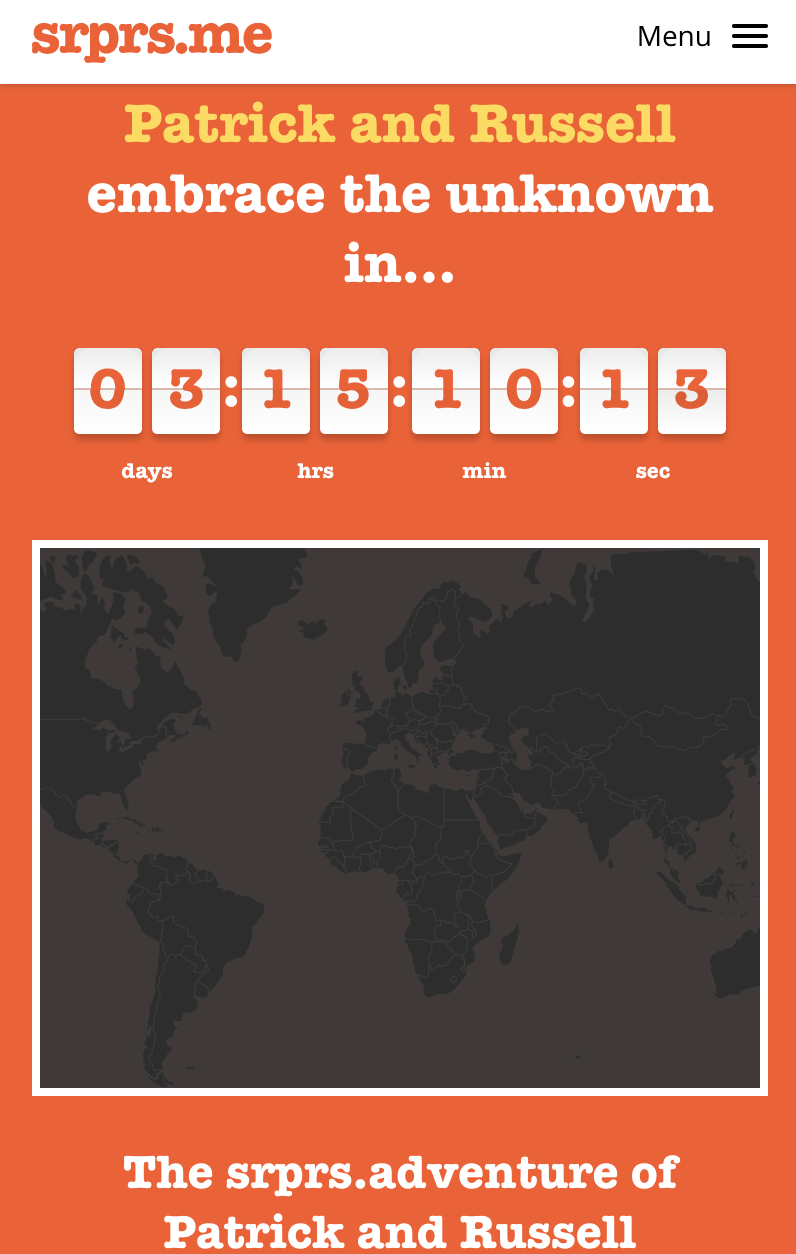 As the excitement builds, seven days beforehand you receive a weather update by email – indicating whether you need to pack the woolies or press your smalls with a general overview of what the weather and temperature in your destination will be. This makes packing super easy and also hints at the destination without giving anything away! Then, a little closer to your departure date, you'll receive some important post to your door – your srprs.me scratch card and a black envelope which is not to be opened! This contains your boarding passes and hotel information. The scratch card contains a code which you enter into the website when you're at the airport to reveal your destination. The black envelope contains your boarding passes and hotel information, so you must resist all temptation to open it and spoil the surprise.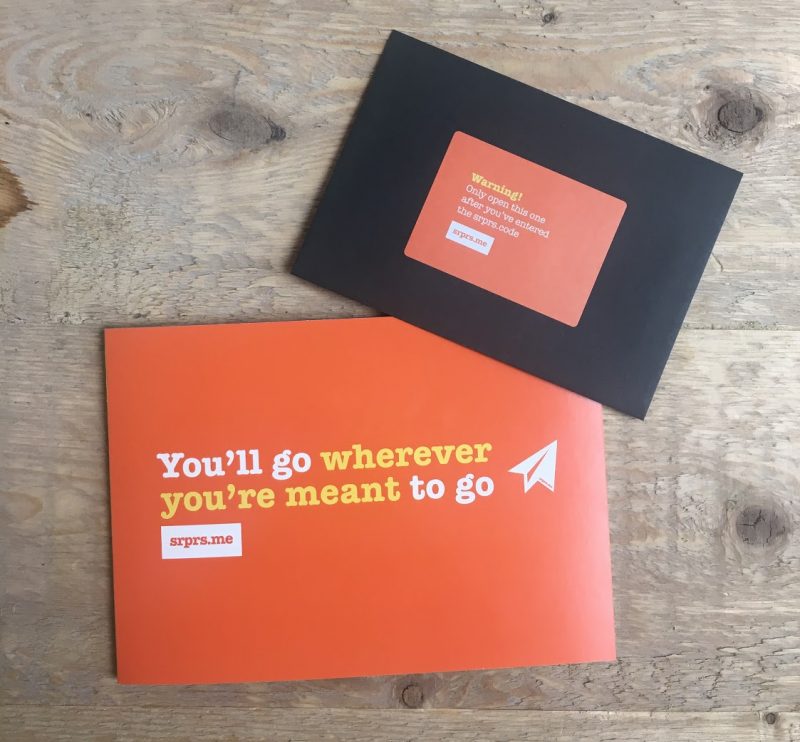 For us, we rocked up to Dublin Airport super early on a Wednesday morning in April, still totally unaware of where we'd be spending the following few days. As the code was entered, our destination was unlocked and slowly the words "Zadar (Croatia)" began being revealed on screen! A place we've never been, heard very little about and somewhere totally exciting that we couldn't wait to travel to – ticking all of the Srprs.Me boxes perfectly! Other than a very brief pitstop in Dubrovnik a couple of years ago on our week-long trip around the Montenegro Coast and Kotor (click through for our guide) we've never been to Croatia before so it was a great experience to be in a new country.
After the destination was unlocked, almost instantly then arrived an email confirming our accommodation details. So, with about 90 minutes to go before boarding, we set off Googling things to do in Zadar, essential bits of info like "How to get from Zadar Airport to the old town" as well as, of course, "top places to eat in Zadar"! It's all the things we do anyway when planning a trip, except ultra condensed into the hour or so before we hop on a plane and depart. We loved it!
Srprs.me as a concept might not be everyone's cup of tea in theory, but if you're looking for a little excitement for a future trip it's a fabulously refreshing idea. Why bother being bored with the same old destinations (or being restricted to the cheapest short-haul trips)? Stop stressing over the planning of every minute detail. Throw caution to the wind every once in a while, we say.
This is the perfect gift for anyone bitten by the wanderlust bug or on the adventurous side; likewise a perfect wedding present or even a leaving gift for a colleague. The world is your oyster – and so much of it still remains unseen, take a chance!
Fancy seeing what we got up to? Our guide to Zadar can be read here!.
Disclaimer: [COLLAB] we collaborated with Srprs.me to fulfil this trip, who kindly offered us the opportunity to trial the service. Opinions and suggestions are our own.