Slice by slice… Is how we devour youuu…
This is part of our Eurovision series – offering you ideas for simple, easy-to-eat recipes when you're entertaining a big group of Euro-fans on Eurovision Final night, or just set up in front of the TV mid-week as the semi-finals entice and entertain.
Who doesn't love pizza? Though purists may suggest Tipo '00' flour, we simply can't be bothered. Some other choice recipe writers may stock their larder with everything organic, specialist international ingredients and hard-to-find eccentric jars, bottles and kitchen accoutrements, but we like to keep it very simple. 
Let's keep it real here, people. Most of the time when we buy 'specialist' flours they spend months in our cupboard, glazed over often in favour of traditonal varieties, as we promise that we will "hold off" for that special occasion to use them. Most of them are still collecting dust rather than satisfying our stomachs… Which is why we love using spelt flour, it feels as if you're being really exotic and adventurous (and even healthy) though you're simply just using an ancient grain, ground into flour, not unlike your bog standard stash of plain white.
Spelt has far superior flavour and texture. We adore the nutty notes of spelt flour; the coarser texture; the gentle tan colour. It's great in scones, delicious in a bread mix and fantastic for crumble topping. We also use it for our go-to spelt pizza bases.
Aforementioned dinner – this is rusty's pizza plate. Bacon, mushroom and ricotta #nofiter #noweating pic.twitter.com/nk9PRZAu0L — GastroGays (@GastroGays) May 12, 2014
Just like our Belgian carbonnade recipe – which we posted last week in this same series – this spelt pizza dough recipe first appeared in an issue in Gay Times Magazine. Our column for the April 2015 issue talked to readers about how this super simple kitchen staple can be made at any time of the year. Freeze the dough and away you go – this will happily live in the freezer for weeks, months even, before taking out the night before a big party and making everyone literally sing with happiness once this crisp cruncher comes out of a piping hot oven.
Better yet, why not get your guests involved! Give 'em each a country in the sweepstakes and make them customise their own dough with a variety of toppings, whether in the colours of the country's flag; using that particular country's ingredients; or inspired by the artist/song themselves. Guaranteed to be a laugh and gorgeous to eat too!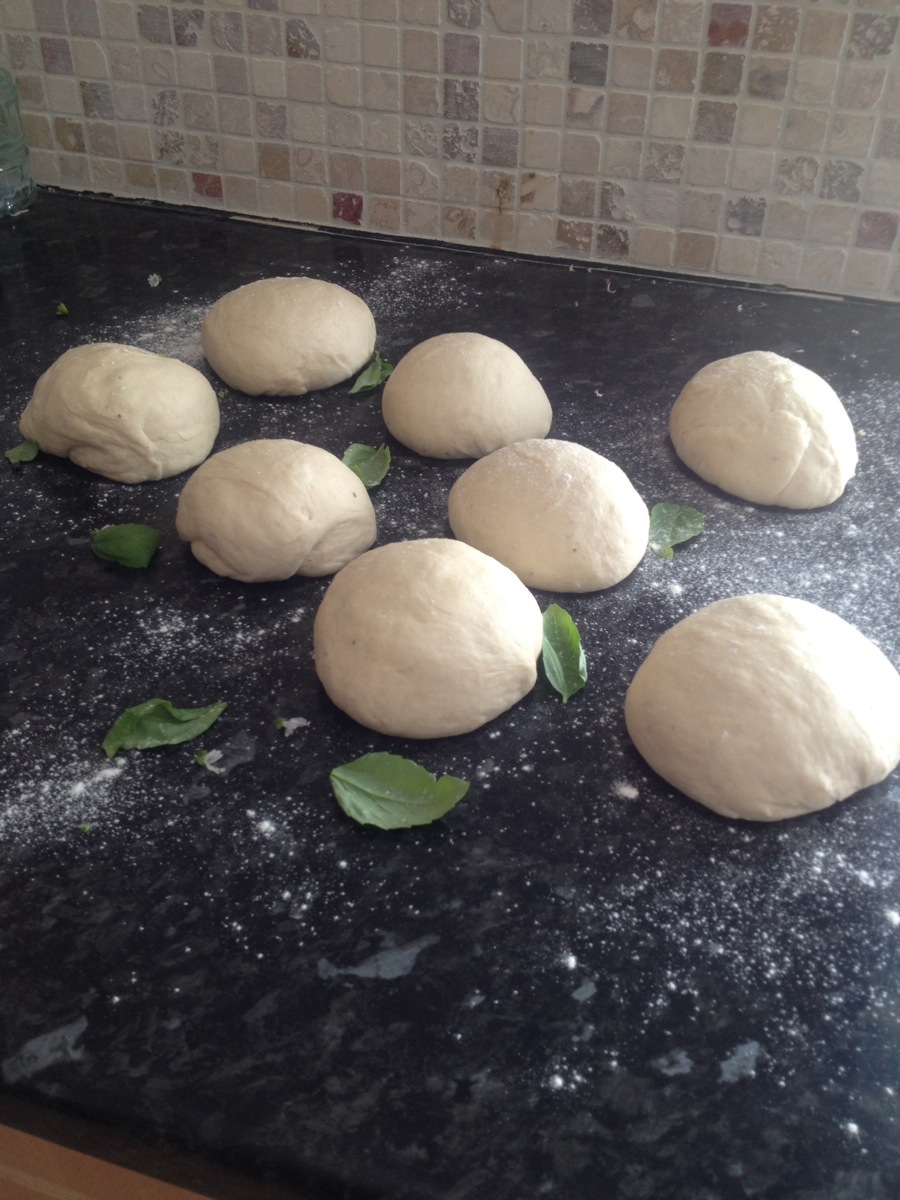 We've made these a million times (hence the variety of pictures!) This recipe will happily serve 8-10 people in individual pizza portions.
Spelt
Pizzas
• 650g strong white flour
• 300g spelt flour
• 10g fast-action, dried yeast
• 75ml rapeseed oil
• 500-550ml water
• Toppings and sauce of your choice
1. Weigh out everything but the wet ingredients in a large mixing bowl, making sure to keep the yeast and salt at opposite ends. Add the oil and then begin to add the water, swirling your hand in the mixture to incorporate everything. Keep adding water until you've got sticky but workable dough.
2. Tip out onto the work surface and begin to knead. Stretch and elongate the dough to strengthen the gluten. Work for a good 10-15 minutes until the dough is smooth and elastic, but you can use a stand mixer if you have one and use the time to get some spritz cocktails on the go! Prove for about 30 minutes.
3. Next, divide into eight. At this point you can put the dough into sandwich bags and freeze or pop into the fridge, and you can do this two to three days before the occasion. Flavour in dough develops with time.
4. When ready to bake, pre-heat the oven to as hot as possible with a large, flat, heavy tray or stone. Take out the portions of dough you need and dust the work surface with a mix of flour and polenta. Stretch, or roll, your dough slowly and carefully as you ease it into shape. It will feel light, thin and stretched but will hold it's shape if teased out correctly.
5. When to size, place the dough into the flour and polenta and begin to add your sauce and toppings. The best thing about pizzas is they can satisfy the most adventurous and the most cautious eater in the same sitting so get people involved and allow them to top with whatever they like.
6. Quickly take out the sheet, put the pizza on and bake for 12-18 minutes, until crisp and dry on the edges, with the topping melted and crisp in the middle. Serve these spelt pizzas hot, we like to drizzle some chilli-infused honey and freshly ground black pepper.
Find more of our Eurovision recipes to make and bake before your viewing party…