In Paid Partnership with Foods and Wines From Spain
Did you know Spain recently overtook Australia as the second most-enjoyed wine producing region for Irish consumers? Chile still just about edges that top spot, but Spain has been on an upward trajectory in recent years and counts more fans amongst Irish palates than that of the vineyards of fellow European heavyweights like France or Italy.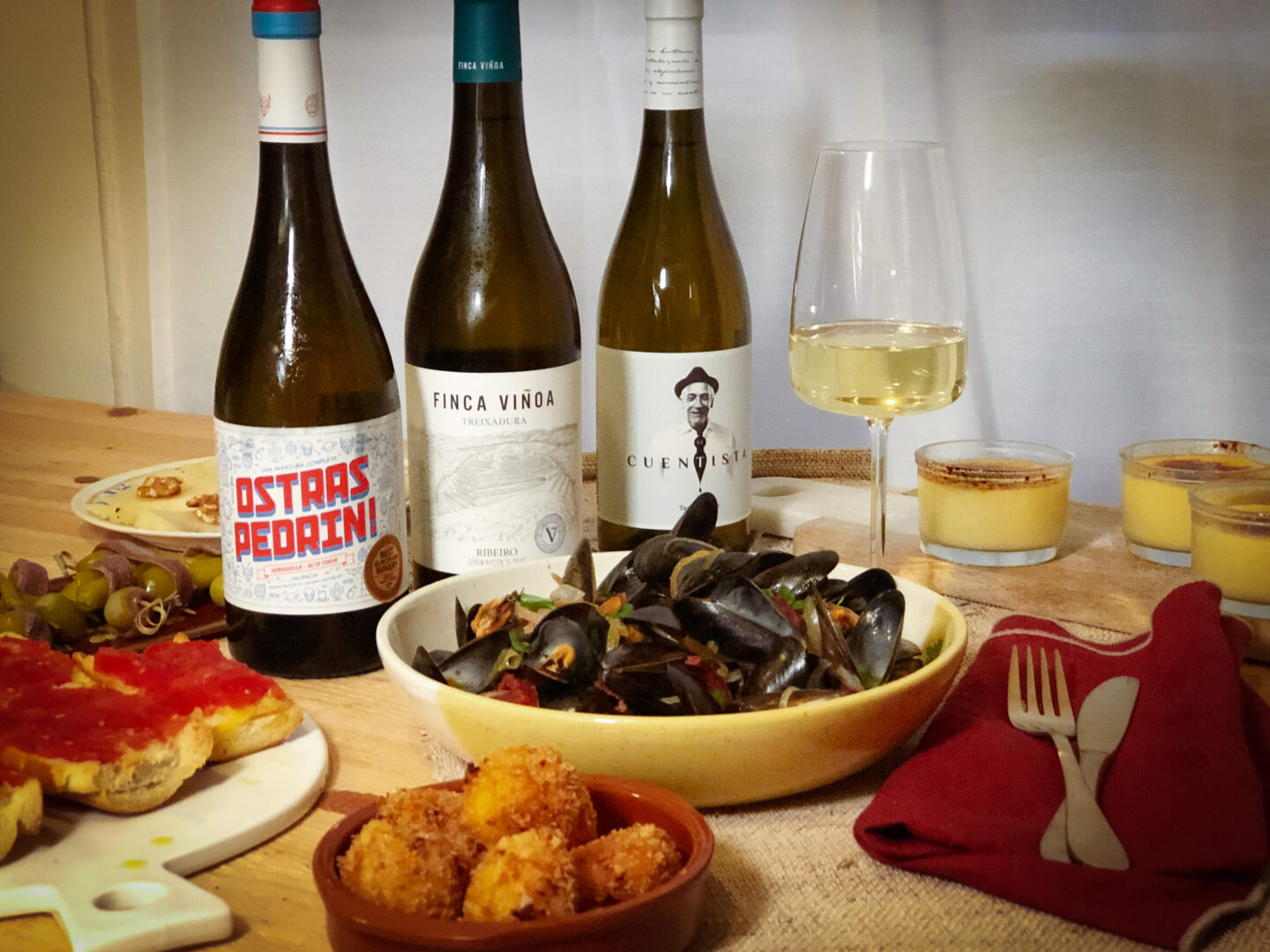 For Spanish Wine Week 2020 – 12-18 October 2020, the fifth annual outing of the yearly, week-long celebration of Spanish wines with delicious dishes – things are organised a little differently. Tapas trails and restaurant dining is replaced by online guided tastings, wine deliveries and make-at-home recipes, hampers or meal kits. Most activities have a digital slant, but that doesn't mean the enjoyment should be any different and hats off to the importers, chefs, independent wine shops and distributors who are still working at max speed to try to make this #SpanishWineWeek as memorable and enjoyable as ever!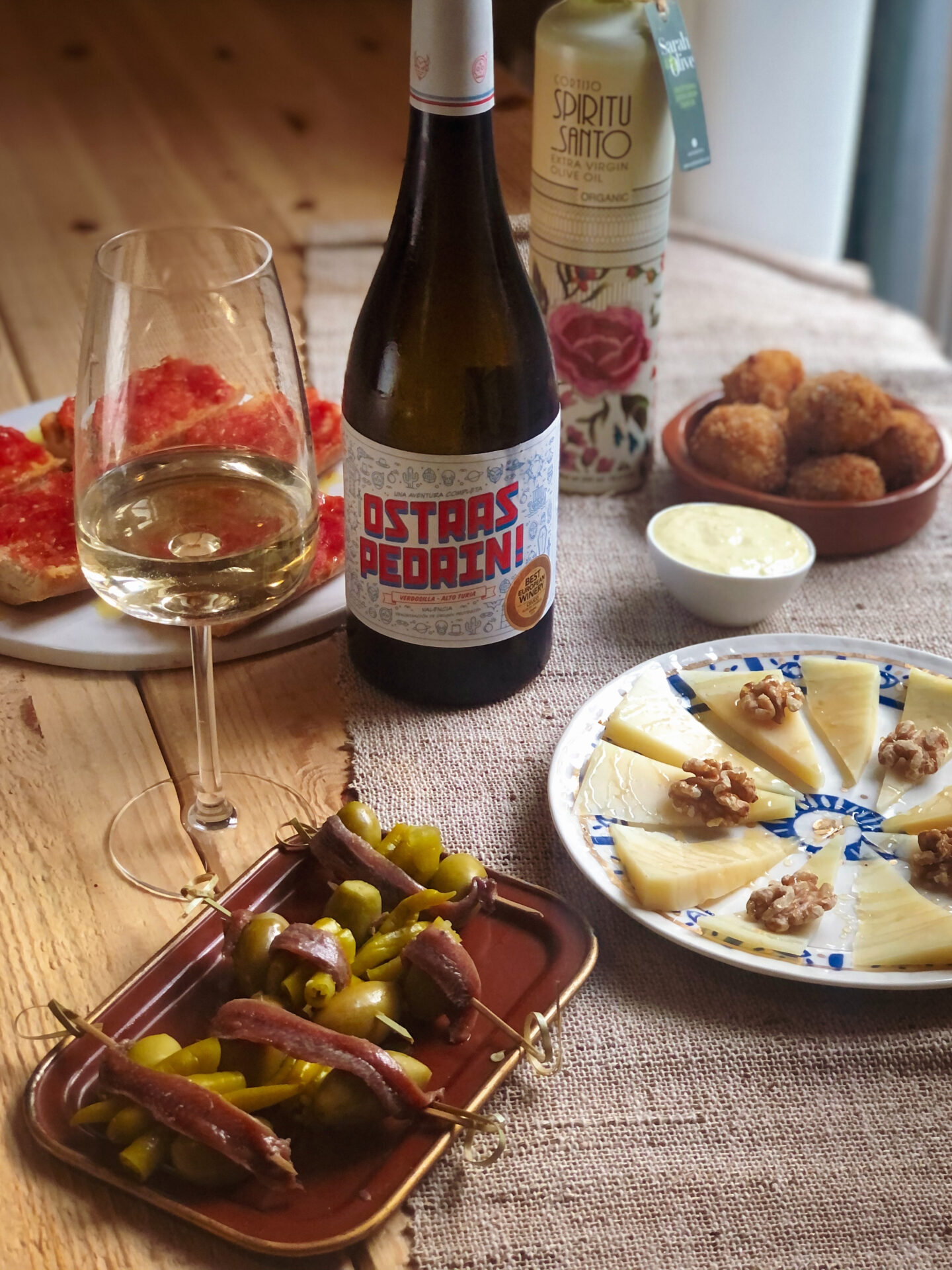 So this is where we come in –– we've devised a couple of recipes with direct Spanish inspiration to pair with three very unique Spanish wines, to offer you a taste or a guide for how to pair these delicious flavours of Spain. We've gone a bit rogue in that we're focusing on three Spanish whites, from three different regions (Galicia, Castilla y León and Valencia) and three very unique expressions –– two from native grapes you've probably never heard and one from a grape you already know and love but produced in a completely different way.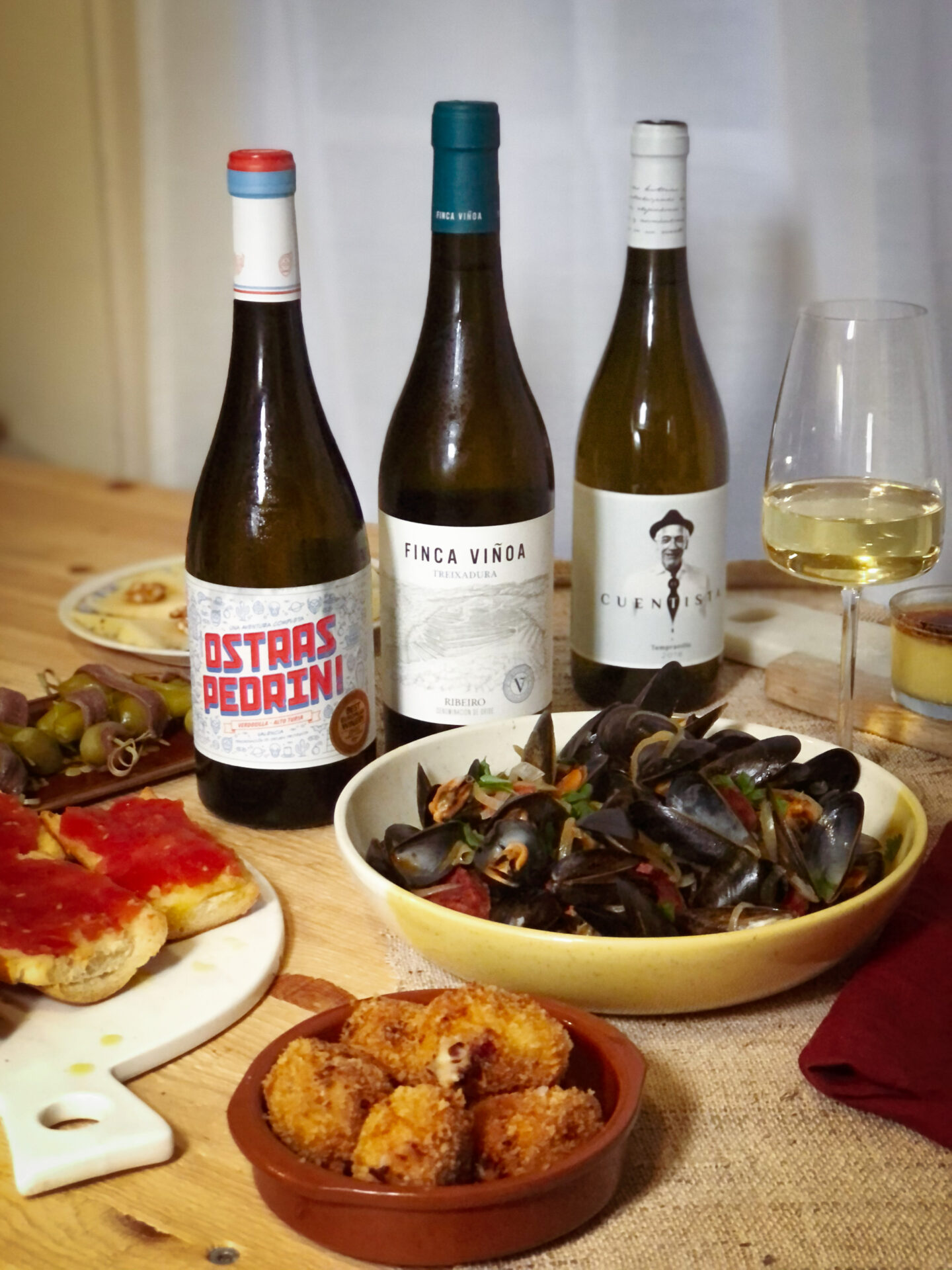 All that's left to say is: ¡Salud! and happy Spanish Wine Week 2020, and if you make any of these recipes or are enjoying some Spanish wine we'd love to see it, and tag us on Instagram or Twitter…
Introductory Bite: Tapas & Pintxos!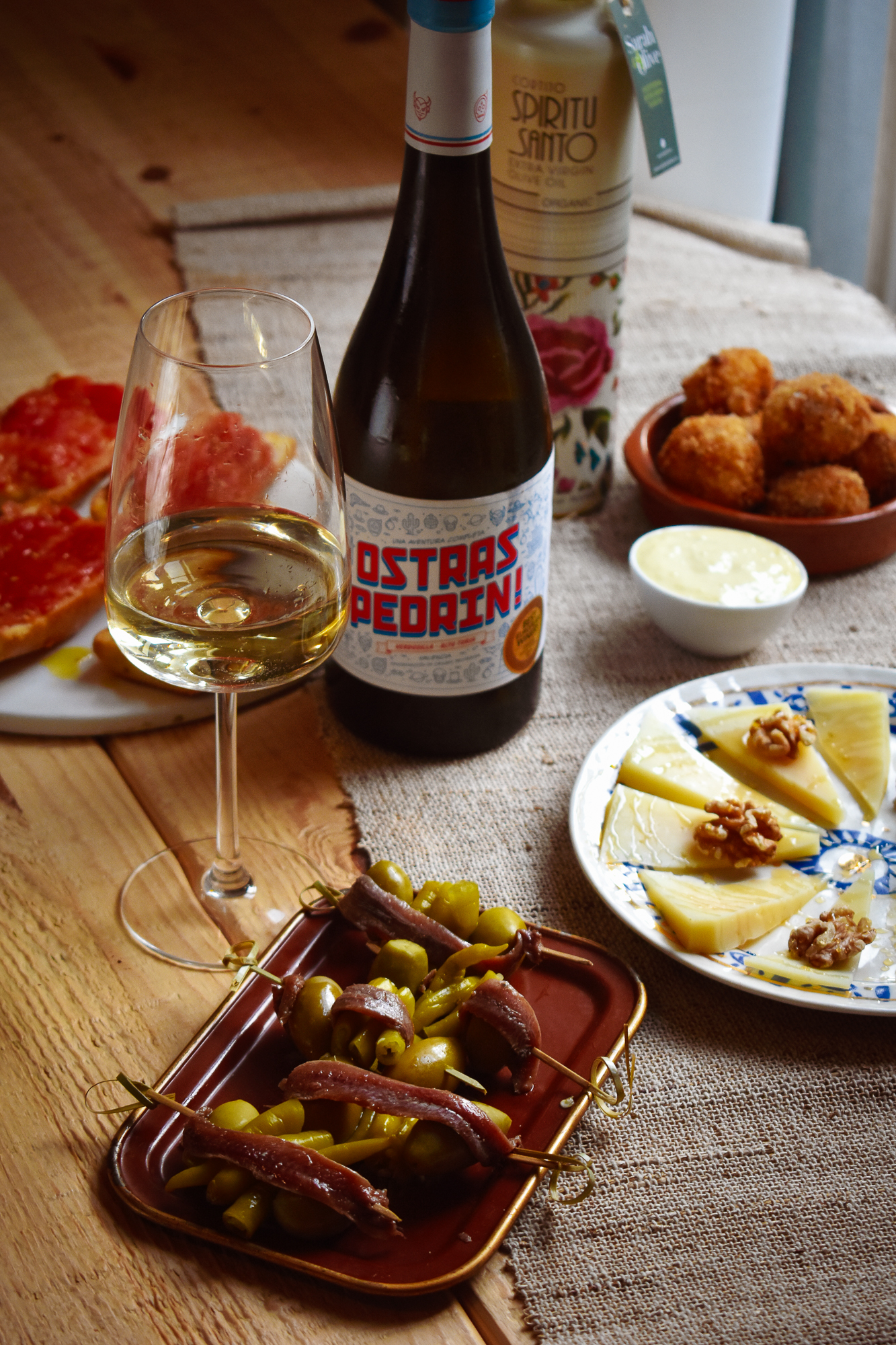 Spanish dining is all about conviviality, and that's what makes Spanish cuisine so inviting, tempting and remarkable, but – to us – it's one of the most incredible cuisines for pairing its flavours between dishes and wines. The diversity of pintxos and tapas dishes mean that you can grab a little bite or share a taste of something with family, friends or a partner and then move on to another nibble, and another, and another, so we've chosen an all-rounder that's accessible and exciting to pair with three or four different bites.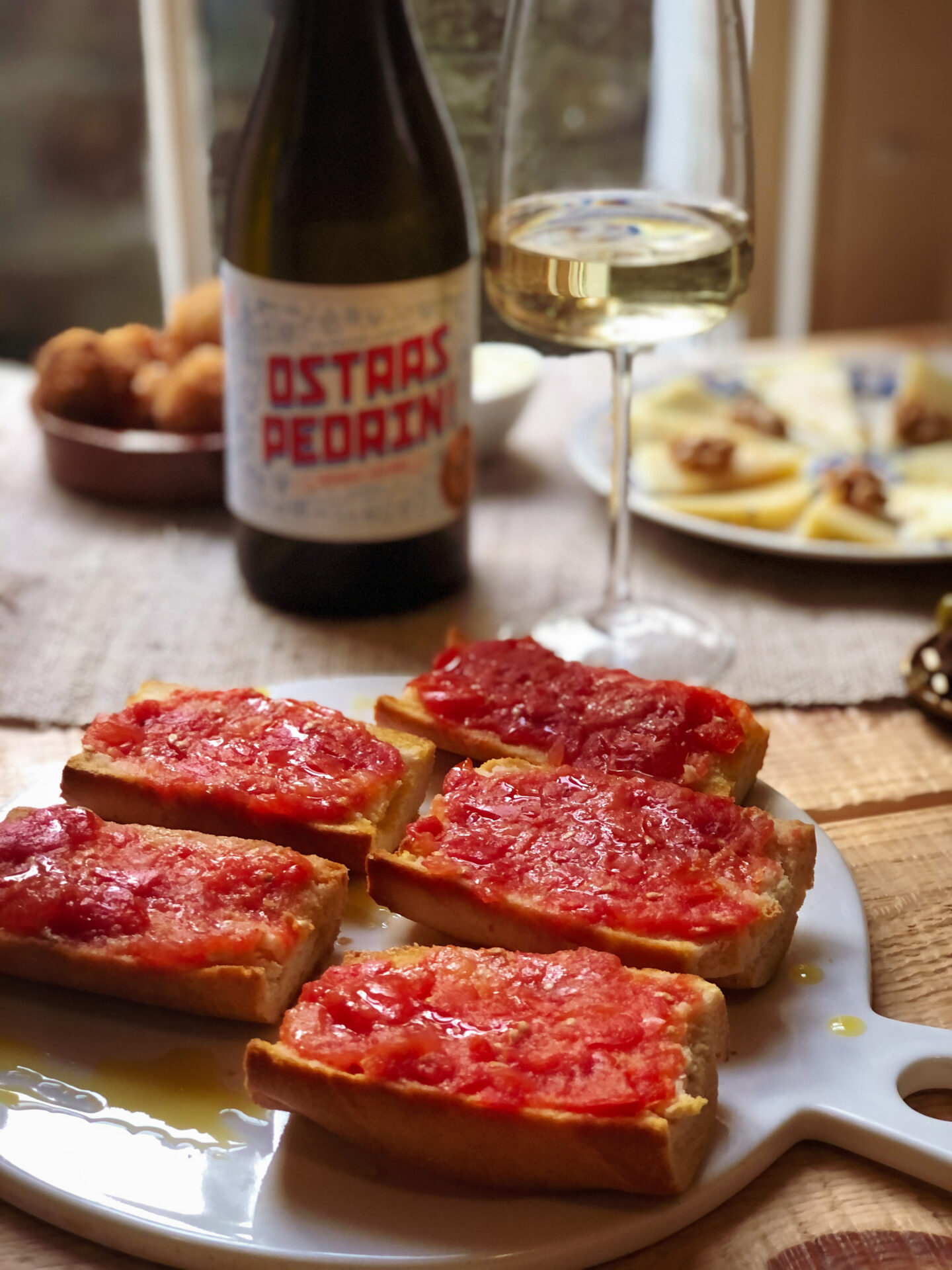 Before we delve further, worth mentioning most of the ingredients in the five or six recipes we're sharing here come from a wonderfully curated selection of authentic ingredients direct from Spain sourced from Terra Foods and Wines, based in Tralee, Co. Kerry. This is a true treasure trove of Iberian flavours, and another special shout-out to Sarah & Olive who source the most incredible single estate Andalusian olive oils. Sarah Merrigan sells these award-winning oils to stockists across Ireland and also direct to customers online. We can't recommend both enough.
Wine Pairing: Ostras Pedrin! Verdosilla 2019 D.O Valencia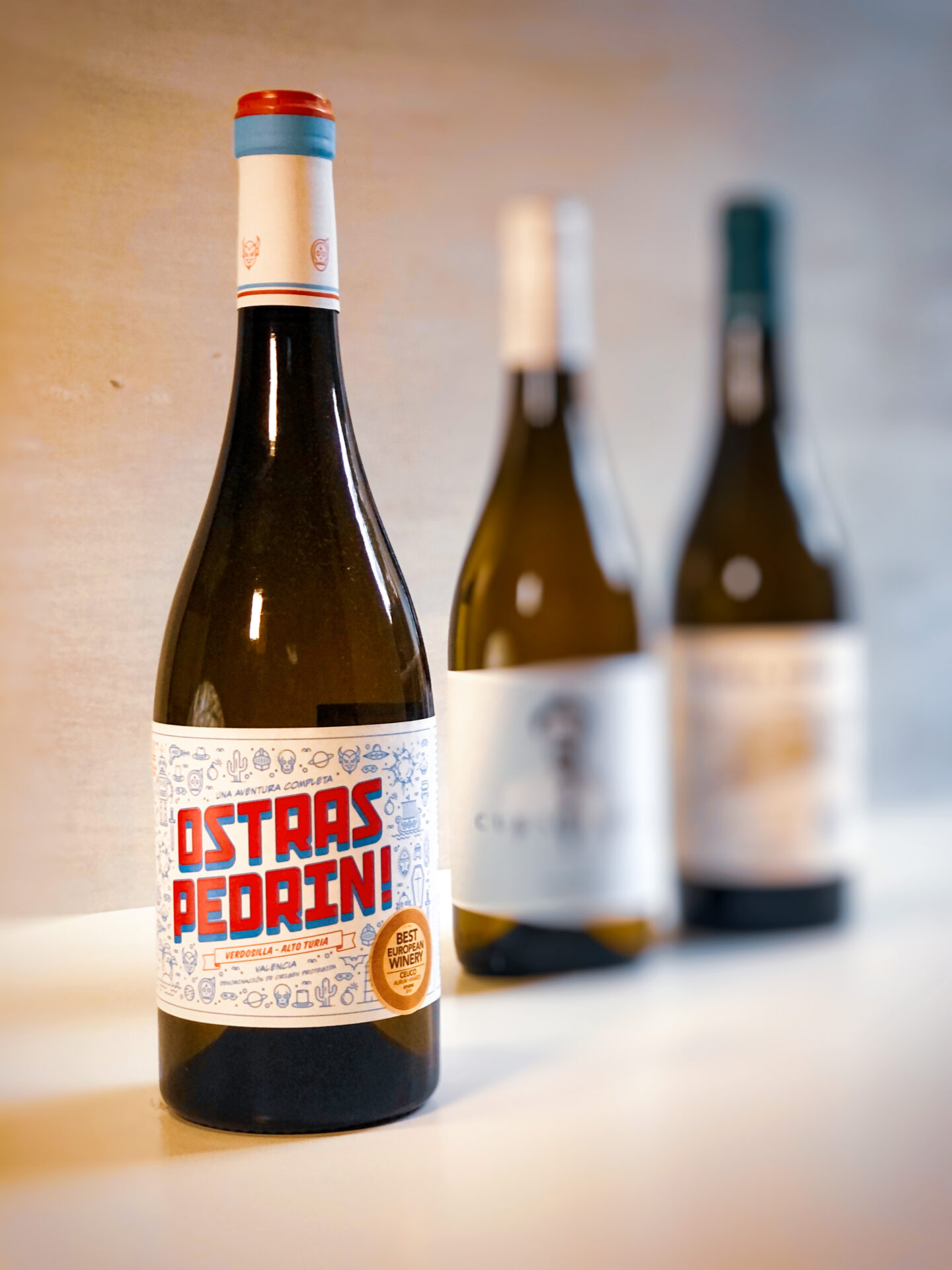 So, to pair with these tapas and pintxos, this is a label that pulls focus immediately, this is 100% Verdosilla –– a fairly rare, native grape to the Valencia region on the Eastern coast of Spain by the Balearic Sea. Grown in the sandy-soiled Alto Turia area just north west of the city of Valencia this comes from an altitude about as high as Carrauntoohil, the highest mountain in Ireland!
A beautiful pale yellow colour with zesty, lightly floral aroma of juicy pear and sweet melon, there's a very slight tropical note to this but on the palate you'll enjoy hints of buttery brioche, honey and yeast cut with grapefruit and lemon acidity with a long finish. Pick this up in your local SuperValu.
Gildas
The most famous pintxo of them all, and probably the most delicious –– a gilda is a simple combination of sharp, spice, sweet, salt and a little sour on a cocktail stick. In fact, this is the style of pintxos that even gave this way of eating its name as the word stems from the spike/pincer/spear action and you'll find these everywhere in San Sebastián.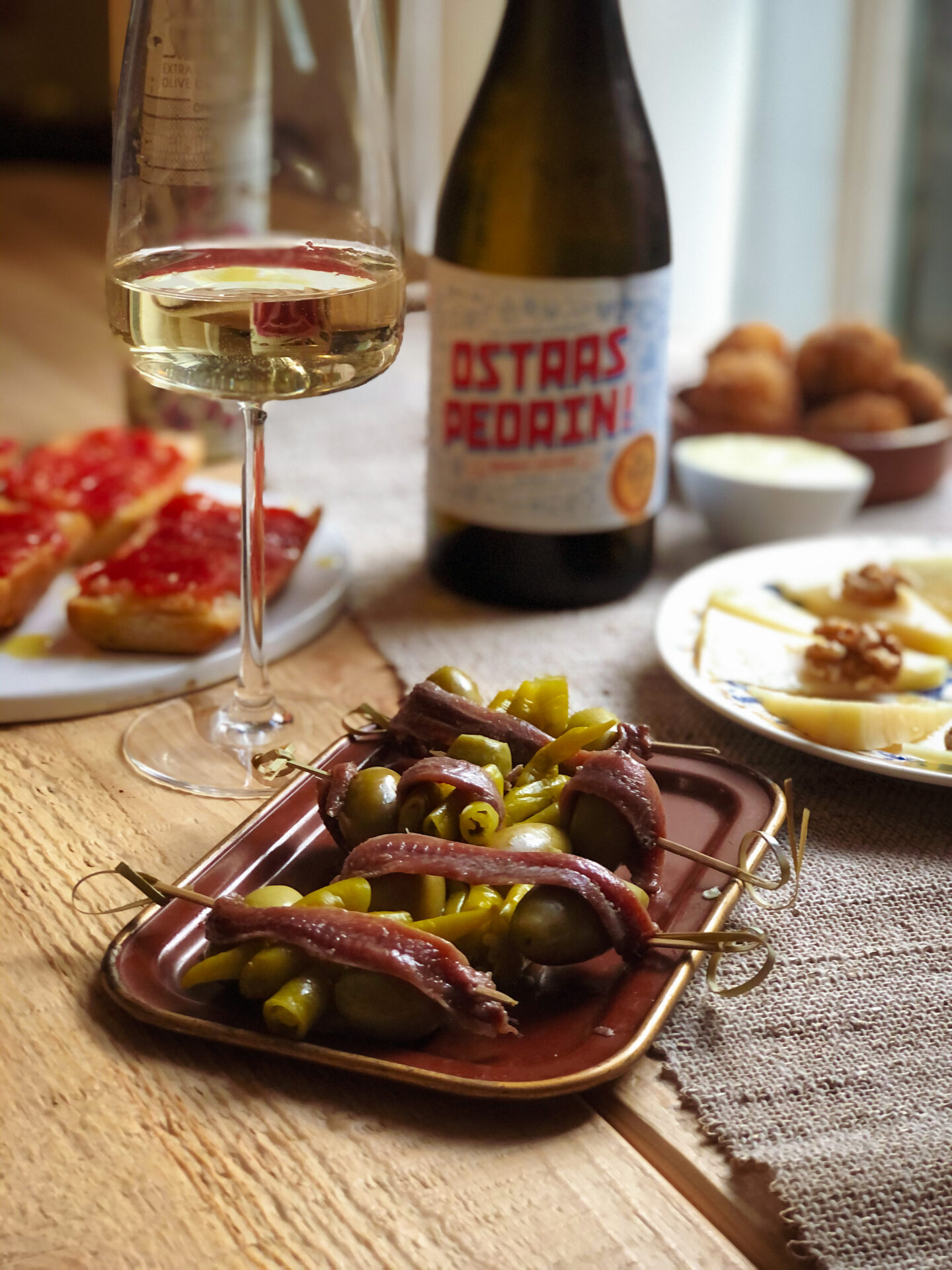 Consisting of a couple of guindilla peppers (those piquant pale green, long peppers) sandwiched between a couple of briny olives and a sharp but sweet anchovy, this is a single bite sent divinely from above.
Guindilla Peppers
High quality anchovies
Large, pitted green olives
To assemble: simply combine all on a cocktail stick in whatever form you like! One delicious, complete mouthful.
Pa amb Tomàquet
Serves 4
The Catalan title for Pan con Tomate, throughout the Mediterranean region you'll find simple dishes – moreso snacks, really – akin to this where tomatoes in some form top crusty bread. Sometimes drizzled in oil, sometimes the bread rubbed with garlic, always a little salt in the tomatoes (tomatoes ADORE salt!) If you can get your hands on Pan de Cristal (a traditional Spanish bread, not unlike a ciabatta) it works beautifully here, but a crusty baguette, sliced lengthways, may be easier to get your hands on and will work just as well.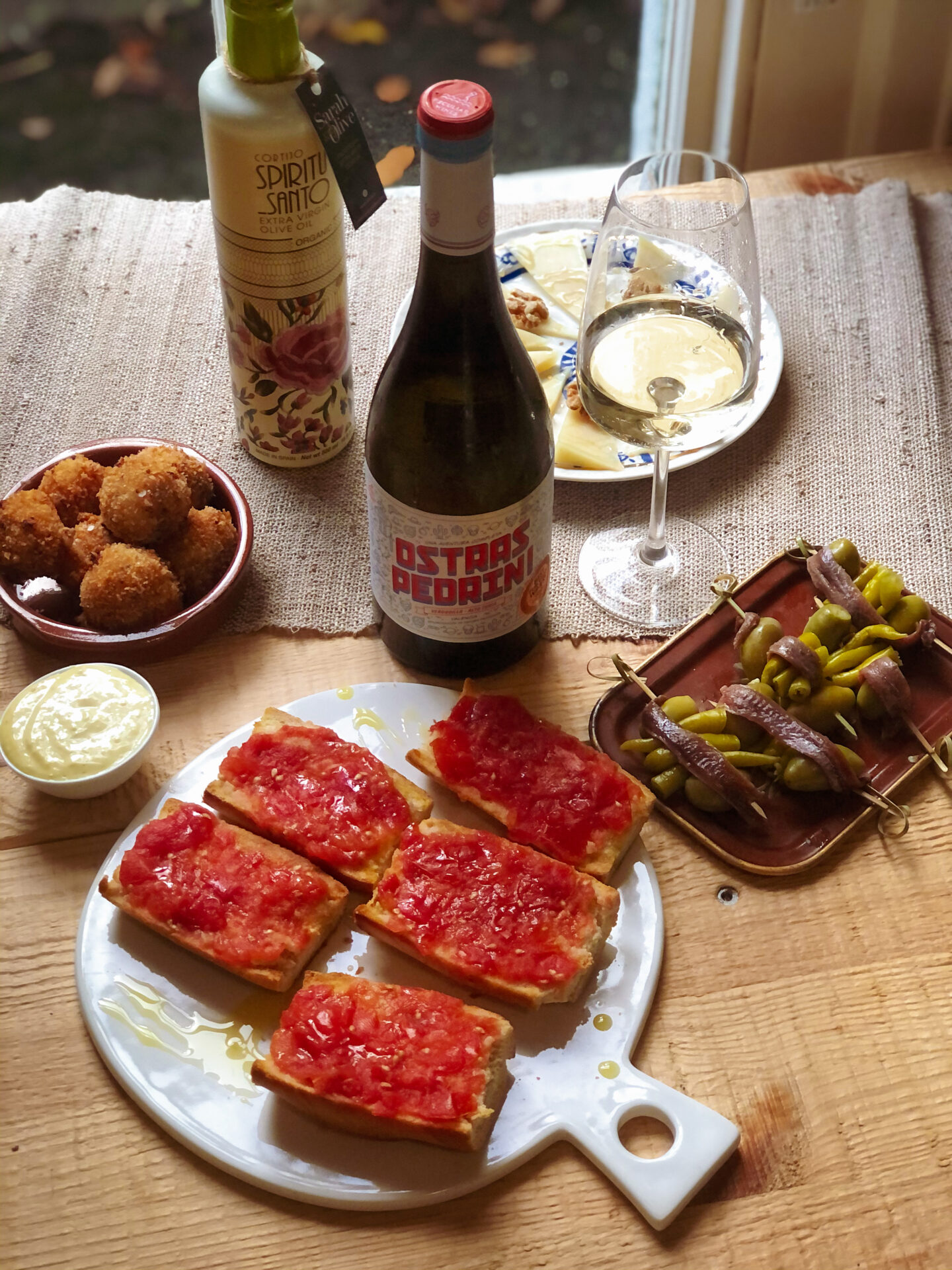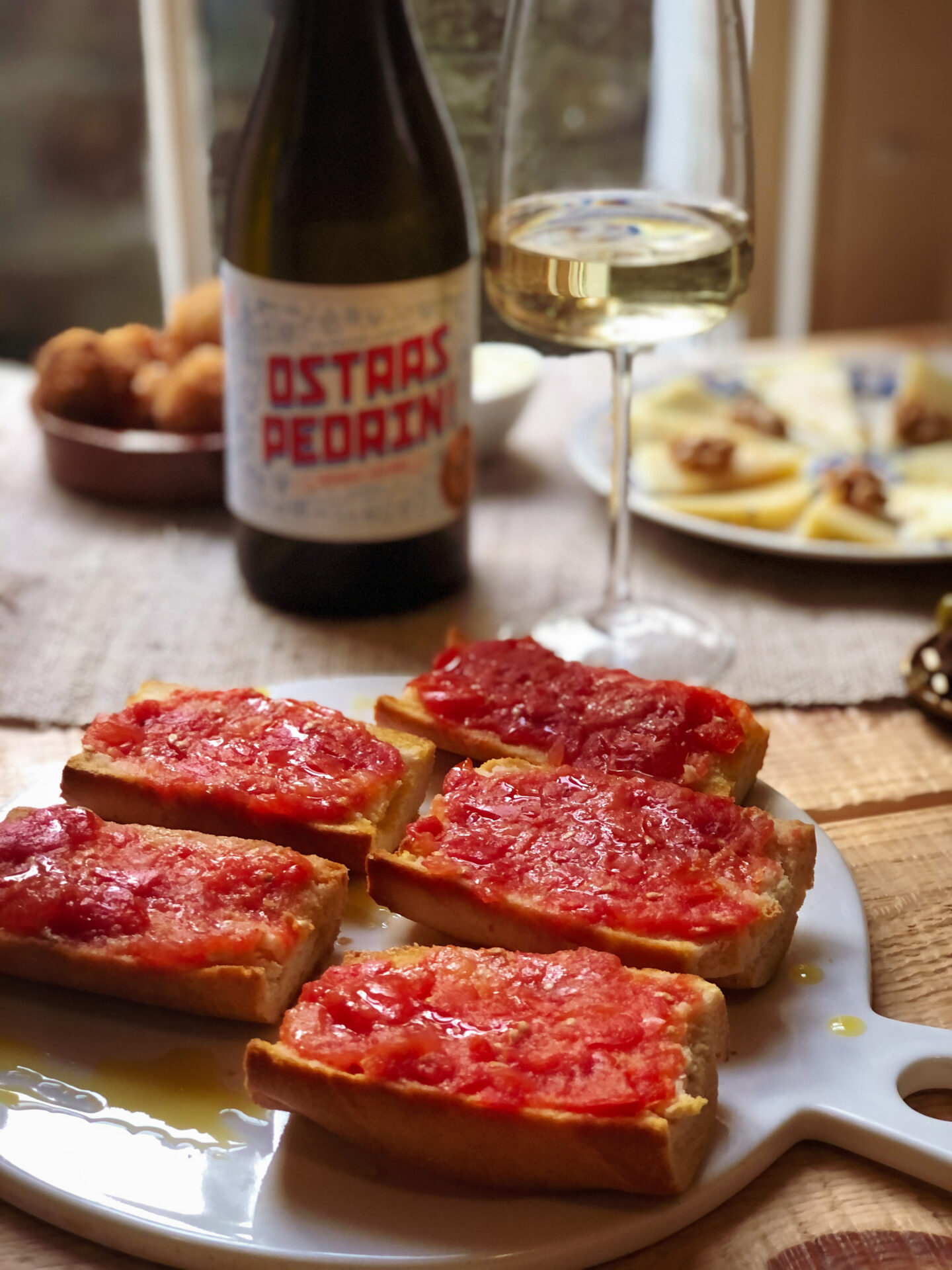 4 ripe red tomatoes
Crusty bread
1 tsp flaky sea salt
A large clove of garlic
The best quality olive oil you can find
1. Toast the halved lengths of bread in a toaster or a grill drizzled with the best quality olive oil you can find (Sarah & Olive is our preference here) until very lightly golden but crisp.
2. Meanwhile, grate – or even squeeze – the tomatoes in a mixing bowl, avoiding the seeds where possible but a couple slipping through is fine. If the tomatoes are very watery, strain out the water through a sieve leaving the flesh. Season with the salt and taste.
3. Remove the bread and rub the cut side of each with a halved garlic clove, then top with a spoonful of tomato and spread it end-to-end. Enjoy immediately.
Idiazabal & Serrano Croquetas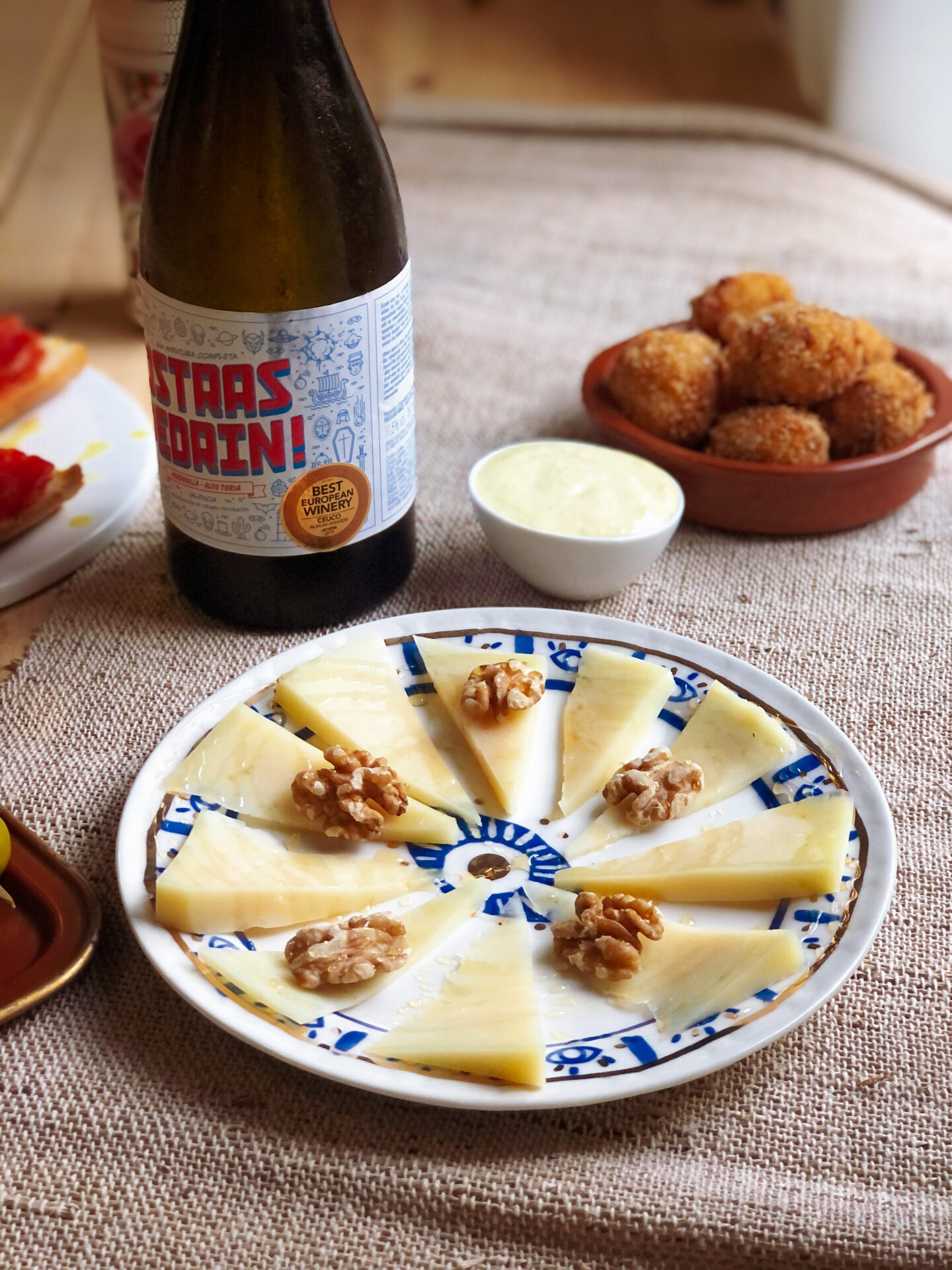 If you can get your hands on Idiazabal cheese it's so worth it. This lightly smoked, semi-hard unpasteurised sheep's cheese comes from the Basque and Navarre regions of northern Spain (if you can't get your hands on this, manchego is a fine, and similar, substitute) plus you can make these with or without Serrano or Jamón Iberico, but we do recommend that subtle salty, meaty hit through these bite-size croquetas.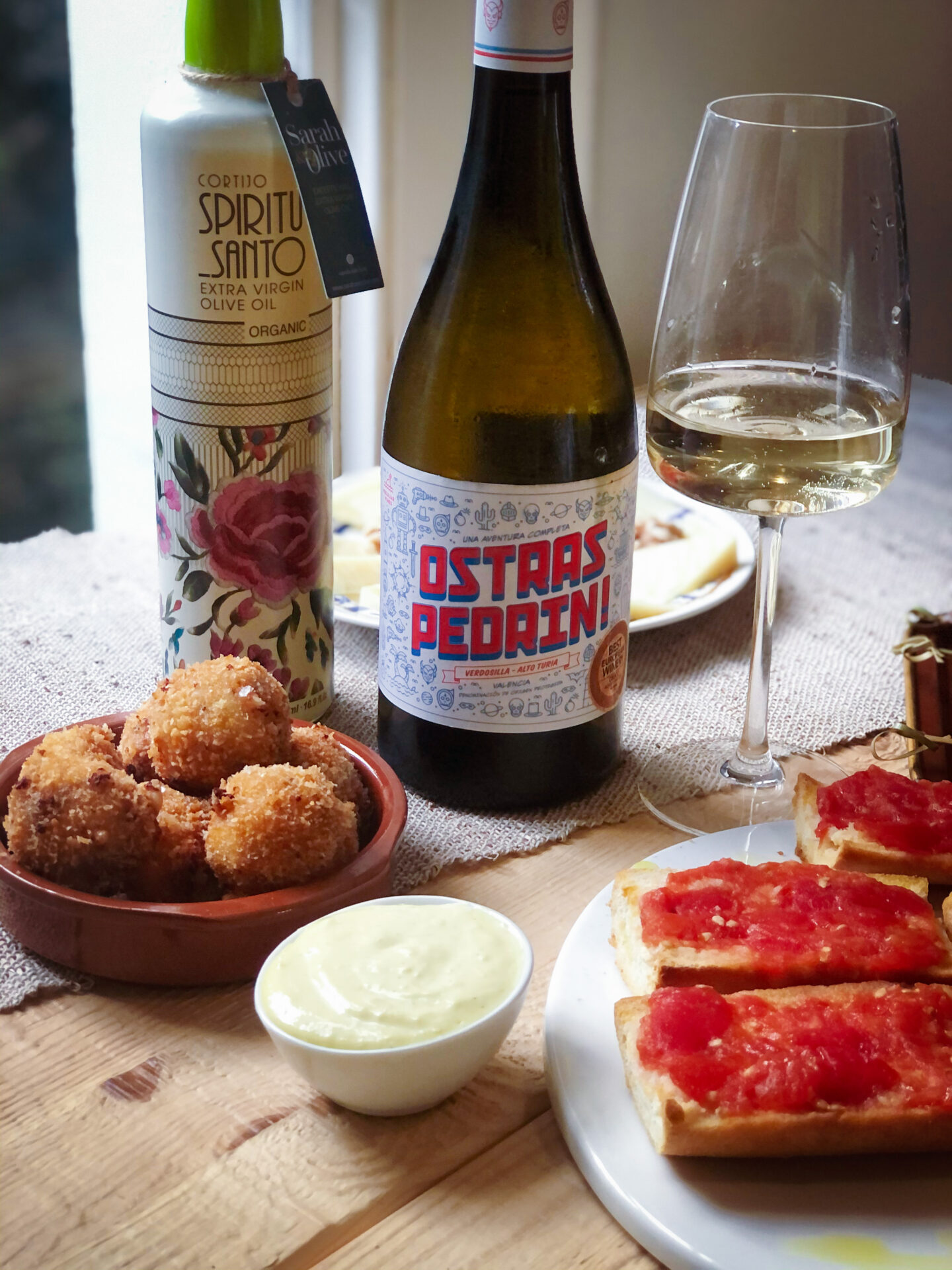 Aioli is the perfect accompaniment, and is exactly what the name states; in Catalan all (garlic) + oli (oil), so sometimes you might see this written as allioli or aïoli.
For the Croquetas
400-500ml full fat milk
70g serrano ham, chopped or sliced into thin lengths
80-100g Idiazabal cheese
Half a white onion, very finely diced
1 large clove of garlic, very finely diced
70g butter
70g flour
2 tsp fine sea salt
1 egg, beaten + 50g flour + 50g breadcrumbs for pané
1. Sweat the onions and garlic in a little oil or butter (or both) on a medium heat in a pan until they turn translucent and soft, but not coloured. Introduce the butter until it melts, then add the flour and using a wooden spoon make a roux, then introduce the milk bit-by-bit (still stirring all the time) until the mixture becomes very thick and smooth –– you may not use all the milk, you may even need more.
2. To this mixture, add the cheese and ham alongside the salt and a hefty crack of black pepper. Then transfer the mixture to a small baking dish and flatten evenly, cover and refrigerate for an hour.
3. Take the croqueta mixture out of the fridge and split the mixture into 18-24 even pieces, rolling each gently into a bite-sized ball then pané by coating lightly in flour, then beaten egg and finally the breadcrumb mixture. Set to one side whilst you repeat and heat the deep fat fryer to 170ºC.
4. Fry in batches of six (placing in the basket and gently lowering into the oil, try not to shake or agitate too much) for six minutes or so until crisp and golden. Wait a few minutes before eating, and serve alongside freshly-made aioli.
For the Aioli
3 large free range egg yolks
350ml olive oil
2 tsp salt
1 tsp white pepper
3 garlic cloves, finely grated
1 tbsp white wine vinegar or cider vinegar
1. Add the eggs and 100ml of the oil to a tall receptacle (we use the beaker from a NutriBullet, but you could use any tall beaker where the end of a handheld stick blender can comfortably hit the bottom). Pulse vigorously using the blender to combine and it should emulsify pretty quickly.
2. Follow with the next 100ml oil. Repeat. Then follow with the rest of the ingredients until as thick as mayonnaise. Taste for seasoning. This will keep covered in the fridge for 3-4 days.
Main: Mejillones Español (Spanish-style Mussels)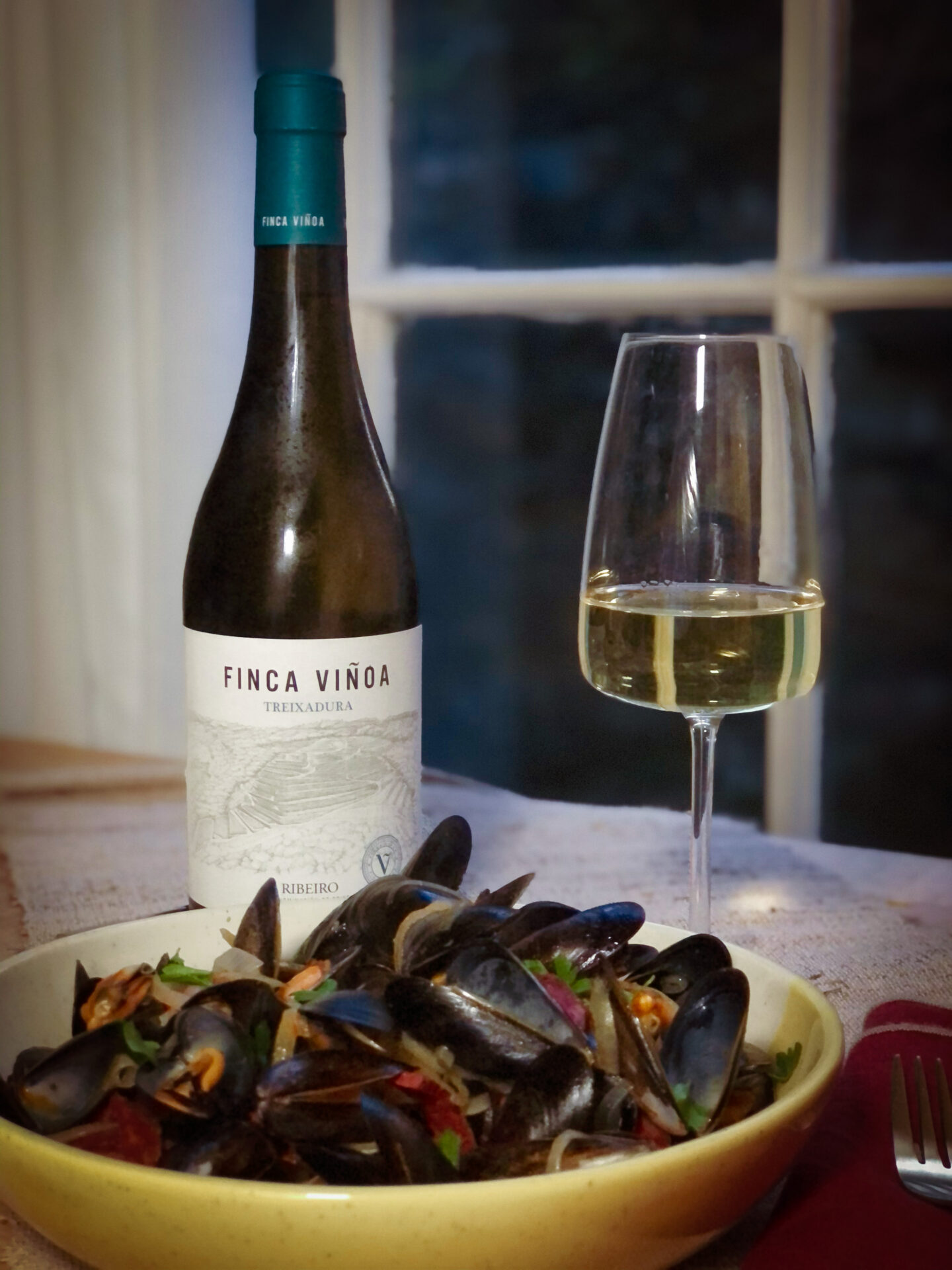 Spain boasts twice as much coastline as Ireland, with the brisk, vast Atlantic crashing on the west coast and the balmy Balearic/Mediterranean Seas running right along the eastern coastline. So, naturally, seafood and shellfish are intrinsic to Spanish cuisine, and this recipe is incredibly simple and adaptable –– just three key ingredients: shellfish (mussels, or clams); chorizo; and white onions.
Wine Pairing: Finca Viñoa Treixadura Sobre Lías D.O 2019
What grows together goes together, and of course it's worth naturally pivoting to coastal vineyards to pair with shellfish, but not explicitly so. Finca Viñoa is set outside the city of Ourense, about an hour from the western Spanish coast. Though this isn't certified organic winery, it's as good as, and if you love an Albariño you're going to adore this blend of native grapes (though, mostly Treixadura here) which is like Albariño levelled up!
This is an intense and complex Galician white with a long, lingering finish. A meadow aroma of light florals and cut grass, white/green fruit and citrus. Major minerality and possibly a whisper of smoke in the background, you'll find this balanced in citrus, creaminess, fruitiness and that refreshingly tempting salinity that coastal Northern Spanish whites are known for, so it dances beautifully with the flavours of this dish. You can pick this up (or order from) Mitchell & Sons (€22.95) as well as Nectar Wines Sandyford and Clontarf Wines.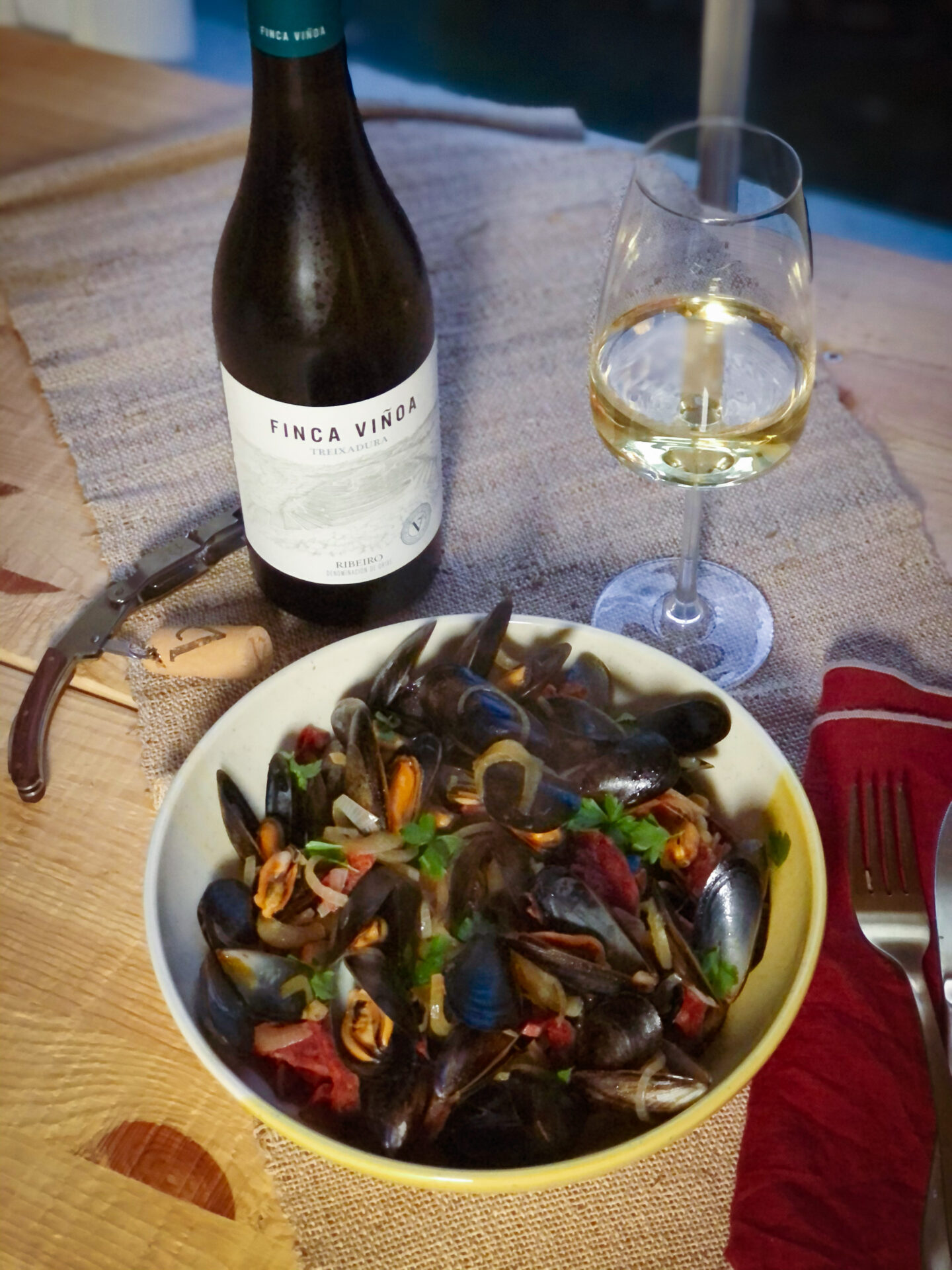 Spanish style Mussels with Chorizo and Onions
Serves 2-4
1KG mussels, washed and de-bearded
Chorizo, de-skinned and sliced thinly or cubed
2 white onions, finely sliced
2 garlic cloves, finely sliced
1 large glass of dry white wine (we used Finca Viñoa)
A large dollop of aioli (optional)
1. In a large pan melt a little butter or oil and sweat the onions and garlic until just soft and translucent, followed by the chorizo.
2. Then deglaze the pan with the wine, amping up the heat to medium-high and introduce the mussels. Clamp on a lid and cook for about two minutes, stir, return the lid and cook for a further two, or until the mussels have all opened in the steam.
3. Serve with some scattered fresh parsley and the optional a spoonful of aioli drizzled over the mussels.
Dessert: Crema Catalana
So many Spanish white wines are perfect partners to a dizzying variety of dishes –– hot and cold, spicy and mild, and running the scale from fresh, zesty and light fish dishes to indulgent, rich and sweet desserts.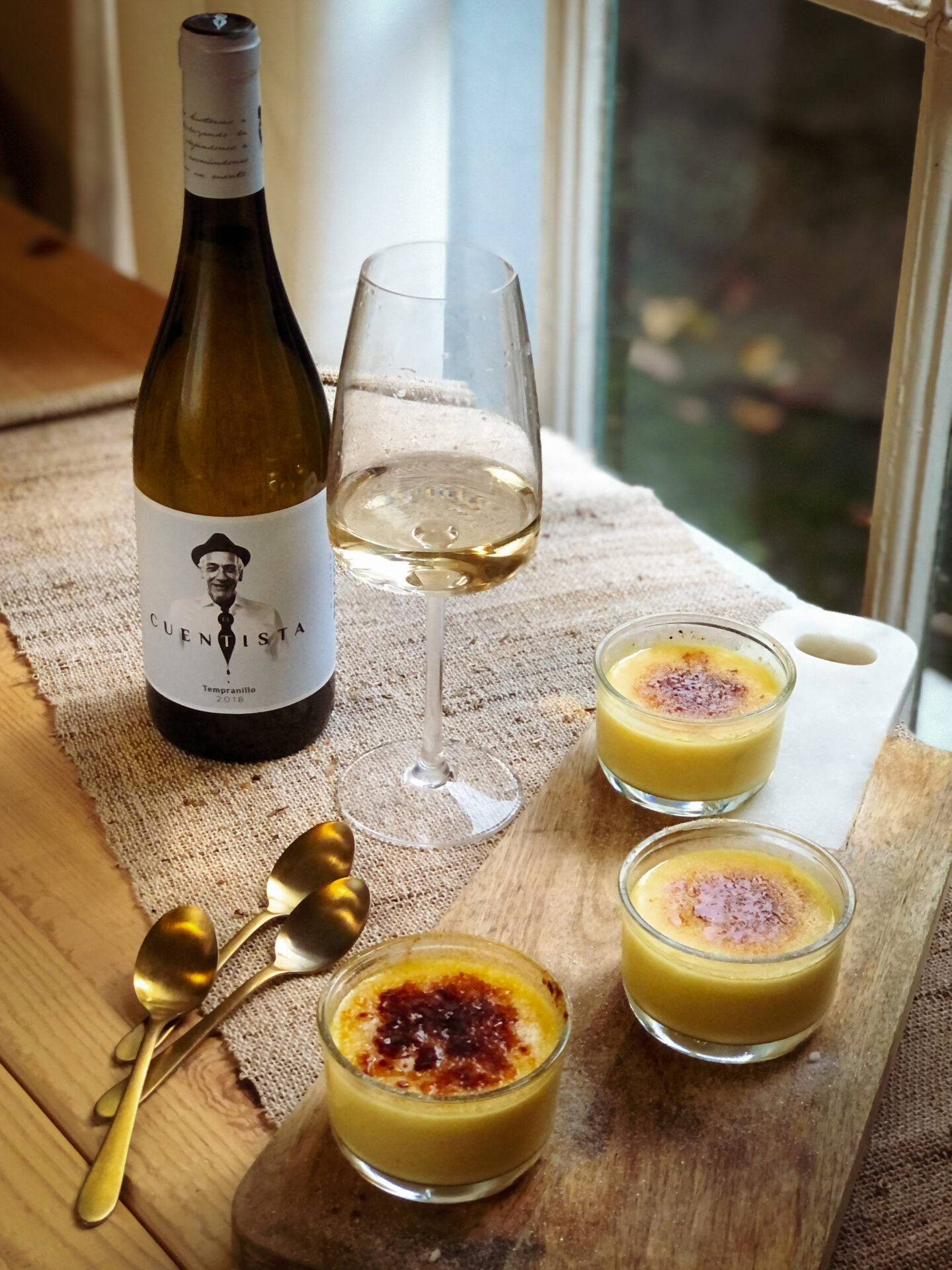 Bodegas PradoRey: El Cuentista Tempranillo Blanco (Blanc de Noirs) 2018
We've saved the best for last, and this is one of the wines we're the most excited about. Bodegas PradoRey is an eco-friendly vineyard based about two hours north of Madrid just outside the city of Burgos in the region of Castilla y León. This wine, 'El Cuentista' ("The Storyteller") definitely tells a unique story. A rare blanc de noirs, which means a white wine from red grapes, this is Tempranillo – the key Spanish grape for red wine production and integral to the big, bold, fruit-driven, juicy reds from the likes of La Rioja, Navarra and Ribero del Duero – but a white expression with the same grape.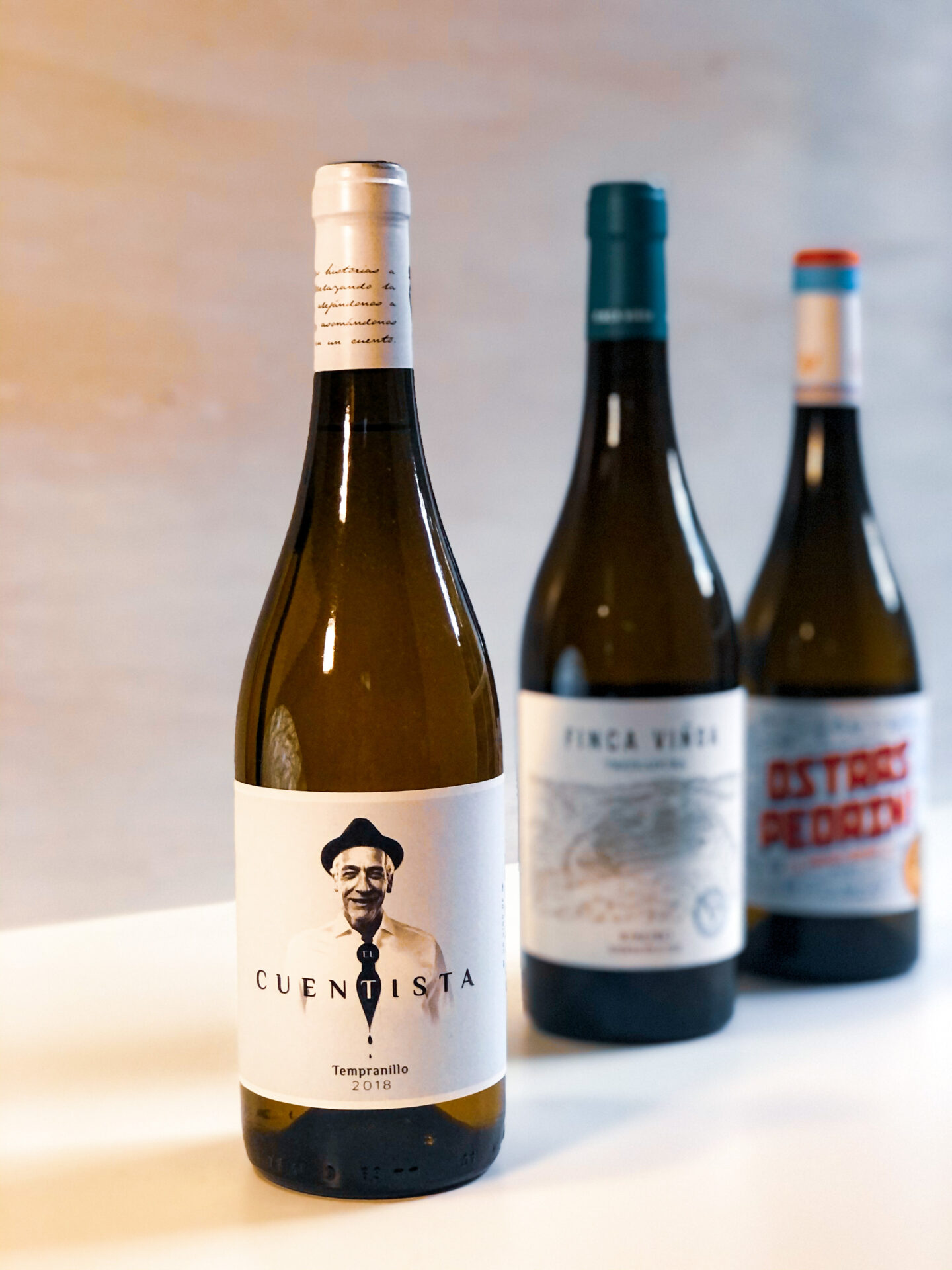 How? The skins are removed immediately when pressed then this is aged in American oak for nine months and then further aged on lees (with its yeasts), resulting in a creamy, vanilla-driven, oak-y wine with a bold structure with stone fruit, minerality and a touch of leather. Ultimately, this is a white with serious body and bold flavour. Imported to Ireland by Classic Drinks, you'll find this on great restaurant wine lists, like The Cornstore in Cork, Port House in Dublin and Wineport Lodge, for example. If you see it in stock or on a list, try it!
So to stand up to the boldness, we're pairing it to dessert richness. You know Crème Brûlée already, the iconic French dessert, and this Spanish equivalent is similar in ways but also a bit different: Not bain marie-baked and using milk rather than cream, this is firmed on the stove and then chilled so it's looser and more velvety than its Gallic counterpart. A thrifty little dessert, this is perfect to make-ahead for a dinner party or just to curl up with on the couch with a glass of El Cuentista alongside… enjoy every spoonful.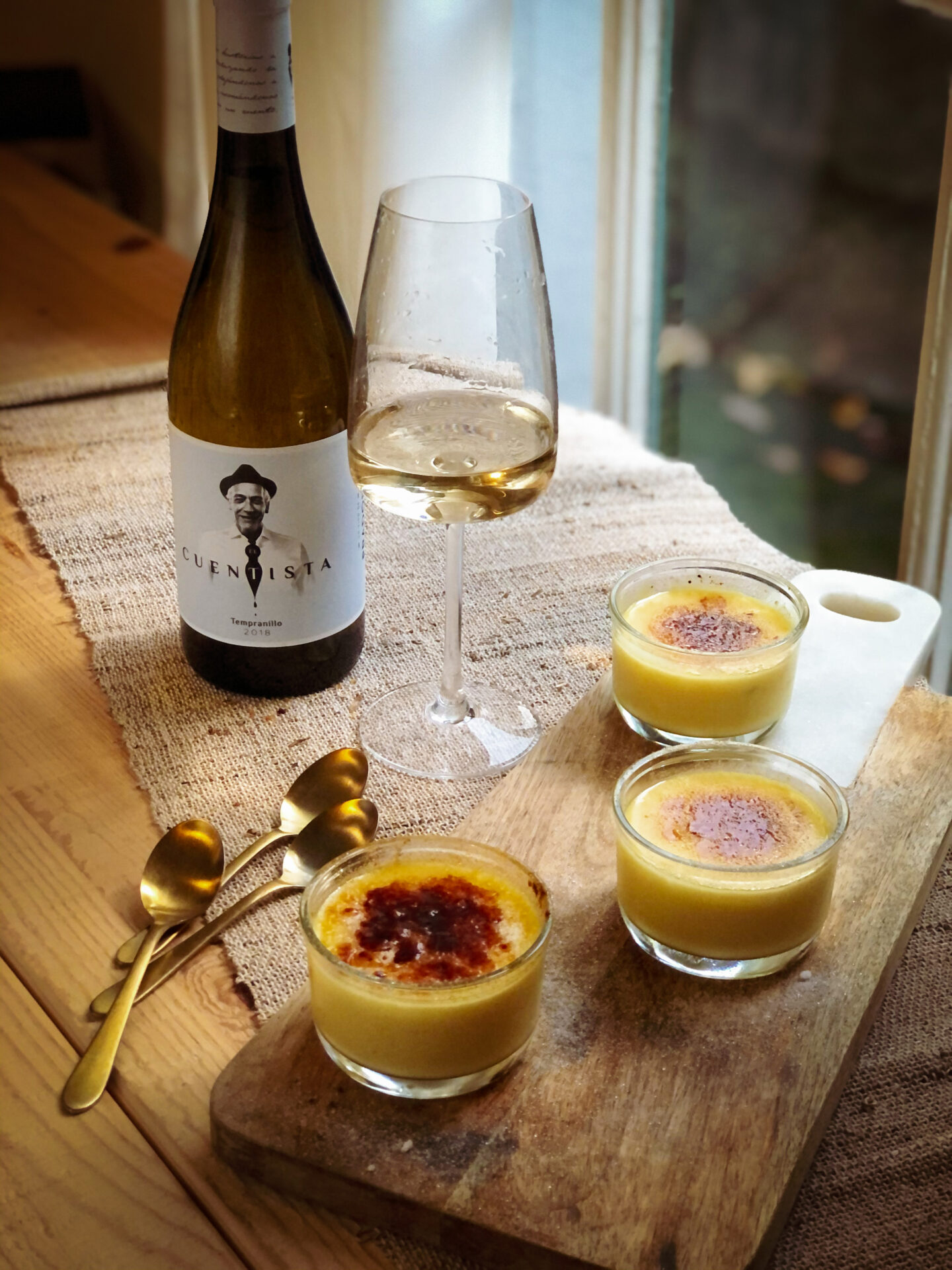 Crema Catalana
Serves two
250ml milk
75g caster sugar, plus a little extra
Lemon peels
1 cinnamon stick
4 large free range egg yolks
2 tbsp cornflour
1. Steep the lemon peels and cinnamon stick in the milk and slowly bring up to temperature in a saucepan on a medium-low heat to infuse. Just before the milk boils, take it off the heat and discard the aromatics.
2. In a mixing bowl, whisk together the egg yolks, sugar and cornflour until thickened, pale and glossy, then pour over the hot milk whisking vigorously so as not to curdle before immediately returning to the pan on a low heat.
3. Whisk and stir constantly, gradually increasing the heat until the mixture is thickened to a firm custard.
4. Pour into serving dishes, cover with a piece of greaseproof paper or cling film and keep in the fridge for 2-3 hours minimum to set.
5. When ready to serve, remove from the fridge and sprinkle 1 tbsp of sugar over the top surface of each dish and quickly blowtorch to brulée the top to a golden crisp. Alternatively, this can be done using a hot grill.