We're gonna preface this recipe and state that we don't think anything should need to be labelled 'organic'.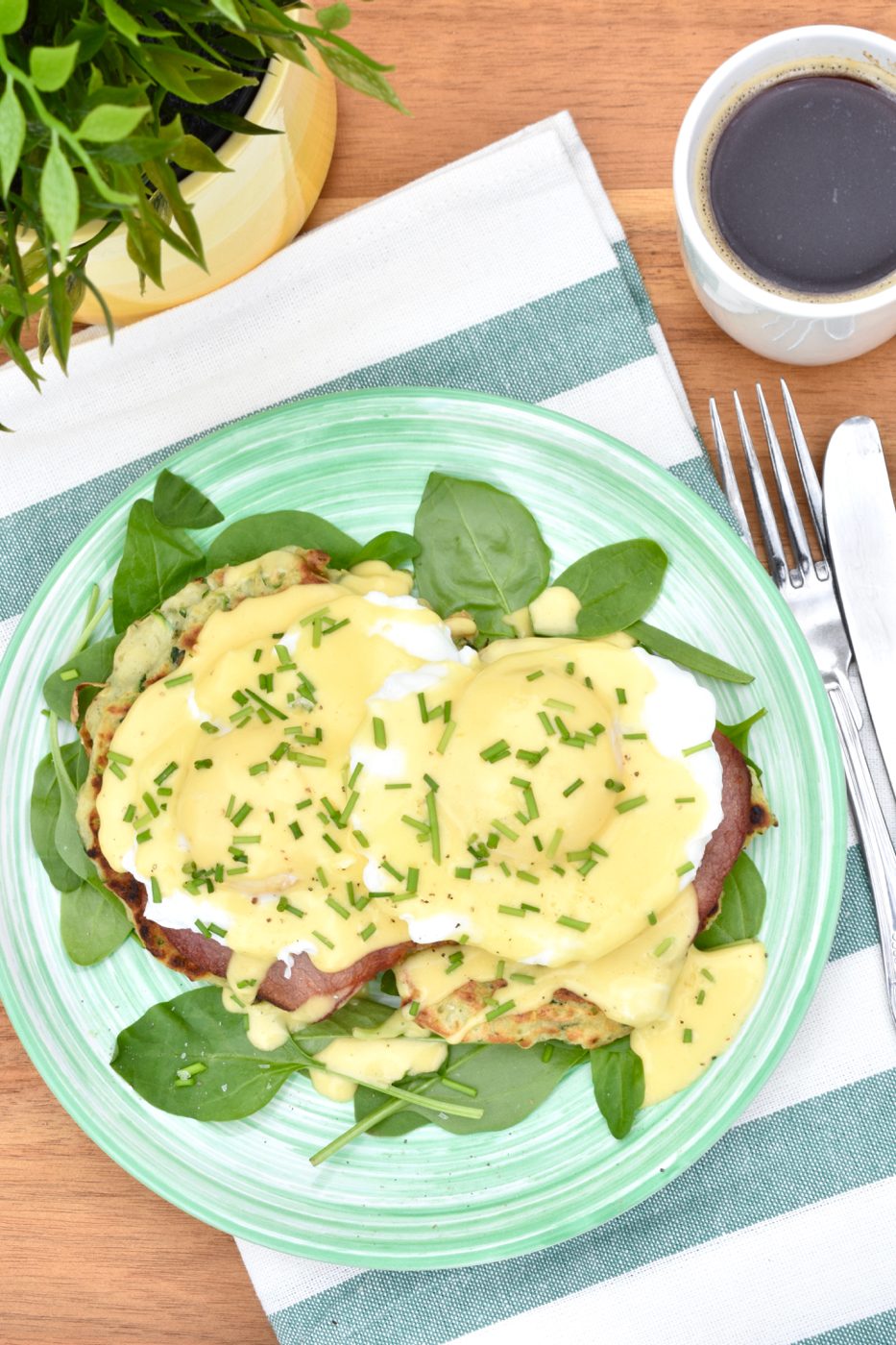 To us, non-organic ingredients and produce should be the very stuff that needs to be labelled and singled out! It shouldn't have to be the case that you search eagle-eyed through supermarket shelves, specialist stores and navigating local suppliers trying to find the best produce available, it should always be at the forefront.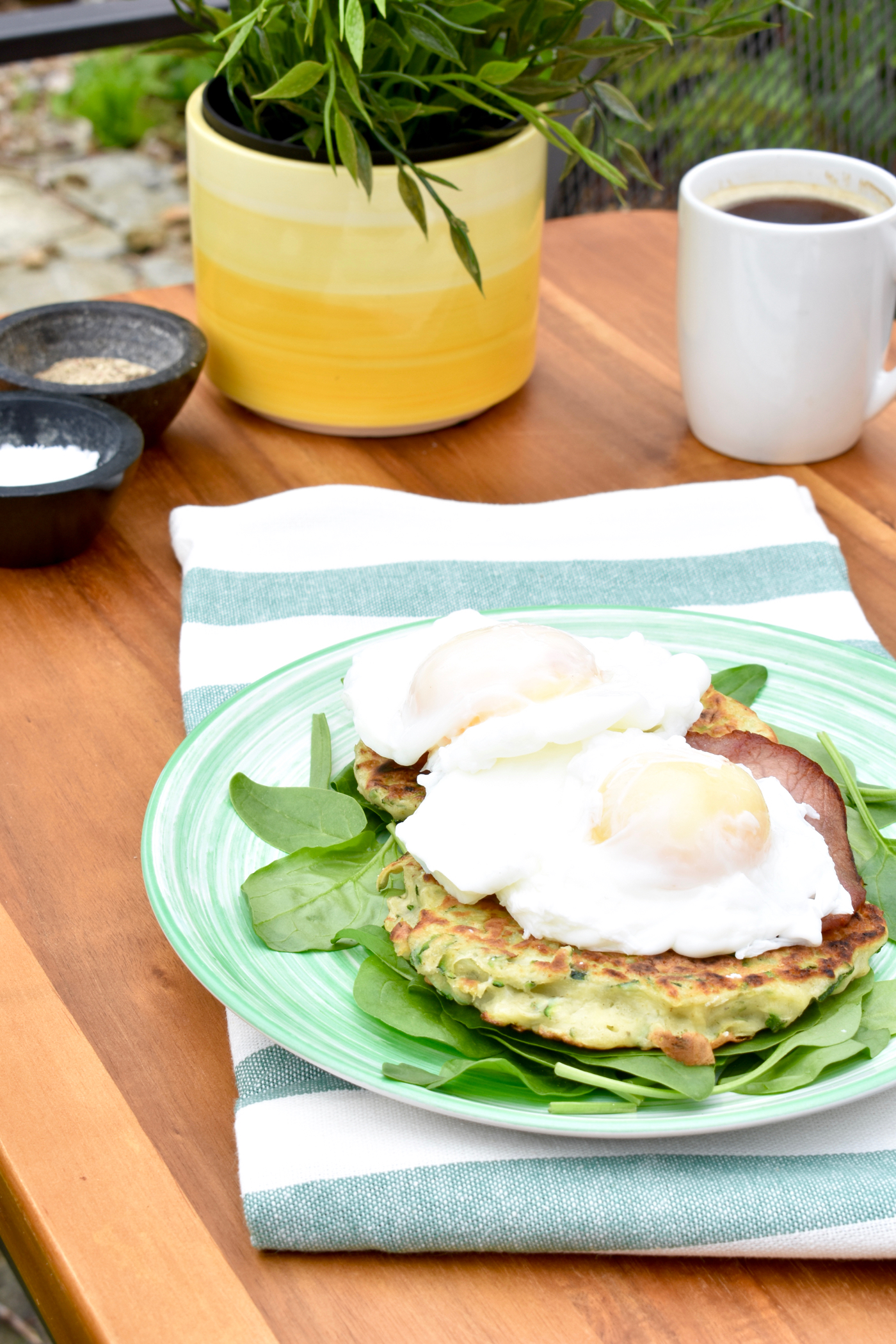 Safe to say we buy organic wherever and whenever we can. Organic produce can have a connotation of holier than thou, wholesome, life-affirming and earth mother-approved notions, when really it's just the same base ingredients that are in your basket anyway, but produced with a little extra TLC and via the best methods. So we don't believe organic necessarily needs to be a grandiose idea strictly for the healthy set; organic can be indulgent and everyday too – which is what we do best!
There are plenty of reasons why you should consider seeking out more organic food. First off, we personally find the flavour and quality of the products is always far superior, which just makes for a better tasting experience, simply put. But in more broad terms, taking for example meat and dairy, animals are reared to a higher standard with no routine use of antibiotics. Organic food is also kinder to the environment as it's generally less of a carbon footprint – grown and distributed more locally whilst also avoiding contamination of soil and water by using fertilisers and pesticides.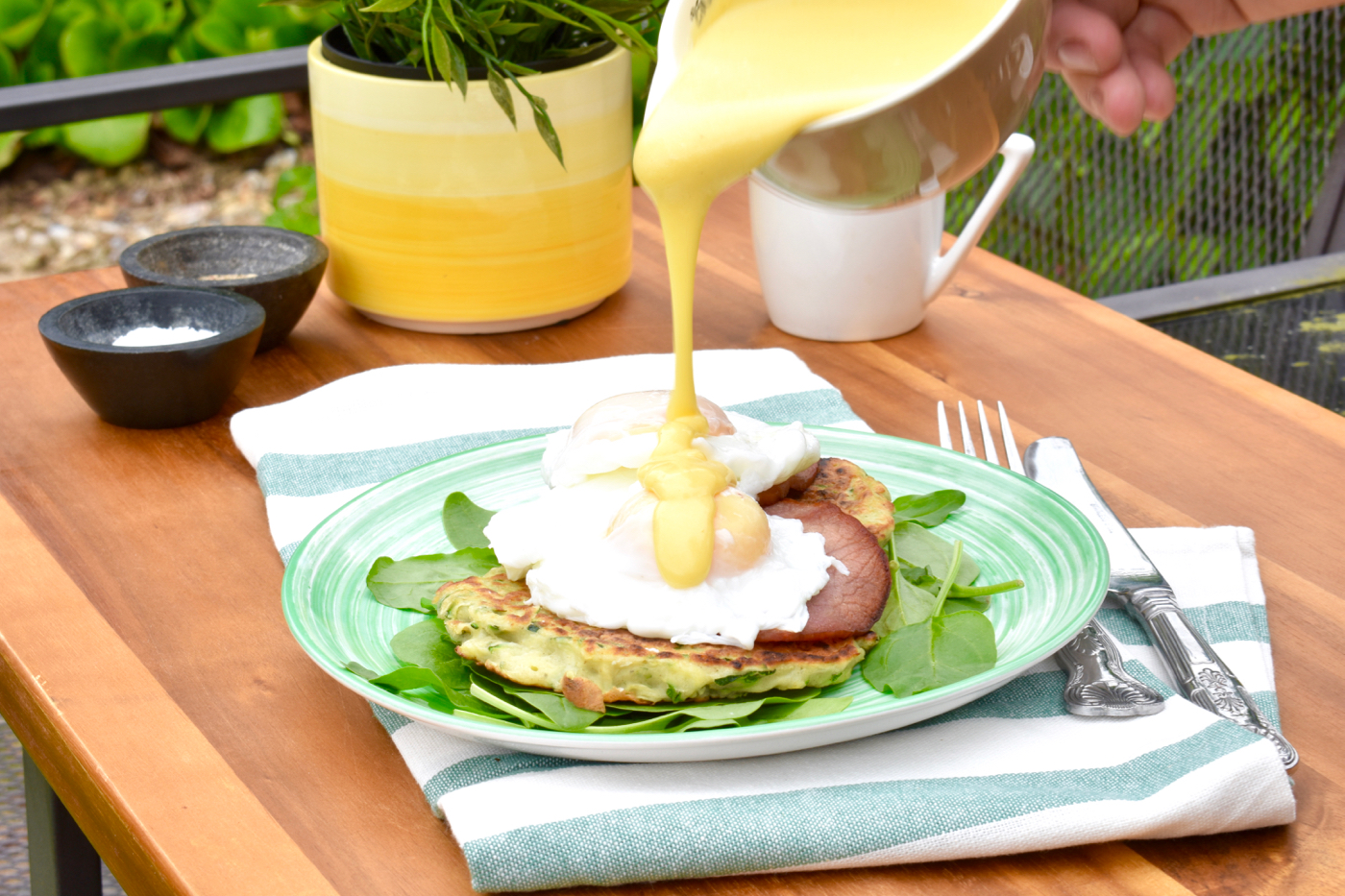 For this recipe, which we've developed in conjunction with the Wake Up To Organic Campaign, we've used some exceptional Irish organic ingredients to make a brunch dish that's incredibly indulgent with every bite yet is light enough to almost consider tucking in to every single morning.
Courgettes are something we need to experiment with and eat more of, so here we've rustled them up into easy pan-fried fritters which we've then topped with some delicious bacon medallions, gloriously oozy organic poached eggs and a fitting flourish of rich freshly-made hollandaise sauce. Incredibly delicious and using some of the best produce available – breakfast win!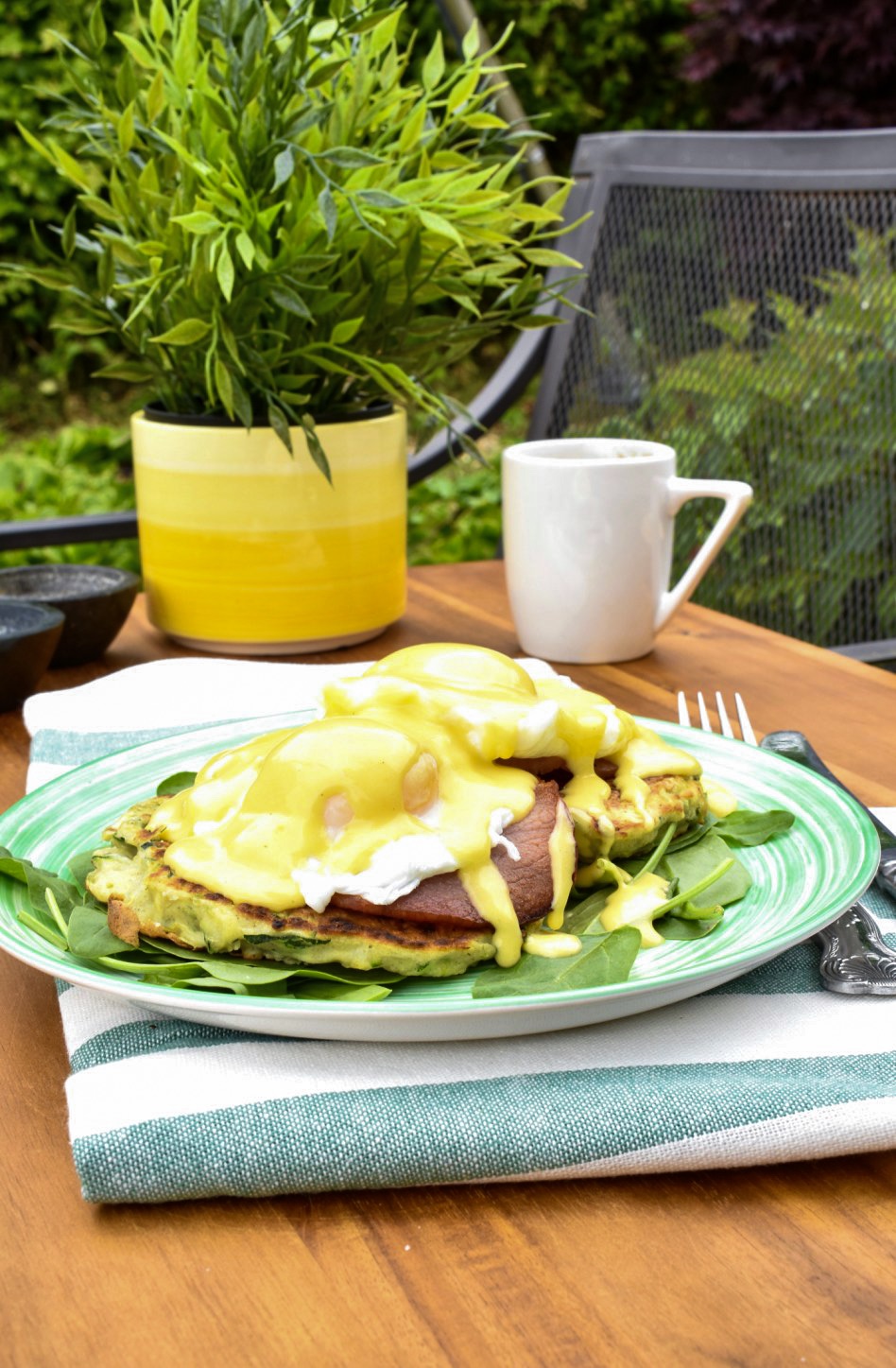 Organic Courgette Fritters with poached eggs, bacon medallions, spinach and Hollandaise sauce
Serves 2
For the courgette fritters
1 large organic courgette
100g organic plain flour (we use

Dunany Flour

produced right in our hometown)
1/2 tsp baking powder
1/4 tsp nutmeg, freshly ground always best
2 organic egg whites, whisked (keep the yolks for the sauce below)
A little organic Irish butter, to fry
1. Coarsely grate the courgette into a mixing  bowl and add in the flour, baking powder and seasoning along with the whisked eggs.
2. Stir everything to combine and heat 1 tsp of organic butter in a frying pan over a medium-high heat. Dollop spoonfuls of the batter into the melted butter and flatten slightly.
3. Allow to cook for two minutes or so before flipping – the fritters will go a gorgeous golden colour and be firm and crisp but still soft and almost bouncy in the middle.
4. Take off and allow to sit on some kitchen paper whilst you cook the rest.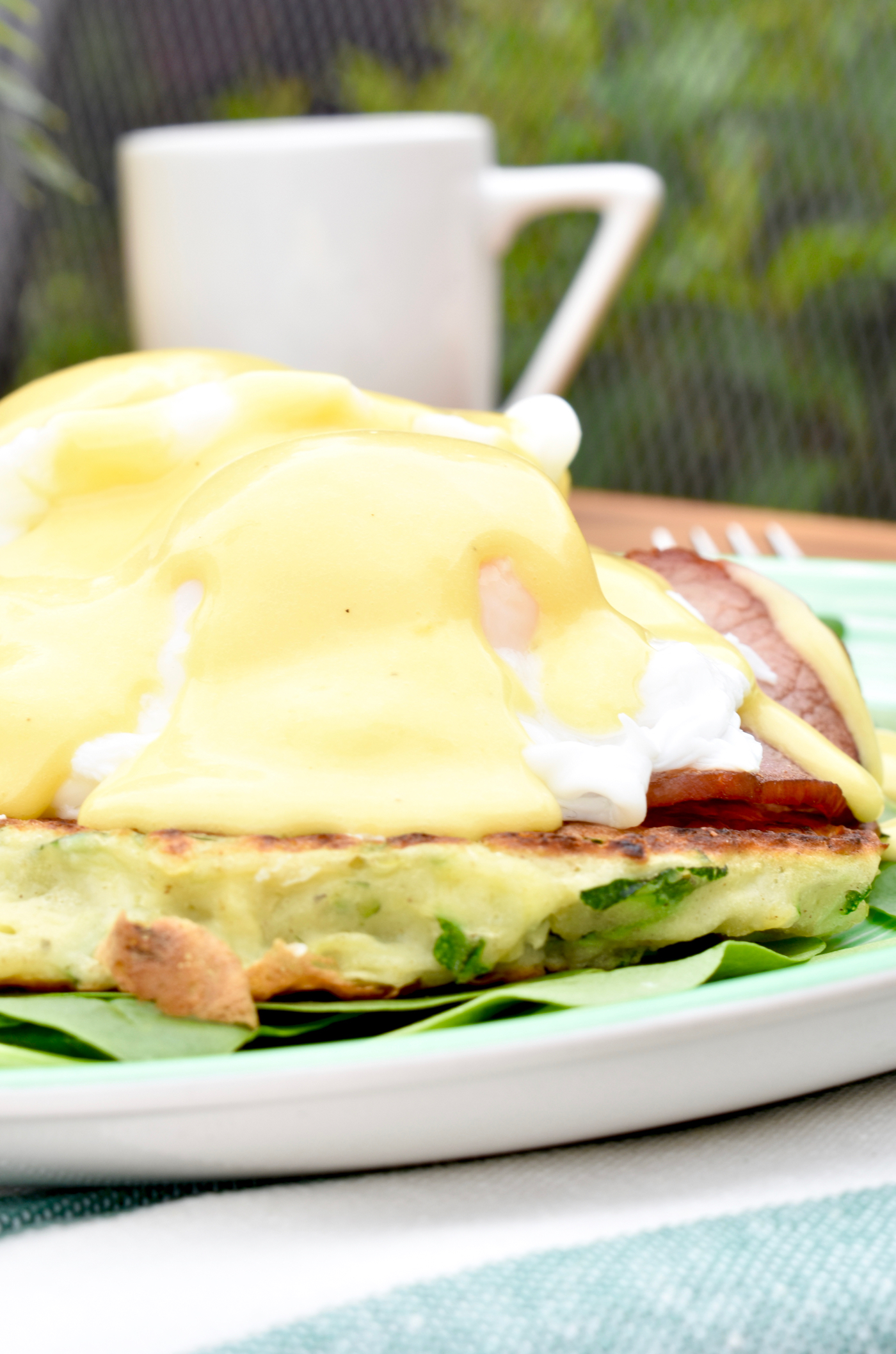 For the Eggs & Bacon
Four organic eggs, as fresh as possible!
Four rashers of organic bacon (trimmed of fat, hard to find organic but we like

O'Neills

 or

McCarthys of Kanturk

)
1. Cook the medallions per packet instructions, we grilled at a medium heat for about 12 minutes, turning once.
2. Bring a pot of water to a rolling boil and then turn down the heat to a simmer, then poach the eggs for three minutes and no longer for set eggs which ooze their glorious golden yolks when pierced. Shock them instantly in a bowl of iced water nearby to stop the cooking process immediately, if need be.
For the Hollandaise
(We actually followed Felicity Cloake's perfect recipe in the Guardian)
125g organic butter, cold and cut into cubes
2 organic egg yolks
2 tbsp water
Juice of 1/4 organic, unwaxed lemon
1 tsp organic vinegar (we used

The Apple Farmer

)
1. In a heavy-based pan over a low heat, combine the butter, yolks and water. Whisk as the butter melts and keep at a low heat, continuously whisking even after the butter has melted.
2. Slightly increase the heat if necessary but the sauce should thicken within a minute or two. When thick like a curd or Greek yoghurt, take it off the heat and add in the vinegar and lemon juice to slack a little to pouring consistency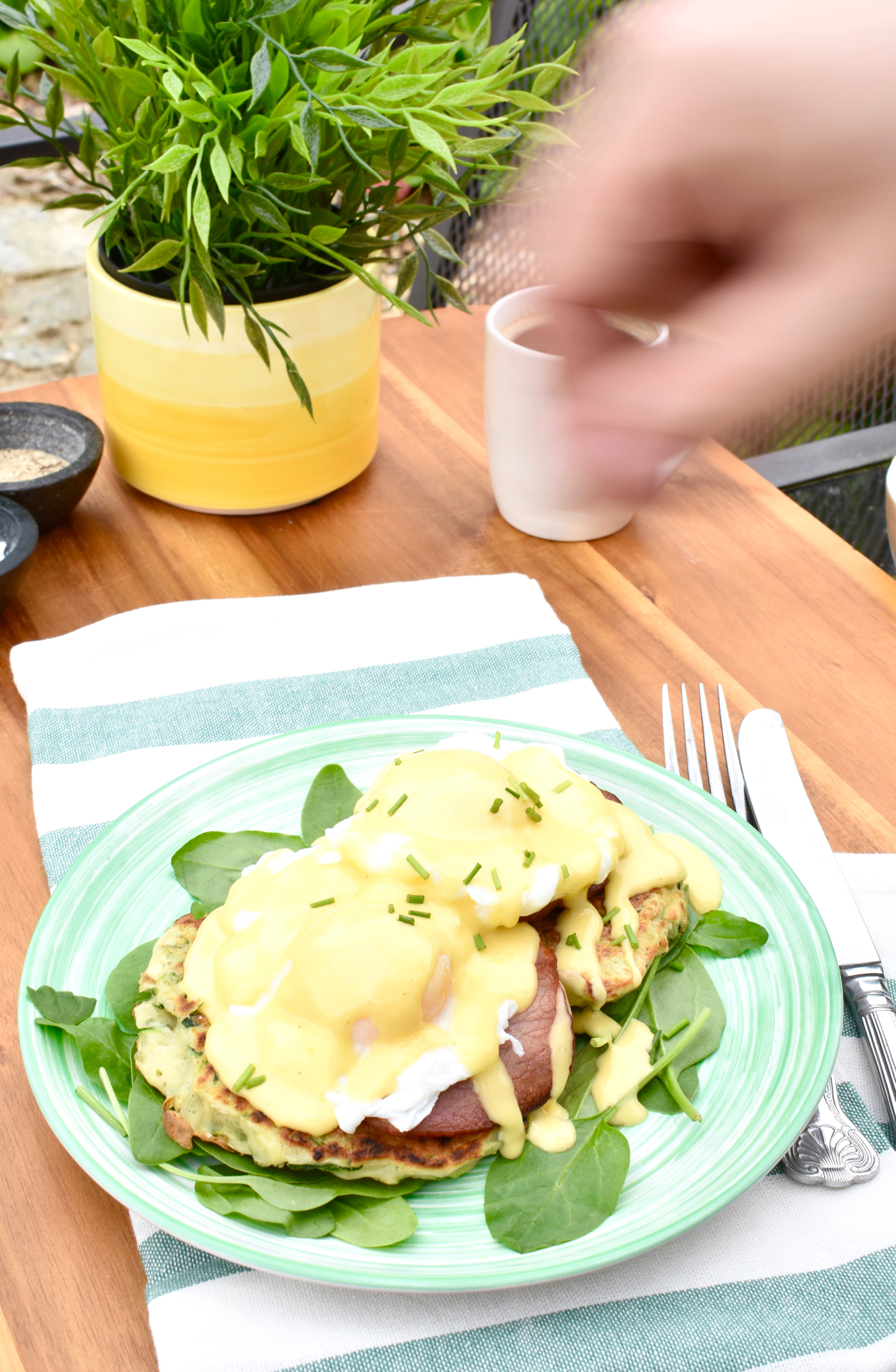 To assemble
Sprigs of fresh chive, chopped
Organic fresh spinach leaves
1. Wash and dry your spinach leaves and assemble your plates beginning with a handful of spinach on each, topped with two courgette fritters, two bacon medallions and the poached eggs.
2. Drizzle the hollandaise liberally over the top and finish with a final flourish of fresh chive, then tuck right in!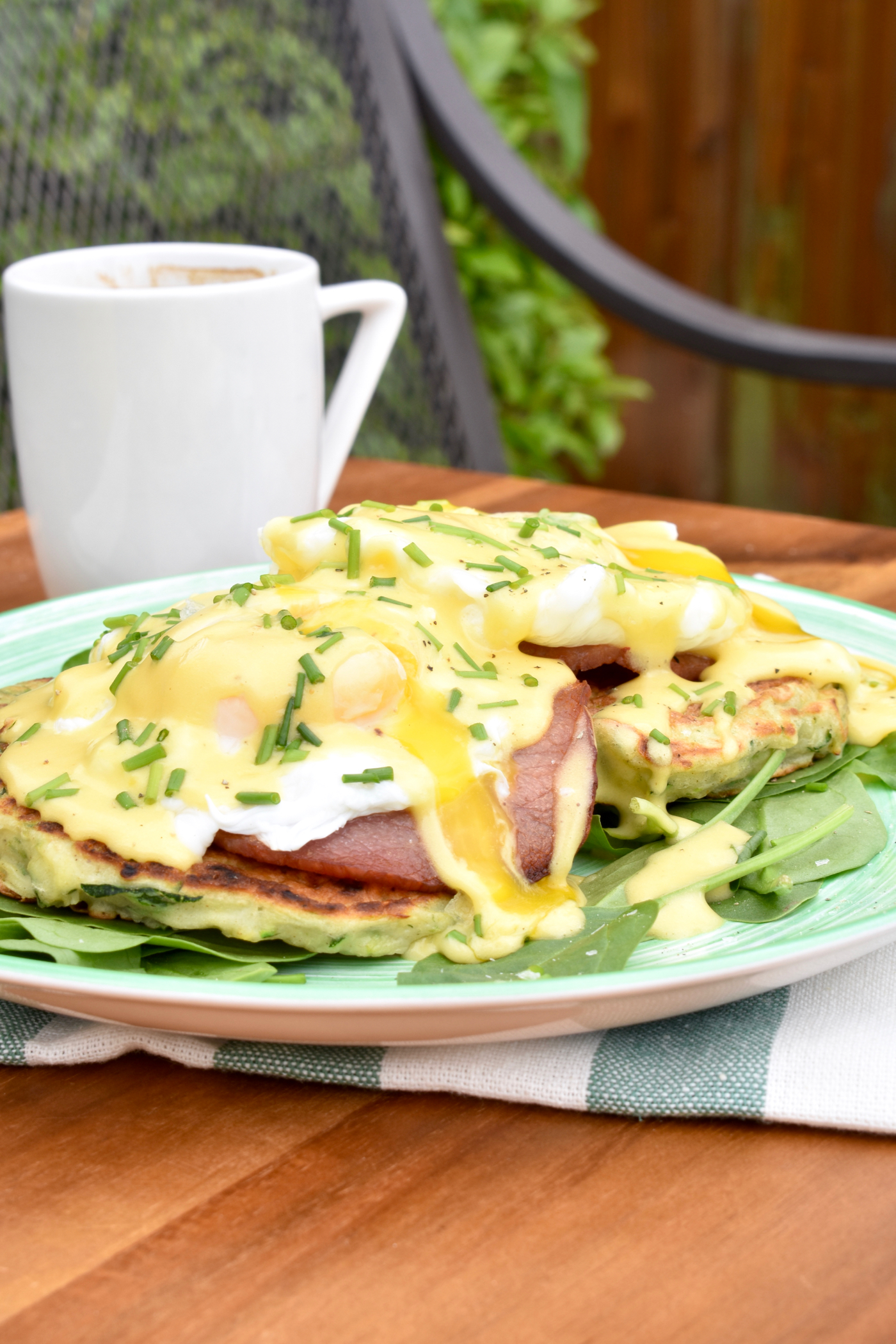 #WakeUpToOrganic is an event every 14th June that supports Ireland and the UK's local independent shops and cafes by encouraging more people to try organic and raising awareness of the benefits of organic produce plus shouting about where you can support by ordering from organic menus, like at Kildare's Le Pan Quotidien, Waterford's Ardkeen Quality Food Store and Dublin's Airfield Estate and Food Co-Op.
This is a sponsored post brought to you in conjunction with

Wake Up To Organic

– check them out on

Facebook

and

Twitter

too and spread the organic love!