Sometimes snacks and lunches can be overly complicated. Fancy ass salads and open-faced sourdough toast sandwiches filled with rare roast beef are delicious, but it's far from what we were raised on! Going back to traditional flavours, smells and sights does so much more than satisfy hunger, it soothes and comforts unlike anything fancy or trendy. Patrick's family, the Hanlons, in particular have always had traditions, so here's his take on a traditional lunchtime flavour with a side of some comforting family rituals.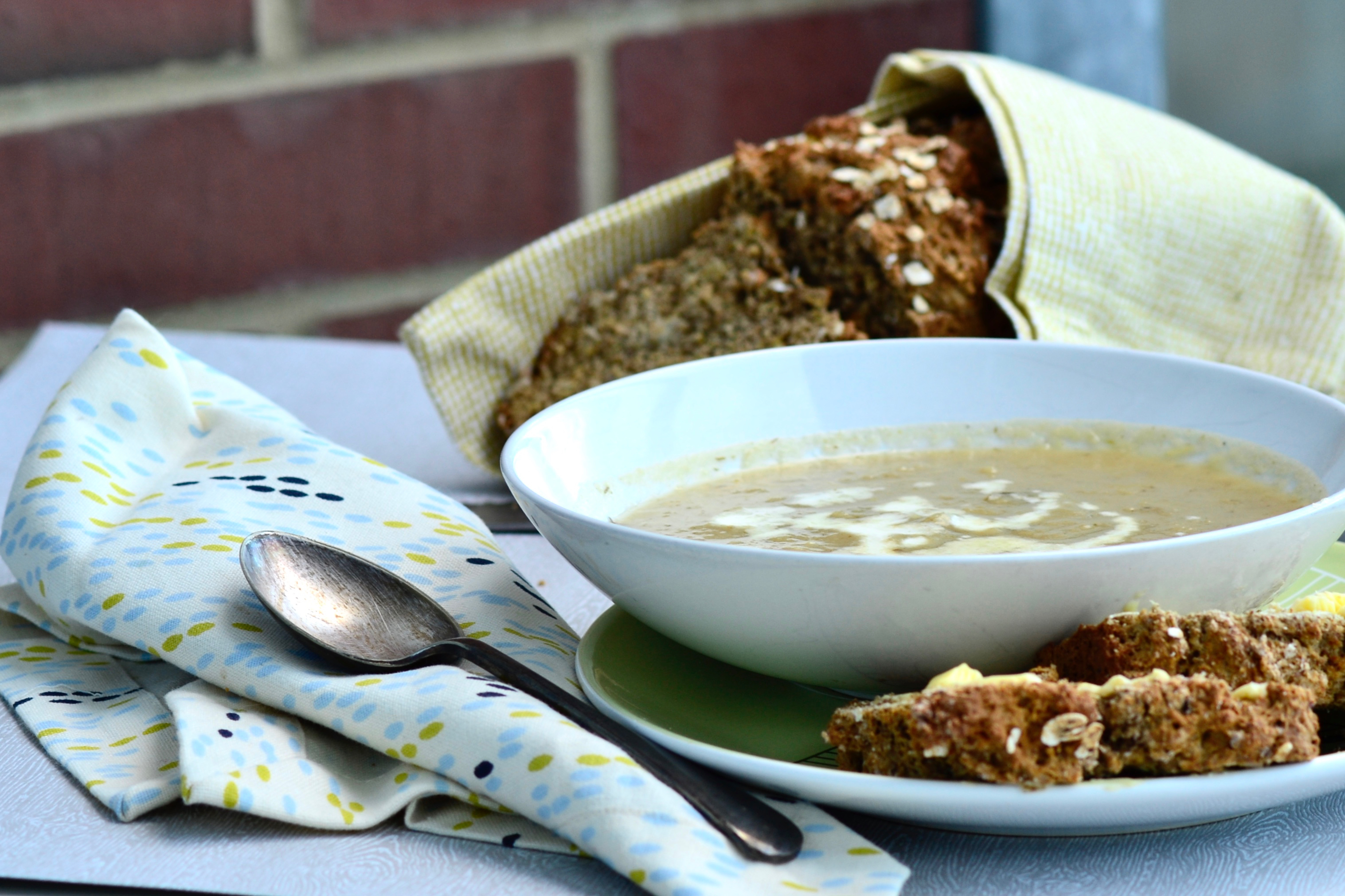 We're a traditional clan in a modern world. Whether it was family birthdays together in a local kids adventure playhouse, Little Christmas (which we've written about here) or bank holiday booze-ups, the Hanlons are creatures of habit more than I would have thought. But nothing has ever come close to the tradition of Irish soup on a Sunday in Granny Pauline's house.
In small town Ireland, each area is often split into separate parishes, which you will have already guessed is centered by a church dominating and watching over its boundaries, acting as a beacon for the members of its particular denomination and community. So in the small town of Drogheda, though the Hanlon children spread out to live in various areas of the town and further afield, we mostly stuck to the assigned parish and travelled to it when needed be. We were weekly mass-goers for my entire childhood so on a Sunday morning we would all begrudgingly remove ourselves from a cosy bed, get ready and drive the ten minutes to our 'local parish' for half an hour of boredom and nonsense, which felt more like three hours.
I didn't get any quiet contemplation done. I didn't witness divine intervention and I certainly wasn't focused on what the priest was going off on this week. I was too busy being hungry and salivating.
You see, the only saving grace (obviously, church rubbed off on me – eh?) was the promise of a warm bowl of soup and some fresh bread afterwards in our grandparents' just beyond the meadow where the church stood. Each week, like clockwork at 1:15pm or so, all the Hanlons would squeeze elbows and gather around Granny's kitchen table, hunkering on a few nobbly stools and each get dished out a steaming bowl of homemade soup. Bread would be passed around, tea and coffee might be served and we'd all catch up on the week's events.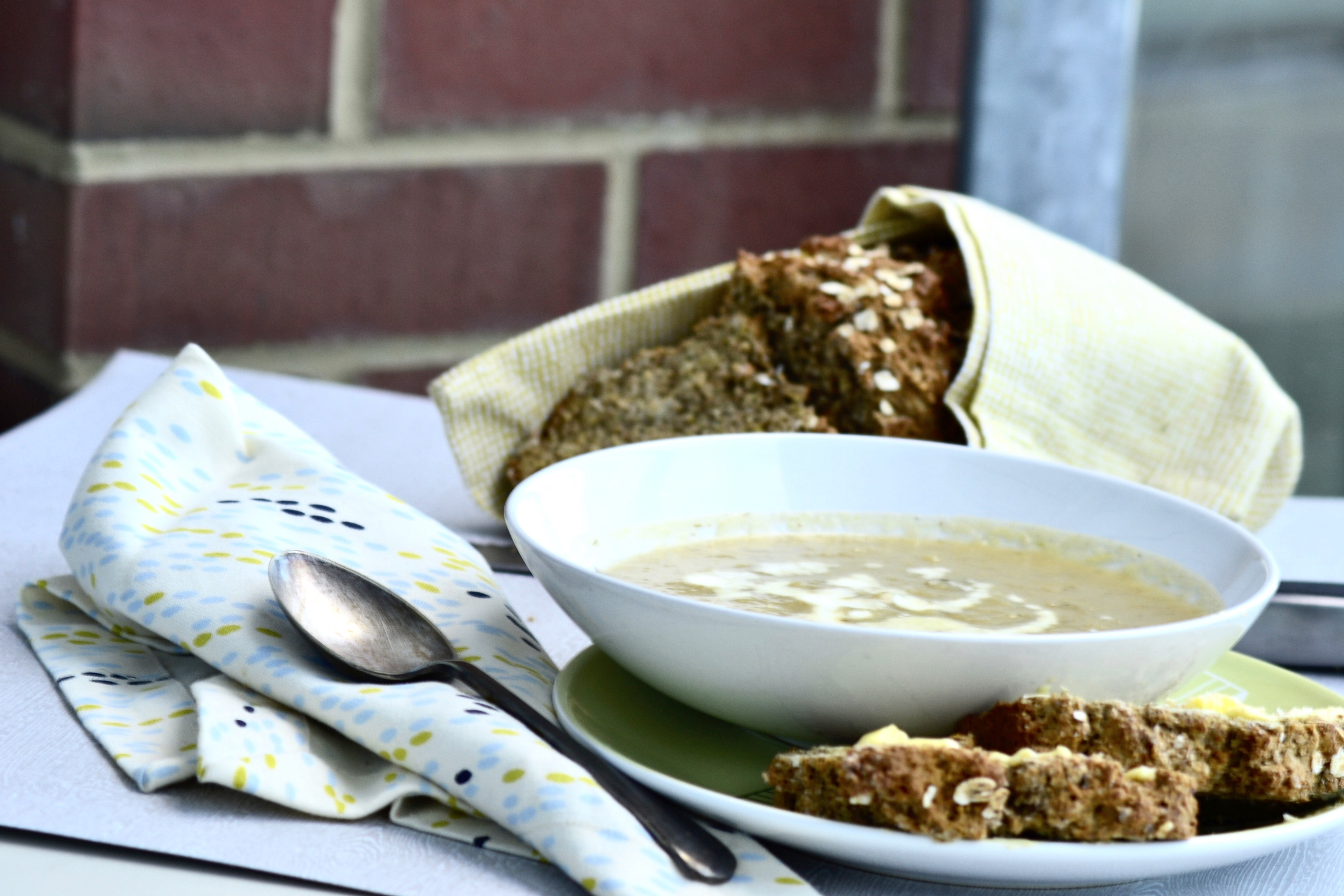 Sometimes the group of us would be just six or so, other times there might be 11… on some occasions she even managed to get 15 or 20 squeezed together in what would be considered a small kitchen these days, but it always felt huge with lots of characters, colour and sounds every Sunday.
It wasn't Sunday lunch though, it was very definitely its own meal time; 'soup and a sandwich'. We would all then go our separate ways after an hour or two and tend to our own roasts in our own kitchens in separate houses. This ritual simply preceeded the traditions we would each then begin individually, spending our Sunday afternoons how we saw fit. It was more an excuse to get us all together, lured with the prospect of gorgeous soup.
I always made mine really extra salty for some reason and sometimes I would hollow out a Cuisine de France baguette of its fluffy stuffing, pour in a couple of spoons of thick soup and eat it like a sandwich and the most normal thing in the world. Soup being absorbed by bread inside whilst crunching into the crisp exterior as the liquid spilled out, dribbled over or exploded out of the bread and across the table if I filled too generously. It's funny the things you don't seem to forget!
Though I lost almost all of my grandparents before I was even a teenage, I've been a long time without them but the memories I do have are vivid. 15 years on some of those Sunday soup sessions are still so fresh in my mind; the smell of warm soup as you opened the front door, the excitable little dog who didn't know what to be doing with himself now surrounded with ample company; the laughter, joking and teasing at the table as only a family can do. It never set in at the time, but those moments together were a natural tradition for us, yet that situation might have been so rare and so alien to other families.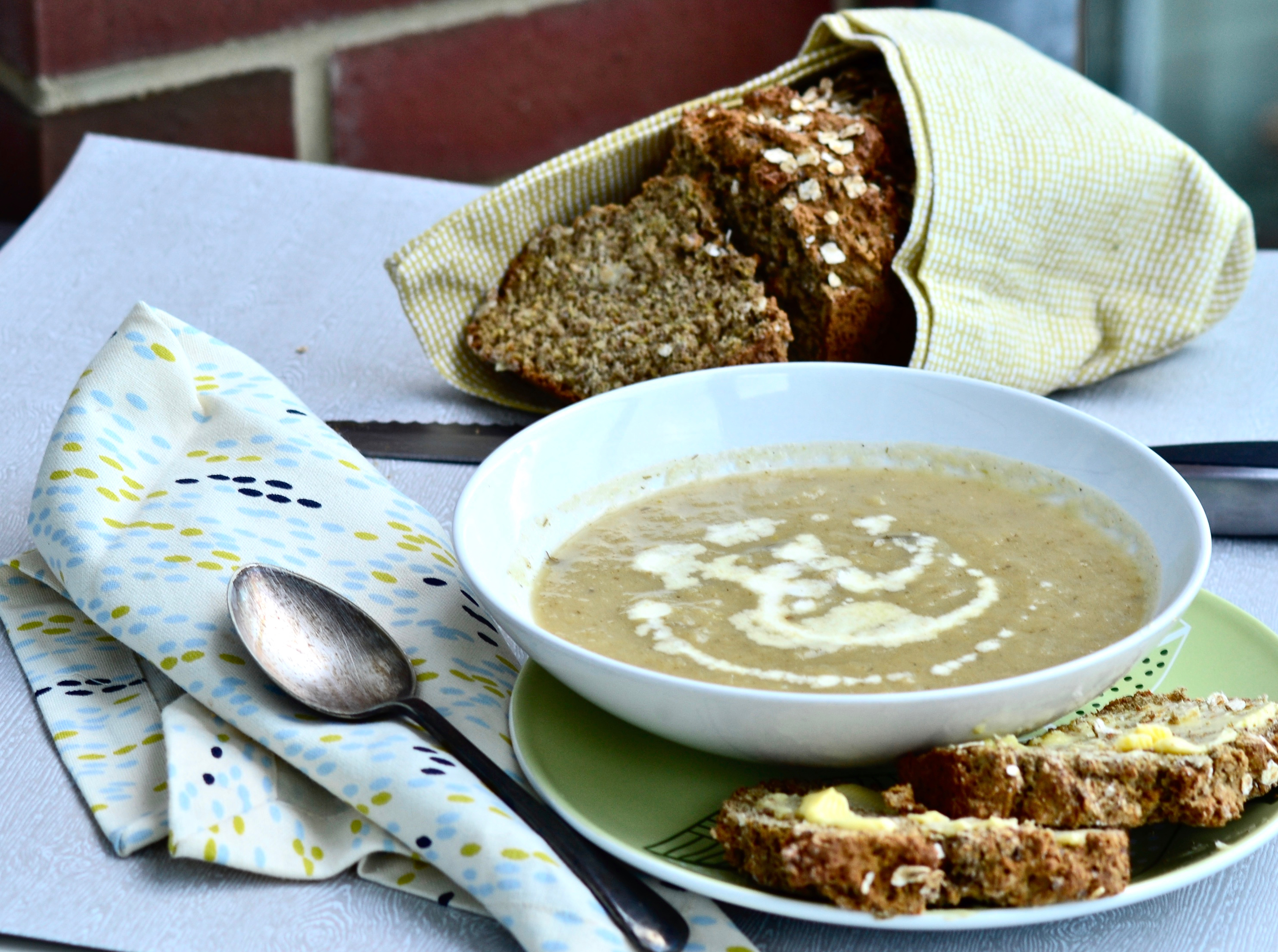 In honour of this tradition, we wanted to develop a recipe that harks of exactly what this time tasted and felt like, so please enjoy our recipe for traditional Irish soda bread with a hearty cauliflower soup
Traditional-Style Irish Soda Bread
375g strong wholemeal flour
3 heaped tbsp wheatgerm
3 heaped tbsp oats, plus a handful more to scatter on top
350ml buttermilk (or 325ml fresh milk + juice of one lemon)
1.5 tsp salt and 1 tsp sugar
2.5 tsp bicarbonate of soda
1/4 tsp white pepper
Method
1. Pre-heat the oven to 170°C and grease or spray a standard loaf tin. We prefer uniform slices this way, rather than freeform on a tray.
2. In a big sturdy bowl, combine all the dry ingredients – the flour, wheatgerm, oats, baking soda, salt, sugar and pepper. You can sieve if you have time, we don't tend to.
3. Make a well in the centre and pour in the buttermilk, then using a wooden spoon draw in the flour from the outside towards the centre in a circular motion, acting fairly quickly but not over-combining. This is a wet enough dough, so use as much milk as you need but it does need to hold, so it will be just a little firmer than standard sponge/pound cake batter.
4. When satisfied that everything has just about come together, transfer the dough into the greased tin. If you have any milk left, brush the top of the dough in the tin with the milk and scatter the oats over the top.
5. Bake in the middle shelf of the oven for 25 – 30 mins until risen and turning colour on the top (and when a skewer comes out clean when inserted). Allow to cool in the tin before turning out and slicing.
This bread is best eaten on the day its baked, but it will keep perfectly for a number of days either wrapped in clingfilm or stored in a clean lidded container. This bread is moist and fluffy, but can taste dry on its own so do slather each slice generously with room temperature butter – a dreamy combination.
Serve with soup of your choice, we particularly like our cauliflower, leek and almond soup, which can be made vegan or vegetarian too.
Cauliflower, Leek & Almond Soup
2 small turnips (or one medium), cubed
1 medium potato, cubed
2 celery stalks,
1 large leek, washed, halved and sliced
1/4 head of cauliflower, florets roughly chopped
500ml  chicken (or vegetable) stock
300ml almond milk
10 – 12 fronds of dill, plus extra for serving
2 tsp white pepper
2 tsp herbs de Provence
2 tsp salt
Method
1. In a little frothy butter in a large saucepan, sauté the cubed potato and turnip, leek and celery for a couple of minutes on a medium heat until cooked slightly through, but not coloured.
2. Introduce the florets of cauliflower and chicken stock and bring to the boil.
3. Immediately reduce down to a low heat, add the herbs and seasoning along with the almond milk. Pop a lid on and allow to cook for 35 – 45 minutes.
4. Take off the heat and when ready to serve, blitz with a hand blender to desired consistency – whether you want it chunkier or smoother is completely up to you whilst you can also adjust the thickness with some extra almond milk if you would like it more pourable.
5. Always taste for seasoning before serving and garnish with a couple of extra fronds of dill and a drizzle of fresh cream.