Brought to you by TUI — Watch 'The World Cook' on Prime Video
Slow cooking is all the rage and is not just economical but also incredibly easy. To be honest, we're pretty happy to lose hours pottering about in the kitchen and tending to a recipe, so slow cooking for us is not necessarily an adventure in ease or a route to cutting corners. For us it's about tenderness and cherishing the ultimate gift in the kitchen: time. Why? Because time brings depth, richness and tenderness to dishes just like this –– slow cooker rib-eye beef stew with blue cheese dumplings, a recipe we adapted from one of the quarter final challenges on The World Cook –– watch on Prime Video from 17 December 2022!
We made a little twist on one of the chef's recipes (no spoilers here!) by making it in a slow cooker rather than in a casserole dish in the oven and we also swapped out the hard-style Alpine cheese in the original recipe for deliciously creamy and sharp Irish blue cheese.
The key to slow cooking is ease, but in the heady pursuit of ease don't forget flavour. So often ingredients are bunged into slow cookers without a second though and, though that's fine, it sacrifices flavour. So in this recipe we suggest three easy steps outside of the slow cooker to ensure flavour within it: lightly roast your mirepoix vegetables to soften and get a little colour; lightly dust your rib-eye pieces in flour and brown off; and reduce your wine by half before adding in. That last task is crucial, as, because of its very nature, slow cooking both draws out moisture and retains moisture meaning you're often left with a lot of liquid which doesn't result in the most unctuous and rich stew. Trust us, reduce the wine before and you'll thank yourself later.
You could use stout in this recipe in place of wine, which would bring a nice earthy, bitter note, but we love how velvety this stew tastes with the reduced wine. After allowing the slow cooker to do *almost* all the work, make simple, quick dumplings to add as a crowning addition to your slow-cooked beef stew, too. This recipe may be a little more hands-on than other slow cooker recipes, but we'd wager it's worth every bit of effort for the flavour unlocked!
For the slow cooker beef stew
500g Rib-Eye of beef, diced into fat chunks
1 tbsp tomato puree
500ml good quality red wine, like a Portuguese Douro red, reduced in a saucepan to 250ml
350ml a really good beef stock
200g each of evenly-diced carrot, celery, onion and leek
1 garlic bulb, halved
Bouquet garni of a sprig of fresh rosemary, a small handful of fresh thyme and 3-4 bay leaves
[optional] 1 tsp Aromat for Meat, for extra depth of umami spiciness
2 tsp smoked paprika
1. First, roast your veg in a generous glug of rapeseed oil on a sheet pan for 20-30 minutes at 180ºC, stirring to turn once throughout until just starting to get a golden tinge.
2. Meanwhile, reduce your 500ml red wine to 250ml in a saucepan.
3. Lightly dust the beef chunks in a little flour and brown in a frying pan in a little oil and butter until coloured and starting to caramelise. Remove to a bowl.
4. In your slow cooker pot, add your tomato puree, reduced wine and beef stock. Then, introduce your roasted veg, squeezing the garlic cloves out of their jackets, and follow with the beef, the bouquet garni and the paprika and Aromat (if using). Stir everything together and clamp on the lid.
5. Cook on high for 3.5 hours or low for 7 hours. Alternatively you could bake in a moderate oven in a heatproof casserole dish for around two hours, or until tender.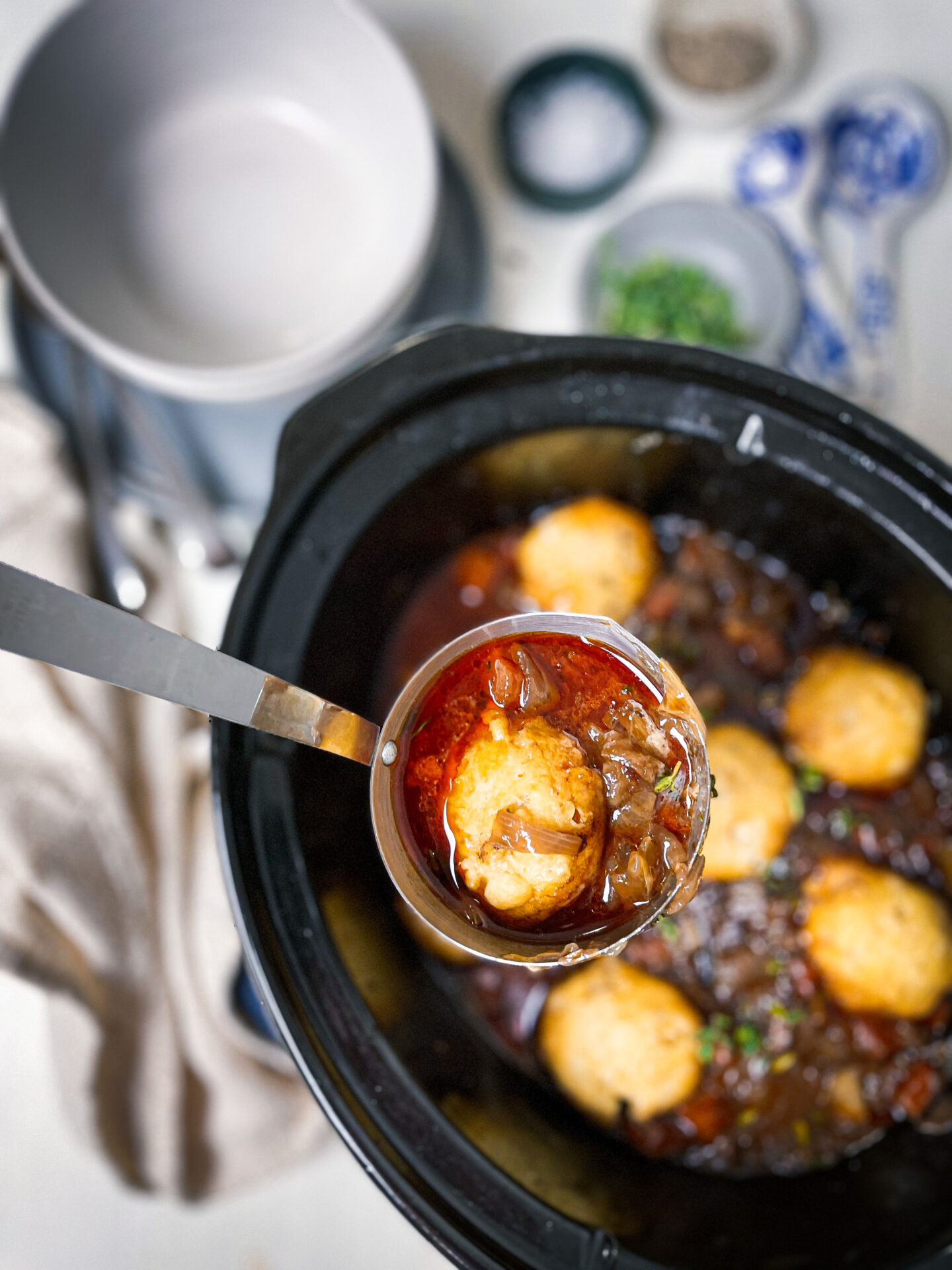 For the dumplings (makes 7-8 small dumplings)
75g self-raising flour (or plain flour + 1/2 tsp baking powder)
1 egg yolk, free-range and organic if possible
35g Irish blue cheese
[optional] A couple of leaves of fresh sage, finely chopped –– you could use dried herbs here, if you prefer, or fresh basil like in the show
A couple of tbsp of cold water
Salt & pepper
1. For the dumplings, add the flour, salt, pepper and herbs (if using) to a mixing bowl. Follow with the egg yolk and crumble in the blue cheese. Similar to making scones, rub the egg and cheese into the dry ingredients — thus dispersing the egg and cheese throughout the mix.
2. Use cold water, a tablespoon at a time, to bring the mixture together just until it starts to make a dough and isn't too sticky or wet.
3. Using very lightly floured hands, roll into 7-8 evenly-sized round balls, though you could scale up the recipe to make more if you wish.
4. Dot the dumplings around the top of the stew, allowing a little space between so they don't clump together, and allow 30-45 minutes further on high. [this dumpling addition is factored in to the overall recipe, so stew and dumplings will take around four hours on high. If you don't want to add the dumplings, still give the stew the four hours)
5. Serve warm and enjoy!
Disclaimer: This post is brought to you by TUI, in paid partnership with us, but all thoughts are our own