There's a story Jimmy often recounts. Jimmy – who is Russell's Dad, by the way – describes how in his youth, 40 or 50 years ago, he worked as a commis chef in The Shelbourne Hotel. It was then, as it is now, the height of elegance when it came to hospitality. The kitchen was always iconic in the hotel, which beautifully overlooks St. Stephen's Green. But the pastry work, in particular, was heralded. The pastry chef there at the time was a man named Alan Gleeson.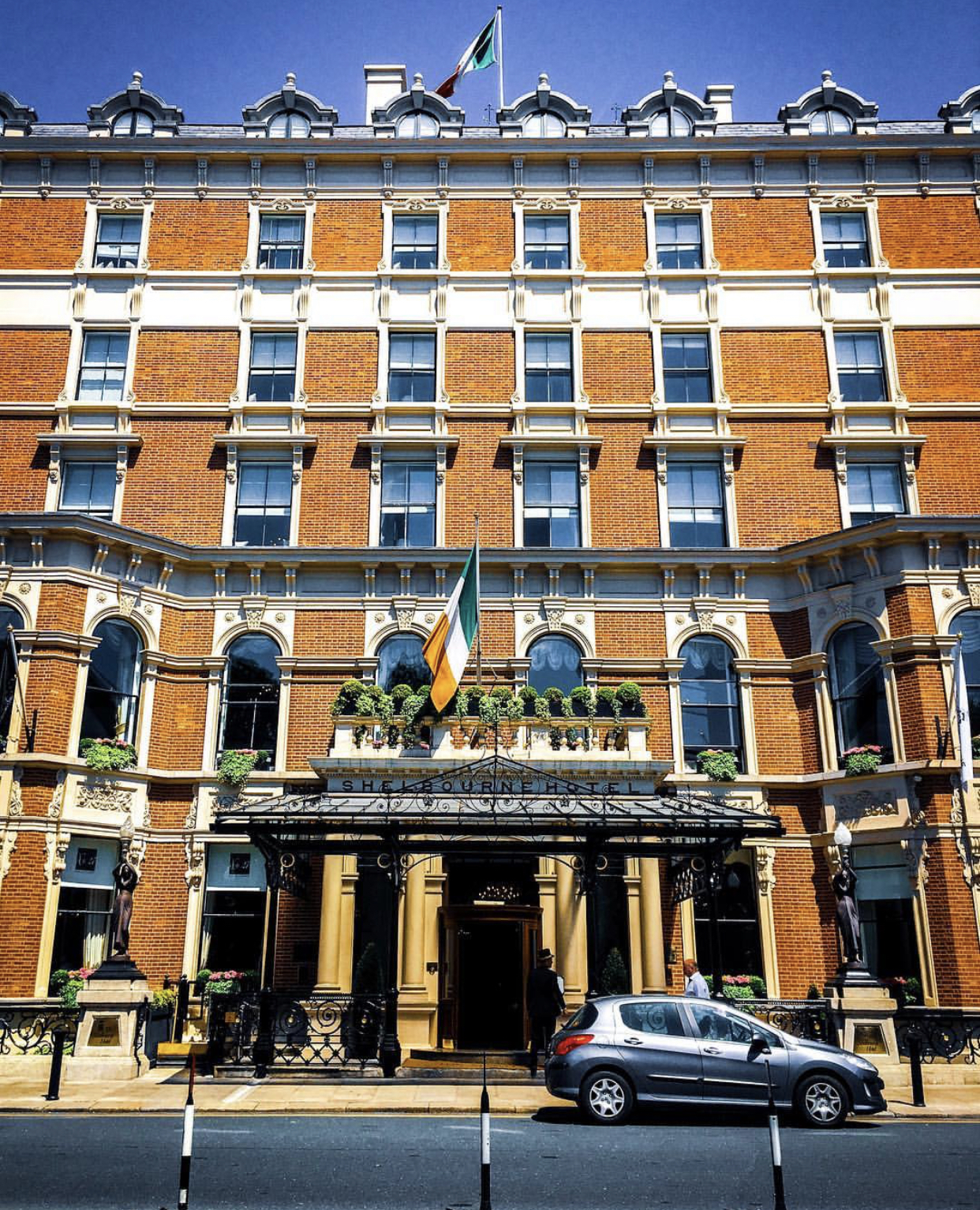 With our love of food, you might imagine the story would continue with Jimmy later working his way up through famed kitchens forevermore, but after a number of other jobs, Jimmy spent the remainder of his working life as a Dublin Bus driver. Years after leaving the Shelbourne, when Russell's parents were getting married back in 1981, Jimmy tracked down Alan who had moved to one of the Dublin Airport hotels, where the Maldron is now and, a long story short, he had asked Chef Gleeson to make their wedding cake.
We never tire of hearing that story because it's filled with such fond, and fancy, memories, so The Shelbourne has always had its own heralds in our minds, and always felt like a glamorous place, full of stories. From the days of the 1916 Rising, where British forces were garrisoned on the top floor, overlooking St. Stephen's Green, taking aim at the rebels in ramshackle trenches in the Green itself to later down the line where the Irish Constitution itself was drawn up in this very hotel, in what's now known as the glorious Constitution Room. The Shelbourne Hotel is no ordinary place and has no ordinary reputation. Only a handful of people will frequent on a regular basis. So each time you do, you create a story.
Our story is that we love a bargain, which won't be a shock to most of you. We had heard that while undergoing some renovations, a "Pardon our Appearance" offer was available for selected dates, bestowing a hefty discount to those who would happily endure a little restoration work being carried out, certain areas being out of bounds, and access to parts of the hotel being more troublesome than you'd expect from a luxury hotel. We've slept on sleeper trains and in wooden treehouses in remote forests over the years, so we figured we could definitely slum it for a night in a fancy hotel under renovation?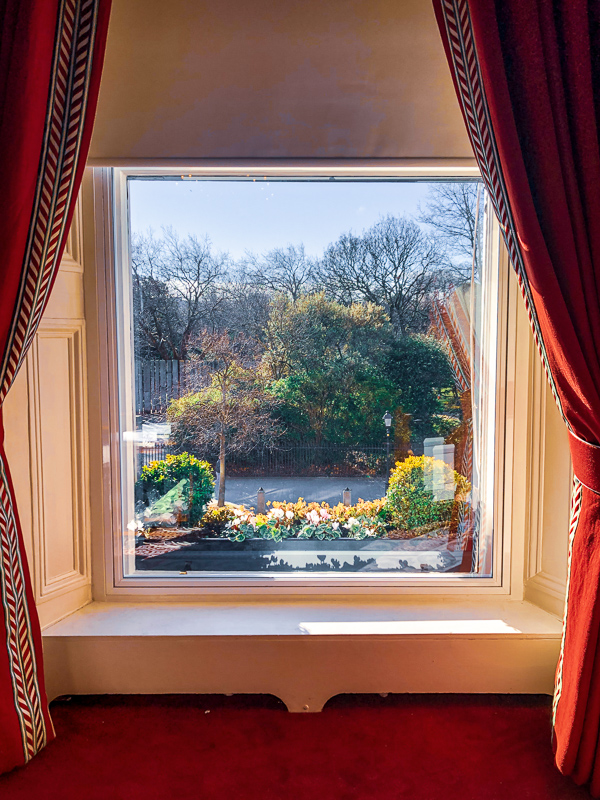 Slum it we certainly didn't. We had been given a voucher for The Shelbourne sometime ago as a Christmas gift which we had intended on using, but being that this is in the industry we work in, a contact of ours had kindly organised the stay for us to feature, mainly to save one of those "you should've asked" scenarios that often happen. So, the voucher was, naturally, used on food and beverage during our stay.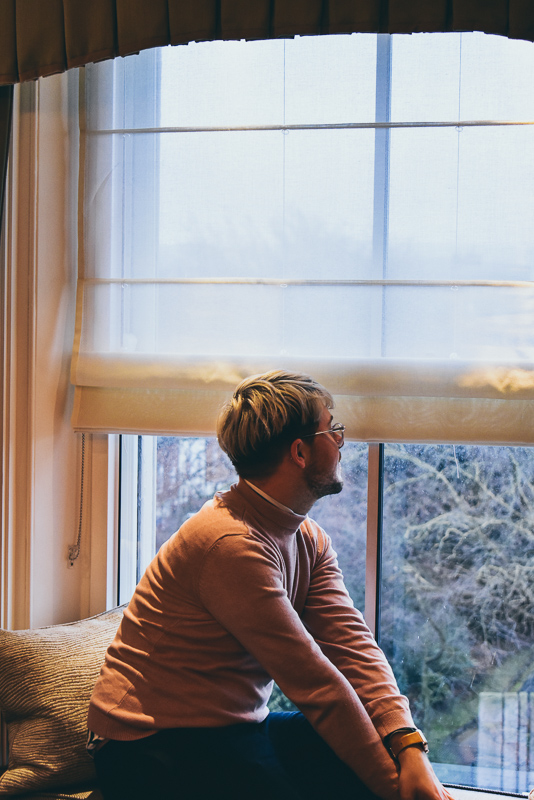 For lots of people the notion of sleeping and living in Dublin city is their everyday and nothing special. But for us, we've been priced out of the city. We don't begrudge it – we enjoy country life, albeit in County Louth – but we did live in Dublin for a number of years in the past, so it feels odd to be distant strangers to a city in ways, never really having it as a place to rest your head. So when we ascended to the fifth floor of the Shelbourne, opened the room door and gawped at the enviable view of St. Stephen's Green from a vantage point we'd never seen before, it felt very special indeed. The Charles Stewart Parnell suite featured a lounge area with opposing sofas, a mini-bar, flat screen TV, and a touch we've grown to appreciate more and more: Lyric FM playing on the radio, even as we entered. Elegance we're not used to – but quickly could.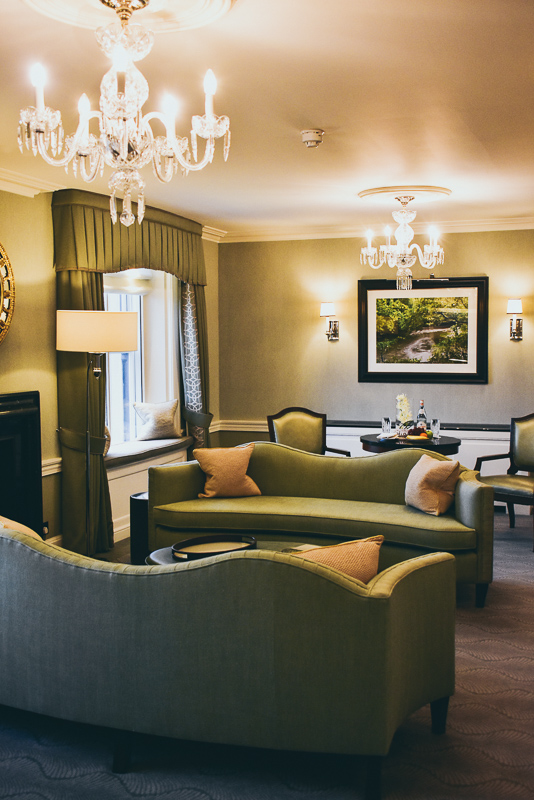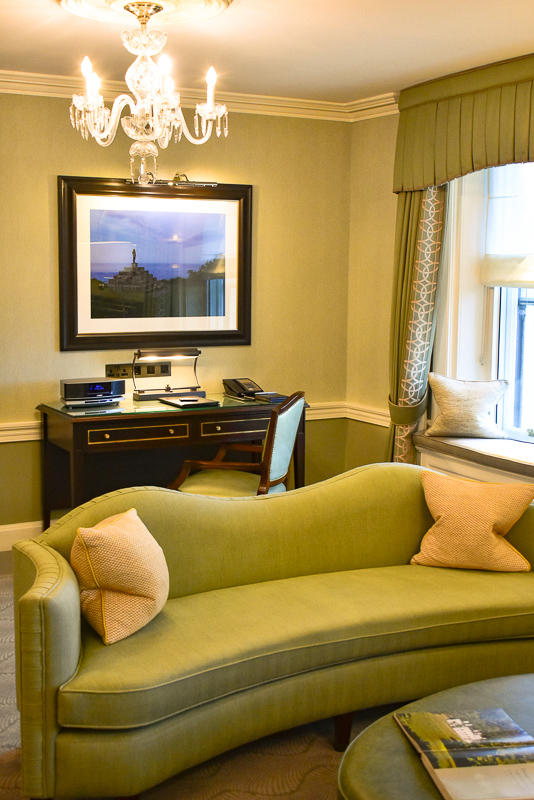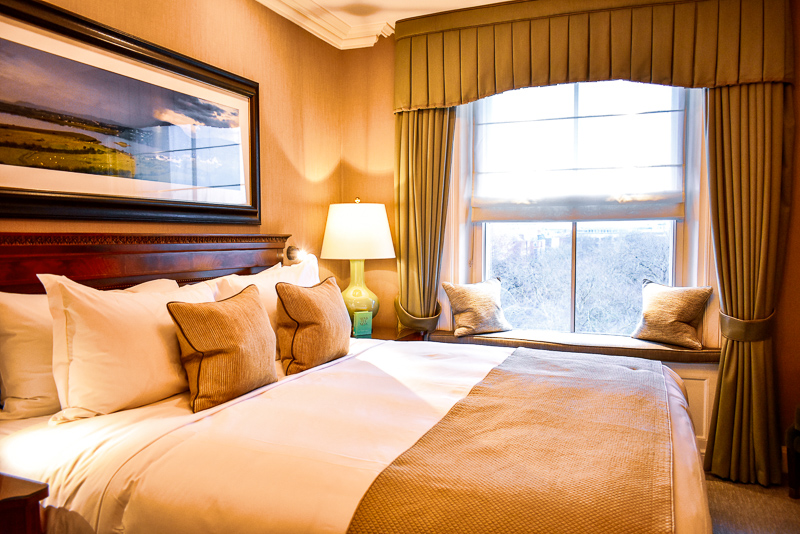 The bed, in the room adjacent, is a hefty beast. Impressively high up, the sheets are crisp yet soft, tightly smoothened over every corner, and incredibly enticing for a night's sleep. To the opposite side from another bay window, sits a large mirrored wardrobe, it would appear. "Too much storage space for a couple of nights' stay?" we think to ourselves. But, in fact, the middle doors open to reveal the bathroom. A sink on either side (we, as a male couple, despise the heteronormative expression 'his & hers' sinks), a concealed toot to the left, a shower room with rainwater shower and lavish toiletries to the right. The piece-de-resistance, in all its central glory, is the tub, with a dish full of bath salts – a rarity, but appreciated. Marble, underfloor-heated tile replete, we have found a room in Dublin city we'd love to call our own, permanently!
For dining options at The Shelbourne, it's limited to the hotel's well-respected Saddle Room with its fine service and delicious classical French-with-Irish-ingredients slant. As you're in one of the most central pinpoints of the city, you're really within spitting distance of basically everything Dublin's ever expanding restaurant scene has to offer. But for us, the theme of the stay was complete escapism, memory and stories and didn't fancy leaving the confines of this grand corner of Kildare Street. Where The Saddle Room is concerned, which is where we dined, it was where we celebrated with a meal for Russell's graduation from DCU back in 2012 and sadly hadn't been back since (moving to London got a little in the way of that) but always had such fond memories of the flavours.
The Saddle Room is a very classic restaurant- dark with soft textures; polite and efficient service and a menu that can guarantee you will need a new belt by the time you wipe the custard from your blouse. This is old school indulgence. We started on cocktails – a "Bertha's Last Straw" featuring our beloved Bertha's Revenge gin, infused with strawberry with rose bud cocchi americano and a pink peppercorn honey. A light aperitif ahead of the Omelette Arnold Bennet – an open omelette, rich and smoky, silky-textured peppered with gorgeously flaked haddock chunks. From the monthly specials, we also ordered the Fivemiletown Goats Cheese with blood orange, candied walnut and pickled beetroot. Both delightful beginnings.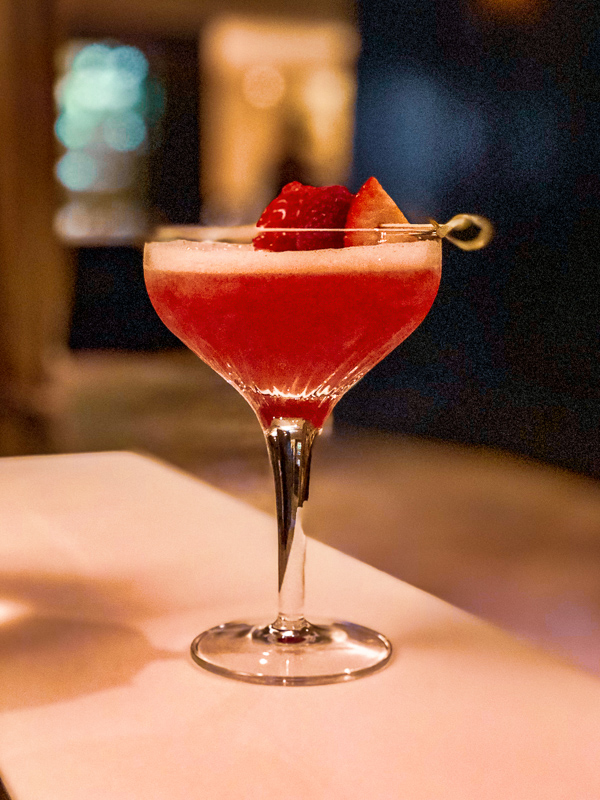 Mains were a difficult choice, as ever with us, as we were torn between Lobster Thermidor, Sole Meunière and a top-notch piece of fine beef. Steak won the battle, a County Cork rib-on-the-bone, cooked medium rare with a rich Béarnaise sauce and watercress, and we also segued some truffle fries on the side too, though too truffle-y for our personal tastes. But remember, this is indulgent, old school opulence, so a "more is more" approach is to be expected. We also chose the Pan Seared Kilmore Quay Cod, from the Table d'Hôte menu which was simple, refined and elegant with cauliflower purée, Tenderstem broccoli and dill. Dessert was a shared, and light, refreshing and tropical affair, with pineapple carpaccio with accompanying coconut sorbet. We took advice on glass of red and white respectively to accompany our mains – a stunning Malbec and a crisp Riesling by the glass.
Postprandial drinks are essential, of course. The hotel's better-known Horseshoe bar, open to the public and residents alike and perched on the Kildare Street side corner all high ceilings, eclectic artwork and chandeliers with its wrap-around bar was the natural stop. We sipped on a martini or two choosing from their good selection of Irish gins before retiring to the residents bar we've heard so much about. Our only regret is not going to it sooner.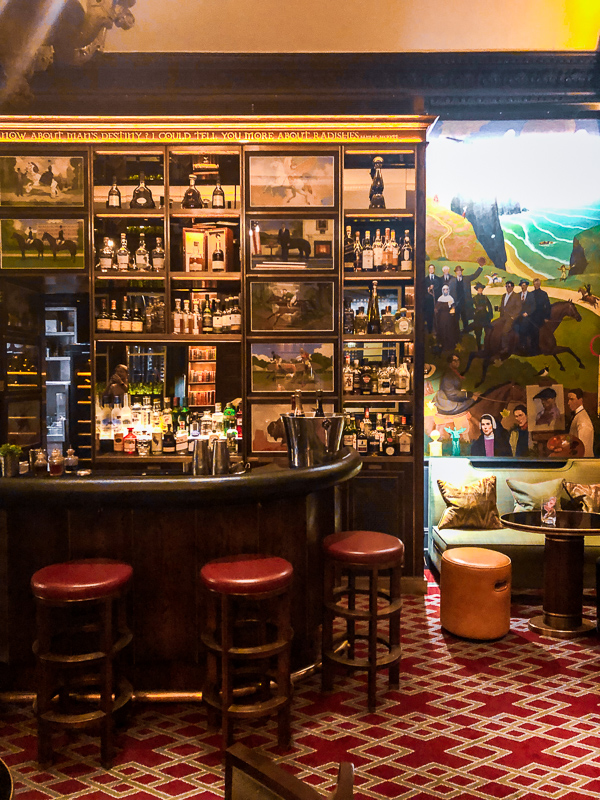 The 1824 Bar, just off the grand staircase in the central heart of the hotel, is a nod to the opening year of the hotel. It's dark and alluring with a warm roaring fire between floor to ceiling bookcases. Though it's relatively a recent addition to the hotel, it looks the part and like it's always been in situ. As we arrive, it's all ours. The barman engages in a great chat with us, and as more arrives, he gives everyone the same treatment. Irish hospitality and our inherent welcoming nature. A gin and tonic each, followed by a neat little nightcap of 12-year old Redbreast. Sublime.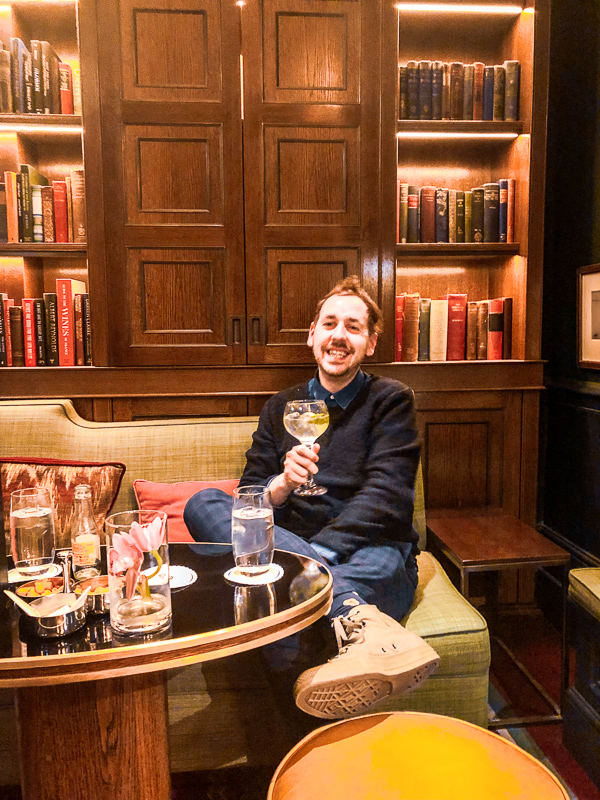 As the streetlights twinkle around The Green, now immersed in darkness, we close the curtains until the next morning. We consciously awake earlier than normal, pulling back the curtains to watch busy Dubliners pounding the pavement, sleep still in their eyes and just after daybreak, en route to the office or meetings. The Dublin mountains caressed in soft rays of light in the distance. We sit for almost too long just looking, breathing in this central location, the history, this unique viewpoint. It's incredibly rare we get to experience bustling Dublin city beneath our bedroom window, and for one night, and one morning, we had that.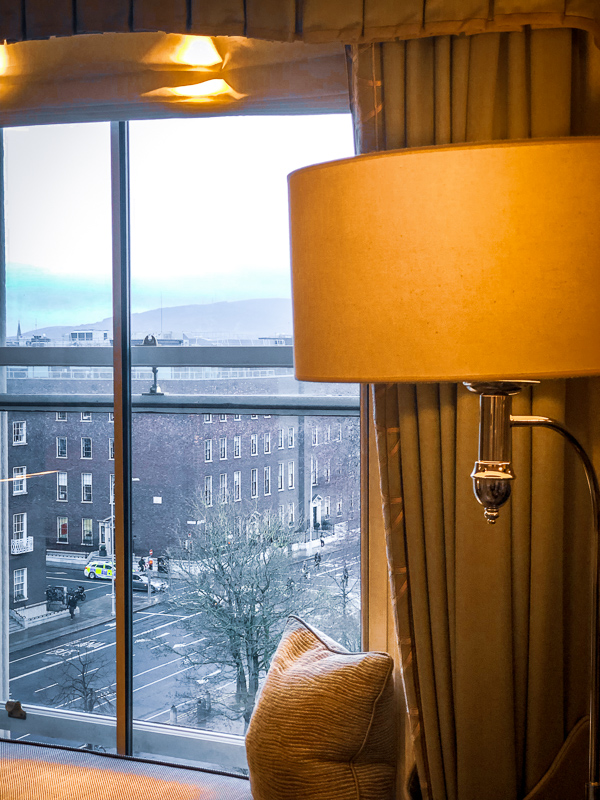 Fancy a stay at The Shelbourne Hotel? Book here via our #AffiliateLink if you're considering a stya and you'll support us in a small way as we earn a tiny percentage commission on every booking. Appreciate the support!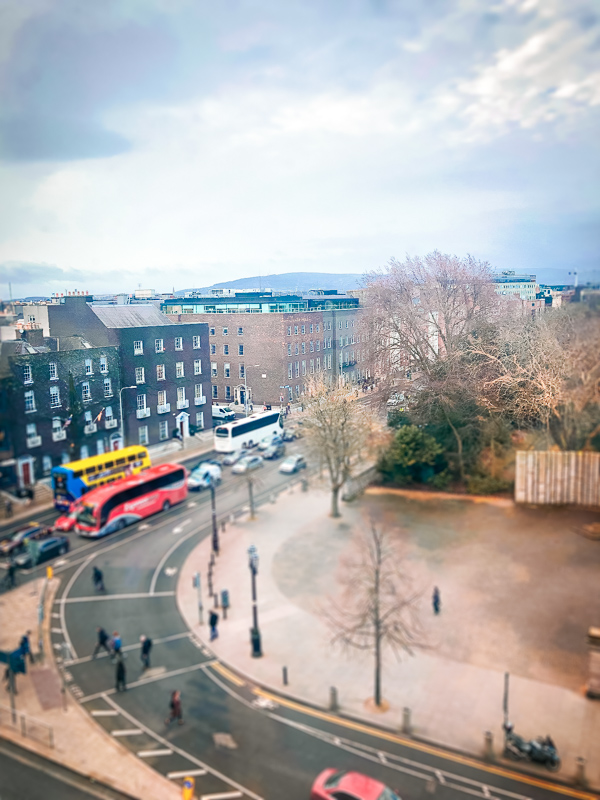 Disclaimer : Portions of our stay were provided for the purposes of this review; a number of additional elements were paid for by ourselves. Views remain our own.