In paid partnership with Aer Lingus

It only took us over six years (and almost a decade of being a food-obsessive couple) to get ourselves to San Sebastián. So overdue and so long atop our bucket list, we recently flew over with Aer Lingus via Bilbao [in collaboration] in late summer 2019 for our very first dip into this food and drink destination for three blissful days.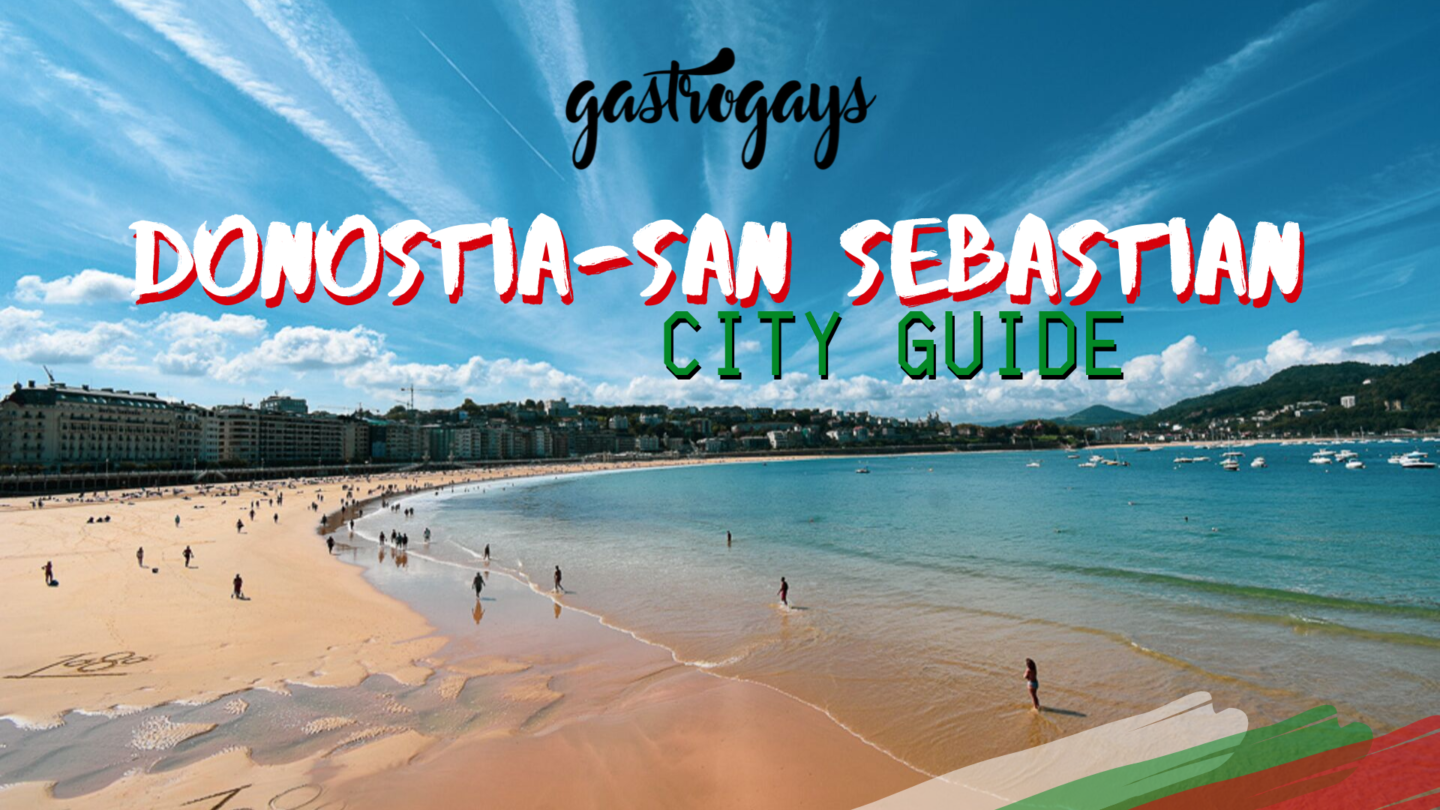 Hugely lauded for its gastronomy credentials, but also well-heralded for surfing, hiking and swimming, Donostia-San Sebastián is a city by the sea surrounded by huge peaks, so it's where seaside, city, outdoors and indoors meet and mingle and the ulimate place for a delicious bar crawl. Here's what we found and what we loved in this mini guide following our first visit (of many, many future ones).
Donostia? San Sebastián? Two Names?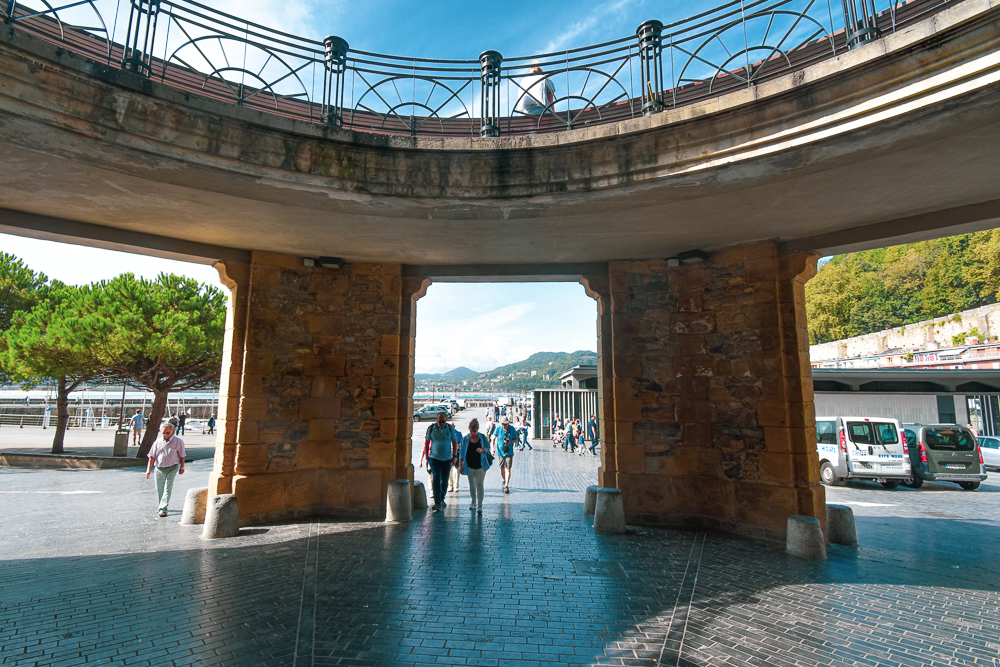 Firstly, you may think "Why the two names? I've only ever heard one" Well, this is the Basque region, which has a real individual identity and culture, plus an individual language –– San Sebastián is the traditional/catholic Spanish name for the city, Donostia is the Basque language name. Sound different, right? They actually mean the same thing –– Saint Sebastian.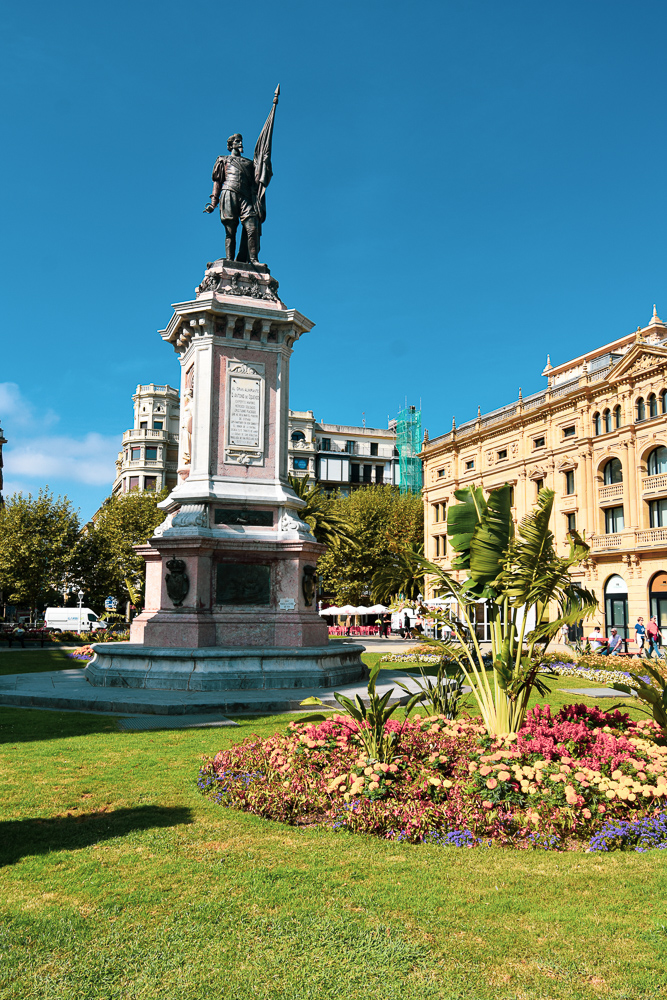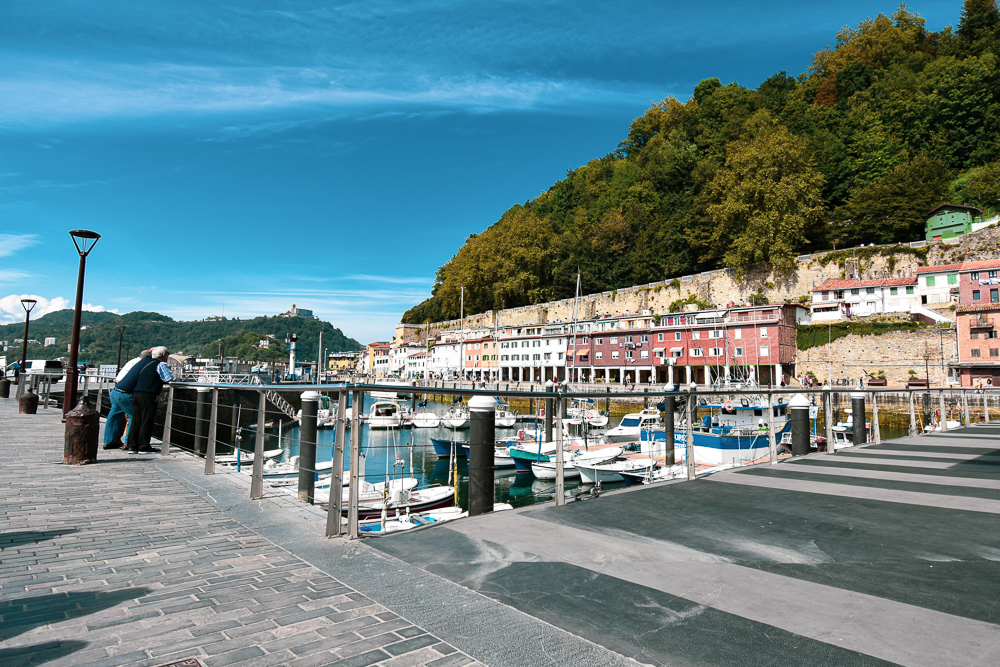 Basque Region and Basque Language
Basque is an autonomous region of northern Iberia, west of the Pyrenees and straddling the Bay of Biscay coast on the border between Spain and France. Euskara is their native language and even though it's surrounded by regions that speak Spanish and French, Basque language is – to get technical – a language isolate, meaning it has no similarity to languages around it whatsoever, so it illustrates how ancient it actually is. It hasn't got the same words, verbs, tenses or even structure as any other language, and even tenuous links to Caucasian, Eurasian or other old languages are disputed, suggesting Basque may be the last remnants of an ancient language that was widely spoken in Iberia and beyond.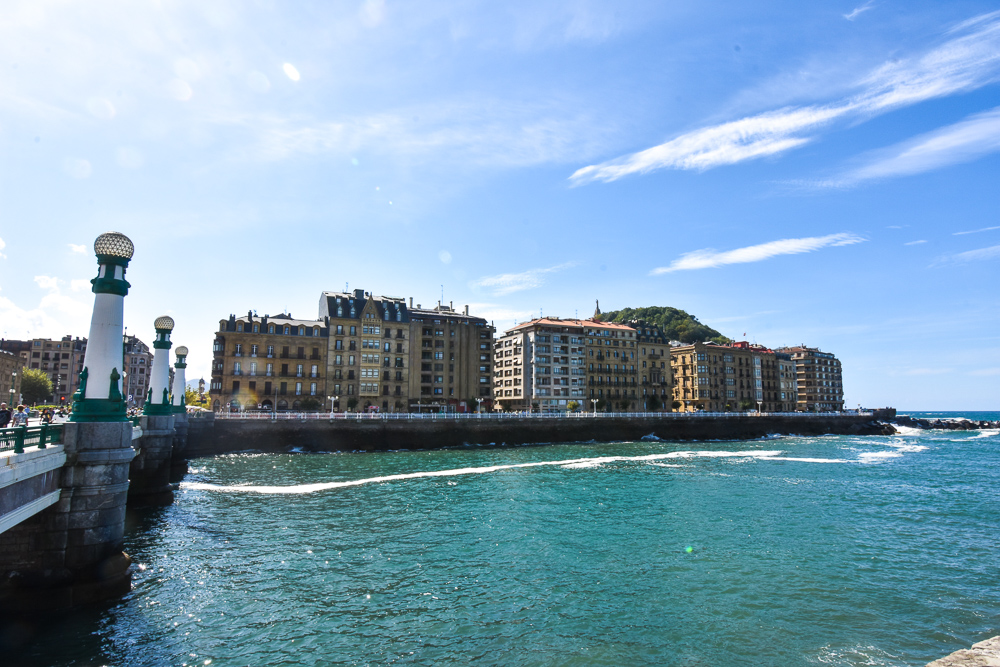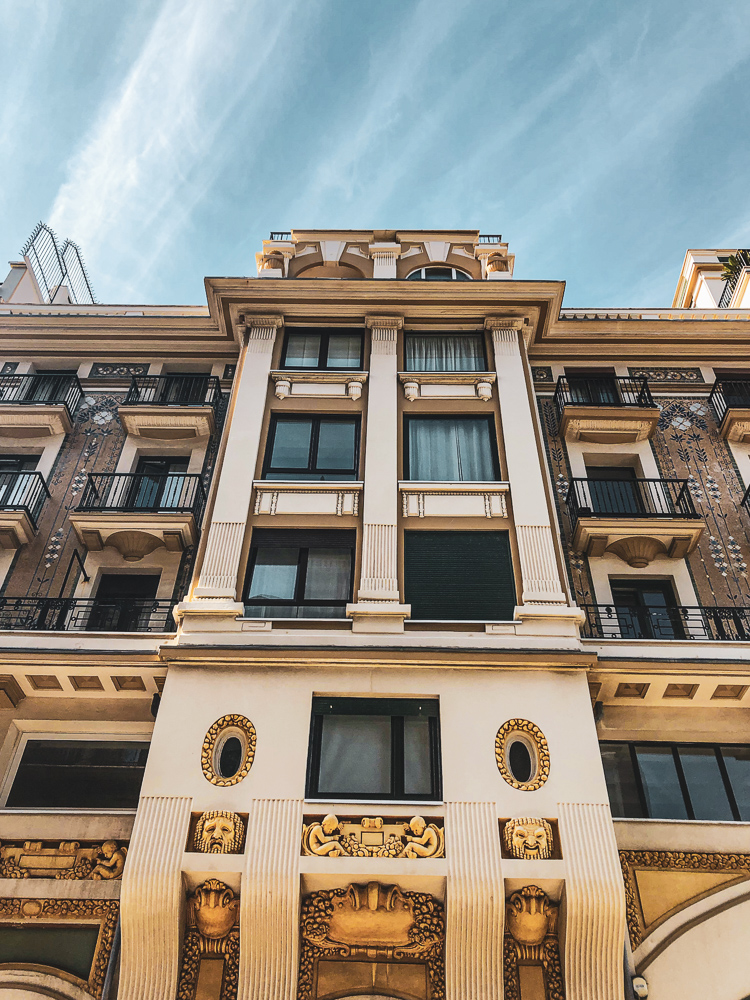 Most locals can speak Basque, but just under a third speak it daily as their main language, Basque and Spanish is used interchangeably in San Sebastián –– you'll see streets have a Spanish title on one side, and a Basque on the other.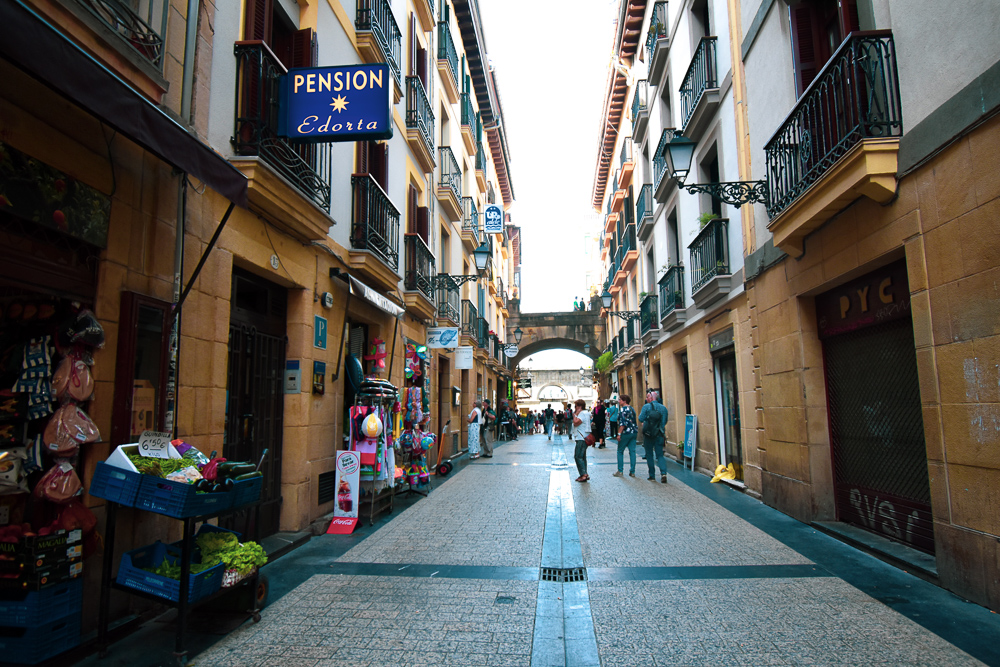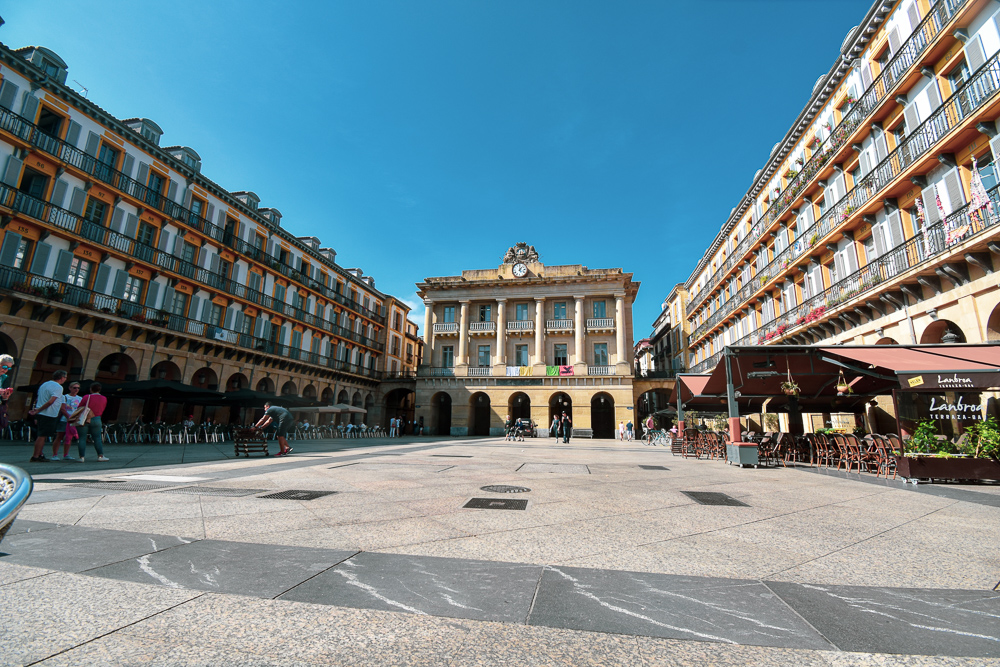 The thing you will notice is the use of the letter 'x' in lots of words, for which pronunciation can be a bit difficult but it's not as hard as it seems – it's quite simply a 'ch' sound, so the likes of txakoli, txuleta and pintxo are pronounced ch-akoli, chu-letta and pin-cho.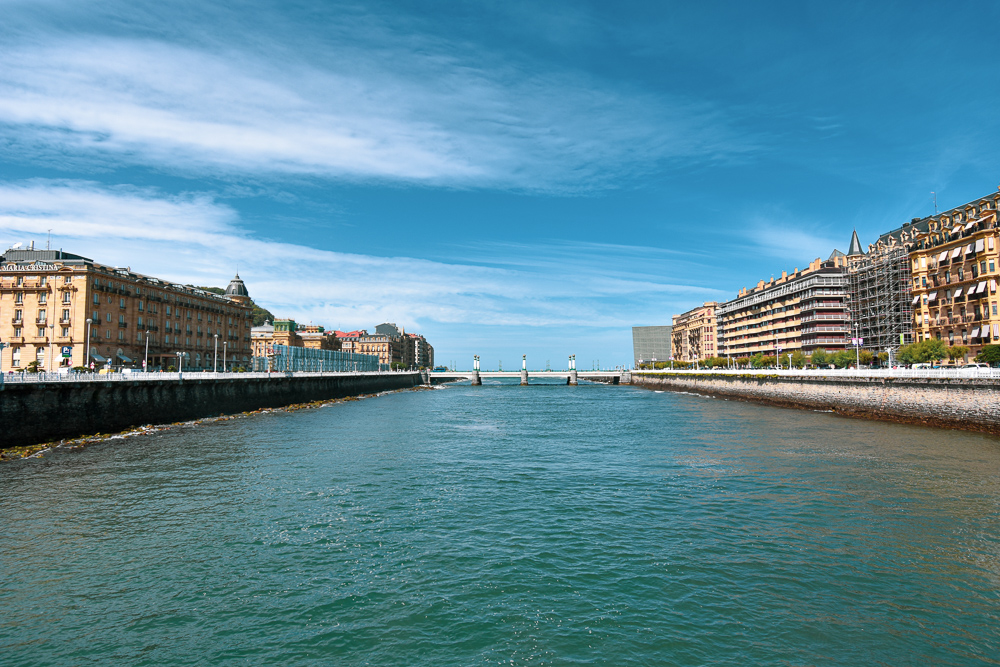 Getting To San Sebastián
If you're traveling outside of Spain, there are a few options. The most popular option is through Bilbao Airport, which offers the highest amount of onwards connections to the city.
Biarritz Airport in France is closer but only offers seasonal options, coupled with road journeys taking about 45 minutes. Cross-border bus and train connections are possible. There is also a small airport in the city of San Sebastián itself, however it is designed for domestic travel only, with connections on Iberia from the Spanish capital, Madrid and some seasonal routes to Barcelona. For ease, we'd recommend Bilbao Airport, which is also a city well worth exploring too since you're in this region, with Bilbao as the capital of the Basque Country.
There are train connections from Bilbao city to San Sebastián but not via or direct from the airport. The optimum mode of transport is by road. The "Lurraldebus" costs €17 single fare with PESA (the operator). As you leave the arrivals hall, turn right to the very end of the hall. There you will find two machines and a ticket desk where you can buy your tickets. However, some things to note about the bus:
There is one bus per hour between Bilbao Airport and San Sebastián, departing from the airport at :45 on the dot from the morning to the night. The journey takes approximately 90 minutes, with one stop on the extremity of the city, and the terminus in the underground bus station of San Sebastián city centre.
Ticket sales are per specific bus and time, not a general "anytime" fare. NOTE: sales for each service close on the automatic machines 10 minutes prior to departure, meaning you have to have your ticket in your hand at :34 the hour at the latest to guarantee your seat on the next bus. Our flight landed at 4:10pm, and we managed to just about get on the 4:45pm bus, so make of that what you will.
One thing you can do to help yourself is to download the LurTicket app (available on Apple App Store & Google Play Store), where you can pay for your ticket and activate it just before boarding.
Alternatively, and possibly one to think about if you are traveling in a group of 4 people or more is a taxi. You can easily pre-book a private transfer from many websites and companies, quoting a price of about €150-€200. While it may be a fair whack of money to pay, the cost is greatly reduced when you split it with a group.
If flying isn't your game, you can sail from Cork, Portsmouth and Plymouth to the port of Santander with Brittany Ferries, then drive from there to San Sebastián in around 2.5 hours – there are tolls on this route. There is also a railway station in the city – with services from Bilbao (taking about 2.5-3 hours, so slower than the bus), as well as connections from Madrid Chamartin station, taking about 5 and a half hours, depending on the service itself. It's also served by the Trenhotel Surexpreso o Surex sleeper train route from Lisbon in Portugal. (You can click on that last link to read about our journey aboard from Lisbon to Madrid)
Getting Around The City of San Sebastián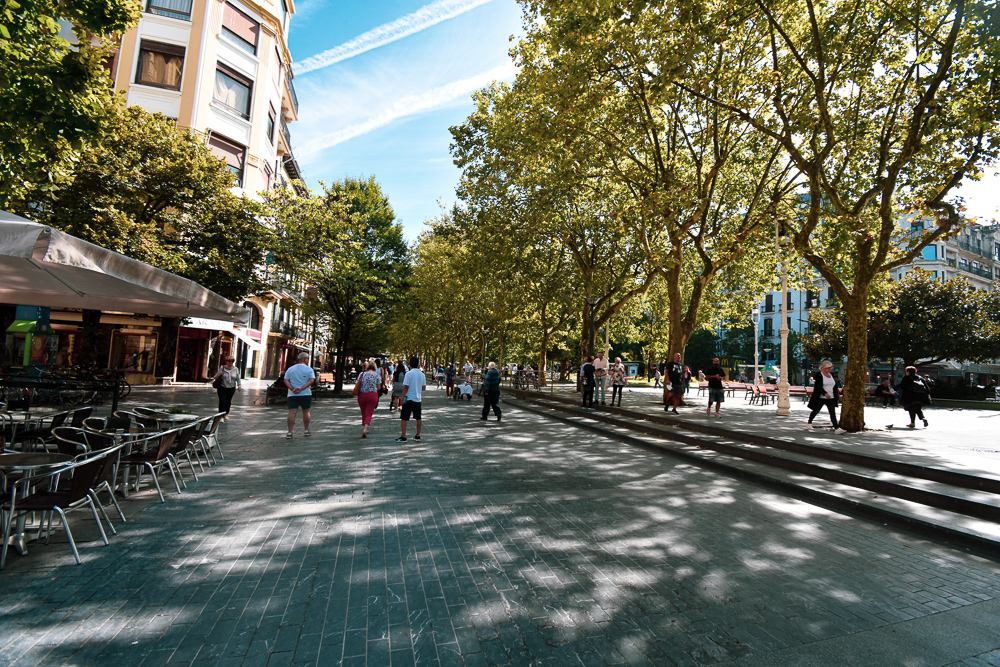 One thing we loved about San Sebastián is how easy it is to get around the city by foot. It's a flat, big city, right by the sea and surrounded by mountains at its extremity. It's easily navigable by foot and whilst we were there we mostly stuck around around the old town and the immediate city centre. One thing that can be a bit confusing when researching prior to visiting is that there is a metro system in the city, however, it is an upgraded version of some former regional services which serve the suburbs more than the heart of the city. It is called Metro Donostialdea and its hub is Amara station.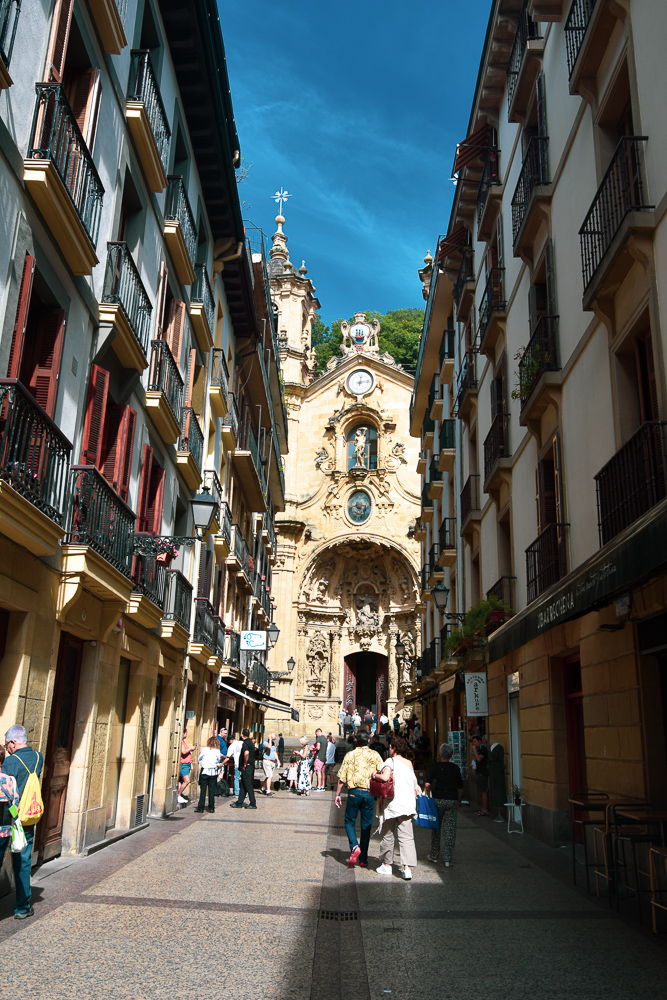 There is a local bus network in the city, which you can read more about here. Something to note is that you can't hail a taxi on the street like in many other cities, you have to use the official taxi ranks or make a booking. So don't try flagging one down!
Place To Stay in Donostia-San Sebastián City Centre
On our first visit to the city we stayed at the Room Mate Gorka Hotel (#AF), which was modern, clean, small but well-formed and – most importantly – incredibly central.
A new contemporary boutique hotel on Gipuzkoa Plaza, opened in late summer 2018, with superbly friendly staff, rooms start from around €84. Though, important to note breakfast isn't included –– it's an extra cost, as standard. It seemed odd to us, especially for guests staying for more than one night. The breakfast offers a hot and cold buffet from 7am until midday but it was something like €12 per person, per day so we didn't opt for it. Thankfully, again the central location, there are plenty of bakeries and coffee shops nearby. If considering booking to stay in this hotel in a central location in San Sebastián book here (via our affiliate link –– it earns us a tiny, tiny percentage commission for every completed booking).
Where To Eat in San Sebastián (Restaurants)
San Sebastian boasts the highest concentration of Michelin Stars per capita than any other place in the world. There are such a vast array of Michelin restaurants, mostly offering tasting menus costing from about €100 per person, increasing upwards of about €300pp in some higher starred ratings.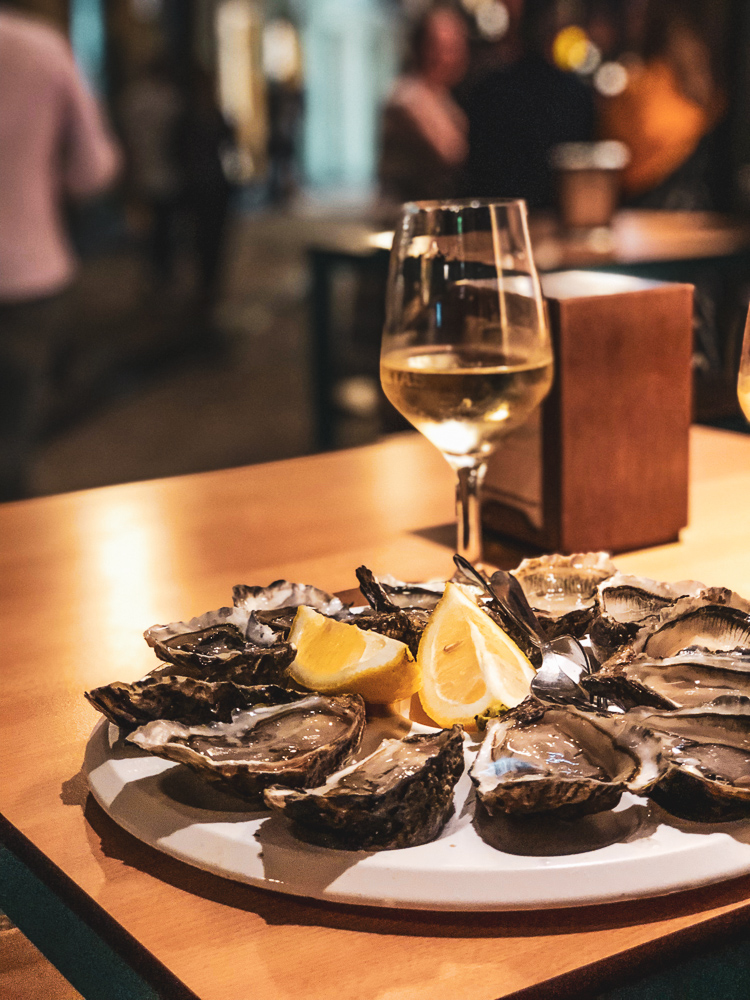 At the time of writing, there are 18 Michelin-starred restaurants in San Sebastián (booking a table at any of them is essential) two or three-Michelin-starred restaurants: Akelarre (***), Mugaritz (***), Martín Berasategui (***) and Arzak (**) whilst other one-starred restaurants include Alameda, Kokotxa, Elkano, Amelia, Eme Be Garrote and Mirador de Ulia,
Casual Dining in San Sebastián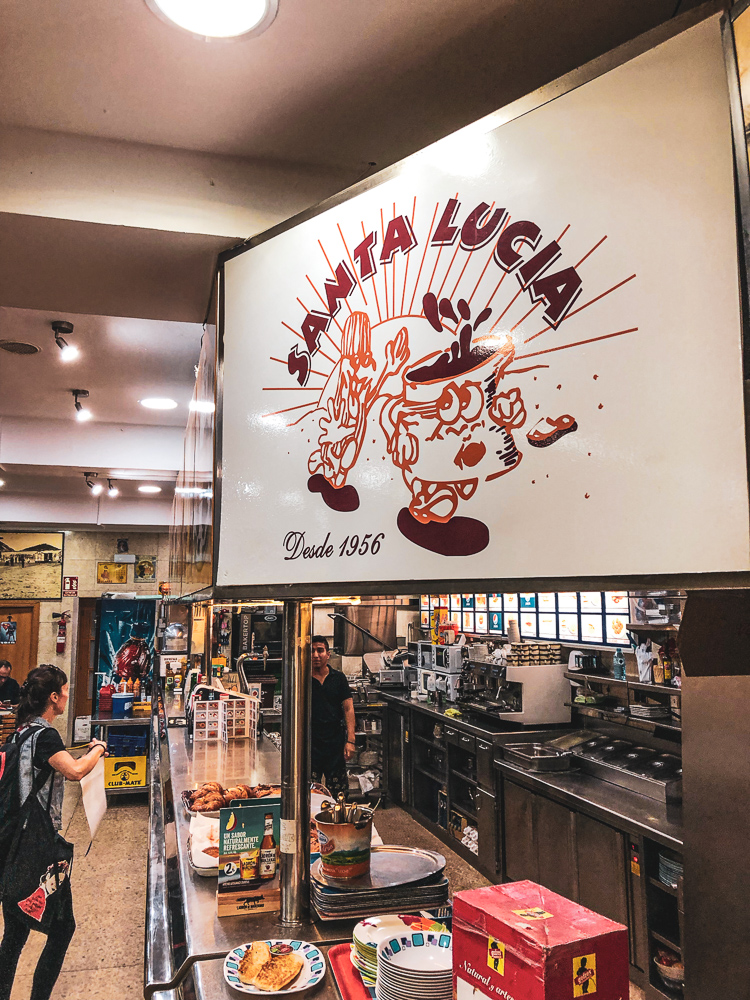 Let's start with an all-day cafe, shall we? Santa Lucía on Portu Kalea is the canteen-style cafe that time has truly honoured. Keeping to tradition, this is an expansive, great value, no-frills cafe serving tea, coffee, small bites and lots of sweet treats. If this were in Britain, it would be a 'caff', if it were in the States it would probably be a 'diner'.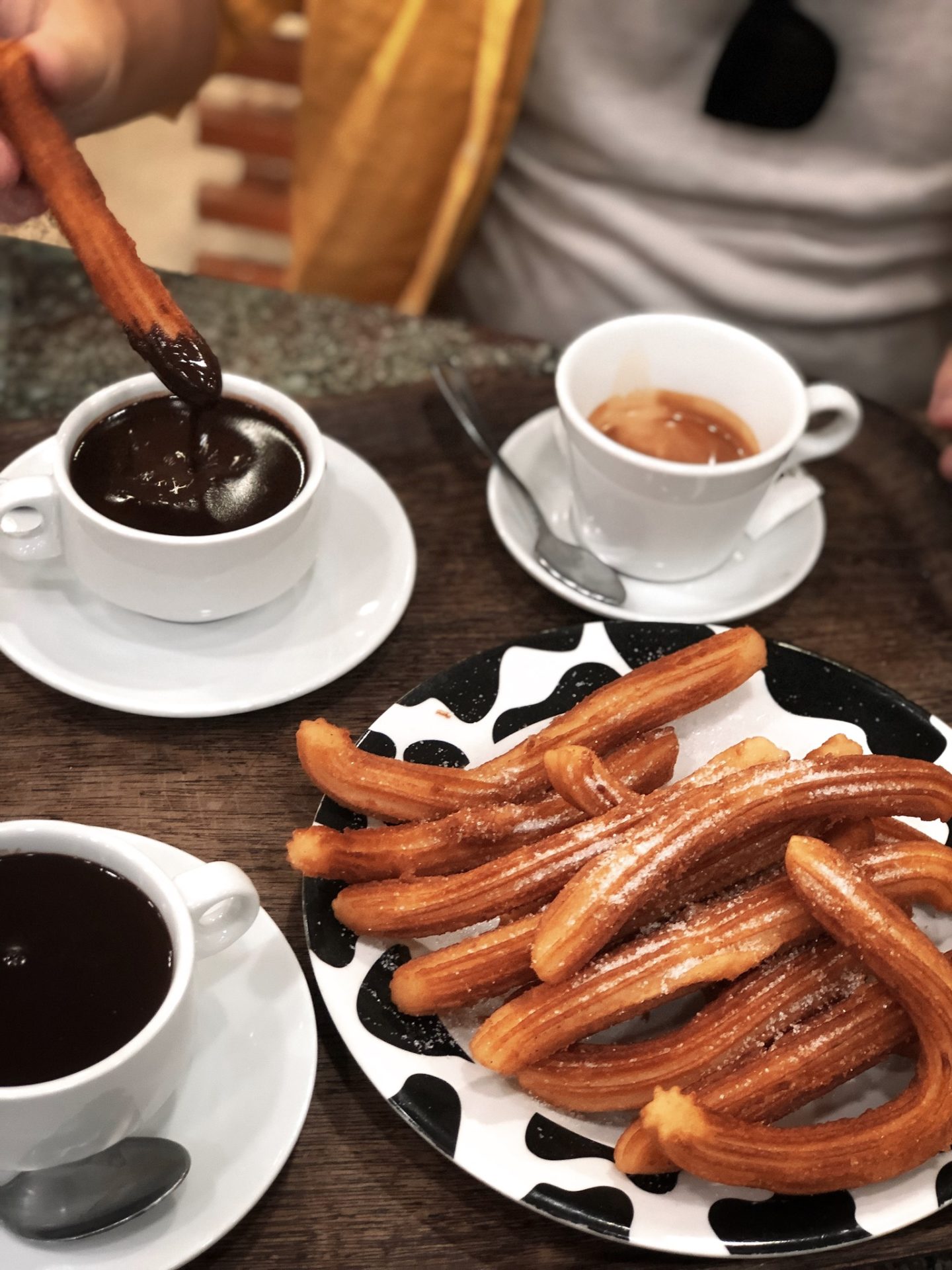 Whatever you want to call it, txokolate txurroak (or churros and chocolate) is what you should order here, with a couple of strong cups of espresso. These are fresh from the frier, sprinkled-in-sugar long fried donuts of a very simple batter, encouraged to be enjoyed swilled through the thick chocolate sauce served alongside.
Pintxos or Tapas?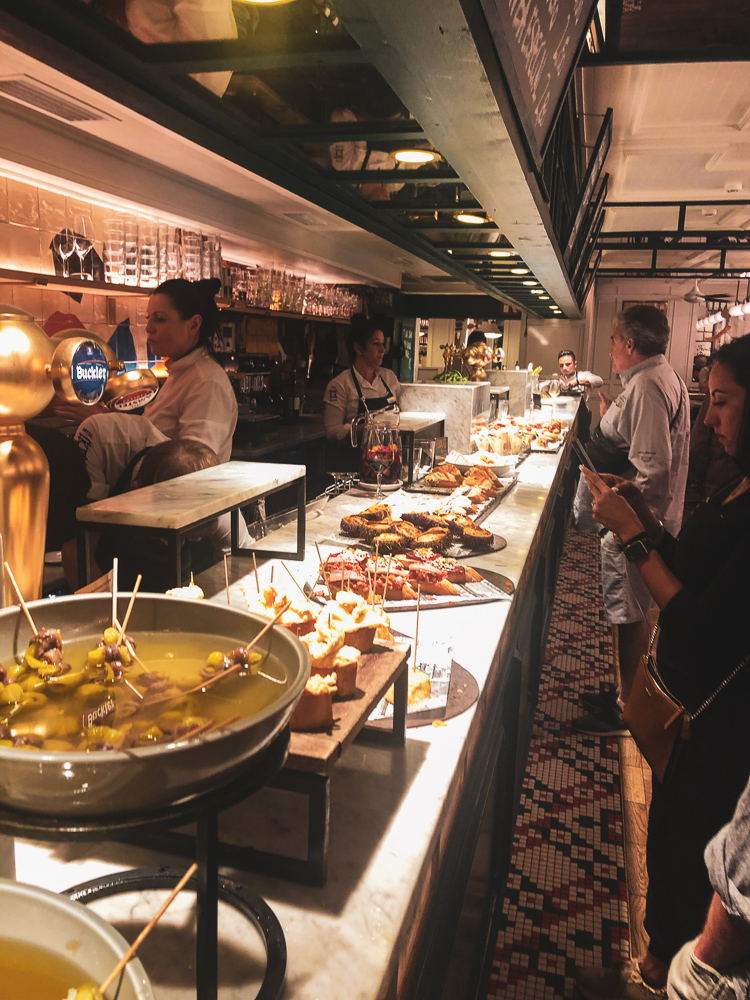 'Pintxo' is a 'Basque-ified' take on the Spanish word 'pincho', which itself comes from the Spanish verb 'pinchar', which is 'to pierce'. Pintxos are traditionally pierced with a cocktail stick or pierced to a piece of bread that they invariably came attached to. However, as Basque cuisine has evolved, the food is now less likely to be pierced to a piece of bread than before.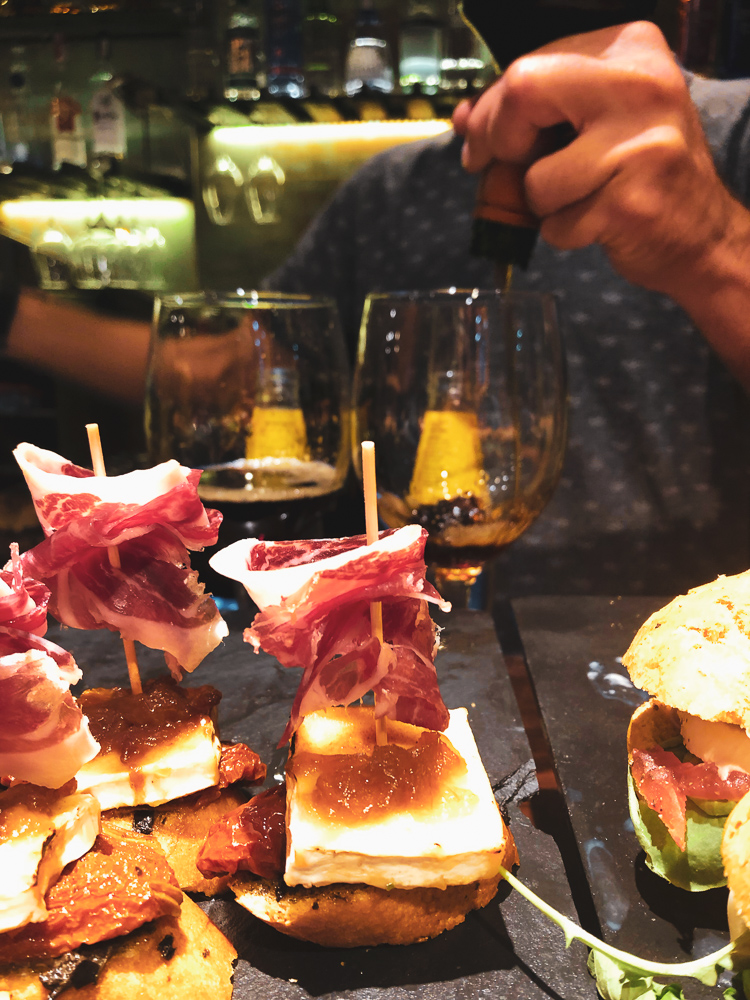 Think 'pintxos' as a 'pinch' of food. Hand-held, often, and usually on a piece of bread, pintxos are a 'bite' of food, rather than the slightly bigger, sharing tapas plates served table-side in other areas of Spain. Indeed, in some other areas the tapas are served to a table complimentary if you purchase a drink, but not in San Sebastián –– here, people stand around in small bars eating handheld bites (or bring them up to their level from a plate) and enjoying a drink alongside.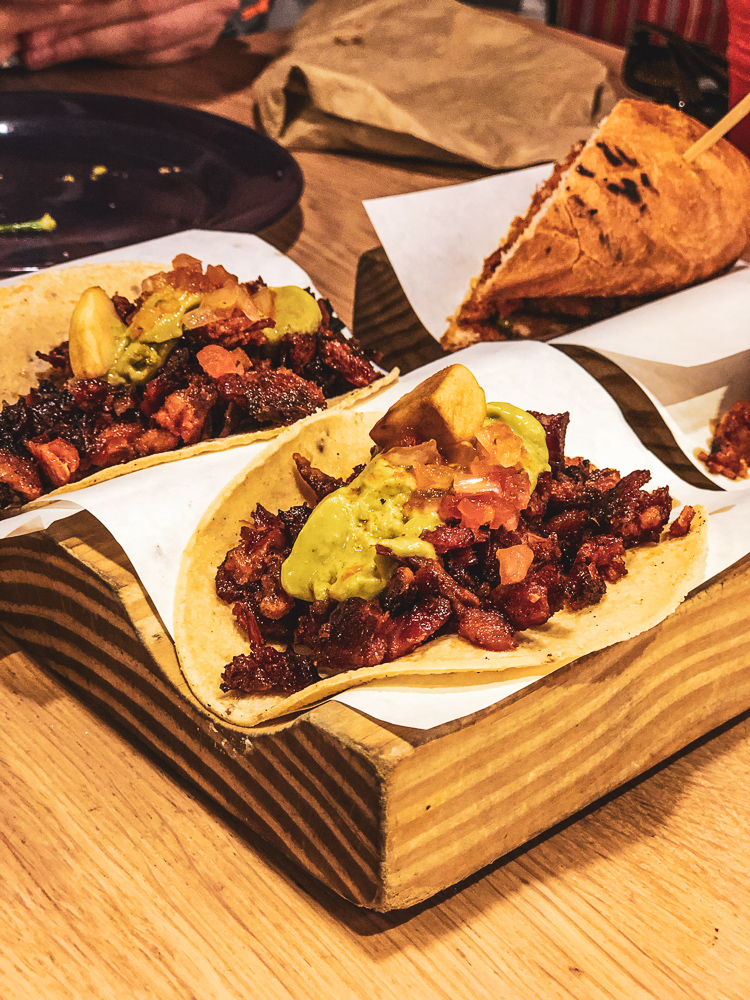 It gets more confusing, because 'raciones' are larger plates (a heftier portion) that carry a higher price tag and are cooked fresh to-order, so you can still have a tapas experience by ordering a few raciones and sharing them at a table if you can nab one.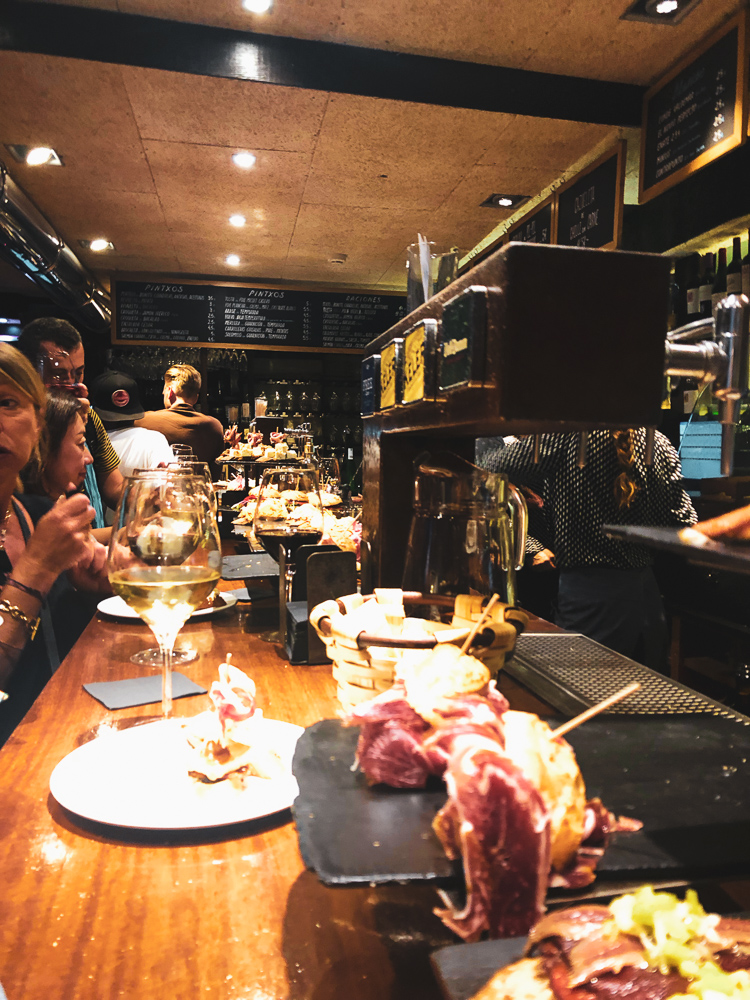 We've written HERE (and below) in another post about the must-try pintxos bars in San Sebastián and also the specific dish or two that's best to order in each spot that we loved! From tortilla and txuleta at Bar Nestór to tarte de queso (Basque burnt cheesecake) in La Viña.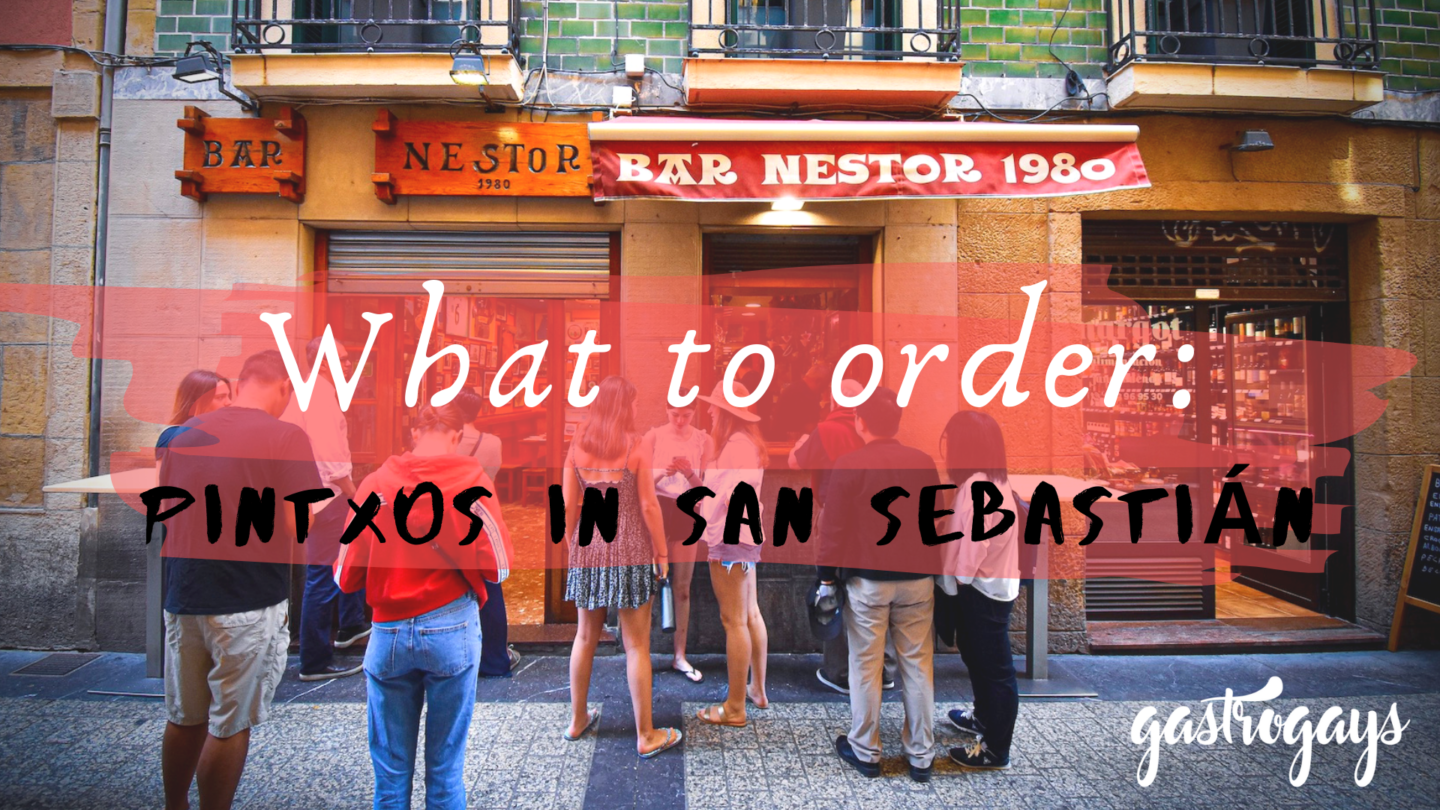 Some notes on the style here, because 'to pintxo' is actually a verb used in this region, so it's a way of life. You may walk into pintxo bar and see everyone standing around, throwing napkins, toothpicks and even seafood shells on the floor into metal troughs. This is normal, this is the pintxos experience…. Embrace it.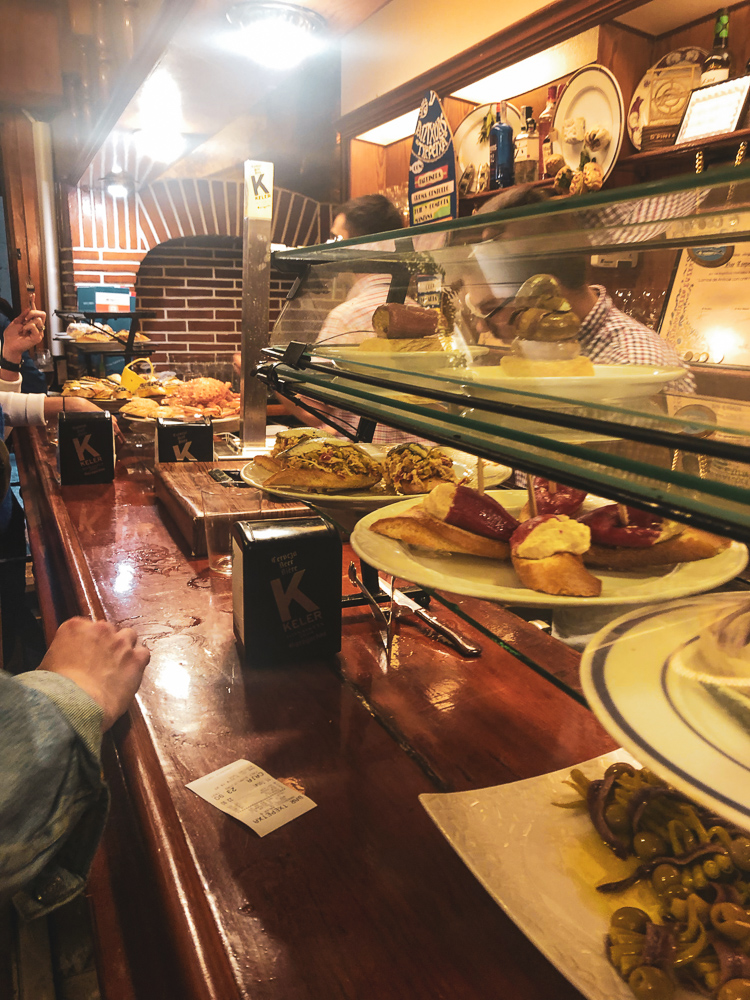 You may walk into may of these bars and see loads of food on the bar, and people just grabbing a few pieces and not paying (immediately). What is interesting is many places operate on a honour system, where they will trust you to say what you ordered and you can linger over your food and drink… provided you come back and pay for what you've had.
San Sebastián Food Tour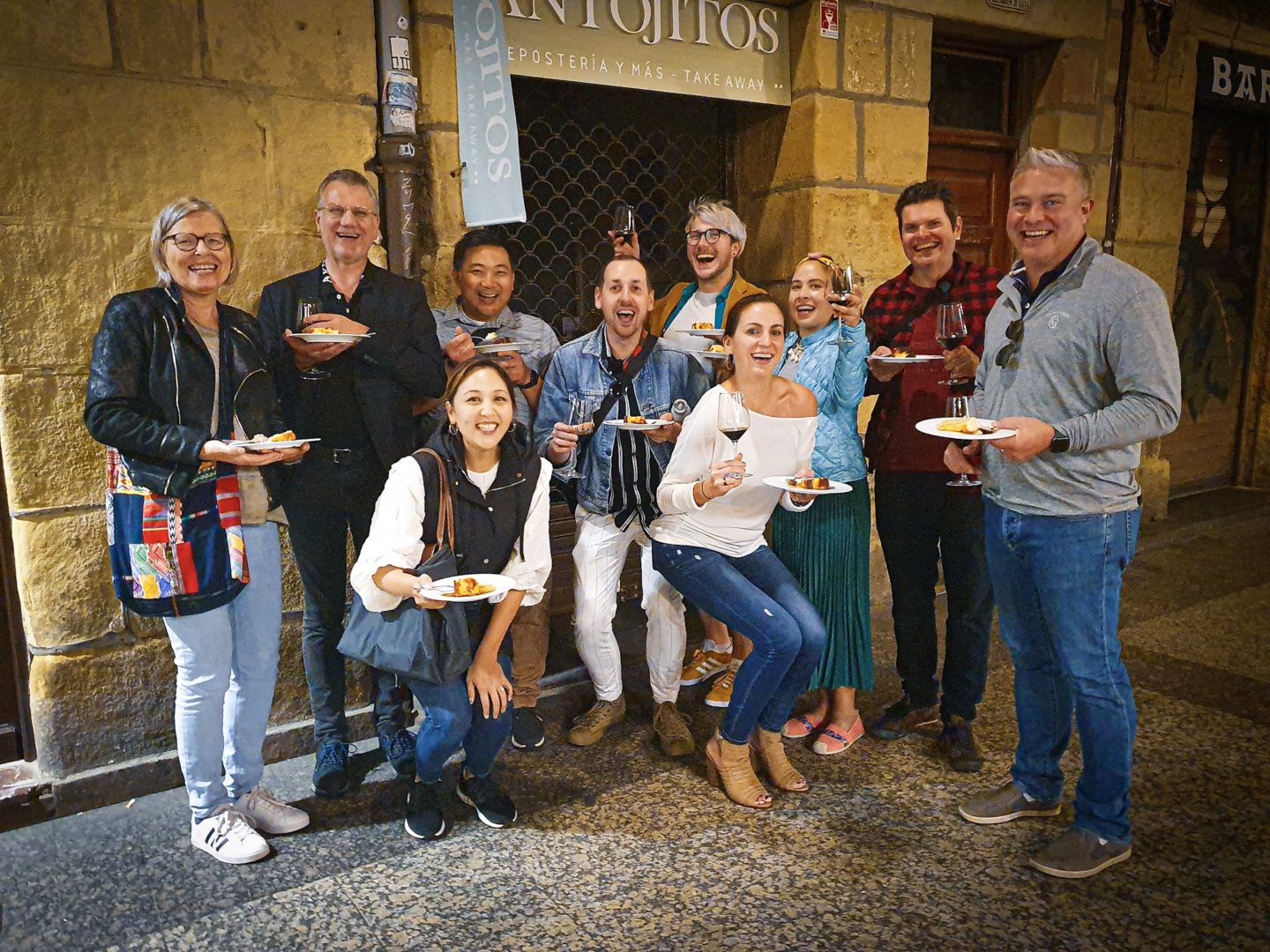 While there are plenty of places to enjoy a proper sit down meal, the real experience is to go on a pintxos crawl, enjoying a drink and a dish or two in various places around the city. We went on an evening Pintxos Crawl with Devour Tours and couldn't recommend it enough – Cristina, our guide, was phenomenal and an expert in the food and drink of the city. Watch her below for some more tips!
What to Drink in San Sebastián? Txakoli and Cider
Txakoli is a lightly sparkling white wine that's produced in this area with characteristics of being quite dry, a little sharp, and lower in alcohol than its counterparts. It's poured from a height using a special type of cork that has one open side and one pouring side to add extra aeration (plus a little visual drama in bars, too) to the wine. Txakoli is drunk young because it doesn't age particularly well, so you won't really see vintages and it's always chilled.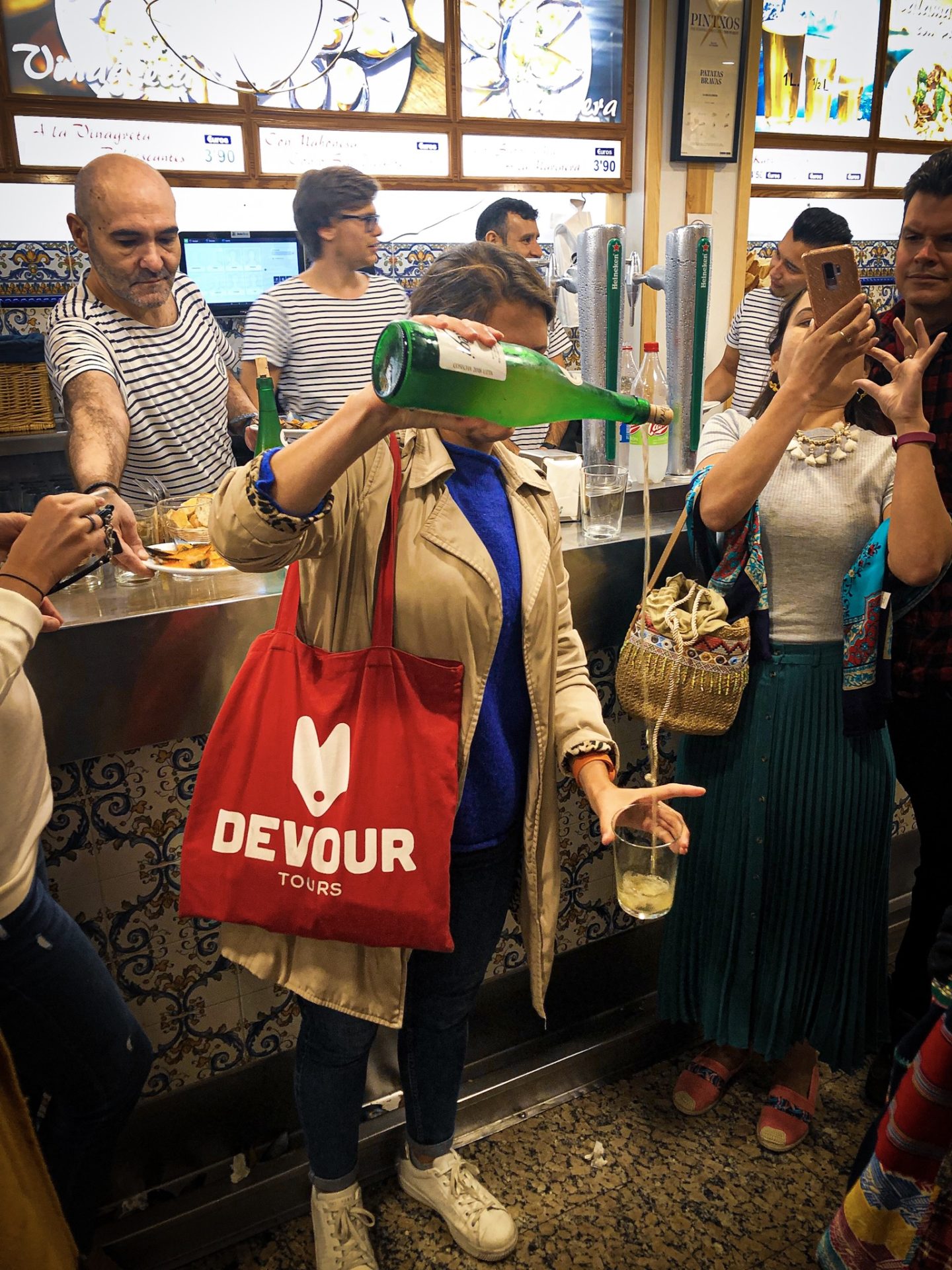 Likewise, cider is big business in this part of Iberia; who knew?! We certainly didn't, and like txakoli there's a similar characteristic in the cider produced here –– intensely dry, sharp and not quite sweet like the British/Irish varieties. Plus, it's not carbonated in any way so it's also poured from a height using the same type of pourer adding in aeration to produce a really crisp, refreshing alcoholic drink that cuts through the richness of the Basque cuisine elegantly.
Gin in San Sebastián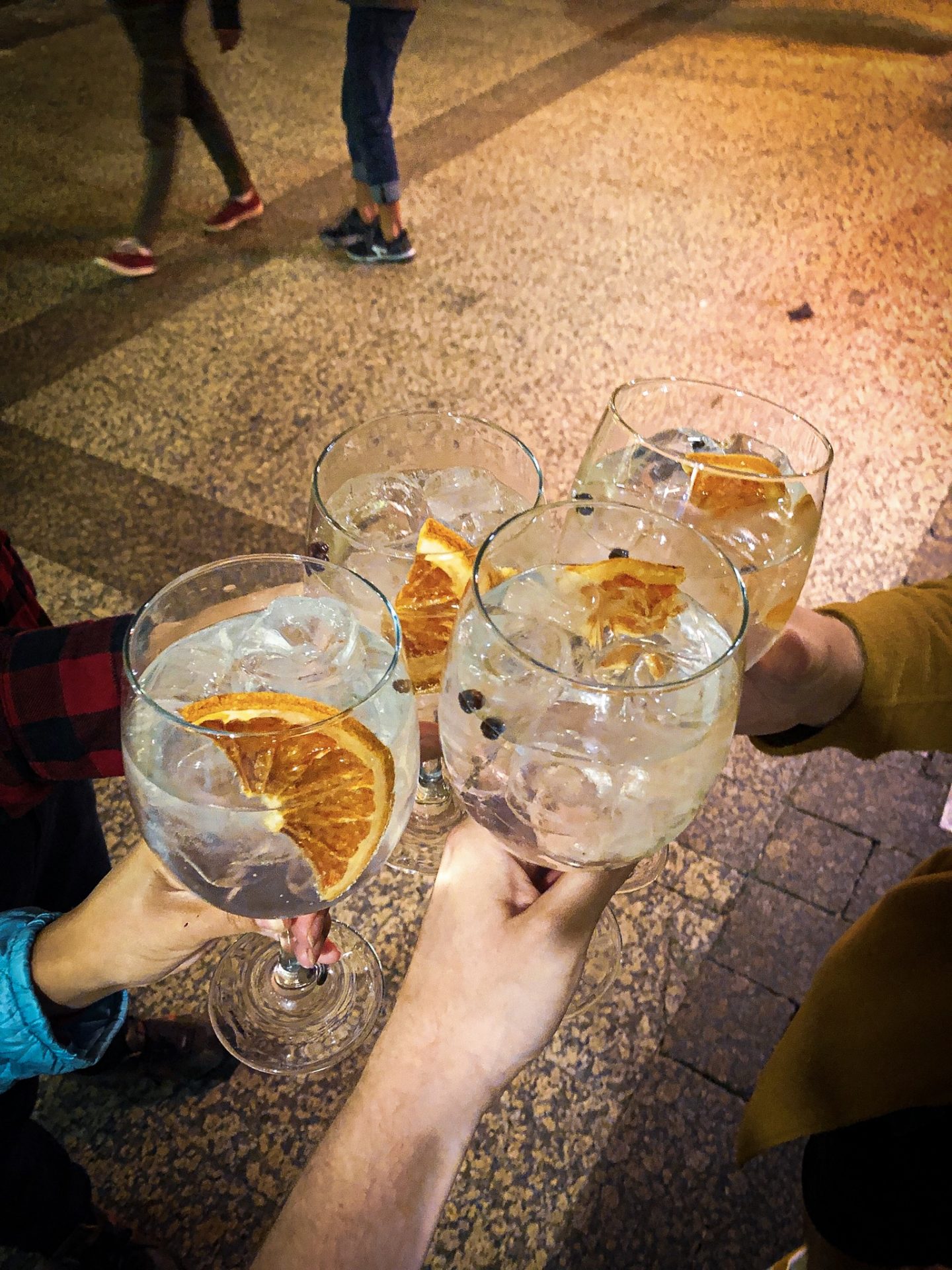 One of the gin capitals of Europe, you will see a selection of premium gin brands in lots of the bars across the city –– including the local (ish) favourite, Nordés (nord-ez), a refreshing and botanical-heavy Galician gin from further along the Spanish coast and made using Albarino grapes rather than grain spirit. Another notable Spanish gin to try is the Mediterranean-influenced Gin Mare (gin mar-ay) which hails from a small seaside city called Vilanova in Catalonia on the other side of the Iberian Peninsula, right between Barcelona and Tarragona.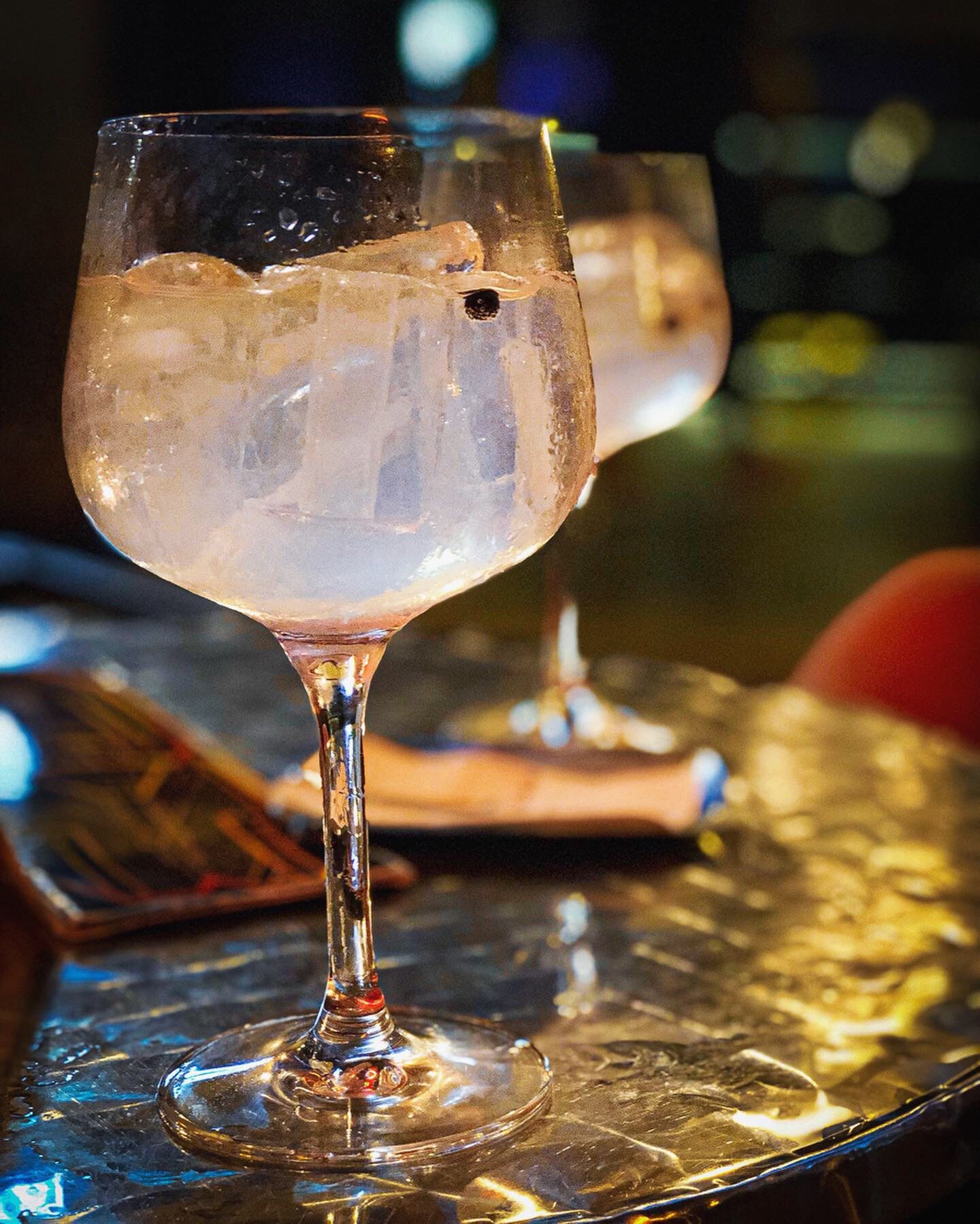 So where to have gin? We enjoyed it in both Atari and Sirimiri (the latter is named after a Basque word for light misty rain, which is beautiful) plus the pintxos bar across the street Casa Vergara, whilst we've also heard good things about the selection and serves in Cote, the plush, opulent Hotel Maria Cristina and Gott Bar on Constitución Plaza; but one that beats them all when it comes to gin is La Gintonería Donostiarra.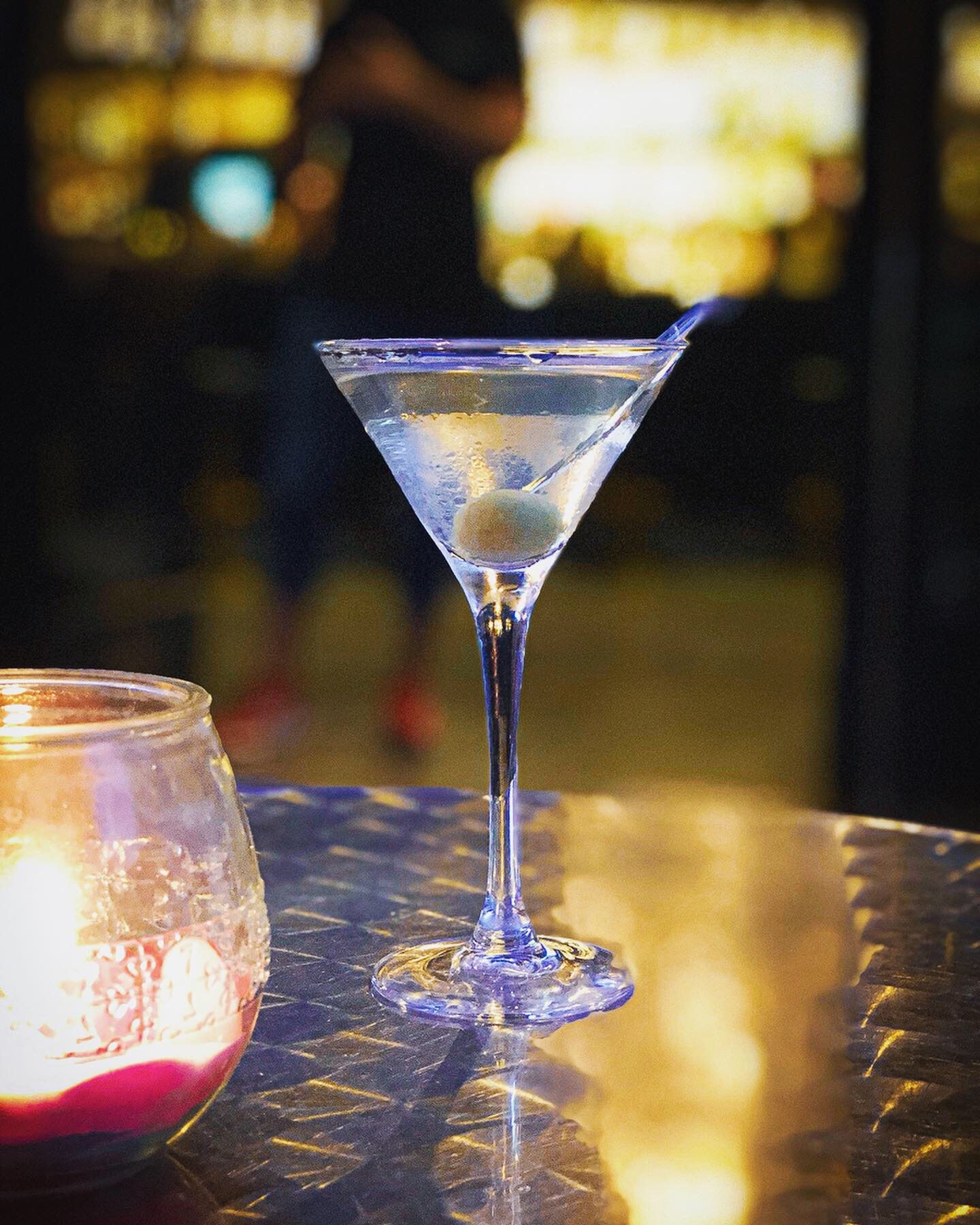 This is a Mecca for gin fans, with what must be well over a hundred in their bar back line-up, all along the walls. The interior of La Gintonería is a twist on art deco with lots of gold gilding and clean lines; prop up the bar on counter seats, slide into a cosy booth for two or four inside or appoint yourself on the expansive terrace outside. As good for a stiff, dirty gin martini as it is for a gin tonic fishbowl, all the good gin and tonic stuff is ticked off here: well made drinks with the correct measures, large ice cubes, perfect serves. They also have gin-based cocktails – from classic to cutting-edge – as well as lots of fun with heady botanical garnishes and finishes with dry ice for a little added drama. Perfection in every sip.
La Gintonería is in the trendy Gros neighbourhood surrounded by other restaurants and bars, so well worth spending an evening around this area.
Hit The Beach – Playa de la Concha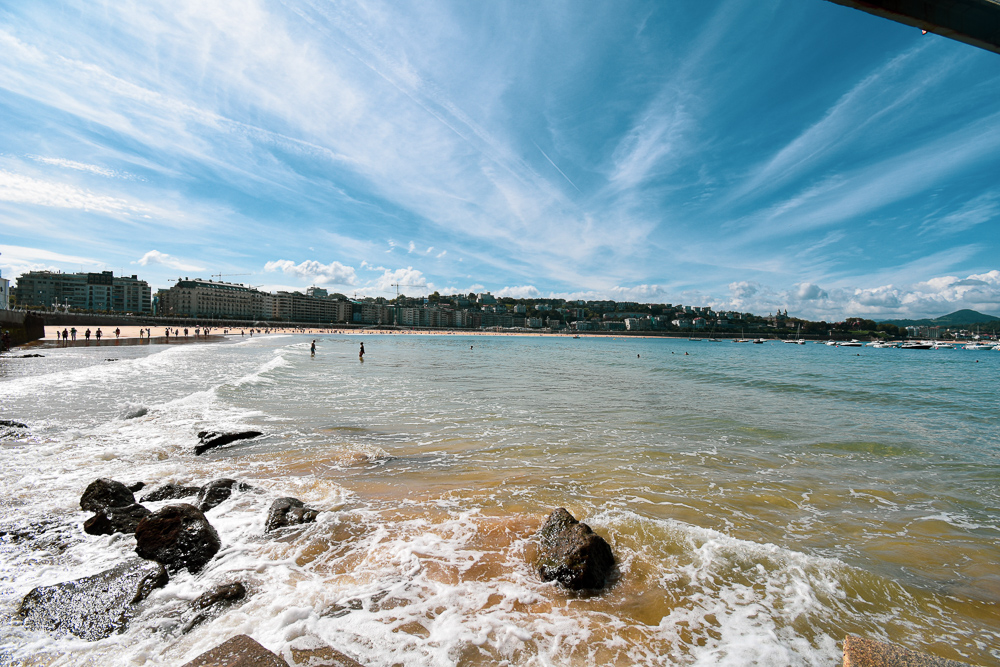 A cove secluded off the Bay of Biscay, few other cities can boast a beautiful, expansive beach in the city centre, but San Sebastián can. We took an early morning dip on Playa de la Concha on our last day in San Sebastián to properly wake us up and on a balmy, clear September morning we headed down before sunrise to swim.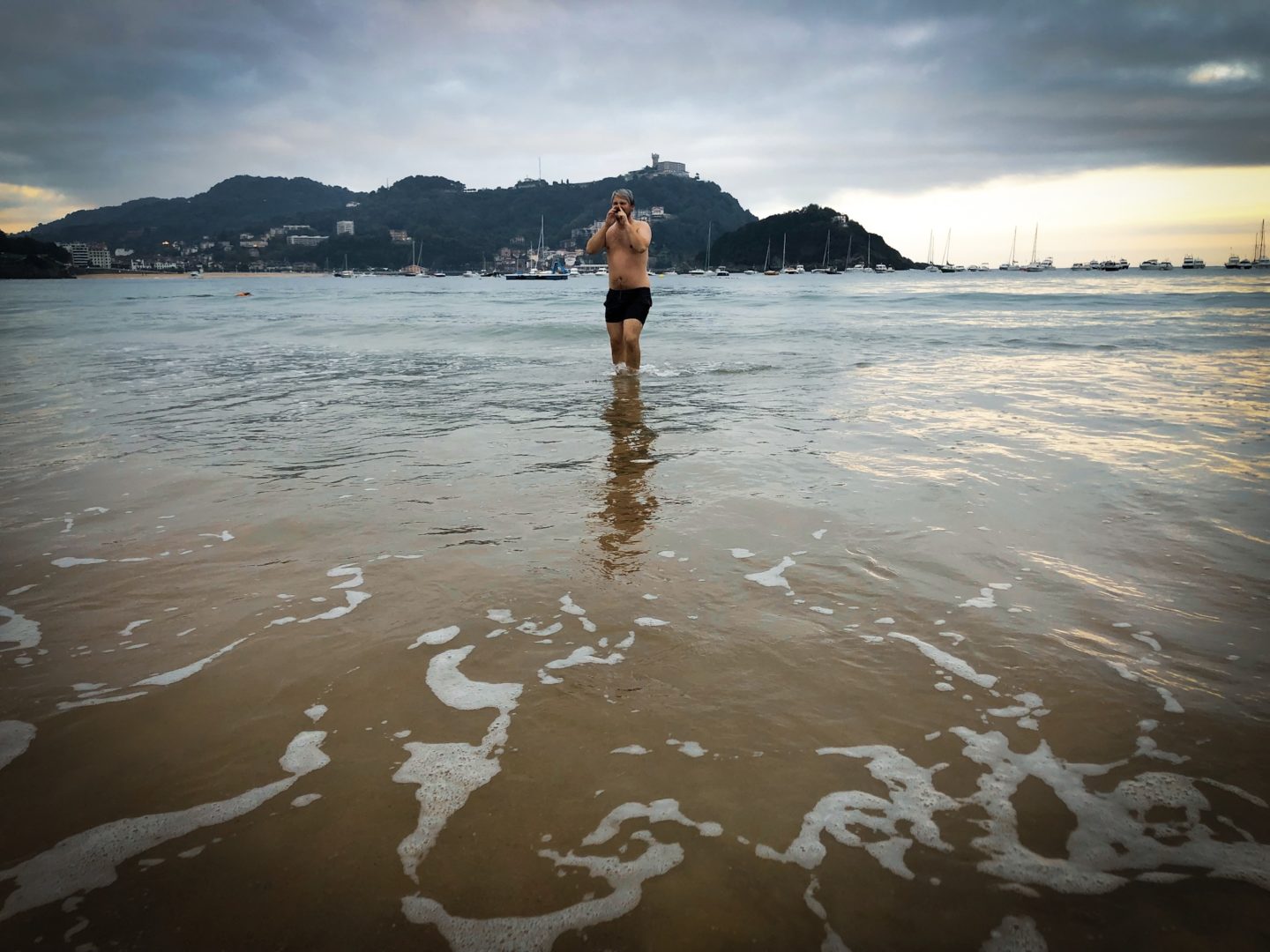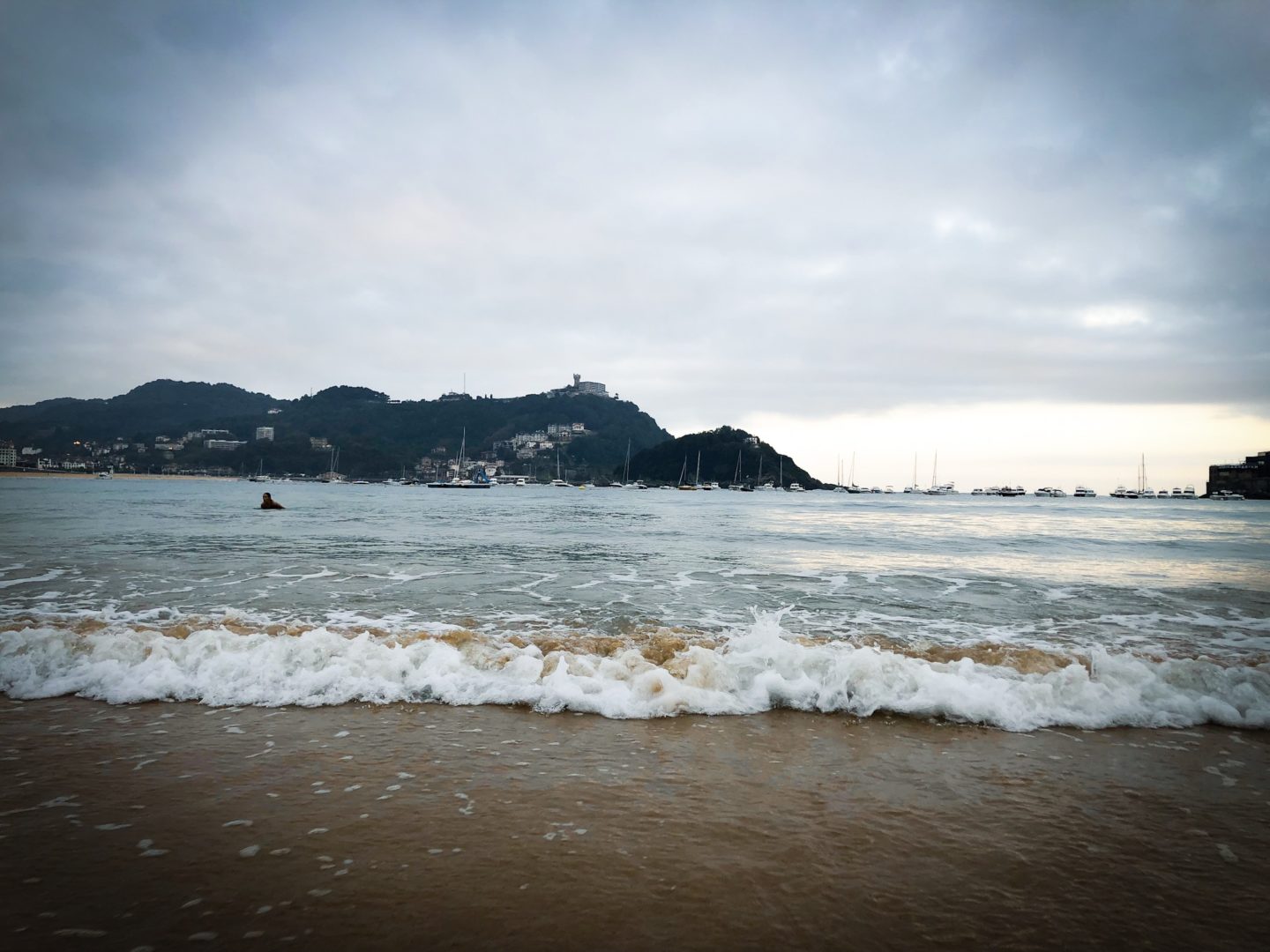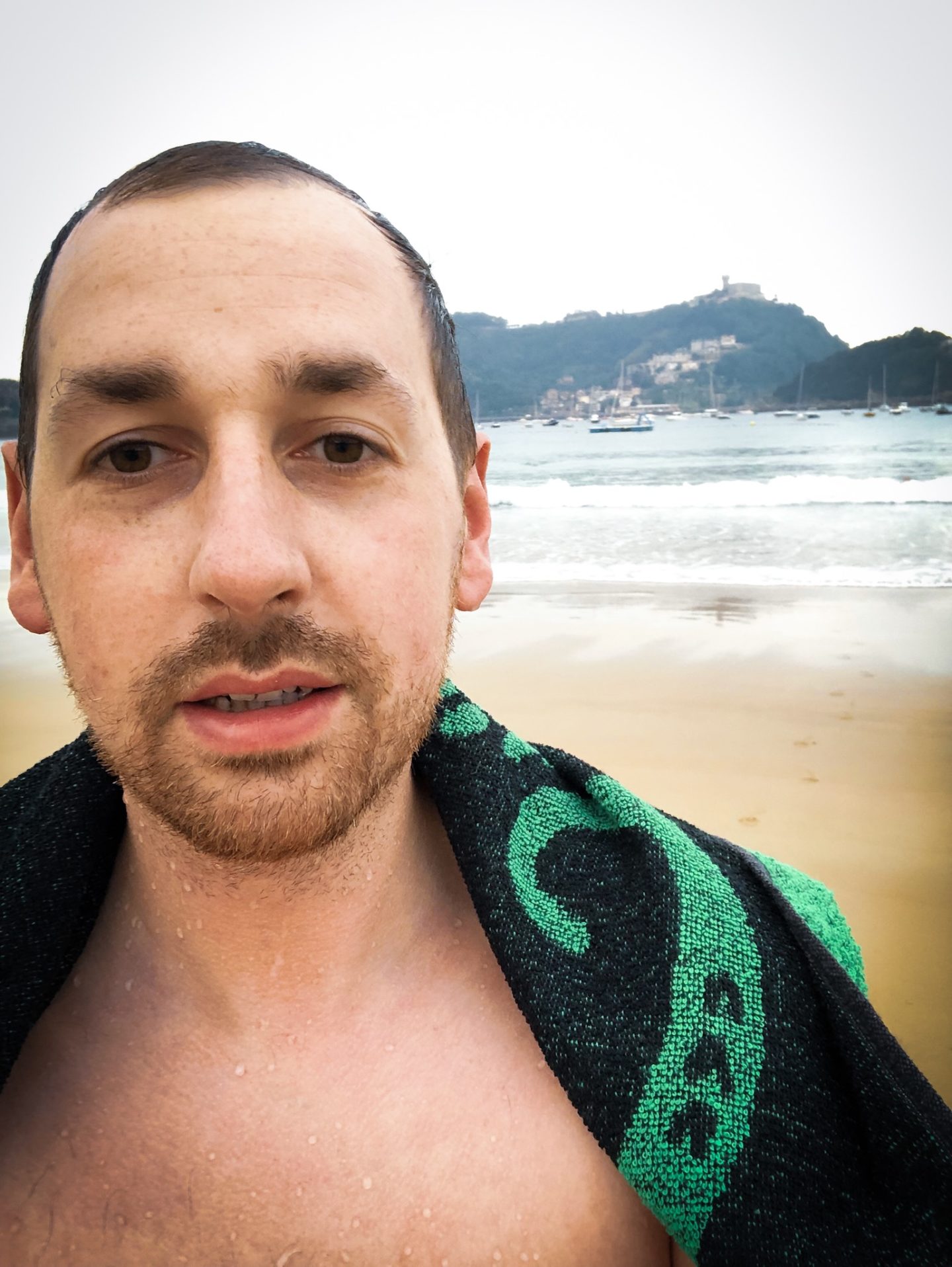 It was just below tepid in temperature, crystal clear with gentle waves and the beauty of the sleepy-eyed city as the backdrop (illuminated in various shades as sunrise progressed) was just spectacular. We highly recommend taking time out on the beach during your stay in the city.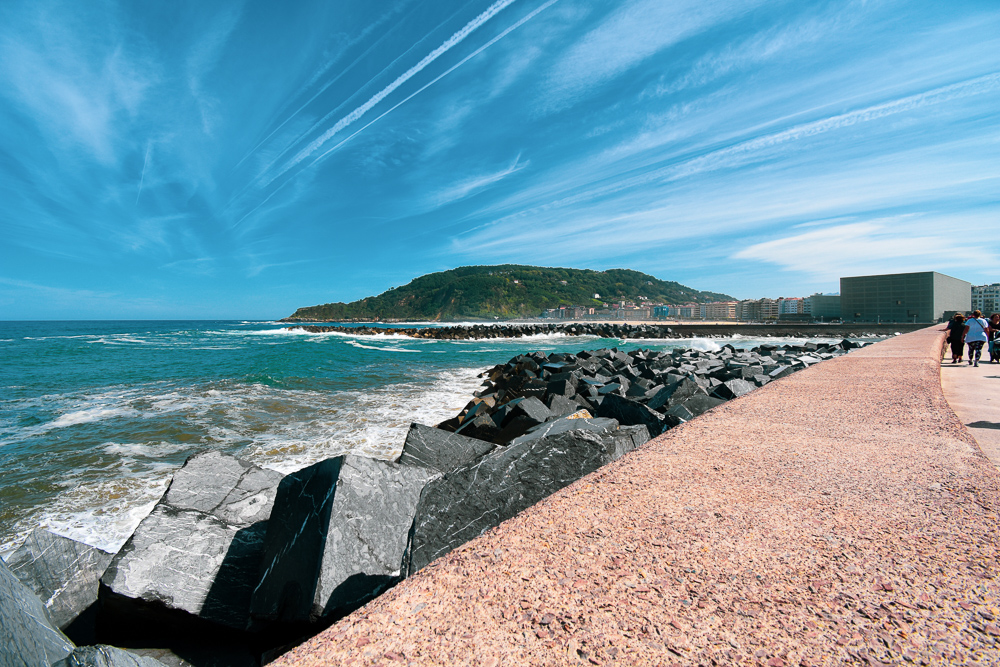 Zurriola Hondartza (Zurriola Beach) is a surfer's paradise, kind of like St Kilda-meets-Malibu. The waves that crash along the shore here are well-heralded and a playground for those who love water-based adventure sports. For those who just want to laze and linger on the beach, there's a wide stretch of golden sand here, too –– though La Concha is much larger and longer.
Where else should we explore in and around Donostia-San Sebastián on the inevitable future trips?