It's summer – no one wants to spend a sunny Sunday slaving over a stove and running around trying to assemble all the elements of a roast dinner. Soak up that vitamin D as much as possible by making Sunday lunch absolutely effortless, then pack it up and take to the park!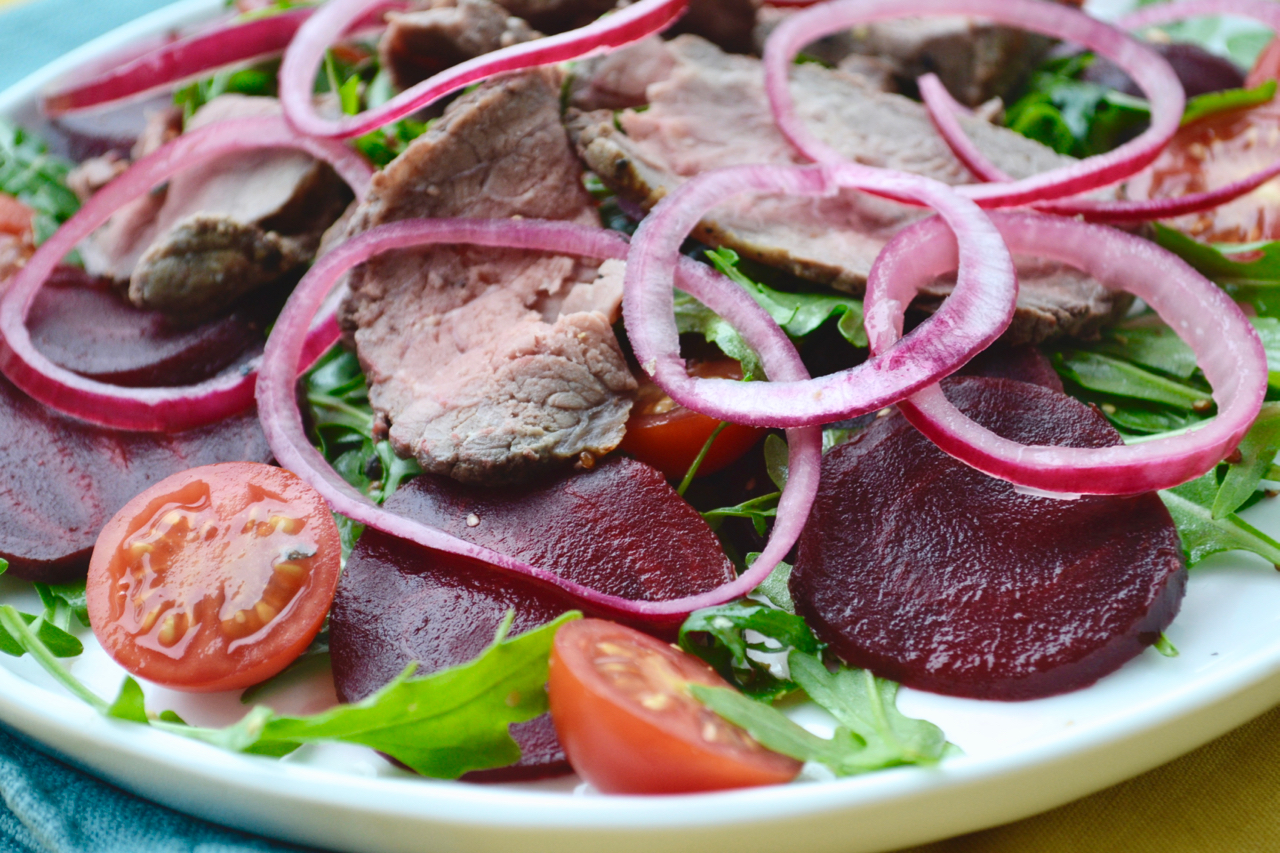 In this recipe we've devised a way to enjoy the flavour of a roast without excessive faff, so you can enjoy eating it whilst lounging i the sun for those precious few days when it decides to appear!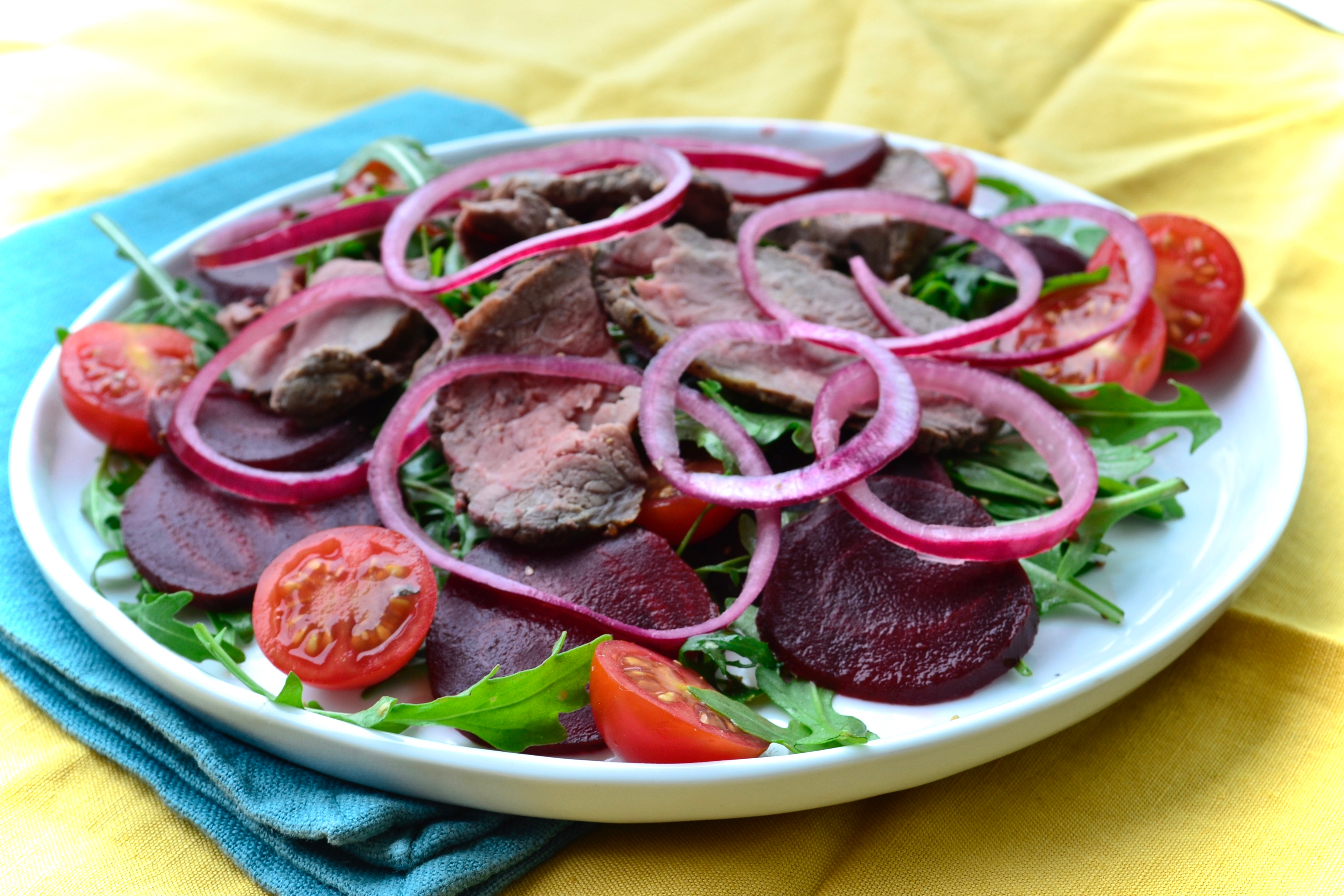 Even better to have a recipe for leftover roast beef – which is an anomaly in our lives – so you can keep enjoying those gorgeous, rich flavours during the week. This is perfect to take into work and enjoy cold or to make that all-important weekend roast stretch a little further to a couple more meals.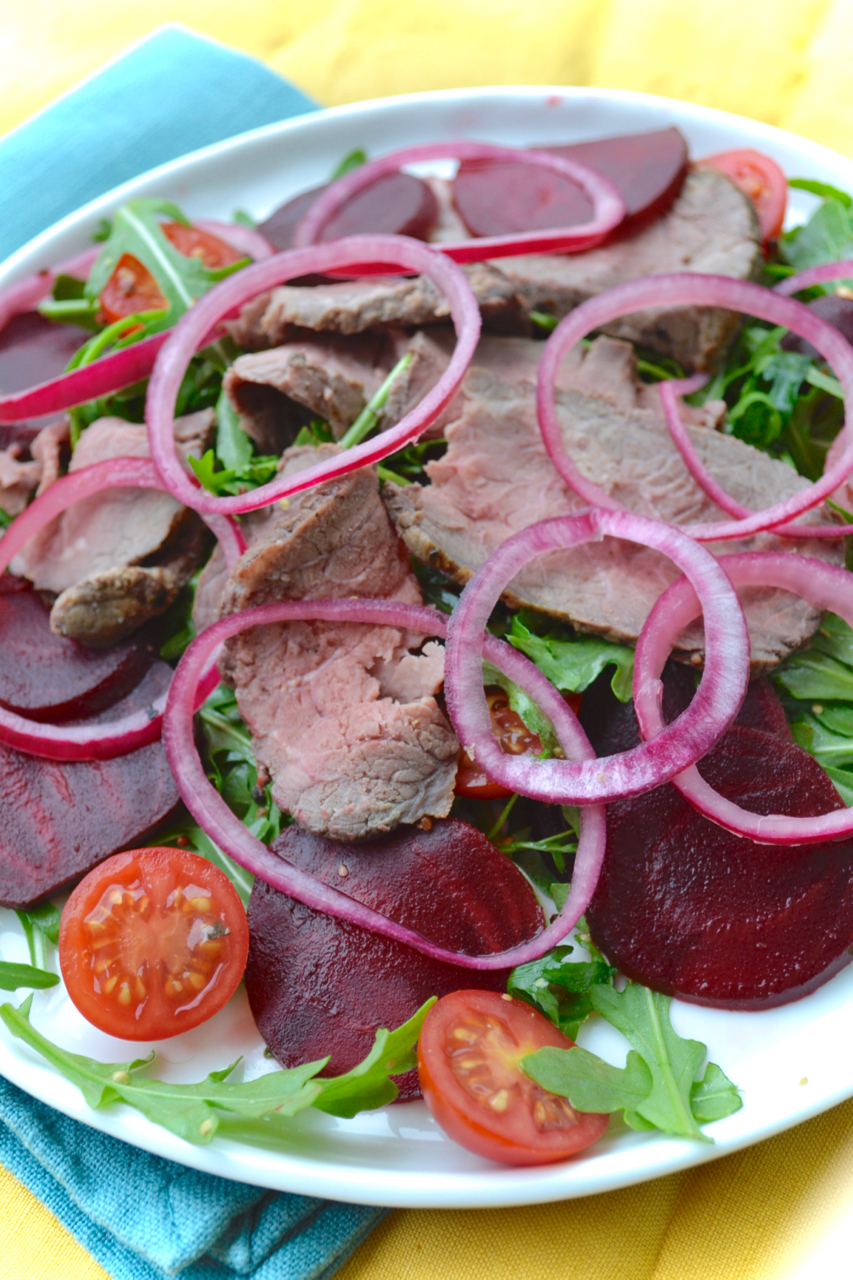 🍴 Rare Roast Beef Salad 🍴
Serves 2
Small (500g) beef roasting joint (like Silverside)

100g rocket or watercress

2 medium cooked beetroot

A handful of cherry tomatoes

Half a red onion, pickled (see below)

1 tsp each dijon mustard, olive oil and balsamic vinegar

3 tbsp horseradish cream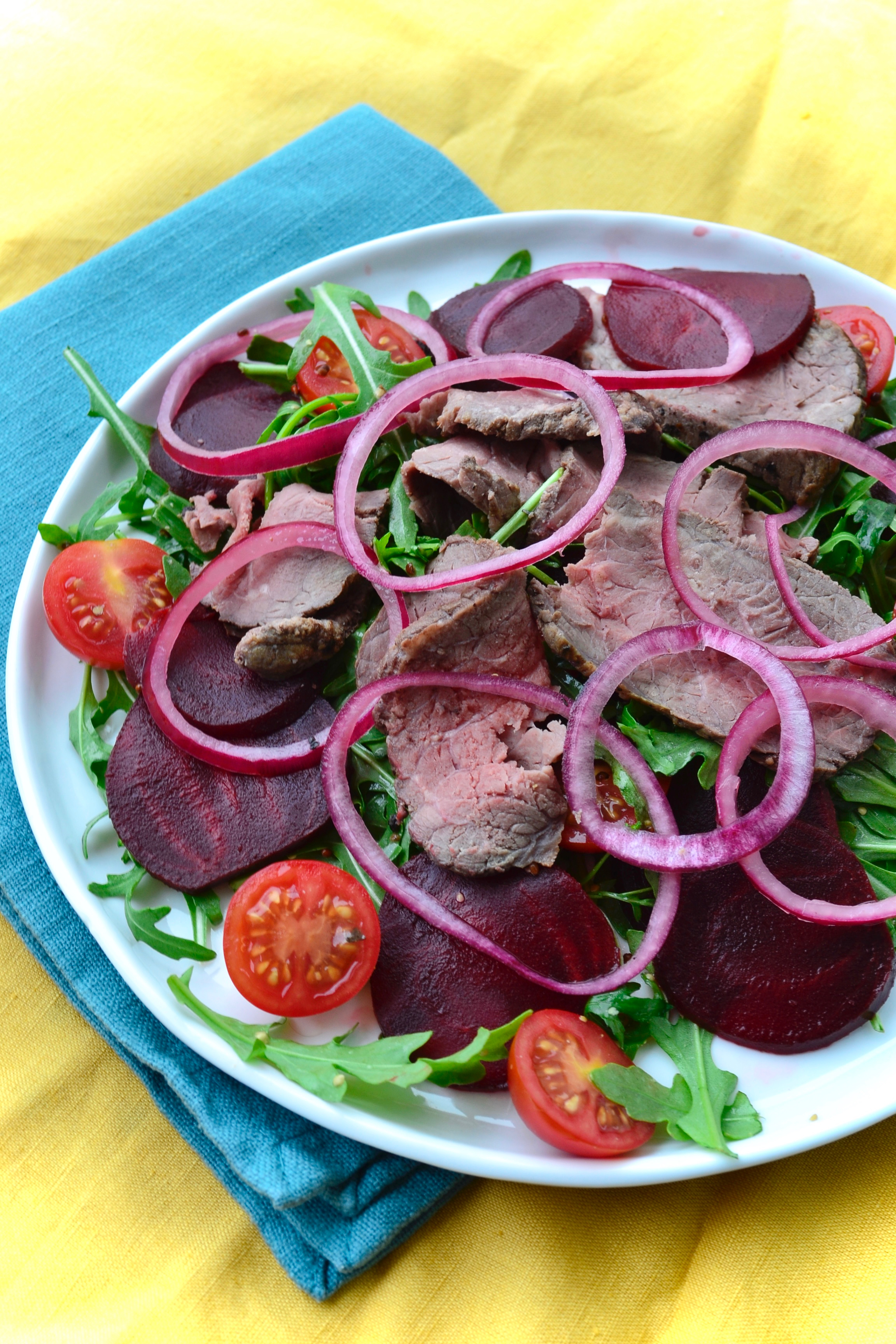 1. First, pickle the red onion. Thinly slice the onion in rounds and add to a small ramekin with 1 tbsp sugar and 6 tbsp vinegar. Stir to coat all the onion fully and leave to pickle lightly for 20 minutes (or as long as possible).
2. Dry the meat, cover liberally with salt and pepper and seal quickly in a hot pan bubbling with butter until golden on all sides before popping on a baking sheet and roasting at 220°C for 15 minutes for rare (it will have a little give and spring when touched).
3. Allow the meat to rest covered by tin foil for at least 10 minutes before slicing thinly.
4. Thinly slice the beetroot and halve the tomatoes, then make the horseradish dressing by slackening the horseradish cream with a little water and seasoning well.
5. Whisk the mustard, balsamic vinegar and olive oil together until emulsified and dress the leaves.
6. Then assemble everything together and dress with the horseradish dressing once ready to serve.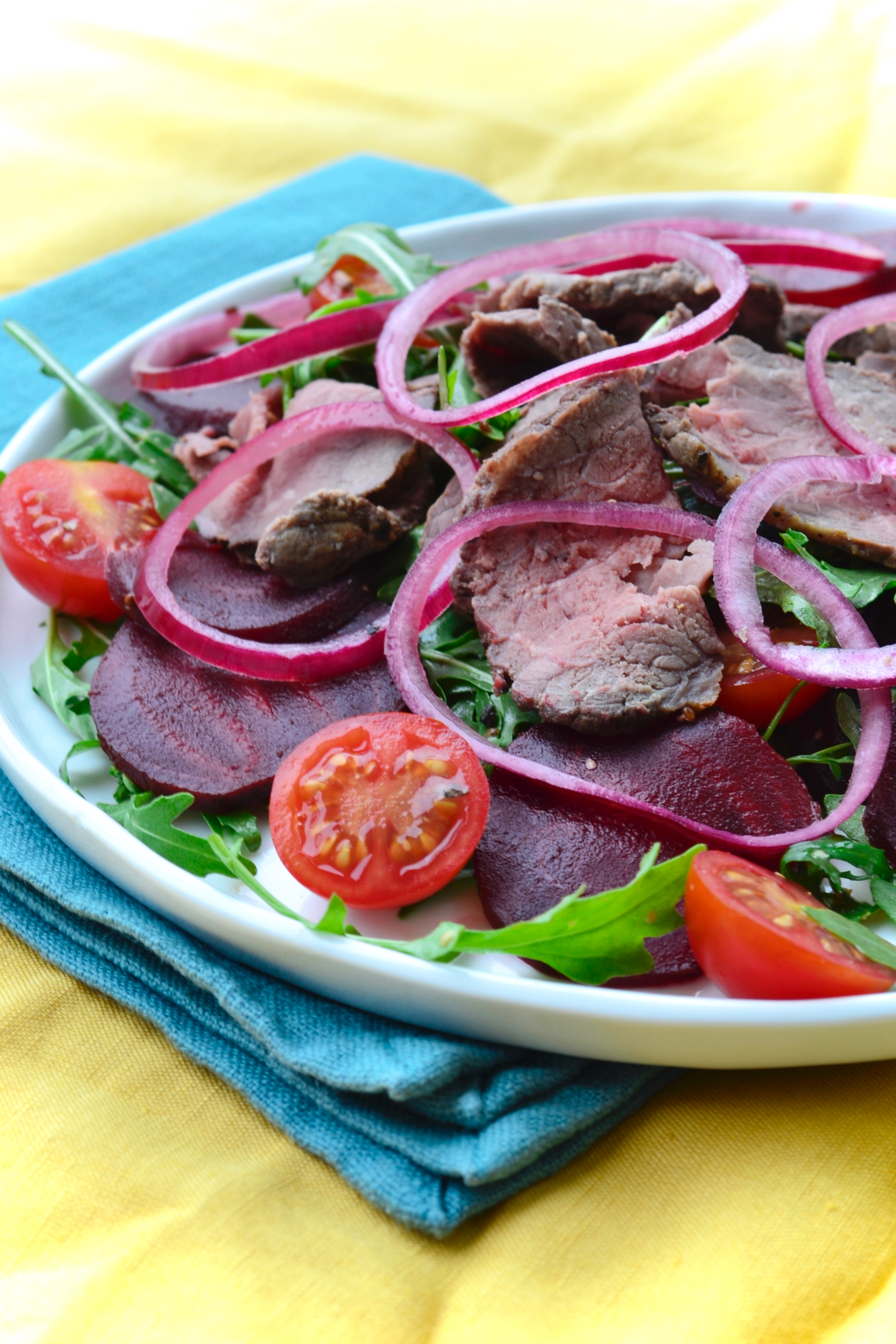 This recipe for rare roast beef salad originally appeared in Gay Times Magazine, where we're the food columnists with a monthly recipe. Do follow GT on Twitter, Facebook or Instagram and subscribe to the magazine if you like!