Perfect for summer picnics or just a super easy light dinner, a frittata is always a winner. The old adage of if you have eggs, you have a meal is very true. Though, here you need 8, when you portion it out, it works out at approximately 1 egg per slice.
Naturally, the Spanish are the kings where chorizo is concerned, but Ireland is really excelling in creating some beautiful examples of spicy charcuterie, like chorizo. Among the most well-known would be Gubbeen, from West Cork. But also The Wooded Pig, based locally to us in the Boyne Valley, using free-range pork for their top quality charcuterie, while Corndale Farm near Limavady (who you can hear on an episode of our podcast) — all producing some beautiful examples of a chorizo.
🥚CHORIZO & SPINACH FRITTATA 🍳
Makes 6-8 slices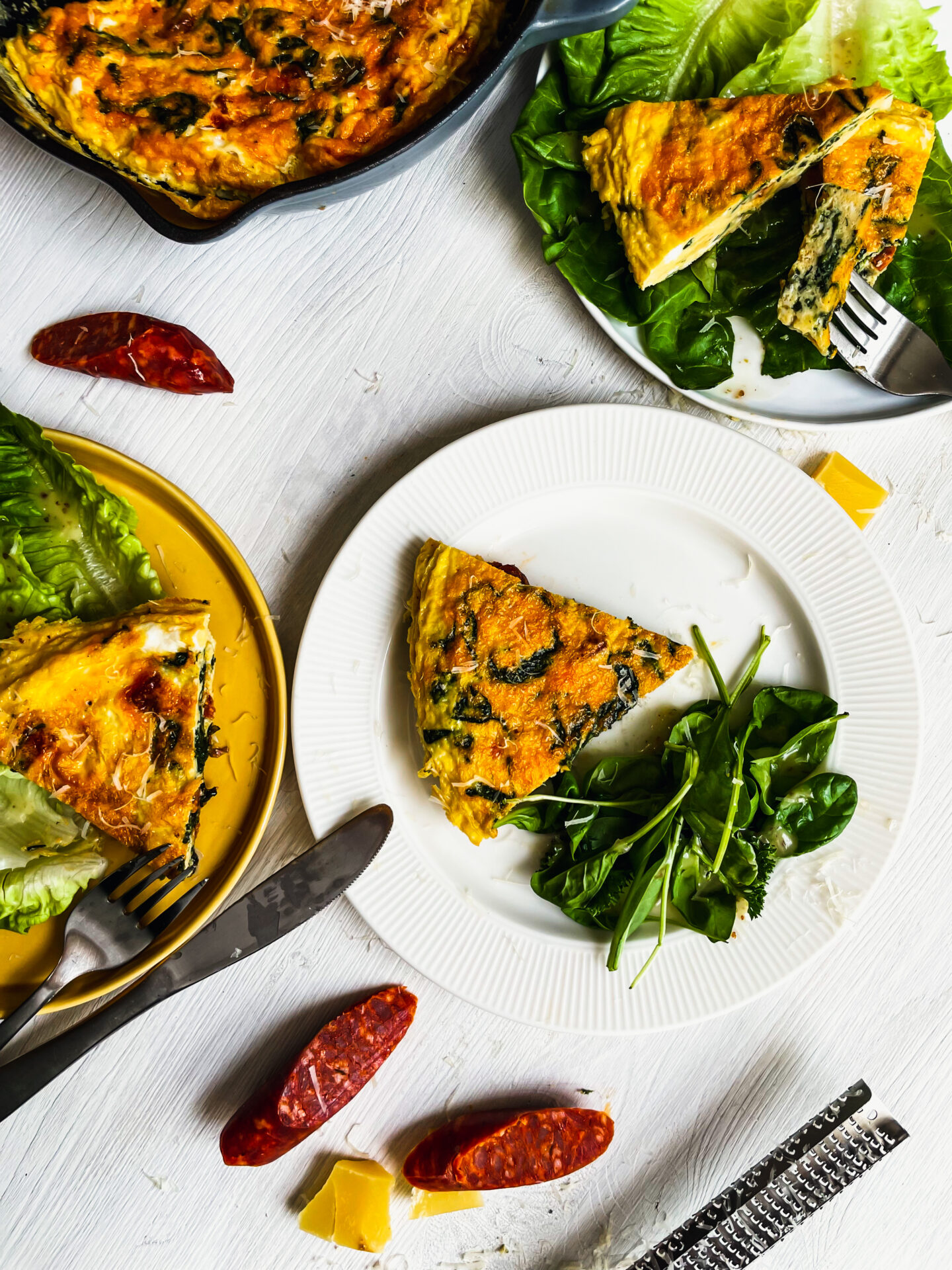 • 8 free range eggs
• 70g chorizo, cubed
• 70g hard cheese, grated
• 200g fresh spinach
• 1 clove of garlic, minced
• Salt & Pepper
1. Heat a teaspoon of butter with a drop of olive oil in a frying pan. Add the spinach and allow to wilt. Mince the garlic into it and sauté

2. Add the chorizo and continue to sauté until it releases its oils. Take your cheese, and add to the pan and stir. We used Comté but Gruyère or a cheddar of your choice will do as well.

3. In a jug, whisk the 8 eggs together adding salt & fresh black pepper. Pour over the spinach, chorizo & cheese and cook on a low to medium heat for about 7 minutes.

4. Remove the pan from the hon and place in a preheated grill (medium temperature) for around 5 minutes on a high shelf. Keep an eye on it. You want it to firm up not burn.

5. Remove, leave to cool for a few minutes then run a knife around the edge to make it easier to slice and remove. Serve with a simple salad on the side or keep for lunchboxes or picnics!