There are only two types of waffles in this world… or at least two types of waffle in everyone's local supermarket. Super-sweet or potato. The sweet varieties are often those toaster waffles, which occasionally have their use, but they're not a patch on their proper Belgian counterparts. As for the potato waffle, usually frozen, it's the staple of everyone's childhood. It's also a perfect meal when there's nothing left in the house, from breakfast to dinner.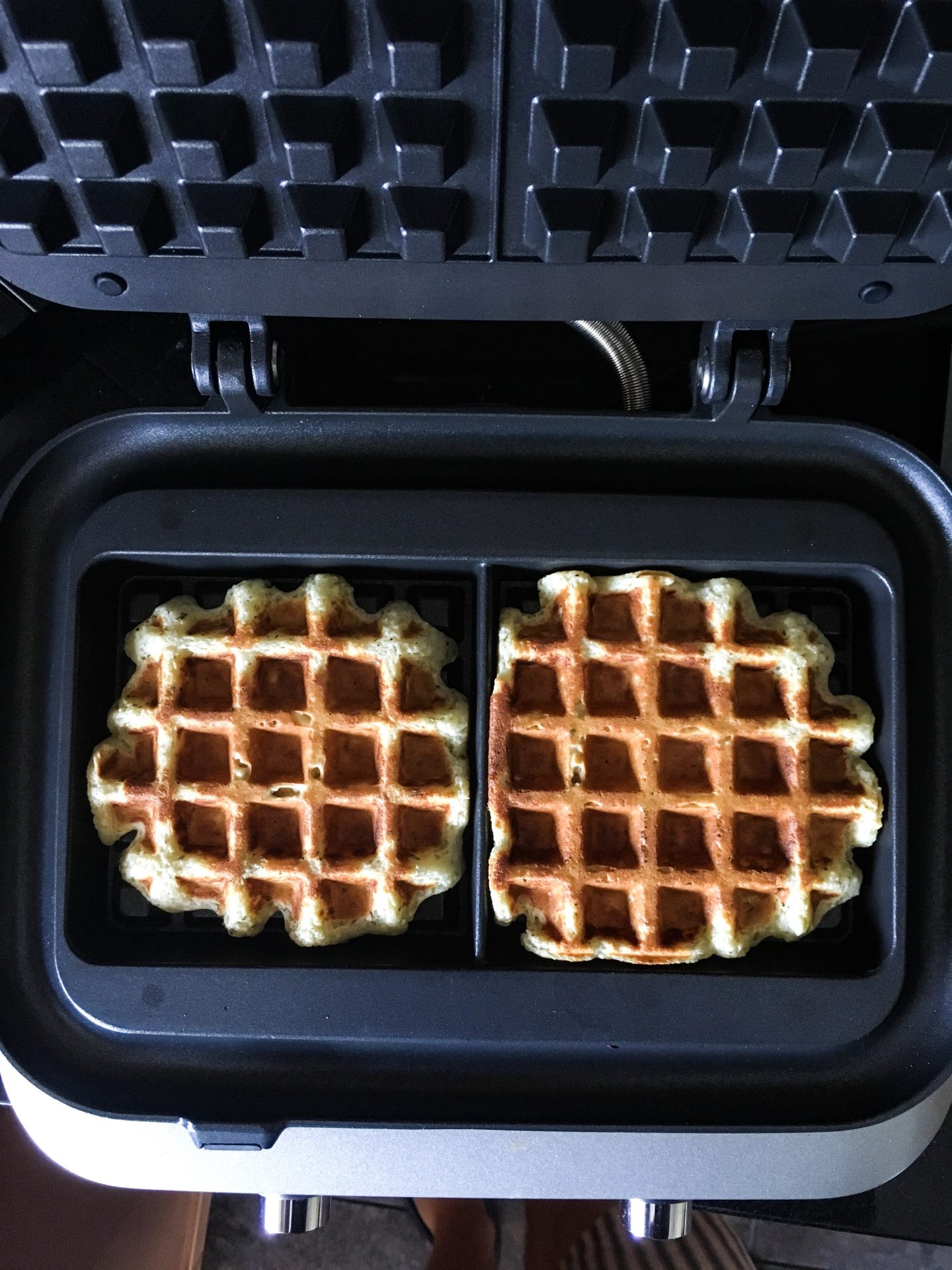 Following on from our faux-Findus Crispy Pancakes recipe, we're keeping the pace down memory lane and recreating a hearty 'n' humble potato waffle, cranking the flavour up of course, all using our Sage Applicances Smart Waffle machine.
What we wanted to achieve was a dead simple recipe, with minimal mess and fuss that can easily make a handful of waffles- this recipe serves two with little excess and using ingredients most of us have in our cupboard anyway!
Yes, we are using Smash for this. Correct – that throwback, fail-safe powdered potato that any self-respecting chef should've discarded from their repertoire years ago. Not us (and we're not chefs anyway), but do hear us out. When testing this recipe, we found that using a freshly baked and subsequently mashed didn't provide half as much fluffiness or flavour as its dried counterpart. Here, the conundrum was provenance vs. flavour, and as far as we're concerned, flavour has to win in this instance. You'll be glad when making this with a raging hangover in under 10 minutes. Trust.

Recipe: Savoury Potato Waffles
Serves Two, a pair of waffles each
2/3 cup flour
1/3 cup Smash or instant mashed potato
2 cups milk (or water)
20-30g grated strong cheese like cheddar (though we don't measure!)
1 tbsp dried mixed herbs (we use Herbes De Provence)
Salt & Pepper
1 tbsp flavourless oil (or olive if you want to)
Method:
1. Begin by pre-heating your Sage Applicances Smart Waffle™ Pro iron. Select the classic waffle setting and allow to heat up – this normally takes around three minutes, so plenty of time to get your batter ready.
2. In a bowl, add all the dry ingredients then pour in the milk and give it a really good stir. The mixture will be lumpy, and may resemble lumpy porridge, but it's fine – actually you want a lumpy dropping consistency. The instant mash does that as it absorbs the liquid fast, keep stirring and adjust the liquid if it looks a bit too dry and thick or add some extra smash if it feels too thin.
3. When the waffle iron is ready, pour the batter evenly into both moulds and close over. Leave for the allotted time, normally about 5 minutes, according to how well done you'd like it – we recommend around six minutes or so. Avoid opening the iron until it's completed, as it could tear the fragile batter.
4. As for toppings, keep it simple. Some oven-baked smoked streaky bacon, a freshly fried egg, some rocket and sliced spring onions all work gloriously together here.