If you follow our Instagram you'll know that we love nothing more than a potatoes, in all its forms. Mashed, roasted, chips, baked. Croquettes, colcannon, potato cakes, potato waffles, potato farls – the list is endless. The latest love of ours a perfect little number known as Potato Pavé, which is also known as a potato brick, potato terrine or compressed potato. It's basically a gratin, with those endless, delicate layers all tightly packed together. But after this 'gratin' is cooled and compressed, it's then fried in slices or chunks for extra crispiness. This is an indulgent one, but one worth the effort and calories in every greedy bite.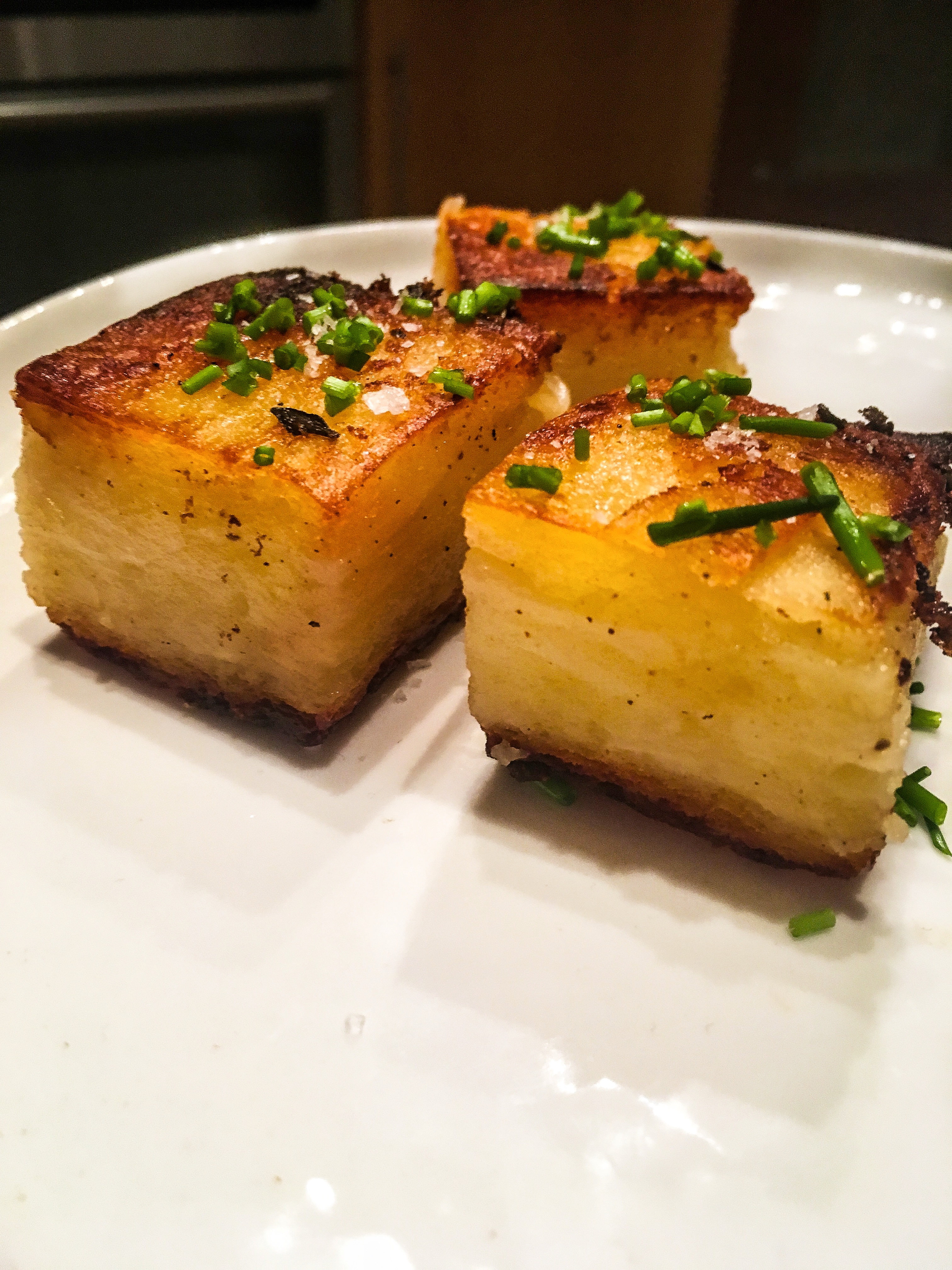 This recipe is a bit of a loveable faff, but if you can make a gratin, you just need to plan ahead and you'll be able to make this. Believe us. Now, we normally try to test a recipe a couple of times before posting it online like this, however, the insane demand from our followers on our Instagram and Twitter after we posted it in December couldn't be ignored, so we needed to share it instantly. This was a first-time trial and subsequent success for us, so: it worked beautifully for us, and we hope it will work perfectly for you too! We'll continue testing this to make sure it's perfect – so tell us if you make it and send in your feedback!
Garlic Potato Pavé
Serves 2 (double the recipe for 4)
2-3 large white potato (we used Golden Wonder and it worked)
1 large clove of garlic, finely sliced or minced (we use

Drummond House Irish Garlic

)
250ml double cream
Salt & pepper
Room temperature butter, in very small chunks
For Frying
Beef dripping, for frying (optional, butter or oil works too – and as always we use James Whelan Butchers Great Taste Supreme Champion)
1 clove of garlic, crushed
2 springs thyme
Equipment
We used an Enamel Pie Dish 16cm for this recipe, but a loaf tin is also useful, if making a larger version
Mandolin (or a very sharp knife you're comfortable enough with to cut the potato slices incredibly thinly)
Method
1. Preheat oven to 180ºC. Place cream, minced garlic and seasoning in a large bowl and stir.
2. Peel the potatoes, and using a mandolin, cut the potatoes into slices. You don't want transparent potato slices, so be mindful of how thin they're cut. If it's safe to do so, slice directly into the cream, otherwise, slice onto a board and quickly drop into the cream mixture.
3. Very lightly grease your loaf tin/pie dish with butter or oil. Then line with some parchment paper, leaving considerable overhang on each side. You'll eventually fold the paper sides over the top of the dish.
4. Begin to build up the layers by taking slice after slice of potato and placing it into the dish. Uniformity is key, so lay every slice down in the same shape and orientation. After every second or third layer, throw a few small chunks of butter on top and repeat until the dish is filled to the top. If using a large loaf tin, we'd suggest only filling it about 2/3 of the way up, otherwise the slices would be too thick.
5. Wrap the parchment paper over the top, then cover the top of the dish with foil. Place in the oven and bake for 1 hour 20 minutes (for a two-person portion) or about 1 hour 40 minutes (for a larger one). You'll know it's done when you poke a skewer into it, and it doesn't feel in any way solid. Remove from the oven and allow to cool for about 15 minutes.
6. Now, weigh the potatoes down. There are two methods: Martha Stewart, who's recipe we loosely followed, suggests wrapping the loaf tin shaped cardboard in foil, and weighing it down with cans of beans- ideal if you're using a loaf tin. If you're using a pie dish, and happen to have one of the same of similar size, you could weigh it down with that, filled with baking beans or anything heavy you might have in the kitchen. Whatever way you weigh it down, leave for at least 30 minutes then place into the fridge, tins and all, for at least an hour – this is perfect to do the day before! The more you wait, the more it weighs down!
7. When it's time to pan-fry, remove from the fridge and allow to come to room temperature for around 15 minutes. Carefully remove from the tin, unwrapping the paper and unveiling what is essentially a solid potato gratin. Tidy it up by removing the sides, to reveal one perfect rectangle, layers exposed. If making the recipe for two, this should yield about 6 equal-sized potato slices or cubes. Anything larger would get about 10-12.
8. Heat the fat of your choice in a pan, we always dripping just simply because of the incredible flavour it gives. Add in some thyme and a crushed garlic clove to the pan for extra flavour. Then place the slices of potato into the pan. Some suggest the cut side down, others would suggest the flat side; entirely your decision. Fry for about a minute a side, be careful as you flip, and try to regulate the heat as it can burn easily!
9. Place the finished slices/chunks on some kitchen paper to absorb any excess oil and serve. Top with cracked black pepper, a sprinkling of coarse sea salt and chopped chives.