A grown-up, refined and elegant elder to a New York slice yet the more slapdash cousin of traditional Italian pizza.
Anchovy-kissed and olive-strewn, the recipe for pissladière originated in Nice, along the Cote d'Azur – France's sun-drenched southeastern coast, which runs right up to the Italian border. We actually first tried an iteration of this dish in Marseille – France's second city – just a few miles down the coast.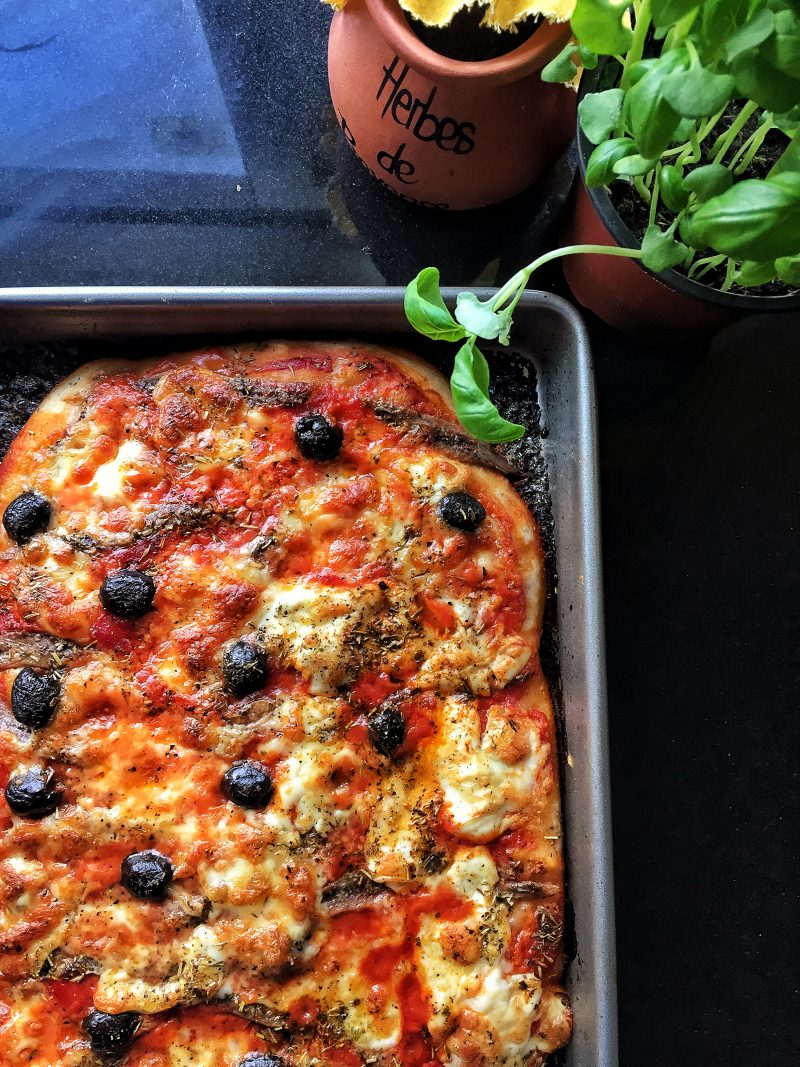 We stopped by a little family-run, neighbourhood restaurant called Chez Etienne (43 Rue Lorette) and had the most glorious pissladière, served piping hot from the stone oven, dished out from the very tray it was baked on in fat slices. In fact, it's the dish you can smell wafting through the streets, enticing everyone in the vicinity to try.
You'll jostle for space here. The staff barely speak English – and the menu certainly isn't in the language – so a combination of pointing, broken French phrases and energetic nods will help you through. It's an expansive little restaurant inside, though it doesn't look it from the exterior, and the service is frenetic, slapdash, abrupt, spinning plates, but fittingly like you're eating in someone else's home. The atmosphere is comforting and convivial, the wine is cheap and the dishes are kissed with the heavy hand of seasoning as something properly home-cooked; recipes that have been dished up the same way and perfected over twenty or thirty years, never changing.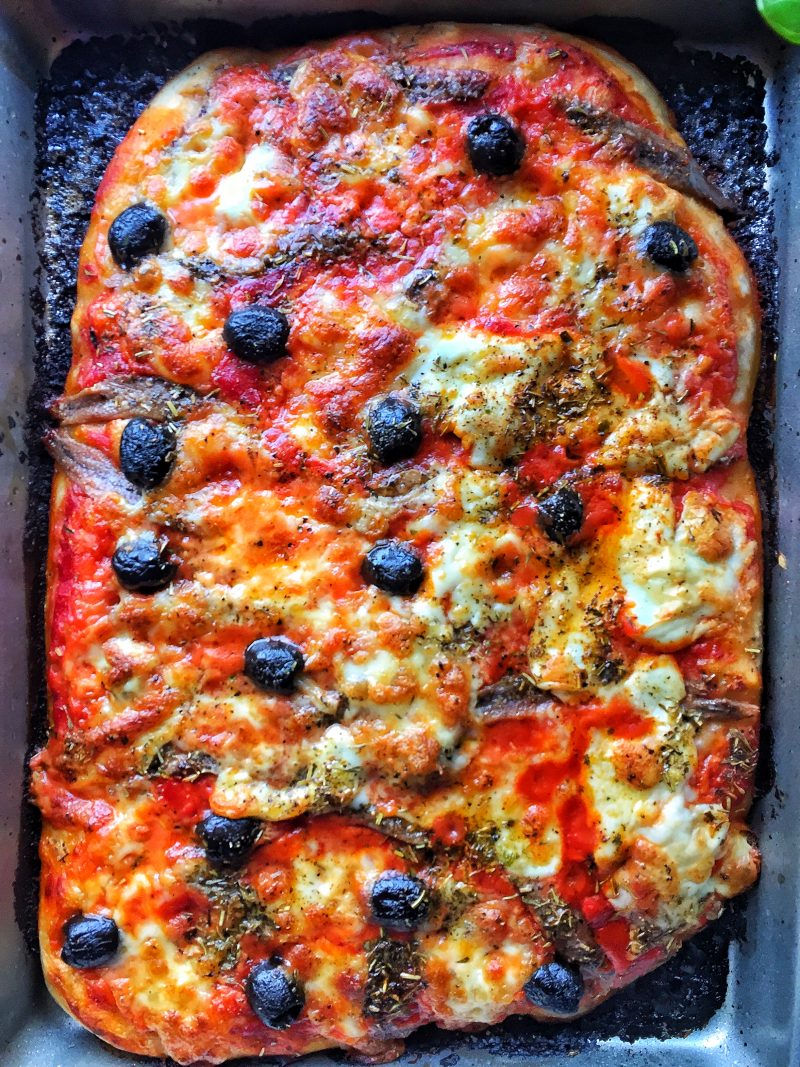 But, of course, we don't live in Marseille, so after trying it in Chez Etienne we've craved that flavour since. Just like anywhere we travel, we love to eat local and discover the ingredients, dishes and drinks that locals favour and we usually leave with memories and cravings of very specific things. This was no exception, so we needed to recreate what the Marseillaise have on their doorstep, but in our own way. Now, we know traditional Pissladière doesn't have cheese and tomato sauce and also has a whack of caramelised onions, but this is a particular Marseille iteration of the classic!
🍕 Sourdough Marseillaise Pissladière 🍕
Makes two large squares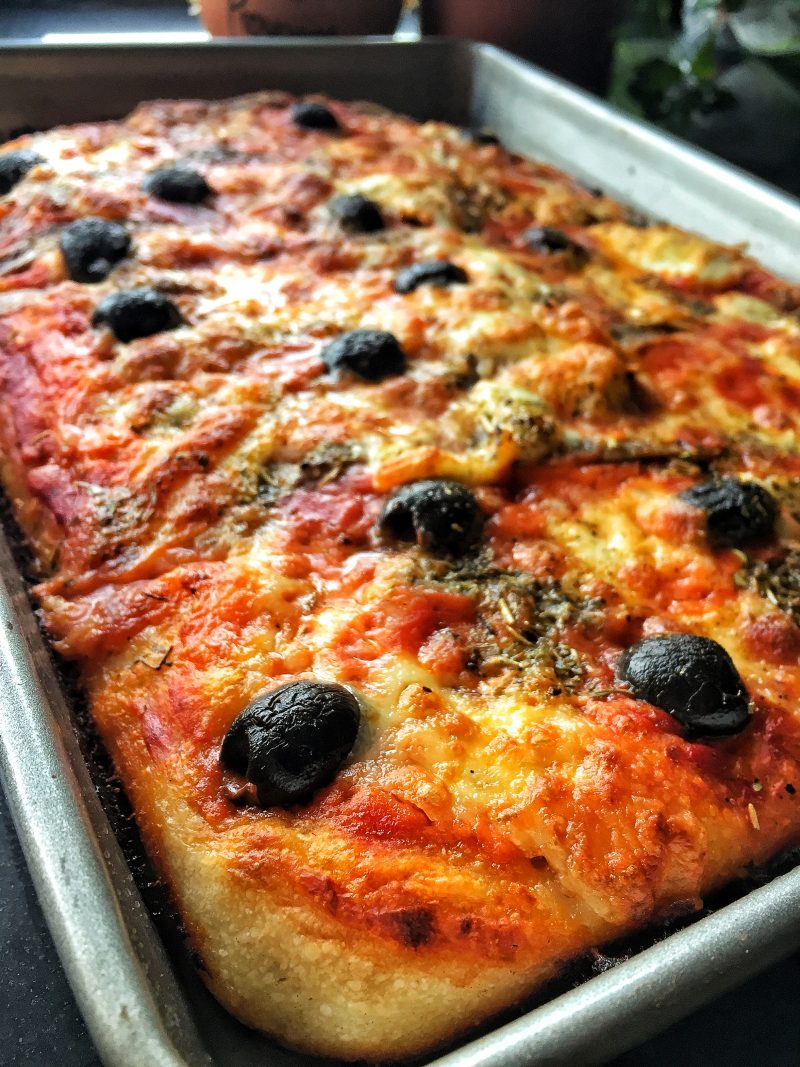 This is not a traditional pizza, it's actually more like a flatted bread loaf; spongy like focaccia but about half the thickness. Another non-traditional ingredient is the luscious mozzarella. A creamy crowning atop the more traditional notion of this dish. It's actually served both ways at Chez Etienne (with or without mozzarella) but we preferred the cheese-dripping, lip-smacking, creamy, salty version – so that's the one we're sharing here in our recreation of their recipe.
For a sourdough pizza base
450g 00 flour or strong bread flour
175g sourdough starter (we've had ours for a year or two and this was recently fed the night before and the morning of)
10g salt
Enough water to bring it together – 225-275ml should be enough
For the topping
1-2 tins anchovies (drained, and depending on how anchovy-heavy you want it)
Pitted black olives (about 12 per pizza)
3 large white onions, halved and sliced
2-3 balls of fresh mozzarella cheese, we use

Macroom

, who also produce a version for ALDI
A handful of dried Herbs de Provence
For the tomato sauce
1 x 500-680g jar passata
Fresh oregano leaves and a sprig or two of thyme (or dried is fine)
2 tsp of salt
1 tbsp of honey or caster sugar
1 tsp chilli flakes/chilli powder (optional)
Method
Sourdough dough: Combine the starter, flour and most of the water in a mixing bowl until a shaggy, slightly sticky mess. Allow to rest, covered, for 10-15 minutes or so. Now, add the salt over the top of the dough and sprinkle with a little more water. Using your hands, squelch the salt and water into the mix – it will feel more structured and soft at this point. Spend five minutes or so working the dough, squelching so it all comes together into a sticky ball but still coming away from the sides.
Cover again, and now do three 'turns' with the dough. Every 30 minutes work the dough, folding over itself, to develop the gluten structure. Then, allow to rest for 24 hours, covered, in the fridge. This is where the flavour develops so the longer the better – you can give it 48 hours if you have it.
Take the dough out a couple of hours before you make the pizza, split in two and stretch out to shape on a lightly oiled, lipped baking tray. Then, cover with clingfilm and allow to rise for three or four hours until risen by half. You can freeze the other half here.
1. Meanwhile, start with caramelising the onions. Melt a little butter in a large, wide saucepan on a medium-high heat until foaming and add the sliced onions. Bring the heat right back down to low and cook for 20-30 minutes, stirring every few minutes after the first ten have passed until the onions have nearly broken down and turned a rich brown colour.
2. To prepare the tomato sauce, add the passata to a small saucepan on a high heat and immediately bring the heat down to a medium-low. Add the salt and honey (or sugar) and allow to bubble and reduce slightly – but not too much, it's fine to be a thin sauce.
3. Pre-heat the oven to 240ºC.
4. When the dough is shaped and risen – whatever method you've chosen to use – you can start by adding a layer of tomato sauce on the top. Then, a thin layer of the onions, followed by a scattering of the anchovies and the olives. It can be as neat and uniform or slapdash as you like – we prefer it more rustic and homely. Top tip: steeping the anchovies and/or the olives individually in milk (or water) will draw out some of the salt and make them less sharp but still retaining a salty bite.
5. Then, tear the mozzarella by pulling strips off each ball and placing on the top of the pizza. Finish with a scattering of herbes de Provence, coarse salt and freshly cracked black pepper and you're ready to bake. Note: this recipe makes two baking sheets' worth of pizza.
6. Bake in the middle shelf of the hot oven for 35-45 minutes, turning the heat down to 210ºC after the first ten minutes or so.
7. Serve warm, cut into generous squares (you'll get about eight per pizza).
–
If you want to make this with regular yeast a faster way, here's another method:
For the pizza dough (regular way)
450g 00 flour
7g fast action dried yeast
10g fine salt
Roughly 225ml water (or enough to bring the dough together; you may need more)
Regular yeasted dough: In a large bowl, combine the flour, yeast and salt (keep these at opposite ends) and add the water gradually while bringing the mixture together to a dough. You want enough water so that it all holds together without being stringy or floury; wet enough that it begins to draw away from the sides but not so much that it's slack and hard to work. Work for a minute in the bowl.
Lightly oil a clean work surface (lightly on your hands too) and then get to work for 15 minutes or so and roll and stretch the dough until it's soft and elastic.
Allow to prove in a greased glass bowl, covered with cling film, until about doubled by its original size. Then, punch the dough back, split in two, and shape on a lightly oiled baking tray, cover and allow to rise by half.