This recipe originally featured in our Eurofeasting 2014 post in May 2014. Check out lots more of our Eurovision recipe ideas here.
We're sharing with you something that we absolutely love to scoff on. Earl Grey Bread and Butter Slices. Yes, you heard right. Tea and dessert all in one handheld helping.
We're back in merry olde Englande and we're celebrating the cup of tea and the comforting, nourishing and cheap as chips dessert – bread and butter pudding. The delicate vanilla custard is permeated with a backnote of earl grey and the slices make a great party food for any gathering, with a new and unique way to enjoy this iconic pudding. You can, of course, serve this in bowls with extra custard or cream if you wish.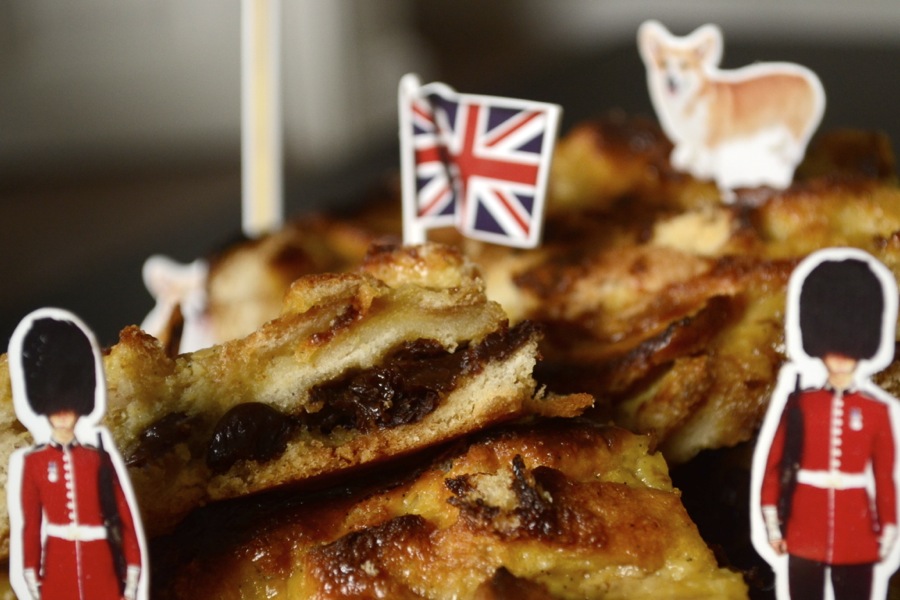 Earl Grey Bread and Butter Slices
500ml milk
1.5 tsp vanilla paste
1 tsp cornflour
4 large egg yolks
50g caster sugar
2 earl grey tea bags (we like both the Waitrose and M&S varieties)
1 whole sliced pan of crusty bread (best a day old and left out on the counter, we got ours in the reduced section of the supermarket too)
lashings of butter
200-300g raisins (depending on taste)
Warm the milk, with the tea bags immersed, in a saucepan on a medium heat until steam begins to emerge and little bubbles appear on the bottom of the pan while stirring. Take the tea bags out at this point.
Meanwhile, soak the raisins. You can soak them in hot water, a little tipple of your choice or in some pre-made hot tea. If you prefer the taste of a less pungent and powerful tea, by all means change to your preferred brand/flavour.
Incorporate the egg yolks, sugar, cornflour and vanilla in a pyrex bowl until gloopy and combined.
Acting quickly, vigorously stir the egg mixture as the hot milk is poured in. Once all in the same bowl, put the mixture quickly back in the pan, turning the heat down to low, and stir continuously with a wooden spoon for about three or four minutes, until the mixture has thickened and now comfortably coats the back of the spoon and a line can be drawn down the middle. Leave to cool slightly.


Slather the butter on the bread, choosing to do one side of each or both sides.
Cut the top and bottom crust off the slices of bread, leaving the crusts on the sides. Roughly tear up the cut crusts and put to one side – they will form the topping later.
Now form layers of bread in a deep baking or casserole dish (depending on what you have, the smaller and deeper the chunkier your slices will be, the more elongated and shallow the thinner your slices will be). Make sure to leave no gaps, especially on the bottom layer as you want slices to hold their own when cut. Sprinkle half of the raisins and pour over a third of the custard, repeat a bread layer, then strew the rest of the raisins, followed by another third of the custard. Finish on another layer of bread (if you have one), the rest of the custard and top with fistfuls of the torn crusts. Leave to absorb for at least twenty minutes, or as long as you can wait.


Pre-heat the oven to 180°C S, sprinkle with some demerera or brown sugar and pop into an oven and bake for 20-30 minutes. It will come out golden and crispy on top.
Wait until completely cooled to cut into slices, and trust us this will taste better the day after, so by all means make this a day or day and a half in advance.
The cake decorations were bought in Paperchase in 2013, but have been spotted for sale online on eBay.
Try them for yourself and share with us what you thought of them!
Check out lots more of our Eurovision recipe ideas here.