We toyed with gluten-free biscuits, dairy-free and all kinds of combinations of 'free-from' biscuits and always got almost there, but either the flavour or texture didn't fully co-operate. However, once this flavour profile got in Patrick's head we just decided to stick to basics and make sure it worked as a biscuit before tweaking it for different dietary requirements and nutrition preferences. The best we can do is vegan, so here you go… cashew nut cookies with a deep coffee flavour and sweet vanilla hit.
These are the type of biscuits perfect for a strong cup of coffee (we like just plain 'ol rich, intense and deep espresso at the minute). They have a crumbly, cookie texture and crunch, as well as a deep but subtle coffee hit and an instant sweetness. These are not to be dunked, just to be enjoyed alongside. They aren't short, but they do replicate in some form as they melt in the mouth with a little crunch on the outside.
If you don't have time to make your own cashew nut butter, no worries, it's available in almost all the big supermarkets these days. The development of this recipe was the first time that we ever made nut butter from scratch, and though it tasted amazing and was superbly satisfying, our poor little food processor spent the rest of the day panting and glaring angrily at us from the corner of the kitchen. In short – it takes a LOT of time to make raw nuts in to butter, but patience will pay off.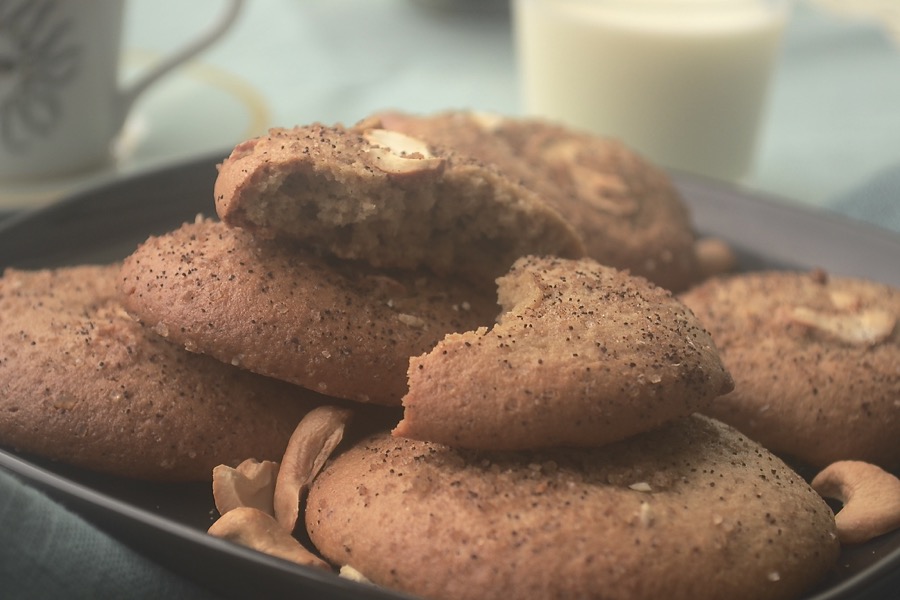 We served these with a roasted cashew half right in the centre, inserted before baking, and sprinkled with an espresso powder and demerera sugar mix. These will keep for a week if kept in an airtight container, but are best eaten for freshness one to two days after baking.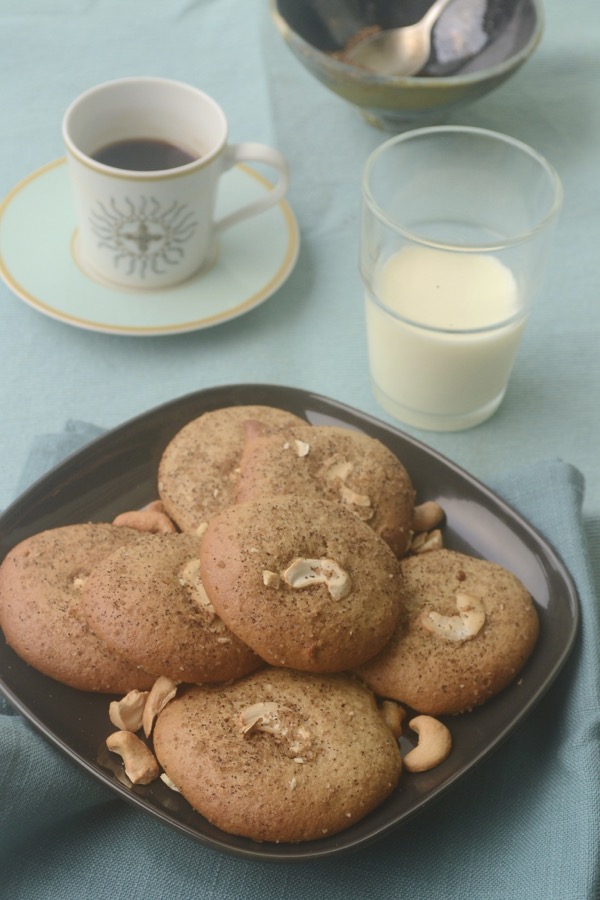 Coffee Cashew Cookies
(Makes 20) 
150g raw cashews (or equivalent of cashew nut butter)
125g plain flour
A shot of espresso (about 50-60ml)
100g caster sugar
2 tbsp vanilla extract or 1tsp of paste
1 tsp salt
1/2 tsp bicarbonate of soda
1 tsp espresso powder and 20g demerera sugar (both to sprinkle on top)
A handful of cashews, halved, to decorate
[Optional: one medium, free-range egg]
1. Put the 150g portion of cashews into your food processor and make your butter. There's no other ingredients needed, though we add a little coarse salt (to create friction) and a few drops of vanilla to add liquid to help it along).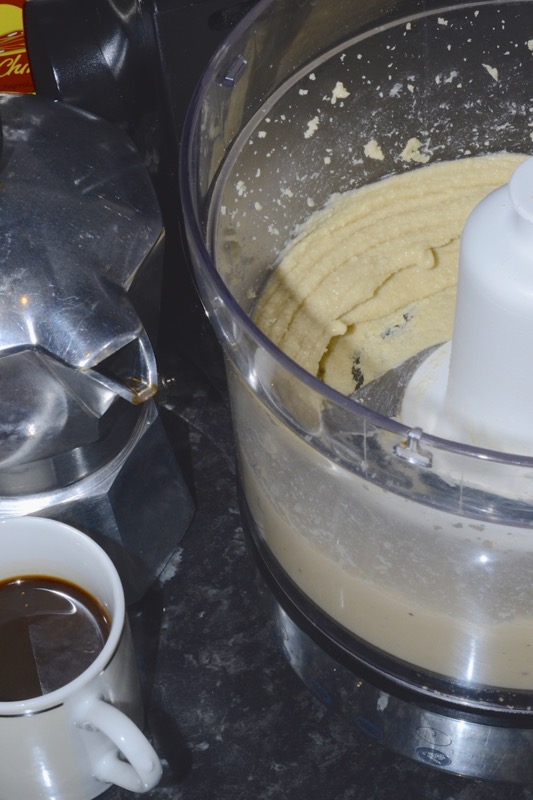 2. There's a number of stages that it will take to go from nuts to butter, and it will take about 10 minutes in total of your processor's hard work, so give it a good few minutes of rest in between rounds. If using store-bought, just skip this step.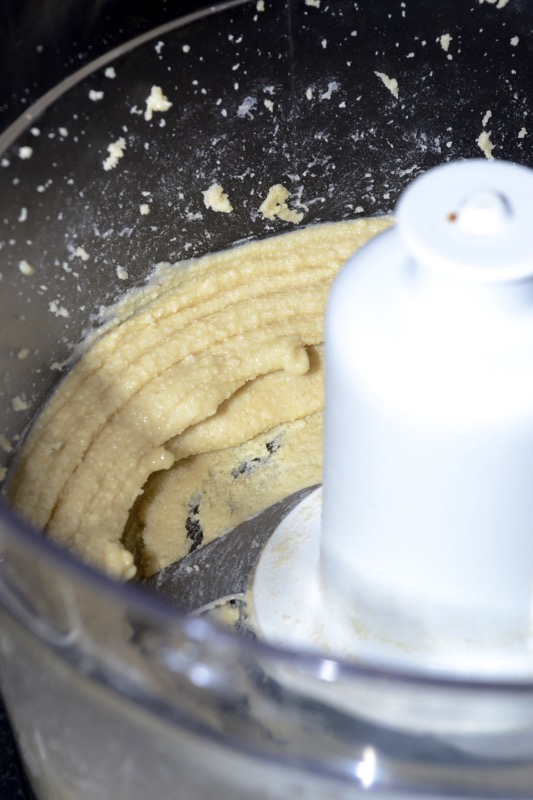 3. In a large bowl combine the fresh nut butter and sugar, along with the vanilla paste and beat until it's all incorporated. It won't be fluffy like dairy butter and sugar.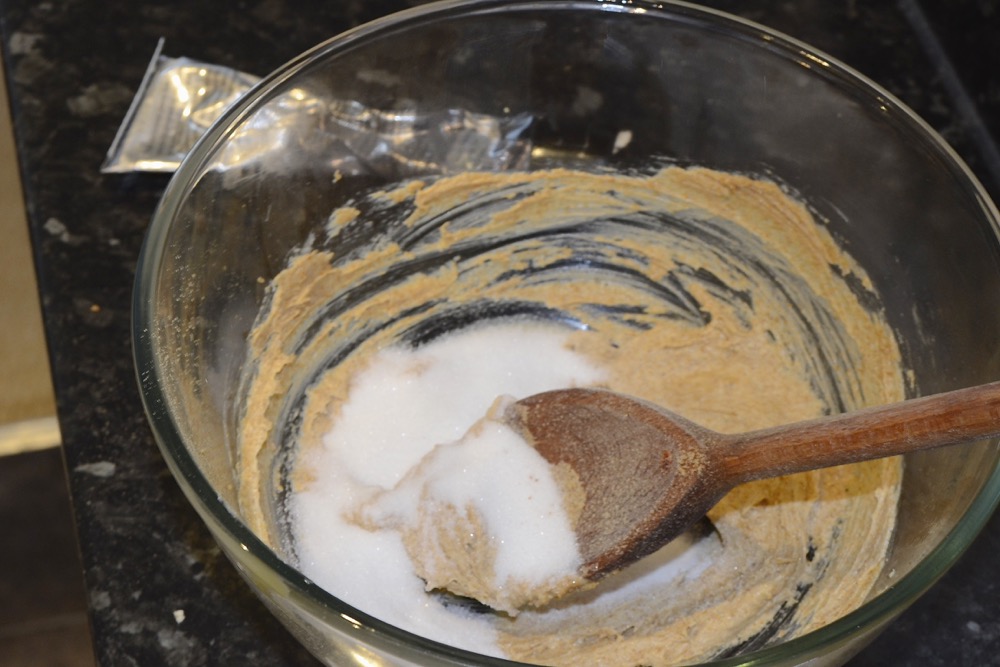 4. Now, add the egg if you choose to make this non-vegan. I didn't see a huge difference in the addition of egg, so if you're not too bothered about an animal-free recipe, add the egg.
5. Fold in the flour, bicarb and stir in the fresh espresso (cooled to at least body temperature, if not completely cold).
6. Put the bowl in the fridge to chill for 30 minutes to an hour, and set the oven to 170°C. Then roast your halved cashews on a tray for about 3-5 minutes, or until just golden.
7. Prepare a sheet pan, you can use either baking paper or a silicone mat on your tray, or simply grease with butter or flavourless oil. Portion out about 3/4 of a tablespoon of mixture per cookie on the sheet(s). Place a cashew half in the middle of each dollop, press to the bottom, and sprinkle each dough portion with a little of the sugar and coffee powder mix.
8. Bake for 13 minutes in the middle of the oven, then take out, allow the cookies to cool slightly on the trays, and remove.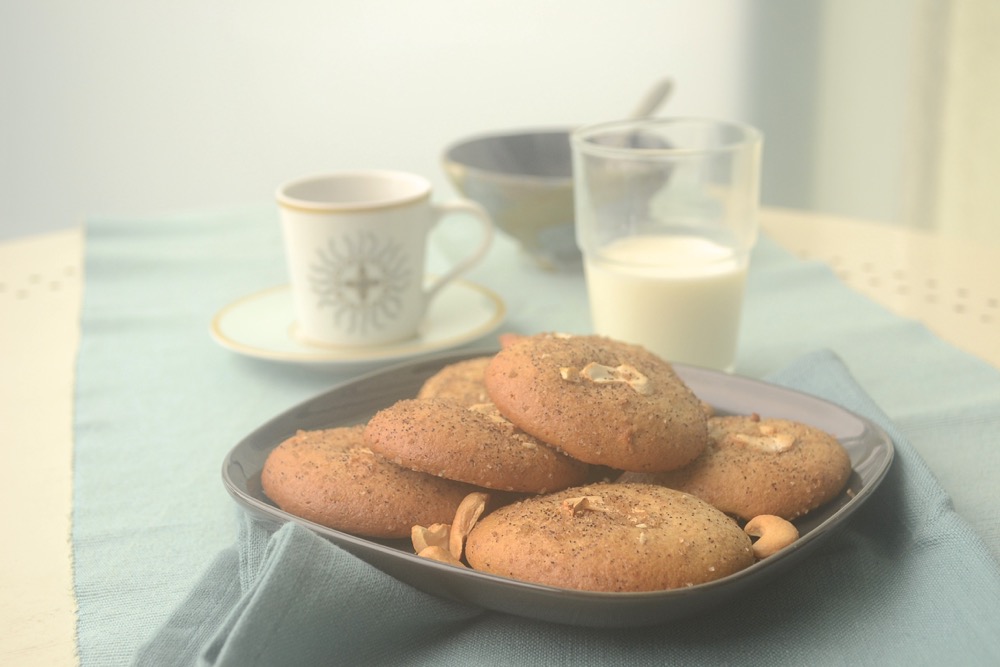 Let us know if you try these! Don't forget, we are now in Instagram, so join us there for lots more pics and recipes too…