As the colder nights descend, nothing is more comforting, exciting and delicious than a big bowl of hot, spicy ramen – a deep-flavoured meaty broth appointed with heaps of noodles and lots of toppings for texture.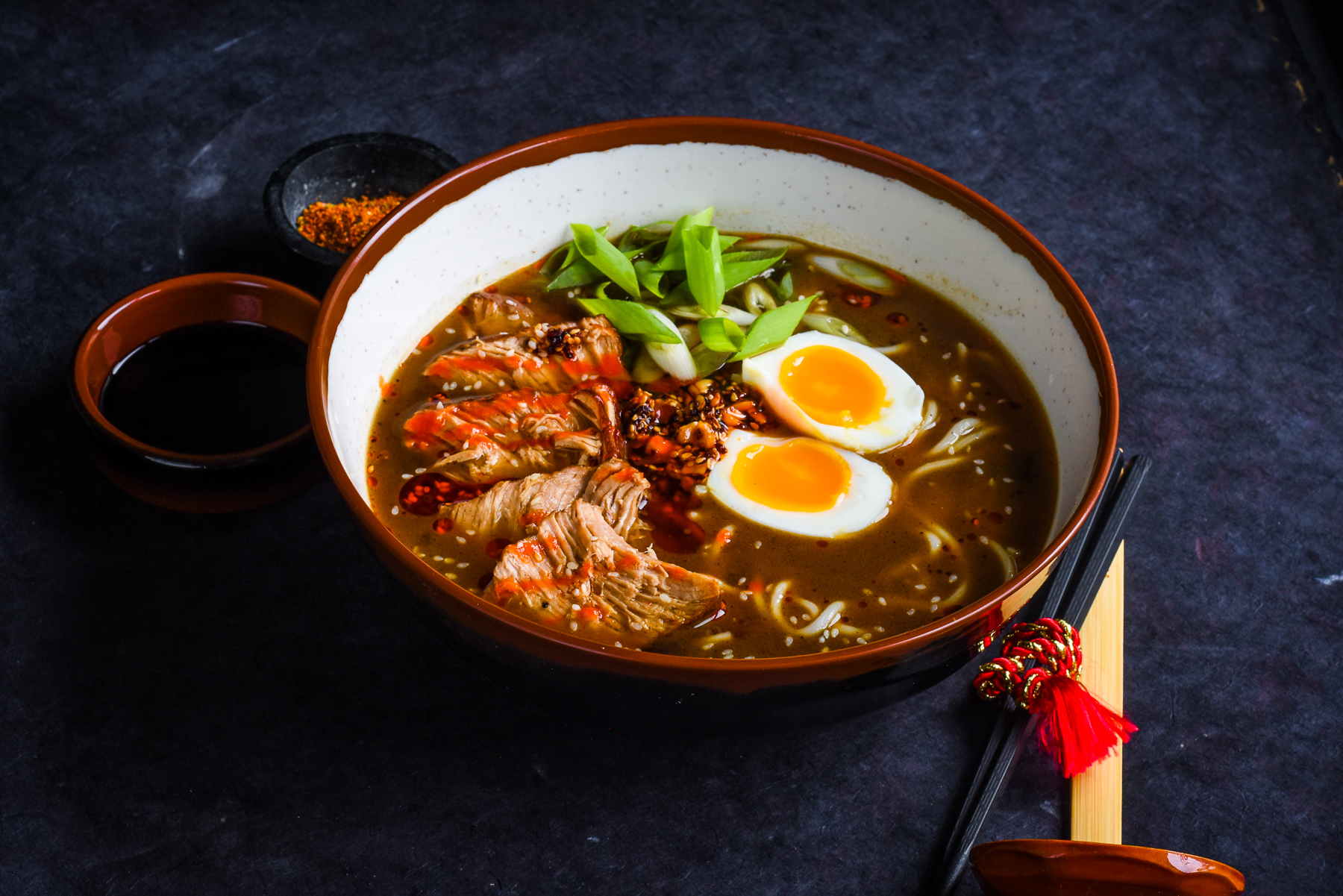 Pork as the hero ingredient works every single time for a ramen recipe like this and is ultimately the star of the bowl. One of us actually took part in a day-long ramen masterclass a couple of years ago and know the key to a great ramen is two fold – using great ingredients and the dish relies ultimately on the broth, so the combination of both is the key to getting this right. A hard-working joint of pork like shoulder or leg  is perfect for slow cooking for this, which tenderises the meat to soft, pull apart-ness and reduces the liquid to a deep-flavoured, comforting broth that you just want more and more of. A recipe like this, using Bord Bia Quality Assured pork is not only versatile and deliciously satisfying but is healthy and full of protein too.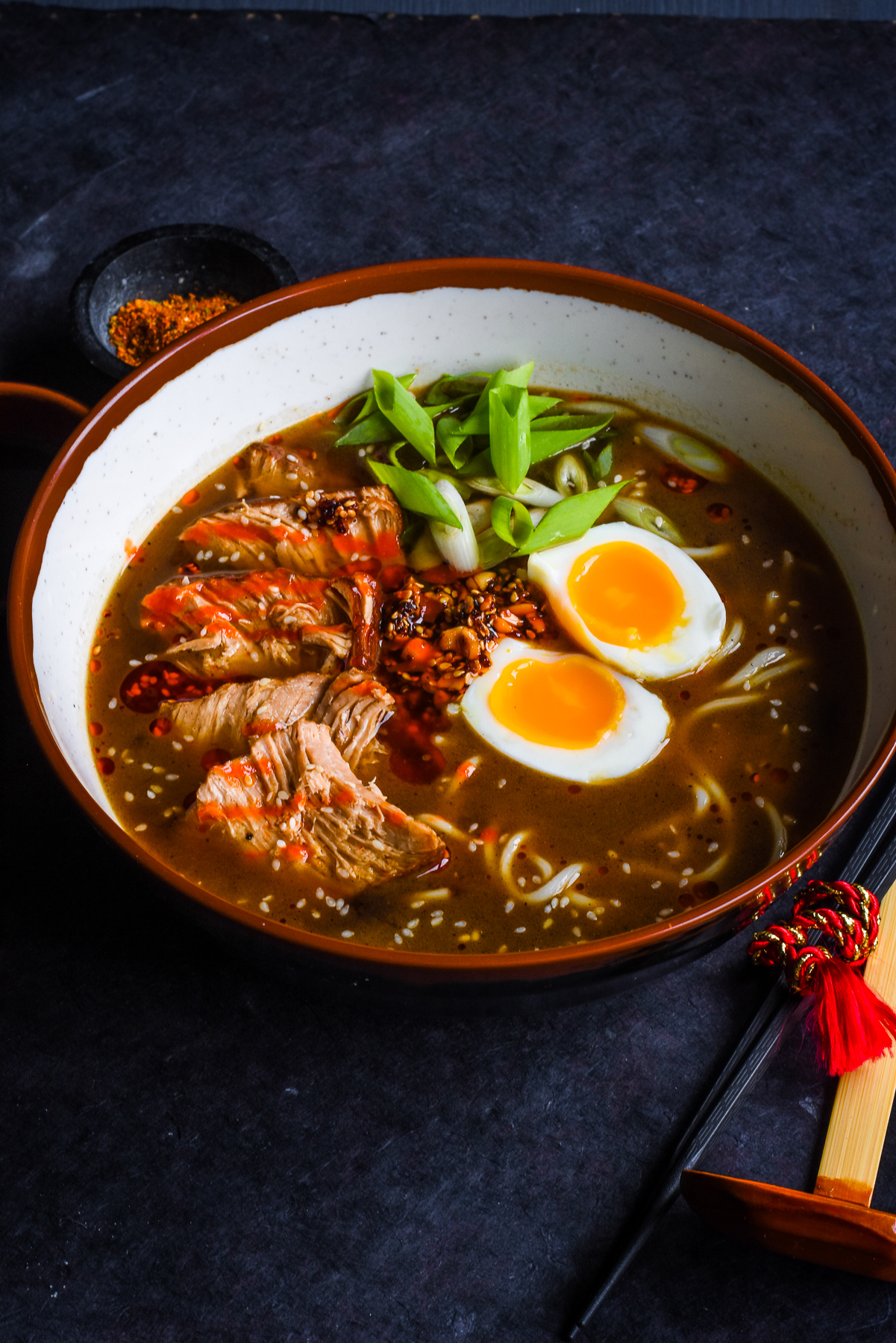 We've teamed up with Bord Bia for a really special #PorkNight campaign taking place between August 27th and September 9th, with the aim of encourage as many people as possible to take on the Challenge to do something a bit different with this delicious meat as the central ingredient on one night of the week.
Slow Cooked Spicy Pork Ramen 🍜
Serves 4-6 (four large bowls or six small)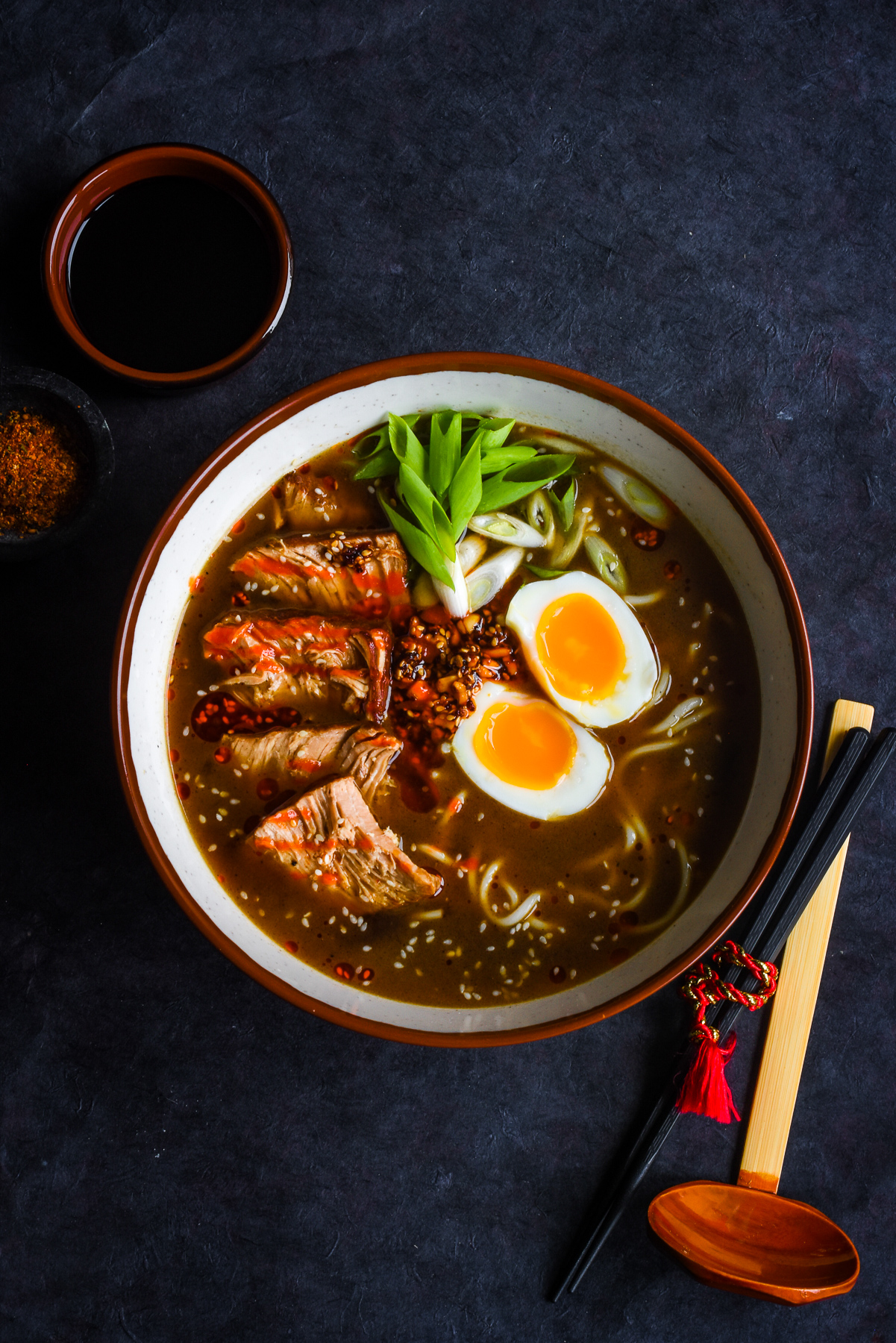 1 KG lean, boneless pork shoulder or leg, skin removed and cut into 4 equal pieces

2 tbsp rapeseed or olive oil

Salt and freshly ground black pepper

1 large onion, coarsely chopped

4 garlic cloves, peeled and chopped

5cm piece ginger, peeled and chopped

1L homemade or low salt chicken stock

1 leek, halved lengthwise and coarsely chopped

100g button mushrooms, brushed clean and coarsely chopped

3 tbsp soy sauce

1-2 tbsp Sriracha or other hot sauce, to taste, plus extra for topping

6 large eggs

250g ramen or udon noodles

4 scallions (spring onions), finely chopped at an angle

1 tbsp sesame seeds, lightly toasted

1 tbsp per person of

White Mausu Rayu

(optional)
1. Preheat oven to 160ºC. Heat a tablespoon of oil in a frying pan over a high heat. Season the pork with salt and black pepper. Brown the pork in batches then transfer it to a large ovenproof pot.
2. In a frying pan on medium heat, sweat the onion, garlic and ginger for about five minutes until softened. Stir in about 200mls of the stock. Bring to the boil, stirring and scraping up any brown bits from the pan.
3. Then, transfer to the the oven proof pot with the leek, mushrooms and remaining 800mls of stock. Stir to combine, cover and cook for about 2 hours until the pork is tender and falling apart.
4. Transfer the pork to a cutting board. Either slice, pull apart using two forks, or just break up the pork into bite-sized chunks. Remove and discard any fat.
5. Strain the broth through a fine sieve. Discard the solids – depending on the cooking you may need to add a little extra stock or hot water to bring up the level of liquid. Return the pork and season the broth to taste with soy sauce and hot sauce. Cover and return to a warm oven for about 20-30 minutes to keep hot whilst you prepare the toppings.
6. Place the eggs in a saucepan of cold water. Bring to the boil, then reduce to simmer. Cook for five minutes for soft centre. Allow an extra 2 minutes for hard boiled eggs. Whatever way you cook them, immediately transfer the eggs in a bowl of iced water when the time is up to stop the cooking process, then peel and set aside.
7. Cook the noodles as per the packet instructions, then begin serving up each bowl by dividing the noodles between individual bowls – the larger and wider the better. Add the pork, then spoon over the broth, scatter the scallions, add the halved eggs, drizzle over a little hot sauce and sprinkle the sesame seeds over everything.
8. Optional extras could include some peanut rayu, Shichimi Togarashi (a Japanese mixed chilli sprinkle) or a few extra drops of soy sauce.  Serve immediately and slurping is encouraged, if not positively expected!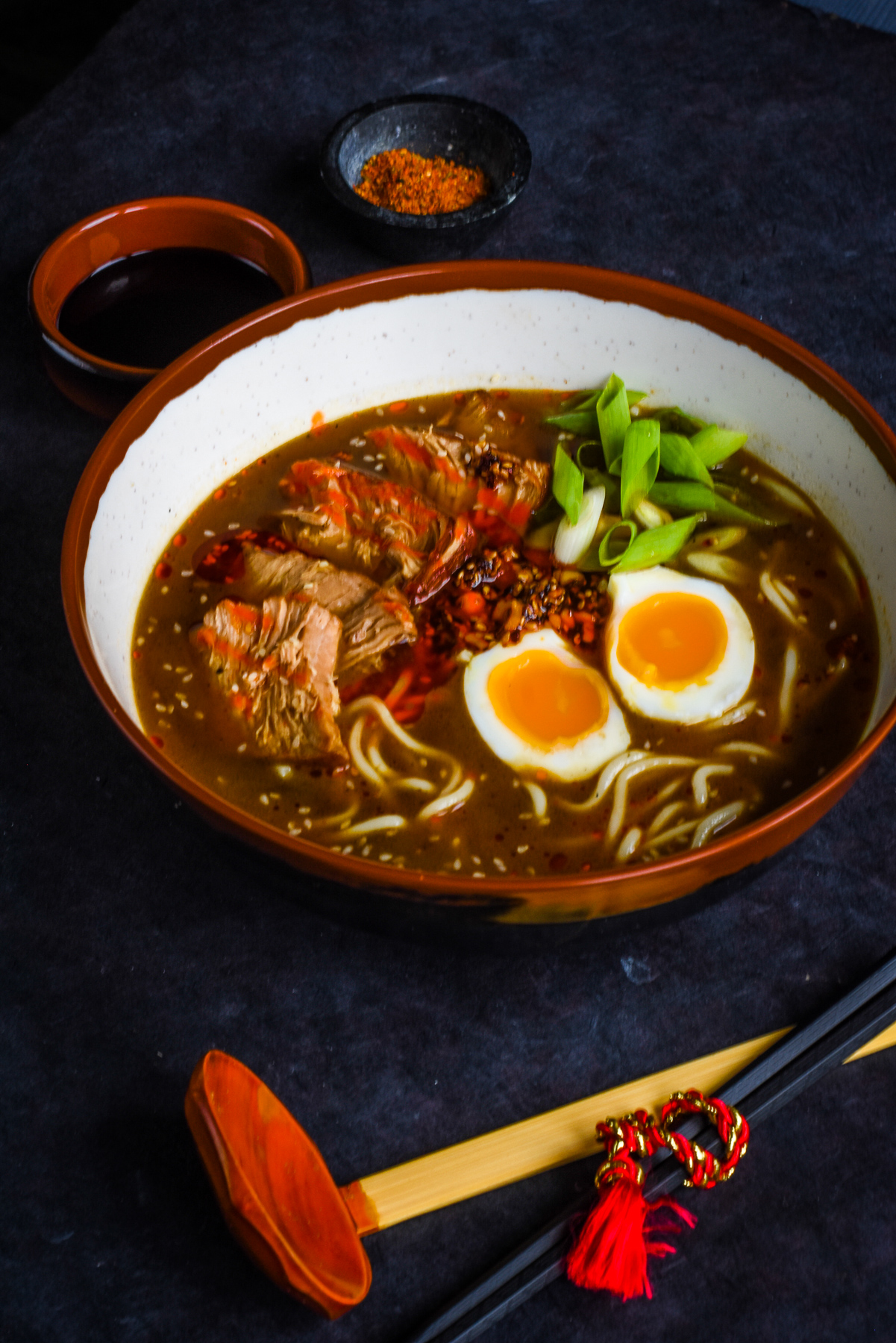 Disclaimer

: This is a paid post created exclusively

 

in conjunction with Bord Bia. Always look for the Bord Bia Quality Mark on pork so that you know is has been produced to the highest Bord Bia quality standards and where it comes from. For more recipe inspiration, please visit

bordbia.ie/qualitypork