Young profesh Londoners tend to gravitate towards certain iconic areas across the city: Brixton, Shoreditch, Camden, Soho to name a few. For us, we've always enjoyed Brixton, for its sheer selection of great eateries, decent transport links, and its cultural diversity. Pop Brixton, is the latest addition to the social hotspots in SW9.
We popped along last Saturday night, a few days after it officially launched, and instantly fell in love. It didn't feel like Brixton, but at the same time, you could tell you were at the heart of all the action…
It feels like the optimum time, too, for such a place to open; with a warm summer fast approaching, casual drinks and street food are the perfect combination. Just look at how popular Street Feast is doing in other trendy suburbs of the City, Lewisham and Dalston. Filled with mini restaurants, bars and stalls, there are a number of small businesses selling clothes and accessories too  – making this particular space stand out from its competition.
The project has a great ethos behind it, self-described as "a brand new unique space focusing on supporting local enterprise, [we] will host some of the community's most exciting independent start-ups across food & drink, retail, creative industries and the arts". It promises to support 80 entrepreneurs and create over 200 jobs. Each unit is housed within and warped around an old shipping container, very similar to the concept used at Boxpark in Shoreditch – but in our eyes, this is done in a more clever way by creating almost a web of internal huts and stalls just beckoning passers-by to explore each and every one.
What to expect when you get there? A whole lot of indecision, that's for sure, and a fair bit of queueing. But good things come to those who wait. We sampled Zoe's Ghana Kitchen, a bricks and mortar base for celebrated pop-upper Zoe,  which has been well publicised in advance of its opening. Be prepared, the food of Ghana is spicy, but it is so flavoursome and satisfying. We got to chat with Zoe after her first Saturday night service and we can see how much pride and passion she has for what she is doing (and in her customers too). Plus she's half Irish, so she'll always have our vote!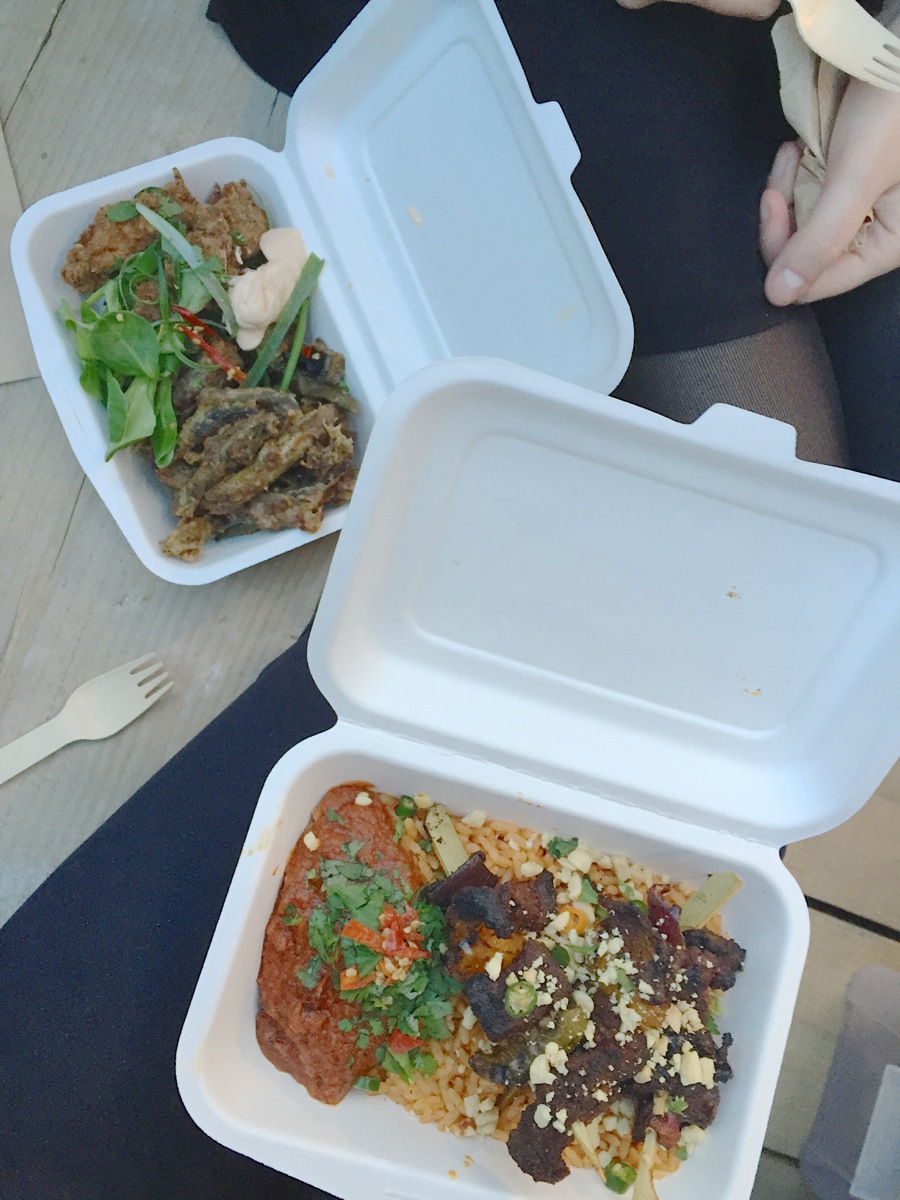 Baba Gupta make the most incredible smelling 'Bhangra' burgers inspired from India. We tried an off-menu vegetarian burger made of spinach, potato and authentic Indian spices as their Bombay Potato burger proved too popular. Their most appealing dish has to be their Popadom Nachos. A must-try!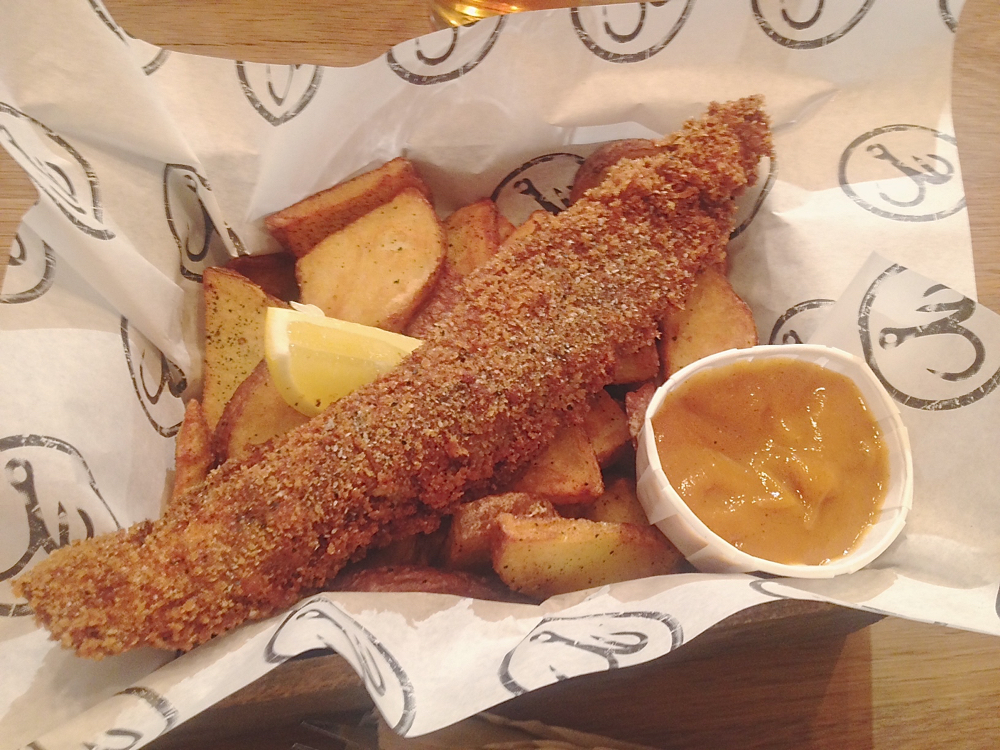 Our great friends behind the wonderful Hook Camden and Bia Mara Brussels have also just opened up too, a little later than planned so we unfortunately missed them. If you're too lazy to trek all the way to Camden Town to try this insanely good fish, you'll have no excuse now with Hook Brixton accommodating the south. Our view is that they are the most amazing fish & chips around – take our words for it, literally, read our post.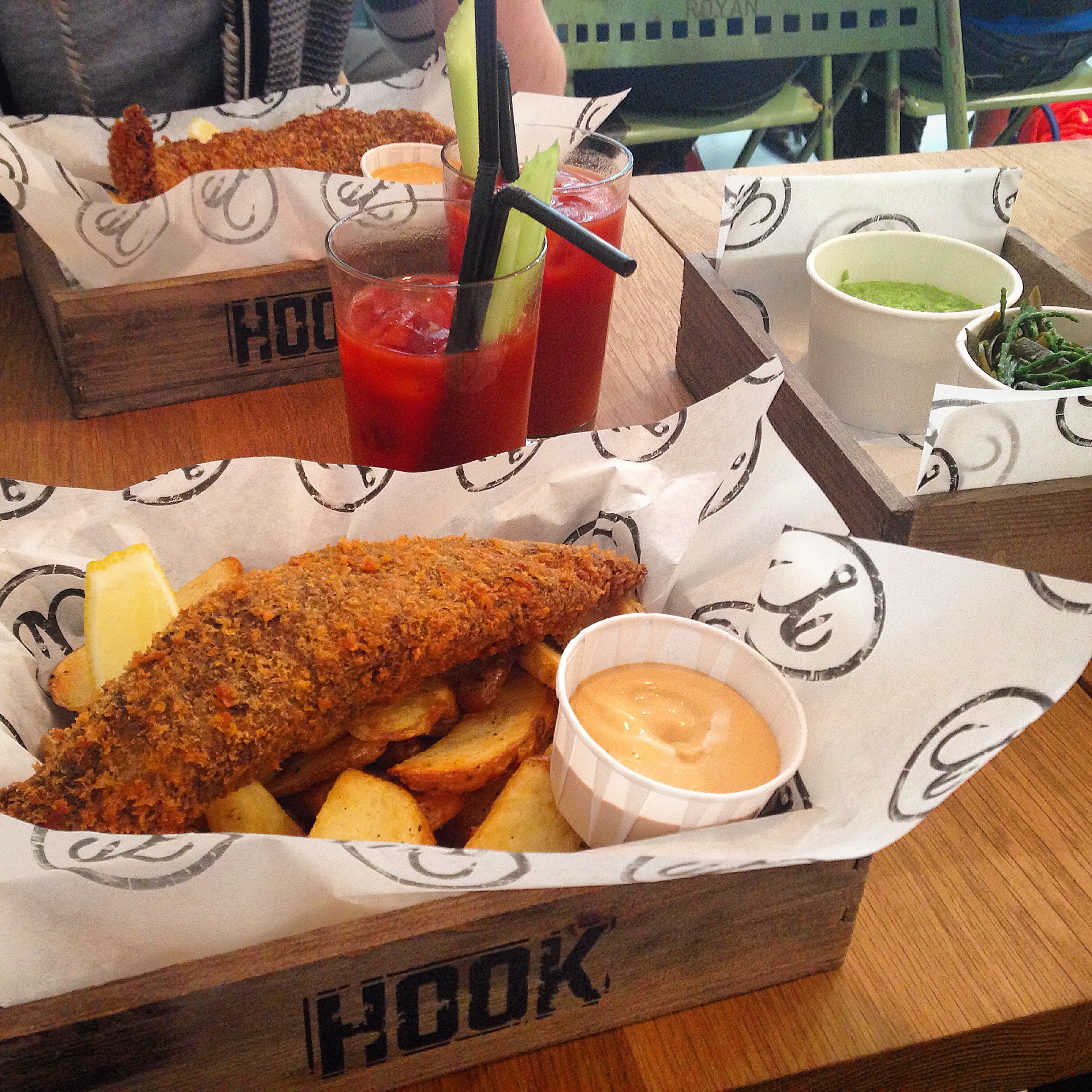 Good to note: that booze isn't that expensive here. Really good quality wines and craft beers are aplenty. We drank a glass each of Reserva Rioja and Sauvignon Blanc, accompanied by a authentic German style pretzel from one of the German style bars near the back of the complex – drat, we didn't catch the name, but you can't miss it! They've also got a number of German dishes due to begin in a few weeks – including a Currywurst which we are just DYING to try. Herman ze German, who?
We enjoyed our evening so much, that we barely noticed the time pass, and ended up being the last to leave and promptly kicked out by the security guards. Oops! That is probably a testiment to how enjoyable this place is. It really is adding another enjoyable dimension to Brixton and we really are excited about returning.
Pop Peckham, next?